Ah, It's Time To Dance In The Park
Did you know? - Mile Square Regional Park is an urban park located in the City of Fountain Valley and totals 640 acres of land. Within the park's boundaries are three regulation golf courses, two regulation soccer fields, baseball & softball diamonds, an archery range and a wilderness area. Also, there are two fishing lakes, concession operated bike and paddle boat operations, a wide expanse of picnic areas as well as numerous picnic shelters. Shelters serve a wide variety of visitors ranging from individuals to families and group organizations to annual company picnics.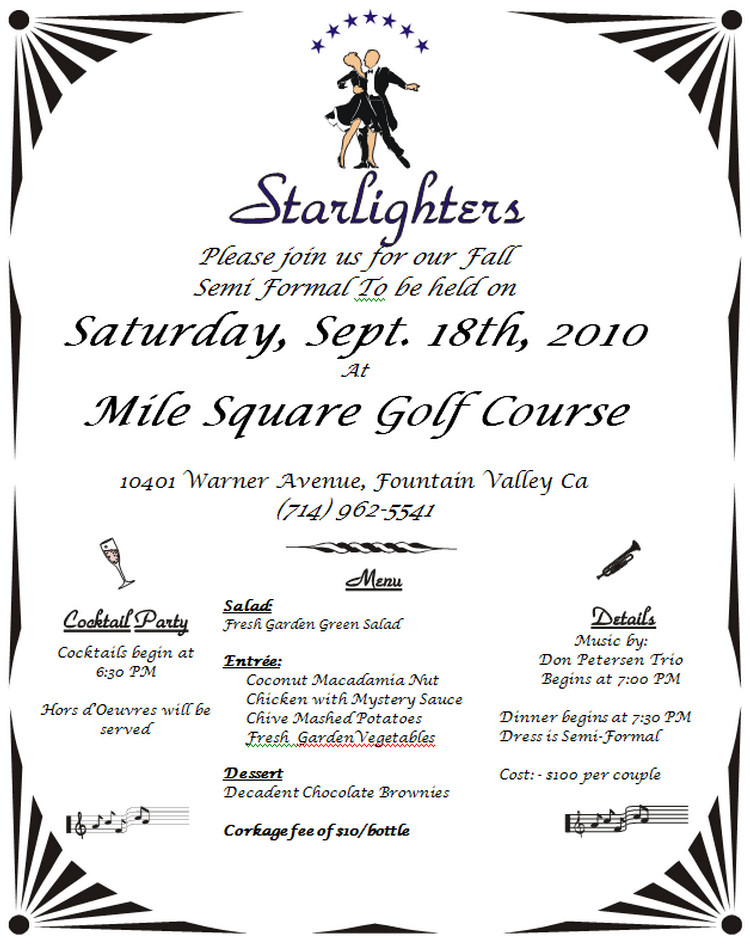 Did you know? - Early in World War II the United States Navy Department purchased a square mile of agricultural land in what is today the City of Fountain Valley. The land was purchased to construct military airfields which were utilized in conjunction with the El Toro Marine Corps Air Station and Santa Ana Marine Corps Air Base Facilities.
Three landing fields were constructed in a triangular shape in the center of this area, with each field being approximately 2,200 feet in length. During and long after World War II these fields served as military training fields, and it is possible today to find residents in Orange County who flew Navy Corsairs, propeller driven aircraft in World War II, and used this field as a touchdown training location. After the war years the military use of the fields changed to a helicopter touchdown or practice area as the Santa Ana Marine Corps Air Station emphasis shifted to helicopter use.
On March 28, 1973, after the Navy Department formally declared the perimeter acreage surplus, the County of Orange received title to the perimeter acreage at no cost under the Federal Legacy Parks Program. Military operations in the center airfield ceased in 1974. In 1975 the county received an annual permit to operate the center triangle area for public recreation.
Let The Party Begin!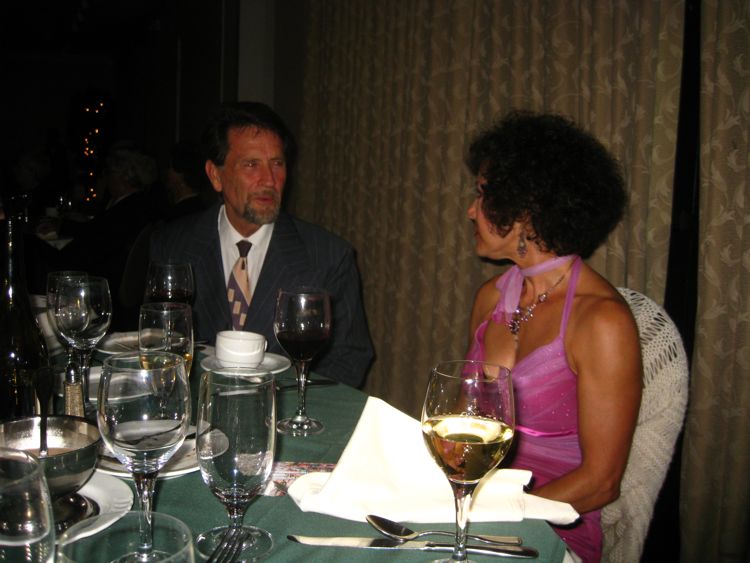 Bob and Donna are ready to dance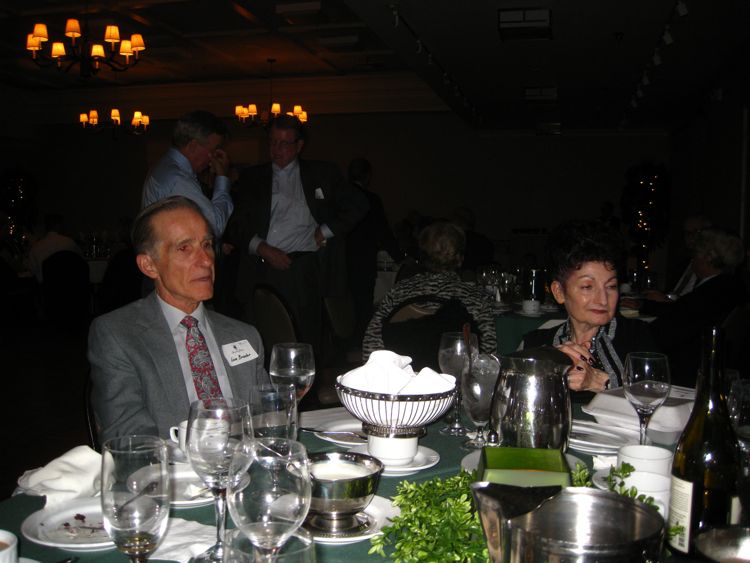 Leon and Marcia tell us of the week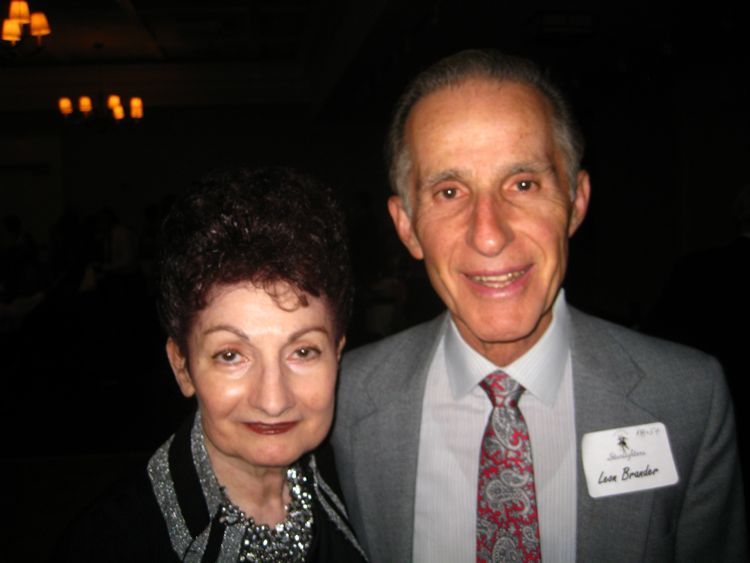 Tummies full - All smiles!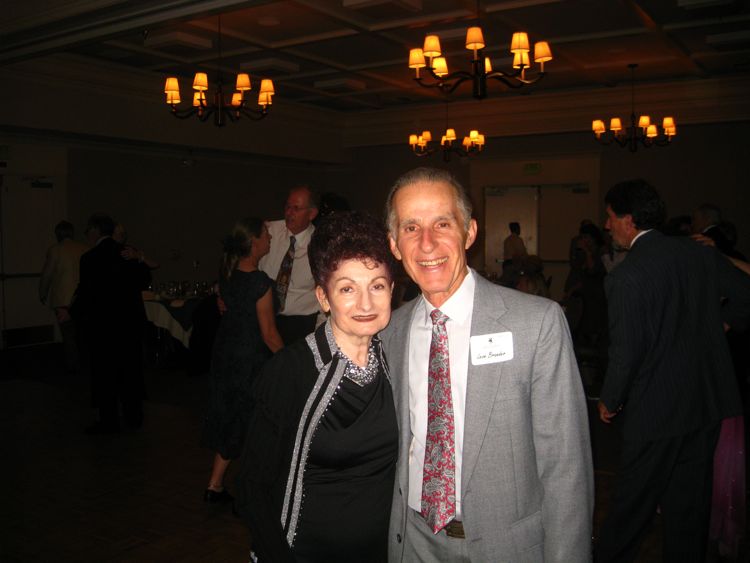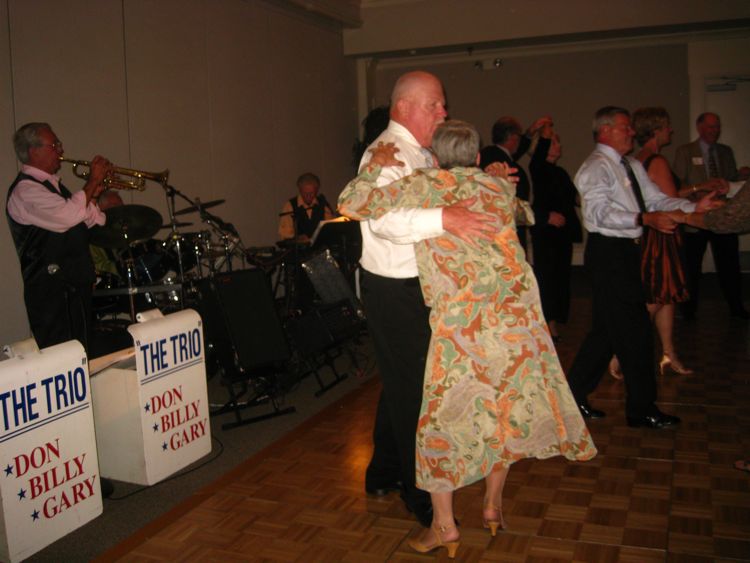 The Photographers are making the rounds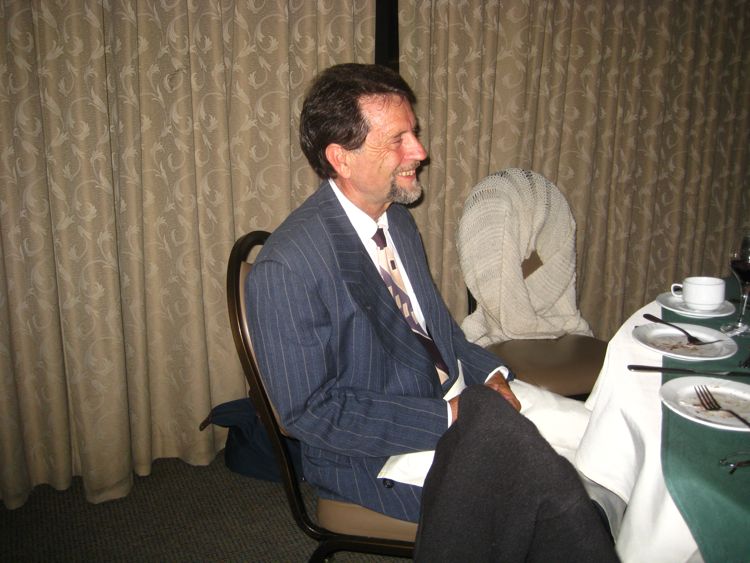 The suit is an original 1938 Bob found at an art deco clothing store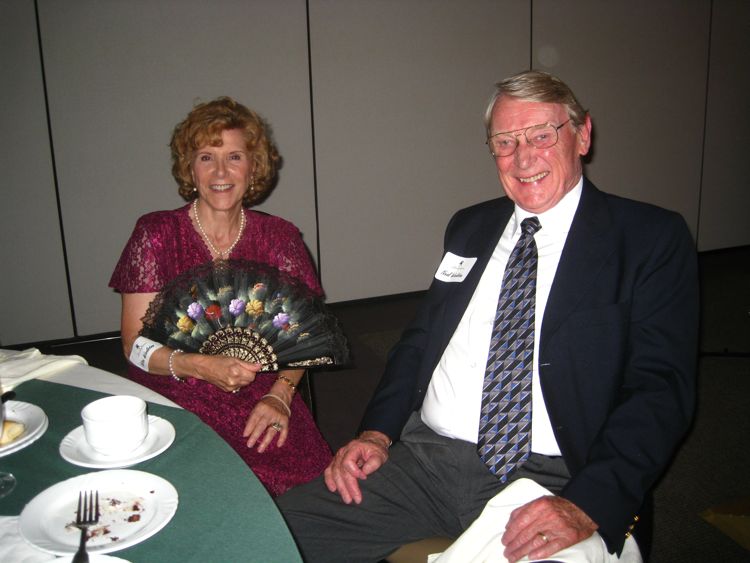 It's so easy to make happy people smile!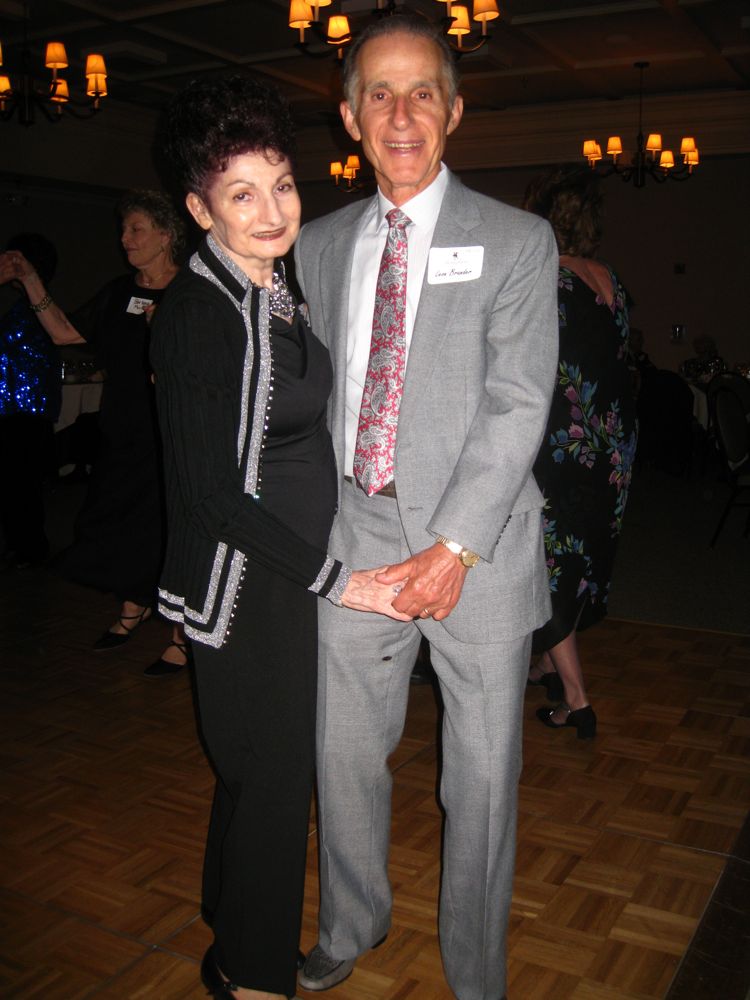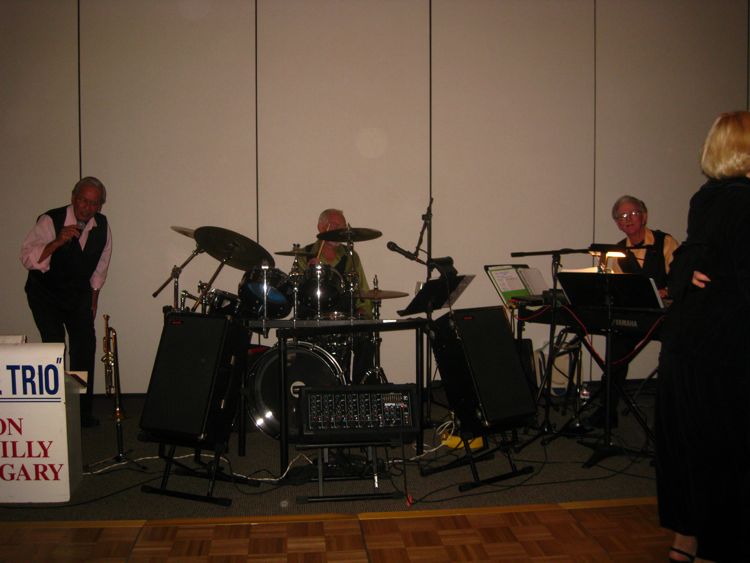 The band was super... Great dance music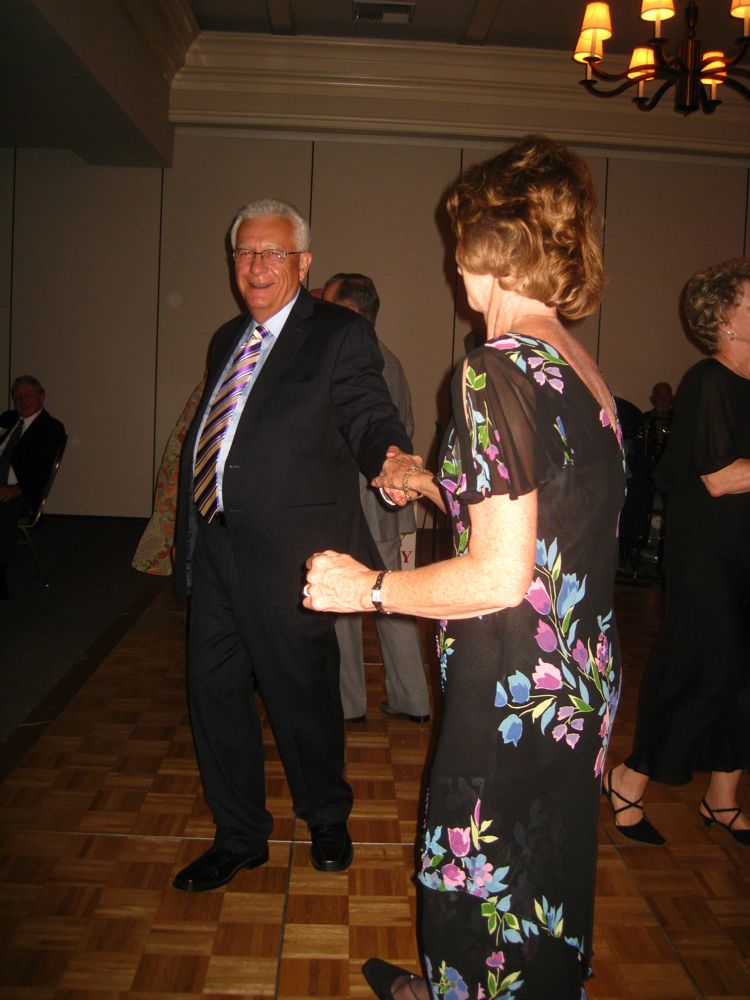 Guy and Janet keeping the floor warm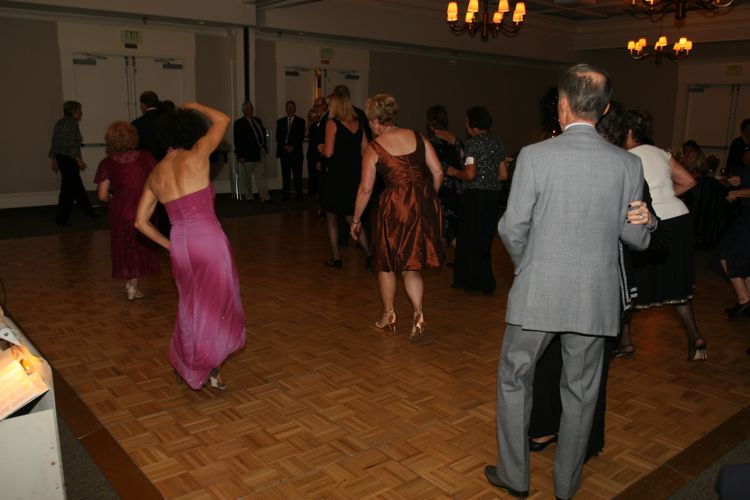 Line dance time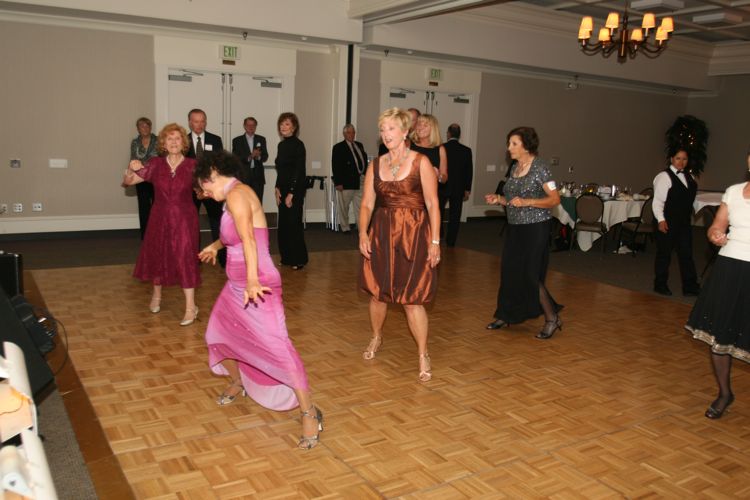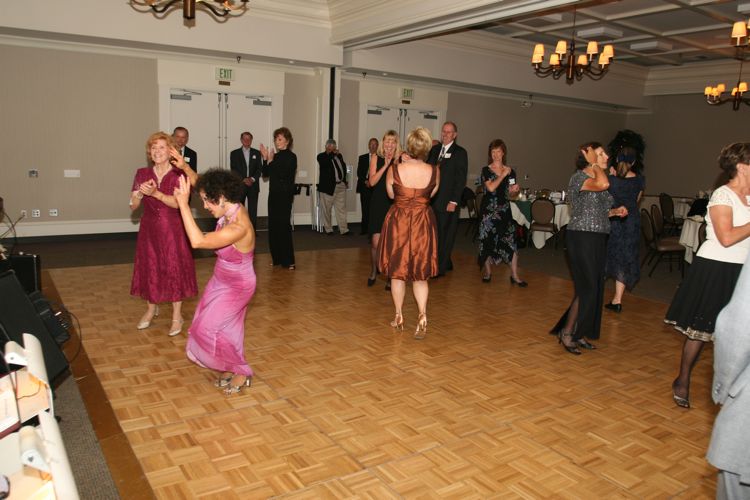 Go ladies go...
Did you know? - The earliest folk dances in many cultures were line dances, originating before social proprieties allowed men and women to dance together in couple dances. In early forms men and women often danced in separate lines, but the same dances are often done today in mixed lines. The Balkan countries, among others, have a rich tradition of line dance surviving to the present. These folk line dances are also performed in the international folk dance movement. Folk line dances have many forms: pairs of lines in which the dancers face each other, or a line formed into a circle, or the line follows a leader around the dance floor. The dancers may hold hands with their neighbors, or use an arm-on-shoulder hold, or hold their neighbor's belts.
Although line dancing is associated with country-western music and dance, it has a similarities to folk dancing. Many folk dances are danced in unison in a single, nonlinear "line", and often with a connection between dancers. The absence of a physical connection between dancers is, however, a distinguishing feature of country western line dance. Line dances have accompanied many popular music styles since the early 1970s including pop, swing, rock and roll, disco, Latin (Salsa Suelta), and Jazz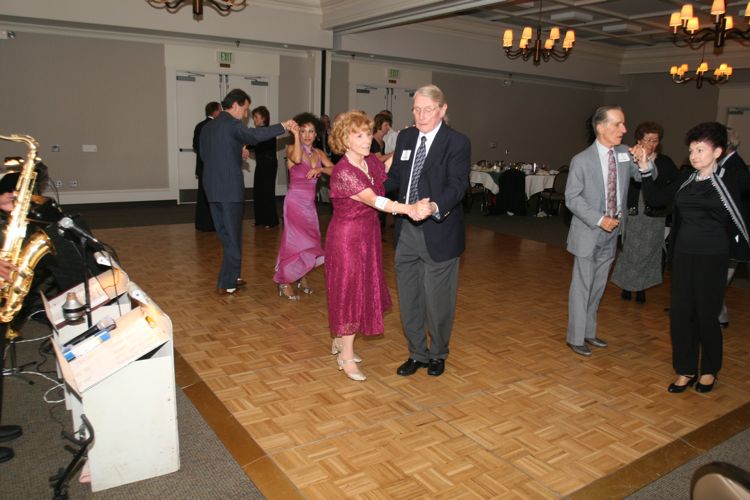 "My Little Corner Of The World"
Do you remember? - "My Little Corner of the World" (sometimes recorded as "In My Little Corner of the World") is a 1960 love song with music written by Lee Pockriss and lyrics by Bob Hilliard. It was first recorded by singer Anita Bryant in 1960, as In My Little Corner of the World, and released on the album Hear Anita Bryant in Your Home Tonight!. Bryant's version reached #10 on the Billboard Hot 100 in 1960.
The song was recorded by Connie Smith for the 1966 album Born to Sing. It was also recorded by singer Marie Osmond in 1974, again as In My Little Corner of the World, as the title song of her album In My Little Corner of the World. This version was released as a single, and reached the Country Top 40 chart.
Come along with me to my little corner of the world
Dream a little dream in my little corner of the world
You'll soon forget that there's any other place
Tonight, my love, we'll share a sweet embrace

And if you care to stay in my little corner of the world
We could hide away in my little corner of the world
I always knew that I'd find someone like you
So welcome to my little corner of the world

And if you care to stay in our little corner of the world
We could hide away in our little corner of the world
We always knew that we'd find someone like you
So welcome to our little corner of the world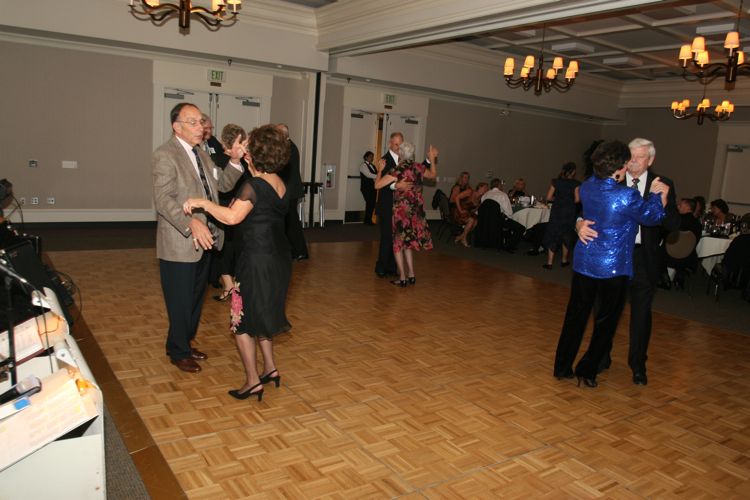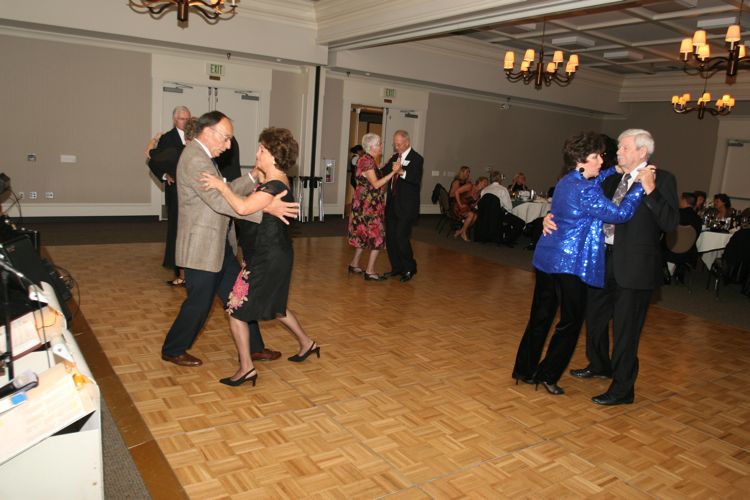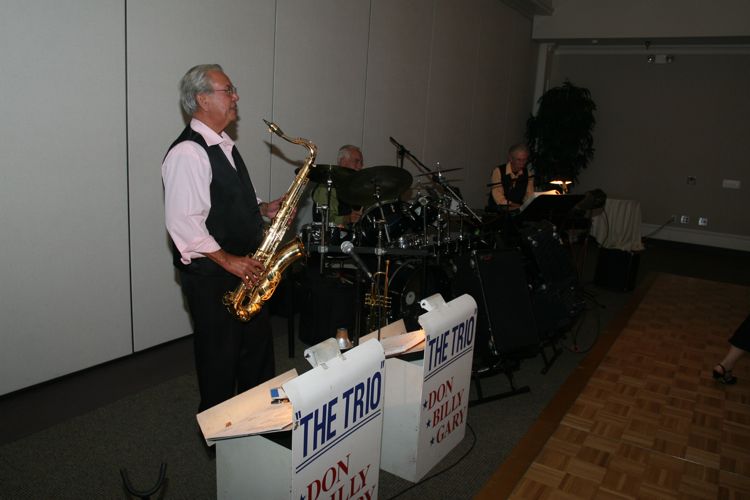 They are having fun!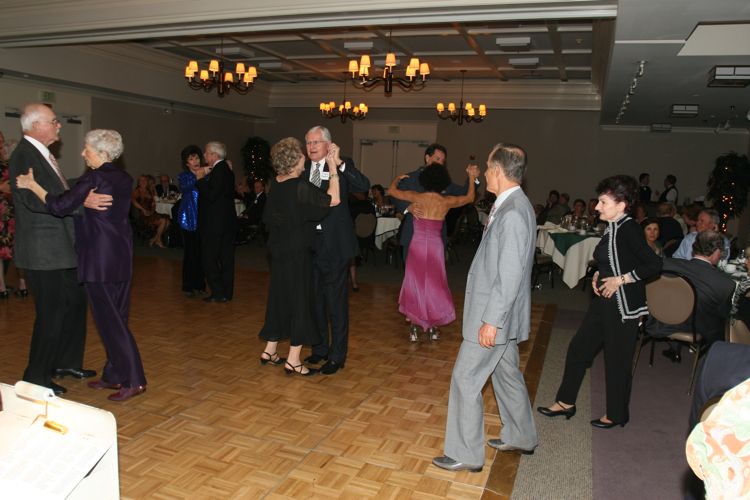 Green light, all dance"
Did you know? - A dance card (also known by its German-language name, Ballspende, plural Ballspenden) is used by a woman to record the names of the gentlemen with whom she intends to dance each successive dance at a formal ball. They appear to have originated in 18th century, but their use first became widespread in 19th century Vienna, especially at the massive balls during Fasching before Lent.
An actual dance card is typically a booklet with a decorative cover, listing dance titles, composers, and the person with whom the woman intended to dance. Typically, it would have a cover indicating the sponsoring organization of the ball and a decorative cord by which it could be attached to a lady's wrist or ball gown. From the 19th century until World War I, dance cards for the elite of Austria-Hungary were often very elaborate, with some even incorporating precious metals and jewels.
In modern times the expression "dance card" is often used metaphorically, as when someone says "pencil me into your dance card," meaning "find some time to spend with me", or, conversely, someone's "dance card is full" implies they have no time for, or interest in another person.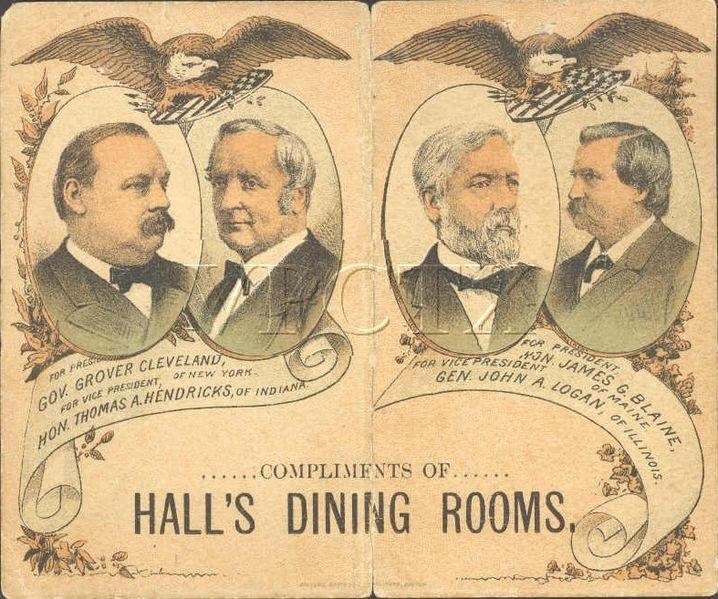 Dance card (illustrated cover side) depicting Democratic and Republican candidates (Grover Cleveland, James G. Blaine, etc.) in the United States presidential election, 1884; store Web page states: "Dance card compliments of 'Hall's Dining Rooms'. Images of the presidential and vice president candidates featured on the front and back covers. [...] Size 4 1/2" x 5 3/8"" For inside view of card, with dances listed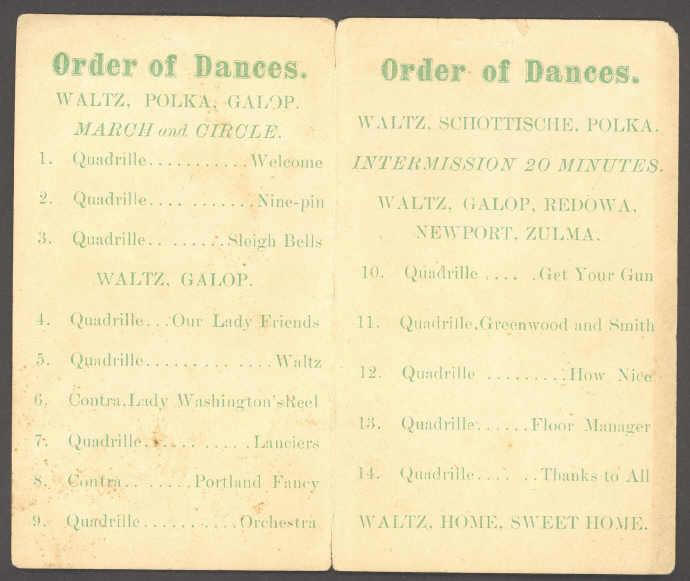 The card folds and the inside provides the order of dances on both sides.

No dance cards needed here....
Time To Capture The Attendees; The Band Takes A Break And Dessert Is Served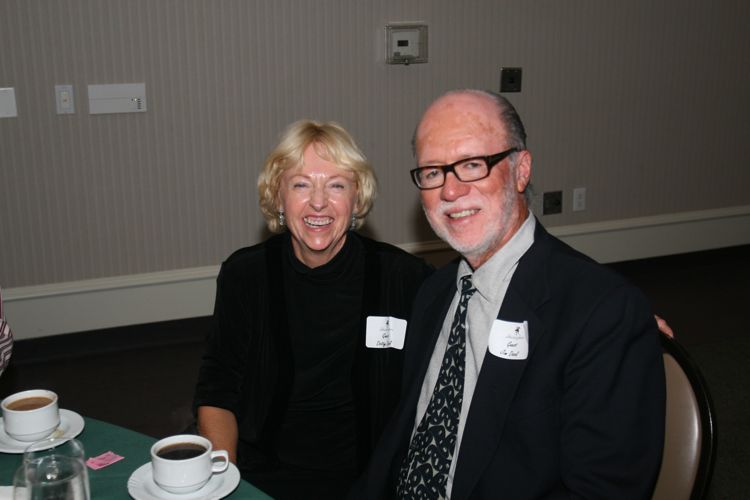 Guests Dottie and Jim Dozal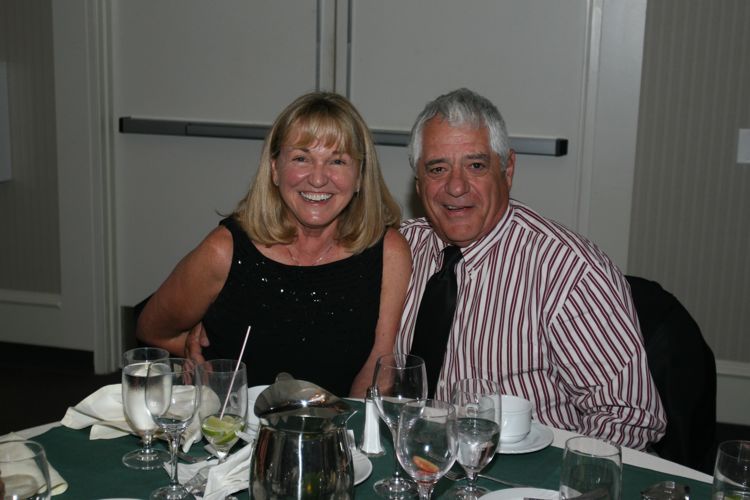 They hid the dessert... We know it is there someplace!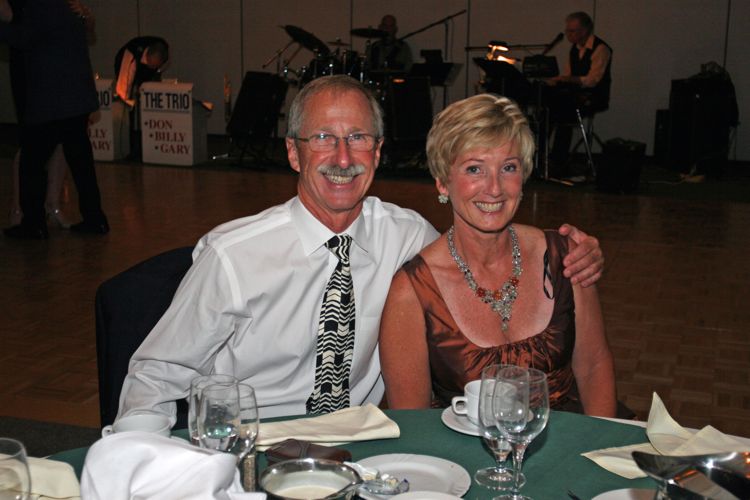 Best seat in the house... On the dance floor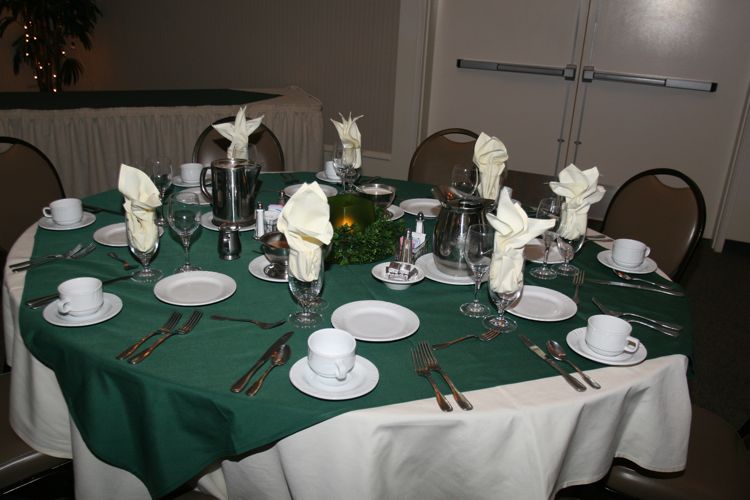 The tables and decorations hwere beautiful - Thanks Marilyn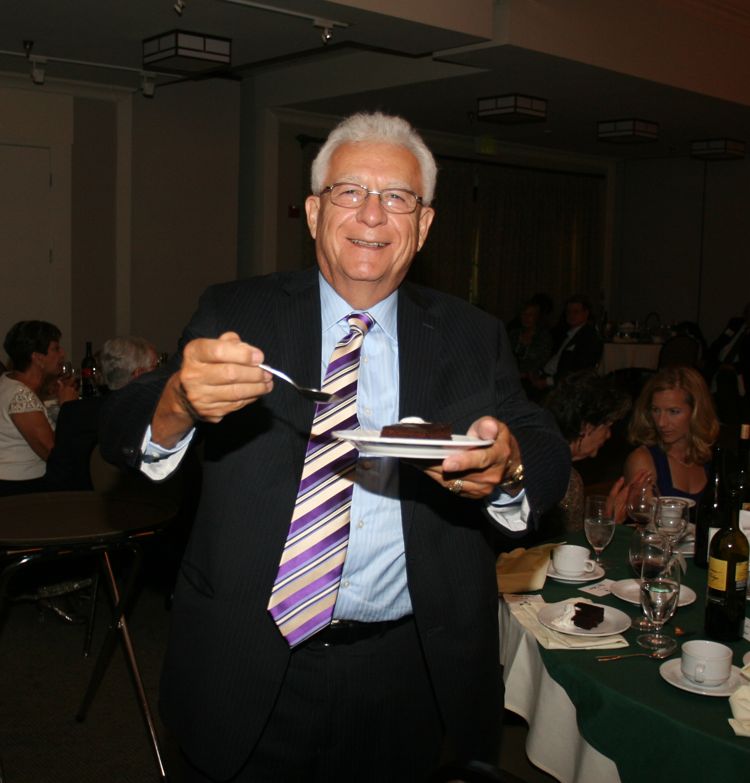 "Guy never saw a calorie he feared!"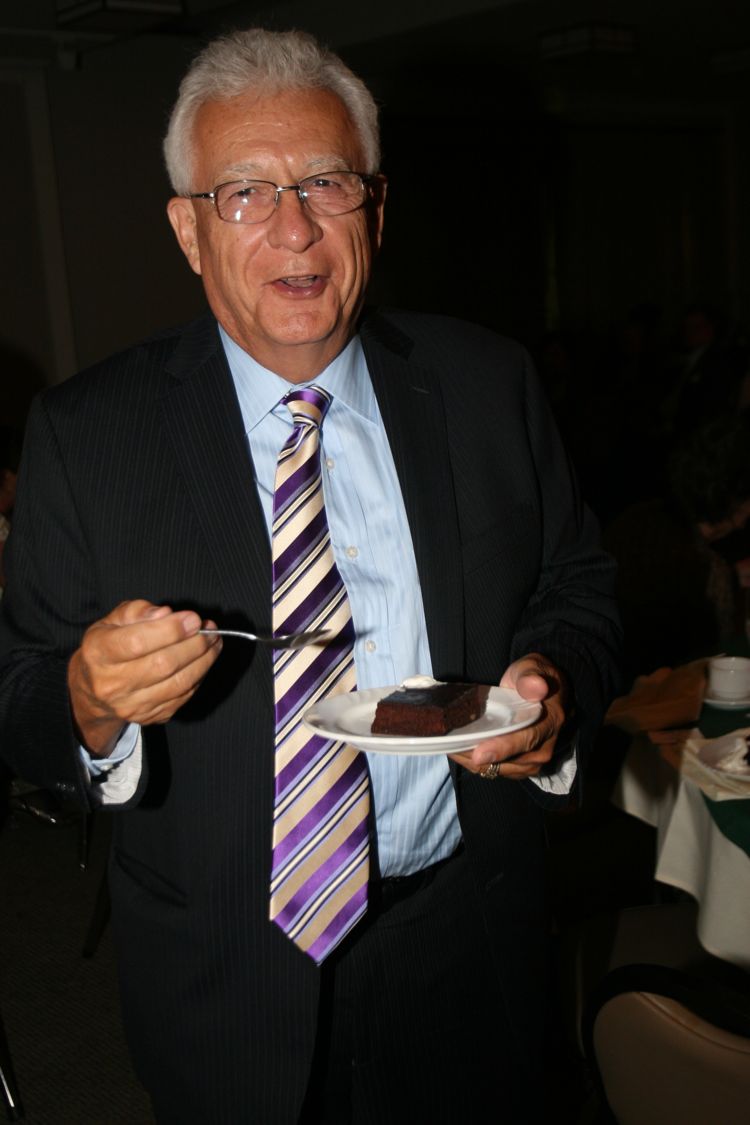 "Maybe just this one"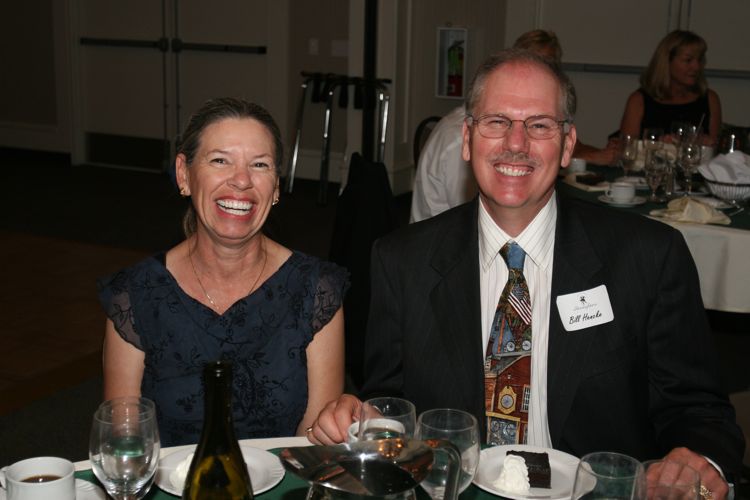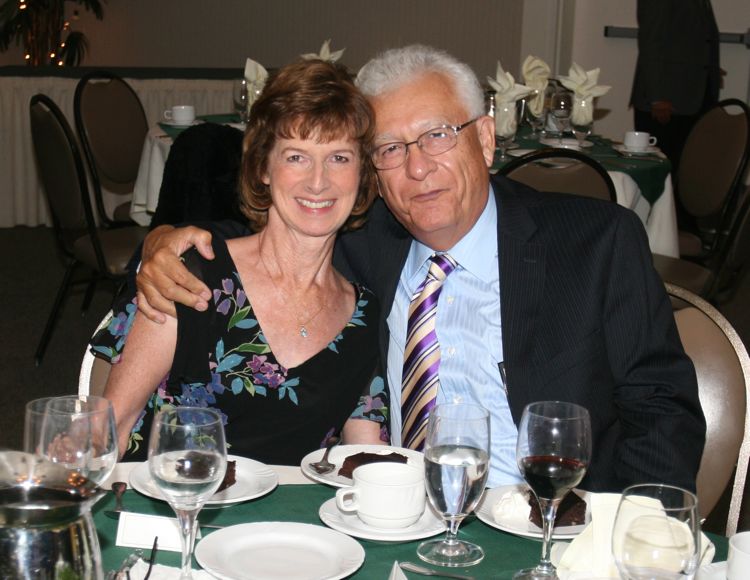 He found another dessert??

It runs in the family - He has had serious fork training
Did you know? - The word 'fork' is derived from the Latin furca, meaning "pitchfork." The ancient Greeks used[1] the fork as a serving utensil, and it is also mentioned in the Hebrew Bible, in the Book of I Samuel 2:13 ("The custom of the priests with the people was that when any man offered sacrifice, the priest's servant came, while the fresh flesh was boiling, with a fork of three teeth in his hand..."), however, it was not commonly used in Western Europe until the 10th century. There are many different types of forks and they can be made out of different materials like metal and plastic.
Bone forks had been found in the burial site of Qijia culture as well as later Chinese dynasties' tombs. The Romans used forks and there are many examples of Roman forks on display in museums around Europe.[
Before the fork was introduced, Westerners were reliant on the spoon and knife as the only eating utensils. Thus, people would largely eat food with their hands, calling for a common spoon when required. Members of the aristocracy would sometimes be accustomed to manners considered more proper and hold two knives at meals and use them both to cut and transfer food to the mouth, using the spoon for soups and broth.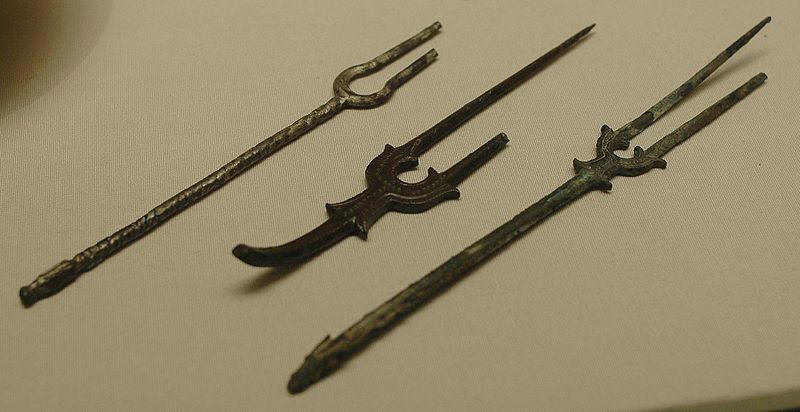 English: Forks, 8th–9th centuries. Molded bronze with stamped decoration.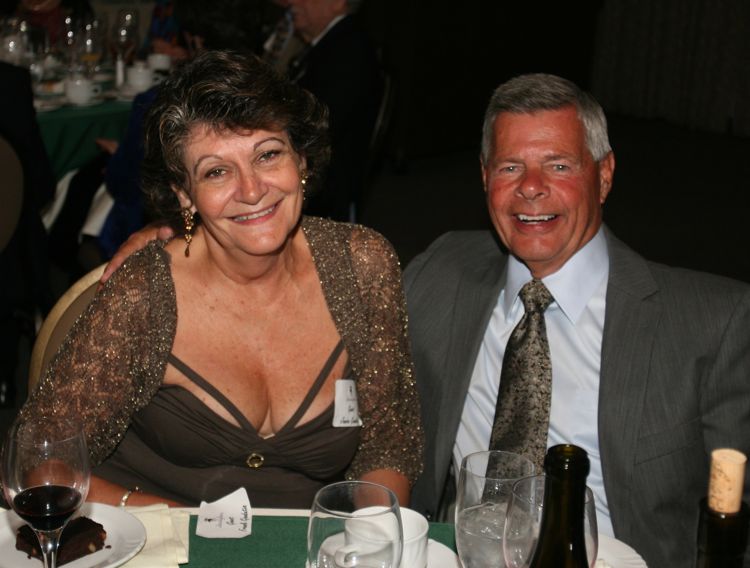 Delightful new friends... Please come back!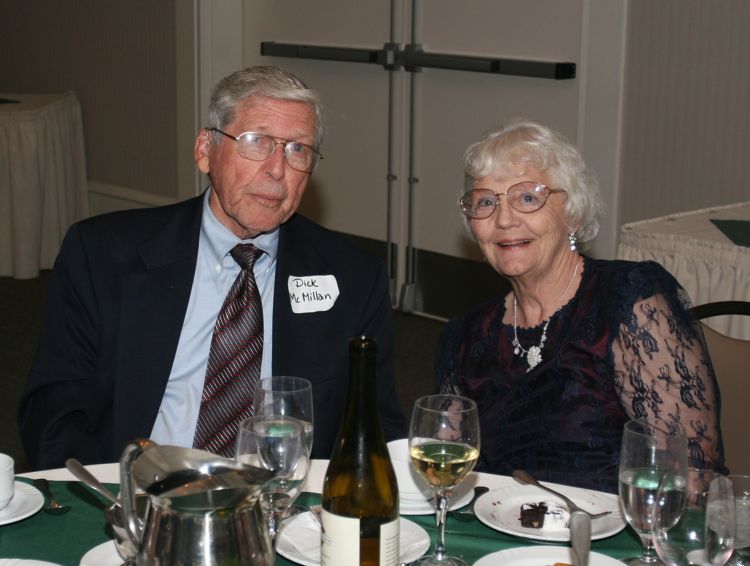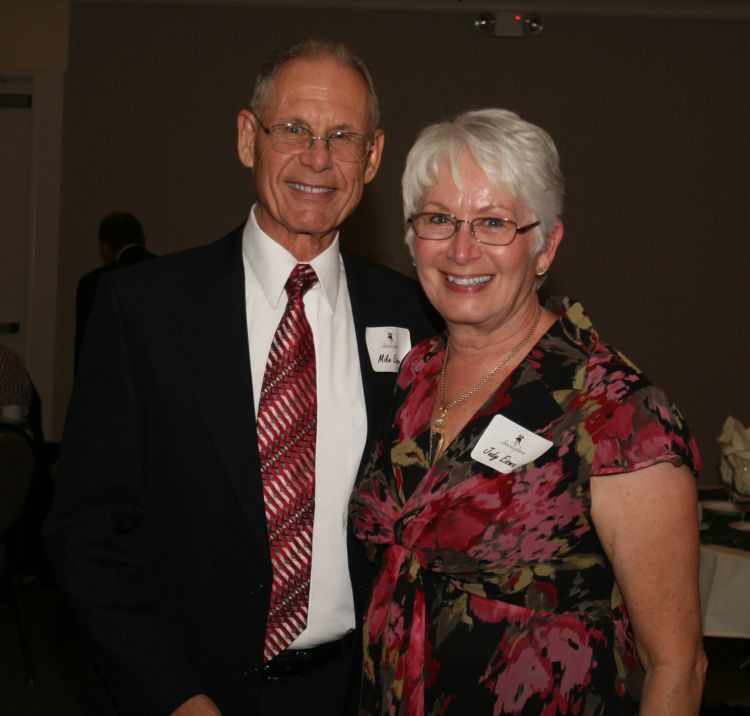 Mike and Judy are color coordinated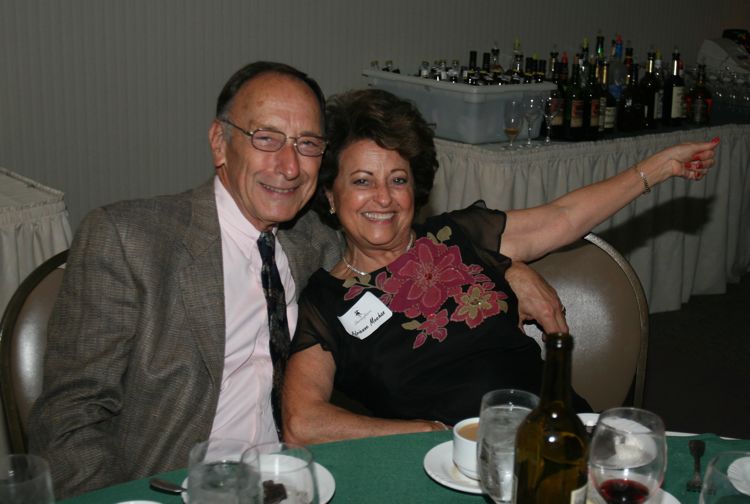 The Meehan's also have a great seat... Adjacent to the bar!

Barbara and Ivan are ready to dance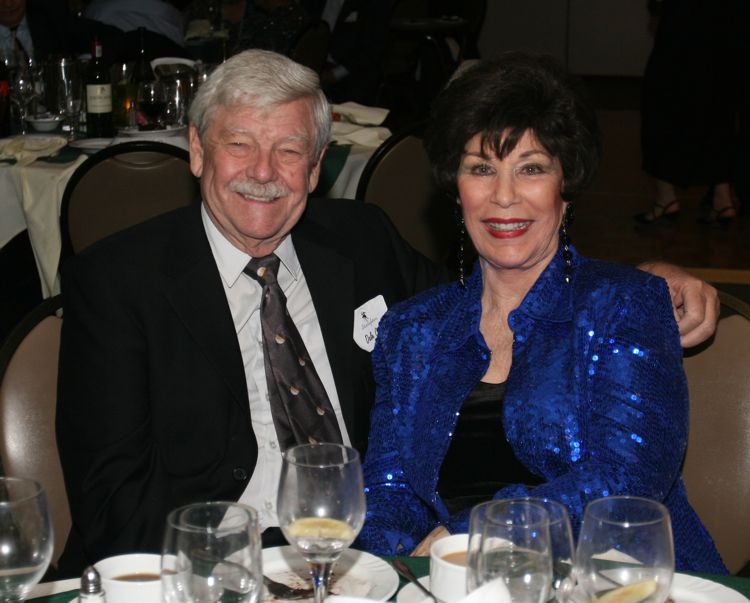 The Kegal's look so serious

Mimi and David look pretty relaxed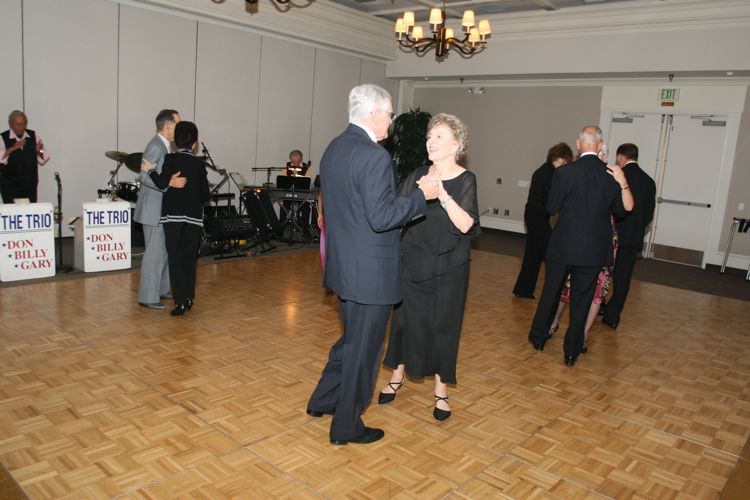 The band is back

Coffee anyone?
Did you know? - Coffee is a popular brewed drink prepared from roasted seeds, commonly called coffee beans, of the coffee plant. They are seeds of coffee cherries that grow on trees in over 70 countries. Green unroasted coffee is one of the most traded agricultural commodities in the world. Due to its caffeine content, coffee often has a stimulating effect on humans. Today, coffee is one of the most popular beverages worldwide.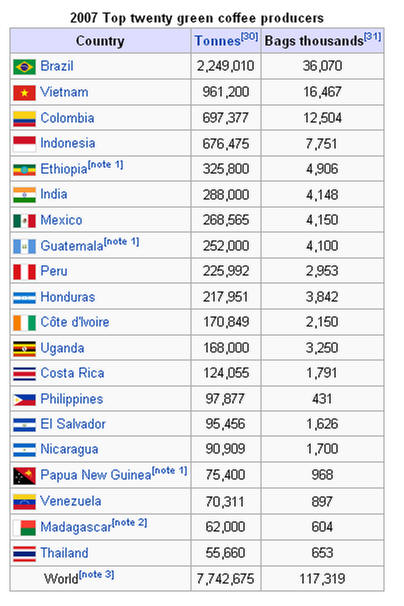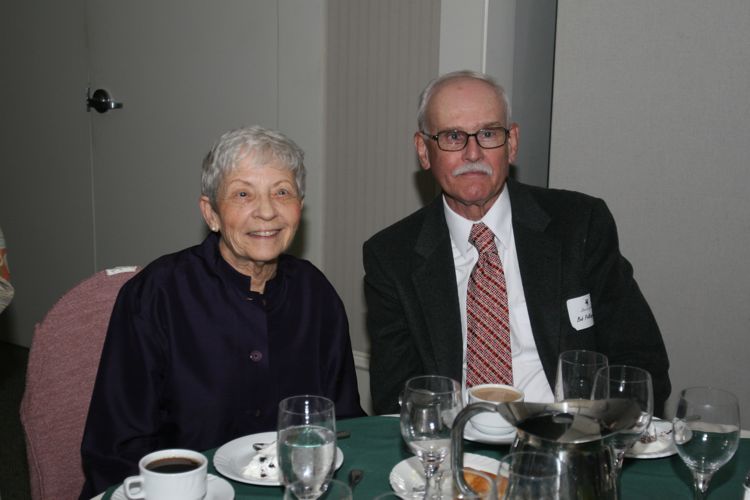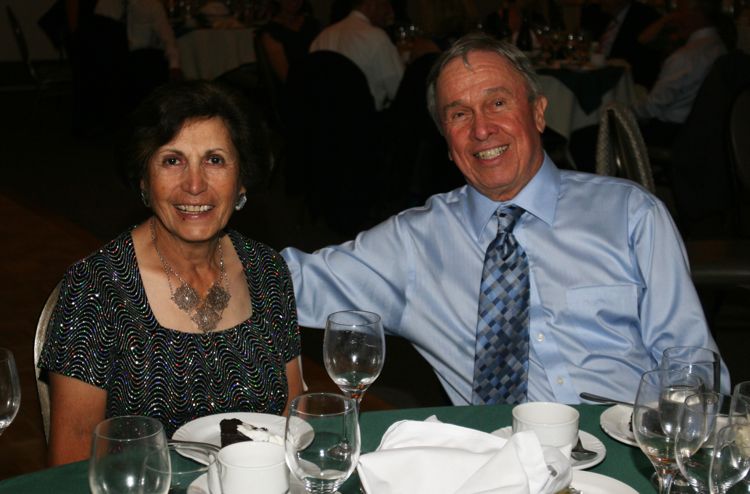 Decisions decisions... Golf or dance???

Watch the fork... He is after her dessert!
Back To The Dancing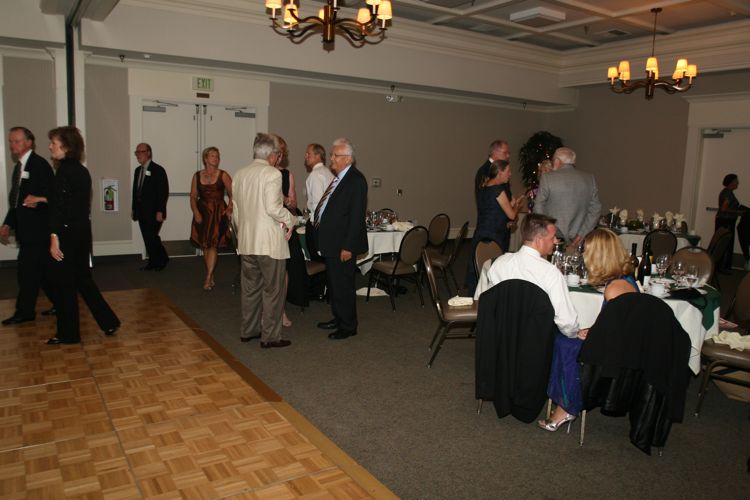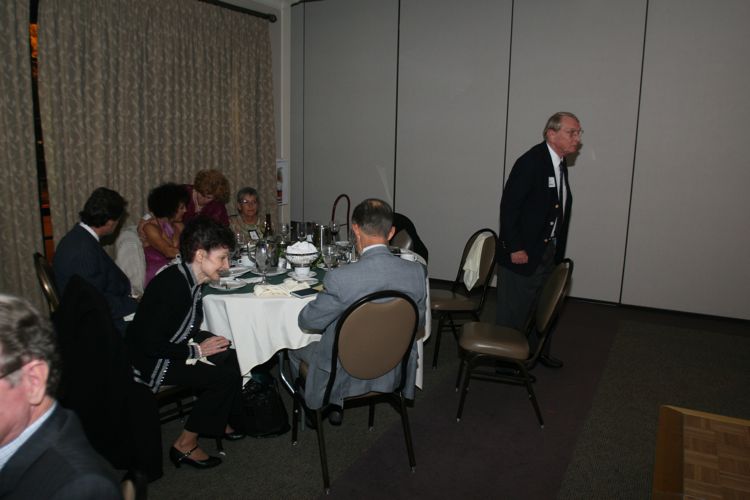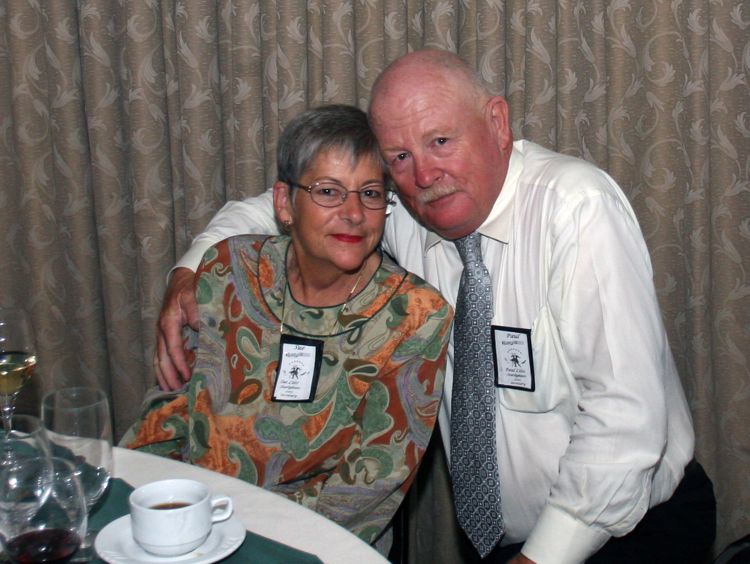 Paul and Sue at coffee time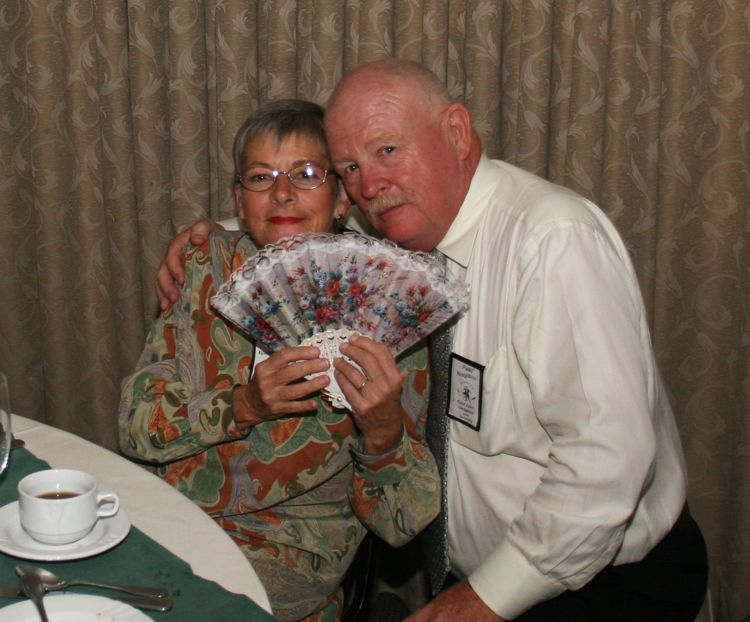 Millie and Donna and the line dance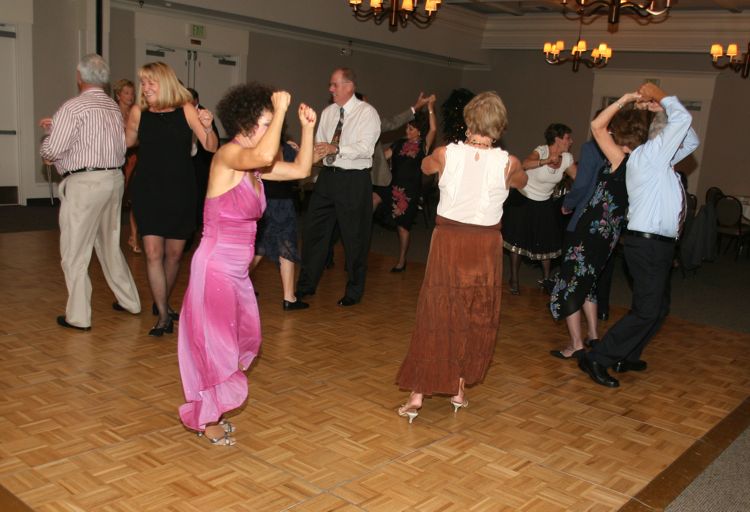 It's Fun To Visit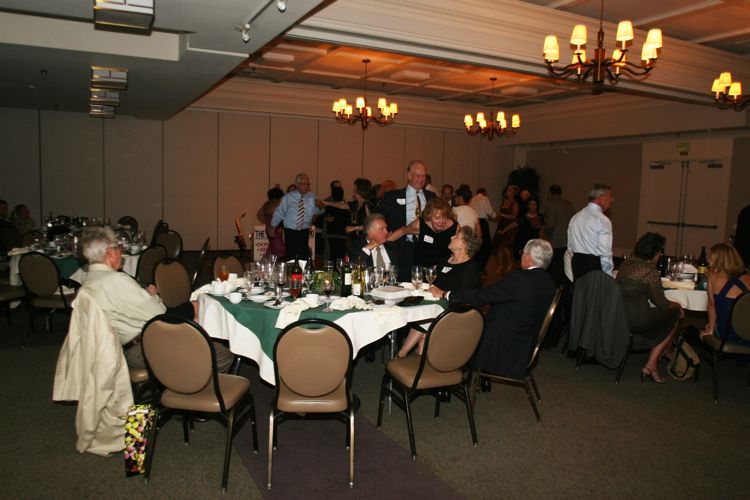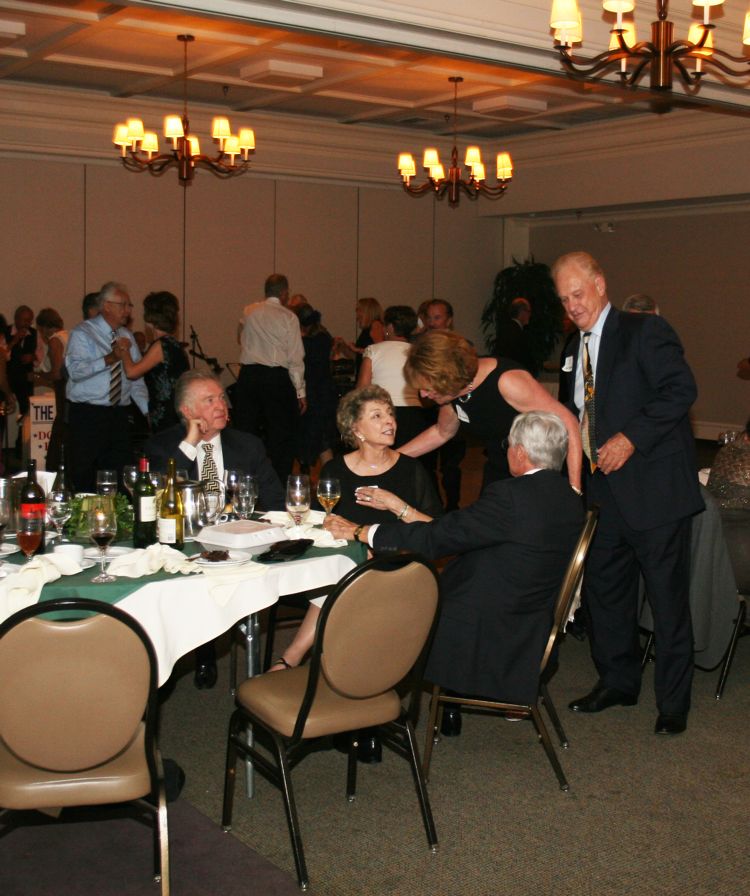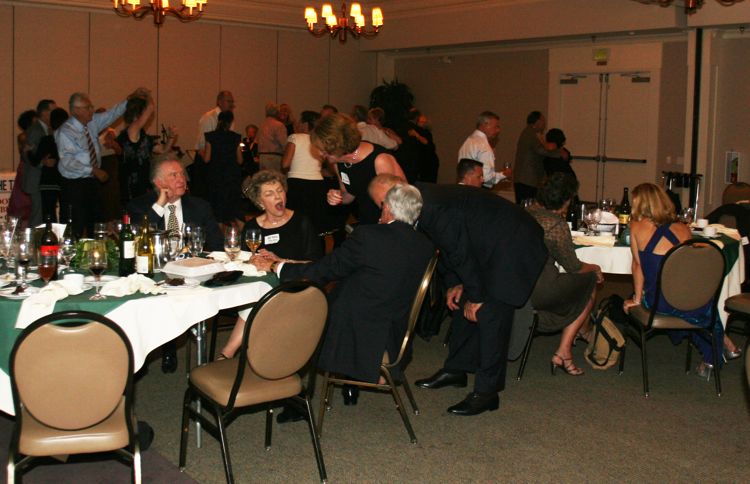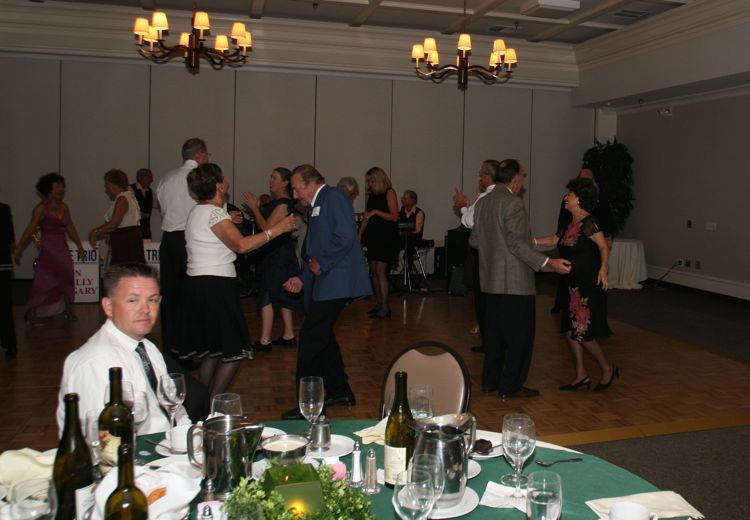 "I'm So Lonesome"
Did you know? - "I'm So Lonesome I Could Cry" is a song written and recorded by American country music singer-songwriter Hank Williams in 1949. The song about loneliness was largely inspired by his troubled relationship with wife Audrey Sheppard.
With evocative lyrics, such as the opening lines "Hear that lonesome whip-poor-will/He sounds too blue to fly," the song has been covered by a wide range of musicians.
Rolling Stone ranked it #111 on their list of the 500 Greatest Songs of All Time. It's the second oldest song on the list, and one of only two from the 1940s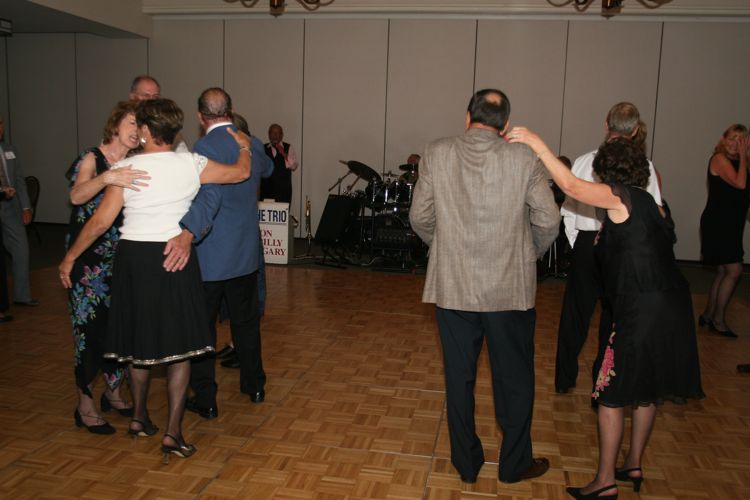 Watch the hand, this is a family oriented club!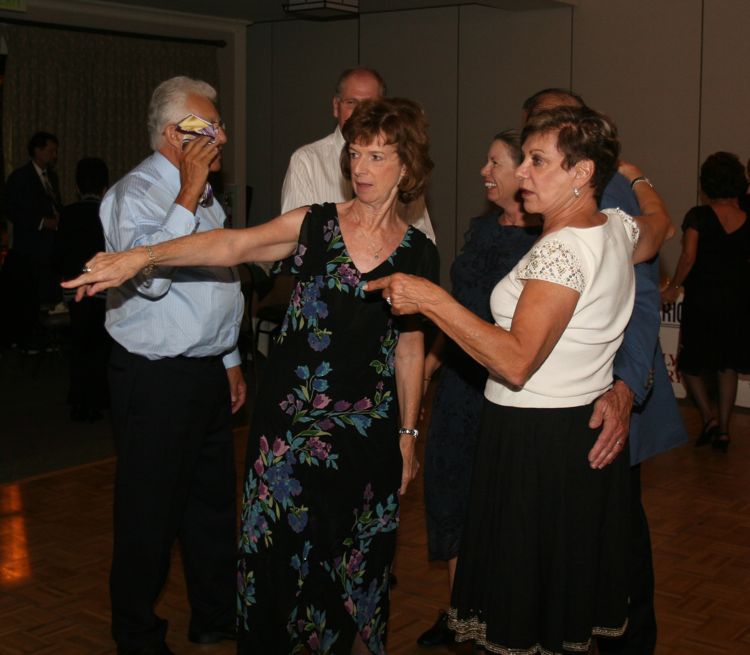 "I guess it is OK, they are doing it also!"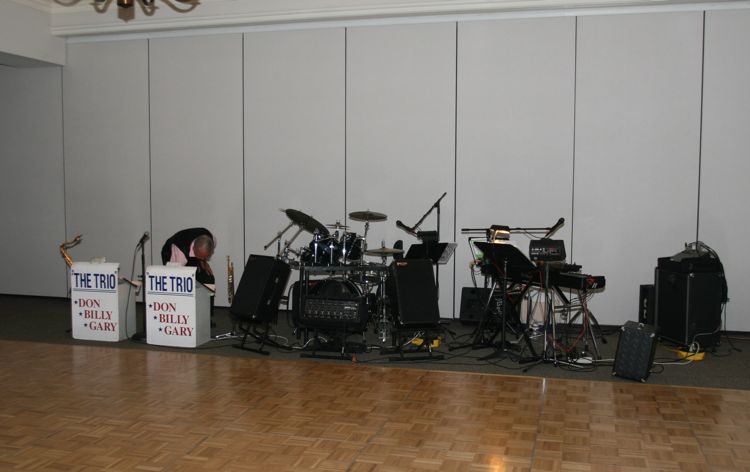 Break time... Let the instruments cool down

"What??? You are kidding, right??"