Arrival And Dining (Page Five)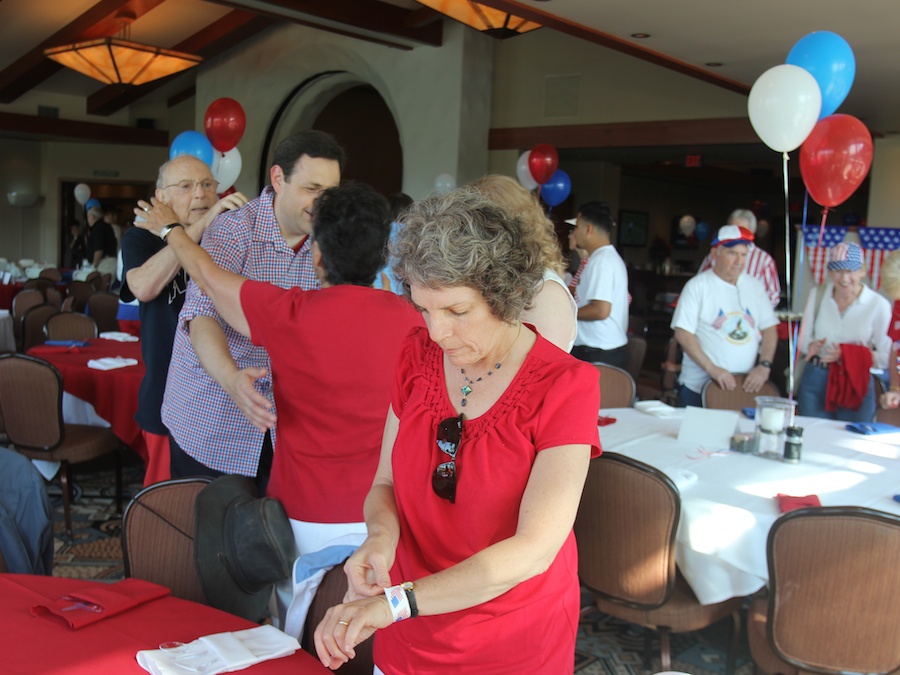 Wrist bands...
Did You Know? - Wristbands are encircling strips worn on the wrist, made from a variety of materials depending on the purpose. The term can be used to refer to the bracelet-like band of a wristwatch, to the cuff or other part of a sleeve that covers the wrist, or to decorative or functional bands worn on the wrist for other reasons, such as lanyards.

Bill checking to see who is coming in...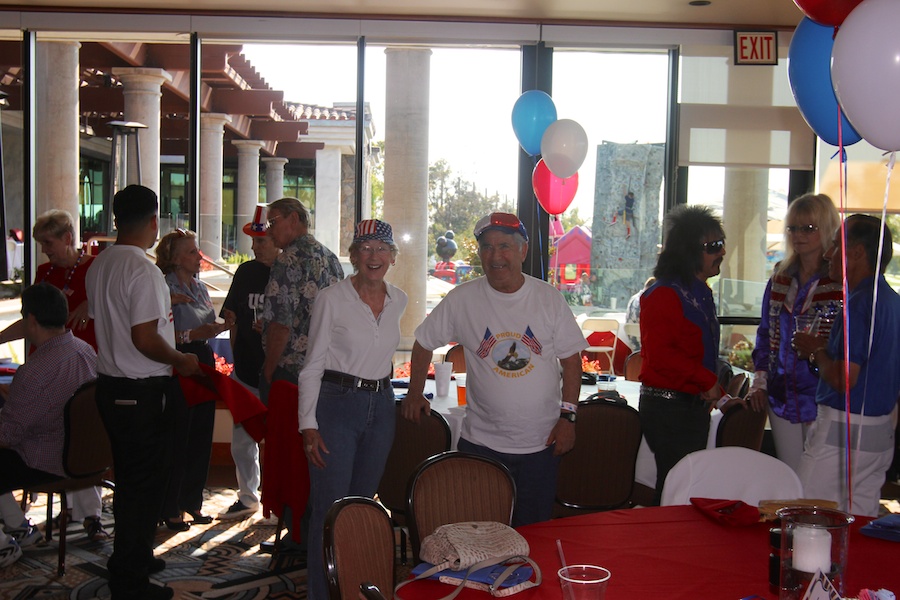 Donnis and Bernie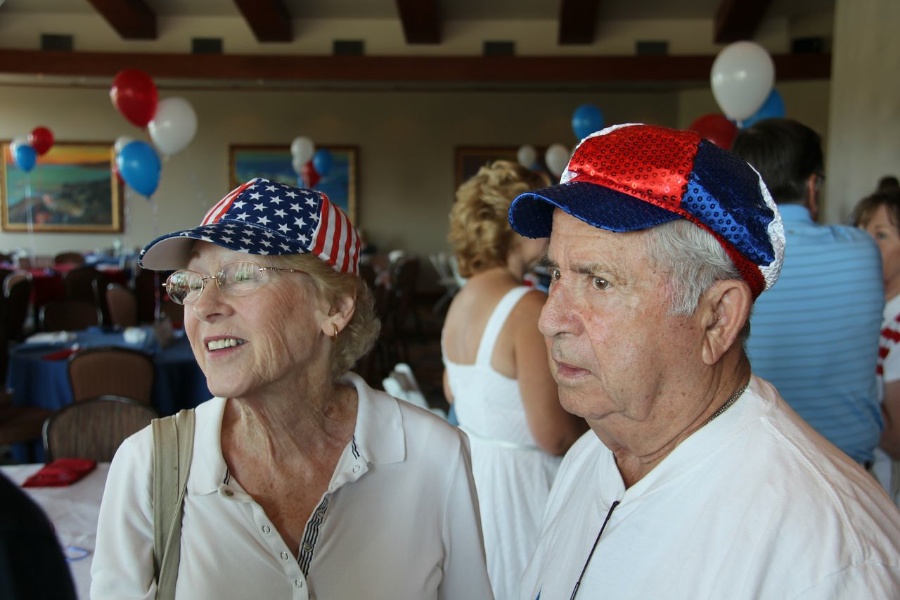 Bernie is having second thoughts about the cap?? (Courtesy of Hans)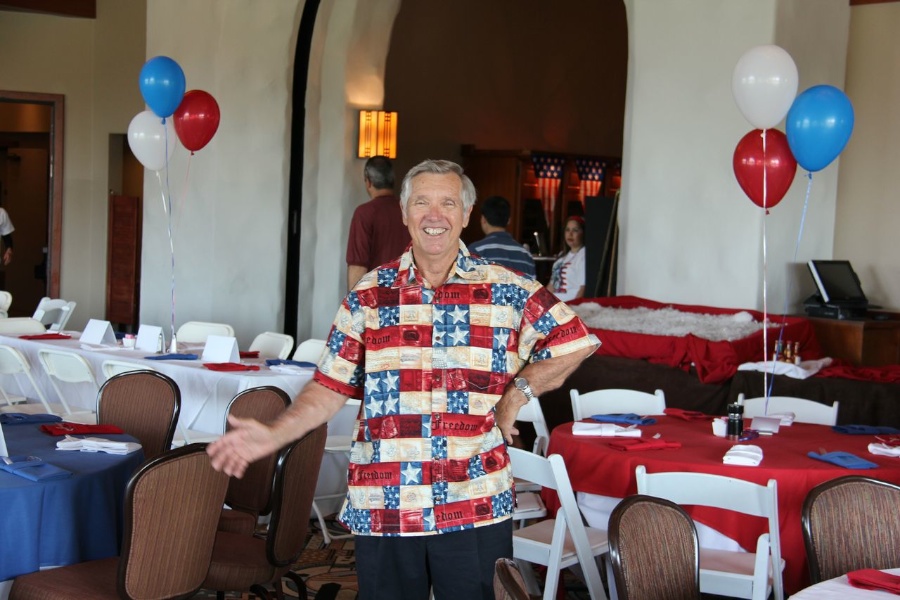 Ed is here... The party can officially start (Courtesy of Hans)

Daughter Michele alone again... "The Boys" already left for the bouncy houses (CIT's)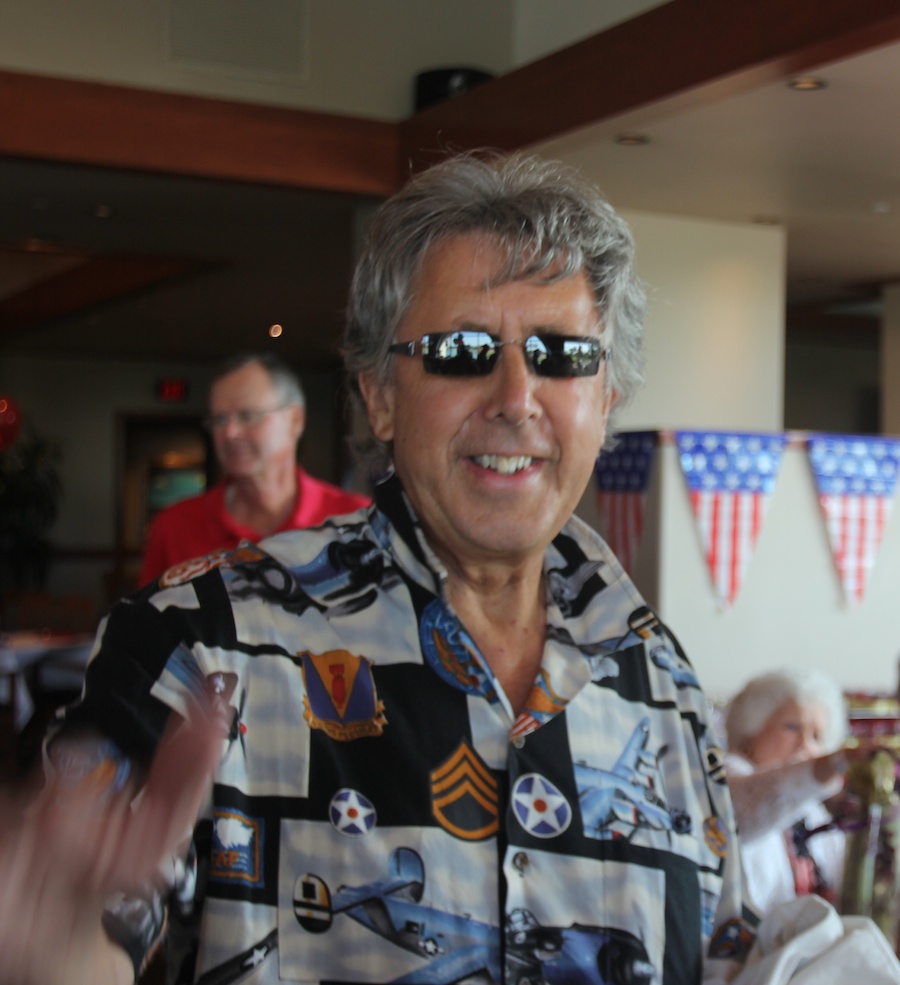 Brian is here today and going to the UK tomorrow

Donna is dressed for the day

Bob is looking for the band

James and Del are comparing shirts

"How does this silly thing work???"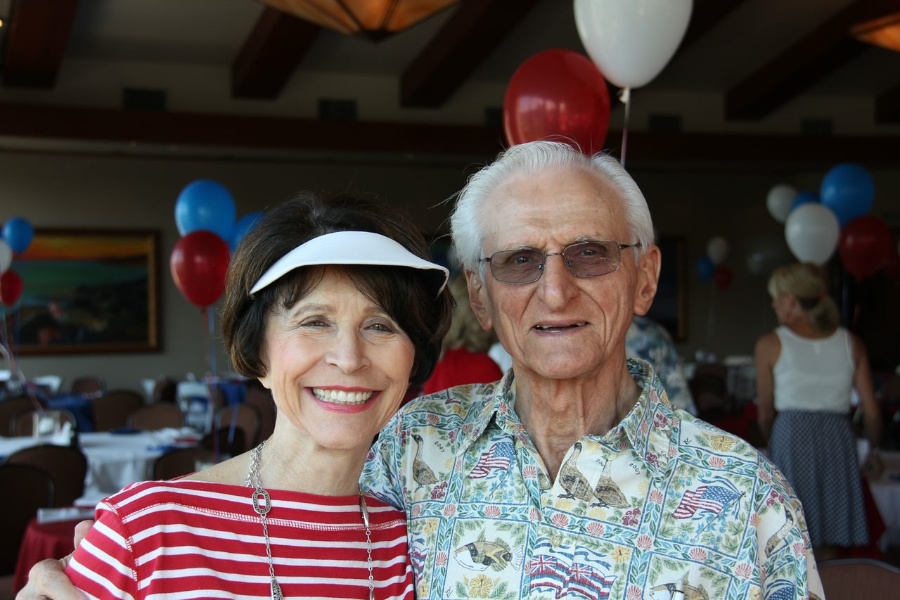 Sandy and Bob (Courtesy of Hans)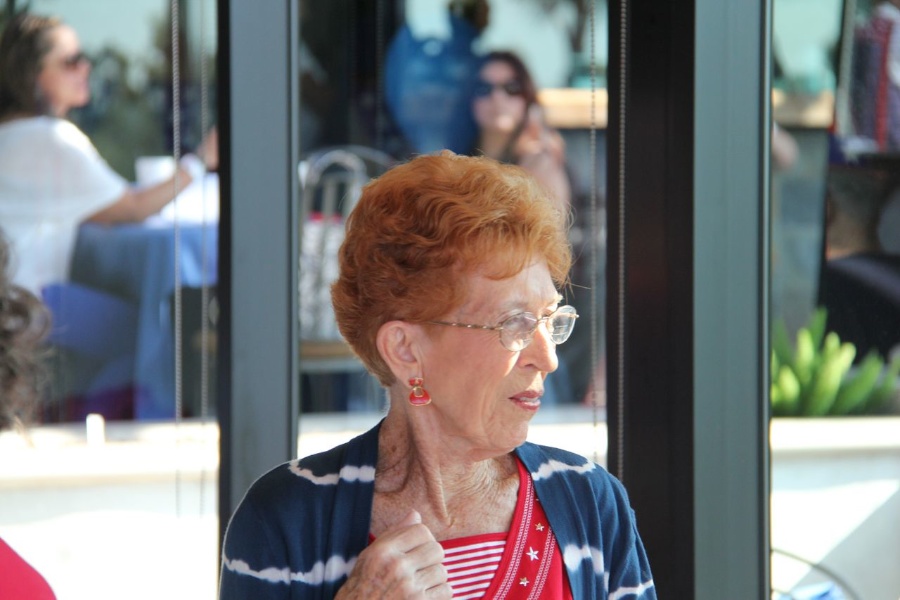 Miss Nancy all decked out in Red, White, and Blue (Courtesy of Hans)

Welcome Will and Iris to our world! (Courtesy of Hans)

James gets a photo-op with Sonny and Cher (Brad and Susie-Q) (Courtesy of Hans)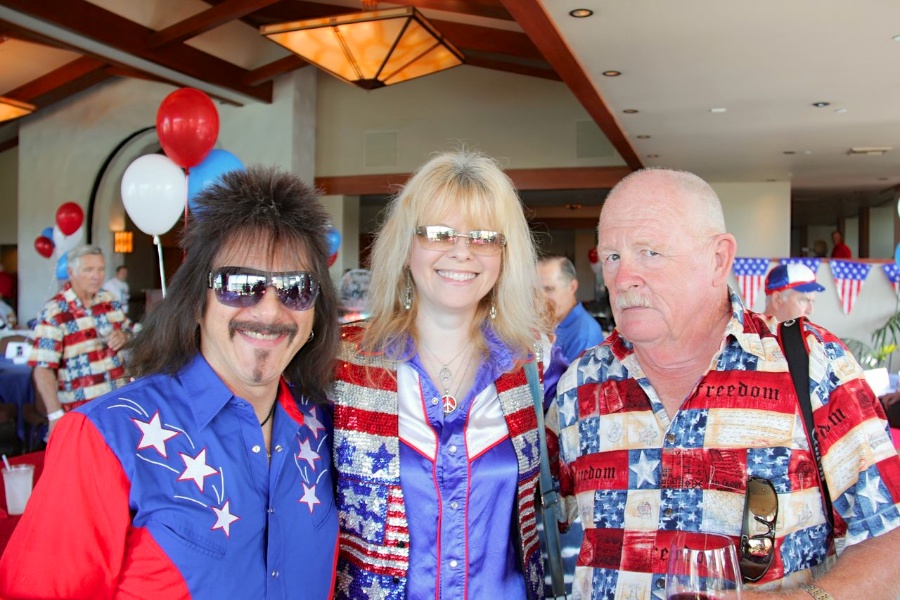 Me too! (Courtesy of Hans)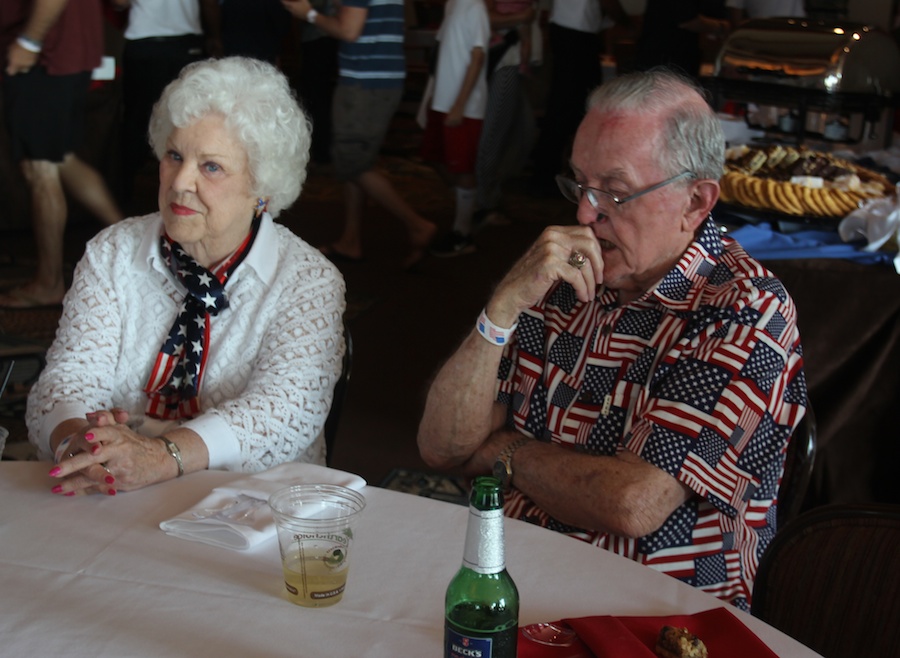 Martha and Ace joined us this afternoon

The girls get to visit (Courtesy of Hans)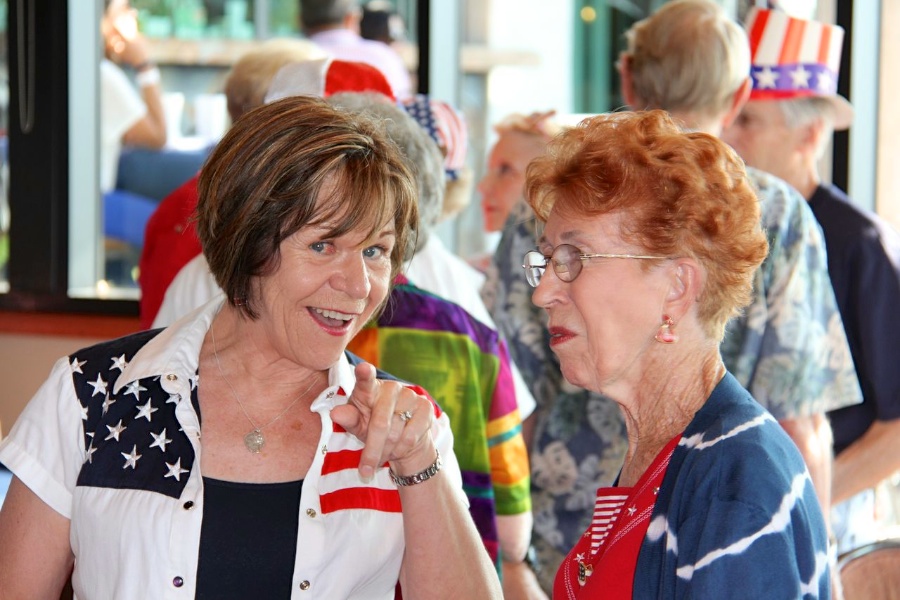 Ah ha... I see the camera man! No sneaky shots today! (Courtesy of Hans)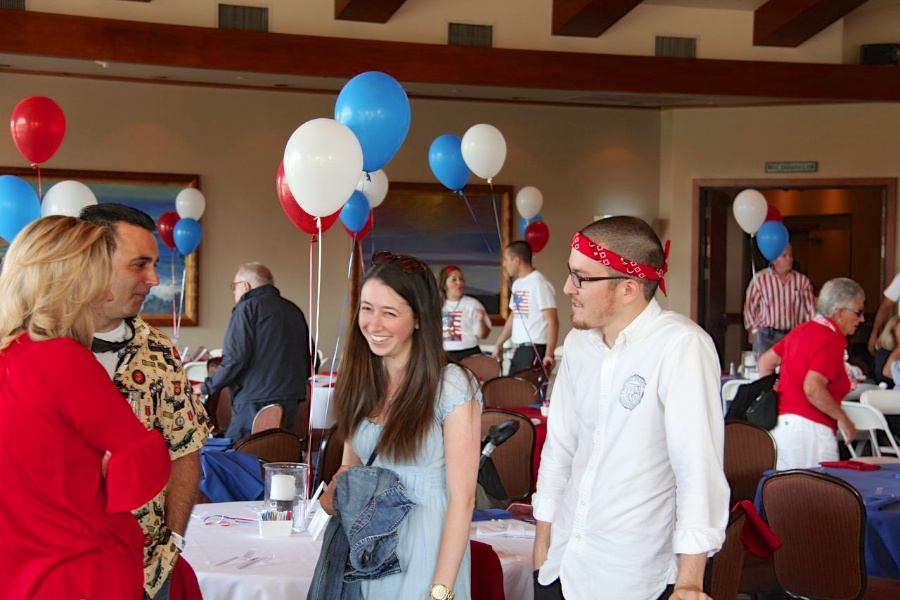 Hannah and Thomas arrive... Thomas is sporting a new look (Courtesy of Hans)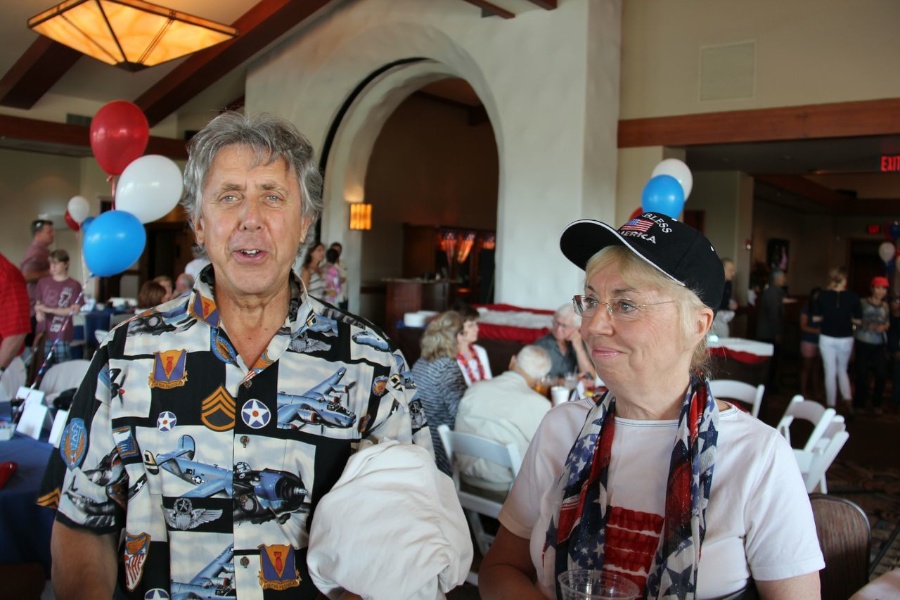 "Is it food yet???" (Courtesy of Hans)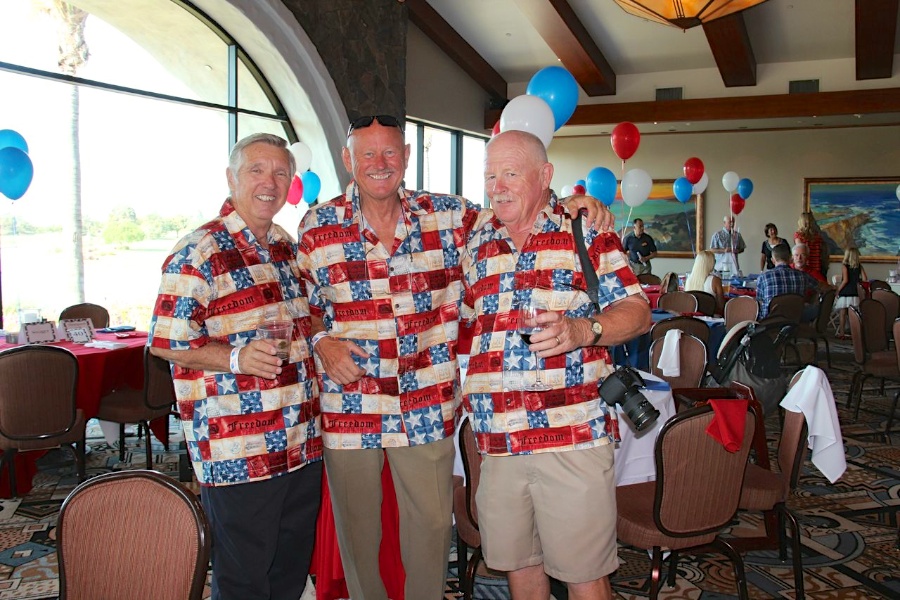 The traditional Freedom Shirt picture (Courtesy of Hans)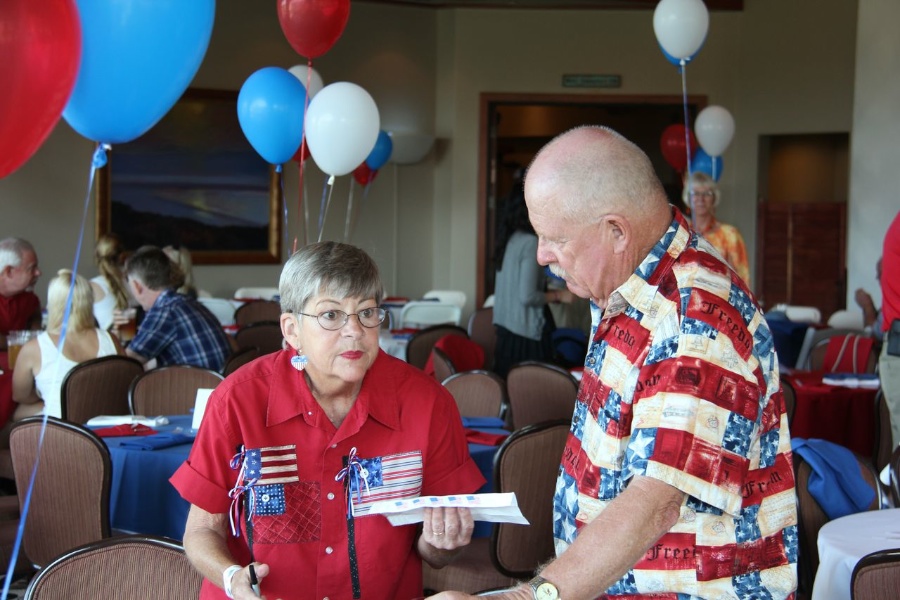 "But we have seats remaining.... Little does she know!" (Courtesy of Hans)

The gang really knows how to visit! (Courtesy of Hans)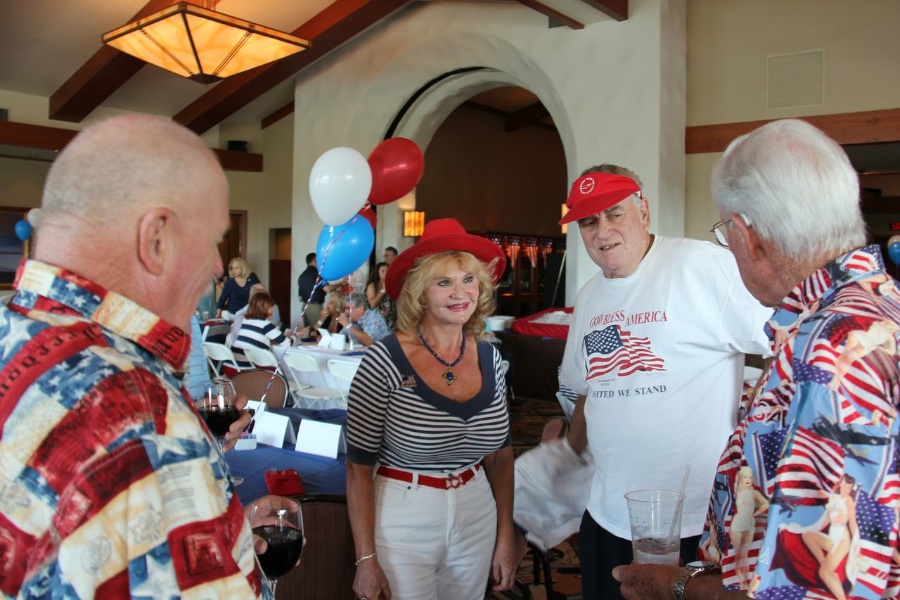 Wally and Ghislene arrive just in time (Courtesy of Hans)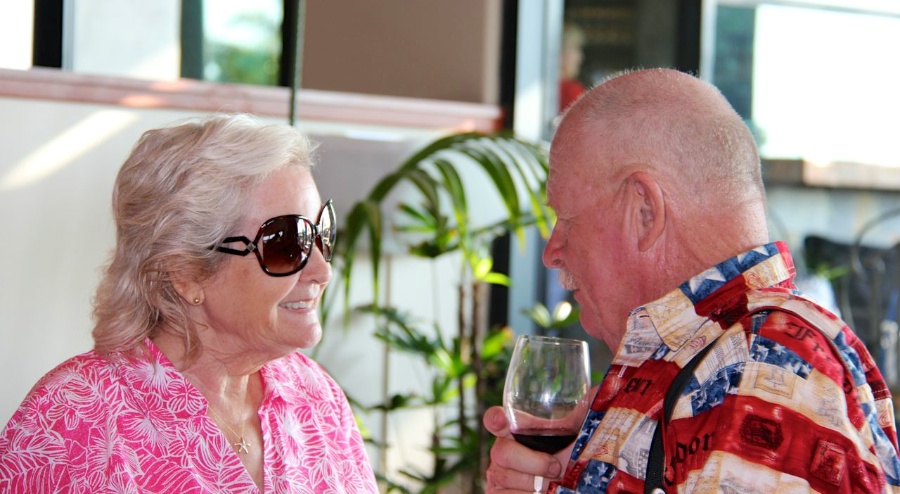 Swapping stories with Linda (Courtesy of Hans)

Check, check, and double check!! Some people do not get to relax!~ (Courtesy of Hans)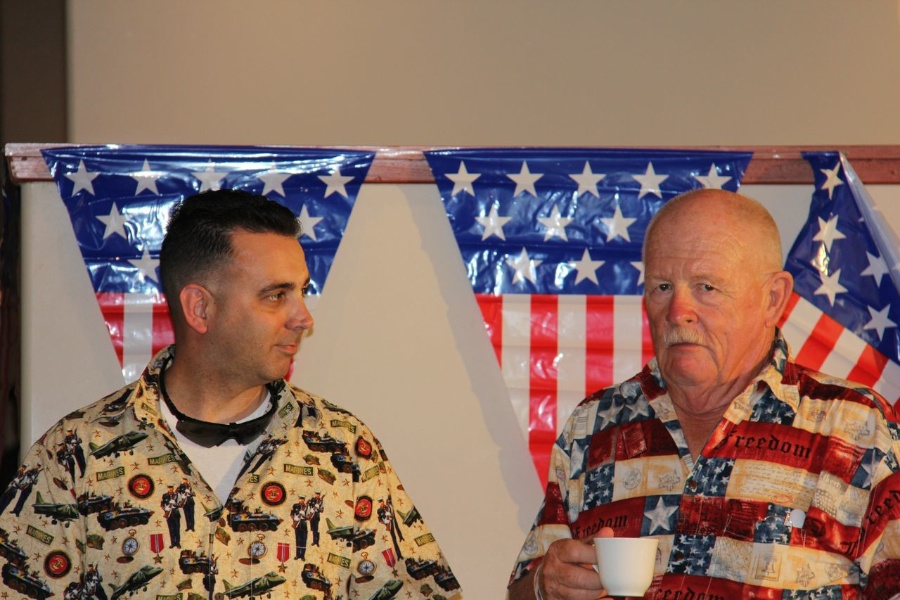 Son-In-Law Pete and Paul (Courtesy of Hans)
OMG... Paul is drinking coffee this early????

Marianne and Martha (Courtesy of Hans)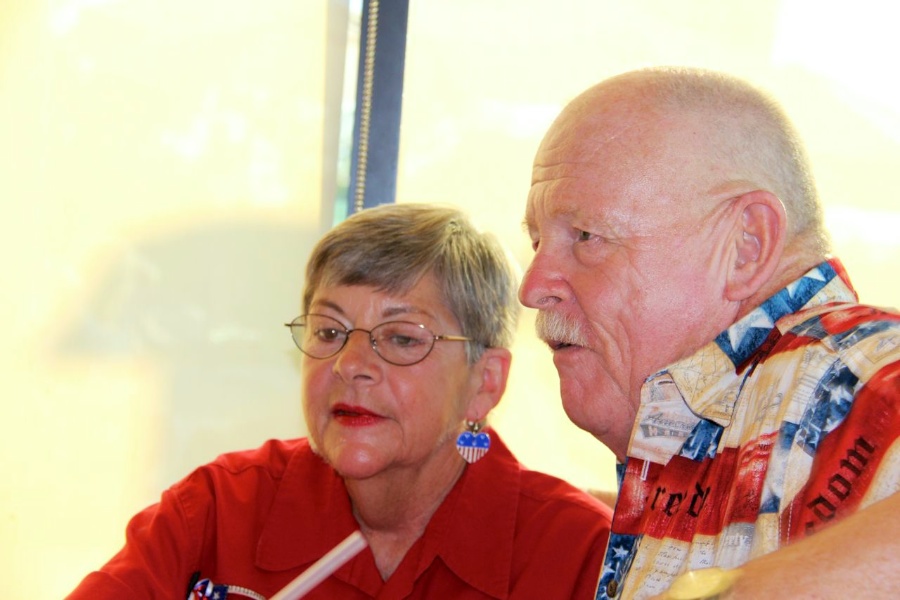 No relaxation here.... (Courtesy of Hans)

Get that picture (Courtesy of Hans)

Marianne and Pete (Courtesy of Hans)
Dinner Is Almost Served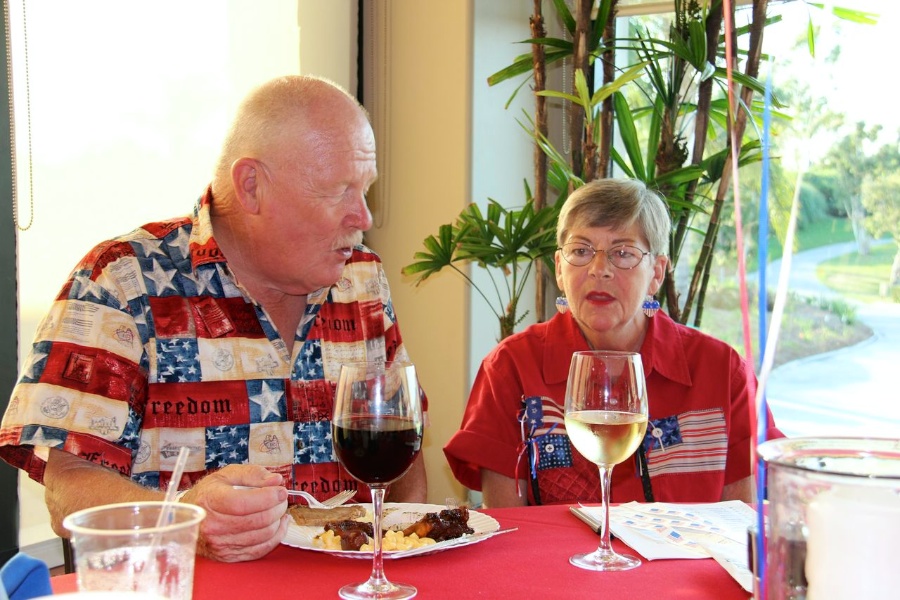 Food... This is a good thing! (Courtesy of Hans)
"Paul, look at the seafood area... Houston, we may have a problem!"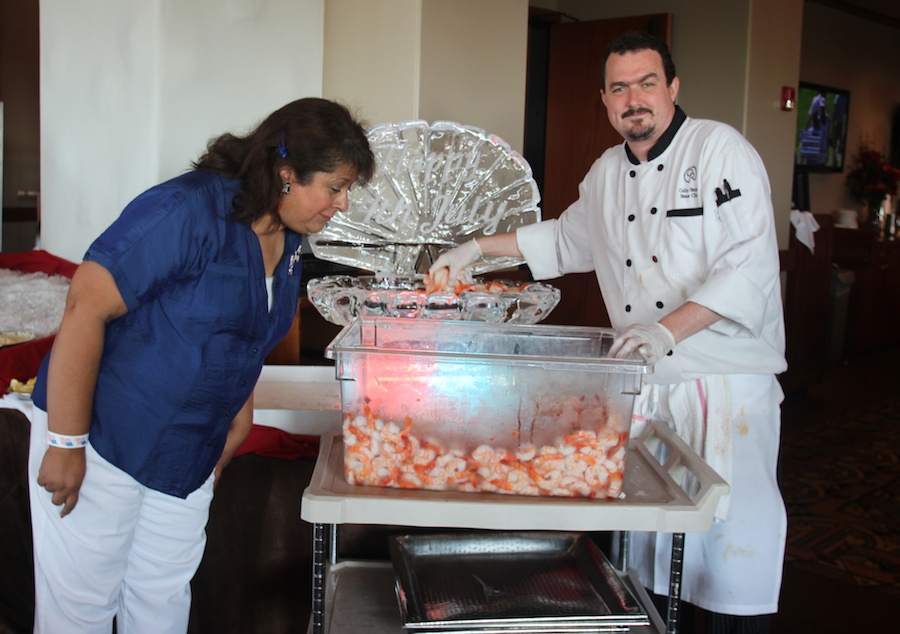 Vicky found the seafood
VERDICT: If it was any fresher, you would have to slap it!

You guys don't have a chance

Looking good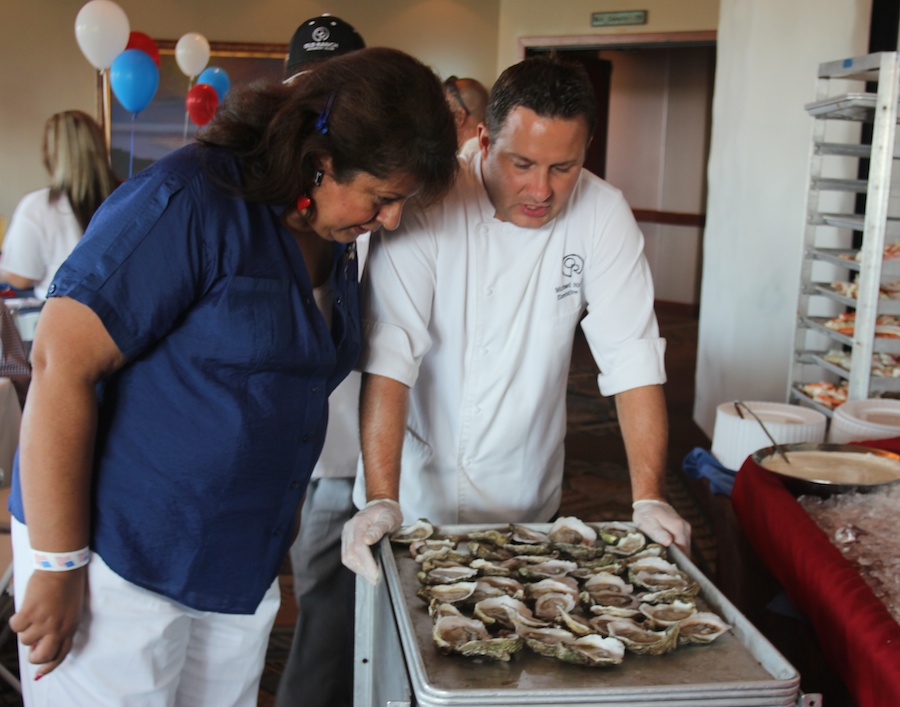 Vicky and Chef Michael check the oysters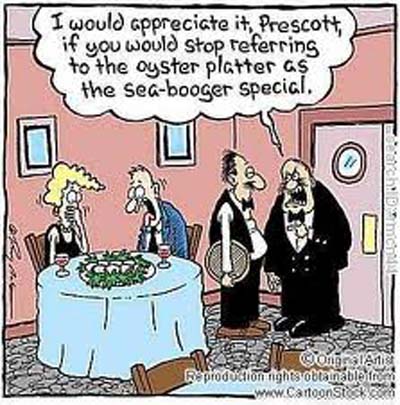 Vicky approves so they must be excellent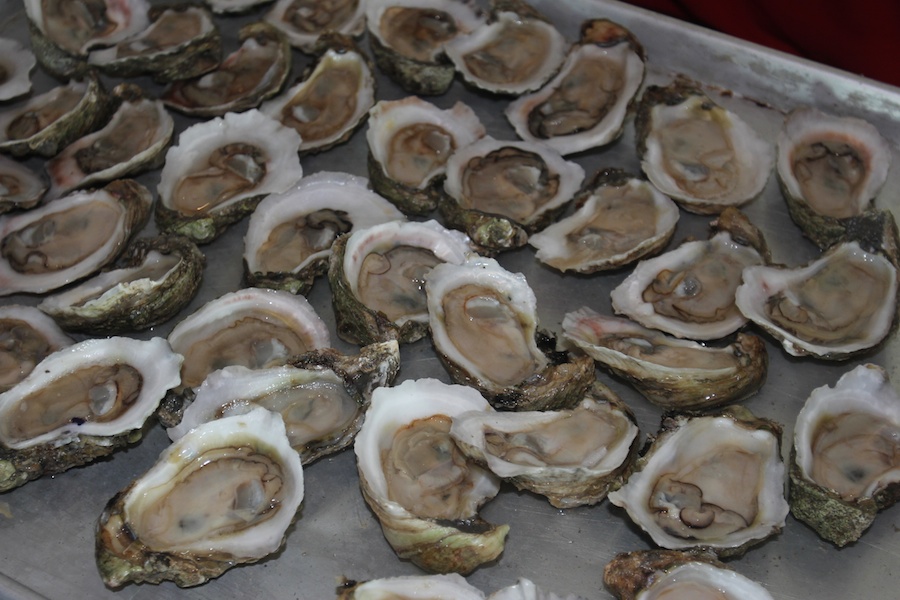 Odles and odles
Did You Know? - Oysters are an excellent source of zinc, iron, calcium, and selenium, as well as vitamin A and vitamin B12. Oysters are low in food energy; one dozen raw oysters contains 110 kilocalories (460 kJ). Oysters are considered most nutritious when eaten raw.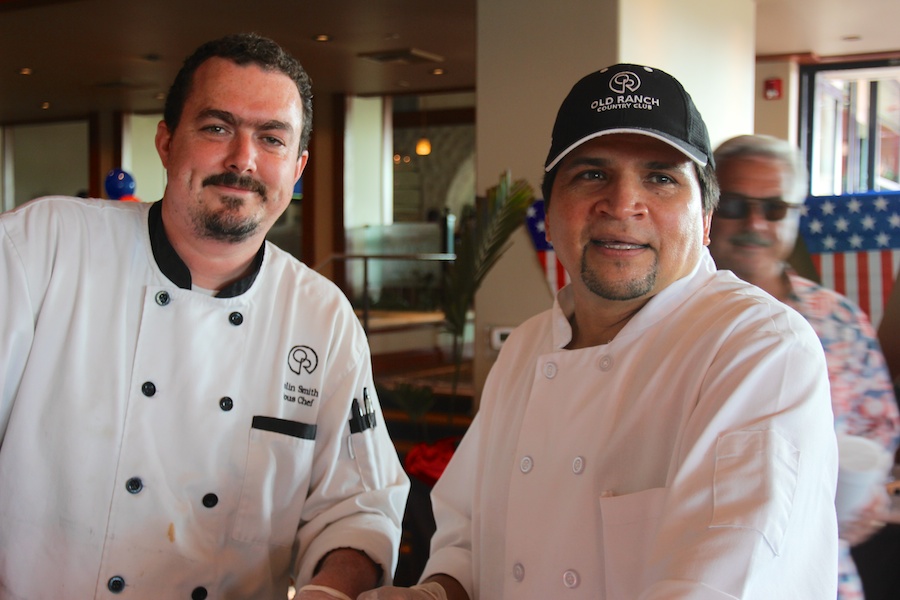 The staff is bringing in a ton of food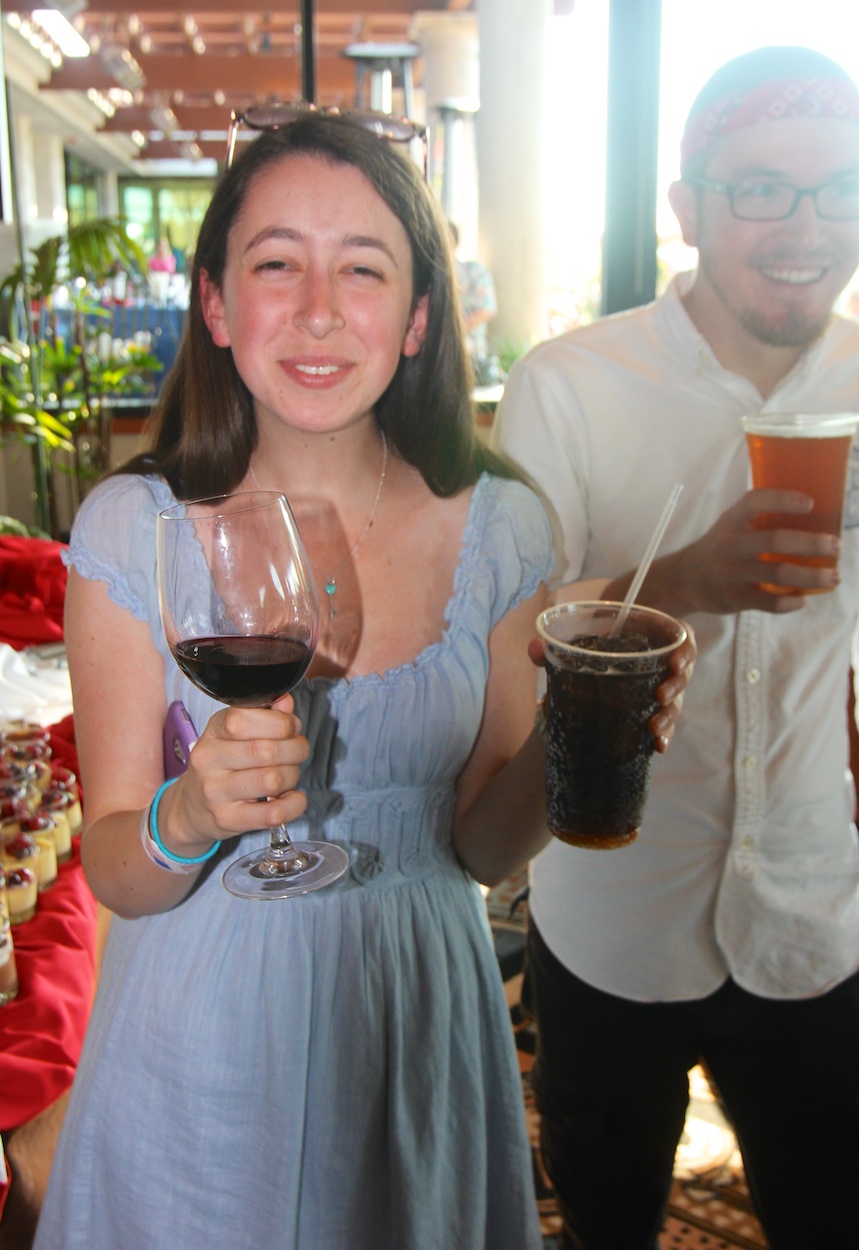 Hannah has her wine.... OK, she is holding Paul's wine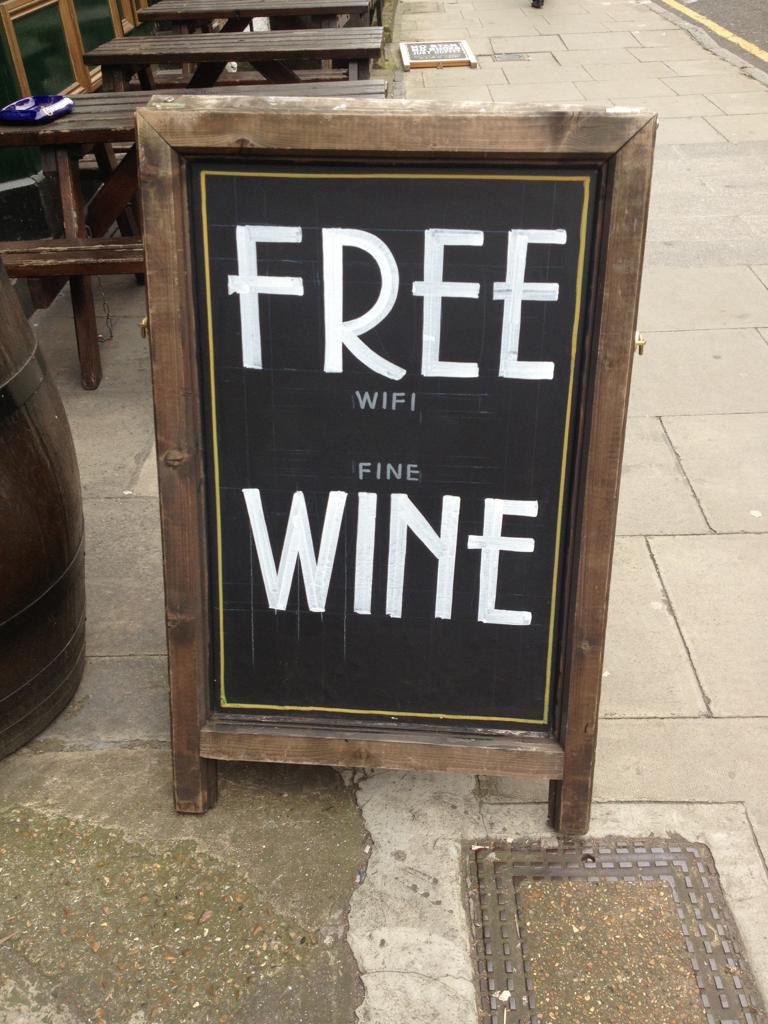 Hannah saw the sign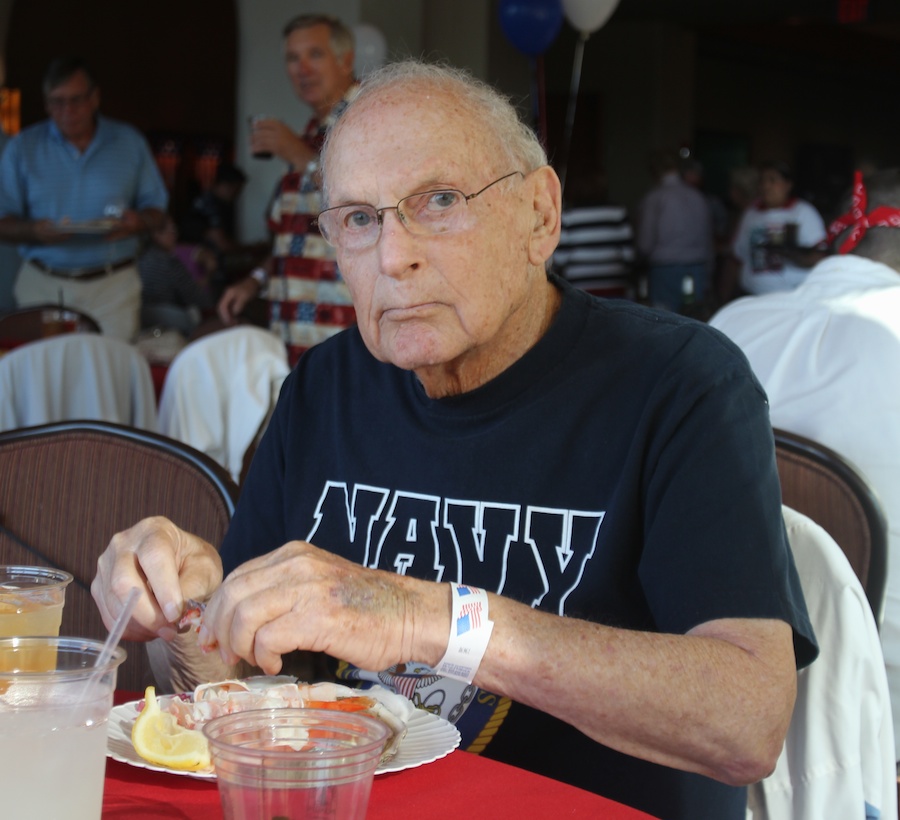 Herb begins early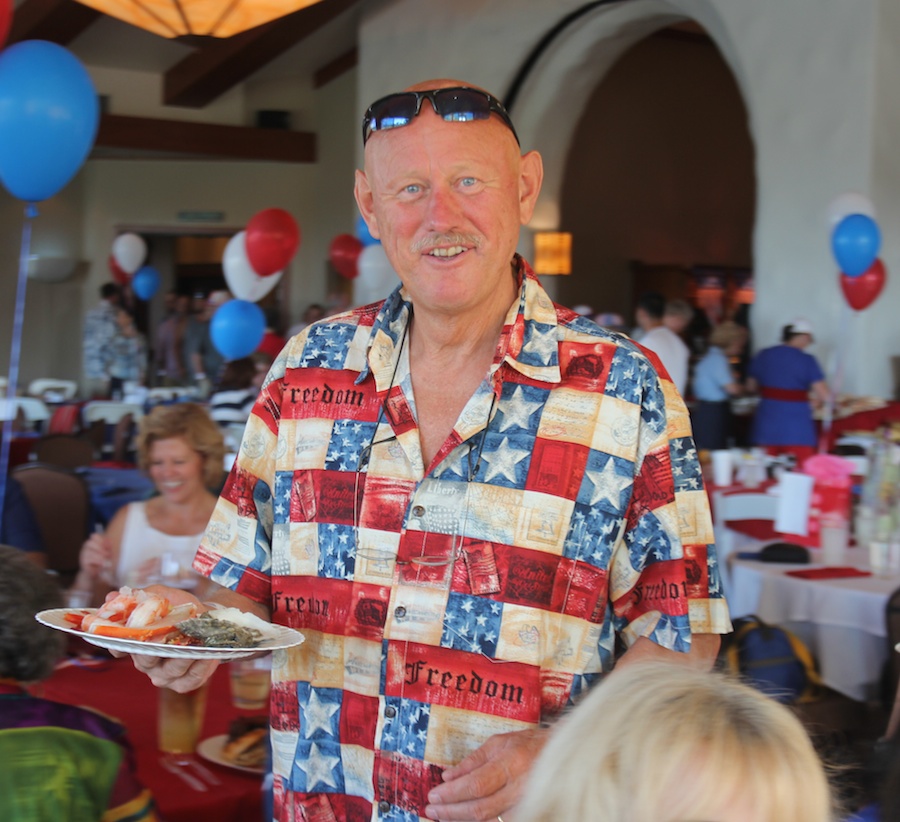 Hans found the crab legs

Love the wig ... What, it's NOT a wig????

The masked diner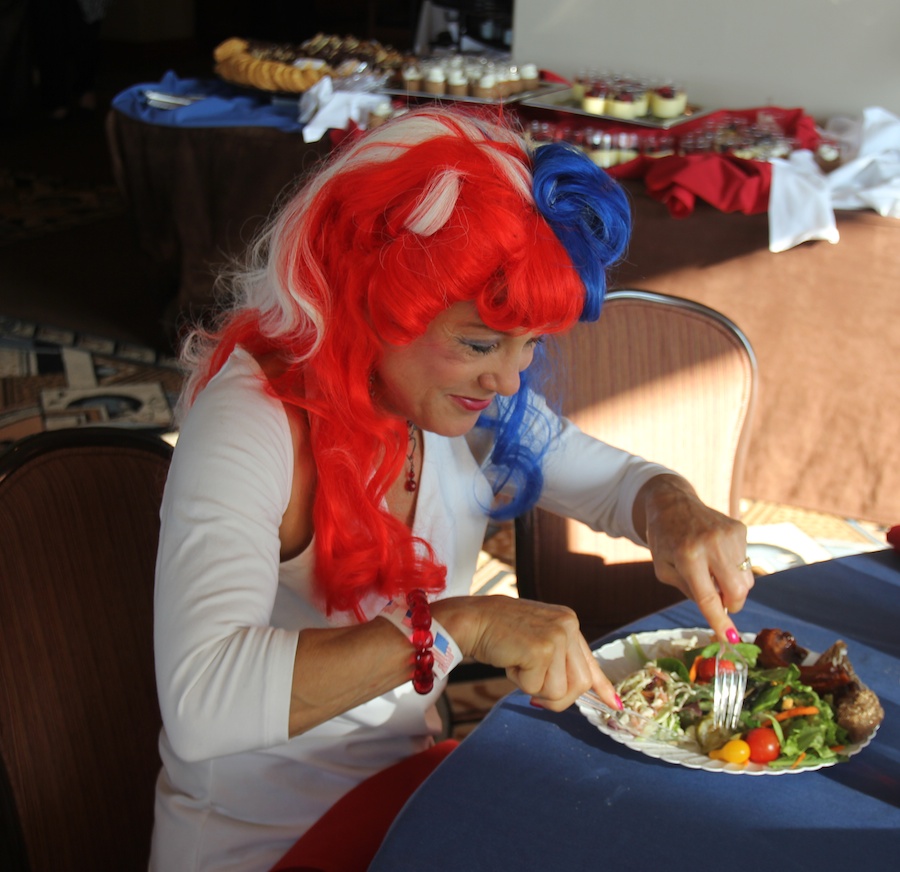 "No time to talk.... Only time to eat!"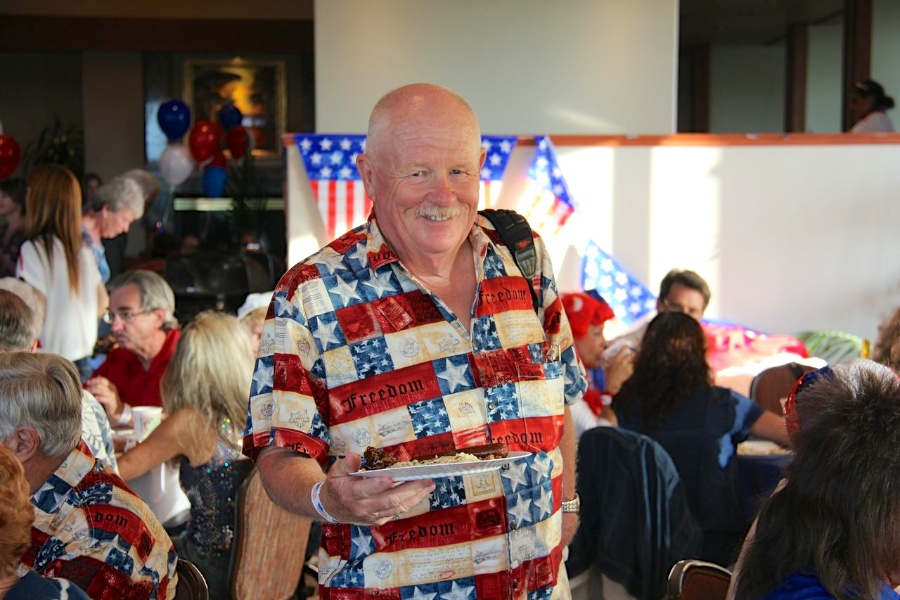 Paul made the trip and came back without dessert (Courtesy of Hans)

It's a food parade... The band is following us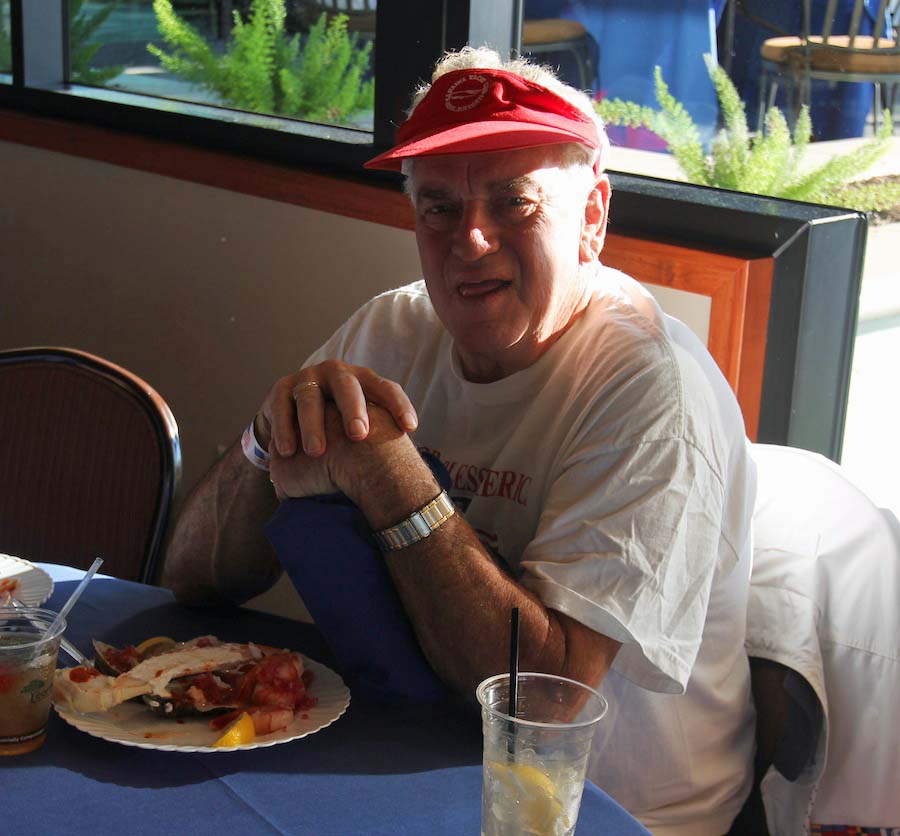 Wally found a quiet corner spot

Neal is looking good....

"Bob... Where did you find the corn???"
Did You Know? - Corn on the cob (known regionally as "pole corn", "cornstick", "sweet pole", "butter-pop" or "long maize") is a culinary term used for a cooked ear of freshly picked maize from a cultivar of sweet corn. Sweet corn is the only variety of maize eaten directly off the cob.
The ear is picked while the endosperm is in the "milk stage" so that the kernels are still tender. Ears of corn are steamed or boiled, usually without their green husks, or roasted with them. The husk leaves are in any case removed before serving.

Bernie is guarding dinner

Marsha and Ghislene attack the shrimp and crab

"Caught"

"Where do I go now??"

Ellen sees the end of the line

"Follow me"

John going back for the 10th time

Ketchup on the fries... Health food
Did You Know? - In the 1690s the Chinese mixed a concoction of pickled fish and spices and called it (in the Amoy dialect) kôe-chiap or kê-chiap (鮭汁, Mandarin guī zhī, Cantonese gwai1 zap1) meaning the brine of pickled fish (鮭, salmon; 汁, juice) or shellfish.
By the early 18th century, the table sauce had made it to the Malay states (present day Malaysia and Singapore), where it was discovered by British explorers. The Indonesian-Malay word for the sauce was kĕchap. That word evolved into the English word "ketchup".
Many variations of ketchup were created, but the tomato-based version did not appear until about a century after other types. By 1801, a recipe for tomato ketchup was created by Sandy Addison and was later printed in an American cookbook, the Sugar House Book.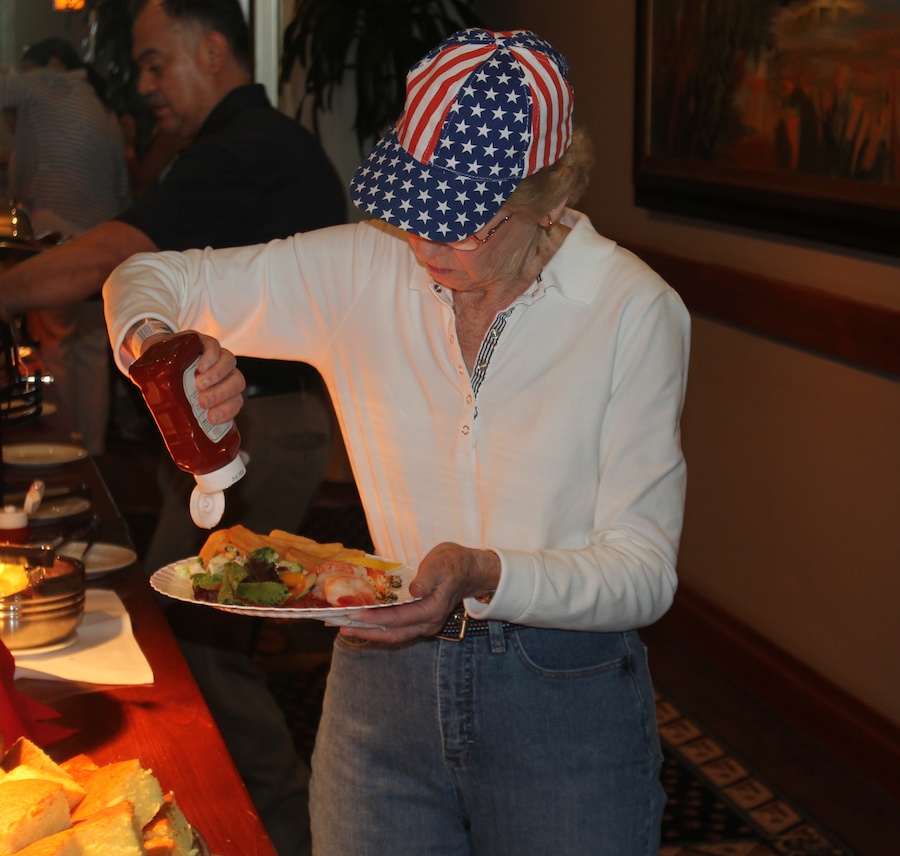 One more squeeze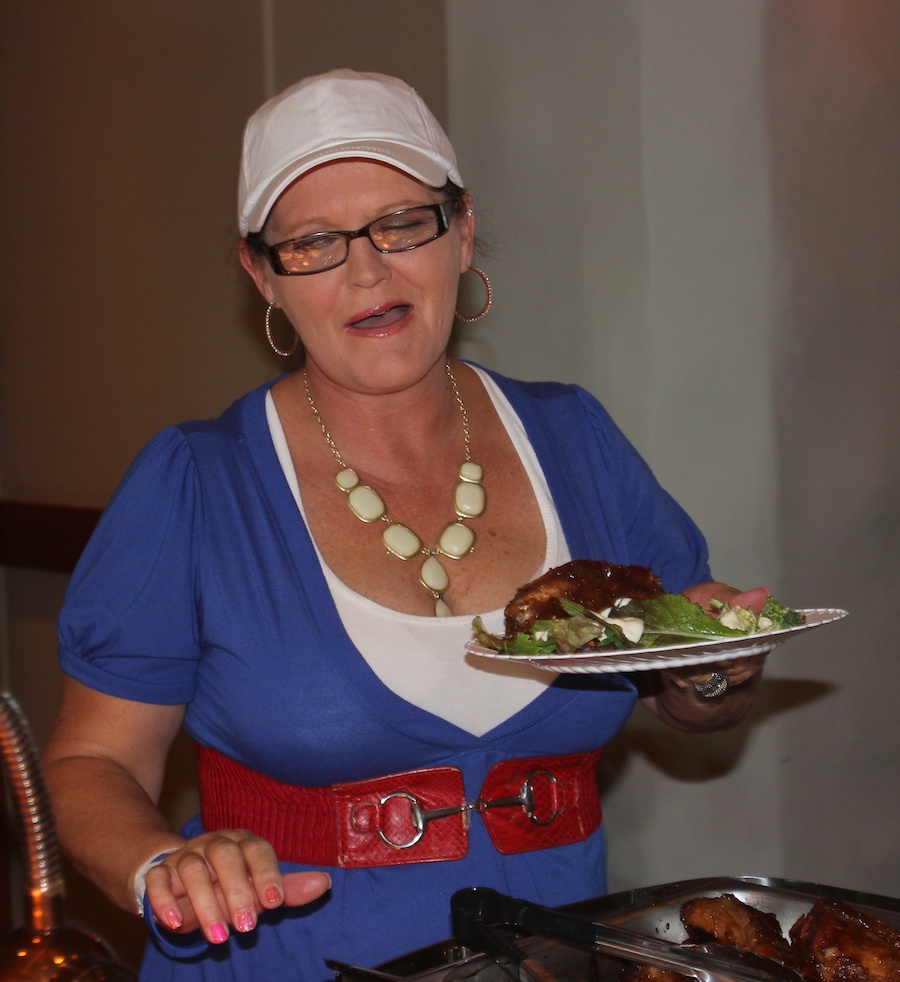 "What's next??"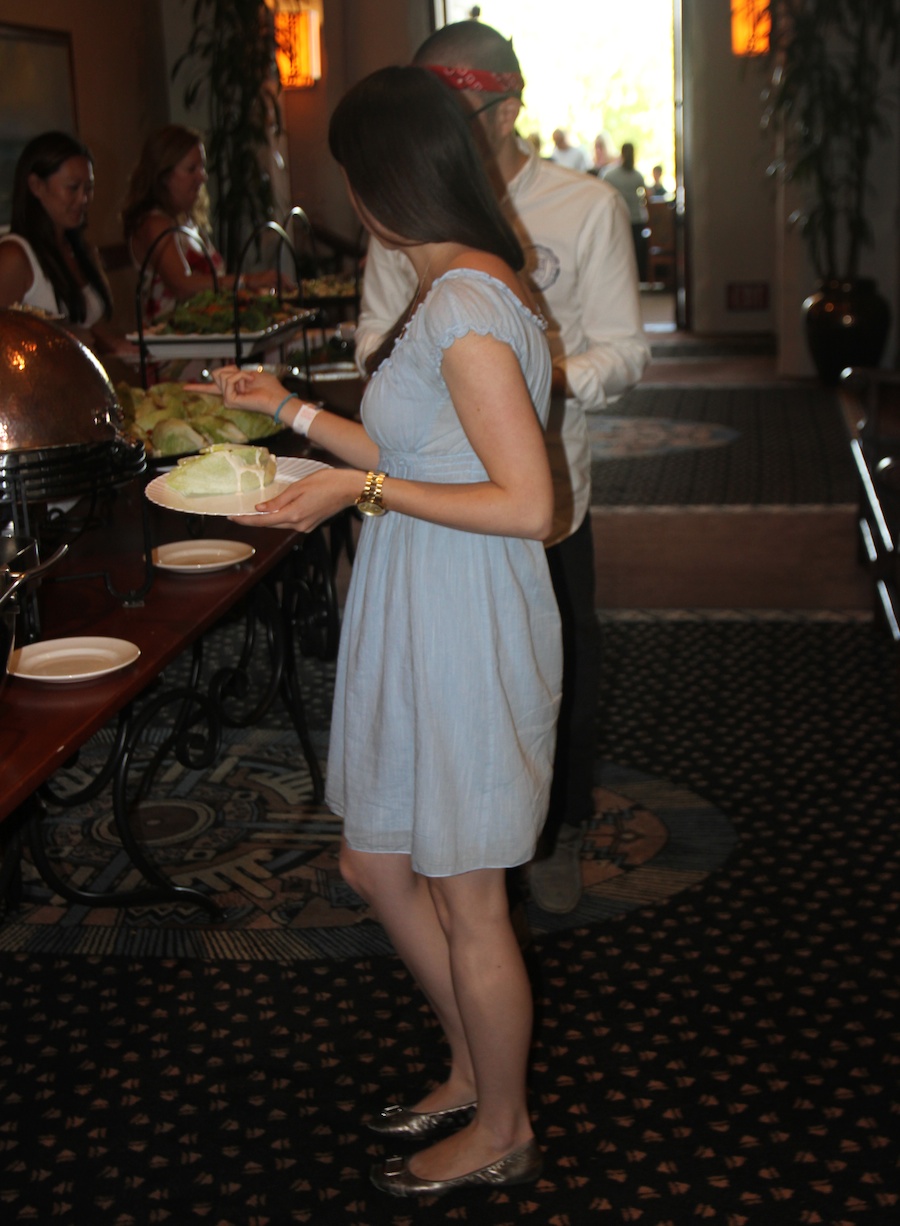 Lettuce??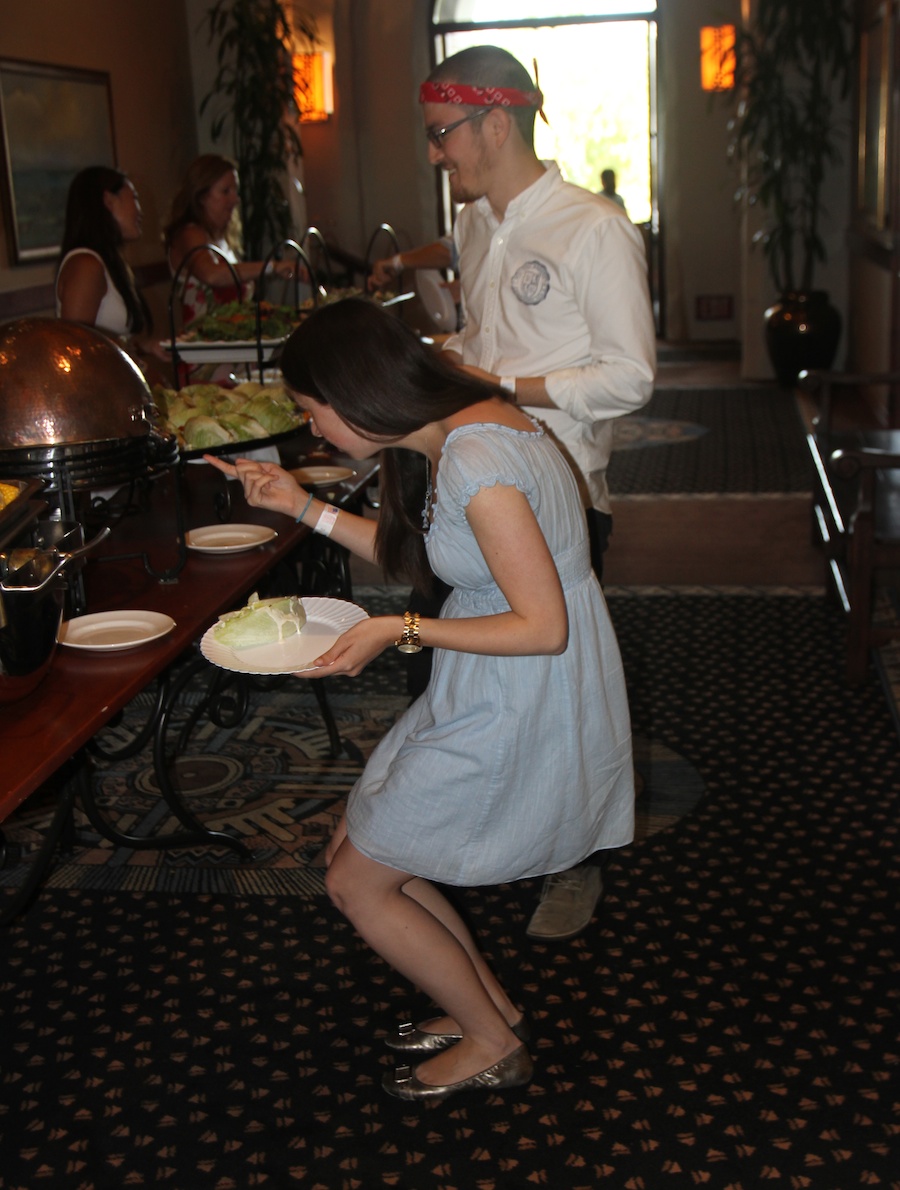 "I will just sneak a little peak!"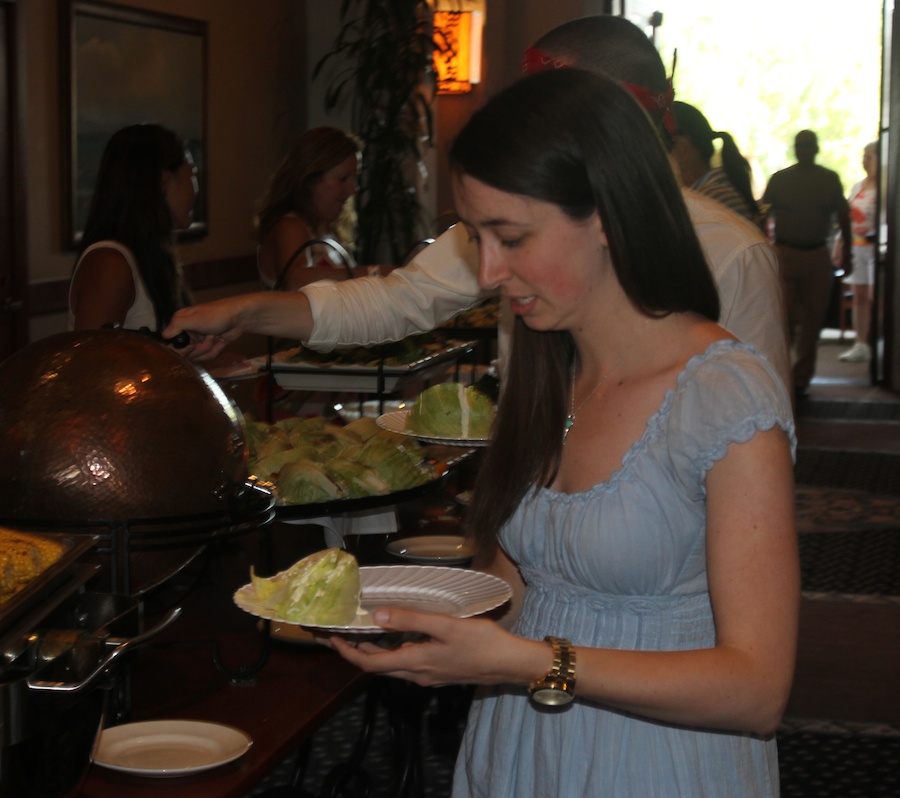 You cannot survive on letturce... But you can stay thin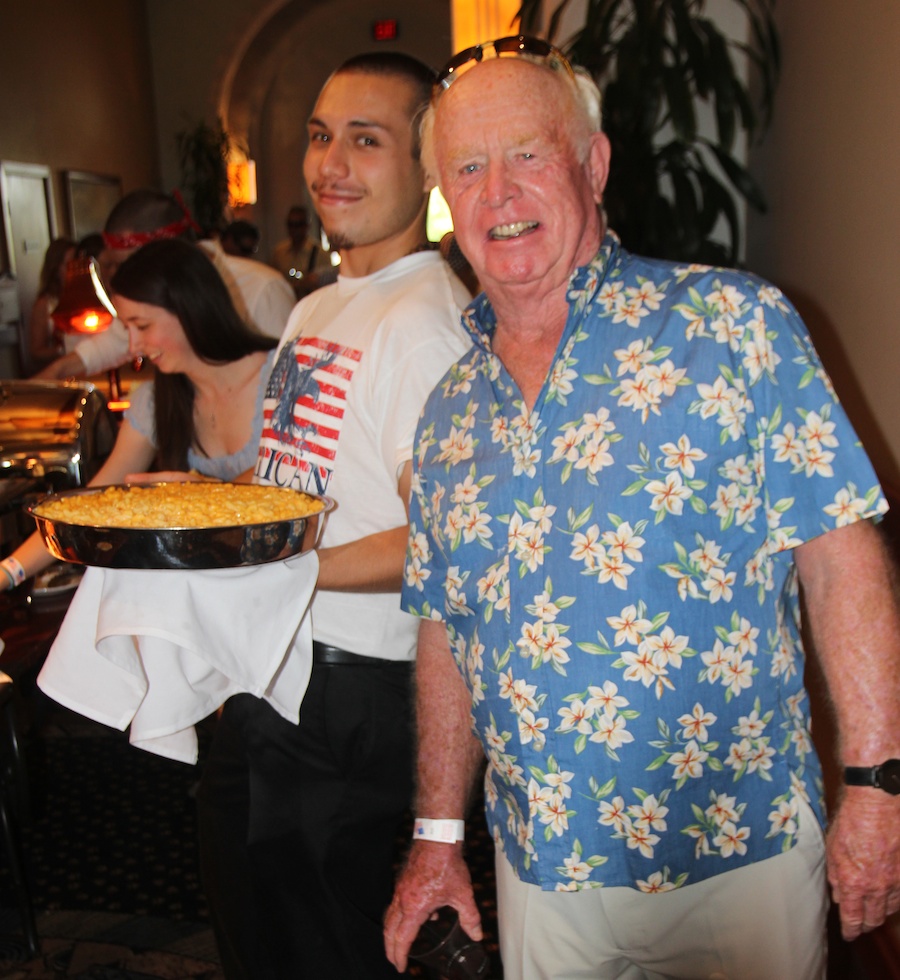 "Just deliver it to my table, please!'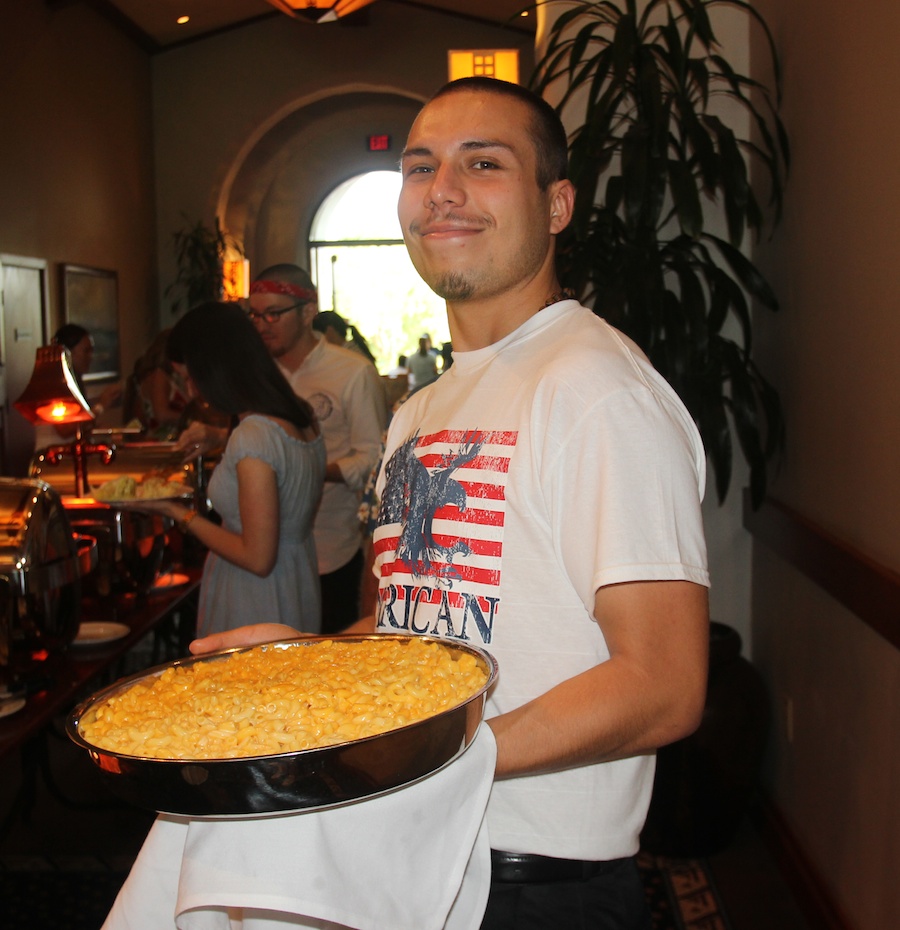 "The whole thing???"

Allison... Always a smile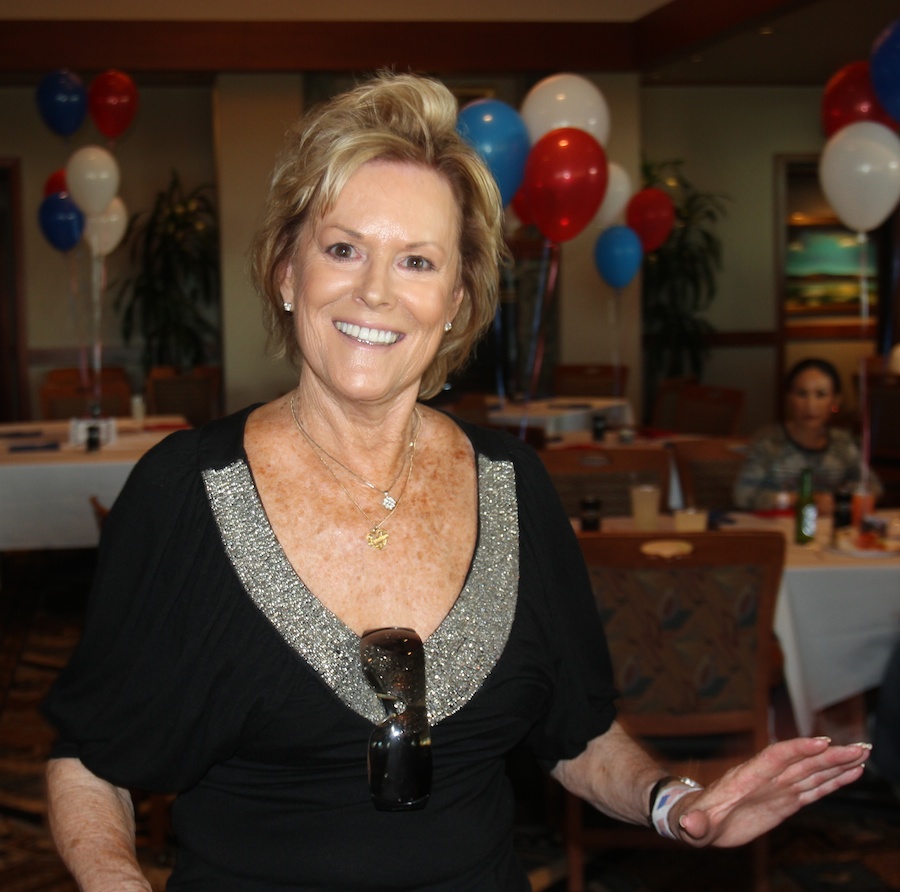 Mary is enjoying the afternoon

Checking on Bill??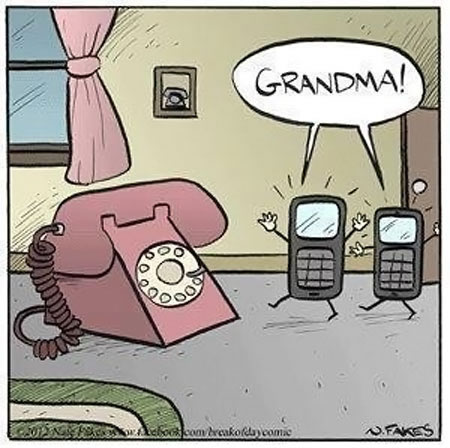 "I back!"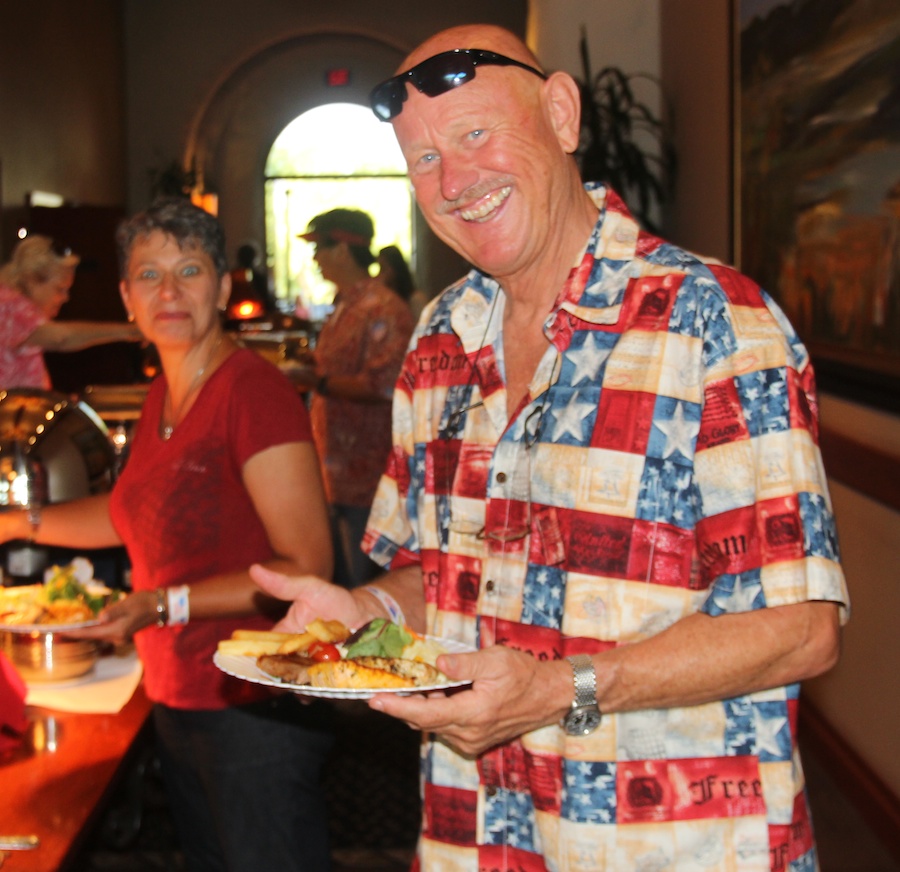 "For the 12th time!"

Linda found the goodies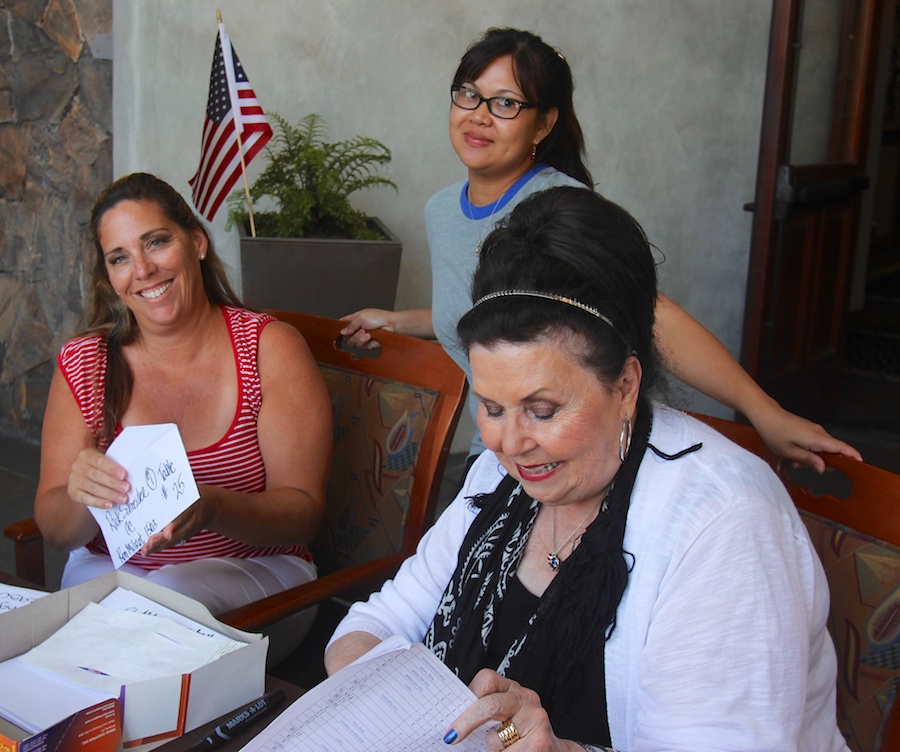 Still checking in members and guests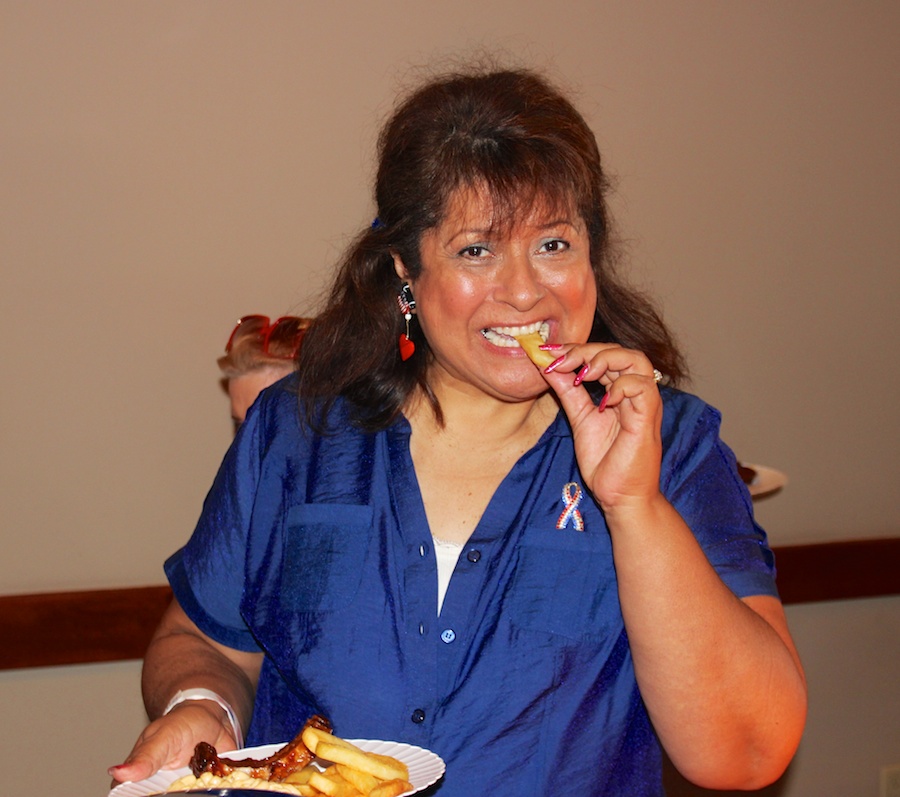 Vicky quality checks the fries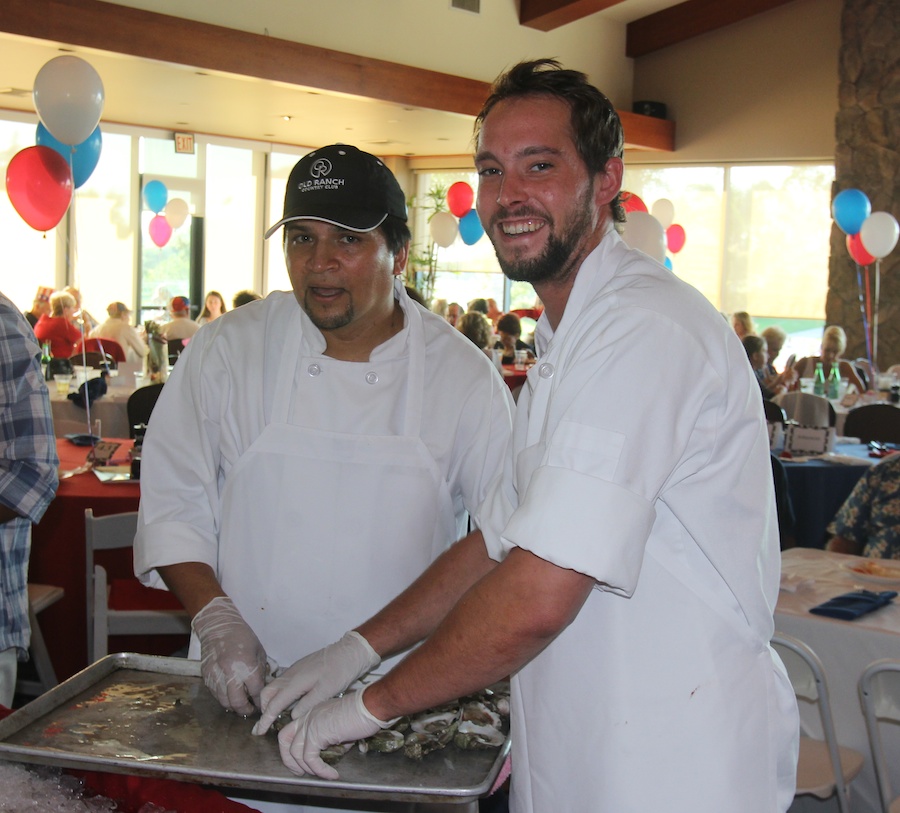 More oysters arriving

We are worried... Both of them are smiling

Food is disappearing at an alarming pace

Pete and Lisa enjoying the day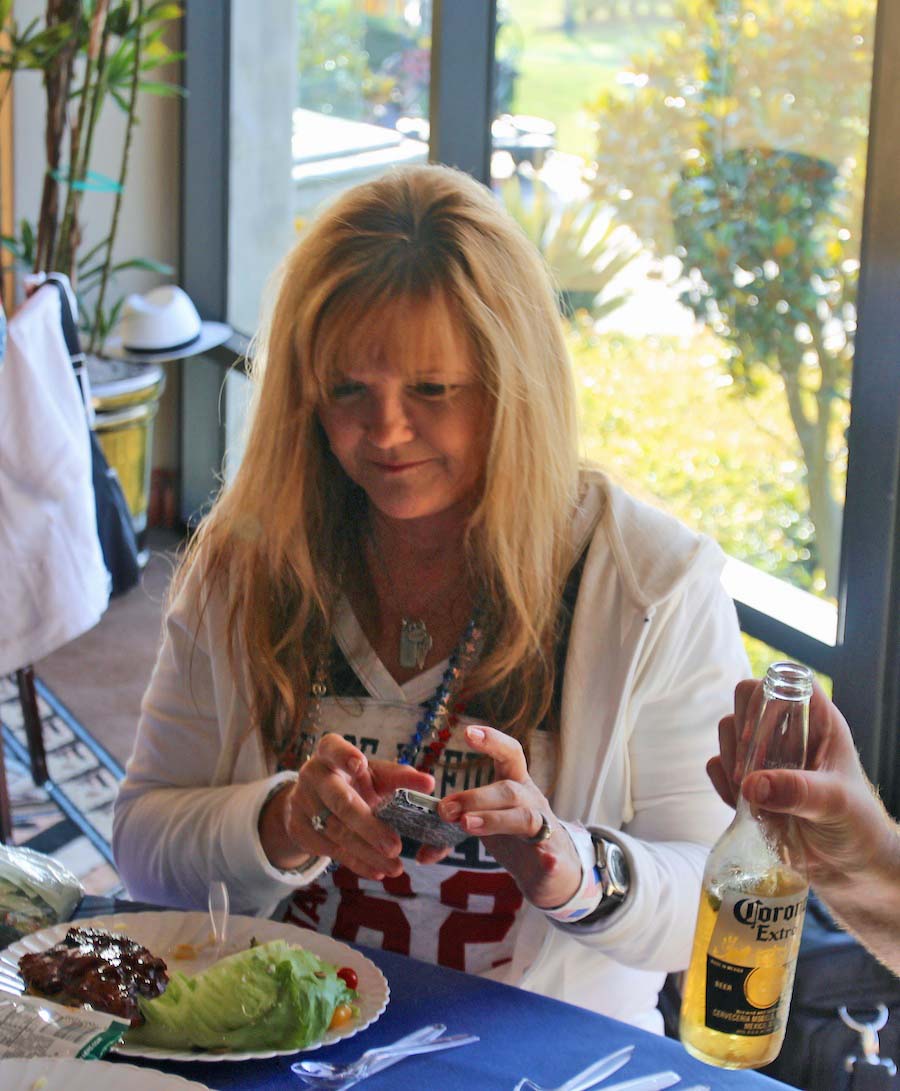 Robin checks in on Bob

"What could this be???"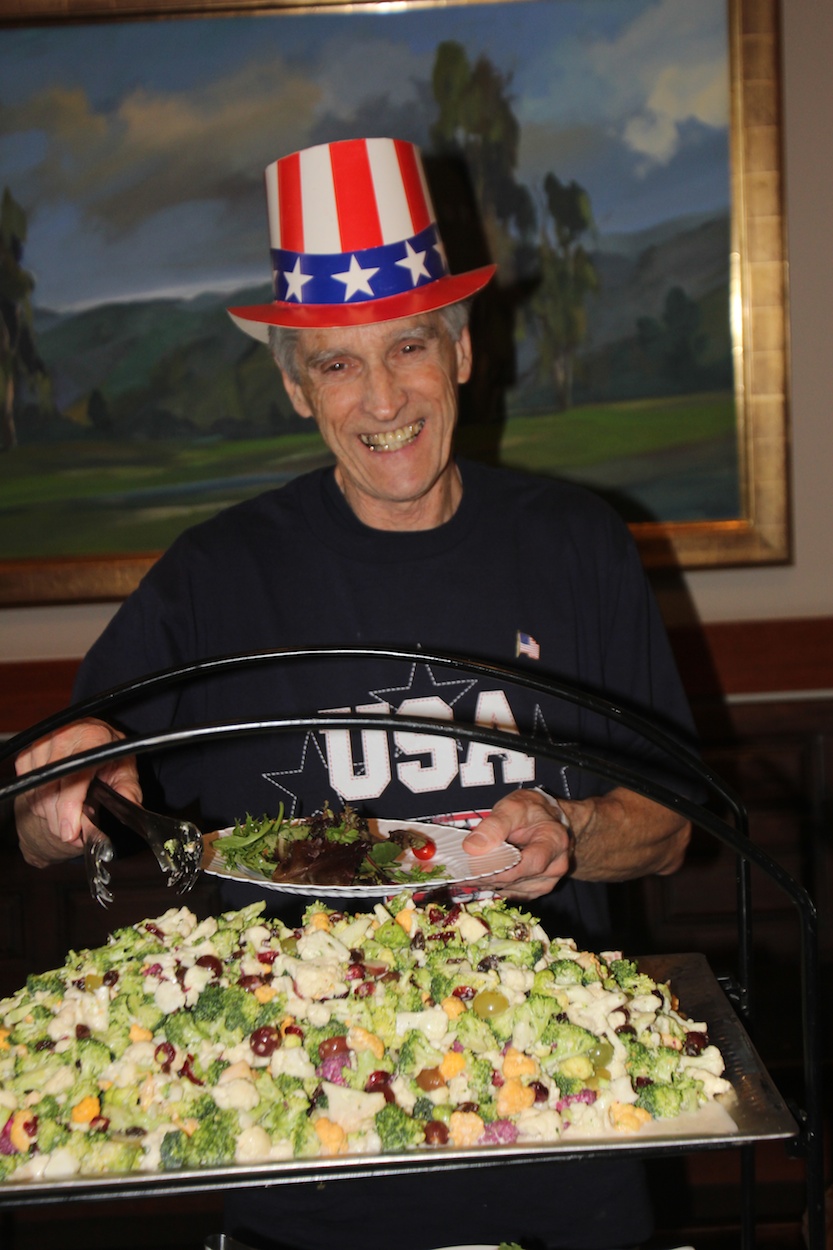 All smiles

Chomp! Hot dogs, fries, corn bread.... Life is good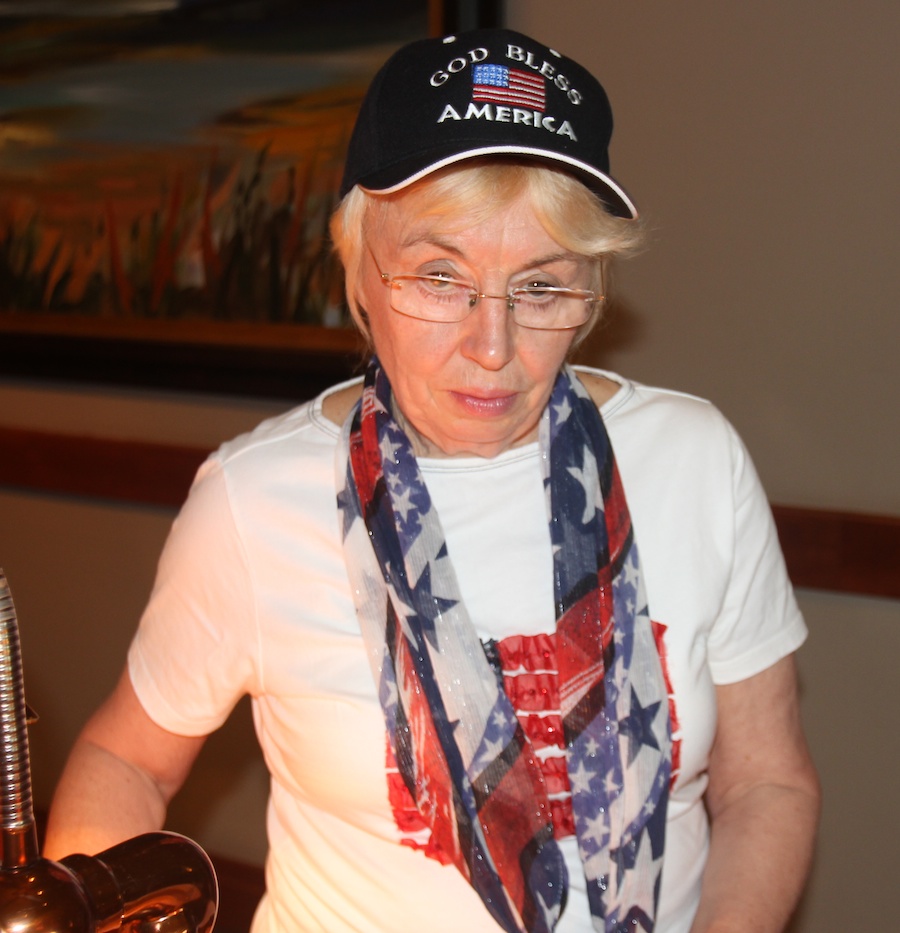 "Where are the fish and chips"

He found the chips

All smiles because they know there is more!!!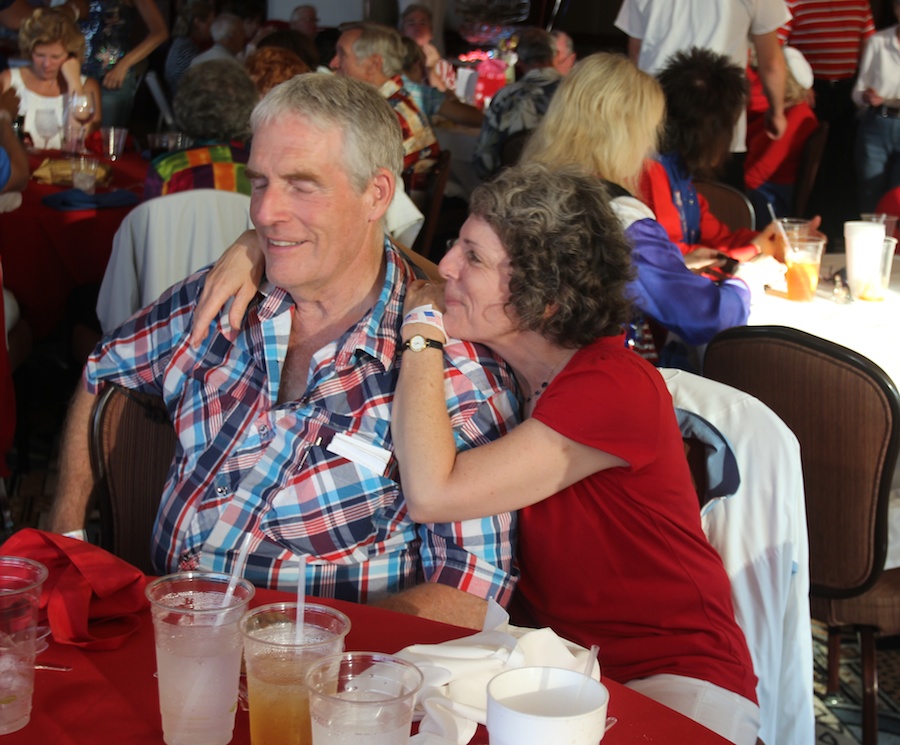 A-w-w-w-w-w-w-h

Bill and Ellen... Getting ready for another pass through the line

Tim found the shrimp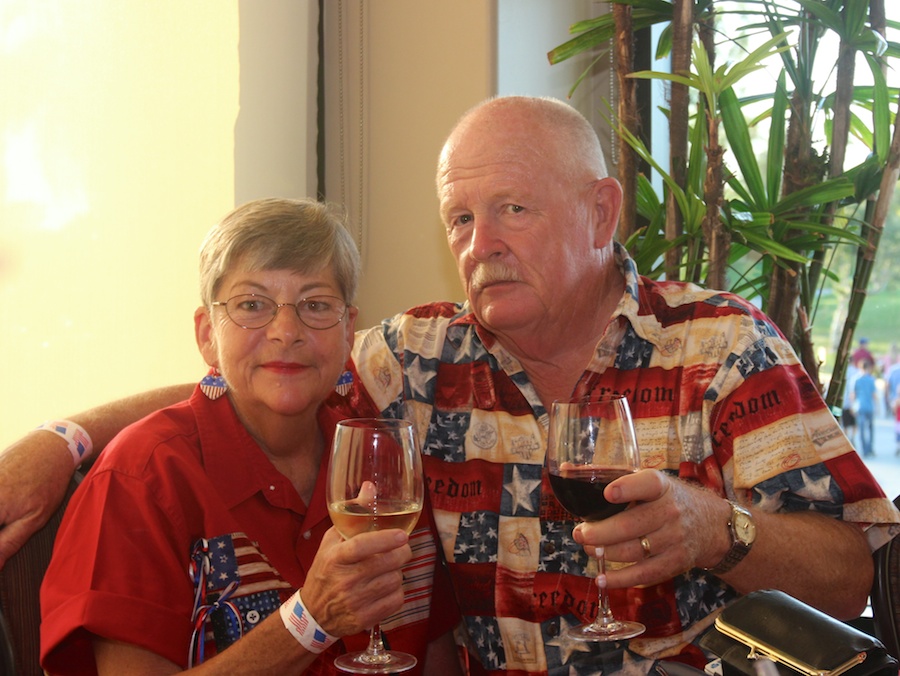 Your hosts... Paul & Sue

We are getting ready for a walk-ab out.... Let the meal settle before dessert

Susie-Q and Brad.... The Jusstuss Band (Jusstuss.com)

Susie-Q found the cookies

"She ate that whole brownie! (Courtesy of Hans)

Donnis found the soft-serve ice-cream

Always a smile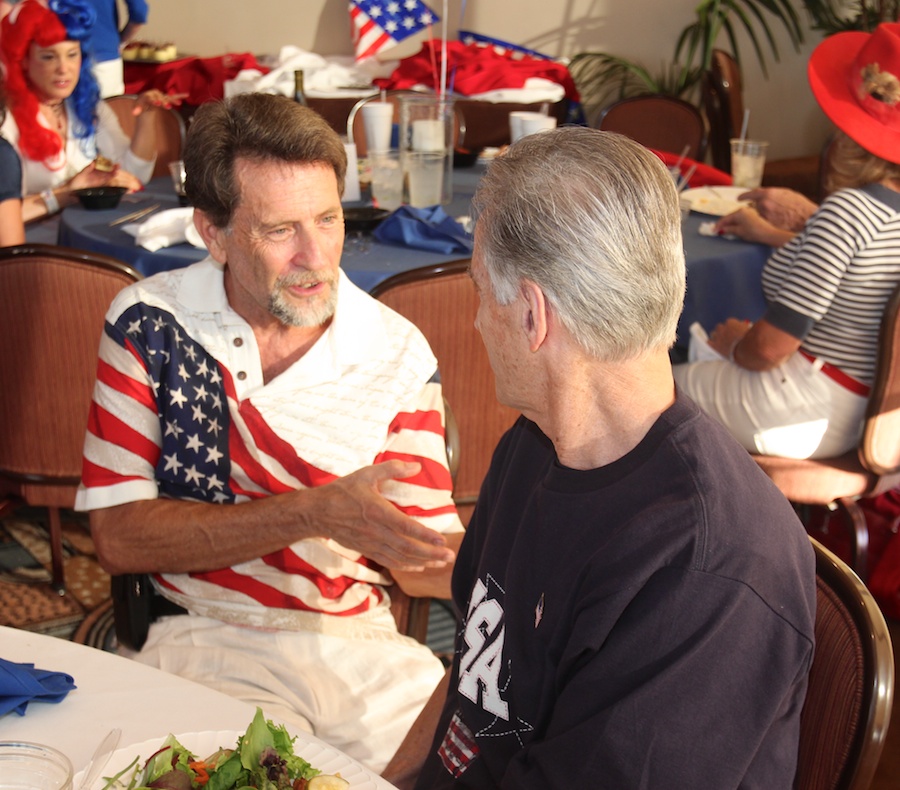 Bob and Roy catching up....

You might ask, "Where is the best place to catch Neal??"
Answer: Mid-giggle!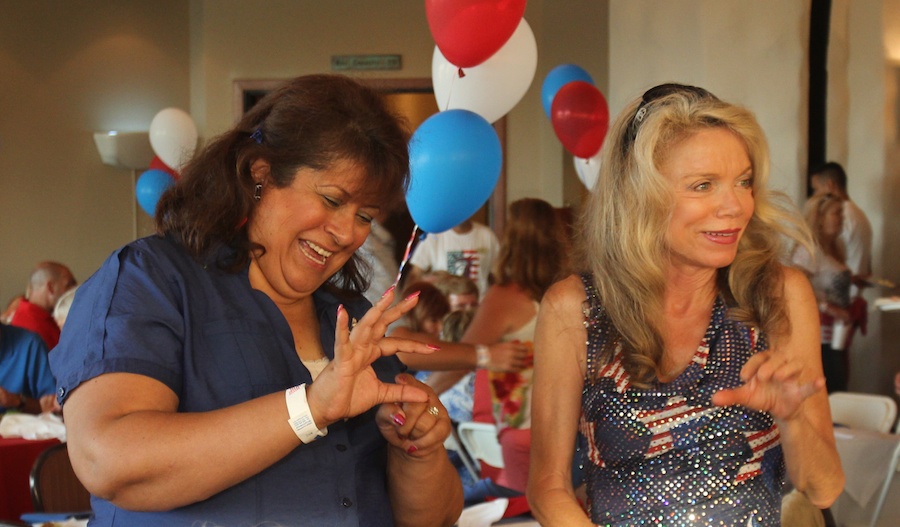 Vicky and Marianne up tp something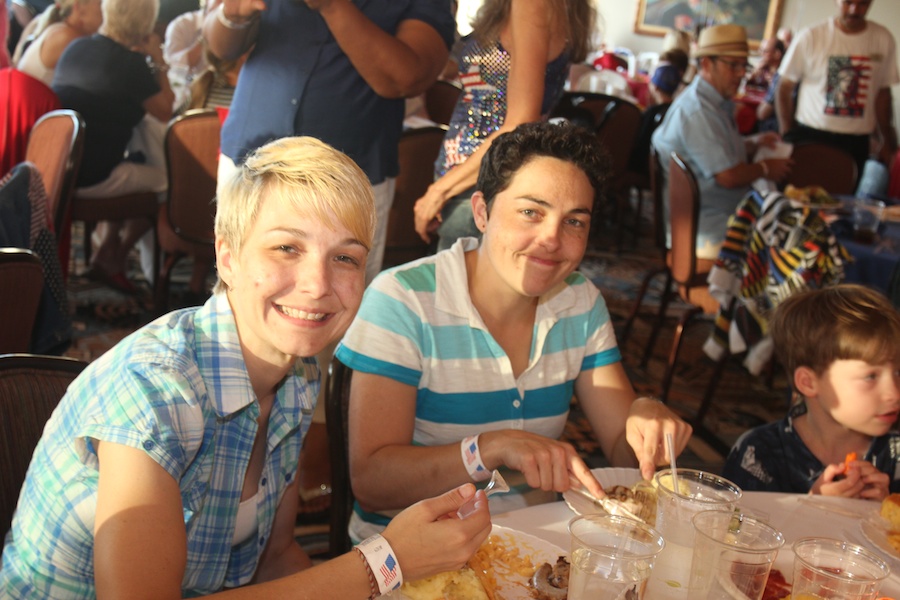 Sheri and Melissa digging in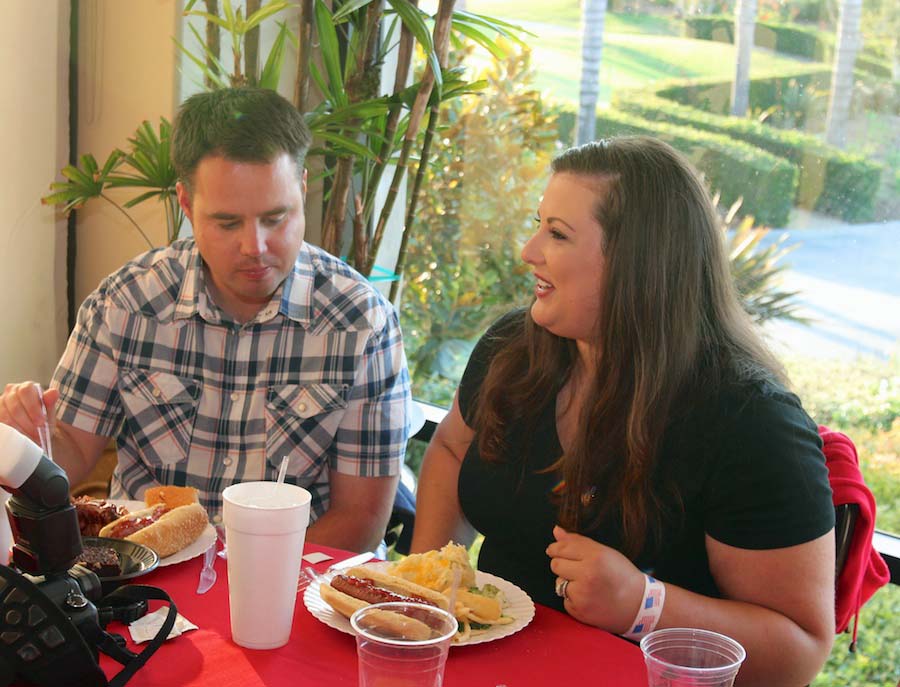 Health food???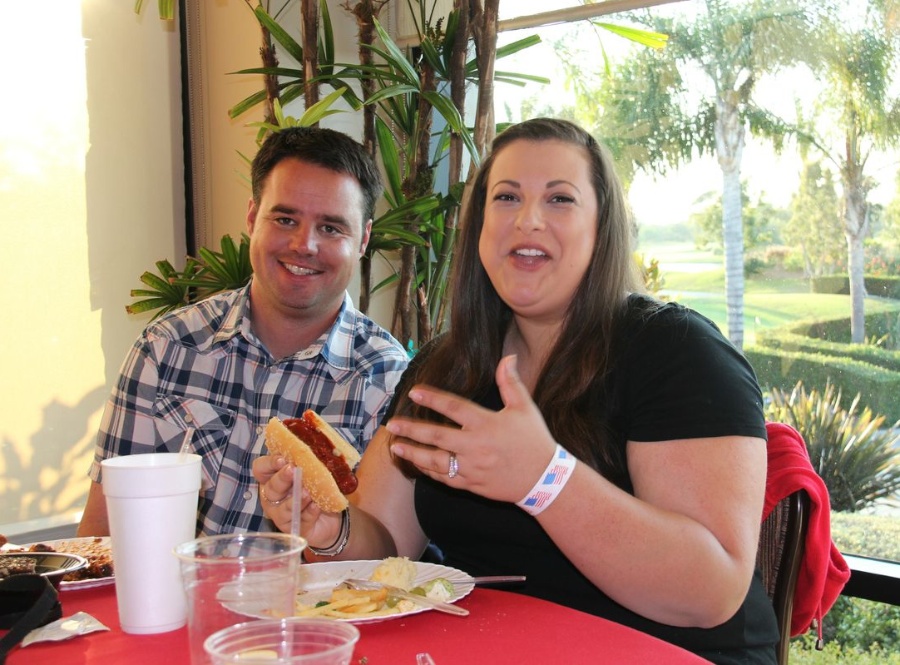 Amber... There is nothing green on your place either!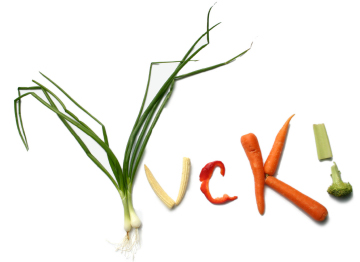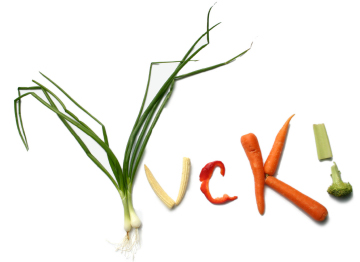 No vegetables to be found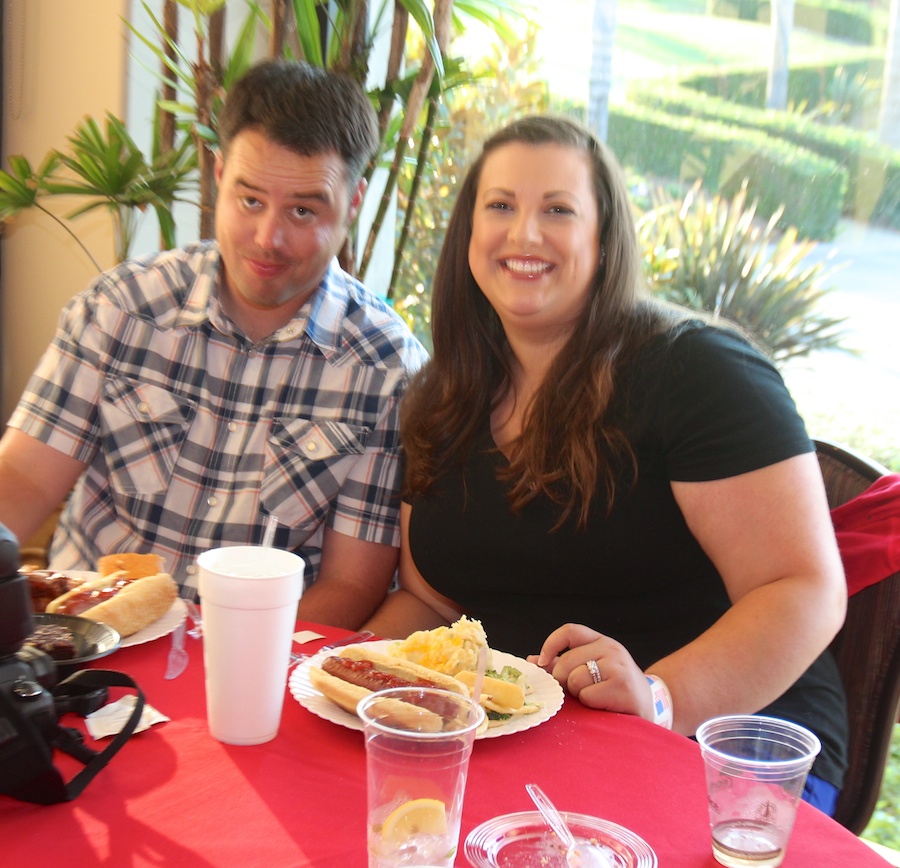 You will find NOTHING green on my plate!"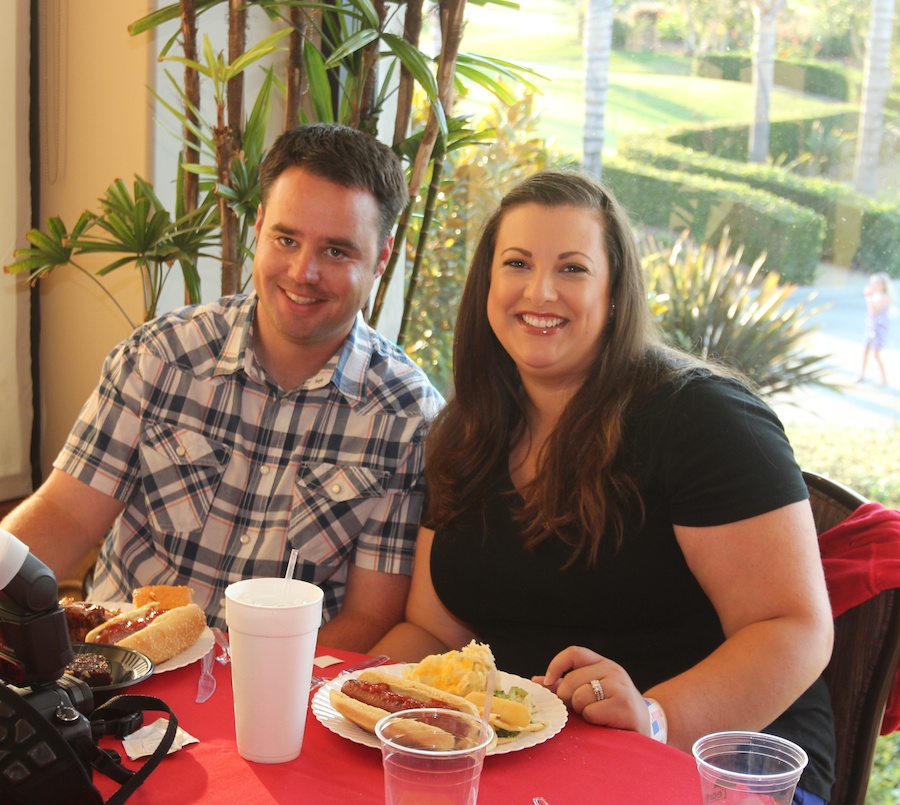 "We do like green gummy bears"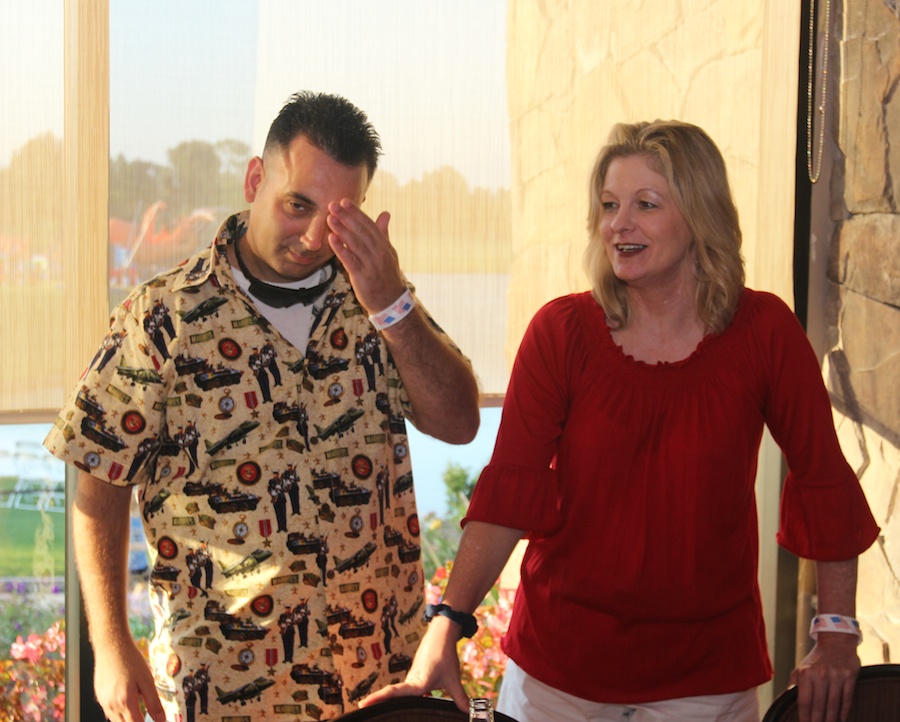 Jack and coke is working

Traci, Robin, Pete, and Lisa

What a party... Two thumbs up

Neal and Nita

Brenda and Sam
We Asked Greg To Entertain....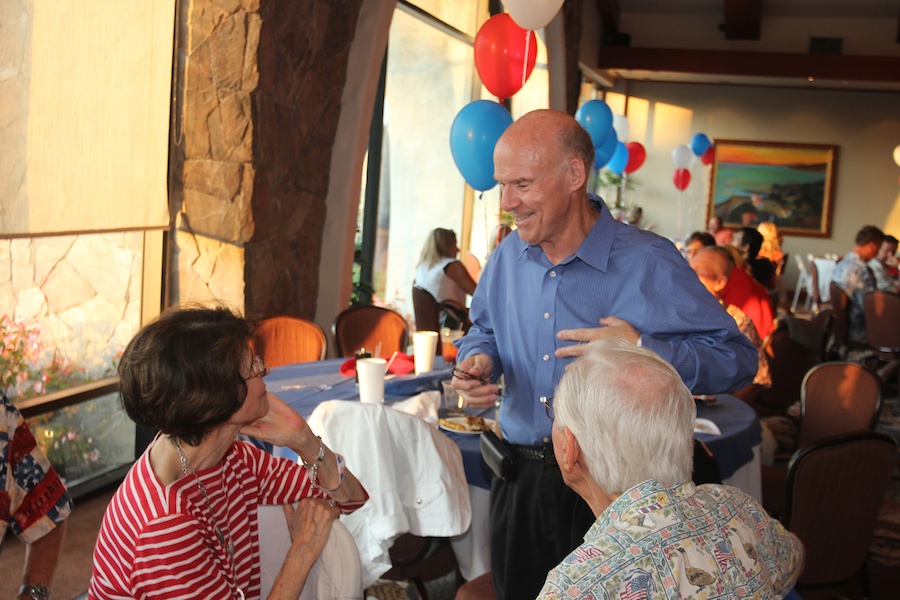 Greg is doing some entertaining

"Shakespeare you ask... I happen to know a few lines!"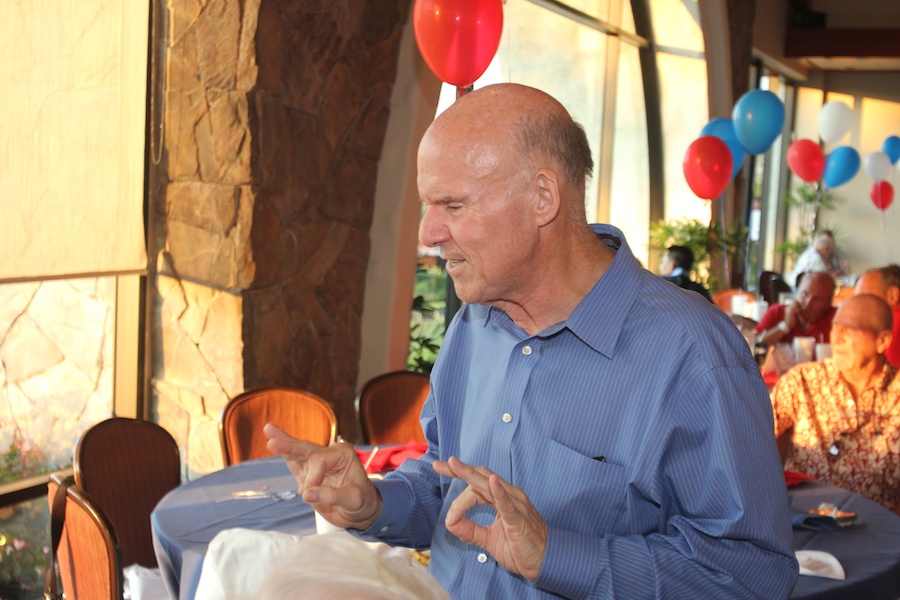 "Once upon a time...." (Courtesy of Hans)

Hans is ready at the button


Sandy has caught the giggles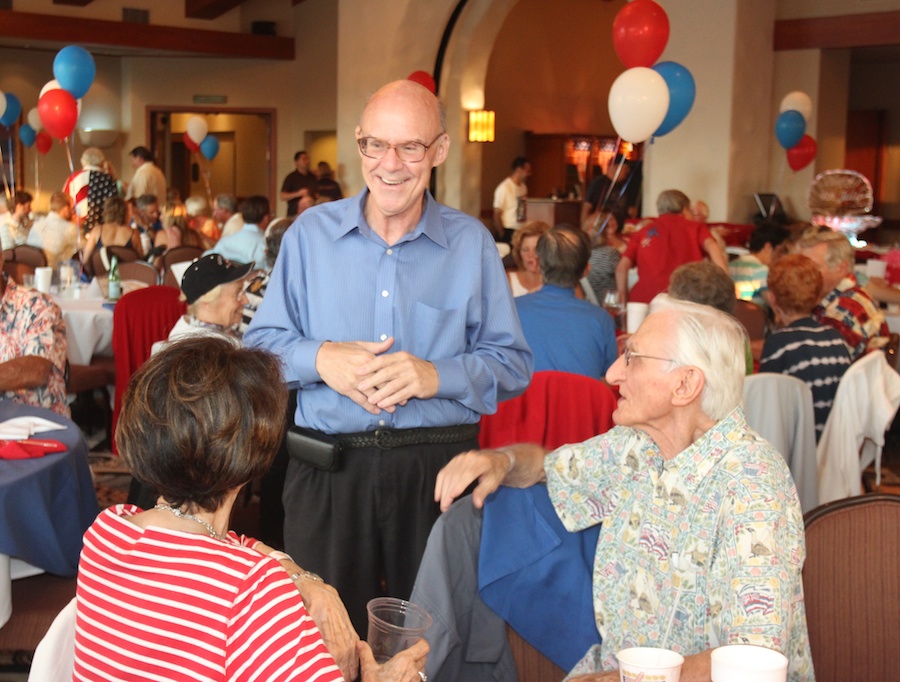 Sandy, Greg, and Bob

Greg does some Shakespeare
Visiting Continues

What... No cellphone??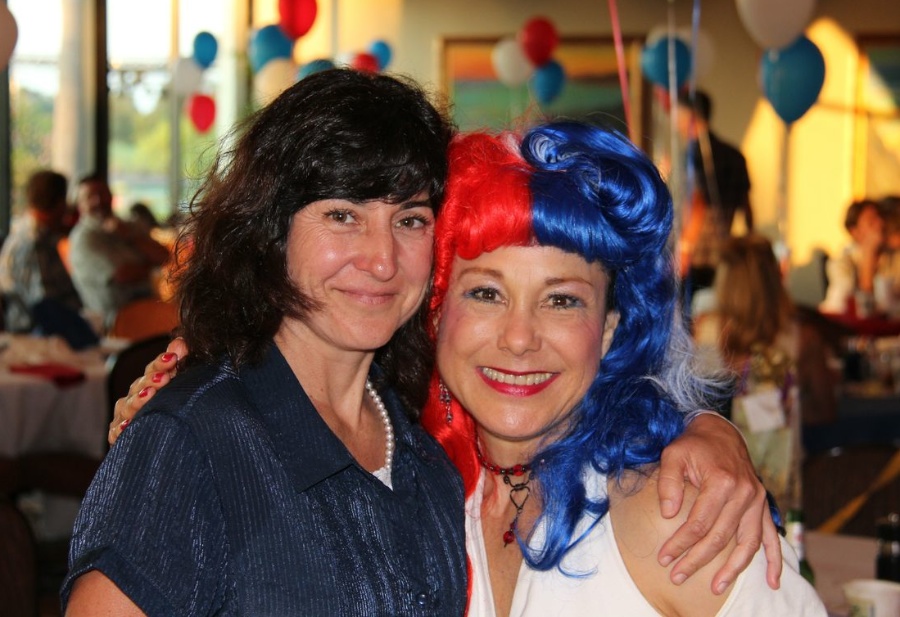 Mom and daughter.... They look so alike except for their hair....
Cyndy is wearing a wig (Courtesy of Hans)

Sandy and Jule ... Thinking about another run through the dessert line

Romance is in the air (Courtesy of Hans)

Marianne and Kathy

Bob is ready for a walk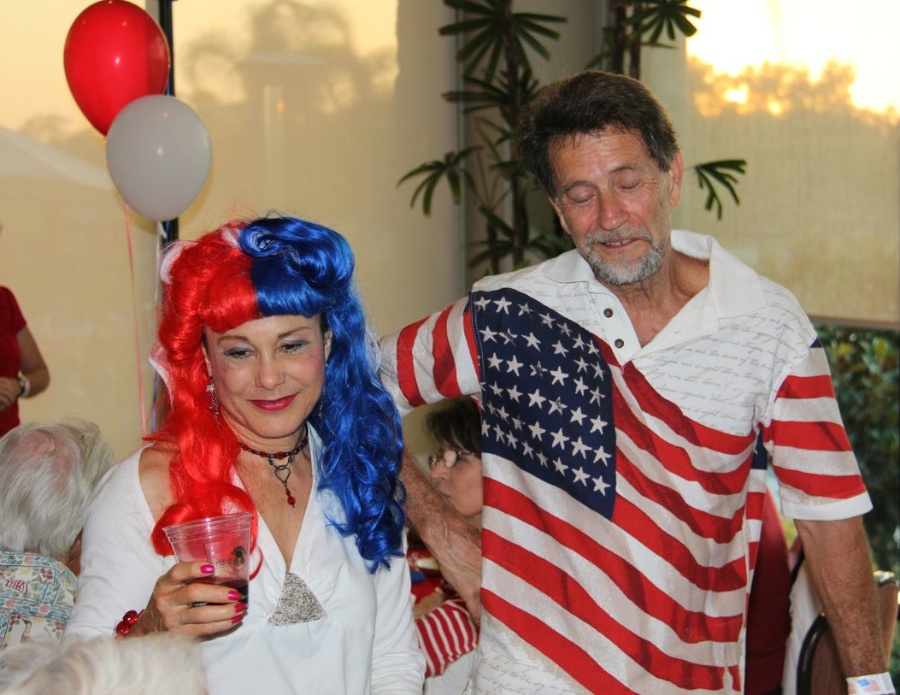 Bob has a guide now (Courtesy of Hans)
Birthday Time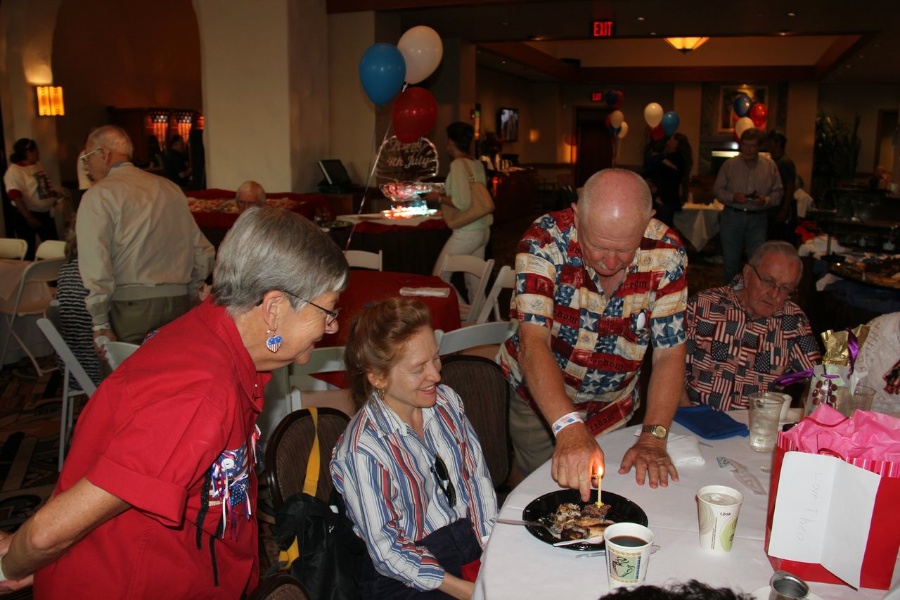 Happy Birthday to Michele.... (Courtesy of Hans)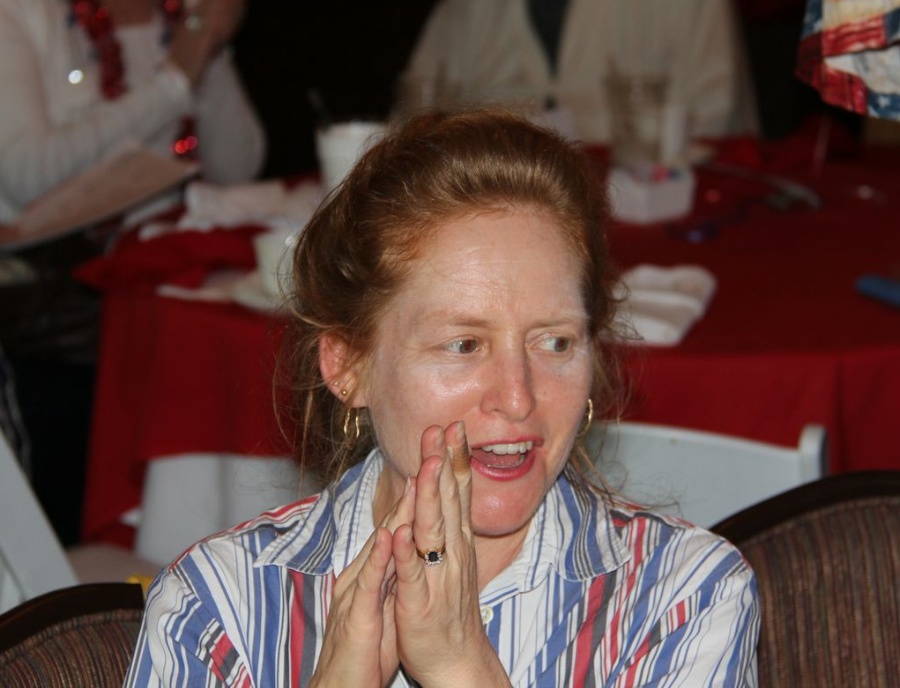 "For me???" (Courtesy of Hans)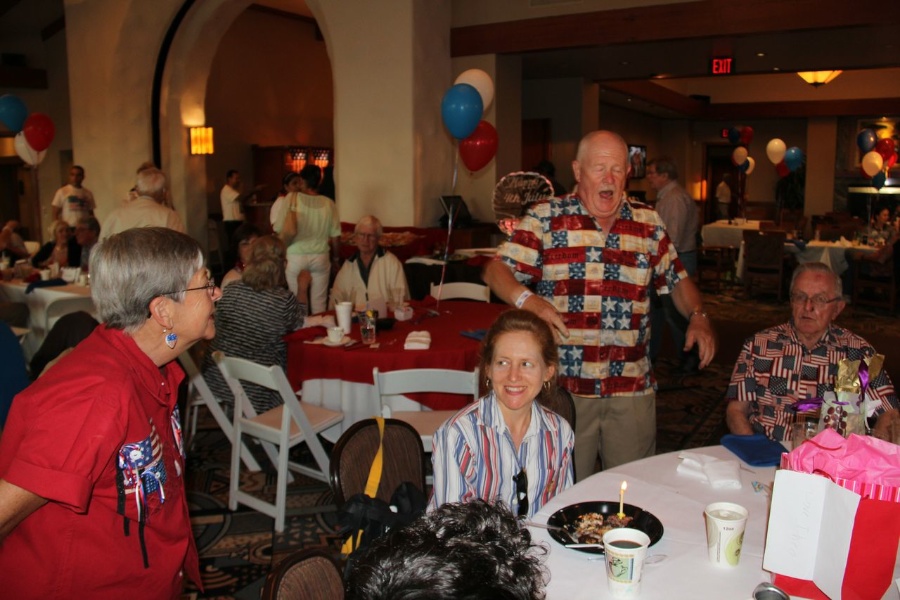 Paul leads a verse of Happy Birthday (Courtesy of Hans)

Time to tease the kids... We were so happy to have them join us (Courtesy of Hans)

We asked her... "Are you full or do you want to back through the line???" (Courtesy of Hans)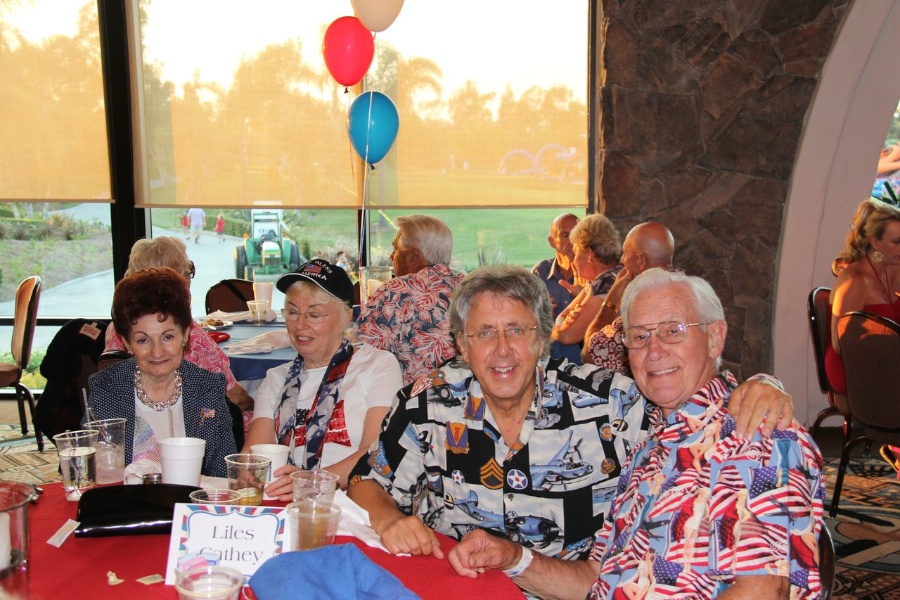 Everybody is full... Almost like Thanksgiving (Courtesy of Hans)