Catalina, An Oasis 26 Miles From Home
Catalina is just 29 miles from our home which makes it 26 miles across the sea, directly south of us!.
We can often see it when driving around town and certainly from our medical builsing on Katella!
Santa Catalina Island, often called Catalina Island, or just Catalina, is a rocky island off the coast of the U.S. state of California . The island is 22 miles (35 km) long and eight miles (13 km) across at its greatest width.
The island is located about 22 miles (35 km) south-southwest of Los Angeles, California . The highest point on the island is 2097 ft (639 m) Mt. Orizaba, at 33°22′29.7″N118°25′11.6″W / 33.374917°N 118.419889°W / 33.374917; -118.419889 .
---
So, What Do We Do?
We go over all the time from just a simple visit to dancing at the Avalon Ball or perhaps to play golf! The Avalon Ball is our favorite. See Avalon Ballfor the years 2005, 2006, 2007, 2008, 2009, 2010, 2011, 2012, 2013, 2014, 2015, 2016, 2017, 2018, 2019.
Sue became quite ill in 2019 but we made it one more time. She passed in February 2020. We had many years of fun on the island.
After Sue's passing I met Dr. Mary on a "formal basis"; we had known each other for twenty years. We did enjoy each others company and we married in July of 2021.

Sue & Mary returning home in 2018
Mary and I went to Cataling in late 2020 to stay in the Rigley Mansion and go zip lining. It was my first time zipping.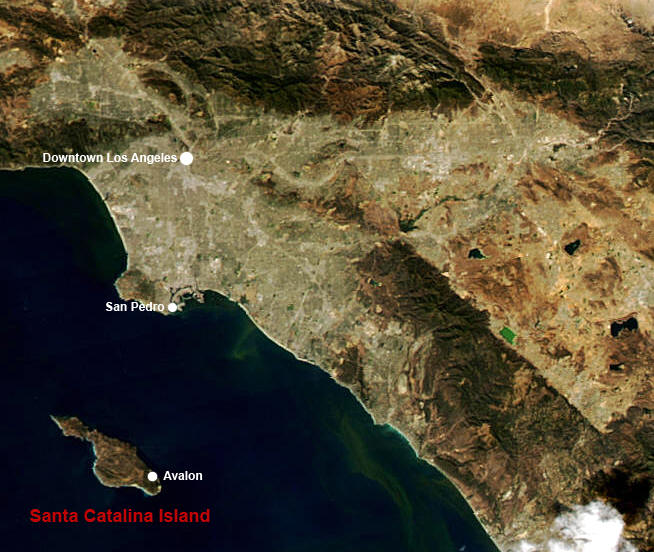 A Little History
Prior to the modern era, the island was inhabited by people of the Gabrielino/Tongva tribe, who, having had villages near present day San Pedro and Playa del Rey, regularly traveled back and forth to Catalina for trade. The Tongva called the island Pimu or Pimungna and referred to themselves as the Pimugnans. Archeological evidence shows Tongva settlement beginning in 7000 bce. Chief Torqua was probably the last chief of the people of Santa Catalina for whom "Torqua Springs" is named. These Pimugnans had settlements all over the island at one time or another, with their biggest villages, most likely, being at the Isthmus, and current day Avalon and Emerald Bay.
The Gabrielino/Tongva are renowned for their mining, working and trade of soapstone which was found in great quantities and varieties on the island. This material was in great demand and was traded along the California coast and as far south as Baja California.
The first European to set foot on the island was Portuguese explorer Juan Rodriguez Cabrillo, sailing for Spain. On October 7, 1542, he claimed the island for Spain and christened it San Salvador after his ship (Catalina has also been identified as one of the many possible burial sites for Cabrillo). Over half a century later, another Spanish explorer, Sebastian Vizcaino, rediscovered the island on the eve of Saint Catherine's day (November 24) in 1602. He renamed it Santa Catalina to honor the feast day of St. Catherine of Alexandria.
Our Early Memories
Paul has been going to the island since 1948! We used to travel on the "Great White Steamer" and land in Avalon Bay. Paul can remember throwing change off the boat into the crystal clear waters for the kids to dive for and retrieve.
In the 1950's our families would go over during the summer taking the Great White Steamer. The S.S. Catalina, also known as The Great White Steamer, is a 301-foot steamship built in 1924 that provided passenger service on the 26-mile passage between Los Angeles and Santa Catalina Island from 1924 to 1975. According to the Steamship Historical Society of America, the Catalina has carried more passengers than any other vessel anywhere. The S.S. Catalina also served as a troop ship during World War II, transporting more than 800,000 soldiers and sailors. After a period of service as a floating discotheque, the ship ran aground on a sandbar in Ensenada Harbor in 1997 and has remained half-submerged and decaying at that location for more than a decade.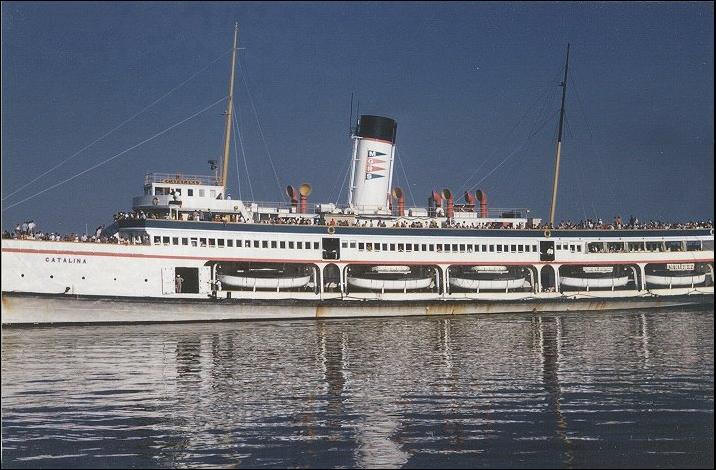 It was a two hour trip and there were no stabilizers! Dramamine, here we come!