Early Morning Walk, Breakfast And Golf (Page Six)

Bob and Paul are the early risers... Breakfast #1 at 6:30

Paul got the worm this morning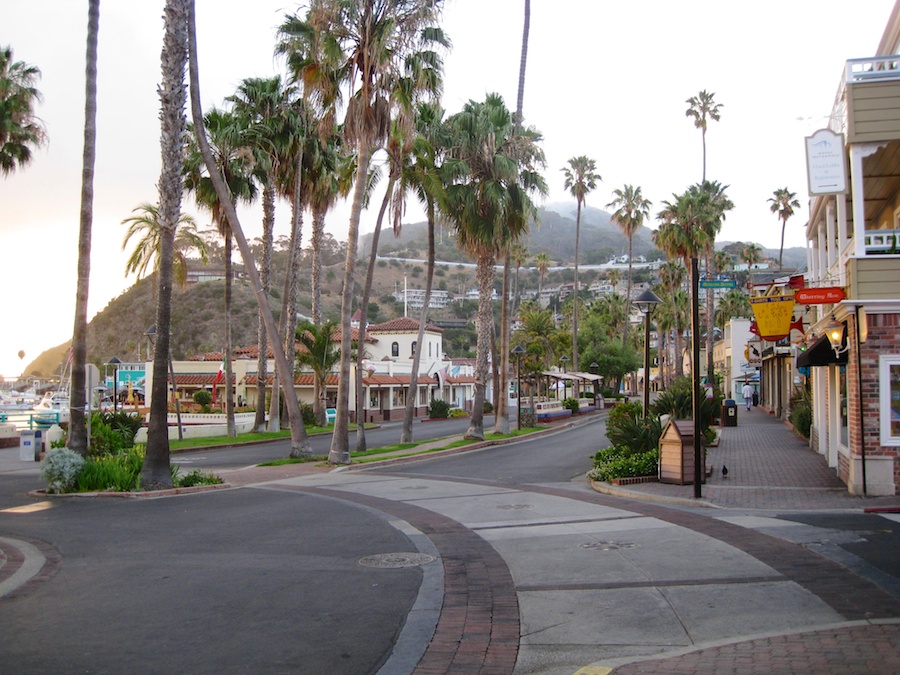 It was a ghost town
Did You Know? - A ghost town is an abandoned village, town or city, usually one which contains substantial visible remains. A town often becomes a ghost town because the economic activity that supported it has failed, or due to natural or human-caused disasters such as floods, government actions, uncontrolled lawlessness, war, or nuclear disasters.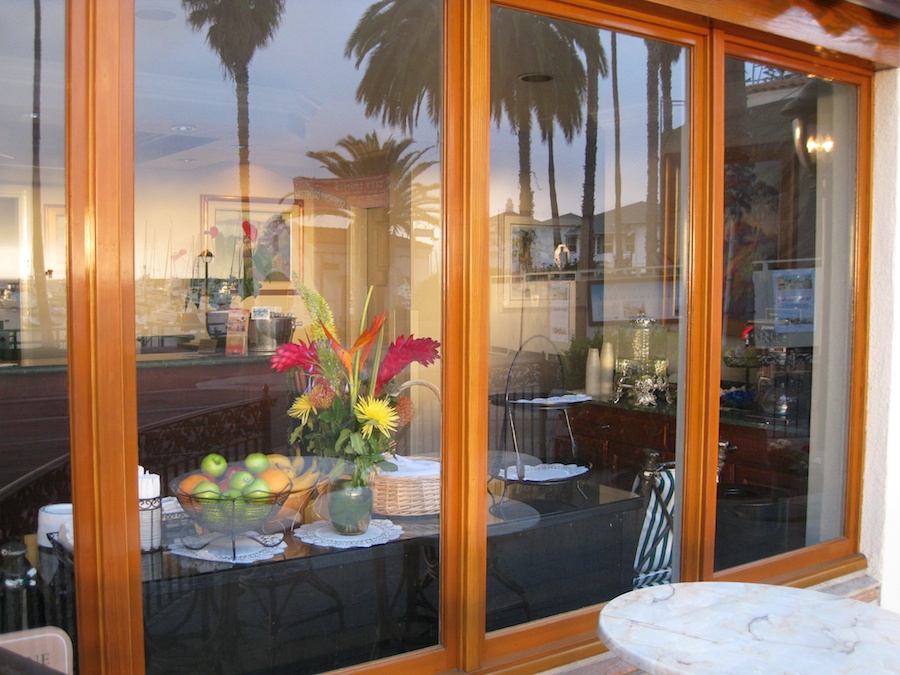 Even the office was closed!

Paul wanted to toot a horn so bad but alas could not fine one!
See the moon?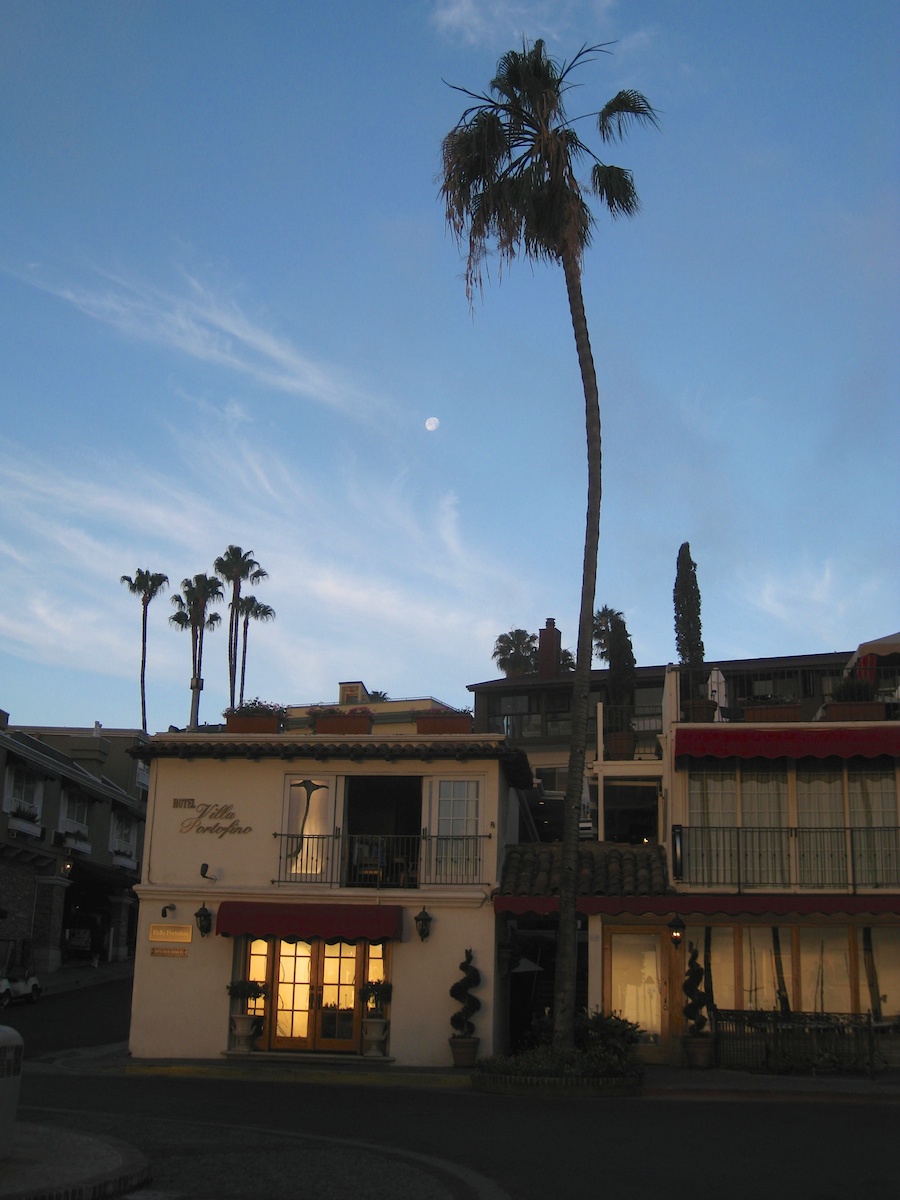 Lots of sleeping going on in there....

The lights and layers of fog and clouds weres amazing

The sun is starting to come up

The patio/sun roof is so quiet... We will take care of that a little later

It is now 6:30 am

Looked for a cow jumping over the moon... Did see a buffalo

Our restaurant looked like it recovered from our visit

It was closed but Paul decided to walk around the back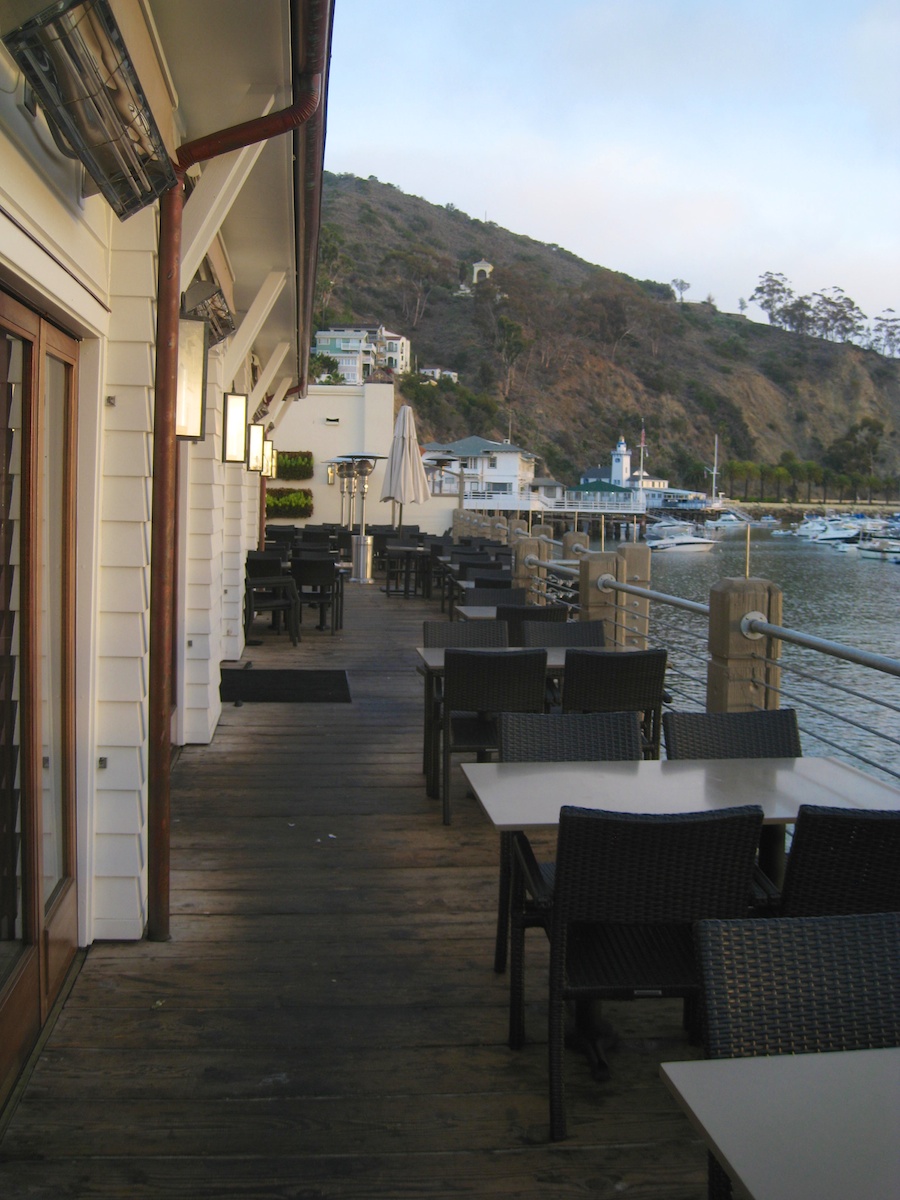 Our spot from last night was still cooling down

The casino will come alive tonight

Onward down the street!

A street sweeper, two pigeons and me!
Old Post Cards Were In A Store Window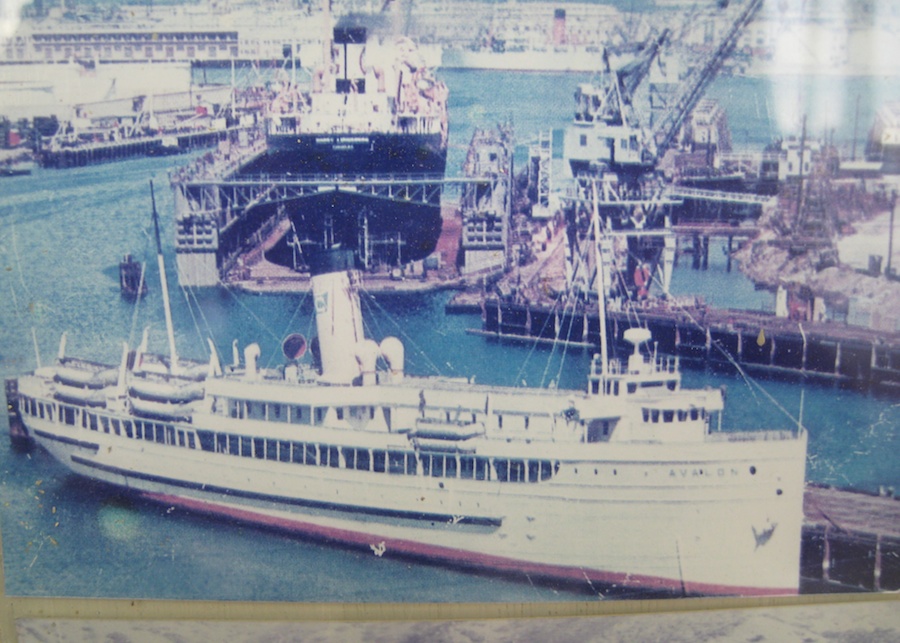 One of the shops had some postcards in the window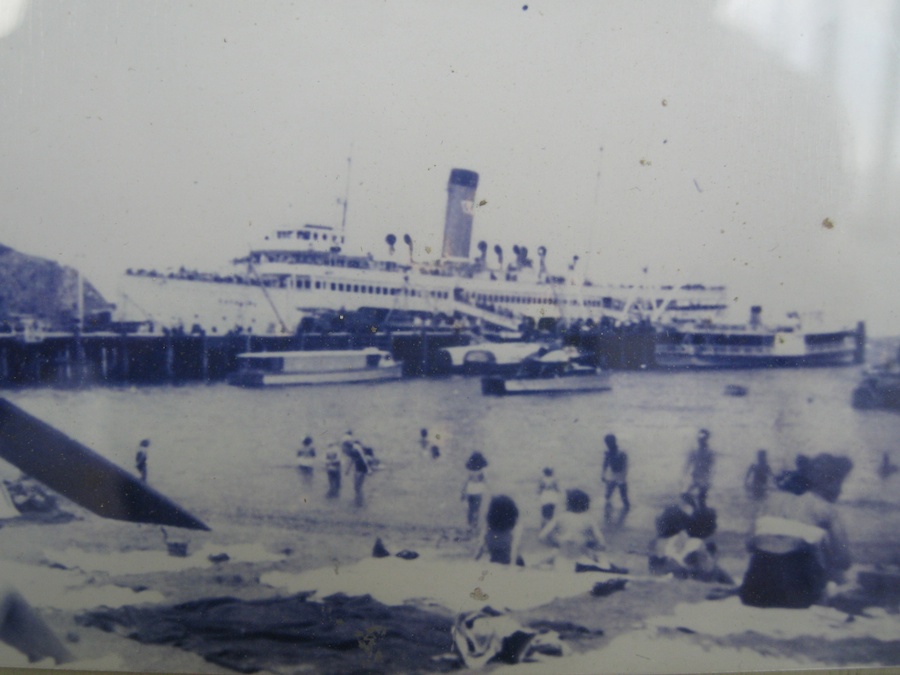 In the 1920's it took three hours or more to make the voyage

We prefer the catamaran

Suits, hats... It must have been quite an interesting time

Catalina speed boats
Did You Know? - Al Bombard designed and built the "Miss Catalina" series of six boats to an odd length of 29 feet, 11 inches for a specific reason. Back in the day, the US Coast Guard regulations required all passenger-carrying vessels 30 feet and over to be inspected and certified, so Bombard and the Catalina Speedboat Company built the boats one inch shorter.
When it was designed and built during the First World War, the twelve-cylinder Liberty Aircraft engine was ahead of it's time; but by 1938, when "Miss Catalina V" was launched, these venerable power plants had proven a little shaky. Legend suggests that Al Bombard, who served his apprenticeship with Liberty Motors Experimental Service, was concerned as much with practical reliability as romance, and (Catalina Speedboat Co) kept three Liberty engines in reserve, overhauled and ready to go, for every engine currently in service. The Liberty in "Miss Catalina V" holds 10 gallons of oil, burns approximately half a gallon of oil an hour, and blazes through 30 gallons of gasoline an hour.
To The Pier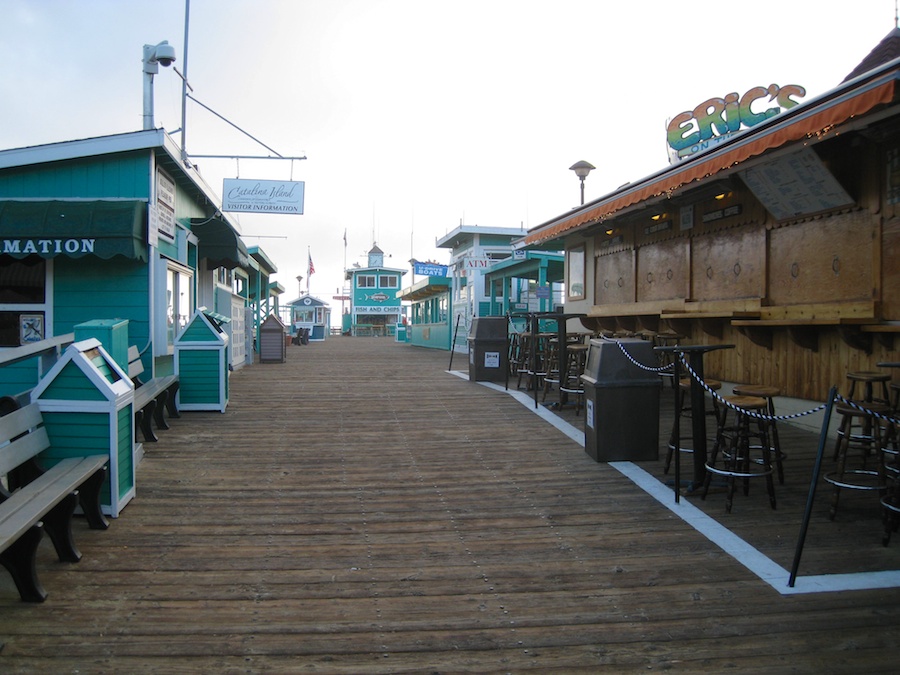 The pier was pretty empty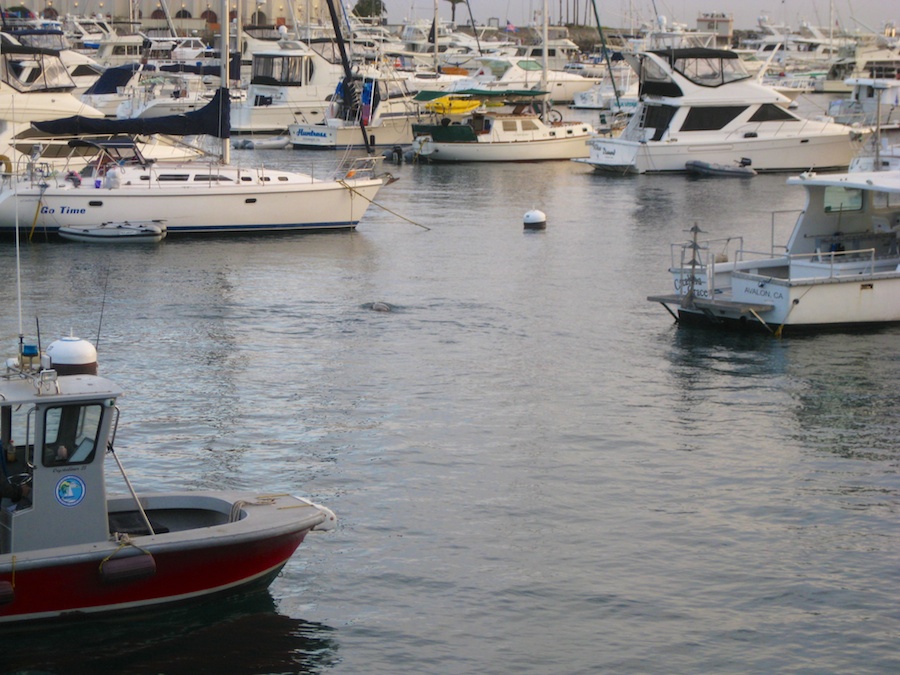 See the seal in the water... He was having fun with friends

He swam around all the boats in the harbor

Never knew they could talk.... Or was it a left over from the "Dirty Shirleys"?

"Hey... Get out of here... You are scaring the fish!"

They had a weather station on the side of the building

Inside a weather-proof window

Where we used to go early on Saturday morning...

Is no more....

Rumor has it that it is going to be a "high end" clothing store"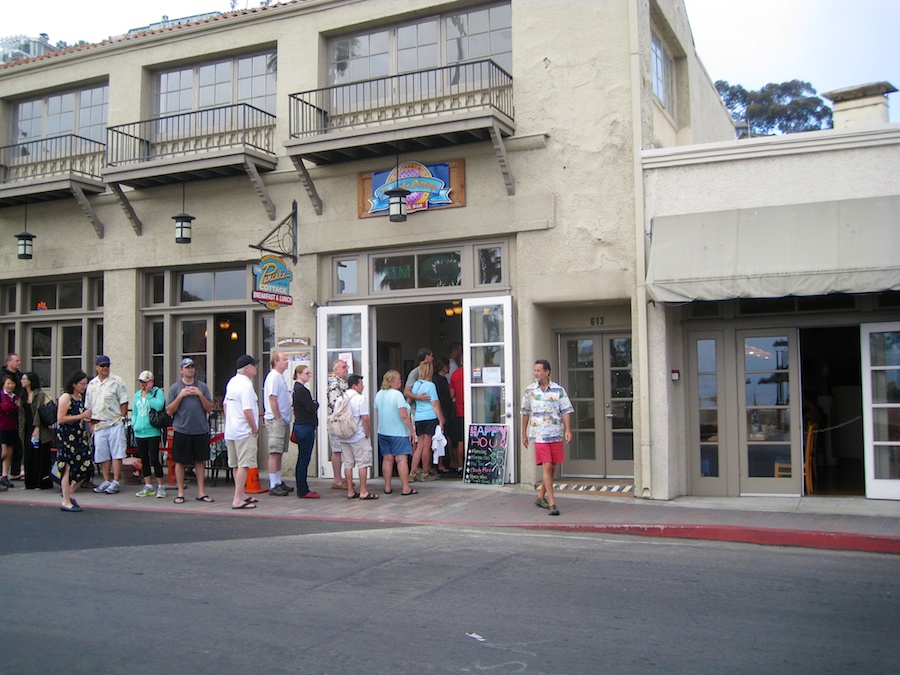 Bob and Paul dined at the Pancake House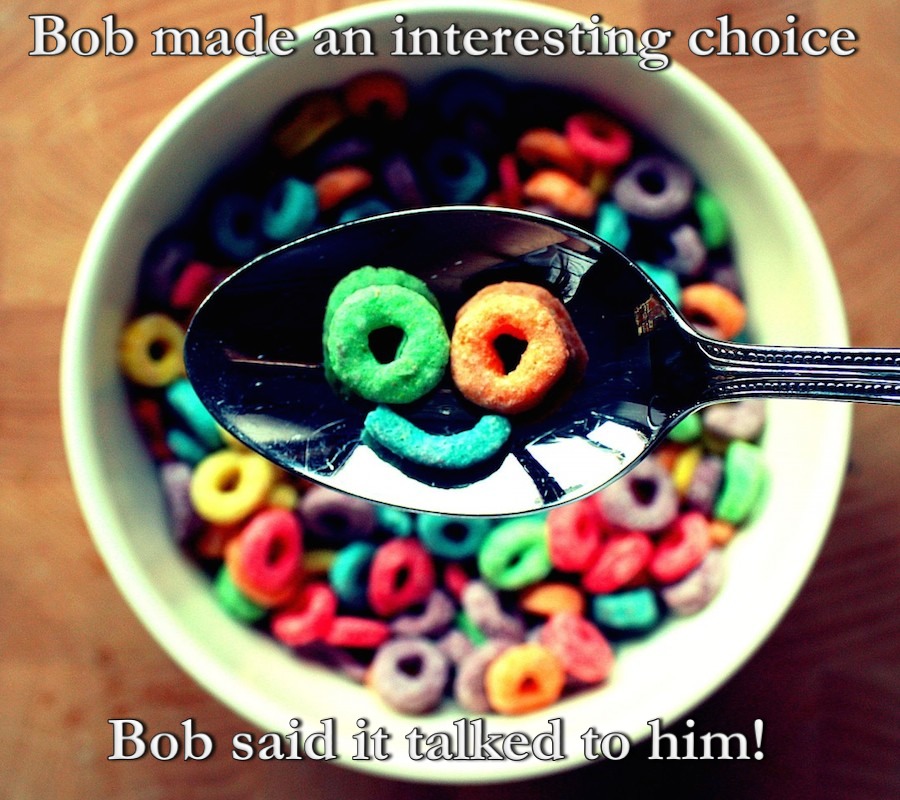 Alert Alert... The Girls Are Up... Time For Breakfast #2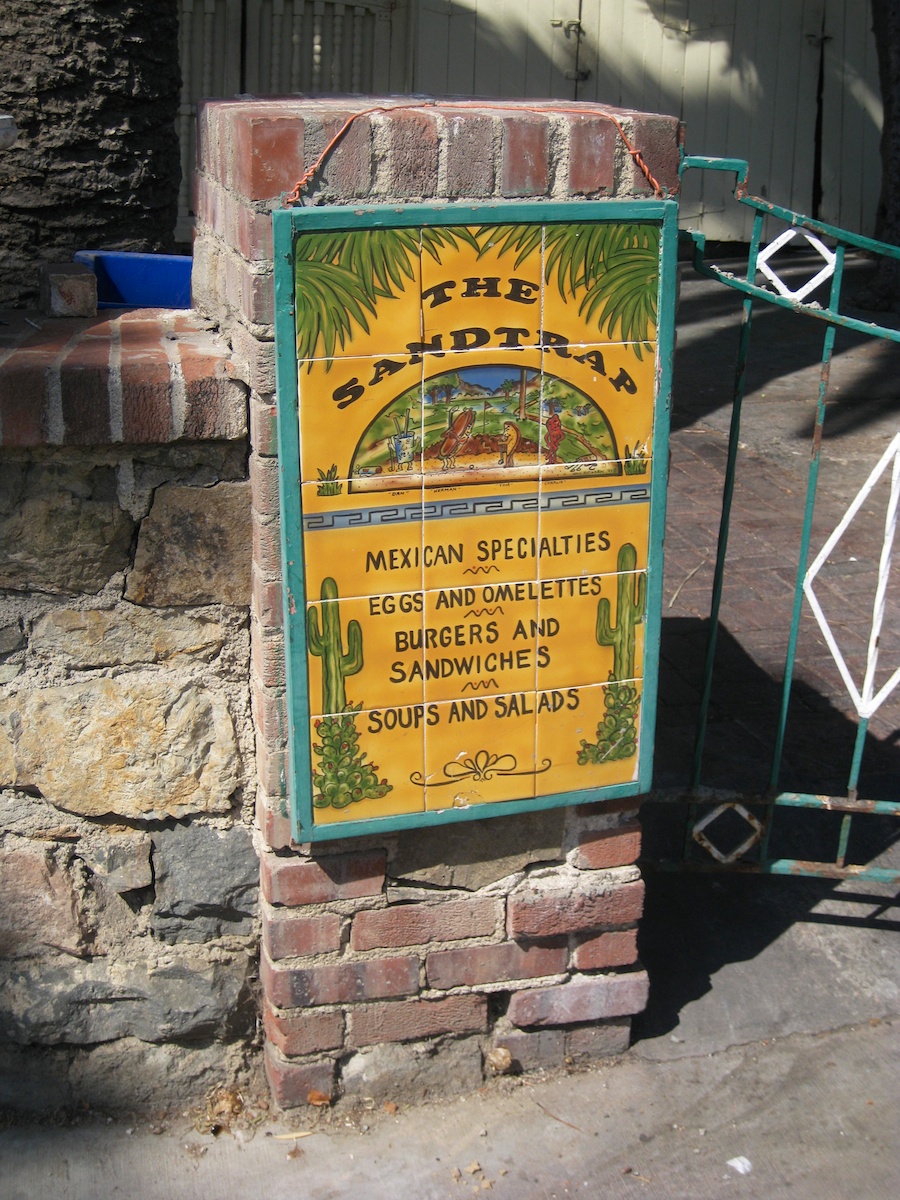 The golf gang walked to the Sandtrap
Did You Know? - Roberto and Celia Tejeda have been welcoming their friends, family and Island visitors to their Catalina Island establishments for the past 25 years. With attention to value, great food and a welcoming atmosphere, the Tejedas have built the Sandtrap into a place where local school children, families, visitors and community can gather daily. We welcome families, pets and large parties to share our slice of paradise. We encourage you to drop by and experience a Catalina Tradition at the Sandtrap!

How can anyone look so good this early in the morning???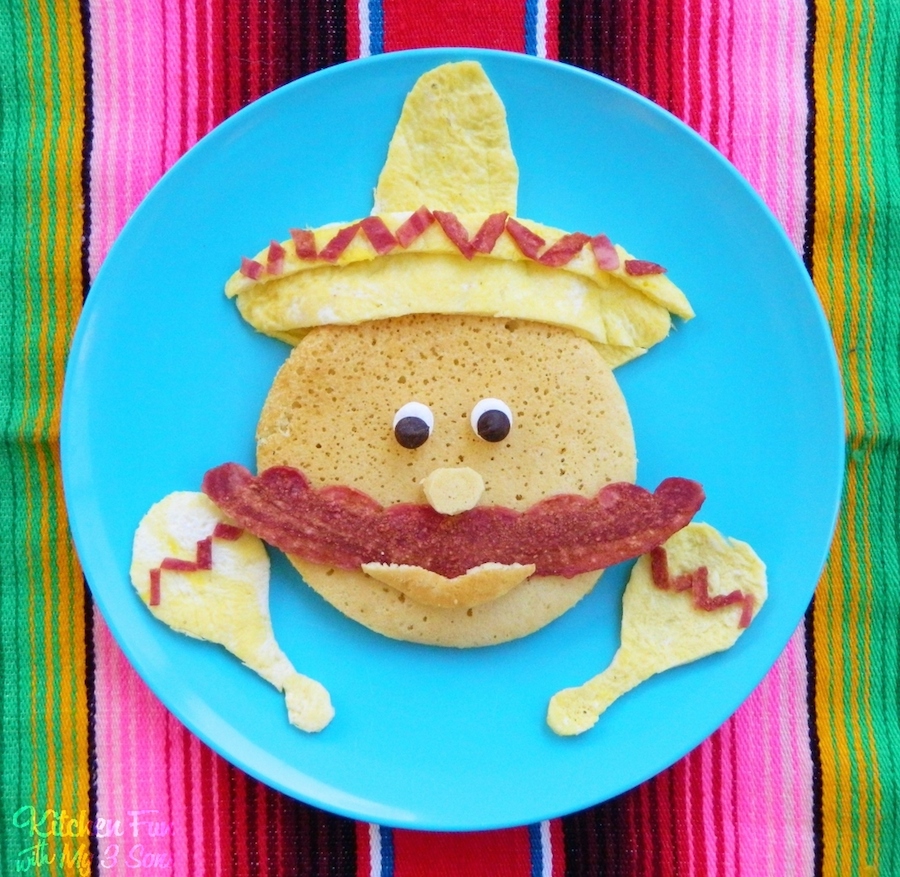 Hey... They have sauerkraut on the menu!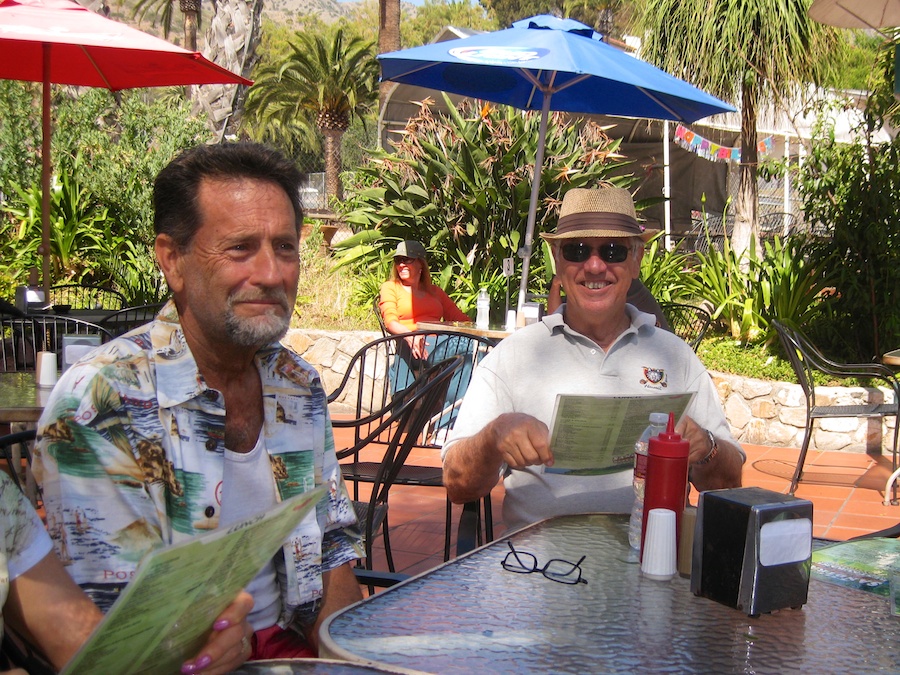 Bob and Ed are making decisions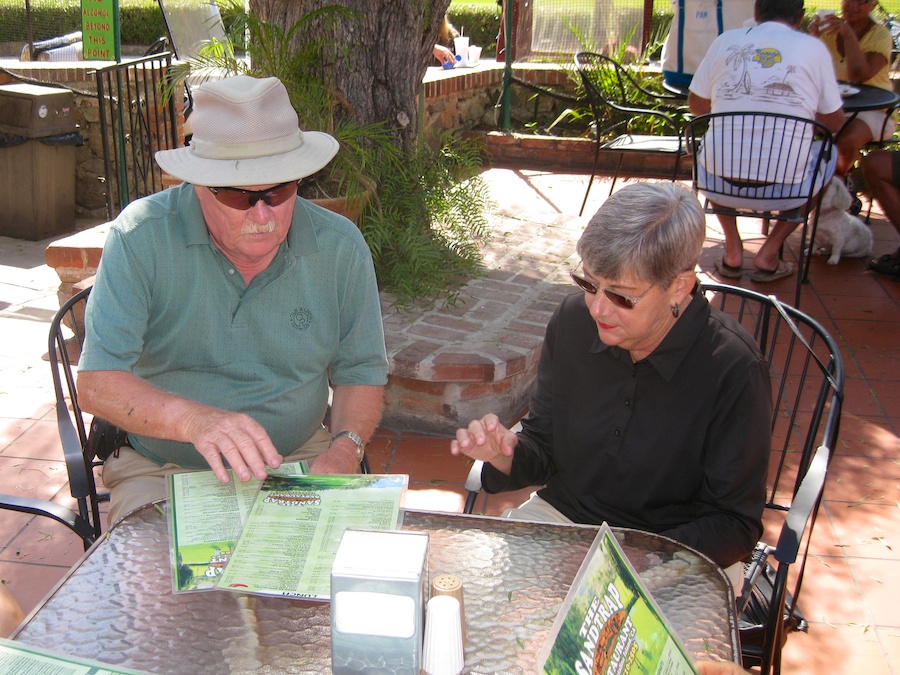 Everything looks good AND they have champagne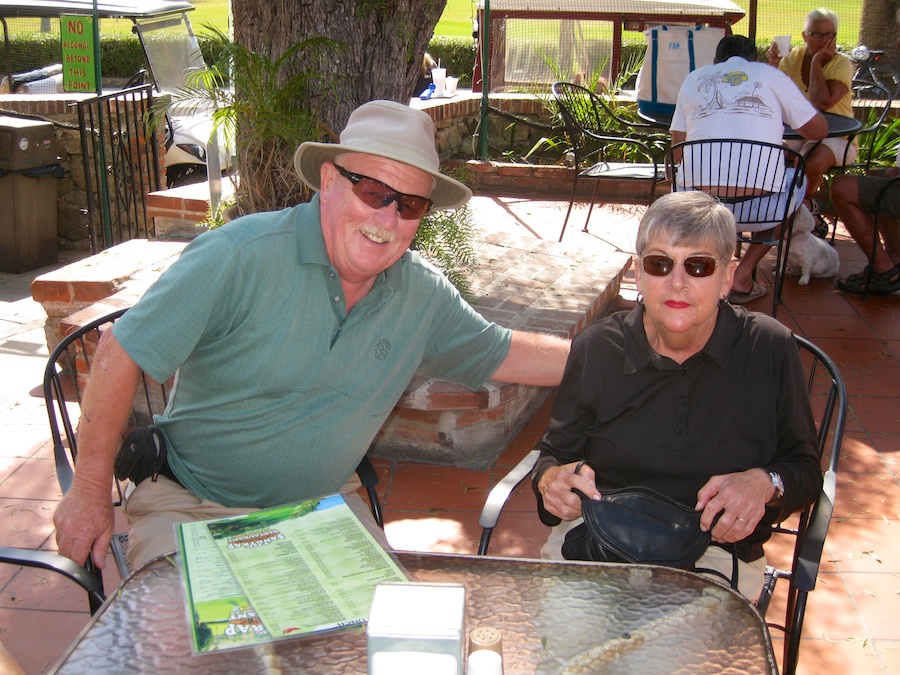 We found the wine list... All will be good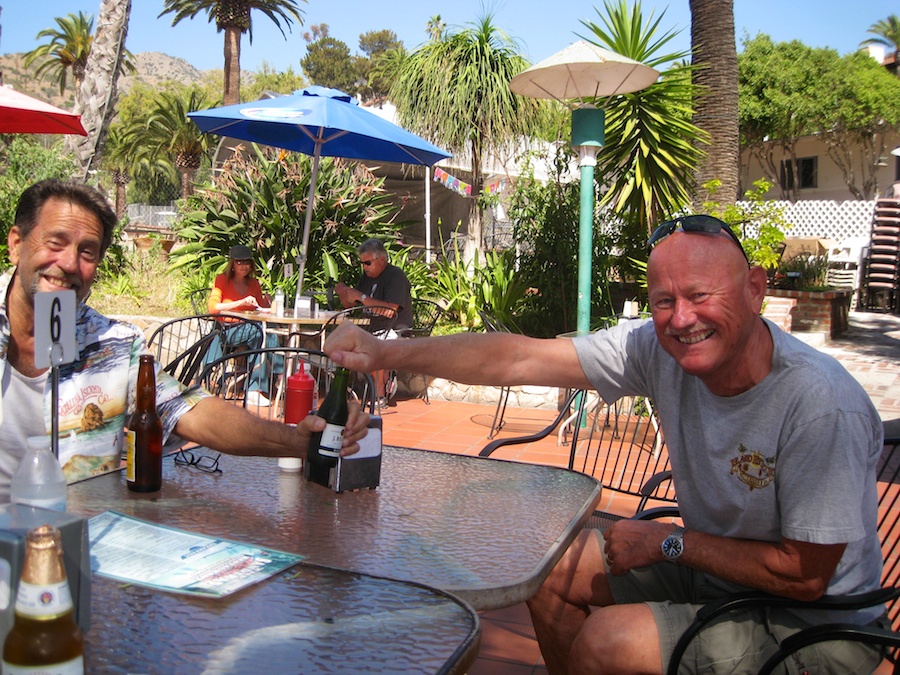 After last night it takes two to open a champagne bottle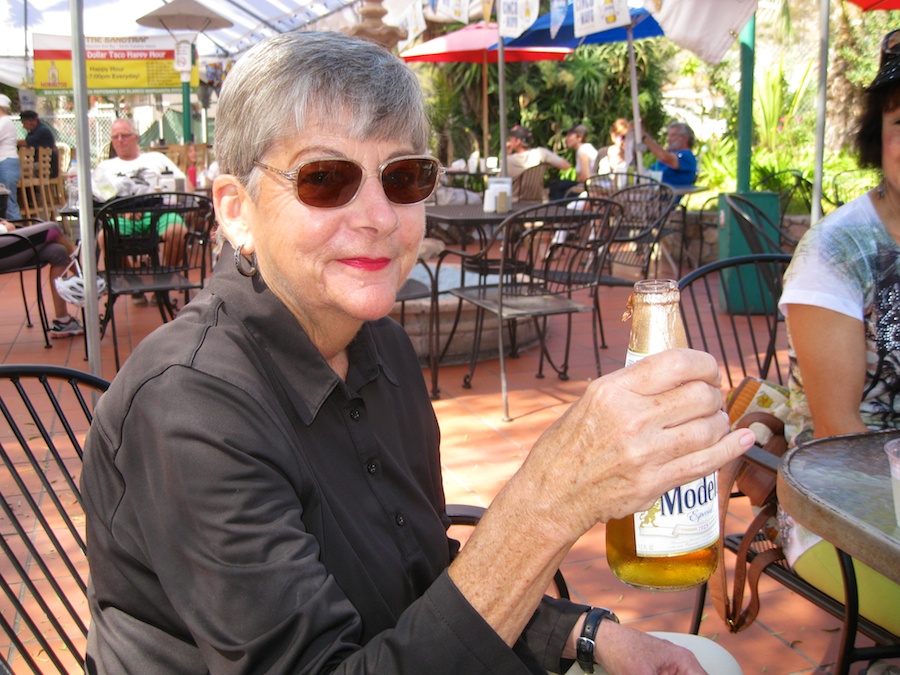 Beer for breakfast.... My kinda girl!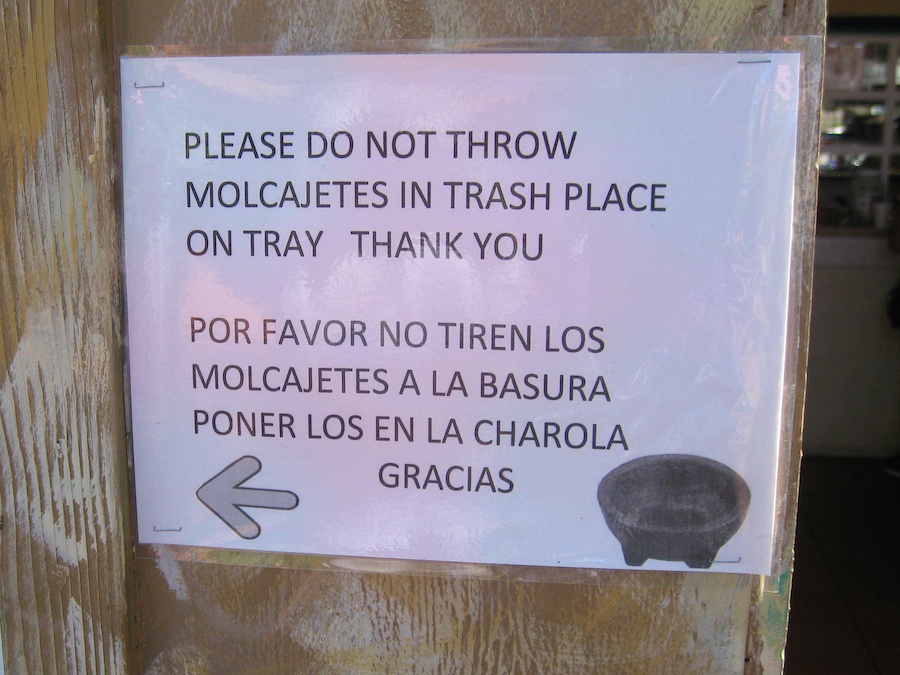 We all wondered what a "Molcajetes" was....
We all looked at the sign
None of us saw the bottom right hand side picture..... DUH!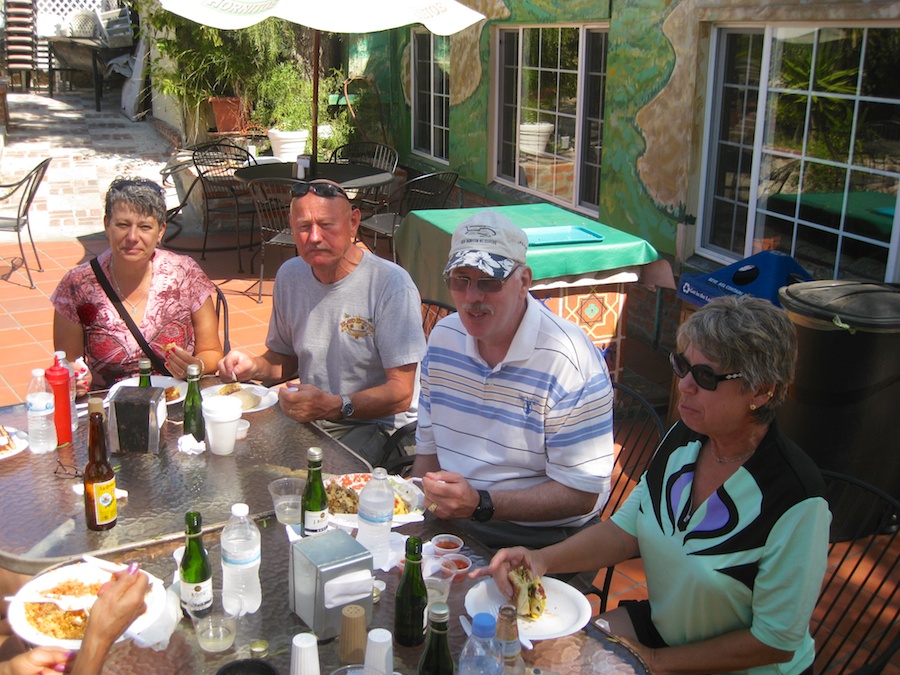 Holly and Bill attacked their breakfast so they could power up for golf!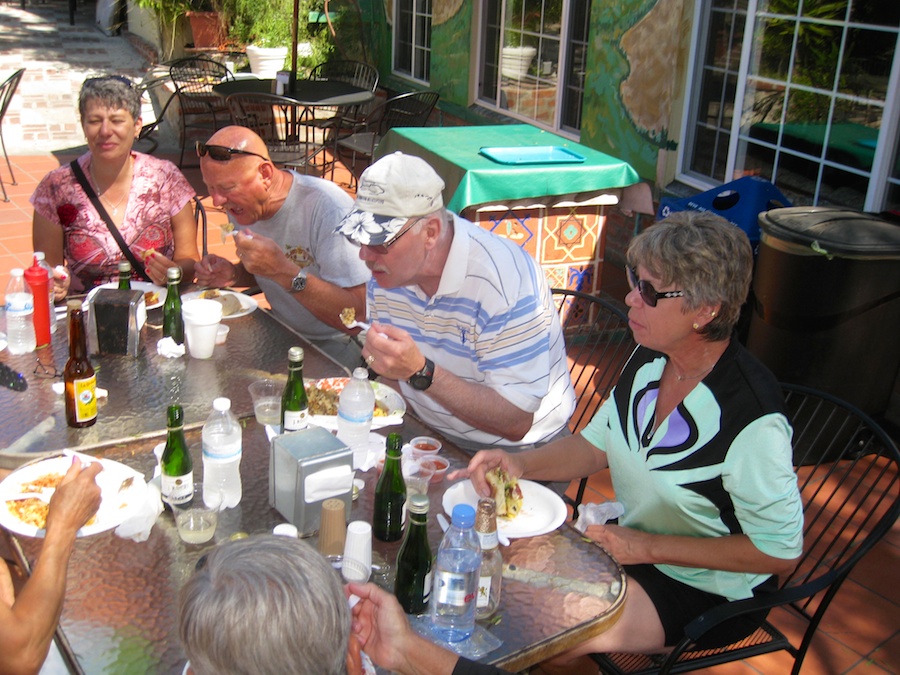 On your mark.... Get ready.... Go!

They are racing this early in the morning???

Kerstin is going to be the Caddy this morning....

We explained what a Caddy was supposed to do....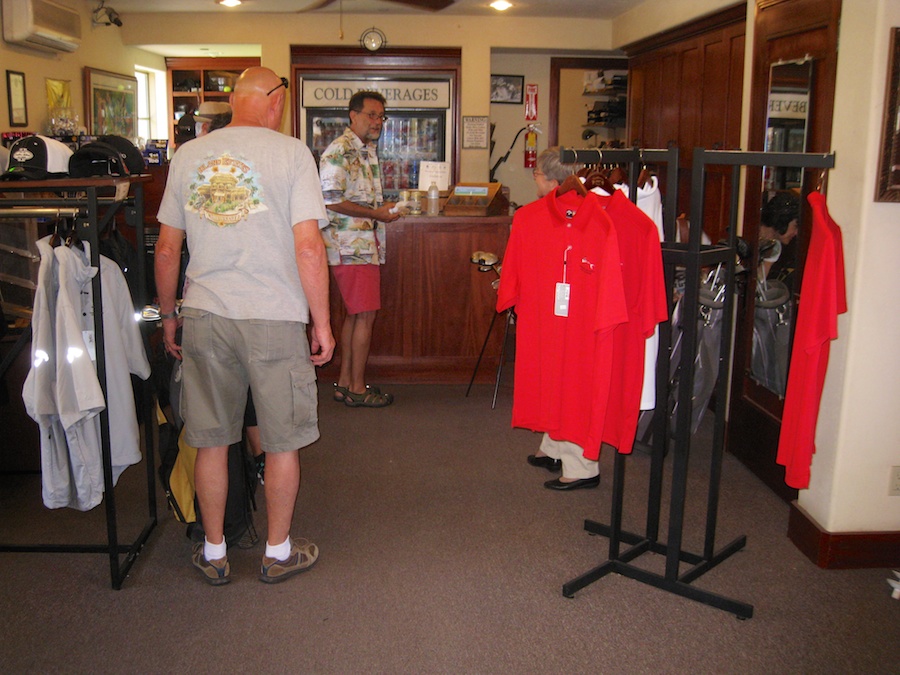 We all chipped in to buy BIG BOY pants for Hans...
His shorts were scaring the animals

Kerstin was also the photographer

The legs must go!

Packing up and getting ready to go!

Kerstin has her instructions.... Do not giggle when Hans misses the ball

"I can do this"

He takes a mighty pose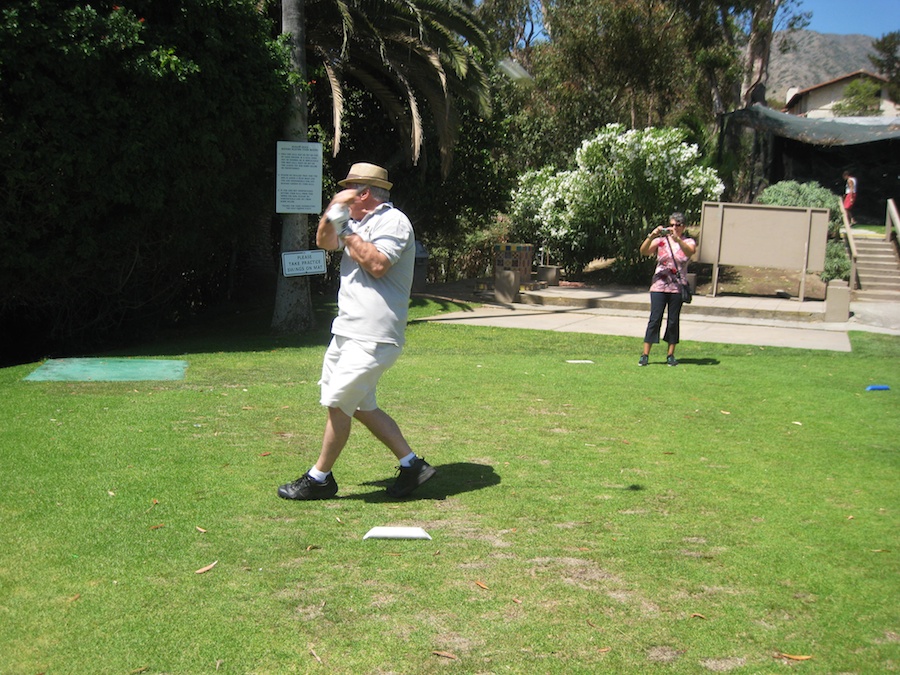 The ball lands in some ones burrito at the Sandtrap

Warming up (Courtesy of Kerstin)

Nice legs... Horrible body (Courtesy of Kerstin)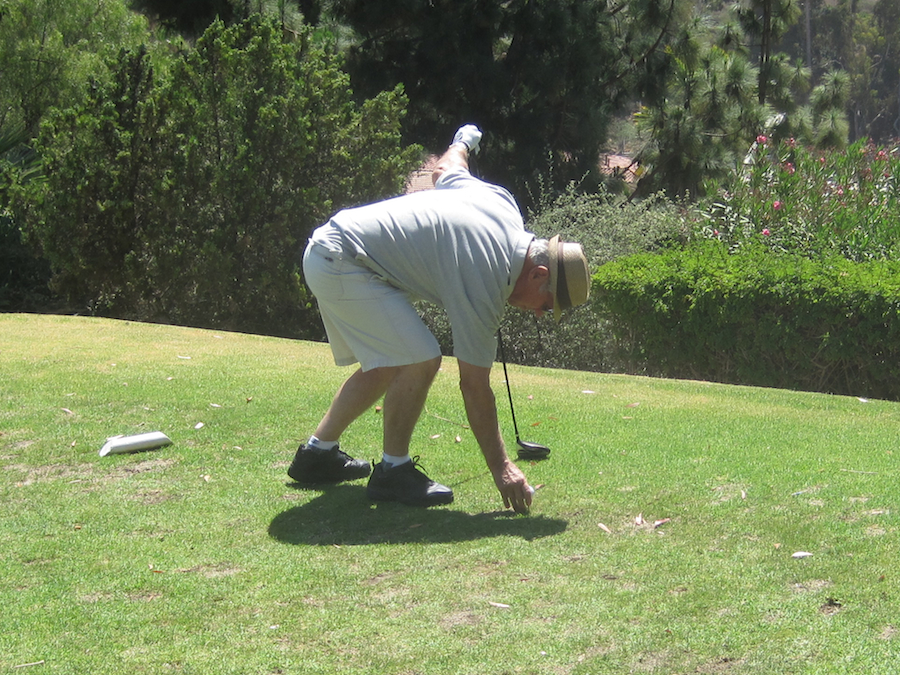 Ed tees up... The ducks and squirrels begin to
flee the course (Courtesy of Kerstin)

Hans needed help with teeing up (Courtesy of Kerstin)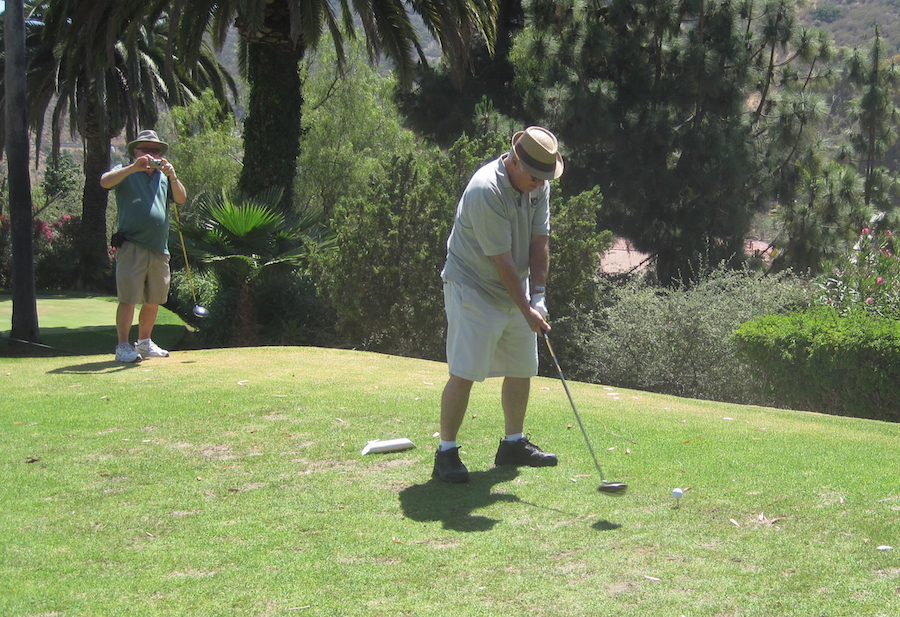 A mighty swing from Ed (Courtesy of Kerstin)

Head 'em up... Roll them out... Wagon train! (Courtesy of Kerstin)

Mighty Sue takes a swing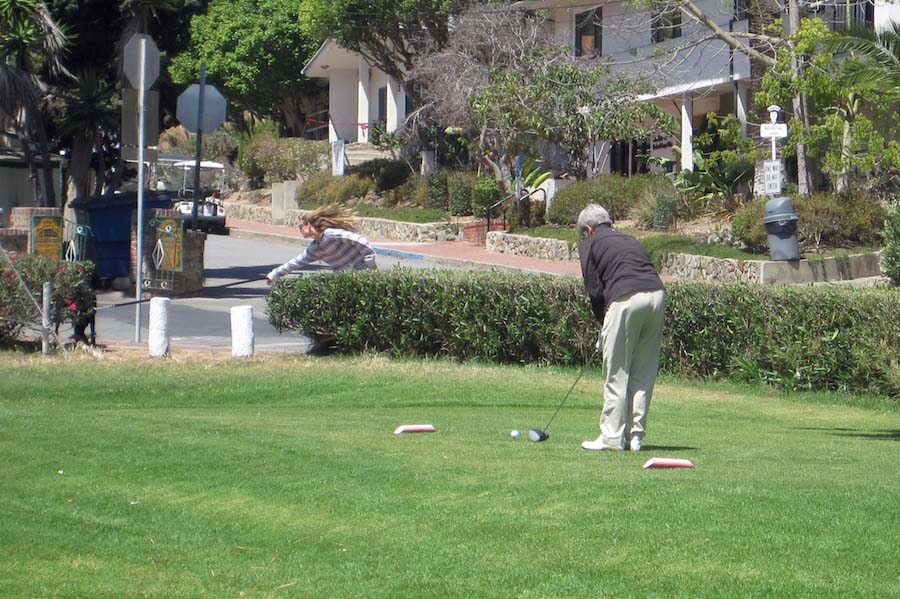 Right down the center of the course (Courtesy of Kerstin)

"Wow... We made the green"

Hans takes a swing at the poor little defenseless ball (Courtesy of Kerstin)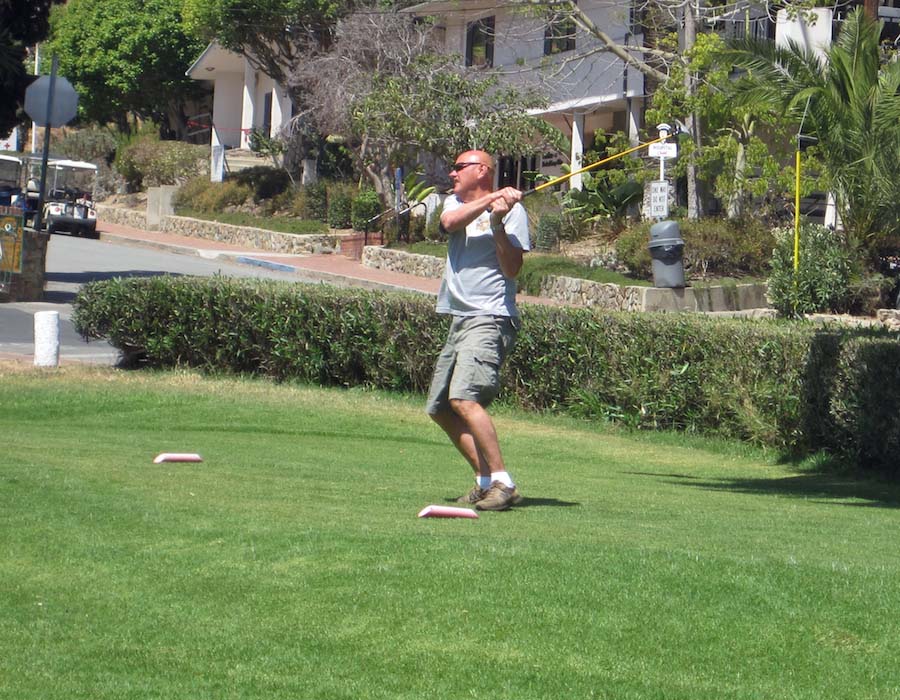 Bam... The ball takes off like a rocket (Courtesy of Kerstin)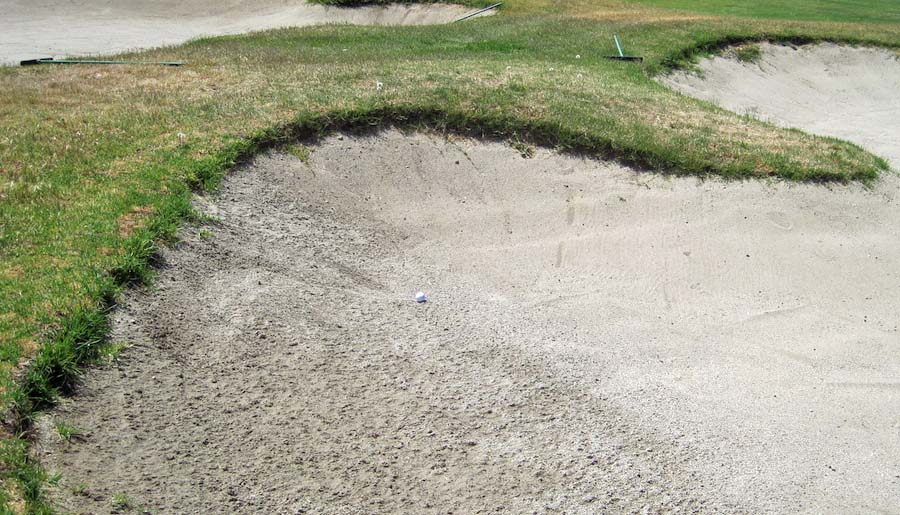 Oops!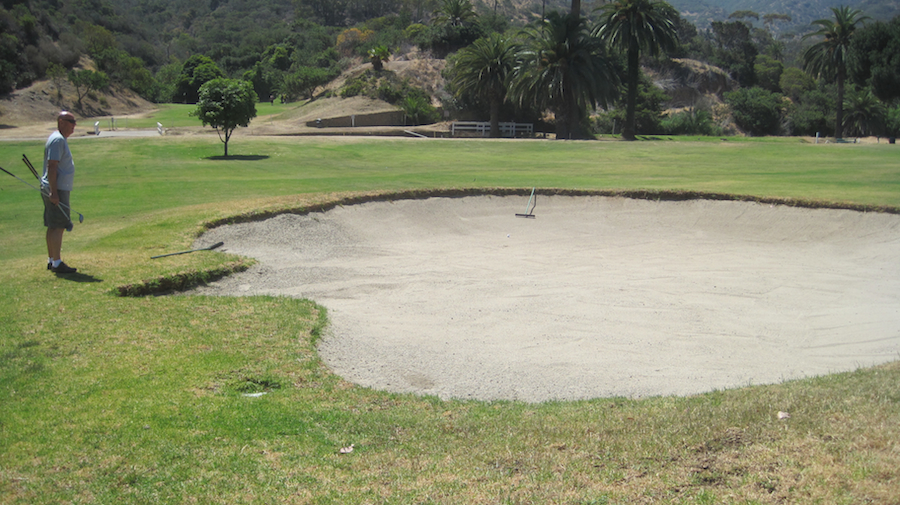 "Hey guys... I got a hole-in-one... right???" (Courtesy of Kerstin)

Ed just missed the sand

Holly, Donna, Bill, and Bob giggle from the first tee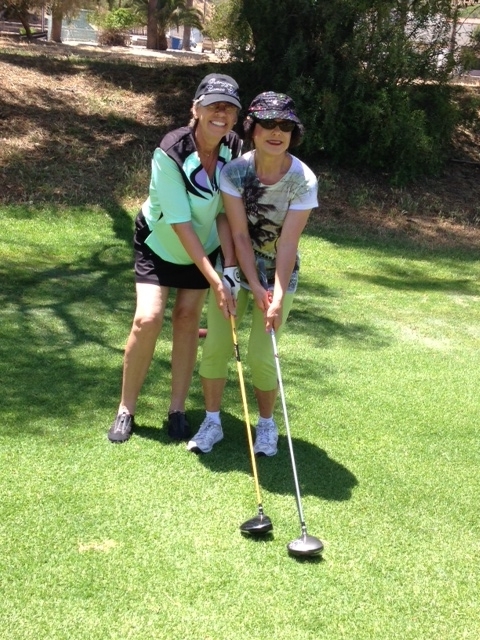 Holly and Donna - The Spearmint Twins Redeaux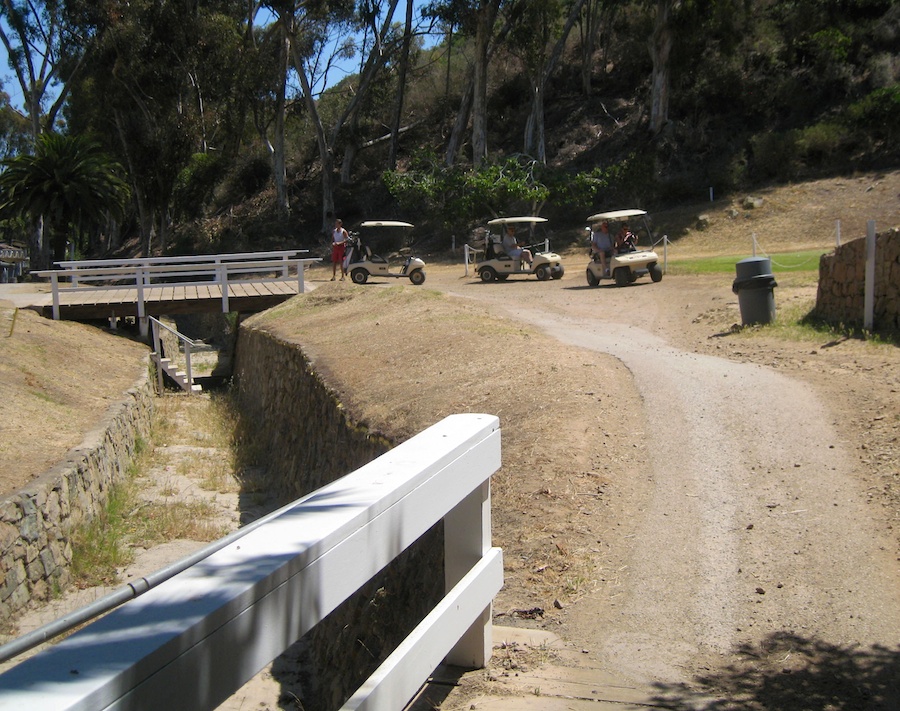 Glad they had a stairway into the gully!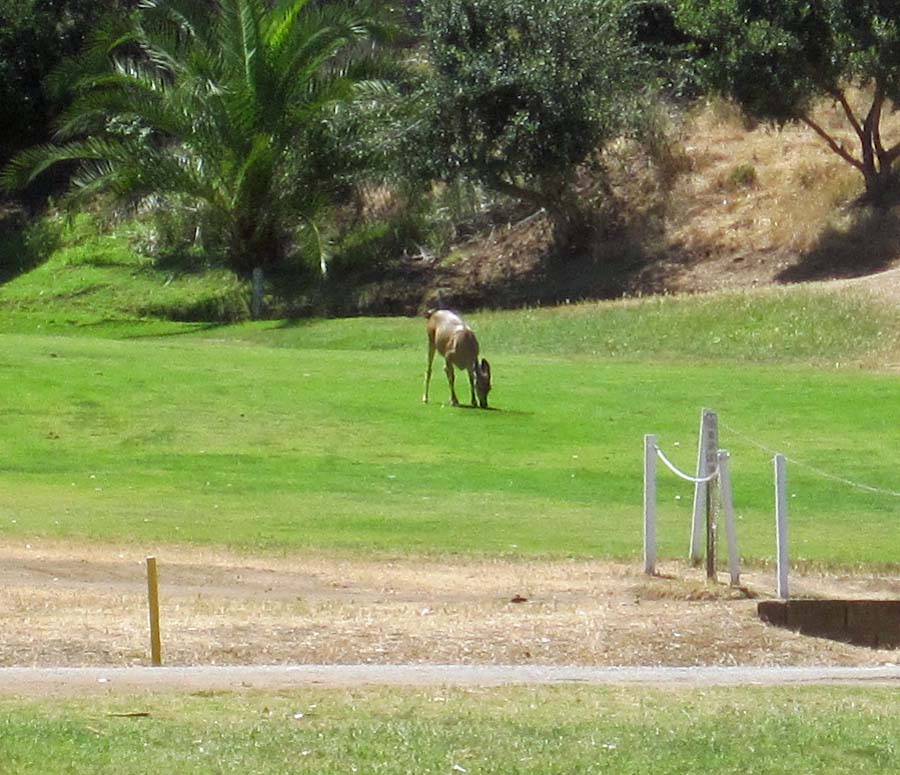 Mr. Deer was on the first hole (Courtesy of Kerstin)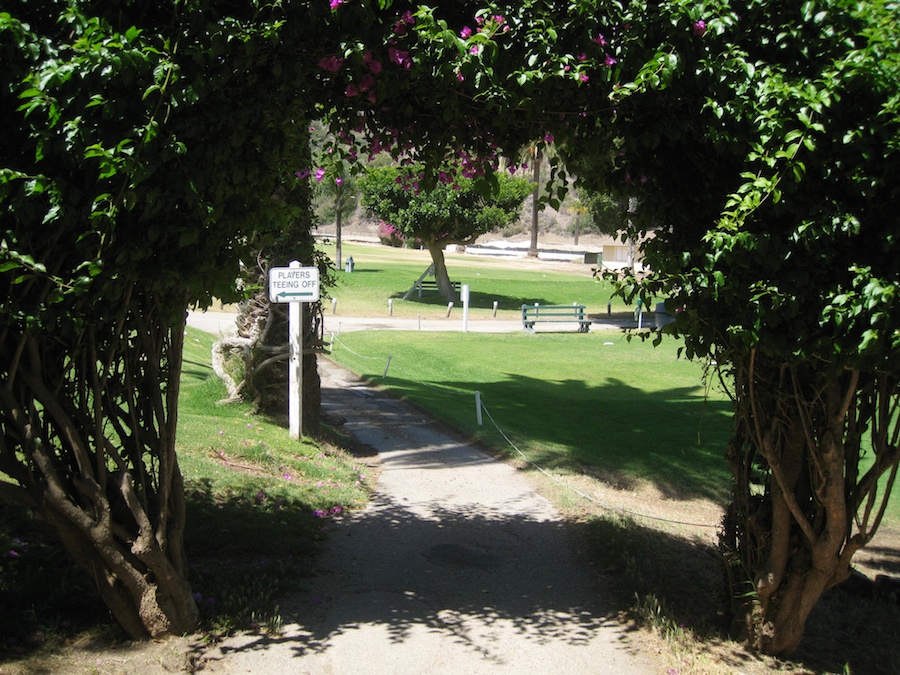 With a little more water it could be a pretty course

Hans began singing "Yellow Bird" when he saw this little fellow

The club is moving fast!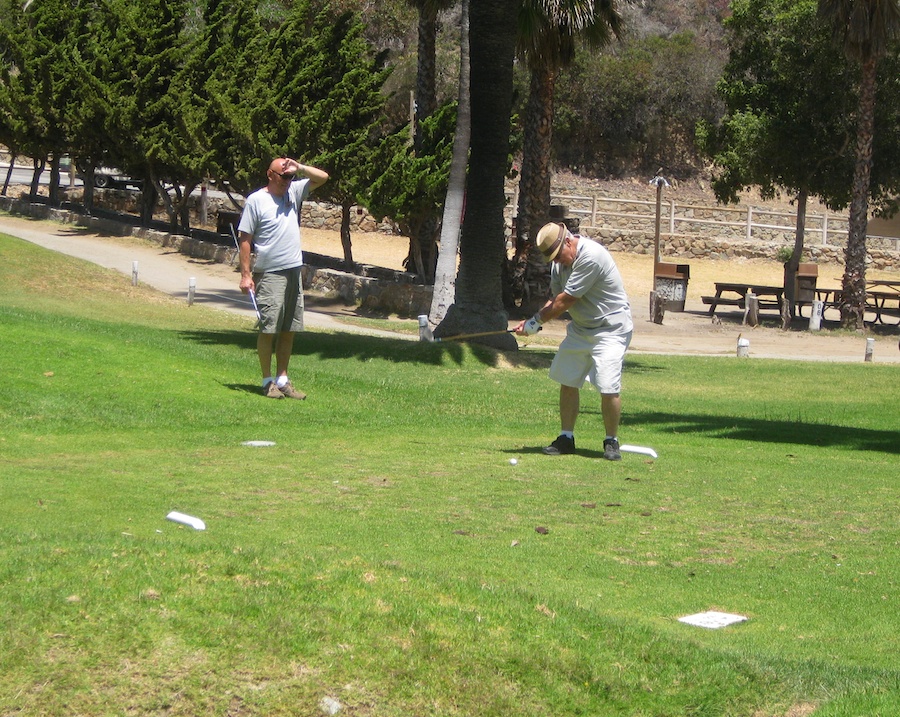 Mighty Ed blasts the ball forward...

Putt putt putt

Hans watches carefully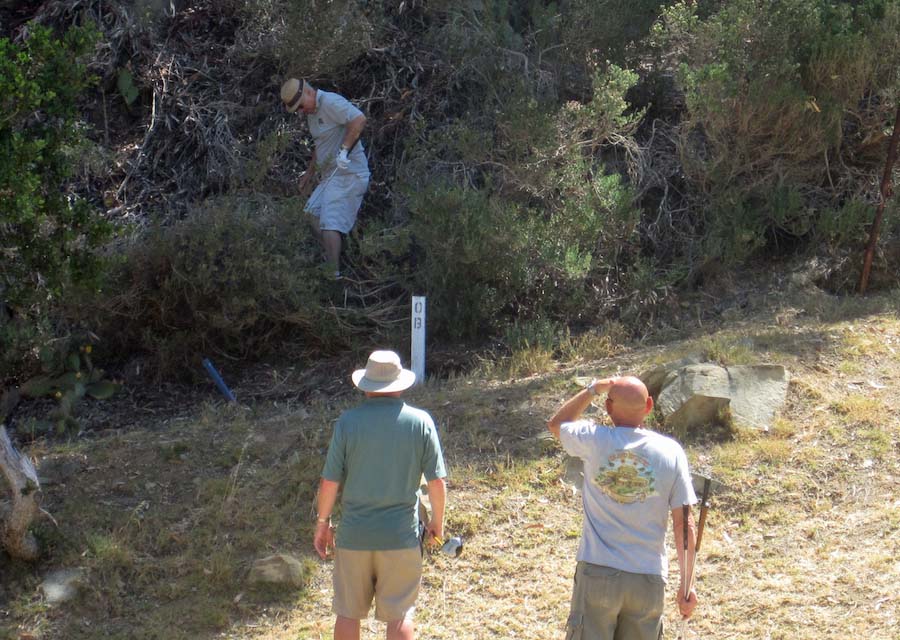 Ed considers taking up mountain climbing (Courtesy of Kerstin)

It's elementary my dear Holmes(Courtesy of Kerstin)

3-2-1 Liftoff (Courtesy of Kerstin)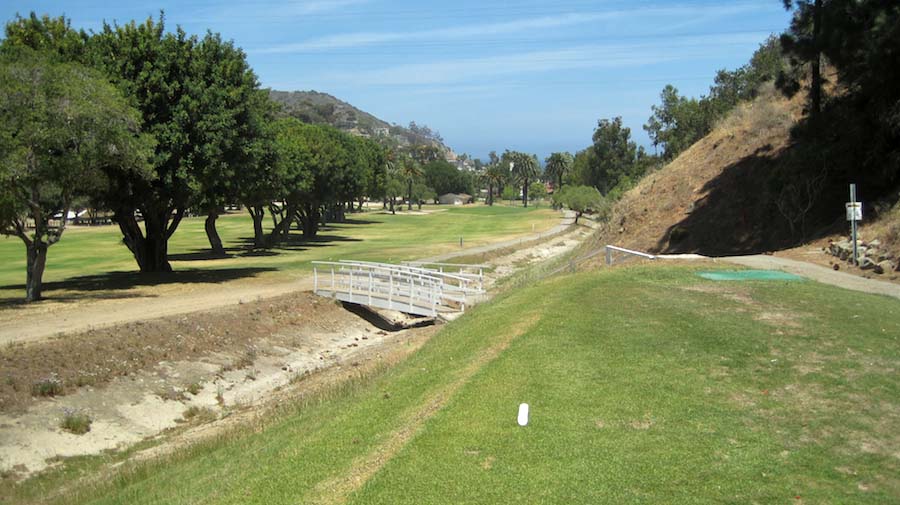 On the home stretch (Courtesy of Kerstin)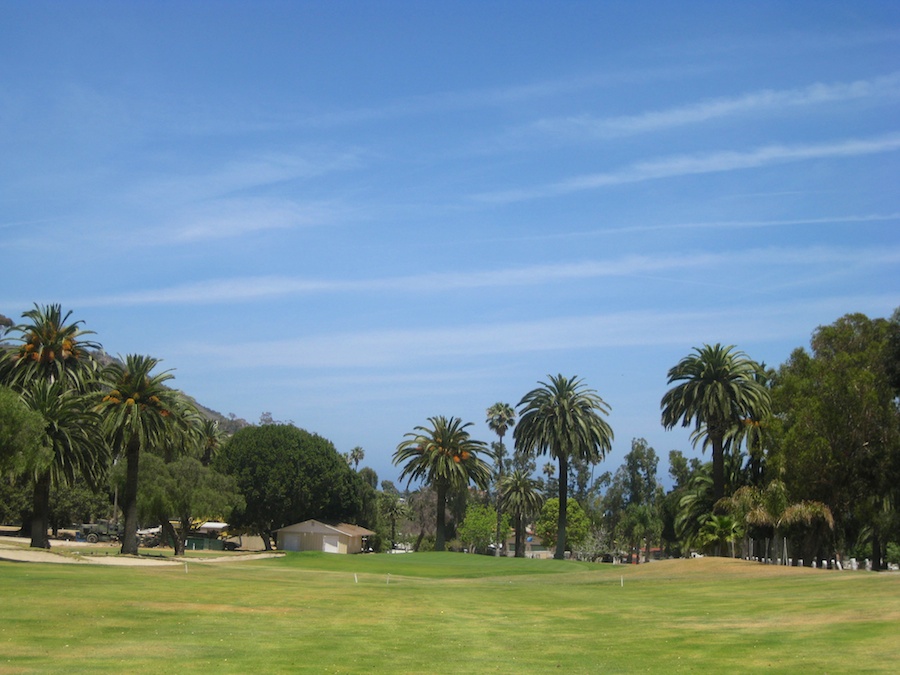 The weather was outstanding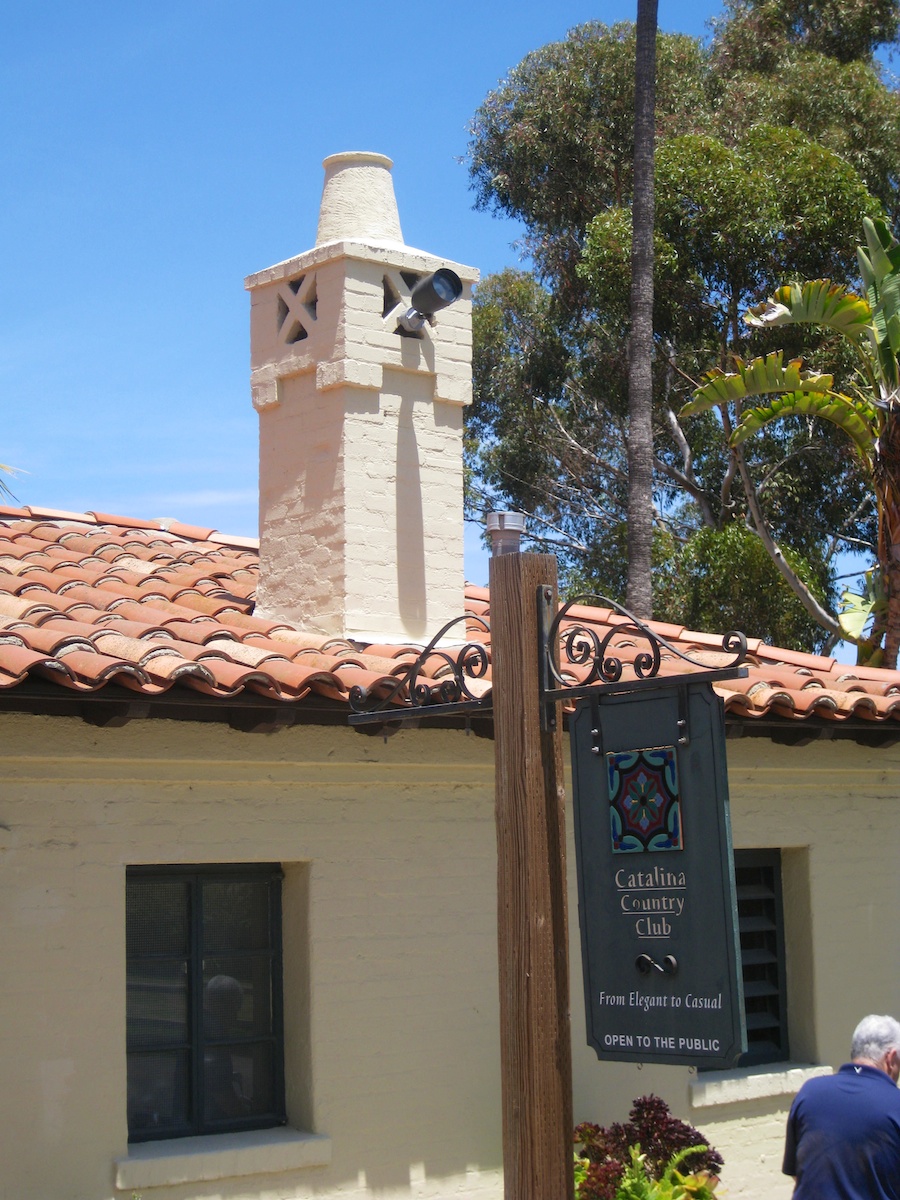 Back to civilization...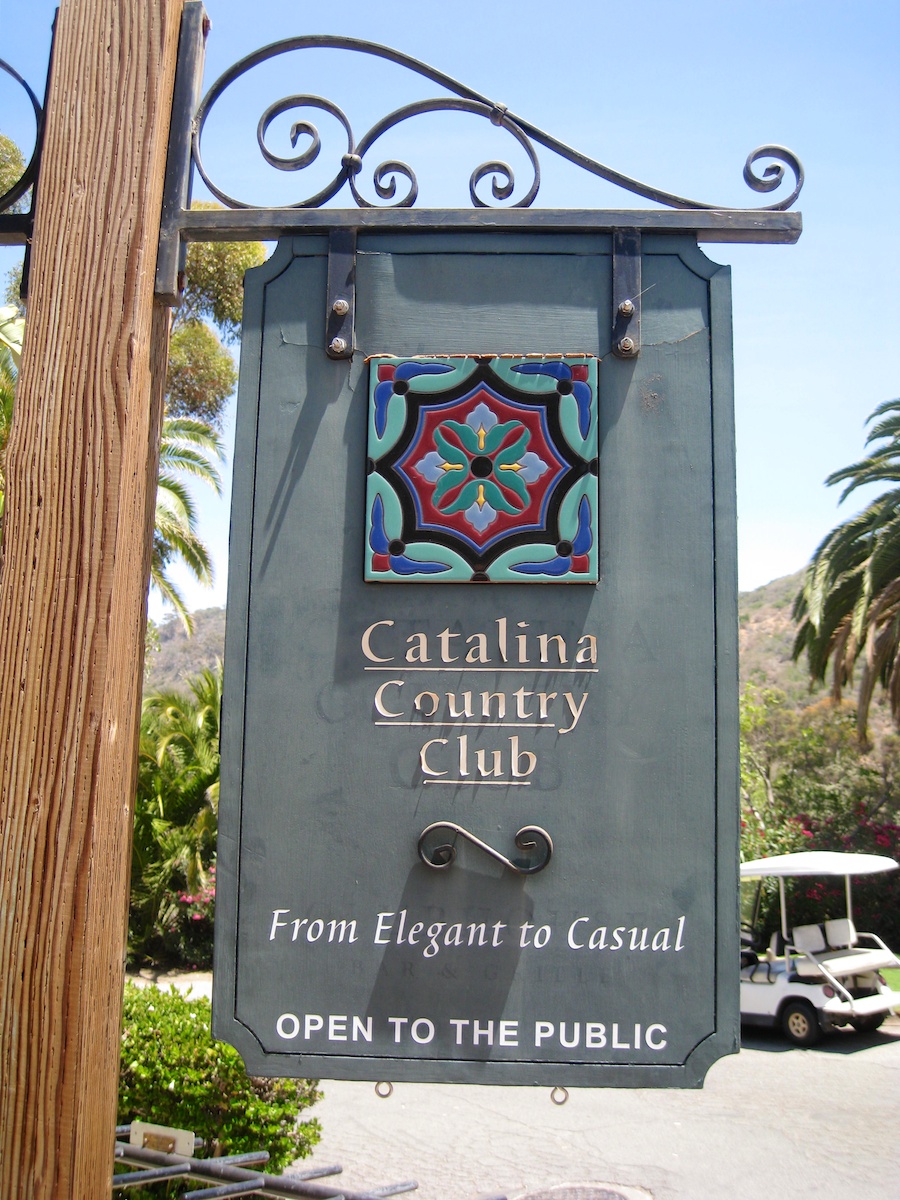 Time for a walk and to the sun deck!