Temecula Wine And Lunch With Laura & AJ (6/28/2010)
We are going to Faulkner to pick up our wine order and then to Thornton Winery for lunch and Mount Palomar or another one for tasting before coming home.
Getting The Day Started On The Right Foot...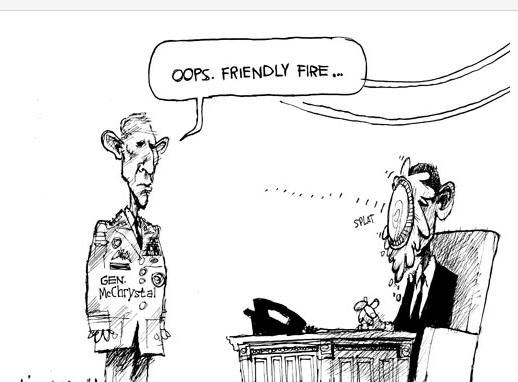 Paul being a "big man" will NOT remind Laura of how much Obama is like Lincoln:
1) Lincoln was elected in 1860, Obama was elected in 2008, nearly 150 years later.
2) Lincoln eliminated involuntary servitude. Obama eliminated private sector jobs.
3) Lincoln and Obama were both married to ugly wives who went crazy.
4) Each man's wife gained over forty pounds while living at the White House.
5) Lincoln was hit in the head from behind. Obama hid his head up his behind.
6) Lincoln was shot in Ford's Theater. Obama shot up while riding in a Lincoln made by Ford.
7) Both men had vice-presidents who were illiterate Democrat senators.
8) Andrew Johnson nearly lived to the age of 67. Joe Biden nearly had an IQ of 67.
9) Lincoln was born in KENtucky, Obama was born in KENya - before both moved to Illinois.
10) LincOln and Obama each had a single letter "O" in their last name.
11) Andrew Johnson had no middle name. Joseph Robinette Biden had a silly one.
12) JOHN W. BOOTH and BILL C. AYERS each has 10 letters.
13) Neither Lincoln nor Obama ever wrote a book.
14) Lincoln suffered from major depression. Obama caused a major depression.
Heading Out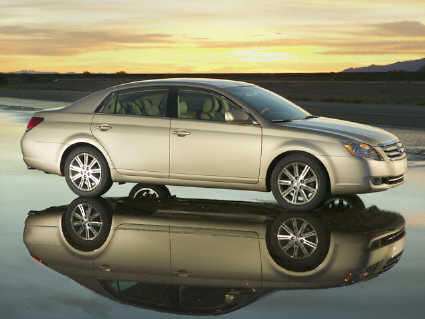 The hot rod is ready to go!
First stop: Faulkner Winery
40620 Calle Contento
Temecula, CA 92591-5041
(951) 676-8231
Then to lunch at : Thornton Winery
32575 Rancho California Road
Temecula, CA 92591-4935
(951) 699-0099
Tasting: Mt. Palomar Winery
33820 Rancho California Road
Temecula, CA 92591-4930
(951) 676-5047
Thank You Mapquest!

1 hour 19 minutes / 75.96 miles / Fuel Cost: $8.20 at 29 MPG
Let The Adventure Begin
Note: The photos below are a selection of those taken by Aj and Paul as they day progressed! Thanks AJ!!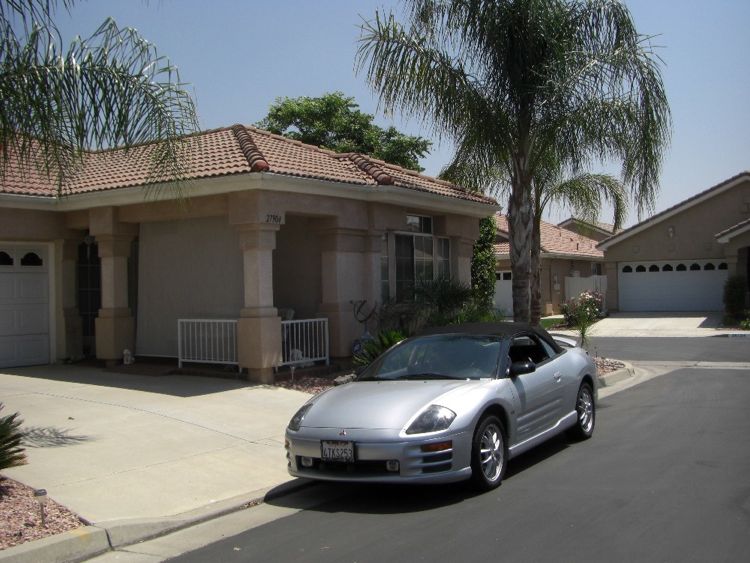 Laura & AJ's hot rod is ready to go!
We Arrive At Faulkner At 11:15 To Pick Up Some Wine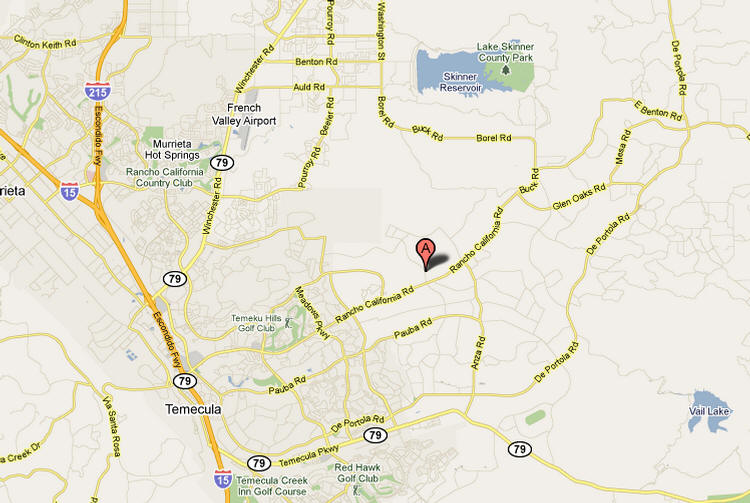 About one mile from Thornton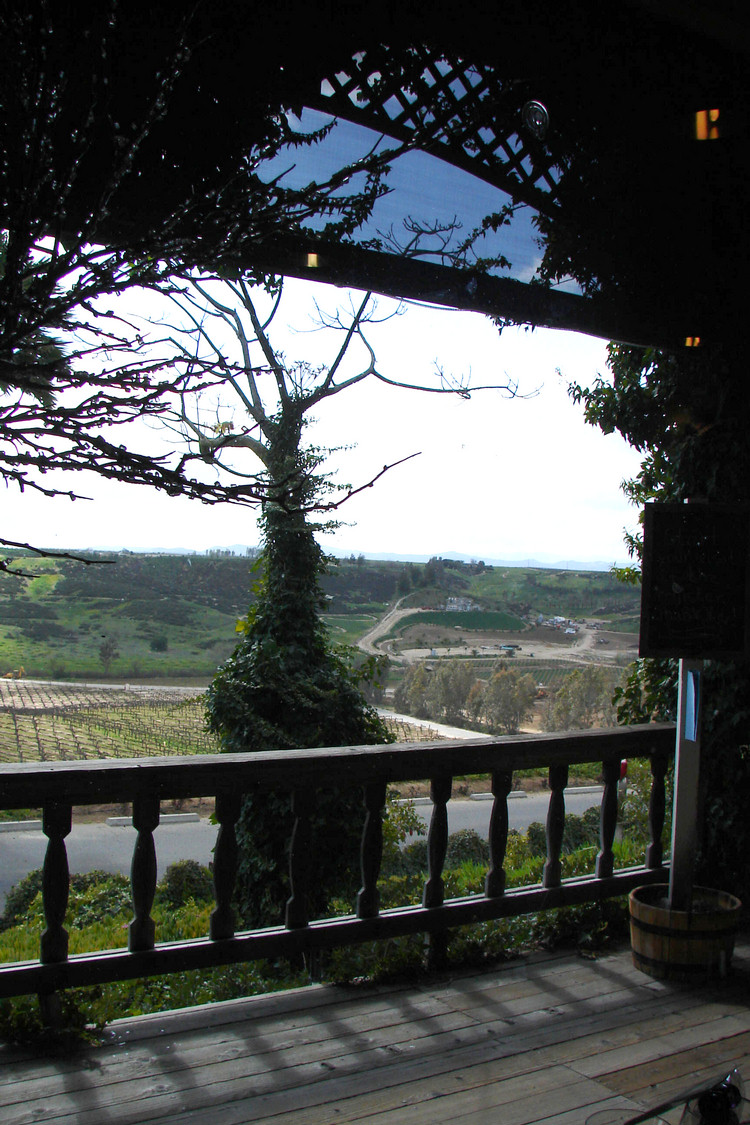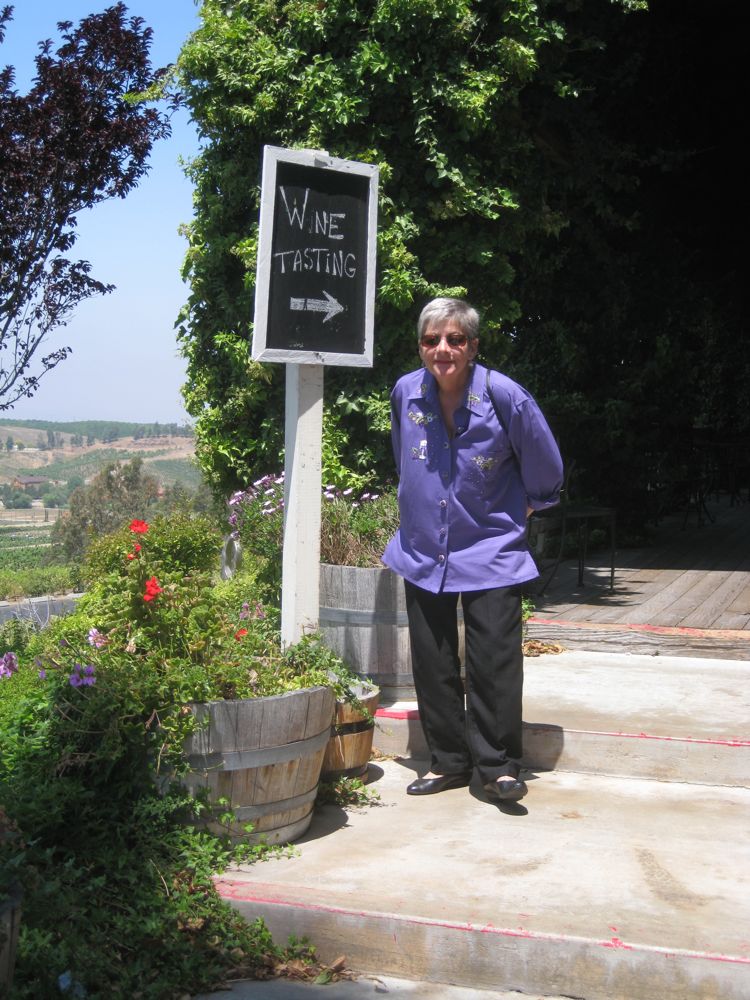 Meanwhile Sue and Paul stopped by Faulkner's for a taste before lunch!
Did you know? - Every Sunday through the summer, Falkner Winery will be preparing fresh BBQ food outside in their lawn area. Hours will be 11am to 3pm and will coincide with their Free Jazz on Sundays (noon to 3pm).
12:10 We Arrive At Thornton Winery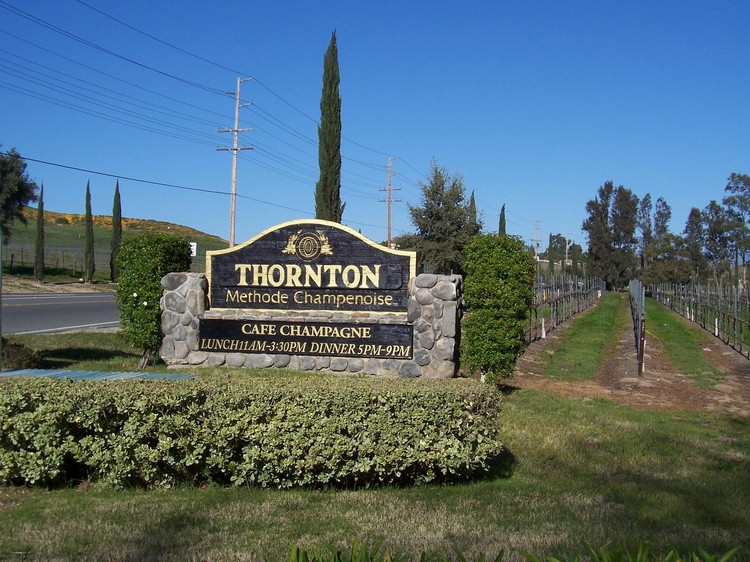 We have arrived at Thornton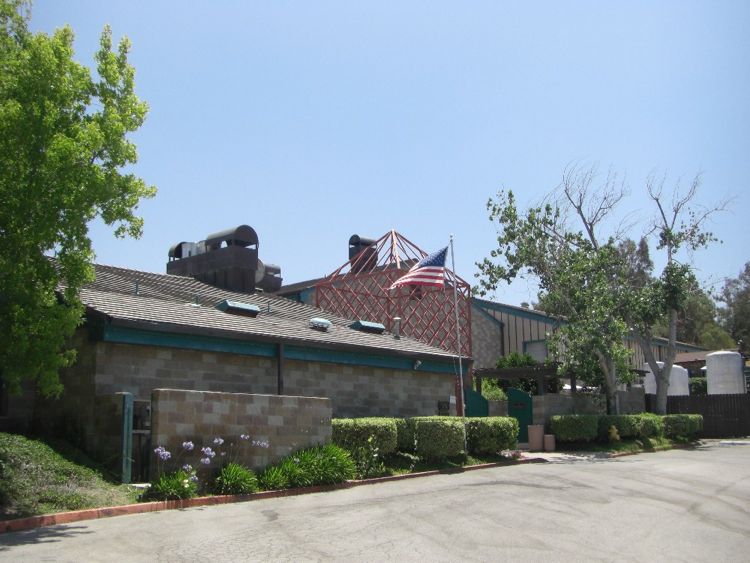 Right on time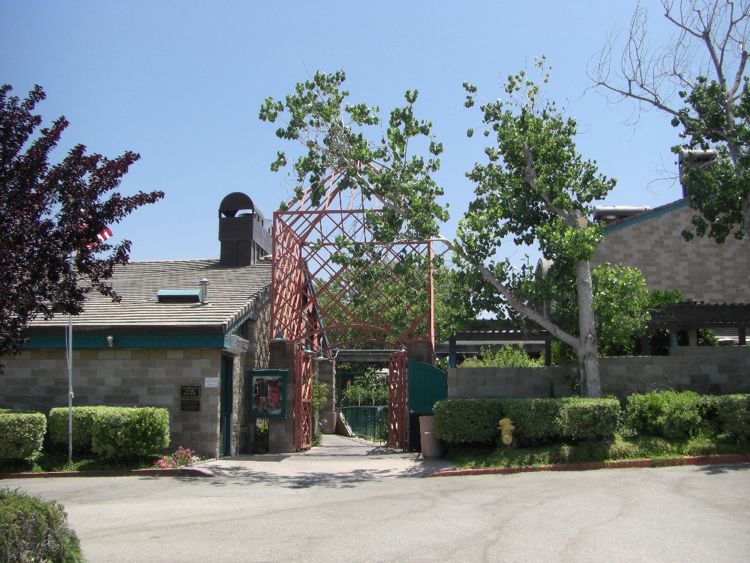 Thornton's entry is quite interesting

The Thornton grounds are quite nice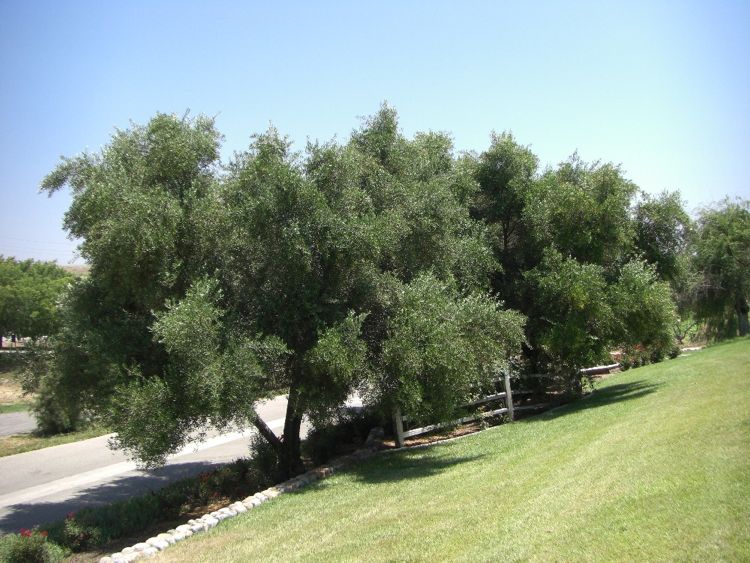 Olive trees abound

The restaurant is hidden amongst the trees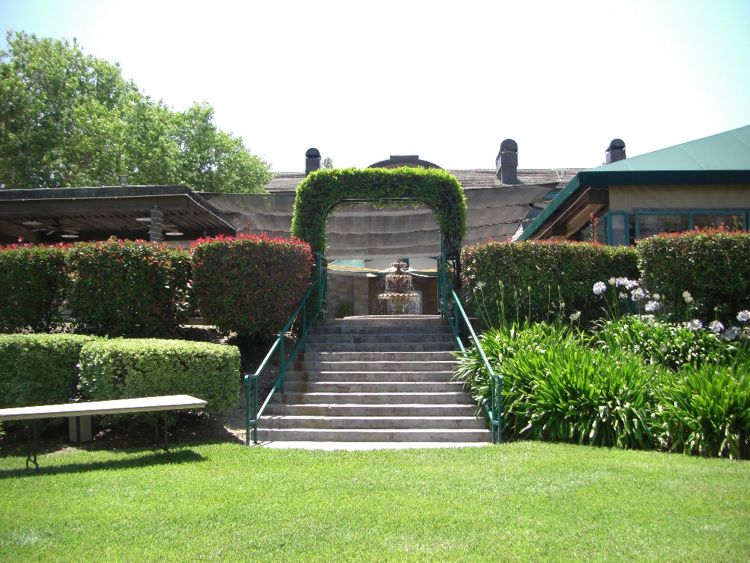 The gardens are a great place to walk off the wine!

Laura is ready to drink!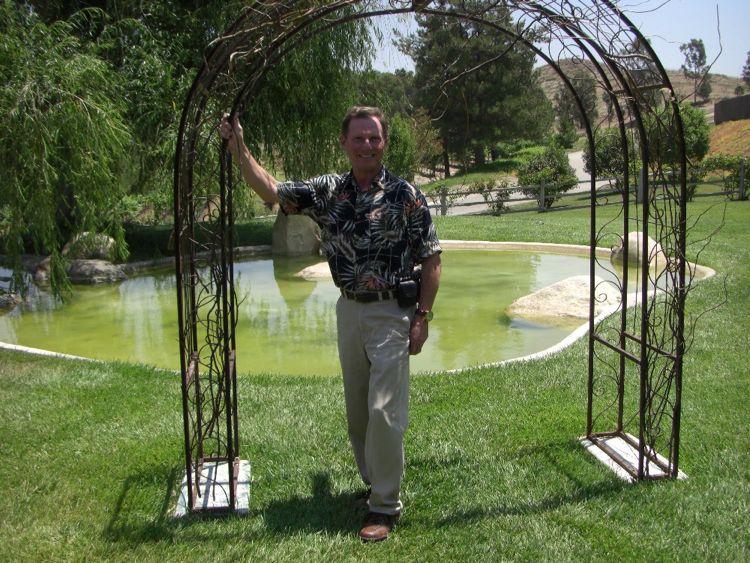 AJ is just hanging around

She found the restaurant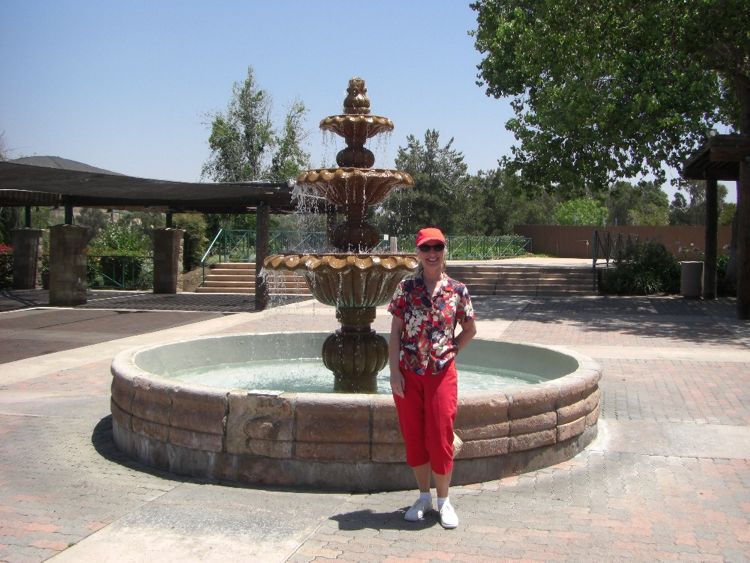 When it is 100 degrees outside we will jump in the fountain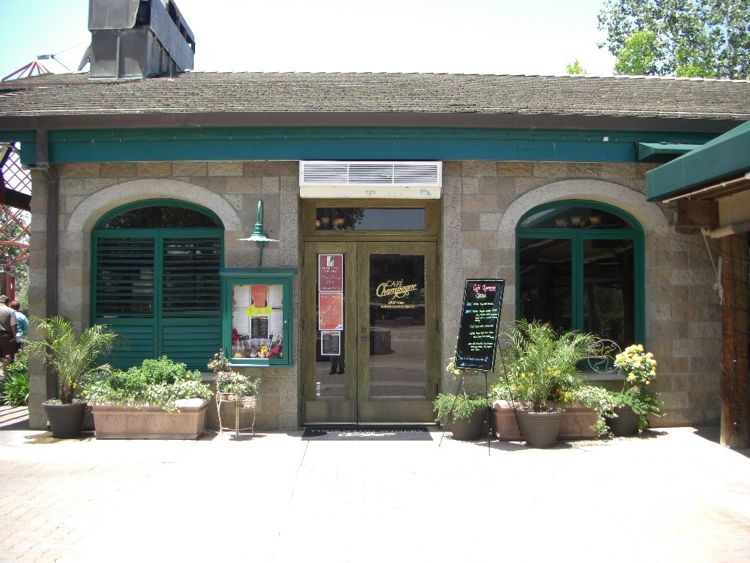 The Cafe Champagne

Good reflection of you AJ!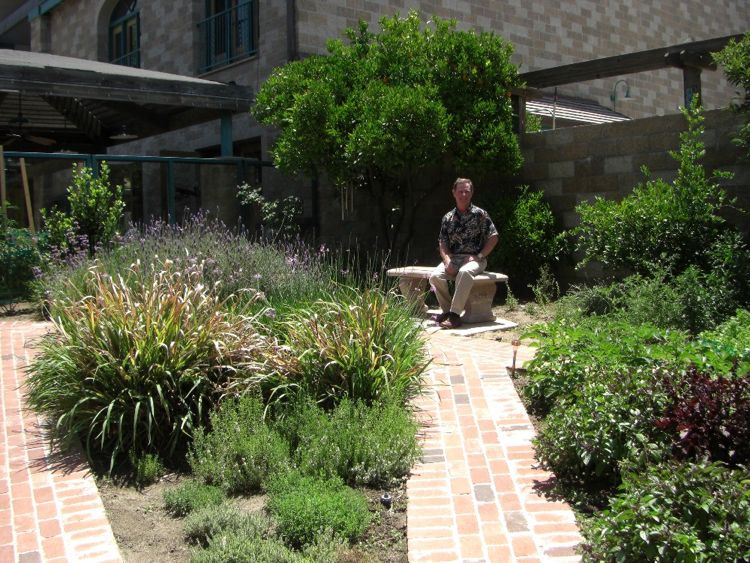 AJ thought this was an outdoor outhouse... He was corrected quickly by the passerbys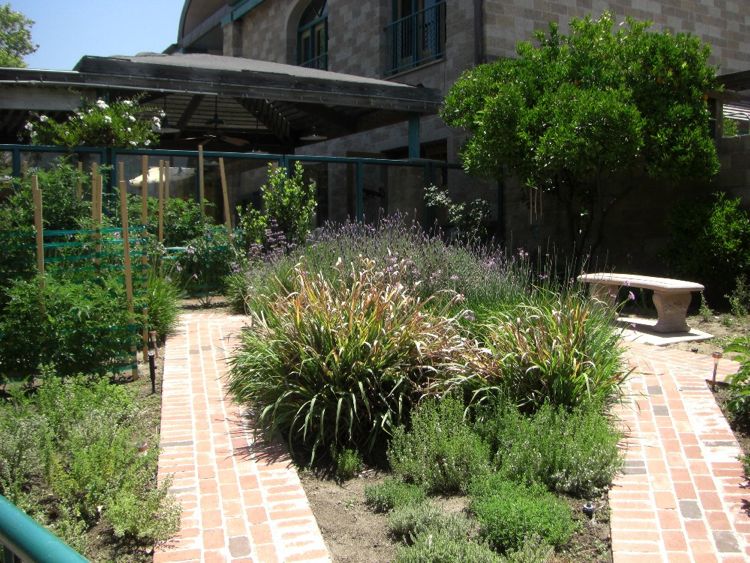 The restaurant herbs are indeed fresh!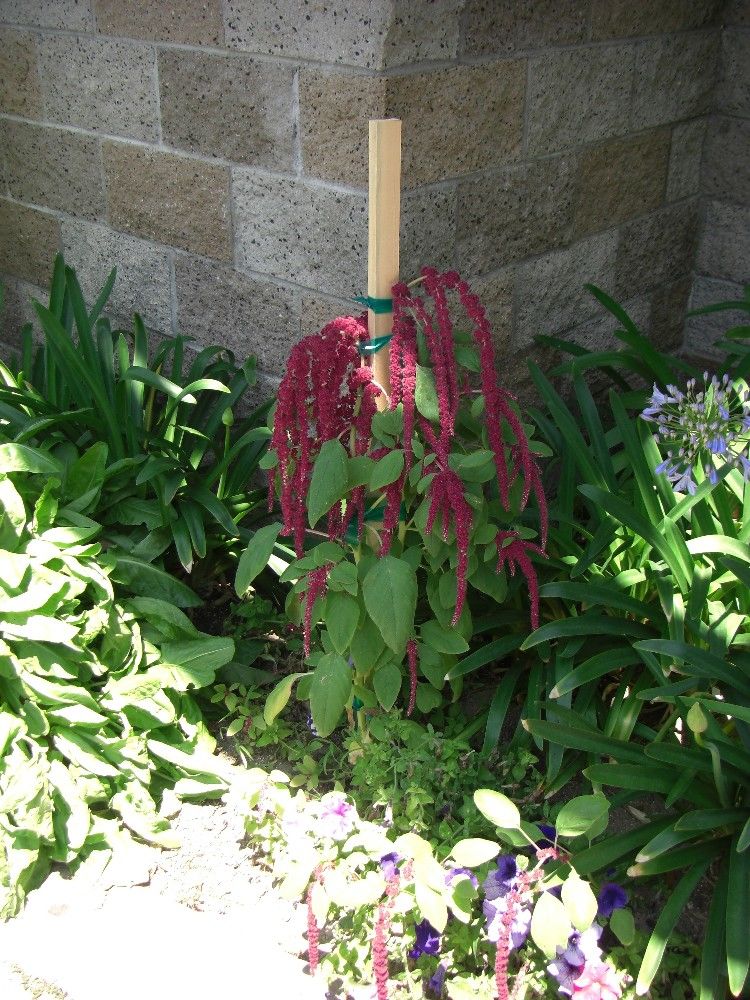 Interesting plants
Pre-Lunch Shopping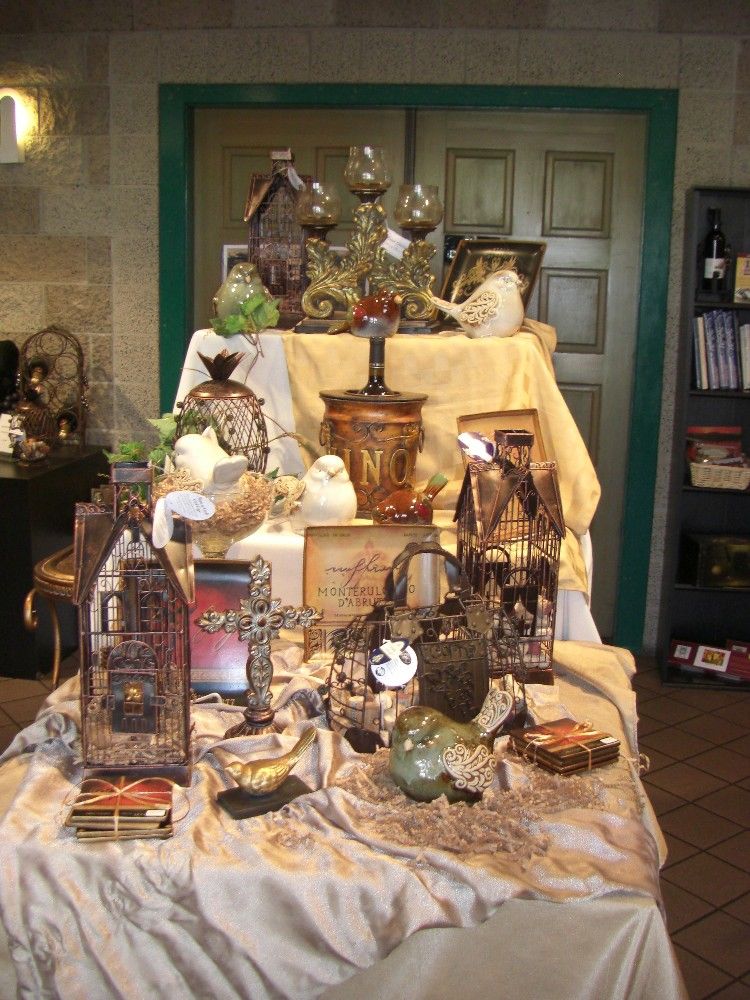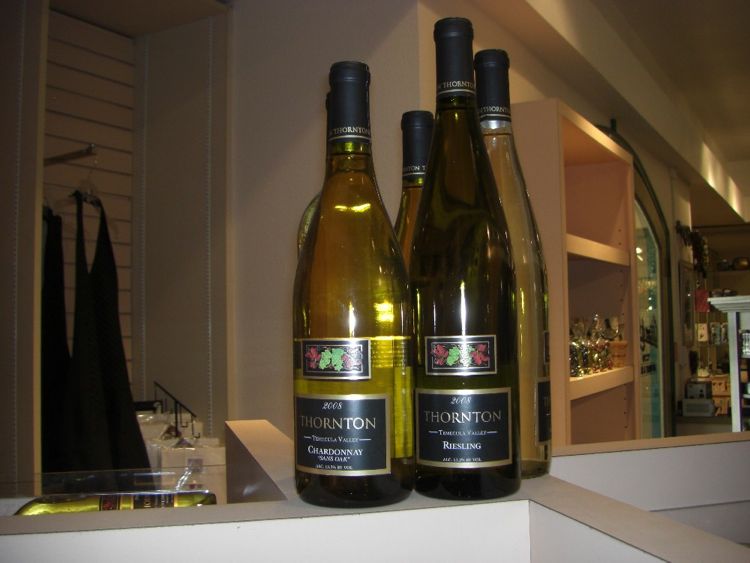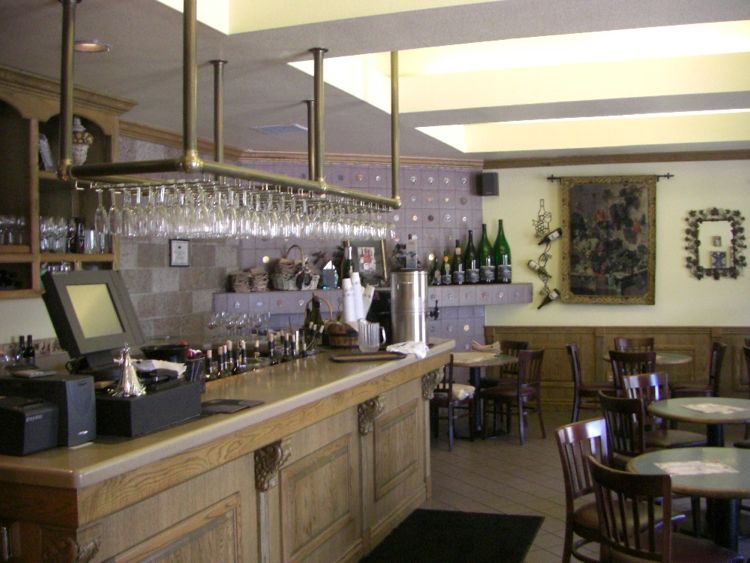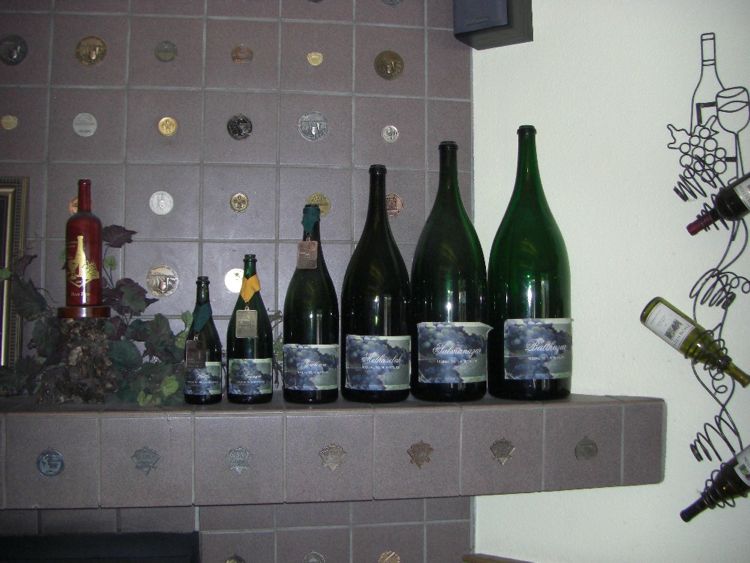 Bobble Bottles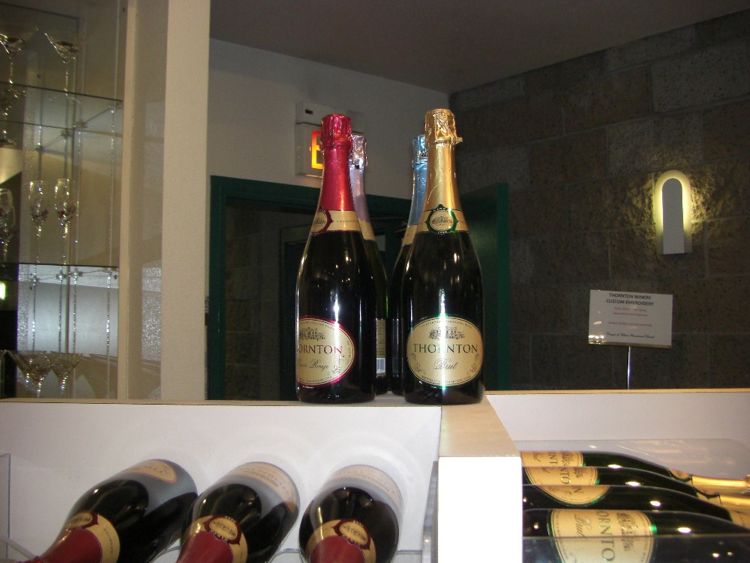 Time To Eat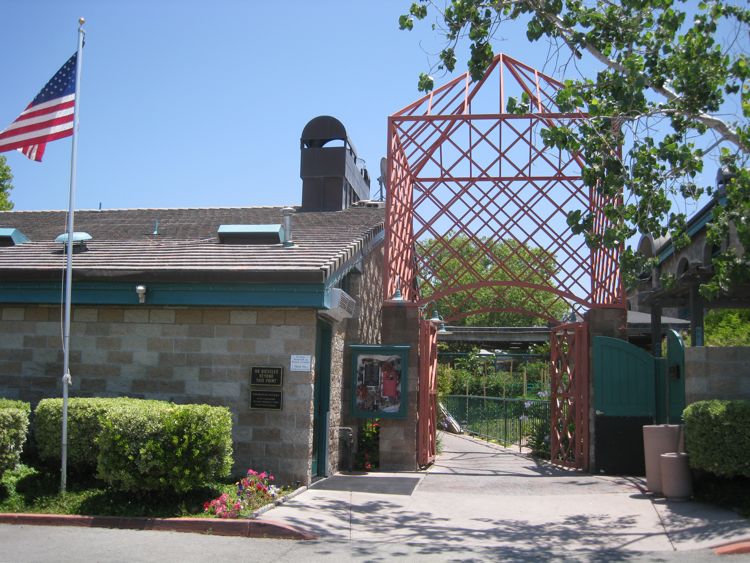 Time To Dine
Did you know? - Overseen by Executive Chef Steve Pickell, the gold medal award-winning, Caf? Champagne at Thornton Winery offers the perfect combination of French Country Elegance with "Contemporary Fusion Cuisine" to create a well-rounded flair for the total gourmet experience.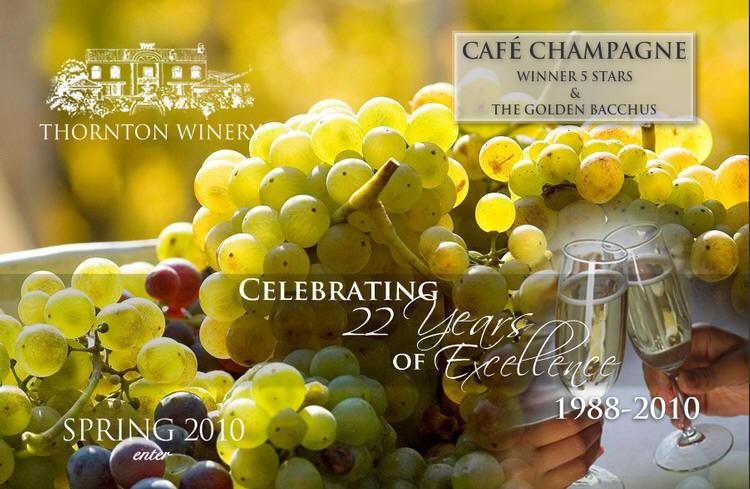 Thornton For Lunch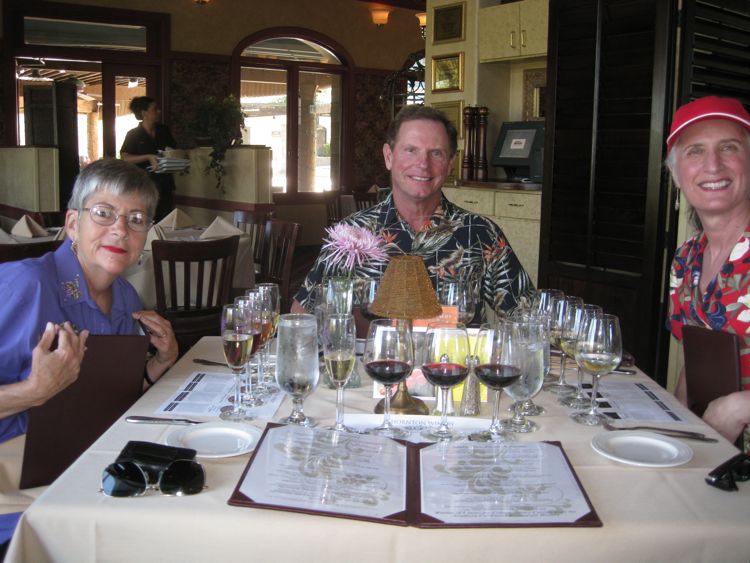 No! We are NOT drunkerds! Those are "Flights Of Wine"
Remember AJ what I told you: see, swirl, sniff, sip, savor... and DO NOT snort
Did you know? - Whereas wines are regularly tasted in isolation, a wine's quality assessment is more objective when performed alongside several other wines, in what are known as tasting "flights". Wines may be deliberately selected for their vintage ("horizontal" tasting) or proceed from a single winery ("vertical" tasting), to better compare vineyard and vintages, respectively. Alternatively, in order to promote an unbiased analysis, bottles and even glasses may be disguised in a "blind" tasting, to rule out any prejudicial awareness of either vintage or winery.
Tasting flight is a term used by wine tasters to describe a selection of wines, usually between three and eight glasses, but sometimes as many as fifty, presented for the purpose of sampling and comparison.
There are five basic steps in tasting wine: color, swirl, smell, taste, and savor. These are also known as the "five S" steps: see, swirl, sniff, sip, savor. During this process, a taster must look for clarity, varietal character, integration, expressiveness, complexity, and connectedness.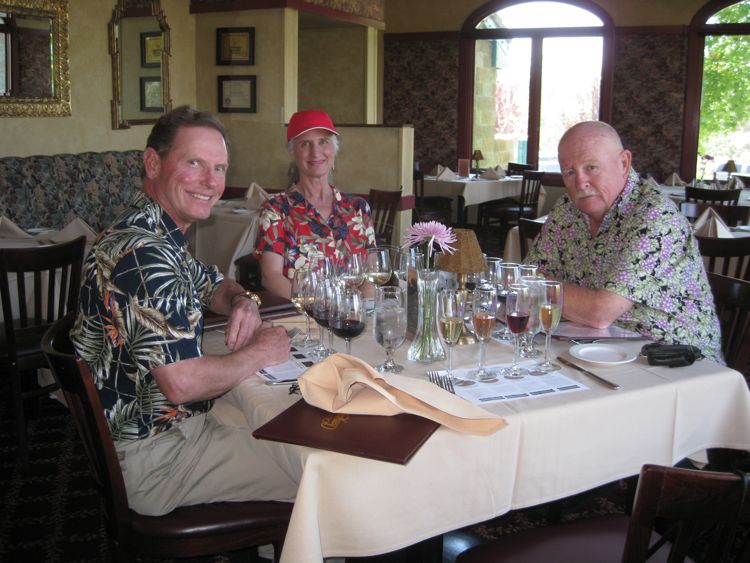 Dang! A stemware forest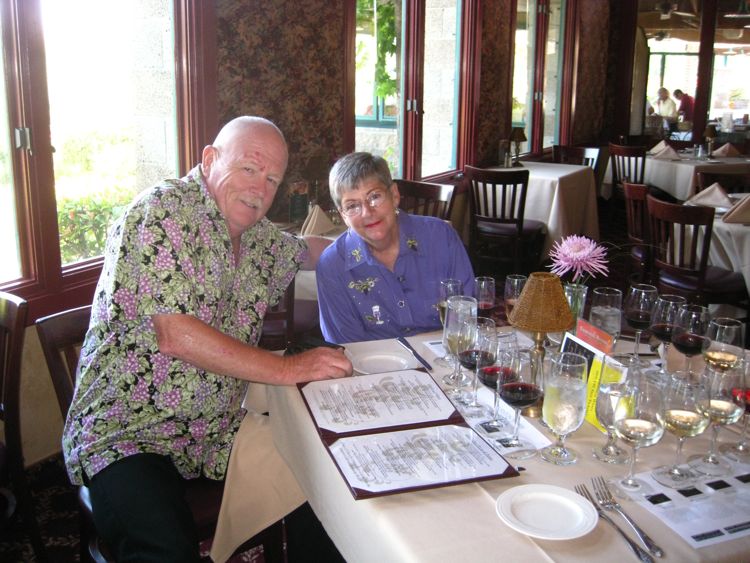 The menu looked quite interesting
Appetizer Time... Decisions Decisions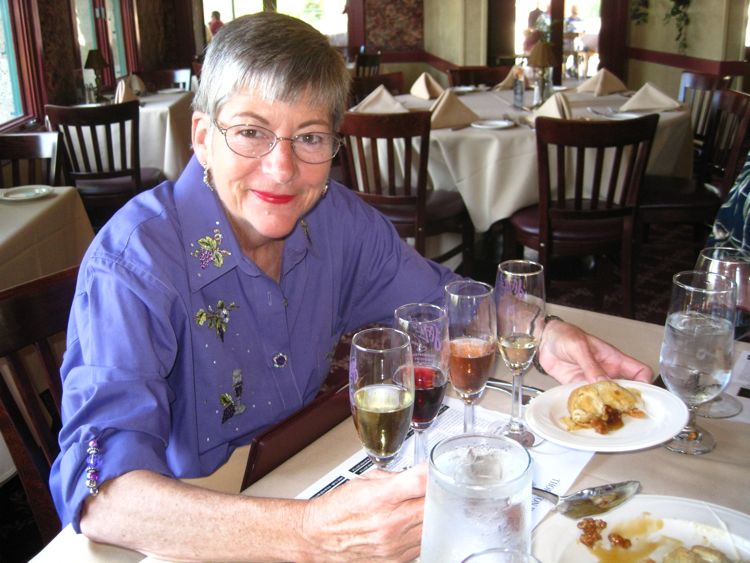 Brie cheese for an appetizer - Warm brie en croute - French Brie wrapped in Puff Pastry, Warm Honey-Walnut Sauce - It's a girl thing!
Did you know? - Hors d'?uvre literally "apart from the main work") or appetizers are food items served before the main courses of a meal. The French (singular and plural) is hors d'?uvre; in English, the ? ligature is usually replaced by the 2-letter sequence "oe" with the plural often written as "hors d'oeuvres",
AJ and Paul shared an appetizer, something the girls would not be interested in! Spanish Chorizo Fresh Chiles and Cilantro, Served with Cheese Bread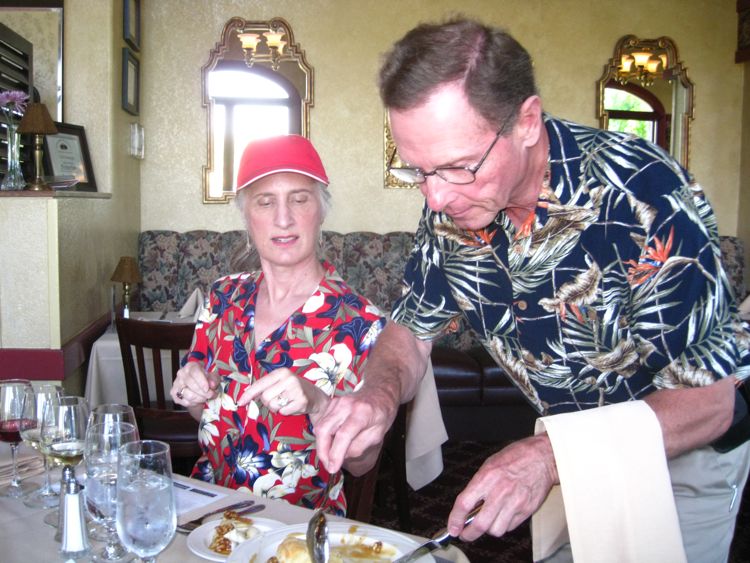 The waiter was OK but no big tip was provided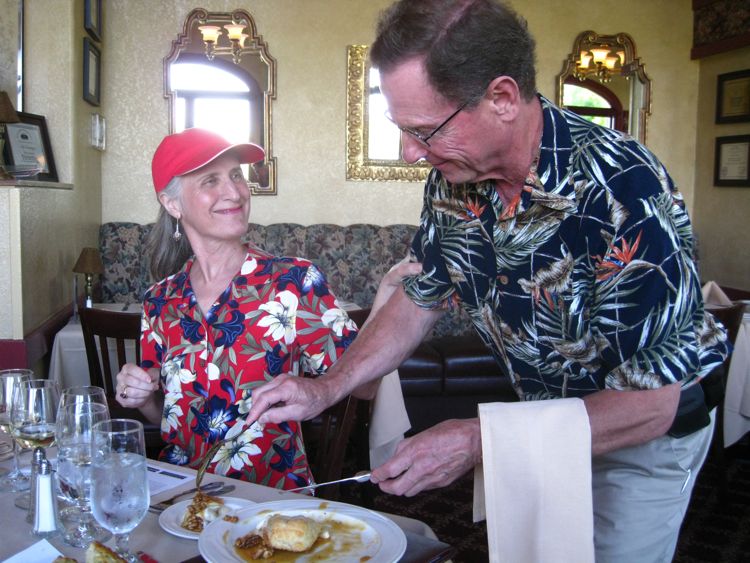 The waiter gets a grab in the arm... Lucky his derriere was not closer
The Main Course... More Decisions!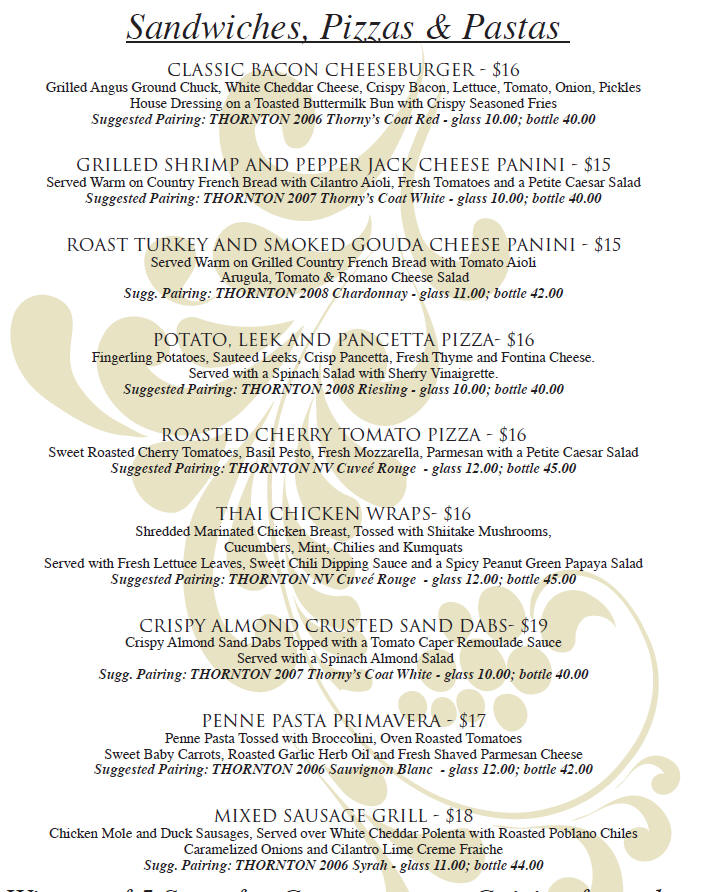 Wow... Hard to decide!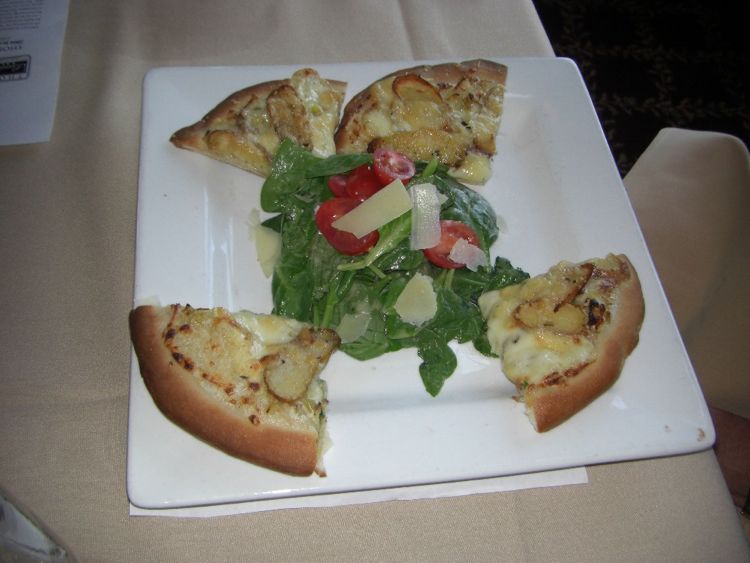 Sue: Potato, Leek and Pancetta Pizza - Fingerling Potatoes, Sauteed Leeks, Crisp Pancetta, Fresh Thyme and Fontina Cheese.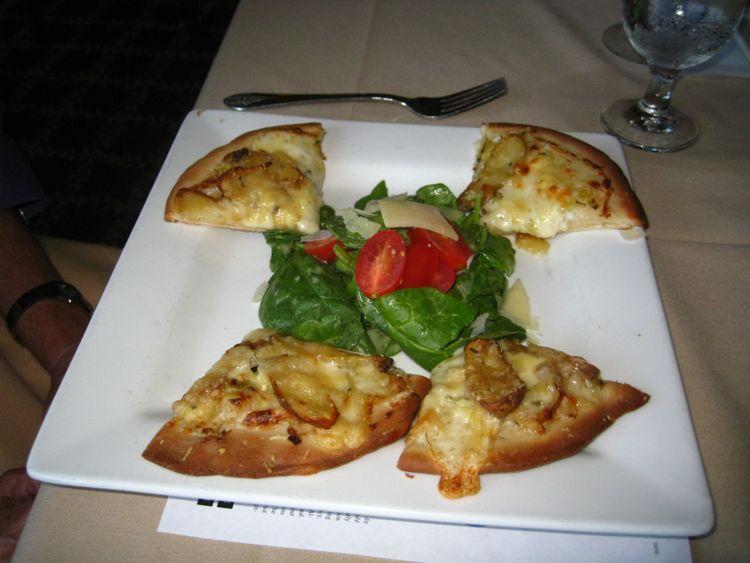 Pictures of the presentations were a requirement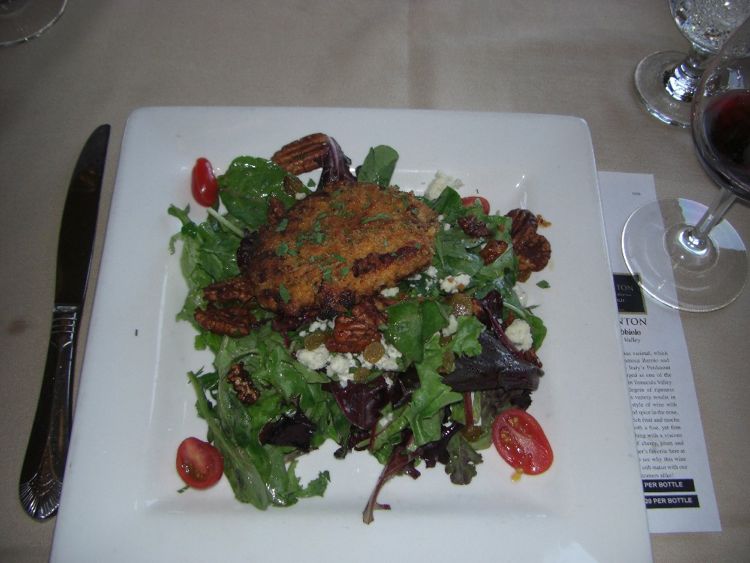 AJ: Cafe salad with salmon cake (today's special)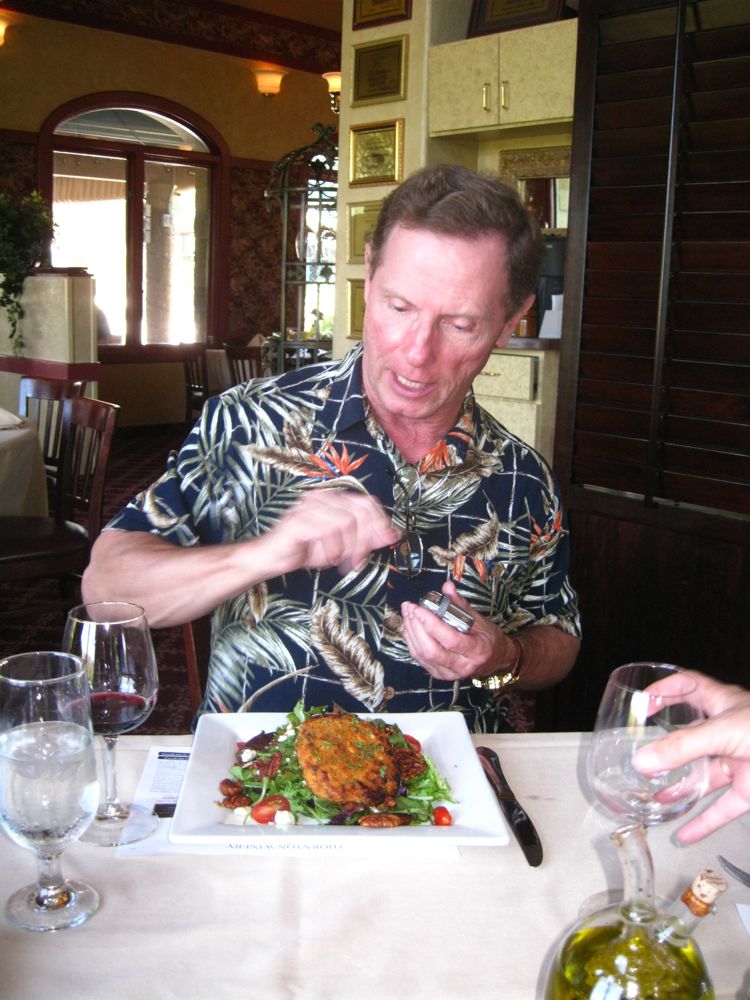 AJ practices with his hands before putting a sharp knife in them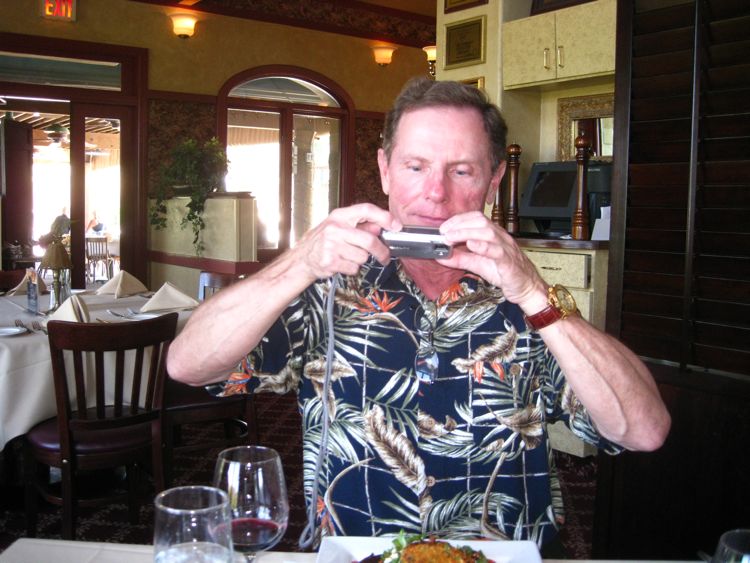 AJ was afraid the contents were so fresh they would get away

He has been certified and can now be allowed to have a knife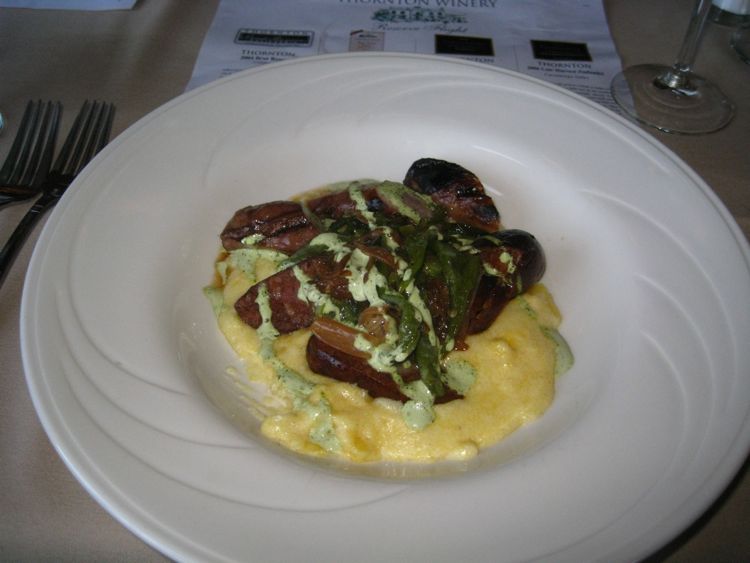 Paul: Mixed Sausage Grill - Chicken Mole and Duck Sausages, Served over White Cheddar Polenta with Roasted Poblano Chiles Caramelized Onions and Cilantro Lime Creme Fraiche

Looking good!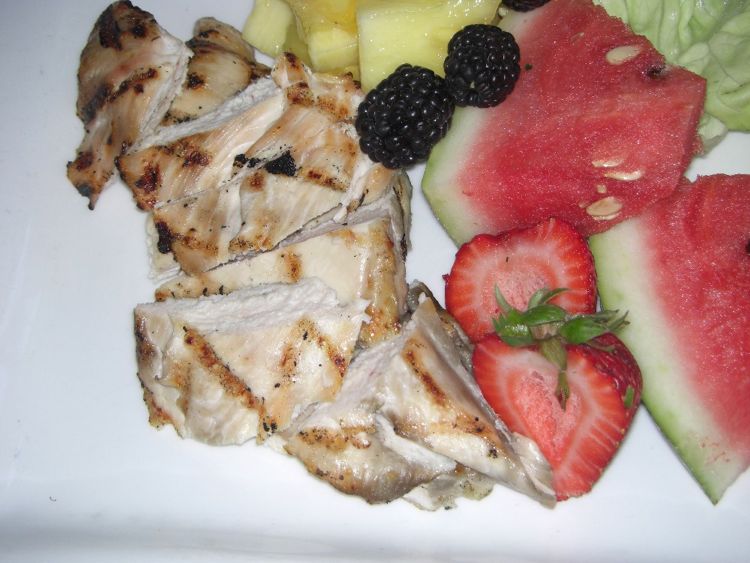 Laura: The special of the day... Chicken breast on a stack of tropical fruits with berries and a Parmesan with a Petite Caesar Salad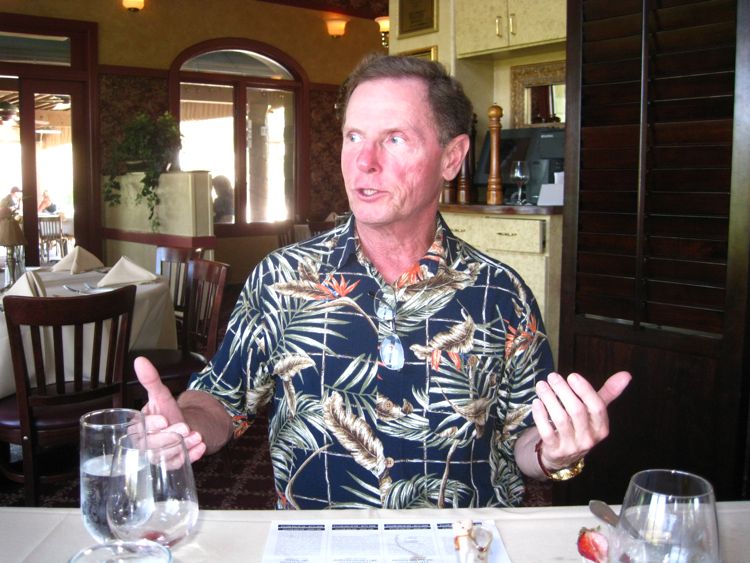 OK... Who ate MY dinner???
After Dinner Drink.... Hope, We Have To Drive Home!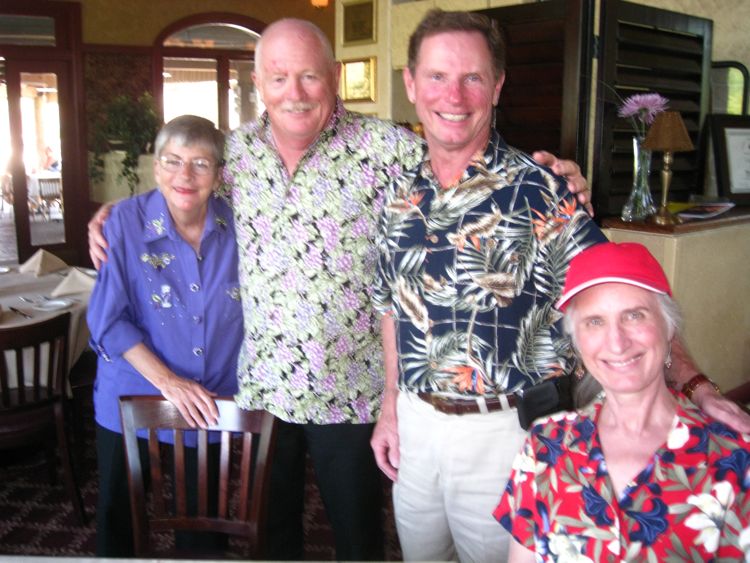 The View Was Great From Our Table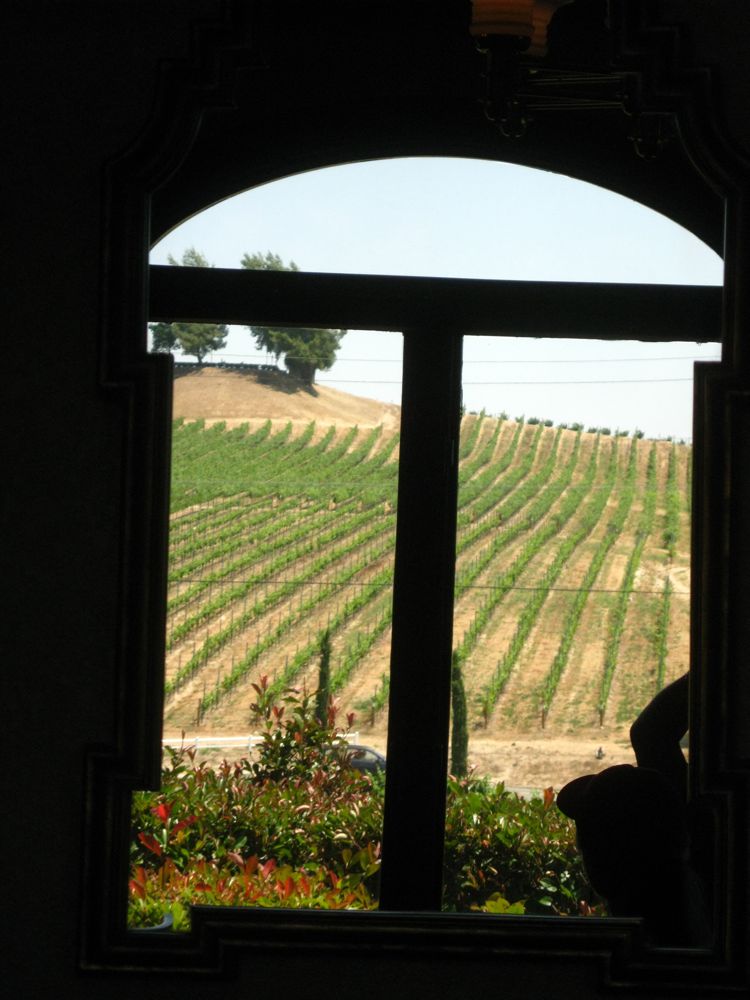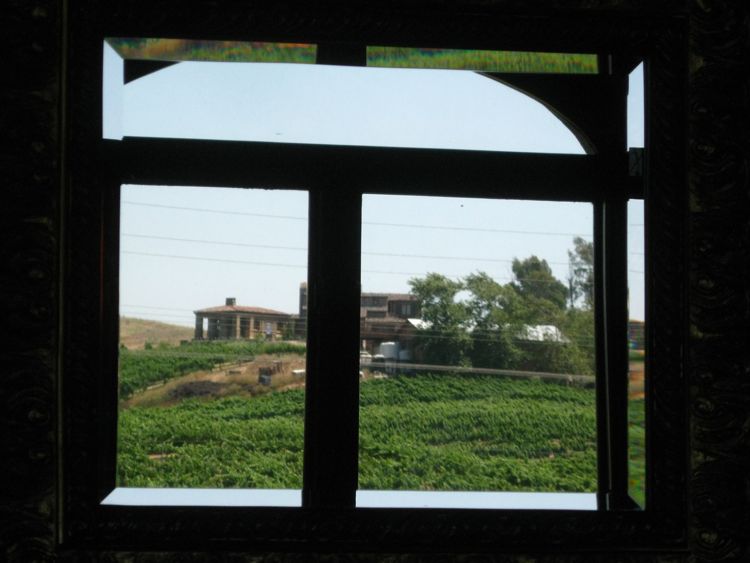 We Left A Little Room For Dessert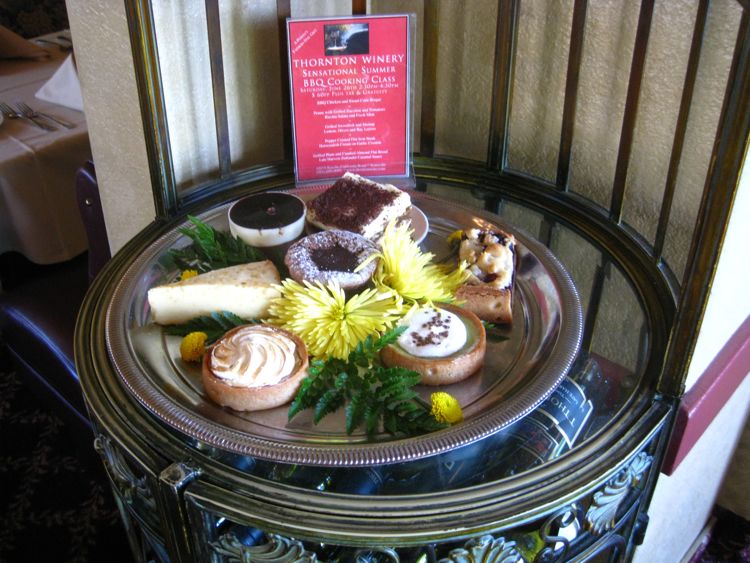 One of each!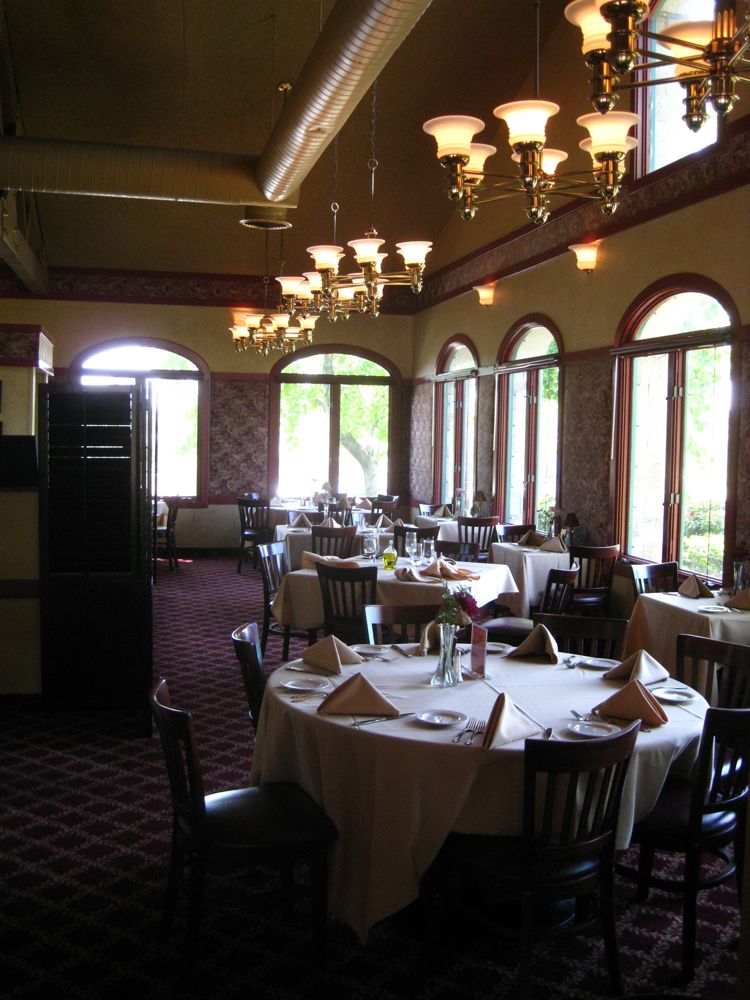 We were alone most of the time... Others ate outside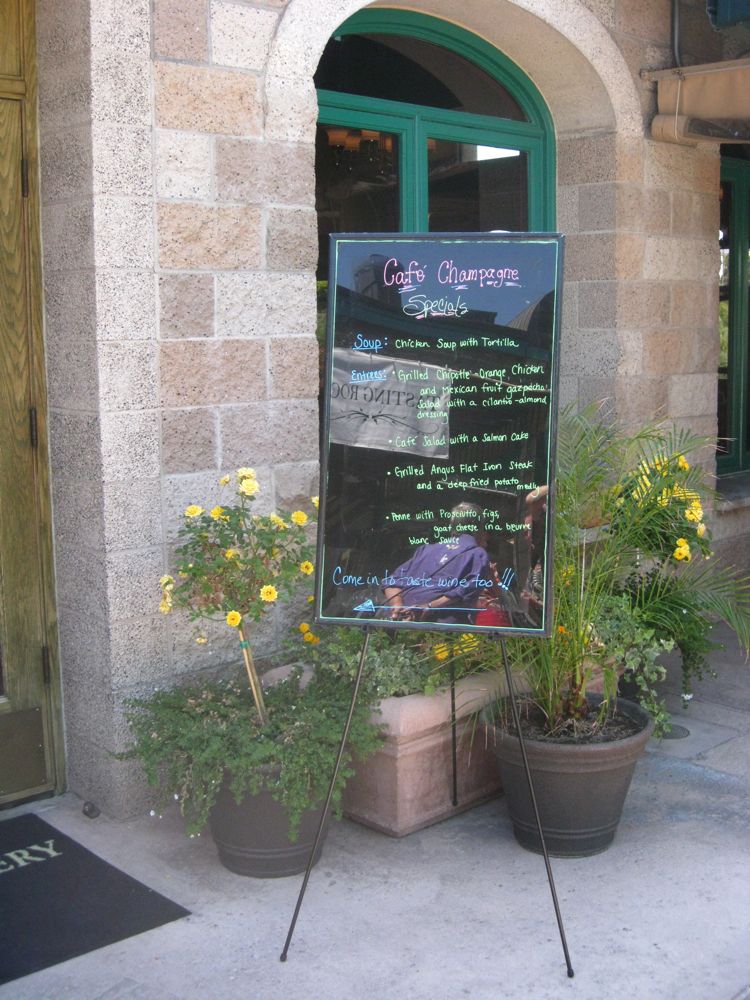 The parting shot
We Stopped At South Coast But It Was Too Busy!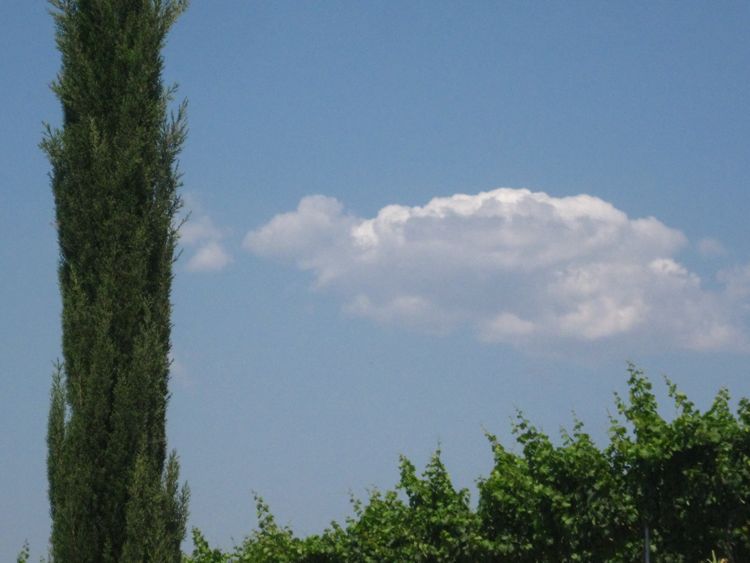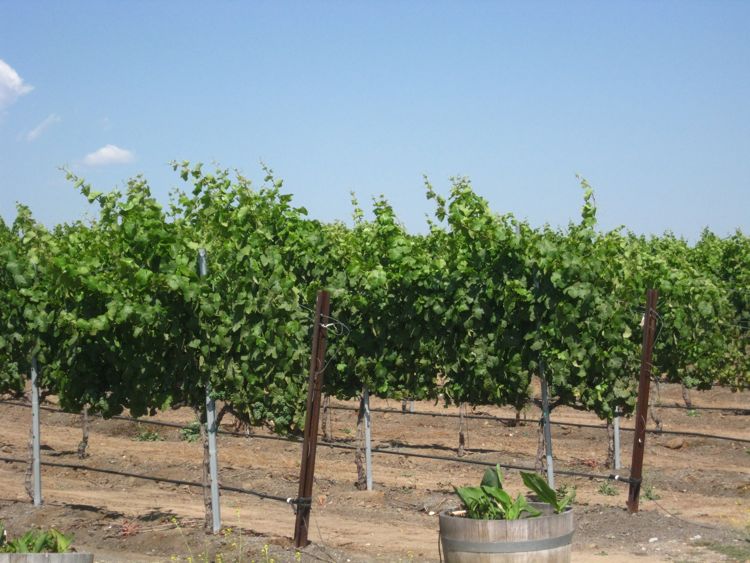 A Quick Stop At Mt Palomar Winery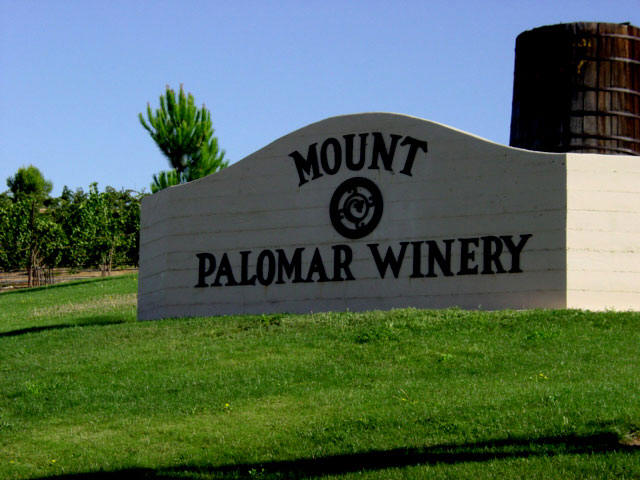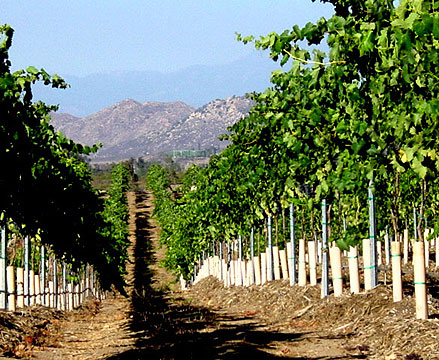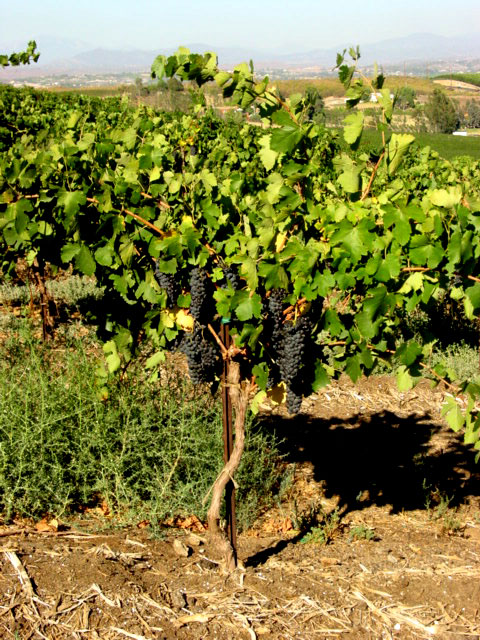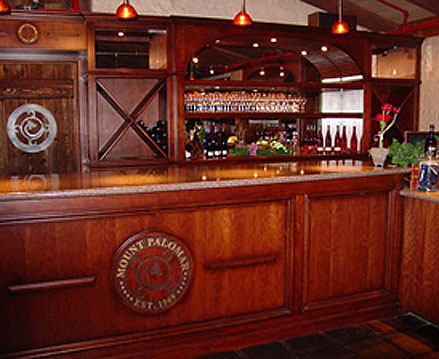 Mount Palomar Winery
Time to head for home!