Escape From Bishop... Seeing Surrounding Area ...(Page Three)...
Day Seven 9/25 Day Eight 9/26 Day Nine 9/27


Day Seven 9/25 Day Eight 9/26 Day Nine 9/27
Summary: While it is a pretty town, we needed to escape so escape we did! We took off and visited local communities and each one was prettier than the other.  Join the fun in Mammoth Lakes, California. We ended up in Convict Lake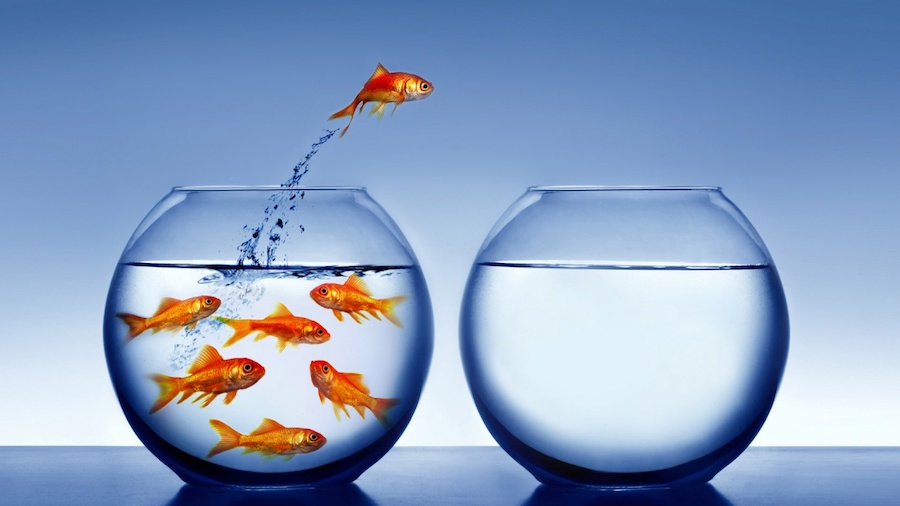 Even Bob's catch from yesterday was ready to escape!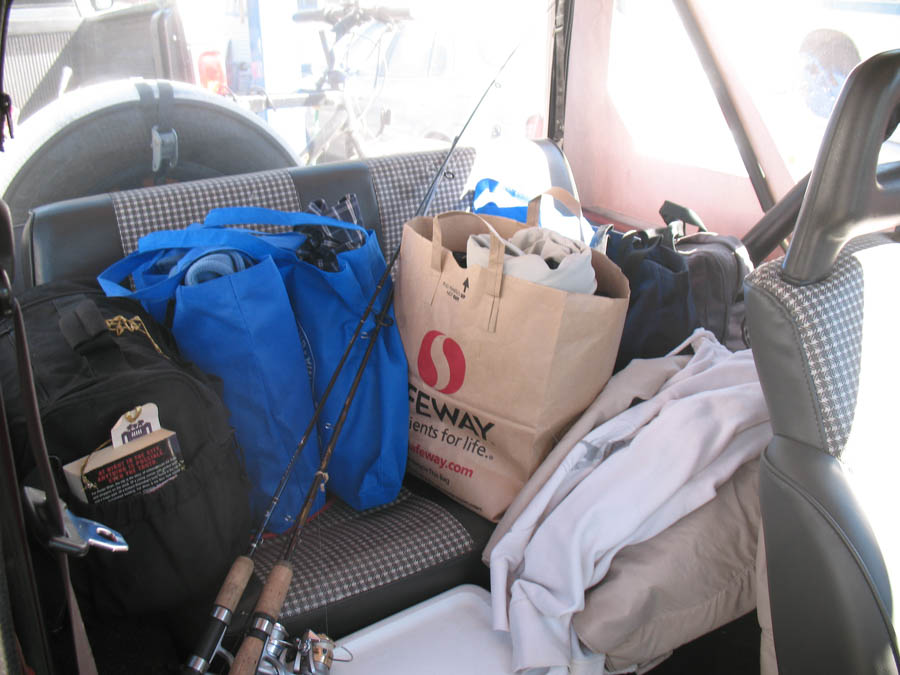 Sandy carefully packed the car with the essentials??

An entire forty minutes....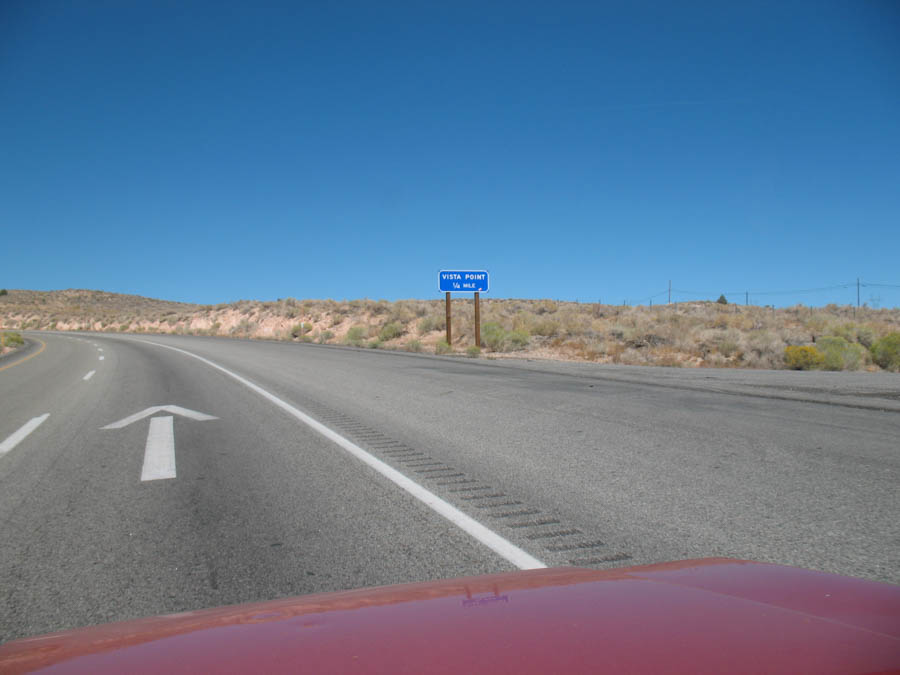 Oh oh... Someone else had a problem! We stopped at the "Vista Point"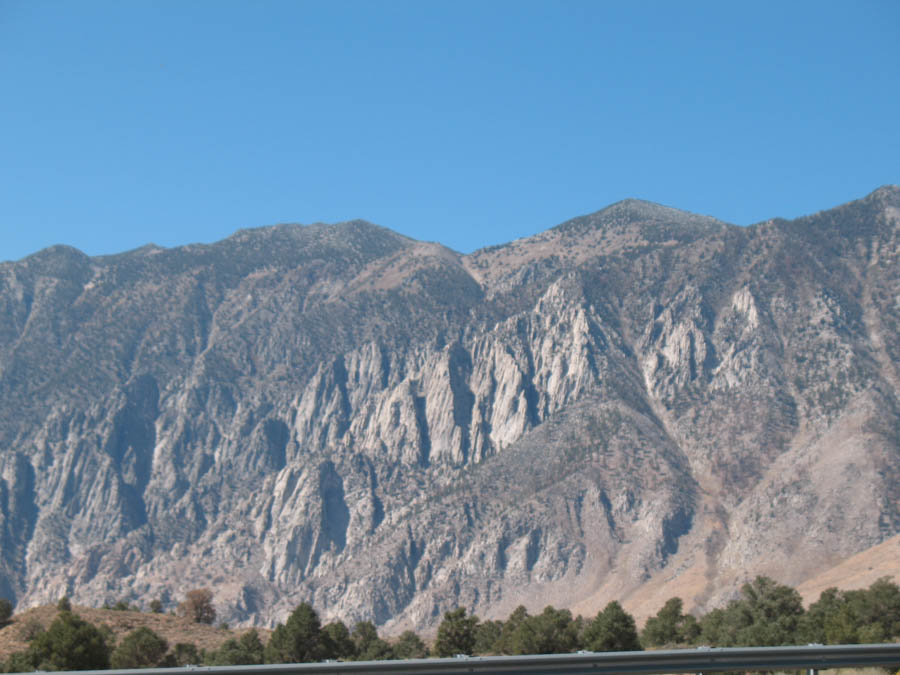 Indeed it was!

Tom's Place just north of Bishop
Did You Know? - Highway 395, 20.5 miles north of Bishop and 17.6 miles south of Mammoth Lakes and gateway to Rock Creek and Little Lakes Valley. Tom's Place is right off Highway 395 across from Crowley Lake. Tom's Place Resort offers cabins, a general store and a cafe and bar.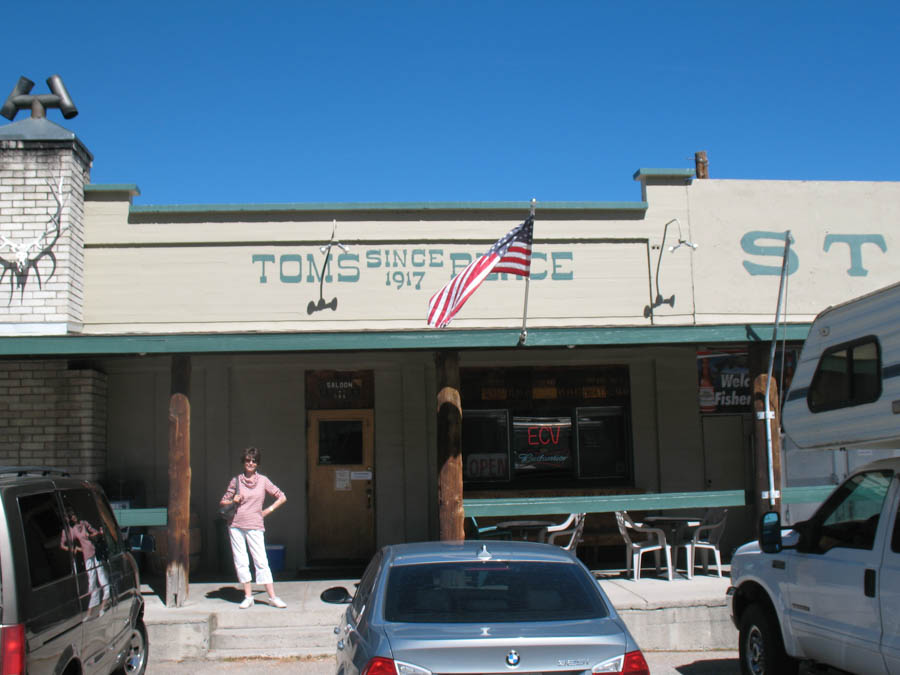 An excellent place to stop
View via Google Maps Street View
Did You Know? - Tom's Place was originally built in 1917 by a German
man named Hans Lof. It all started with a much needed gas station to fuel the traffic moving up from Southern California. Lof built a cookhouse, added a store and corrals, then started packing people into the mountains for a wilderness getaway.

In 1923, Thomas Jeffrson Yerby and his wife, Hazel (stage actress, Jane Grey) purchased the business for $5,000 and Tom build the original Tom's Place Lodge in 1924.

People really started getting into the fishing here in the mid 20's, and there was a lot of traffic to Yosemite. People would come and camp for a month at a time at what is now called French Camp. By the late 1920's many cabins had been added, first as tent structures, then permanent ones, many still in use today.

Hazel did a lot of cooking for the lodge, and then, after prohibition, they put a saloon in across the street. She wouldn't let the saloon be on the same side of the street as the lodge and cafe. There were all kinds of things going on around this time. Rock Creek Lodge was being built, as well as Rock Creek Lakes Resort. The Crowley Dam was built in the mid-30's. Tom's Place survived two world wars and the Great Depression.

After Tom died in 1940, Hazel ran Tom's Place until 1945, and then sold
it for $80,000. By now, the highway was paved. The original lodge
burned down in 1947, and was replaced by the building that you now see.

The Ted Berner family took over and ran the lodge until 1954, and moved
the saloon into the interior of the building, where it is still located.
In 1985, the Berner family sold to a group of investors, Tomco, Inc,
who managed it off-site and kept the off-season to a minimum.
Mark and Michelle Layne, and their son, Charlie, purchased the property
infrastructure from Tomco in January 2000.

The Layne's are always renovating some part of the resort, making some
needed improvements, but they pretty much want the place to remain its
original ambiance. History is priceless!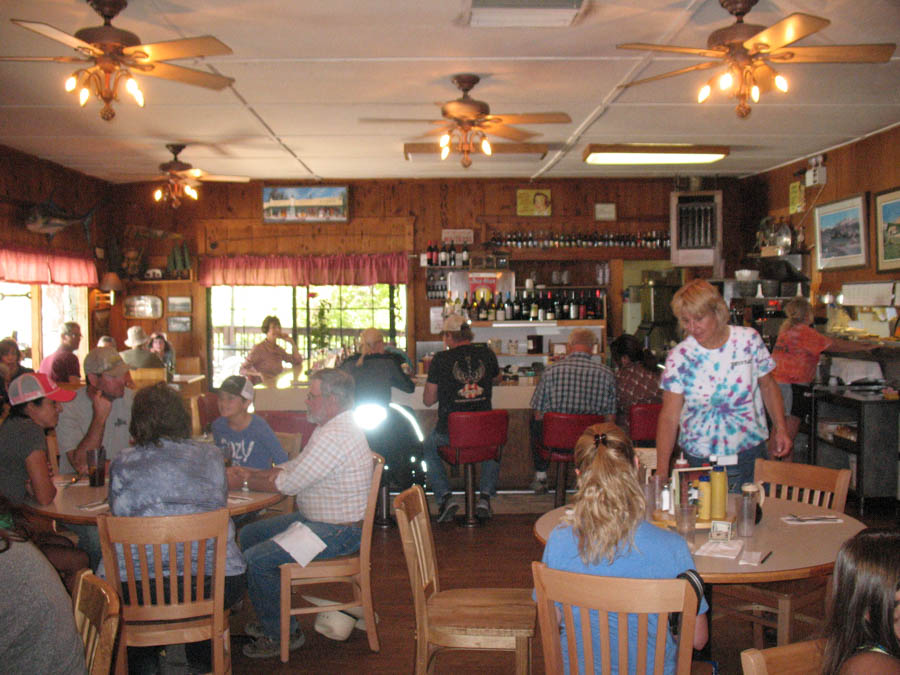 Busy all the time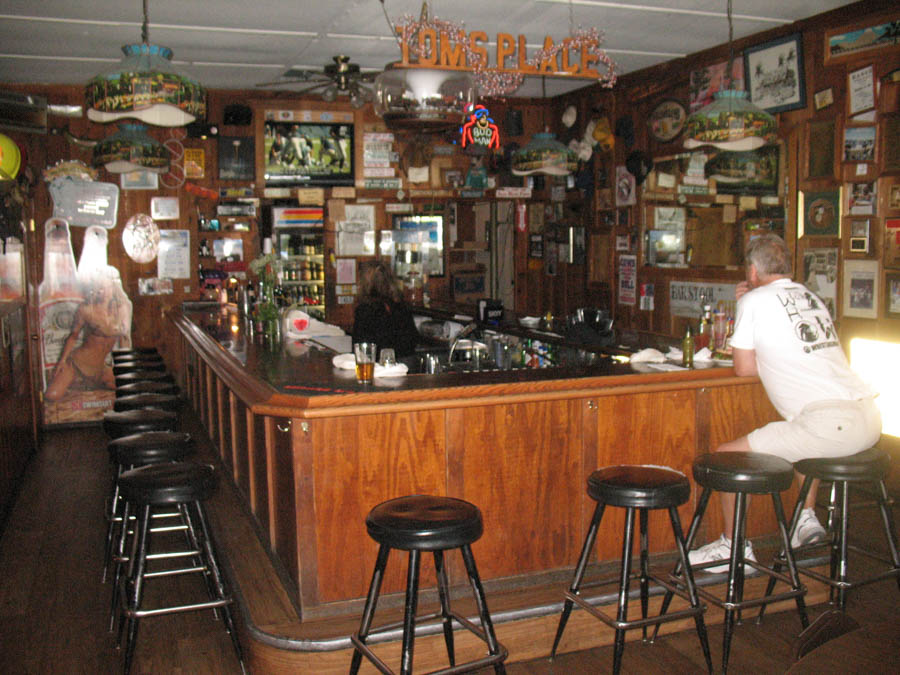 Belly up to the bar boys!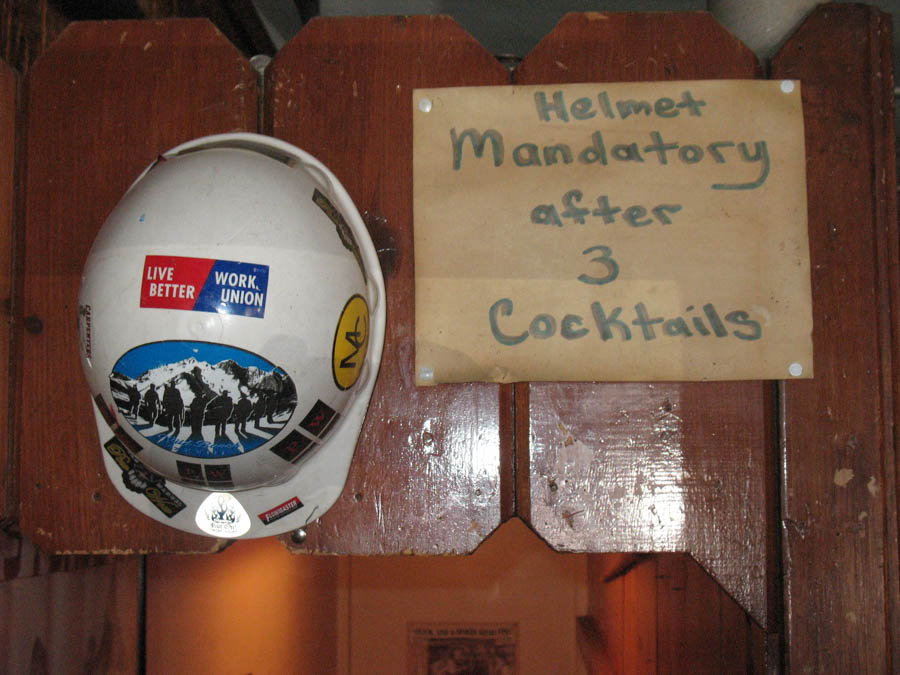 ...and after three wines!

What is downstairs? The Ladies and Gentlemen's facilities!

Waiting for a stall? All the comforts of home!!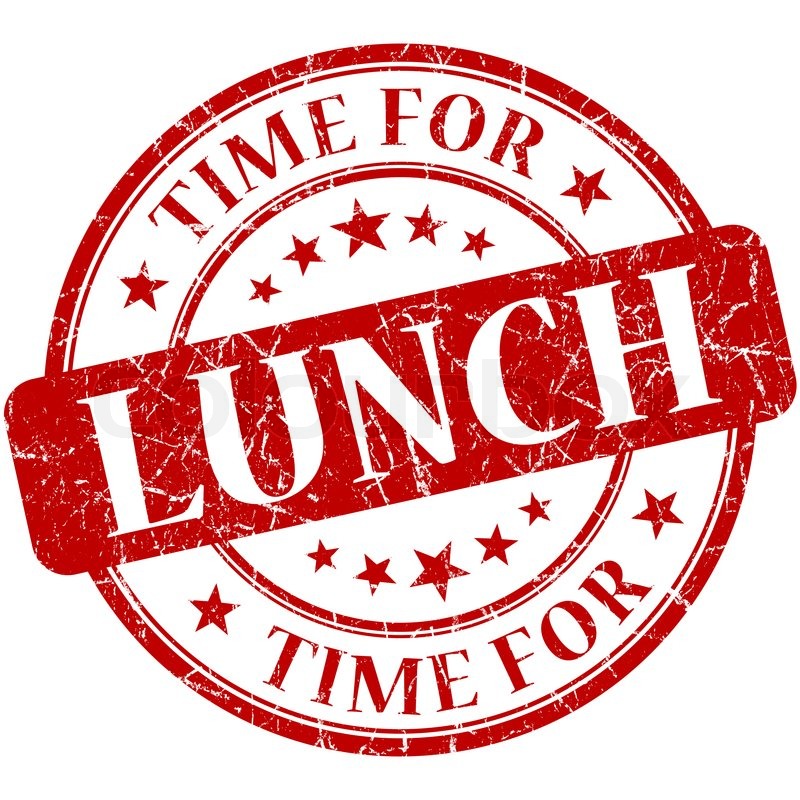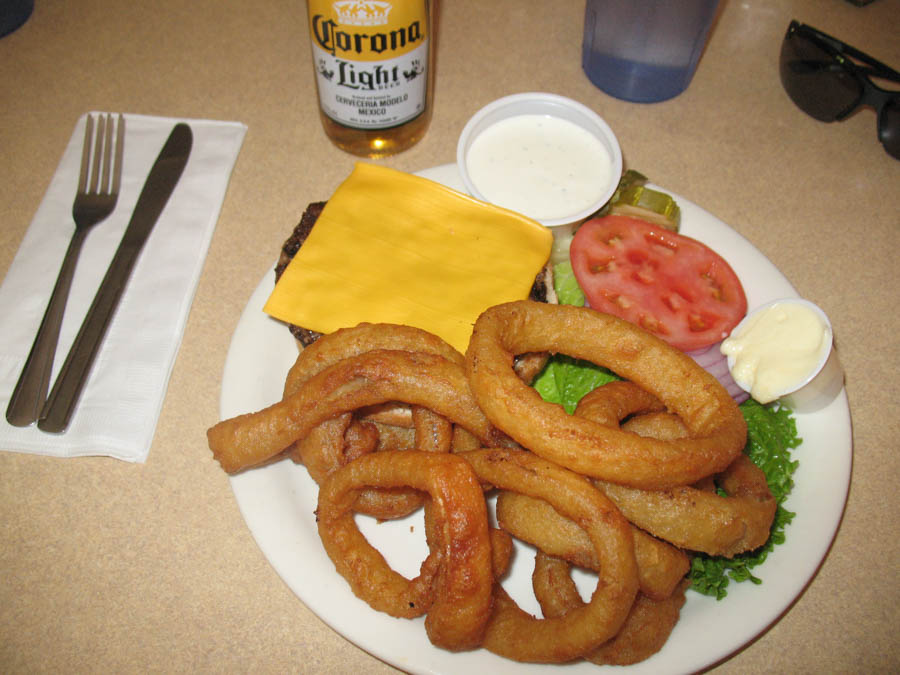 Someone's tummy is going to be full!
Did You Know? - The exact origins of the onion ring are unknown, but in 1933 a recipe for deep-fried onion rings that are dipped in milk then dredged in flour appeared in a Crisco advertisement in The New York Times Magazine.
A recipe for French Fried Onions may have appeared in the Middletown, New York Daily Times on 13 January 1910. It does not claim to be the originator of the recipe.
One claimant to the invention of the onion ring is the Kirbys Pig Stand restaurant chain, founded in Oak Cliff, Texas, in the early 1920s. The once-thriving chain, whose heyday in the 1940s saw over 100 locations across the United States, also claims to be the originator of Texas toast.
The restaurant A&W is credited with popularizing the onion rings in fast food restaurants, introducing it to its menu in the 1960s.

Almost 100 years old!

Sounds like a politician!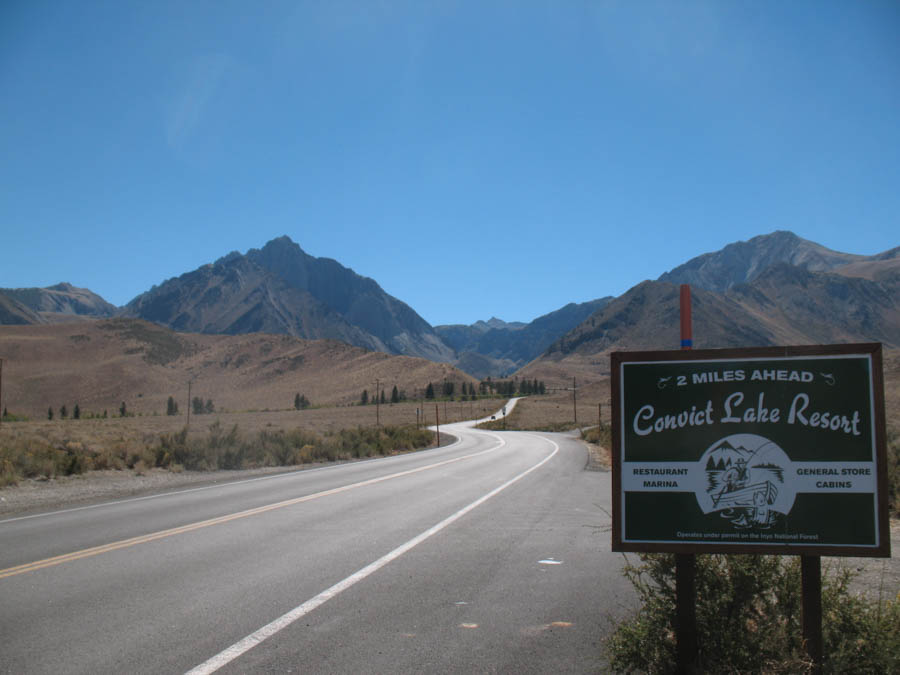 Convict Lake...
Did You Know? - Convict Lake is a lake in the Sherwin Range of the Sierra Nevada in California, United States. It is known for its fishing and the dramatic mountains (including Mount Morrison) that surround the lake. Its surface lies at an elevation of 7,850 ft (2,393 m).
The lake was named after an incident on September 23, 1871, where a group of convicts escaped from prison in Carson City. A posse, from Benton, led by Deputy Sheriff George Hightower, encountered the convicts near the head of what is now Convict Creek. Posse member Robert Morrison, a Benton merchant and Wells Fargo Agent, was killed in the encounter, and Mount Morrison was named after him.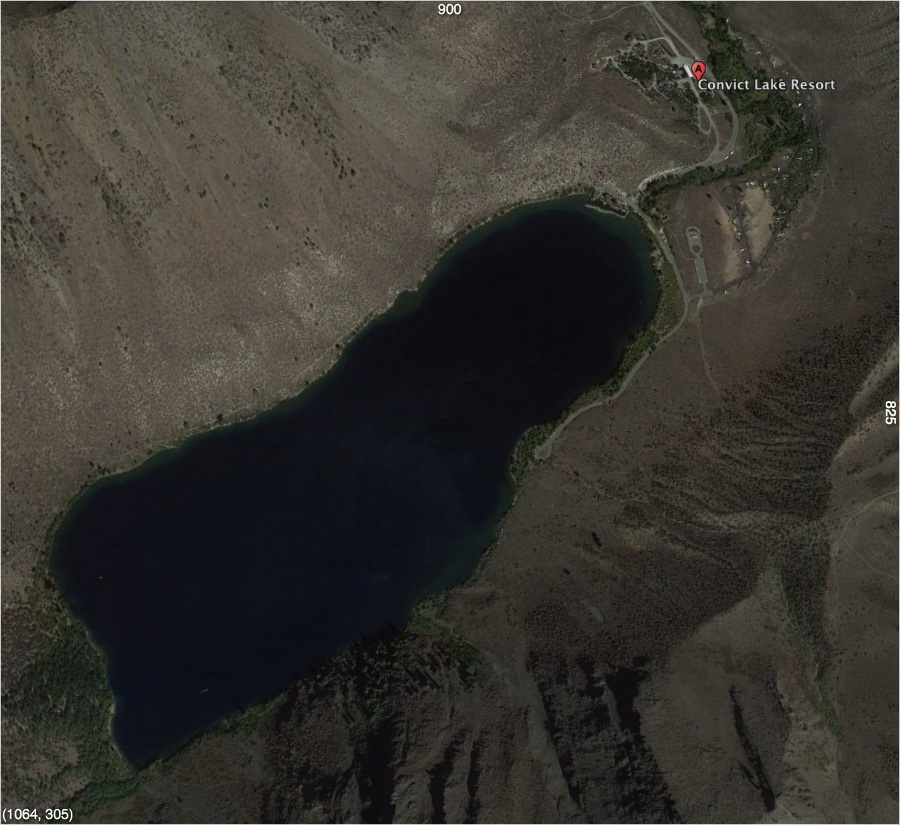 Away from everything!

We have a great view of the surroundings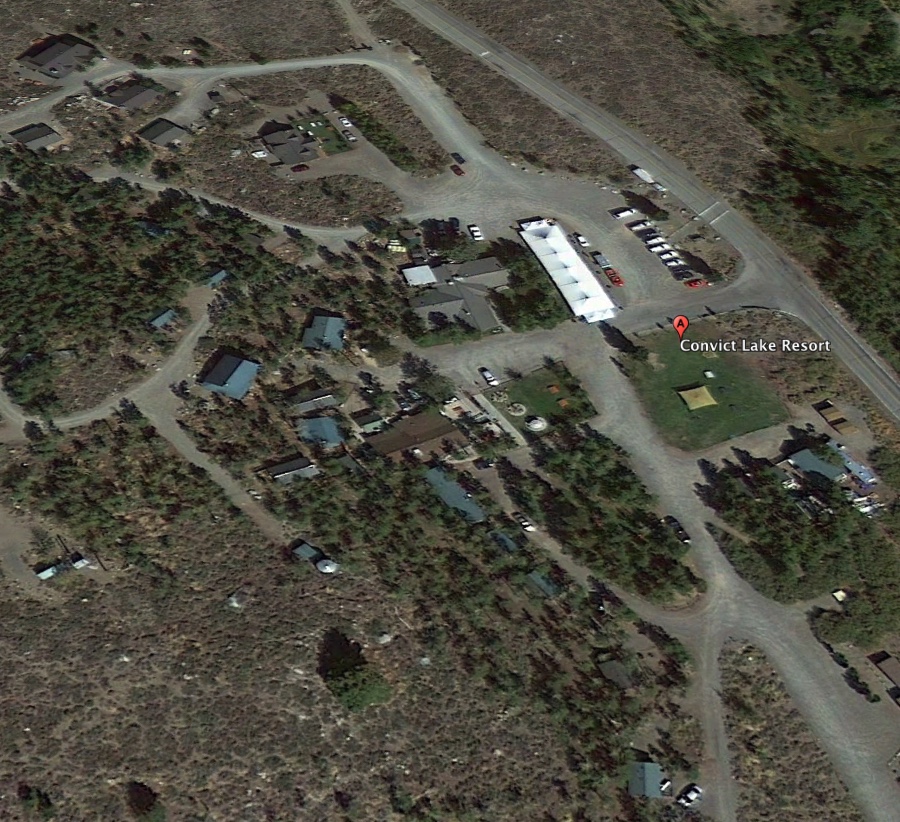 The cabins were pretty far apart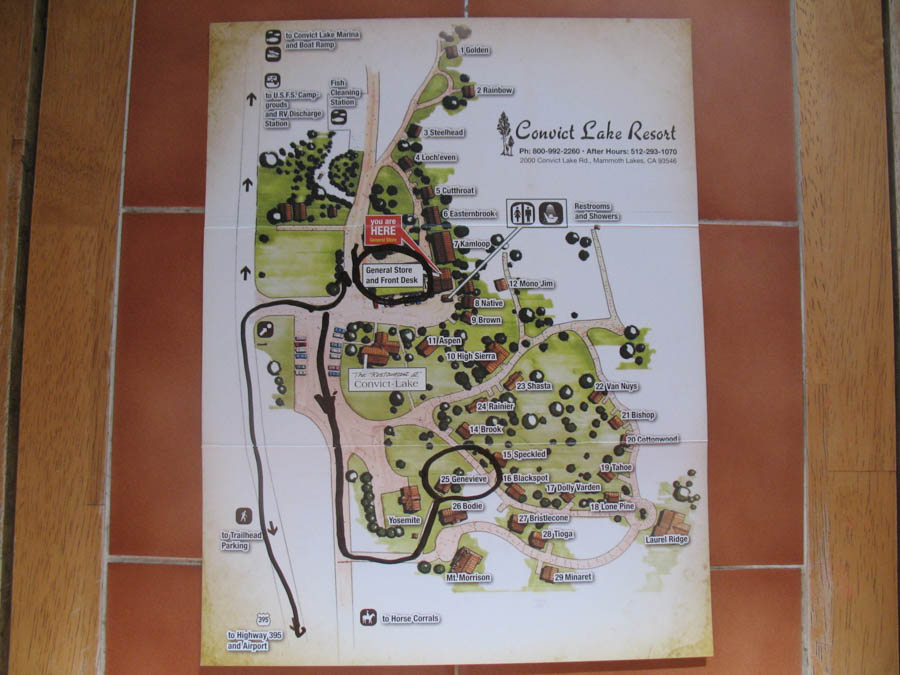 The resort is very nice - Nestled in the aspens of Convict Canyon, below the towering peak of Mount Morrison and adjacent to a 170 acre crystal clear lake, Convict Lake Resort provides the perfect setting for a romantic getaway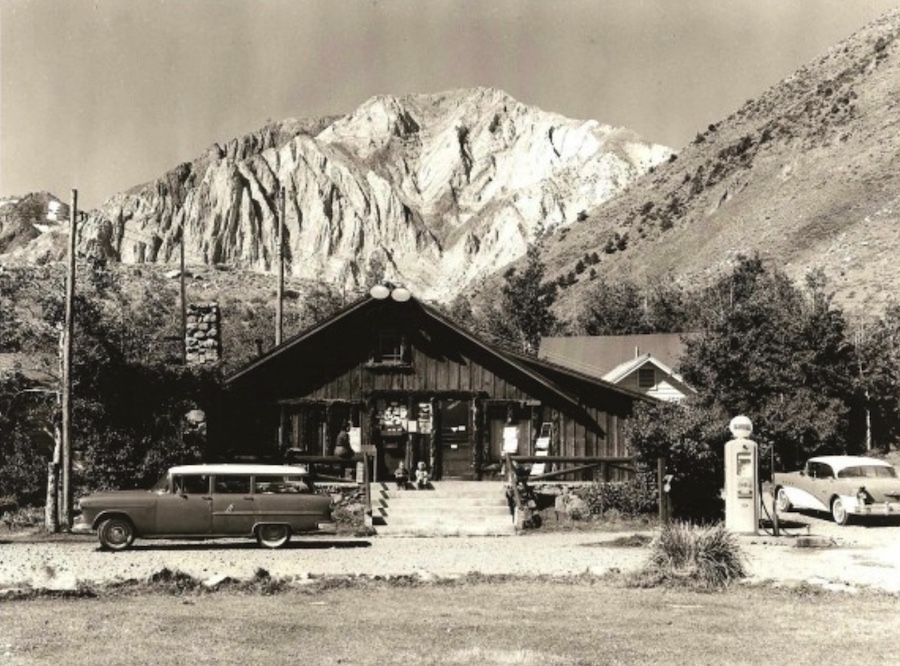 It has been around a long time (Circa 1956)

"Bob... Does a lodge have a transmission??"

Indoor water.... Life is good!
Great place to clean the fish!

TV..Stove...Indoor plumbing!

Just like home!

BBQ! Wow!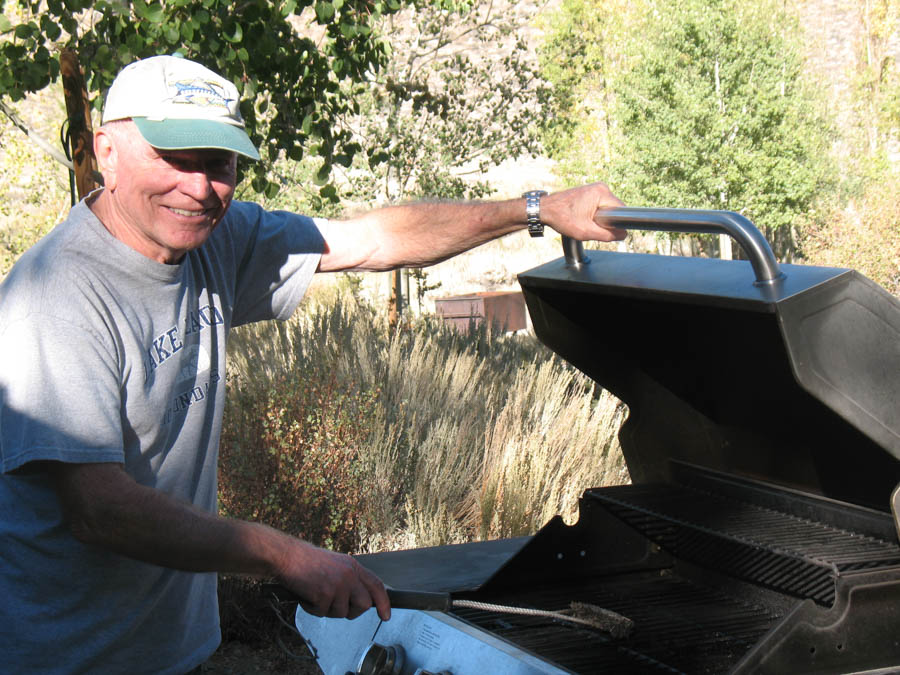 I'll cook us up some good ol' mountain air!

Rubba Dub Dub... Two in the tub!

We depart the cabin for a drive around the area!

The water is so very clear

The fishermen are out attempting a catch!

Oh dear!

Oops! I mean deer!

"What can we use to keep the bugs away?"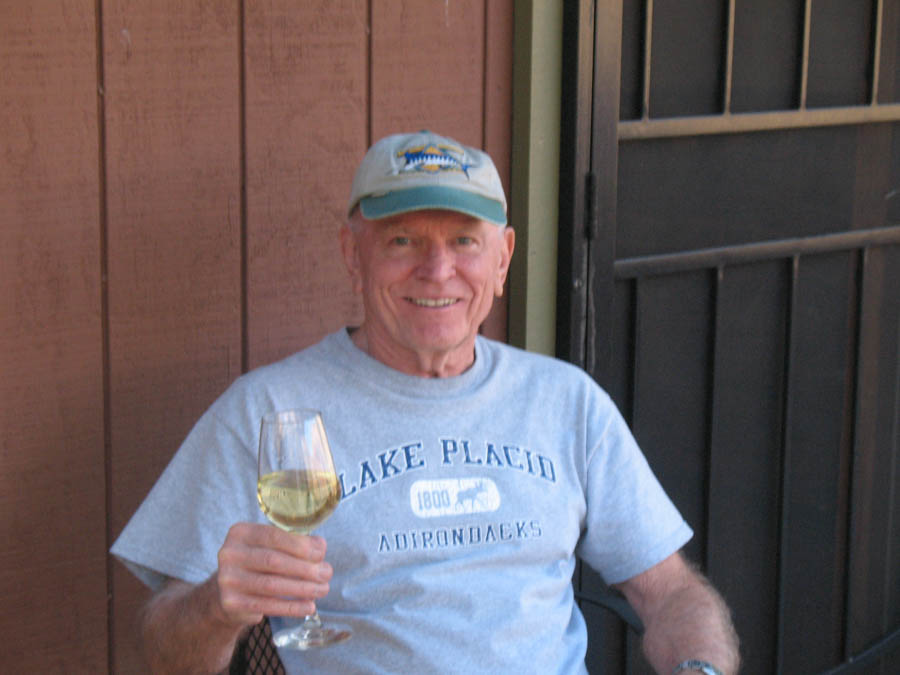 "Wine will keep the mosquitos away!"

Dang... Looing good... Getting ready for dinner!

The Inyo-Mono flyer... Circa 1944... Good reading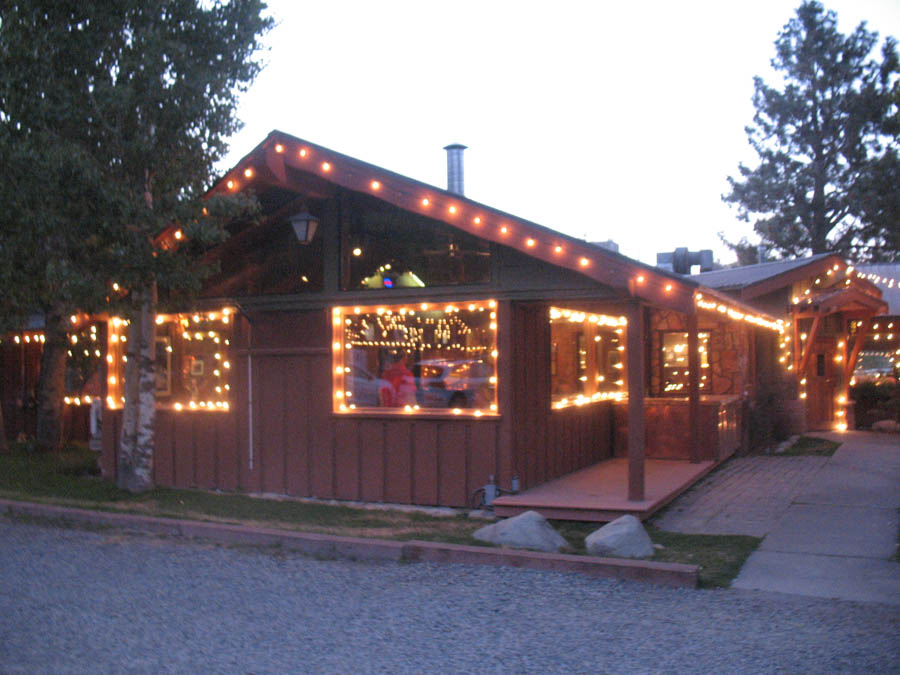 Easy to find in the dark! The restaurant was excellet!

Come on in!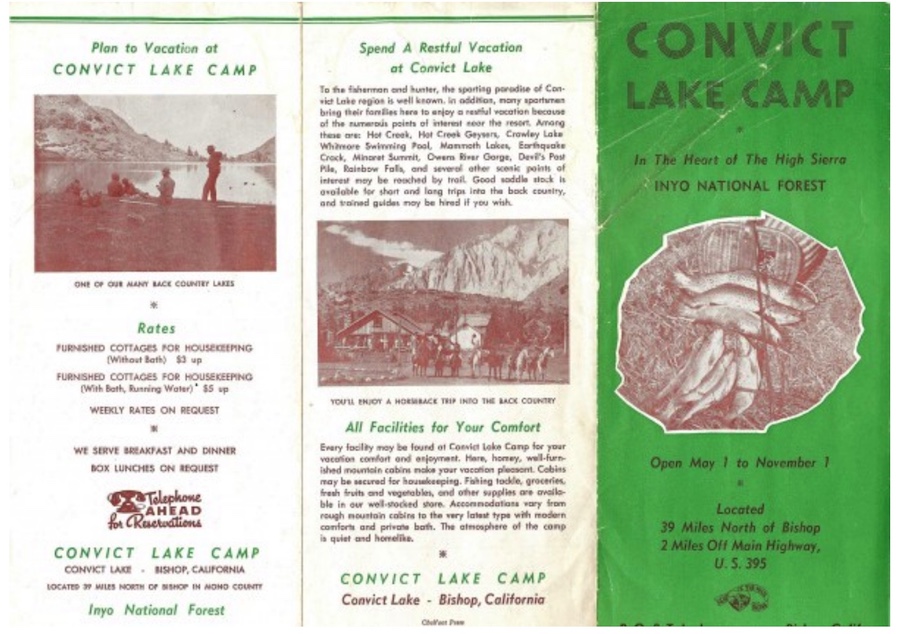 Furnished cottages only $5/day! Circa 1955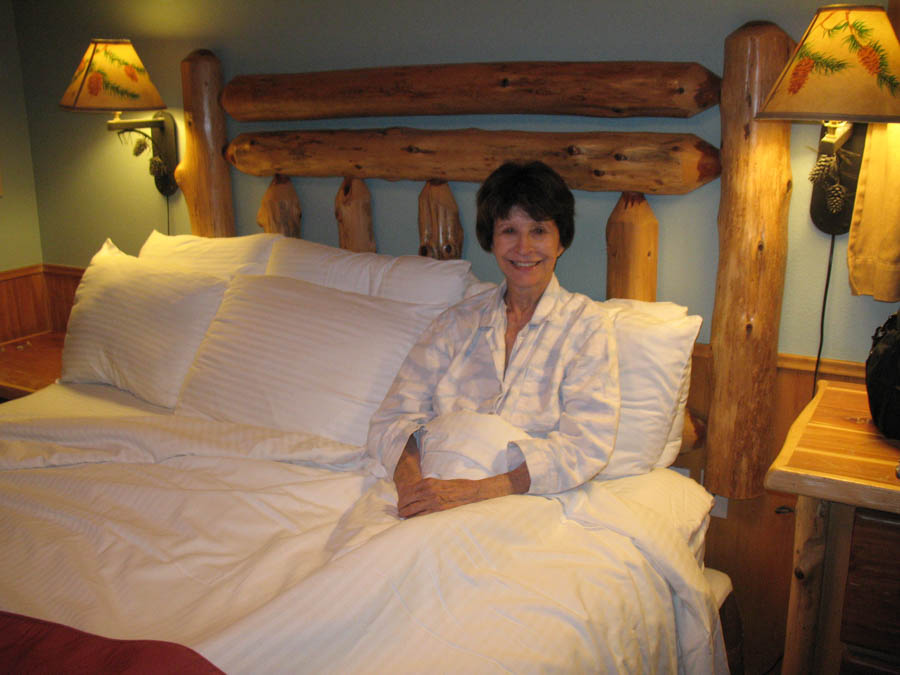 Nighty Night!

Day Seven 9/25 Day Eight 9/26 Day Nine 9/27 Return To Top
Summary: We went boating on Convict Lake before heading farther north on 395 to go to Mammoth Lake Resort where we stayed at the Mammoth Haus!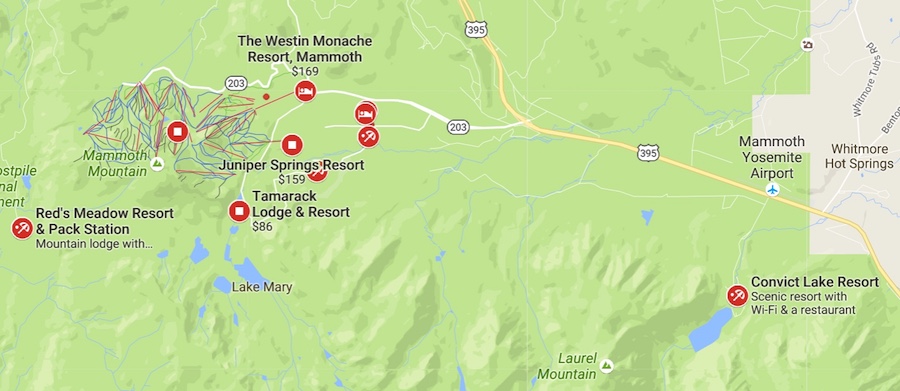 Hop, skip, and a jump!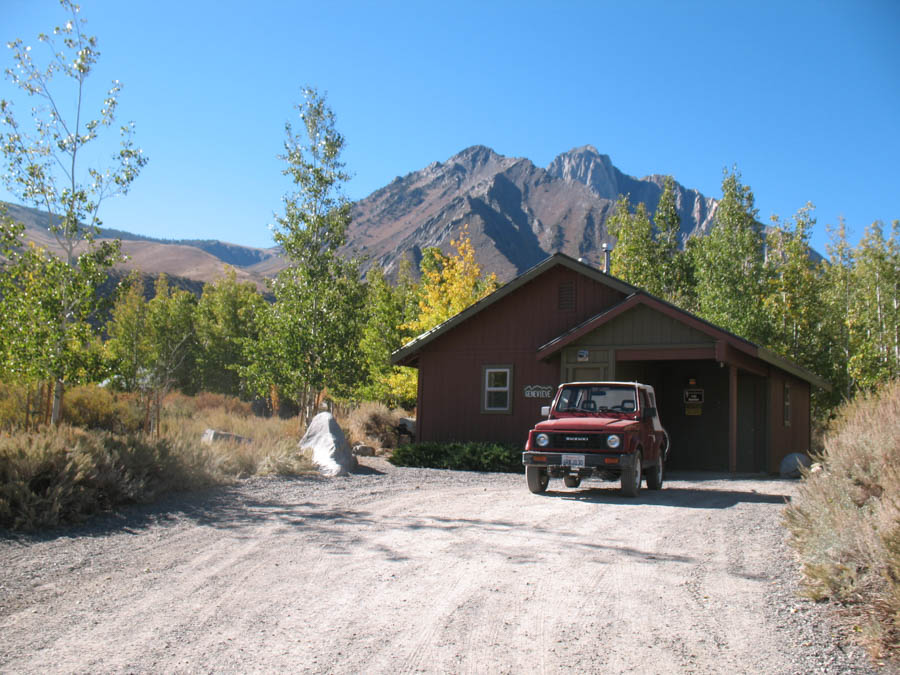 The Suzuki is ready to go but first... Let's see the lake!

Just walking through the campground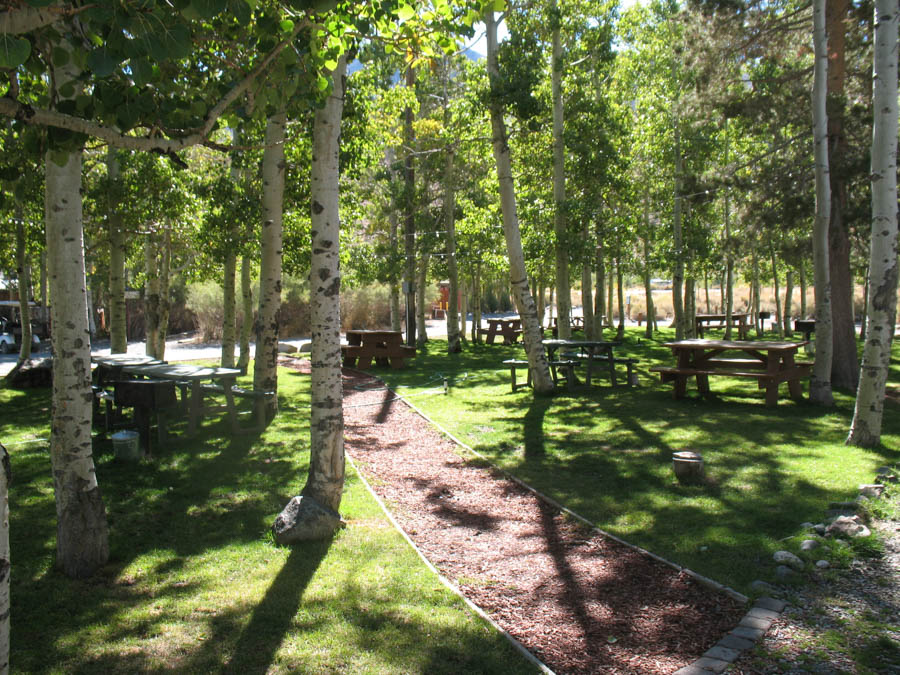 The campground was beautiful

This lake needs some serious activity!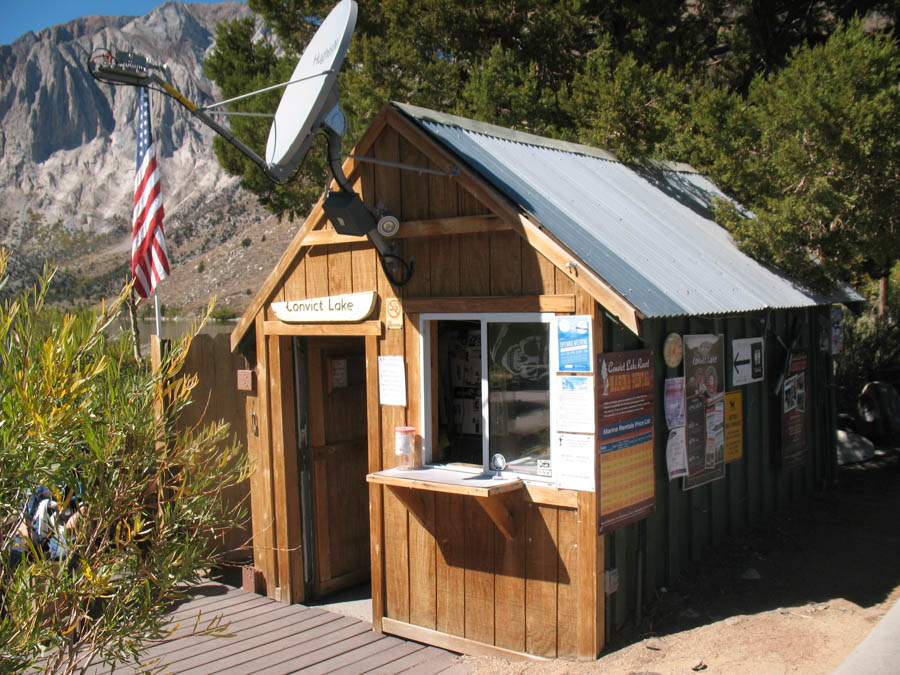 Boat rentals....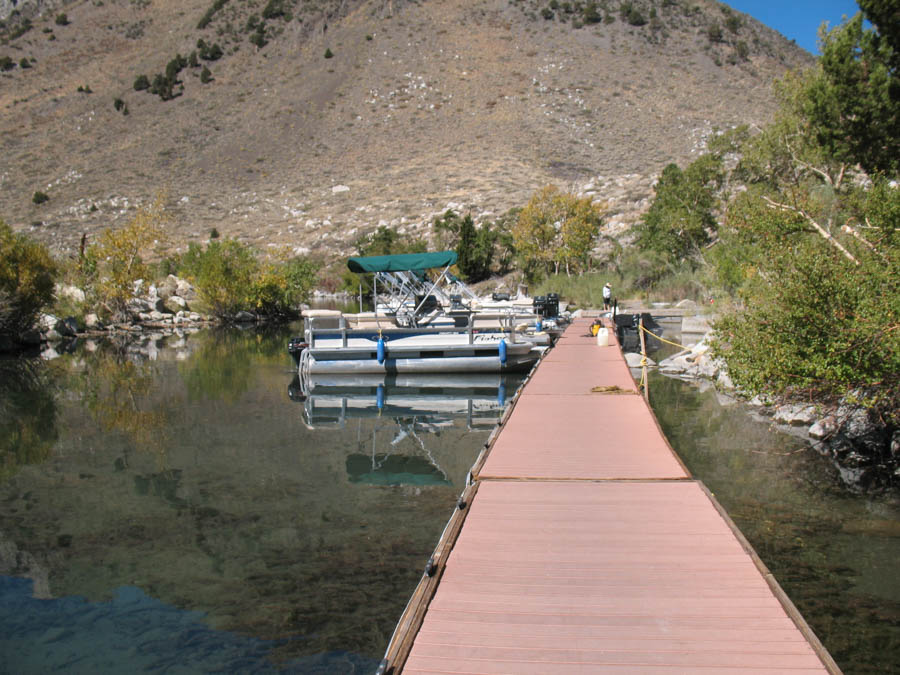 The longest mile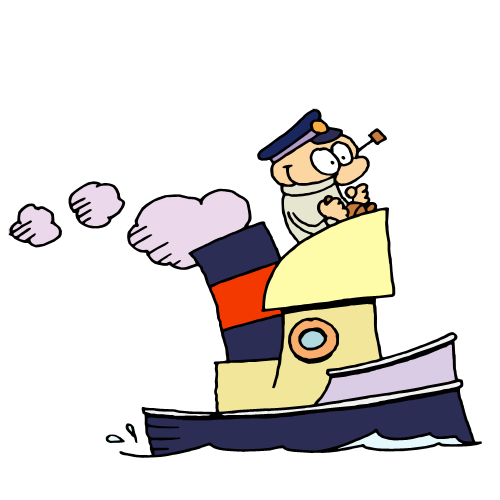 "Ship ahoy"
Did You Know? - Ahoy (/əˈhɔɪ/) (About this sound listen (help·info)) is a signal word used to call to a ship or boat, stemming from the Middle English cry, 'Hoy!'. The word had fallen into obsolescence before rising from obscurity as the sport of sailing rose in popularity. 'Ahoy' can also be used as a greeting, a warning, or a farewell.
The word can be found with similar pronunciation and writing in several other languages. In Slovak and Czech also, ahoj is a common, colloquial greeting, while 'Hoi' is used in Modern Dutch as an informal greeting equivalent to the English 'hi' or 'hey'. 'Ohøj' is used in Danish almost identically to the aforementioned usages. It stems from the sea-faring world, used as an interjection to catch the attention of other crew members, and as a general greeting. It can sometimes also be found on land spoken as a general greeting, again, especially in a maritime context.
Alexander Graham Bell originally suggested 'ahoy' be adopted as the standard greeting when answering a telephone, before 'hello' (suggested by Thomas Edison) became common.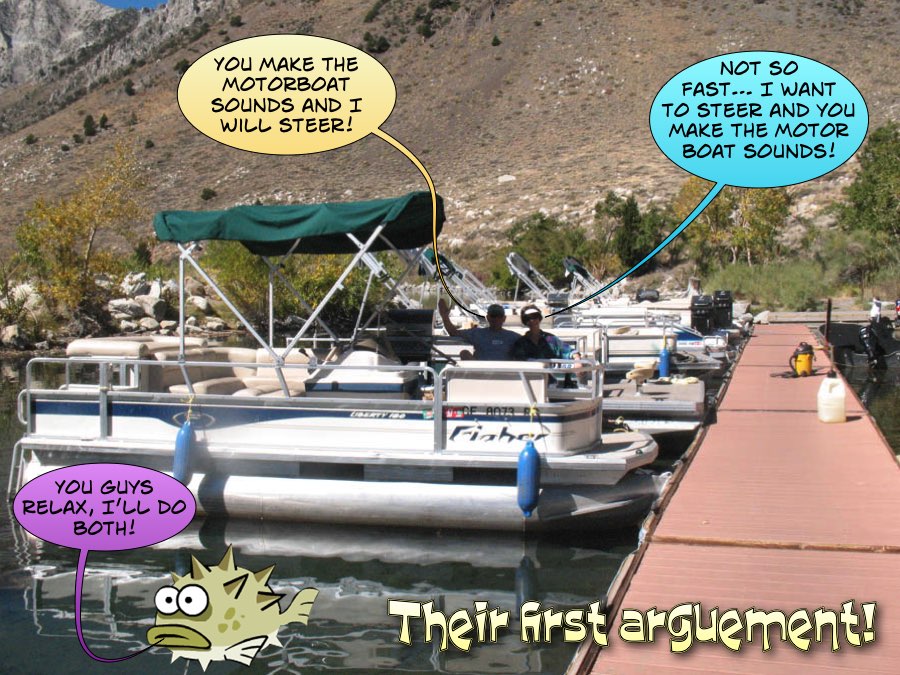 Staying safe?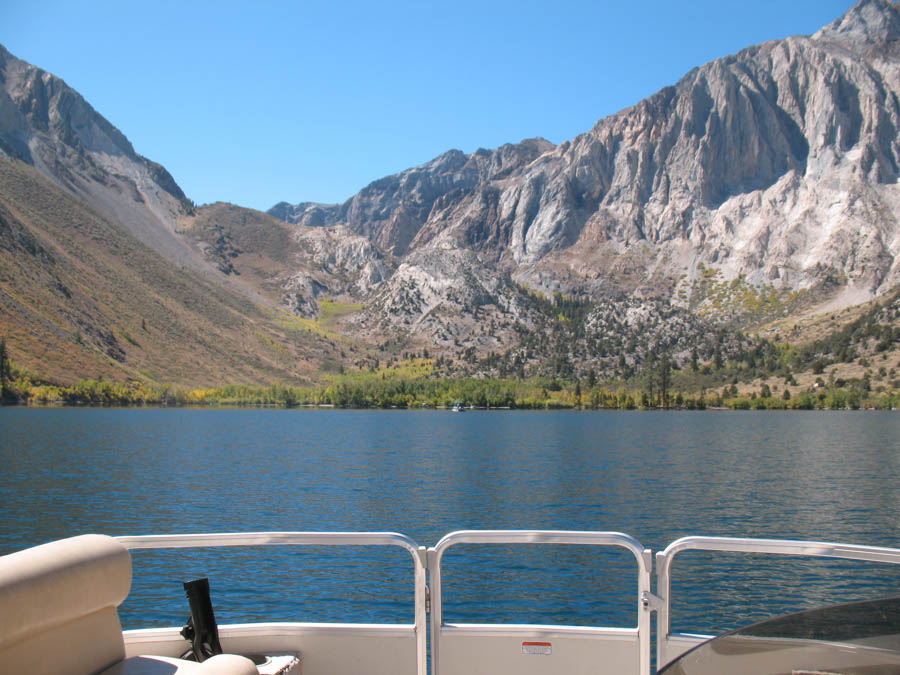 "It's so peaceful"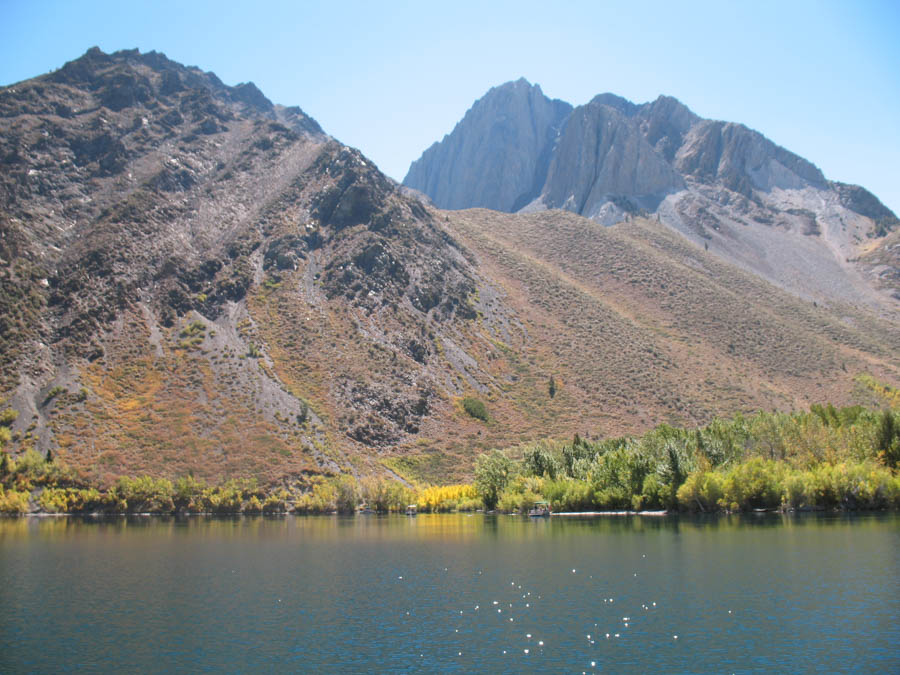 "OK Bob.. you can stop making the motor boat sounds now!"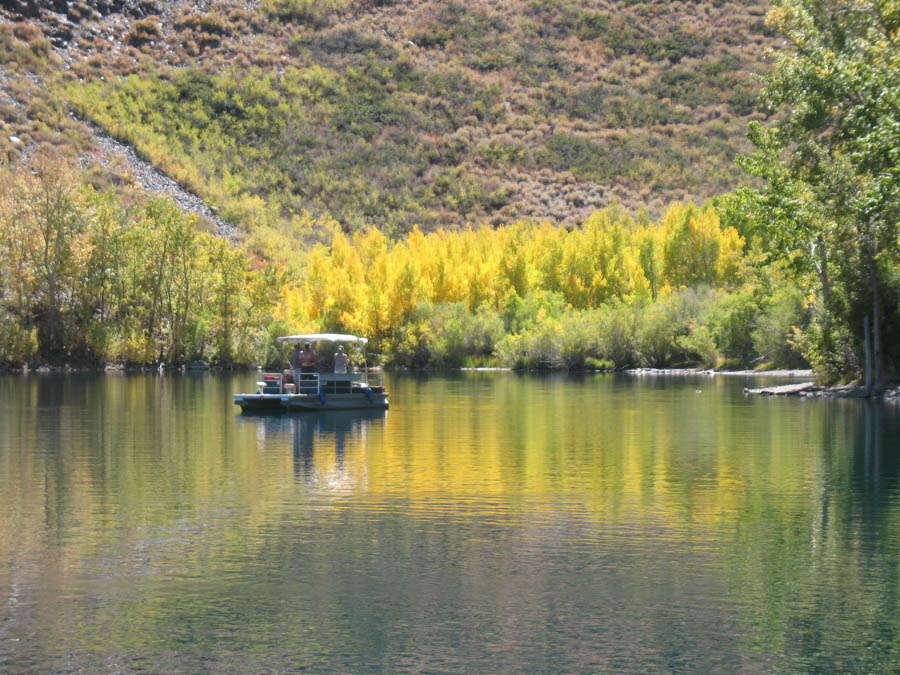 The fall colors were fantastic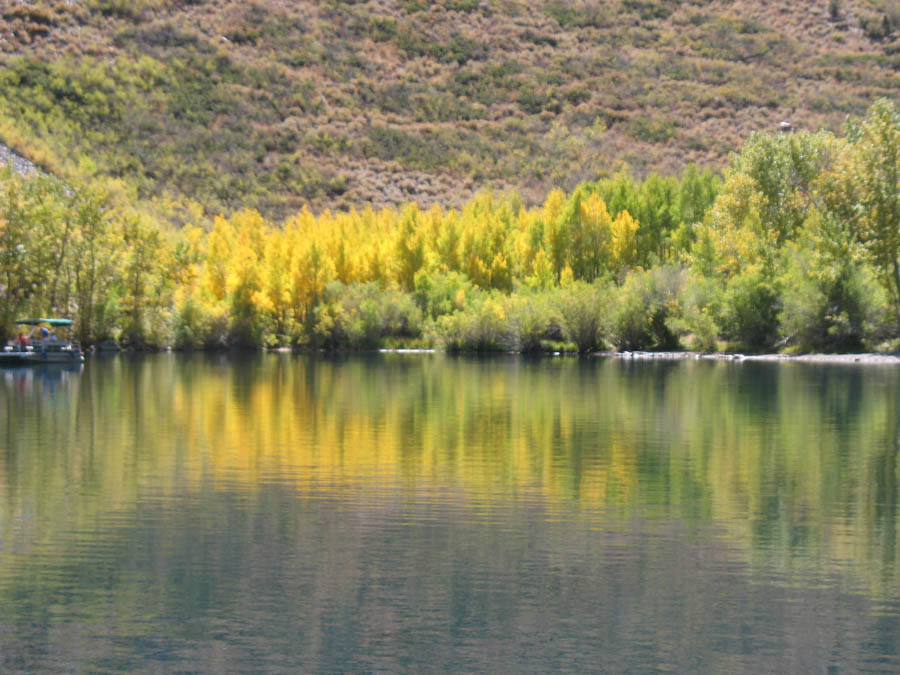 They should have called it mirror lake

Mountains and lakes and trees oh my!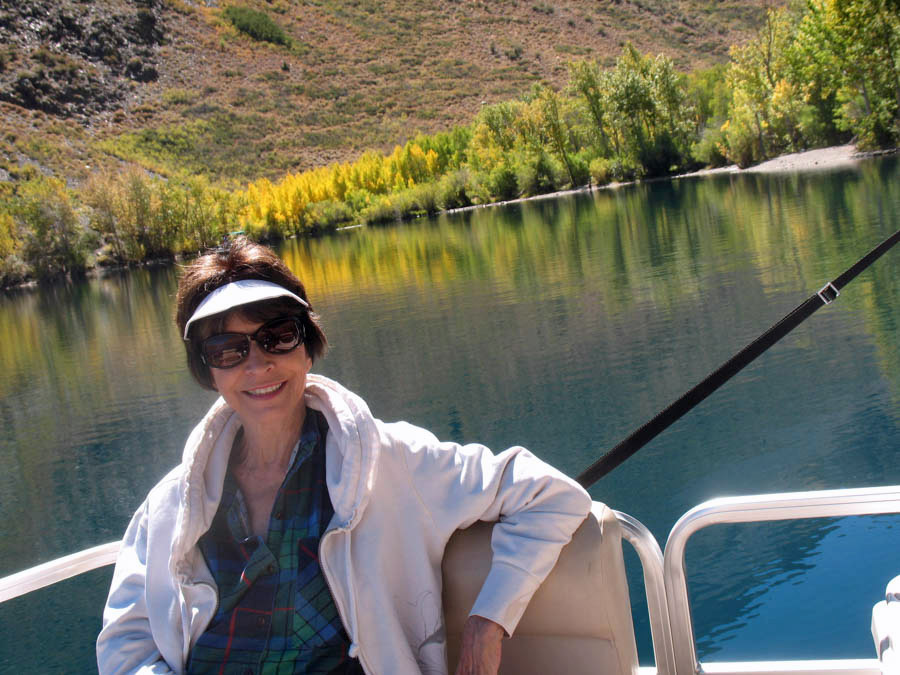 "I let him steer... I made the sounds... I didn't want to see a grown man cry!"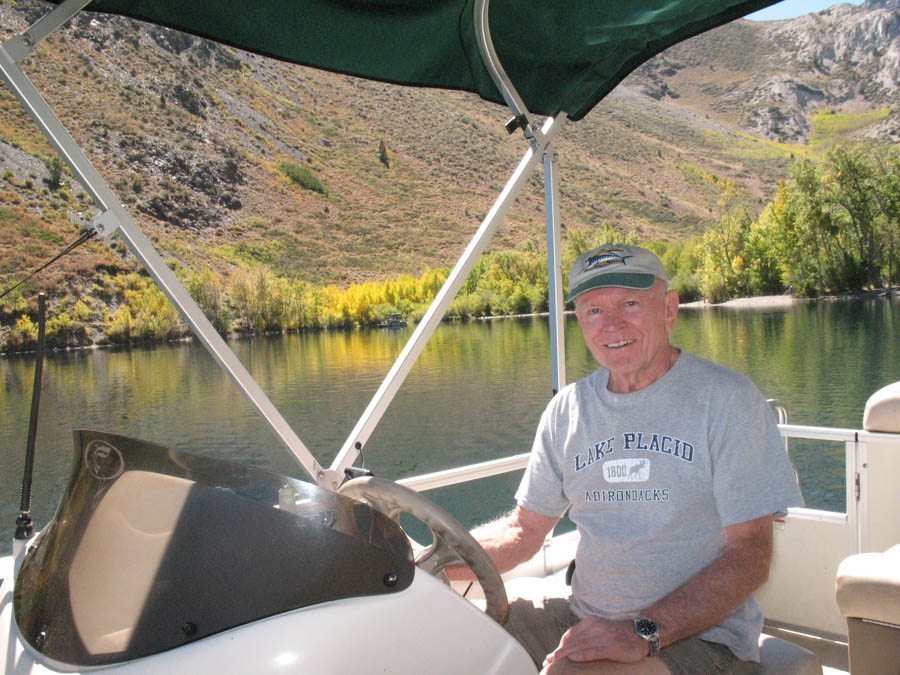 "Oh dear... I think the transmission just went out!"

Restful... Must be nap time!

Spoiled rotten... Comes with a BBQ?

No No Bob... Convict Lake... Not Nudist Lake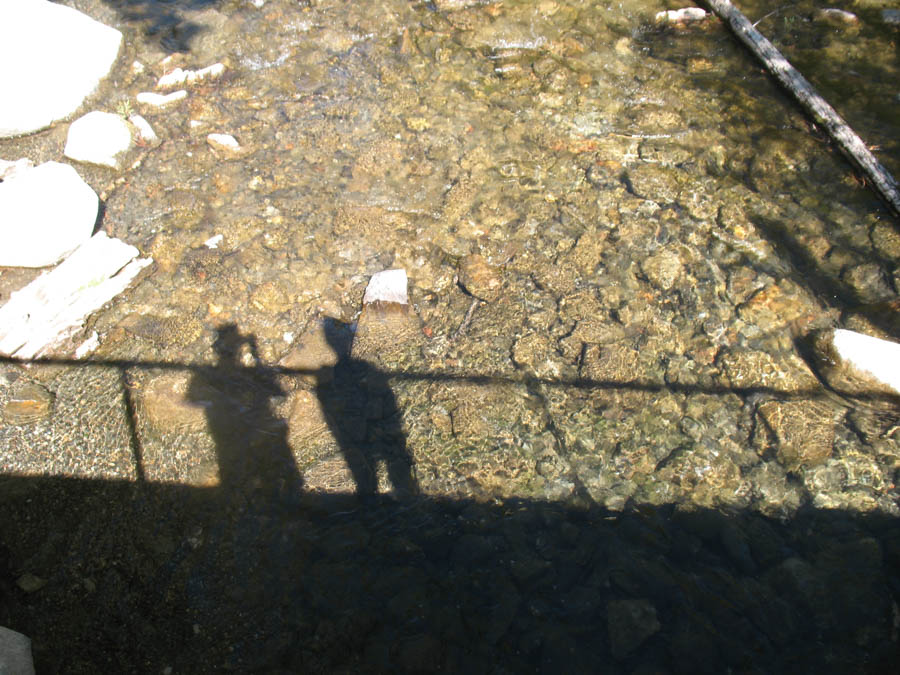 "He is just a shadow of himself"

On the road again!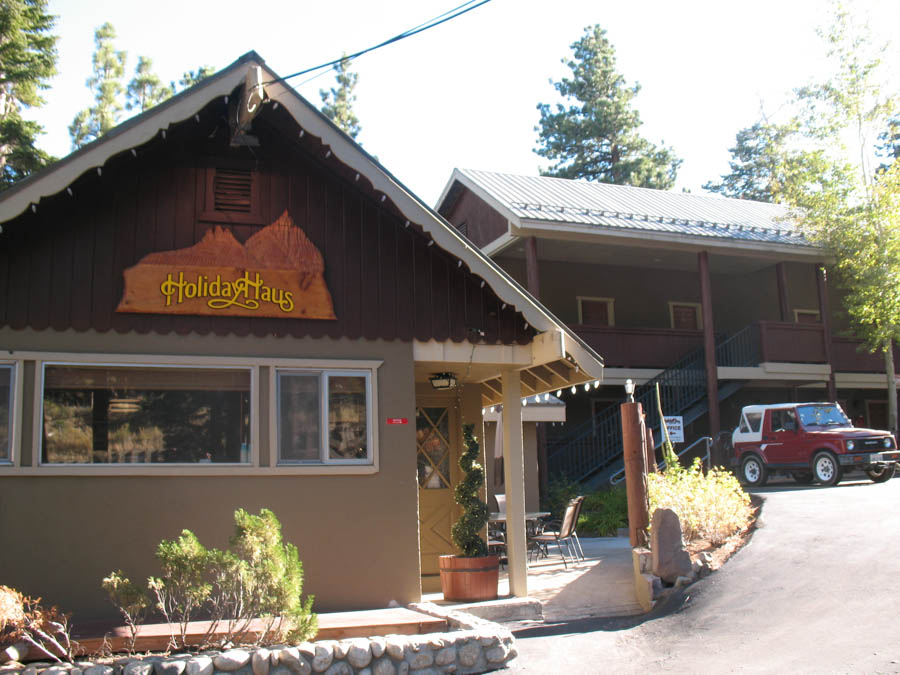 Walking distance to downtown
Did You Know? - Holiday Haus is located where the action is in Mammoth Lakes. We are a short 5 minute walk to the Village at Mammoth where you will find restaurants, shopping, mountain biking and of course mountain access via the Village Gondola for skiing and snowboarding.
During the summer months, we are in close proximity to the many music venues, including Bluesapalooza and other Village events.

"Where is my wine?"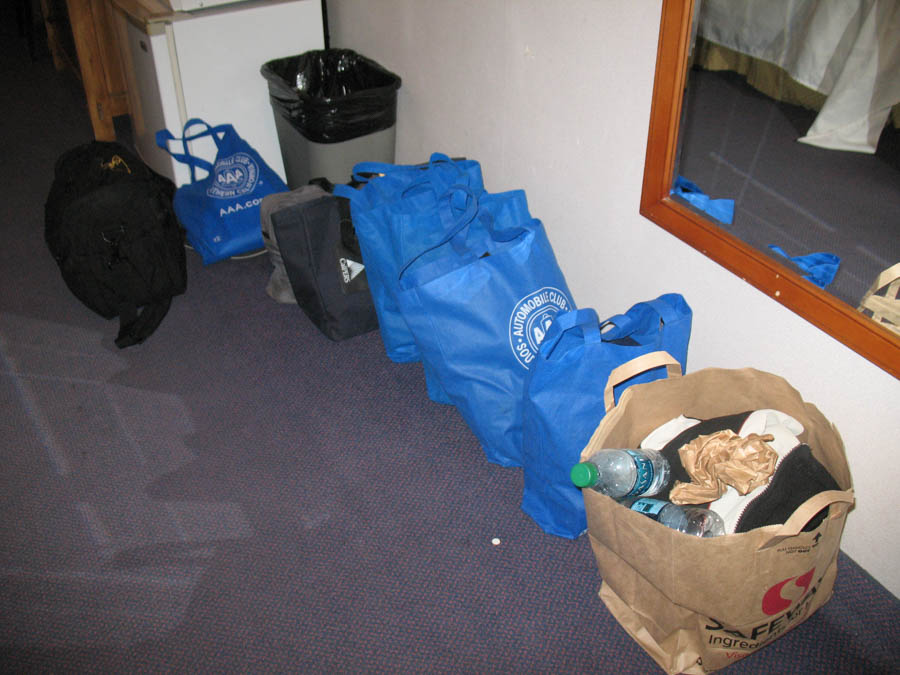 Unpacked and ready to rest!


Day Seven 9/25 Day Eight 9/26 Day Nine 9/27 Return To Top
Summary: We decided to stay in the area today and go fishing at Lake Mary just a short drive away.

Lookout fishies.... Angler Bob is on his way!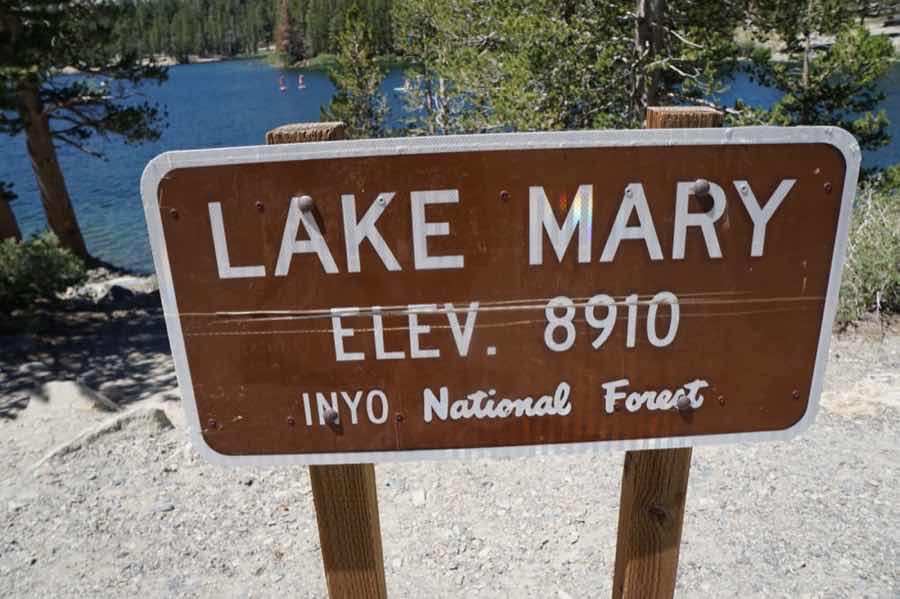 Even the fish require oxygen

High altitude plays tricks on the mind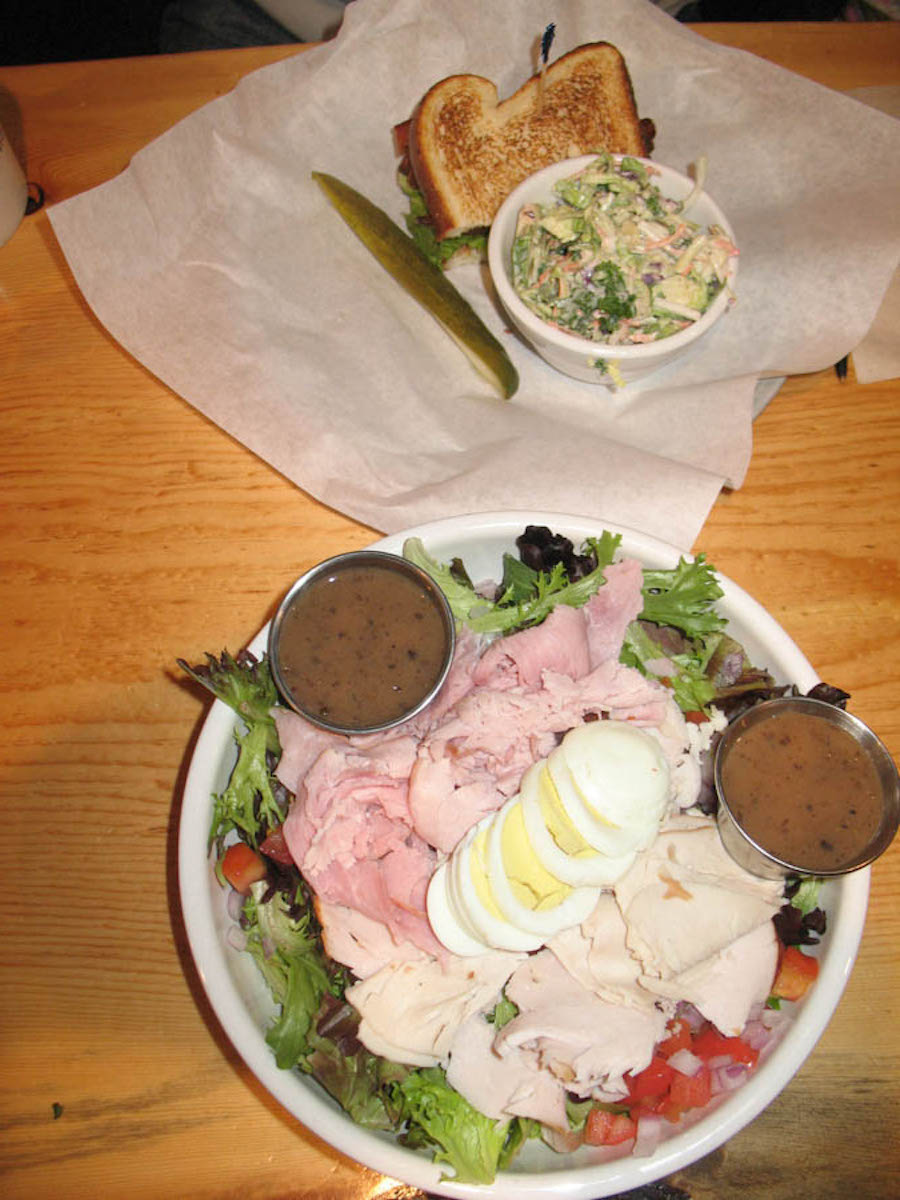 Perhaps a bit of lunch before fishing? The Chef's Salad
Did You Know? - Chef salad (or chef's salad) is an American salad consisting of hard-boiled eggs; one or more varieties of meat, such as ham, turkey, chicken, or roast beef; tomatoes; cucumbers; and cheese; all placed upon a bed of tossed lettuce or other leaf vegetables. Several early recipes also include anchovies. A variety of dressings are used with this salad.
Food historians do not agree on the history and composition of chef salad, much less who assembled the first one. Some trace this salad's roots to Salmagundi, a popular meat and salad dish originating in 17th century England and popular in colonial America.
Others contend chef's salad is a product of early twentieth century, originating in either New York or California. The person most often connected with the history of this salad is Louis Diat, chef of the Ritz-Carlton in New York City during the 1940s.
While food historians acknowledge his recipe, they do not appear to be convinced he originated the dish, which is more popularly attributed to either chef Victor Seydoux at the Hotel Buffalo, a Statler Hotel in Buffalo, New York or chef Jacques Roser at the Hotel Pennsylvania in New York City.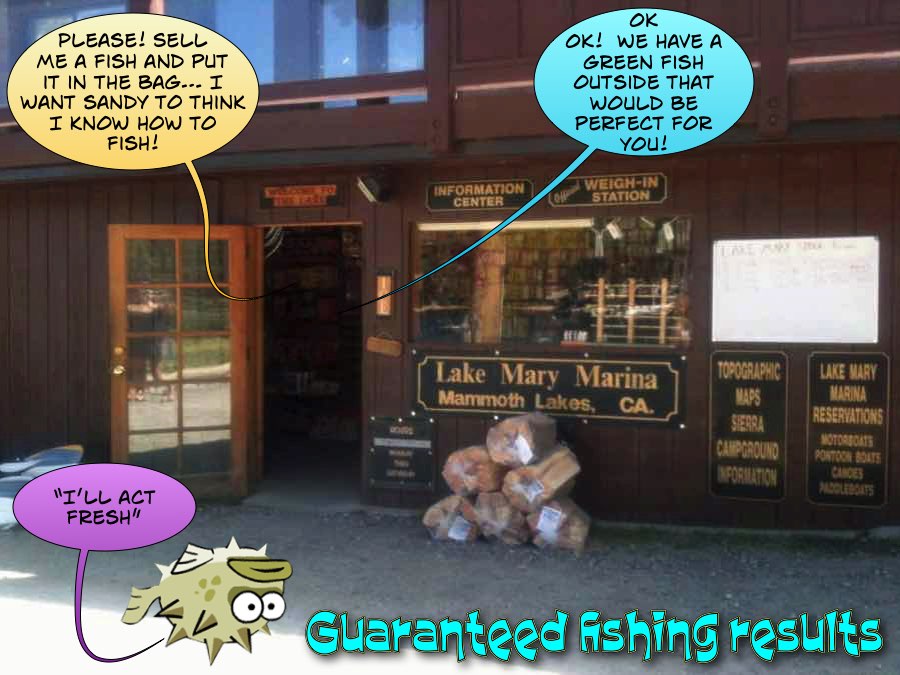 Check in... They give the fish a 15 minute warning that Bob is coming!

The water looks great!

Lookout fish.... We are on our way!

No Bob.... Not the bicycle!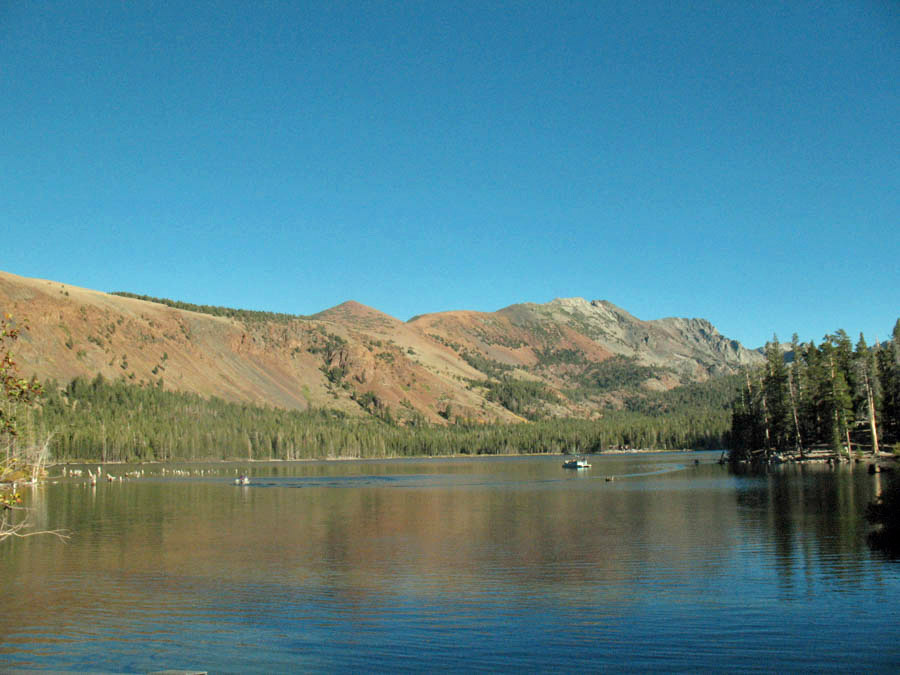 Prepare for "Bob The Angler"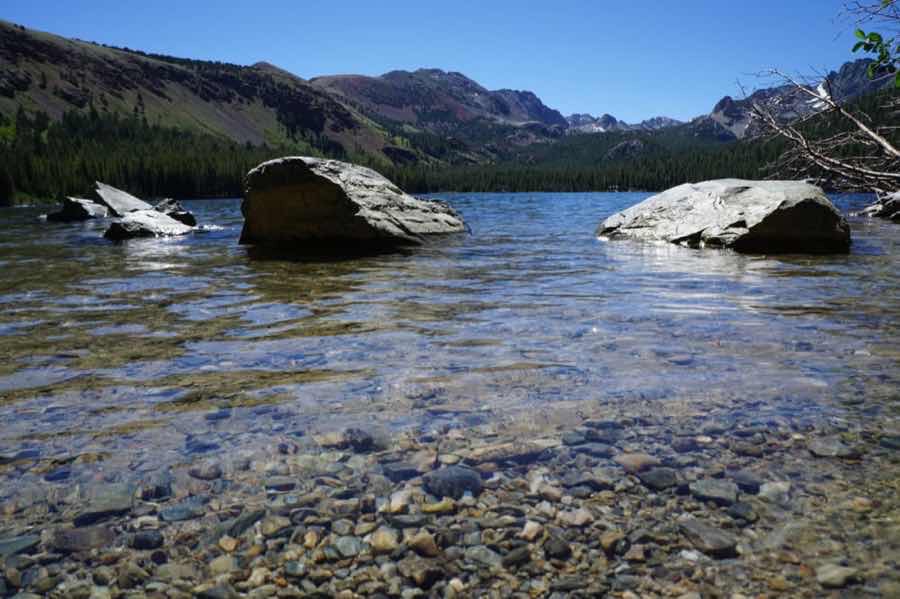 The fish eyes view...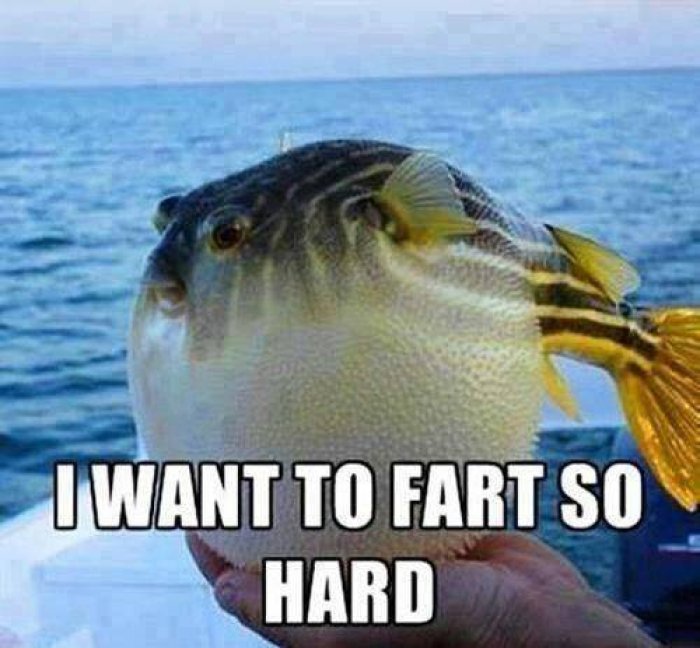 Sandy tells us of her last fishing experience...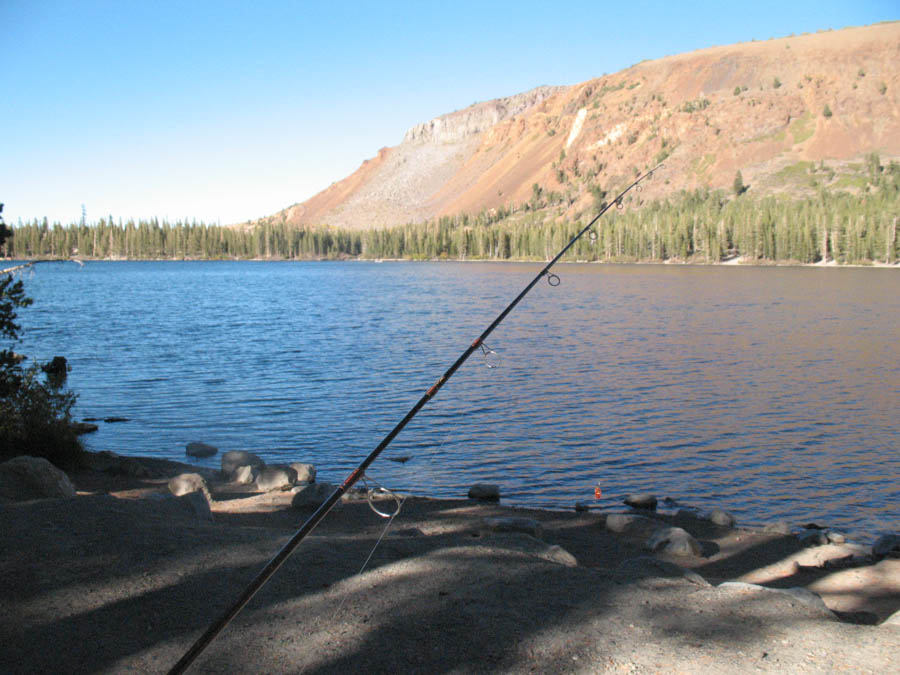 Bob sets up the pole and waits... and waits... and waits....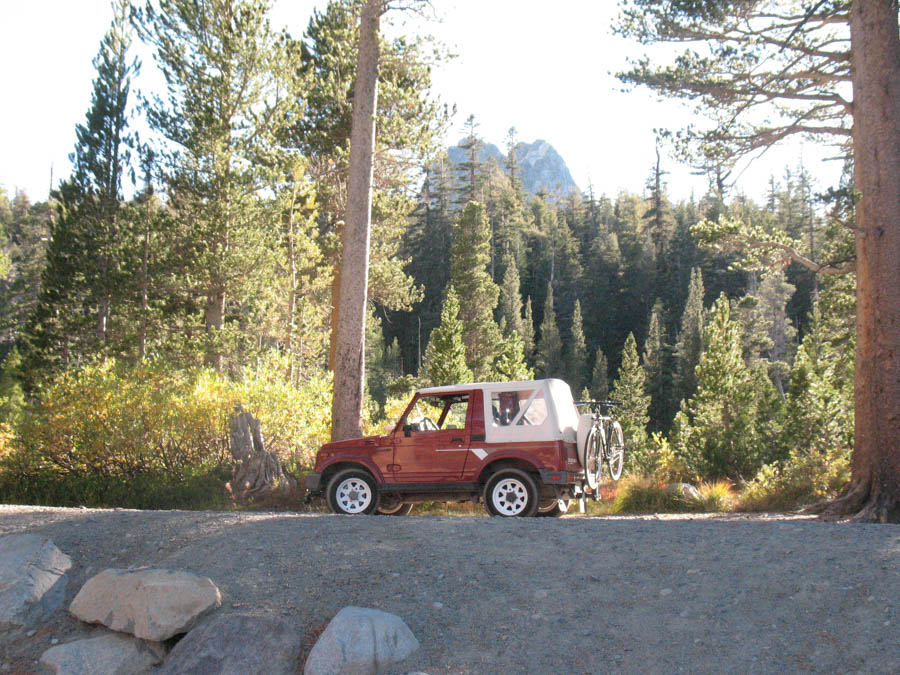 We are just a few feet from the water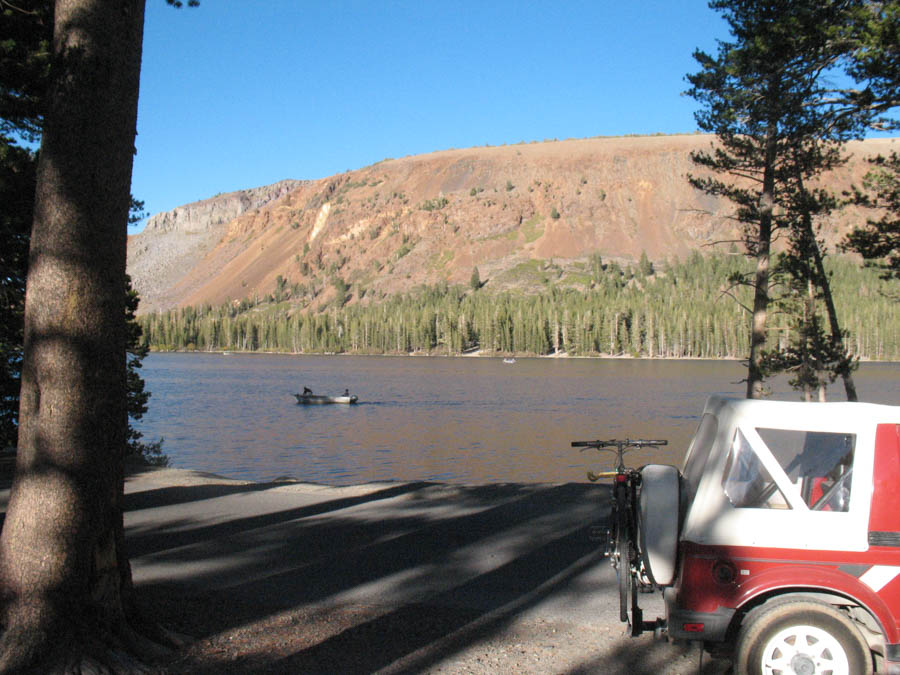 A magnificent day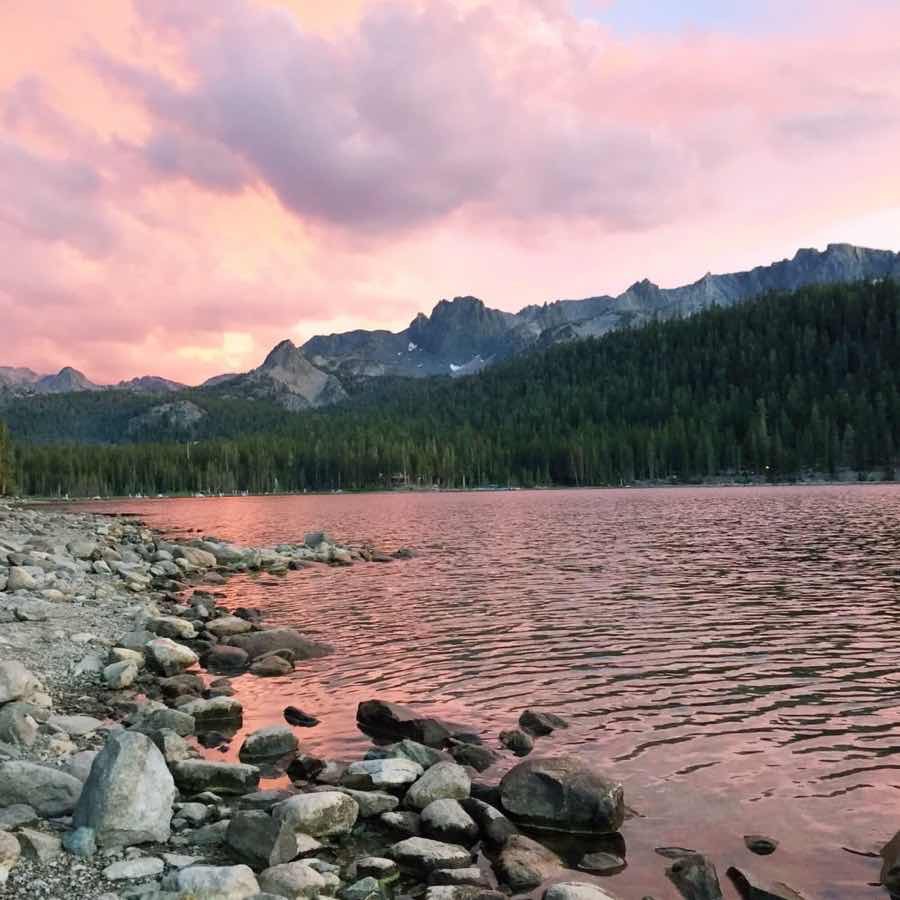 The evening was even better