Staying Close To Bishop... (Page Two)for
Day Four (9/22) Day Five (9/23) Day Six (9/24)

Day Four (9/22) Day Five (9/23) Day Six (9/24) Return To The Top
Summary: We are spending time around Bishop waiting for the motorhome to be repaired. It was a change in plans but all in all, interesting!

The baby awaiting diagnosis and doctors recommendations

It's OK, he is not alone!
How About Lake Sabrina!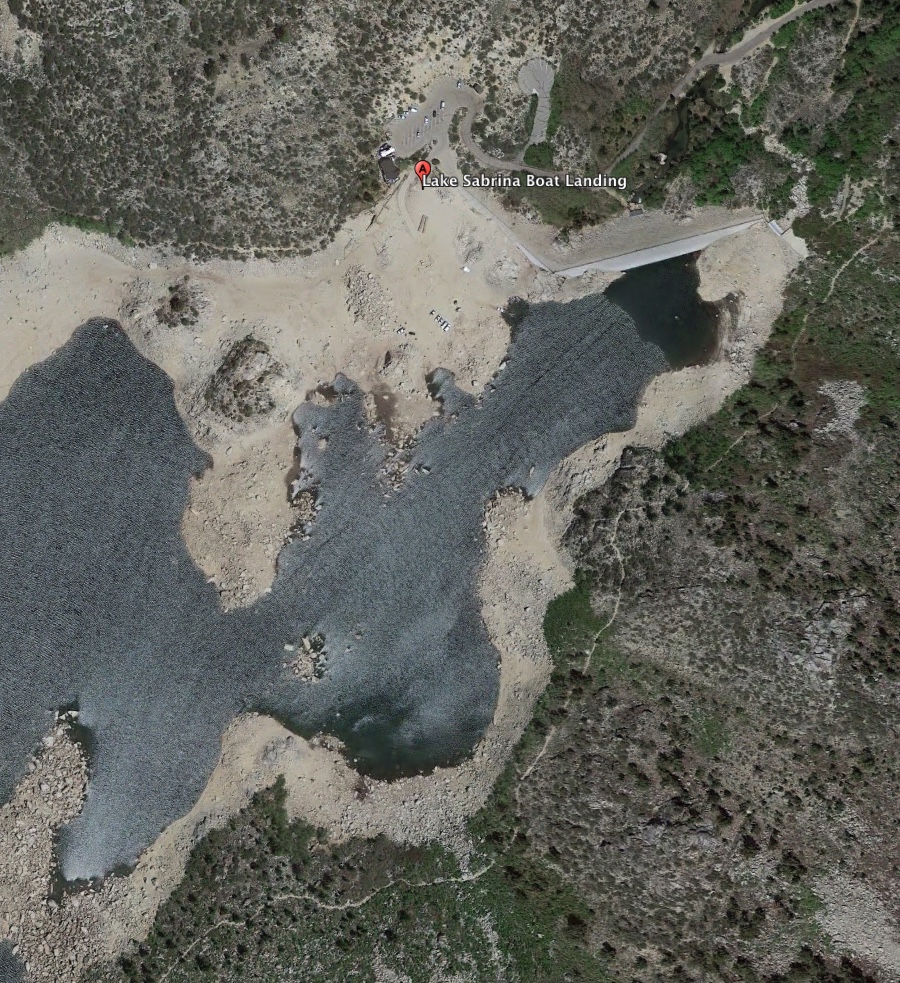 Wow... It still has water in it!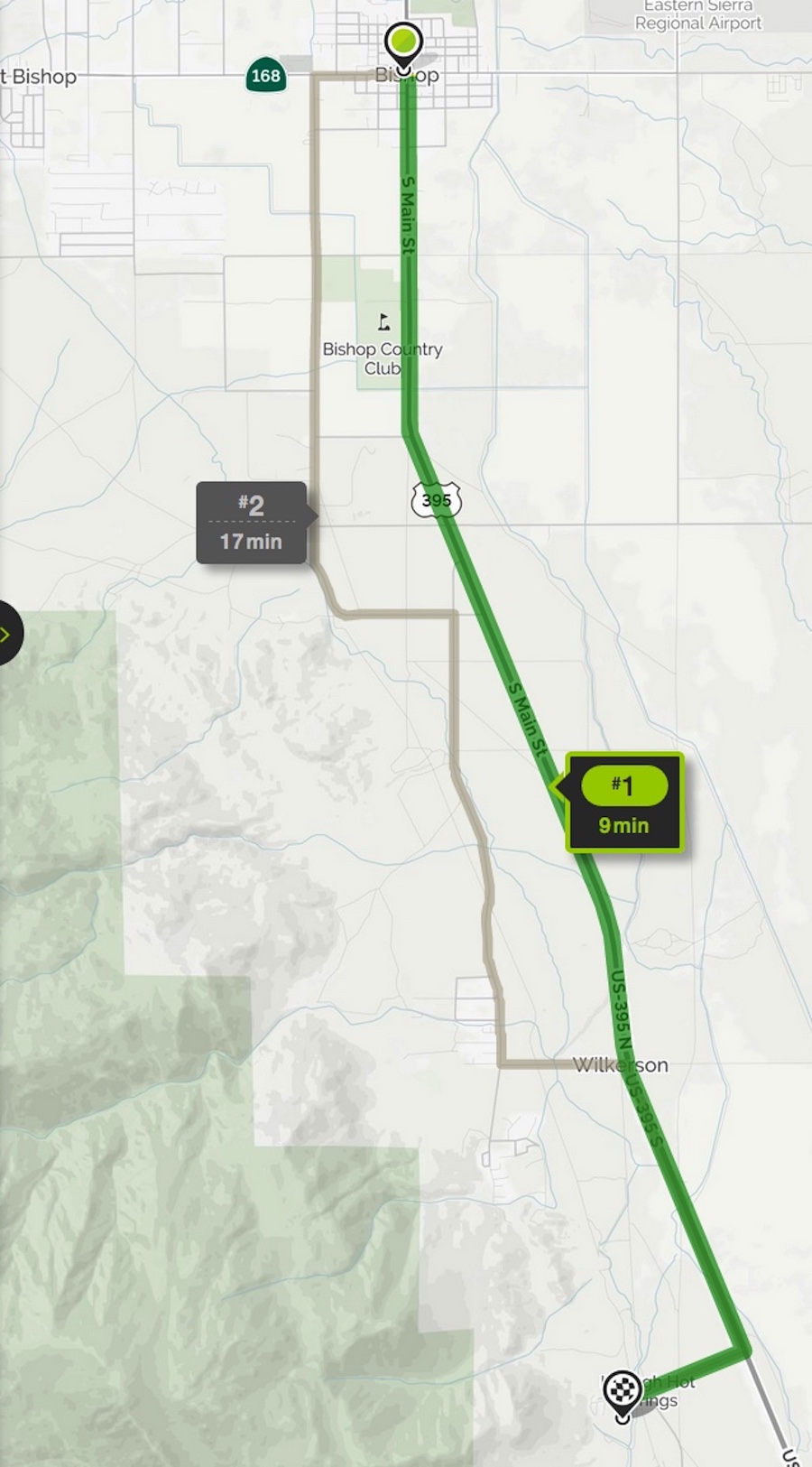 ...and we have two routes to select from!
Did You Know? - Lake Sabrina is a lake created by damming the middle fork of Bishop Creek. It is located south-west of Bishop, California on California State Route 168, in the Inyo National Forest. It has a cafe as well as a dock. The dam was built in 1907-8 to supply a constant flow of water to the hydraulic power plants. The lake is part of the Bishop Creek system.
Local residents pronounce the lake "Sah-bry-nuh;" however, the lake was originally named after Mrs. Sabrina (pronounced: suh-BREE-nuh) Hobbs, wife of C.M. Hobbs first General Manager of California Nevada Power Company which built the dam. The reason for the lake's name pronunciation changing over the years is unclear.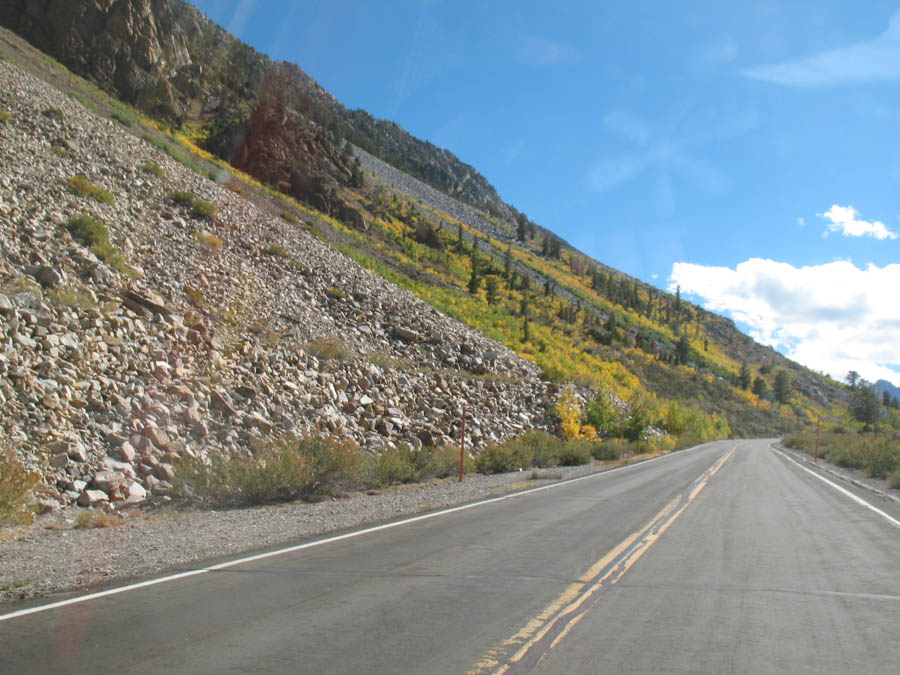 It was a beautiful drive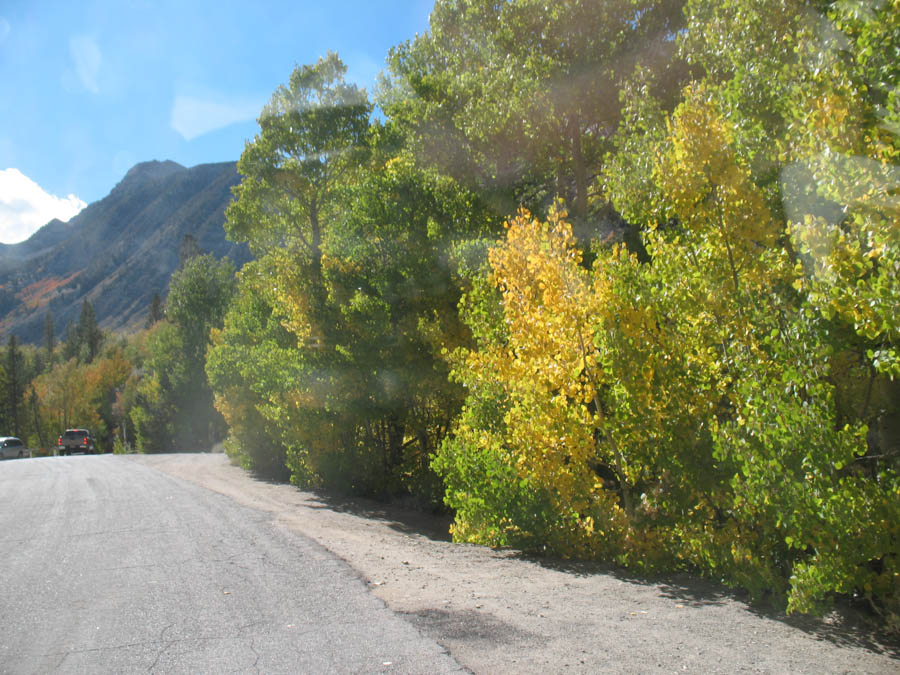 Fall is indeed in the air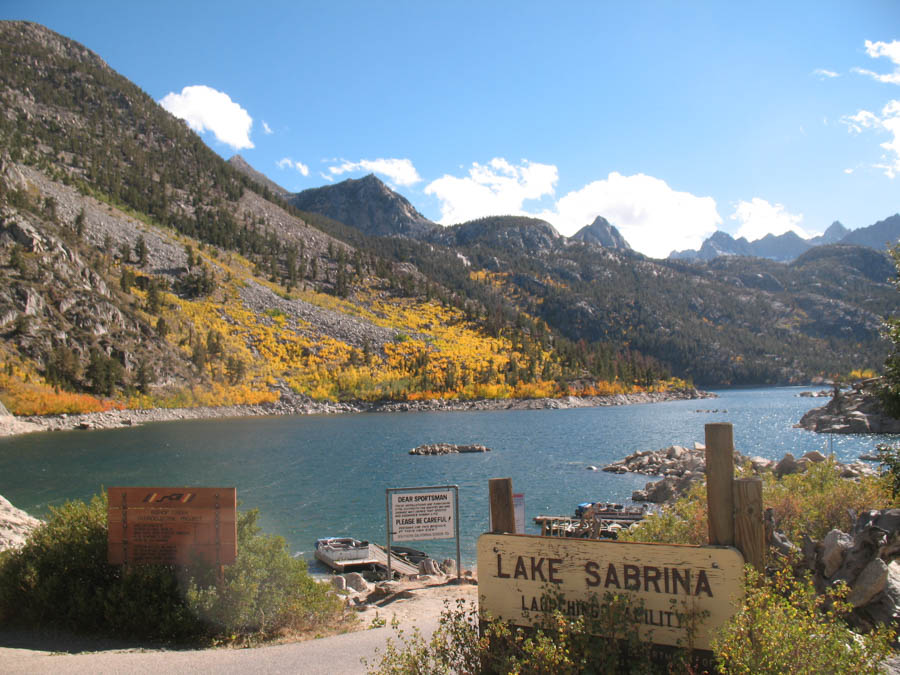 Water is full of reflections from the sun!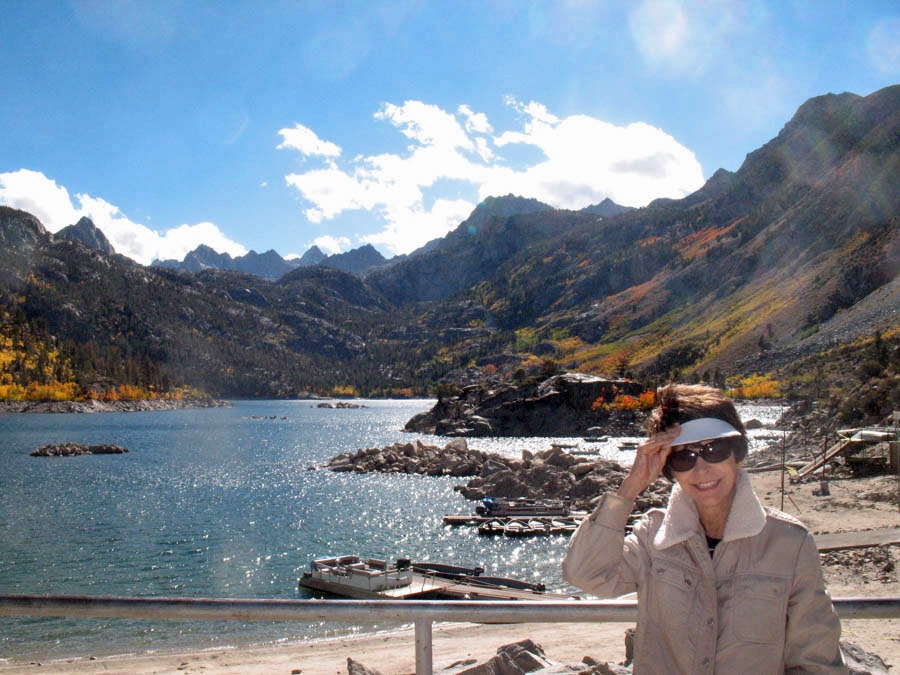 Sandy says hello!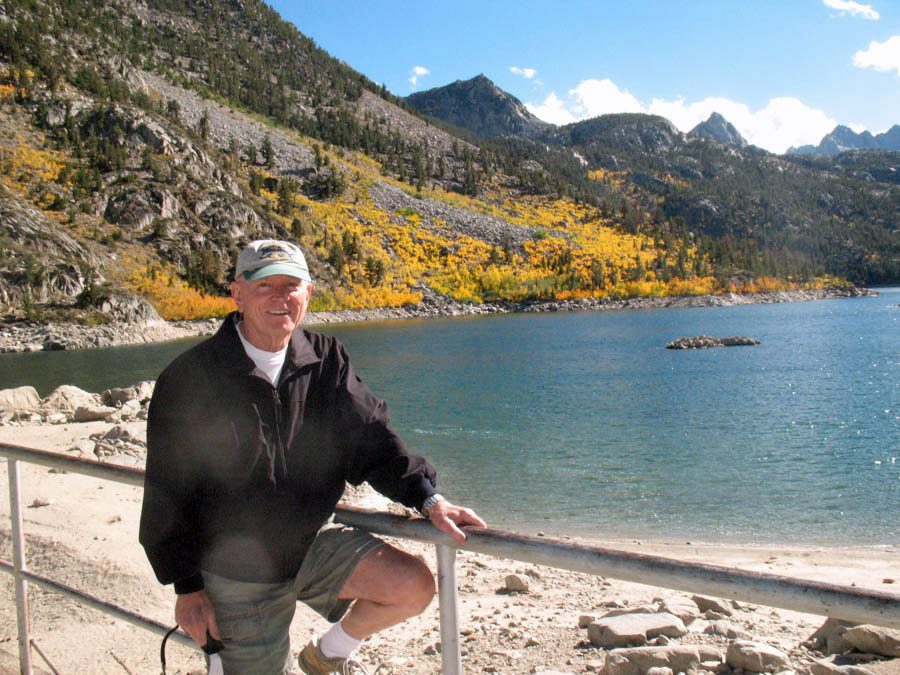 Bob's goose bumps have goose bumps!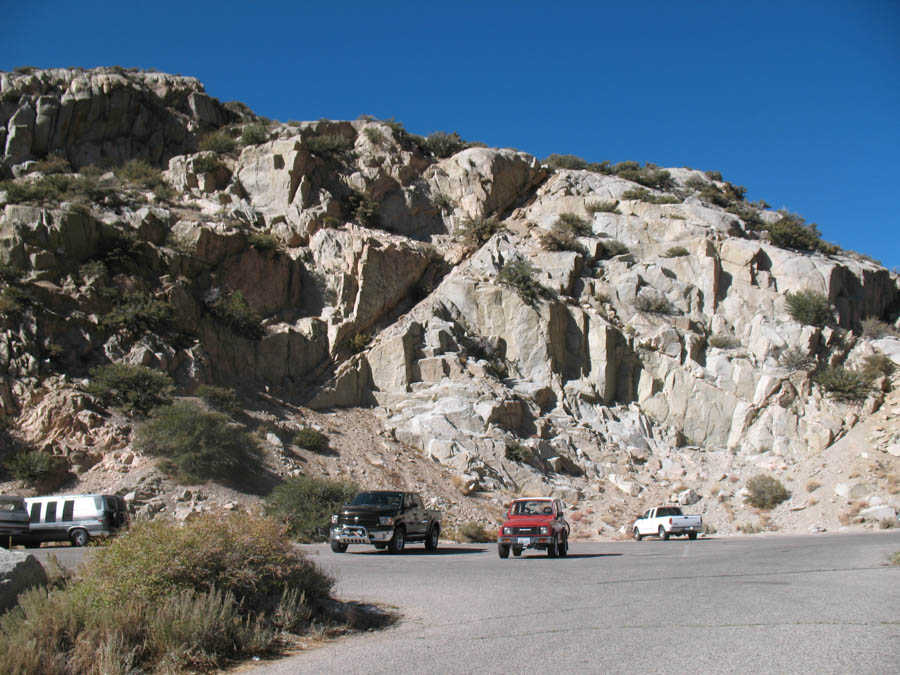 Rustic parking available lake side

Decisions decisions... Shall we take out a boat?
(Sandy wanted to know if the boat had a transmission)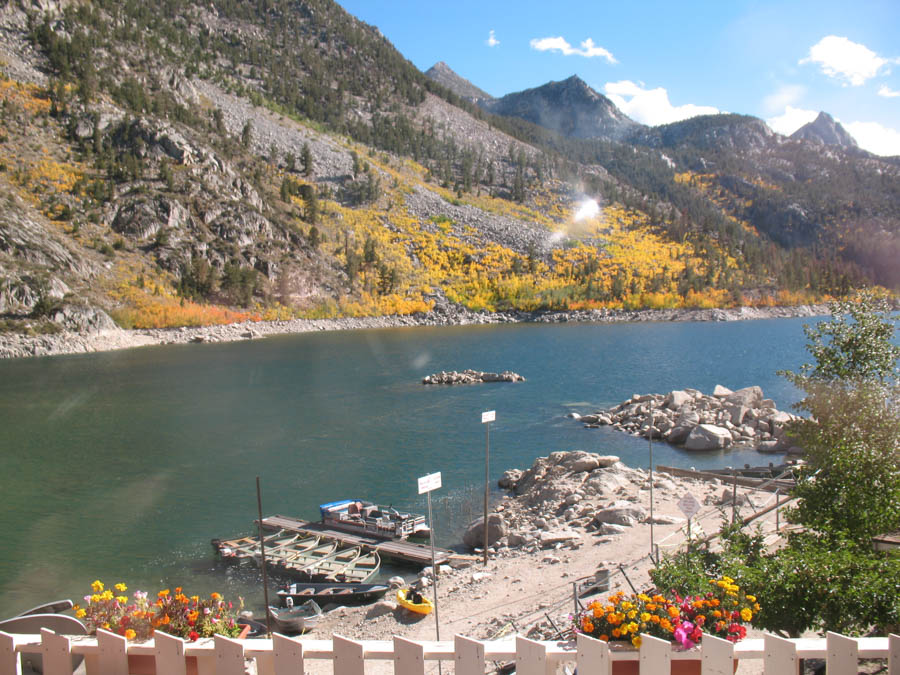 Goodbye lake... We have serious business ahead!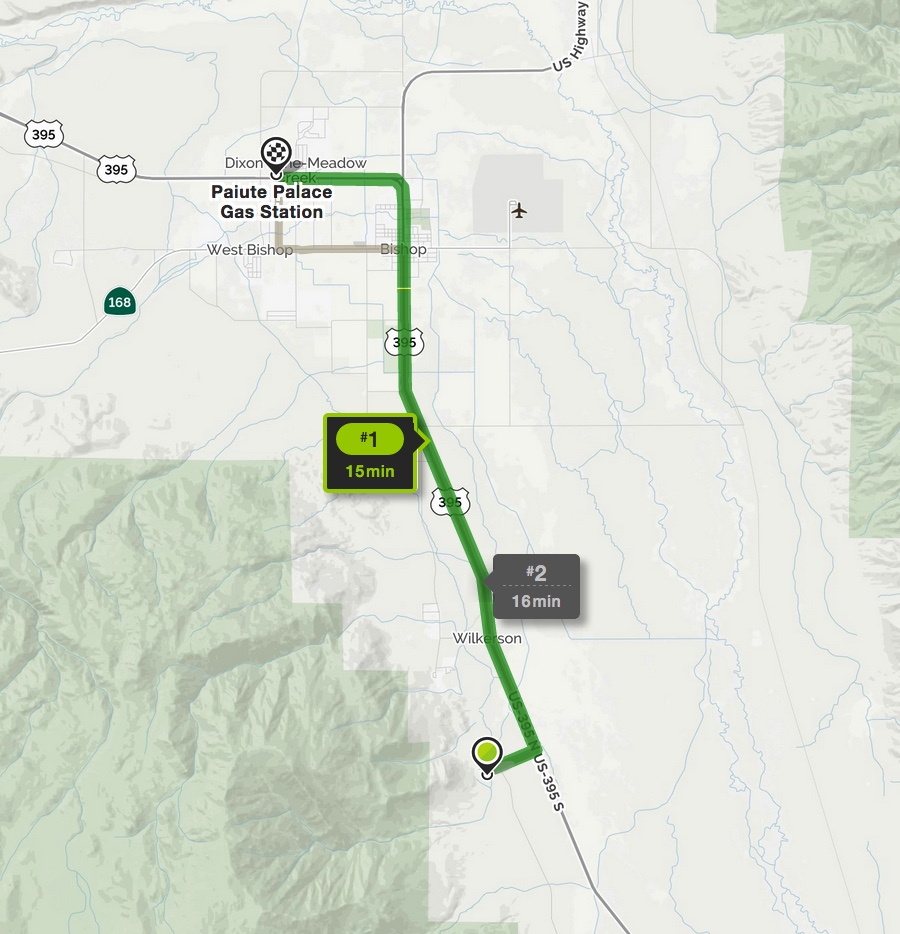 Back to town to visit the casino!

In Bishop
Did You Know? - Located at the foot in the beautiful Eastern Sierra mountain range, the Paiute Palace Casino is the areas only 24-hour Vegas-style casino, featuring over 300 of the latest and most popular slot machines, a variety of table games and exciting poker tournaments.
They are located at 2742 North Sierra Highway (Highway 395) about two (2) miles north of the City of Bishop, California. The Paiute Palace Casino is proudly owned and operated by the Bishop Paiute Tribe.
The Paiute Palace Casino was established in October of 1995; the Casino's first home was a small temporary building. In April of 1996 the current Casino opened its doors and today, with over 65% Native Americans employed, it is one of the most Native American employed casinos in the State.
The Paiute Palace Casino keeps you cool in the summer and warm in the winter while enjoying gaming activities - the latest and greatest slot machines, blackjack and poker. The TuKaNovie Restaurant offers great food at prices more modest than any other found in the Bishop area.
The friendly and courteous staff of the Paiute Palace Casino can assist and familiarize you with the Casino games and cater to your needs.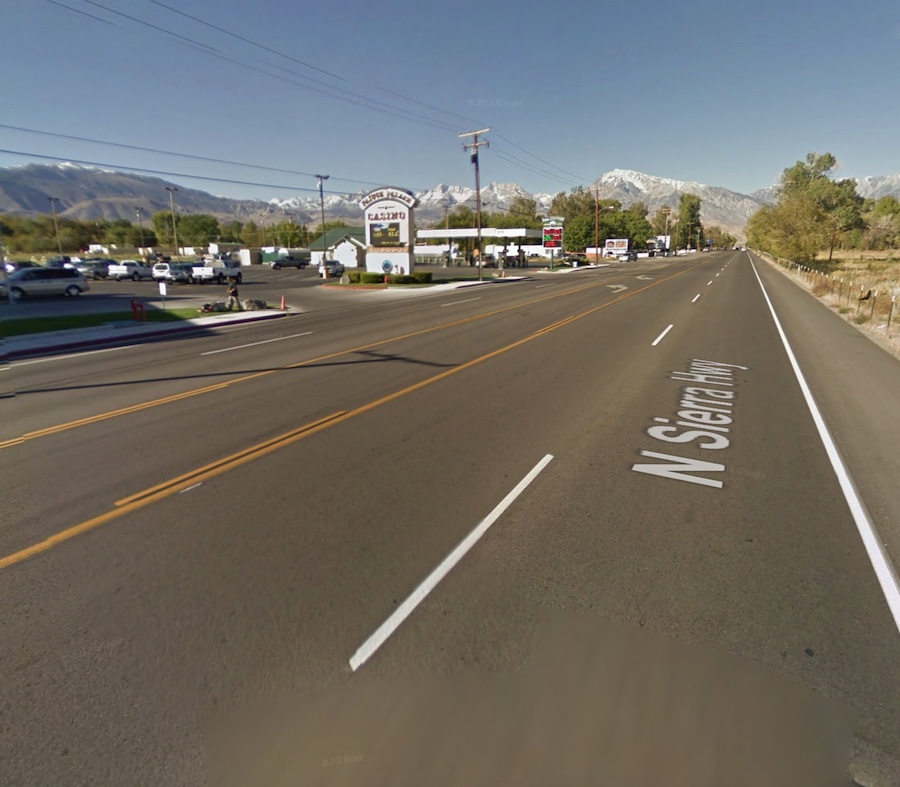 Located right on Sierra Highway
Visit them on Google Maps Street View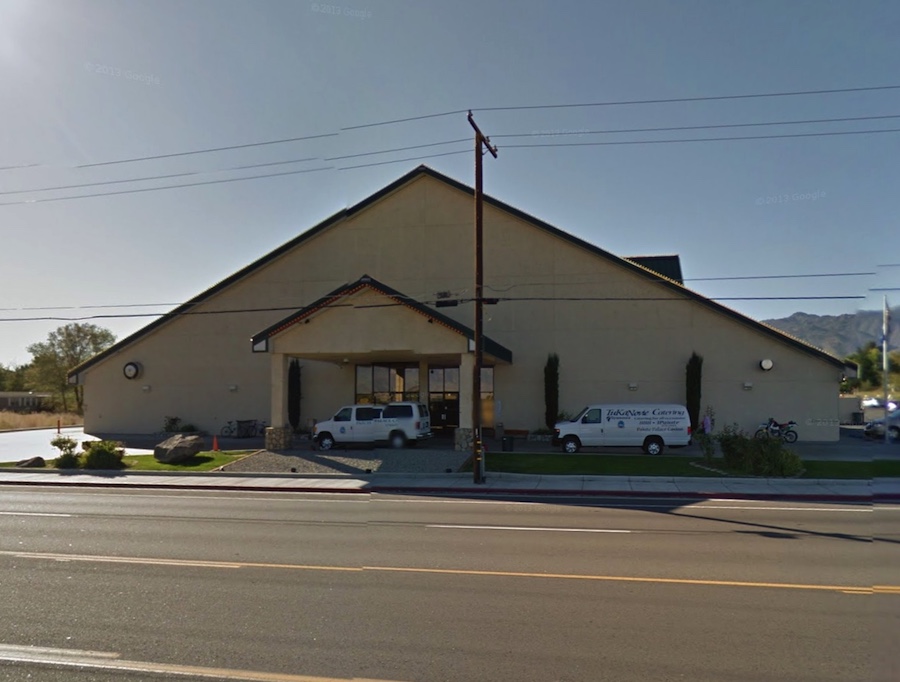 A simple building until you get inside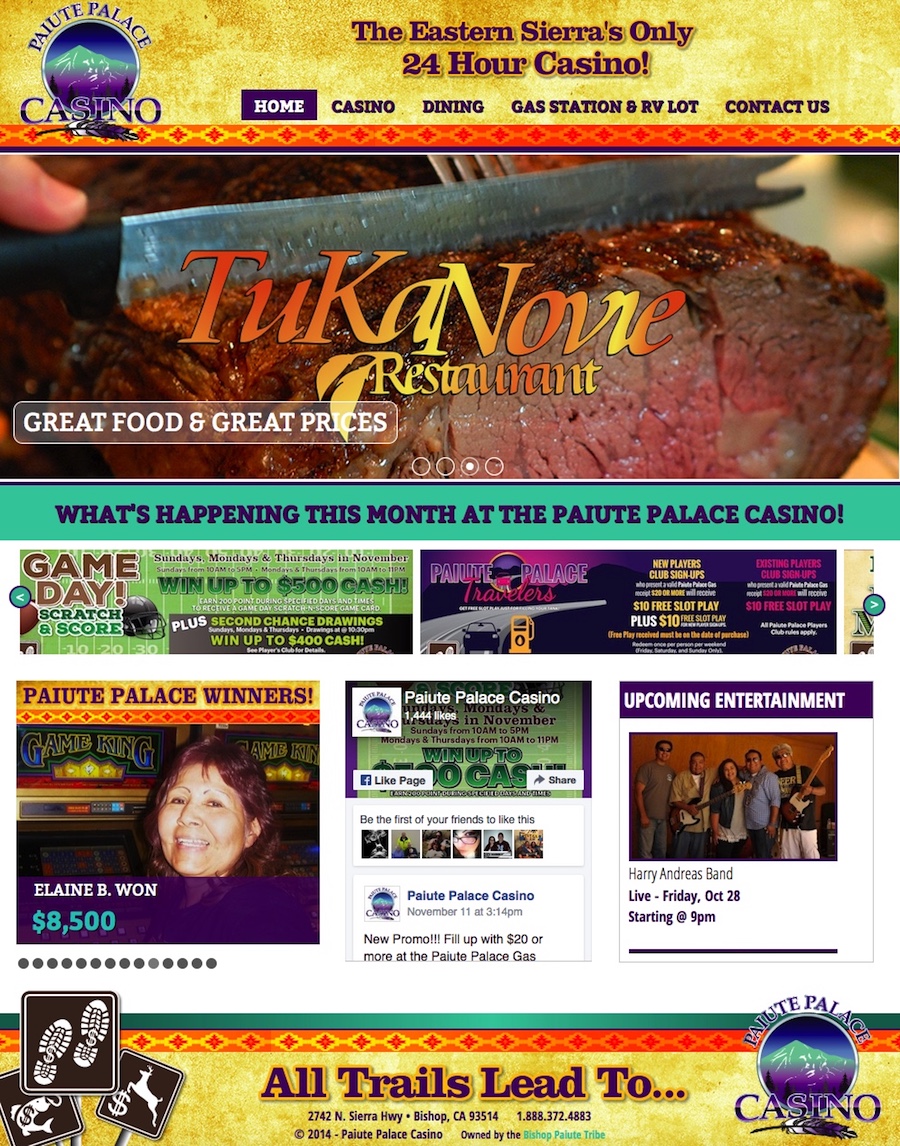 Not too fancy from the front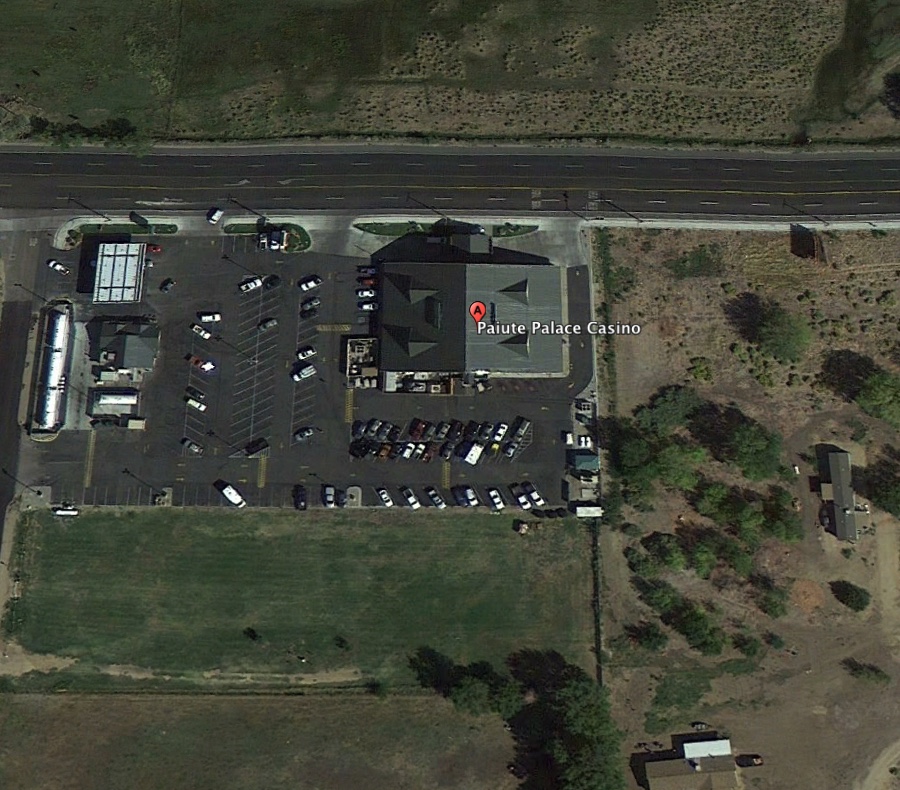 Plenty of parking here!

The weather was again beautiful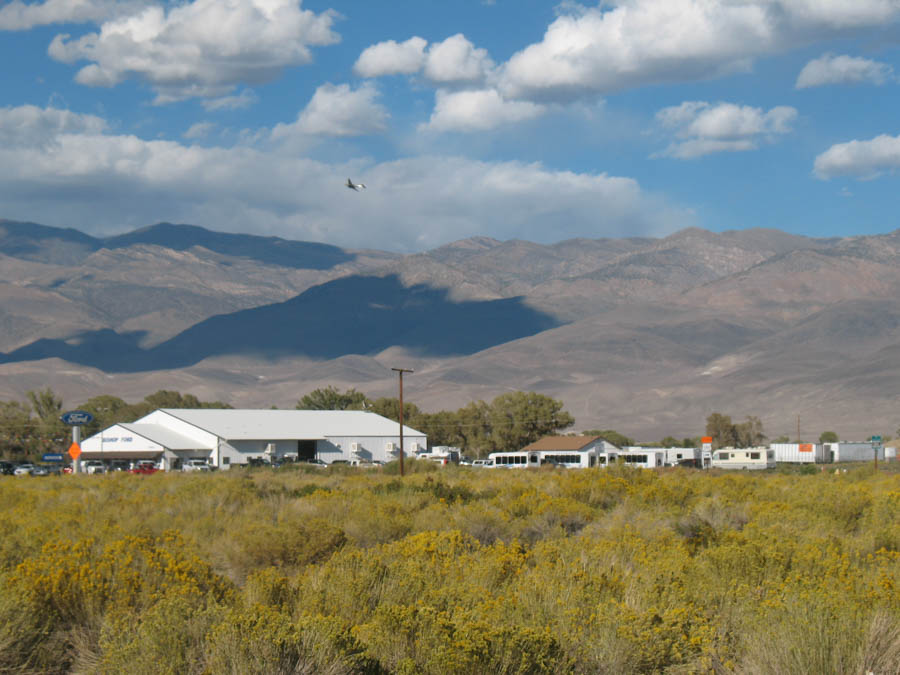 Wonder how the baby is doing???


Day Four (9/22) Day Five (9/23) Day Six (9/24) Return To The Top
Summary: We got the doctor's analysis and indeed, the transmission needs to be repaired so we went to a transmission shop across town.  Another tow job was called for. We went to Jim Allen's Auto-Matics. What to do now.... In the jeep and we are gonig to see the metropolis called Bishop!

Goodbye Ford Dealership!

Our home's new home....

We found a smoked meat store two blocks down from the transmission shop!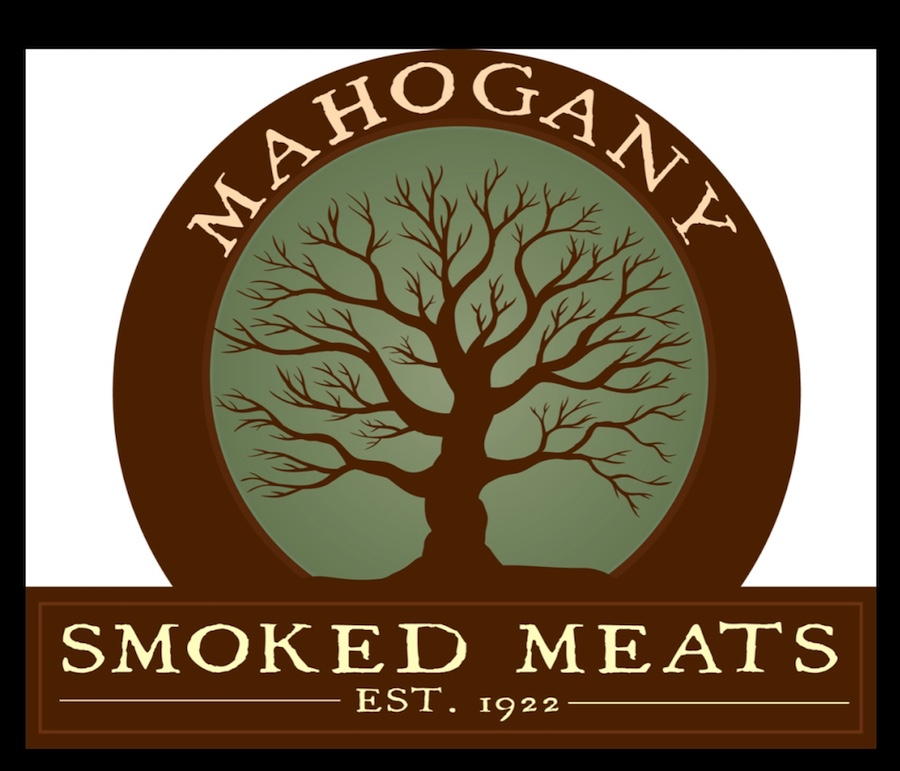 Must be good... It's been around forever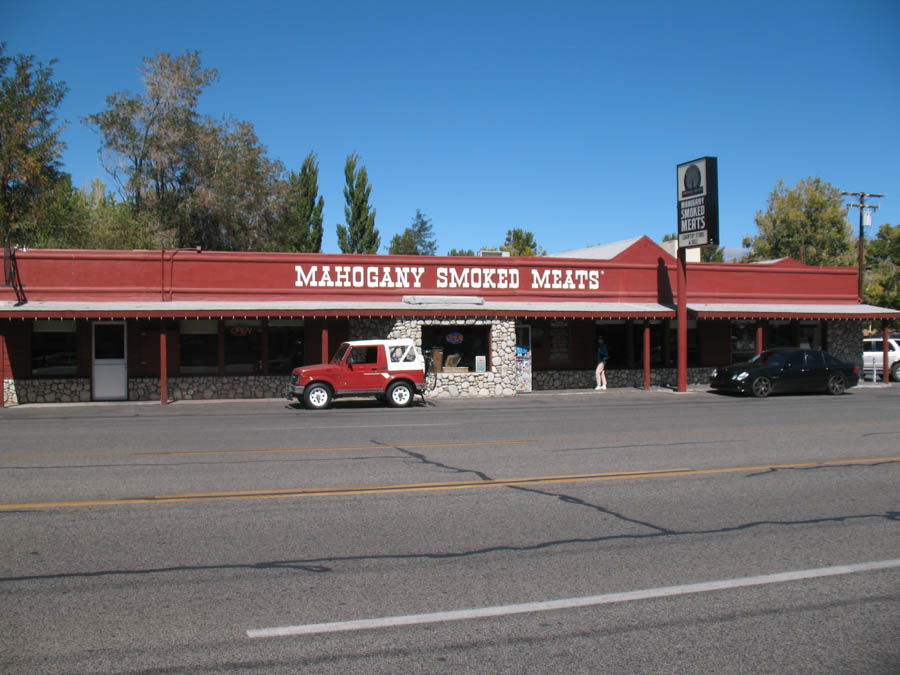 When in Bishop... Do what Bishopsonians do... Eat pigs ears!
View via Google Maps Street View
Did You Know? - Smoked meat is a method of preparing red meat (and fish) which originates in prehistory. Its purpose is to preserve these protein-rich foods, which would otherwise spoil quickly, for long periods. There are two mechanisms for this preservation: dehydration and the antibacterial properties of phenols and other chemicals in the absorbed smoke. In modern days, the enhanced flavor of smoked foods makes them a delicacy in many cultures.

"Sandy! It's for dogs... Put your back down"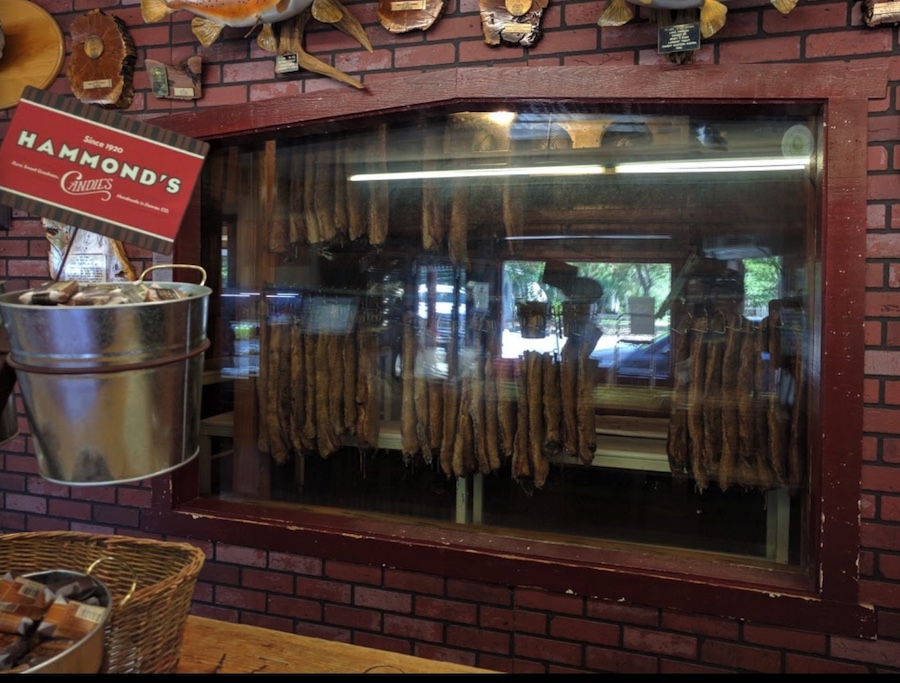 Love that smell!

Look at those nice looking peppers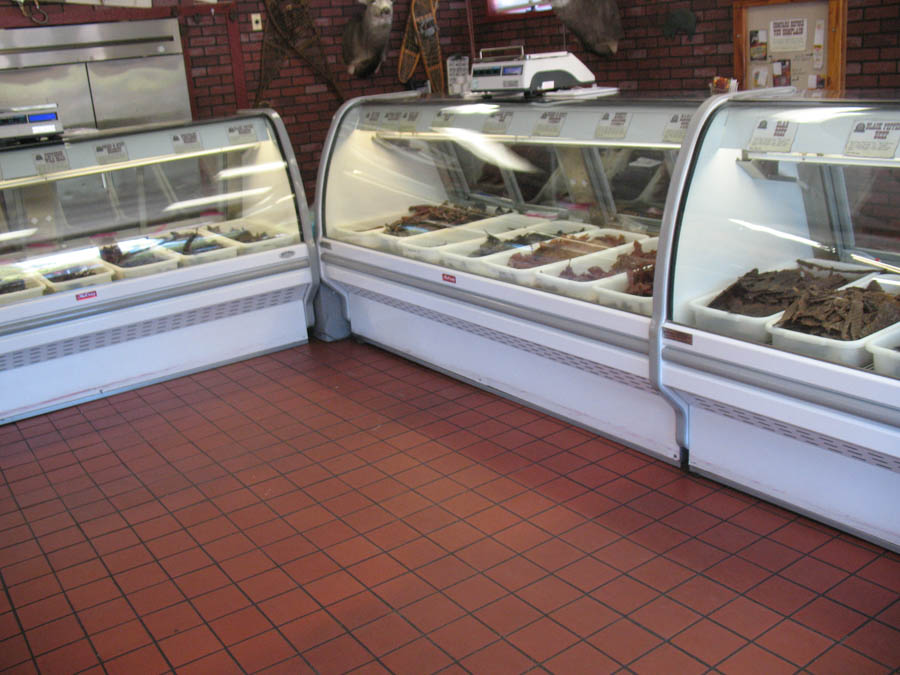 Step right up!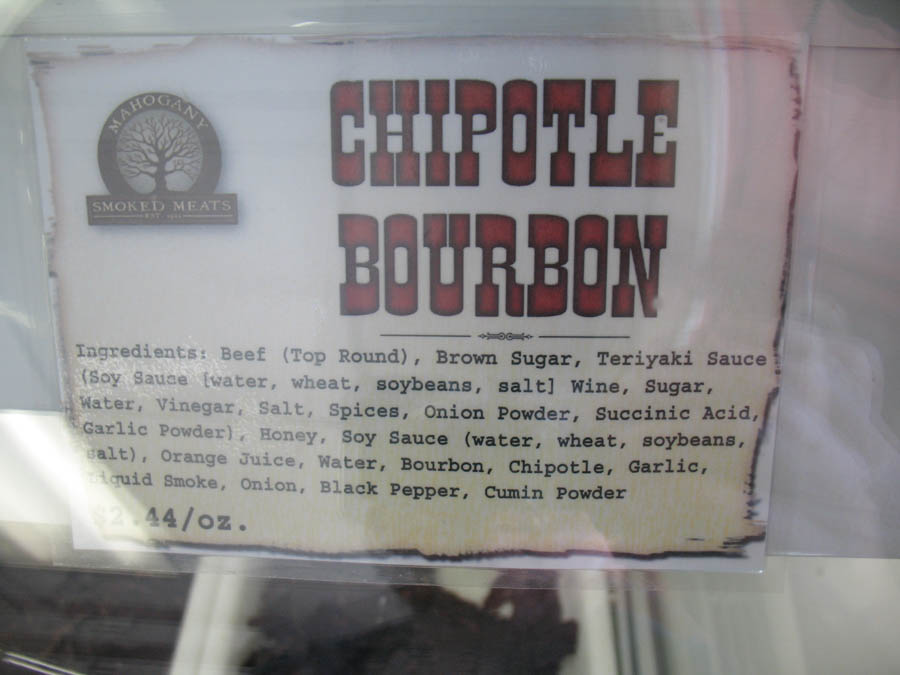 Breakfast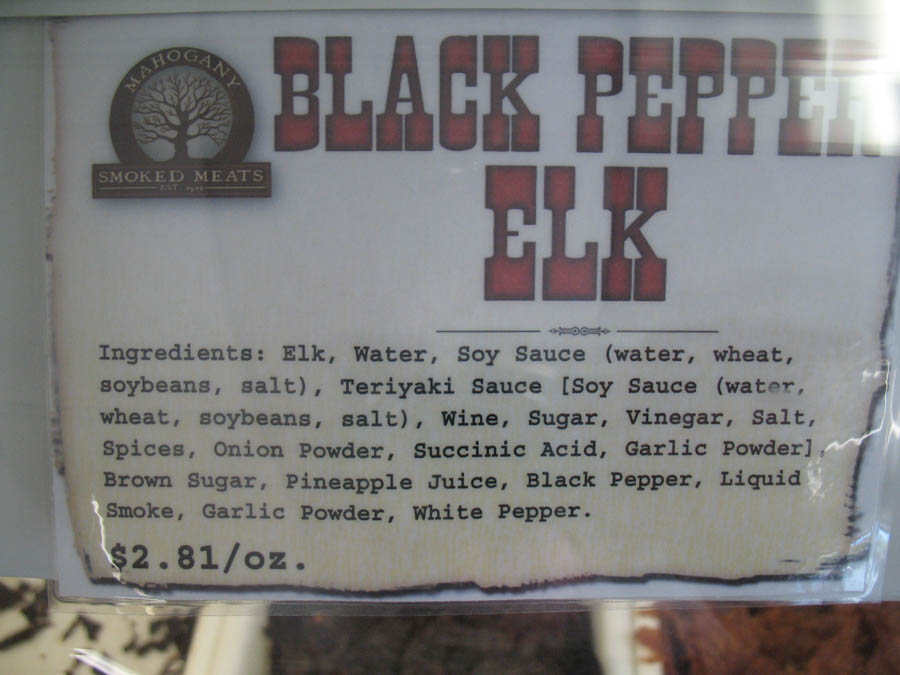 Lunch

Dinner


Day Four (9/22) Day Five (9/23) Day Six (9/24) Return To The Top
Summary: The specialist says he can fix it up but it will take several days! We decided to take a bike ride, go fishing, be like a local! Join the fun!

We visit to get the latest report on the baby!
View on Google Maps Street View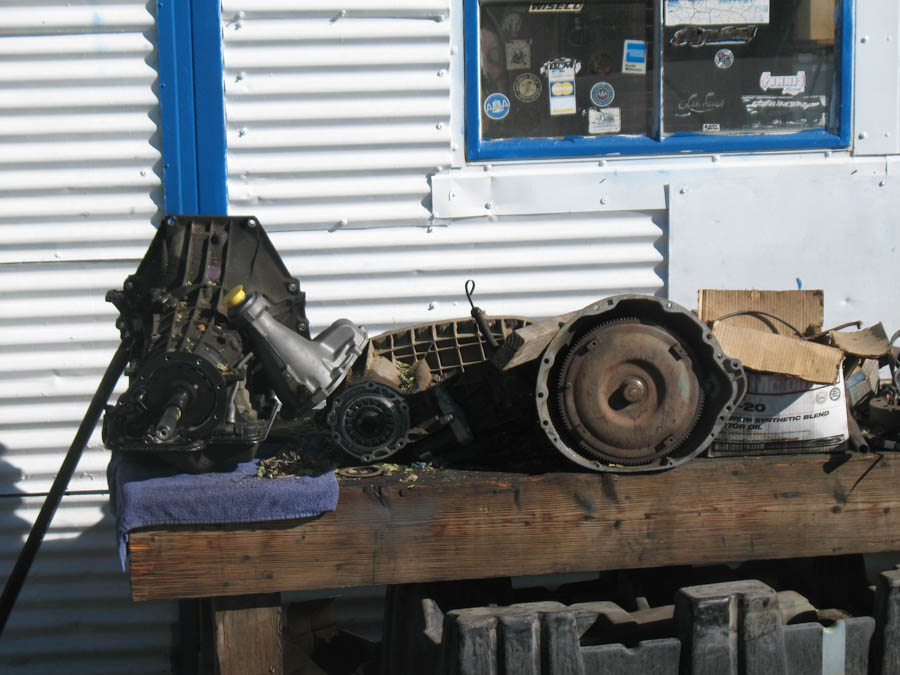 Oh oh... Is this ours? We can't look! Let's go off-roading!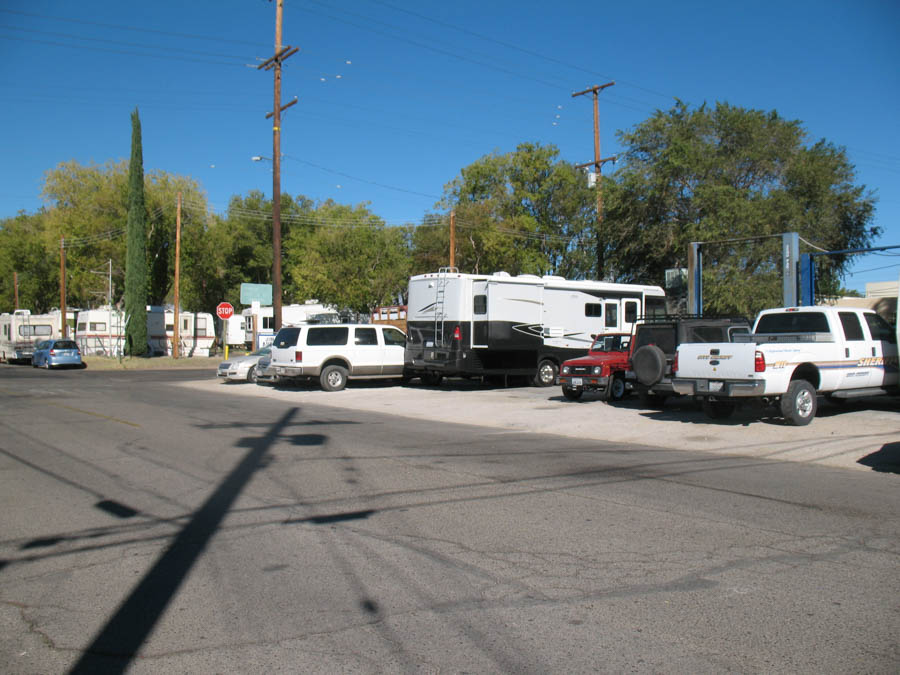 We added some needed supplies... Can of sardines for bait!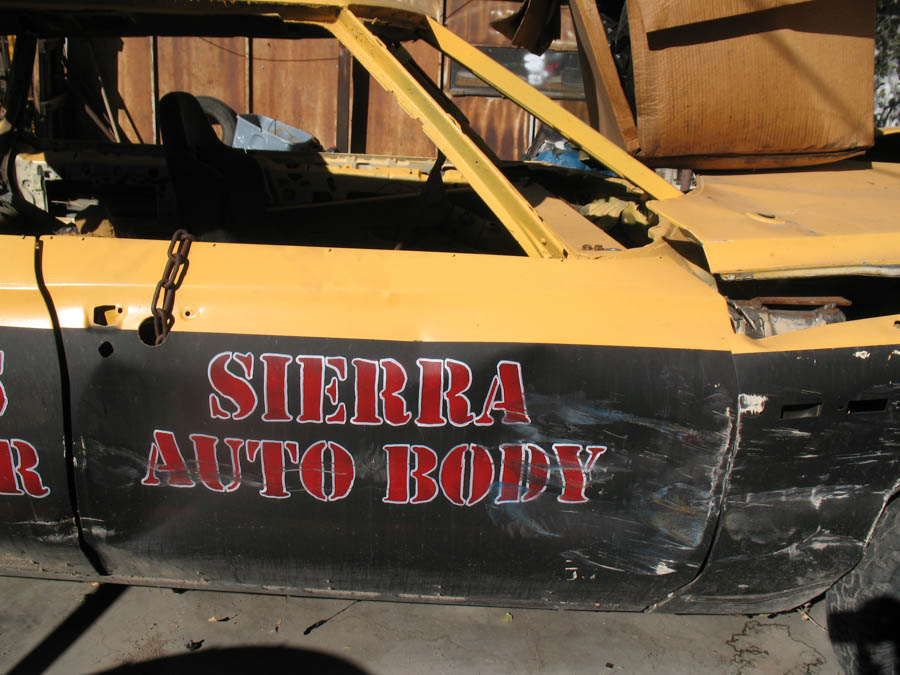 Seems auto repair is a big business in Bishop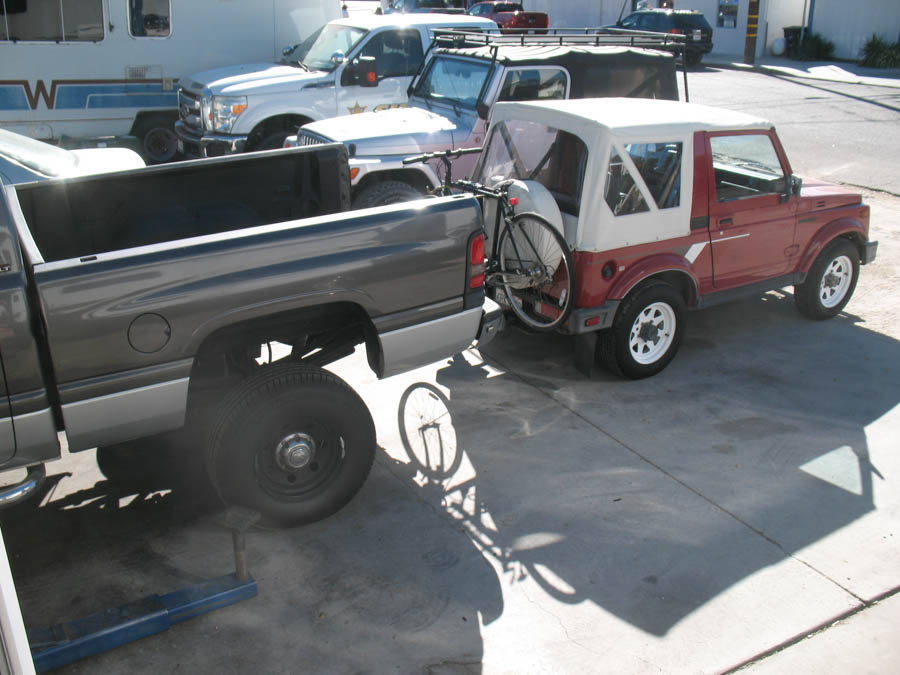 Time to unpack the bike!

This could traumatize tiny animals and small children!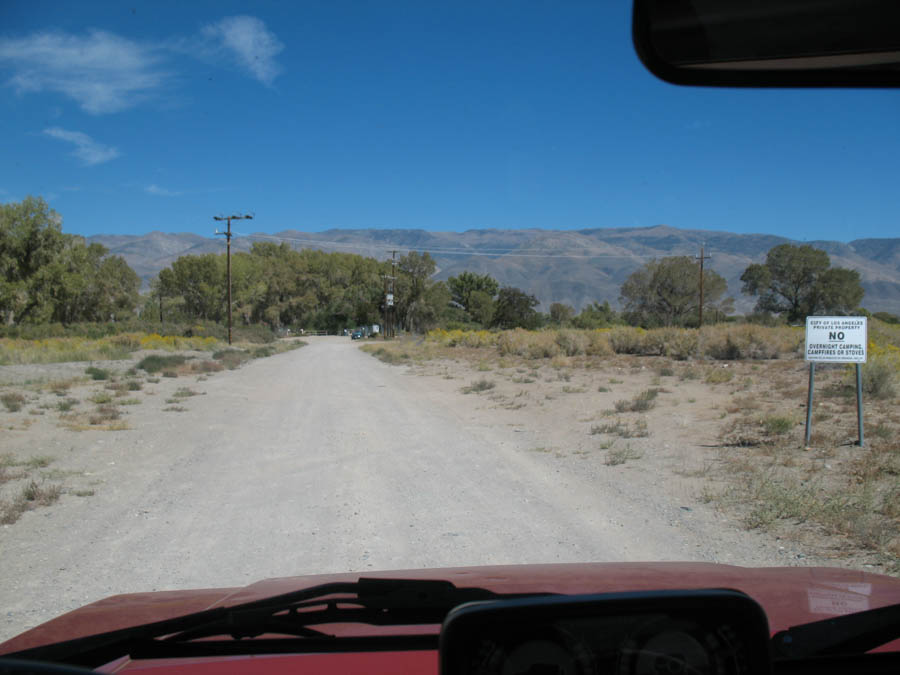 Off to the open road...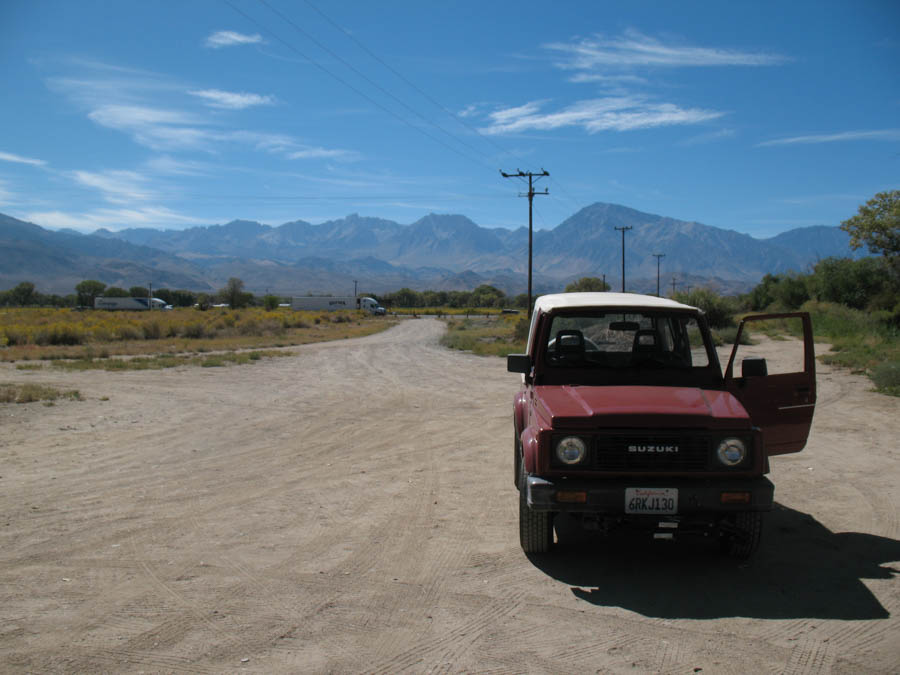 "What is that.... OMG... Water and fishing!"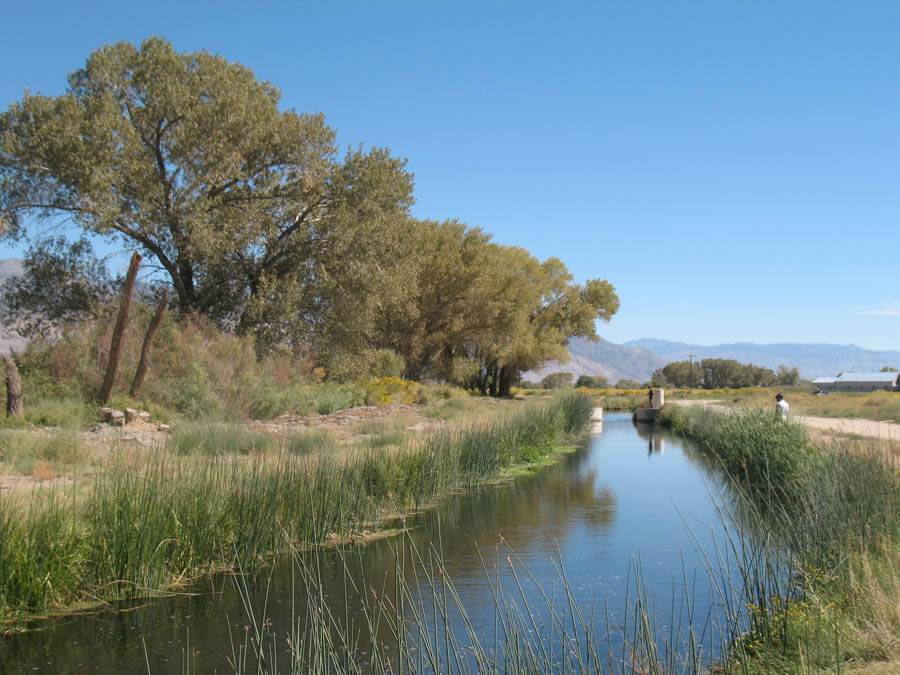 Must be fish in the water...

Oh no.... The transmission went out...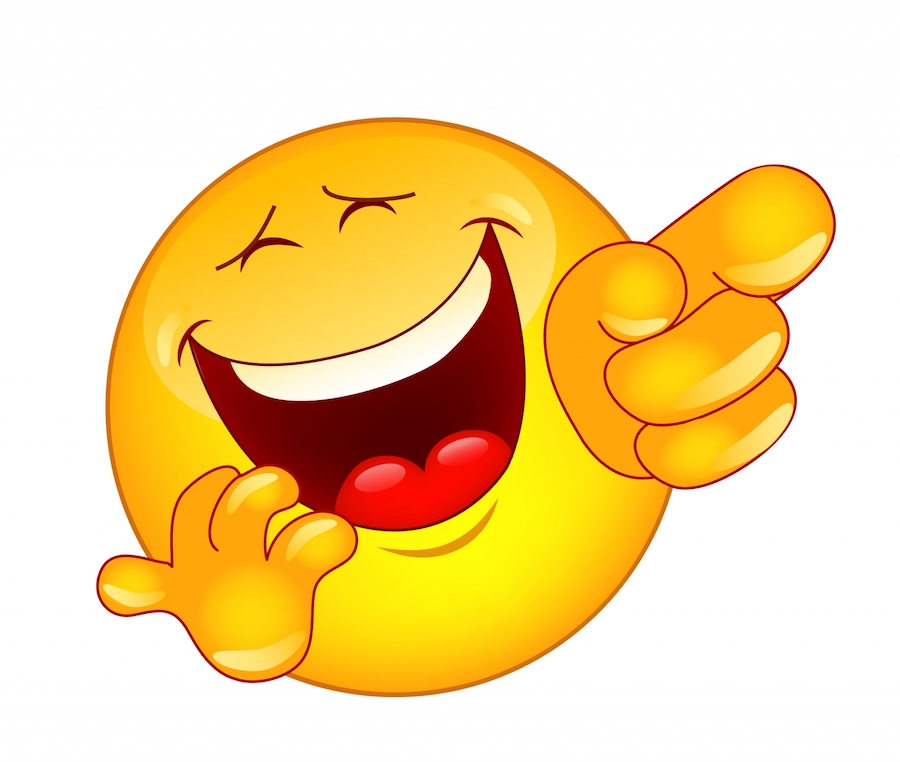 Just teasing!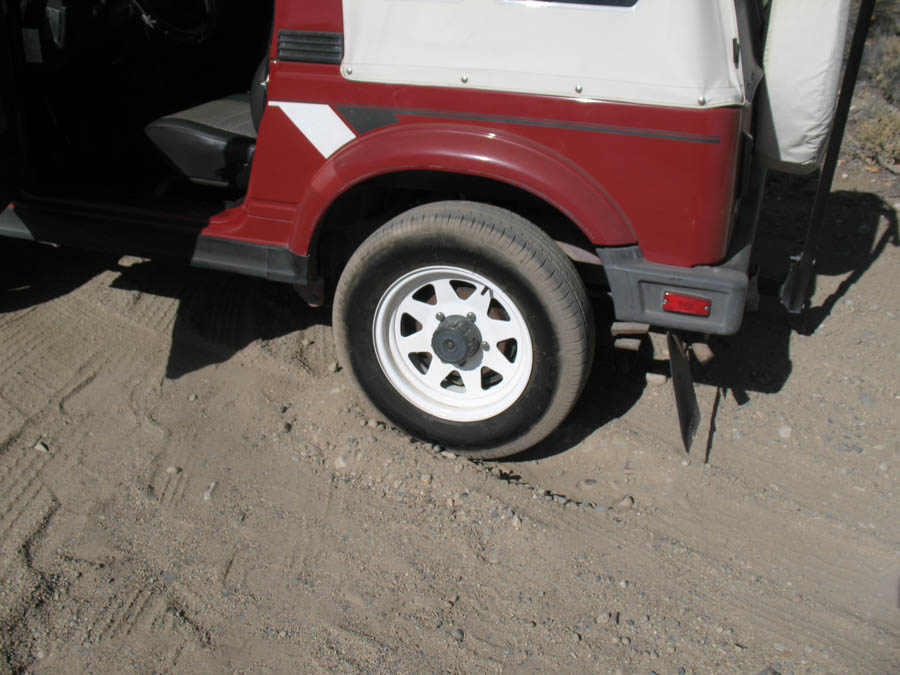 What now? Stuck in the dirt!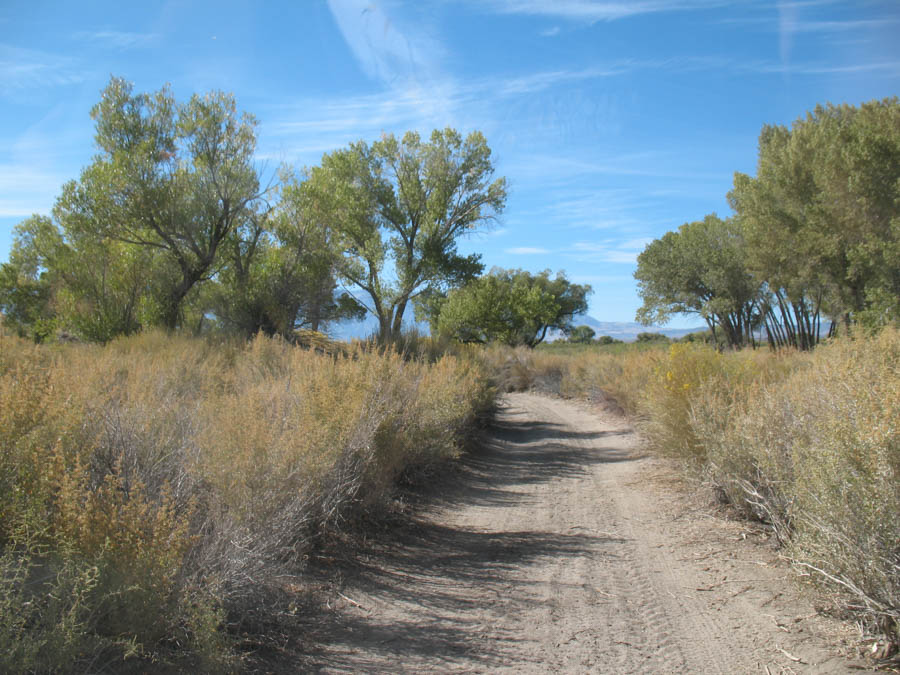 Country Road #2?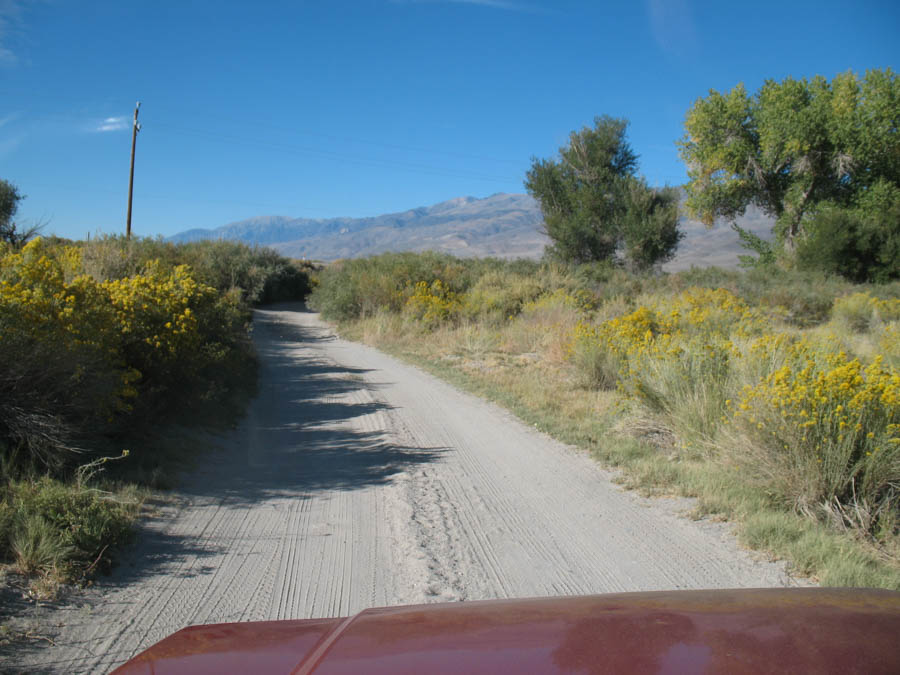 Fishing directly ahead!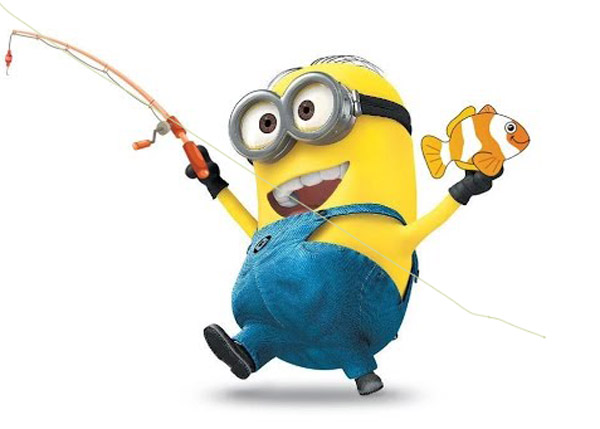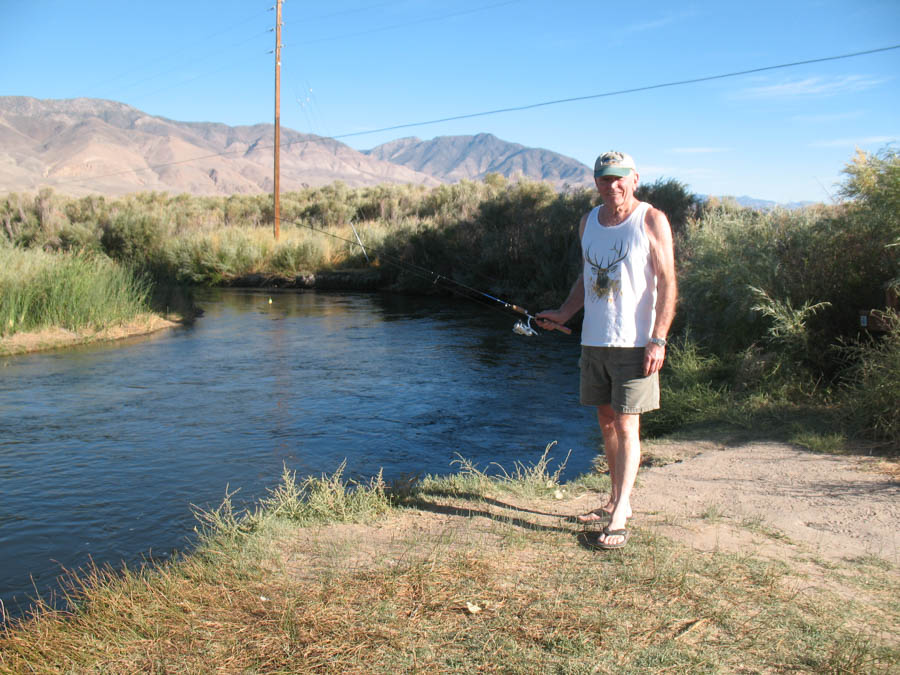 I know there are fish in this area... I hear them!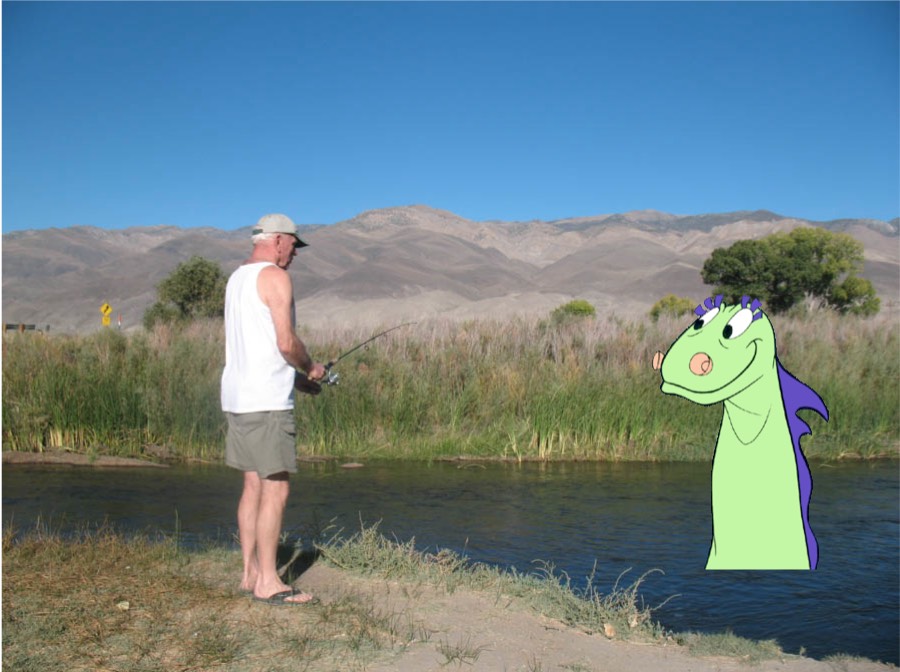 Bob gets advice from the local ranger... Ranger Cecil??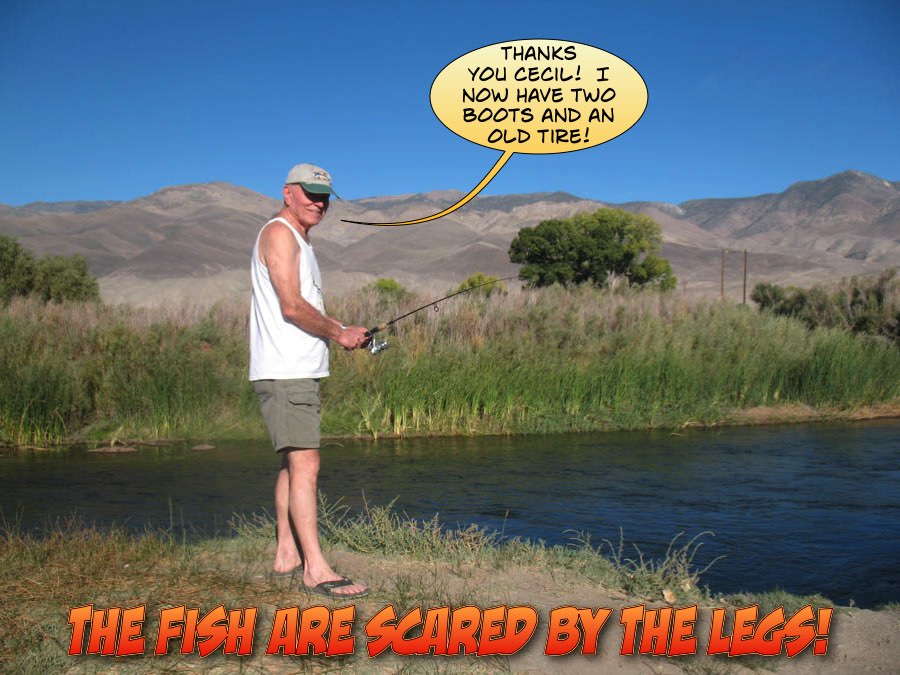 Sandy better start making the baloney sandwiches for lunch!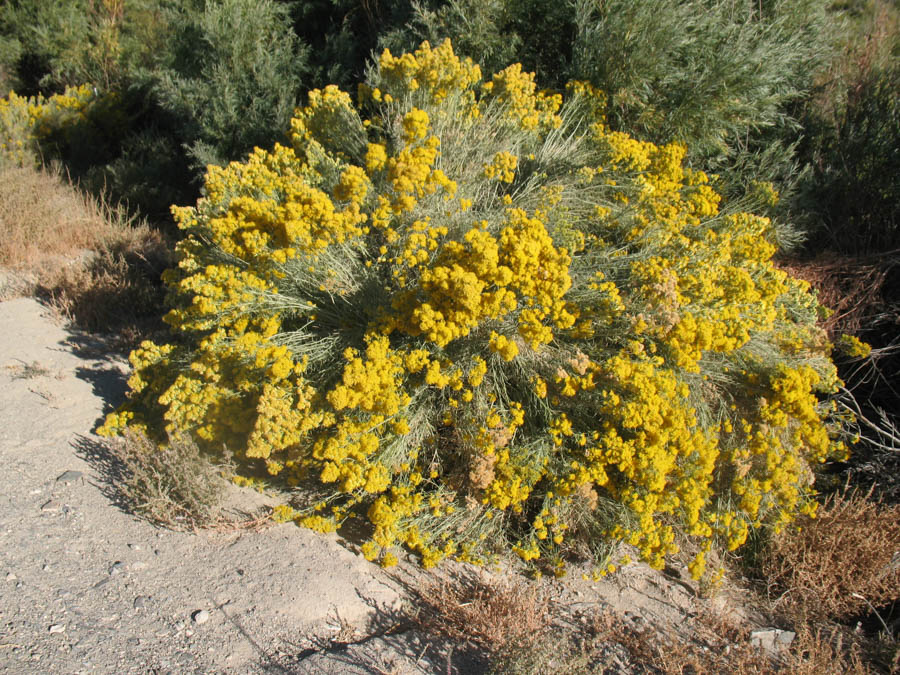 The desert can be most beautiful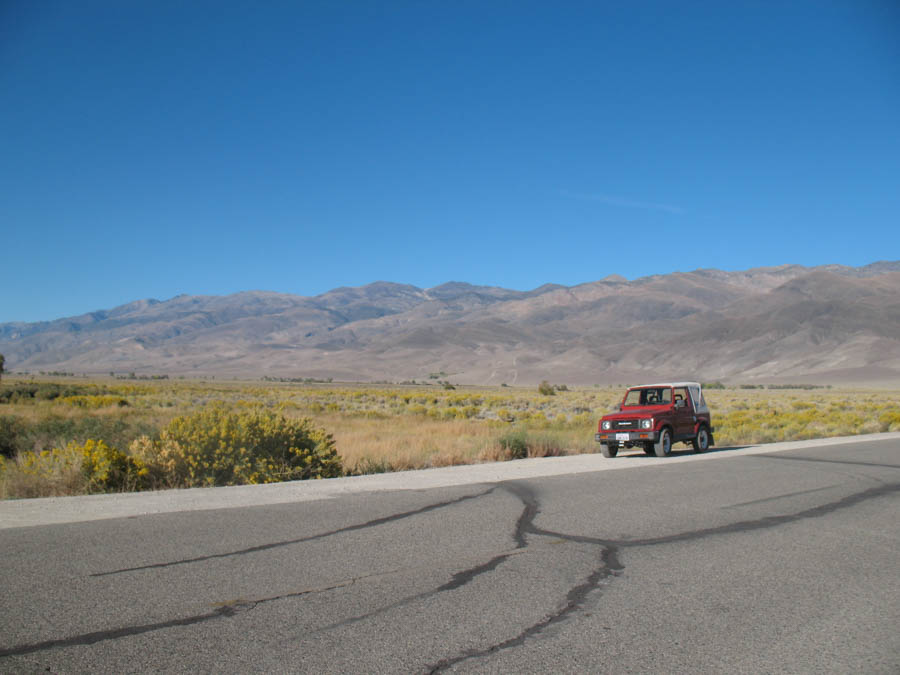 Back to Bishop for the evening