Luciana and Tim Are Expecting
Did You Know? - In the United States, a baby shower is a well known tradition and a popular way to celebrate the future birth of a child. Parents receive gifts for their newborn or expected child. The party is intended to help parents get items that they need for their baby, such as baby clothes.

Traditionally, a baby shower is held only for the mother-to-be and only women attend. However, recently men are also starting to participate in a couple's baby shower.

Many people choose to have baby showers for both parents, and some people have a men-only shower. In Jewish tradition, a celebration and gift reception is held only after the birth of a child. Though some American Jews may be the exception regarding this tradition.

In countries like UK, France and other European countries, baby showers are a new phenomenon, recently imported from the United States. In some countries some shops provide Newborn Lists, where the parents select the gifts that they need for the baby, to avoid duplicate or unnecessary presents.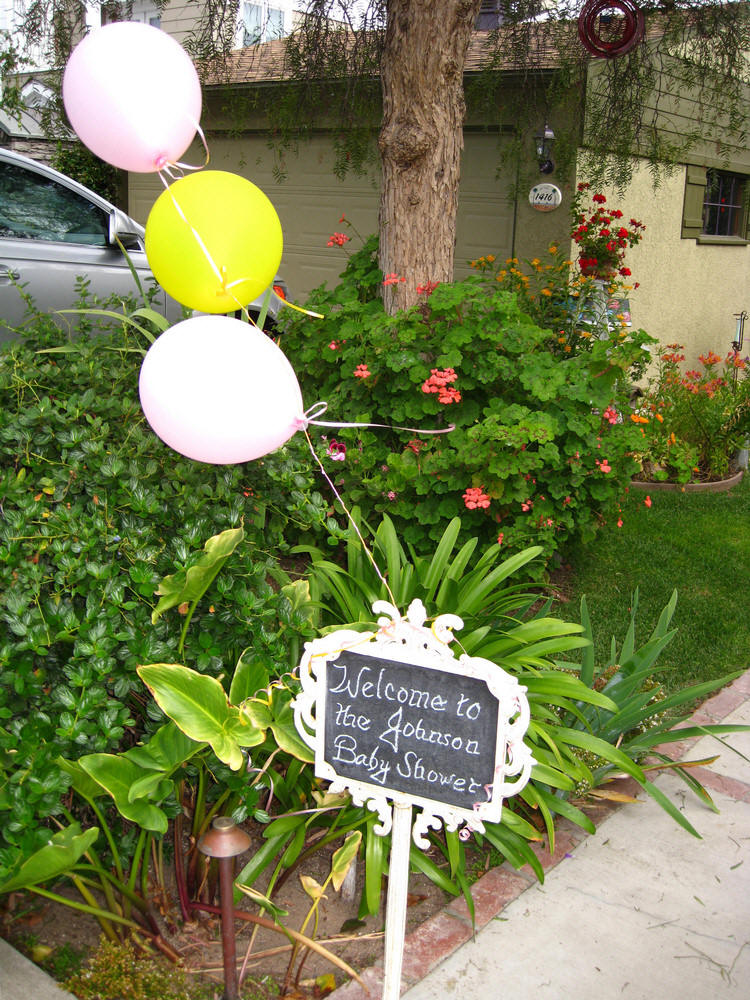 Welcome to the party!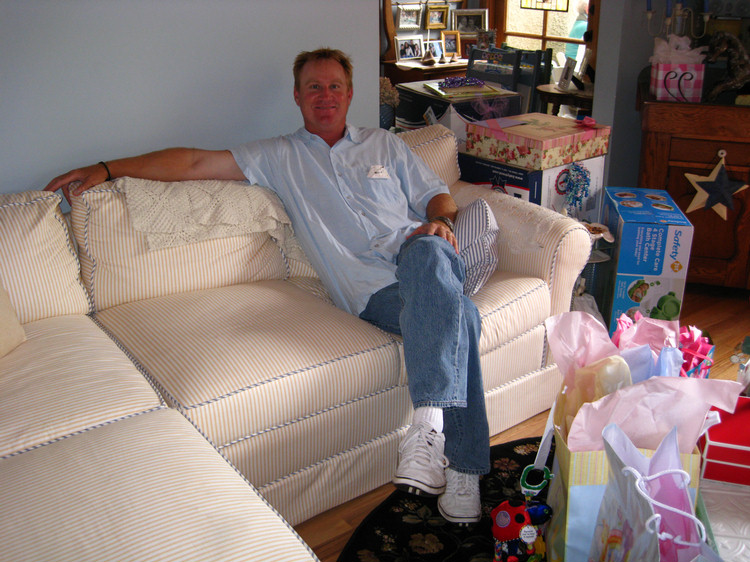 Tim rests before the activities get underway
Bill Cosby - Having a child is surely the most beautifully irrational act that two people in love can commit.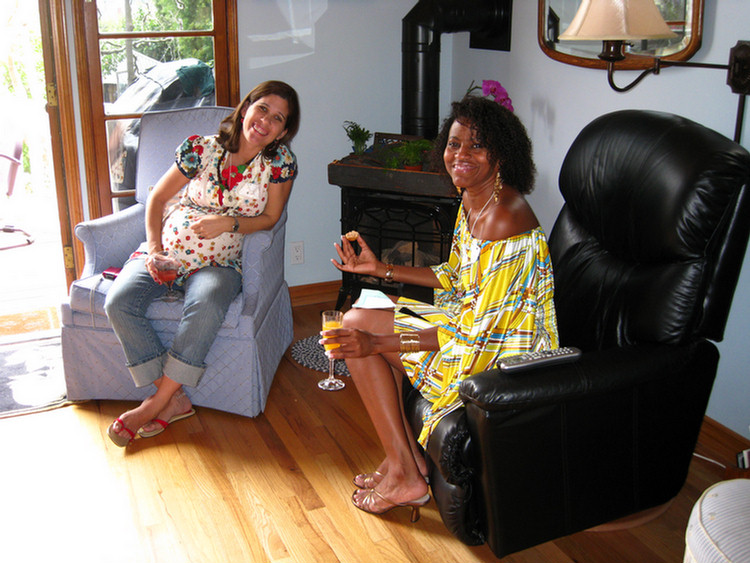 Luciana and Nancy
Ronald Knox - A baby is a loud noise at one end and no sense of responsibility at the other.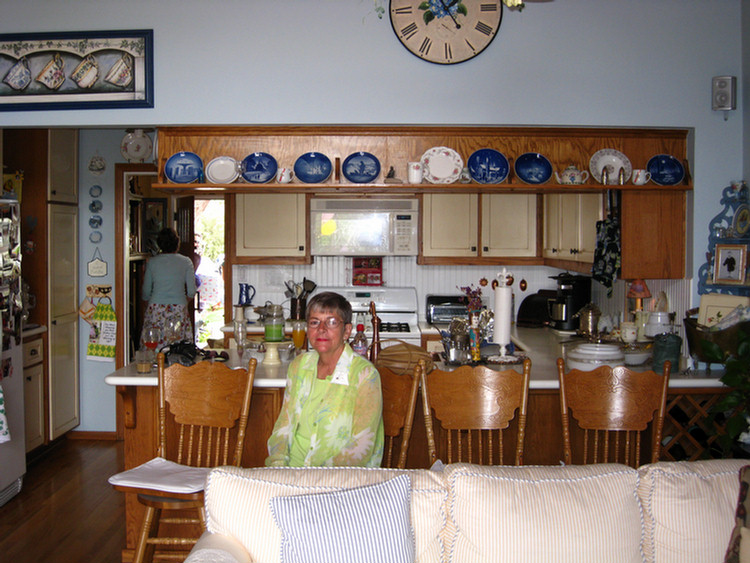 Shiela answers the door and Sue admires the decorations
Irish Saying - A son is a son till he takes him a wife, a daughter is a daughter all of her life.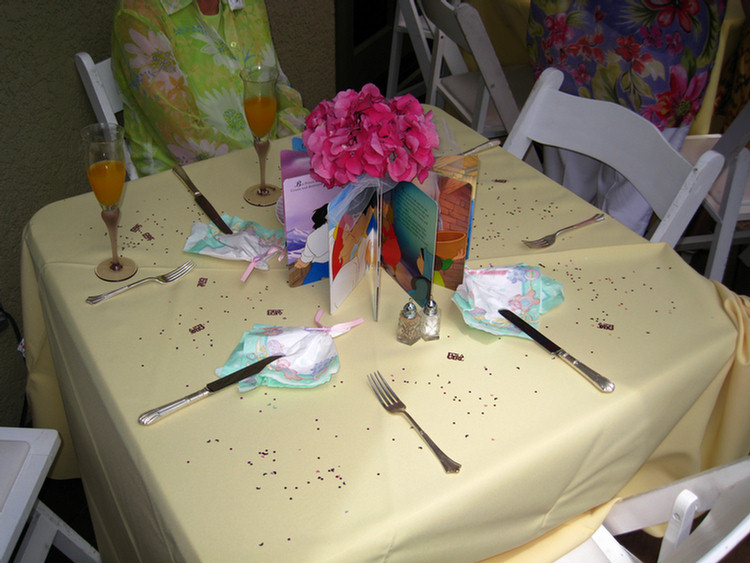 The garden had beautiful Hydrangeas
Did You Know? - Hydrangea, Hydrangea and Hortensia are a genus of about 70-75 species of flowering plants native to southern and eastern Asia (China, Korea, Japan, the Himalayas, and Indonesia) and North and South America. By far the greatest species diversity is in eastern Asia, notably China, Korea, and Japan. Most are shrubs 1-3 m tall, but some are small trees, and others lianas reaching up to 30 m by climbing up trees. They can be either deciduous or evergreen, though the widely cultivated temperate species are all deciduous.

In most species the flowers are white, but in some species (notably H. macrophylla), can be blue, red, pink, light purple, or dark purple. In these species the exact color often mirrors the pH of the soil; acidic soils produce blue flowers, neutral soils produce very pale cream petals, and alkaline soils results in pink or purple. This is the caused by a color change of the flower pigments in the presence of aluminium ions which can be taken up into hyperaccumulating plants.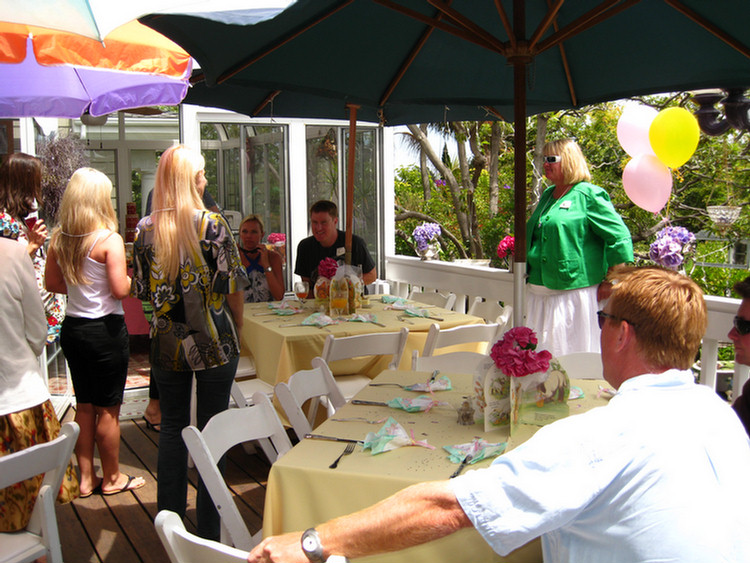 Manhattan Beach weather is always cool
Did You Know? - Manhattan Beach is a city located in southwestern Los Angeles County, California, USA. The population was 33,852 at the 2000 census. The city is on the Pacific Ocean coast, to the south of El Segundo, and to the north of Hermosa Beach. Manhattan Beach is the home of volleyball and surfing. During the winter the waves can reach to about 9 to 12 feet. To the east are the cities of Hawthorne and Redondo Beach. It is one of the three Beach Cities in the South Bay. The city is a very upscale beach town within commuting distance of Los Angeles, making it one of the most expensive coastal towns in which to live in America, according to the most recent Fortune Magazine rankings.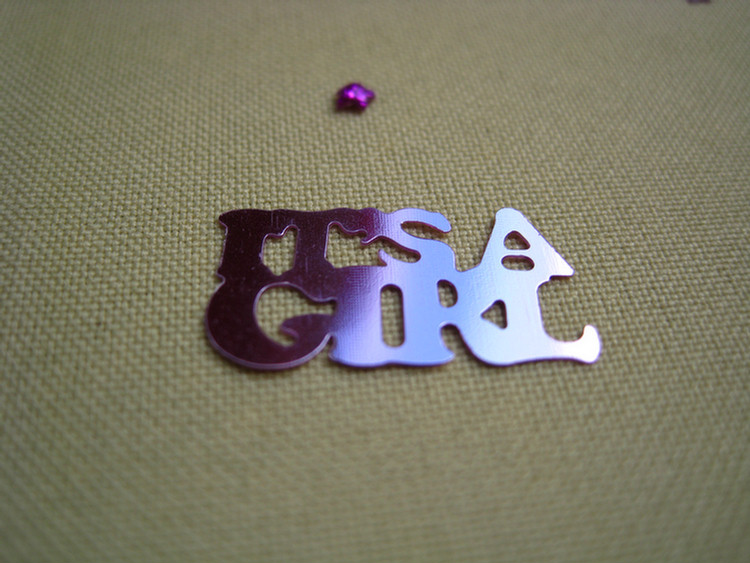 A baby is God's opinion that the world should go on. - Carl Sandburg
The Garden Was Beautiful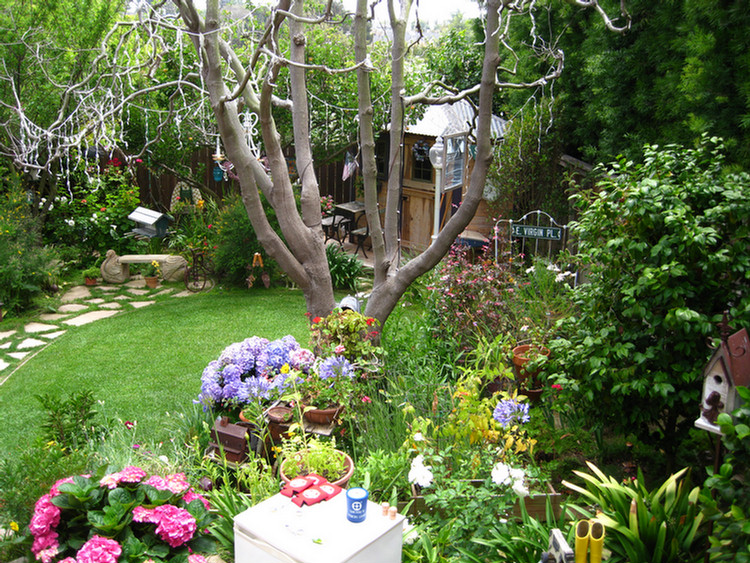 Someone does a lot of work in this garden!
Making the decision to have a child is momentous. It is to decide forever to have your heart go walking around outside your body. -Elizabeth Stone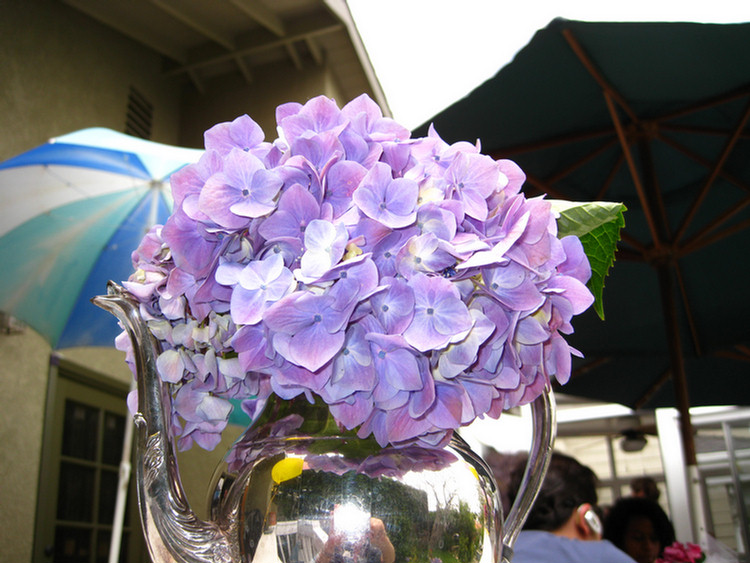 A baby is a blank cheque made payable to the human race. - Barbara Christine Seifert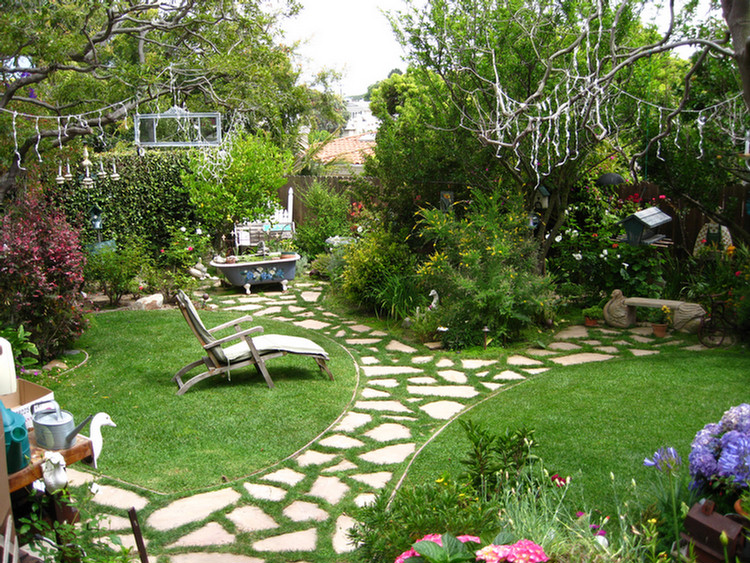 The garden path leads to fountains and a little home away from home

Bright colors everywhere
When babies look beyond you and giggle, maybe they're seeing angels. - Eileen Elias Freeman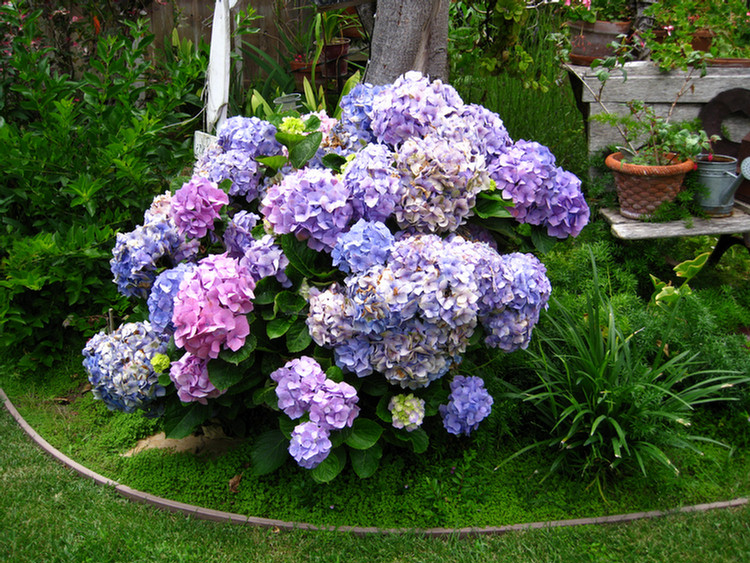 Hydrangeas are moderately toxic if eaten, with all parts of the plant containing cyanogenic glycosides .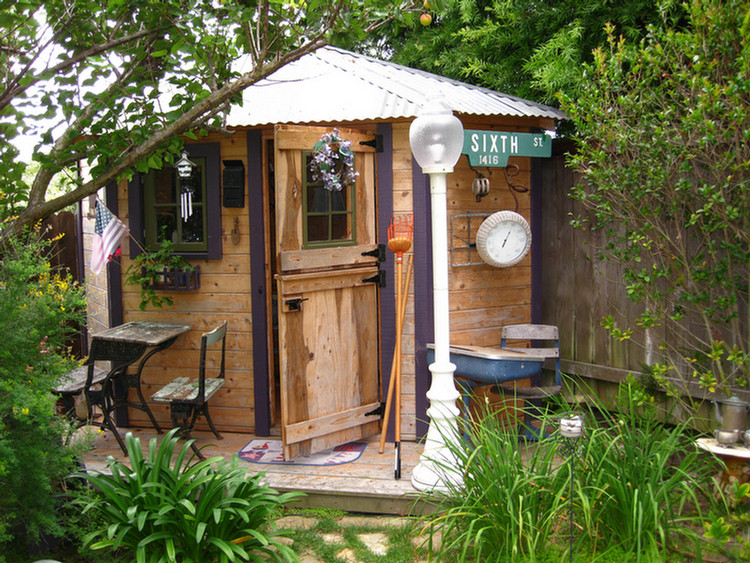 Home away from home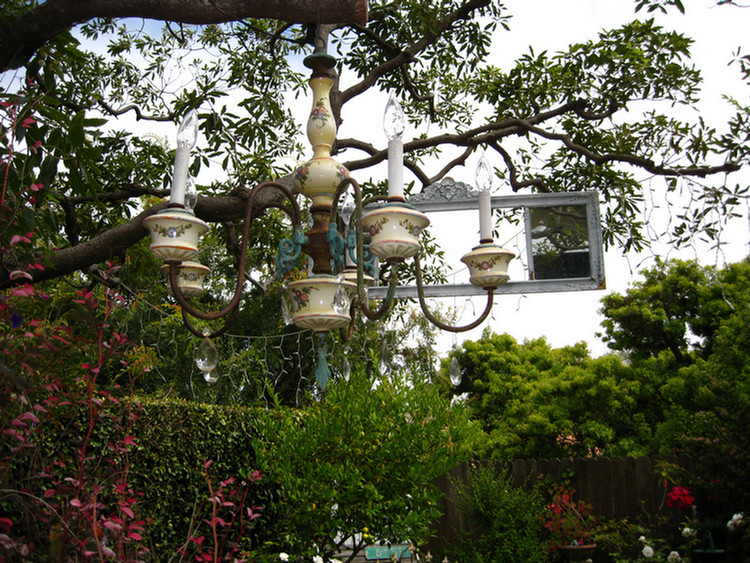 Objects hanging in the trees make for great conversation
Time To Visit And Eat

Lunch is served
God cannot be everywhere, so he made mothers. - Arab proverb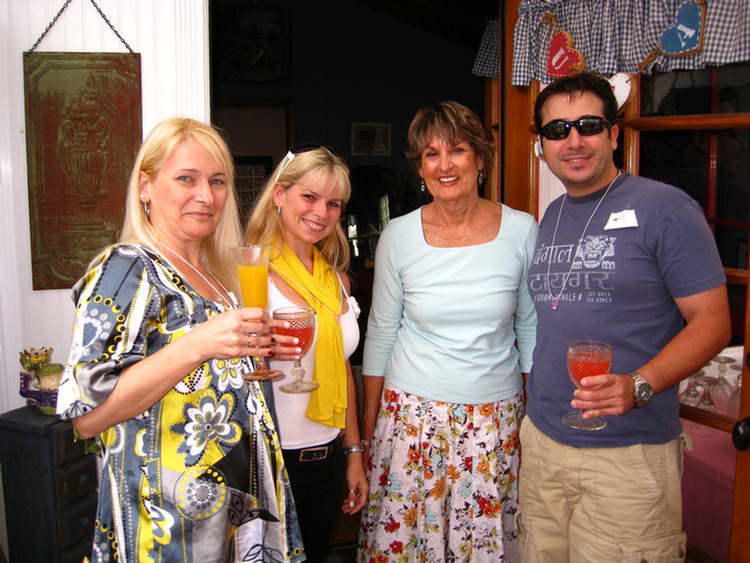 English and Portuguese conversations abound
Did You Know? - Portuguese is a Romance language that was originated in what is now Galicia and northern Portugal. It is derived from the Latin spoken by the romanized Pre-Roman peoples of the Iberian Peninsula (namely the Gallaeci, the Lusitanians, the Celtici and the Conii) around 2000 years ago. It spread worldwide in the 15th and 16th centuries as Portugal established a colonial and commercial empire (1415?1999) which spanned from Brazil in the Americas to Goa and other parts of India, Macau in China and Timor (north of Australia). It was used as the exclusive lingua franca on the island of Sri Lanka for almost 350 years. During that time, many creole languages based on Portuguese also appeared around the world, especially in Africa, Asia, and the Caribbean.

Today it is one of the world's major languages, ranked 6th according to number of native speakers (between 191 and 230 million). It is the language of about half of South America, even though Brazil is the only Portuguese-speaking nation in the Americas. It is also a major lingua franca in Portugal's former colonial possessions in Africa. It is an official language in nine countries, also being co-official with Cantonese Chinese in the Chinese special administrative region of Macau, Tetum in East Timor and Spanish and French in Equatorial Guinea. There are sizeable communities of Portuguese speakers in various regions of North America, notably in the United States (New Jersey, New England, California and south Florida) and in Ontario, Canada.

Spanish author Miguel de Cervantes once called Portuguese "the sweet language", while Brazilian writer Olavo Bilac poetically described it as a ?ltima flor do L?cio, inculta e bela: "the last flower of Latium, wild and beautiful".

Angola
Brazil

Cape Verde

East Timor
Equatorial Guinea

Guinea-Bissau

Macau
Mozambique

Portugal

S?o Tom? and Pr?ncipe

The decorations were amazing; everything fitting together in the garden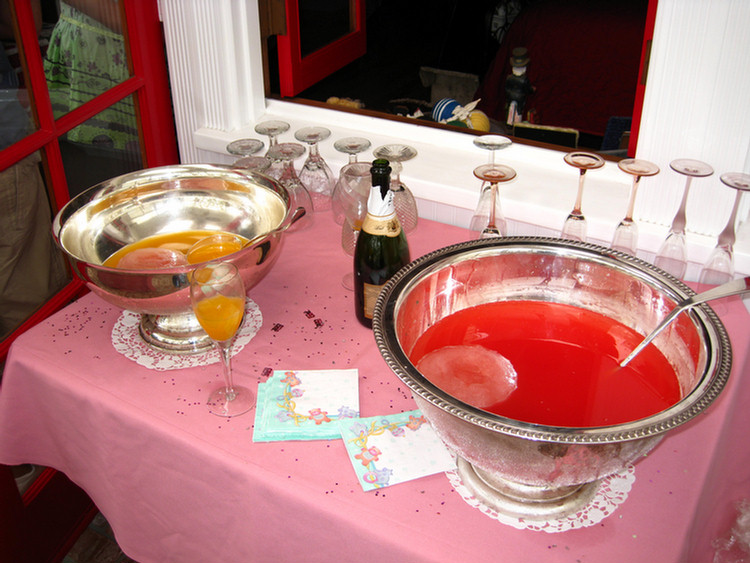 Champagne and Mango juice cocktails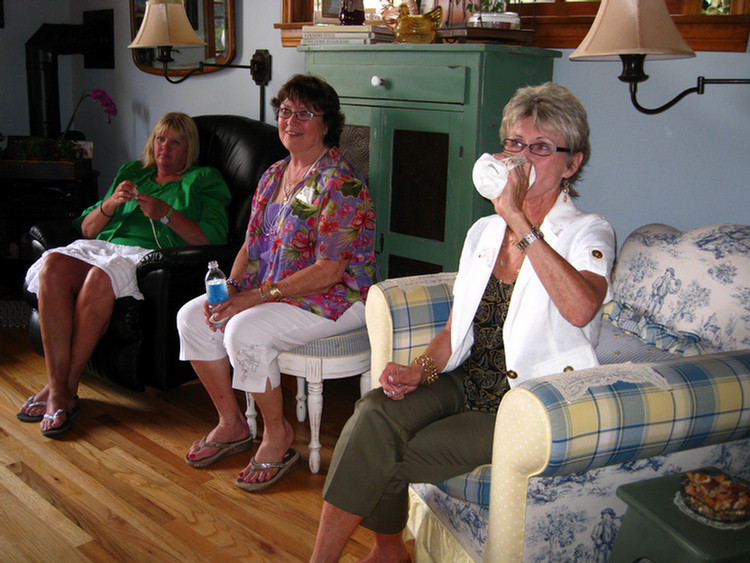 Preparing for the opening f presents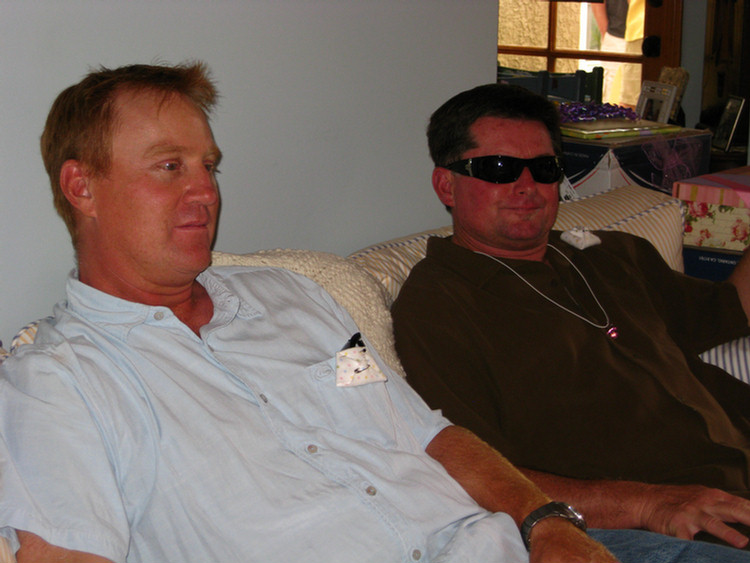 Tim relaxes for a few minutes
The mother's heart is the child's schoolroom. - Henry Ward Beeche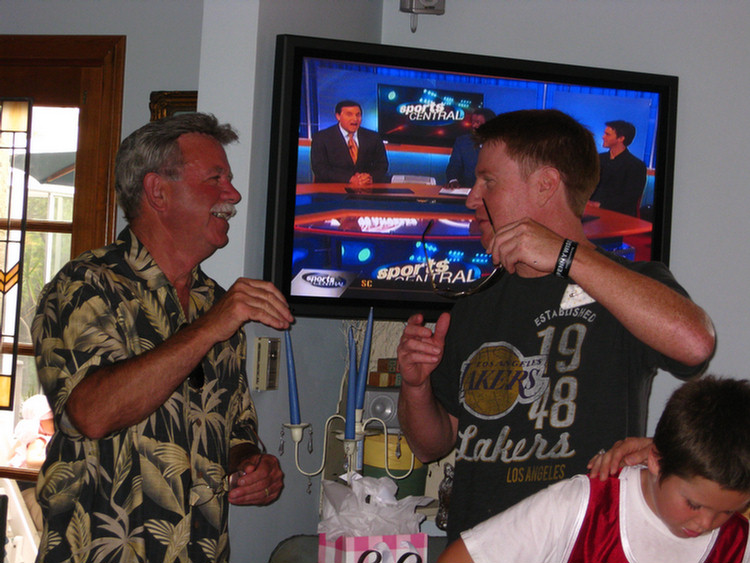 Wayne and Tim's brother discuss the activities
The Presents Are Going To Be Opened

"Tim, see these? You will see a lot more!"
Being a parent is like a glass of lemonade on a hot summer day -part tart and part sweet, and so refreshing. Unknown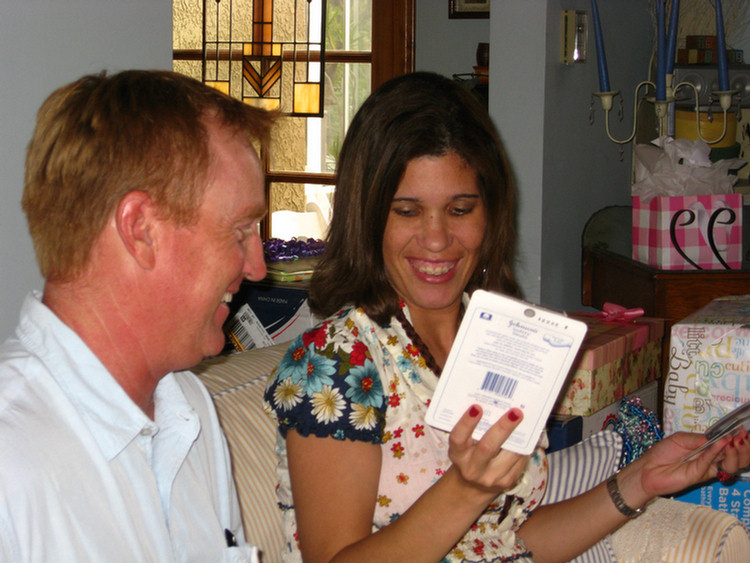 The happy couple
When you are a mother, you are never alone in your thoughts. A mother always has to think twice, once for herself and once for her child. -Sophia Loren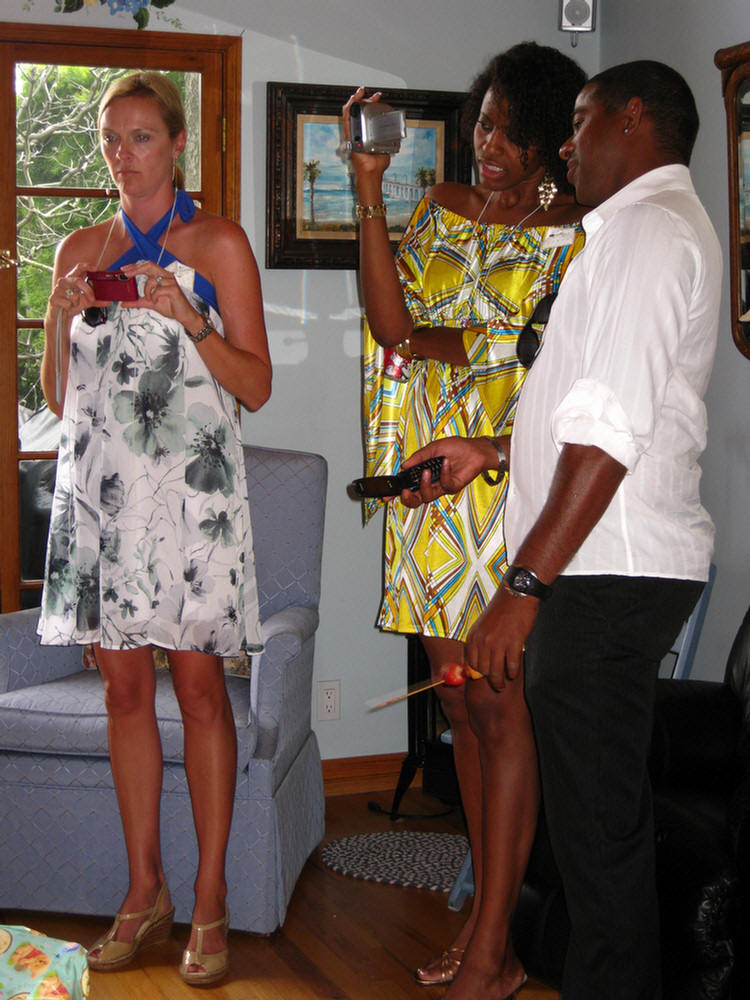 10,000 pictures being taken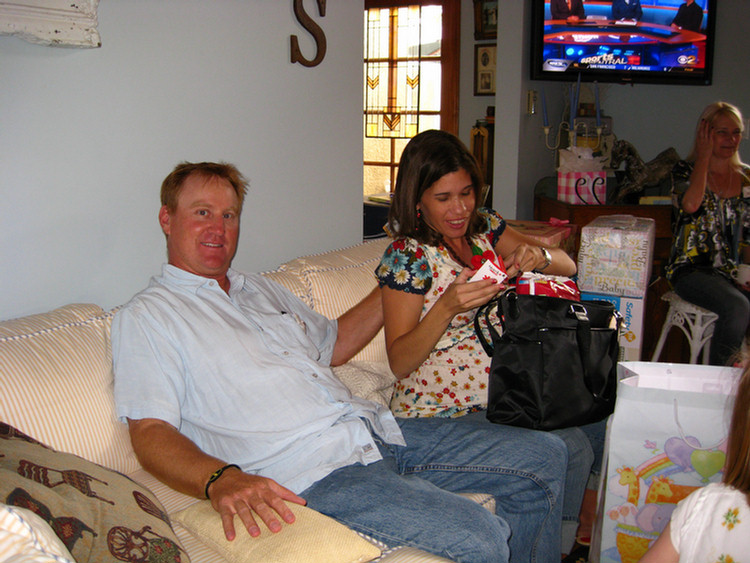 "This does NOT look like a golf bag!"
Being a parent is like being a cornucopia on the Thanksgiving dinner table - full of life, sharing plenty of love and traditions. - Unknown

Everybody is having a great time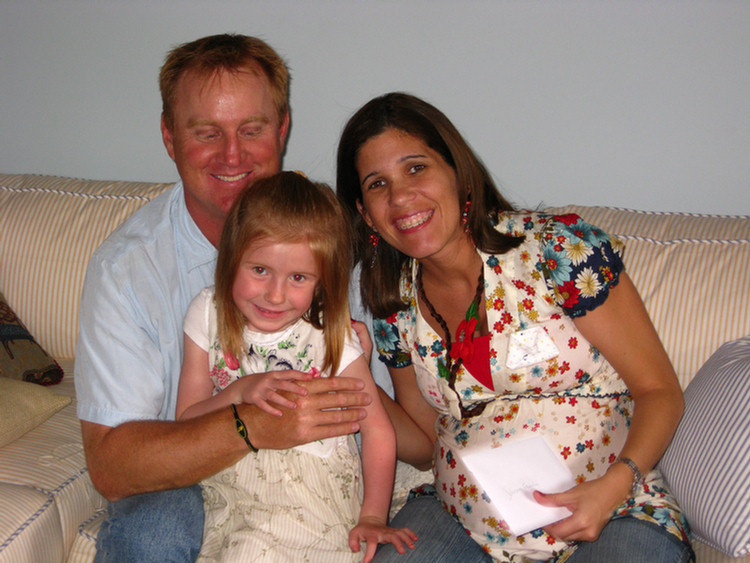 Tim and Luciana have help
Mother love is the fuel that enables a normal human being to do the impossible. - Marion C. Garretty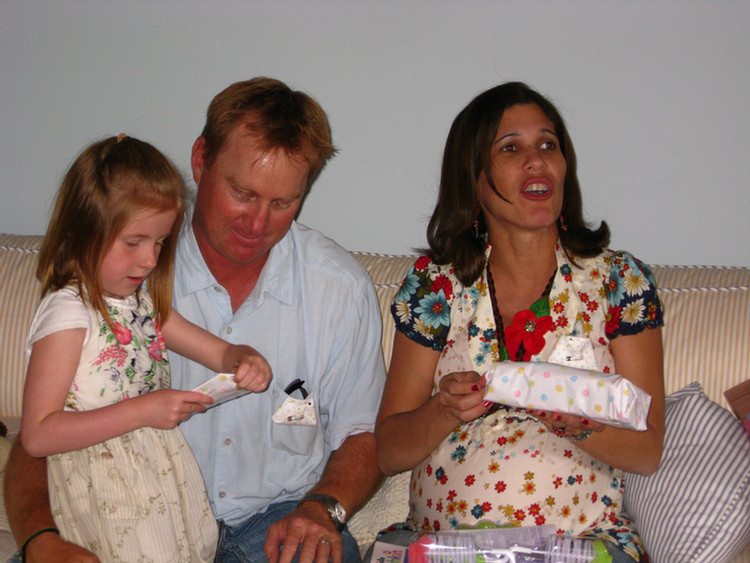 It's like Chrstmas in June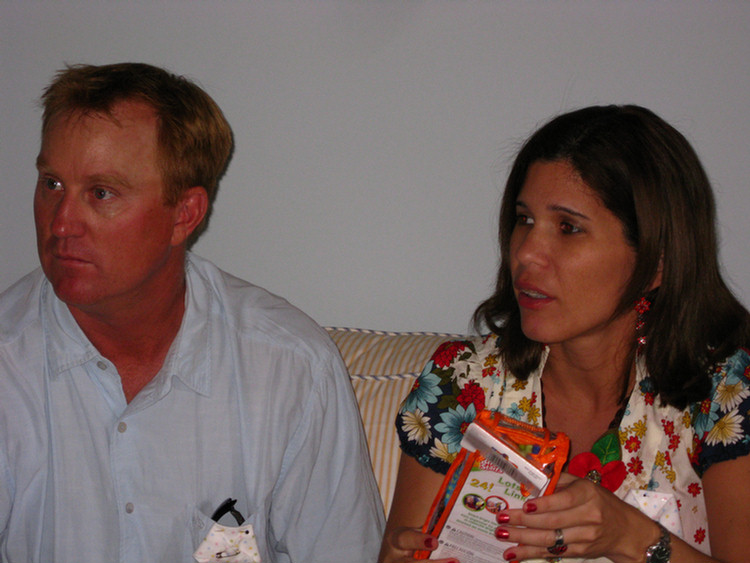 "What do you do with this??"
Spread the diaper in the position of the diamond with you at bat. Then fold second base down to home and set the baby on the pitcher's mound. Put first base and third together, bring up home plate and pin the three together. Of course, in case of rain, you gotta call the game and start all over again. ~ Jimmy Piersal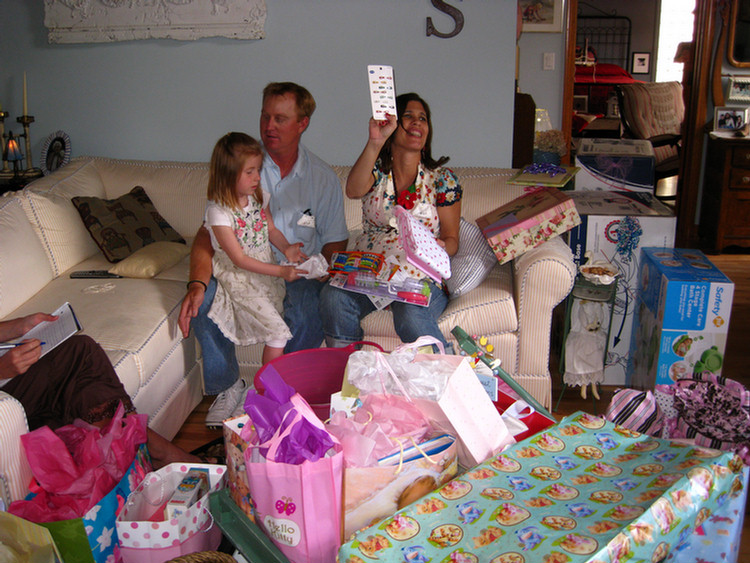 Surrounded
Families are like fudge - mostly sweet with a few nuts. ~ Author Unknown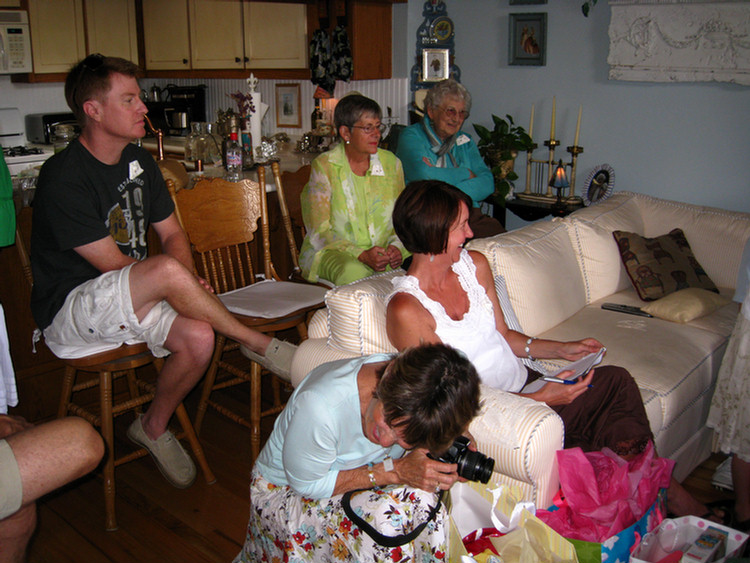 The crowds watch on and Momma Shiela uses the camera to record the events
I don't care how poor a man is; if he has family, he's rich. ~Dan Wilcox and Thad Mumford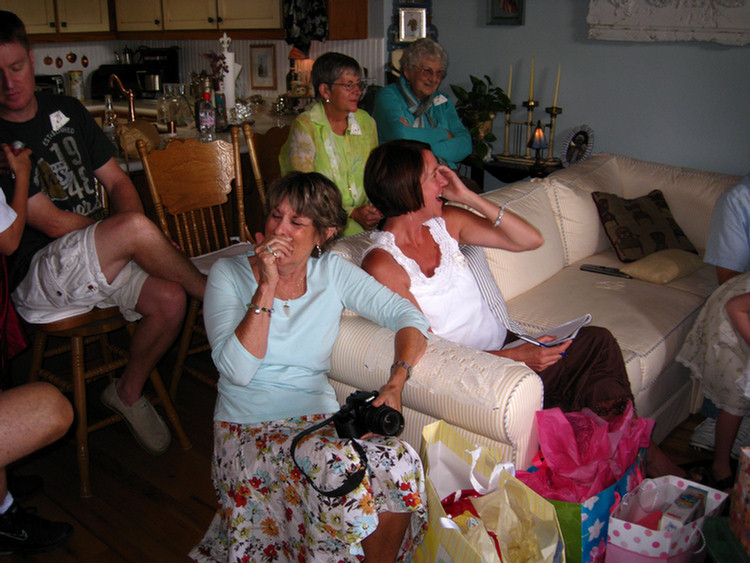 Laughing was contagious
Did You Know? - Laughter is an audible expression or appearance of happiness, or an inward feeling of joy (laughing on the inside). It may ensue (as a physiological reaction) from jokes, tickling, and other stimuli. Inhaling nitrous oxide can also induce laughter; other drugs, such as cannabis, can also induce episodes of strong laughter. Strong laughter can sometimes bring an onset of tears or even moderate muscular pain.

Laughter is found among various animals, including humans. Among the latter, it is a part of human behaviour regulated by the brain, helping humans clarify their intentions in social interaction and providing an emotional context to conversations. Laughter is used as a signal for being part of a group ? it signals acceptance and positive interactions with others. Laughter is sometimes seemingly contagious, and the laughter of one person can itself provoke laughter from others as a positive feedback.[1] This may account in part for the popularity of laugh tracks in situation comedy television shows.

Scientifically speaking, Laughter is caused by the epiglottis constricting the larynx, causing respiratory upset. The study of humor and laughter, and its psychological and physiological effects on the human body is called gelotology.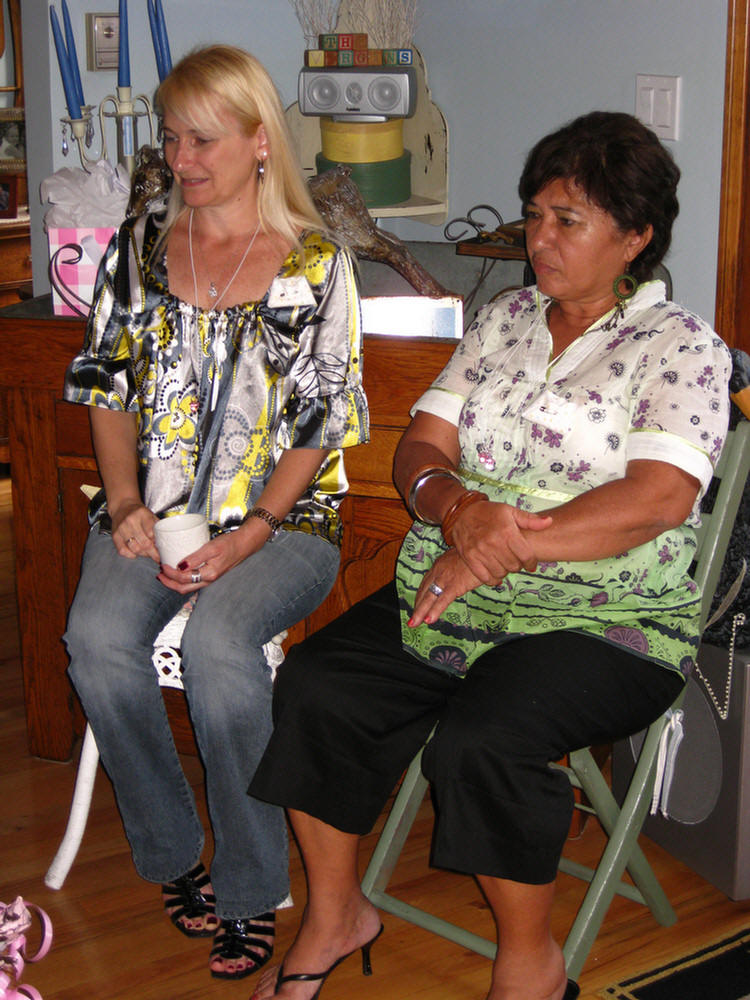 Luciana's mom is from Brazil and will we staying for several months to help
Being a full-time mother is one of the highest salaried jobs in my field, since the payment is pure love. ~ Mildred B. Vermont

Thank you all!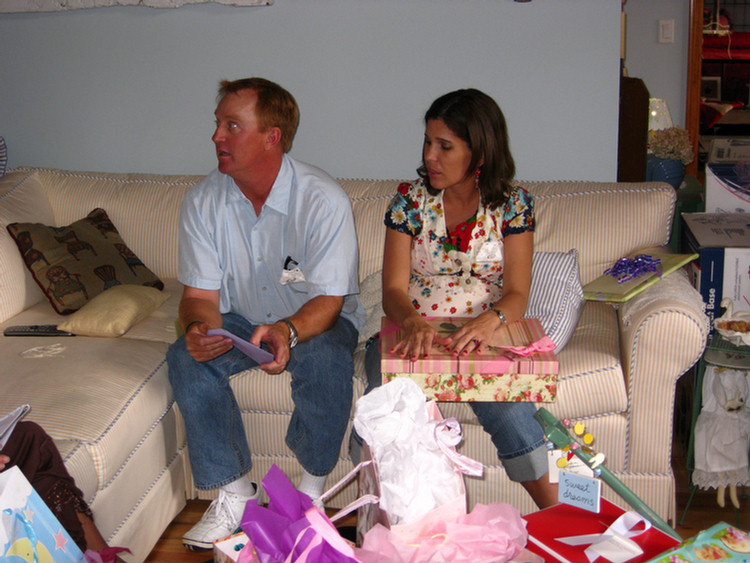 The happy couple learn from the older generation... "You do what???"
The best conversations with mothers always take place in silence, when only the heart speaks. ~ Carrie Latet

Beautiful wrapping paper
Did You Know? - Gift wrapping refers to the act of enclosing a gift in some sort of material. Wrapping paper is a kind of paper designed for gift wrapping. Gifts may also be wrapped in a box. They may be held closed with ribbon and topped with a decorative bow (an ornamental knot made of ribbon).

In Western culture, gifts are often wrapped in wrapping paper and accompanied by a gift note which may note the occasion, the giftee's name, and the giver's name. In the United States, an additional 5 million tons of waste are generated during the winter holidays; four million tons of this is wrapping paper and shopping bags.[1] Some people attempt to avoid this by unwrapping gifts with care to hopefully allow the paper to be reused, while others use decorate cloth gift sacks that not only can be easily reused many times, but is easy to prepare gifts with presentably in the first place.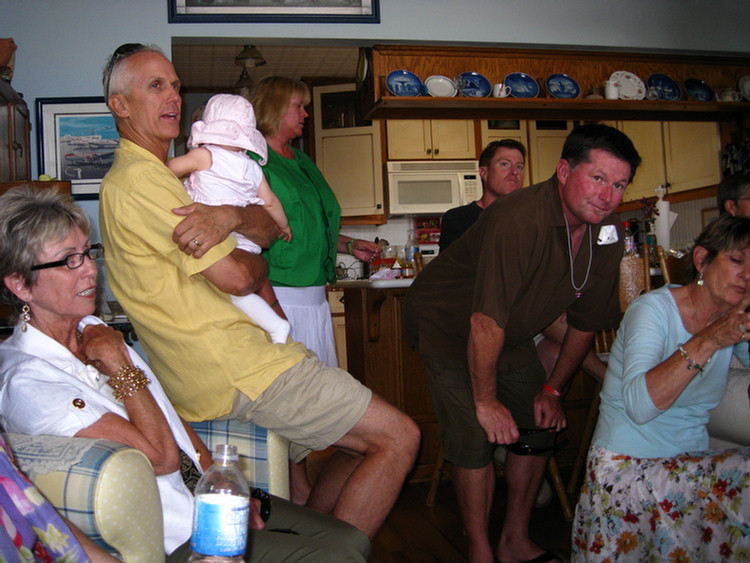 Great audience

"I captured the moment"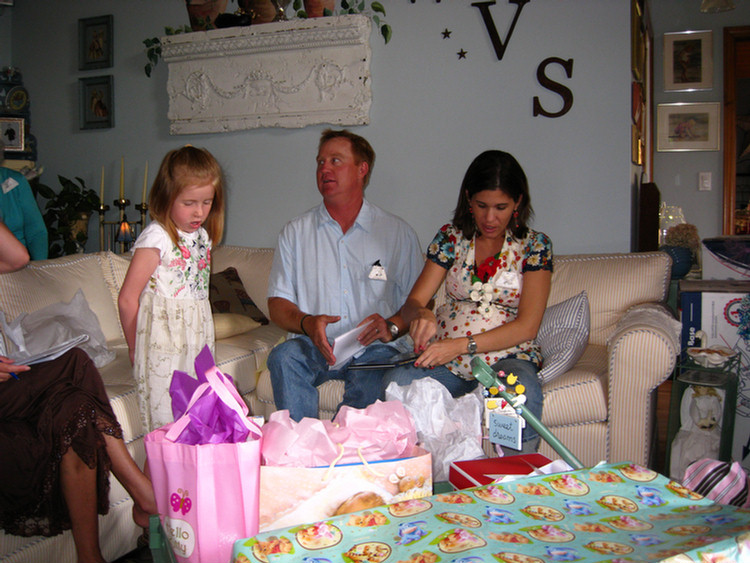 Only a few more to go
Family faces are magic mirrors. Looking at people who belong to us, we see the past, present, and future. ~ Gail Lumet Buckley

"I'll read the card!"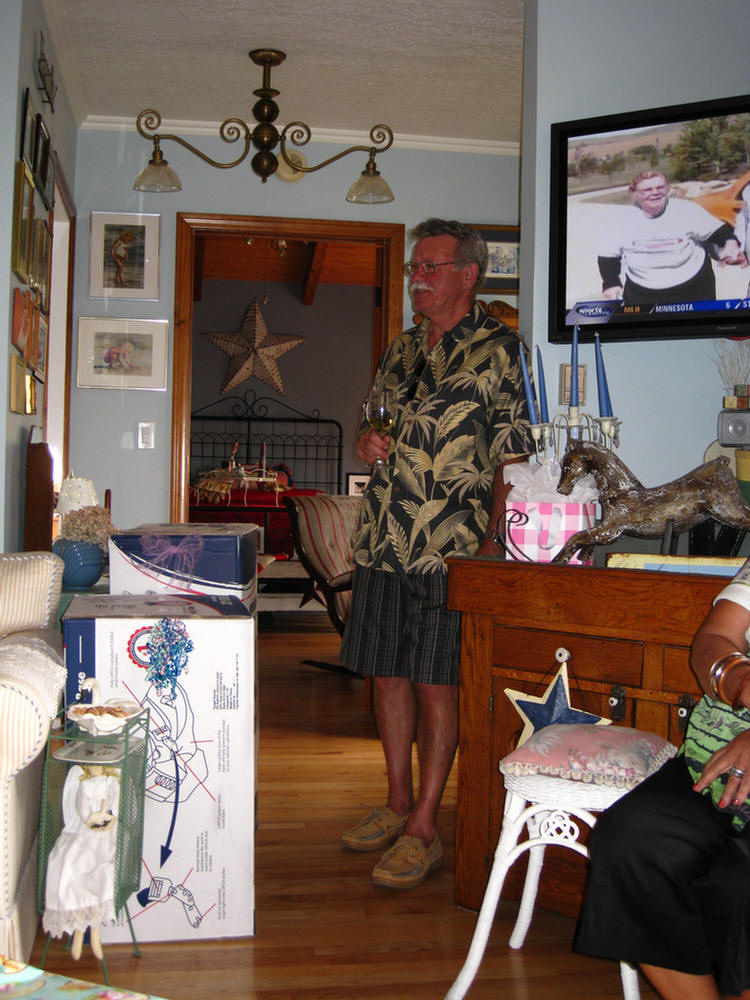 Wayne watches from a safe distance
He didn't tell me how to live; he lived, and let me watch him do it. ~Clarence Budington Kelland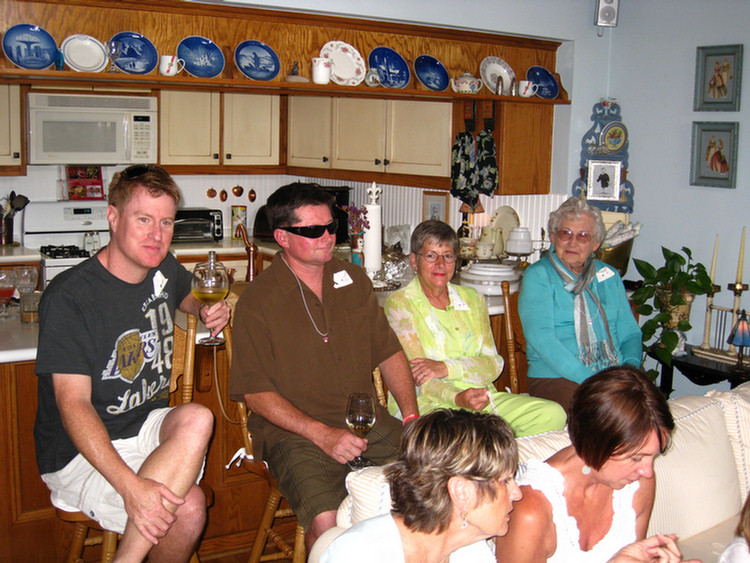 Which one is Tim's brother, Duh!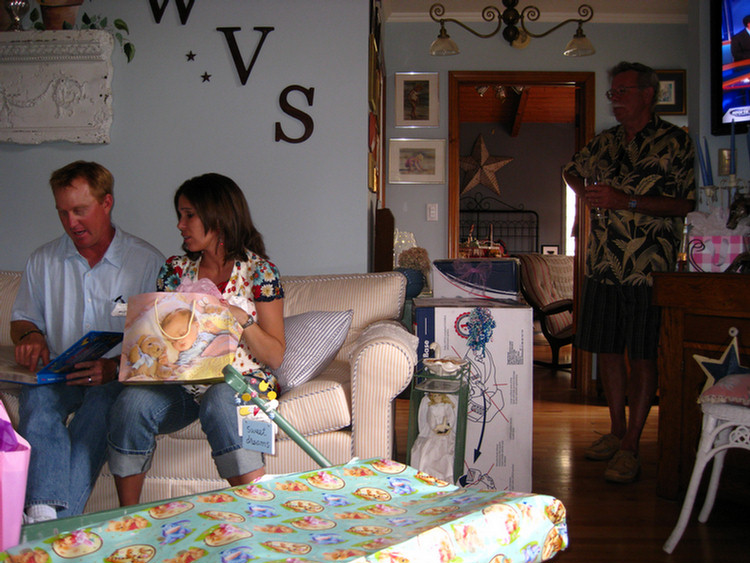 Proud future Grandpa in the wings (... little play on words???)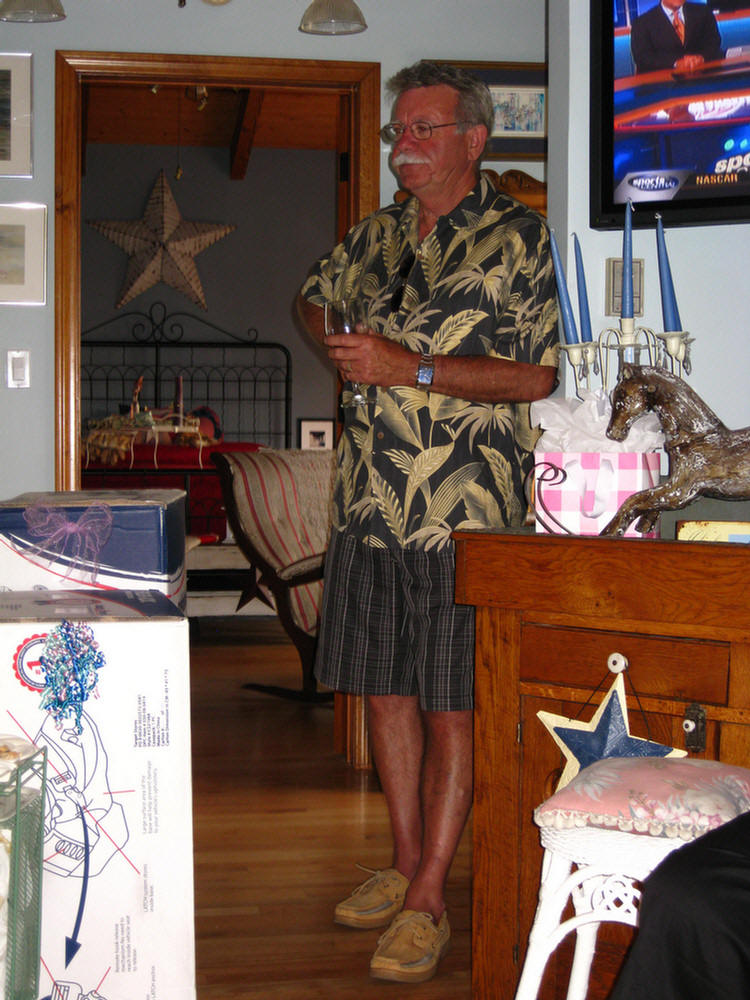 The smile of approval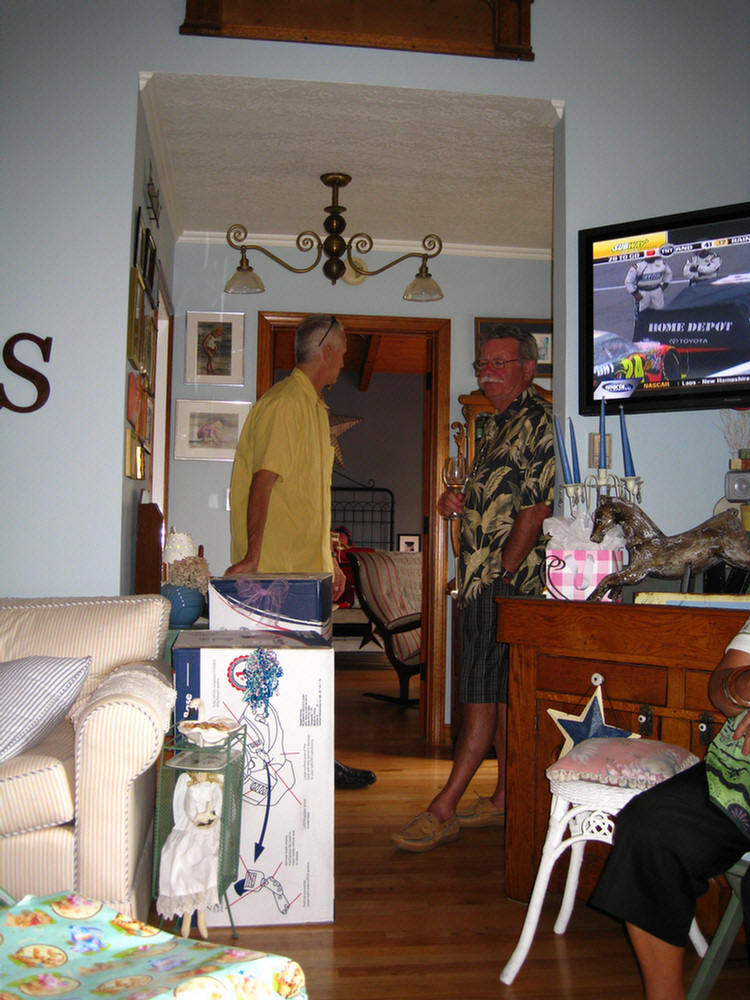 Men start closing ranks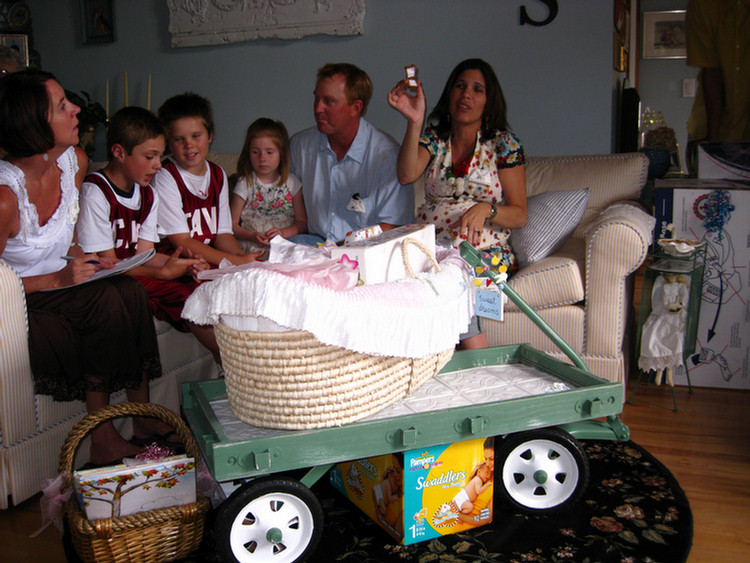 A great day for the young couple

Happy times for all
Take a sprinkling of fairy dust,
An angel's single feather,
Also a dash of love and care,
Then mix them both together.
Add a sentiment or two,
A thoughtful wish or line,
A touch of stardust, a sunshine ray...
It's a recipe, for a Baby Girl truly fine.
Author Unknown