We take a short walk to the golf course via the main street.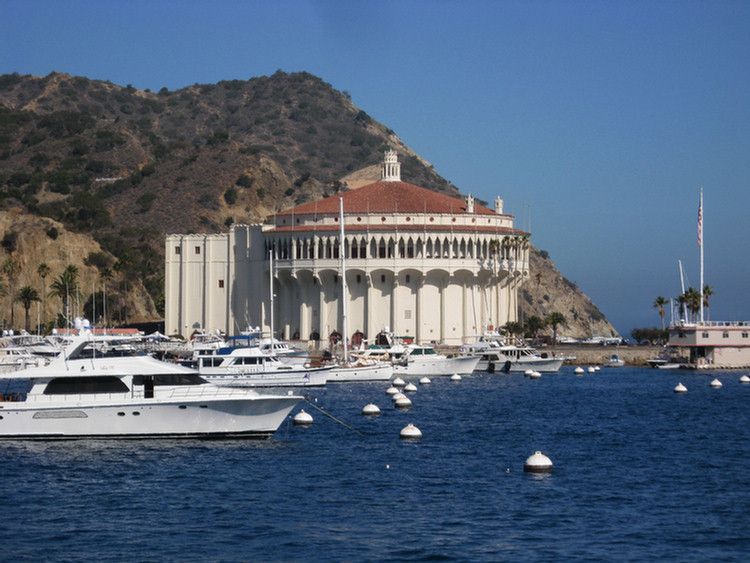 The Splendor floats around its anchor all day
Did you know? - An anchor is an object, often made out of metal, that is used to attach a ship to the bottom of a body of water at a specific point. There are two primary classes of anchors—temporary and permanent. A permanent anchor is often called a mooring, and is rarely moved; it is quite possible the vessel cannot hoist it aboard but must hire a service to move or maintain it. Vessels carry one or more temporary anchors which may be of different designs and weights. A sea anchor is a related device used when the water depth makes using a mooring or temporary anchor impractical.
The vessel is attached to the anchor by the rode which is made with chain, cable or line or a combination of these. The hole in the hull through which the anchor rode passes is called "hawsepipe" because thick mooring lines are called "hawsers".
An anchor works by resisting the movement force of the vessel which is attached to it. There are two primary ways to do this—via sheer mass, and by "hooking" into the seabed. While permanent moorings can use large masses resting on this seabed this is not practical for temporary anchors which need to be stowed onboard so almost all temporary anchors are of the type which have metal flukes which hook on to rocks in the bottom or bury themselves in soft bottoms.
An interesting element of anchor jargon is the term aweigh, which describes the anchor when it is hanging on the rope, not resting on the bottom; this is linked to the term to weigh anchor, meaning to lift the anchor from the sea bed, allowing the ship or boat to move. An anchor is described as aweigh when it has been broken out of the bottom and is being hauled up to be stowed. Aweigh should not be confused with under way, which describes a vessel which is not moored to a dock or anchored, whether or not it is moving through the water. Thus, a vessel can be under way (or underway) with no way on (i.e., not moving).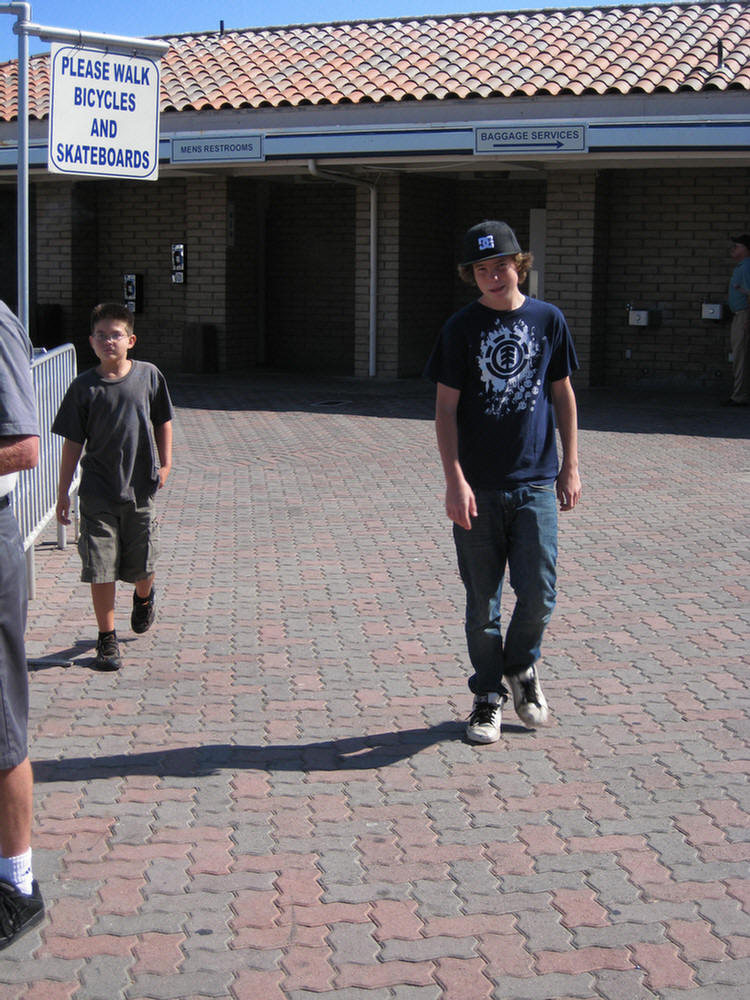 Here come da boys...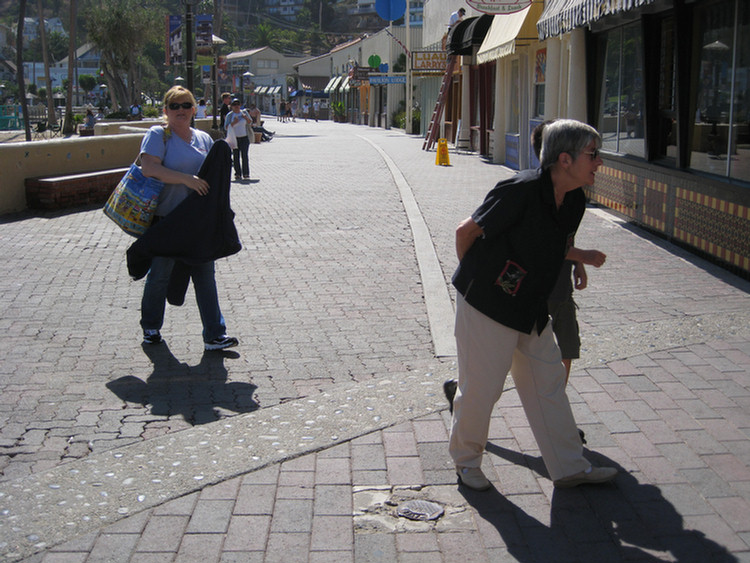 Always Time For Golf
Did you know? - Just a half block from the beach, Golf Gardens is internationally known as one of the world's most challenging and beautiful 18-hole miniature golf courses. The course is nestled in a beautiful garden setting. Unlike many miniature golf courses, there are not a lot of gimmicks, "just a good dose of ingenious challenges to the use of kinetic energy." "A very well designed miniature golf course." It's a GREAT FUN course for both adults and children alike!
There is a variety in elevation. The course features "a loop-the-loop hole, a banked turn, a square spiral, and some very tricky uphill shots." Children "will be fascinated by the numerous tunneled shortcuts that lead balls in unexpected directions."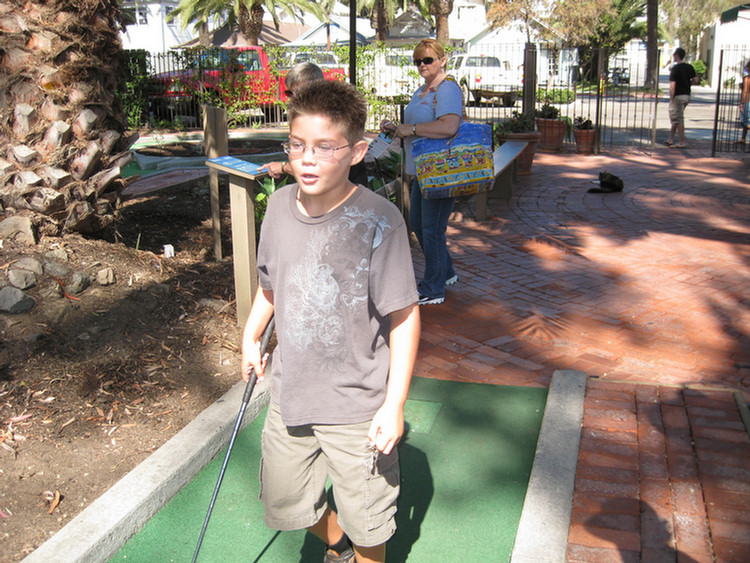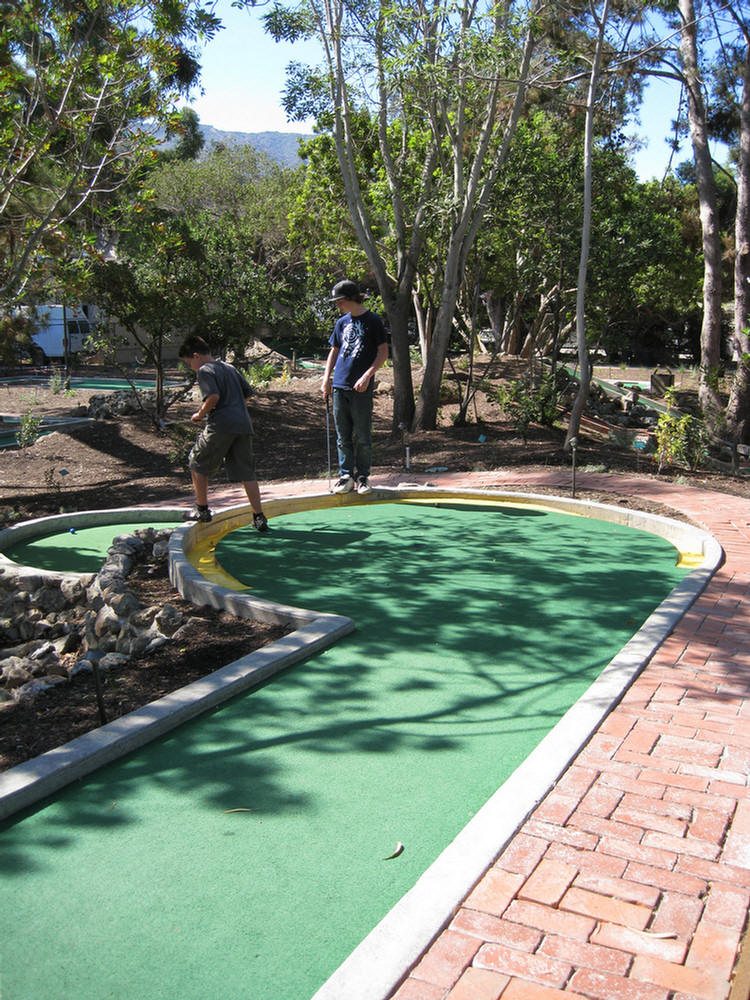 Did you know? - Minigolf, or miniature golf, is a miniature version of the sport of golf. While the international sports organization World Minigolf Sport Federation (WMF) prefers to use the name "minigolf", the general public in different countries has also many other names for the game: miniature golf, mini-golf, midget golf, goofy golf, shorties, extreme golf, crazy golf, adventure golf, mini-putt and so on. The name Putt-Putt is the trademark of an American company that builds and franchises miniature golf courses and Family Entertainment Centers. The term "Minigolf" was formerly a registered trademark of a Swedish company that built its own patented type of minigolf courses.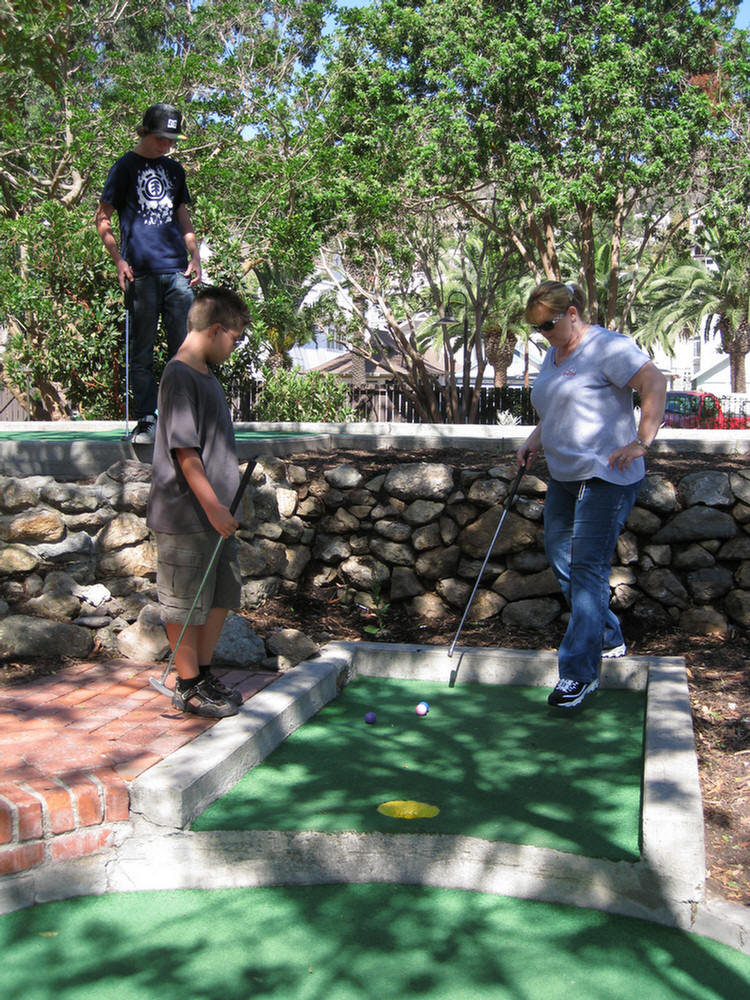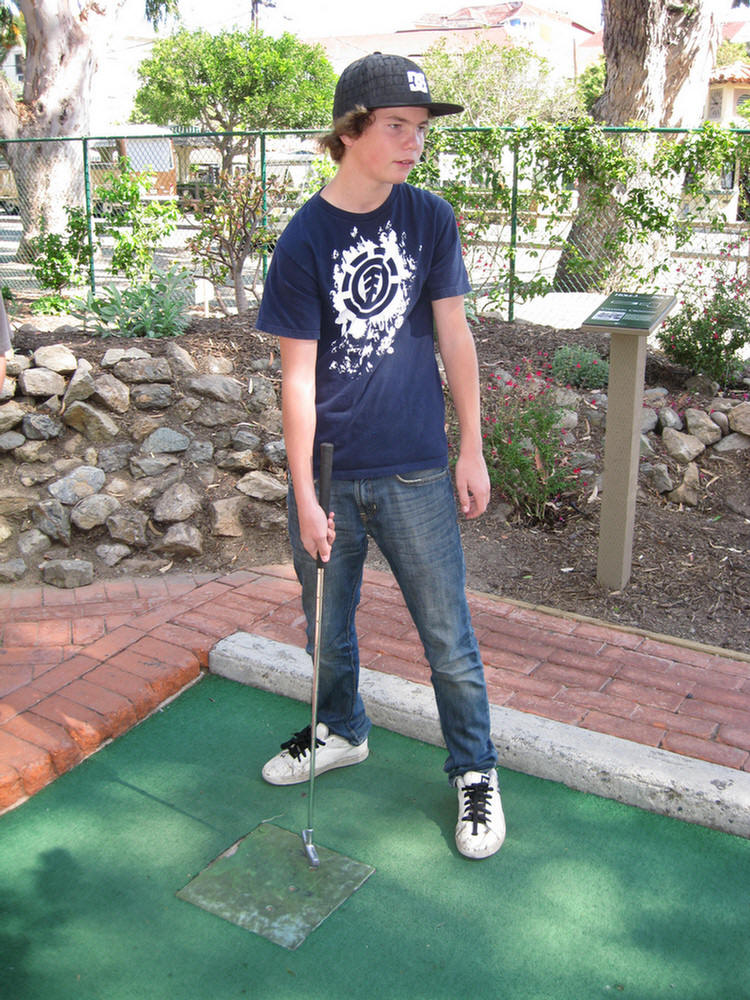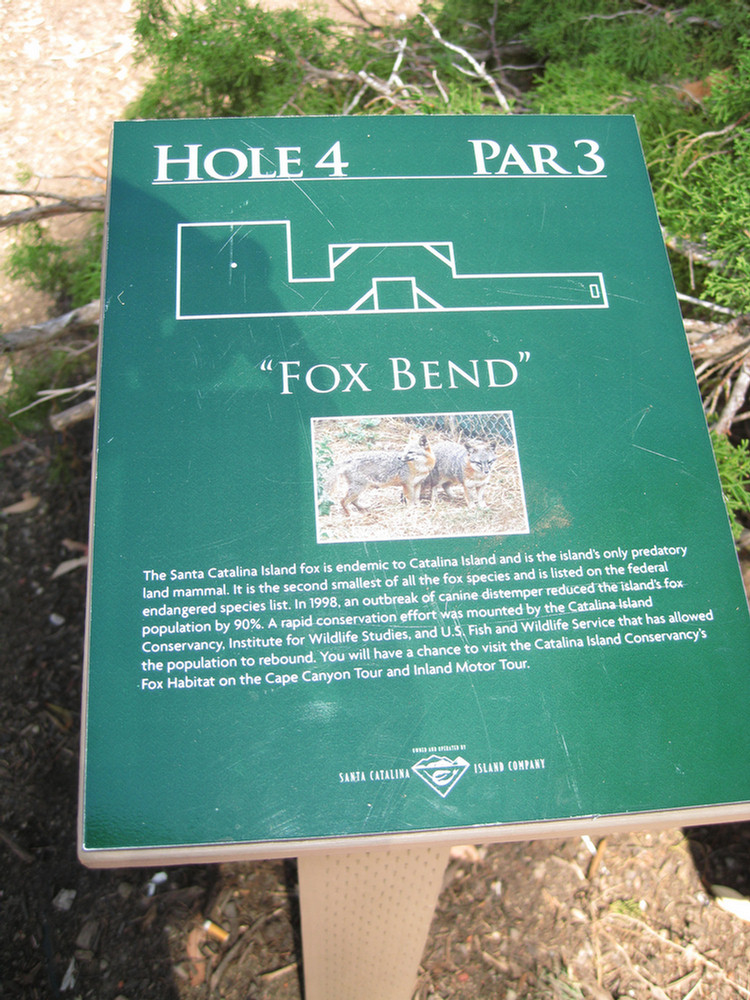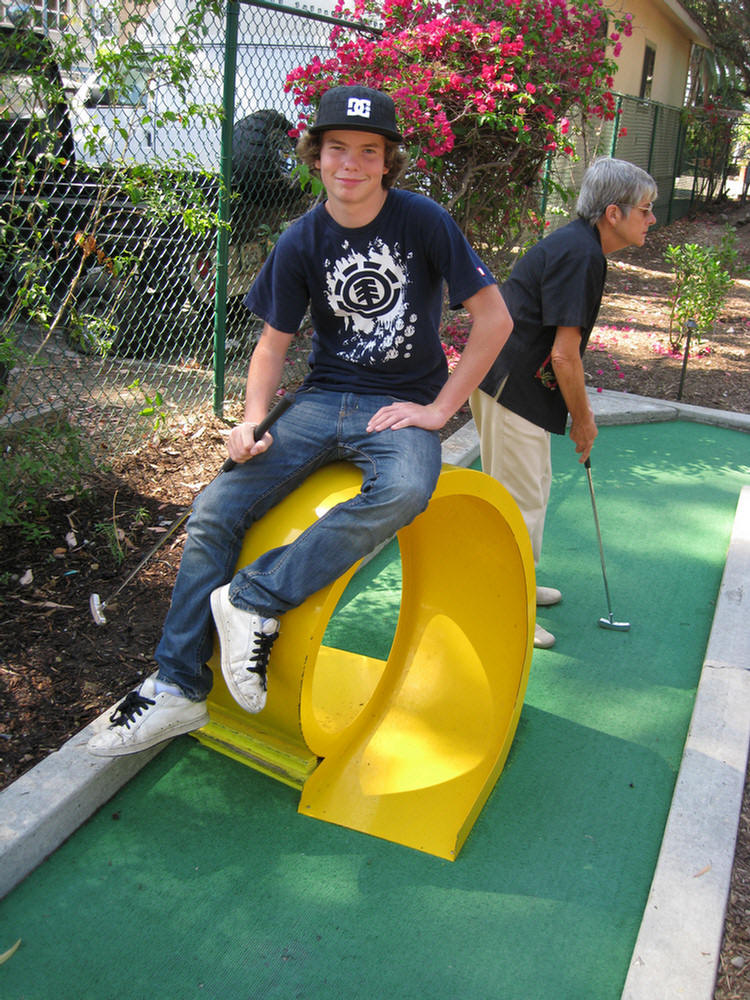 Everybody's favorite... The loop, not Connor

Bamb, zot, whoosh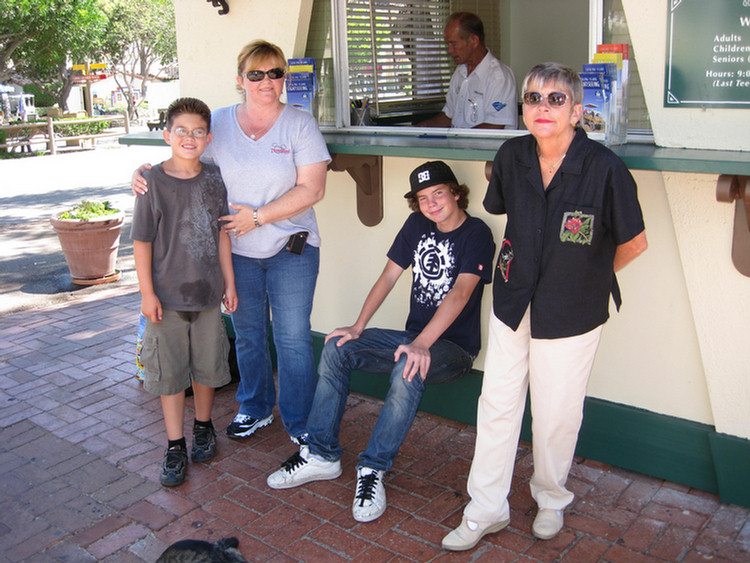 Tired from a round of golf and a lot of yelling!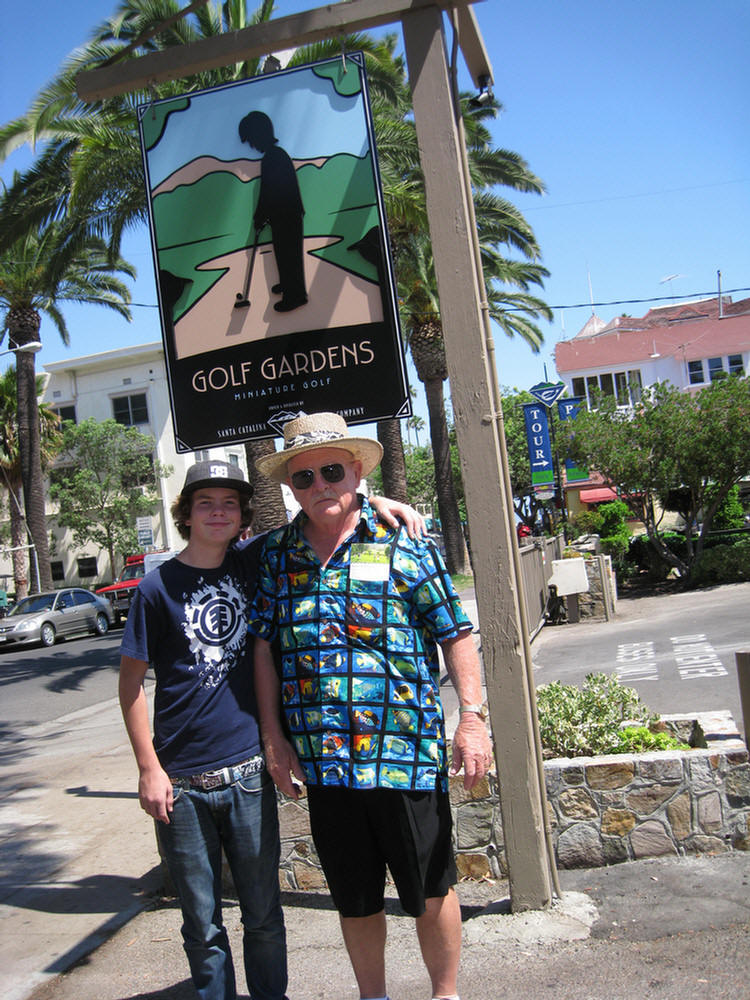 Time For A Walk To Lunch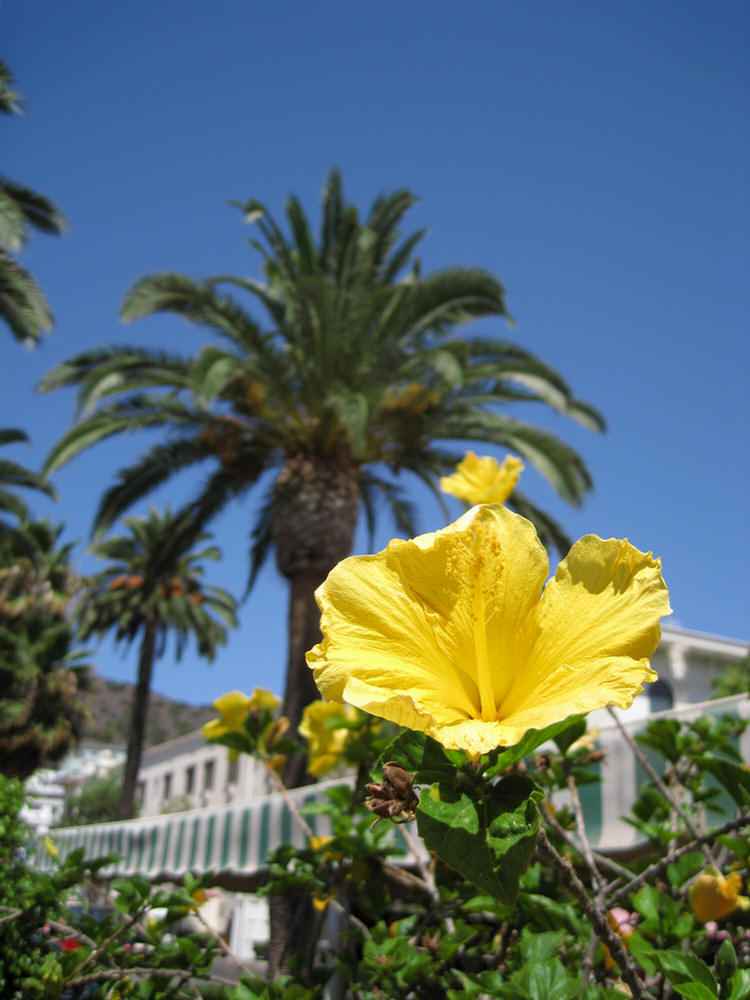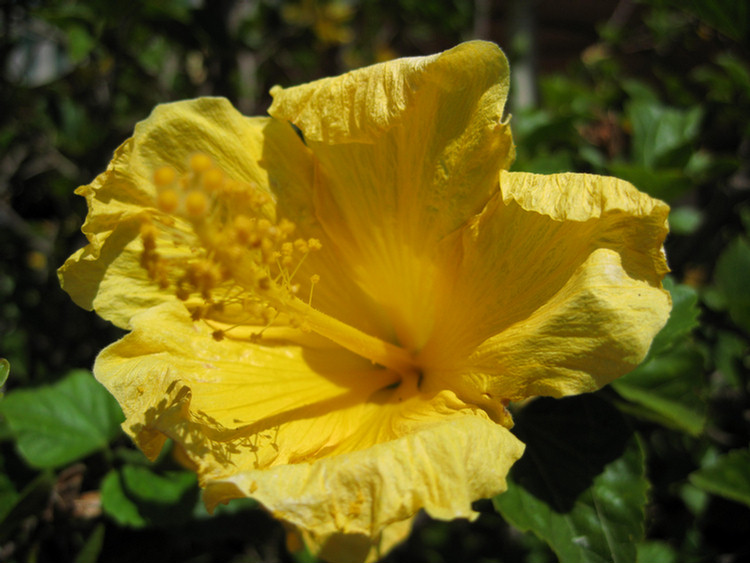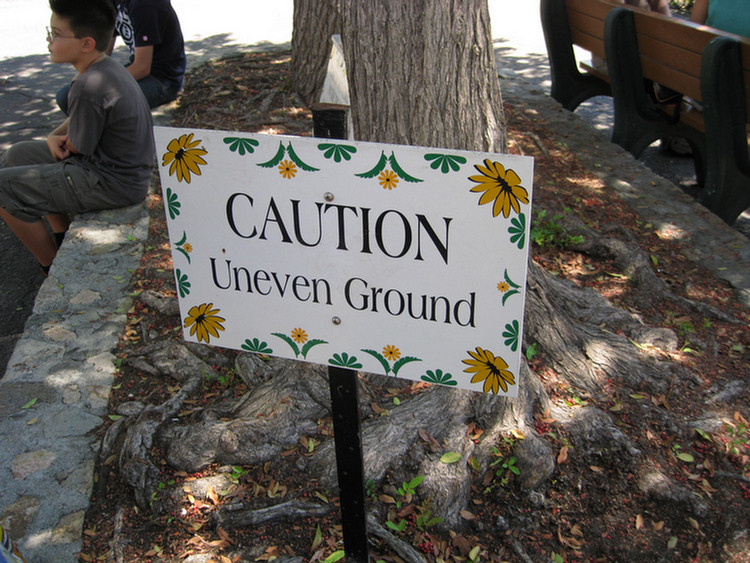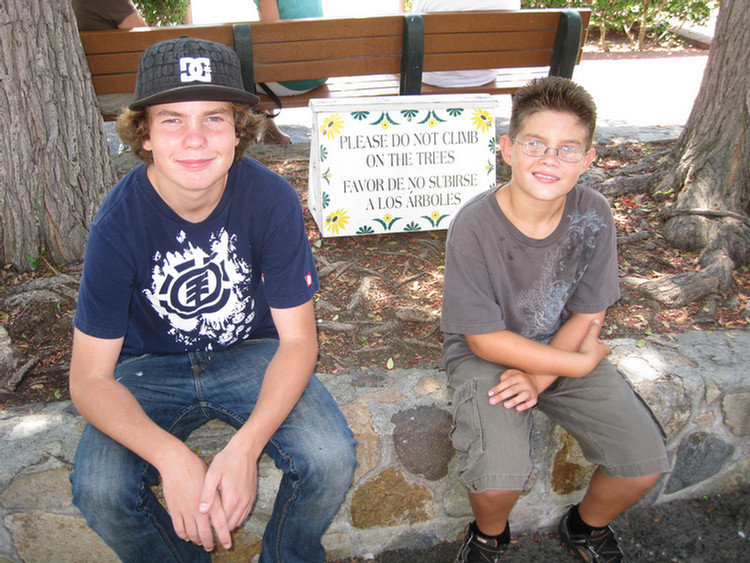 "Can we please climb the trees Grandpa?"
Catalina Country Club For Lunch
As the name implies, the Catalina Visitors Country Club is open to the public, but this wasn't always so. The facility was originally built for William Wrigley's baseball team, the Chicago Cubs. Now, after a lavish renovation, the club's eclectic mix of Spanish Colonial design and sports memorabilia exists in elegant ambiance.
Poised on a knoll overlooking romantic Avalon, the landmark Catalina Visitors Country Club is a striking example of Early California Revival architecture, with distressed cream-colored walls, deep green trim, and a Spanish-tile roof.
Brick steps take you up to a broad porch with a spectacular view of Avalon below and the vast Pacific Ocean beyond .As you continue up the stairs through an arched portico, you are greeted by a colorful example of early Catalina's acclaimed tile industry: the Country Club's original drinking fountain.
To the right is a sunny brick patio perfect for weddings with a view. Exchange your vows with the ocean as a backdrop, and then enjoy your reception in the adjacent conference room, a cozy arrangement that works nicely for intimate gatherings.
Through the portico is the Country Club's main courtyard, a lovely spot for both weddings and receptions. Follow the exchange of vows with a champagne toast in the middle of the Courtyard, near an elaborate fountain of island-blue tile.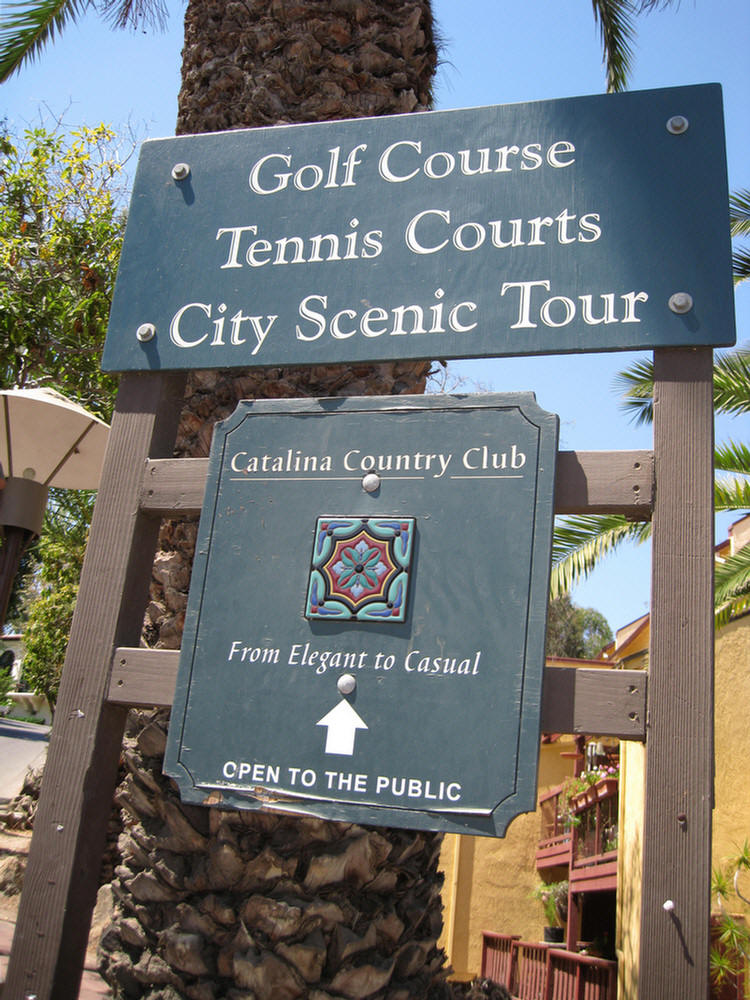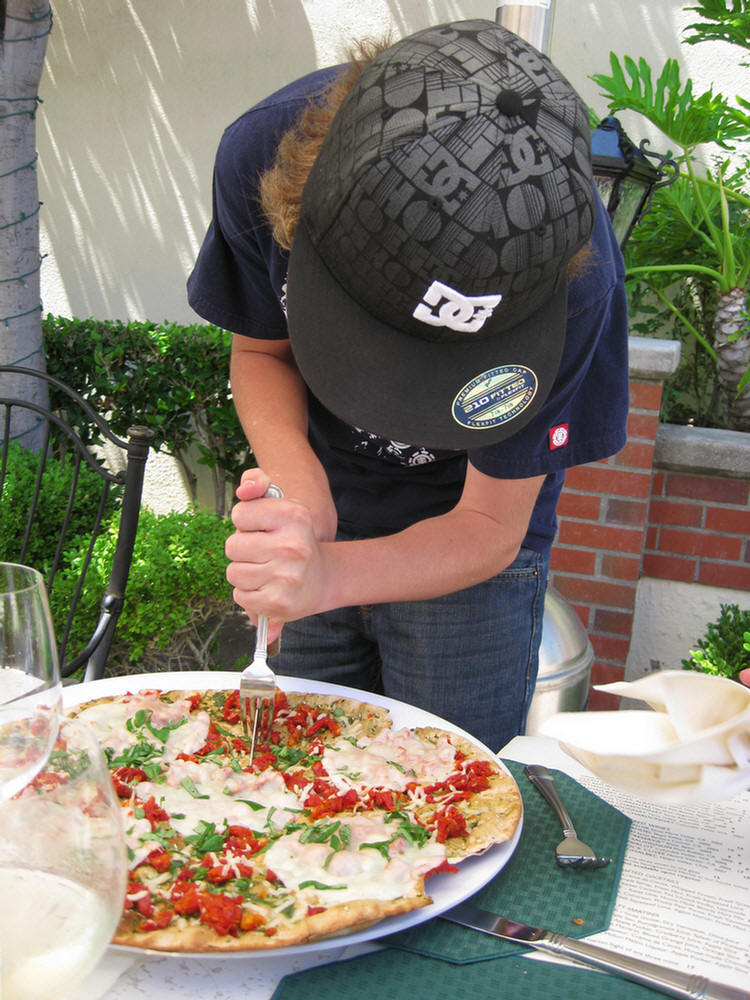 Connor found a job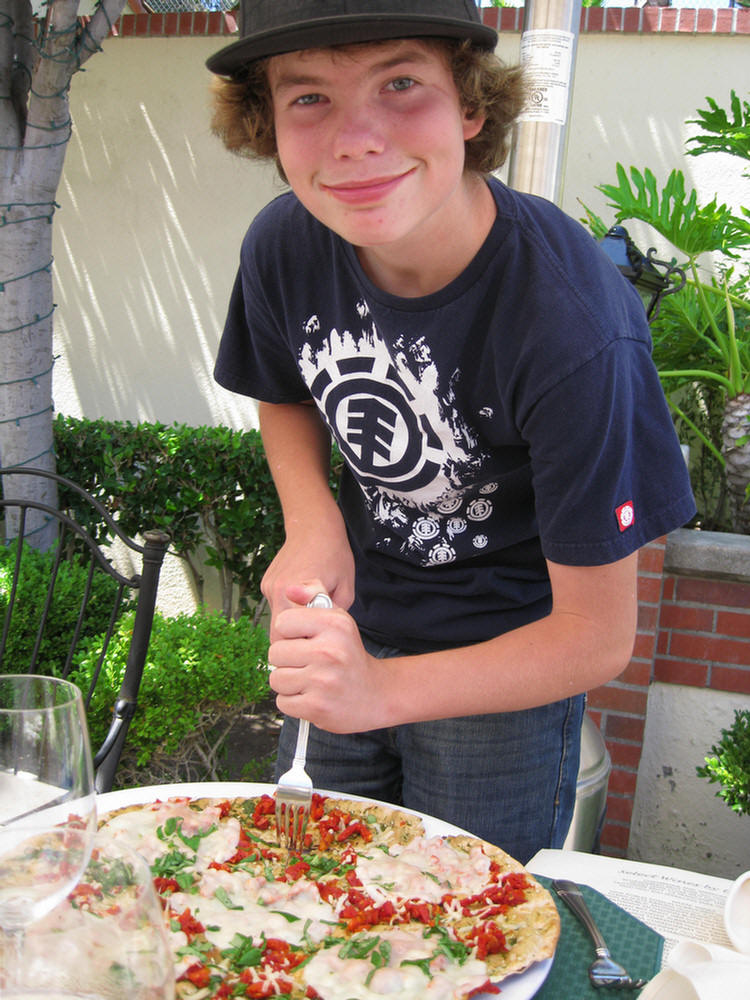 Bee chasing is a boys delight... The adults are in hiding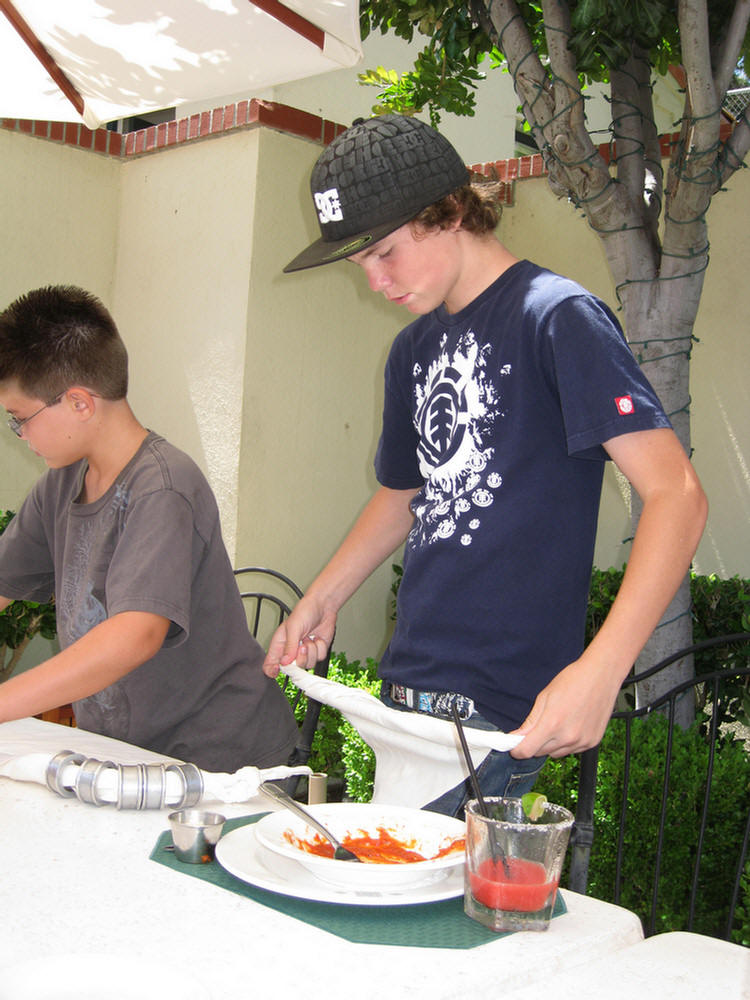 Old three eyes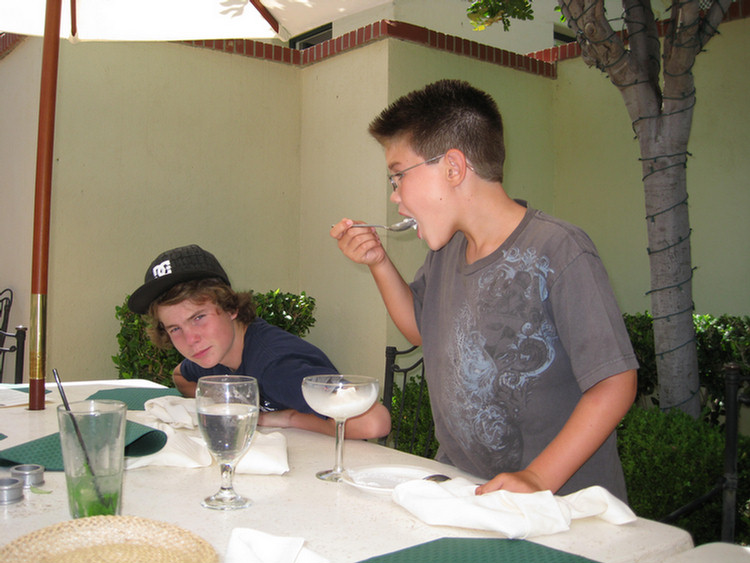 Having fun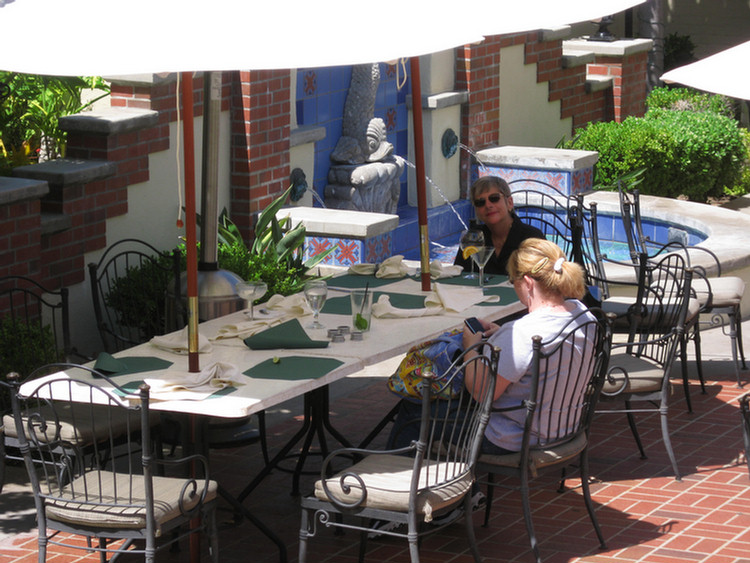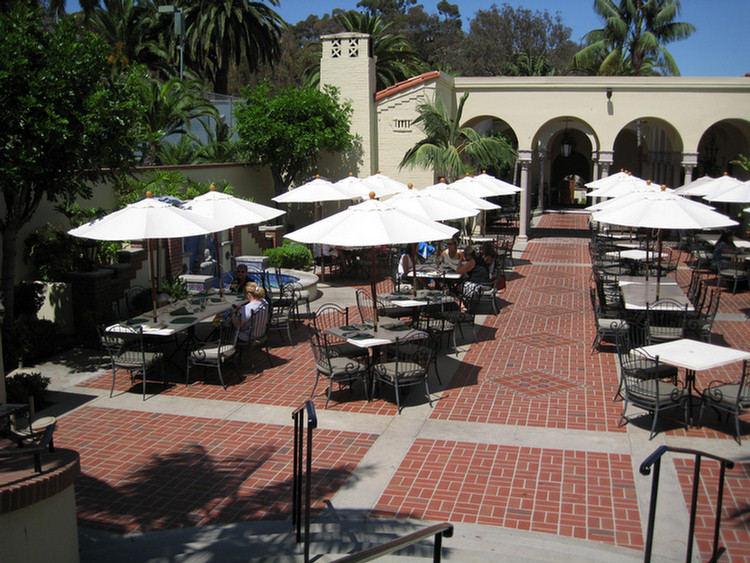 The patio was delightful
Did you know? - A patio (from the Spanish: patio meaning 'back garden' or 'backyard') is an outdoor space generally used for dining or recreation that often adjoins a residence and is typically paved. It may refer to a roofless inner courtyard of the sort found in Spanish-style dwellings or a paved area between a residence and a garden.
Patios are typically made of concrete or stone slabs laid over a base. This base is often a layer of compacted stone chips, a layer of sharp sand, and a layer of cement mortar.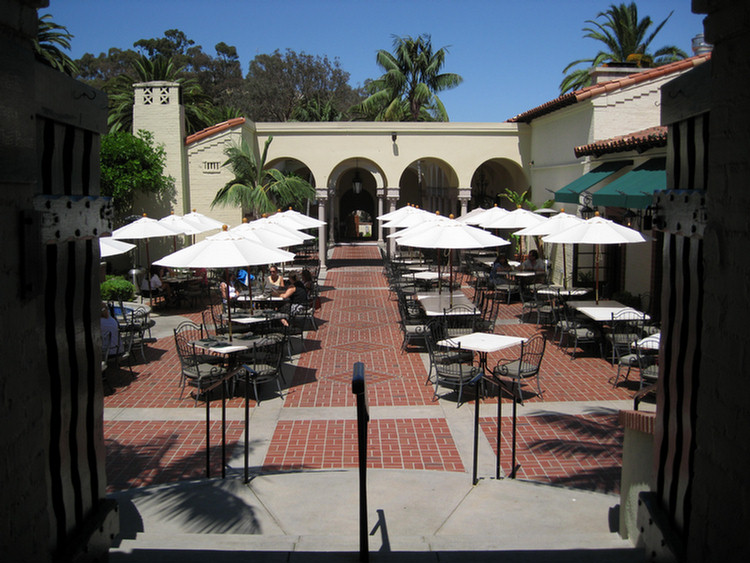 Golf and Lunch at Catalina August 2009
Short Walk To The Golf Cart Rental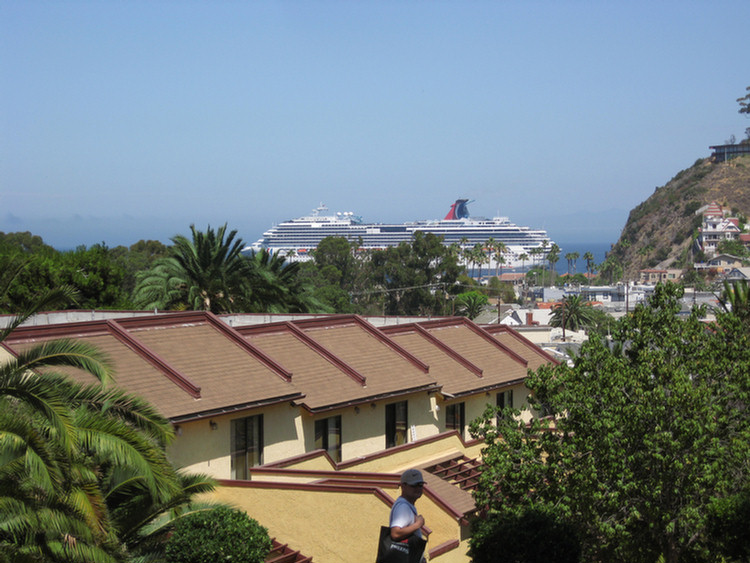 Darn those French Fries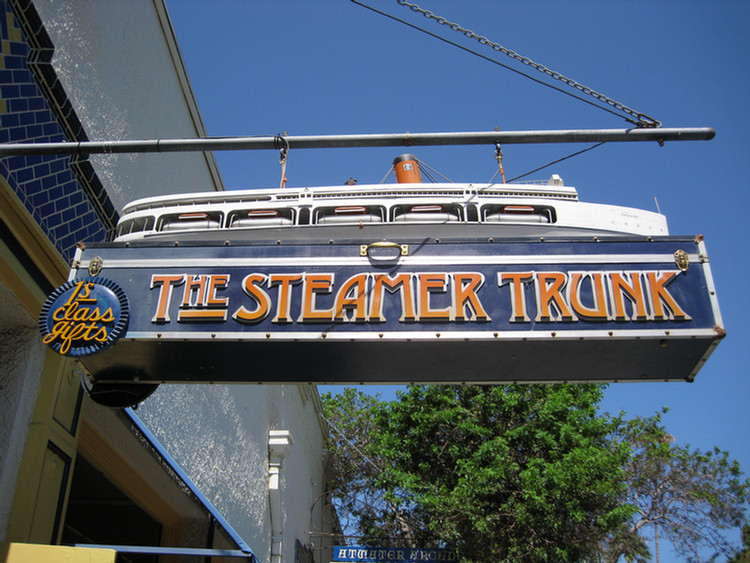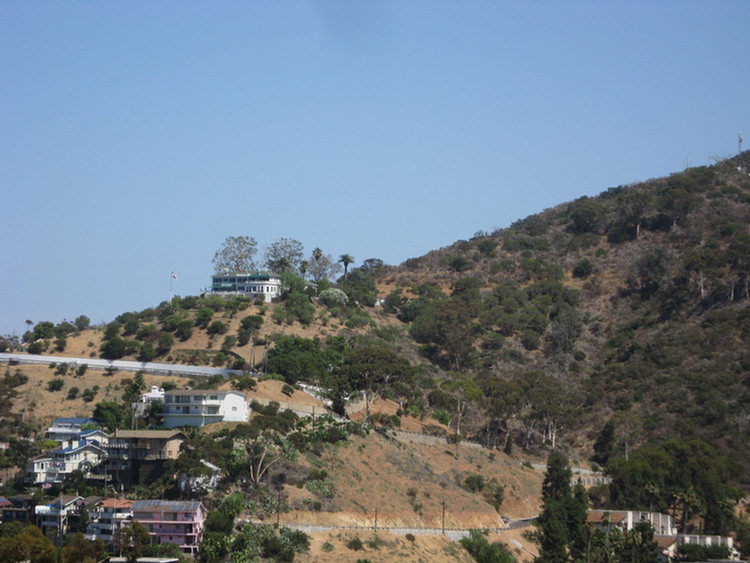 Mount Ada perched over Avalon
Did you know? - William Wrigley, Jr. bought 99% of Catalina Island in 1919. He chose the setting for his new home on Mt. Ada (named after his wife, Ada) because it received first sunlight in the morning and the last rays at sunset. The Inn is 350 feet above the town and harbor. The building of the Wrigley's home was started in 1920 and completed in 1921. The couple enjoyed their home together through January 1932, when Mr. Wrigley died. Mrs. Wrigley continued to visit until 1947, when she suffered a stroke and lingered in a coma in Pasadena for 11 years. She died in 1958. From 1921 to 1932, the Wrigley's entertained a number of famous guests at their island home, including Presidents Calvin Coolidge, Warren Harding, and the Prince of Wales.
Mr. Wrigley also owned the Chicago Cubs professional baseball team, and invited them to hold their spring training on the island. Following Mrs. Wrigley's death, the home was owned by the Santa Catalina Island Company and used as a tourist attraction. In the 1970's, the home was given to the University of Southern California to be used as a conference center. In 1985, the present innkeepers secured a long-term lease of the property and created the successful business known today as The Inn on Mt. Ada. For the past 18 years in a row, the Inn has been awarded the Mobil Travel Guide 4-Star rating, a rating awarded to only the top 2% of lodging properties in the entire US & Canada.