Watch Out Apples... Here We Come! October 8th 2015
Brian and Jan are in town and before we send them back to the outstanding UK weather, we wanted to visit Oak Glen.
We introduced them to "chili size" and we dived into a large apple pie at Apple Annie's!
We also arranged for the weather to be like that in London today! It was a balmy 58 degrees.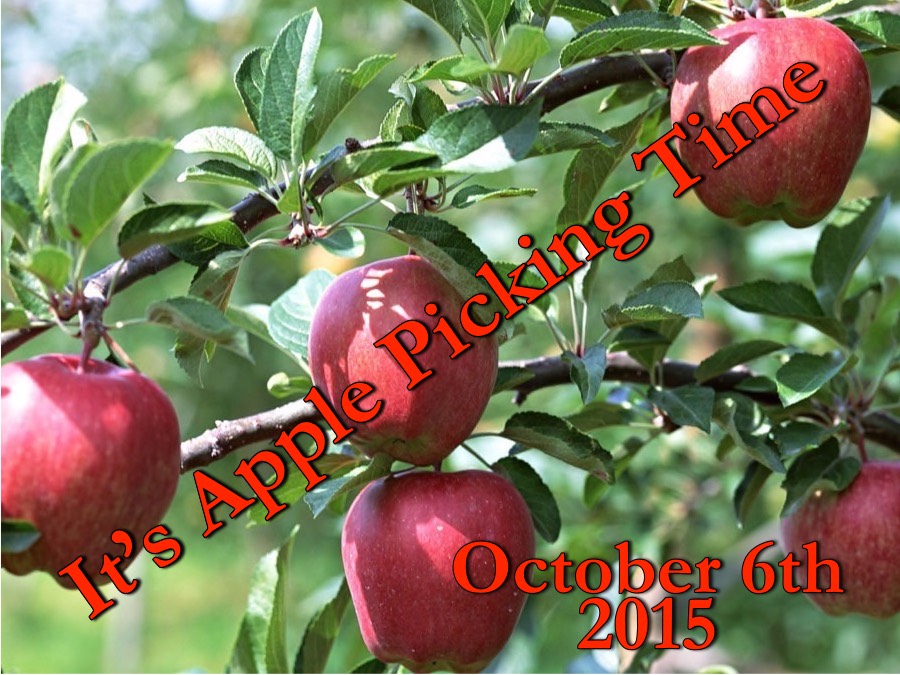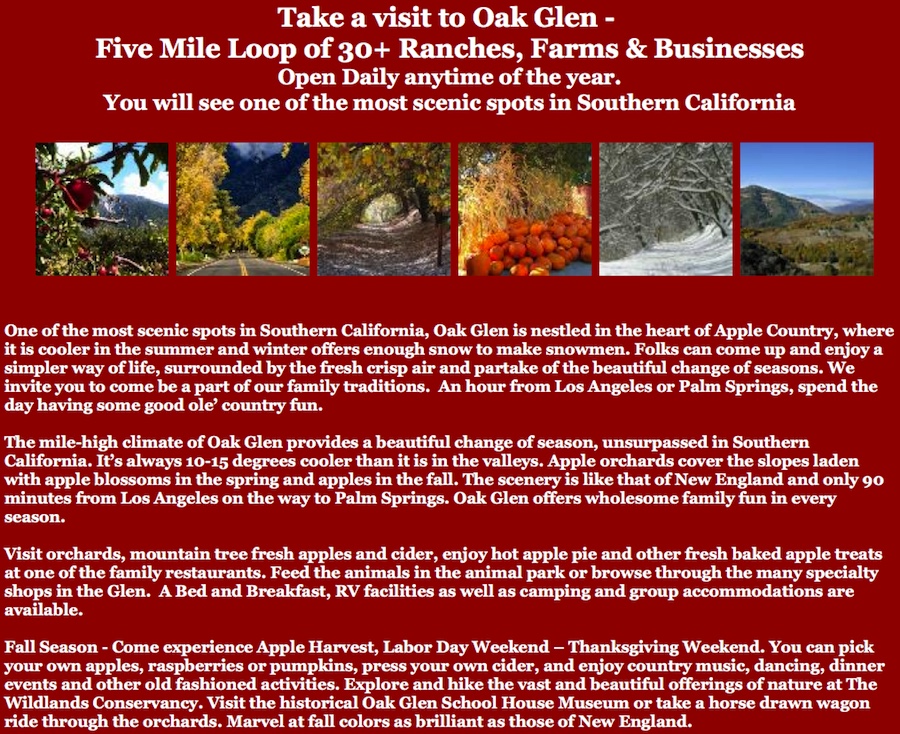 Oak Glen is about an hour drive from Brian and Jan's home!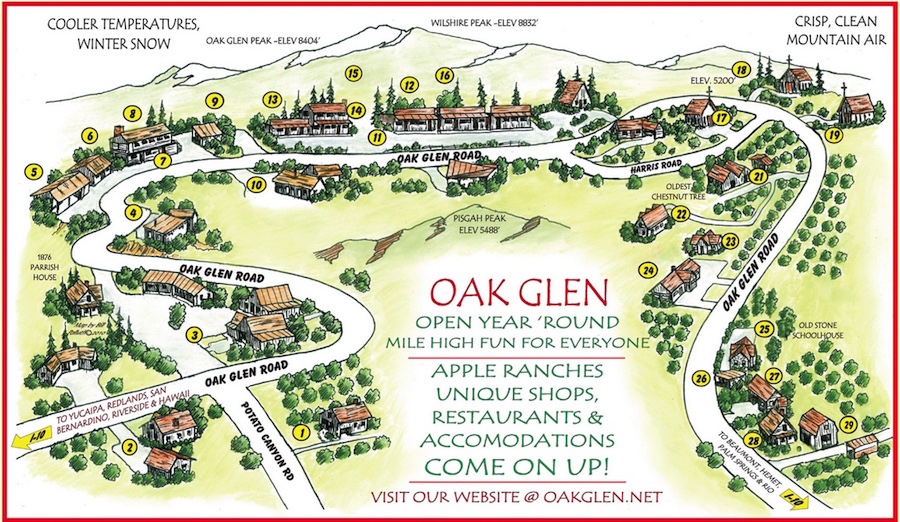 It's a fun place to visit and spend some time seeing nature
Did You Know? - Oak Glen is situated between the San Bernardino Mountains and the Little San Bernardino Mountains in San Bernardino County, California, United States. Oak Glen is located 15 miles east of San Bernardino, at an elevation of 4,734 feet (1,443 m)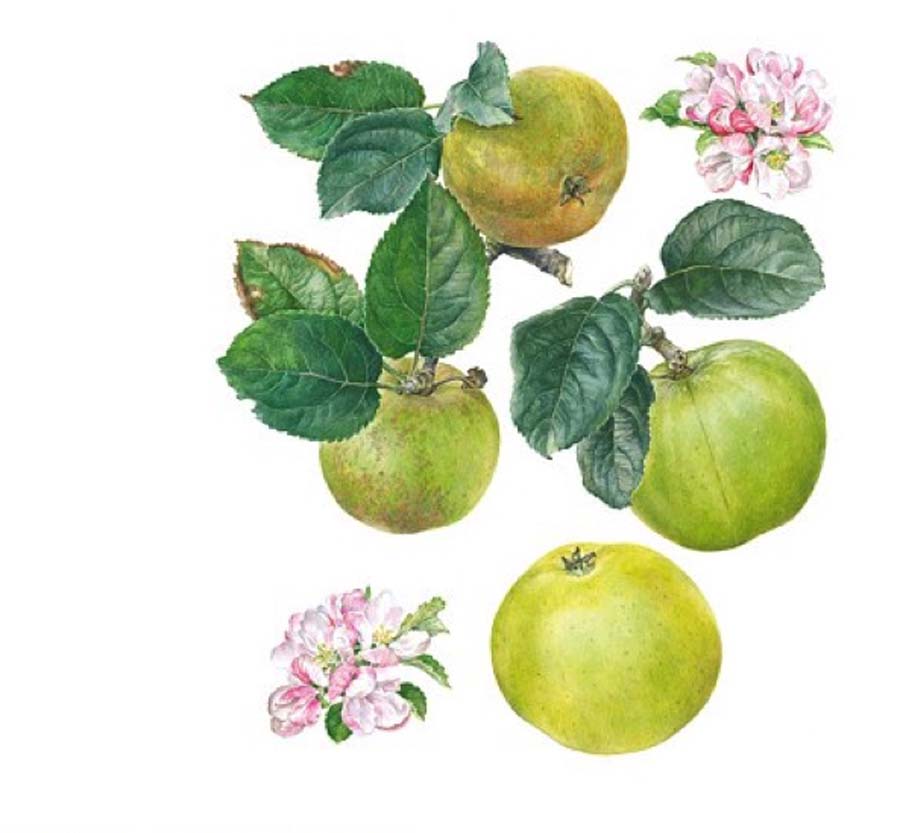 UK Apples: D'Arcy Spice (left) and Edward VII (right)
Apple Trivia You Need To Know!
There are about 2500 known varieties in the US.
Thirty-six states grow them commercially with the following as top producers, WA, NY, MI, CA, PA, & VA. 56%of the 1999 crop was eaten as fresh fruit and 42% was processed.
Apples float because 25 percent of their volume is air.

The U.S. produced 10 billion pounds of apples in 2006, more than 1/2 were grown in Washington state.
Apples were introduced to New York by the European settlers who brought seeds with them in the 1600s.
Apples are 'self-incompatible' - you need two trees growing near each other to have successful pollination.

If you grew 100 apple trees from the seeds of the same tree, the new apple trees would all be different.
Of the thousands of varieties of apples that were grown in the early 1900s, 88% do not exist anymore.

The apples from one tree can fill about 20 boxes each year.
We Have Arrived... We Are Hungry... Let's Eat!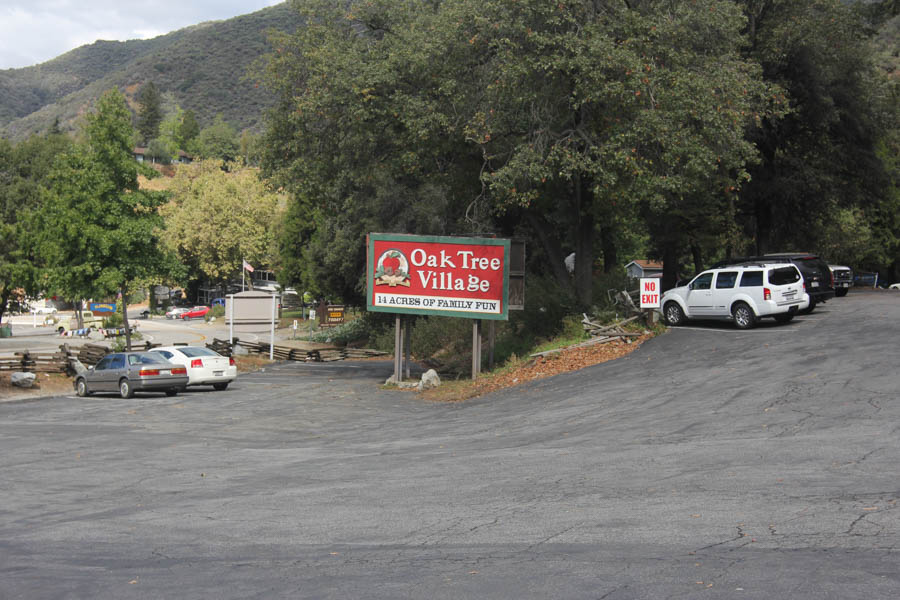 We stopped at Oak Tree Village
Did You Know? - For over 50 years, Oak Tree Village has offered a place for all you folks to have fun and make treasured memories with your families year round. Enjoy a fresh baked 5 lb mile high apple pie and other goodies from Apple Annie's Bakery, eat a hand dipped Caramel Apple at the Village Candy Kitchen, feed the animals in the animal park and visit the local shops and artisans. Stop by the trout ponds and catch a fish.
On the weekends we offer train and pony rides. You might even strike it rich in the stream panning for Gold! During the fall season visit our Apple Shed, taste mountain-fresh apples and cider, dance to foot stomp in' country music, milk a goat or even race some pigs.
During the day have a heart-warming meal in one of the oldest restaurants in Oak Glen, Apple Annie's. Oak Tree Village, is open seven days a week 10am to 6pm.

Where to eat? Duh! Apple Annie's of course!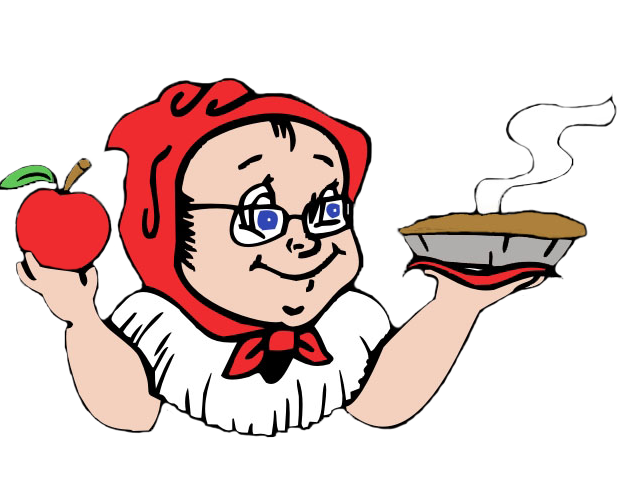 We introduced Brian and Jan to Woodchuck Hard Cider!
Did You Know? - Proctorsville, Vermont. Along the Black River, in a two-car garage, a wine maker by the name of Greg Failing begins an experiment with apples.
Woodchuck Amber was the result and it would go on to reinvent a centuries old beverage which had vanished from the American conscious in the wake of Prohibition.

The first bottles were filled on a 1940's soda filler. It only filled 10-ounces, so the last two ounces of every bottle were topped off by hand with a turkey baster. The filler constantly broke down and parts were hard to come by. It took that resilient Vermont spirit to carry on, and carry on and they did!

Sue stayed with tried and true chardonnay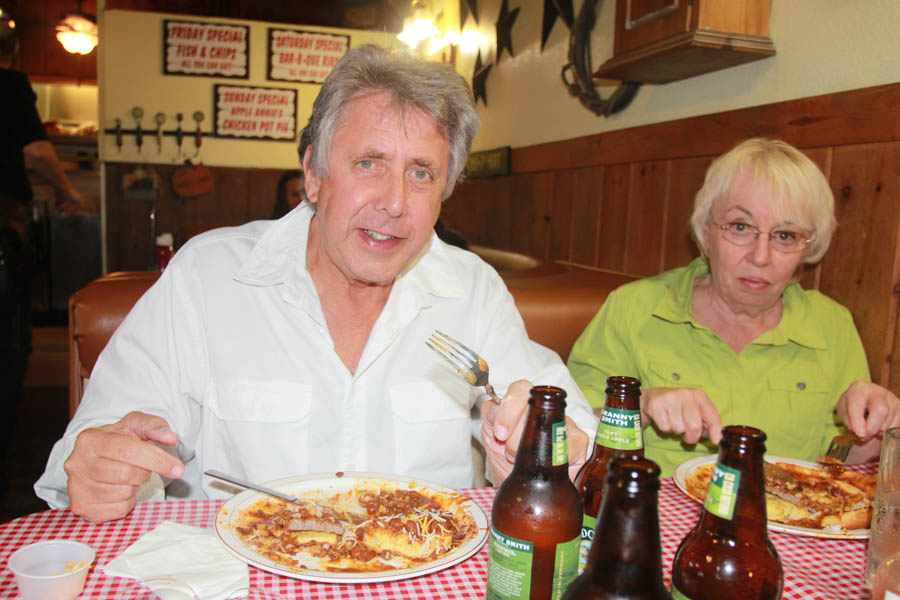 We introduced Brian and Jan to "Chili Size"
Size 1/3 lb beef patty served on our fresh baked homemade bread grilled
and smothered in our home-style chili topped with cheese and onions.

Not a single carlorie.... Yeah!
Did You Know? - What is known for sure is that the chili size was developed in Los Angeles at a place named Ptomaine Tommy's. In business from 1913 until 1958 at 2420 N. Broadway, Ptomaine Tommy's was the largest and best known chili parlor in town.
Reportedly, movie stars such as Mae West and Mary Pickford were regulars, devoted to Tommy de Forest's chili. Other newcomers like Chili John's in Burbank (established in 1946 and still in business) have sprung up since then with their own version of the chili size, but Ptomaine Tommy's was the original.

Tommy de Forest, a local restauranteur, claimed the invention of the chili size in the 1920's. His specialty was hamburgers, so he looked for a way to make a different burger for his diners.
As the legend has it, he had a few ladles that he used to spoon the chili into bowls. When a customer wanted straight chili, he used the large ladle and the order was served.
On the hamburger, however, he used the small ladle, calling that "hamburger size". And finally, he came up with a variation, serving the larger amount of chili over an open faced burger and then covered it with cheddar cheese and chopped onions.
This open-faced sandwich was henceforth referred to as "chili size", and sold for 20 cents as opposed to the chili burger for 15 cents.

Sue suggested we share our desserts! She, as usual, was right on!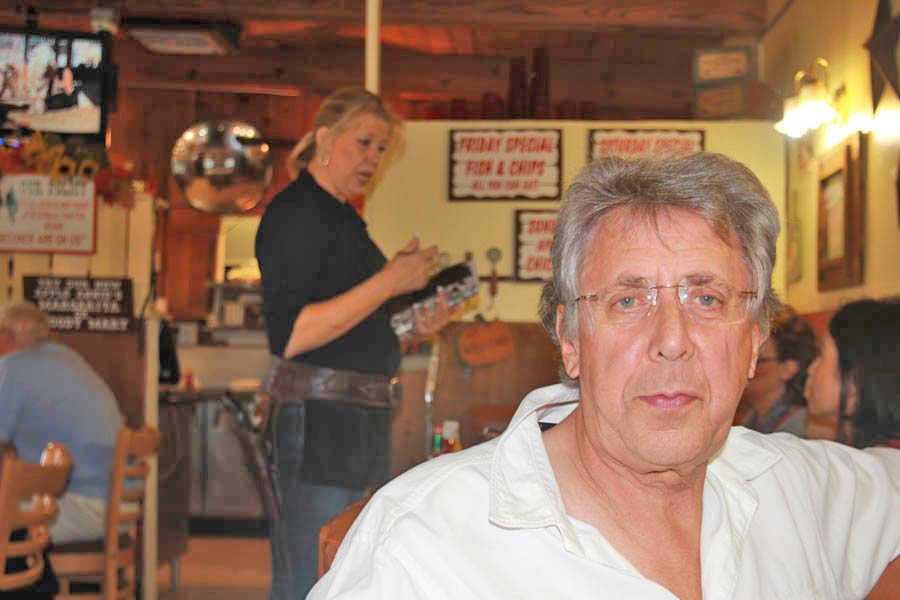 Brian liked the waitresses "six-shooter"
(It looked like a Colt 45)

Check the back of her hip.... She was armed for bear!
Glad we behaved and didn't act like bears!

Our waitress said this was the real policy...
We were so stuffed we did not take advantage of the offer!

Great signs by the Loo!

Fall is in the air... It was a cool 58 degrees outside!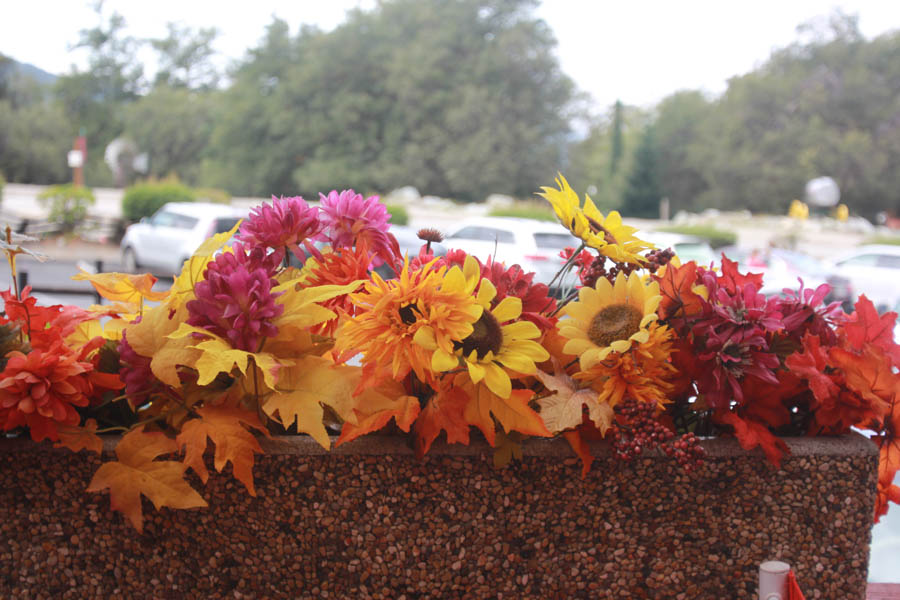 Looked like it could rain but it stayed dry!

The entrance to the Petting Zoo was decorated!
We Popped Next Door To The Bakery To Bring Del & Vicky A "Little" Gift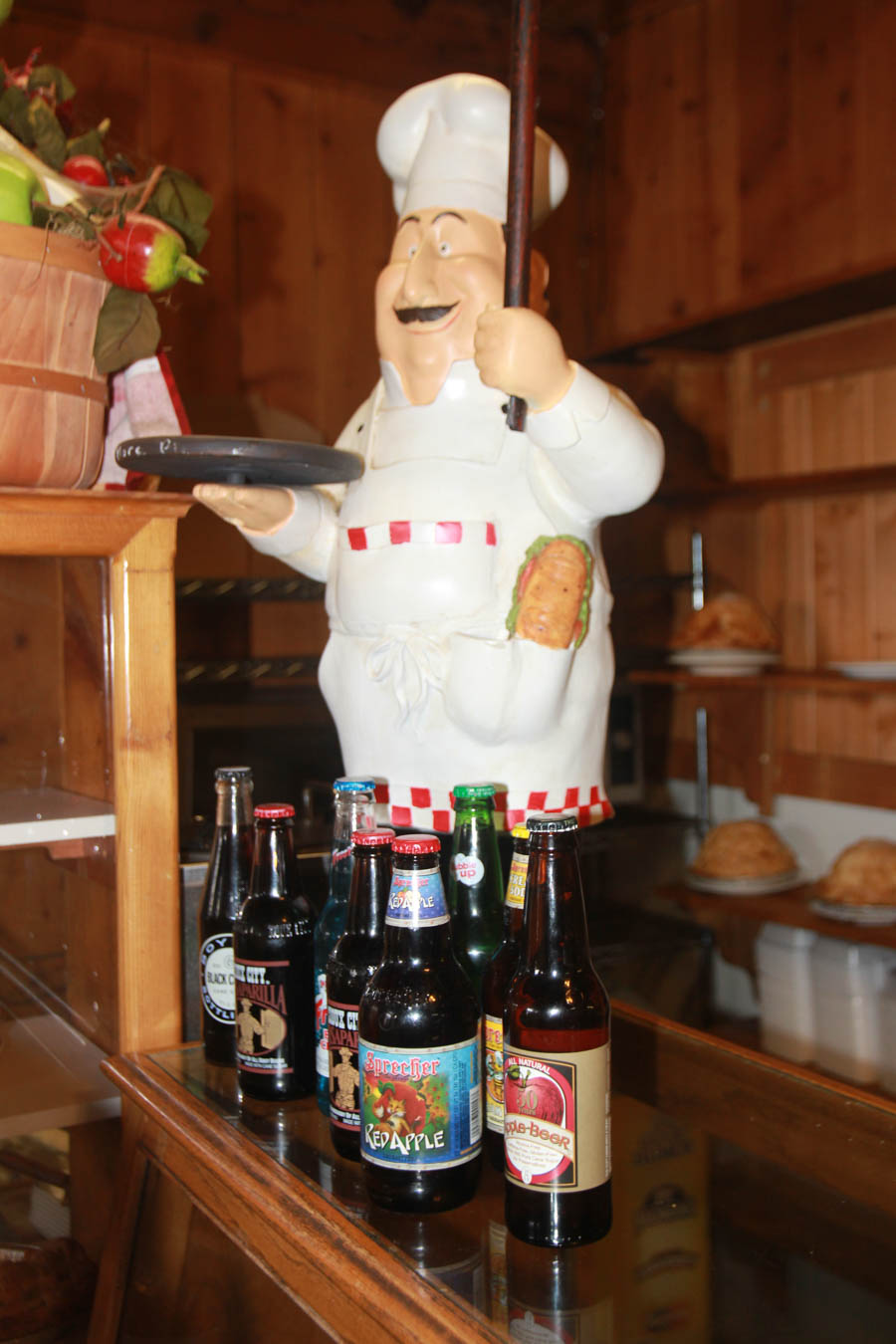 Sue suggested a "5 Pound Pie" for Del! We dood it!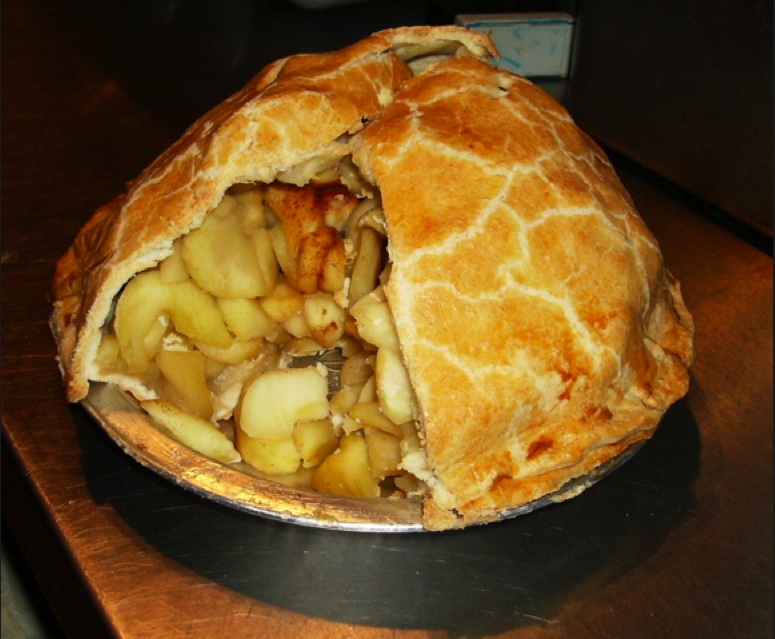 Del knew exactly what it was when Paul said
"We were up in the mountains and brought you something!"
To The Apple Orchards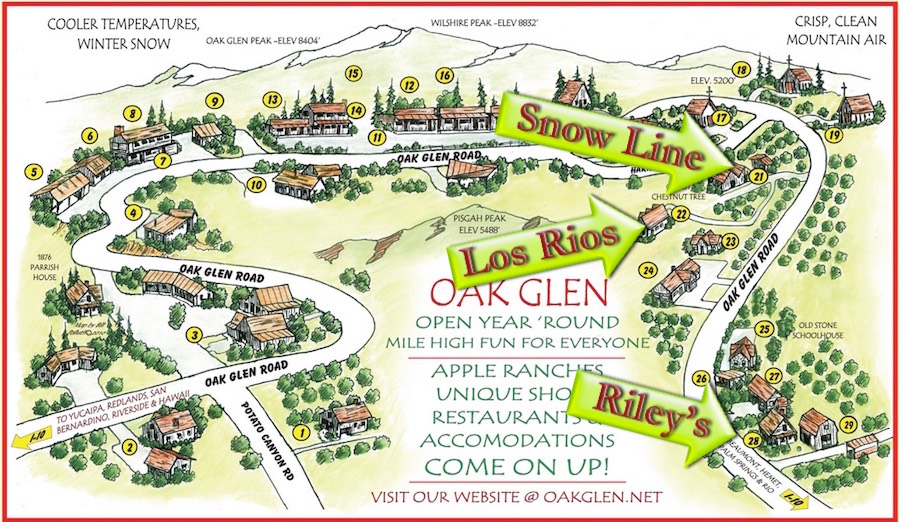 We stopped at three of the orchards today
Stop #1 - Snow Line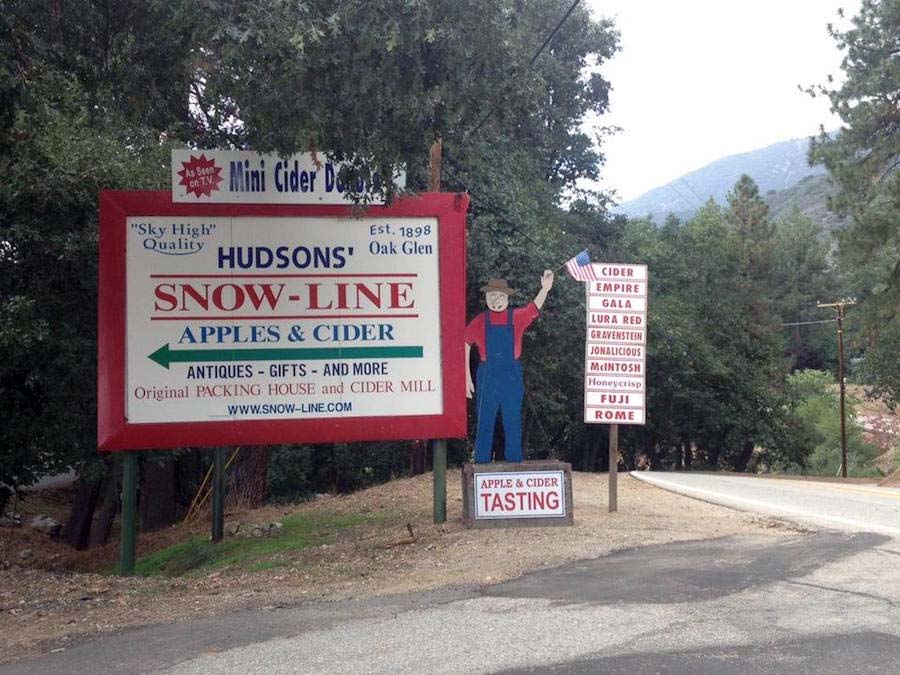 Quick turn and we are on our way

Love the old boxes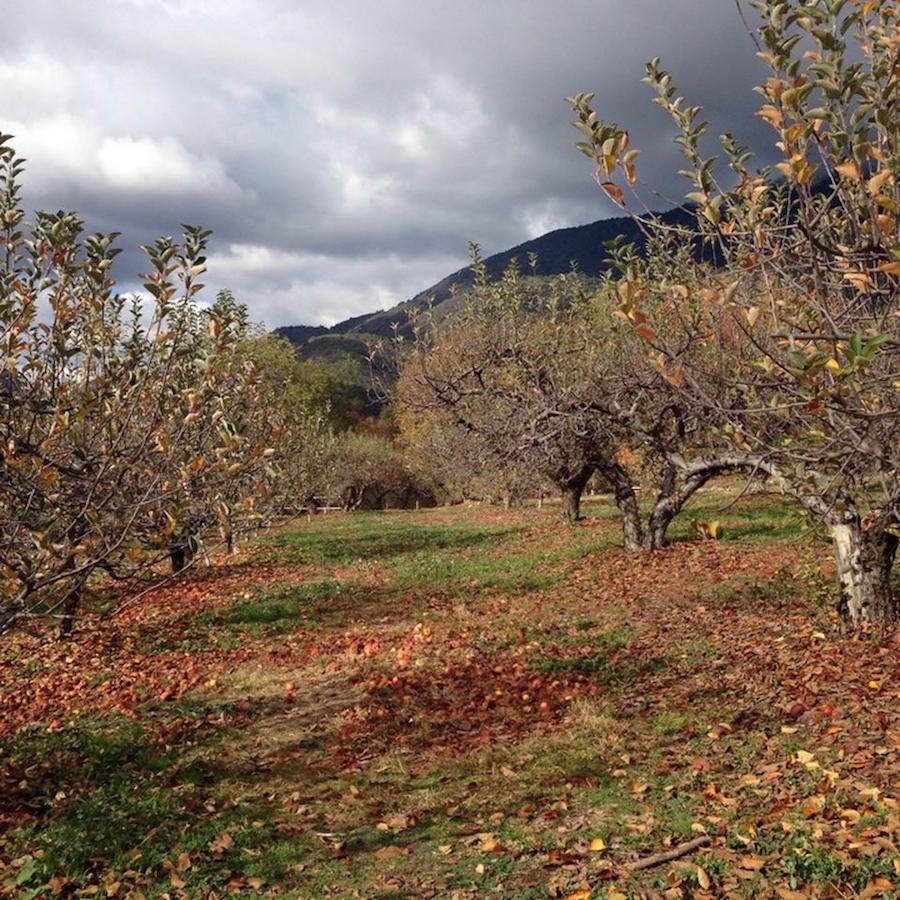 Loads of apples on the ground... Means cider time is near

Fun to walk around their store and look at the antiques
They many interesting types of apples available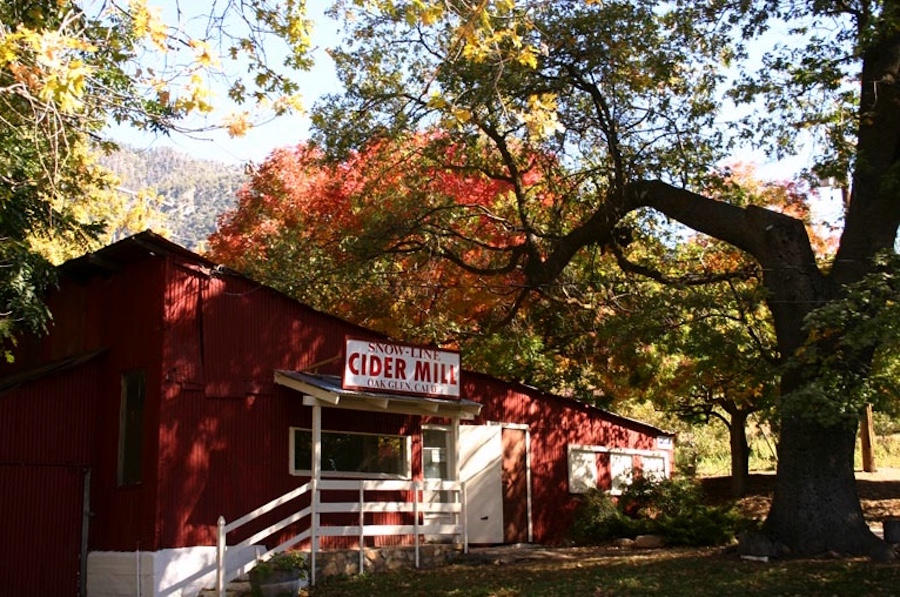 Brian headed for the mill... It was not operating today!
Did You Know? - The earliest and most basic form of cider mill consists of little more than an enclosed area where apples are pounded by large wooden pestles.

In England, Jersey, and northern France, the traditional form was a "horse-mill" or "stone mill". A horse-mill consists of a circular trough made of stone, in which is set either one or two large stone wheels called "runners".
At the center is an pivot point or "nut". A horse is harnessed to the outside of the wheel, and driven in a circle, slowly grinding the apples to a pulpy mass called pommage.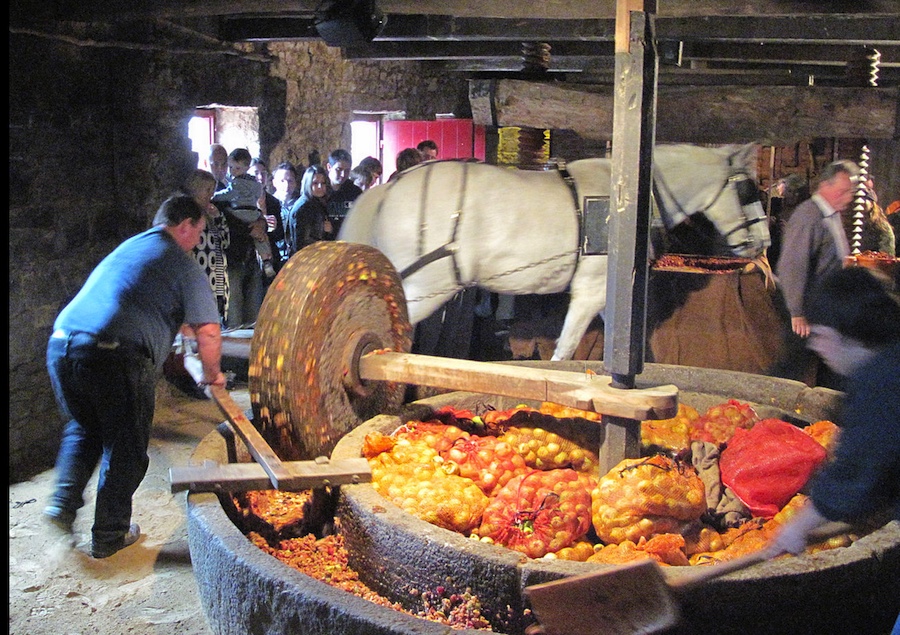 Nice horsey... Nice horsey!

There were a load of antiques in the store

A hand pushed plow... Too much work!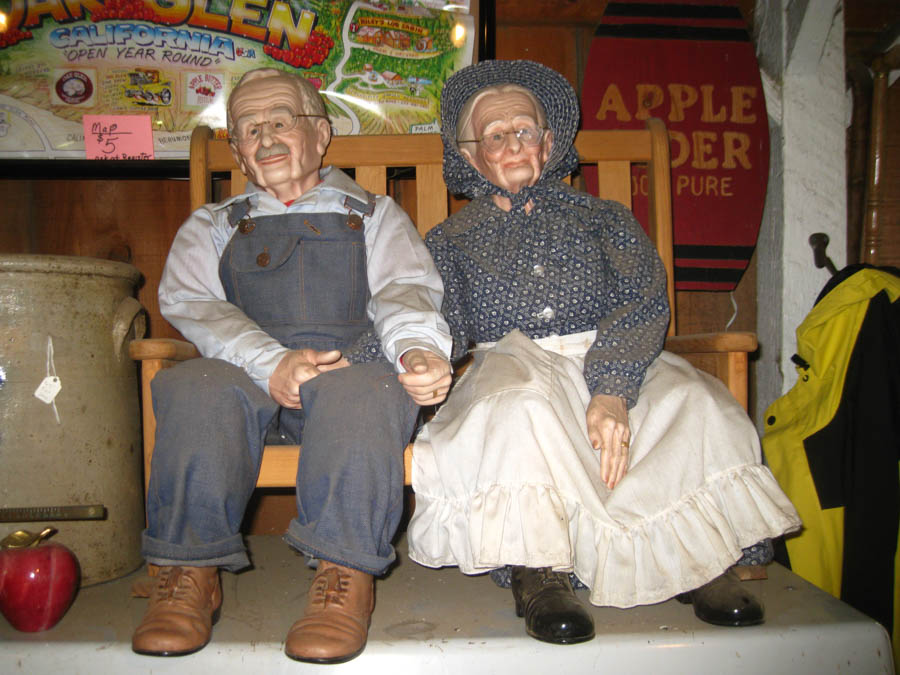 Paul & Sue decided to sit a spell!

The gas operated plow was interesting... They will never have a flat!

Next stop...
Stop #2 - Los Rios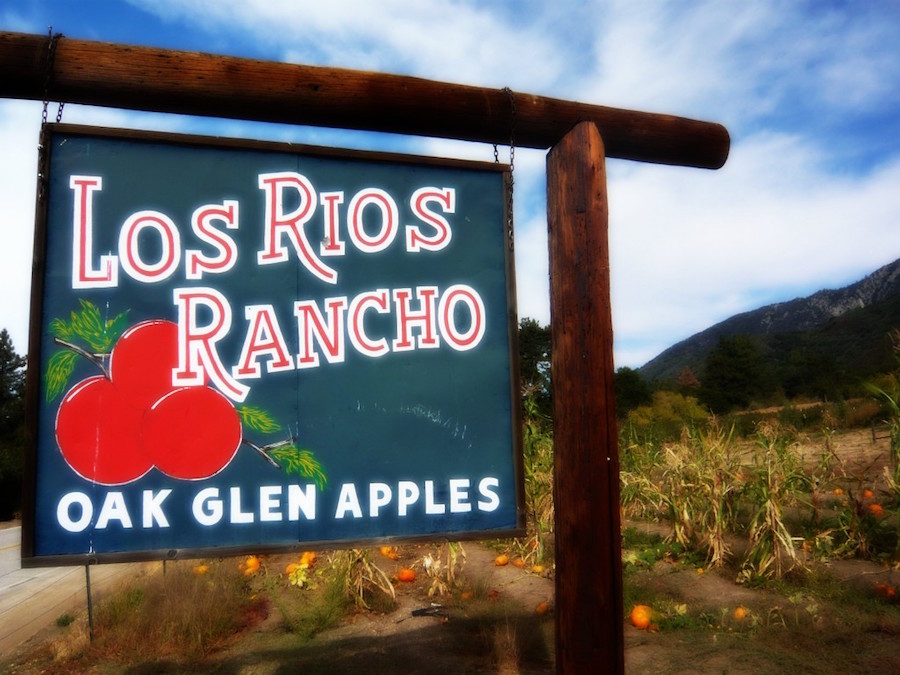 Did You Know? - Los Rios first began in 1906 when Howard L. Rivers, a grower, packer, and shipper from the Pasadena area purchased property from the Wilshires, over 300 acres, to expand his operation to include apples. He planted the largest apple orchards in all of Southern California, many of which are still in production today. Los Rios Ranch soon became known as the place to get truckloads of quality mile-high grown apples. Fruit from the ranch has been shipped locally and globally over the years. The operation expanded as the shift from wholesale packing/shipping to retailing took hold in the 1950's. Soon a sales barn and bakery were built, picnic areas developed and cider operations enhanced to make the most of the growing numbers of visitors, eager for mountain fresh apples and the things made from them.

In 1995, The Wildlands Conservancy purchased the ranch from the descendents of the Rivers in an effort to save it from certain development and to retain the rich history and landscape for generations to come. They worked diligently to return some of the land to native habitat, develop and expand trails for visitors and begin an outdoor education program that focuses on the wildland and animal life unique to California and Oak Glen.
In the Winter/Spring of 2004, The Wildlands Conservancy and Devon Riley began negotiations to join forces that would enable the Conservancy to focus its efforts on preservation, development of trails, and education while leasing the business operations and the bulk of the orchards to the Rileys to continue the tradition of apple growing and historic entertainment.

We did not know that wagon wheels came in colors!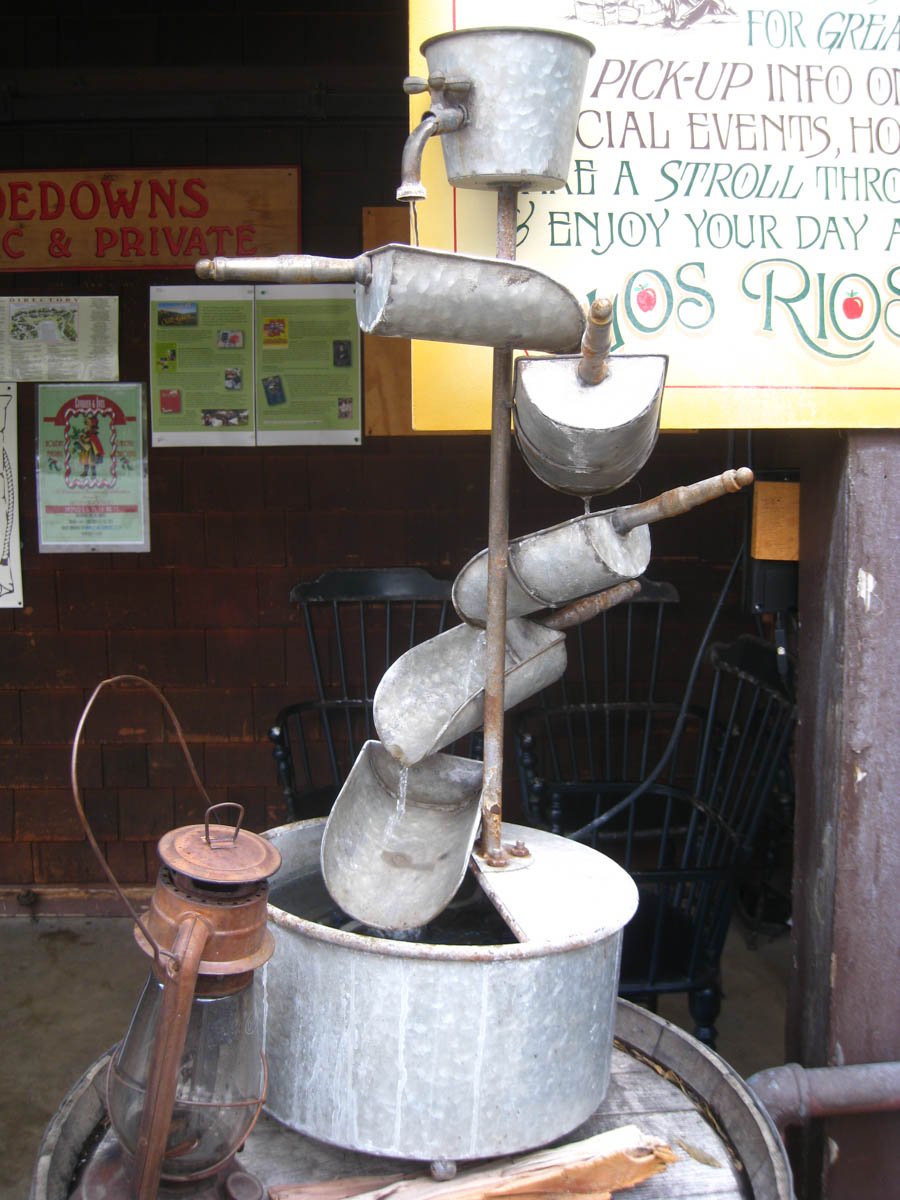 Look out for an artist on the loose!
Stop #3 - Riley's Farm (Two Mini-Stops)

It is a large property

The sheep were making horrible sounds!

Outside the log cabin, the folks had been doing their wash!

The cabin was moved from the midwest to Riley's many years ago!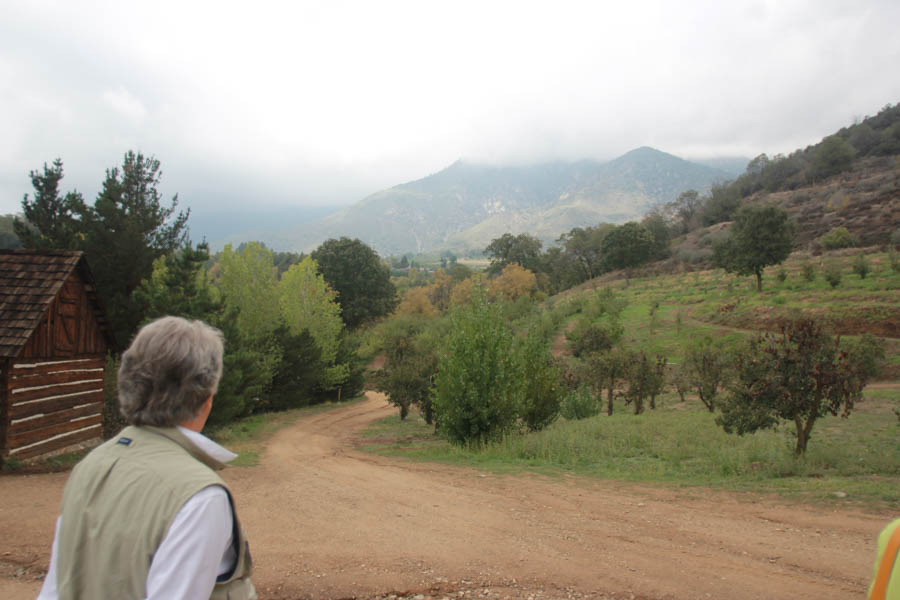 The clouds were bouncing into the local mountains...
We are at 4,700 feet in altitude

The flowers were bright and cheery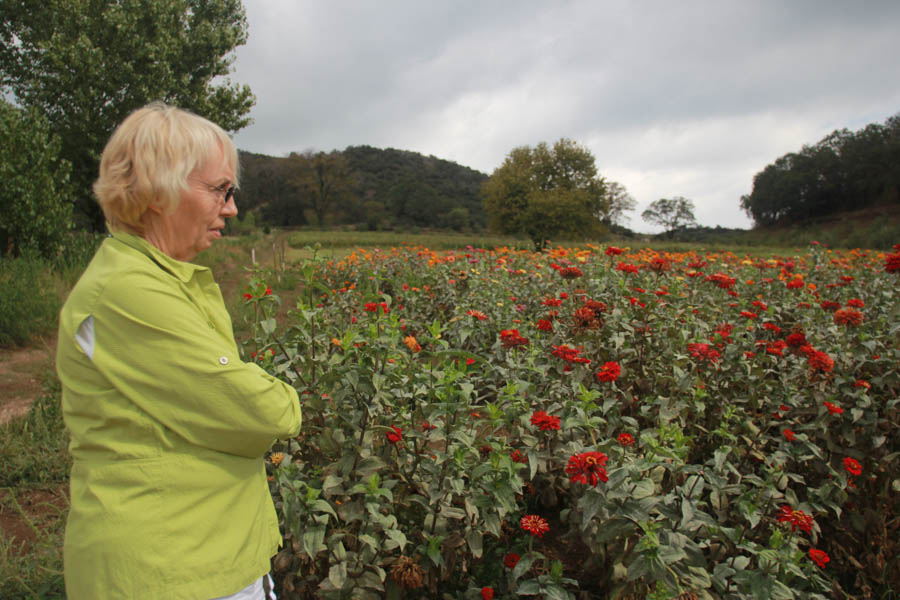 Jan studies the various flowers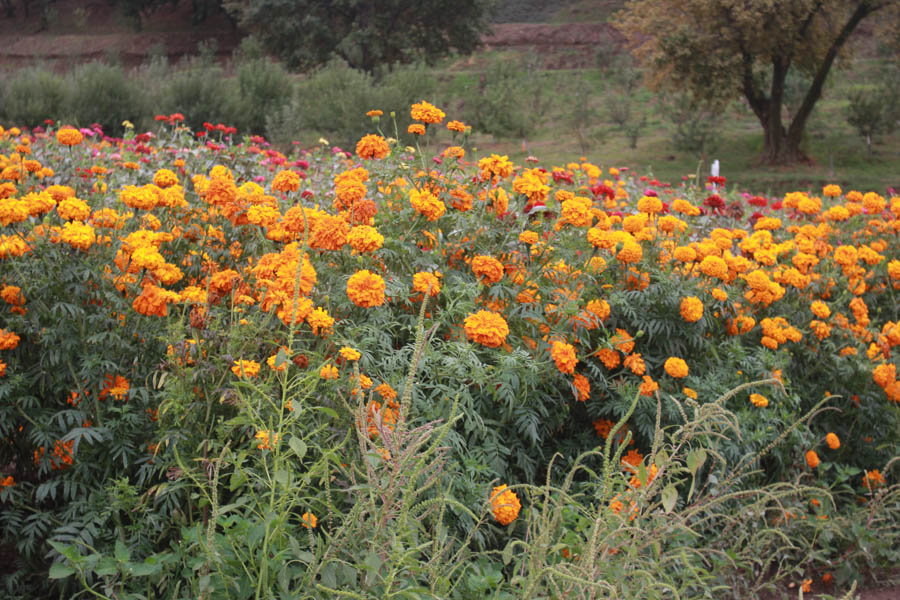 They looked pretty good

Brian got excited when he spotted the pumpkins!
(We told him how to catch a pumpkin... He believed us!)

"Can I take it home?"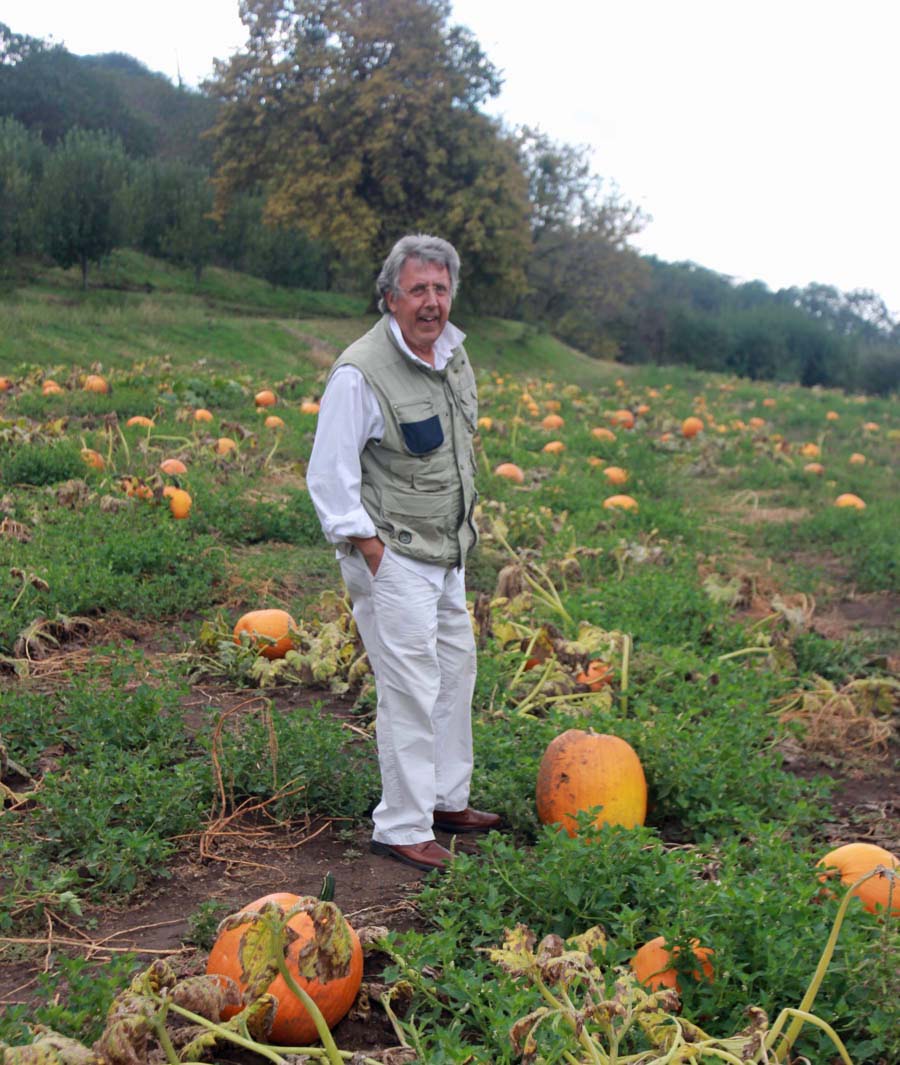 "Where is me knife... I can carve it here!"

The blackberries didn't look too good... The season had past!

Pears were everywhere!
Did You Know? - There are more than 5,000 varieties of pears, not all of them are pear-shaped. They have been cultivated since before 2000 B.C.
The leading pear producers, in order are Italy, China and the United States.
Pear trees can produce fruit for up to 100 years.
Stop # 3 1/2 - We Moved The Car To The Colonial Village

In the Colonial Village we saw all sorts of interesting signs!

The privy!
Did You Know? - An outhouse (or privy) is a small structure, separate from a main building, which covers a pit latrine or a dry toilet. Outside North America, the term "outhouse" refers not to a toilet but to outbuildings in a general sense. Colloquially, the term is also used to denote the toilet itself, not just the small housing structure.
The term outhouse is used in North American English for the structure over a pit latrine. The structures are referred to by many other terms throughout the English-speaking world including "dunny" or "long drop" in Australia and "bog" in the United Kingdom.

The blacksmith operates from this location!
Did You Know? - The "black" in "blacksmith" refers to the black fire scale, a layer of oxides that forms on the surface of the metal during heating. The origin of "smith" is debated, it may come from the old English word "smythe" meaning "to strike" or it may have originated from the Proto-German "smithaz" meaning "skilled worker.

Caught like a rat in a trap!

We decided NOT to leave him there!
Did You Know? - Stocks are devices used internationally, in medieval, Renaissance and colonial American times as a form of physical punishment involving public humiliation. The stocks partially immobilized its victims and they were often exposed in a public place such as the site of a market to the scorn of those who passed by.
England's second Statute of Labourers prescribed the use of the stocks for "unruly artisans" in 1350, and required that every town and village erect a set of stocks. Sources indicate that the stocks were used in England for over 500 years, have been never formally abolished, and were used in Rugby as recently as 1865.
The stocks were used in Elizabethan England, and by the Puritans in the colonial period of American history. Their last recorded use in the United Kingdom was in 1872 at either Adpar, Newcastle Emlyn, west Wales or Newbury, Berkshire, England (11 June)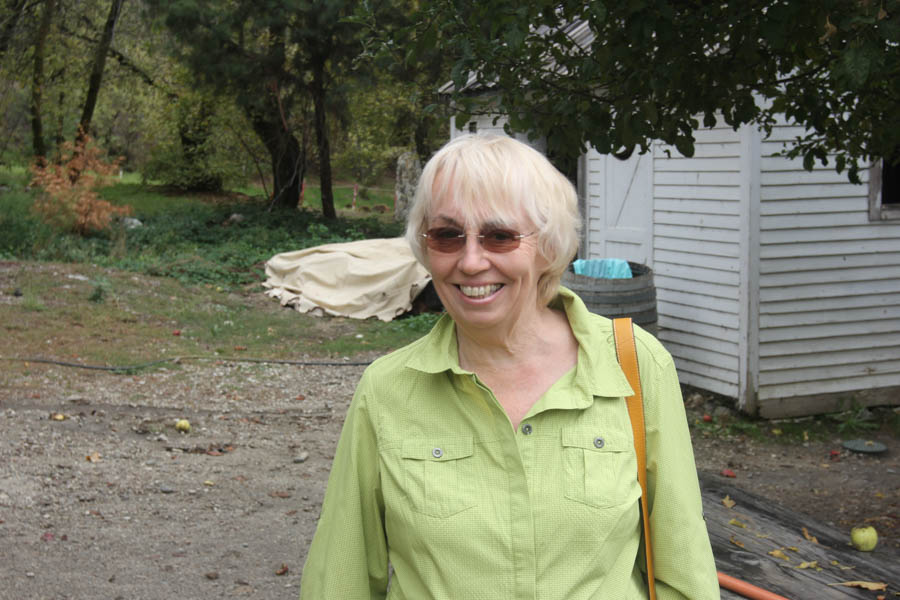 Jan is really enjoying this!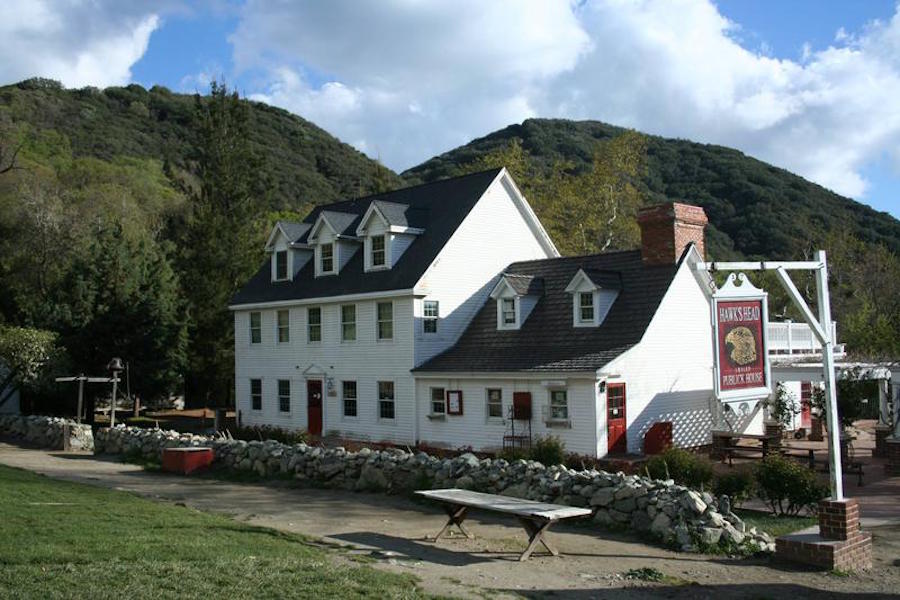 Ah! Civilization! There's a tavern in the town!
Did You Know? - A tavern is a place of business where people gather to drink alcoholic beverages and be served food, and in most cases, where travelers receive lodging. An inn is a tavern which has a license to put up guests as lodgers. The word derives from the Latin taberna whose original meaning was a shed, workshop, stall, or pub.
In the English language, a tavern was once an establishment which served wine whilst an inn served beer and ale.[citation needed] Over time, the words "tavern" and "inn" became interchangeable and synonymous. In England, inns started to be referred to as public houses or pubs and the term became standard for all drinking houses.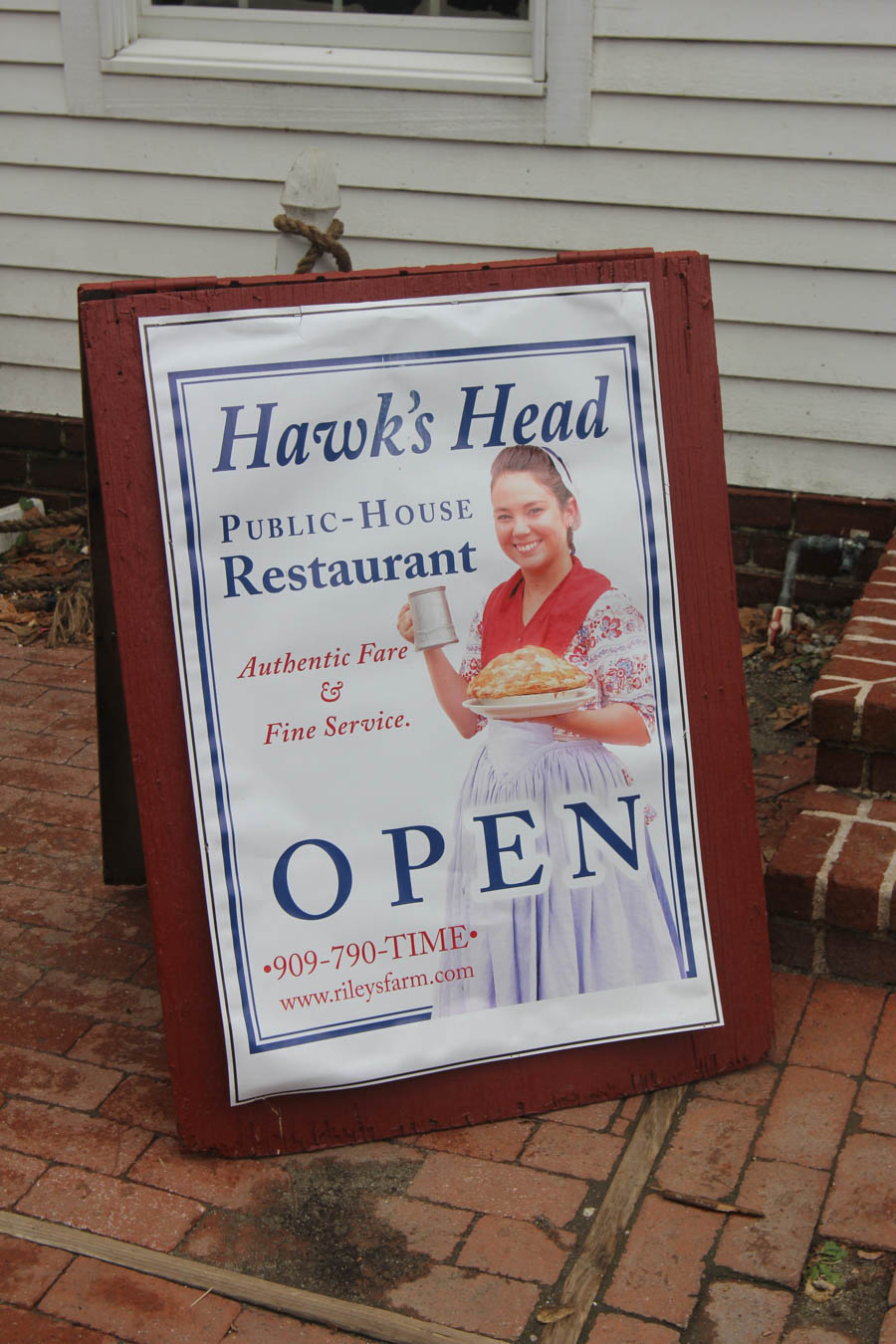 What say we pop in?
Did You Know? - The Hawk's Head is a charming full-service restaurant modeled after a traditional 18th century tavern. The picturesque grounds and mouth-watering comfort cuisine are sure to make your trip to Oak Glen memorable. We serve hearty portions that will please the whole family for breakfast, lunch, or an early candle-lit dinner. Servers are dressed in colonial attire, and greet you with smile and a bow or curtsey

Beer and cheese dip.... Just what we need after a big lunch!

Just like an English pub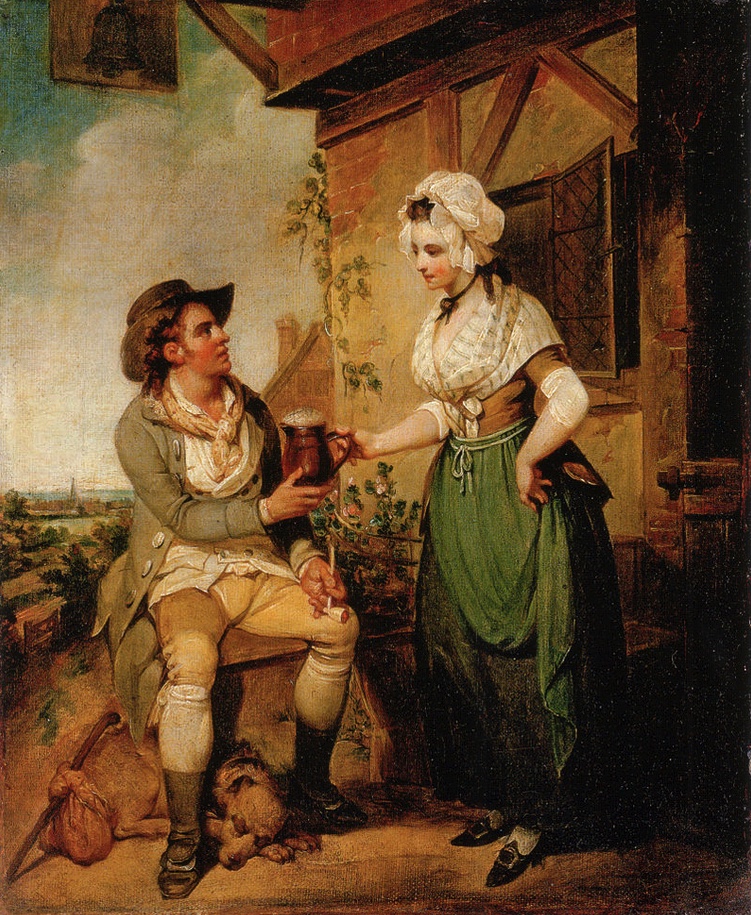 The Ale-House Door (painting of c. 1790 by Henry Singleton)
Did You Know? - A pub /pʌb/, formally public house (a house "open to the public", as opposed to a private house), is a drinking establishment in the culture of Britain, Ireland, New Zealand, Australia, Canada and Denmark.
In many places, especially in villages, a pub can be the focal point of the community. The writings of Samuel Pepys describe the pub as the heart of England.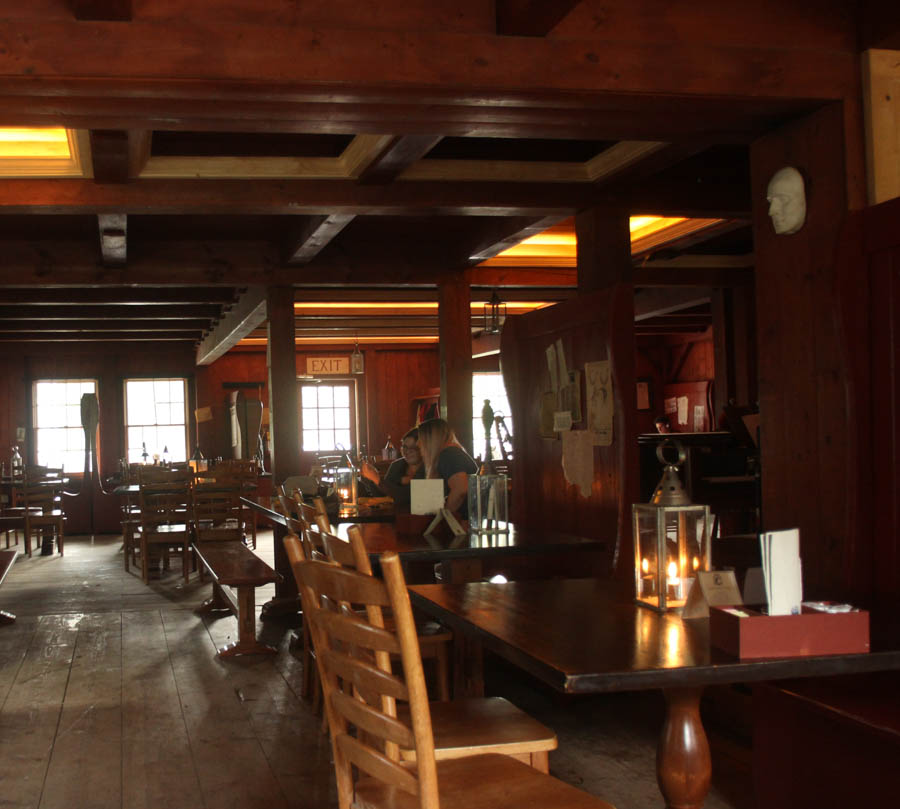 It was close to closing time

We now know why the poles were along the supports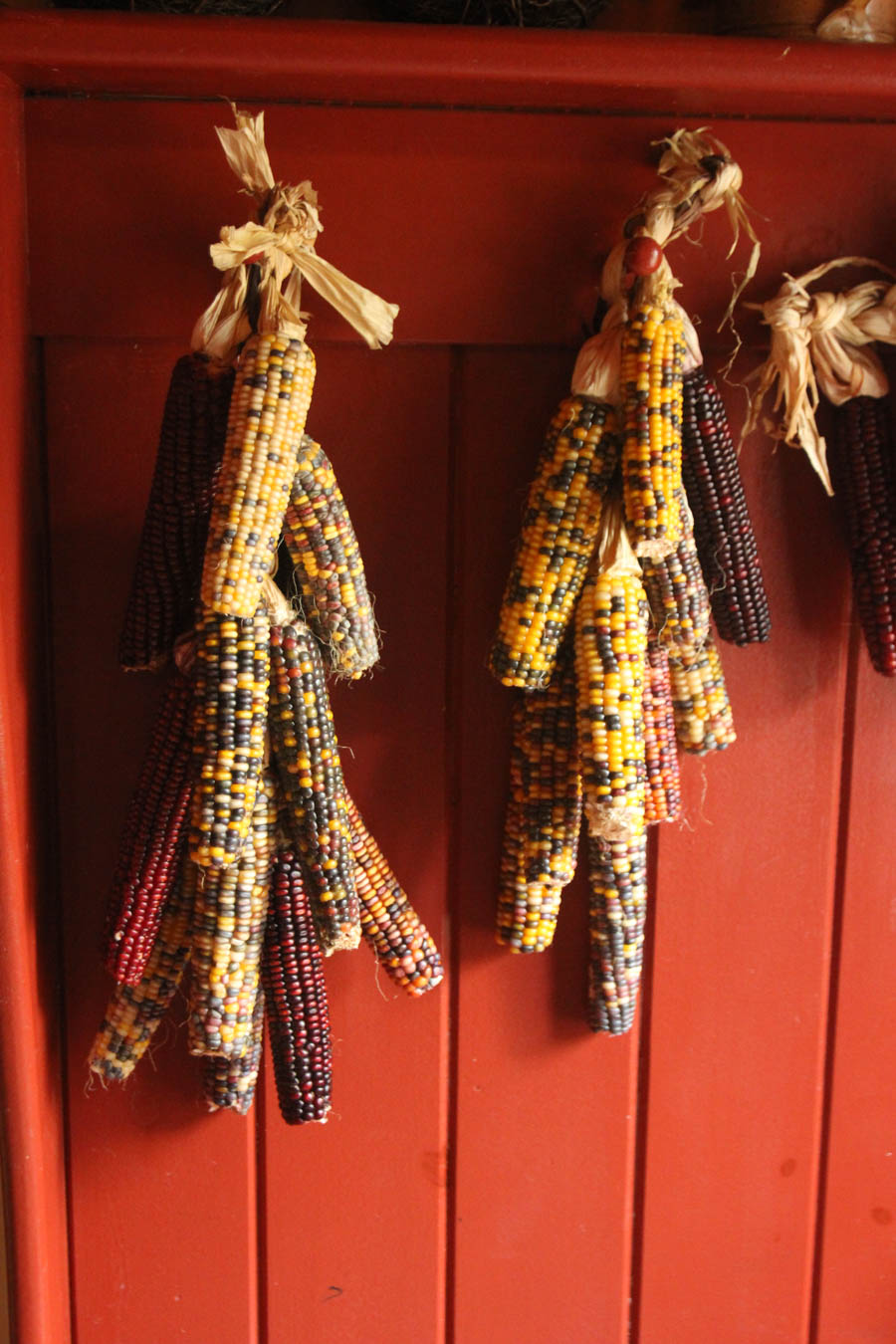 Indian corn decorated the establishment
Did You Know? - The key to keeping apples is to keep them cold.

They give off a ripening gas called ethylene that'll ripen other fruits and vegetables around. That's helpful if you really need that green bunch of bananas to turn yellow. Otherwise, keep apples separate and refrigerate them, which will slow down the release of ethylene.

The ideal setting is 32 to 33 degrees, under high humidity.
Store them in a tightly closed plastic bag to trap the humidity, and then put the bag in the produce drawer. To ensure it's humid enough, go even further by placing a damp cloth in the bottom of the drawer.

Stored properly, apples, especially the denser, crisper varieties, should keep for several months.