Connor, Jeanette, Sue, and Paul Go Apple "Picking" October 18th, 2009
It's 2009 and time to make apple sauce! We didn't realize it was so popular on the weekends! It is nice to be retired and NOT see the crowds.

Up the road from Riley's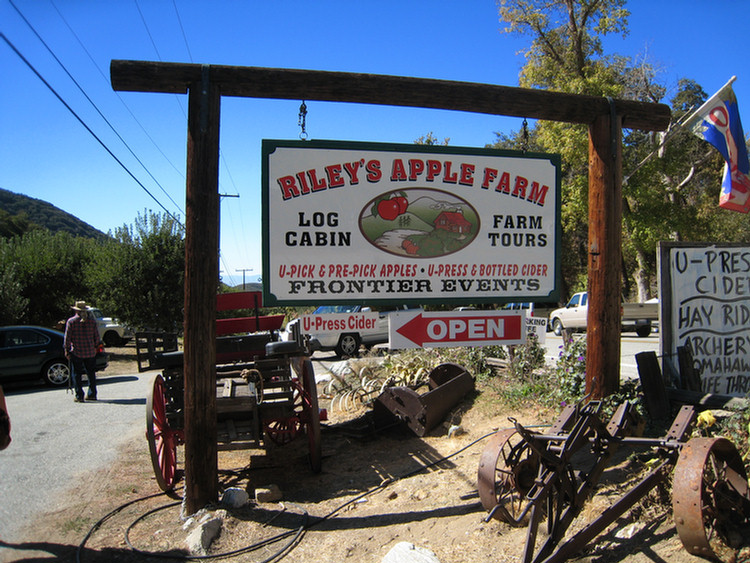 This is NOT the real Riley's... These guys were not nice!

Plenty of pumpkins
Did you know? - The word pumpkin originates from the word pepon, which is Greek for "large melon". The French adapted this word to pompon, which the British changed to pumpion and later American colonists changed that to the word we use today, "pumpkin". The origin of pumpkins is not definitively known, although they are thought to have originated in North America.
The oldest evidence, pumpkin-related seeds dating between 7000 and 5500 B.C., were found in Mexico. Pumpkins are a squash-like fruit that range in size from less than 1 pound (0.45 kilograms) to over 1,000 pounds (453.59 kilograms).
Since some squash share the same botanical classifications as pumpkins, the names are frequently used interchangeably. In general, pumpkins have stems that are more rigid, pricklier, and squarer (with an approximate five-degree angle) than squash stems, which are generally softer, more rounded, and more flared where joined to the fruit.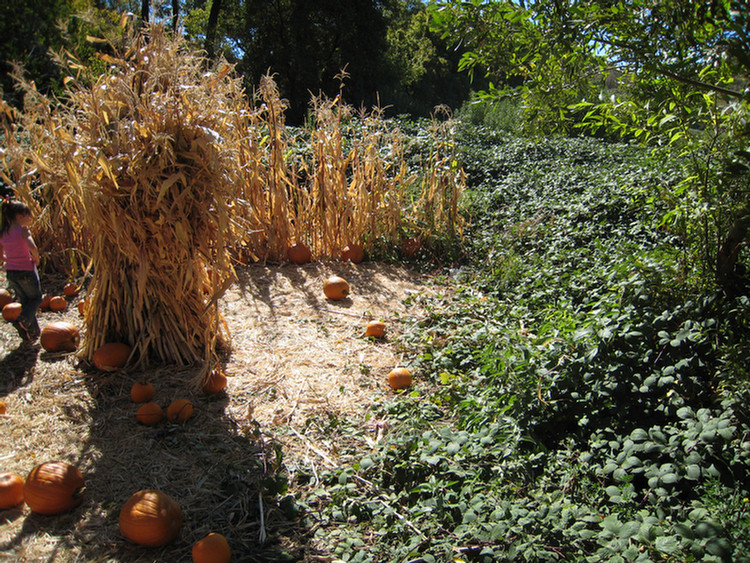 The corn was a little dry!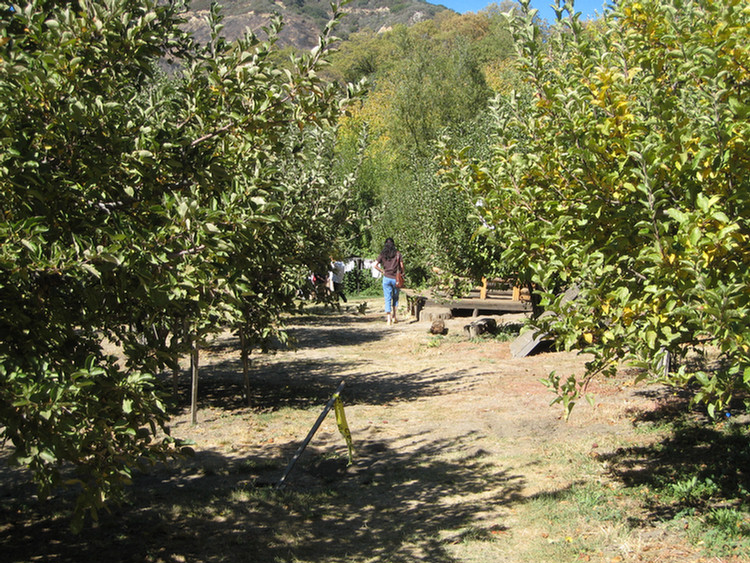 This year was not a bumper crop of Apples!
Did you know? - The center of diversity of the genus Malus is in eastern Turkey. The apple tree was perhaps the earliest tree to be cultivated, and its fruits have been improved through selection over thousands of years. Alexander the Great is credited with finding dwarfed apples in Asia Minor in 300 BCE; those he brought back to Macedonia might have been the progenitors of dwarfing root stocks.
Winter apples, picked in late autumn and stored just above freezing, have been an important food in Asia and Europe for millennia, as well as in Argentina and in the United States since the arrival of Europeans. Apples were brought to North America with colonists in the 1600s, and the first apple orchard on the North American continent was said to be near Boston in 1625.
In the 1900s, irrigation projects in Washington state began and allowed the development of the multi-billion dollar fruit industry, of which the apple is the leading species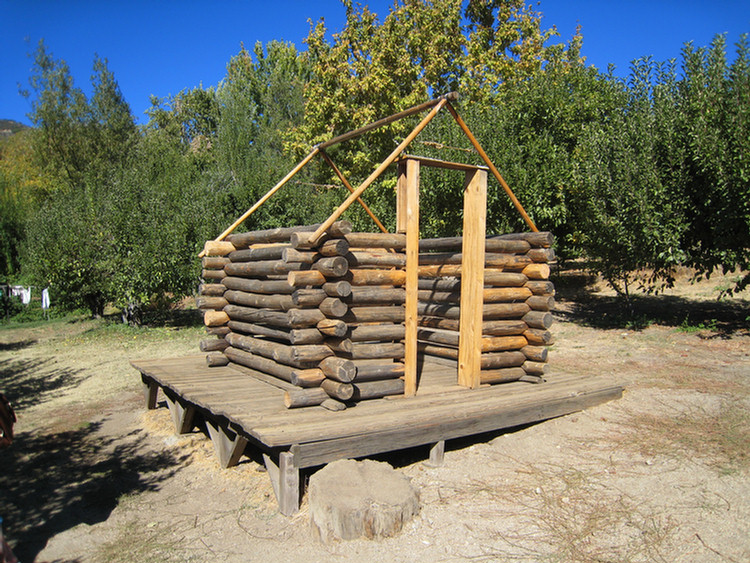 Displays show how log cabins were made
Did you know? - Log cabins have a strong association with rustic and rural North America, but historically log construction has its roots in Scandinavia and Eastern Europe.
Although their origin is uncertain, the first log structures were probably built in Northern Europe in the Bronze Age (about 3500 BC). By the time Europeans began to settle in America, there was a long tradition of using logs for houses, barns, and other outbuildings in the Scandinavian countries, Germany, Northern Russia and Ukraine.
By stacking tree trunks one on top of another and overlapping the logs at the corners, the "log cabin" was born. Interlocking corners were soon developed by notching the logs at the ends, resulting in strong structures which were also easier to make weather-tight by inserting moss or other soft material into the joints.
As the original coniferous forest extended over the coldest parts of the world, there was a prime need to keep these houses warm, and the insulating properties of the solid wood were a great advantage over a timber frame construction merely covered with animal skins, felt, boards or shingles. Over the centuries increasingly complex joints were developed to ensure more weather tight joints between the logs but these profiles were still largely based on the round log

A 200 pound rat got to this one... I put it back!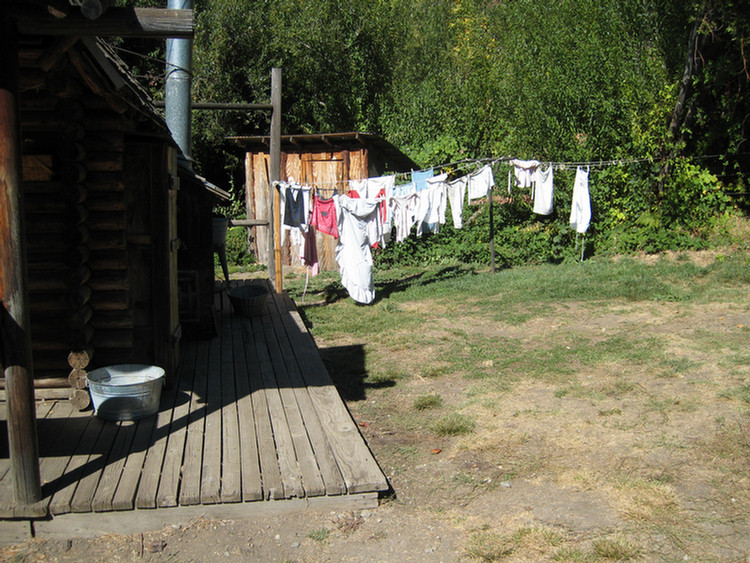 Remember when!
Did you know? - A clothes line or washing line is any type of rope, cord, or twine that has been stretched between two points (e.g. two sticks), outside or indoors, above the level of the ground. Clothing that has recently been washed is hung along the line to dry, using clothes pegs or clothes pins. Washing lines are attached either from a post or a wall, and are frequently located in back gardens, or on balconies. Longer washing lines often have props holding up sections in the middle due to the weight of the clothing.
In the past, zoning regulations in some areas prohibited their use ostensibly because they were sometimes associated with poverty or considered unaesthetic. However, more recently, clothes lines have become associated with a "home-town" character in neighborhoods because they are indicative of a low-crime area. (Clothes lines are used less frequently in high-crime areas because of the risk of clothes being stolen.) Also, environmental concerns and sky-rocketing energy costs have prompted many governments to pass "right-to-dry" laws allowing their use

The outdoor theater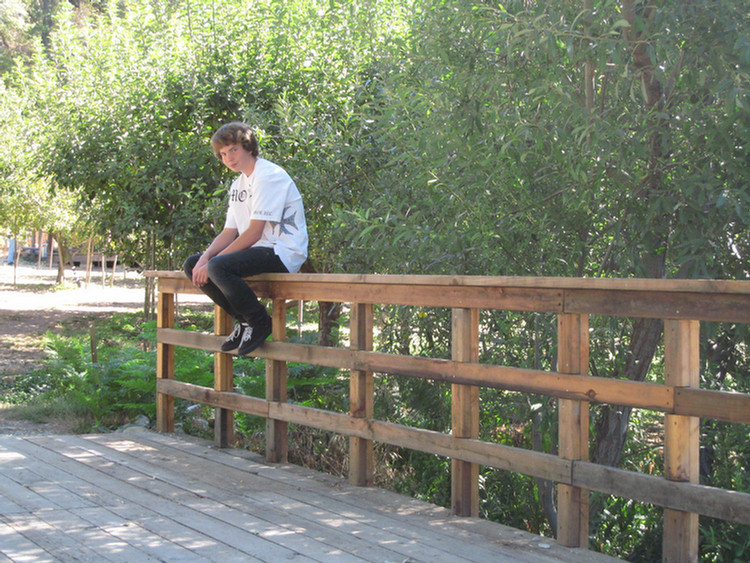 The boy needs a fishin' pole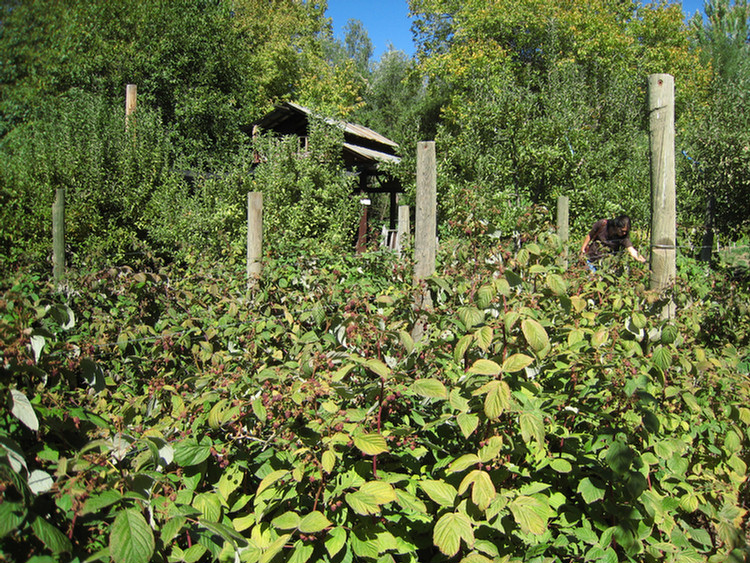 She is looking for raspberries... They are long gone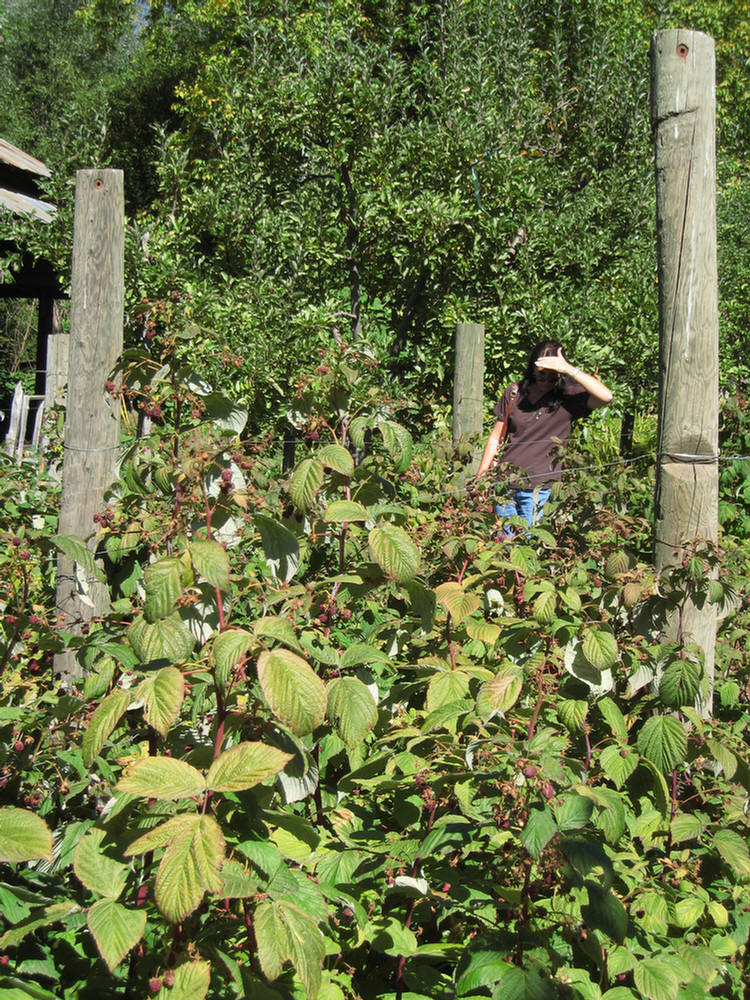 "Where are you hiding little berries?????"
Did you know? - The raspberry (plural, raspberries) is the edible fruit of a multitude of plant species in the subgenus Idaeobatus of the genus Rubus; the name also applies to these plants themselves. The name originally referred to the European species Rubus idaeus (with red fruit) still used as its standard English name.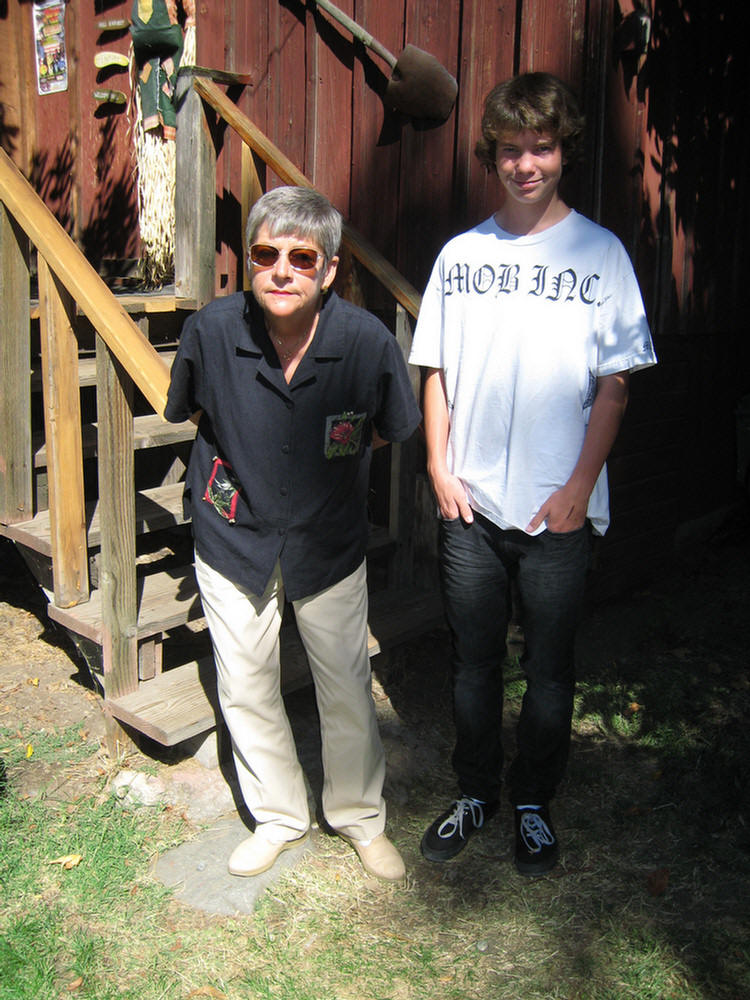 Grandma Sue and Connor prepare to enter the store
We Gave Up Picking So We Decided To Eat! El Mexicano Restaurant II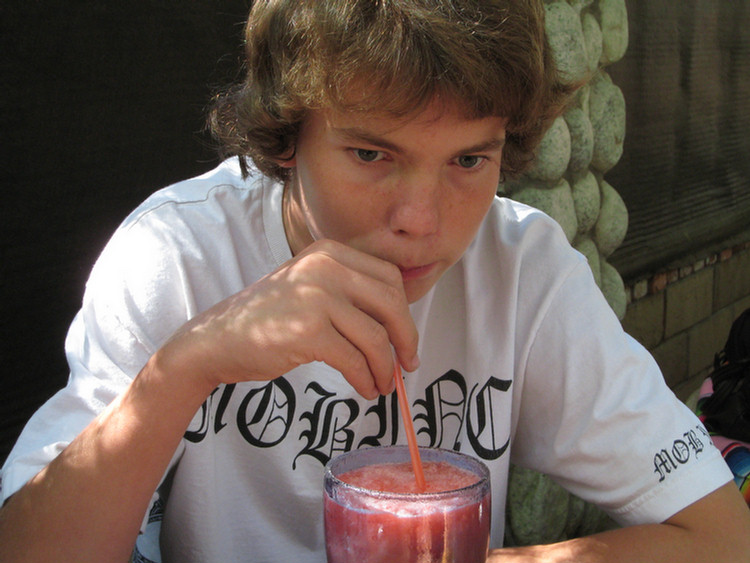 Connor slurps down a Margarita
Did you know? - The Margarita is the most common tequila-based cocktail, made with tequila mixed with triple sec and lime or lemon juice, often served with salt on the glass rim. Connor's missed the alcohol!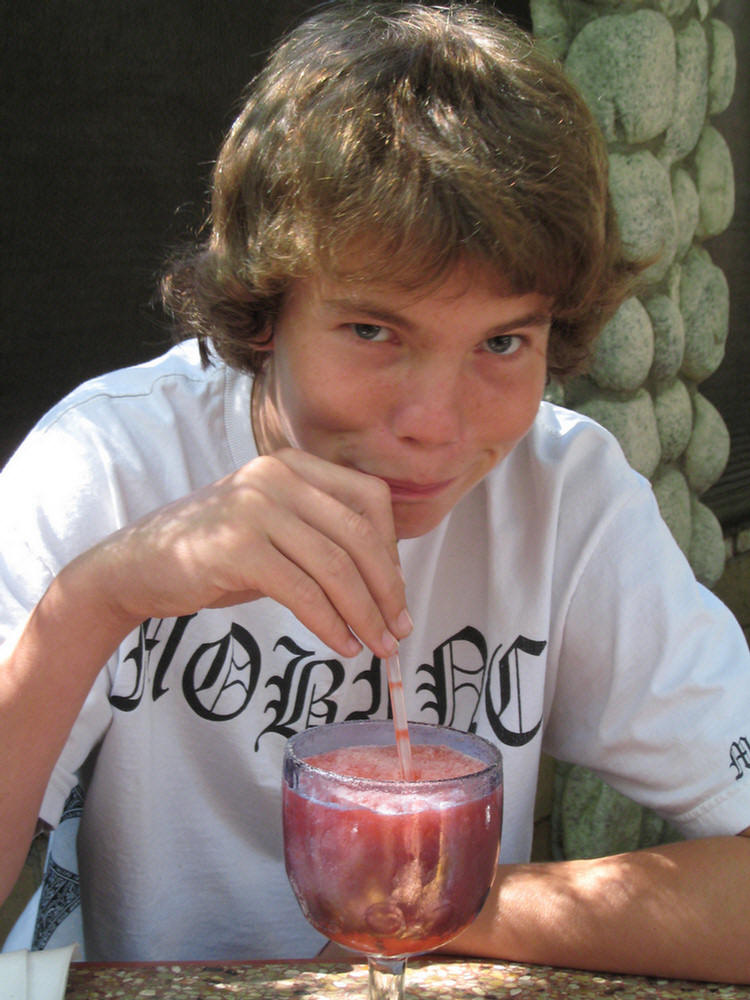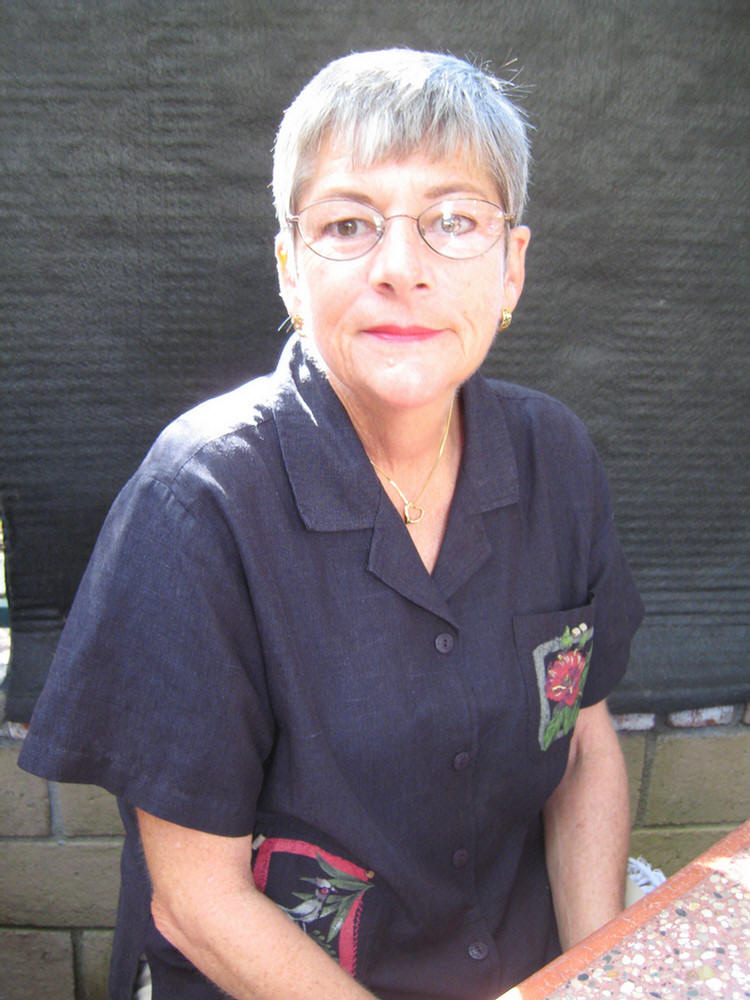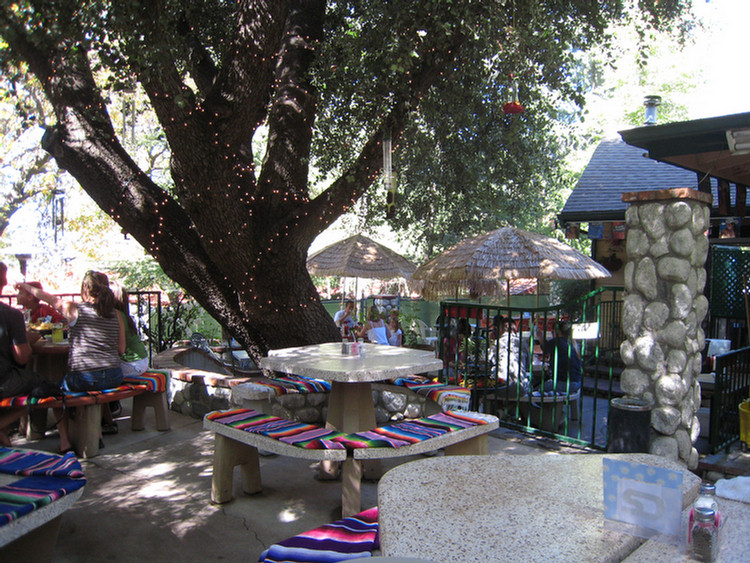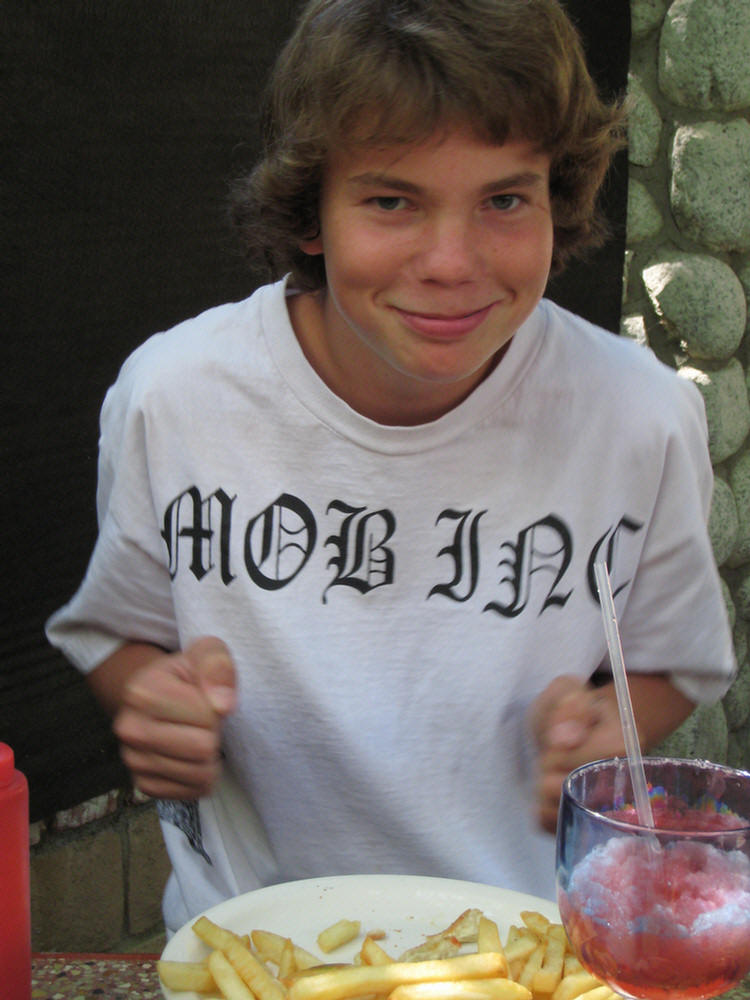 Yes... He is doing the groundhog dance!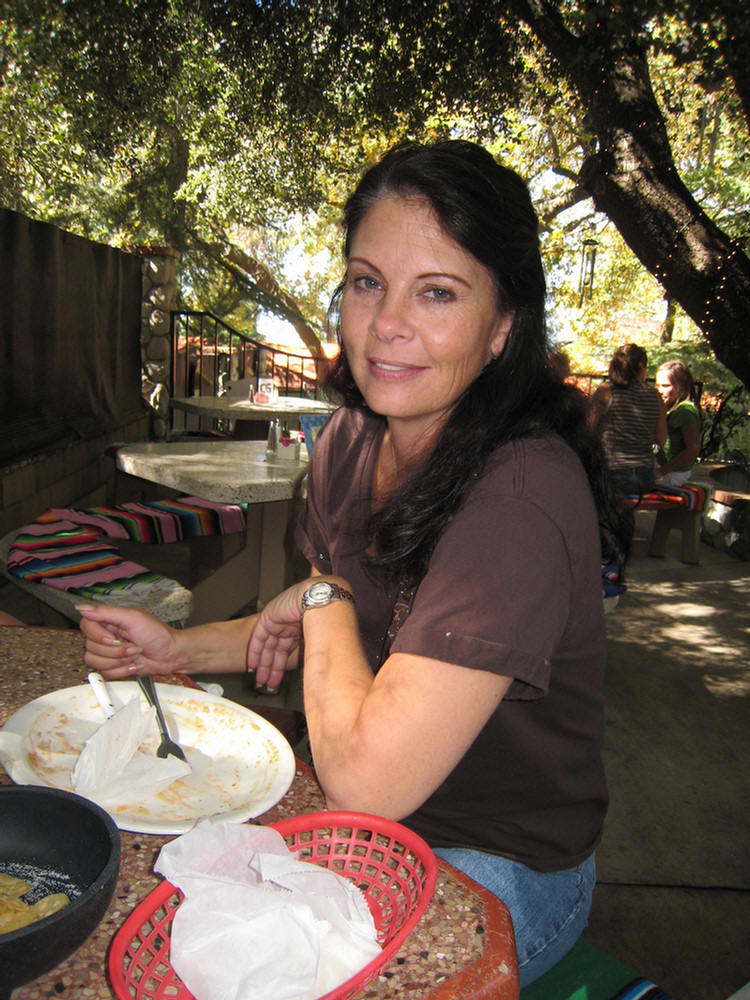 Good grub... Good company... Lot's of fun!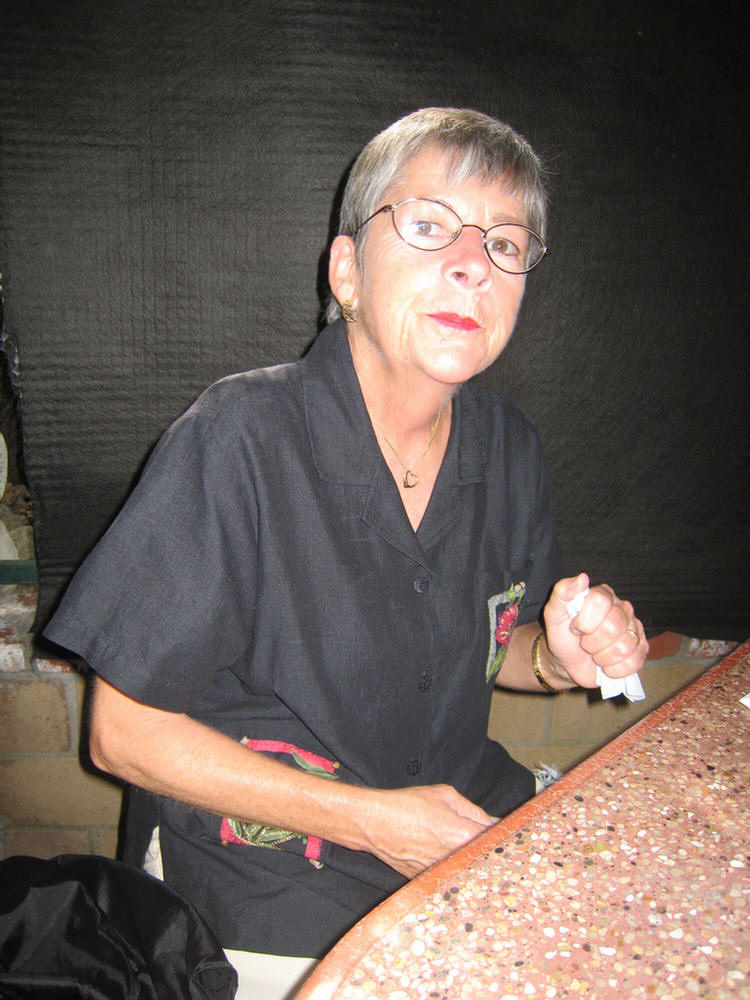 Great outdoor seating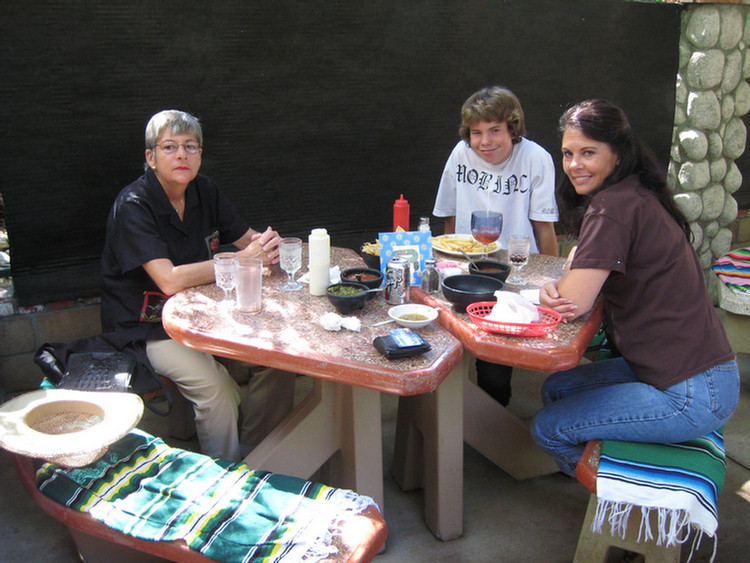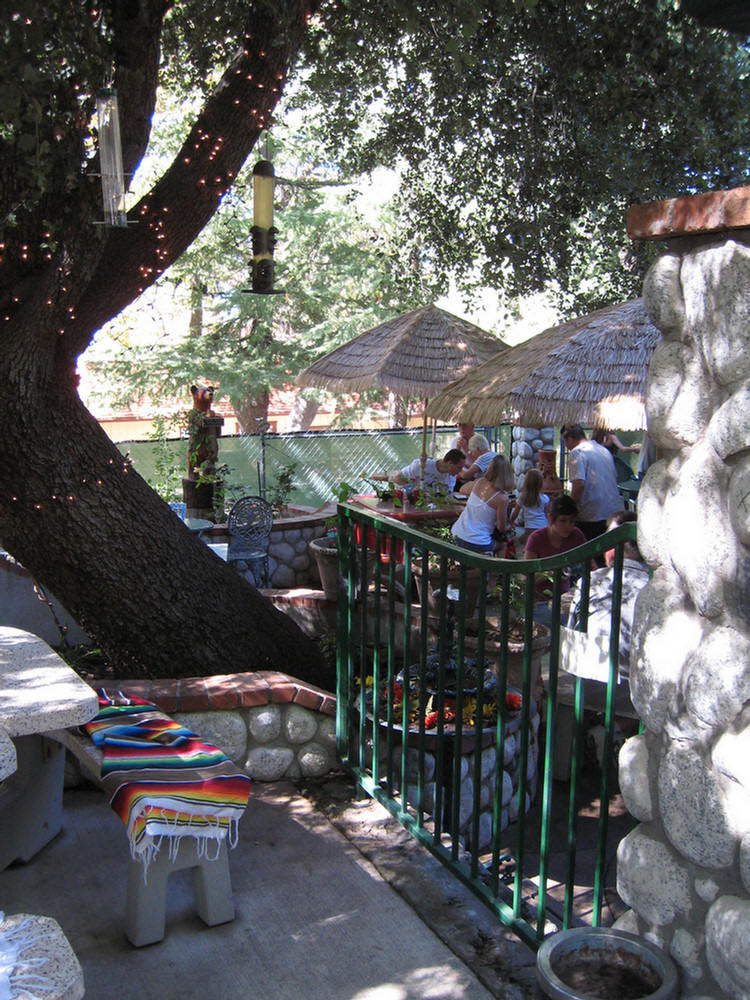 Did We Say Traffic???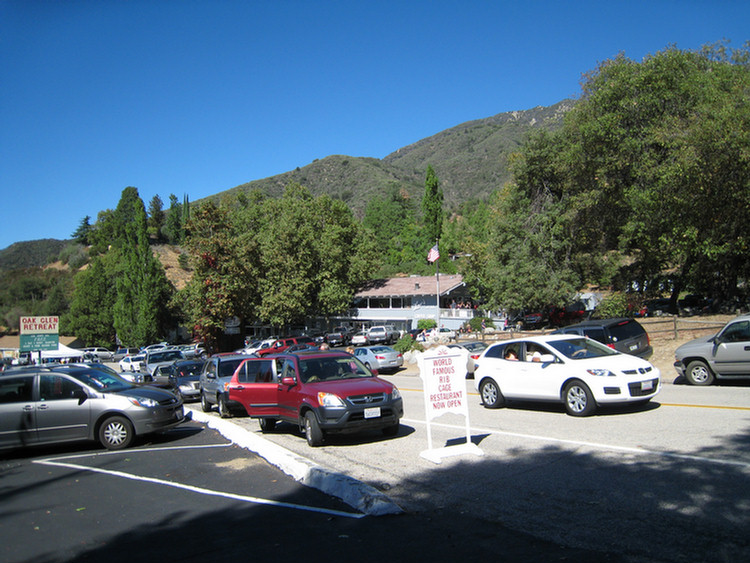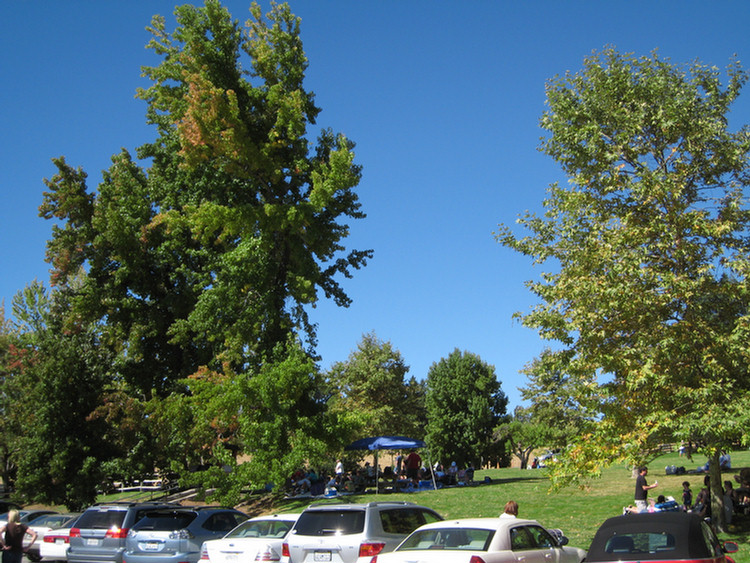 Los Rios for apple picking...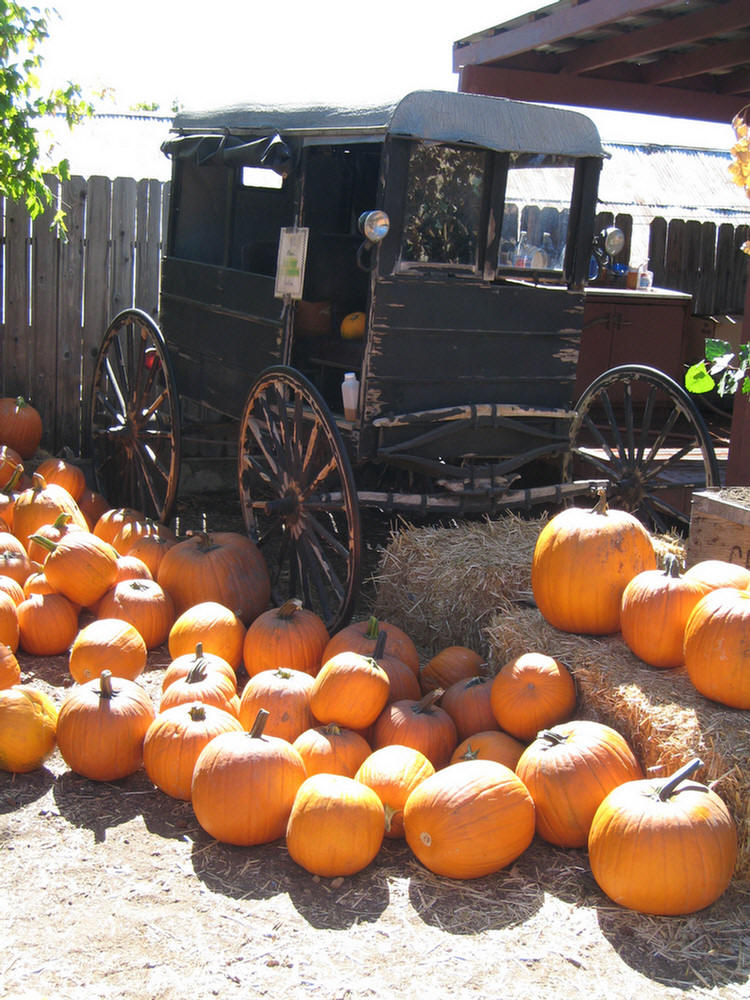 Picking was easy!!!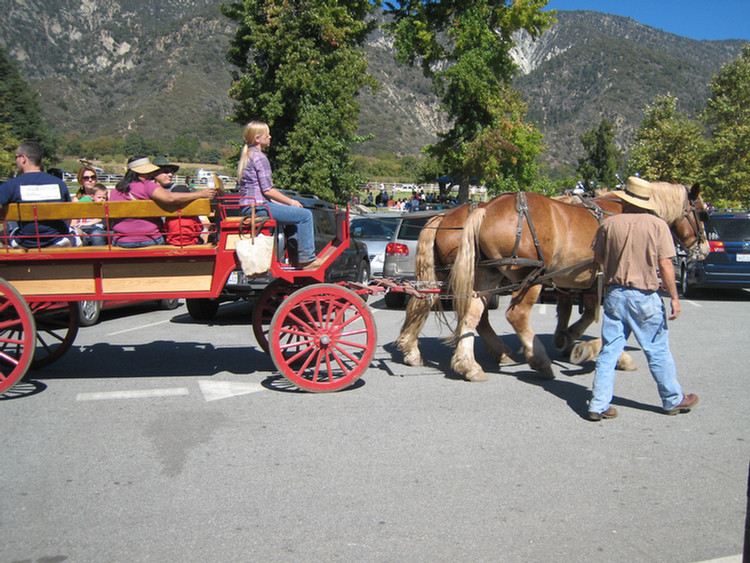 Time for a ride?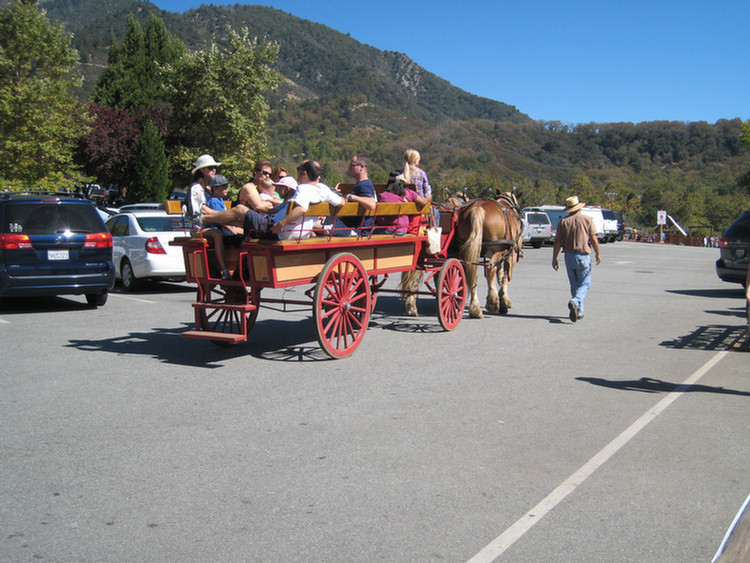 Off they go!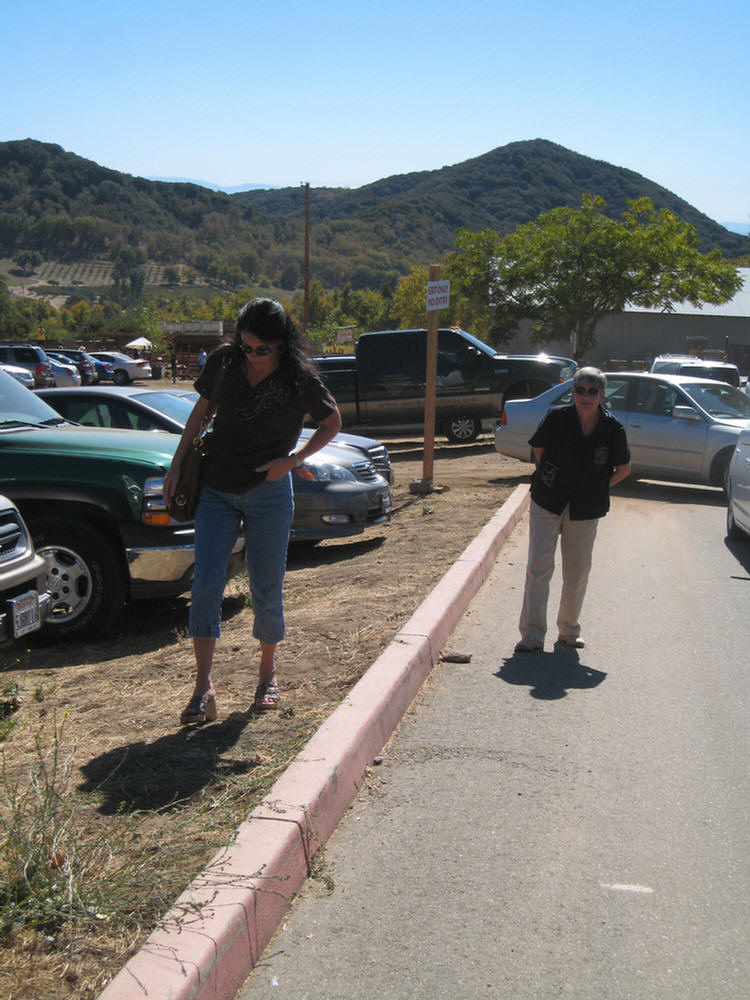 Jeanette wore hiking shoes!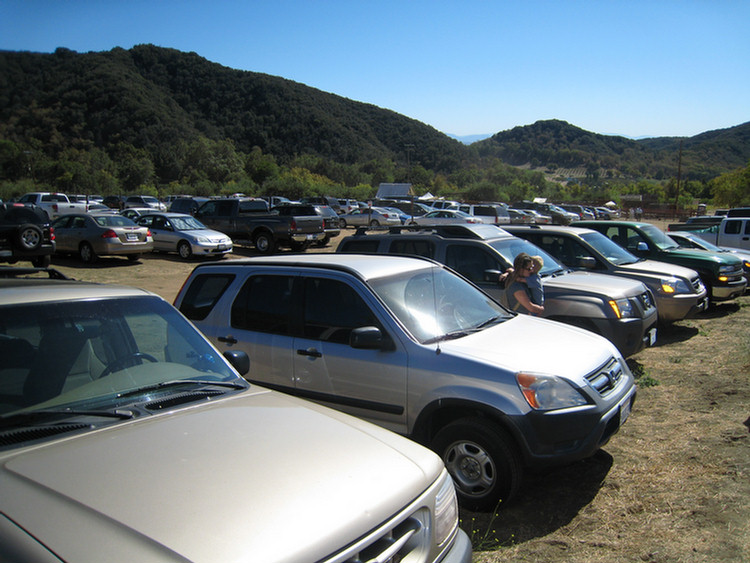 Enough of this... Let's go make apple sauce
Did you know? - Apple sauce (or applesauce) is a loose or chunky purée made of cooked or baked apples. It can be made with peeled or unpeeled apples and a variety of spices (commonly cinnamon and allspice). Fruit flavorings or sweeters such as sugar, high fructose corn syrup, or sucralose are also commonly added.
Apple sauce can be fine or chunky. It is easily produced at home by using a mill, sometimes called a sauce-master (invented by Sir Richard Harlow.
Commercial versions of apple sauce are readily available in supermarket stores. It may be packaged in glass jars, aluminum cans, plastic or any ceramic material. It is also sold in small plastic cups for children, for snacks, or lunchtime.
Apple sauce is most commonly consumed by itself in the United States[citation needed], but in other countries apple sauce is not typically served as a dish on its own.
Applesauce is used as an accompaniment to a main course, usually ham, pork or bacon. Swedes normally eat apple sauce as a condiment for roast pork and for breakfast, such as oatmeal, muesli and a buttermilk-like product called filmjölk, In Germany it accompanies potato pancakes. In the Netherlands it is popular with children to give their stamppot, potatoes or fries more flavor.