Oak Glen Day Trip October 27th, 2008
At dinner last night (at Old Ranch), Vicky mentioned they had been wanting to go to Oak Glen. Sue and Paul were planning to go the next morning... so we all did! We jumped in the Silver Bullet at 10:00am and made it to the farm by 11:20am.
Spring, summer or fall, Oak Glen is one of Southern California's most scenic spots. The cool mile-high climate provides a beautiful change of seasons, unsurpassed in the area. Apple orchards cover the slopes laden with blossoms in the Spring and apples in the Fall. The scenery is more like New England, and only 90 minutes from Los Angeles on the way to Palm Springs.
Oak Glen offers clean family fun in every season. Visit orchards, taste mountain-fresh apples and cider, enjoy hot apple pie at one of the several family restaurants, feed the animals in the animal parks, or browse through some of the many specialty shops in the Glen. During the fall season, at a few ranches you can pick your own apples, make your own cider or maybe enjoy country music and dancing. You can visit the one-room schoolhouse, take a hayride, or a nature walk.
Under The Apple Tree - The Andrews Sisters

The way music used to sound good
Let's Get To Picking!

81 miles from our door to Riley's farm


We met these old people dressed in period costumes!
Animals Roam Around The Ranch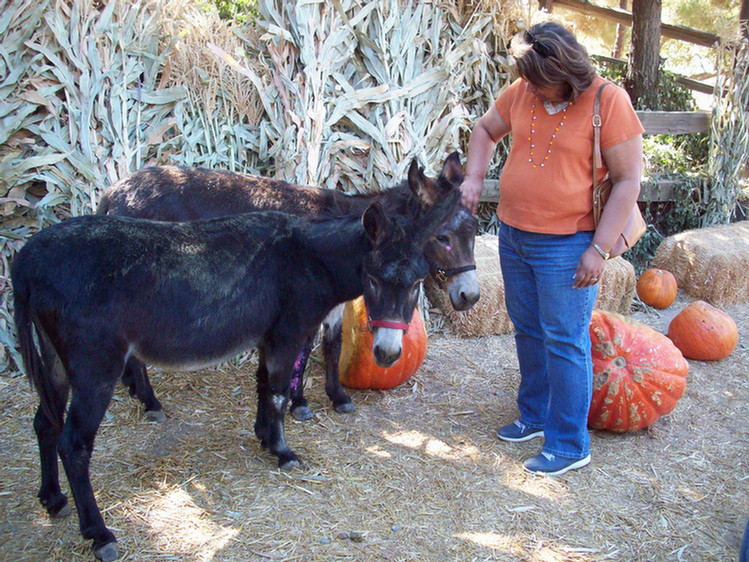 We are even nice to Democrats

See Sarge and Flower, they are just Donkeys not doggies
Did you know? - The donkey or ass, Equus africanus asinus, is a domesticated member of the Equidae or horse family, and an odd-toed ungulate. The wild ancestor of the donkey is the African Wild Ass, E. africanus. Traditionally, the scientific name for the donkey is Equus asinus asinus based on the principle of priority used for scientific names of animals.
However, the International Commission on Zoological Nomenclature has ruled in 2003 that if the domestic species and the wild species are considered subspecies of each other, the scientific name of the wild species has priority, even when that subspecies has been described after the domestic subspecies.
This means that the proper scientific name for the donkey is Equus africanus asinus when it is considered a subspecies, and Equus asinus when it is considered a species.
In the western United States, a small donkey is sometimes called a burro (from the Spanish word for the animal).
A male donkey or ass is called a jack, a female a jenny, and offspring less than one year old, a foal (male: colt, female filly).
Down To Work Out In The Granny Smith Apple Orchard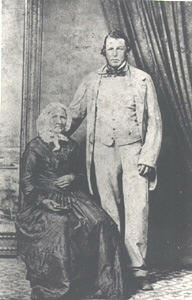 Maria Ann Sherwood Smith
(1799-1870)
Granny Smith, or green apple, is a tip-bearing apple cultivar. It originated in Australia in 1868 from a chance seedling propagated by Maria Ann Smith (nee Sherwood), where the name "Granny Smith" comes from. They are found wild in New Zealand; it was originally introduced to the United Kingdom circa 1935 and the United States in 1972 by Grady Auvil.

To this day, there is an annual Granny Smith Festival in Eastwood, New South Wales at the end of October. The celebration marks the fact that beyond the cultivar's local origins, in the late 19th, early 20th Century, the orchards of Eastwood supplied apples to the Sydney region. Sydney, with its humid subtropical climate is not ideally suited for growing apples but Granny Smith did notably well while other cultivars struggled. With much easier transport, apples are no longer grown commercially in the Sydney region.

Granny Smith apples are a light speckled green in color. They are crisp, juicy, tart apples which are excellent for both cooking and eating raw. They also are favored for salads because the slices do not brown as quickly as other varieties. It also tends to have a harder texture than other green apples, posing problems for denture wearers.

This cultivar needs fewer winter chill hours and a longer growing season to mature the fruit, so it is favored for the milder areas of the apple growing regions.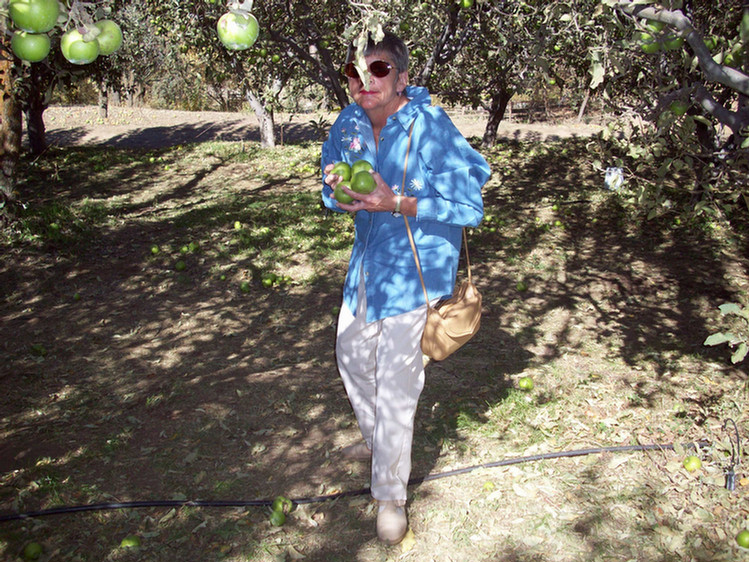 She was trying to hind behind the leaf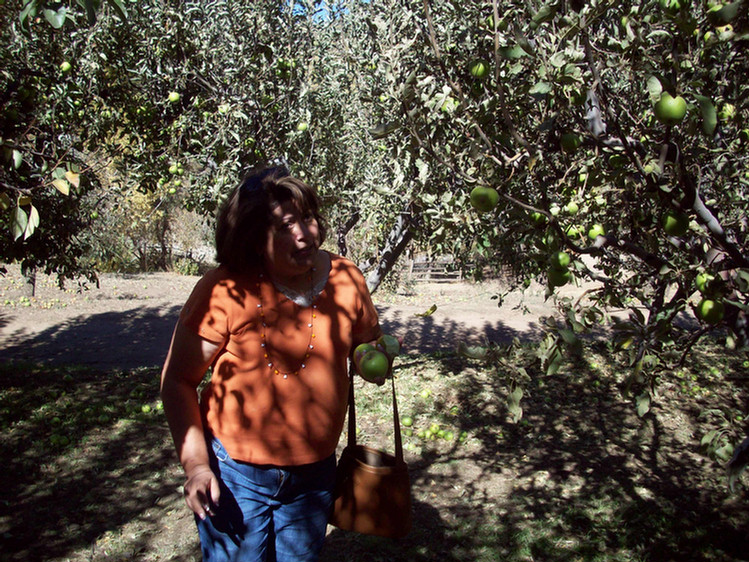 No, we will not boost you up into the tree!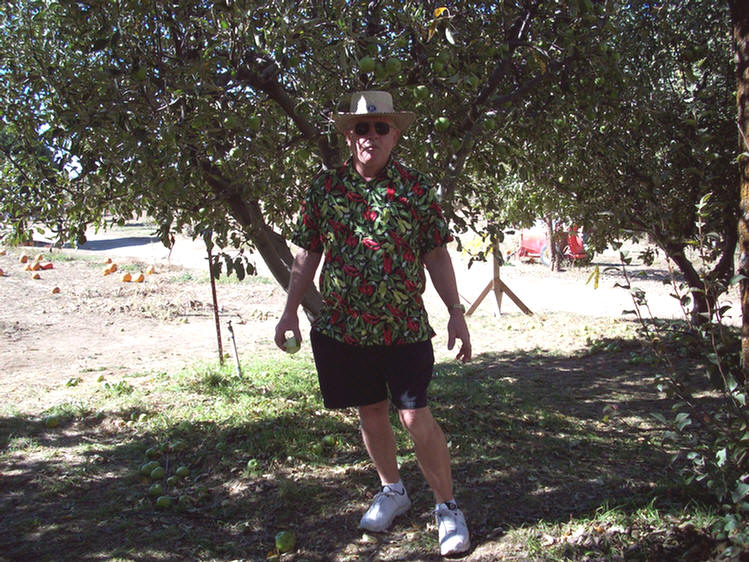 A farmer's fashion show! Notice his hand with the half-eaten apple in it!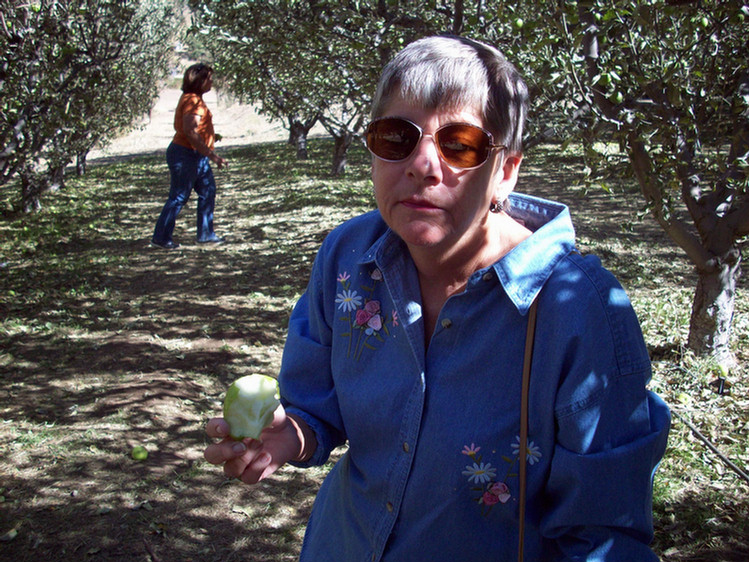 "It already had a bite out of it when it fell into my hands, really!"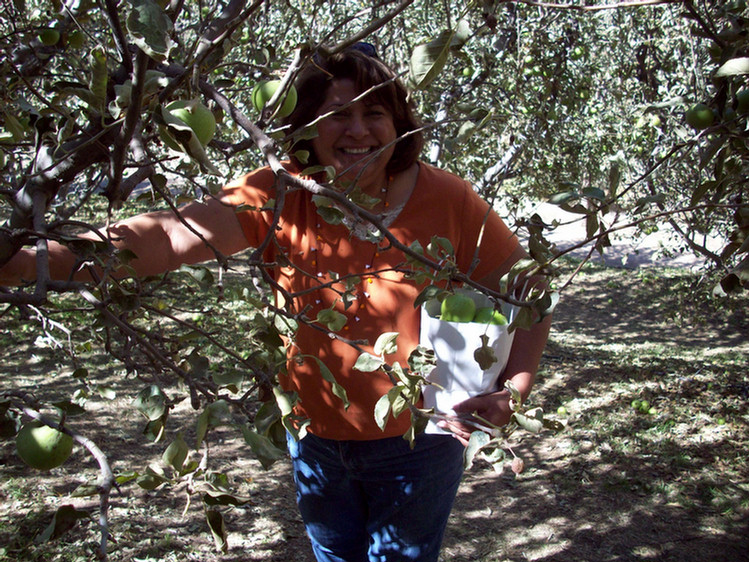 "My bag is almost full!!"
Did you know? - The apple is the pomaceous fruit of the apple tree, species Malus domestica in the rose family Rosaceae. It is one of the most widely cultivated tree fruits. The tree is small and deciduous, reaching 3 to 12 metres (9.8 to 39 ft) tall, with a broad, often densely twiggy crown.
The leaves are alternately arranged simple ovals 5 to 12 cm long and 3–6 centimetres (1.2–2.4 in) broad on a 2 to 5 centimetres (0.79 to 2.0 in) petiole with an acute tip, serrated margin and a slightly downy underside.
Blossoms are produced in spring simultaneously with the budding of the leaves. The flowers are white with a pink tinge that gradually fades, five petaled, and 2.5 to 3.5 centimetres (0.98 to 1.4 in) in diameter. The fruit matures in autumn, and is typically 5 to 9 centimetres (2.0 to 3.5 in) diameter. The center of the fruit contains five carpels arranged in a five-point star, each carpel containing one to three seeds.


The trees were pretty full of apples!


Del spotted the perfect apple... 40 feet up on the top of the tree. Needless to say, that apple is still up there awaiting a taller person!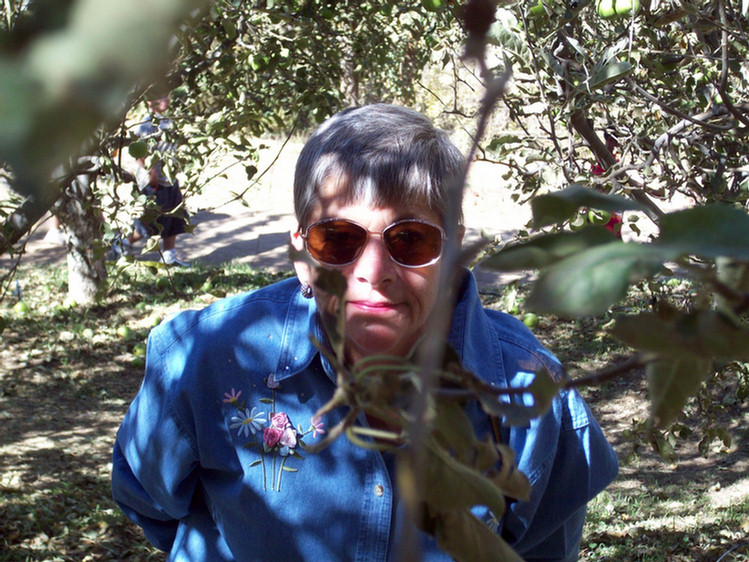 She is still trying to hide!

Up close and personal!
Did you know? - The center of diversity of the genus Malus is the eastern Turkey. The apple tree was perhaps the earliest tree to be cultivated, and its fruits have been improved through selection over thousands of years. Alexander the Great is credited with finding dwarfed apples in Asia Minor in 300 BCE; those he brought back to Macedonia might have been the progenitors of dwarfing root stocks.
Winter apples, picked in late autumn and stored just above freezing, have been an important food in Asia and Europe for millennia, as well as in Argentina and in the United States since the arrival of Europeans.
Apples were brought to North America with colonists in the 1600s, and the first apple orchard on the North American continent was said to be near Boston in 1625. In the 1900s, irrigation projects in Washington state began and allowed the development of the multi-billion dollar fruit industry, of which the apple is the leading species.
Vicky Finds The Punkin Patch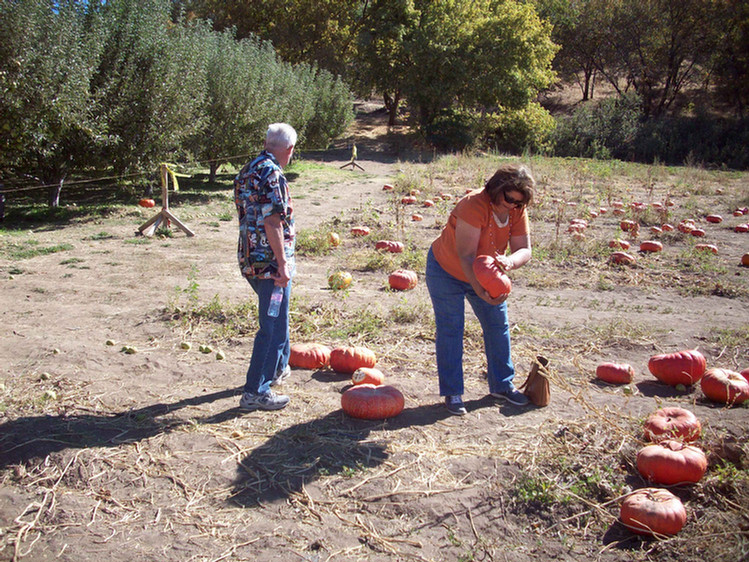 Oh oh! What is she going to do? This looks dangerous!
Did you know? - The word pumpkin originates from the word pepon, which is Greek for "large melon". The French adapted this word to pompon, which the British changed to pumpion and later American colonists changed that to the word we use today, "pumpkin". The origin of pumpkins is not definitively known, although they are thought to have originated in North America. The oldest evidence, pumpkin-related seeds dating between 7000 and 5500 B.C., were found in Mexico. Pumpkins are a squash-like fruit that range in size (less than 1 pound (0.45 kilograms) to over 1,000 pounds (453.59 kilograms)..
Since some squash share the same botanical classifications as pumpkins, the names are frequently used interchangeably. In general, pumpkins have stems that are more rigid, pricklier, and squarer (with an approximate five-degree angle) than squash stems, which are generally softer, more rounded, and more flared where joined to the fruit.
Pumpkins generally weigh 9–18 lbs (4–8 kg) with the largest (of the species C. maxima) capable of reaching a weight of over 75 lbs (34 kg). The pumpkin varies greatly in shape, ranging from oblate through oblong. The rind is smooth and usually lightly ribbed.[8] Although pumpkins are usually orange or yellow, some fruits are dark green, pale green, orange-yellow, white, red and gray.
Pumpkins are monoecious, having both male and female flowers on the same plant. The female flower is distinguished by the small ovary at the base of the petals. These bright and colorful flowers have extremely short life spans and may only open for as short a time as one day. The color of pumpkins is derived from the orange pigments abundant in them. The main nutrients are lutein, and both alpha and beta carotene, the latter of which generates vitamin A in the body


A new hat. Blouse matches the hat and a new style has been born.


Looks like he swallowed the pumpkin! Or smuggling them


Not too much left but with Vicky around, we can do something!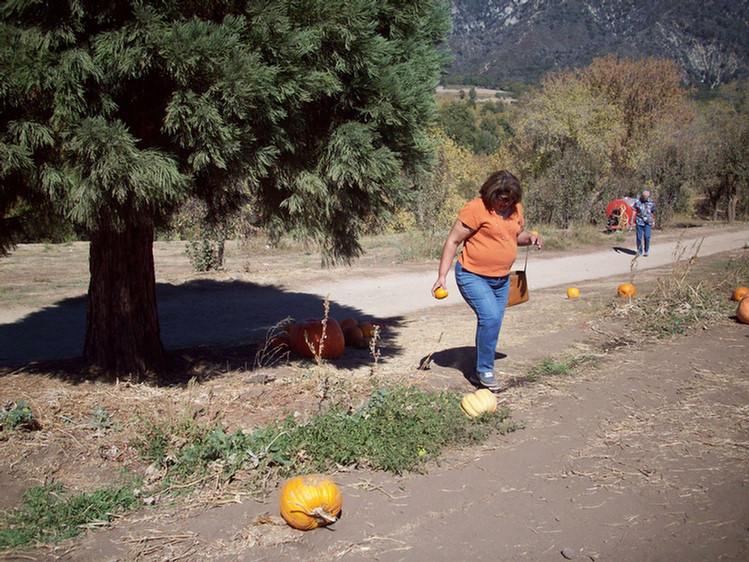 She is up to something! The girl is on a mission.


"He you all! Look, it's Dolly Pumpkin!"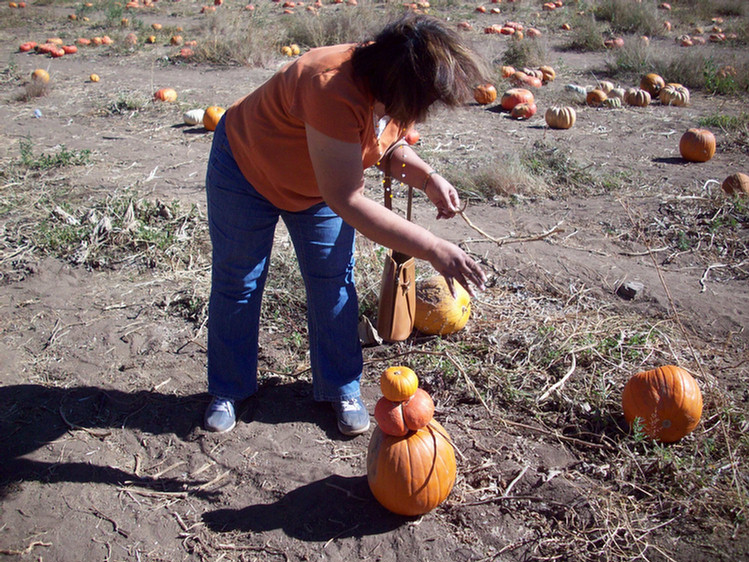 "She needs arms"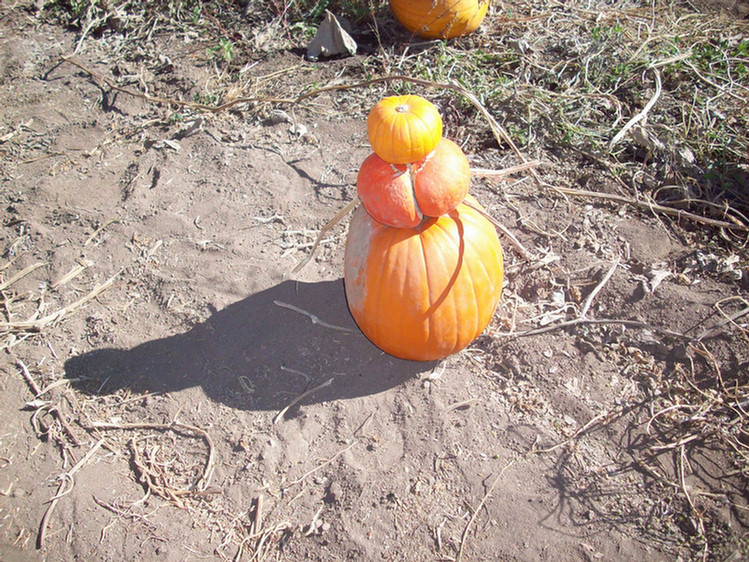 "Whaddaya think??"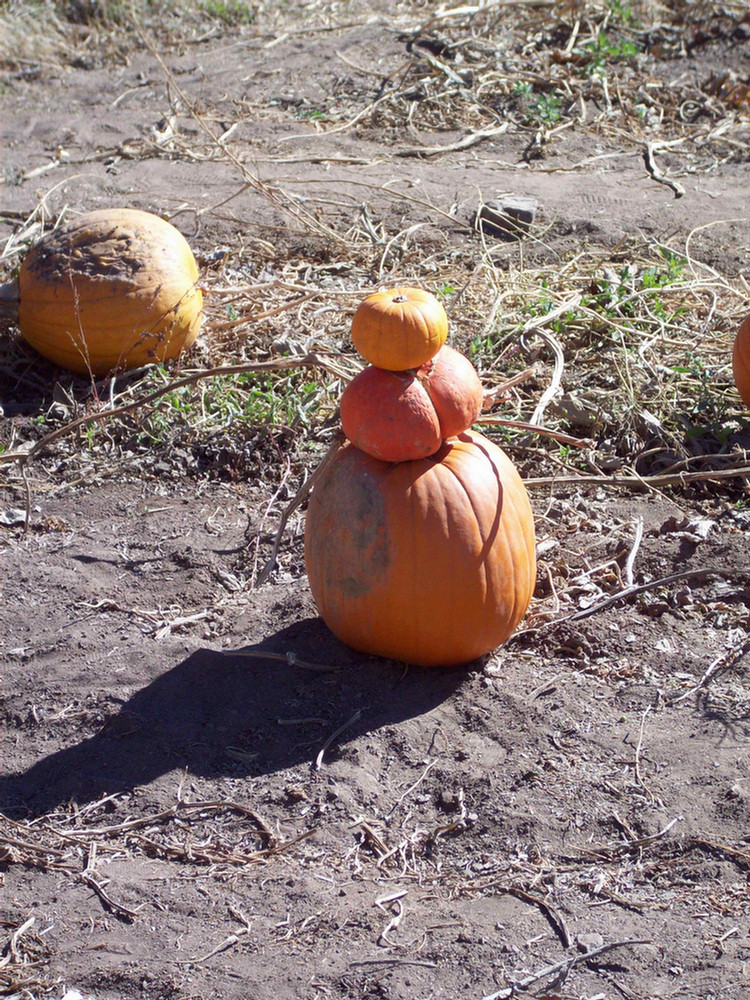 Looks just like Dolly!


Visualize this one!
Did you know? - Pumpkins are grown all around the world for a variety of reasons ranging from agricultural purposes (such as animal feed) to commercial and ornamental sales. Out of the seven continents, only Antarctica is unable to produce pumpkins; the biggest international producers of pumpkins include the United States, Mexico, India, and China.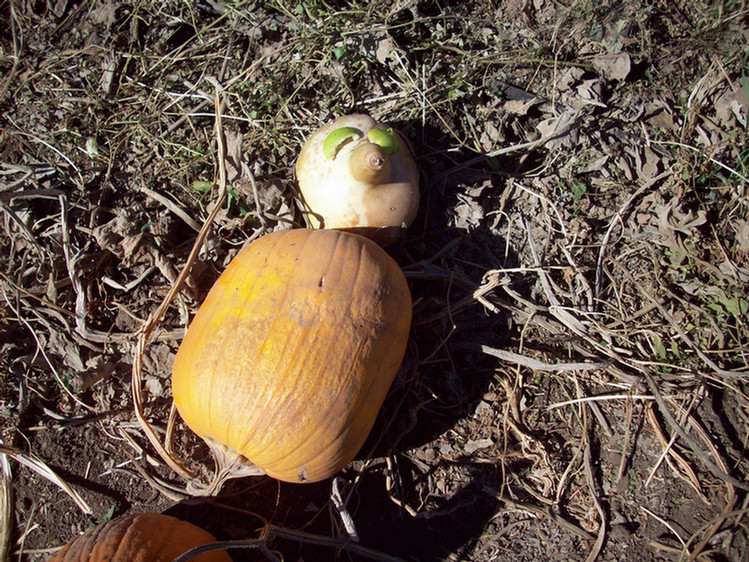 Green eyes??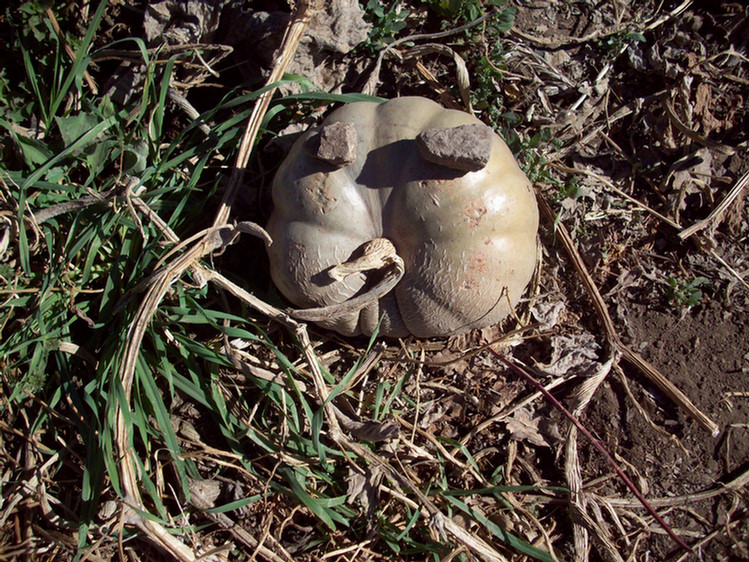 Obama pumpkin??
Did you know? - As one of the most popular crops in the United States, 1.5 billion pounds (680,388,555 kilograms) of pumpkins are produced each year.[ The top pumpkin-producing states in the U.S. include Illinois, Indiana, Ohio, Pennsylvania, and California. Pumpkins are a warm-weather crop that is usually planted in early July.
The specific conditions necessary for growing pumpkins require that soil temperatures three inches (7.62 centimeters) deep are at least 60 degrees Fahrenheit and soil that holds water well.
Pumpkin crops may suffer if there is a lack of water or because of cold temperatures (in this case, below 65 degrees; frost can be detrimental), and sandy soil or soil with poor water filtration.
Pumpkins are, however, rather hardy, and even if many leaves and portions of the vine are removed or damaged, the plant can very quickly re-grow secondary vines to replace what was removed.
Pumpkins produce both a male and female flower; honeybees play a significant role in fertilization. Pumpkins have historically been pollinated by the native squash bee Peponapis pruinosa, but this bee has declined, probably due to pesticide sensitivity, and today most commercial plantings are pollinated by honeybees. One hive per acre (4,000 m² per hive) is recommended by the United States of America (US) Department of Agriculture.

Guess what this is!
Back To The Packing Shed


Goats all over the place


You need a hair cut!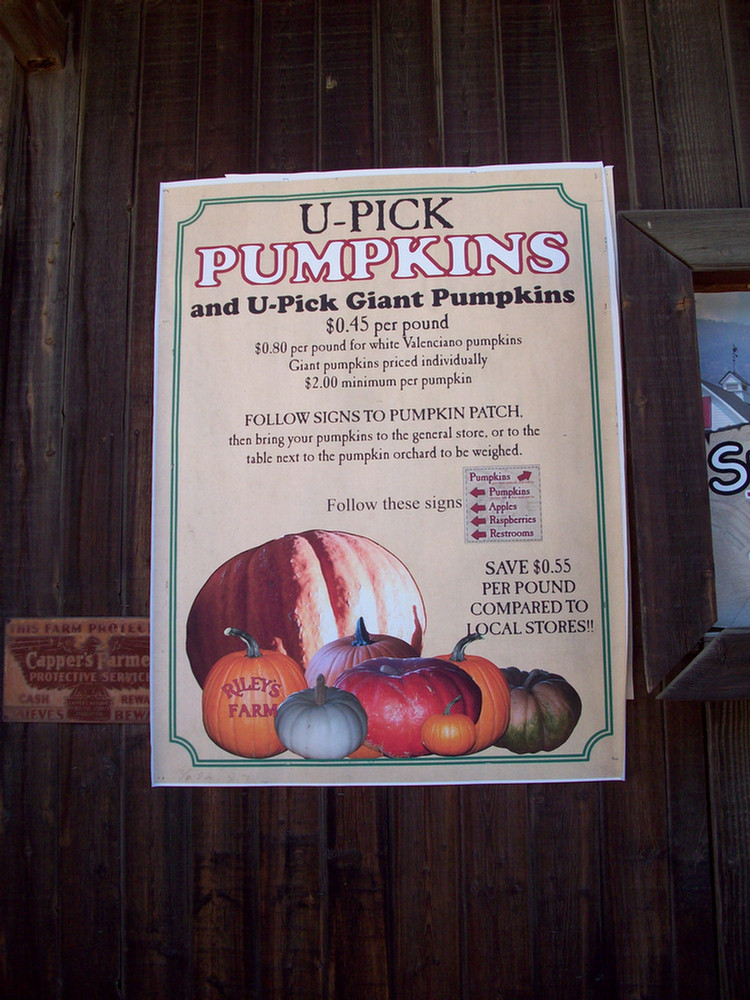 We did!
Did you know? - The largest pumpkins are Cucurbita maxima. They were cultivated from the hubbard squash genotype, crossed with kabocha-pumpkin types by enthusiast farmers through intermittent effort since the early 1800s.
As such germplasm is commercially provocative, a U.S. legal right was granted for the rounder phenotypes, levying them as constituting a variety, with the appellation Atlantic Giant. Eventually this phenotype graduated back into the public domain, except now it had the name Atlantic Giant on its record (see USDA PVP # 8500204).
Weigh-off competitions for giant pumpkins are a popular festival activity. 460 pounds (208.65 kilograms) held the world record for the largest pumpkin until 1981 when Howard Dill (of Nova Scotia) broke the record with a pumpkin near 500 pounds (226.80 kilograms).
Dill patented the seeds used to grow this giant pumpkin, deeming them Dill's Atlantic Giant seeds, and drawing growers from around the world. Dill is accredited for all of the giant pumpkins today, most of which are borne from crossing and re-crossing his patented seed with other varieties.
By 1994, the Giant Pumpkin crossed the 1,000-pound (453.59-kilogram) mark. In September 2007, Joe Jutras (of Rhode Island) obtained the title of world's largest pumpkin with a cream-colored, 1,689-pound (766.12-kilogram) fruit.
He is currently said to be working on producing a giant orange pumpkin, as orange pumpkins tend to be smaller and have thinner shells but are more desirable in appearance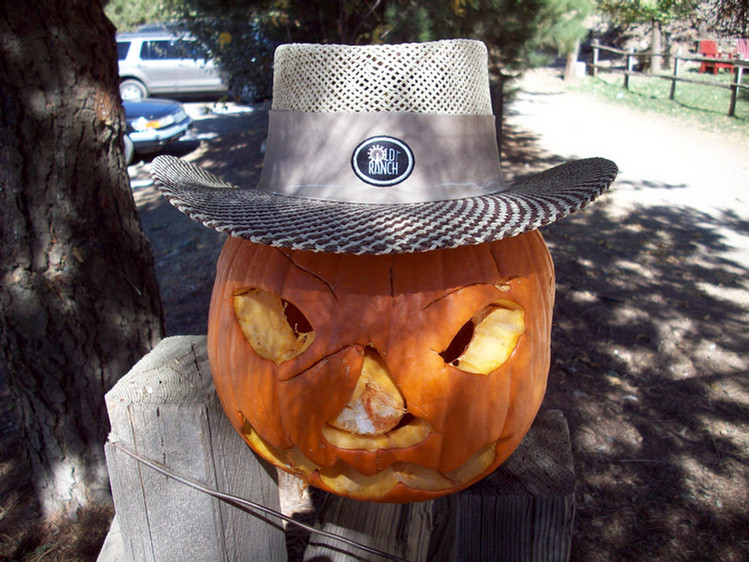 Directly from Old Ranch
Colonial Chesterfield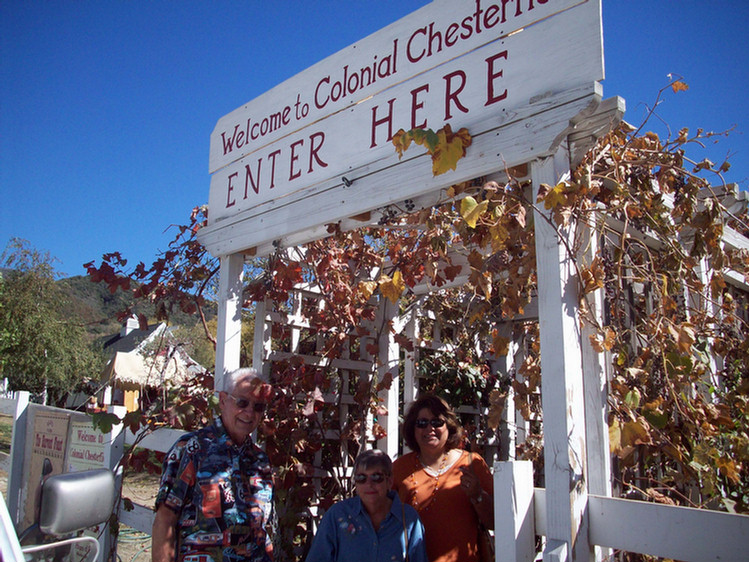 Del and Paul picked some grapes on our way in!


These walls will last forever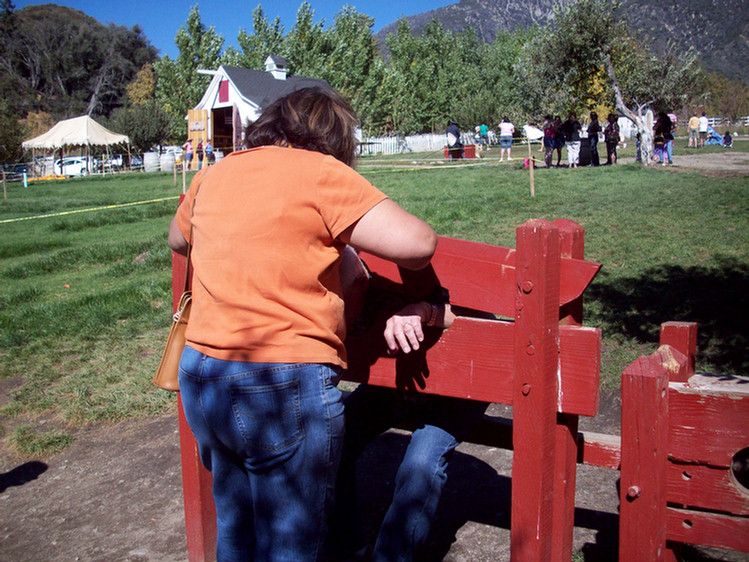 What is she up to now???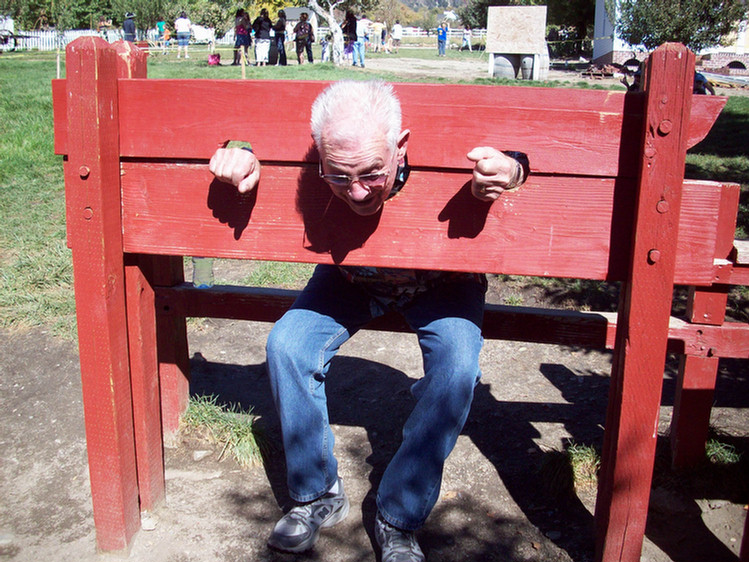 "You have been a naughty boy"


Neat place to learn about our country of 100+ years ago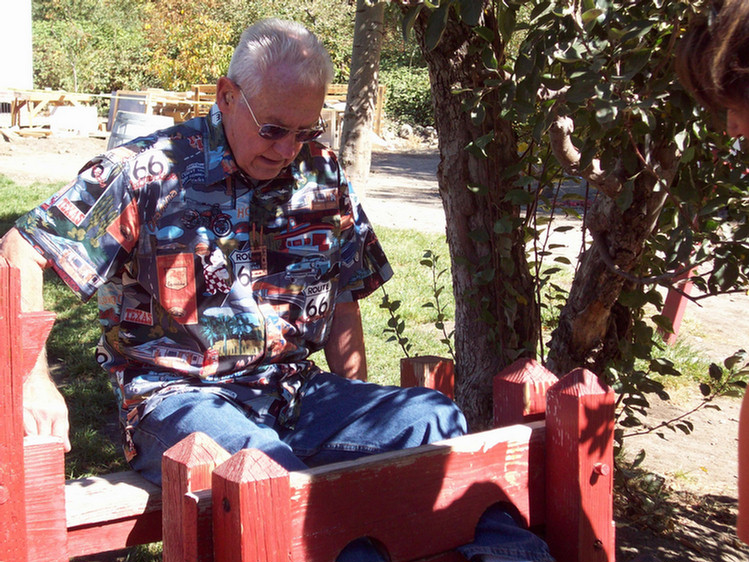 "Quit putting your feet into places they do NOT beling"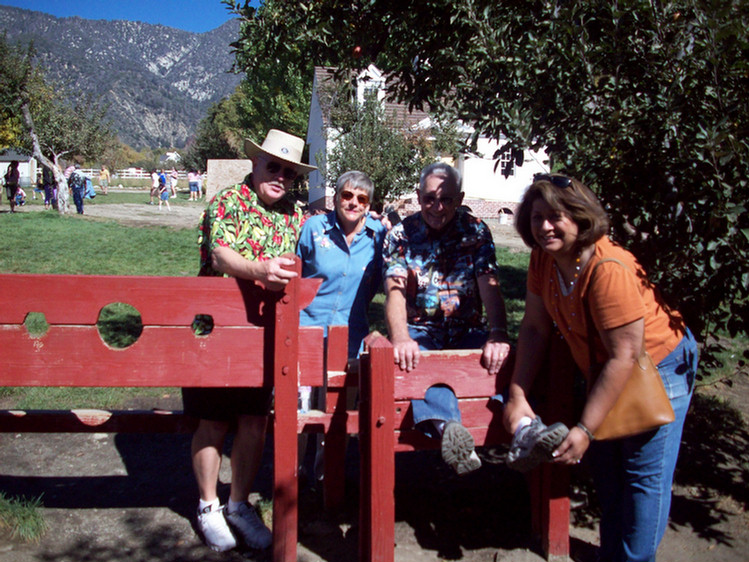 Pull the shoes off and grab a feather!


The new Riley's Farm eatery

We Continue Our Journey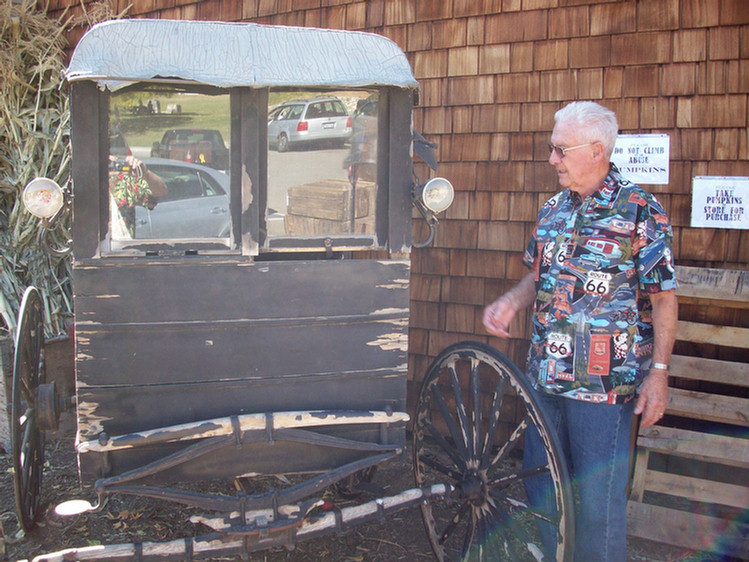 Del used to deliver the mail in ne of these


"See, my initials!"


The Silver Bullet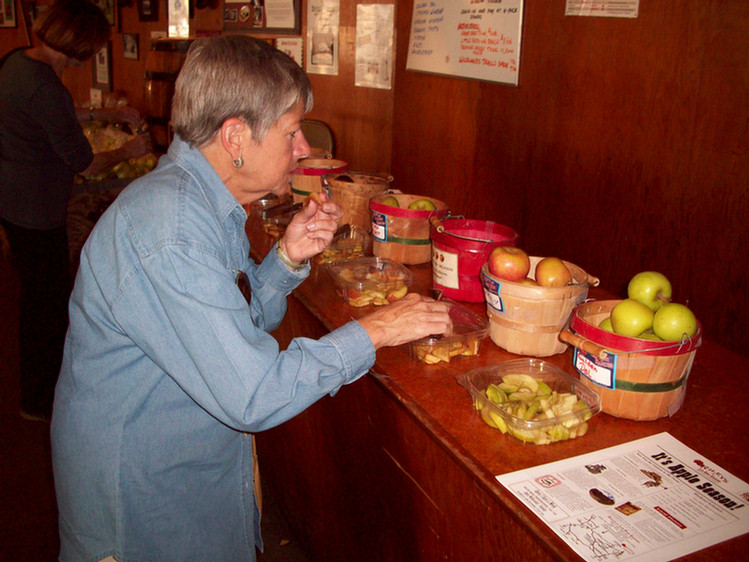 Tasting apples is always fun

Did you know? - Oak Glen, California, is a small community situated between the San Bernardino Mountains and the Little San Bernardino Mountains.
The original settlers, the Cahuilla and the Serrano harvested acorns; many Metates can still be found in the streambeds where the acorns were leached. According to Huell Howser's 2005 California's Gold profile, the potato was the original crop grown by the first whites to settle in the area.
The apple orchards produces the Vasquez and the King David, grown only in Oak Glen , as well as antique varieties no longer commercially available such as Ben Davis, Gravenstein, and Pink Pearl.
While Oak Glen grew apples mainly for export, in the 1940's, several farms began selling apples, apple pies, apple cider and apple butter from roadside stands. The export trade has virtually disappeared, and growers now earn much of their revenue from visitors who are allowed to pick apples directly off of trees.

The Arkansas Black apple is one of the crispiest and most dense apples around. It is a late maturing apple that is generally considered best for cooking and desserts rather than eating out of hand.

Dark red and very hard!
Dining At Apple Annie's

Del devoured a barbeque beef sandwich


Vicky tells stories and keeps everyone in stiches!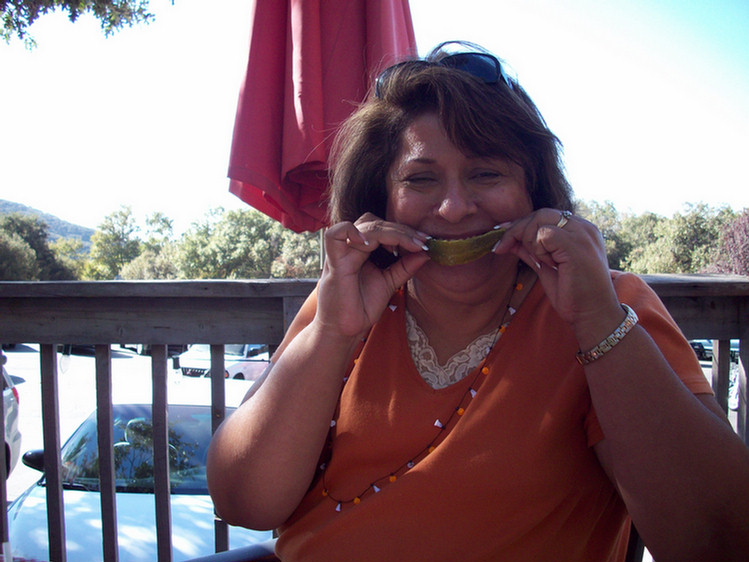 You can dress her up but can't take her anyplace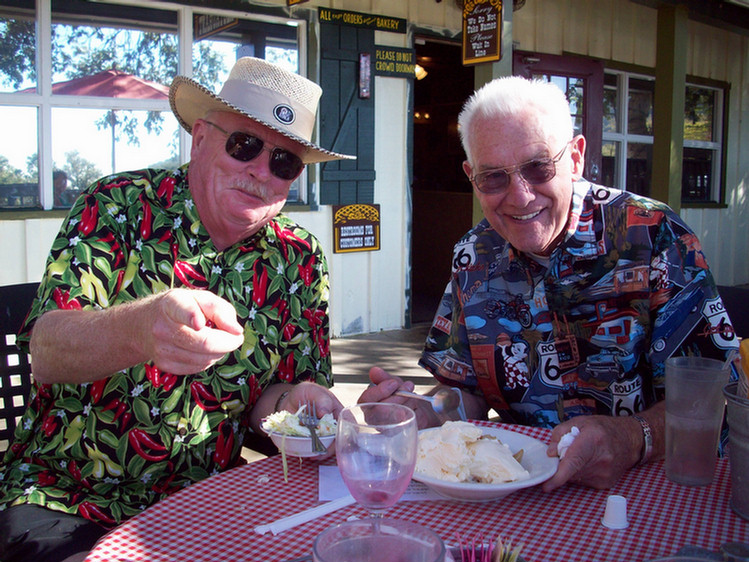 The supervisors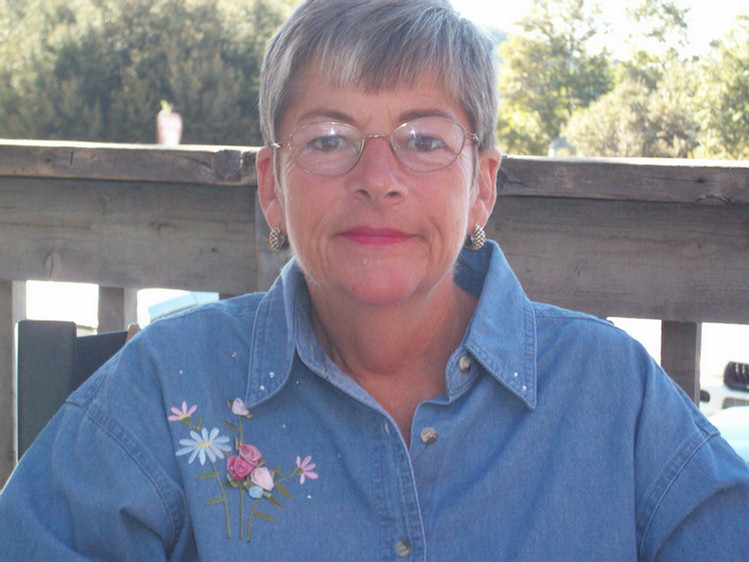 Smile, you are on candid camera


The dessert just simply disappeared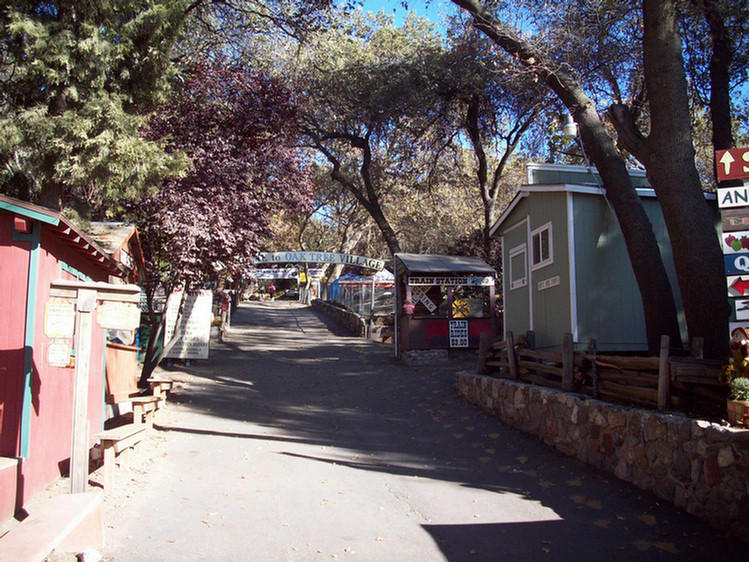 Neat little shopping area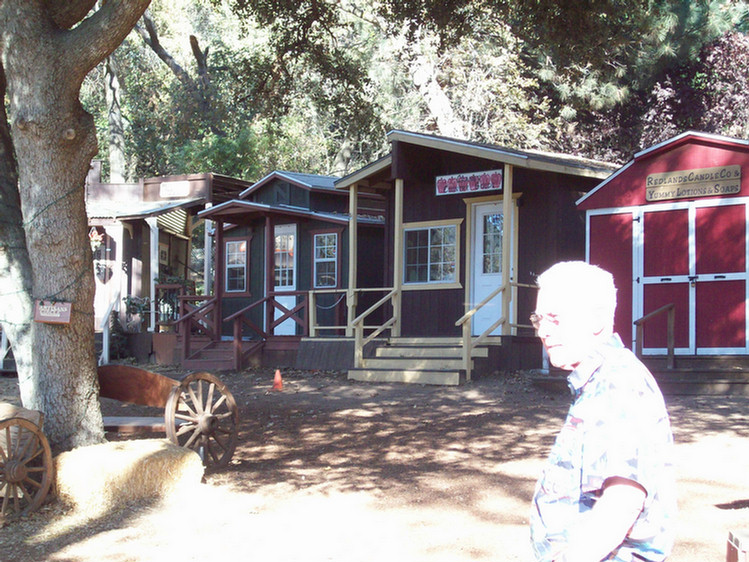 Del goes shopping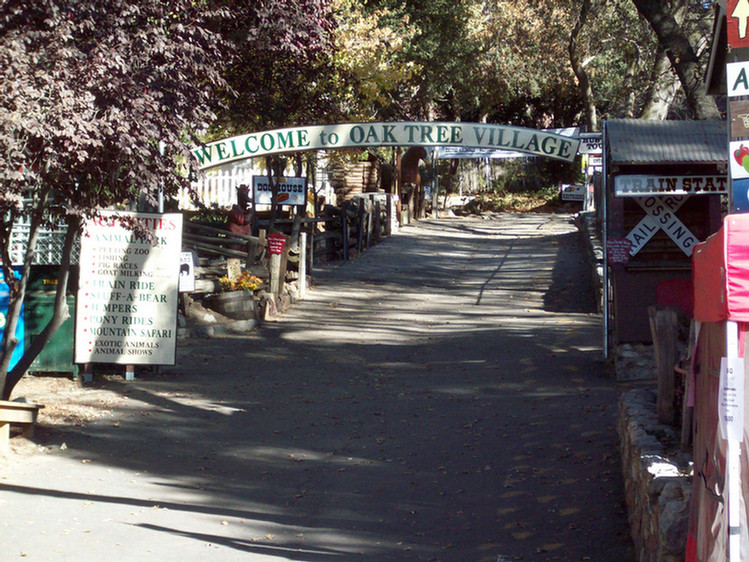 Look at the woodpeckers on the side of the house
Did you know? - The woodpeckers, piculets and wrynecks are a family, Picidae, of near-passerine birds. Members of this family are found worldwide, except for Australia and New Zealand, Madagascar, and the extreme polar regions. Most species live in forests or woodland habitats, although a few species are known to live in treeless areas such as rocky hillsides and deserts.
The Picidae are just one of the eight living families in the order Piciformes. Members of the order Piciformes, such as the jacamars, puffbirds, barbets, toucans and honeyguides, have traditionally been thought to be very closely related to the woodpeckers, piculets and wrynecks. More recently, DNA sequence analyses have confirmed this view.
There are about 200 species and about 30 genera in this family. Many species are threatened or endangered due to loss of habitat or habitat fragmentation. Two species of woodpeckers, the Ivory-billed Woodpecker and the Imperial Woodpecker, have been considered extinct for about 30 years (there has been some controversy recently whether these species still exist).

They made a lot of noise eating this house
Did you know? - The diet of woodpeckers consists mainly of insects and their grubs taken from living and dead trees, and other arthropods, along with fruit from live trees, nuts and sap both from live trees. Their role ecologically is thereby keeping trees healthy by keeping them from suffereing mass infestations.
The family is noted for its ability to acquire wood-boring grubs using their bills for hammering, but overall the family is characterised by its dietary flexibility, with many species being both highly omnivorous and opportunistic.
The insect prey most commonly taken are insects found inside tree trunks, whether they are alive or rotten wood and in crevices in bark on trees. These include beetles and their grubs, ants, termites, spiders,and caterpillars. These may be obtained either by gleaning or more famously by excavating wood.
Having hammered a hole into the wood the prey is excavated by a long barbed tongue. The ability to excavate allows woodpeckers to obtain tree sap, an important source of food for some species.
Most famously the sapsuckers, (genus Sphyrapicus ) feed in this fashion, but the technique is not restricted to these and others such as the Acorn Woodpecker also feed in this way. It was once thought that the technique was restricted to the New World, but Old World species such as the Arabian Woodpecker and Great Spotted Woodpecker also feed in this way.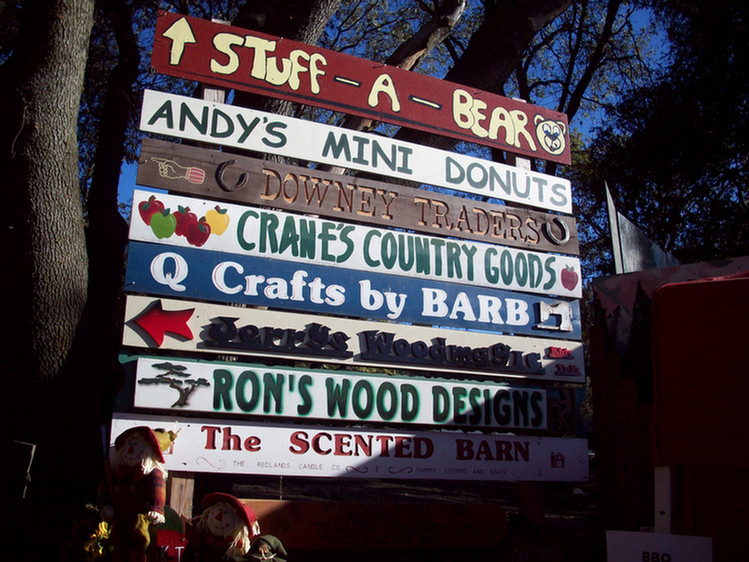 Many places to visit


Home made pies... The truck was delivering "pie slices form Oregon" and pre-made "pie crust from another town"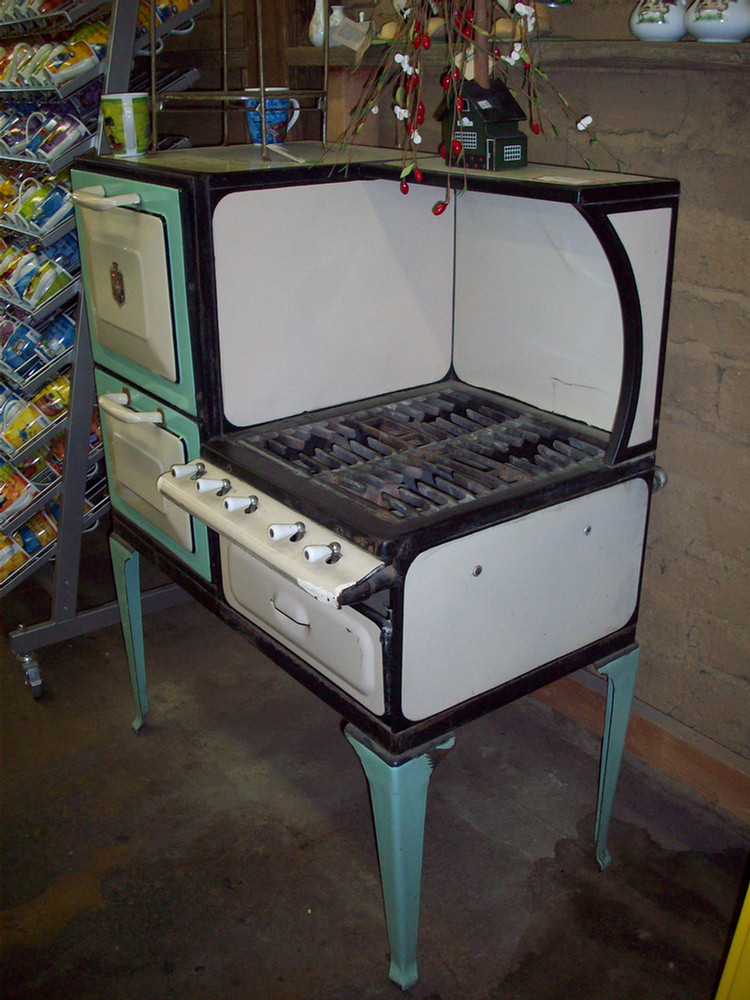 We found the stove Del and Vicky were looking for!


Great places to shop!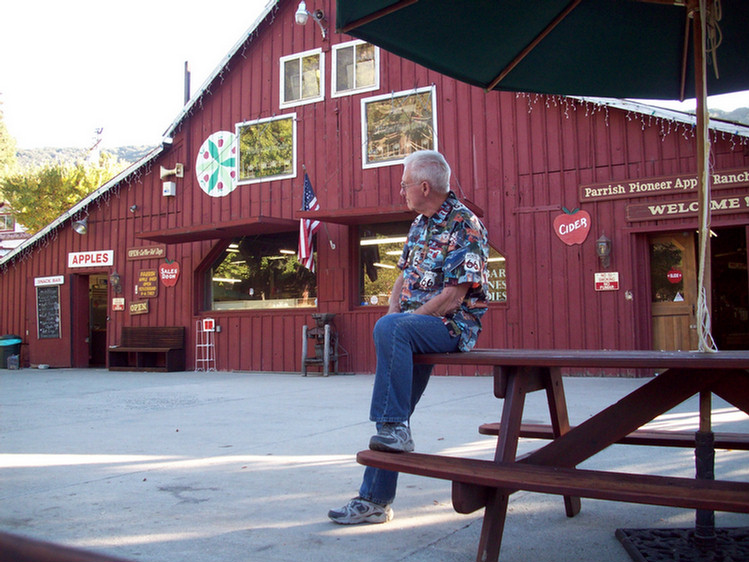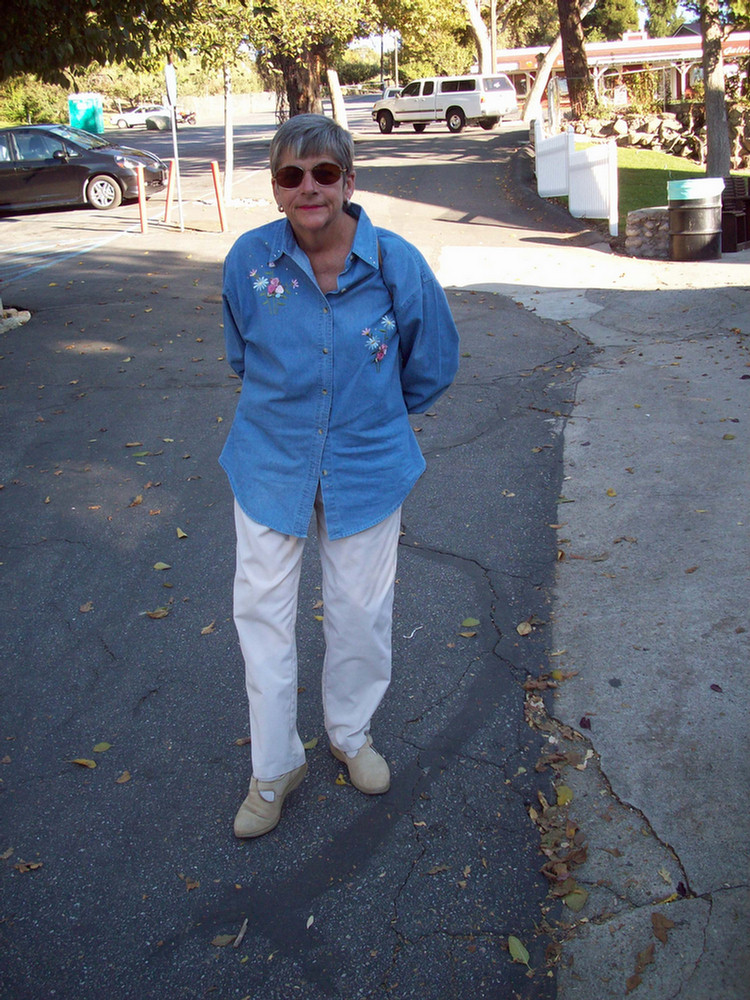 Heading for home