It Is A Nice Day To Play In The Apple Orchards 10/07/2011
Time for a drive.... 1 hour 33 mins / 78.77 miles from our home to the nearest apple tree.... We look forward to walking in the apple orchard and then going for a nice lunch in Oak Glen.
A Quick Collage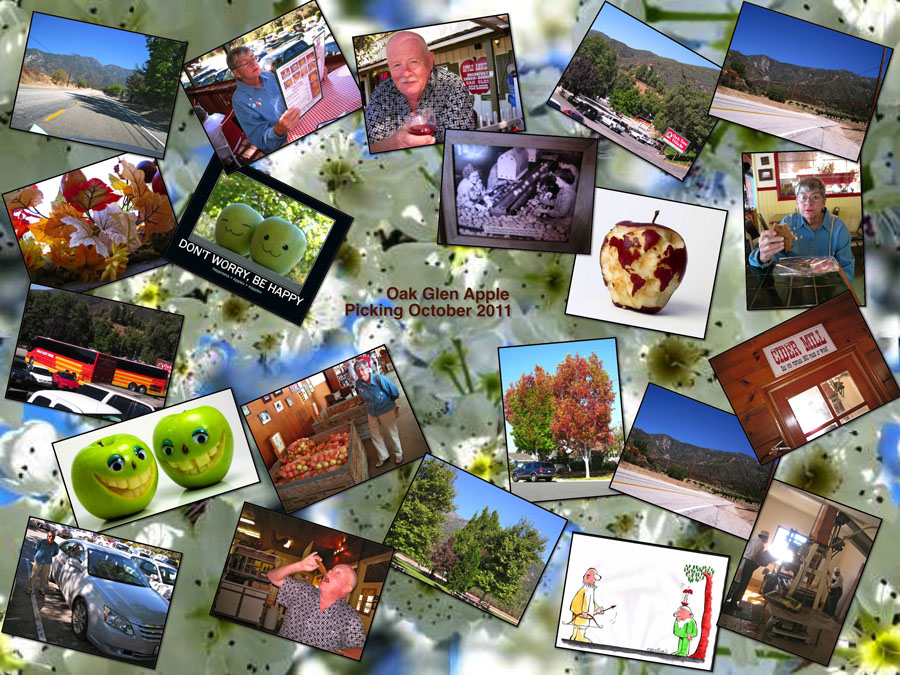 Click for full size collage
About Oak Glen
Did You Know? - Oak Glen is a census-designated place situated between the San Bernardino Mountains and the Little San Bernardino Mountains in San Bernardino County, California, United States. Oak Glen is located 15 miles east of San Bernardino, at an elevation of 4,734 feet (1,443 m). The population was 638 at the 2010 census.
Did You Know? - An orchard is an intentional planting of trees or shrubs that is maintained for food production. Orchards comprise fruit or nut-producing trees which are grown for commercial production. Orchards are also sometimes a feature of large gardens, where they serve an aesthetic as well as a productive purpose. A fruit garden is generally synonymous with an orchard, although it is set on a smaller non-commercial scale and may emphasize berry shrubs in preference to fruit trees.
Streuobstwiese (pl. Streuobstwiesen) is a German word that means a meadow with scattered fruit trees or fruit trees that are planted in a field. Streuobstwiese, or a meadow orchard, is a traditional landscape in the temperate, maritime climate of continental Western Europe. In the 19th and early 20th centuries, Streuobstwiesen were a kind of a rural community orchard that were intended for productive cultivation of stone fruit.
In recent years, ecologists have successfully lobbied for state subsidies to valuable habitats, biodiversity and natural landscapes, which are also used to preserve old meadow orchards. Both conventional and meadow orchards provide a suitable habitat for many animal species that live in a cultured landscape. A notable example is the hoopoe that nests in tree hollows of old fruit trees and, in the absence of alternative nesting sites, is threatened in many parts of Europe, because of the destruction of old orchards.
Where Is It You Ask???

Right down I-10 and turn left...
Most temperate-zone orchards are laid out in a regular grid, with a grazed or mown grass or bare soil base that makes maintenance and fruit gathering easy.
Orchards are often concentrated near bodies of water, where climatic extremes are moderated and blossom time is retarded until frost danger is past.

Right up Oak Glen Road
What Is Available For Picking During The Year???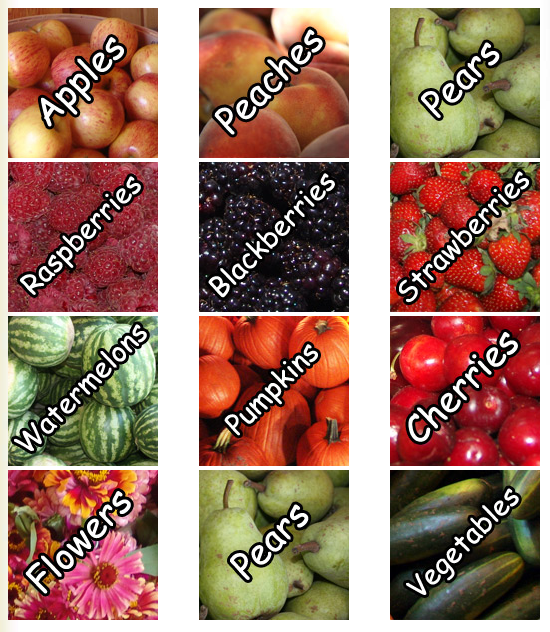 We are looking for apples and raspberries today.... Perhaps some pumpkins?
We Are On Our Way...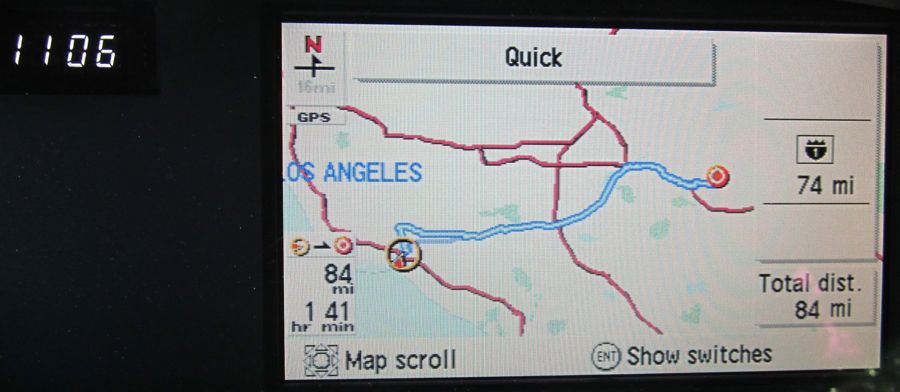 We pulled out at 11:06 for an 84 mile hour and forty minute ride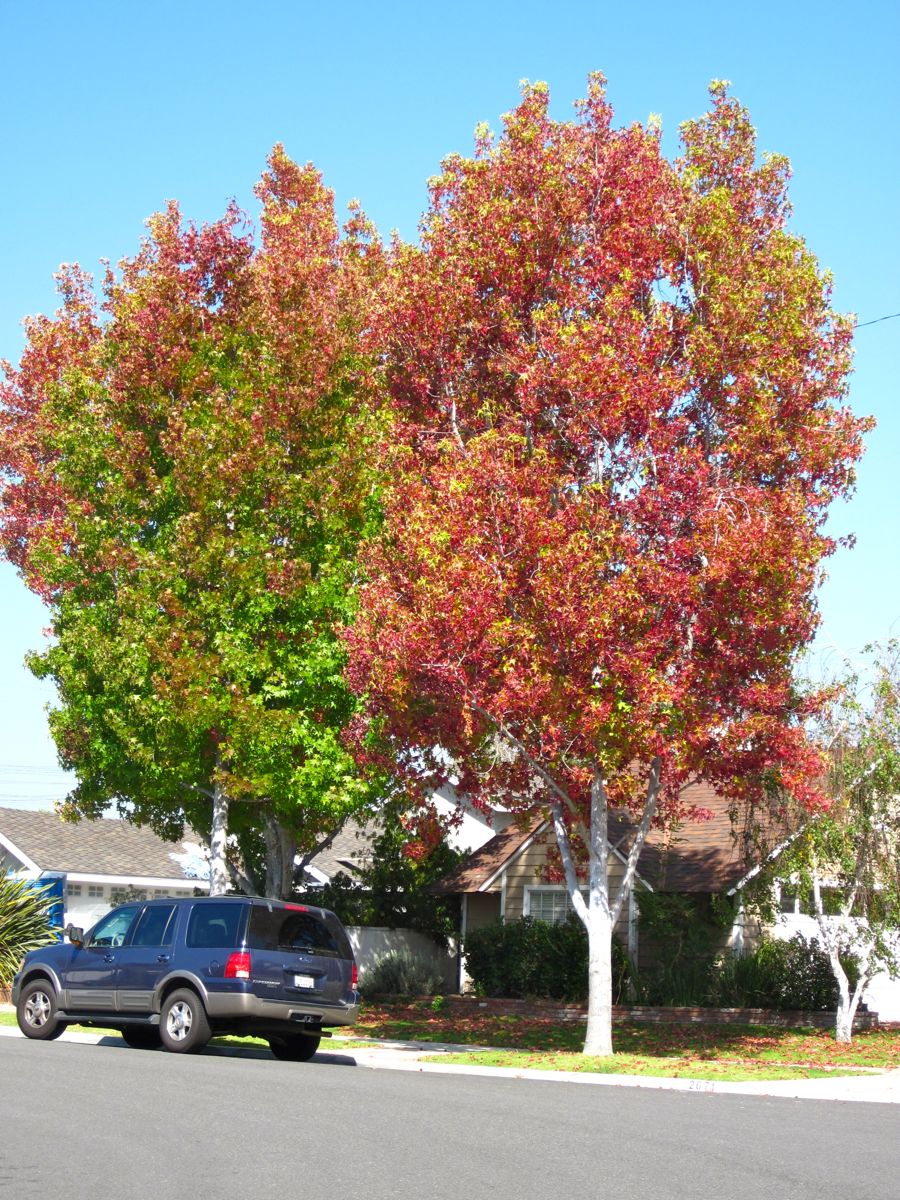 We had fall colors in our own neighborhood
Did You Know? - Autumn leaf color is a phenomenon that affects the normally green leaves of many deciduous trees and shrubs by which they take on, during a few weeks in the autumn season, one or many colors that range from red to yellow. The phenomenon is commonly called fall colors and autumn colors, while the expression fall foliage usually connotes the viewing of a tree or forest whose leaves have undergone the change.
Did You Know? - Carotenoids are present in leaves the whole year round, but their orange-yellow colors are usually masked by green chlorophyll. As autumn approaches, certain influences both inside and outside the plant cause the chlorophylls to be replaced at a slower rate than they are being used up.
During this period, with the total supply of chlorophylls gradually dwindling, the "masking" effect slowly fades away. Then other pigments that have been present (along with the chlorophylls) in the cells all during the leaf's life begin to show through. These are carotenoids and they provide colorations of yellow, brown, orange, and the many hues in between.
The carotenoids occur, along with the chlorophyll pigments, in tiny structures called plastids within the cells of leaves. Sometimes they are in such abundance in the leaf that they give a plant a yellow-green color, even during the summer. Usually, however, they become prominent for the first time in autumn, when the leaves begin to lose their chlorophyll.
Carotenoids are common in many living things, giving characteristic color to carrots, corn, canaries, and daffodils, as well as egg yolks, rutabagas, buttercups, and bananas. Their brilliant yellows and oranges tint the leaves of such hardwood species as hickories, ash, maple, yellow poplar, aspen, birch, black cherry, sycamore, cottonwood, sassafras, and alder. Carotenoids are the dominant pigment in coloration of about 15-30% of tree species.
The Traffic Was Light And We Arrive Ahead Of Schedule

Heading up the San Bernadino mountain foothills road to Oak Glen
Did You Know? - The San Bernardino Mountains (Huwaaly Kwasakyav in Mojave) are a short transverse mountain range north and east of San Bernardino in Southern California in the United States. The mountains run for approximately 60 miles (100 km) east-west on the southern edge of the Mojave Desert in southwestern San Bernardino County, north of the city of San Bernardino. The range is separated from the San Gabriel Mountains to the west by Cajon Pass, and from the San Jacinto Mountains to the south and southeast by Banning Pass. The southern extent of the range is bounded by the San Andreas Fault.

Not very busy today... It is good to be retired as the weekends are generally a zoo
Did You Know? - Foothills are geographically defined as gradual increases in elevation at the base of a mountain range. They are a transition zone between plains and low relief hills to the adjacent topographically high mountains.

The first sighting of apple trees
Did You Know? - The apple is the pomaceous fruit of the apple tree, species Malus domestica in the rose family (Rosaceae). It is one of the most widely cultivated tree fruits, and the most widely known of the many members of genus Malus that are used by humans.
The tree originated in Western Asia, where its wild ancestor, the Alma, is still found today. There are more than 7,500 known cultivars of apples, resulting in a range of desired characteristics. Cultivars vary in their yield and the ultimate size of the tree, even when grown on the same rootstock.
At least 55 million tonnes of apples were grown worldwide in 2005, with a value of about $10 billion. China produced about 35% of this total. The United States is the second-leading producer, with more than 7.5% of world production. Iran is third, followed by Turkey, Russia, Italy and India.
Time To Have Lunch At Apple Annie's

Apple Annie's apples are fresh


We have arrived....

"No more pictures.... Let's eat!"

The veggie selections were "OK"

We had a great outside seat... We could watch all the parking lot activities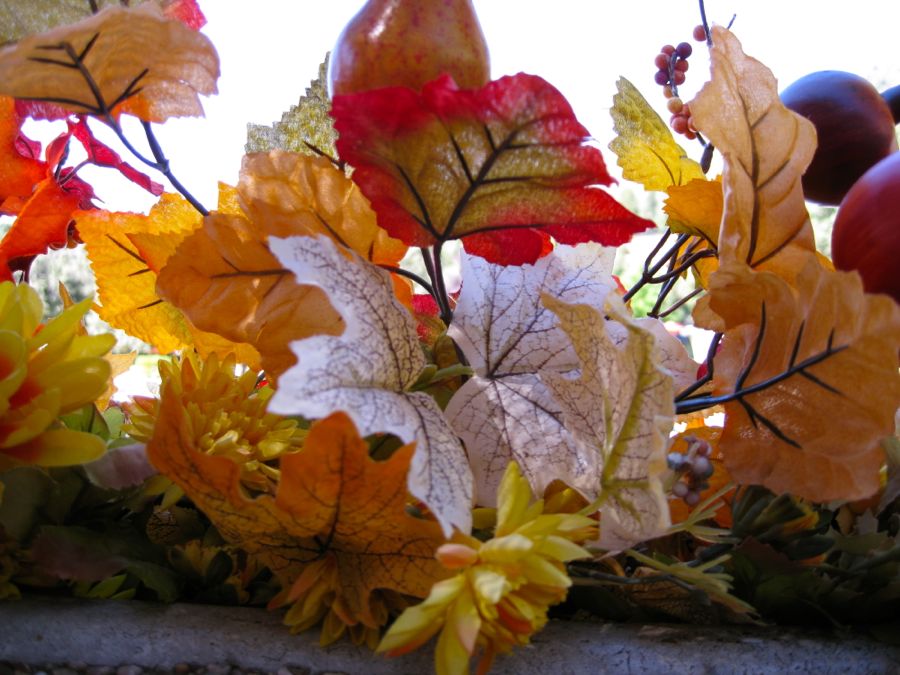 Great decorations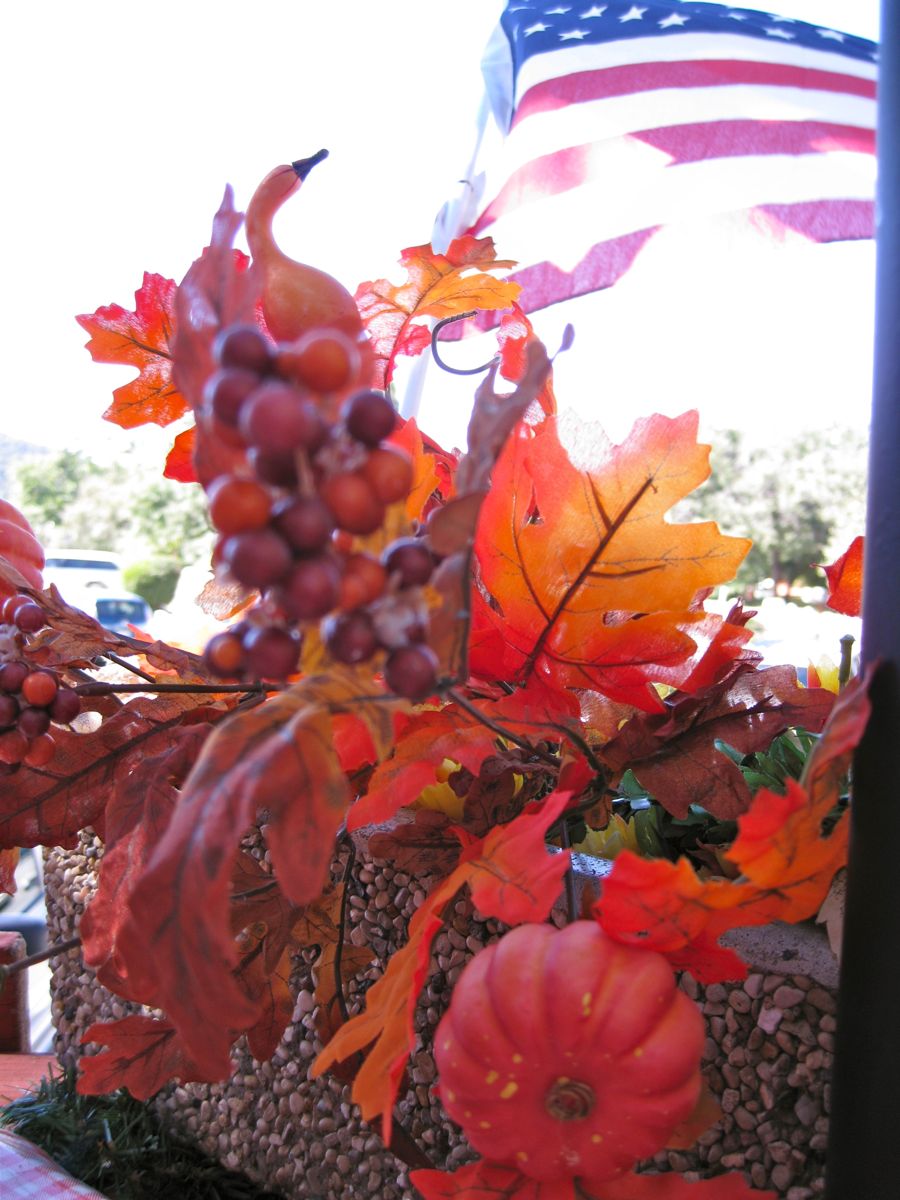 Fall colors everywhere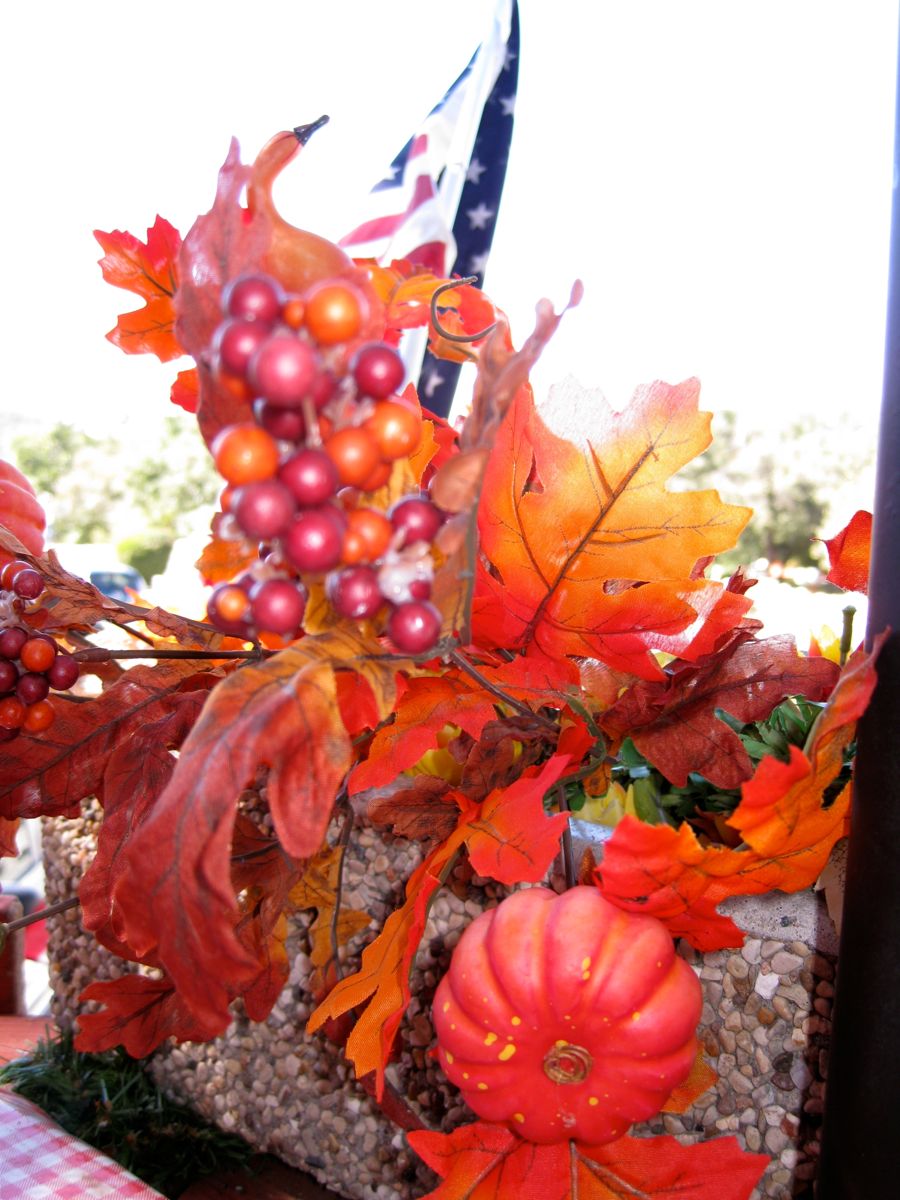 What is he hiding????

Ah ha.... The vino now appears
Did You Know? - From 1913-1958, there used to be a 24-hour chili parlor called "Ptomaine Tommy's" in Los Angeles. It was the largest and best known chili parlor in town. Ptomaine Tommy served straight chili and a Southwestern variation, a hamburger smothered with chili. He had two ladles, a large and a small. When a customer ordered straight chili, he got out the large ladle. When he wanted the other, he usually said "Hamburger size." So Ptomaine Tommy put up one sign that read HAMBURGER SIZE 15¢, and another that read CHILI SIZE 20¢. Other chili joints followed suit and before long chili was known throughout Los Angeles as "size". They'd say, "Just gimme a bowl of size."
Since Tommy created perhaps the very first chili burger, other restaurants began copying it. They thought the new item was called a CHILI SIZE. So, that's why, today, you might find a chili size on a diner menu that consists of a burger patty topped with chili, cheese, and onions. Read more: http://wiki.answers.com/Q/What_is_a_chili_size#ixzz1aaMDUXox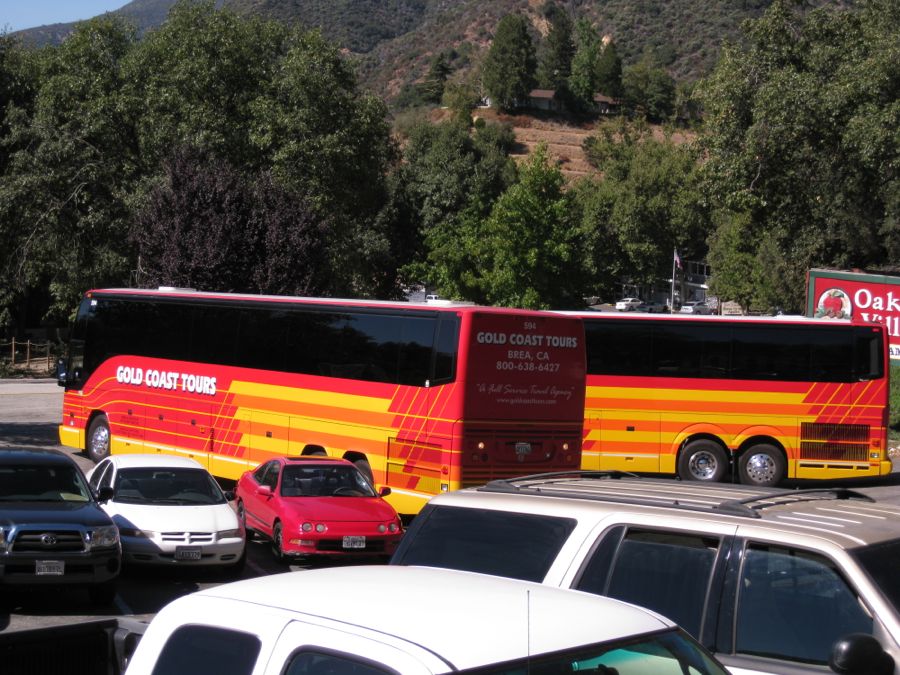 We enjoyed the "dance of the busses"

After lunch we did NOT have dessert.... Self control was in full swing

The apples get pretty fancy
We Headed For Los Rios Orchard To Pick Up Some Apples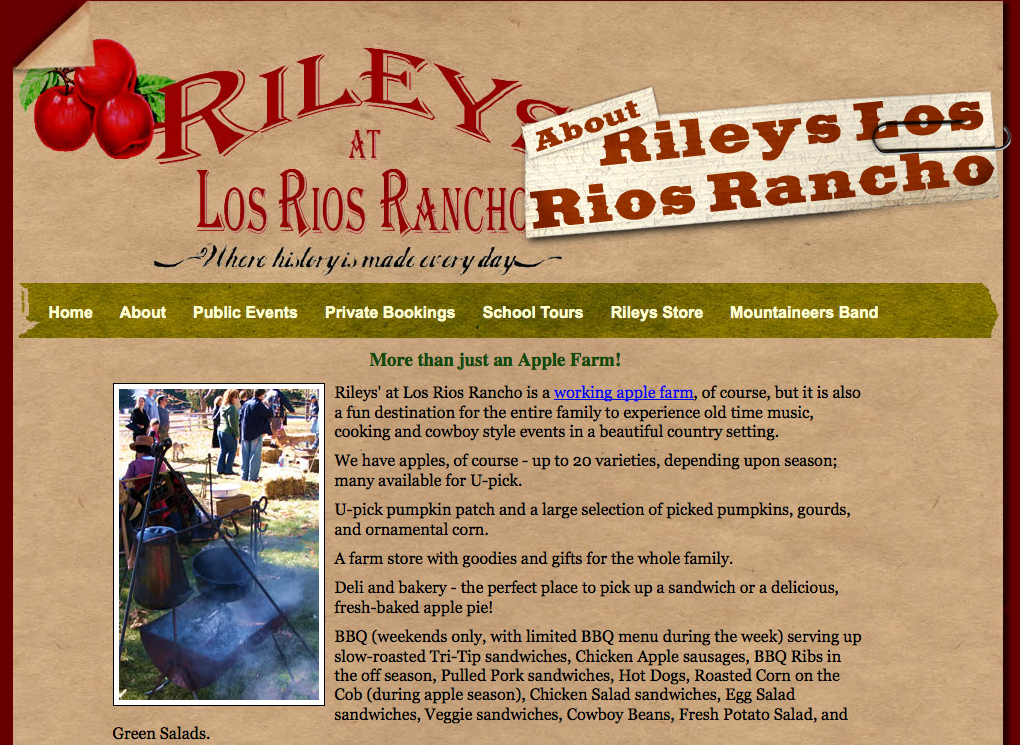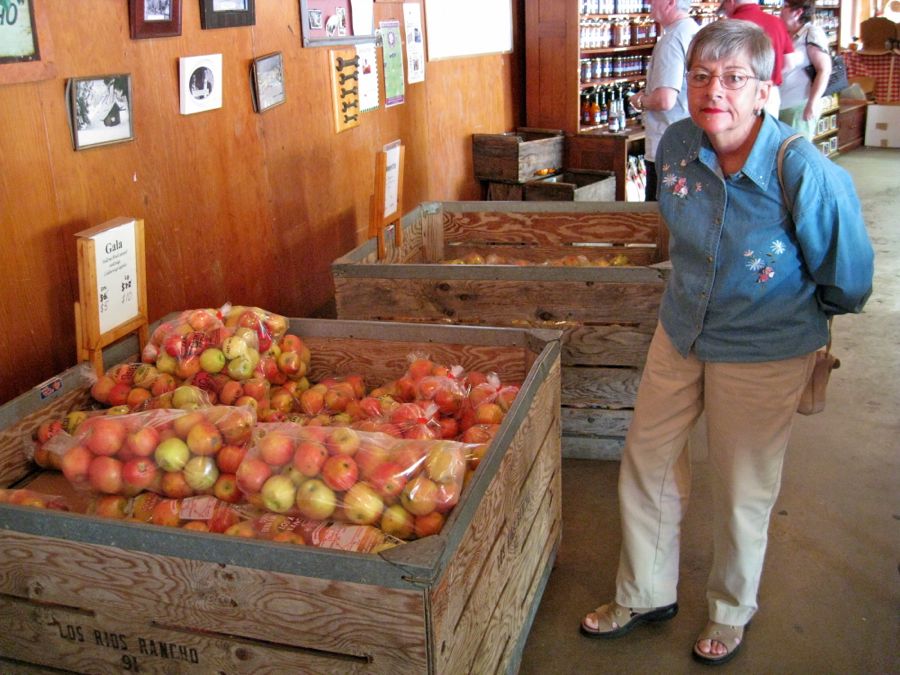 Sue does the shopping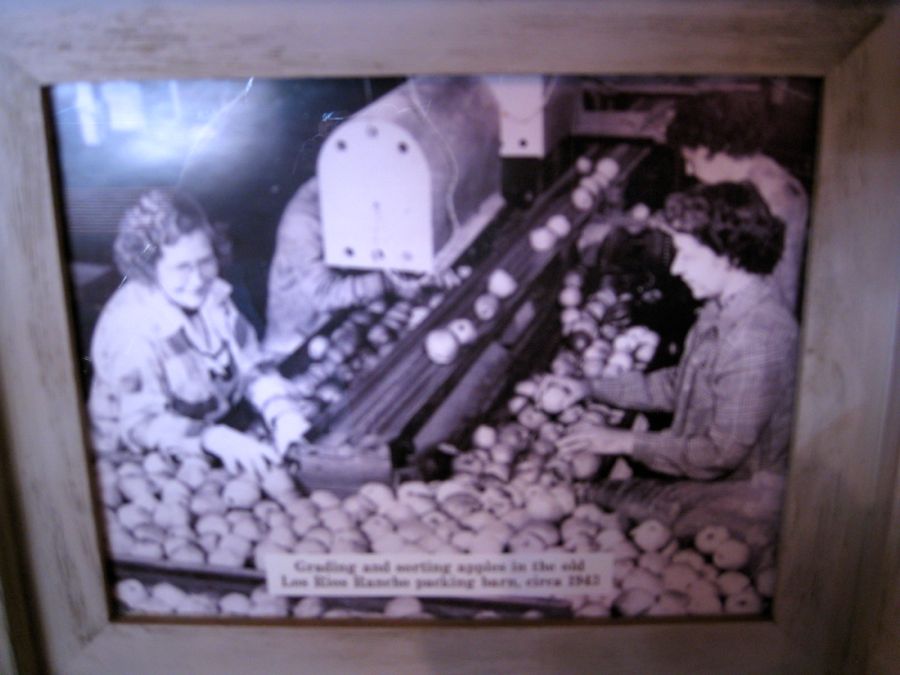 What it was like in 1943

Na... We can make any of these things ourselves

It's tookie time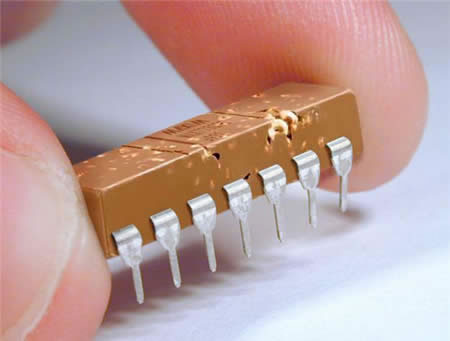 Paul had something else in mind....

"Paul! This is a chocolate chip!"

Down the hatch!!
Must Visit.... The Cider Mill

They are busy inside this room
Did You Know? - A Cider mill refers to the location, structure, or machinery used to crushed apples into apple juice for use in making apple cider, applejack, hard cider, apple wine, pectin and other products derived from apples. The mills used to manufacture the juice products, ferment them, store them and ship them, are usually located near apple orchards. Historically, the types of structure and machinery have varied greatly—including horse powered, water driven, and machine operated mills. The presses can be fixed or portable.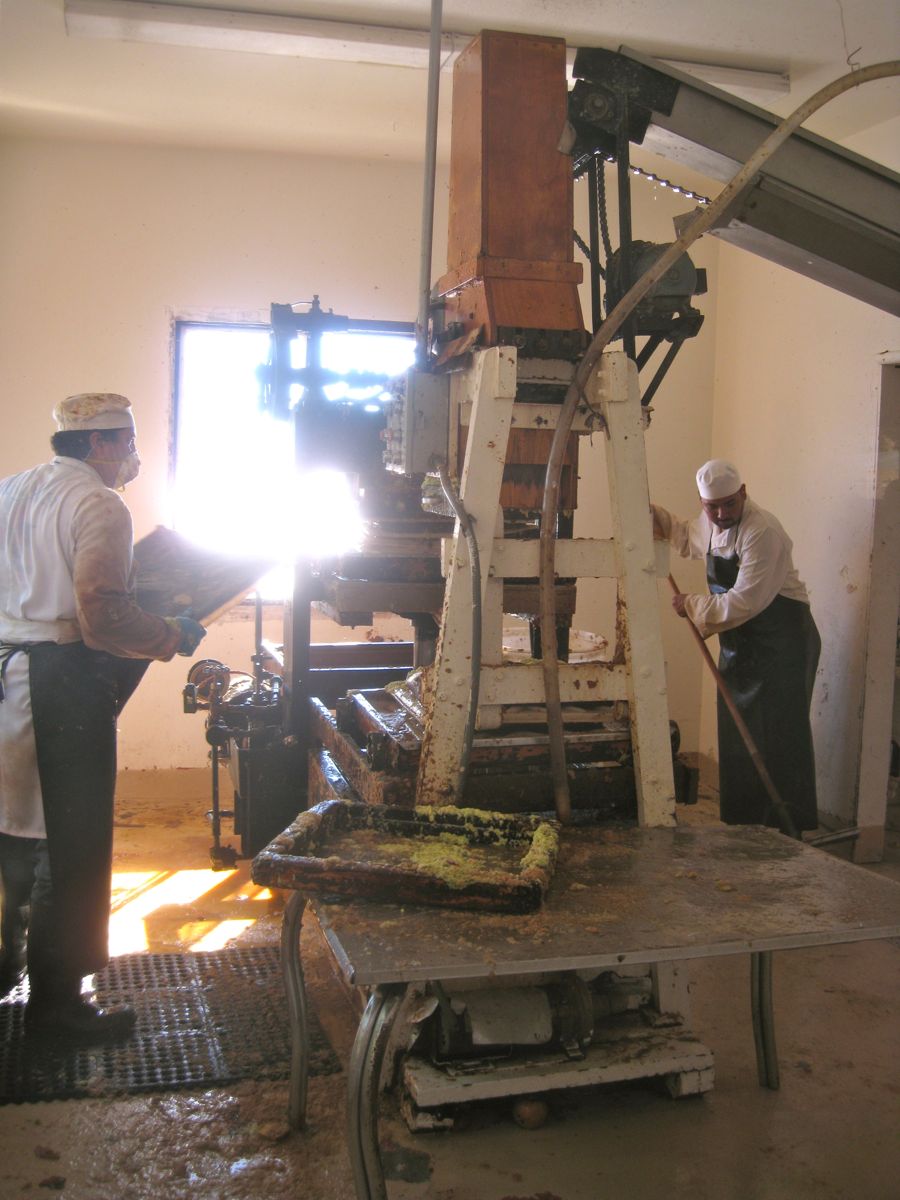 The mill is basically the same as am 1832 mill but powered by an electric motor instead of horses
Did You Know? - In 19th Century New England, apple farmers paid a mill owner a fee to crush apples into juice. A typical cider mill would look like many other small barns and sheds, with a set of large doors in the center of the longer side. Most cider mills were 20-30' long by 20-25' in width.
The equipment in a cider mill consisted of the nut mill or crusher, and the press. The working parts of the nut mill were two wood cylinders (the nuts), one with teeth and the other with corresponding slots. The nuts were set vertically into a frame with feed and collecting troughs. One nut had a large drive shaft, extending above the frame, which was attached to a sweep eight to eleven feet long.
A horse, harnessed to the long sweep, would turn the cylinders which meshed together and ground the apples to a pulp. This pulp, or pumace, was usually left in the trough over night to mellow before being transferred to the press, at the opposite side of the building.
The crushed apples were piled in layers with straw in between on the base of the press. This pile, called a cheese, would then be squeezed by the pressure created by lowering screws with levers, and the filtered juice would flow into barrels.

It is a messy business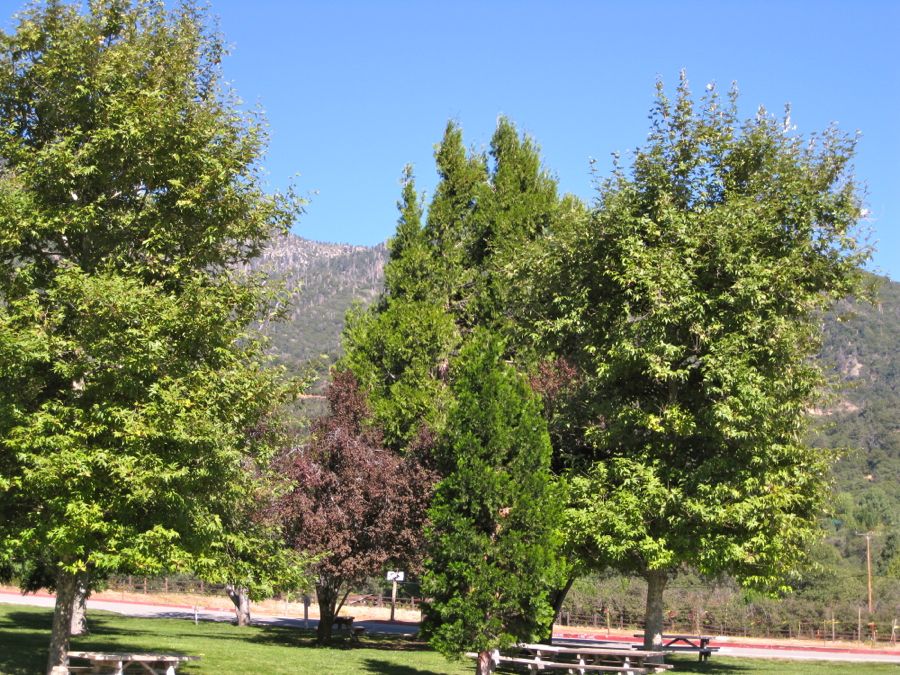 A view from the parking lot.... Magnificent surroundings