It Began On Tuesday May 31st
Robin, Vicky and Del came to be with Paul while the procedure was being done.
The test was to be an angiogram which is a medical imaging technique used to visualize the inside, or lumen, of blood vessels and organs of the body, with particular interest in the arteries, veins and the heart chambers. This is traditionally done by injecting a radio-opaque contrast agent into the blood vessel and imaging using X-ray based techniques such as fluoroscopy. The word itself comes from the Greek words angeion, "vessel", and graphein, "to write or record". The film or image of the blood vessels is called an angiograph, or more commonly, an angiogram.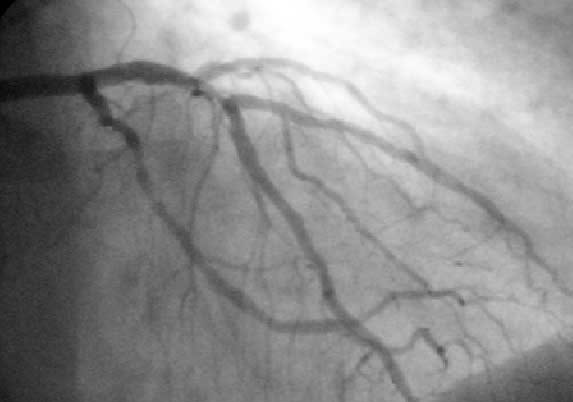 Coronary catheterization is one of the several cardiology diagnostic tests and procedures. Specifically, coronary catheterization is a visually interpreted test performed to recognize occlusion, stenosis, restenosis, thrombosis or aneurysmal enlargement of the coronary artery lumens; heart chamber size; heart muscle contraction performance; and some aspects of heart valve function. Important internal heart and lung blood pressures, not measurable from outside the body, can be accurately measured during the test. The relevant problems that the test deals with most commonly occur as a result of advanced atherosclerosis – atheroma activity within the wall of the coronary arteries. Less frequently, valvular, heart muscle, or arrhythmia issues are the primary focus of the test.
Results....Two blockages and it is serious enought to keep her in the hospital until the blockage is removed.
Coronary catheterization is performed in a cardiac catheterization lab, usually located within a hospital.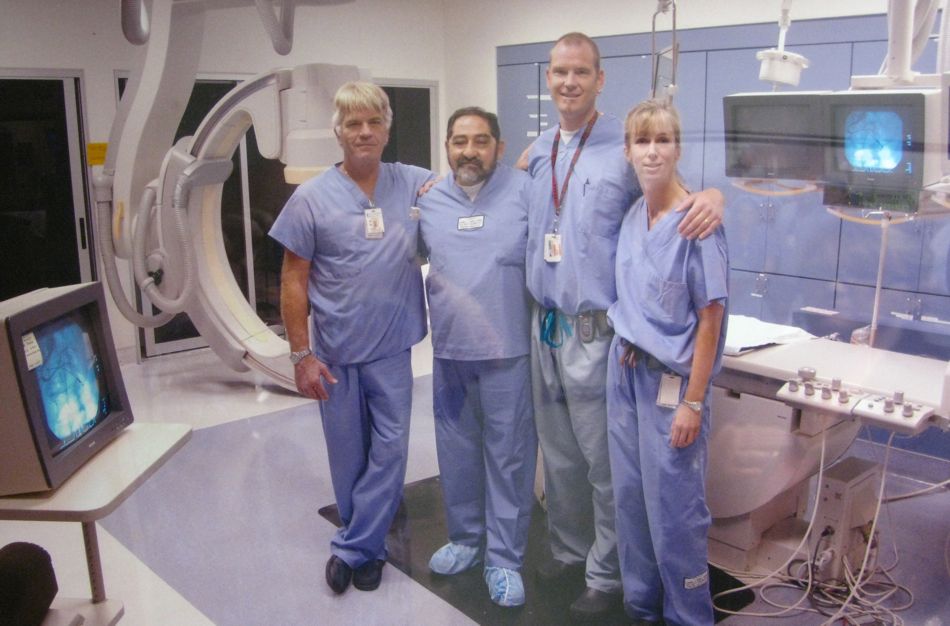 The A-Team... They did an excellent job
June 1st The Email System Warmed Up
Stayed overnight to make sure the puncture in the artery stays sealed... It did NOT heal and in fact burst in the morning. She is relaxing today! It was kind of exciting in that she lost so much blood so fast. The email notifying or family and friends went out with the following initial results...
Alice Caldera - WOW!!!!!!!!!!!!! I am already praying for her. Please keep us posted.
Claudia O'Toole - Dave (ok, Paul, if you insist). So sorry to hear of Sue's heart problems. She has already gone through so much and is such a trooper. We will definitely be praying that all goes well and that you guys can get back to your (busy) life as usual. Couldn't keep up with you if we tried!!!! Please keep us updated as to how things are going. Give her our love and hugs and kisses. (for you too) God Bless,
Claudia
Dean & Lori - Dear Paul, Of course our love and prayers are with you and Sue. Thank you for letting us know what is going on. Please let Sue know how much we love her and wish her the very best. Love, Dean and Lori
Mike & Margie - Love and Prayers from the De Lara's!

Bill Files - Thanks for the update and our prayers will be Sue and you during this trying time.
The Billquist's and Jette's - Am so sorry to hear of this news. You are both in our thoughts and prayers and I think you will have the biggest challenge Paul in keeping her off the golf course while she recovers! Tell her not to feel bad about not getting to golf - here in Montana our courses are just starting to open as yesterday was the first day the temp was above 55 and the snow has finally started to melt off of them! Best wishes for a successful surgery and speedy recovery!
Pam Reed - OMG I am stunned. All of my prayers to you both
Nick Thomas - Dear Paul and Sue, I do hope you can keep up your spirits this week. You always show us a lively couple of active people and I expect it to continue. Best wishes for your surgery. Nick
Maryann Redmond - Oh dearest Sue and Paul you are both in our prayers. Love You, Mary Ann & Mario

Tom Nichols & Nancy Sidenberg and Richard Steiner & Barbara Langford - You have an extraordinary family. We are all honored to have you as friends and share your life's experiences with us. We are surprised and concerned. All of our prayers are with you and Sue during this very difficult time. She is very strong and I am sure she will do fine. Now it is just a waiting game, but if there is anything that anyone of us can do please let us know. We are grateful that we live in a modern civilization that is able to repair the body and get back up on our feet and go on. Having just celebrated Memorial Day, sure helps us all appreciate what we have and enjoy as a free nation. Our thoughts are with you
Holly & Bill Henke - OMG. Our thoughts and prayers are with you both during this very scary time. Thank you for taking the time to identify the symptoms and proposed solution. We are faithful that your medical team is the best and that Sue will have a complete recovery. Our hugs to you both- Hol & Bill
Bob & Doris Muschek - Best of luck to you and Sue- we will say a prayer for Sue. Bob and Doris
Bob Vogtmann - We will keep you and Sue in our prayers.
Jane Trabsue - Hey, boss! You know that Sue is in our prayers... ditto with you. Doug & I live about 5 -10 minutes from Memorial, so if you need ANYTHING, if you want to stay by Sue but want someone to run an errand of two while you are with her, just call me at 562-xxx-xxxx. Memorial is where Doug had his treatment for the lung embolism, and also had his recent lung surgery. The staff is incredible. I know that Doug & I always need to be alone, or just with each other. when one of us is ill or in recovery (btw - love the "chicks in recovery" image). Anyway, my point it - we will not be pesky visitor, but we are there for you if you or Sue wants for anything. Just call! Love Ya both!
Sandy Smith - Paul, I am so sorry to hear about Sue's duress. One would never have known from her demeanor. Thank you so much for the background on this, and my prayers will be with both of you. Sandy
Dara McLaughlin - Boss, I am sorry to hear Sue is going through a tough time. I hope she feels better soon. Let me know if I can do anything to help. All the best,
Aunt Kaye #1 - Hello Dear David: Tom got your phone call but he didn't tell me for awhile. I mentioned to him about not getting email from you then he told me. What a shock. I do pray andhope everything will go along fine. Please let me know daily. Its hard to believe Sue has always been so energetic, excersing, eating veggies etc. She will be in my prayers. Tom will be calling to check things out. You take care of
yourself too, love you both, aunt Kaye
Jeri McGinty - Oh My! Paul and Sue, My prayers are with you. Jeri
Shirley and Hank Barto - Oh my gosh. She is always so up beat one would never know. I am saying many prayers for my dear dear Sue.
John & Liana Passanisi - Dear Sue and Paul, Please keep us posted as to how things are going. We are sorry to hear there is a problem with Sue. If there is anything we can possibly do for you, please call us anytime. You are in our Prayers!
Guy and Janet Talbott - So sorry to learn of Sue's heart problems. She should be able to dance up a storm and golf even better after she is fixed up! However, full recovery from bypass surgery takes a while (Janet's boss went through it). I don't know if they can perform the surgery robotically now, but if they can it will be a speedier recovery. We will be thinking of her and have both of you in our prayers.
Marylin Bailey - Hi Paul, So sorry to hear about Sue. We shall definitely keep her in our prayers. Hopefully she will be well and ready to come to our party on July 3, and also the wine trip. We are going to pass on the day at the races. Fondly, Marilyn
Kathy and Tom Berg - Hi Paul, So sorry to read the news about Sue. Please tell her we send our love and prayers. And, please let us know if there is anything at all that we can do for either one of you.
Joni Said - Wow, Paul. Did not expect this at all. So sorry to hear of this latest medical adventure! Please do keep me posted and I will be thinking of you both. Was she really tired with these symptoms, or was it strictly chest pain? Looking forward to hearing that everthing has gone well.... Joni
Neal & Nita Woolston - Dear Paul and Sue, What a surprise!! You know our prayers are with you both. On a bright side, remember both of Nita's boys have had multiple heart surgeries and are coping very well under doctor's supervision. If you need anything, you know you can count on us any time. Our love, Nita and Neal
Randy & Maryjo Mizer - Paul, Wow, what a shock, a person would never know she had a problem since she is like the energizer bunny and Always with a smile. Is there anything we can do to help you or Sue while this is going on...help with animals, plants, company...anything? We are in PS for a few days but will be home on Sat. so let us know. In the meantime, both of you will be in our prayers. Mj and Randy
Paul Morin - Paul, Thank you for the email and for sharing this with us. We wish you the best and please convey to Sue both our concern and our well wishes. You and she will be in our thoughts and prayers over the next several weeks. Please keep us posted on her condition and progress toward full recovery. We will miss you at the board meetings and dances, but look forward to her recovery and return.
Harvey and Stephanie Schuster - Paul -- We will keep Sue in our prayers!!!
Ken & Amy White - Paul, Thanks very much for sharing a very important event in your lives. We will definitely keep Sue and you in on hearts and prayers. I see that even in these stressful times you find a way to educate your friends. We are grateful for your friendship and look forward to seeing both you and Sue in good health very soon. Take care. Ken and Amy
Lee Barachman - Dear Paul and Sue: Our Prayers go out to both of you. Ralph went thru 4 bypasses in his operation in 2007. The surgery Sue will be having is what I had last year. However, Sue's blockages seem alot more than mine were. It will take some time to recover. Those 5 to 6 weeks after are hard as Sue will feel good and want to go dancing The doctors will have her on some cardio work about week 4. I will be thinking of both of you during this time. Send us more updates when you can. God Bless you and Sue. Love Lee
Willy Embury - Paul: I'm really glad to hear the they found the problem with Sue and pray everything turns out GOOD.
Ed and Sherry Heyman - Hi Paul, I am sorry to hear about Sue's heart condition, but it appears that she is having excellent care. Sherry and I wish her a speedy recovery and she will be in our prayers. Your friends
Ted and Audrey Conlin - Dear Paul, Audrey and I are absolutley devastated, thinking about your sweetheart lying there in Los Alamitos Hospital, and we are so helpless to do anything for her. You know she will be in our prayers every minute while she is going thru the procedure. We would like to send her some flowers if this is permitted? Will you let us know her room number, if available. We love you both so much and want to try to help in the hour of need. Please keep us in the loop. Ted
Joanne Lancaster - We are sorry to hear about Sue and needing surgery, but thankful that they finally found her problem and now it can be corrected with surgery. Sometimes you wonder why it takes so long for them to do the right tests and find out what is causing a person to have problems like that. We will keep Sue, her doctors and of course, her husband and the rest of the family in our prayers. Love, Jo Ann & Bill
Sarah Cormier - Oh Paul that's aweful! Poor sue, she is in my mind n thoughts!!! I'll prey for her!! Do u guys still want us to come up... I wouldn't want to be a burden... But if you do then I'll think of some fun relaxing activities that sue can be comfortable doing.... Miss you n keep me posted... Love you both;) -Sarah
Irene Rose - OMGosh! Aren't you glad they finally found the problem, even though the amount of blockage may have been less had they found it sooner. I will certainly keep both of you in my prayers. Please post an update as she recovers. Irene
Mary Warrington - My Dear Paul Was so sorry to hear about Sue. Just wanted you to know I will be remembering her in my prayers. My thoughts are with you as well at this sad time. Take care and keep me posted. Love you both Mary
Nancy Console - Paul and Sue, You are definitely in our prayers. Susan, you will be dancing again soon…maybe a bit longer before your chest wants to swing a golf club. I remember when Jackie had her open heart surgery – she was very sore after a week. She felt good at first and helped the nurse in the rehab center change the sheets on her bed (just like she used to do at home) then felt terrible for days afterwards. Good luck! Nancy and Sam
Colleen Ambrose - Hi Paul, I'm one of the 405/605 executive committee members. John sent me an e-mail telling me of Sue's predicament. Know that my prayers are with you both at this time. the good news is that they've identified the problem. First you have to identify the problem, then you can begin to solve it. My love and prayers are with you both, Colleen
Angie & Bill - Dear Paul, thank you for letting us know about Sue. Please let her know she is on my Rosary Prayer list. I know you will keep us informed regarding surgery and recovery. You are also on my Rosary list Paul. May you soon have the pleasure of trying to keep her off the golf course and dance floor. God Bless, Angie and Bill
Laurie Andersen - Dear Paul – Thank you so much for letting me know what is going on with Sue. Yikes! Please give her my best. You are both in my thoughts and prayers. Please keep me posted on when/where Sue goes for surgery. Laurie A.
Lee & Marcia Brander - Paul, Thank you so much for your update. It is much appreciated. It sounds like you caught it early enough to avoid serious damage. We will be praying and rooting for you both. (we're sure you will need it also). We also have every expectation that you will both come through with flying colors. We would like to see you and Sue so tell us where and when and we'll try to make it. As I recall spending hours in a hospital room is about as dull as it gets. Our love and prayers are with you both. Marcia & Lee
Dennis & Diane Schmitz - Our thoughts and love are with you. Let us know if there is anything we can do. Diane could keep Sue company if Paul just has to golf with Dennis!
Marianne Hanlon - Dear Paul, Thank you for letting me know about Sue. I'll pray for her many times. I believe she will come through this fine. Thank God for your perserverance in getting to the bottom of this. Sending my prayers and love to you both. Marianne
AJ & Laura Saam - Hi Sue and Paul, Just received the 2 "Updates". We are thinking every positive thought we possibly can!! We have no doubt that Sue will be fine. SuperSue can get through ANYTHING!!! Our thoughts are with both of you and will be for the duration. Let us know if there is anything we can do for you!! Much love to you both, A.J. and Laura
Norma Krawczyk - Dear Paul and Sue: You will definitely be in our prayers. I know that in my heart that all will go well. Miss you both at the Elks. Love the smiles and hugs. Take care and know we care very much. Fondly, Norma
Street Corney Symphony - Hi Paul: Some of your friends shared your e-mail with what is going on with Sue. Our Thoughts and prayers are with you both. You know in your heart that your friendship is appreciated, cherished and treasured by lots of people. You both are unstoppable in the golf course or on the dance floor. Please extend to Sue our wish for a speedy recovery and you take care of yourself.
We hope to see you and Sue dancing to our music again. Wishing you both all the best. The Street Corner Symphony Band Members
Charlotte Sanders (From Denmark) - HI. Just heard that Sue is in the hospital. I'll be thinking good thoughts from Denmark. Please give her my best!!!!!!! Hoping for a speedy recovery, Char
Chuck Catania - I heard from Robin that Sue will be having heart surgery. I want you all to know that she is in our thoughts and prays. I sincerely hope for the best possible outcome. We are looking forward to seeing her on the wine train trip. Please get well soon.
Diane Porter - Thanks for the update Paul. I'll call tomorrow. I let Pat's family know about it too, so you've got a whole bunch of people praying for you and Sue up here now! Diane
Robert and Sherry Voglei - Hi Paul and Sue: Sherry and I want to express our concern and feel upbeat especially hearing your positive thoughts in your update notes. We will be thinking of you both when Sue is in surgery next week. Be always safe.

Kerstin & Hans Thedens - Hi Paul, we heard about Sue last night at the Phoenix club and we were shocked. We wish her a great recovery and all the best. Please tell her when you visite her in the hospital. Kerstin and Hans
Lance and Susan See - Sue, We heard of your up coming surgery. We want to let you know that we are thinking of you and you are in our prayers. We hope for a swift recovery. Your friends from Phoenix Club,

Gladys & Vance Collins - Dear Sue & Paul: Today, June 3 I have read the first account of what has happened to Sue. (I stopped reading my e-mail on 5/31 due to my heavy workload.) Last night at the Phoenix Club we looked towards your table and it was empty. (3/2). Vance and I wondered about this. Vince and Nancy was there (much later) and also Bob and Donna showed up. During intermission Jan made the announcement. Thanks for the detailed account. It made us wonder about life and what could happen at any moment. In 1996 my carotid artery was cleaned out. I had a total blockage on the left side of my neck. You can see the scar. I had all the symptoms but did not recognize them. I was on the verge of a major stroke. At first I went to the doctor (he was out and I got his assistant) who said I had a cist on the tope of my head and the sharp pains would go away. We were puzzled. Later we went to the ER. The experienced doctor got me going for the ultrasound and in a few days I was in surgery. That was a close call. We look forward to another brunch at the Newport Elks soon. Gladys & Vance
John Peller - Paul, This is our first indication that Sue had a problem. She will certainly be in our prayers. It sounds like she is in good hands and that the future actually looks quite bright after an initial period of major discomfort. Please keep us informed. John
Kay Quick - Paul: Thank you for the update on Sue's condition. What a stressful and frightening time for Sue and the whole family! One day life seems good and then something goes topsy turvy. She is so lucky to have you by her side through all of this and not be alone!! This is an obstacle that can be overcome and time and patience and prayer will reign. I give all of you my prayers..... Keep us posted when you can. Hugs, Kay Quick
Wayne Pulcini - Paul, This is the first i have heard of this. Please know that I will put Sue on our prayer list in our small group at church. Take care and let me know if there's anything I can do. Wayne Pulcini
Laura & AJ Saam - Dearest Paul and "Super Sue", We know that Sue's outcome will be an even BUSIER Sue. I won't even be able to see her she will be such a "Whirling Dervish"!!!! We would come and visit Sue but feel with all your friends the hospital would be over run with "Sue Fans". We can come for lunch near your home after she is ready to do so. Please if we can help in any way........come and take care of the dogs or whatever let us know. I am in shock that she has had time for a clog to form, let alone two!!!! We are so sorry that she can't have a stent AND that are glad Obama Care is not in affect and she get's all the care she deserves!!!! Sue is my Hero as I have said before. She will go through this with the same grace as she has in every other life threatening kink in life. If there is a God he knows she is best here with all of us because all of our lives would diminished without her. I know in my heart that even though it is difficult she will raring to go soon.
It is odd as I just felt something was not right so it did not come as the shock it normally would have. When AJ was reading the email to me i was so relieved that it was not the cancer!!!!! I guess that is awful to even think that this is better. It keeps my faith the Super Sue can fly through this!!!! She will be chipping in a couple of weeks!!!! We love and respect you both so much and we actually like very few people so we can't lose you!!!! Love and gentle hugs, Laura
Frank Colaw - Paul/Sue, Our thoughts and prayers are with you. For whatever it's worth my dad dad had a quadruple bypass 18 years ago and he hasn't had any problems since (he turns 84 next week). Frank
Leah Berger - Paul, Pls tell sue we (at Catal) r all thinking of her and praying for her and her doctors. Thank u for keeping me updated- You'll be golfing and dancing together again in no time! Come see us as soon as u can- Love you guys! Leah
Valerie Wong - Hi Paul, Leah has been keeping us posted on Sue's condition and I just wanted to let you BOTH know That you are in our hearts and prayers. We are expecting a speedy recovery because You need a dance partner and a golfing buddy and we miss you two when we don't see you. Take care, Valerie (Assistant General Manager The Patiga Group, Catal Restuarant, Downtown Disney)

June 2nd Thursday... Uneventful
No more leaks but many friends and family. Michele and Theo popped by to visit. Tim Johnson, our golf instructor, came by to visit. Colleen kept the texting busy. Weasel (Jon Liles) called and talked for quite a while. Jim and Jan Mongel got the latest update to notify the Phoenix Club Crowd.

Sue was finally introduced to her cell phone..... Texting to friends and family.
June 3rd Friday Was Happy Hour
A laid back day so visitors came and went all day...
The Nablocks, Ernie and John, Michele and Theo... and of sourse the Happy Hour Team plus Sheri Miller! Life is good with friends. She spent oddles of time on the phone with Mitch and Zachary.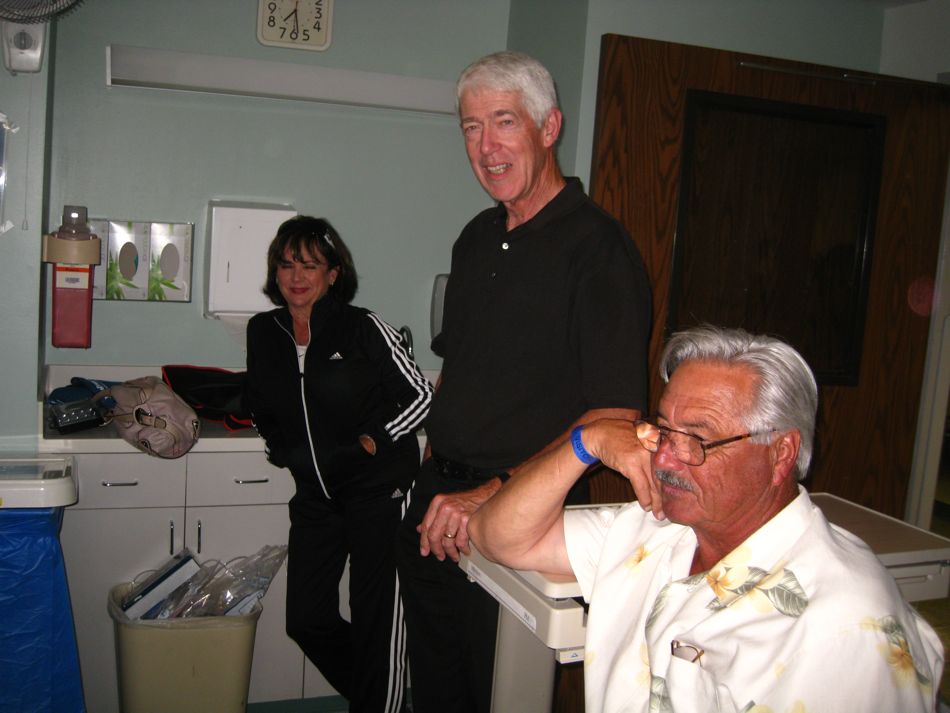 Bunaford & Tom Burns with James Cathey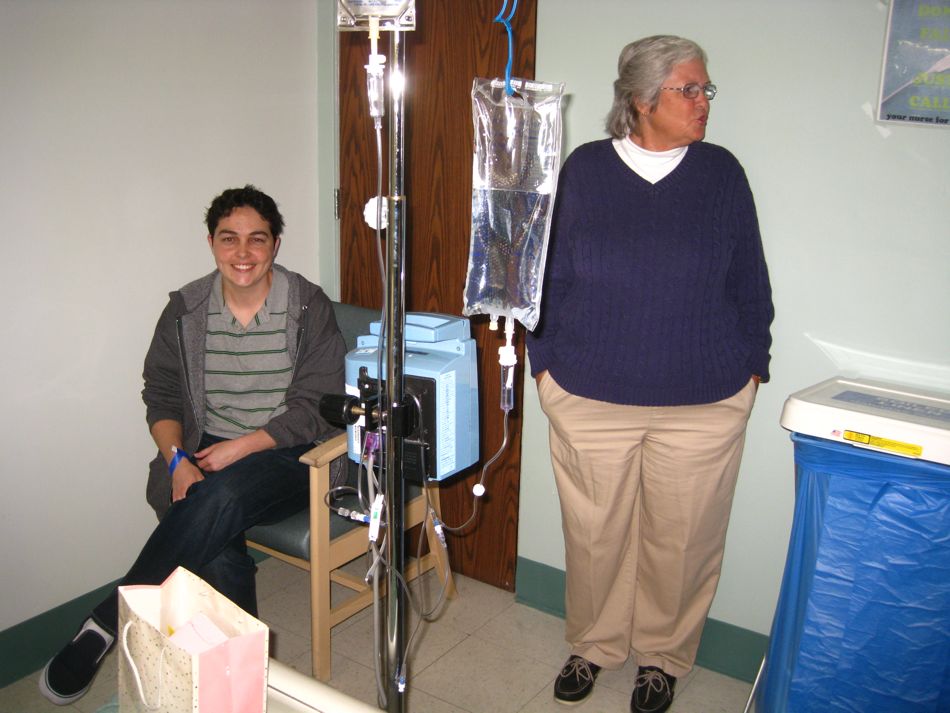 Sheri Miller and Linda Cathey
June 4th - Saturday
Today was a day of simple rest getting ready for transfer to Long Beach on Sunday.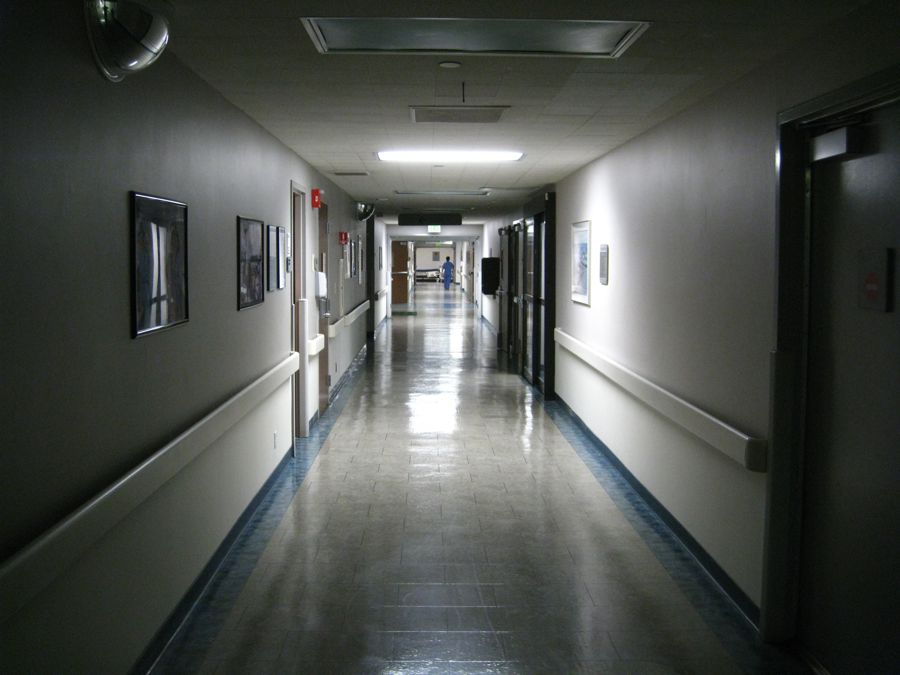 Hospitals are spooky at night
June 5th - Sunday
This was transfer day so many folks came to visit.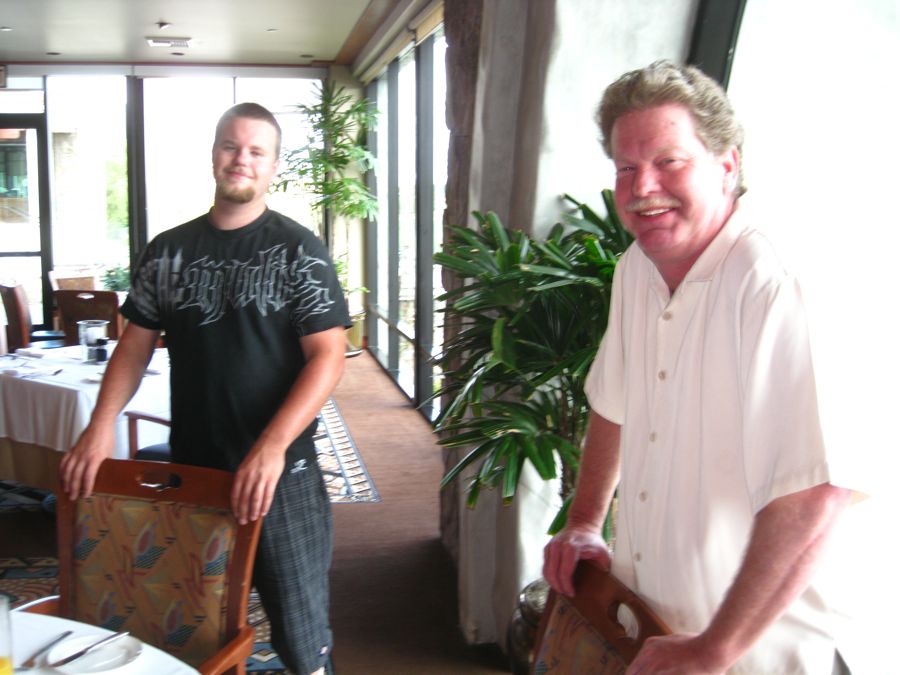 We started the day with breakfast at Old Ranch with Zack & Mitch ... They went to the hospital while Paul did some errands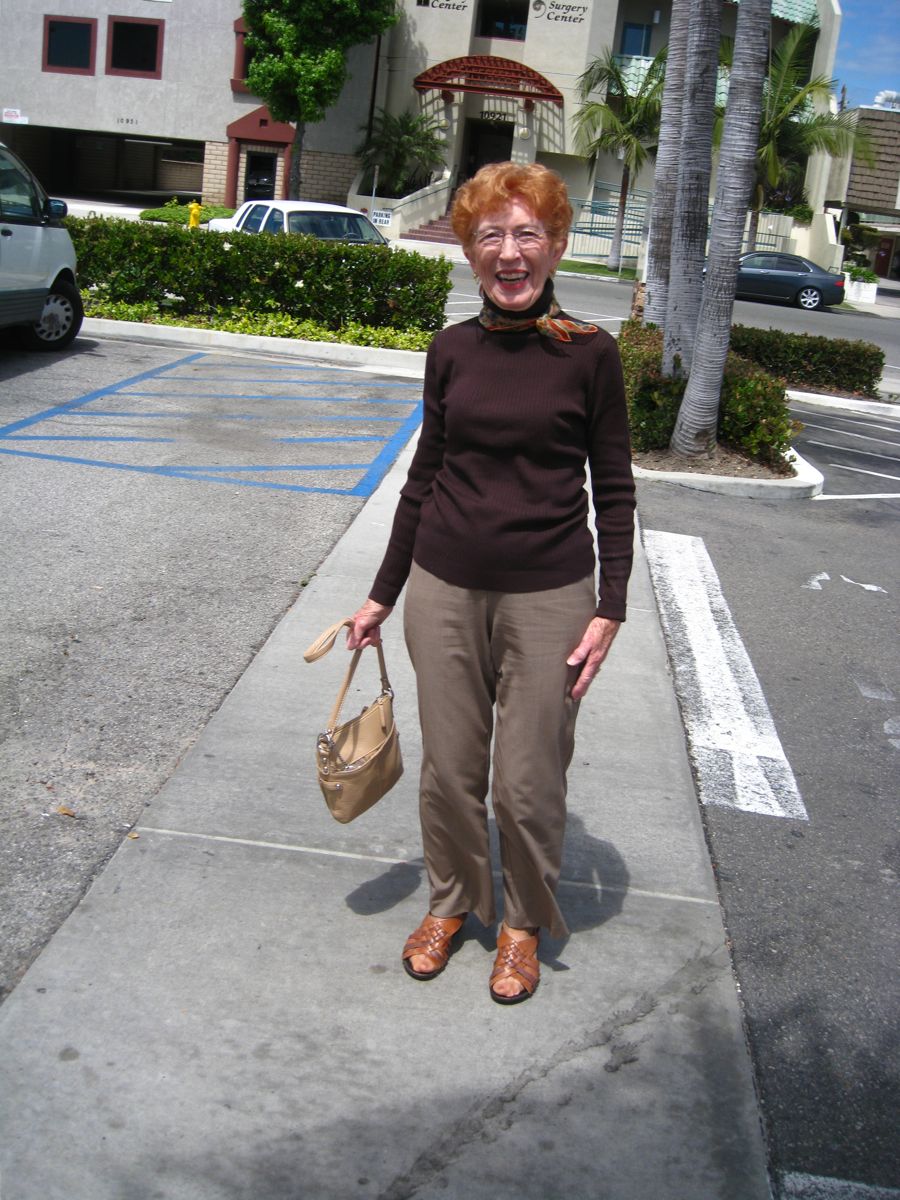 Nany joined us at Los Al in the afternoon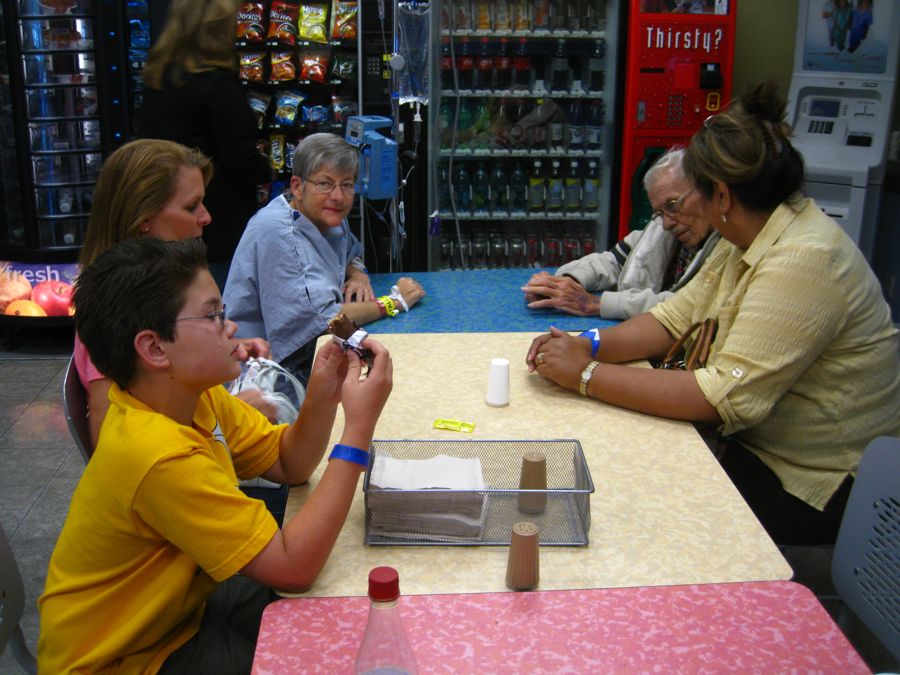 Dave comes to visit
Note: Dave Pased on 6/11/2011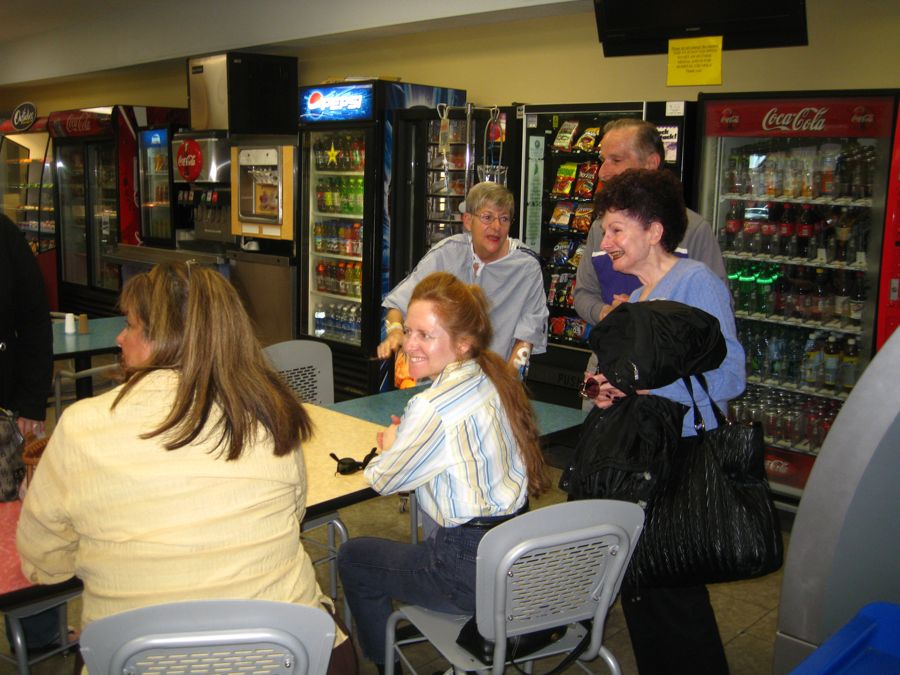 Marcia and Lee Brander visited along with Michele and even Dave McTevia foind the energy to come across the street and visit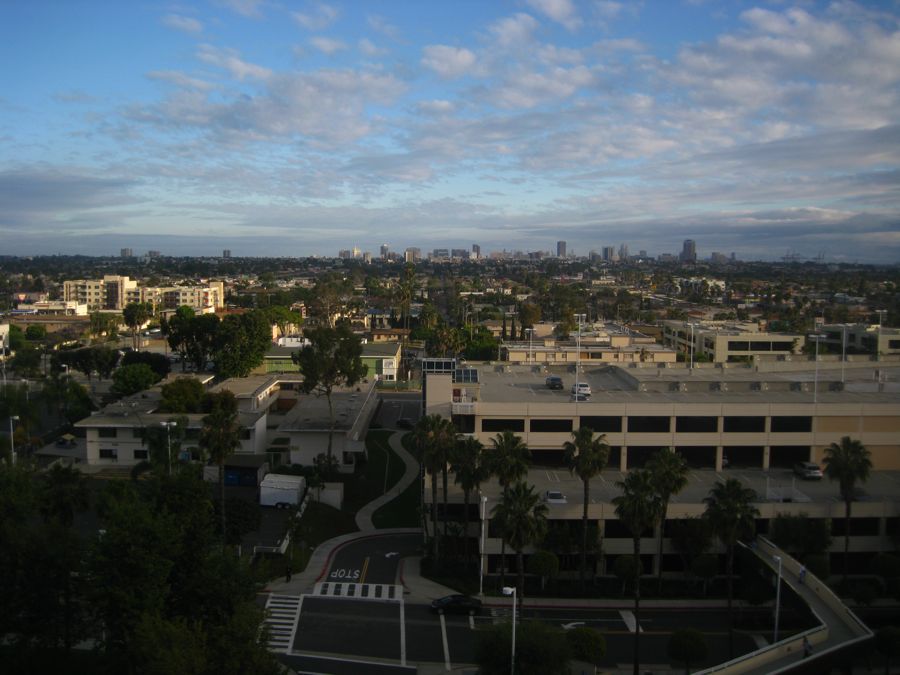 The transsfer occurs... Great view of Long Beach from the 7th floor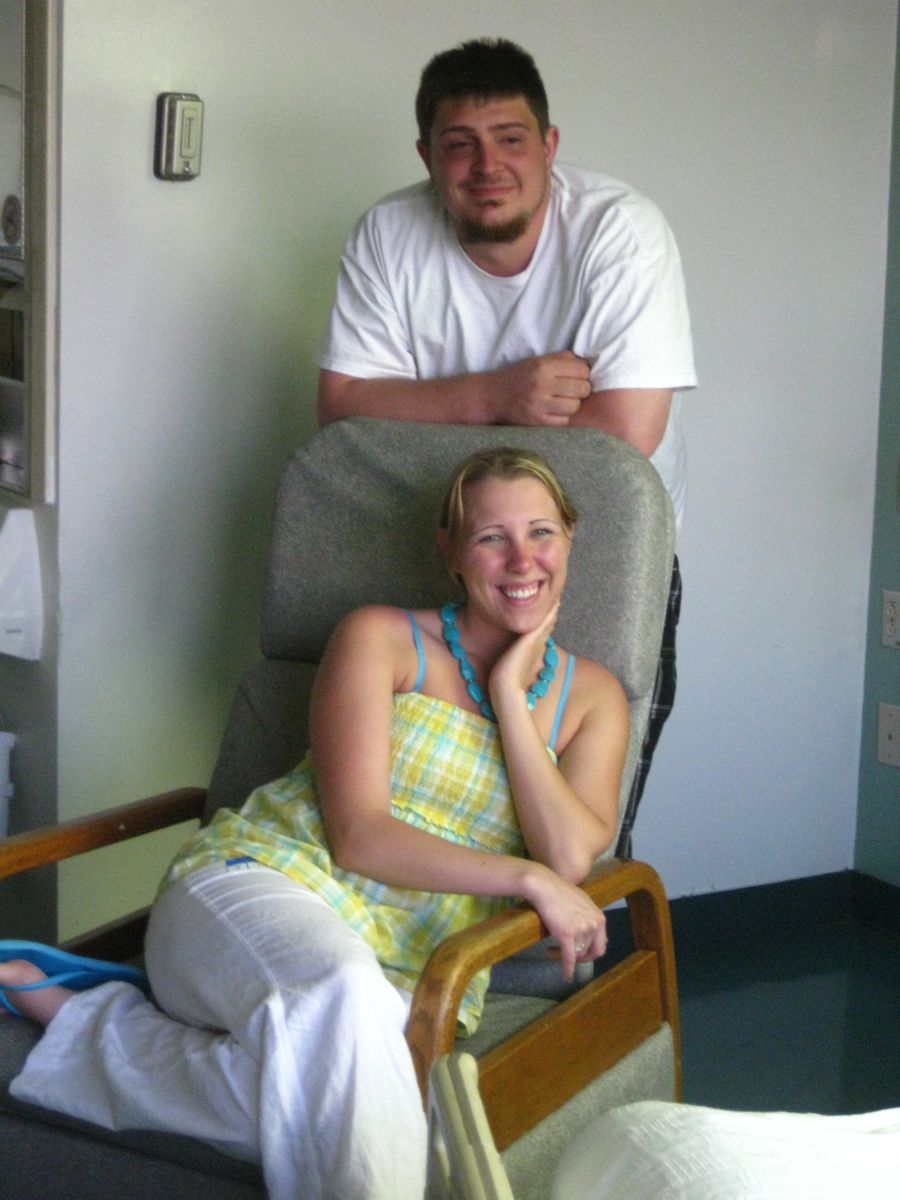 Jon and Sarah came to visit

Irene and Sue
June 6th - Monday
We got a wave off because the Plavix was not totally out of Sue's system. Scheduled for noon on Tuesday.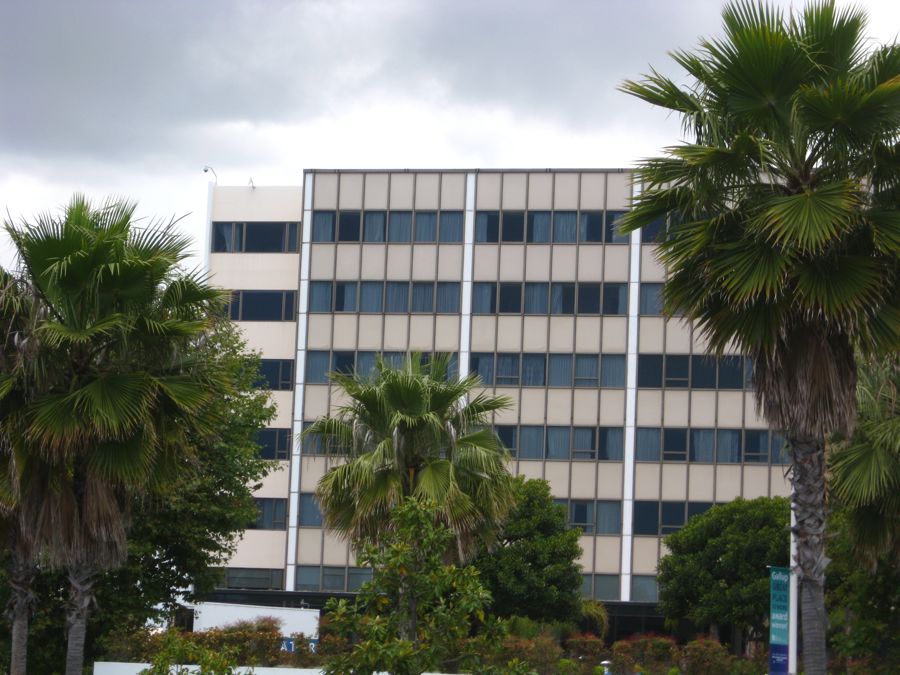 Eighth window over on top floor was Sue's castle in the sjy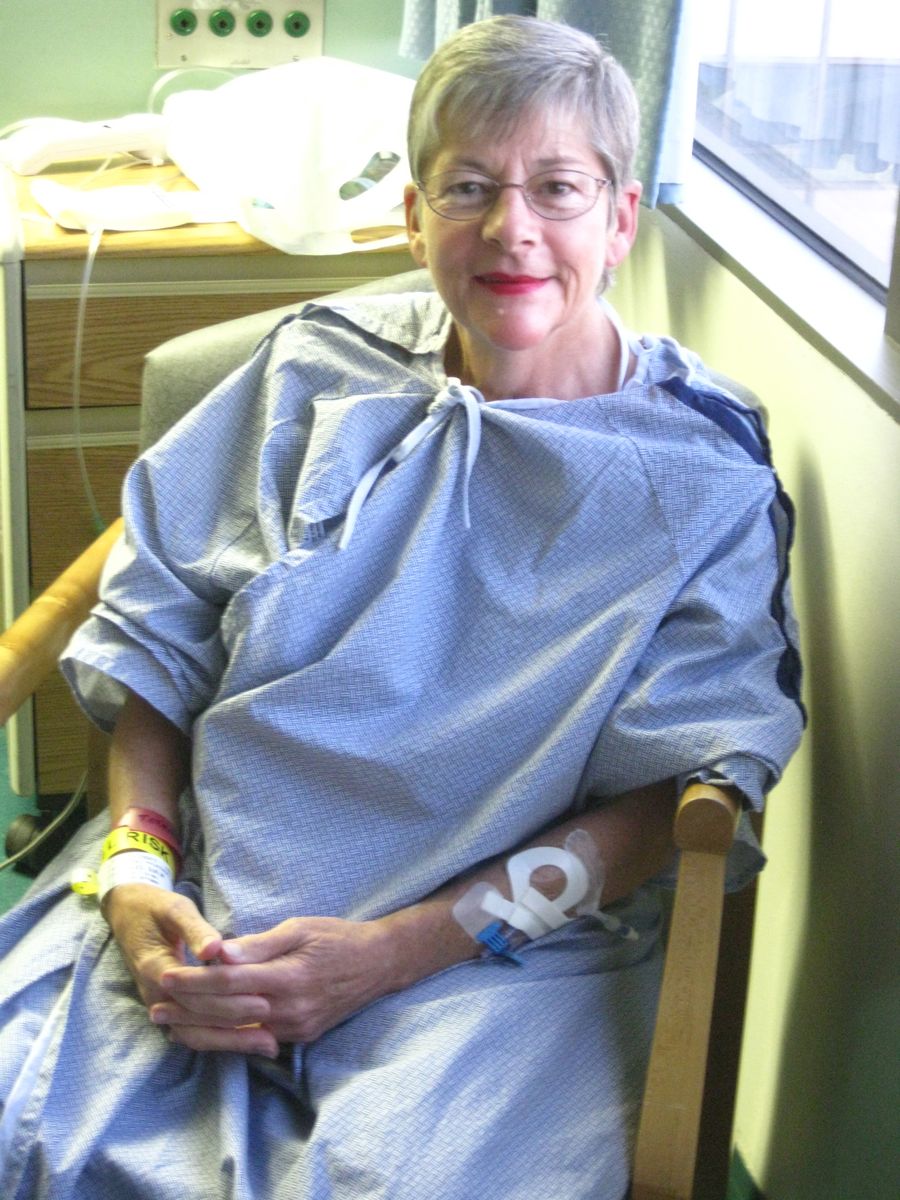 Smiley is wanting to get on with the show
June 7th - Tuesday
Today is it... Noon is the time... Until it was changed to 2 and then... We got cancelled.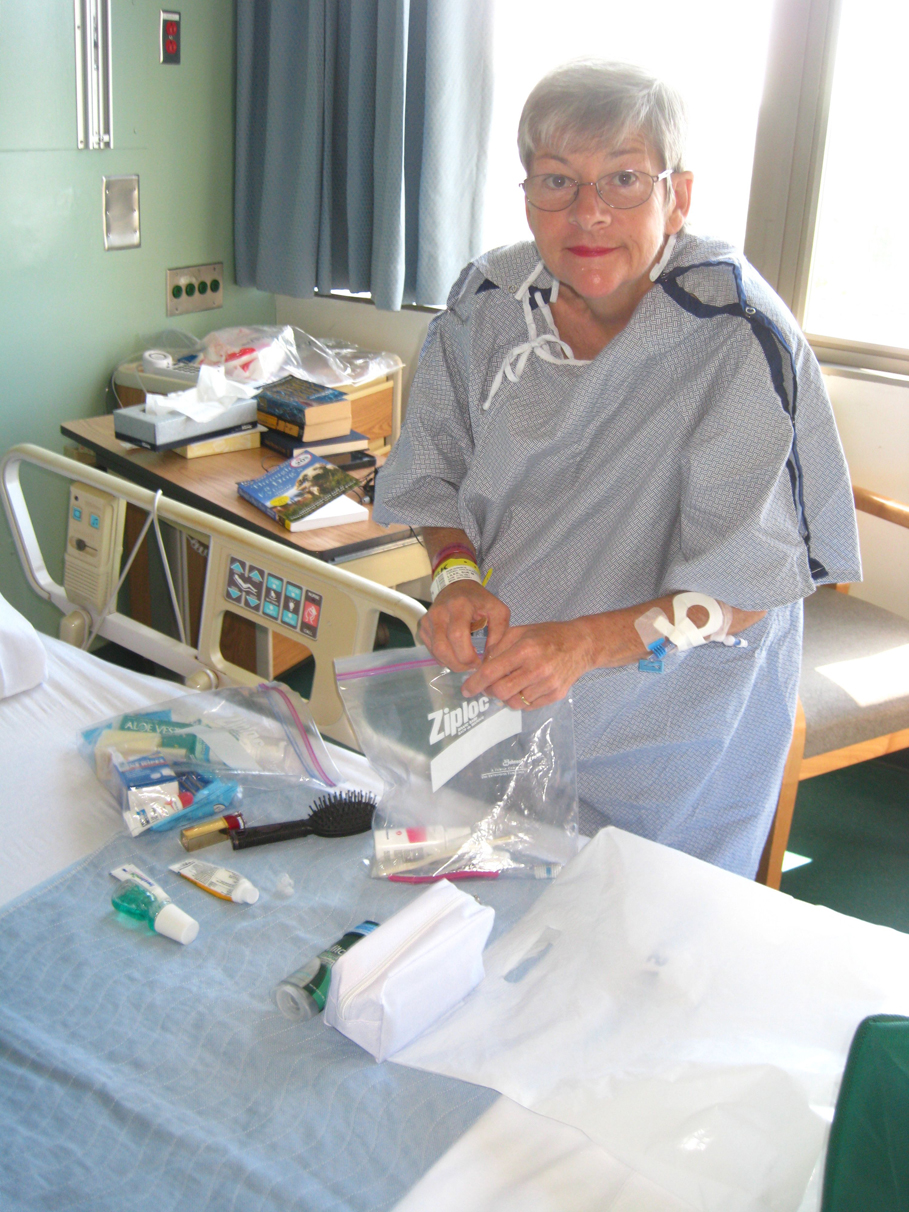 OK ... I am ready to go to the OR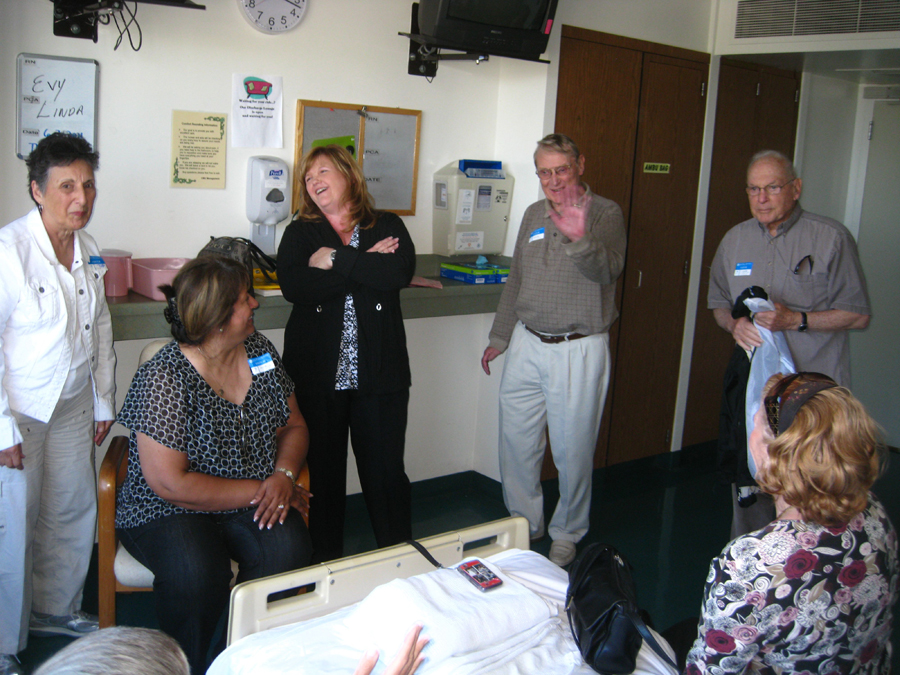 We all helped her pack for her journey down four floors

Alas... delay until tomorrow.... Preveza saved the day! Greeks to the rescue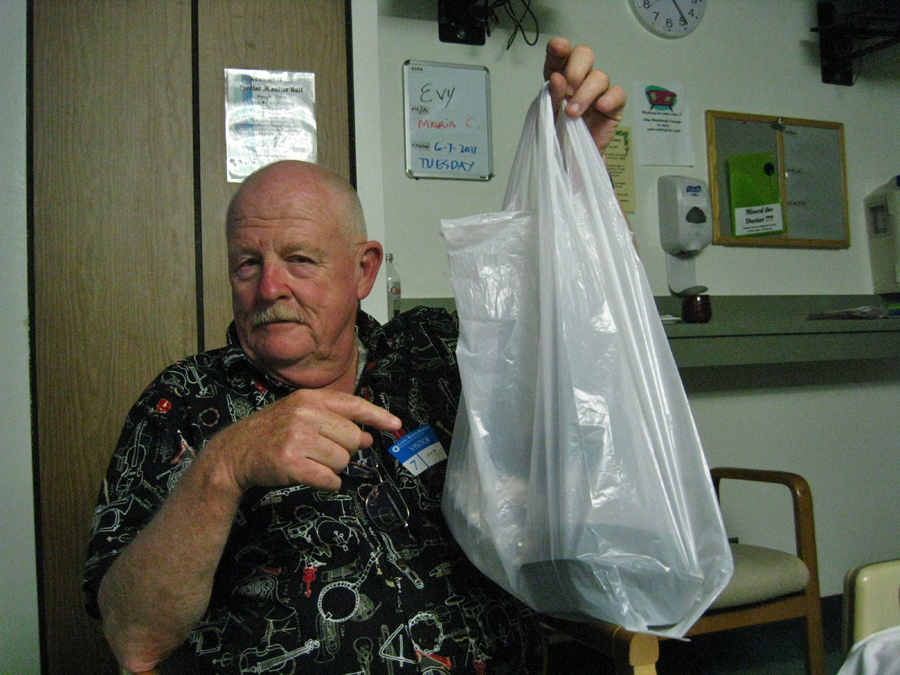 Paul gets to take the goodies home
Wednesday June 8th... Operation Fixit Is Now Underway
Finally we go the go ahead! She was prepped and moved into the OR at 8:10am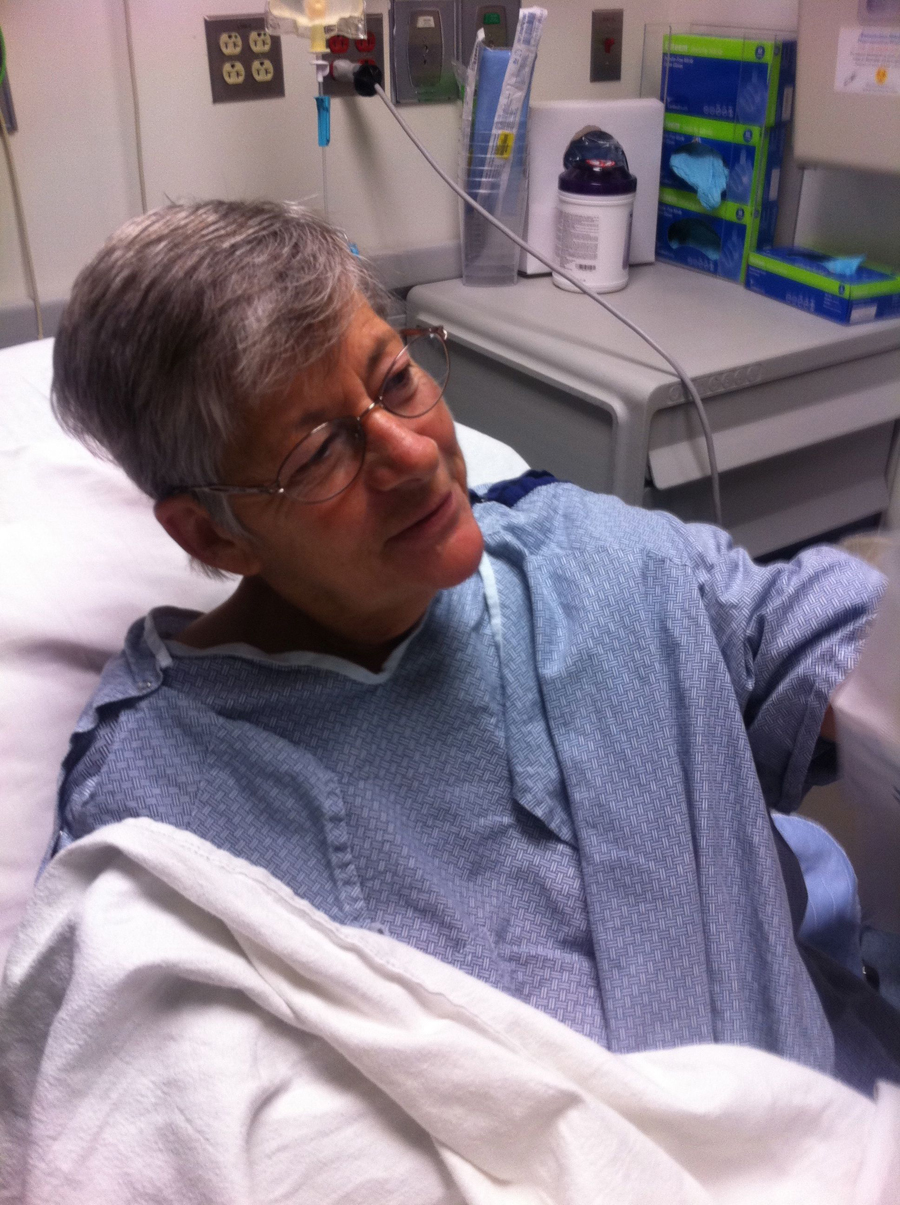 I am ready to roll .... And away we go

Herbie and Paul enjoy nreakfast!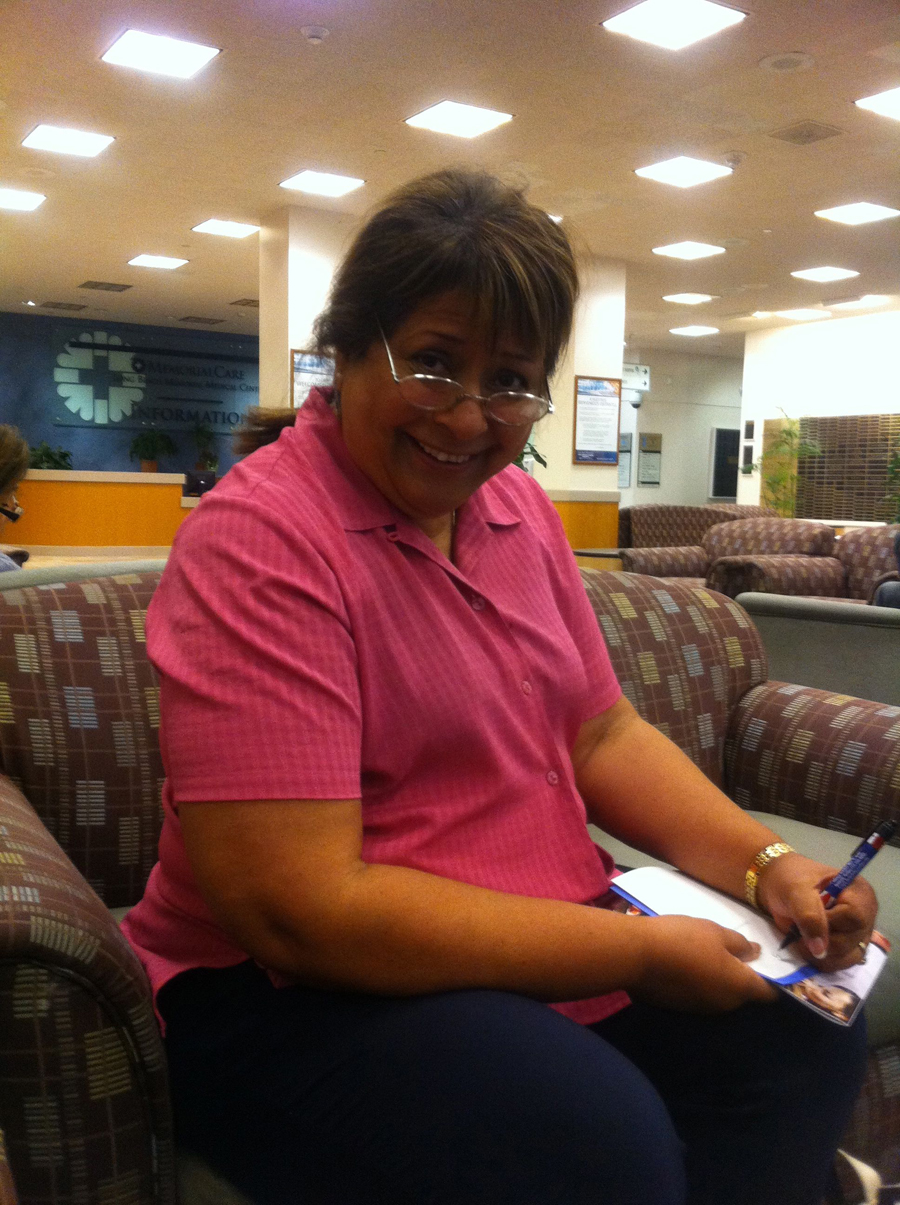 The card gets passed around
In Cardiac Intensive Care Six Hours After The Operation

She is out!!!!!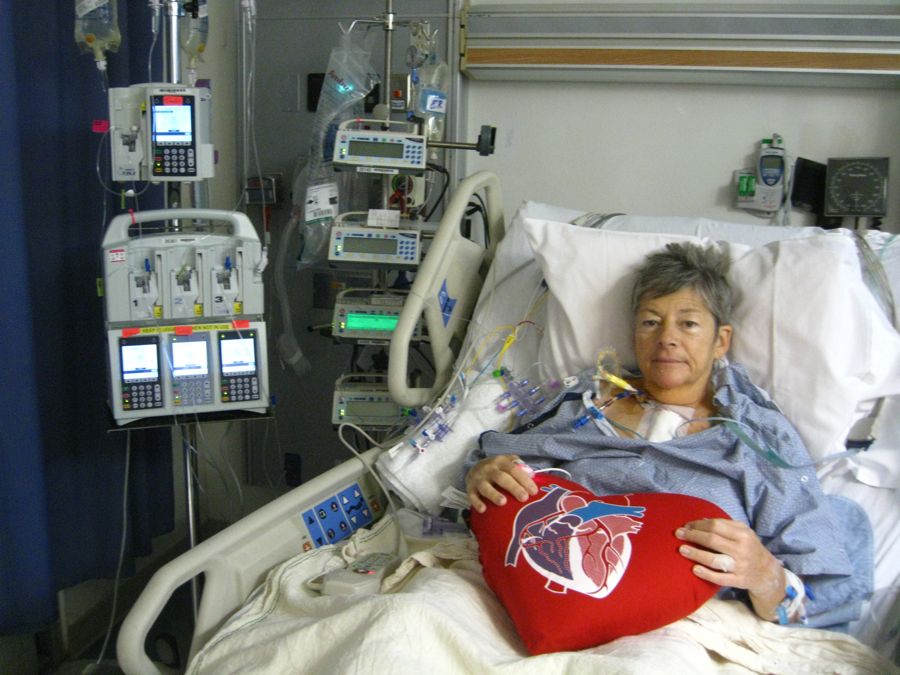 Looks like cockpit of a 747