Paul's Turn... It was An Easy Monday "Pre-Malarkey's" Day
There Paul was, at Sue's hand therapy appointment and voila, the big one. Paul had been having symptoms for a few weeks but thought it was just indigestion! It was not indegestion. The next week and a half was a blur but finally Paul landed back home April 20th.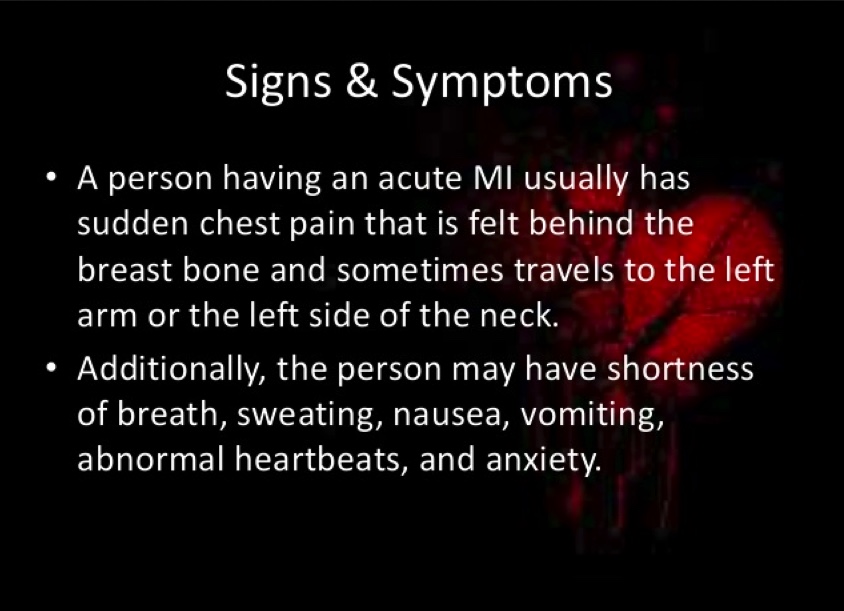 Sue had the same thing happen June 8th 2011!
Day by day; Let's See!
April 11 Morning - Stayed around the house and worked on bird cage to keep the birdies out of our blueberries. We went to Sue's hand therapy at 2:45 and then we were going to Malarkeys, a typical Monday.
At the hand therapy office, Paul got sick to the stomach, had a pain in neck and teeth, both arms were very weak, he also got got sweaty, was finally was frightened knowing these were classic symptons of a heart attack. He told Sue at checkout "Let's hurry"!! Paul did not let on until we were on Katella going to the hospital..
Paul drove out onto Katella and directly to Emergency Room which was about a mile away. Sue knew is was serious as Paul did not open the car door for her but headed directly inside the ER. Paul told them of a "cardiac event". Was was send to triage immediately. We went inside ER and waited for a while. Finally go a room and saw doctor. Told Paul would get an angiogram ASAP.
April 12th (Tuesday) - Finally got fit into the angiogram schedule. The doctor said it was probably just a stent needed. By now, Greg and Irene was with us. The news was deafening. The angiogram was at noon.
An angiogram is an X-ray test that uses a special dye and camera (fluoroscopy) to take pictures of the blood flow in an artery (such as the aorta) or a vein (such as the vena cava).
An angiogram can be used to look at the arteries or veins in the head, arms, legs, chest, back, or belly. Results said no stents were required!Full on blockage of three coronary veins!
Paul was immesiately transferred in an ambulance at 9:00pm to Long Beach Memorial CCU.
Results confirmed, emergency bypass at noon on 13th! They did not want to wait another minute because of the blockages. Our son Joe and daughter Robin came over to wish us well.
April 13th (Wednesday) - In Long Beach Memorial! Feeling safe as could be! We got scheduled at 1:00 in the afternoon and out by 6:30. Right before going into the or Paul visited Joe, Greg, Robin and Irene. The last wave was scary.
Paul doesn't remember anything except Sue's last words - "I love you".
After being transferred to the operating table, I was awake about 45 seconds before lights out. The doctor asked Paul if he was OK? Paul replied "I m not scared of anything but a cold operating table" He pushed the plunger and it was lights out!
With Robin, Irene, and Greg close by, I was assured Sue would be OK while Paul was out of commission!
Soon Paul was in recovery and visited and sent everybody home! Nothing to do until he wakes up in the morning. Look at the video if you want to see how it is done! Not for the faint of heart but not bad... informative! By 8:00 PM I was out and awake and talked to the doctor.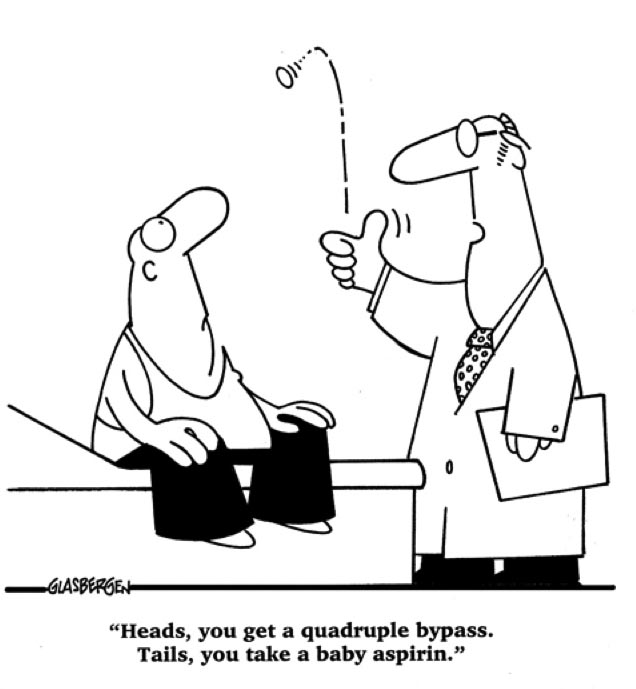 April 14th (Thursday) - Just a load of TLC all day. We told the kids as there was nothing they could have done so it was good that Jeanette, Michele, and Colleen stay home. Our oldest, Robin, goes right by the hospital every morning as she knows the most about us and was happy to stay with Sue during the evenings. The Finch's and Cathey's stopped but but did not come up. We missed the Phoenix Club but phoned Jan and they made an announcement
April 15th (Friday) - Loads of TLC! We missed Toppers but Ed Roberts took loads of photos for us! Paul got his little heart. It serves a serious purpose. If one has to cough, holding the pillon hard to ones heart spreads the pain from the broken sternum bone. Paul has a new heart! Sue has one to match.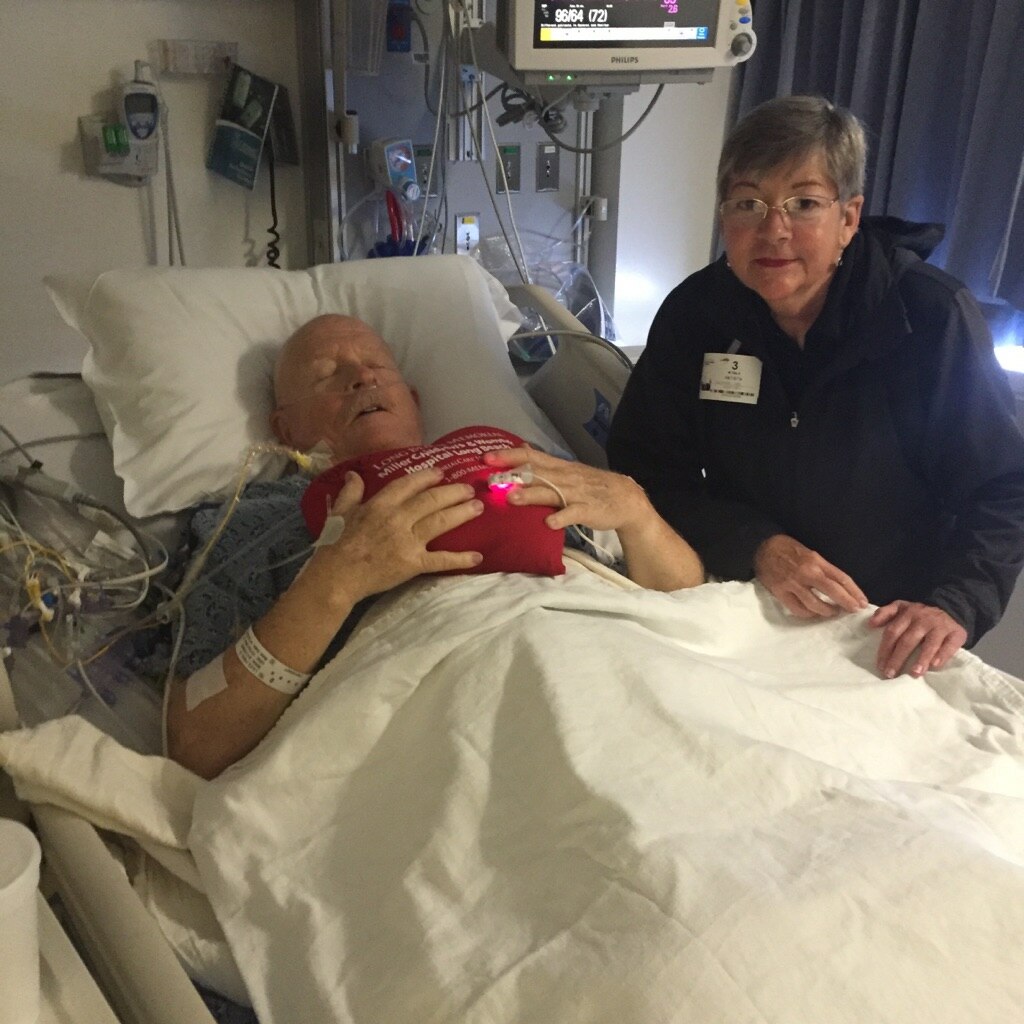 Best care in the world... Sue!
April 16th (Saturday) - We were felling pretty good about going home then we got a heart arrhythmia. Arrhythmia... Don't ask me?! Arrhythmia? Don't ask me?! We missed Garden Grove dancing! Getting to be a habit! We also missed the Laguna Canyon Winery Blending Party.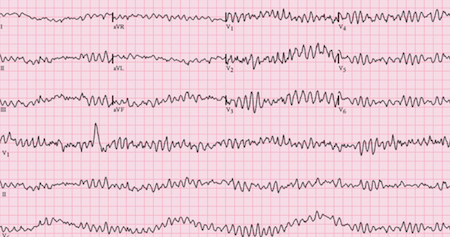 April 17th (Sunday) - Joe and Amy visited. Amy landed Paul her iPad to watch movies, great! Sunday was just a day to relax.
April 18th (Monday) - Paul was transferred to the CC Telemetry Unit. It is an area were patients are "wired up" to a central console so the technicians can monitor all action? Off and walking it was by-golly! Paul walked the hallowed halls several times a day!
April 19th (Tuesday) - Paul was still in the Telemetry Unit. Off and walking and teasing the nurses!
After one walk, Paul needed to be moved (slid) down the bed about a foot when he remembered one of the nures, a guy, said he liked latin dancing. A match made in heaven.
He lifted Paul, and Paul put his arms around the nurse, and they did a One Two Cha Cha Cha about three times to get Paul into the proper place! We all had a laugh!
April 20th (Wednesday) - Time to go home but it took all day! We finally got out of there about 7:00. Irene brought Paul some XXL zip up sweats, they fit!

Paul didn't own any sweatpants prior to this
We got home about 8:30 as the sun had set and the full moon was out.
Home at last!! Home at last!! It is good to be home and on the right side of the grass! Sue and Paul not have identical (repaired) hearts.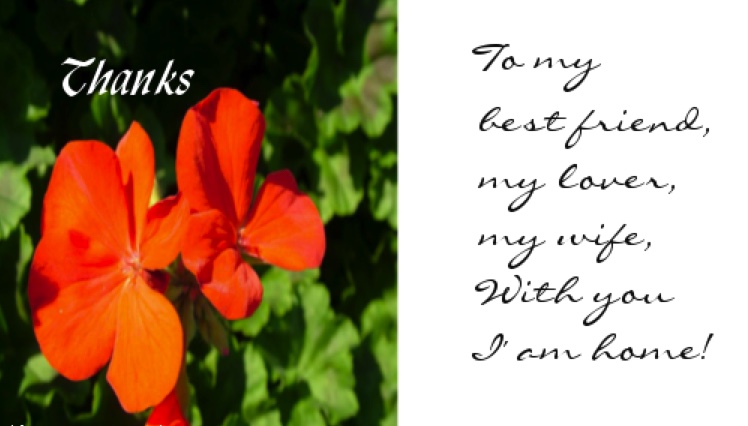 Paul wanted a glass of wine but it tasted like metal.... Ewe!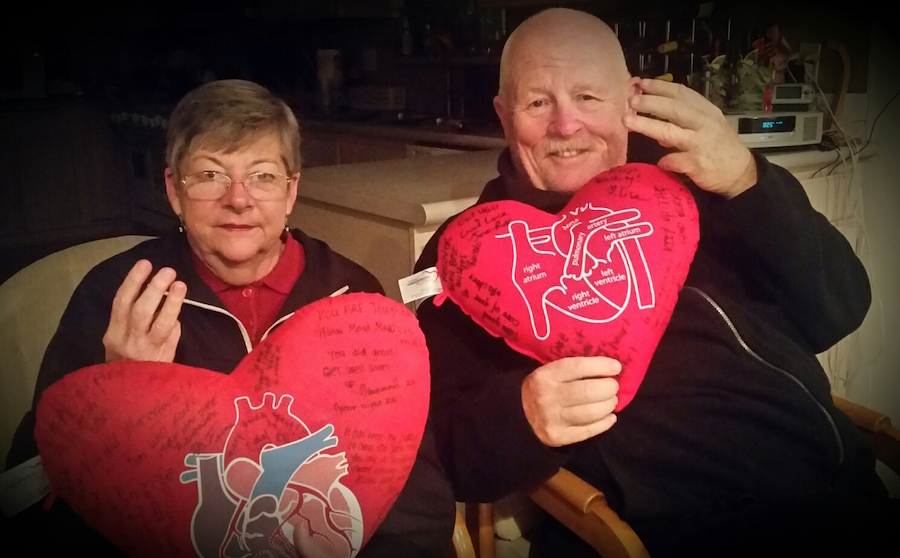 Three bypasses each five years apart! We are really matching!
Paul is now in recovery at home enjoying his family and dear freinds.. By the end of May, he will be back up to normal! Our Son Joe came to visit several times and many others!
Gardening Day April 21st

The Adams and Duda's came over... Poor Greg is outside working

Hellava scar!
Wine tastes horrible so Paul is left to drink champagne... Darn the luck!

Our savior... Robin to the rescue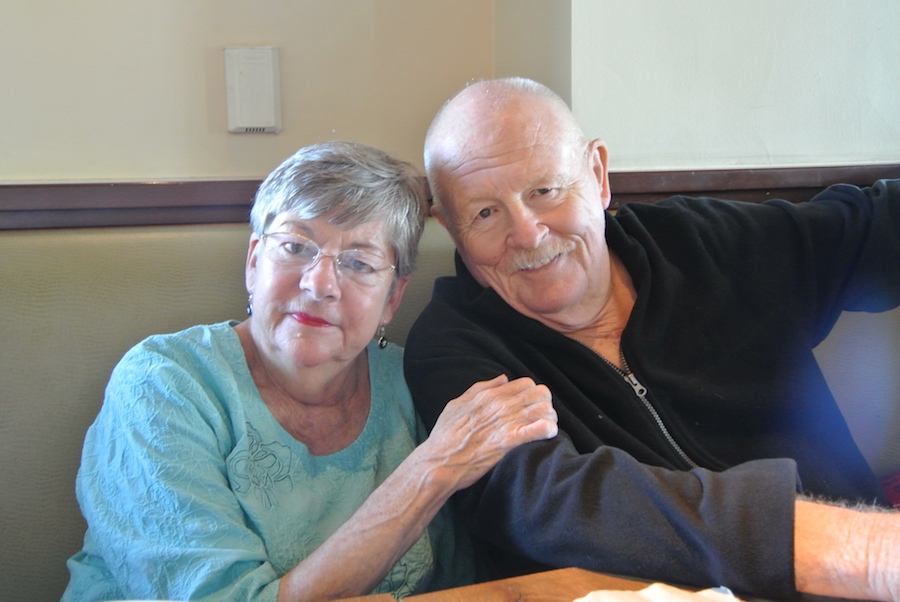 Tired but happy
No were on our way to total recovery! We walk all the time. Join us on some of our jaunts around town!