Super Bowl Sunday At Old Ranch, We Gather
It is that time again where we gather and party with family and friends.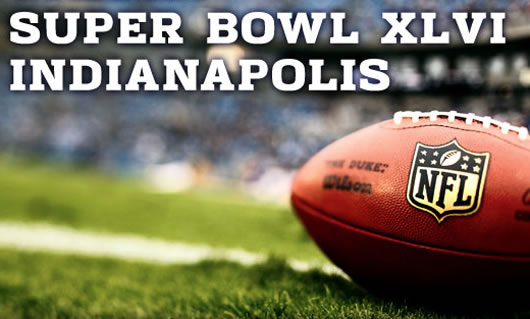 Our Family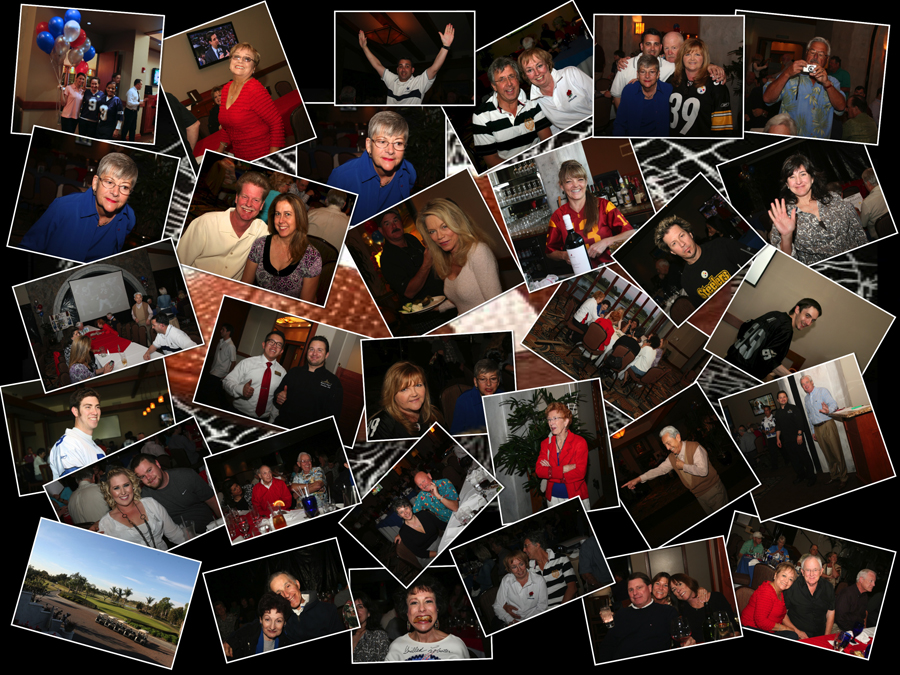 Just Us ( Full sized )
The Old Ranch Family Make Things Special....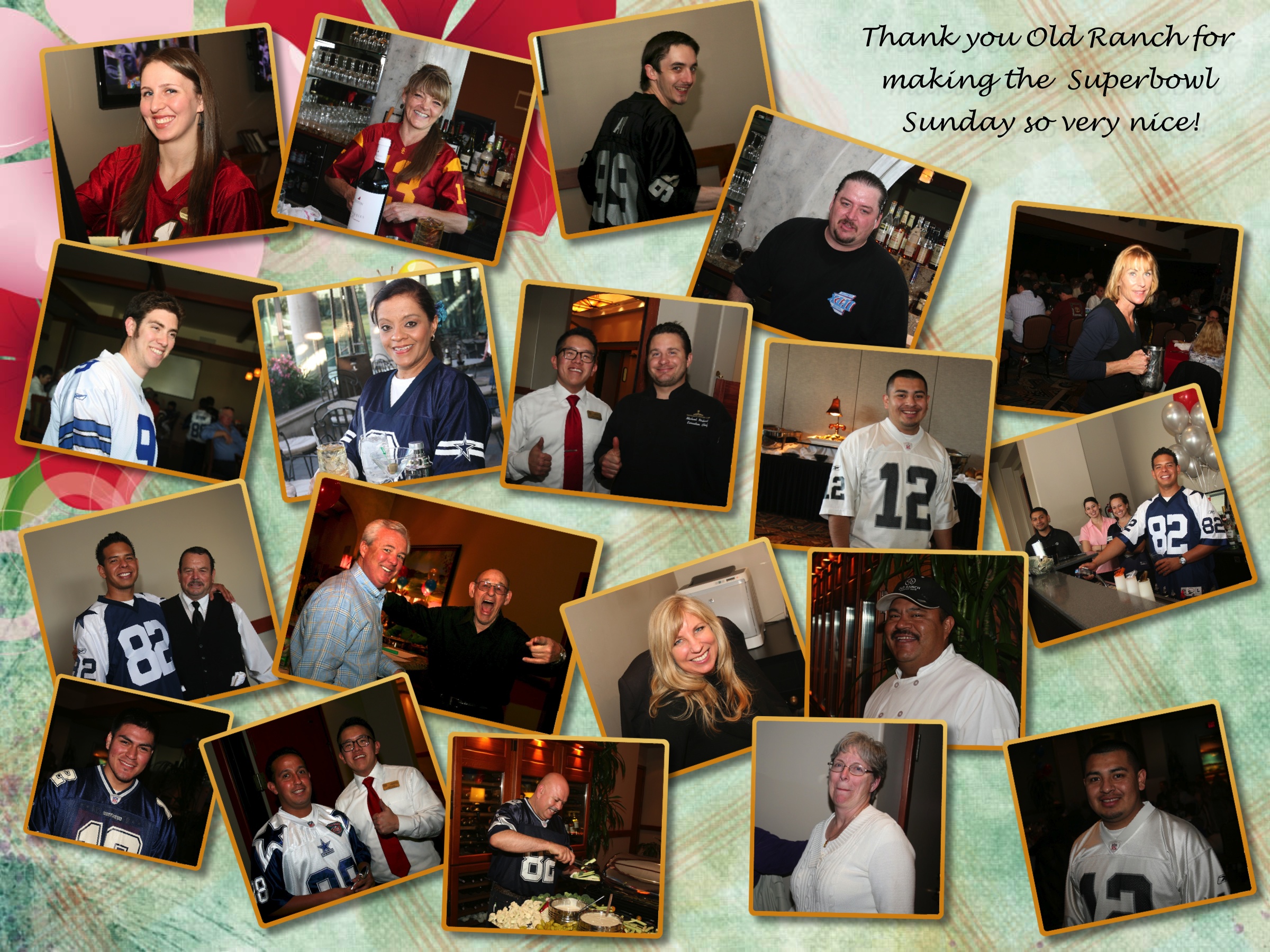 The Old Ranch Country Club Staff Is The Greatest ( Full sized )
Let The Party Begin....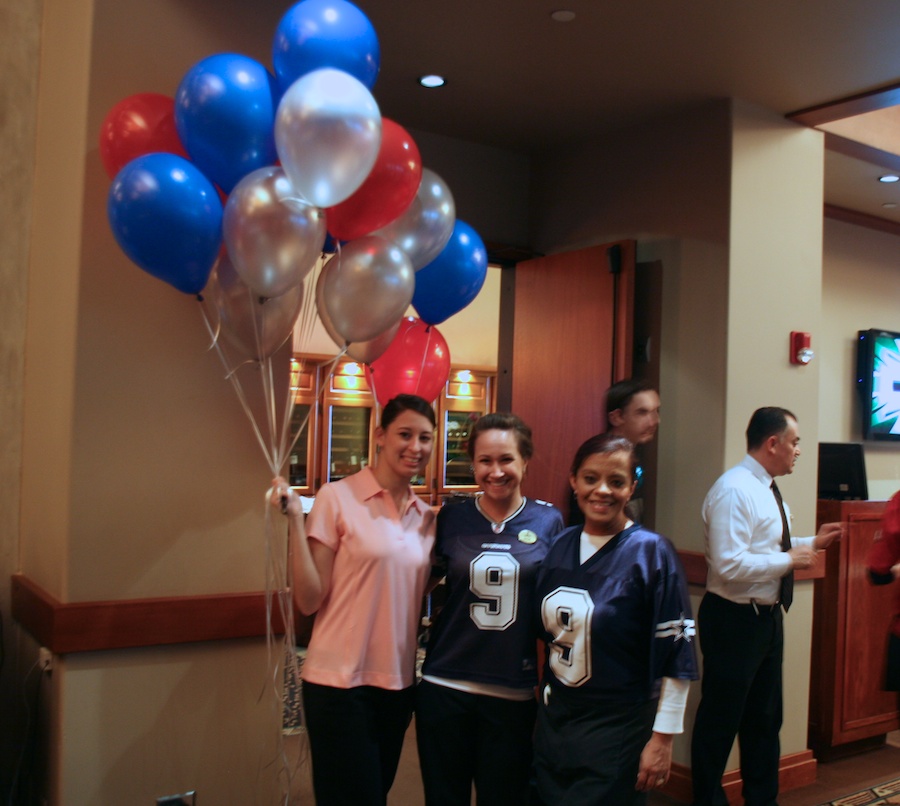 Welcome to Old Ranch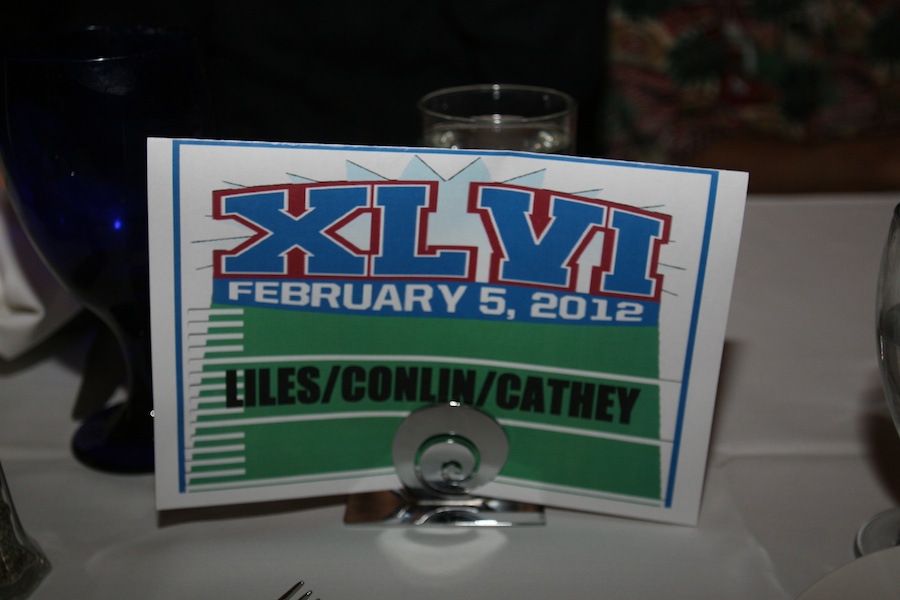 We have a table about 40 feet long...

Liles, Conlin, Cathey

Reinvented Toyota

Ernie holds court in the smaller room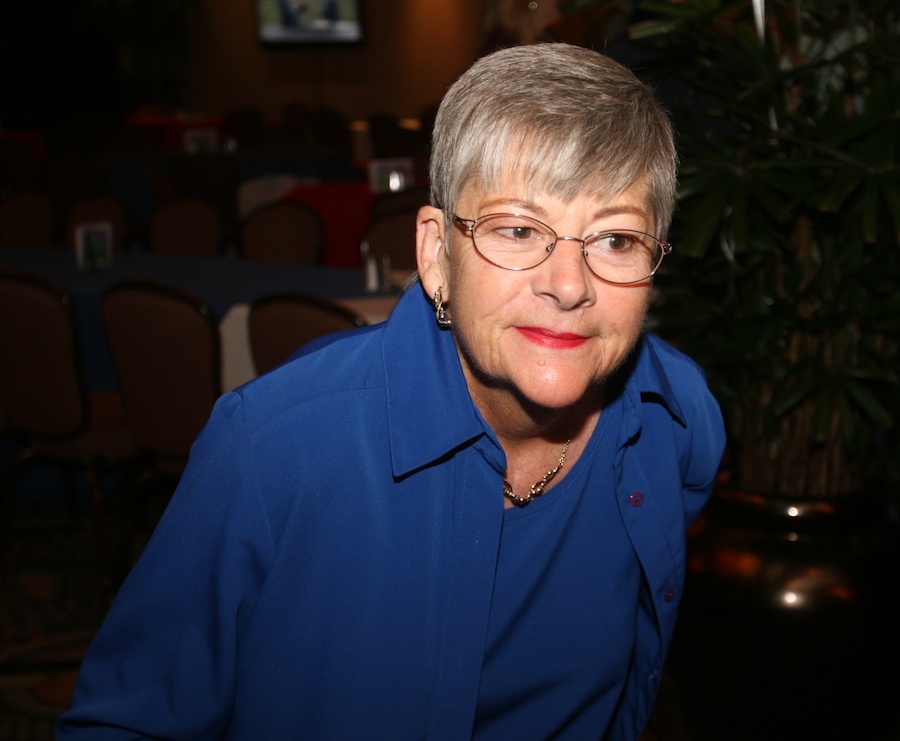 Sue checks everything out

Pete, the Cowboys are NOT playing this year!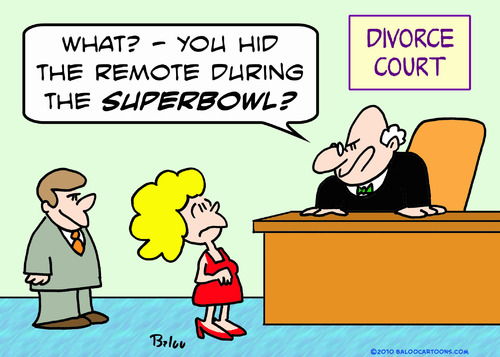 Seeing old friends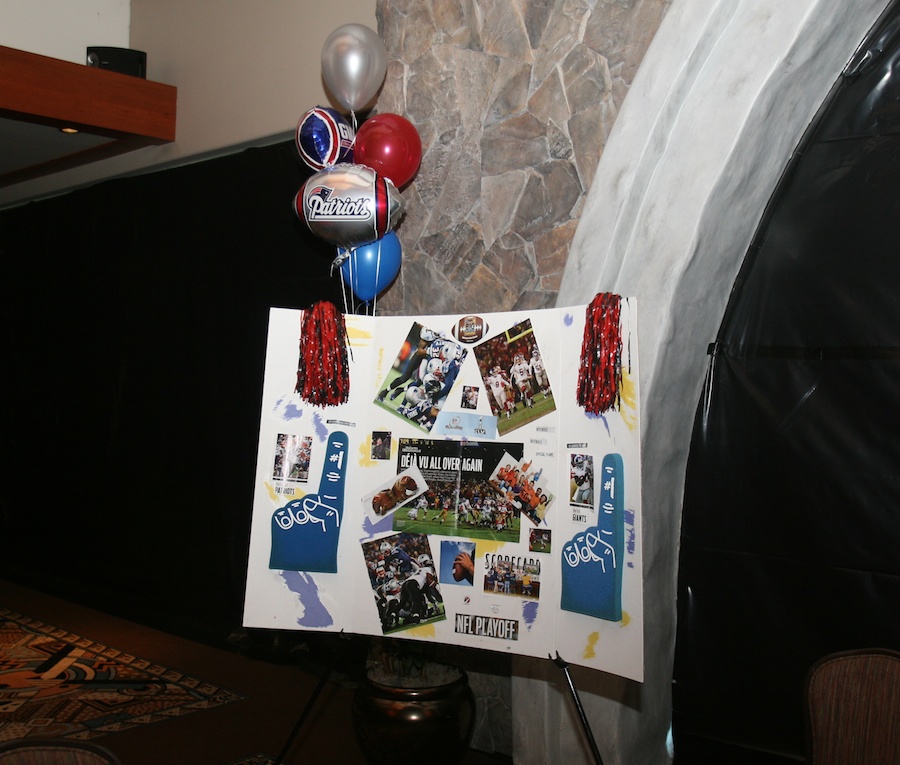 A place of honor.... Irene is here in spirit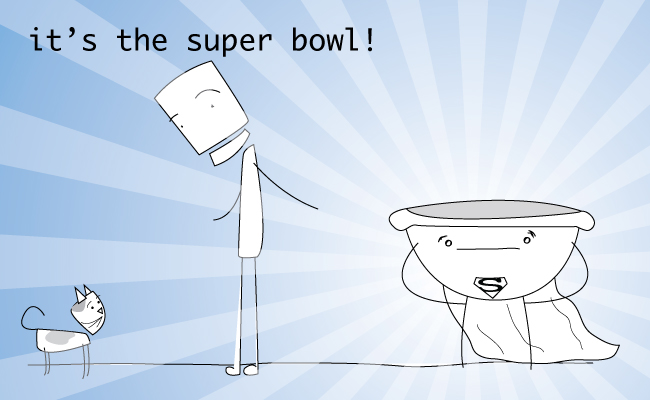 Mitch and Luisa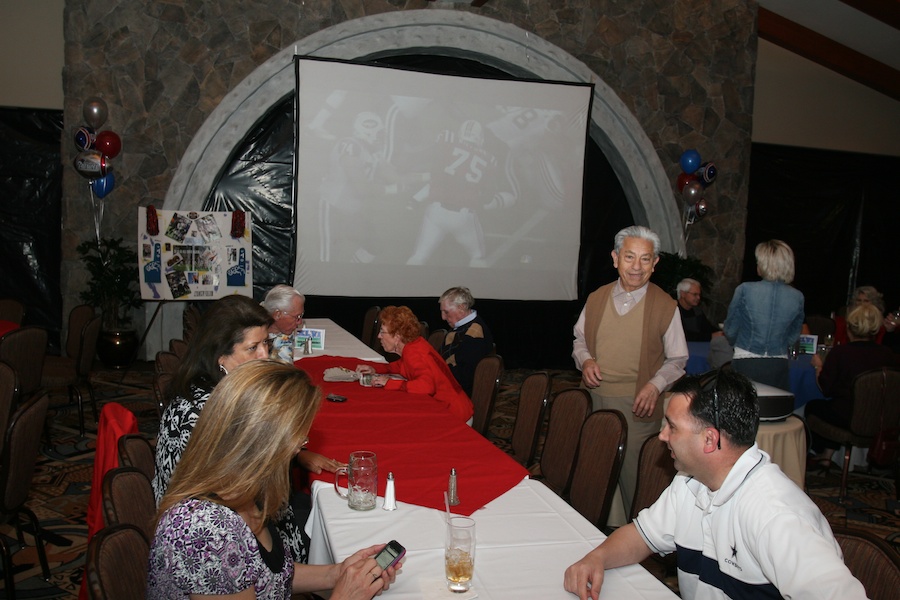 The table is beginning to fill up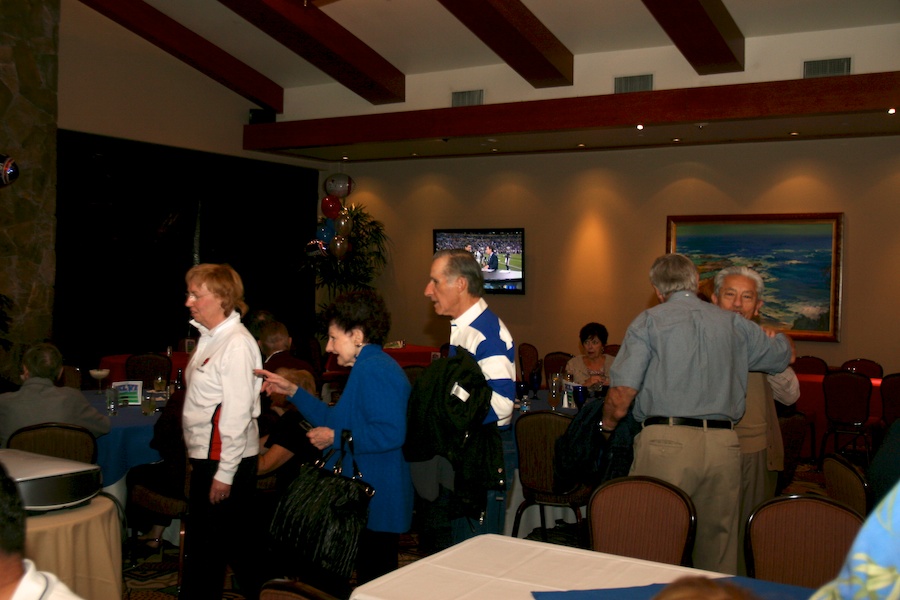 South Orange country is beginning to come in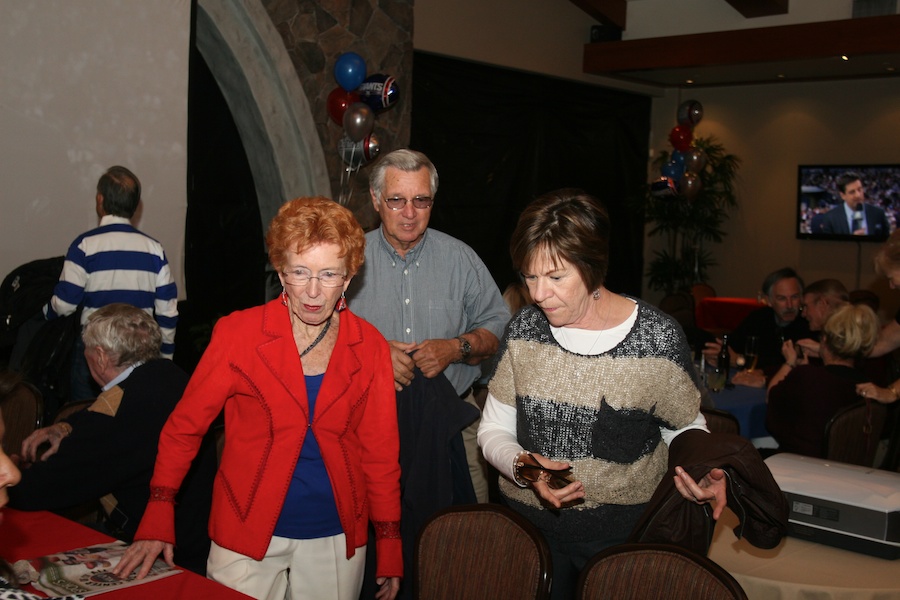 Nancy, Ed, and Kathy arrive

All smiles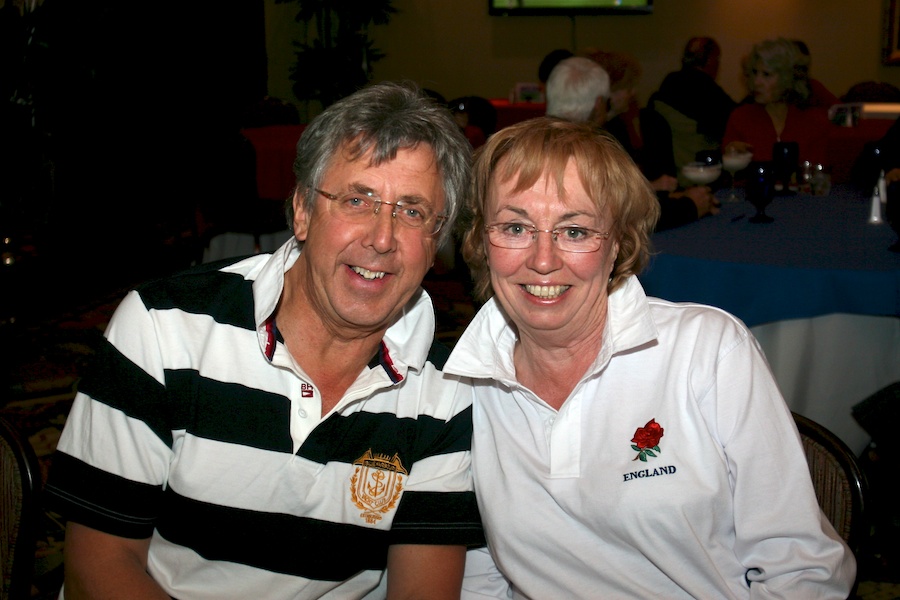 Brian and Jan all the way from England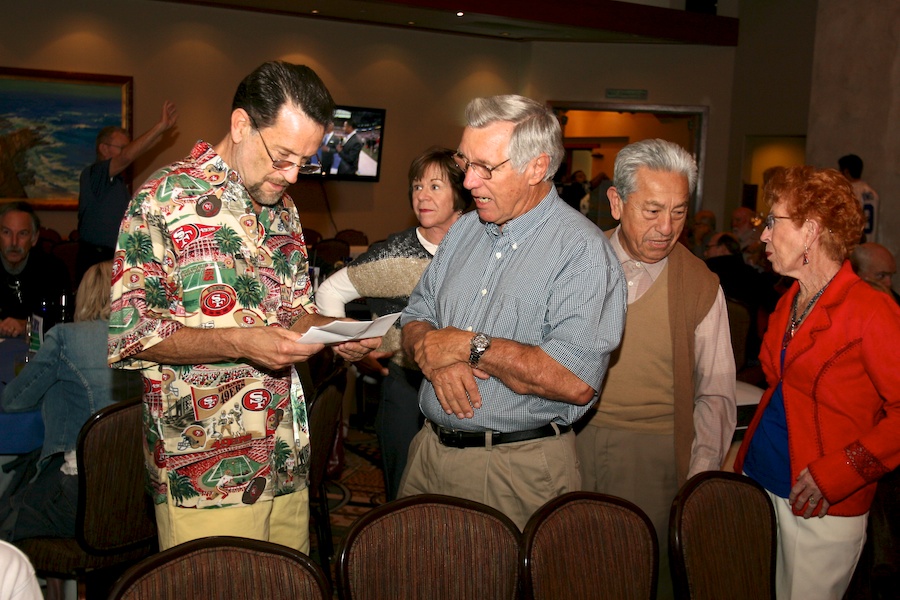 The pools begins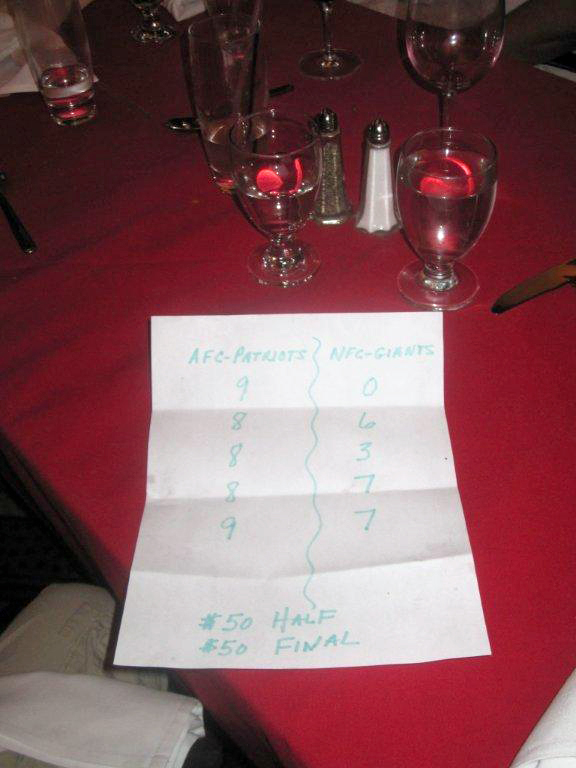 Higher math required (Courtesy Vicky)

Grandma welcomes Pete (Courtesy Vicky)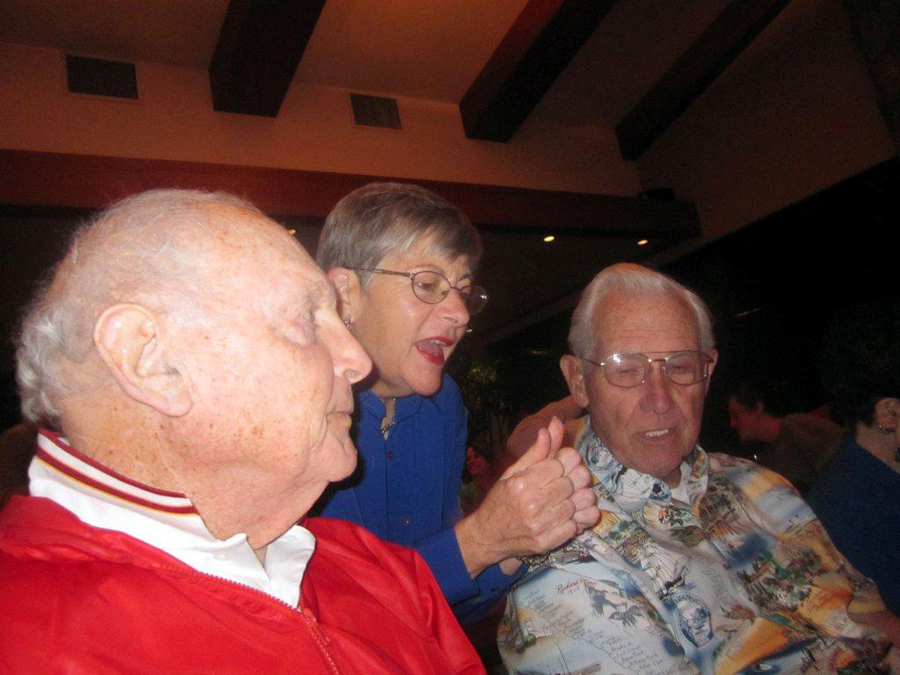 Someone scored (Courtesy Vicky)

James attempts to figure this complex camera out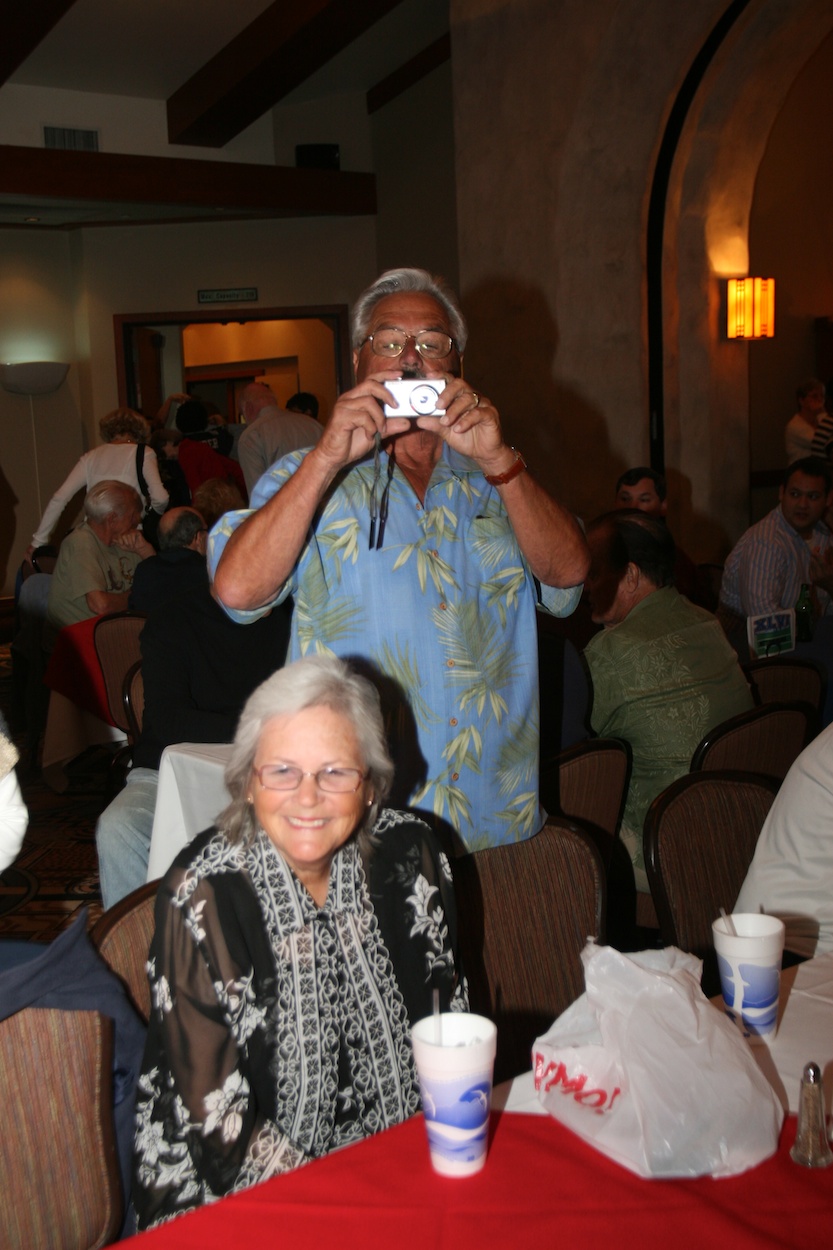 Linda and James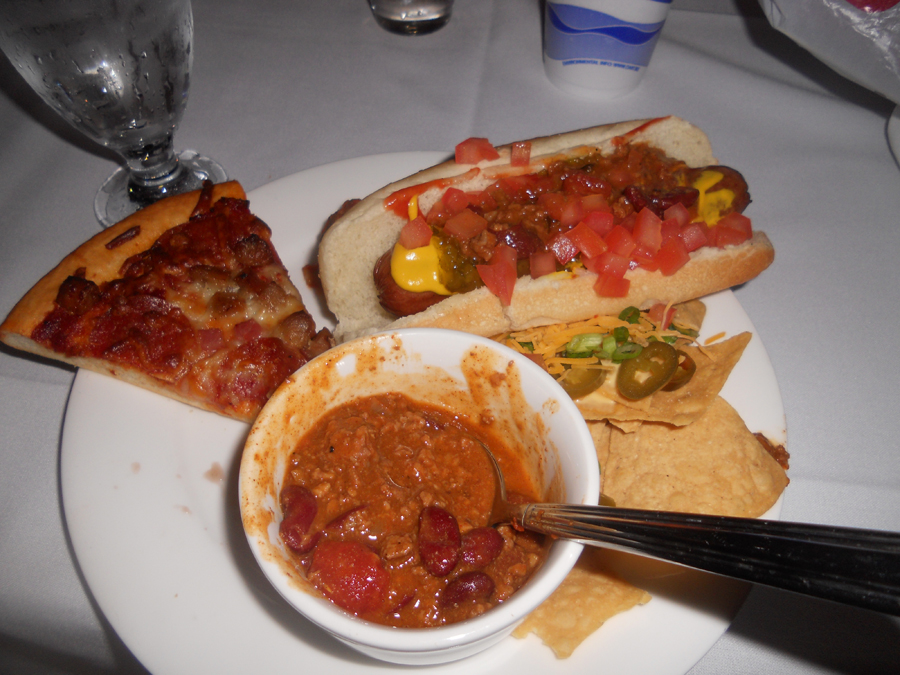 James thought he had died and gone to heaven (Courtesy James)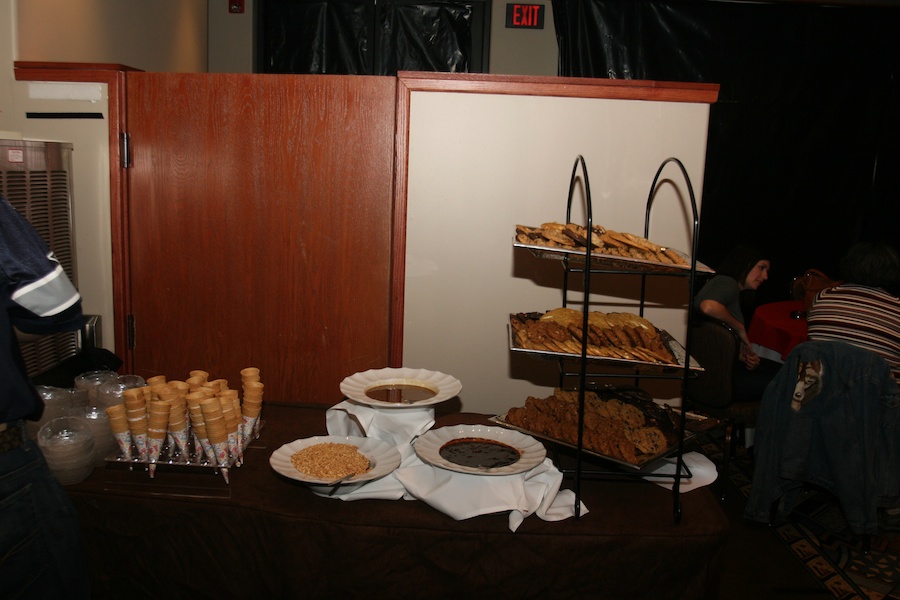 Ah ha.... Found the goodies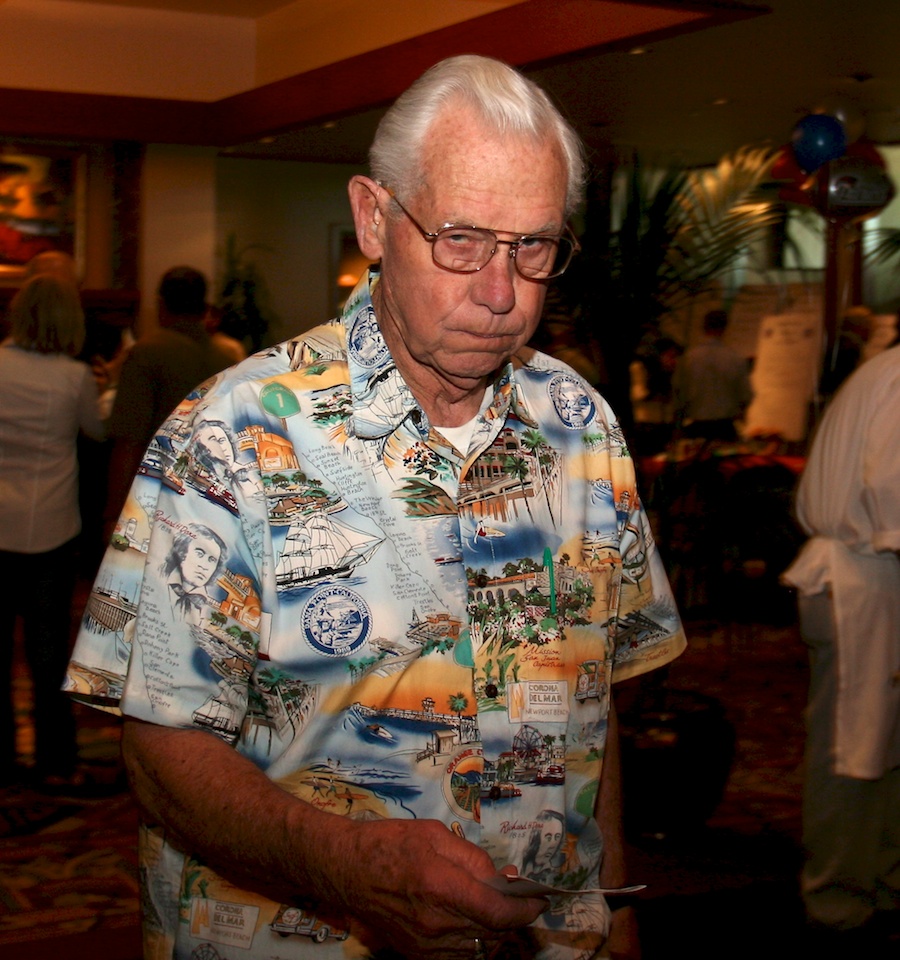 Del knew the "secret squares" to pick... and he is NOT telling anyone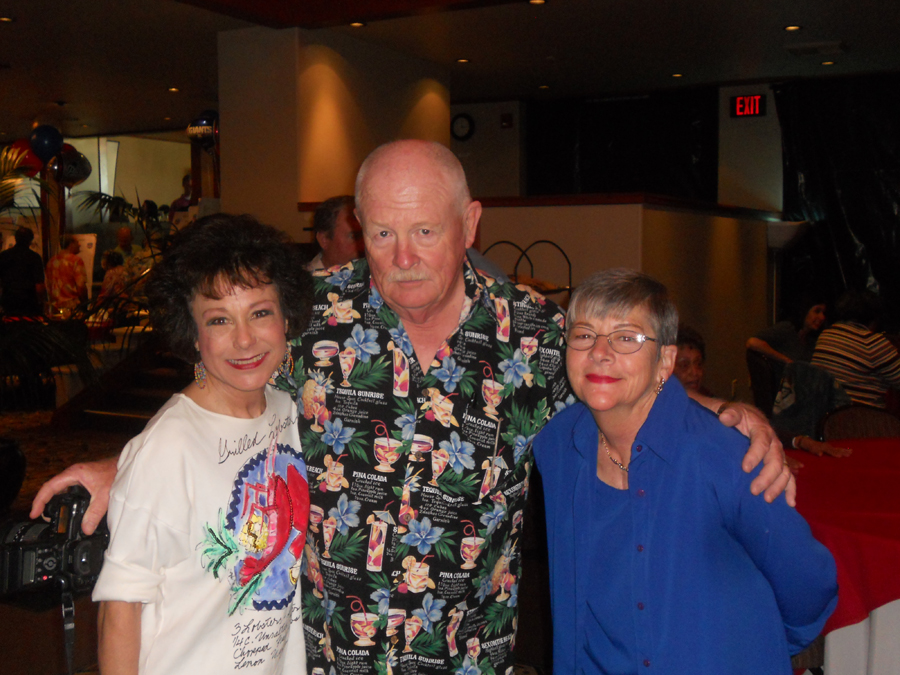 Donna, Pul and Sue (Courtesy of James)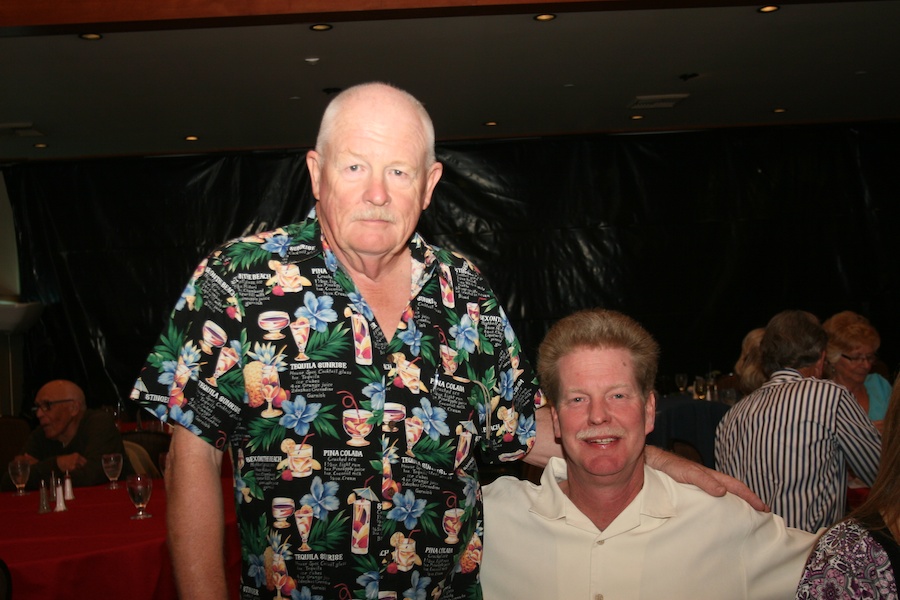 Paul and son Mitch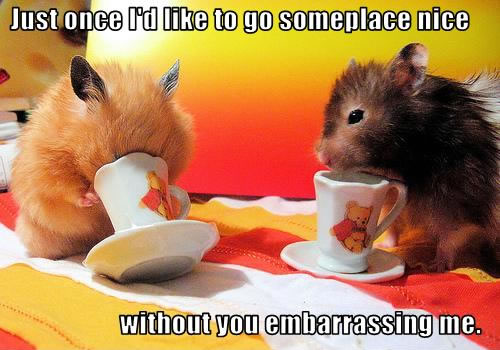 Son and daughter with Paul and Sue (Paul & Sue were adopted)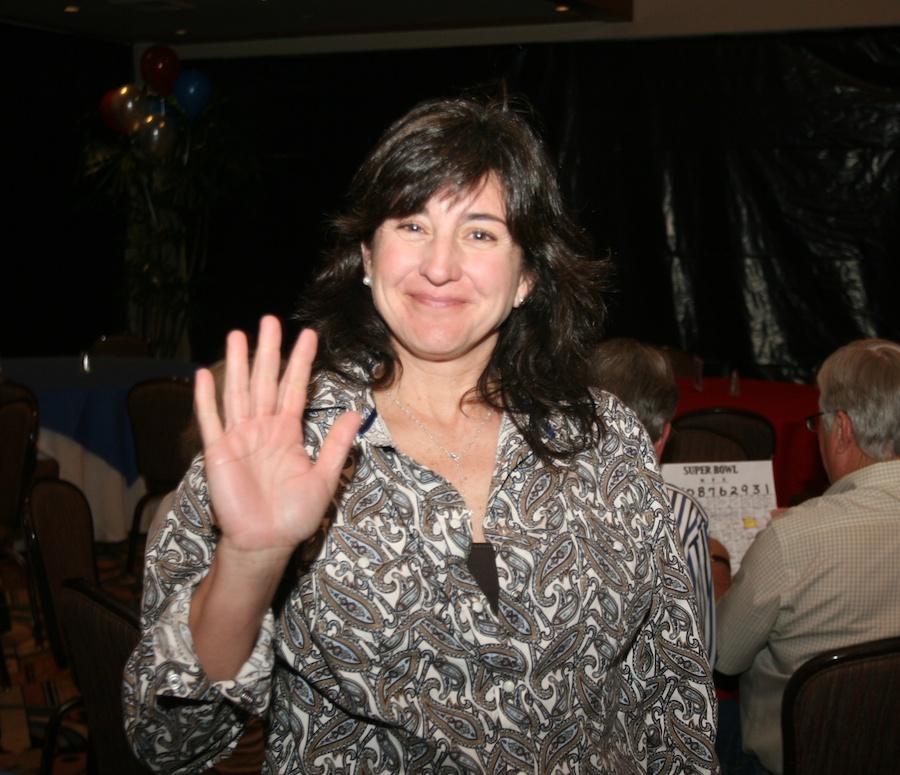 Cyndy joins the fray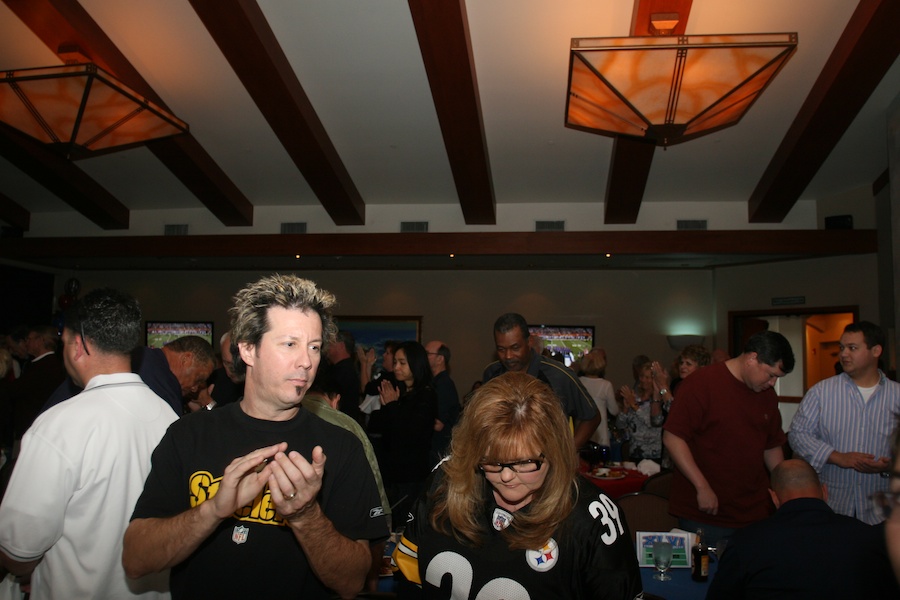 It's a full house this afternoon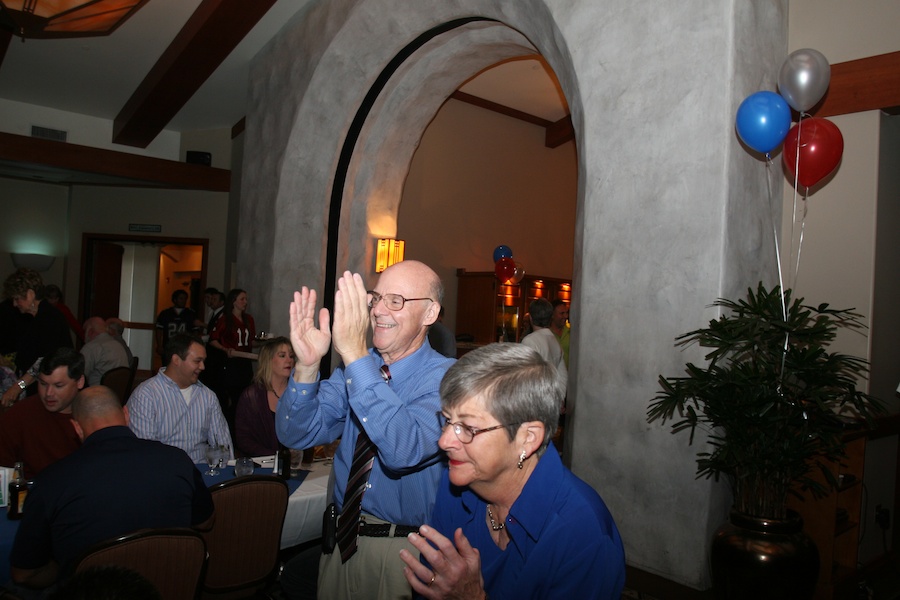 Someone scored and Greg and Sue are happy
Football Quotes To Remember:
Men, I want you just thinking of one word all season. One word and one word only: Super Bowl."

"You guys line up alphabetically by height."

"I want to rush for 1,000 or 1,500 yards, whichever comes first"

"I've been big ever since I was little."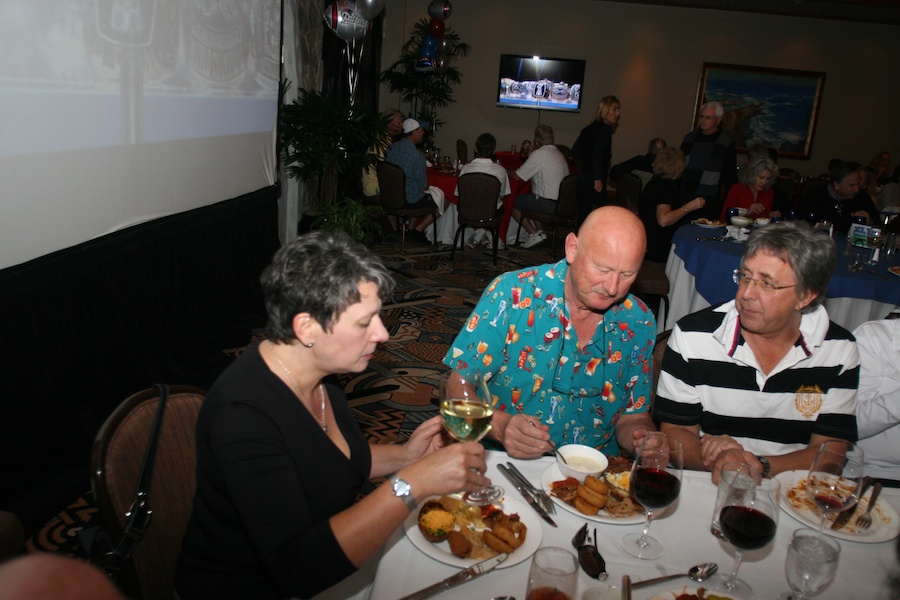 Food is fast disappearing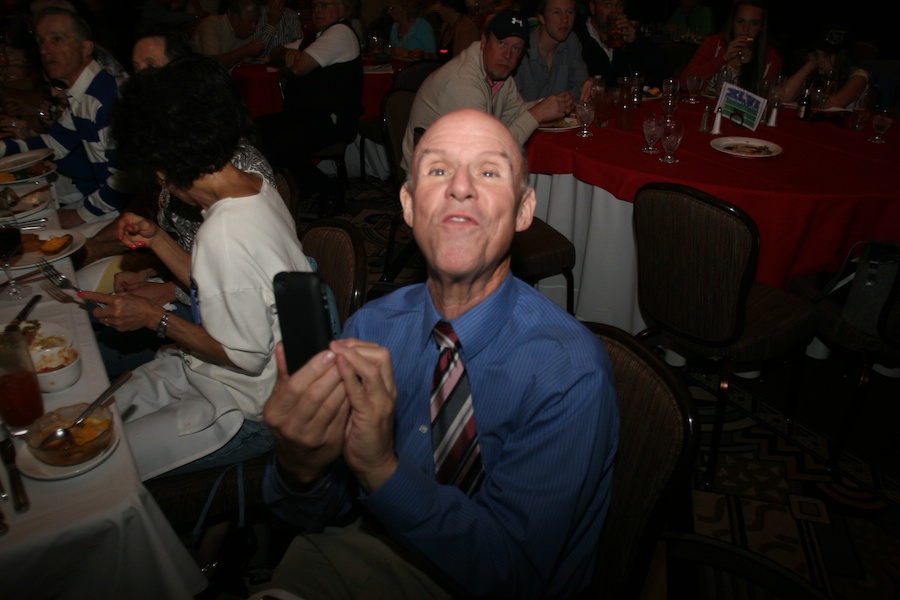 Greg always has the camera handy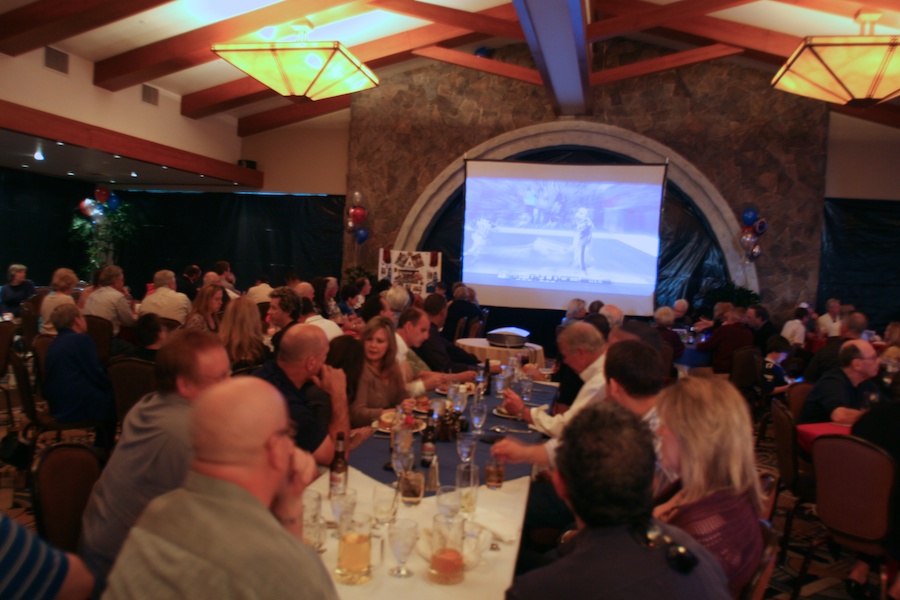 Table for 30 please!!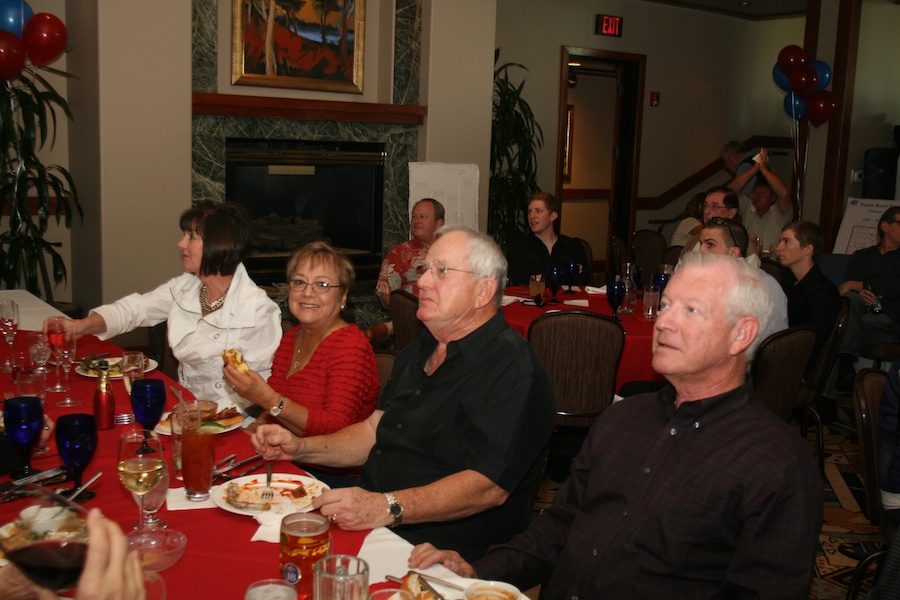 The game is getting hot

Play the Acura commercial
Did You Know? - Acura has leaked their Seinfeld themed Super Bowl 2012 commercial and actually it's pretty funny. When I first heard that Jerry Seinfeld would be in a Super Bowl ad, I immediately thought of those awful Microsoft ads he did a few years ago... So I was skeptical of these Acura ads and actually it doesn't start off terribly funny, but it gets there.
Seinfeld basically wants to get the first 2012 Acura NSX and sets out on a campaign to convince the salesman who will sell it to sell to him. The lengths that he goes to get more and more absurd as the spot rolls on. The two highlights for me where the appearance by the Soup Nazi and Seinfeld doing a hacky standup act at the guy's family dinner.
So I say it's a good idea and return to commercial form for Jerry Seinfeld. Although there is a corny cameo at the end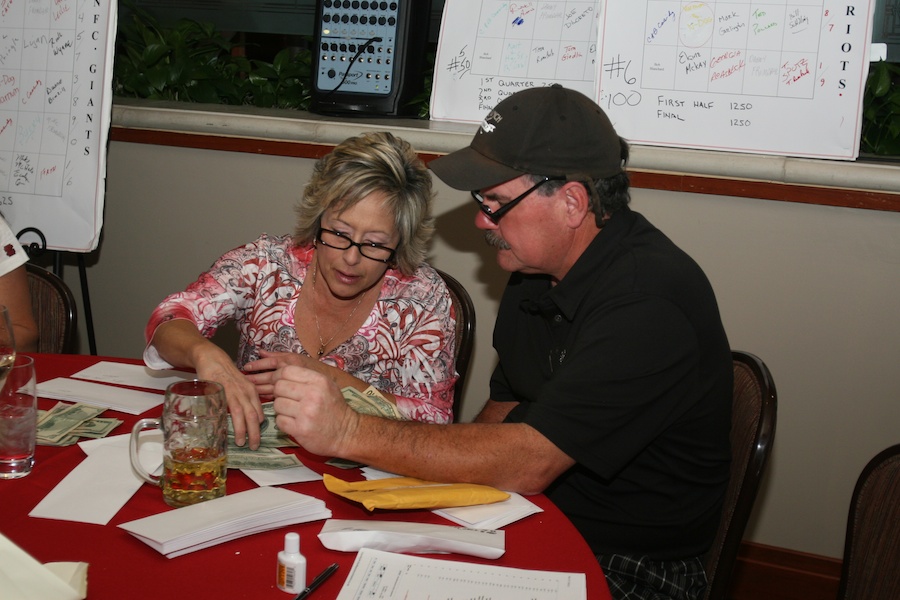 Numbers numbers numbers
The Old Ranch Staff Always Working To Make Things Nice For The Members
Remember: Silent gratitude isn't much use to anyone.  ~G.B. Stern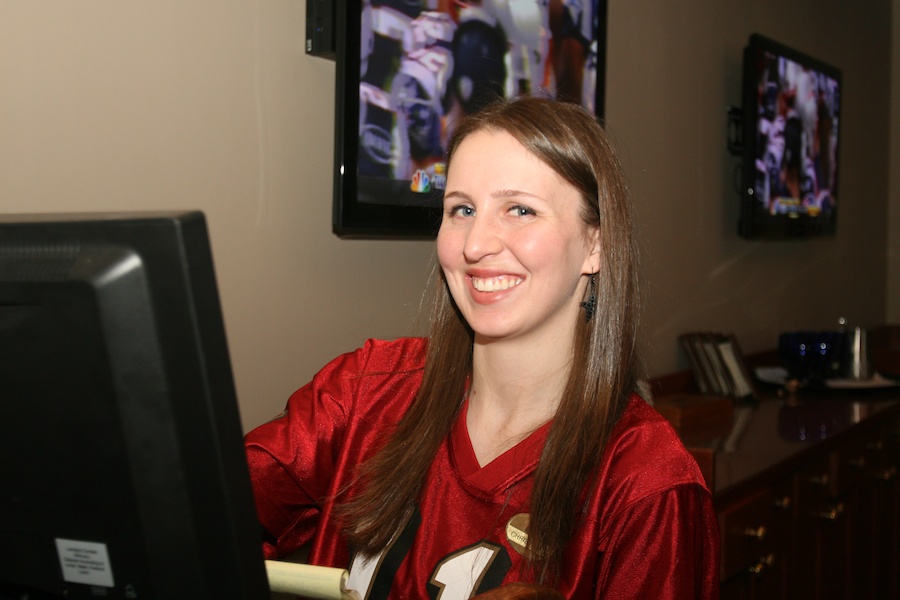 Now that is really red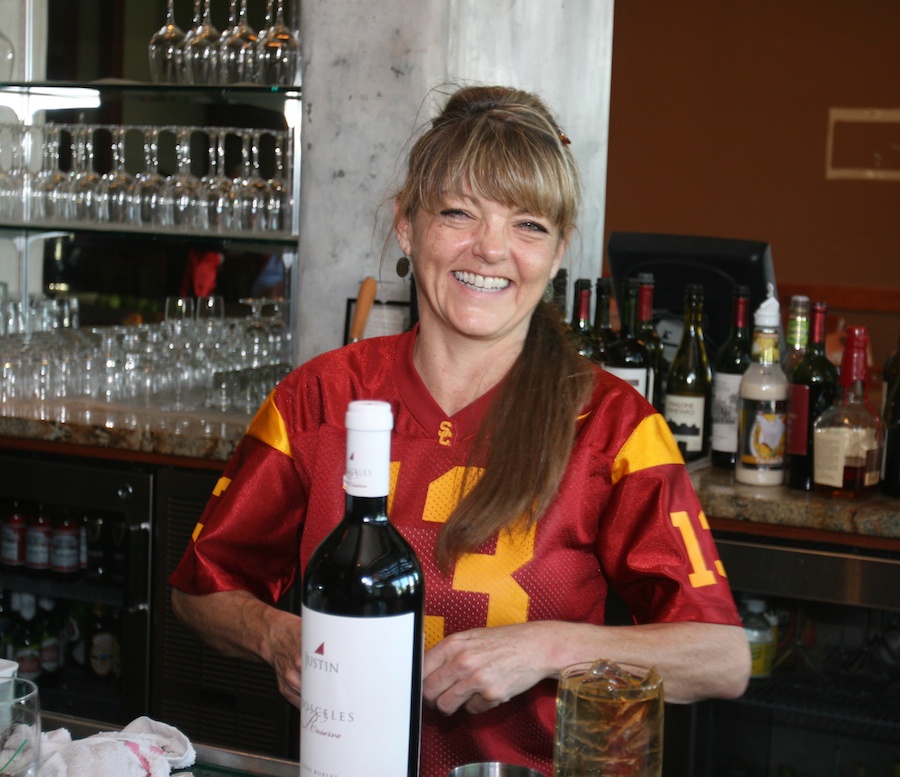 Shannon is going 100 miles per hour
Did You Know? - Shannon means "small, wise one". The name Shannon is mainly used In English. The meaning of the name Shannon most probably refers to an ancient Celtic deity identified with a river in Ireland. The River Shannon is the principal river of Ireland. 240 mi. (386 km) long flowing SW from Northern Ireland to the Atlantic. The River Shannon presumably refers to the Goddess associated with the river, "Sionna" (pronounced SHAN-nen). The Irish goddess sought out the hazelnuts of wisdom which were believed to contain éigse, the spirit and inspiration of poetry. In Celtic mythology, the search for wisdom was usually made by a woman who found it in a river or well. Always, she is changed by the knowledge into a new being; a goddess.
There are several Irish legends accounting for the name Shannon. A well called Connla's Well existed under the sea that was filled with fish and either hazel or rowan trees, depending on which legend you are reading, dropped their nuts or berries, depending again on the legend, into the well. The salmon that ate the nuts or the berries were thought to gain great knowledge and wisdom. This made the fish very desirable and fishermen worked very hard to get and catch these.
Women were not allowed to eat these so-called "fish of knowledge or wisdom." However, a brave rebel female named Shannon (spelled Sionnain in Gaelic), who some say is the daughter of the moon, ignored this rule and caught and ate one of the fish. Immediately upon this infraction, the well water rose up and carried Shannon to the Atlantic Ocean, creating the River Shannon.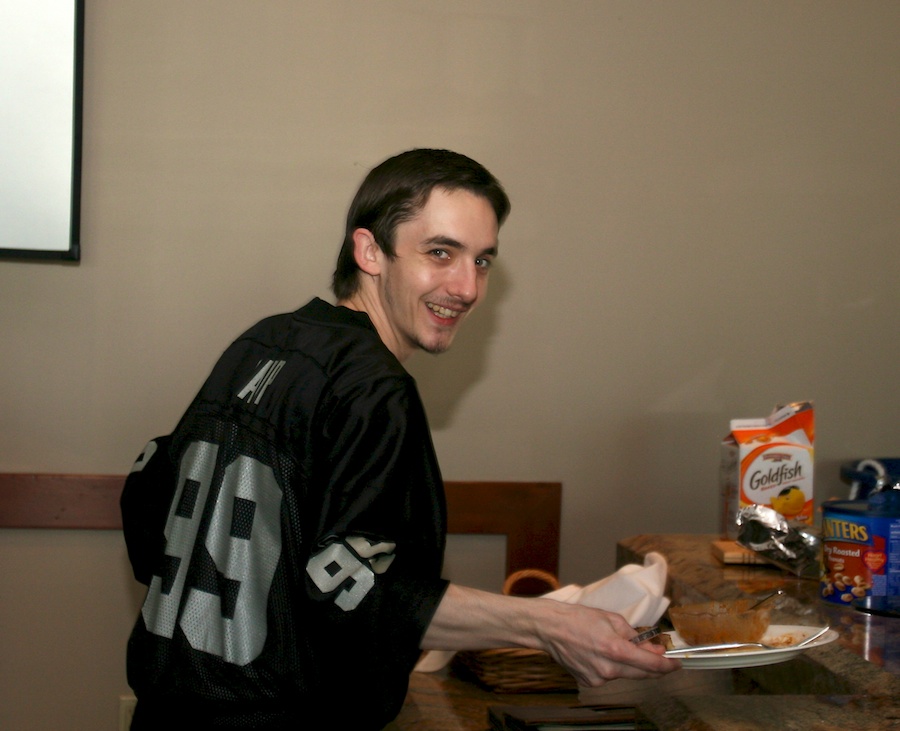 Robert was everywhere
Remember: Teamwork divides the task and multiplies the success.  ~Author Unknown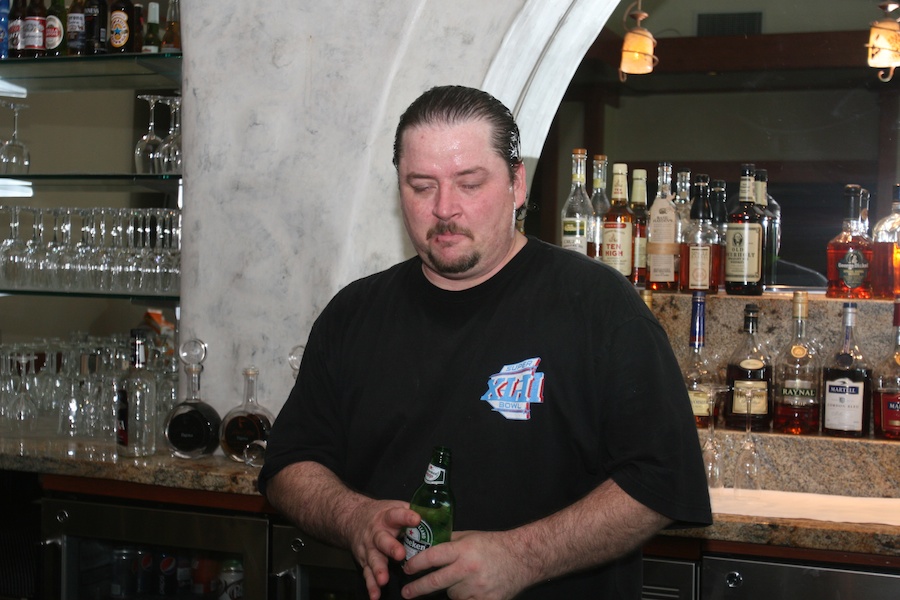 A beer for you and a beer for me says Patrick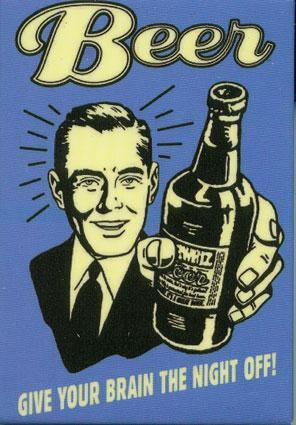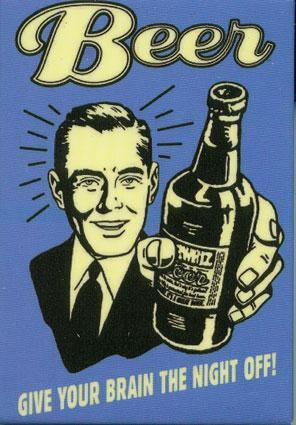 We kept Issac busy all afternoon

Veronica delivers table side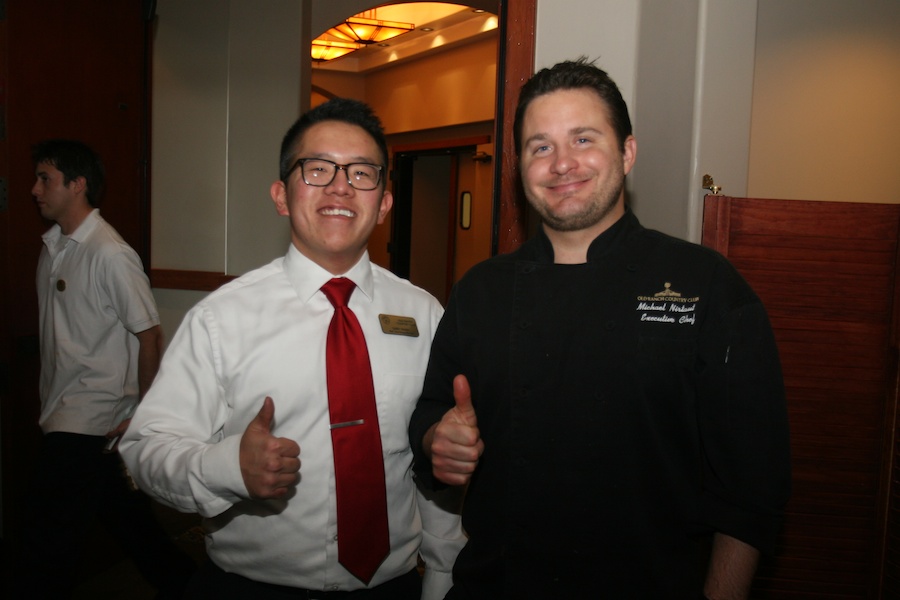 Gary and Michael keep the foods coming

Ken keeps an eye on everything...

Busy busy busy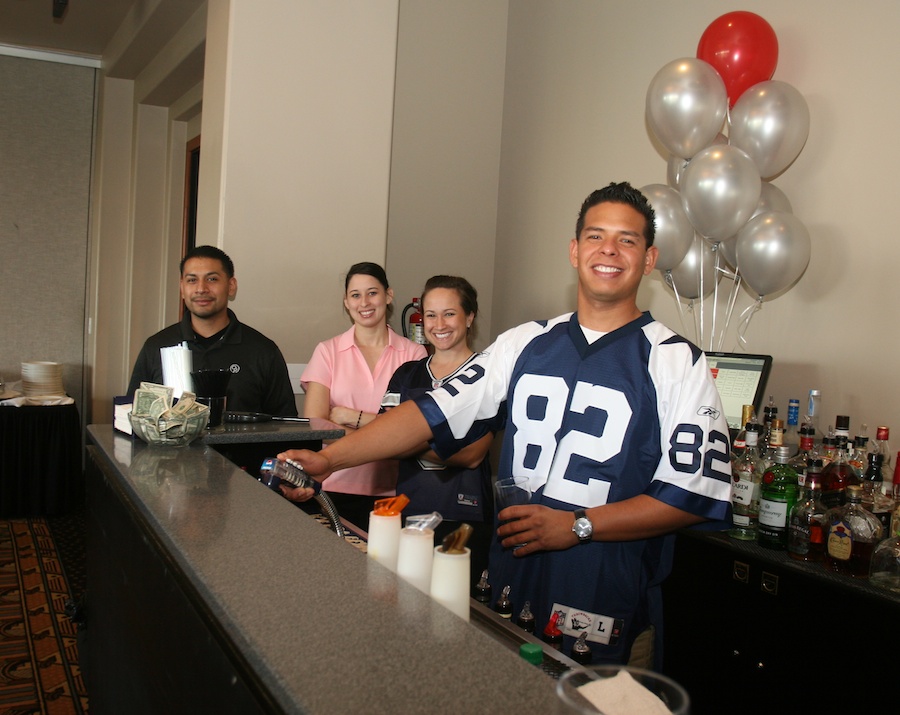 Drinks? We has 'em

Great game...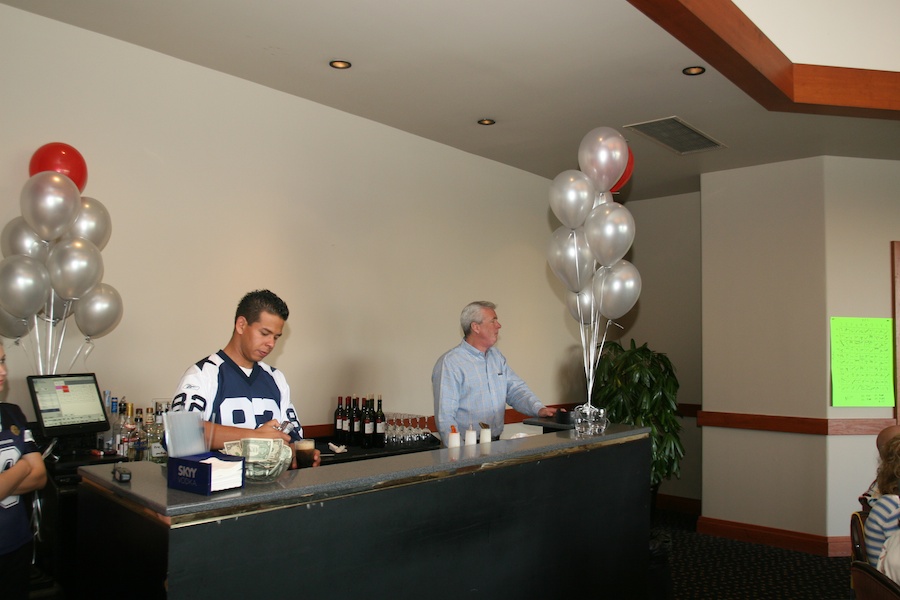 Ken has an idea

"No Ken, if you hold the balloons you will not float over the tables!"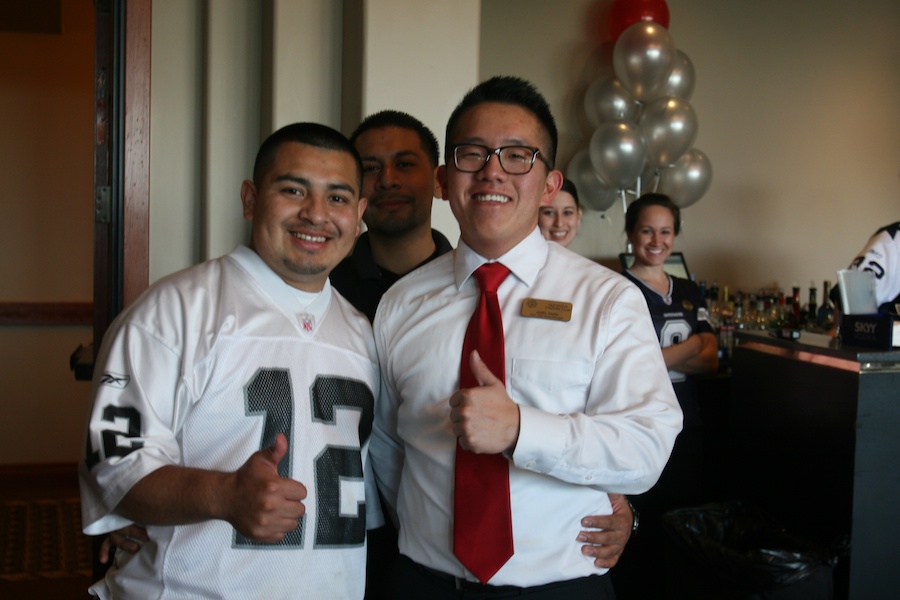 Gary visits the troops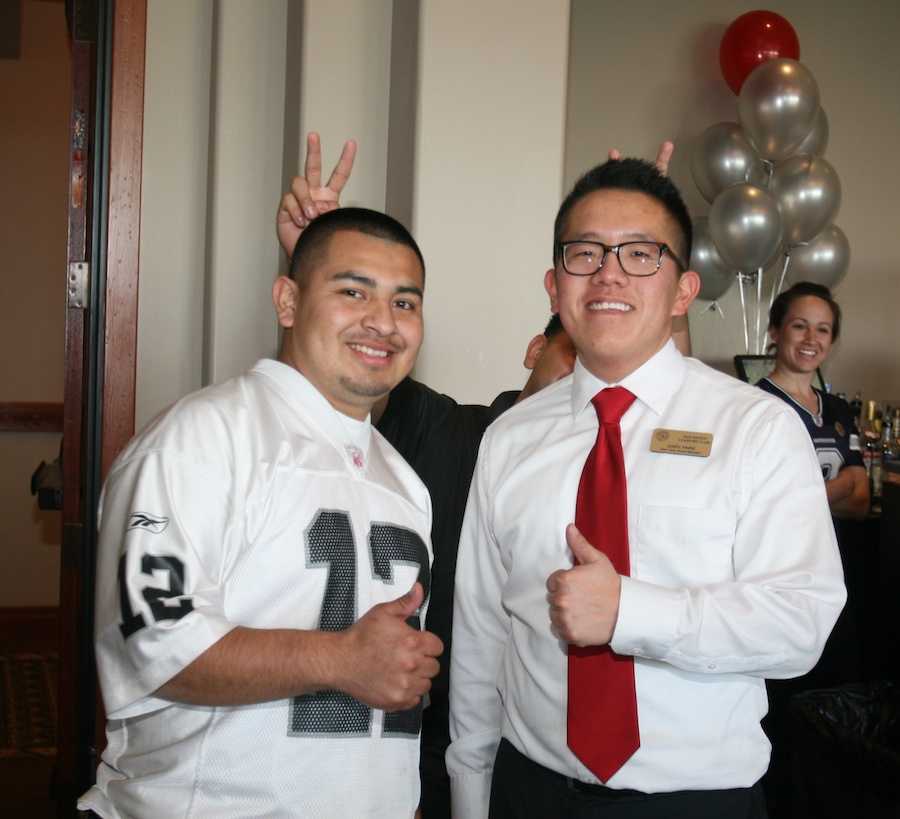 Antennas are up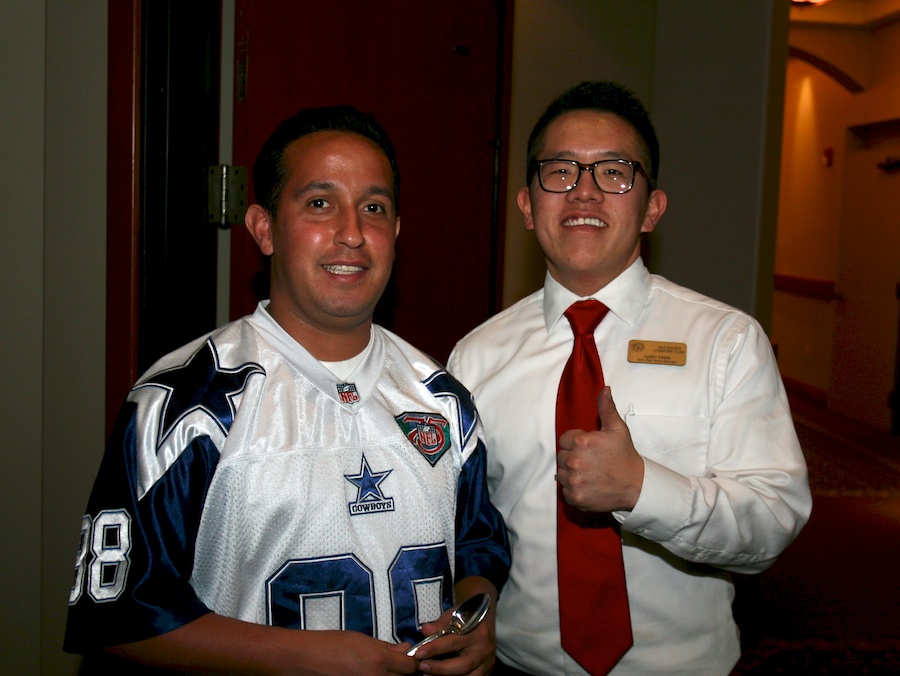 Thumbs up!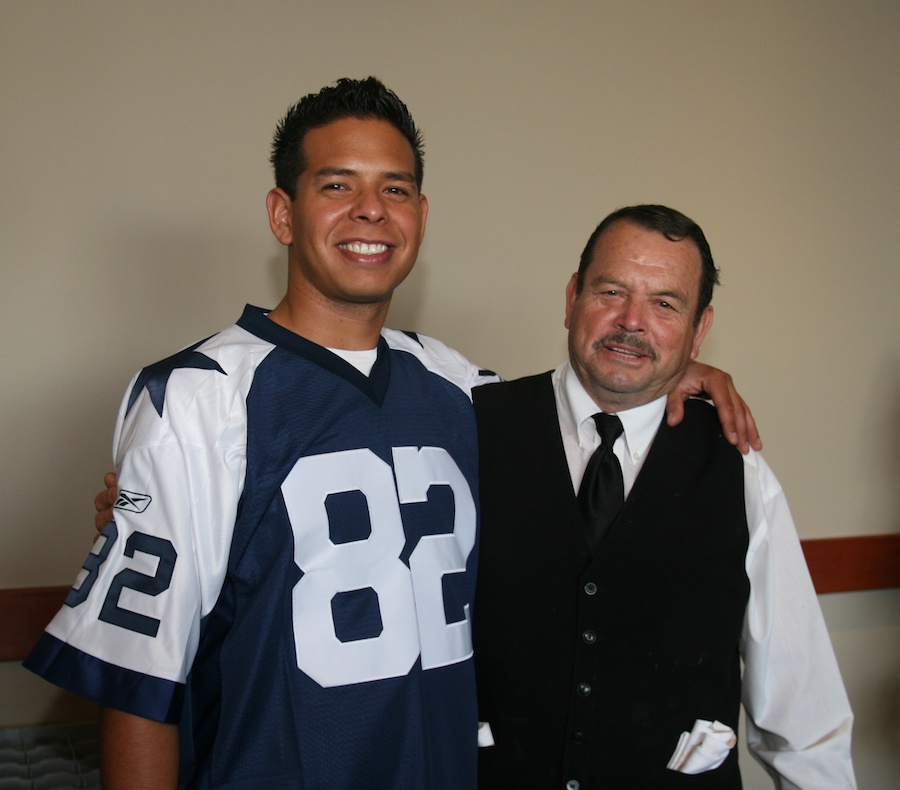 Busy making it nice for everyone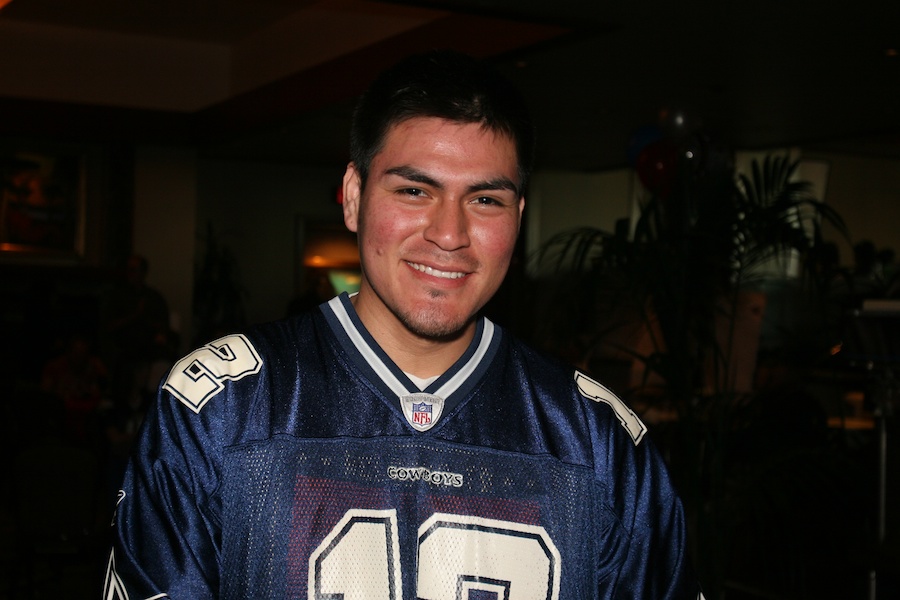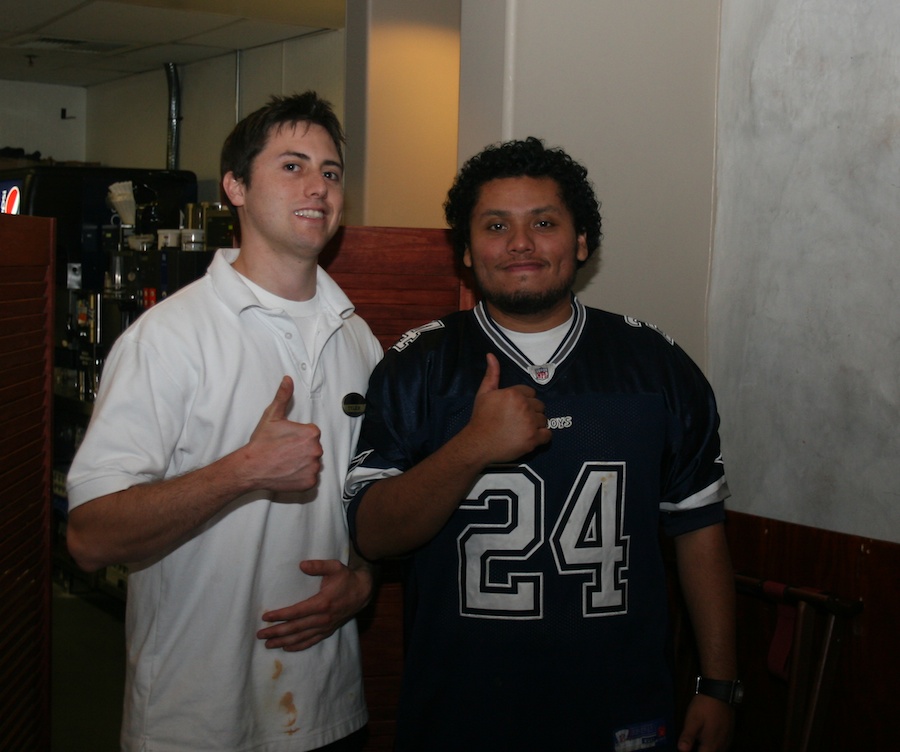 Me... no, me... nope, me
The Course Was Empty

EMPTY... Let's play nine
Check Out The Blackout Curtains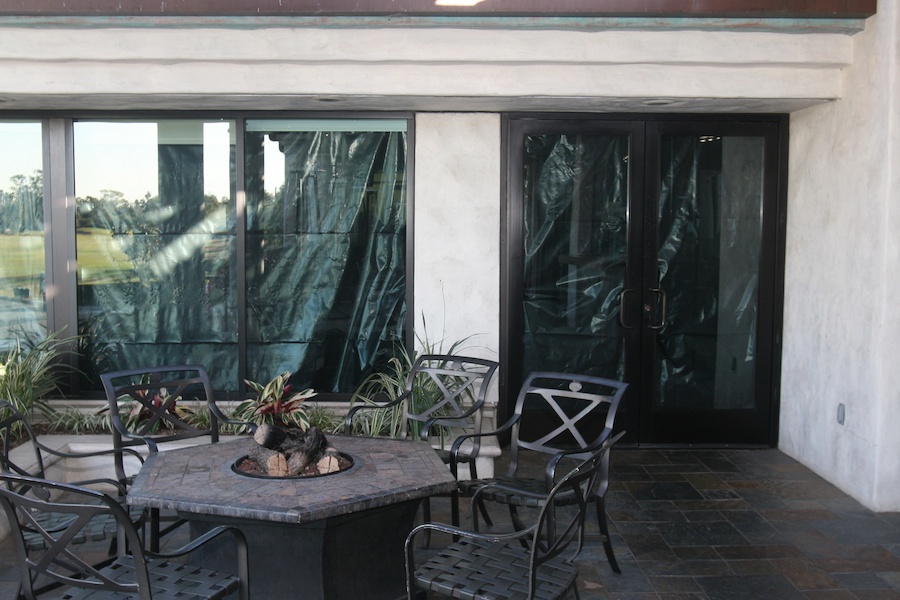 Blackout curtains
Did You Know? - The British experience serves as an example of enforced blackout.
The Air Ministry had forecast that Britain would suffer night air bombing attacks causing large numbers of civilian casualties and mass destruction. It was widely agreed that navigation and targeting would be more difficult if man-made lights on the ground could be extinguished. As early as July 1939, Public Information Leaflet No 2 (part of the Air Raid Patrol (A.R.P.) training literature) warned of the need for popular discipline to ensure that the blackout regulations were fully enforced during the blackout periods.
Blackout regulations were imposed on 1 September 1939, before the declaration of war. These required that all windows and doors should be covered at night with suitable material such as heavy curtains, cardboard or paint, to prevent the escape of any glimmer of light that might aid enemy aircraft. The Government ensured that the necessary materials were available. External lights such as street lights were switched off, or dimmed and shielded to deflect light downward. Essential lights such as traffic lights and vehicle headlights were fitted with slotted covers to deflect their beams downwards to the ground.
Shops and factories had particular problems. Factories with large areas of glass roofing found it impossible to install temporary blackout panels and permanent methods (such as paint) lost natural light during daylight. Shops had to install double "airlock" doors to avoid lights showing as customers arrived and departed.
The blackout was enforced by civilian ARP wardens who would ensure that no buildings allowed the slightest chink or glow of light. Offenders were liable to stringent legal penalties.
Blackout restrictions greatly increased the dangers of night driving and fatalities increased as a consequence. As a result, some aspects were relaxed and speed limits were lowered. The anticipated increase in crime rates did not occur.
German war-making capability declined and a "Dim-out" was introduced in September 1944, which allowed lighting to the equivalent of moonlight to be introduced. A full Blackout would be imposed if an alert was sounded. Full street lighting of streets was allowed in April 1945, on 30 April, Big Ben was lit after 5 years and 123 days of the Blackout descended.
Meanwhile Back Inside....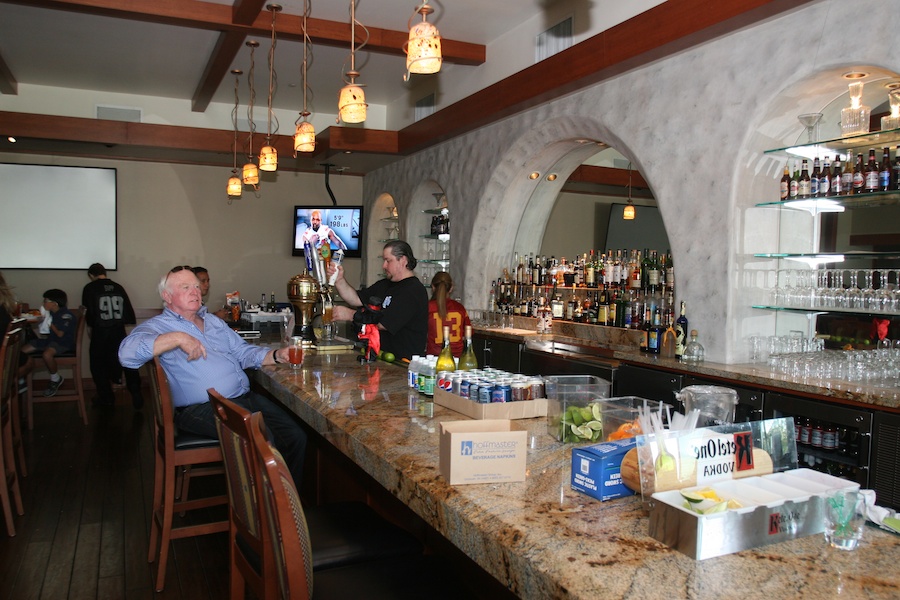 The bar is resupplied

Keeping an eye on the game

Now that is a large screen

The Silvarado commercial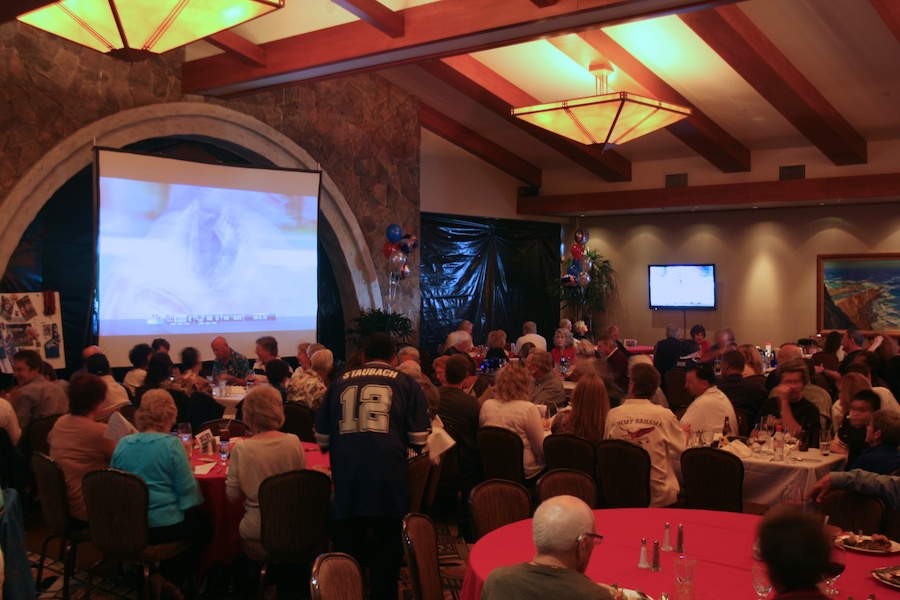 "What would you like??"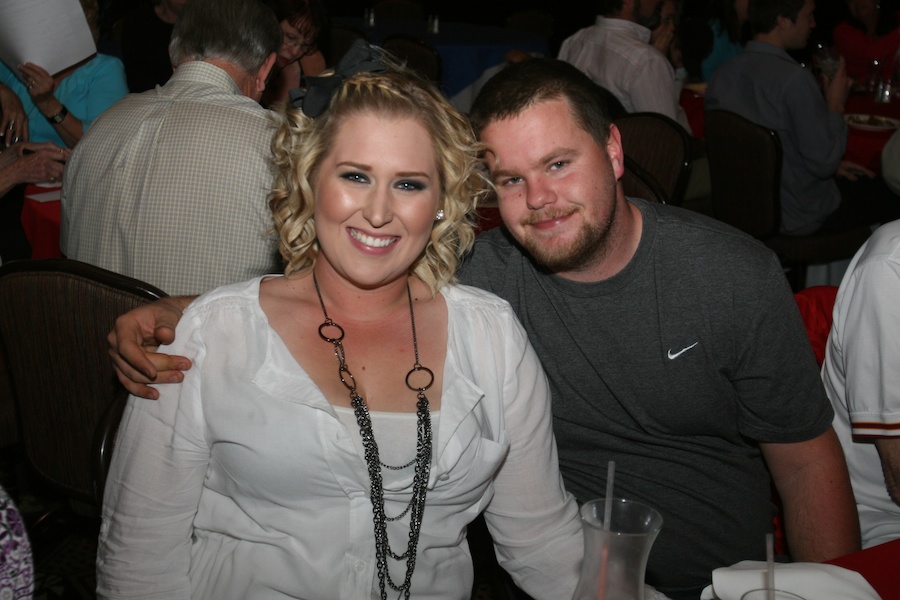 Becca and Zack (Paul & Sue's Grandson)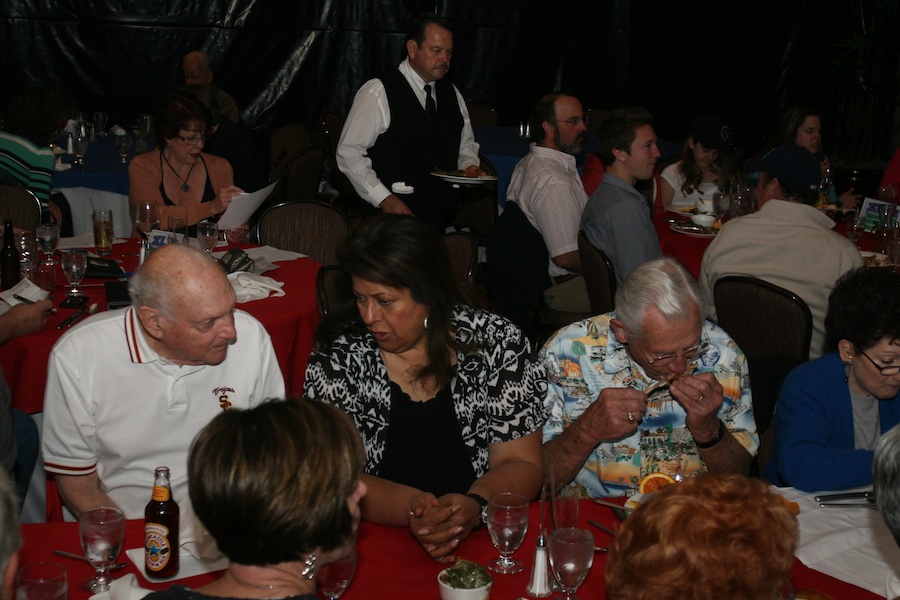 What.... Turn your head away from the TV?

Someone just scored....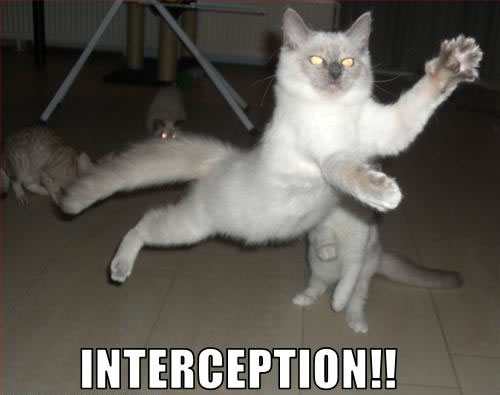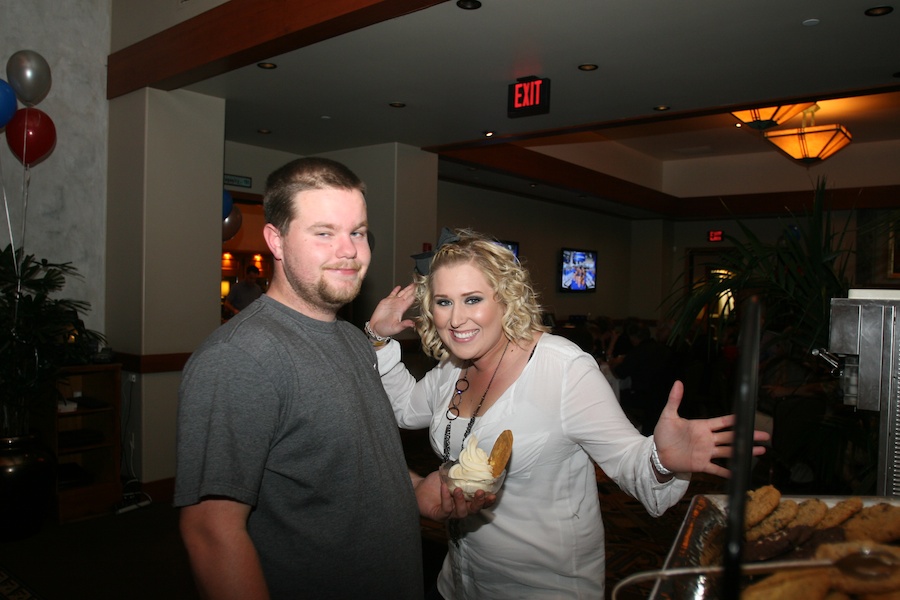 Ice cream... Life is good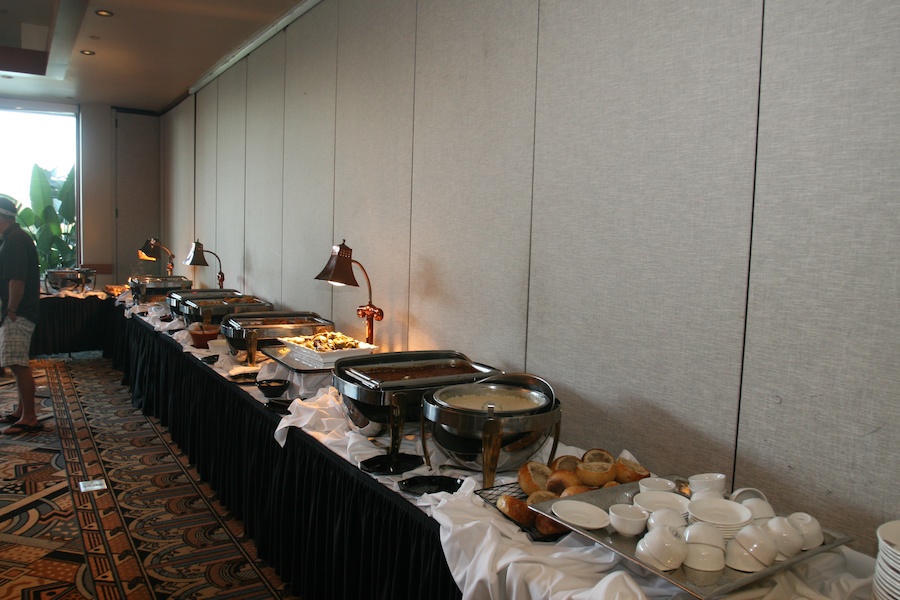 OMG... More food...

A beautiful day outside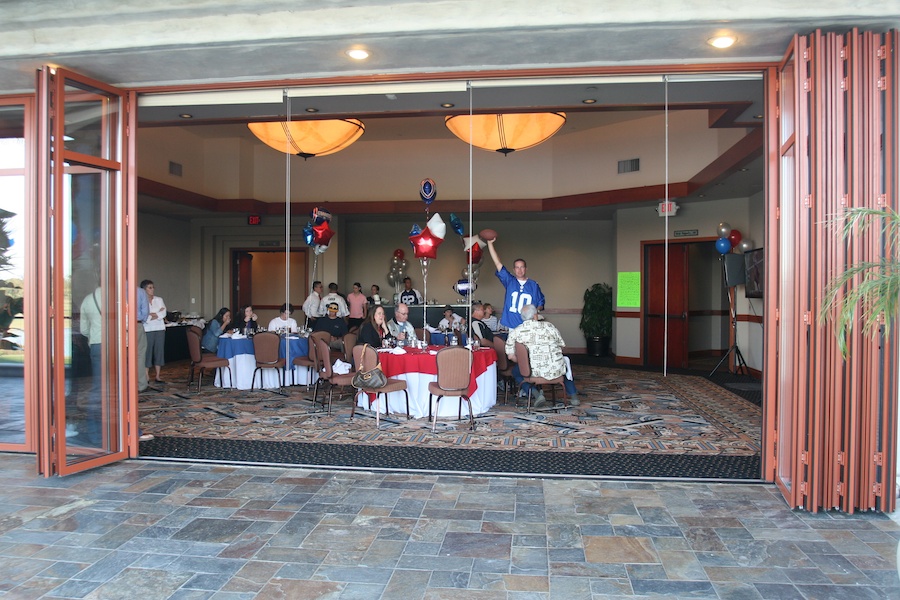 Private party underway