Almost May And Time To Enjoy The Harvests (Page Three)
It's almost May and some of the veggies are jumping out of the ground wanting to be a meal for us! Today we picked loads of squash and then some kale, cauliflower, and bok choy!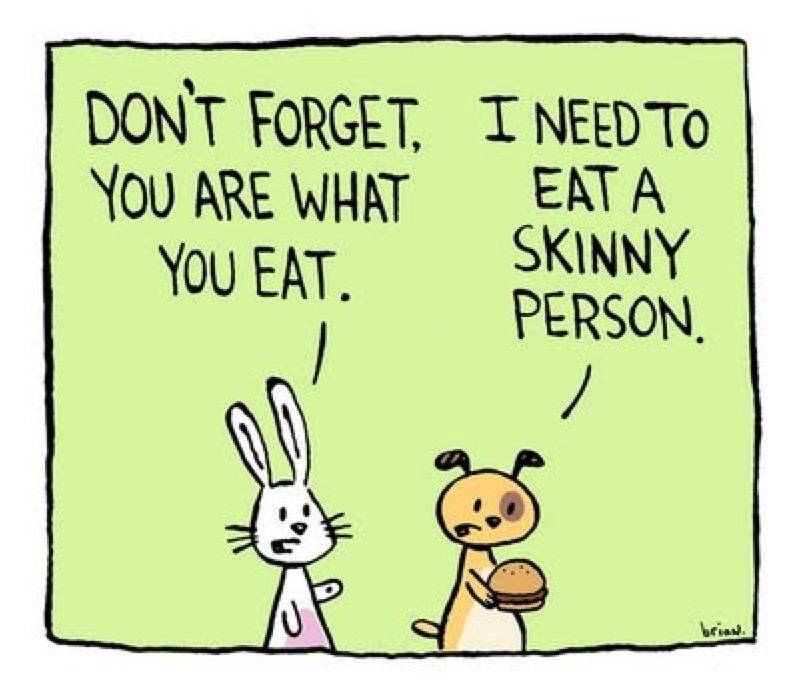 Cauliflower Was Ready To Go!
Did You Know? - Cauliflower is one of several vegetables in the species Brassica oleracea, in the family Brassicaceae. It is an annual plant that reproduces by seed. Typically, only the head (the white curd) is eaten. The cauliflower head is composed of a white inflorescence meristem. Cauliflower heads resemble those in broccoli, which differs in having flower buds. Brassica oleracea also includes broccoli, brussels sprouts, cabbage, collard greens, and kale, though they are of different cultivar groups.
Health benefits of Cauliflower
It is very low in calories. 100 g of the fresh cauliflower head provides just 26 calories. Nevertheless, it comprises of several health-benefiting antioxidants and vitamins in addition to be low in fat and cholesterol.
Its florets contain about 2 g of dietary fiber per 100 g; providing about 5% of recommended value.
Cauliflower contains several anti-cancer phyto-chemicals like sulforaphane and plant sterols such as indole-3-carbinol, which appears to function as an anti-estrogen agent. Together, these compounds have proven benefits against prostate, breast, cervical, colon, ovarian cancers by virtue of their cancer-cell growth inhibition, cytotoxic effects on cancer cells.
Furthermore, Di-indolyl-methane (DIM), a lipid soluble compound present abundantly in Brassica group of vegetables, including cauliflower, has found to be effective as immune modulator, anti-bacterial and anti-viral agent. This compound brings out these functions by virtue of its ability to synthesize and potentiate Interferon-Gamma receptors at the cellular level. DIM has currently been found application in the treatment of recurring respiratory papillomatosis caused by the Human Papilloma Virus (HPV) and is in Phase III clinical trials for cervical dysplasia.
Fresh cauliflower is an excellent source of vitamin C; 100 g provides about 48.2 mg or 80% of daily recommended value. Vitamin-C is a proven antioxidant that helps fight against harmful free radicals, boosts immunity, and prevents infections and cancers.
It contains good amounts of many vital B-complex groups of vitamins such as folates, pantothenic acid (vitamin B5), pyridoxine (vitamin B6) and thiamin (vitamin B1), niacin (B3) as well as vitamin K. These vitamins is essential in the sense that body requires them from external sources to replenish and required for fat, protein and carbohydrate metabolism.
Further, It is an also good source of minerals such as manganese, copper, iron, calcium and potassium. Manganese is used in the body as a co-factor for the antioxidant enzyme, superoxide dismutase. Potassium is an important intracellular electrolyte helps counter the hypertension effects of sodium.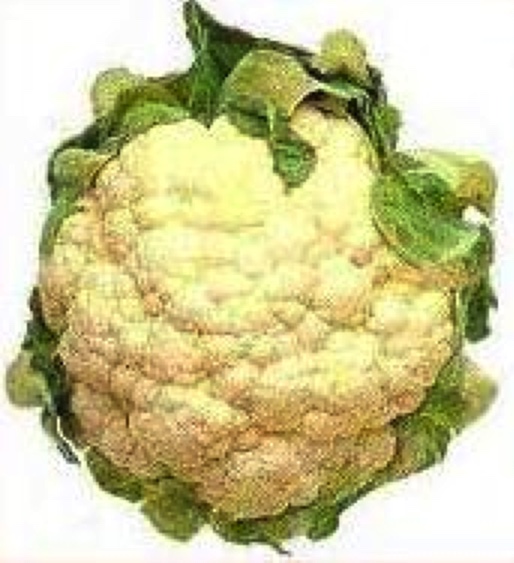 There it is... waiting for Paul to do the deed!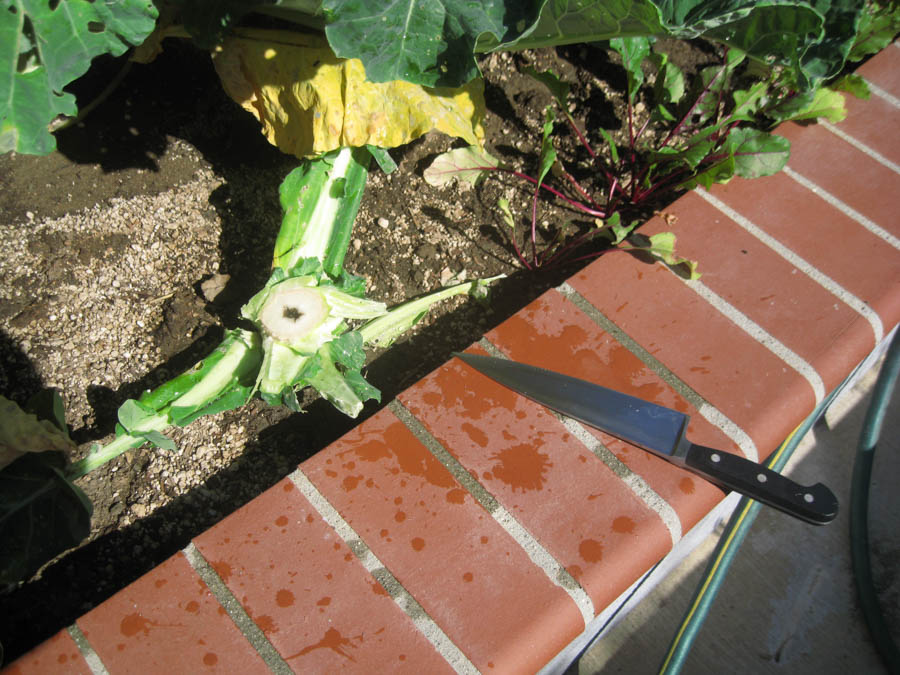 Chop... One swell poop (Nope! One fell swoop!)

It was a magnificent specimen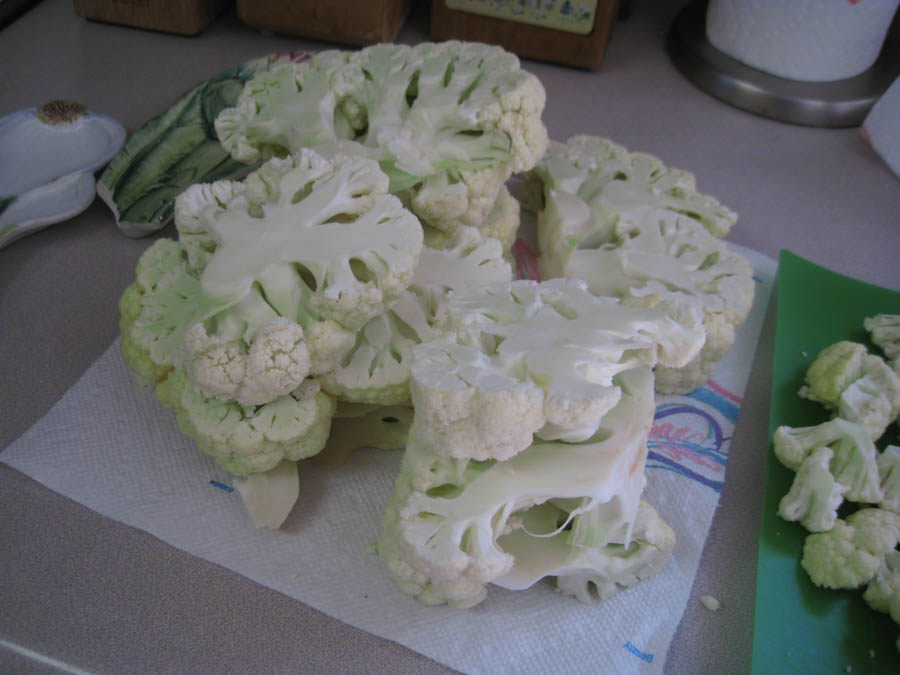 Sue made cauliflower steaks by cutting thick slices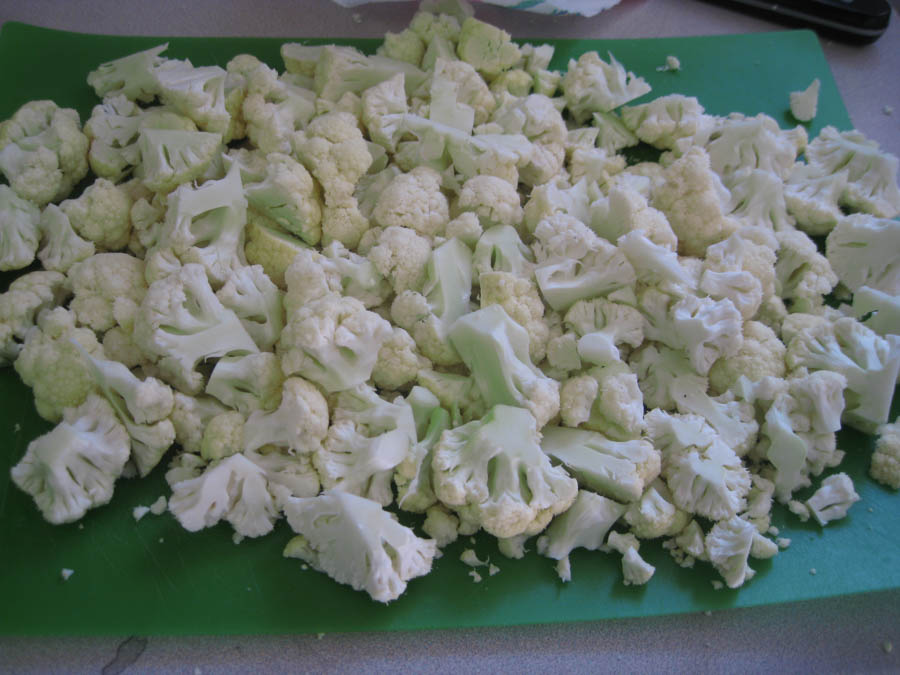 The flowerettes were also used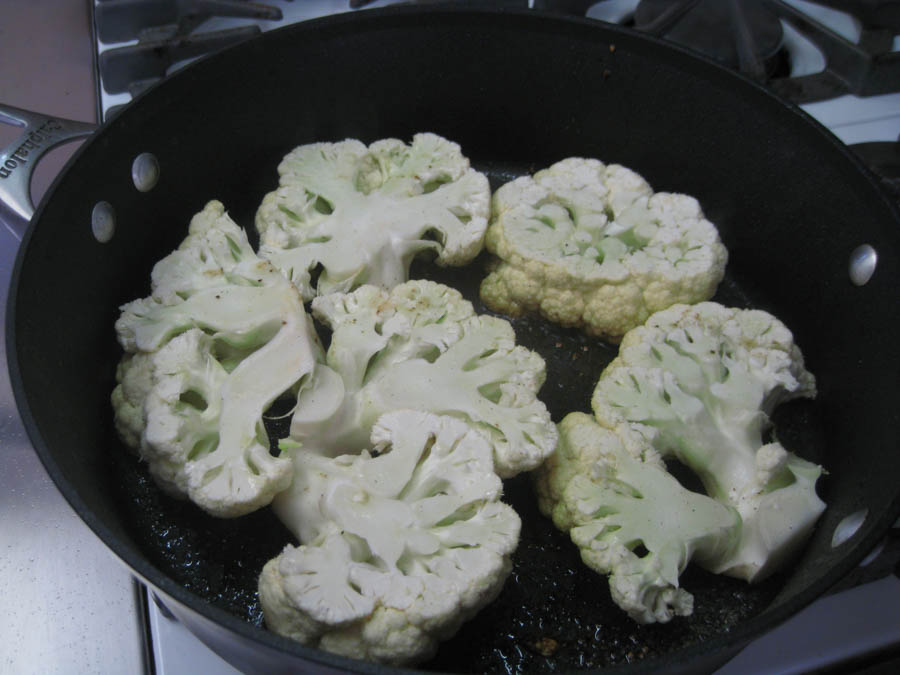 The steaks were fried to brown the sides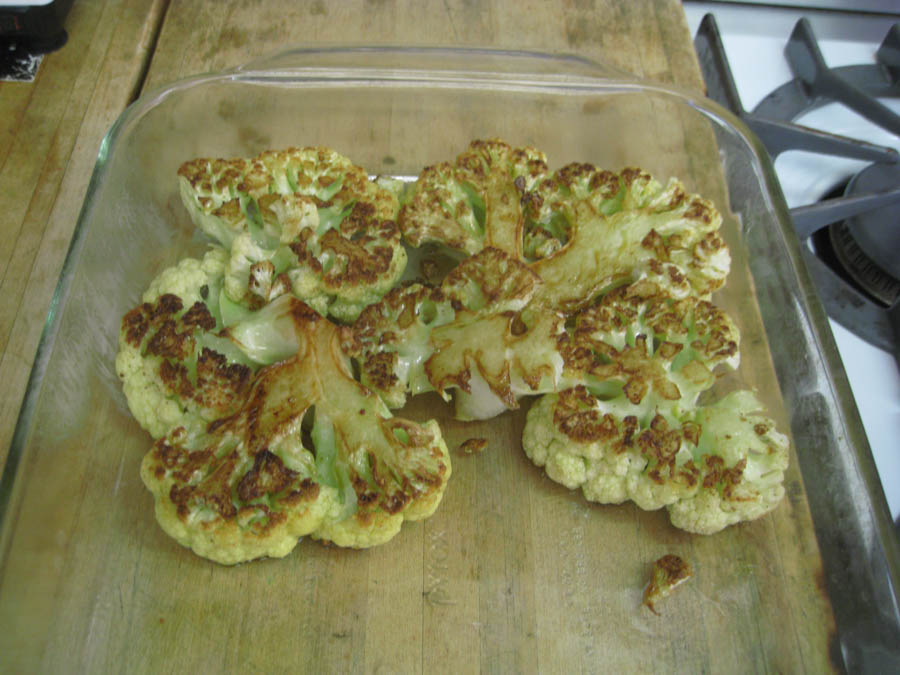 Into the baking dish they go!

Tomato sauce plus beans and olives are added with some parmesean cheese!
Bok Choy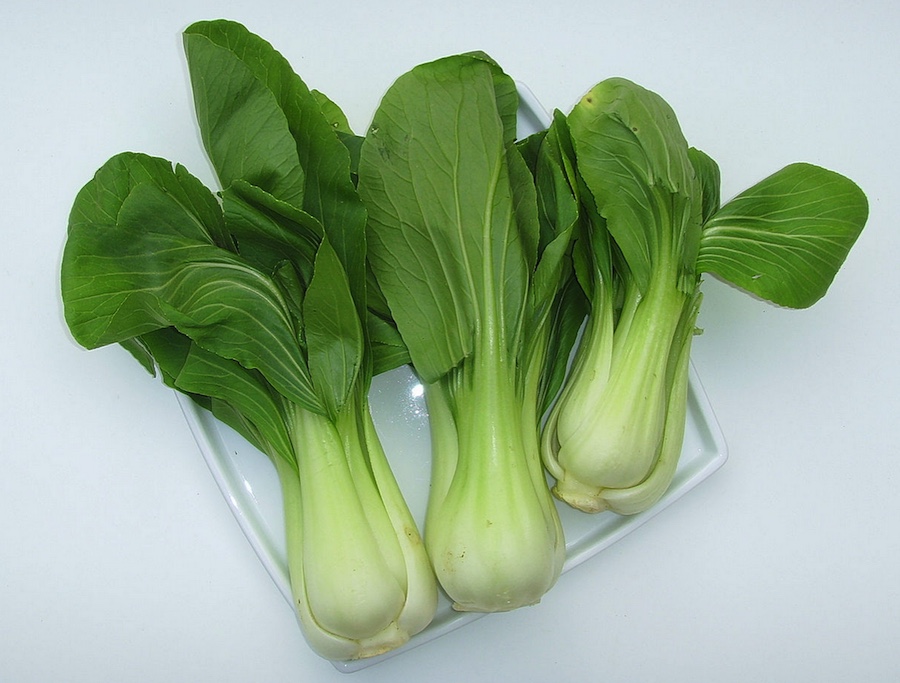 Did You Know? - Bok choy or pak choi (Brassica rapa subsp. chinensis) is a type of Chinese cabbage. Chinensis varieties do not form heads; instead, they have smooth, dark green leaf blades forming a cluster reminiscent of mustard or celery. Chinensis varieties are popular in southern China and Southeast Asia. Being winter-hardy, they are increasingly grown in Northern Europe.
Health benefits of bok choy
Bok choy is one of the popular very low calorie leafy vegetables. Nonetheless, it is a very rich source of many vital phyto-nutrients, vitamins, minerals and health-benefiting anti-oxidants.
100 g of bok choy carries just 13 calories. It is one of the recommended vegetables in the weight reduction programs falling under "zero calorie or negative calorie" category of food items, which when eaten would add no extra calories into the body but facilitate calorie burn and thereby reduction of body weight.
As in other Brassica family vegetables, bok choy too contains certain anti-oxidant plant chemicals such as thiocyanates, indole-3-carbinol, lutein, zea-xanthin, sulforaphane and isothiocyanates. Together with dietary fiber and vitamins, these compounds help protect against breast, colon, and prostate cancers and help reduce LDL or "bad cholesterol" levels in the blood.
Fresh pak choi is an excellent source of water-soluble antioxidant, vitamin-C (ascorbic acid). 100 g provides 45 mg or 75 % of daily requirements of vitamin C. Regular consumption of foods rich in vitamin C helps the body develop resistance against infectious agents and scavenge harmful, pro-inflammatory free radicals from the body.
Bok-choy has more vitamin A, carotenes, and other flavonoid polyphenolic anti-oxidants than cabbage, cauliflower, etc. Just 100 g of fresh Bokchoy leaves provide 4468 IU or 149% of daily-required levels vitamin A.
Pak choi is a very good source of vitamin K, provides about 38% of RDA levels. Vitamin-K has a potential role in the bone metabolism by promoting osteotrophic activity inside bone cells. Hence, enough vitamin K in the diet makes your bone stronger, healthier and delay osteoporosis. Further, vitamin-K also has been found to have an established role in curing Alzheimer's disease patients by limiting neuronal damage in their brain.
Fresh bok choy is vital source of B-complex vitamins such as pyridoxine (vitamin B6), riboflavin, pantothenic acid (vitamin B5), pyridoxine, and thiamin (vitamin B-1). These vitamins are essential in the sense that our body requires them from external sources to replenish.
Further, this leafy vegetable is a moderate source of minerals, particularly calcium, phosphorous, potassium, manganese, iron and magnesium. Potassium is an important electrolyte inside the cells and body fluids that help regulate heart rate and blood pressure. Manganese is used by the human body as a co-factor for the antioxidant enzyme, superoxide dismutase. Iron is required for the red blood cell formation.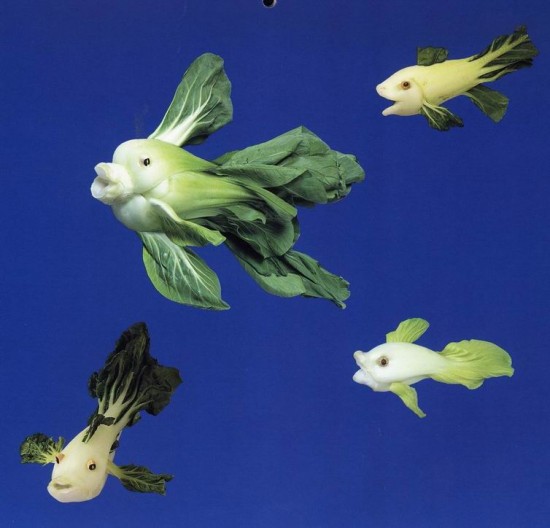 Remember to wash the bok choy well... Like leeks
the leaves get a lot of dirt in them!

Chop them and slice them
Kale Chips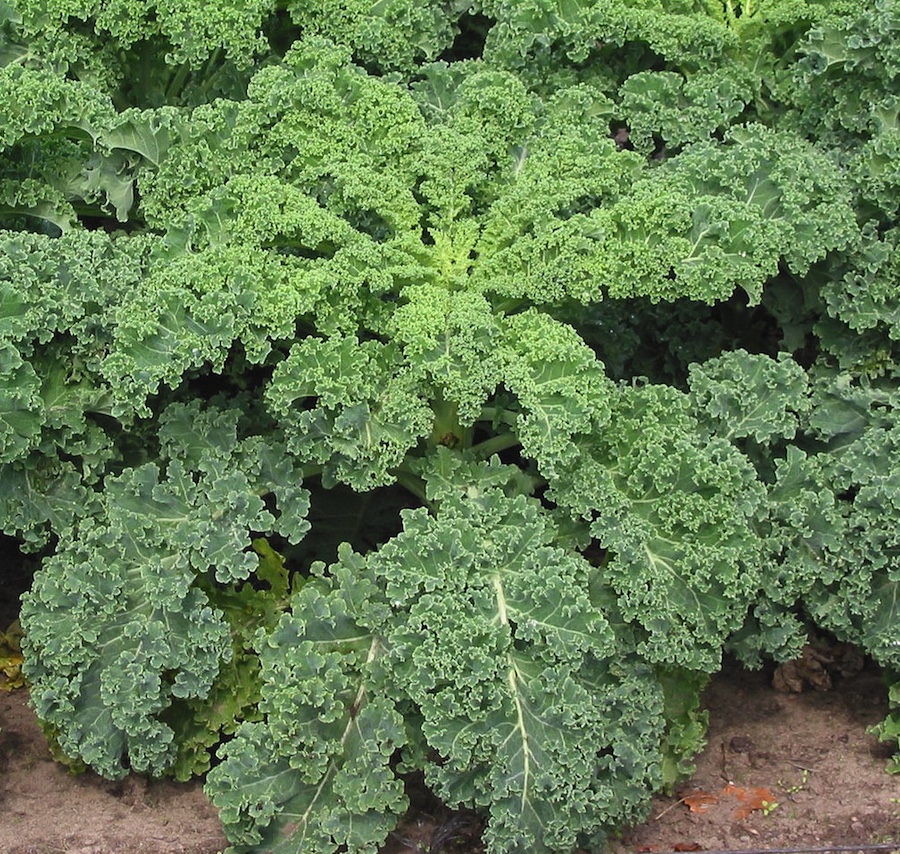 Curly Kale
Did You Know? - Until the end of the Middle Ages, kale was one of the most common green vegetables in all of Europe. Curly leafed varieties of cabbage already existed along with flat leafed varieties in Greece in the fourth century BC.[citation needed] These forms, which were referred to by the Romans as Sabellian kale, are considered to be the ancestors of modern kales. Today one may differentiate between varieties according to the low, intermediate, or high length of the stem, with varying leaf types. The leaf colours range from light green through green, dark green and violet-green to violet-brown. Russian kale was introduced into Canada (and then into the U.S.) by Russian traders in the 19th century.
During World War II, the cultivation of kale in the U.K. was encouraged by the Dig for Victory campaign. The vegetable was easy to grow and provided important nutrients to supplement those missing from a normal diet because of rationing.
At just 33 calories, one cup of raw kale has:
Nearly 3 grams of protein 2.5 grams of fiber (which helps manage blood sugar and makes you feel full) Vitamins A, C, and K
Folate, a B vitamin that's key for brain development
Alpha-linolenic acid, an omega-3 fatty acid. (While kale has far less omega-3 than fish, it is another way to get some of this healthy fat into your diet.
Lutein and zeaxanthin, nutrients that give kale its deep, dark green coloring and protect against macular degeneration and cataracts Minerals including phosphorus, potassium, calcium, and zinc

We are cooking with Toscanno today but there are other choices

First give them a bathy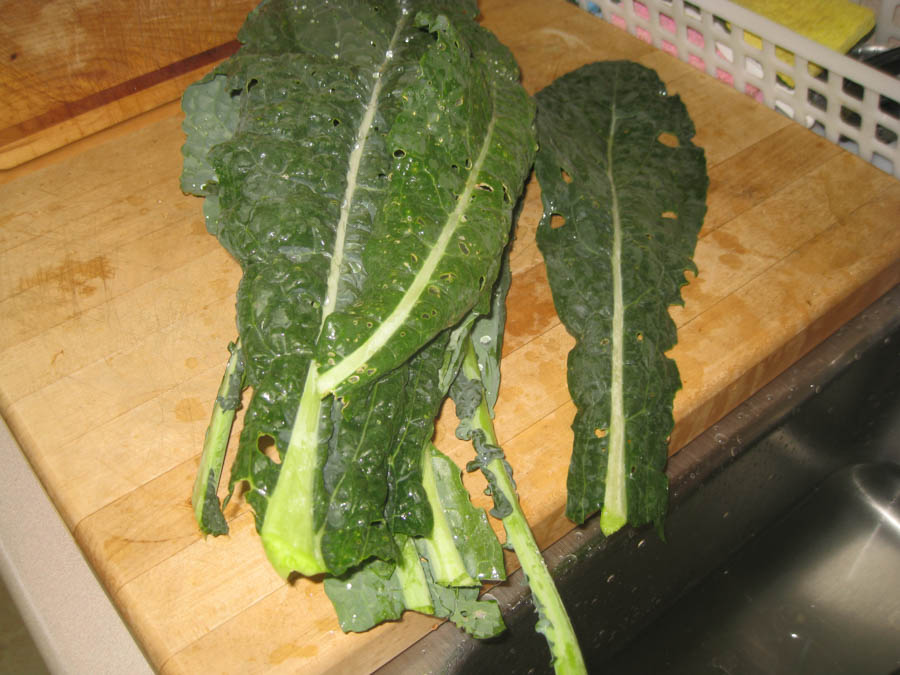 Take out the stems and cut them into two inch strips... Make sure they are dry!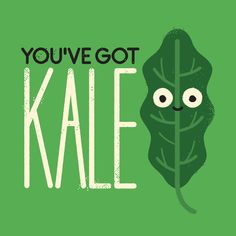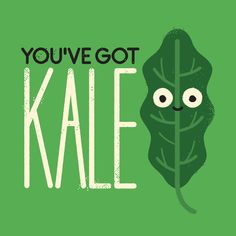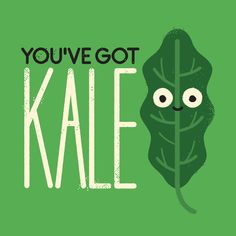 Inside a two gallon bag with olive oil infused with truffle oil
Shake until all surfaces are covered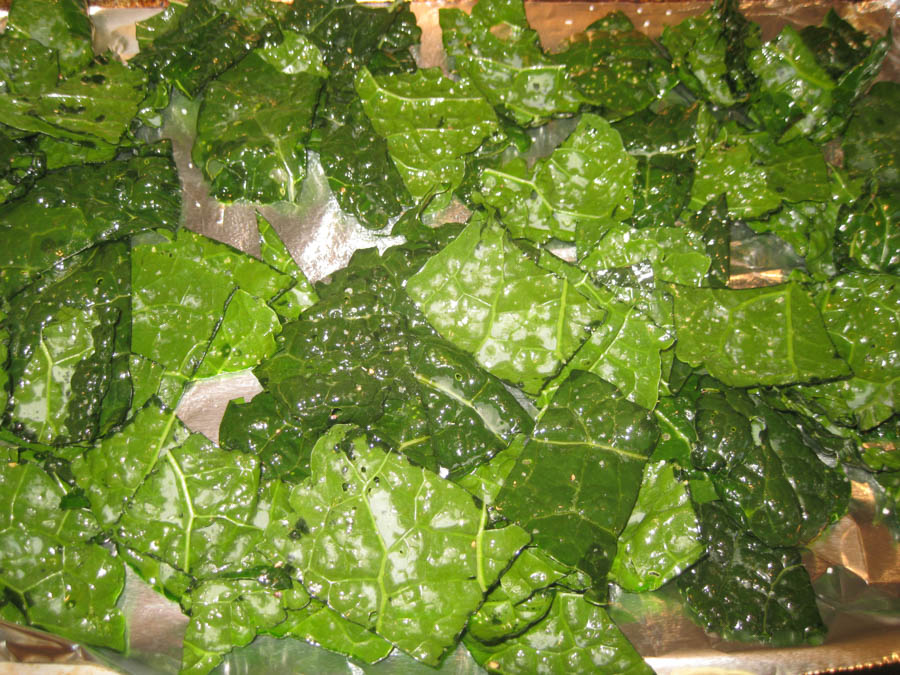 Salt and white pepper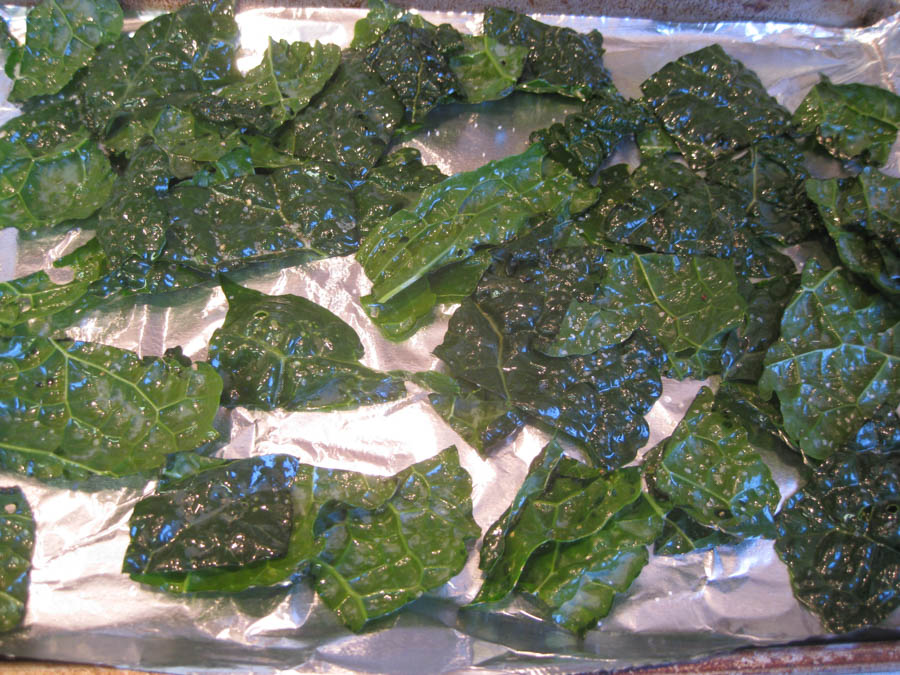 Onto a foil lined baking sheet... 350 until they are "dry"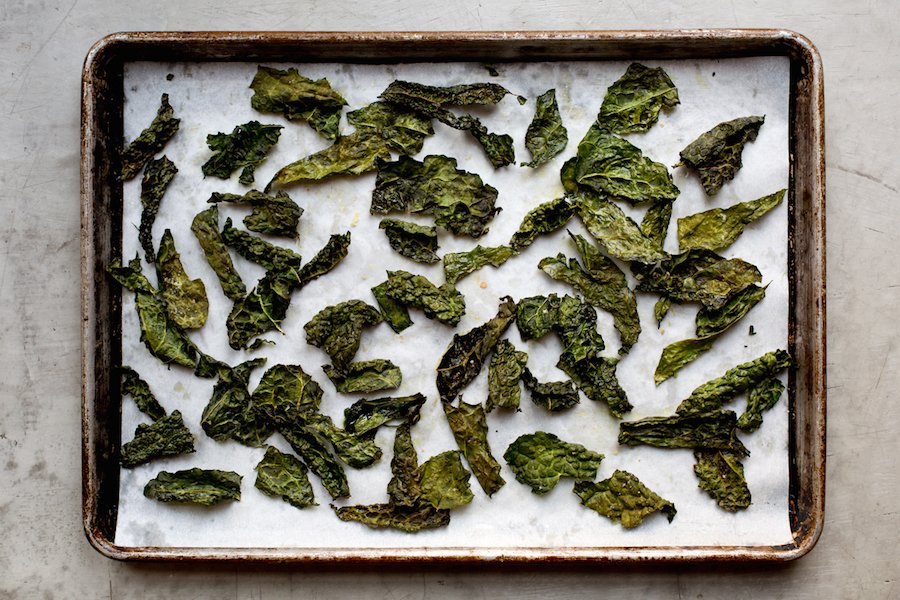 Nummy nummy!