Visiting Amsterdam And The Beautiful Flower (Page Five)
Our hotel was downtown and close to all the canals. Today was "flower day" and we saw a bizillion tulips in the country side.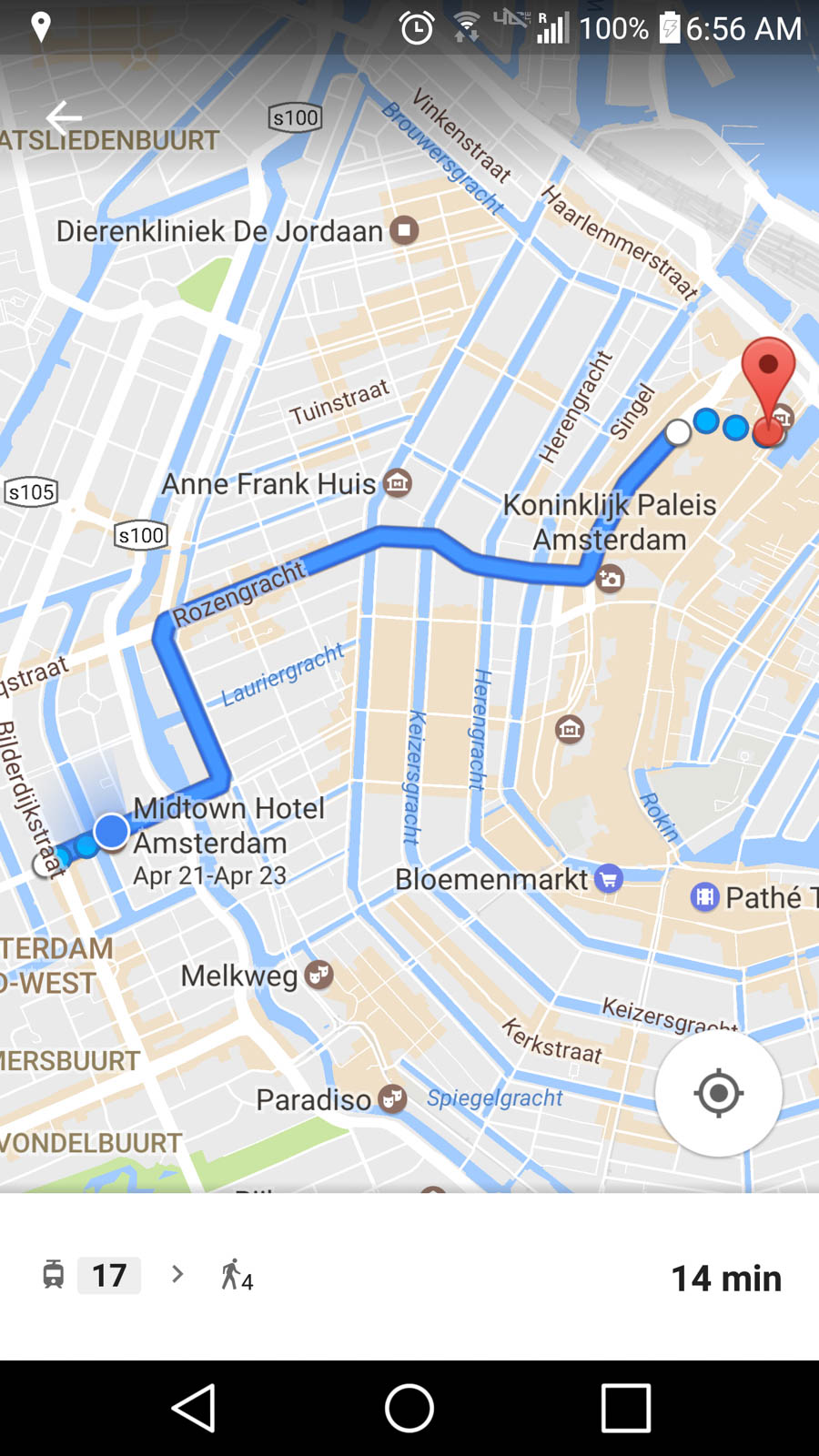 We got around by using our phone and the maps!

If not, the buses will! De Nieuwe Kerk is located on Dam Square, Amsterdam. It is a 10 minutes' walk from Central Station. Nearly all trams to and from Central Station stop at Dam Square.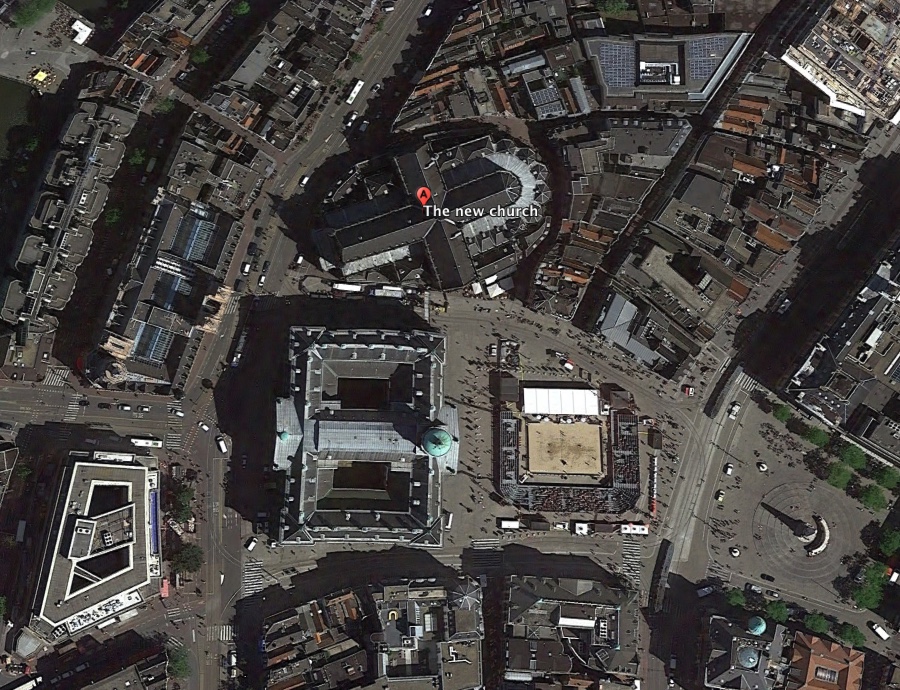 An amazing museum
Did You Know? - For decades, De Nieuwe Kerk Amsterdam has been known for its high-profile exhibitions about art, photography, and inspiring individuals and cultures. With an average of 220,000 visitors a year, the church is one of the most popular exhibition venues in the Netherlands. It also plays a role of national significance, hosting royal ceremonies, official gatherings, and cultural events.
One of Amsterdam's most impressive historical monuments, De Nieuwe Kerk is a place of inspiration, commemoration, and celebration in Dam Square, the heart of the city

Selling tickets
Did You Know? - The church dates back to the Middle Ages; it was consecrated in 1409. Since then it has formed a stage for local and national history, with leading roles for kings and queens, writers, free-spirited townspeople, and the great figures who lie buried here: naval heroes, a Crusader, and an East India Company merchant. It is a treasure house of medieval secrets, royal traditions, Catholic devotion, and Protestant iconoclasm.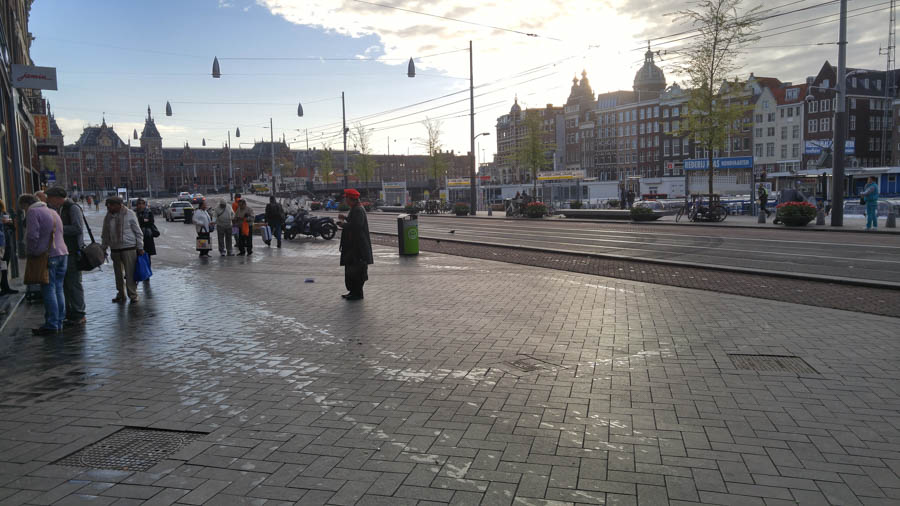 A quick walk to catch the sightseeing buss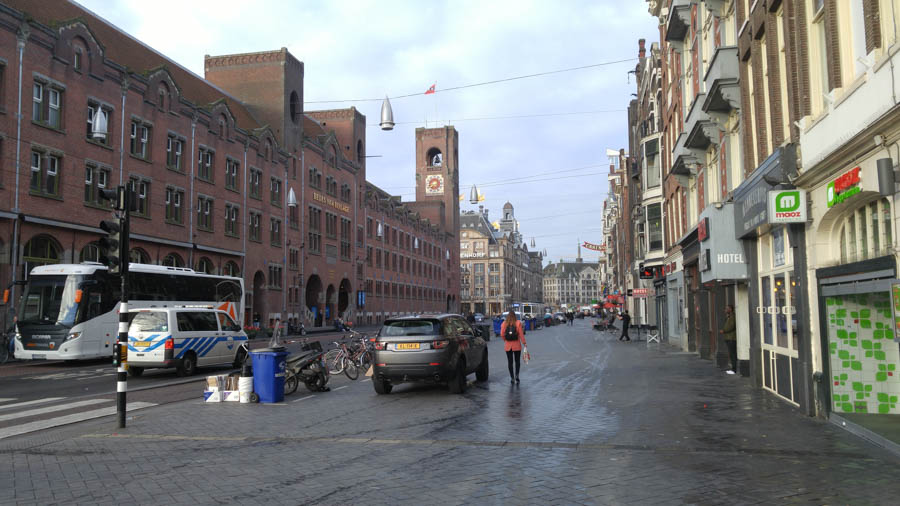 Just around the corner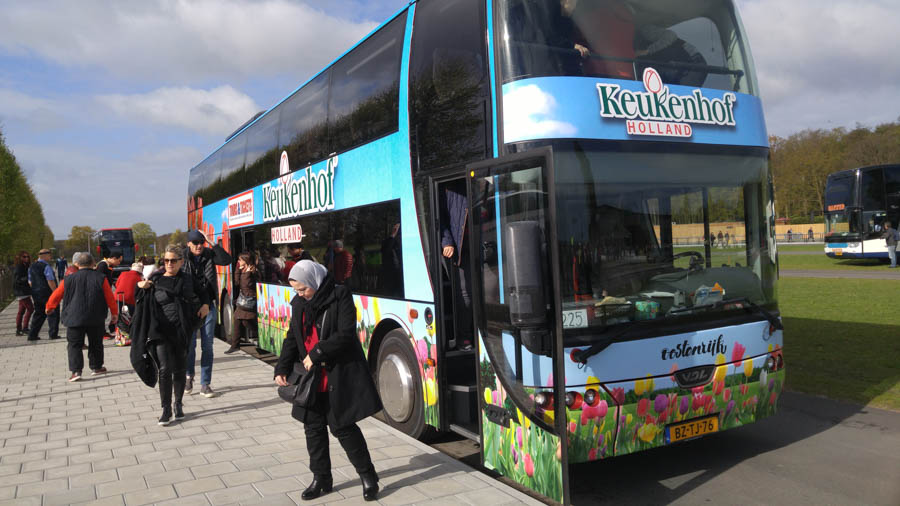 A short drive to the gardens
Did You Know? - Keukenhof ("Kitchen garden", Dutch pronunciation: [ˈkøːkə(n)ˌɦɔf]), also known as the Garden of Europe, is one of the world's largest flower gardens. It is situated in Lisse, the Netherlands. According to the official website for the Keukenhof Park, approximately 7 million flower bulbs are planted annually in the park, which covers an area of 32 hectares (79 acres).
Keukenhof is located in South Holland in the small town of Lisse, south of Haarlem and southwest of Amsterdam. It is accessible by bus from the train stations of Haarlem, Leiden and Schiphol. It is located in an area called the "Dune and Bulb Region" (Duin- en Bollenstreek).
Keukenhof is open annually from mid-March to mid-May. The best time to view the tulips is around mid-April, depending on the weather.

We got an idea how big it was on our approach

We are getting close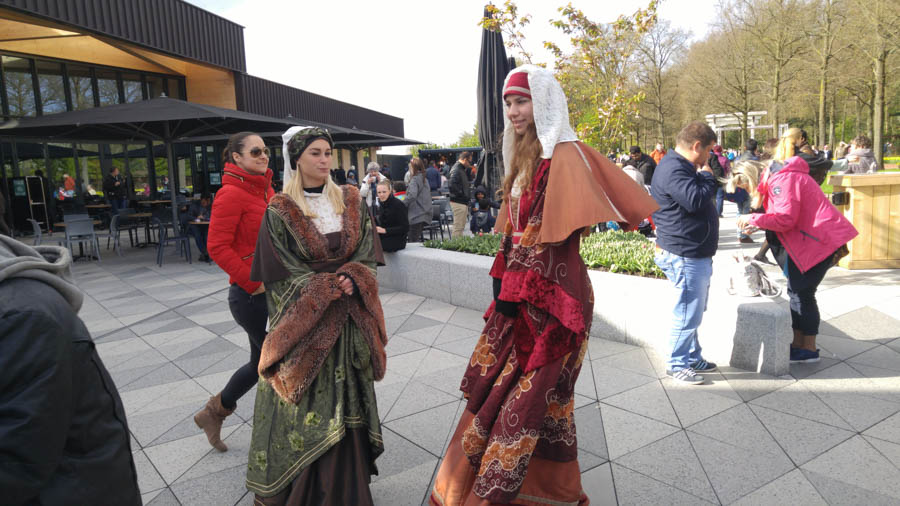 Greeted with Dutch costumes at the entrance
Did You Know? - Keukenhof is situated on 15th-century hunting grounds. It was also a source of herbs for Jacqueline, Countess of Hainaut's castle, which is the source of the name Keukenhof (it served to provide herbs for the castle's kitchen).
Rich merchants took over the grounds after the Countess's death. VOC captain and governor Adriaen Maertensz Block lived there in his retirement years in the 17th century in the country house (now known as Castle Keukenhof) which he had let built in 1641.

In the 19th century, the Baron and Baroness Van Pallandt assigned the landscape architect Jan David Zocher and his son Louis Paul Zocher, who had also worked on the Vondelpark, to design the grounds around the castle.

The garden was established in 1949 by the then-mayor of Lisse. The idea was to present a flower exhibit where growers from all over the Netherlands and Europe could show off their hybrids – and help the Dutch export industry (the Netherlands is the world's largest exporter of flowers).

Dresses warmly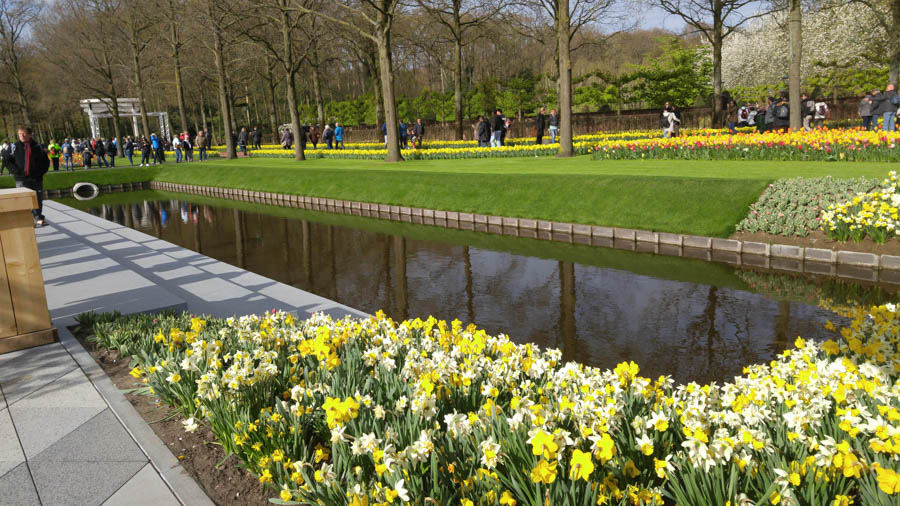 Manicured grounds

Amazing colors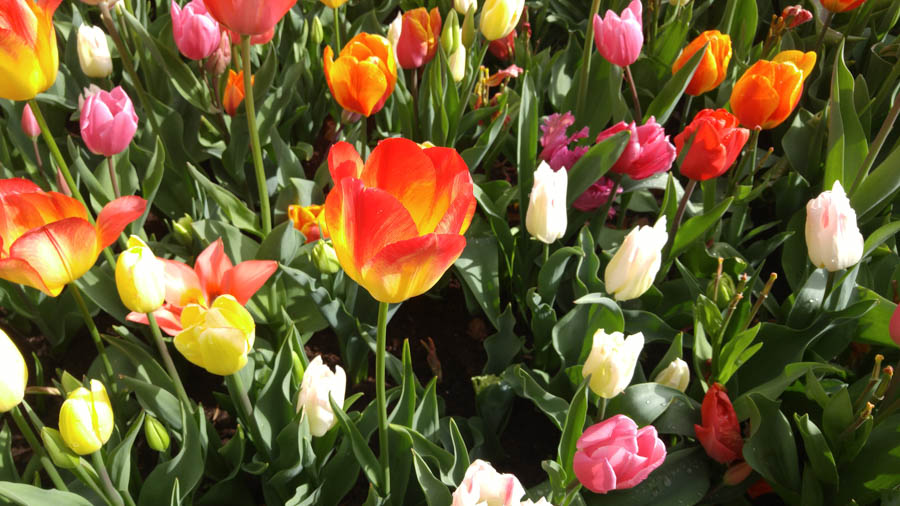 Almost light a light on the inside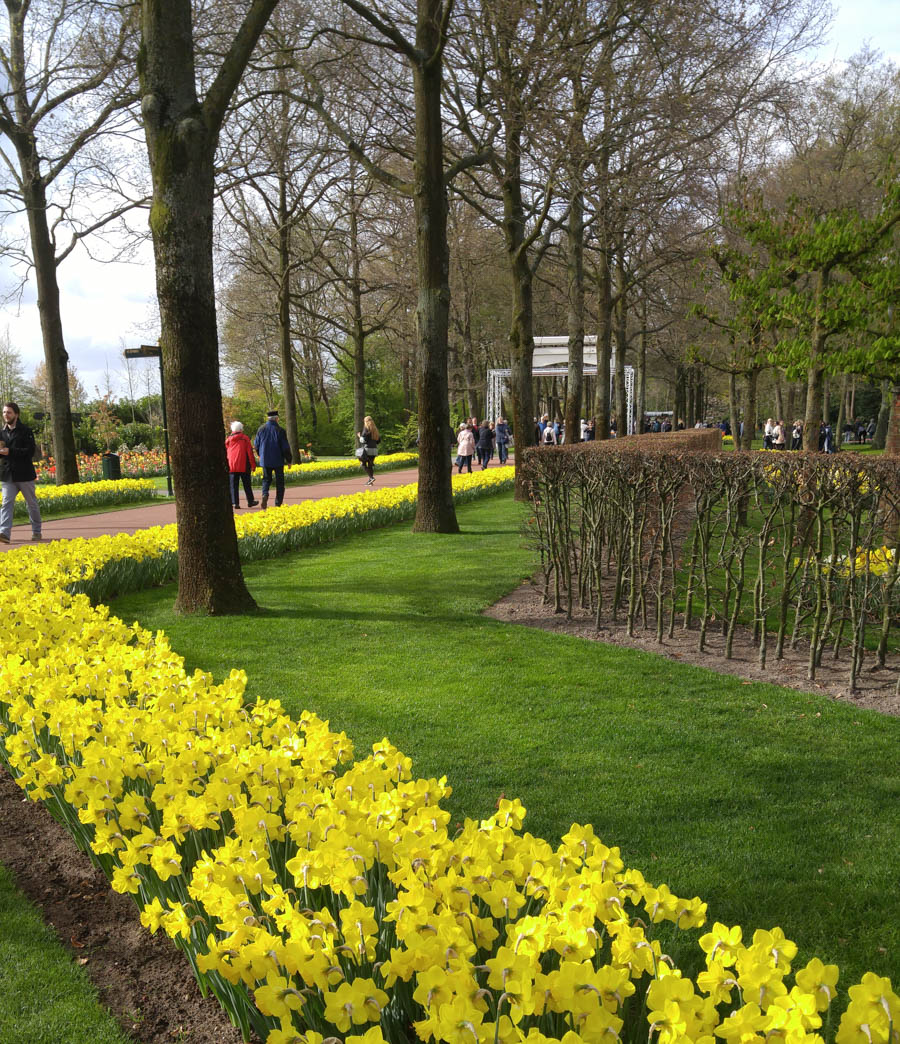 80 acres of walking available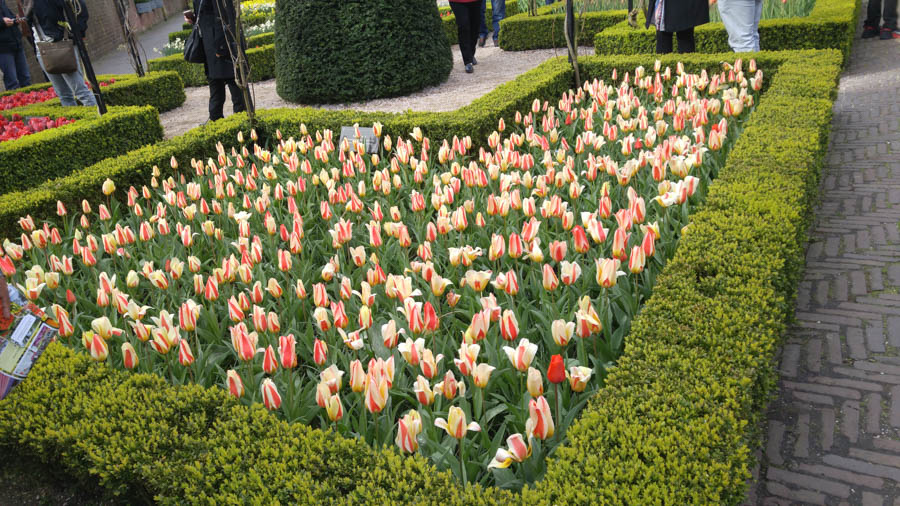 The gardeners must work 24x7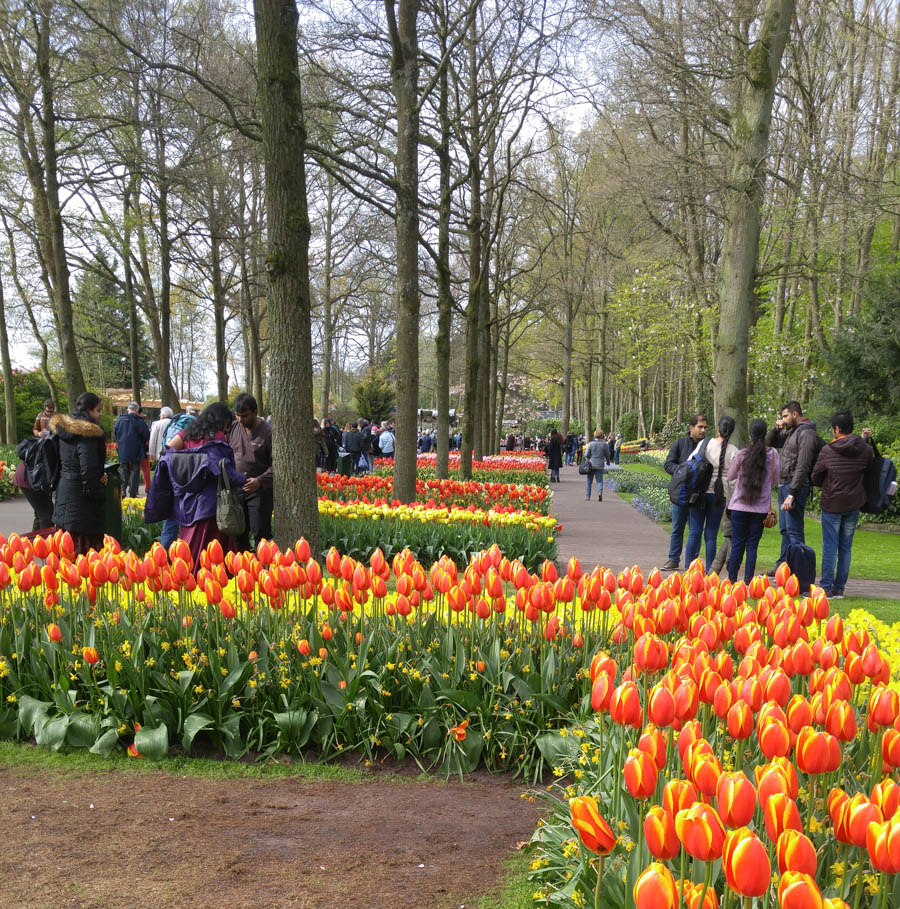 Just amazing

Looks like little sunsets

The "Red Paradise"
Did You Know?
1. Tulips belong to the same family as lillies, and are relatives of the family that includes onions.
2. Tulip cultivation originated in Central Asia a thousand years ago and was brought east by the Turks. The tulip is still a symbol associated with Turkey.
3. The word "tulip" is descended from a Persian word "dulband" -- which led to a Turkish word "tülbent" (turban, like the hat) -- which led to the Latin "tulipa".
4. Tulips were introduced to Europe in the mid-16th century. The first European tulip was described in 1559 in a Bavarian garden by a then-famous Swiss naturalist.
5. The father of the Dutch obsession with tulips was botanist Carolus Clusius -- he's said to have popularized the flowers there. He was also the first to identify "broken tulips" -- a viral infection that caused beautiful streaking in the petals of the flowers.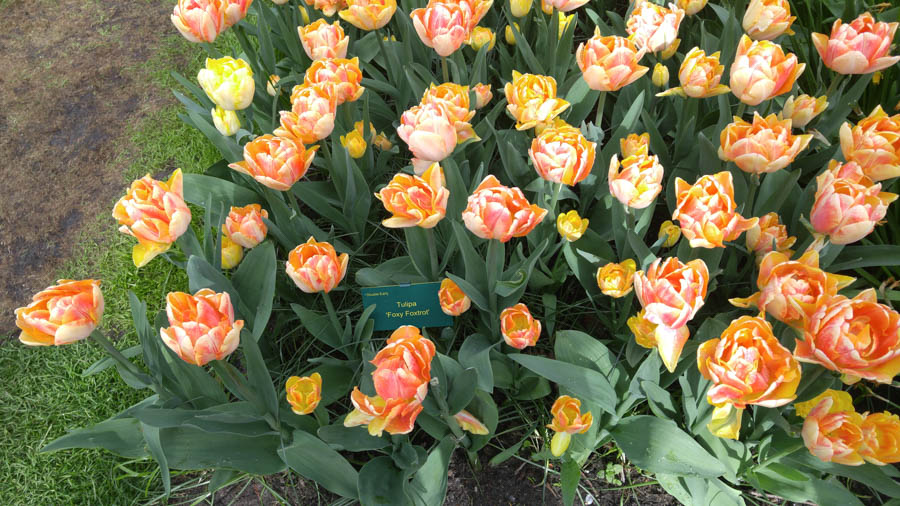 Look good enough to eat!
Did You Know? -
1. Clusius' efforts created many new color variations of tulips, some of which became much sought after.
2. The demand for tulips set off "tulip mania" in the Netherlands around 1637, and prices for some varieties soared. The tulip depicted to the right -- the "Semper Augustus" -- was said to be the most expensive tulip during this period. The situation has been regarded as one of the first economic bubbles.
3. Clusius reportedly considered all the tulip hubbub distasteful and refused to sell his bulbs to speculators -- so people stole them.
4. The "mania" was hyped in a popular 1641 book called Extraordinary Popular Delusions and the Madness of Crowds, which was the definitive account for centuries. But a book published a few years ago -- Tulipmania by Anne Goldgar -- debunked many of the claims, and reported that the mania was actually much more limited and subdued.

Flowers everywhere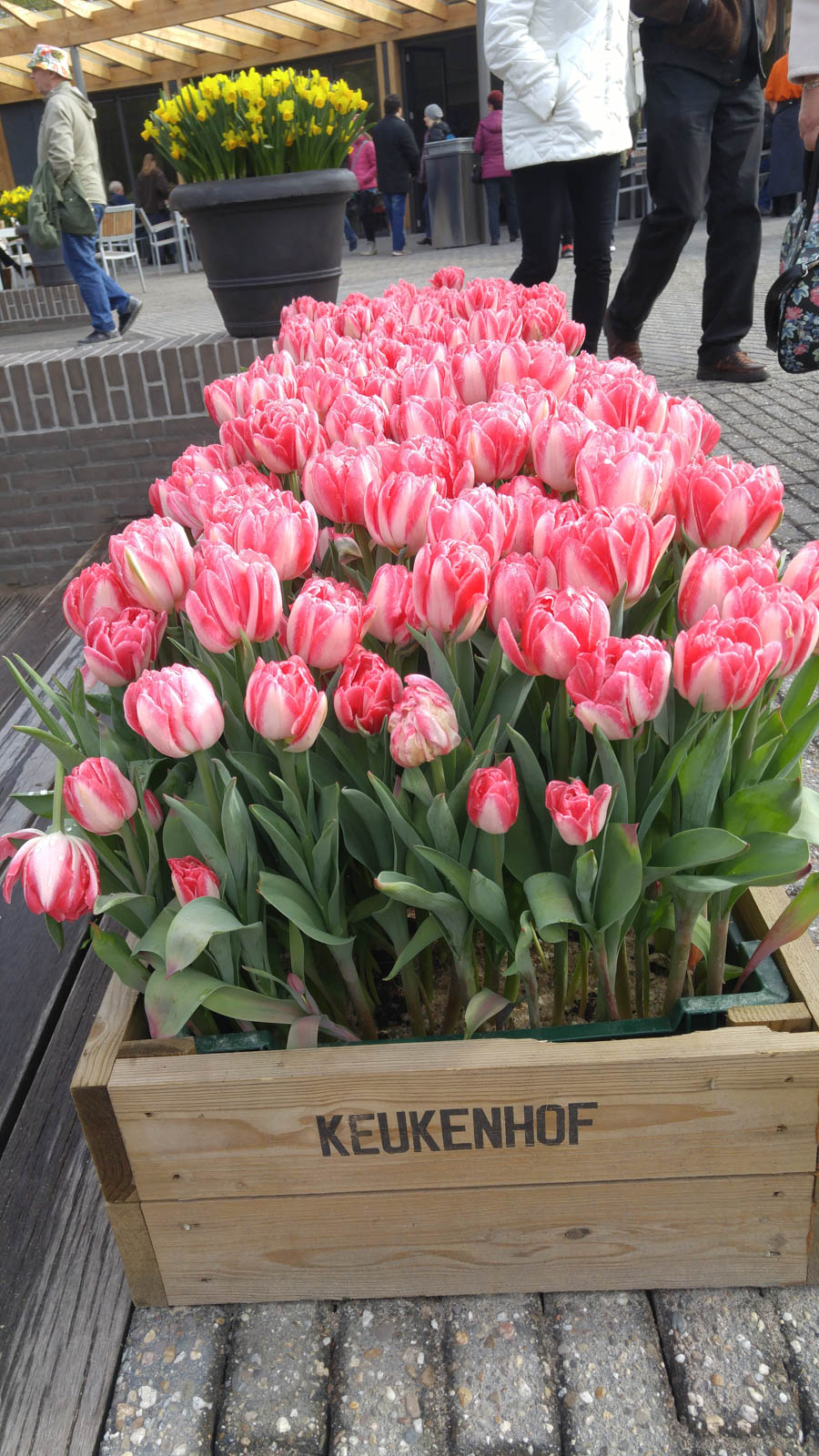 Yummy!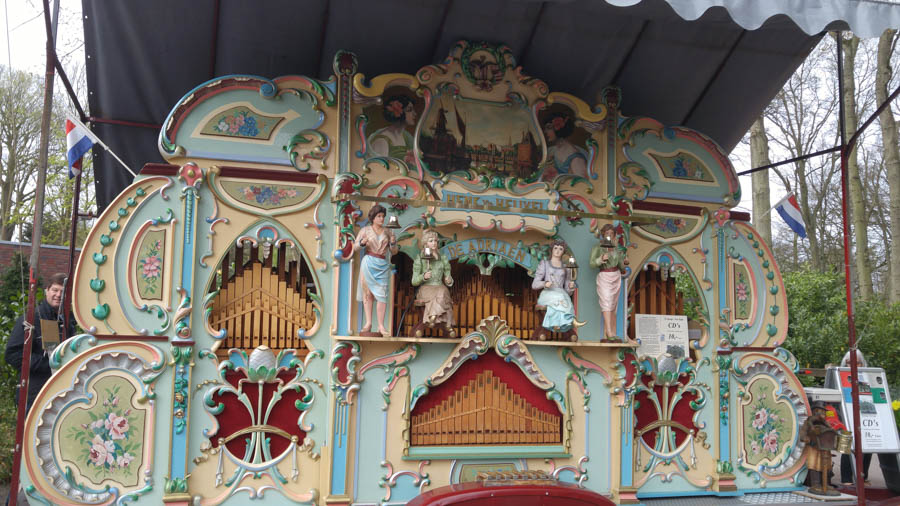 An a European calliope

Bread and butter
Did You Know? -
1. There are reportedly 3,000 varieties of tulips. There is a Dutch organization that maintains the list of registered tulip varieties.
2. The most popular tulips are the red varieties. The most famous tulip is said to be "Queen of the Night" -- a tulip that is almost black (it's actually a very deep purple).
3. The variegated tulips seen today (the ones with streaks) have almost always been bred to look like that -- and are not the result of the tulip break virus.
4. Tulips should be planted in the fall.
5. Tulips require vernalization to bloom. That is, the bulbs need a prolonged period of cold before they'll flower.
6. Tulip bulbs can be "forced" into blooming by storing them in a cold place for 12-16 weeks -- even the refrigerator.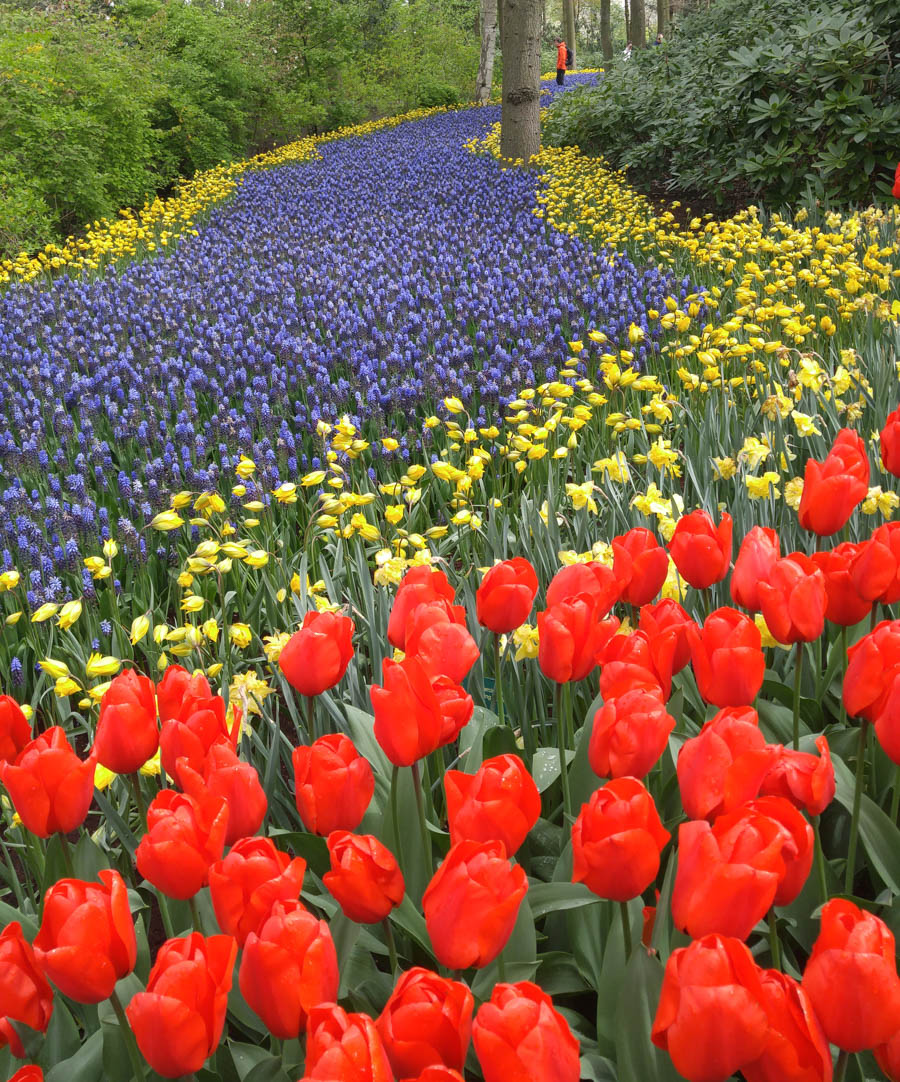 Follow th purple tulip brick road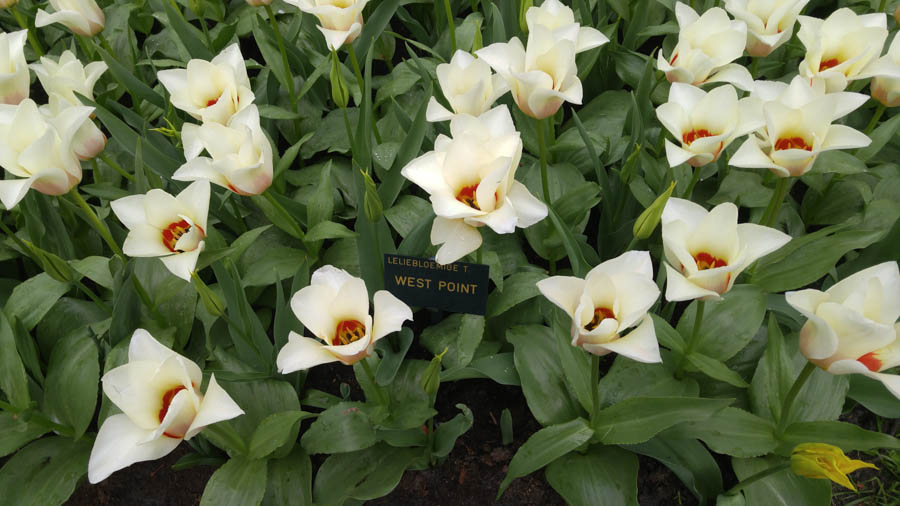 Yes... They are tulips

What are these doing here?

Pink tulips look amazing

Standing up straight!

Look like they are on fire

The park was bust today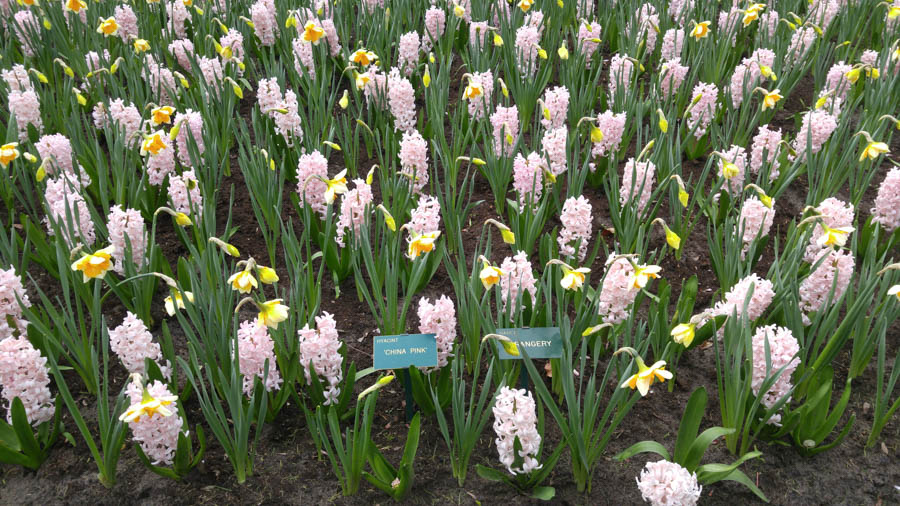 China Pink tulips

Rows on top of rows

Such amazing colors
Seen from above it is a large flower itself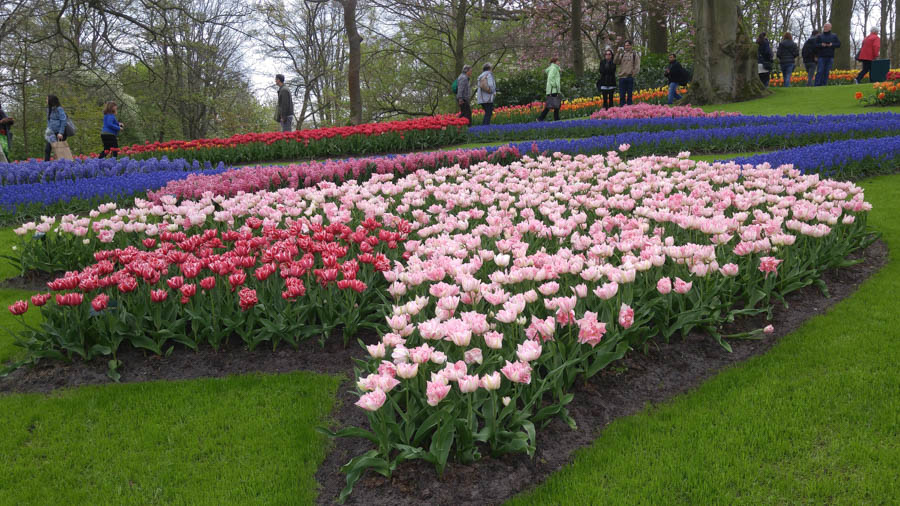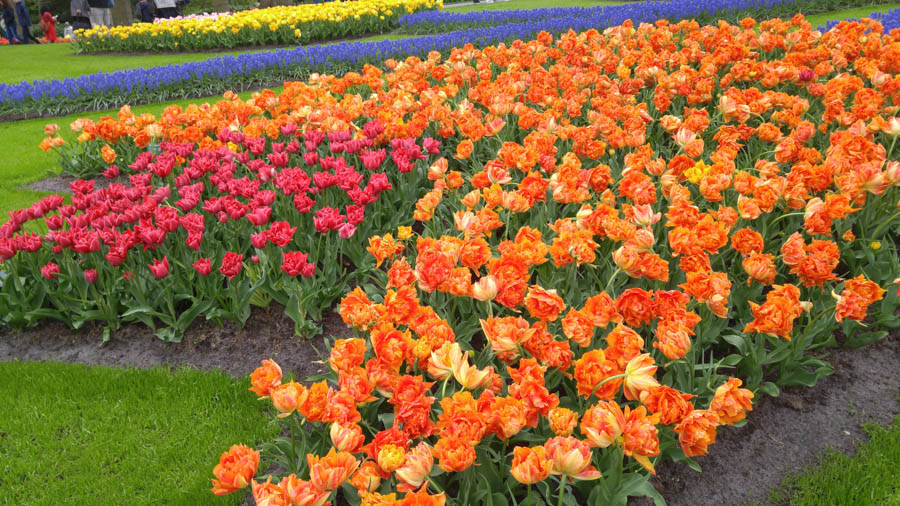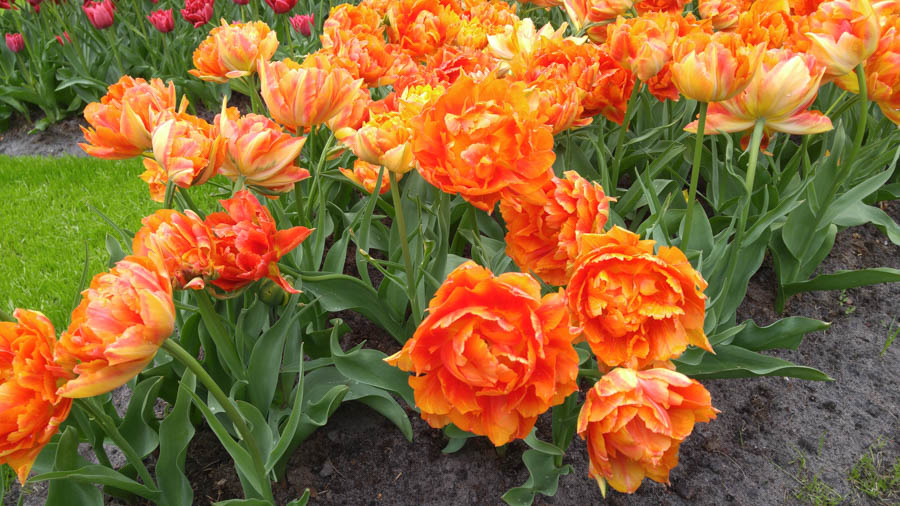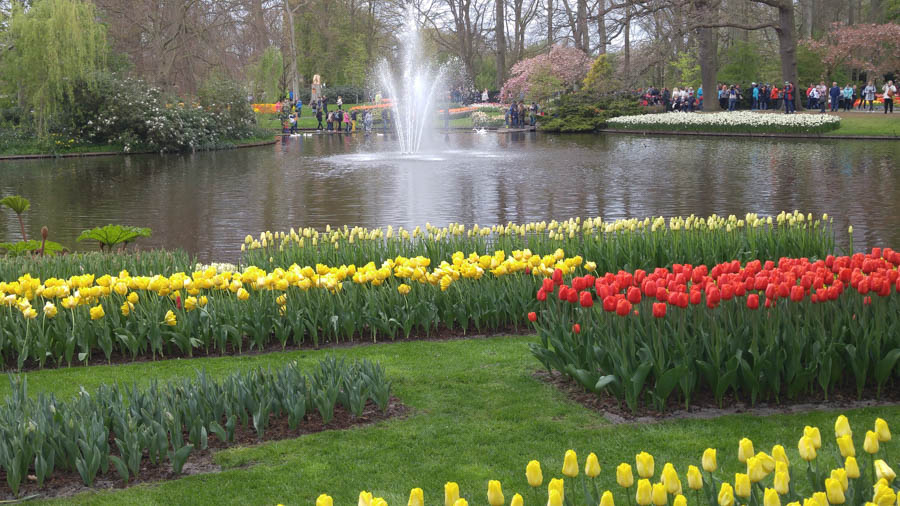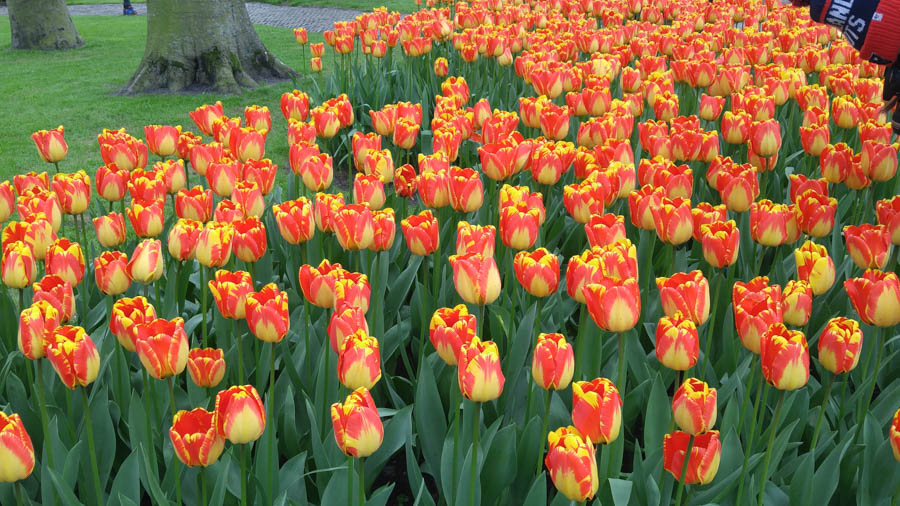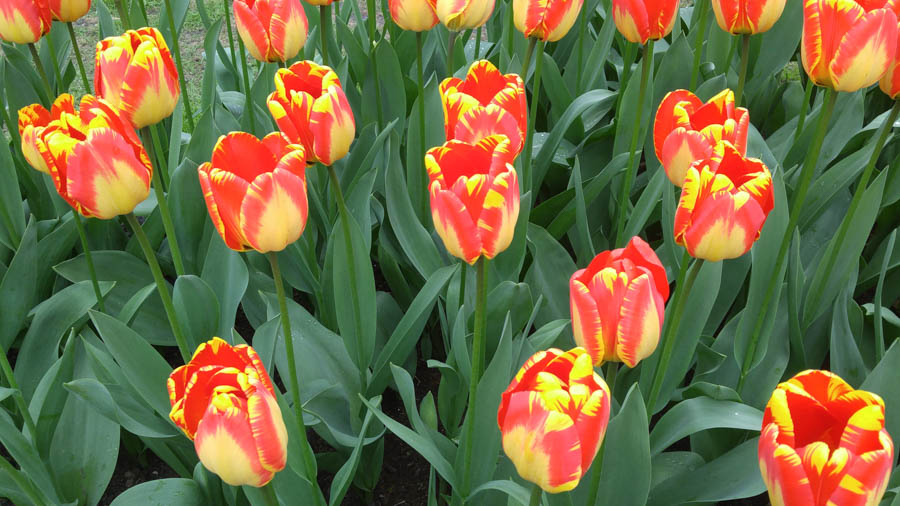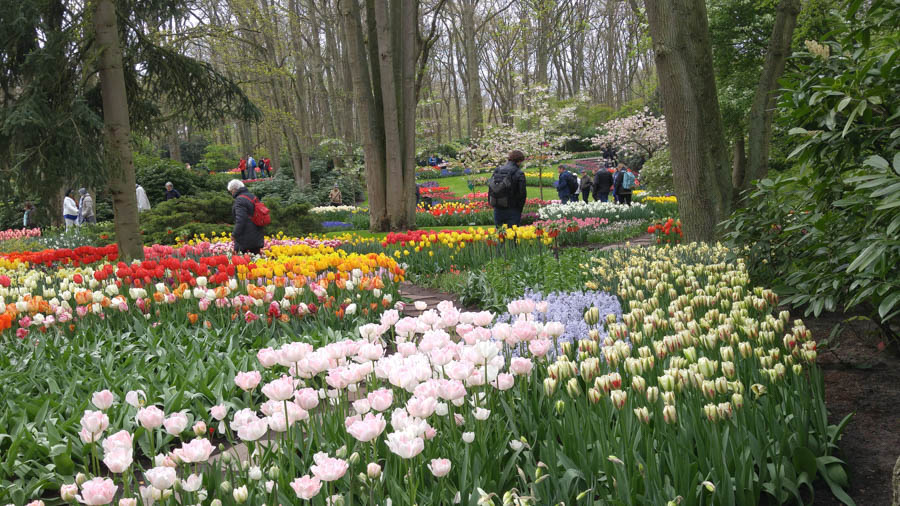 So that's what she was thinking!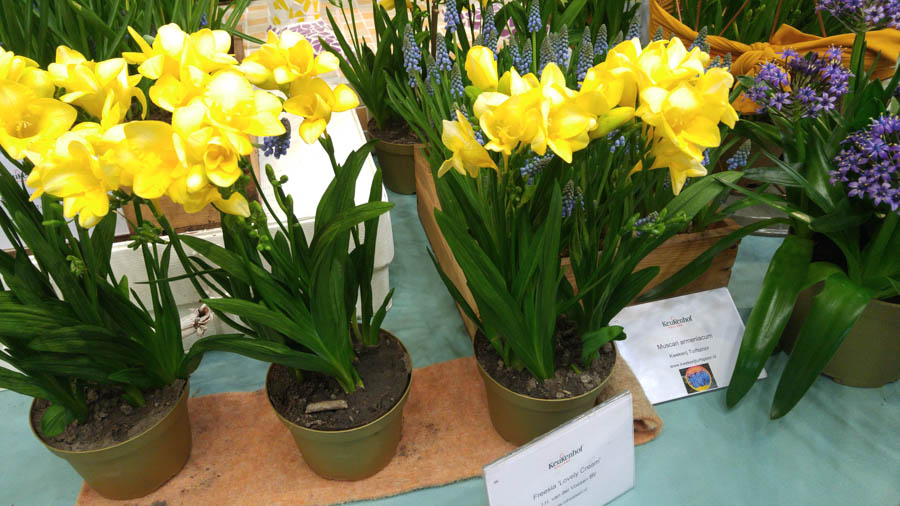 For sale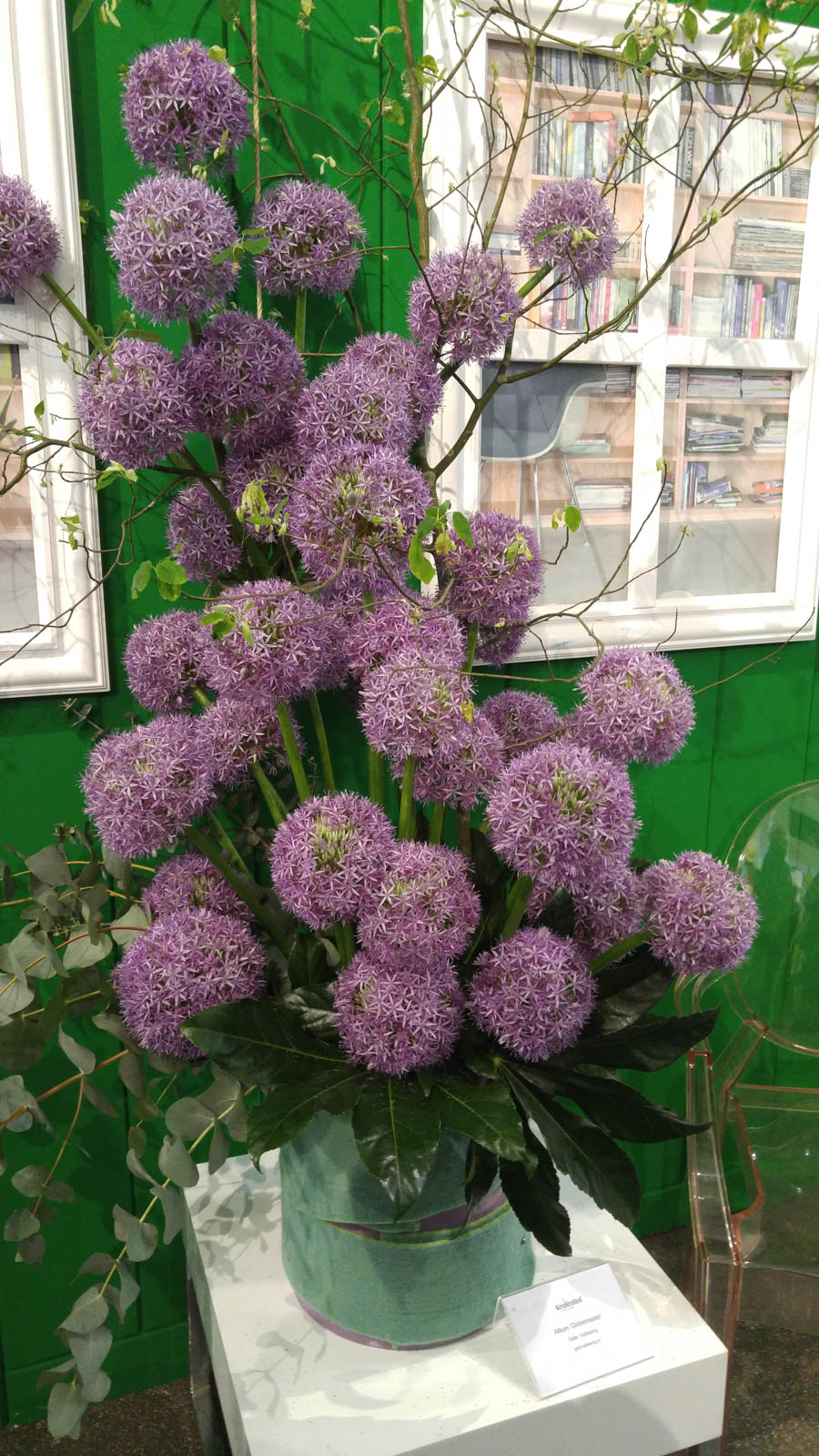 What? It's not a tulip?
Did You Know?
1. Tulips are edible -- or, at least, parts of them are. The petals are said to range in taste from "a mild bean-like taste, to a lettuce-like taste, to no taste at all." (You should never eat petals that have been treated with chemicals.)
2. During WWII, some people in the Netherlands were forced to eat tulips because there wasn't any other food. "Bread made from tulips is not very good ... like wet sawdust" according to a Dutch man who grew up on a tulip farm during the war. (Also, part of the bulb is poisonous, apparently.)
3. There are a bunch of recipes that use tulip petals: as cups for mousse, accents for tuna, for salad dressing, and little dishes for appetizers. There's even a recipe for tulip wine, which is apparently "a lovely white".

Perhaps a little art?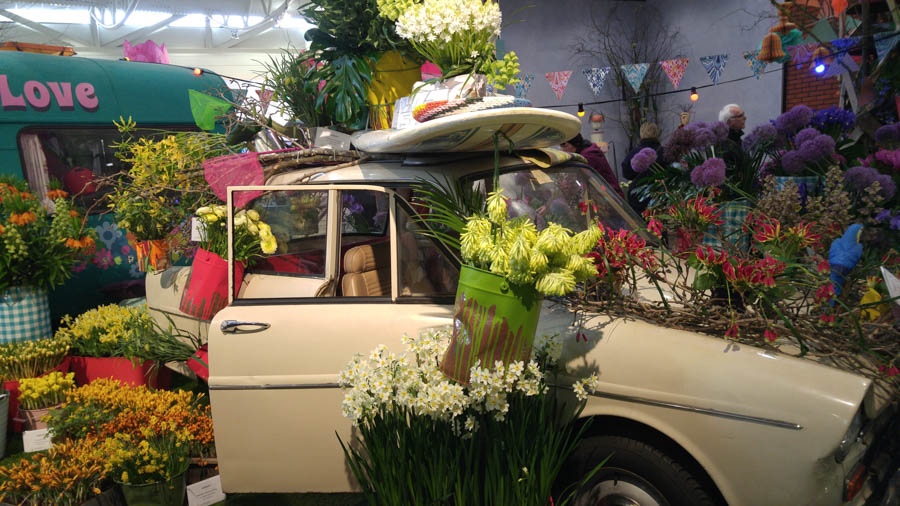 Didn't even hear the screeching of brakes!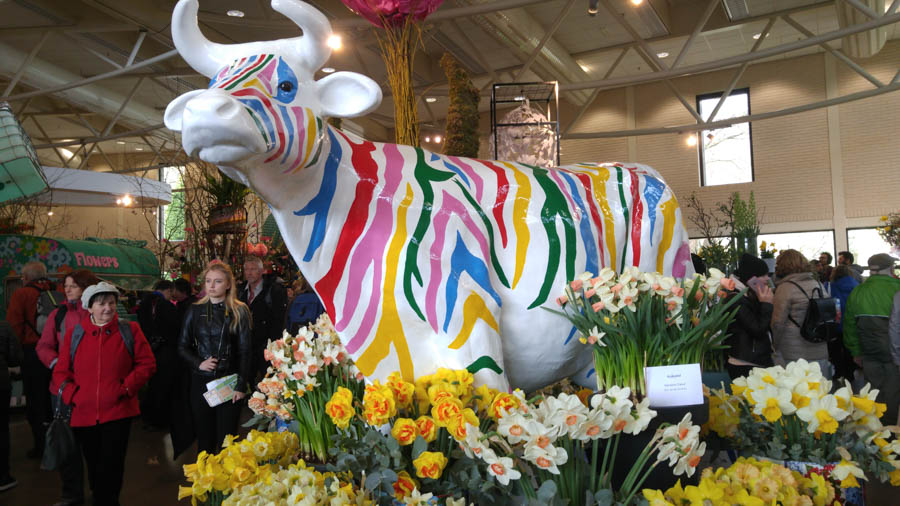 Bull!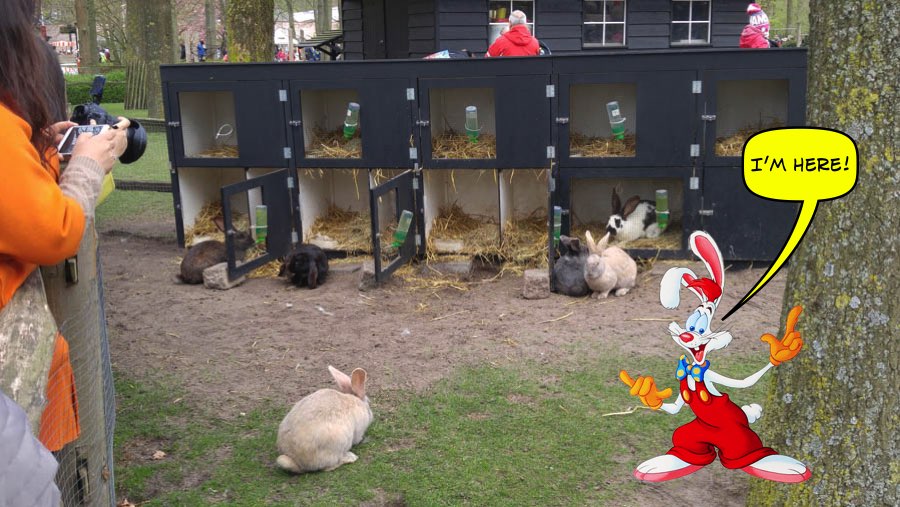 Where is Roger Rabbit?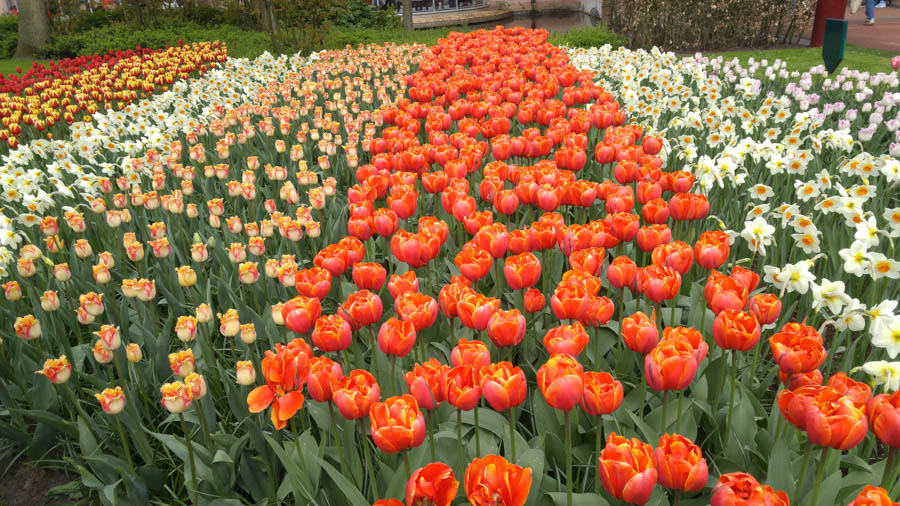 Someone has a great eye for color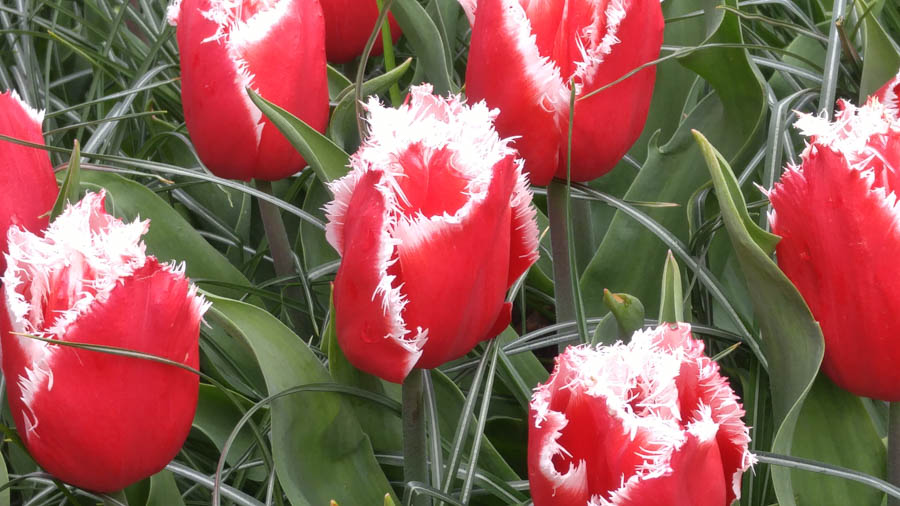 Fuzzy red... What will they think of next?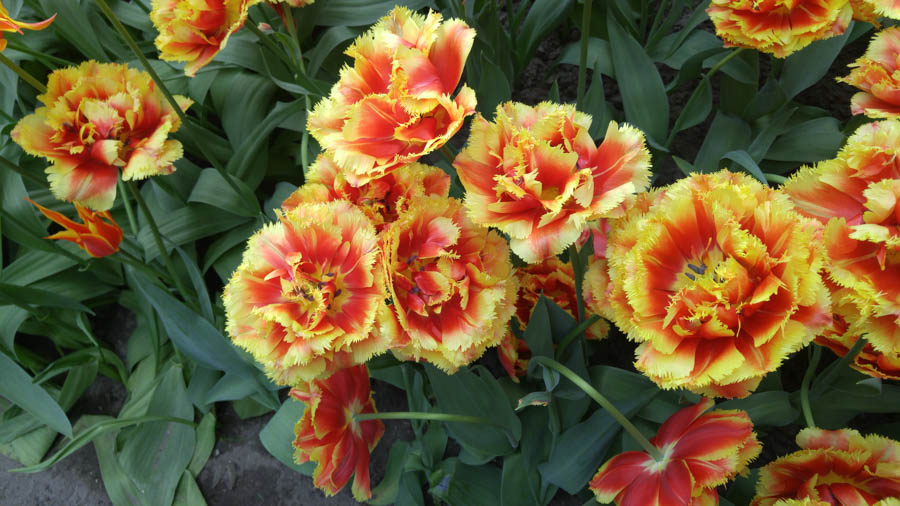 Yes... These are tulips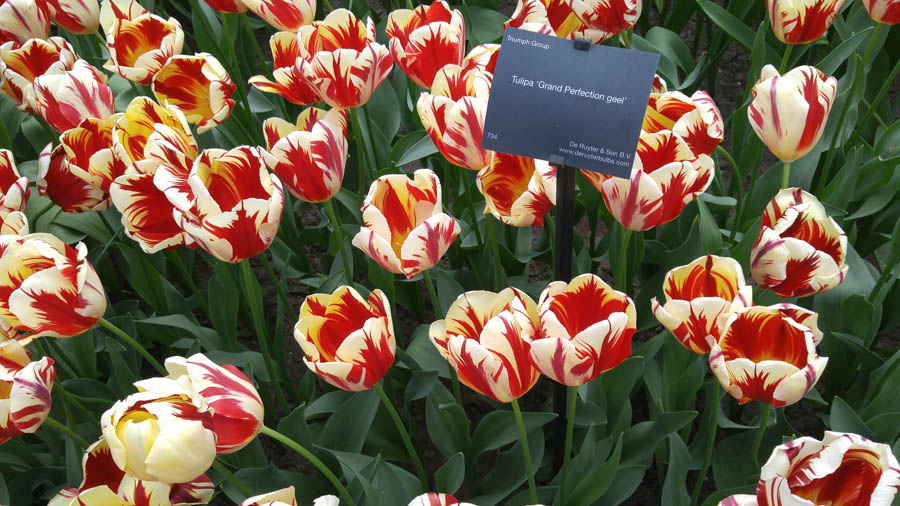 Called "The Grand Perfection"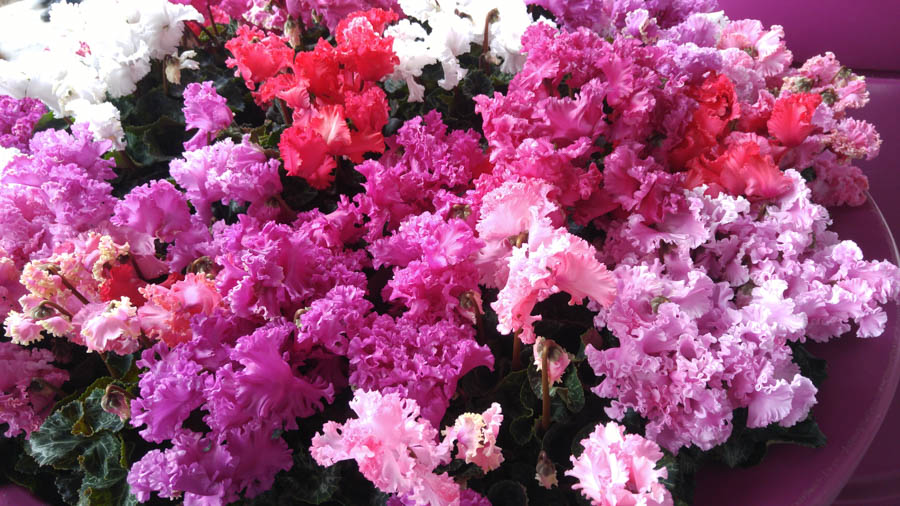 It's also psychedelic!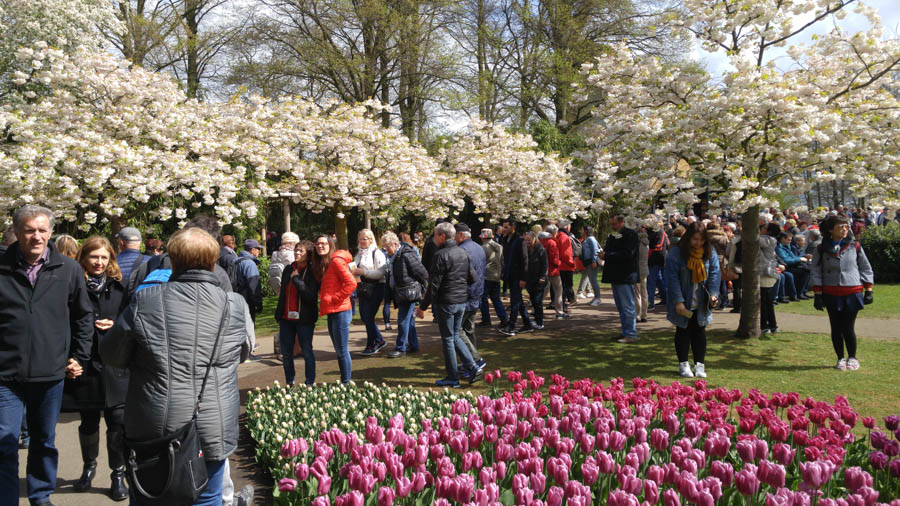 Great crowds today

The windmill is hiding in the bushes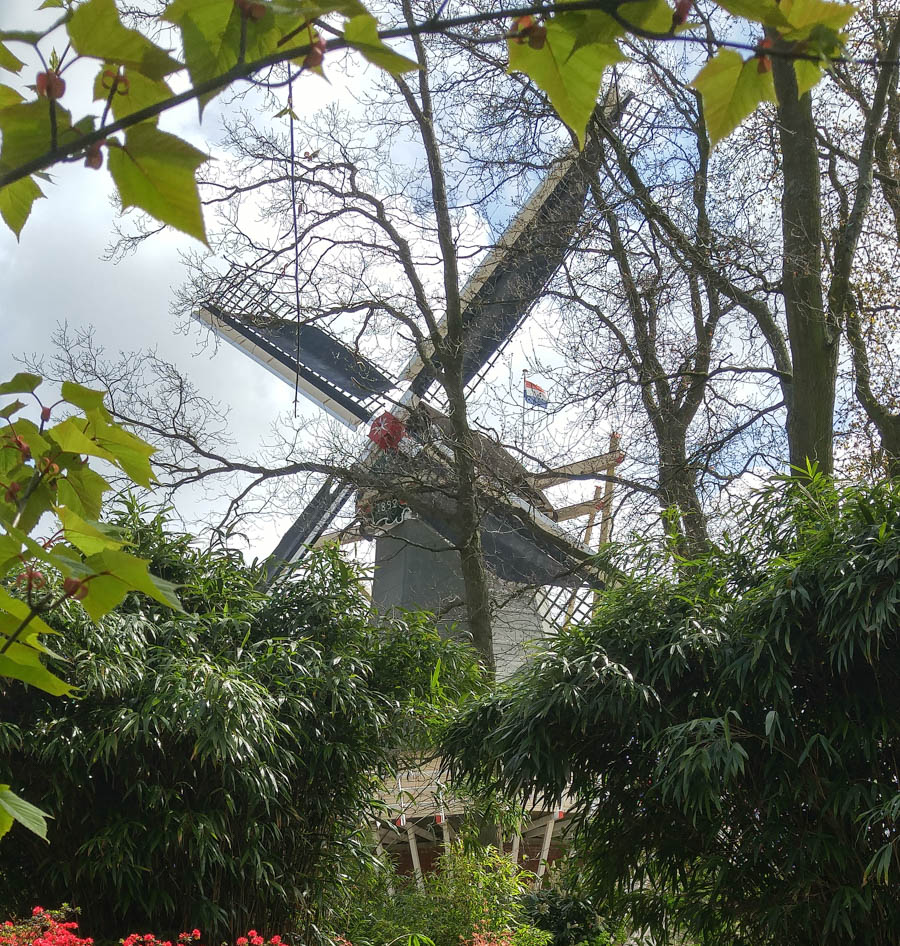 Not a strong breeze today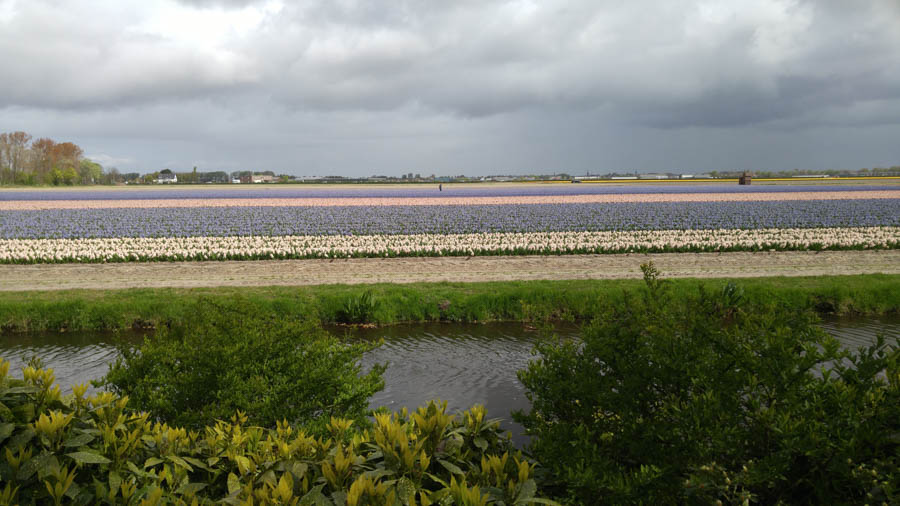 Heading back to town

...and it really works!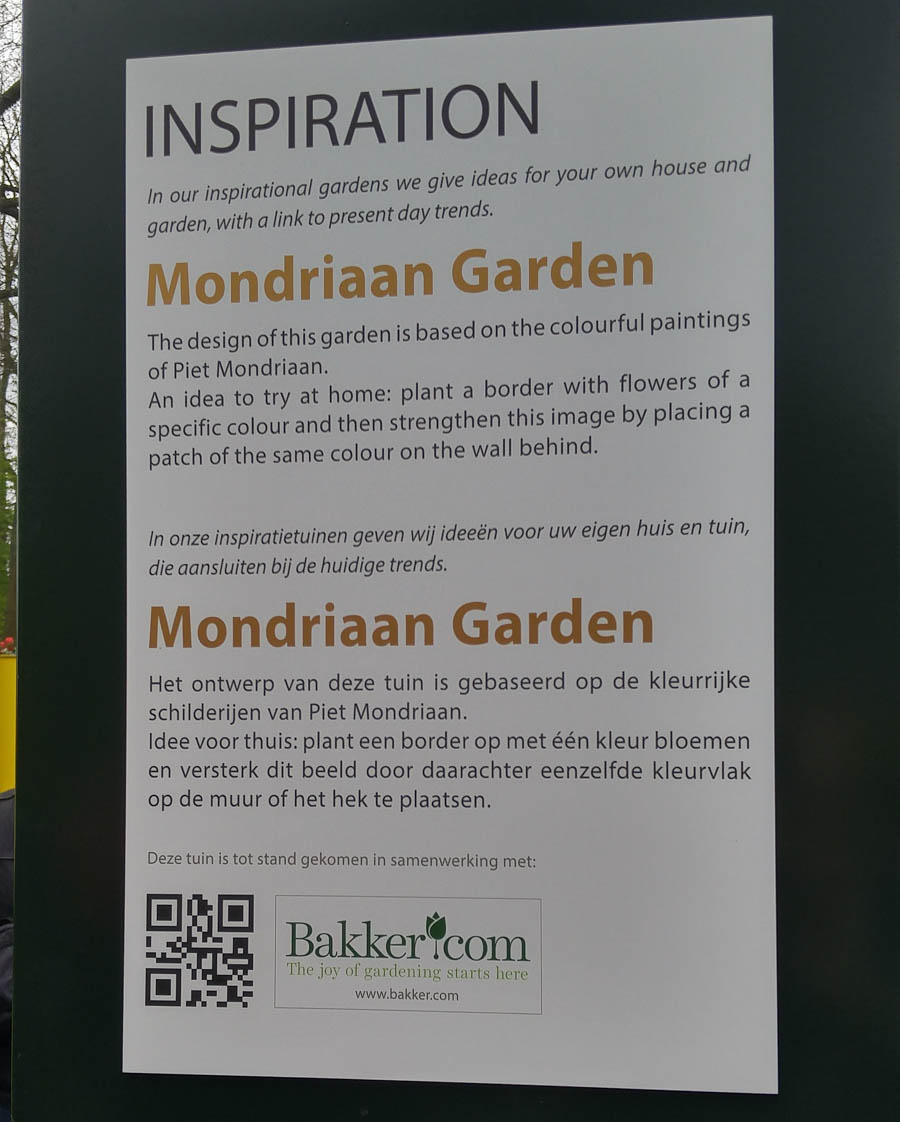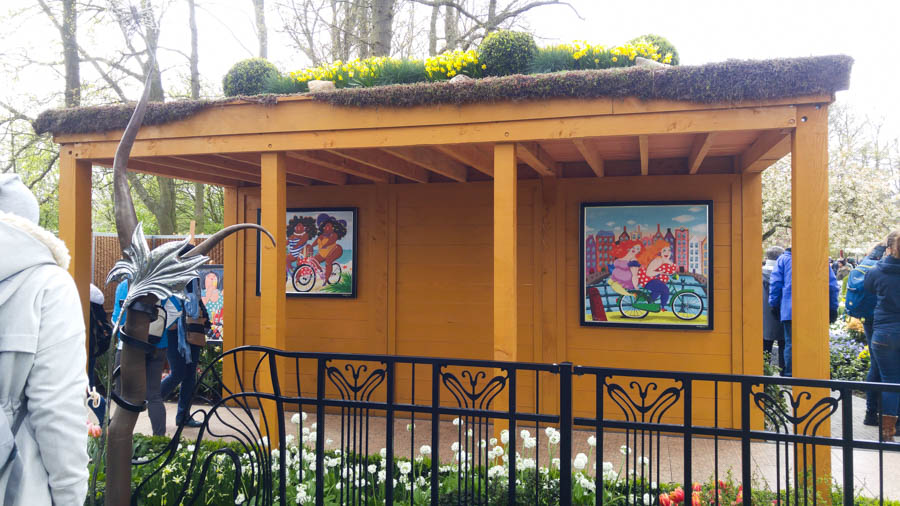 Do you have an inspiration?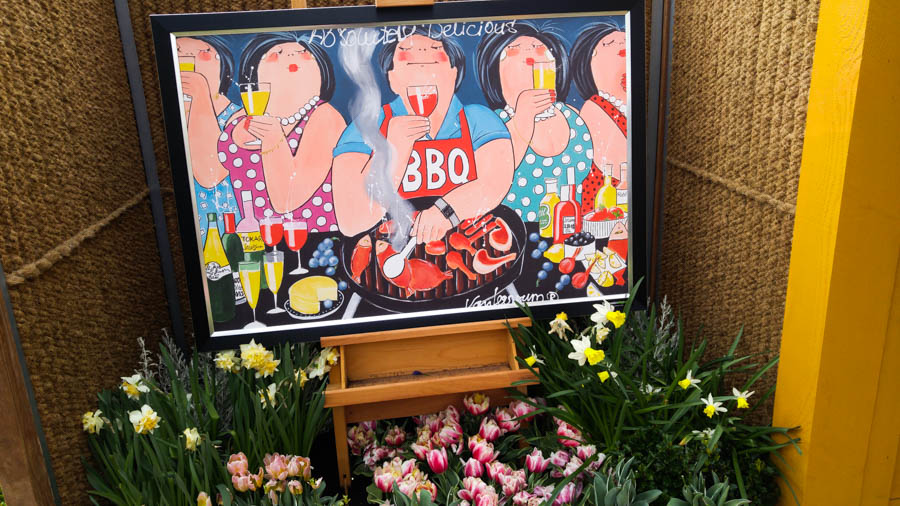 Bring out the hot dogs and hamburgers

Maybe we will ride back to town!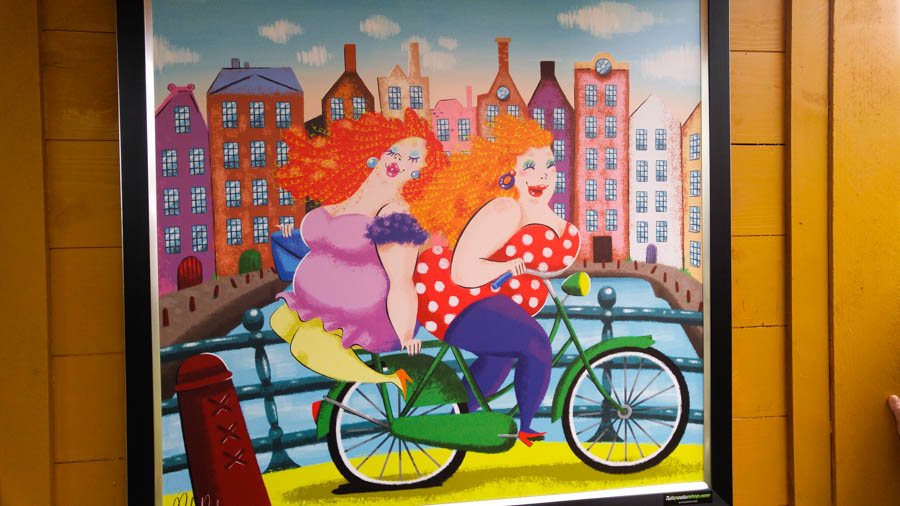 Go girls go!


We sit low and are always looking up!

Nice clean transportation

Passing by the smaller canals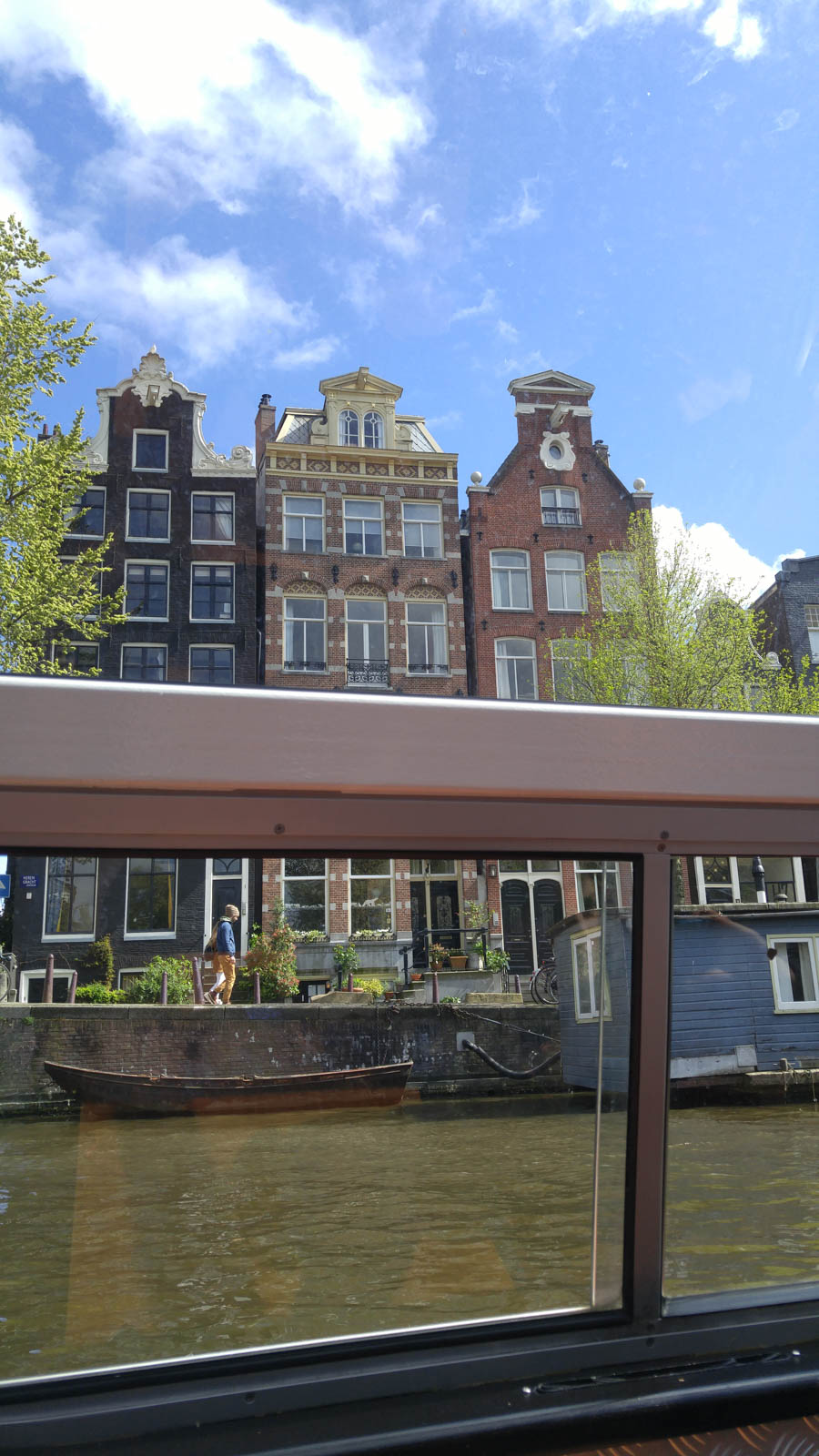 Great view of the city residential areas

We are quite close to the other canal boats

Water water everywhere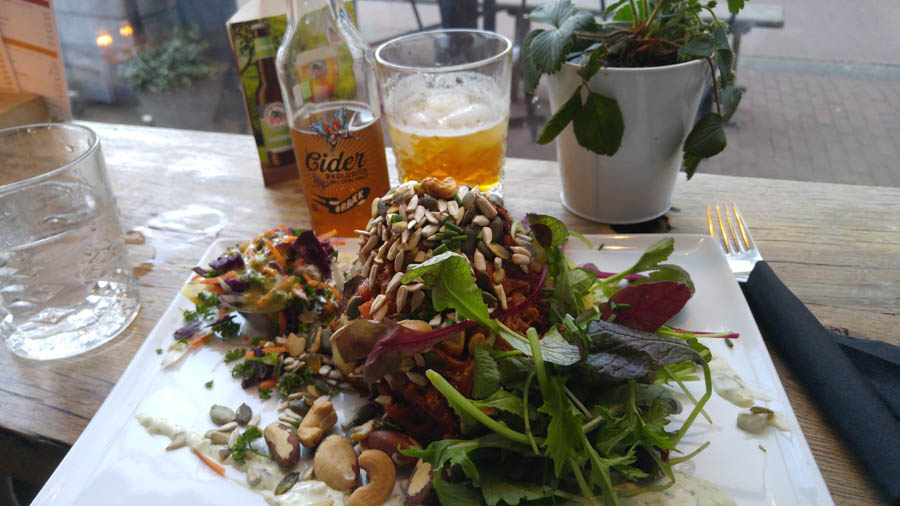 Dinner time!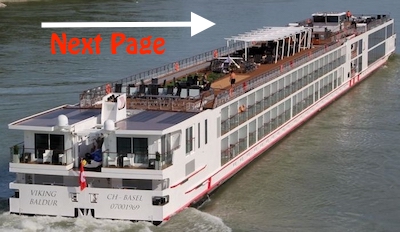 One last look at Amsterdam and
then we board the ship (Page Six)