Maesa Elephant Camp, Mae Rim, Chiang Mai And Time to Ride The Packaderm In Chaing Mai (Page Seven)
Time to visit the elephants and have a ride....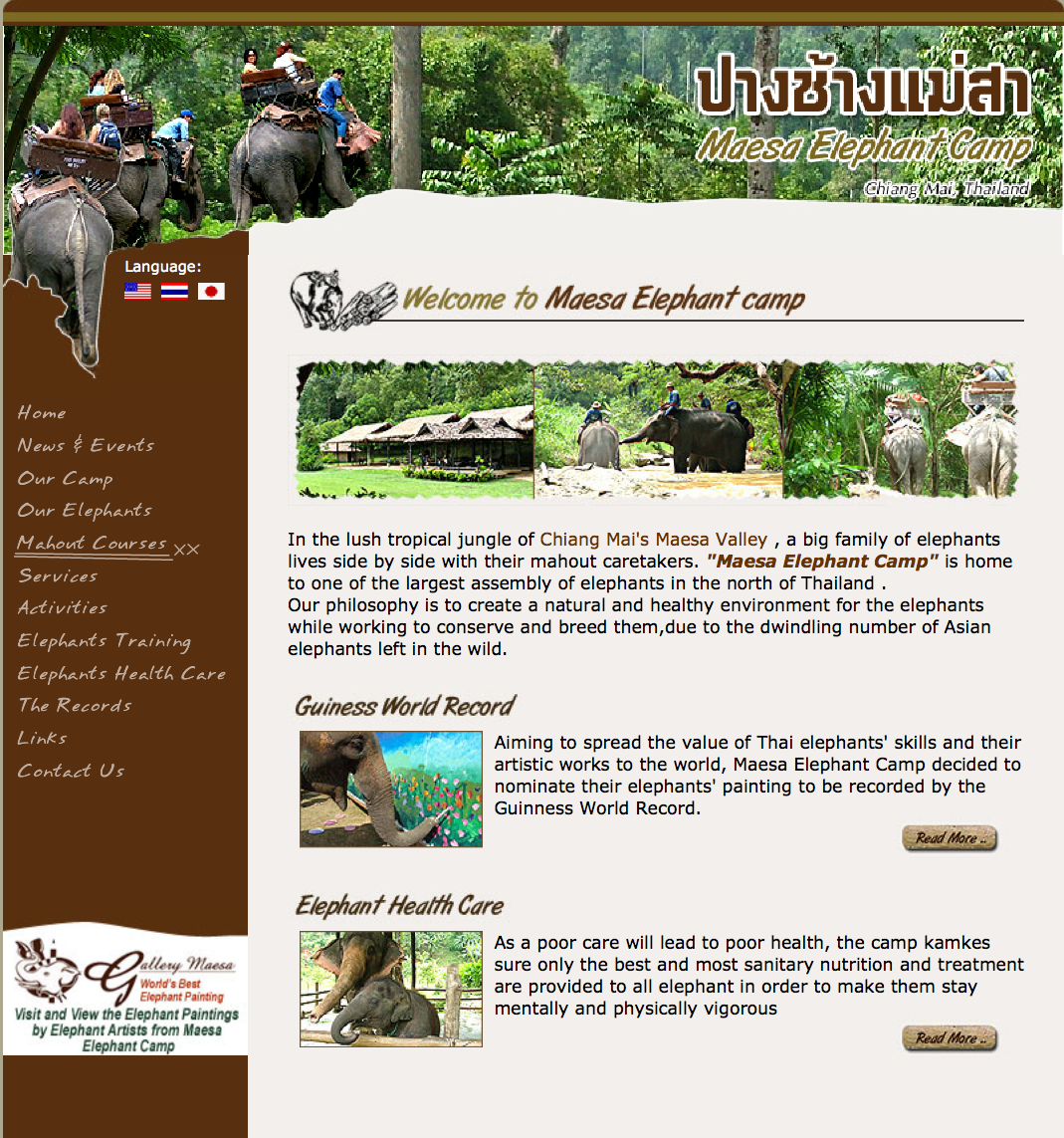 We are ready to go!

8 km and 12 minutes from the hotel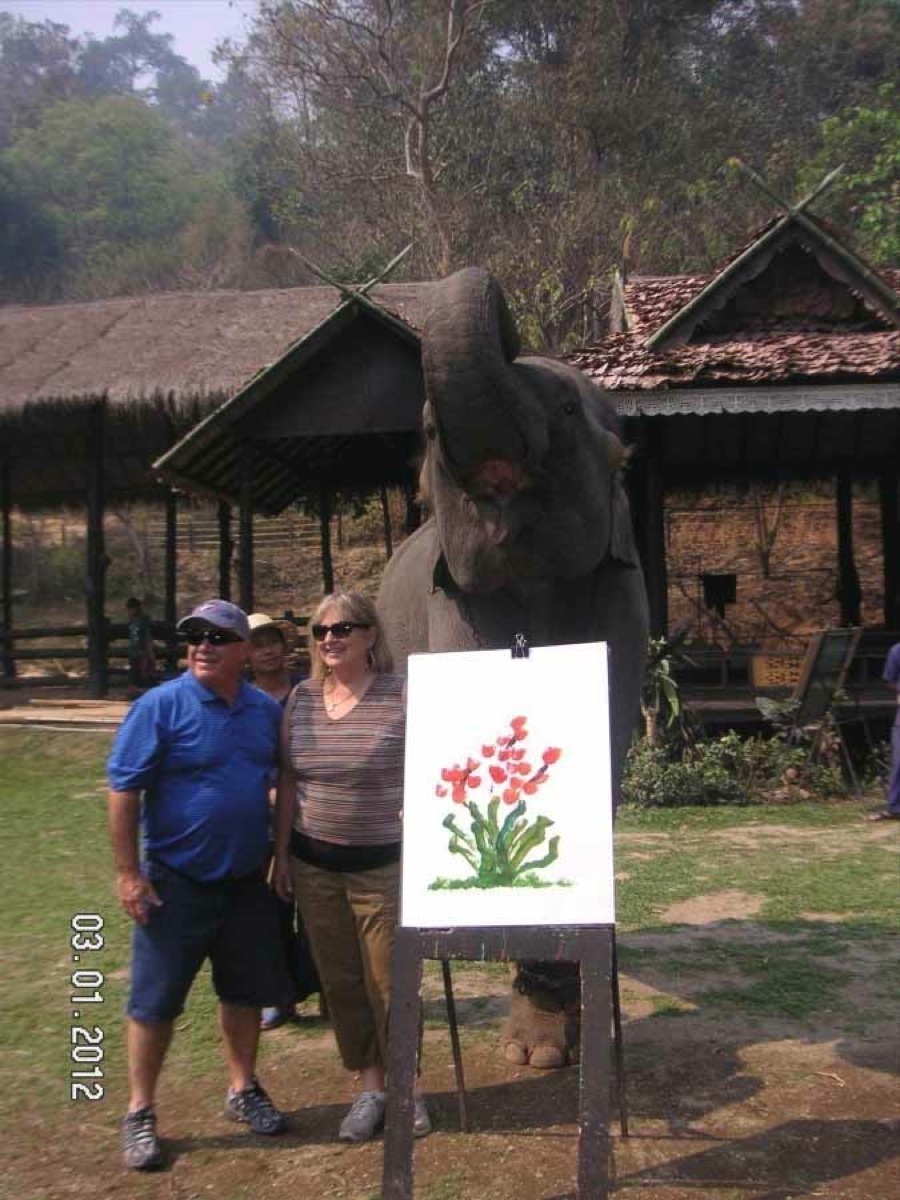 Shhhhhhh Artist at work

Needs a hair cut me thinks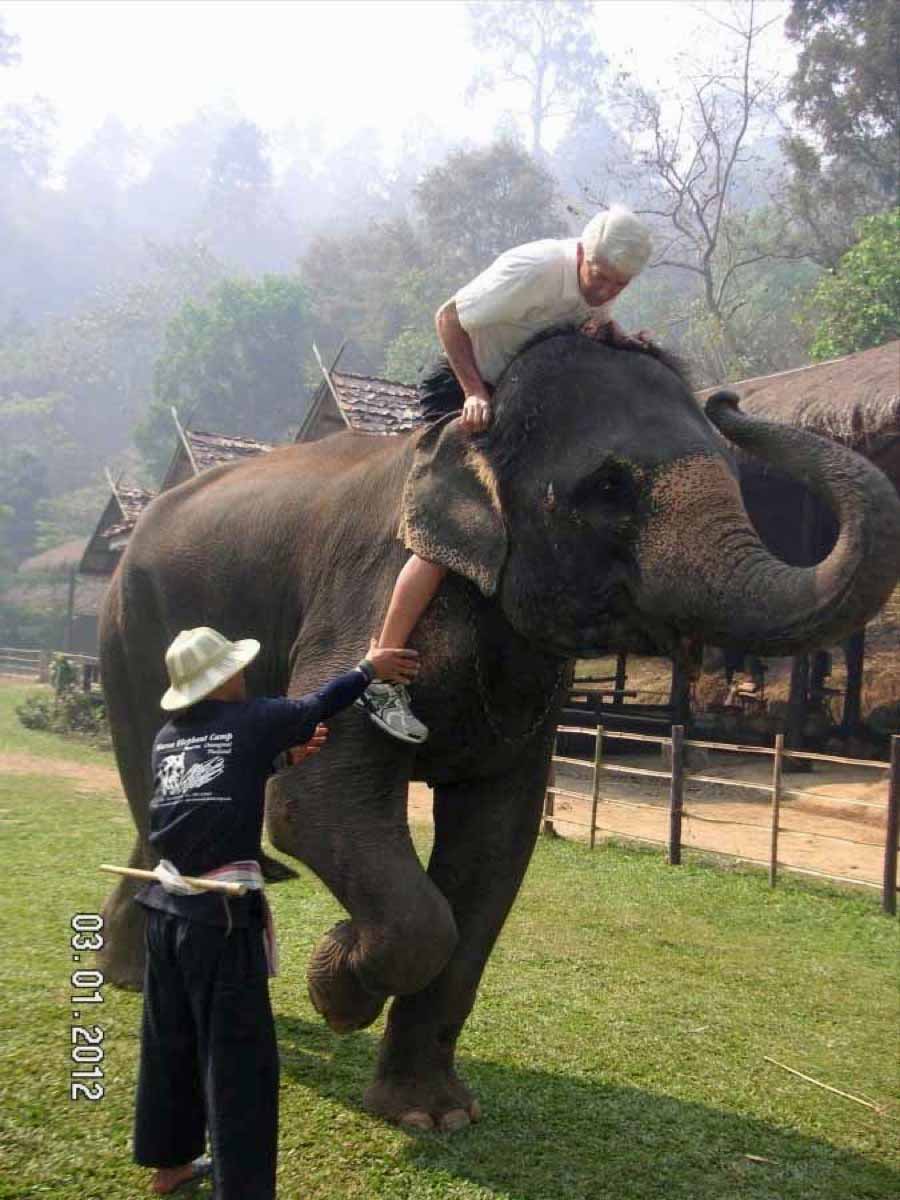 See, it is easy
Nice legs big boy... The elephnant also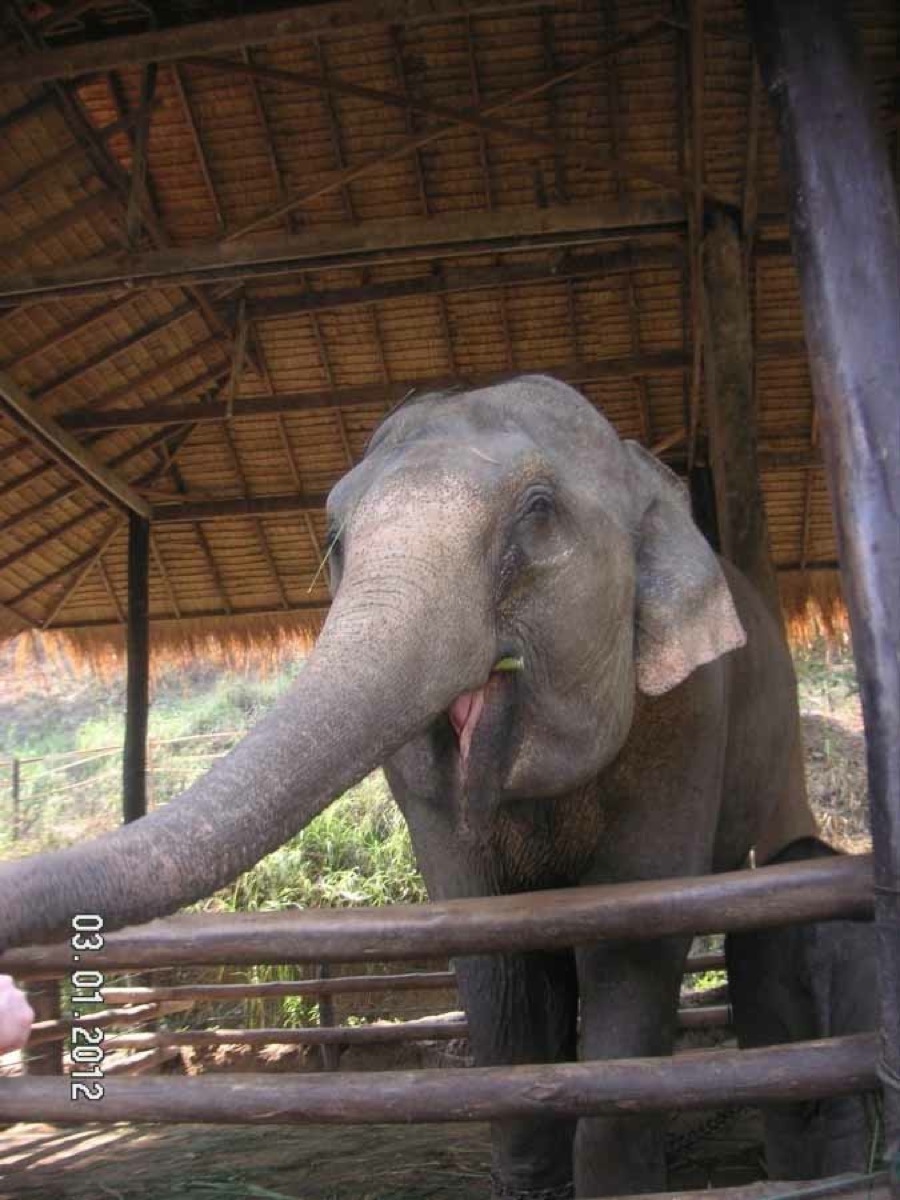 Nummy nummy.... Good grub here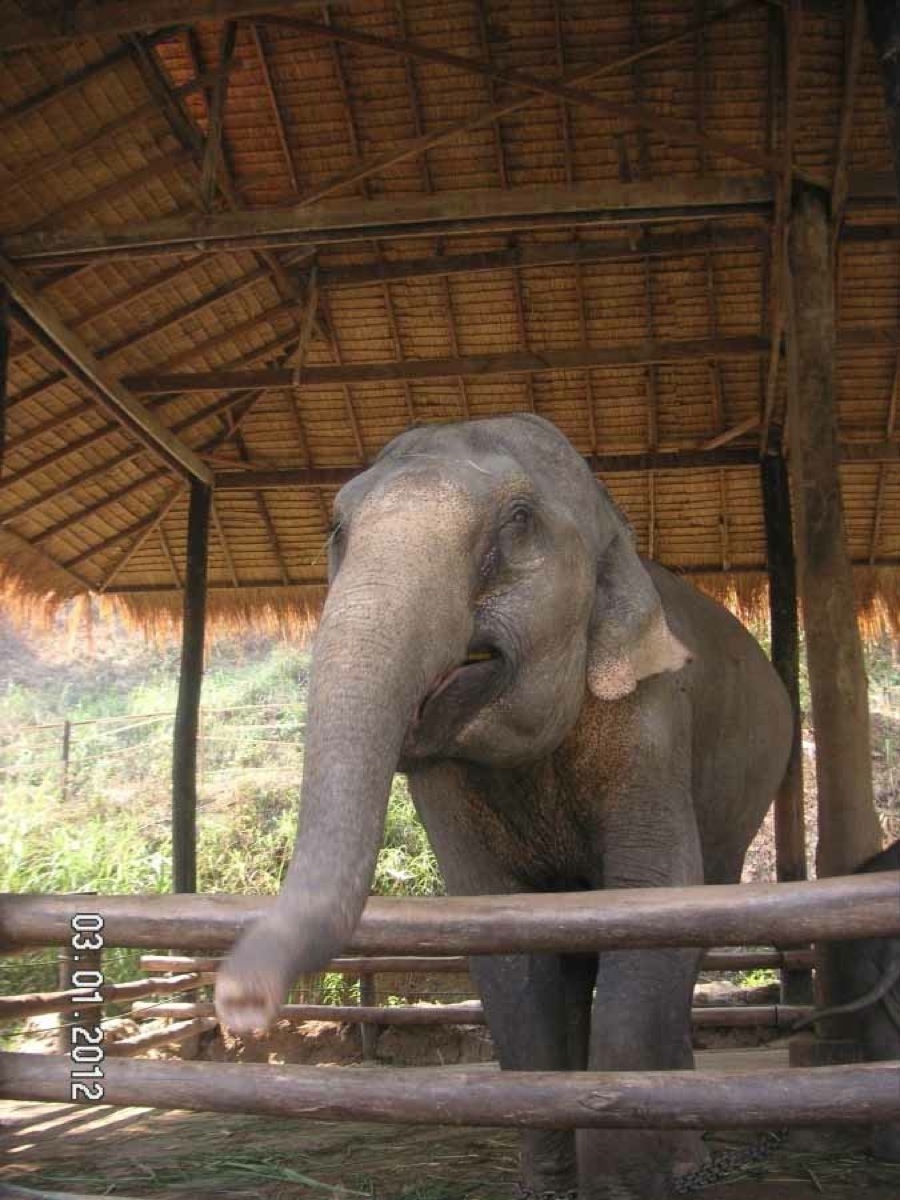 Peanuts anyone???

Ah Bunny... That's NOT an elephant!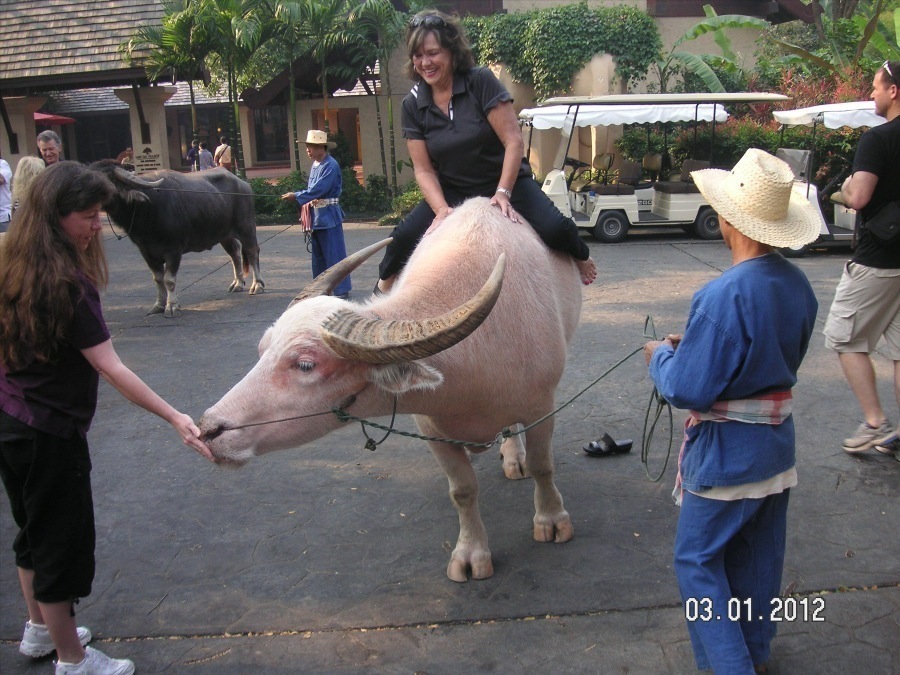 Only Bunny could find a pink water buffalo
Did You Know? - The water buffalo or domestic Asian water buffalo (Bubalus bubalis) is a large bovine animal, frequently used as livestock in the Indian Subcontinent , and also widely in South America , southern Europe , the Middle East , northern Africa , and elsewhere.
In 2000, the United Nations Food and Agriculture Organization estimated there were approximately 158 million water buffalo in the world, with 97% of them (approximately 153 million animals) in Asia. [1] There are established feral populations in northern Australia, but the dwindling true wild populations are thought to survive in India , Bangladesh , Nepal , Bhutan , and Thailand . All the domestic varieties and breeds descend from one common ancestor, the wild water buffalo , which is now an endangered species . [2] The domestic water buffalo, although derived from the wild water buffalo, is the product of thousands of years of selective breeding in either the Indian Subcontinent or Southeast Asia . [3]
Buffalo are used as draft , meat , and dairy animals. Their dung is used as a fertilizer , and as a fuel when dried. In the Chonburi of Thailand , Pakistan, and the southwestern region of Karnataka , India , there are annual water buffalo races known as kambala . A few have also found use as pack animals , carrying loads even for special forces.[

His and hers...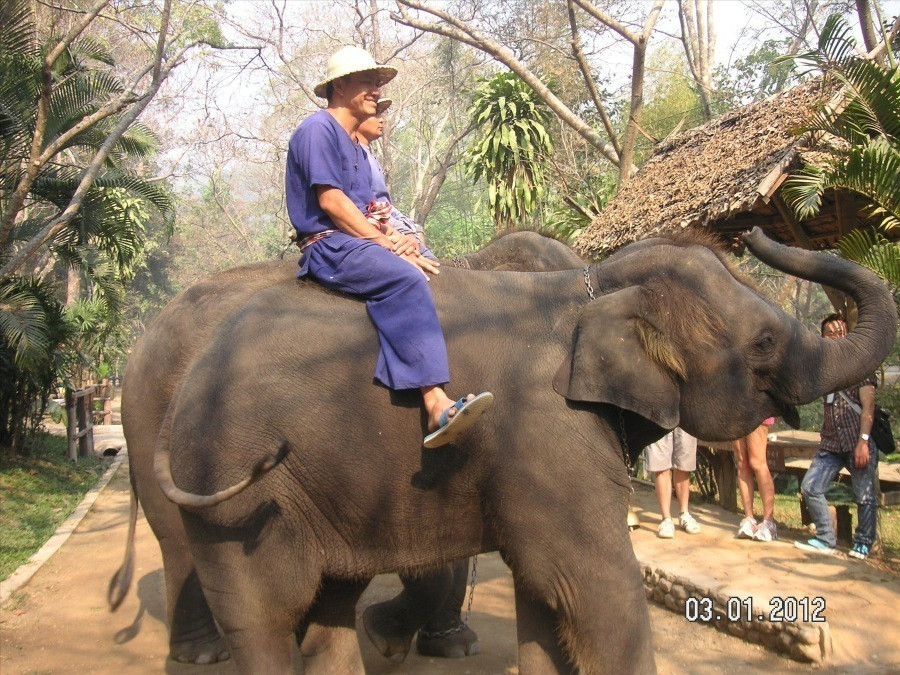 The view is great up here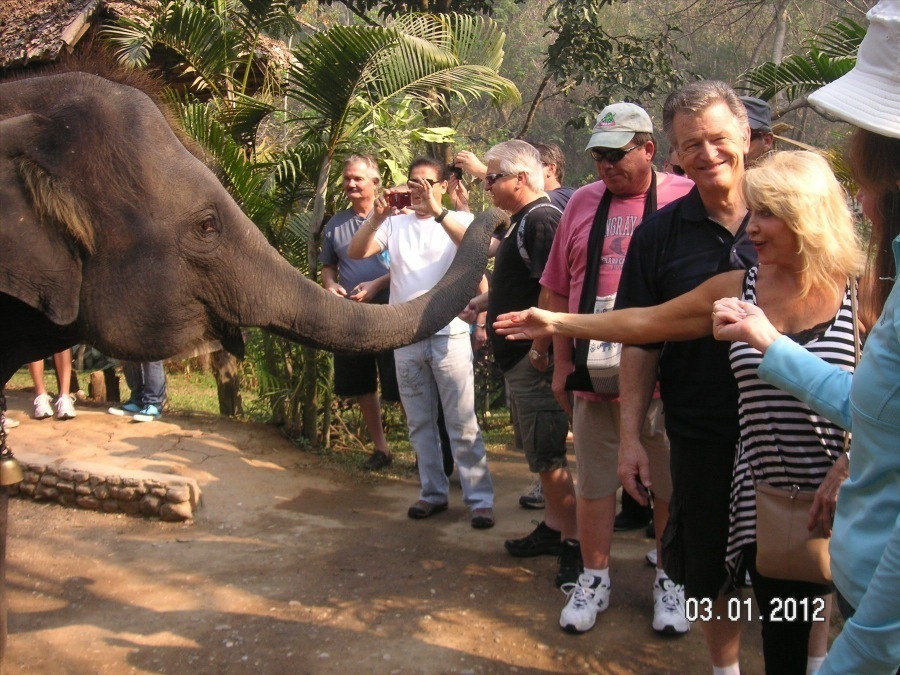 Shaking .... ah, hands and noses??
Did You Know? - The Asian or Asiatic elephant (Elephas maximus) is the only living species of the genus Elephas and is distributed in Southeast Asia from India in the west to Borneo in the east. Three subspecies are recognized — Elephas maximus maximus from Sri Lanka , the Indian elephant or E. m. indicus from mainland Asia, and E. m. sumatranus from the island of Sumatra . Asian elephants are the largest living land animals in Asia .
Since 1986, Elephas maximus has been listed as endangered by IUCN as the population has declined by at least 50% over the last three generations, estimated to be 60–75 years. The species is pre-eminently threatened by habitat loss, degradation and fragmentation. In 2003, the wild population was estimated at between 41,410 and 52,345 individuals.
Asian elephants are rather long-lived, with a maximum recorded life span of 86 years.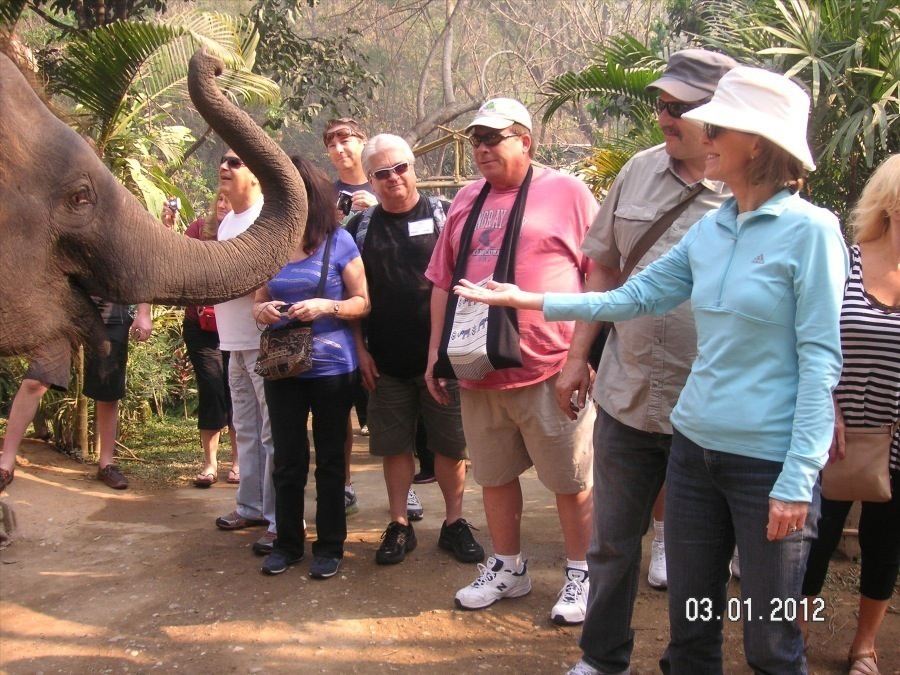 "High Five.... Or is it High One??"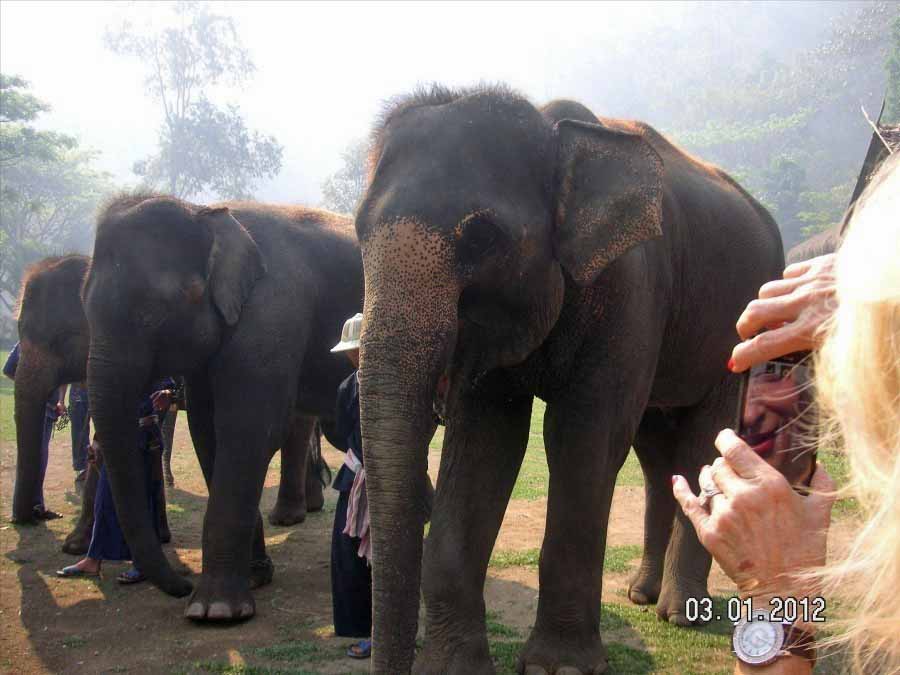 "Hurry up lady and take the shot!"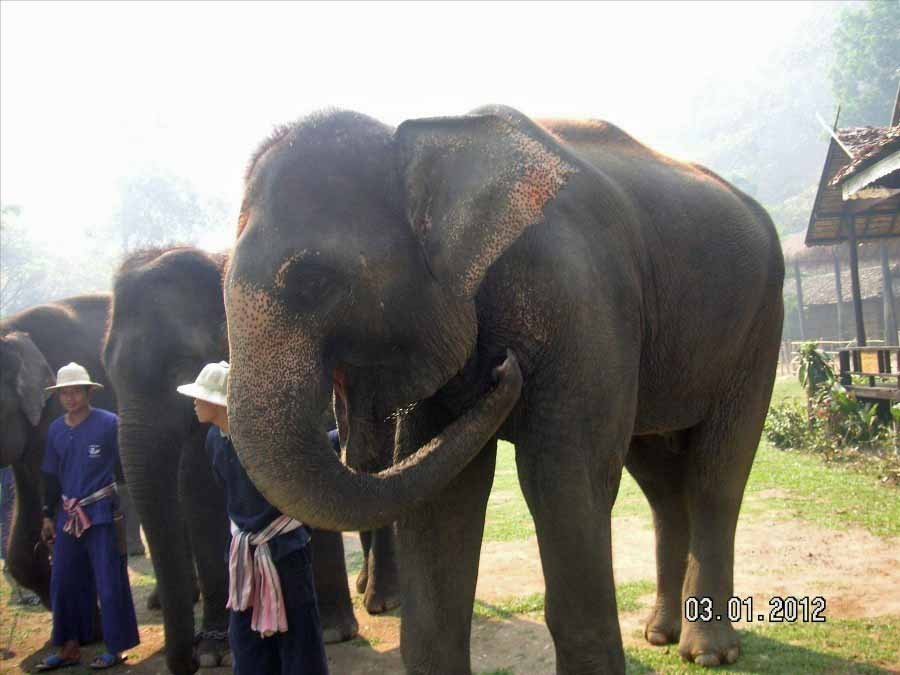 "I have an itch!"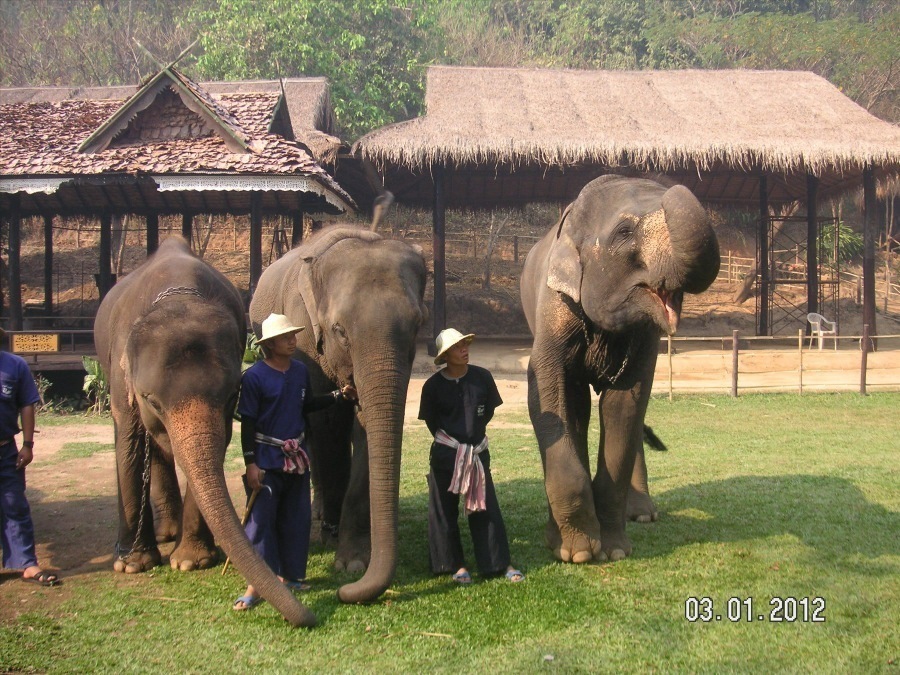 "OK.... I get to make the selection of my first victum!"

"He he he... This will be fun, right lady???"

Where are the handles??
Did You Know? - In general, Asian elephants are smaller than African elephants and have the highest body point on the head. Their back is convex or level. Their ears are small with dorsal borders folded laterally. They have up to 20 pairs of ribs and 34 caudal vertebrae . Their feet have more nail-like structures than the ones of African elephants — five on each forefoot, and four on each hind foot.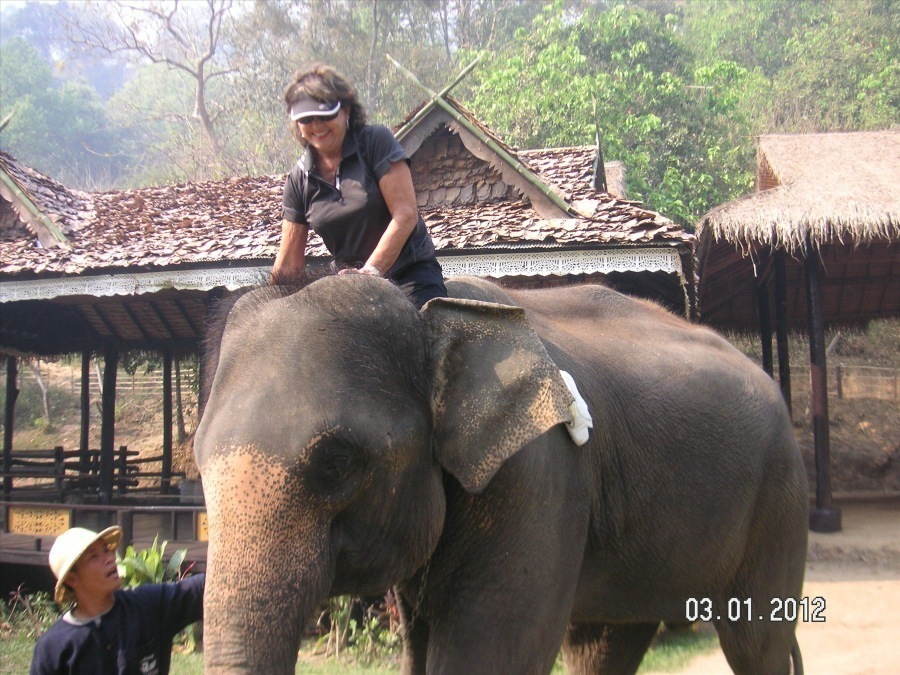 "OK, who took the steering wheel???"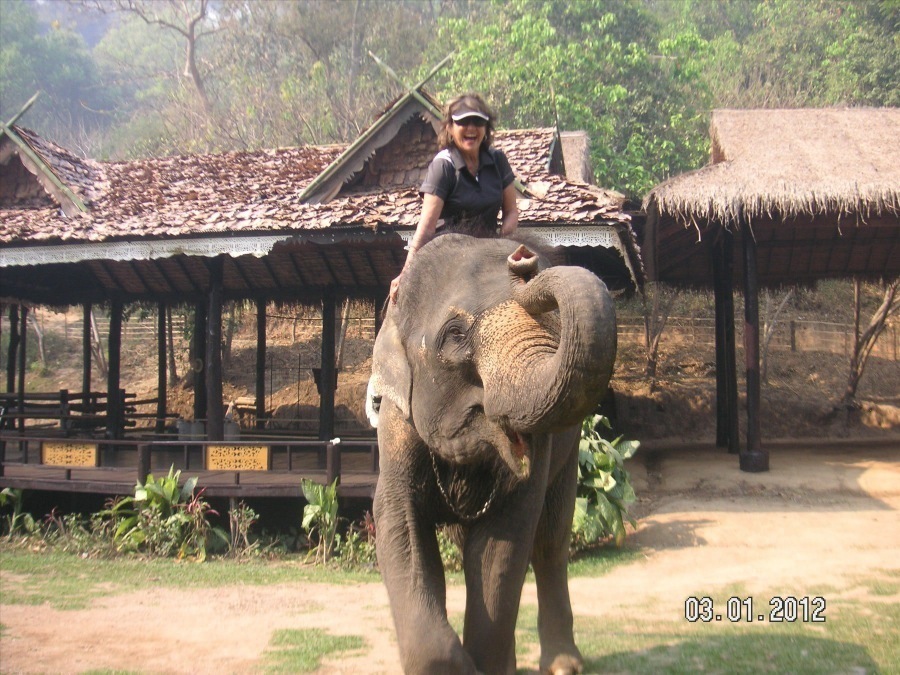 "Dang... I need one of these at Old Ranch!"
Did You Know? - Bull Asian elephants commonly weigh from 4,500 to 5,400 kg (9,900 to 12,000 lb) and are often around 2.7 m (8.9 ft) high at the shoulder. Females typically weigh around 2,000 to 4,000 kg (4,400 to 8,800 lb) and reach an average of 2.4 m (7.9 ft) at the shoulder. Head-and-body length is from 5.5 to 6.4 m (18 to 21 ft), with the tail measuring 1–1.5 m (3.3–4.9 ft) long. The skeleton constitutes about 15% of their body weight. One extraordinarily large bull elephant living in captivity at the Oregon Zoo , Packy , weighed 14,500 pounds (6,590 kg) in 2008.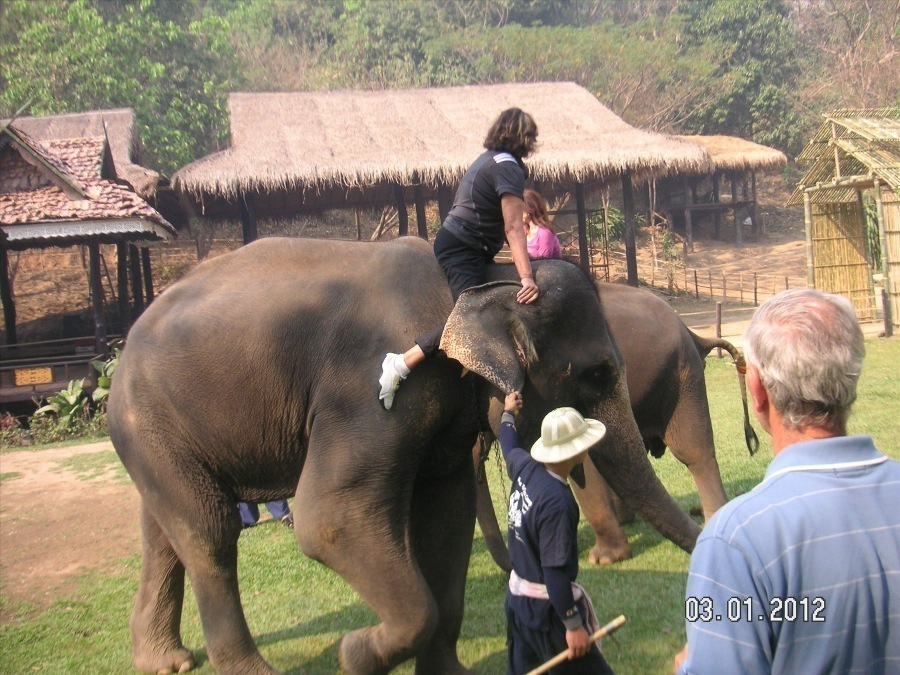 "What, no saddle??"

"Hey Lady... Easy on the ears!"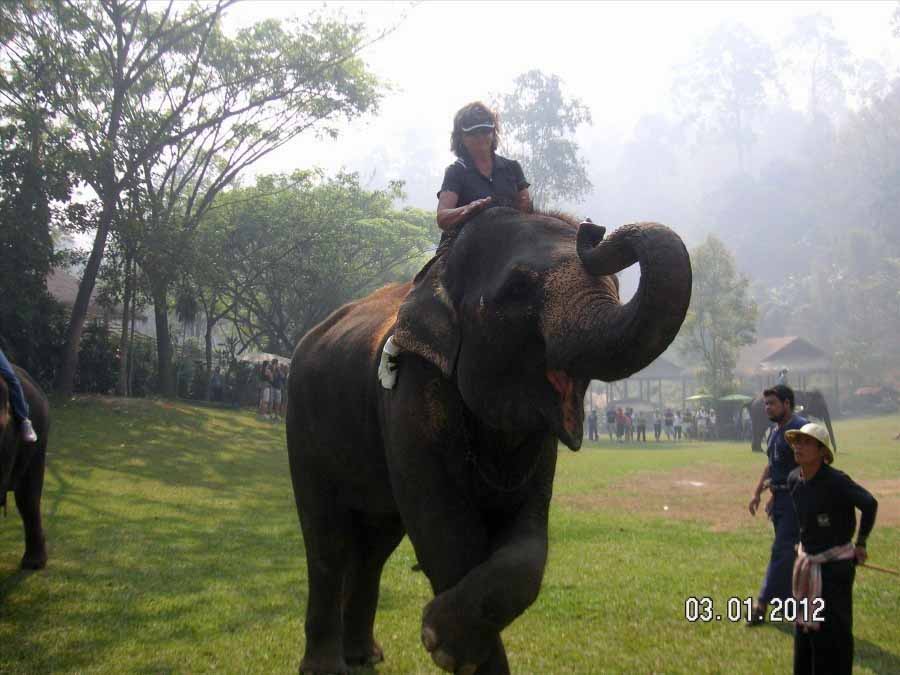 "OK... take me to the wine!"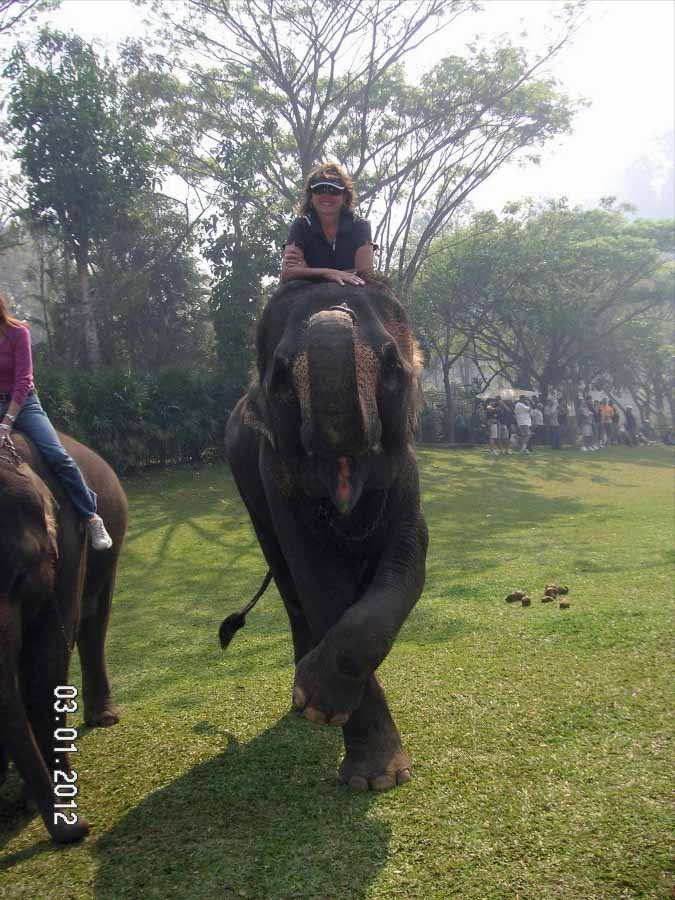 Perhaps a little dance???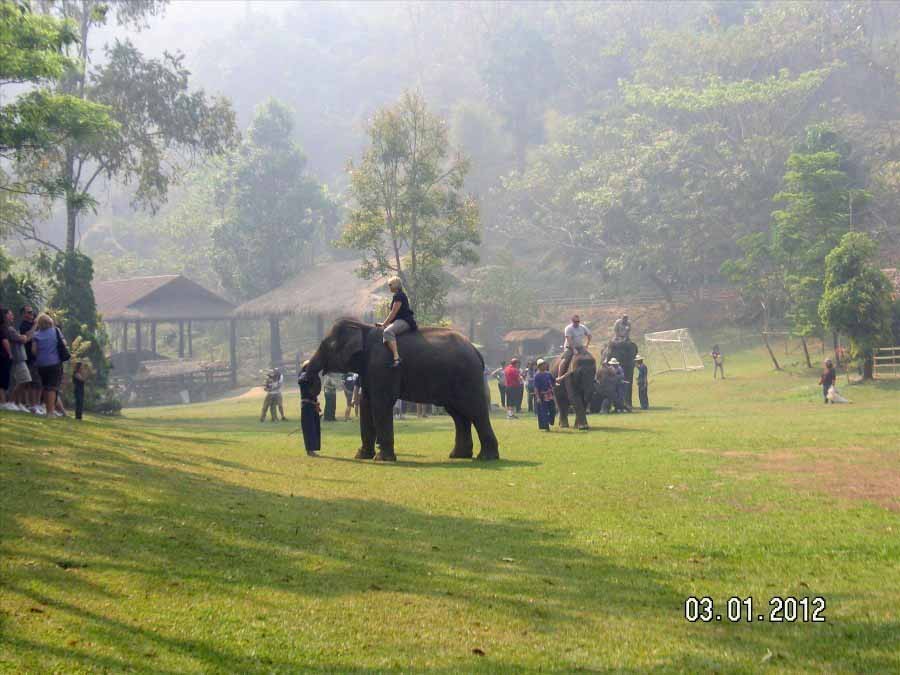 Everybody gets a turn

Bottoms up!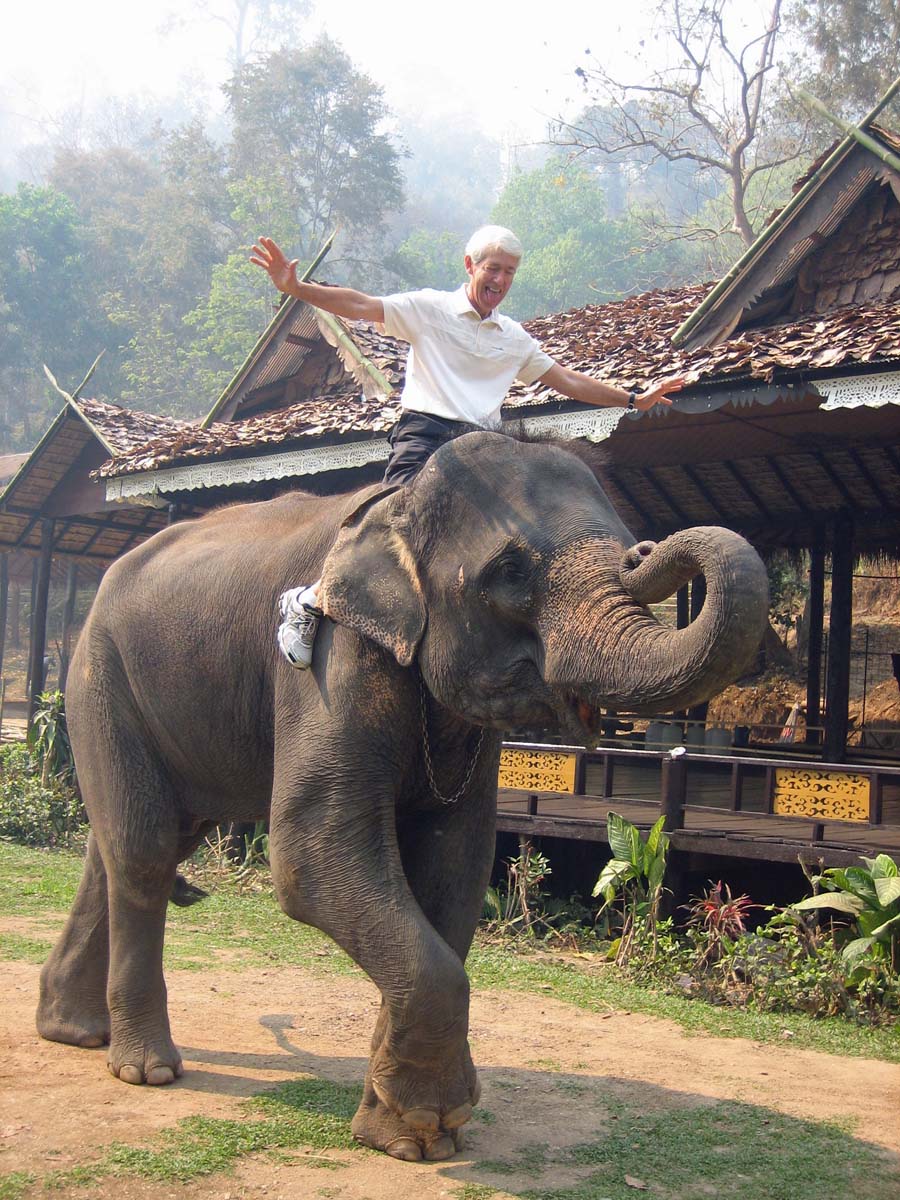 "I am flying!"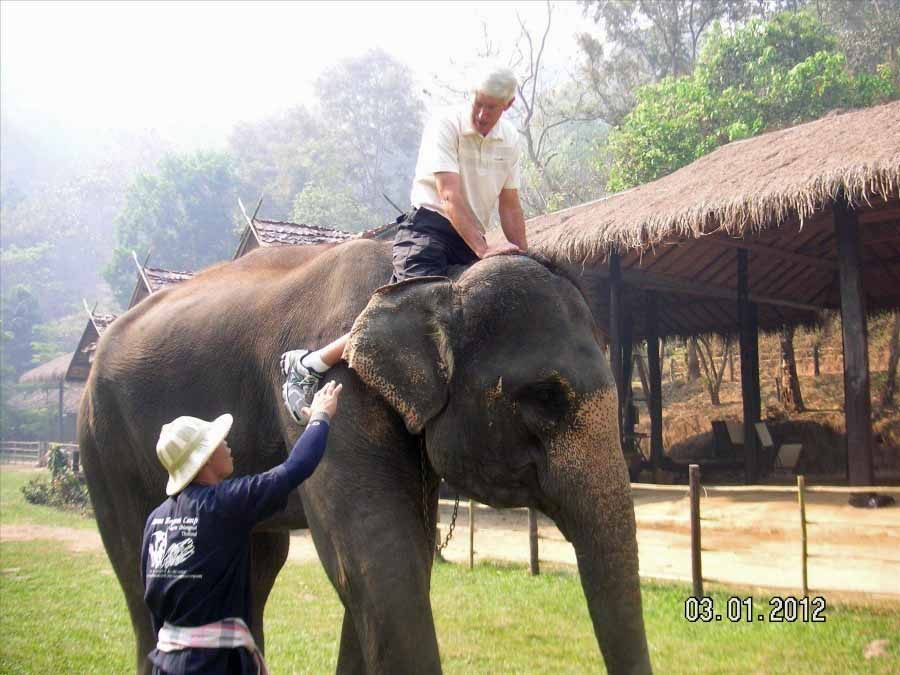 "This is embarassing.... How come I get the tall guy and not the good looking Bunny??"
Did You Know? - The distinctive trunk is an elongation of nose and upper lip combined; the nostrils are at its tip, which has a one finger-like process. The trunk contains as many as 60,000 muscles, which consist of longitudinal and radiating sets. The longitudinals are mostly superficial and subdivided into anterior, lateral and posterior. The deeper muscles are best seen as numerous distinct fasciculi in a cross section of the trunk. The trunk is a multi-purpose prehensile organ and highly sensitive, innervated by the maxillary division of the trigeminal nerve and by the facial nerve . The acute sense of smell uses both the trunk and Jacobson's organ . Elephants use their trunks for breathing, watering, feeding, touching, dusting, sound production and communication, washing, pinching, grasping, defense and offense.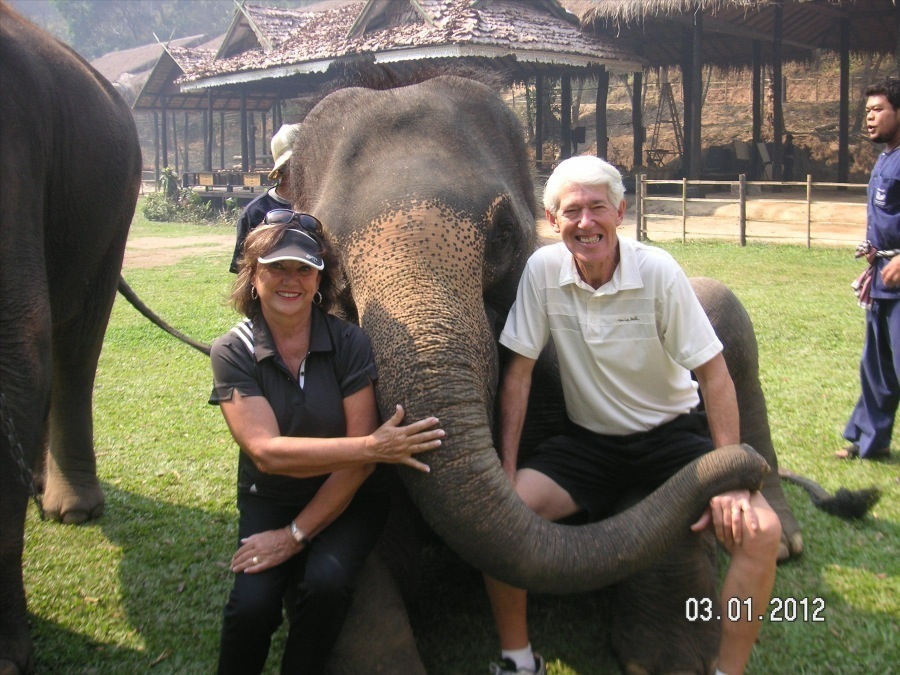 "We have a new friend! Wonder what the shipping costs are??"

All smiles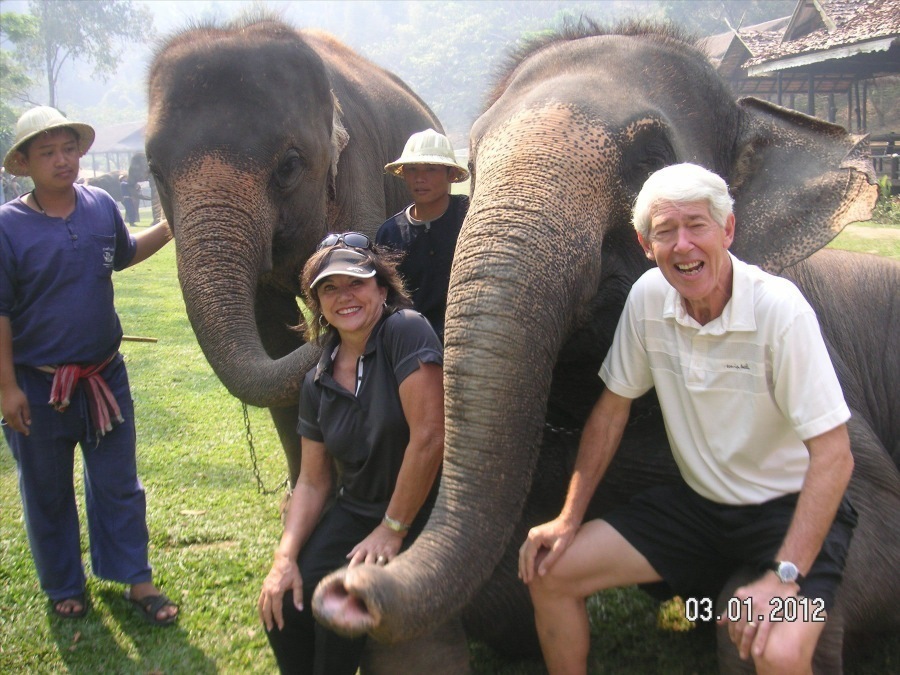 Only the nose knows!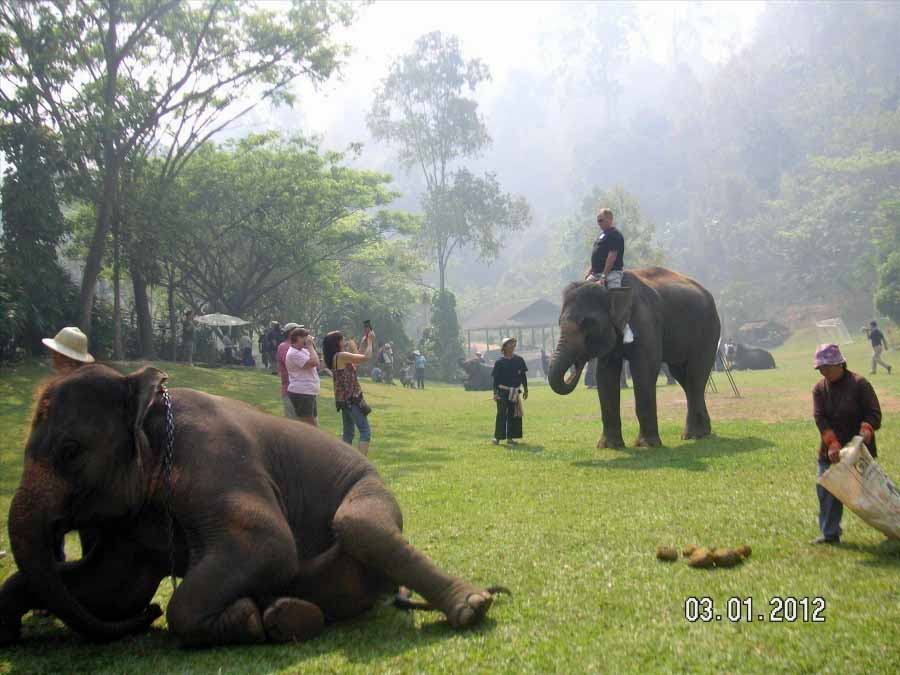 Oh oh.... Interesting job...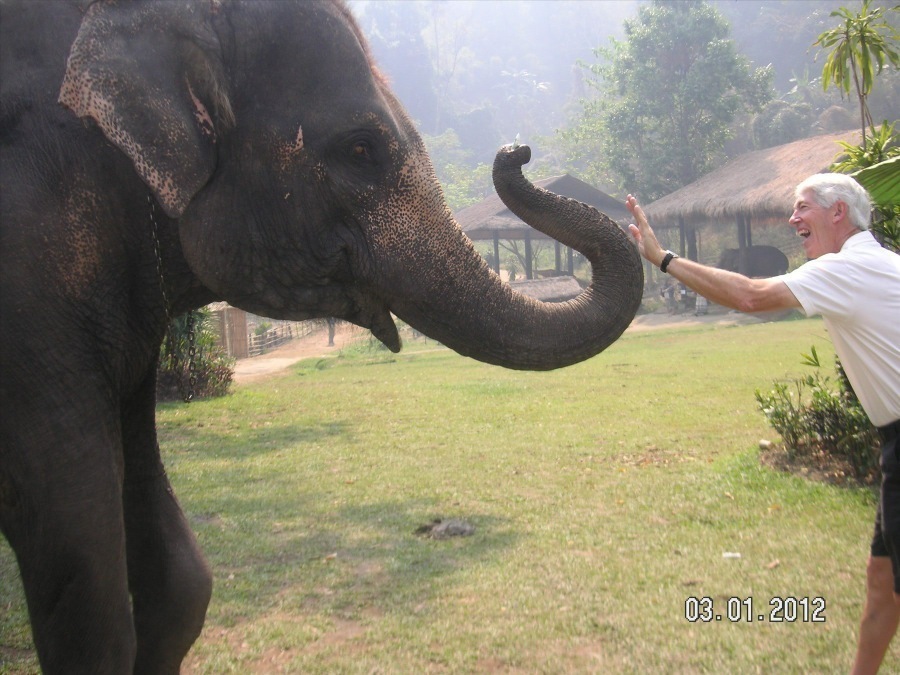 Tom is becoming a proboscusologist...
Did You Know? - The proboscis or trunk consists wholly of muscular and membranous tissue , and is a tapering muscular structure of nearly circular cross-section extending proximally from attachment at the anterior nasal orifice, and ending distally in a tip or finger. The length may vary from 1.5 to 2 m (59 to 79 in) or longer depending on the species and age. Four basic muscle masses—the radial, the longitudinal and two oblique layers—and the size and attachments points of the tendon masses allow the shortening, extension, bending, and twisting movements accounting for the ability to hold, and manipulate loads of up to 300 kg (660 lb). Muscular and tendinous ability combined with nervous control allows extraordinary strength and agility movements of the trunk, such as sucking and spraying of water or dust and directed air flow blowing.
The trunk can hold about four litres of water. Elephants will playfully wrestle with each other using their trunks, but generally use their trunks only for gesturing when fighting.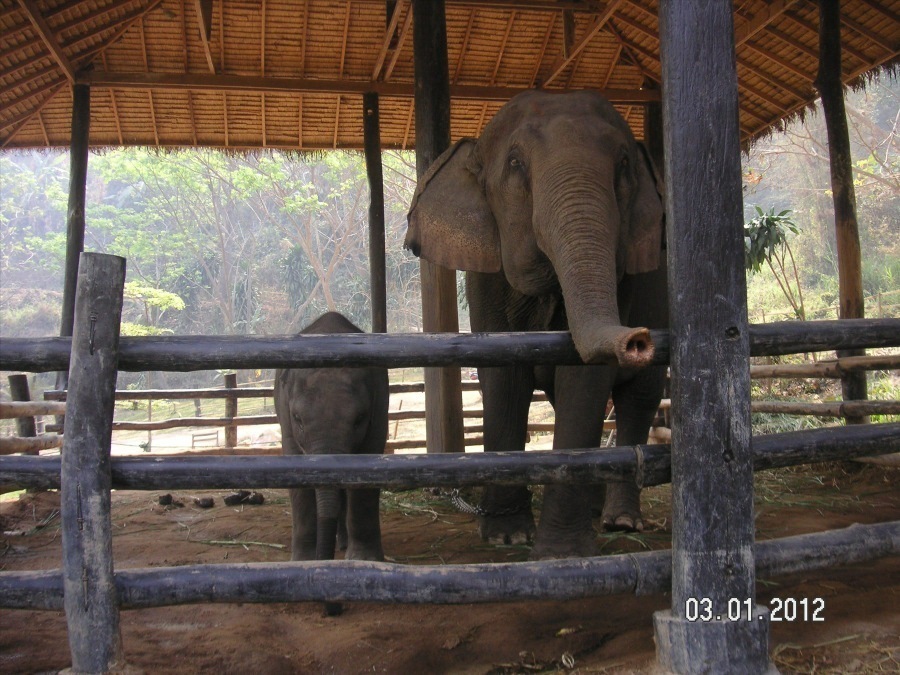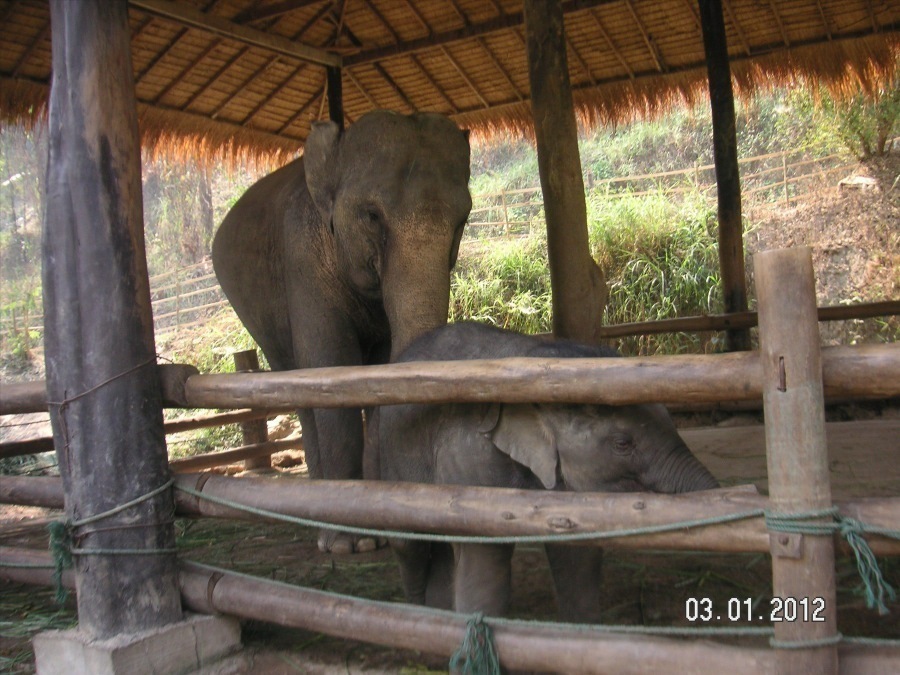 At the school house...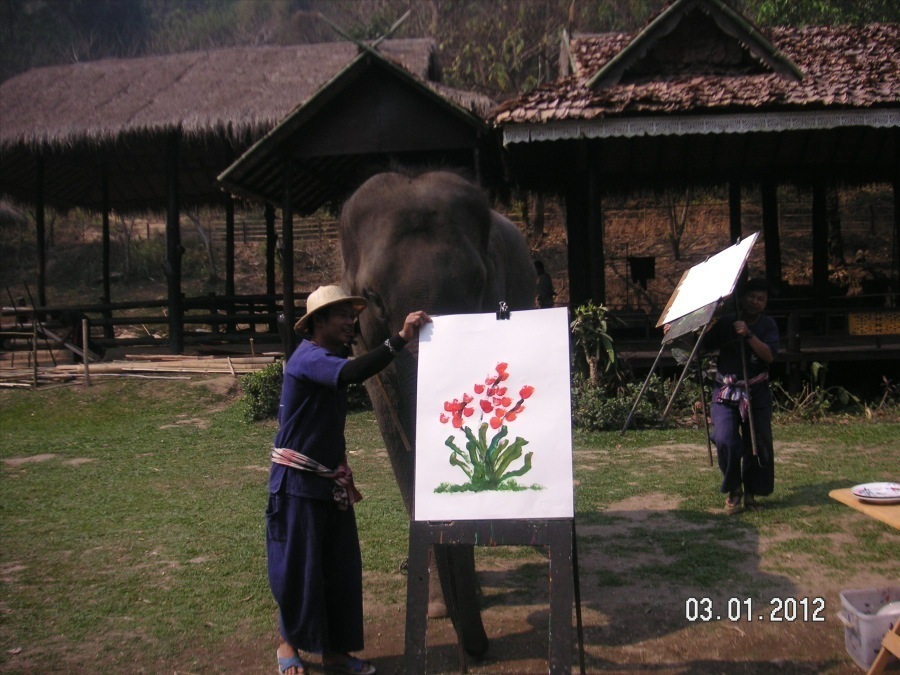 Vincent van Pakaderm just fishines some art work
It now hangs in Bunny's home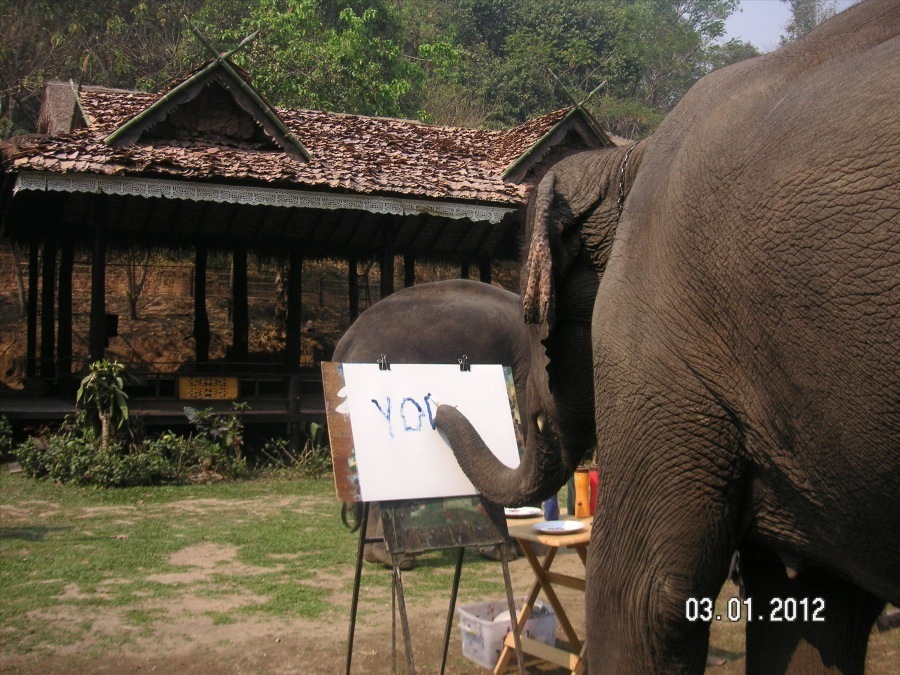 Wonder what he is going to spell??
Did You Know? - Female Asian elephants usually lack tusks ; if tusks — in that case called "tushes" — are present, they are barely visible, and only seen when they open the mouth. The enamel plates of the molars are greater in number and closer together in Asian elephants. Some males may also lack tusks; these individuals are called "filsy makhnas", and are especially common among the Sri Lankan elephant population. Furthermore, the forehead has two hemispherical bulges, unlike the flat front of the African elephant. Unlike African elephants which rarely use their forefeet for anything other than digging or scraping soil, Asian elephants are more agile at using their feet in conjunction with the trunk for manipulating objects. They can sometimes be known for their violent behavior.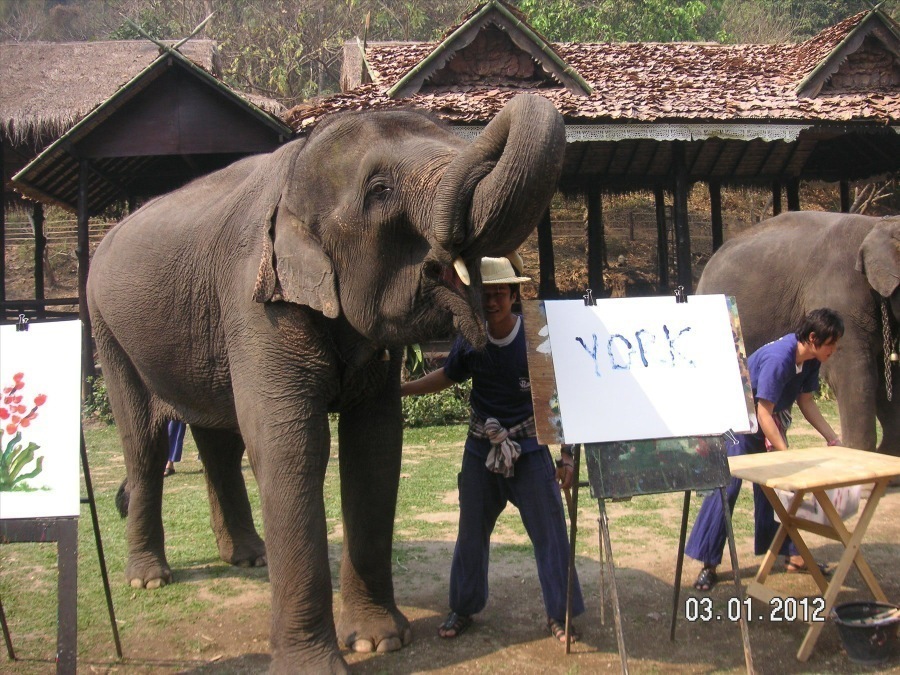 YORK? M-m-m-m-m Maybe she wants a big apple??

"Comeone over here"

Bunny feeds the nice little lady
Did You Know? - The first historical record of the domestication of Asian elephants was in Harappan times. [33] Ultimately the elephant went on to become a siege engine, a mount in war, a status symbol, a work animal, and an elevated platform for hunting during historical times in South Asia .
Elephants have been captured from the wild and tamed for use by humans. Their ability to work under instruction makes them particularly useful for carrying heavy objects. They have been used particularly for timber-carrying in jungle areas. Other than their work use, they have been used in war, in ceremonies, and for carriage. They have been used for their ability to travel over difficult terrain by hunters, for whom they served as mobile hunting platforms. The same purpose is met in safaris in modern times.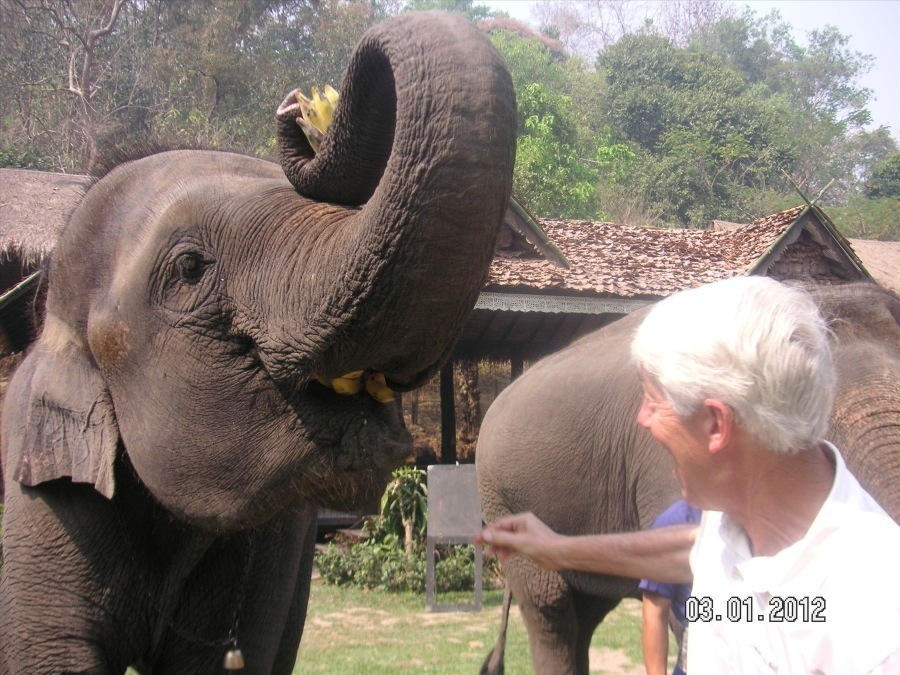 Careful Tom... She thinks you might be a nice snack

Bamboo? I'd like an Old Ranch Cheeseburger with fries!!
Did You Know? - At most seasons of the year Asian elephants are timid and much more ready to flee from a foe than to make an attack. However, solitary rogues are frequently an exception to this rule, and sometimes make unprovoked attacks on passers-by. Rogue elephants sometimes take up a position near a road making it impassable to travellers. Females with calves are at all times dangerous to approach. When an Asian elephant makes a charge, it tightly curls up its trunk and attacks by trampling its victim with feet or knees, or, if a male, by pinning it to the ground with its tusks.
During musth bulls are highly dangerous, not only to human beings but also to its fellow animals. At the first indications, trained elephants are secured tightly to prevent any mishaps. A grander animated object than a wild elephant in full charge can hardly be imagined.
The cocked ears and broad forehead present an immense frontage; the head is held high, with the trunk curled between the tusks, to be uncoiled in the moment of attack; the massive fore-legs come down with the force and regularity of ponderous machinery; and the whole figure is rapidly foreshortened, and appears to double in size with each advancing stride. The trunk being curled and unable to emit any sound, the attack is made in silence, after the usual premonitory shriek, which adds to its impressiveness.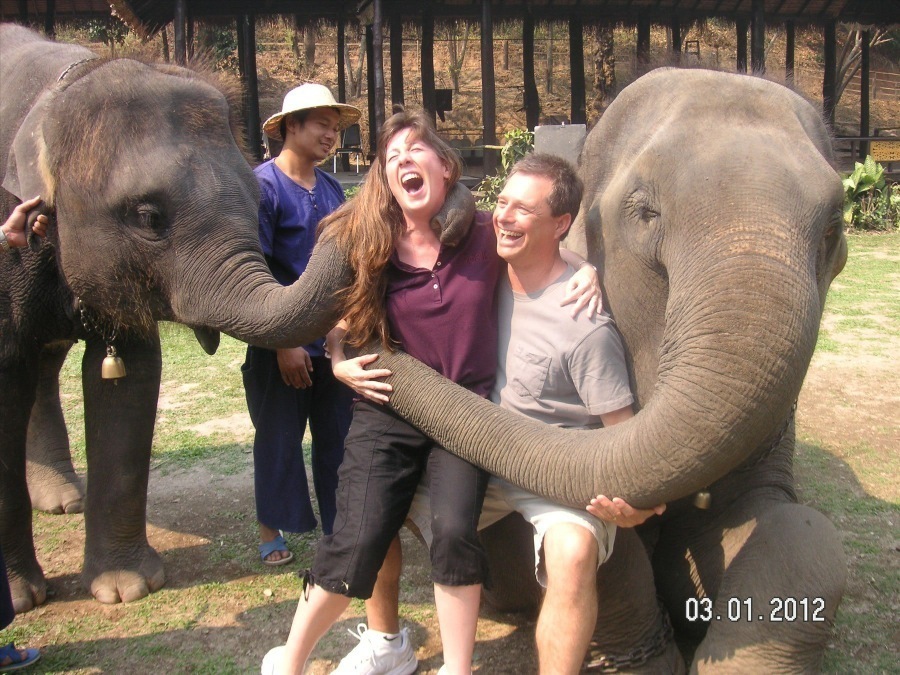 Gootchie gootchie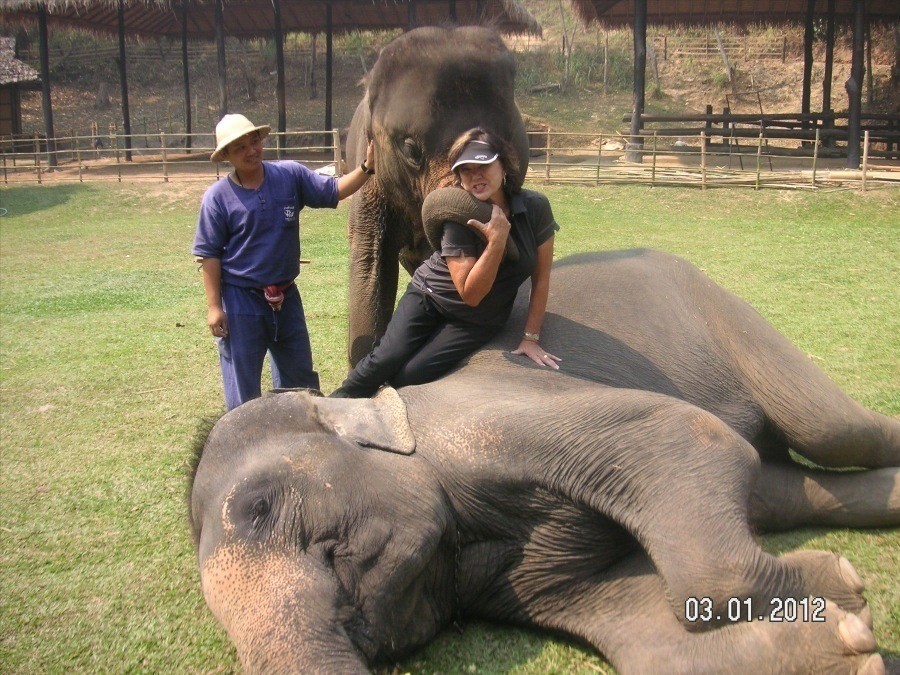 "I would be in trouble if Sophie could see me now!"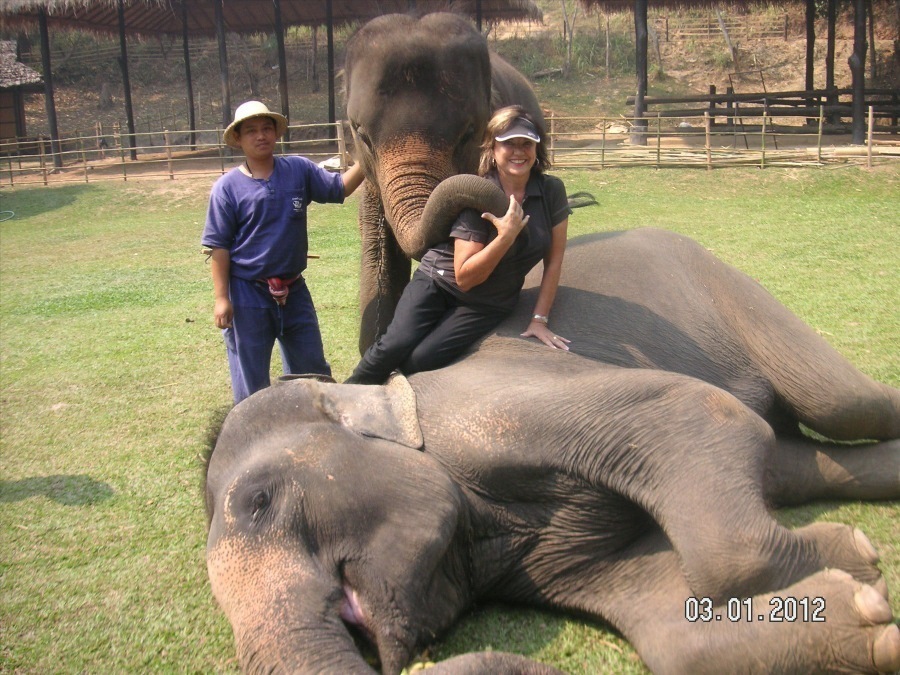 "Dang.... Maybe it is time for a nap"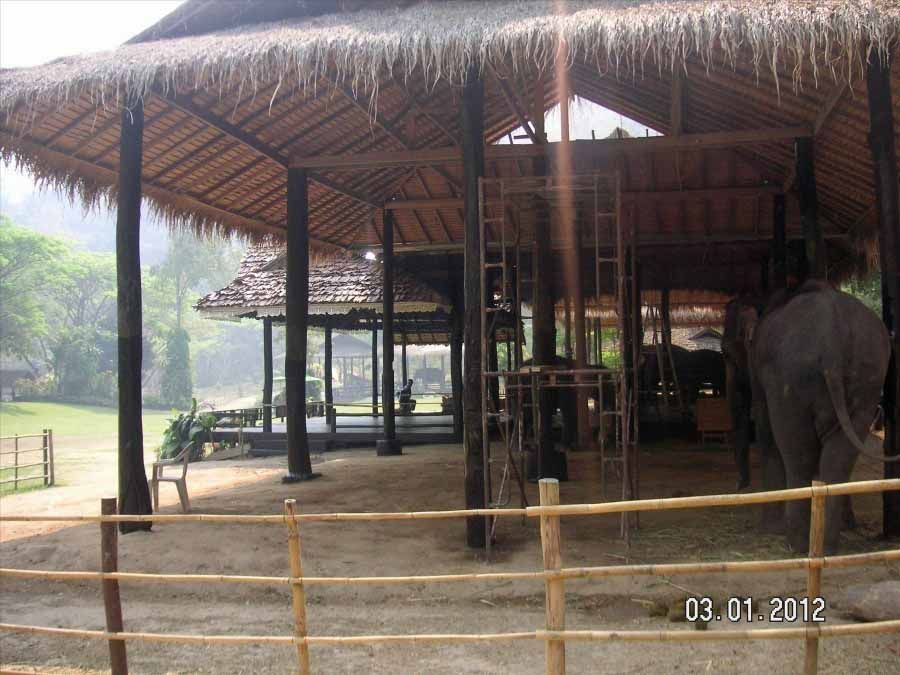 A Little Rest Before The Adventutre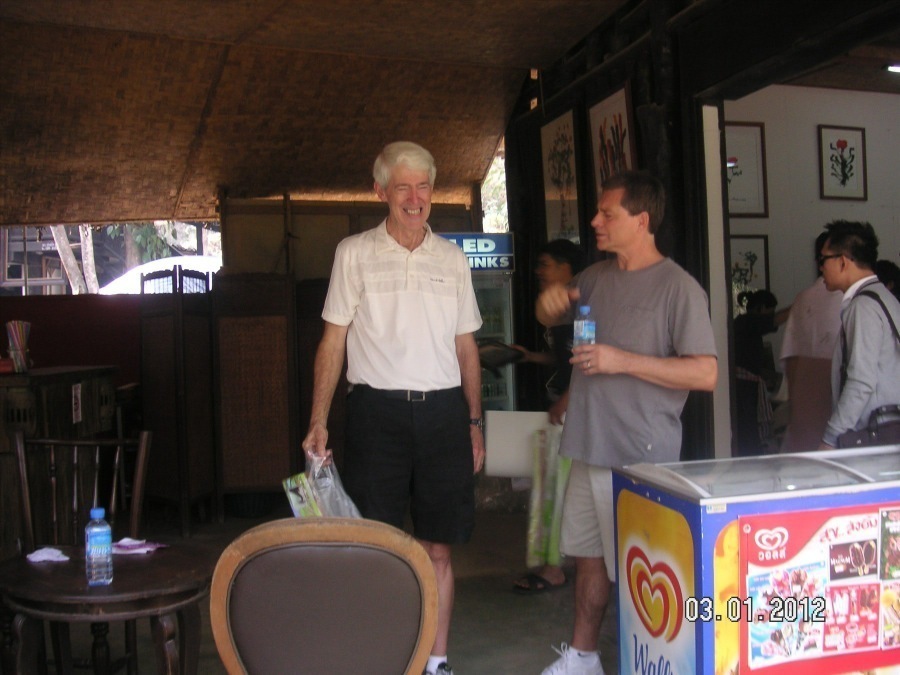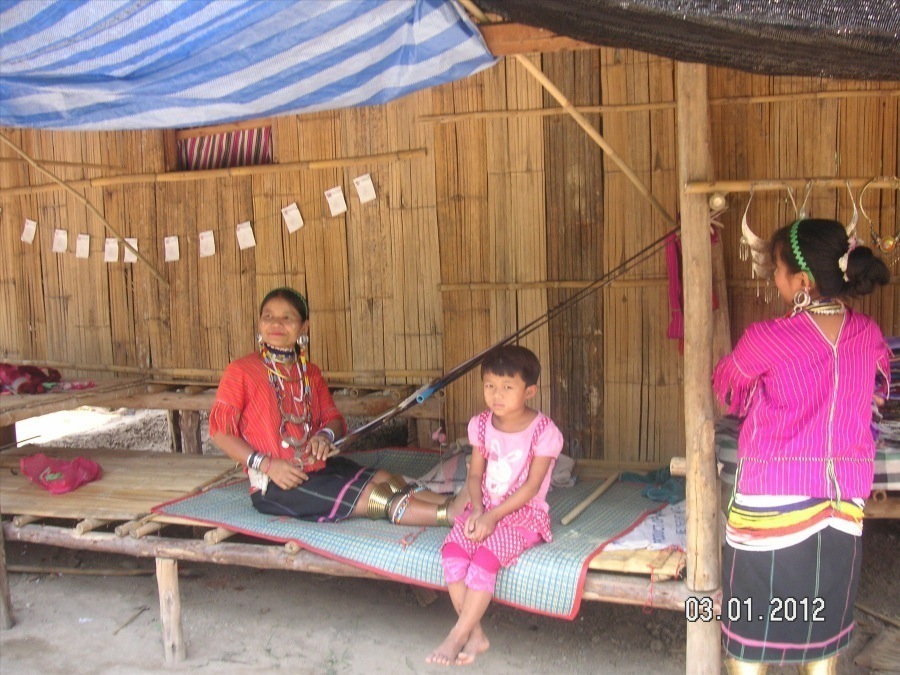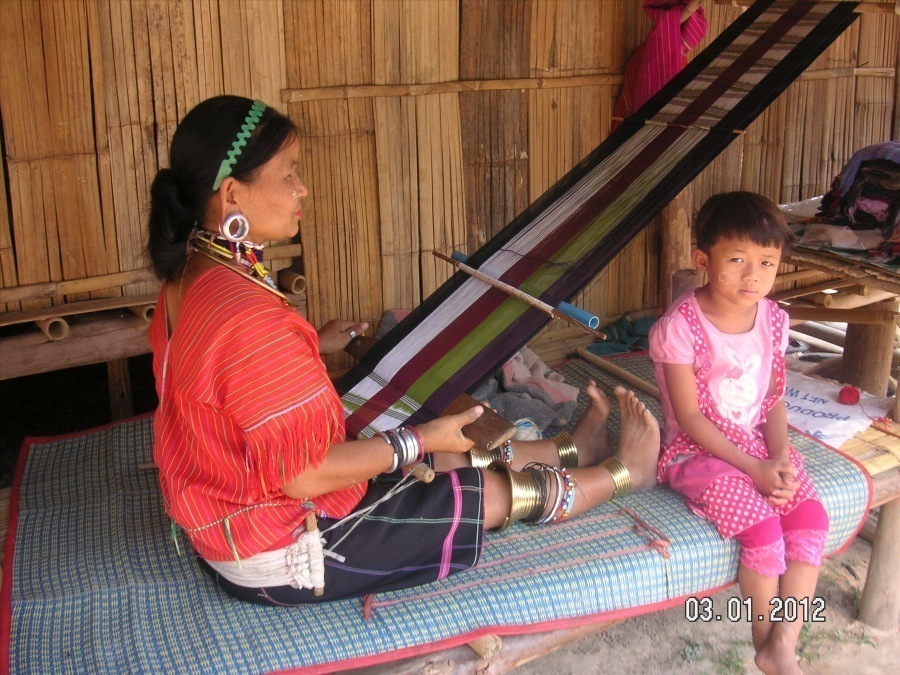 "You crazies going to ride on elephants??"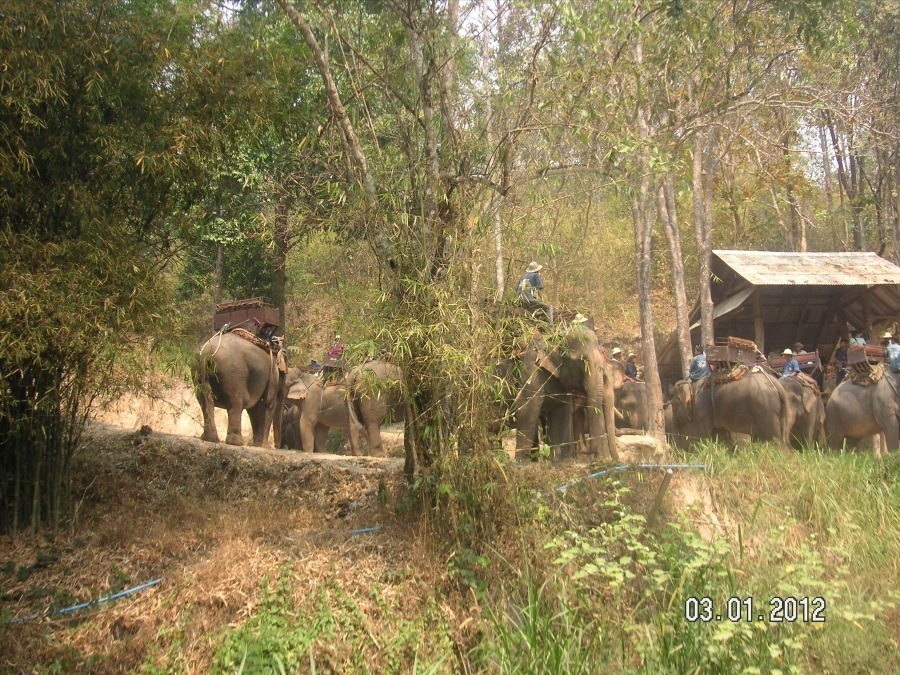 The elephants are getting ready


Neat saddles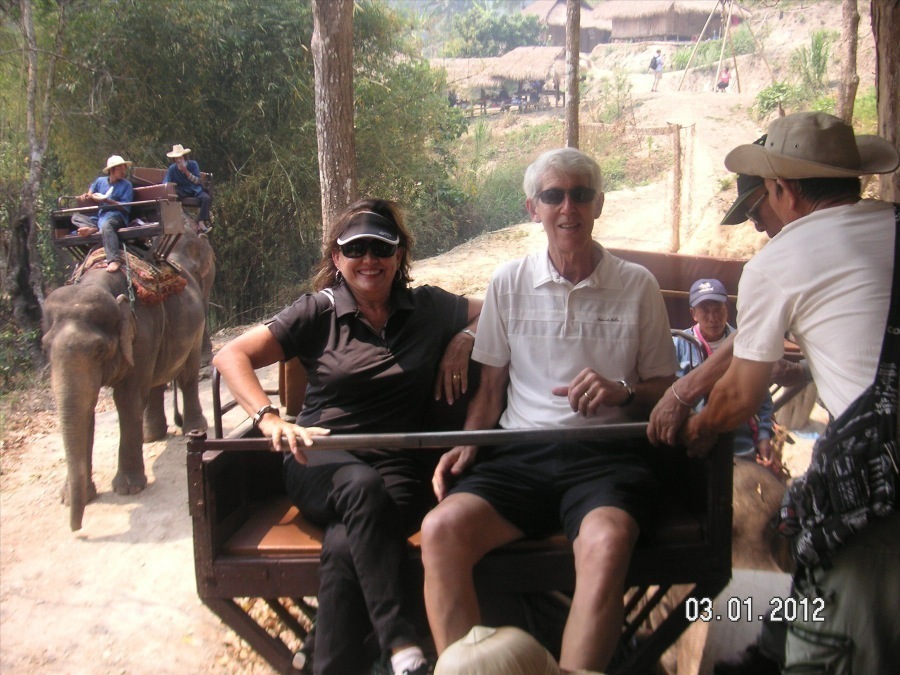 "Waht? Safety belts? Now I am worried!"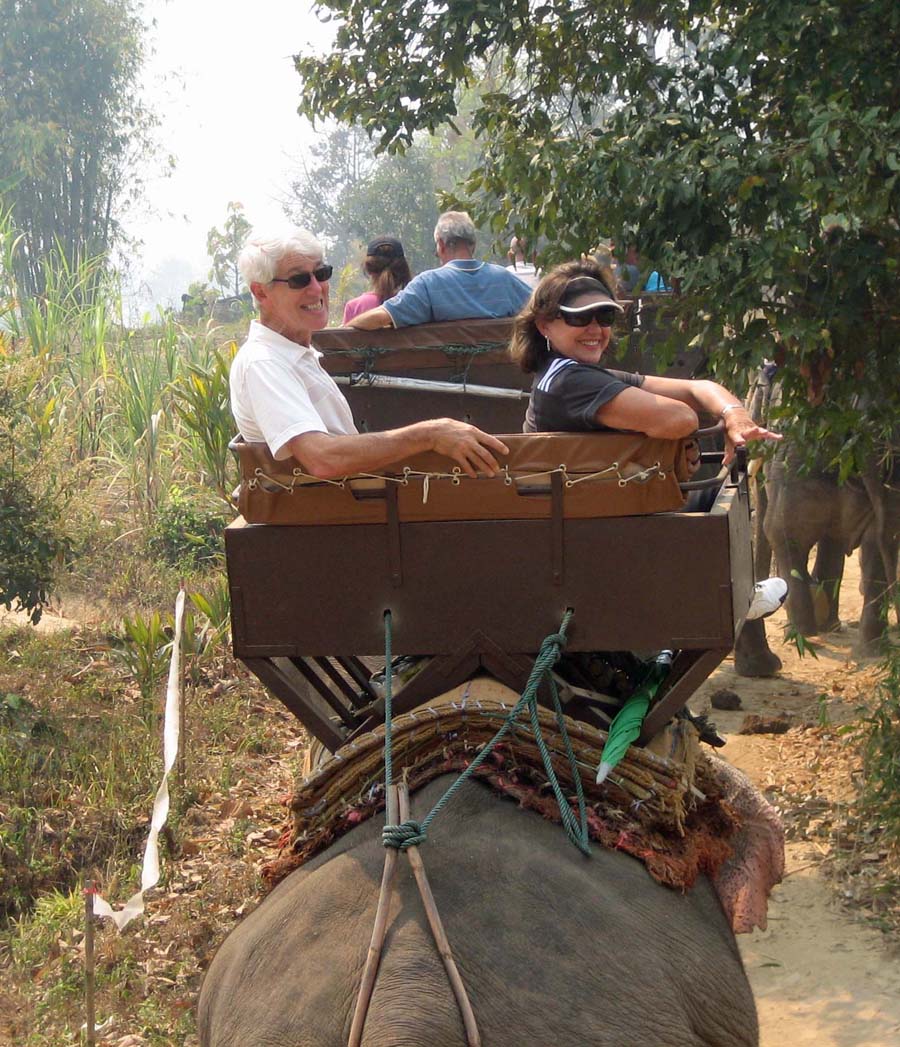 "Now we are rocking and rolling.... Giddu up big fellow"
Did You Know? - A mahout is a person who rides an elephant . The word mahout comes from the Hindi words mahaut (महौत) and mahavat (महावत) Usually, a mahout starts as a boy in the 'family business' when he is assigned an elephant early in its life and they would be attached to each other throughout the elephant's life.

"In a cloud of dust and a hearty High-Yo Silver...."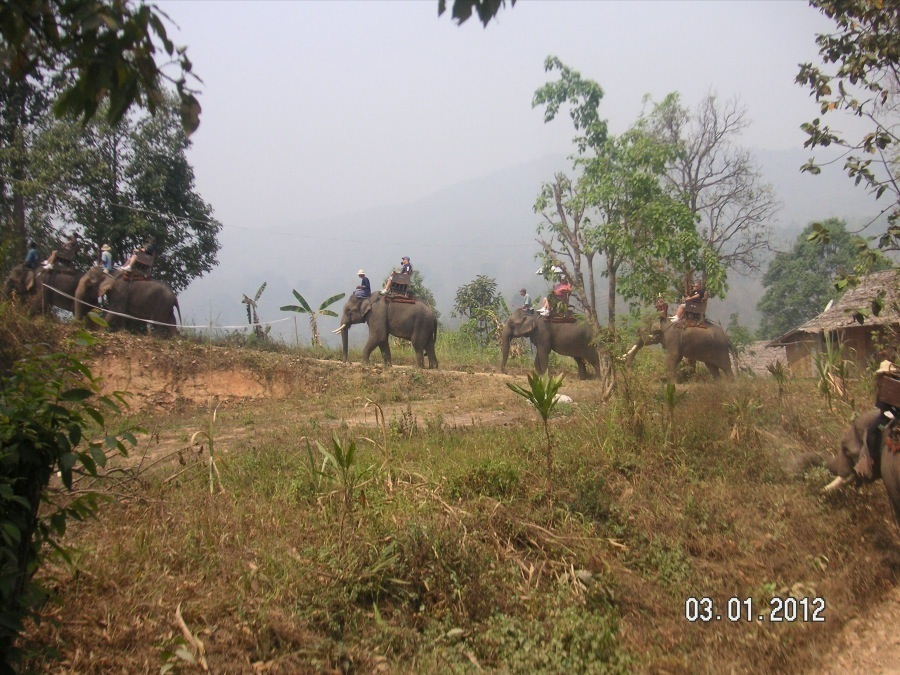 "Dang... Hope these things have brakes!"
Did You Know? - Deeply rooted in Thai culture, elephant training has traditionally been a familial heritage passed down through the generations. Before 1989, most domestic elephants were used for logging business and forest service to haul logs up mountains. This became illegal as widespread destruction of Thailand's forests resulted in worsening monsoons. Unlike the elephant populations of India and Africa, 95% of Thailand's elephants are domesticated working elephants and privately owned. Today most work for mahouts is in the tourist business, since elephant rides are popular among travelers to Thailand.
In Thailand, tame elephants are regarded as a type of livestock and are not covered under Thailand's Conservation Act of 1992. If legally owned, there is minimal protection or welfare for them under Thai law.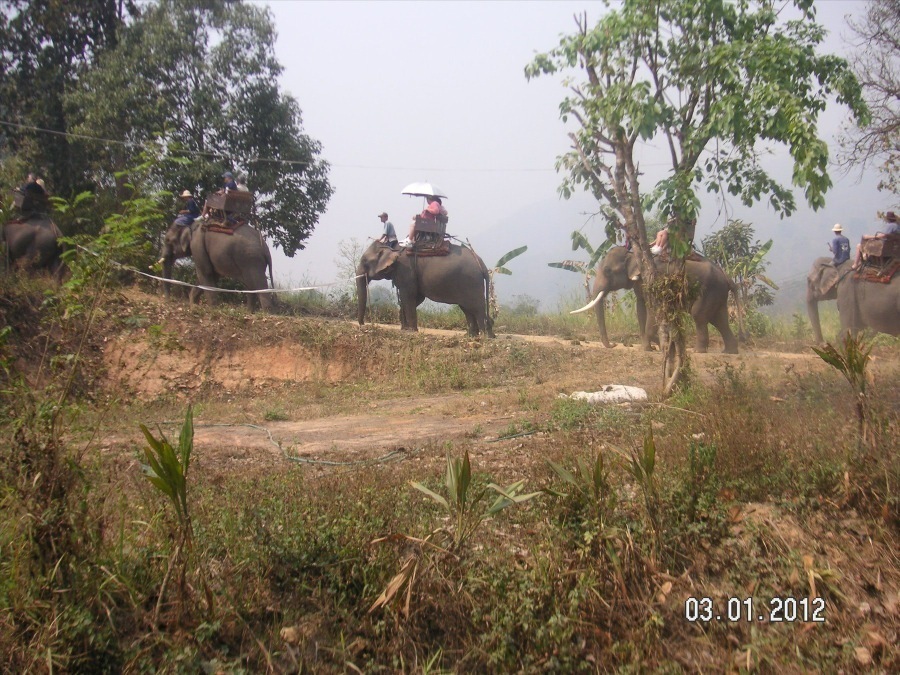 The drivers seem to know what they are doing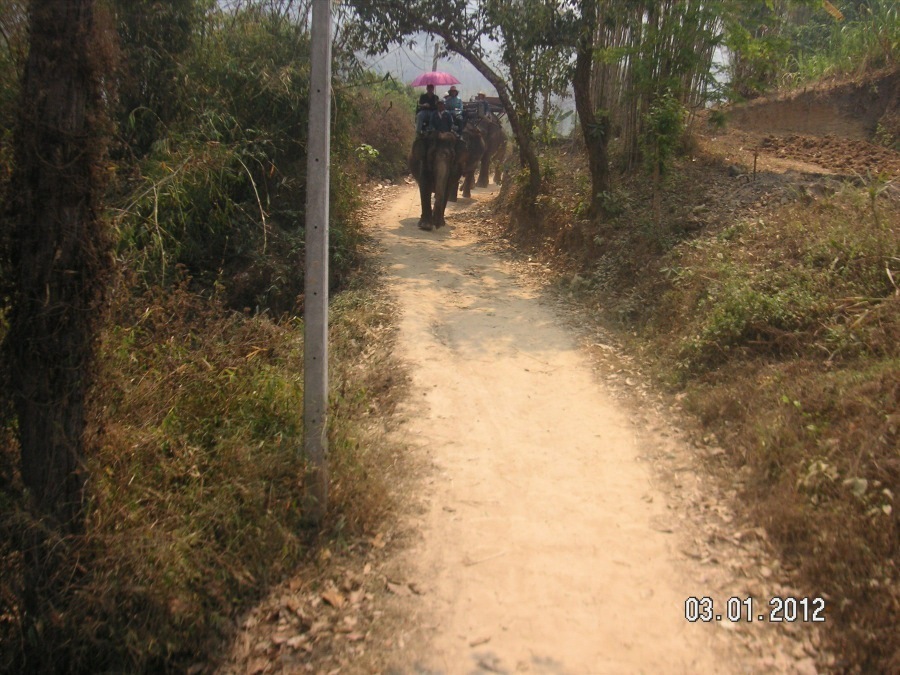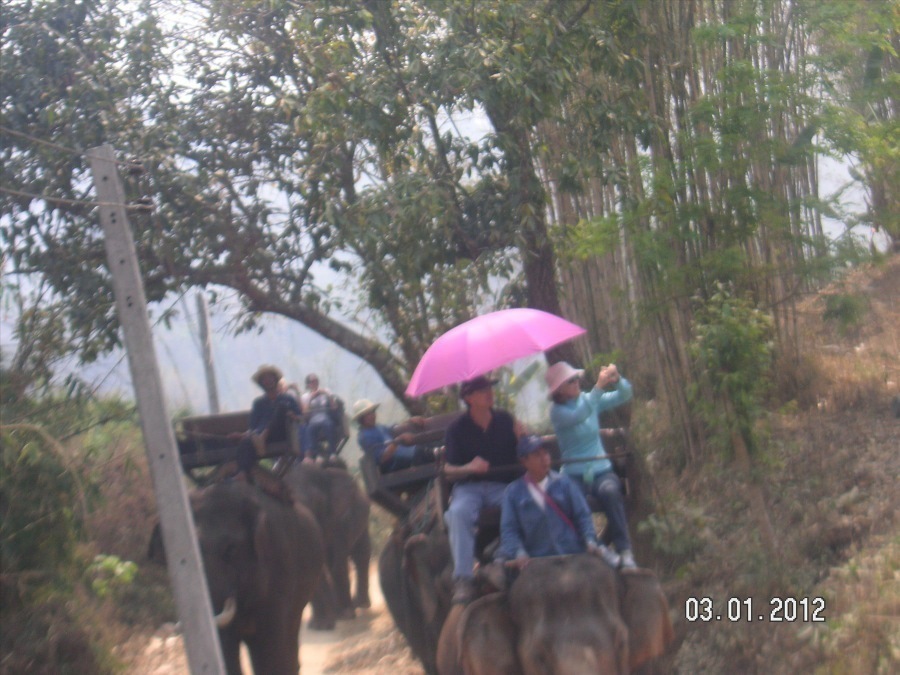 View looking back as the chair is wobbling in the breeze....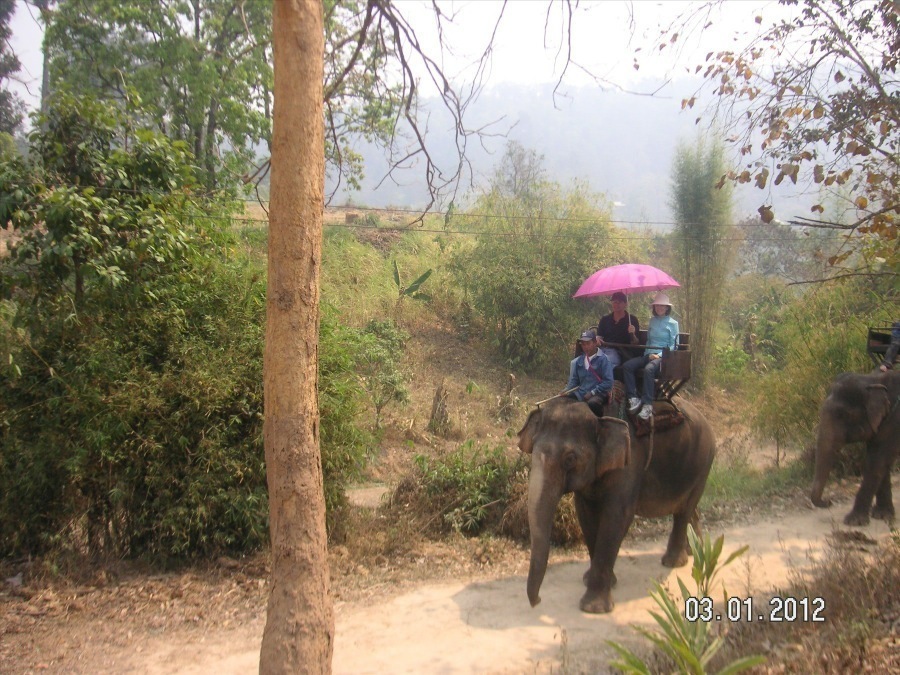 Looks like the surrey with the fringe on the top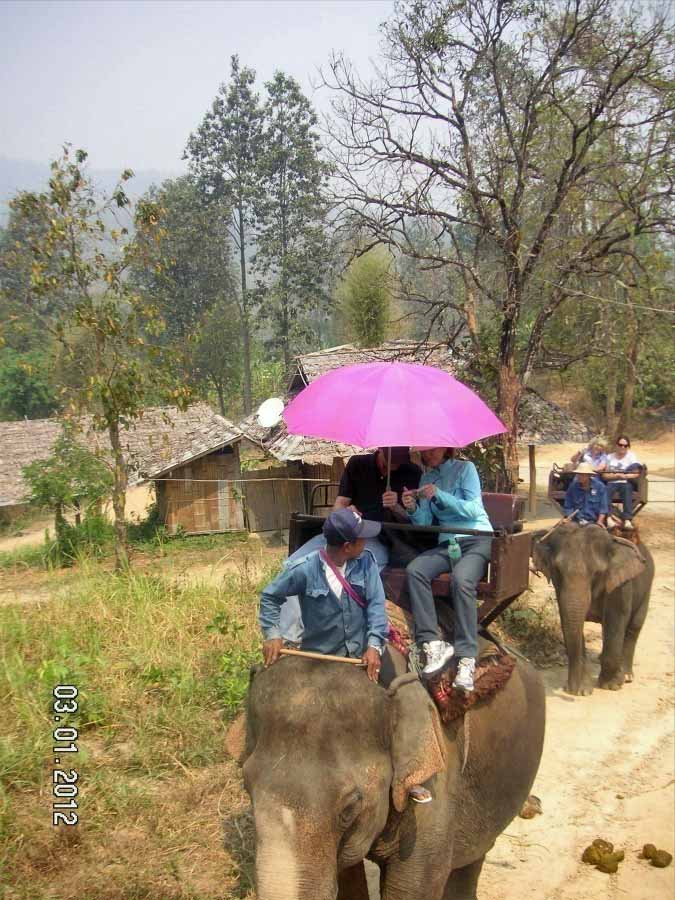 "What you mean you checking the map???"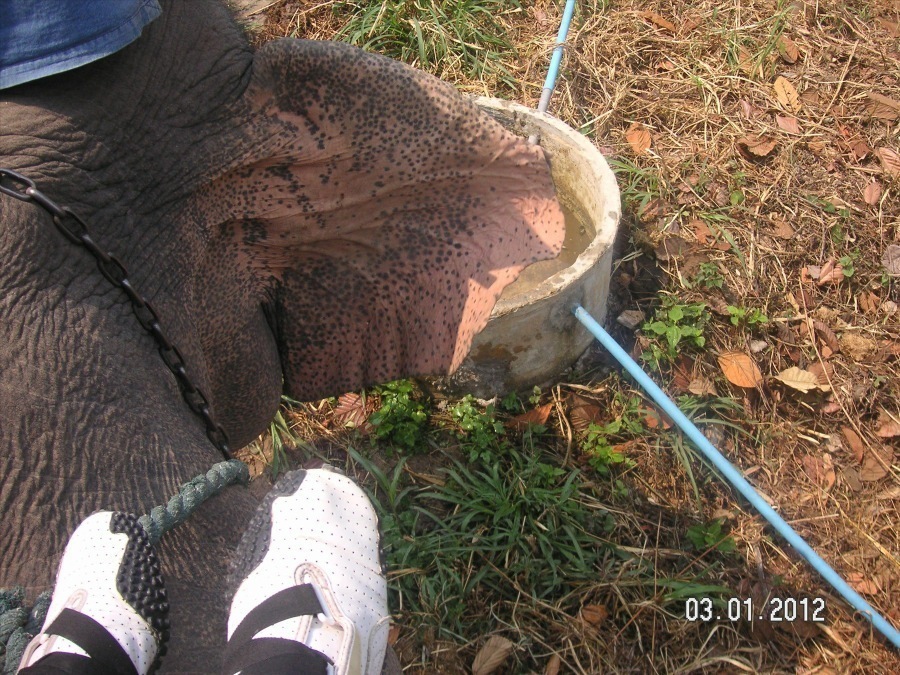 Time for a drink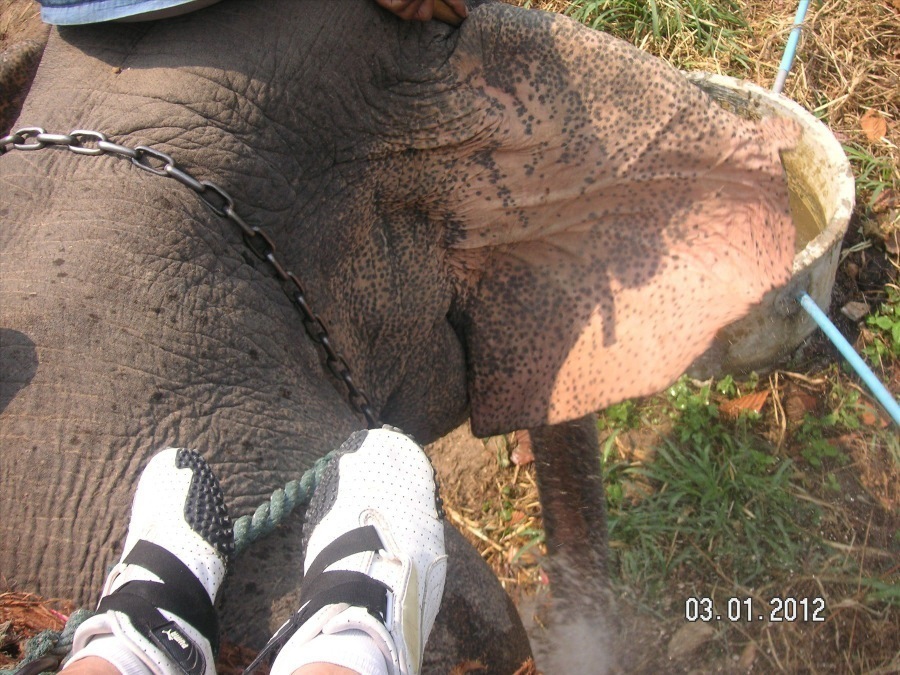 So.... if you drink through your nose does the water taste like buggers???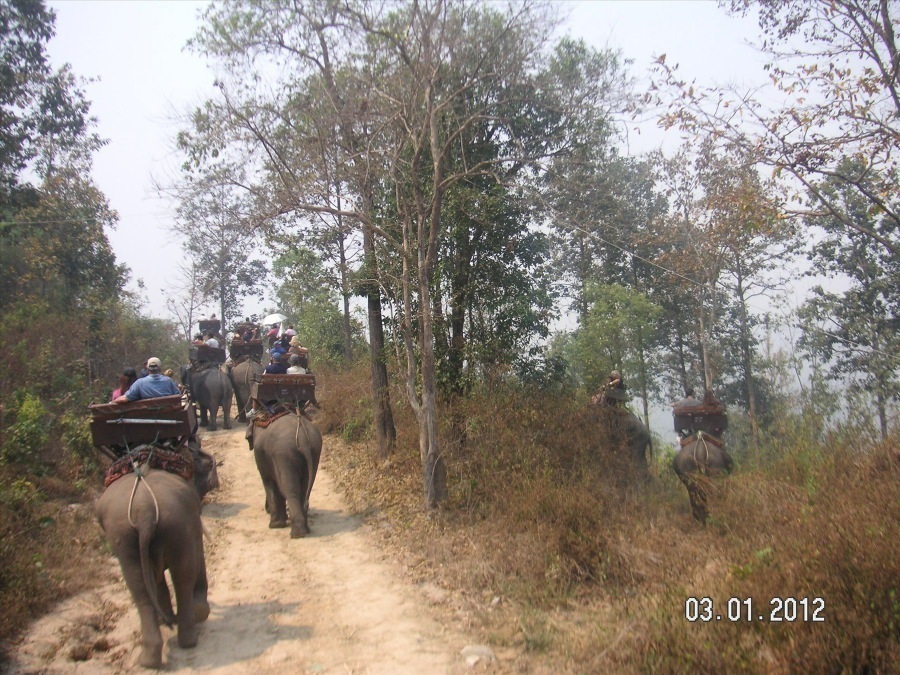 "Yo... wait for us"
Did You Know? - Elephants are important to the people of Thailand for two reasons. Elephants have a deep religious meaning within the Hindu and Buddhist religions. A story is told about Buddha's mother and a dream she had about a white elephant before he was born. The Hindu god Ganesha is said to have the head of an elephant, because the elephant is so smart. In every day life the elephants of Thailand were used for clearing out forests, making it easy for people to open up trade routes. Although, today, elephants are very seldom used for logging they are very popular with the tourists and a trained elephant can become part of the family.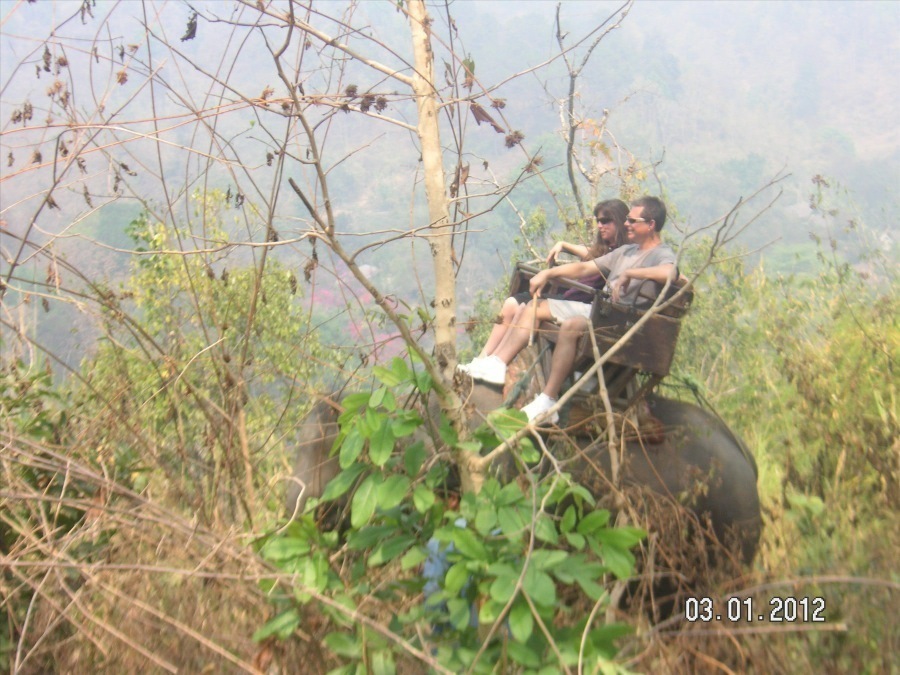 Off the beaten path??

"Hang on dear... I think he just switched to high gear!"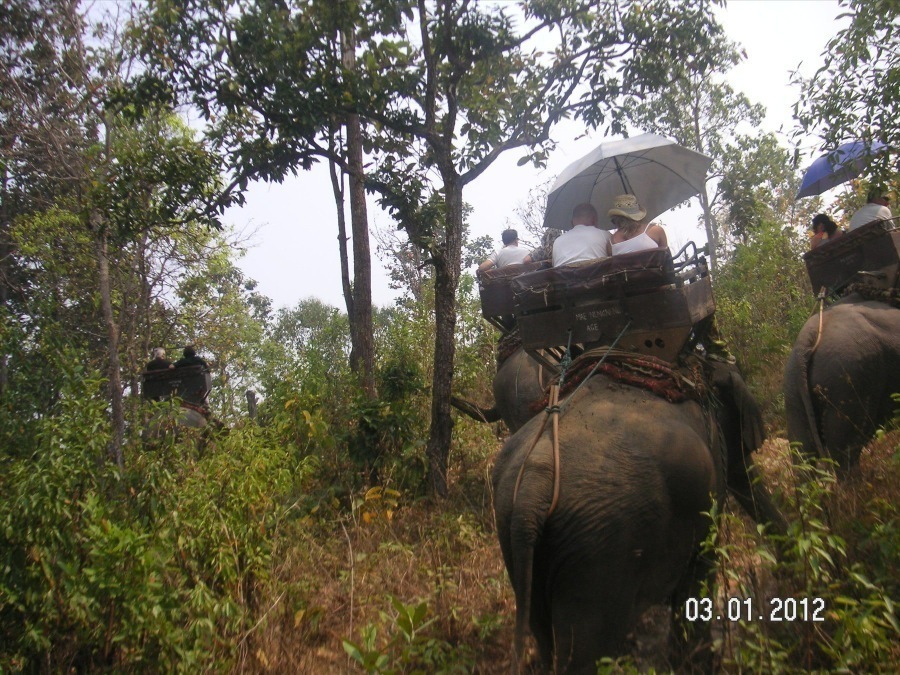 M-m-m-m Interesting view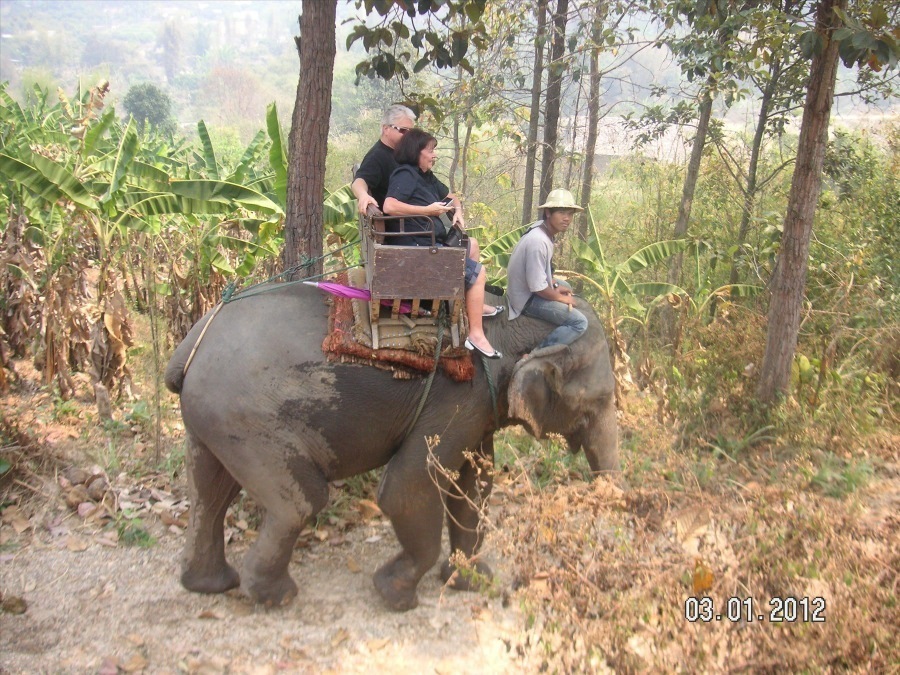 Off we go....

Mae Poo Pae... Age 18!
Arrived Safe... Time For Some Libation!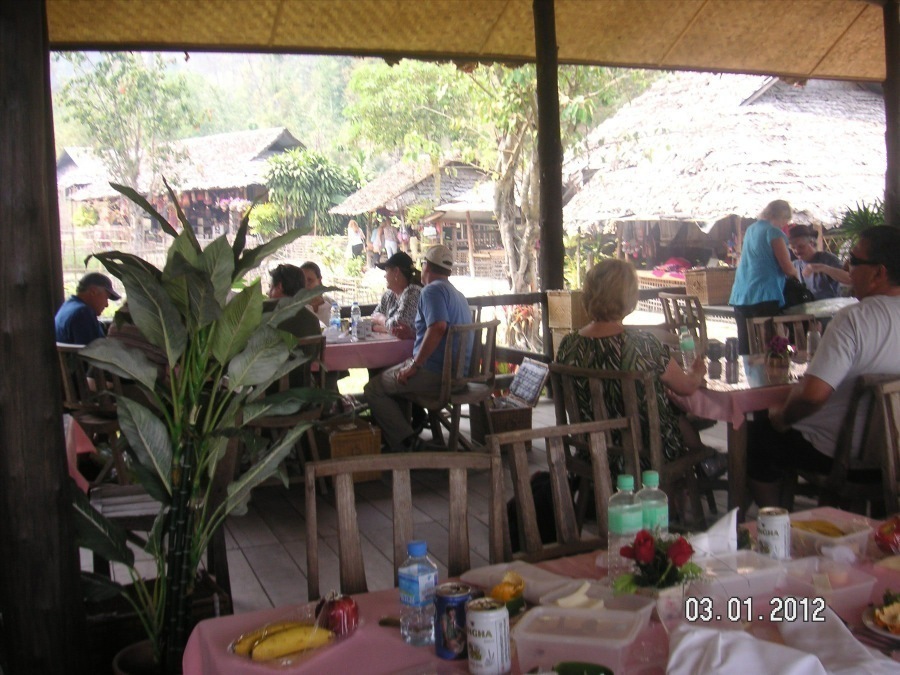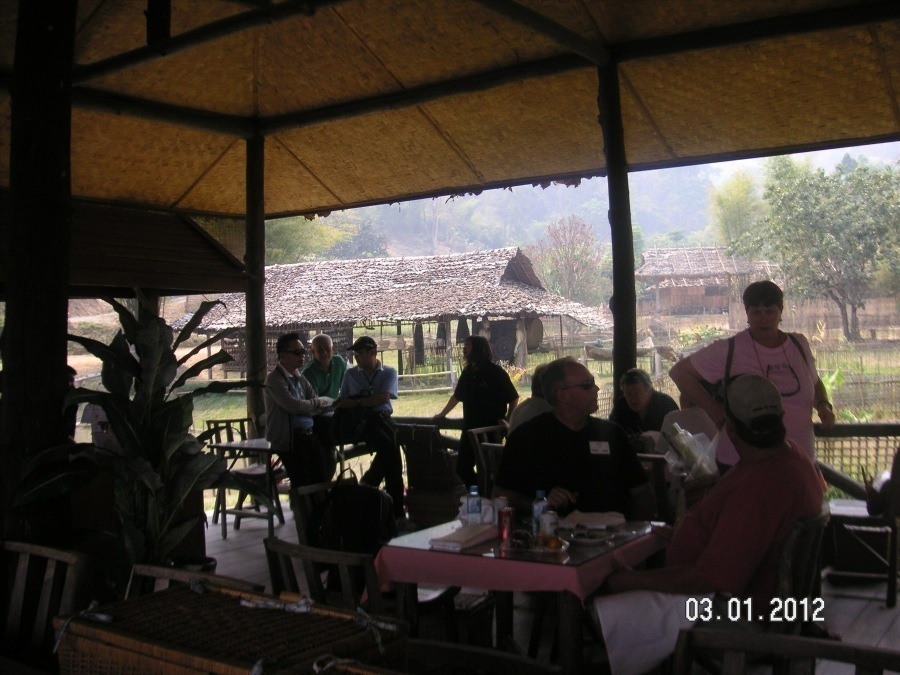 Baan Mae Mae, Mae Rim, Chiang Mai .... Heading To The Hotel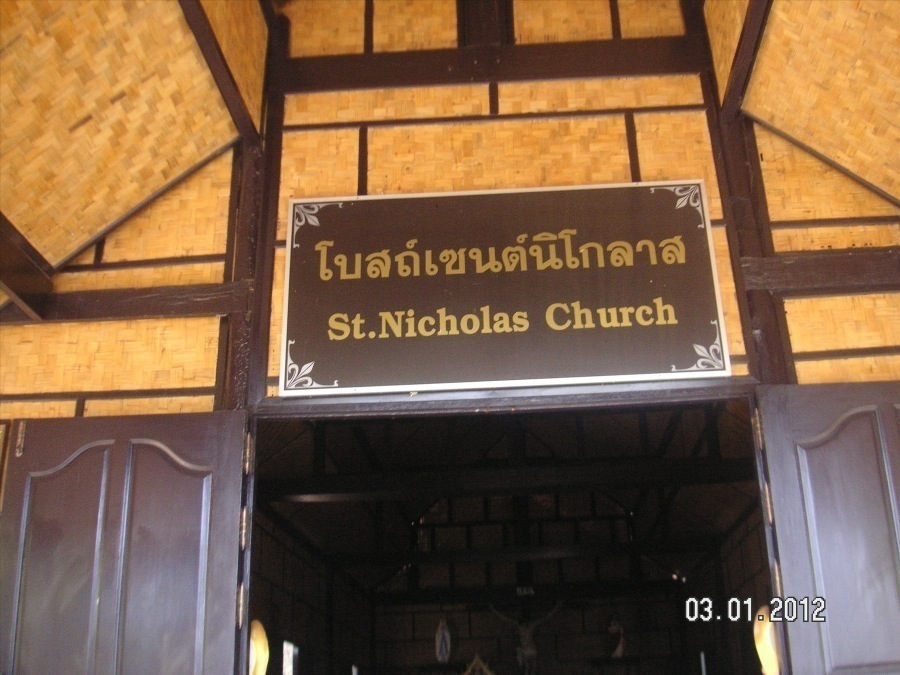 Nick... Is that you???

Did You Know? - Christianity was first introduced to Thailand by European missionaries . It represents 0.7% of the national population, which is predominantly Buddhist. Christians are numerically and organizationally concentrated more heavily in the North, where they make up an estimated 10% of some lowland districts (e.g., Chomtong, Chiang Mai) and up to very high percents in tribal districts (e.g., Mae Sariang, Mae Hong Son).

An austere interior

View of one of the villages on the way to the hotel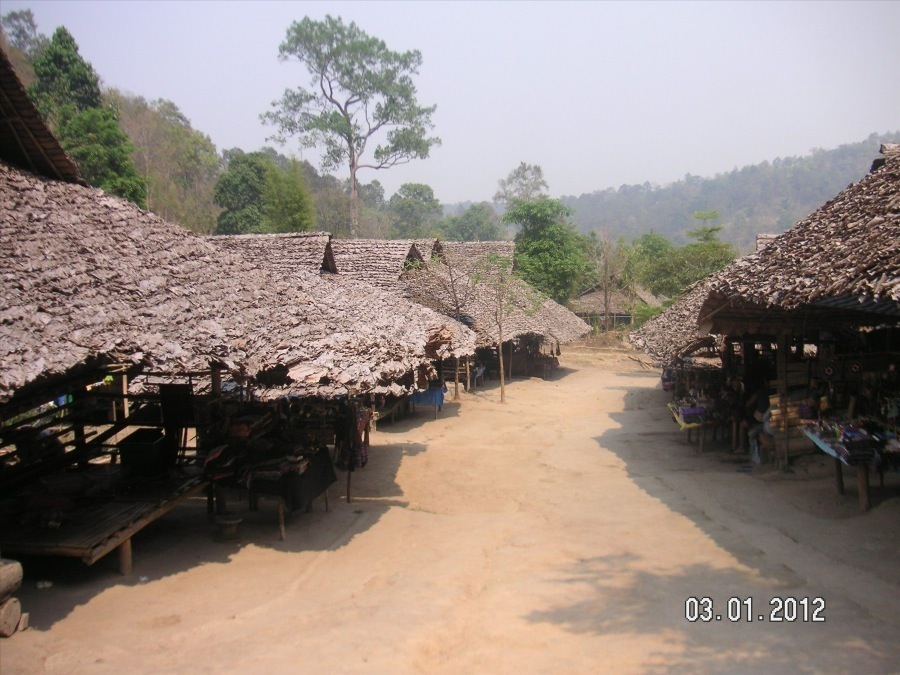 Looks like the streets of Laredo... Where are the gun slingers??

Waterproof we hope
Did You Know? - From November to February during the cool season, Chiang Mai province experiences pleasantly mild sunny weather with temperatures in the city area on average ranging between 15 Celsius at night and around 28 Celsius in daytime. At higher elevations, temperatures can sometimes dip down to freezing point at night. It doesn't snow, but sleet does occur at times.
During the hot season, lasting from March to May, temperatures especially in the city are high, rising into the high 30s.
The rainy season in the north is from June to October.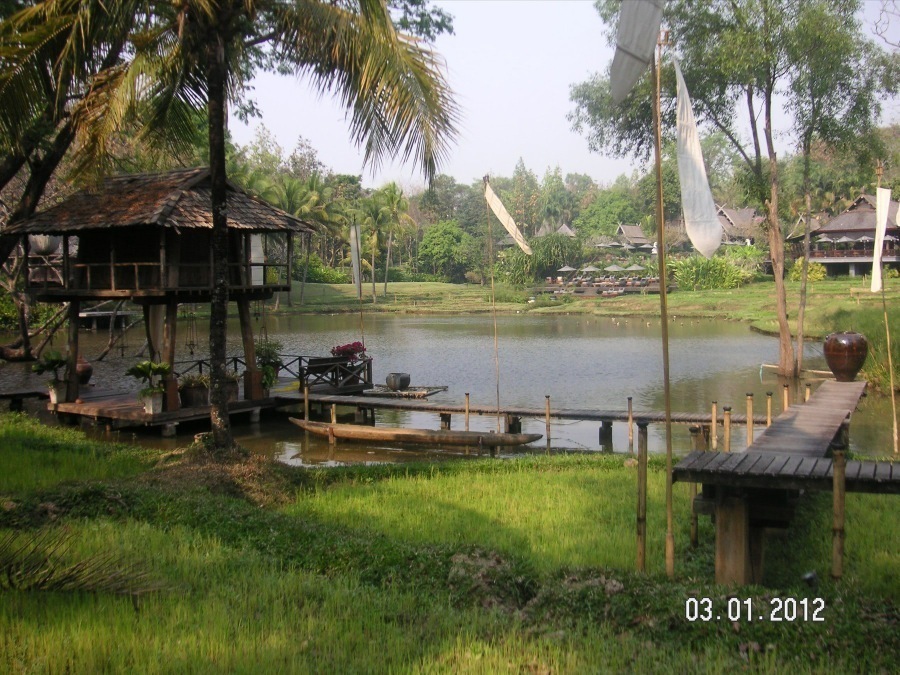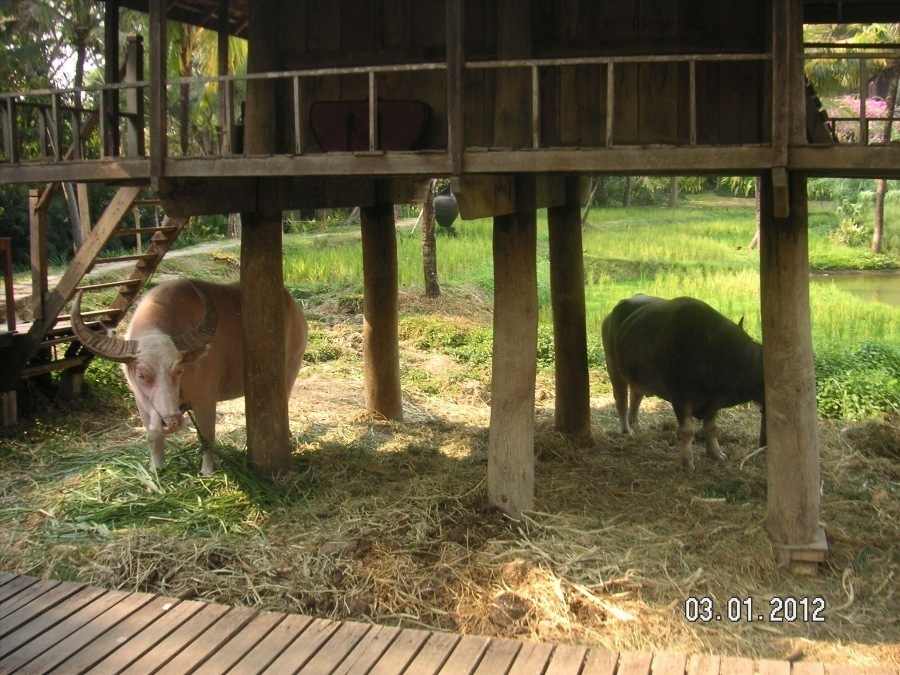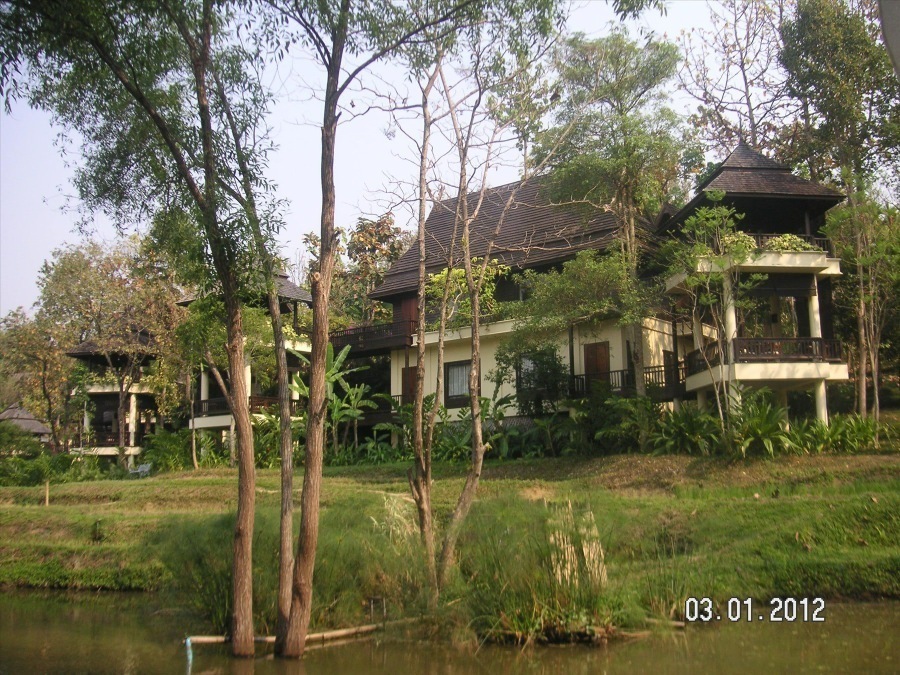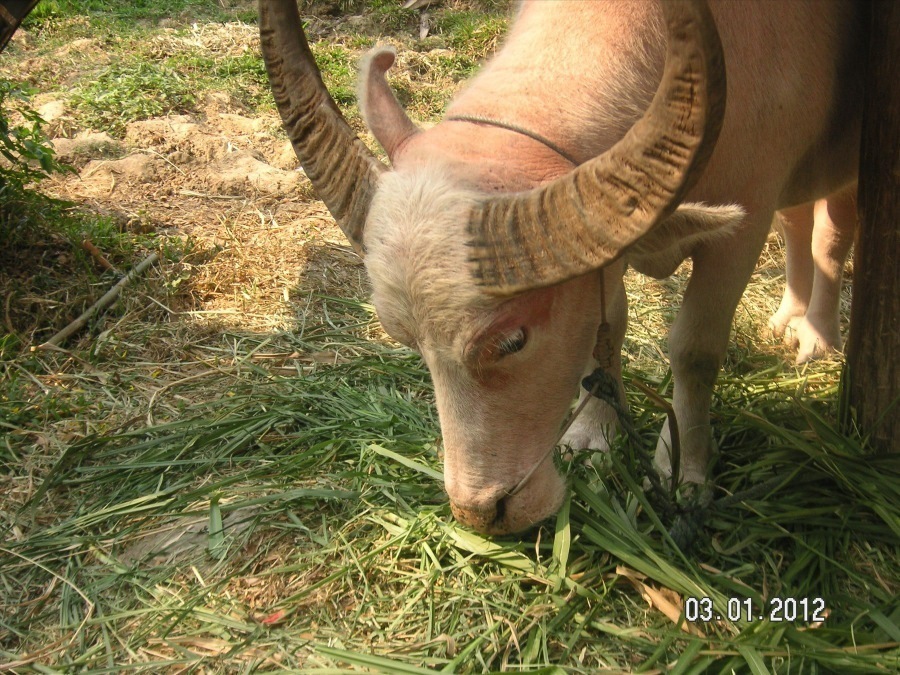 "Hey there Bunny! Want another ride???"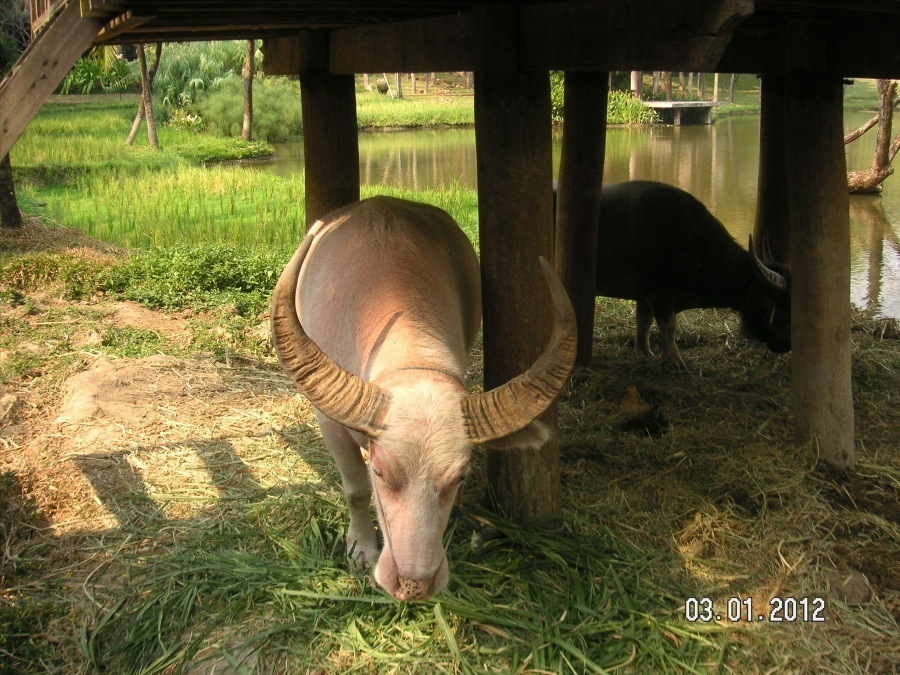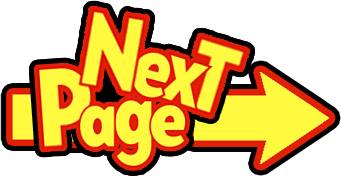 Proceed To Page Eight And The Chiang Mai Temples