Arrival In Chiang Mai (Page Six)
Summary: l March hotel breakfast, departin flight 1000A to  Chiang Mai.  Arrive at the Four Seasons Hotel.  430P depart resort for City Tour enroute for dinner at the Gallery Restaurant.  Will visit Chiang Mai Night Market, shops and stalls.

Chiang Mai sometimes written as "Chiengmai" or "Chiangmai", is the largest and most culturally significant city in northern Thailand. It is the capital of Chiang Mai Province, a former capital of the Kingdom of Lanna (1296–1768) and was the tributary Kingdom of Chiang Mai from 1774 until 1939. It is located 700 km (435 mi) north of Bangkok, among the highest mountains in the country.
The city is on the Ping River, a major tributary of the Chao Phraya River. Chiang Mai means "new city" and was so-named because it was the new capital, founded in 1296, succeeding Chiang Rai (founded 1262) in the capital of the Lanna kingdom.
In recent years, Chiang Mai has become an increasingly modern city and has been attracting over 5 million visitors each year, of which between 1.4 million and 2 million are foreign tourists (depending on the year).
Chiang Mai gained prominence in the political sphere in May 2006, when the Chiang Mai Initiative was concluded here between the ASEAN nations and the "+3" countries (China, Japan, and South Korea). Chiang Mai is one of three Thai cities contending to host the World Expo 2020.
It has also recently positioned itself to become a Creative City and is considering to apply for Creative City Status with UNESCO.
Chiang Mai's historic importance is derived from its strategic location on the Ping river and major trading routes.
While officially the city (thesaban nakhon) of Chiang Mai only covers most parts of the Mueang Chiang Mai district with a population of 160,000, the urban sprawl of the city now extends into several neighboring districts. This Chiang Mai Metropolitan Area has a population of nearly one million people, more than half the total of Chiang Mai Province.
What shall we ever do?
Abseiling (see comment for Rock Climbing below)
Bungy Jump ( Jungle Bungy Jump ) (Mae Rim area)
Butterfly Farms try Mae Sa Butterfly Farm & Sai Nam Butterfly/Orchid Farm (Mae Rim area)
Caves - Chiang Dao Cave & Muang-On Cave
Cooking Schools - Thai Farm Cooking School , Gap's Thai Culinary Art School , Chiang Mai Thai Cookery School ,   Baan Thai Cookery School .
Cycling hire a bicycle on the Chaiyaphum Road, also try near the Tha Phae Gate
Eating - anywhere
Elephant Farms - Numerous elephant camps have been established to help protect the numerous elephants in the area. The camps put on elephant shows and activities for tourists where the elephants display their various skills. Most of the camps have elephant rides where tourists ride the elephants for an hour or two through the jungle surrounding the camps. There is the Mae Ping Elephant Camp , Patara Elephant Farm, Mae Sa Elephant Camp , Thai Elephant Conservation Center (near Lampang) and lots more.
Elephant Nature Park no rides or shows for tourists here. This is a sanctuary and rescue centre for elephants. You can visit or volunteer to stay for days/weeks looking after the elephants. A beautiful place.
Festivals - Flower Festival (1st weekend in February), Songkran (Thai New Year) (13-15 April), Yi Peng (Thanksgiving) (three days of the full moon of the twelfth lunar month, usually in November)
Golf - 10 golf courses in the area, see Golf in Chiang Mai website for more information
Hash House Harriers - 5 hashes in Chiang Mai, see Chiang Mai Harriers website .
Jewellery making at Nova Workshops
Language Schools - Pro Language School and the AUA Language Centre
Markets - (see " Markets " page for more information)
Motor Bike plenty of hire places along Moon Muang Road
Muay Thai Boxing - Clubs - Lanna Muay Thai & Muay Thai Sangha - regular Friday night matches at the Kawila  Boxing Stadium.
Museums - National Museum, Tribal Museum, City Arts & Cultural Centre
Para gliding - go to Chiang Mai Paramoto Club for a glide with a difference
Parks dotted all over the place
River Cruises - day cruises or night dinner cruises on Mae Ping River, Scorpion Tail River Cruises, Mae Ping River/Dinner Cruises
Rock climbing - and other outdoor adrenaline rushes see The Peak Adventure website .
Shopping - everywhere especially in Markets, also Tha Phae Gate area and along San Kamphaeng Road
Snake Farm visit the Mae Sa Snake Farm (Mae Rim area)
Tai Chi Chuan - For a healthy life - see Tai Chi Thailand website for current prices and calendar of courses.
Temples - (see " Temples " page for more information)
Tennis - The Anantasiri Tennis courts & Chiang Mai Land and Lanna Sports club
Thai Massage Schools numerous, try the Blind Institute, excellent.


Over 1100 square miles in the province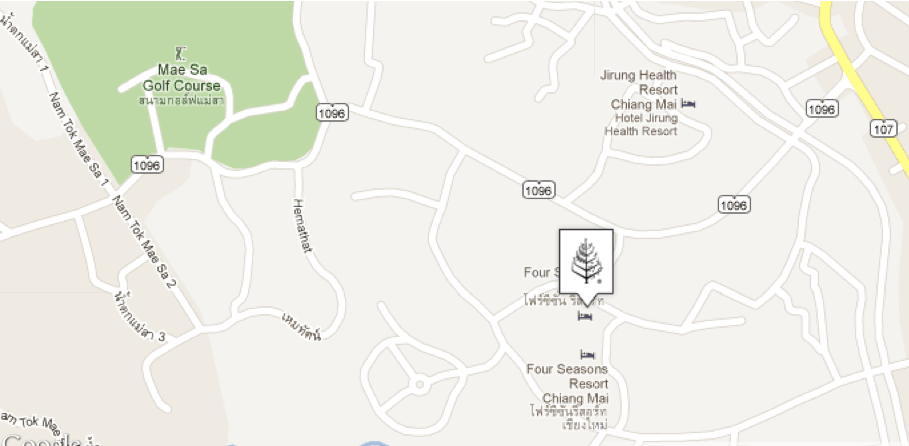 Just a few kilometers from the airport.... But look, A golf course!!!
Let's Get Settled In....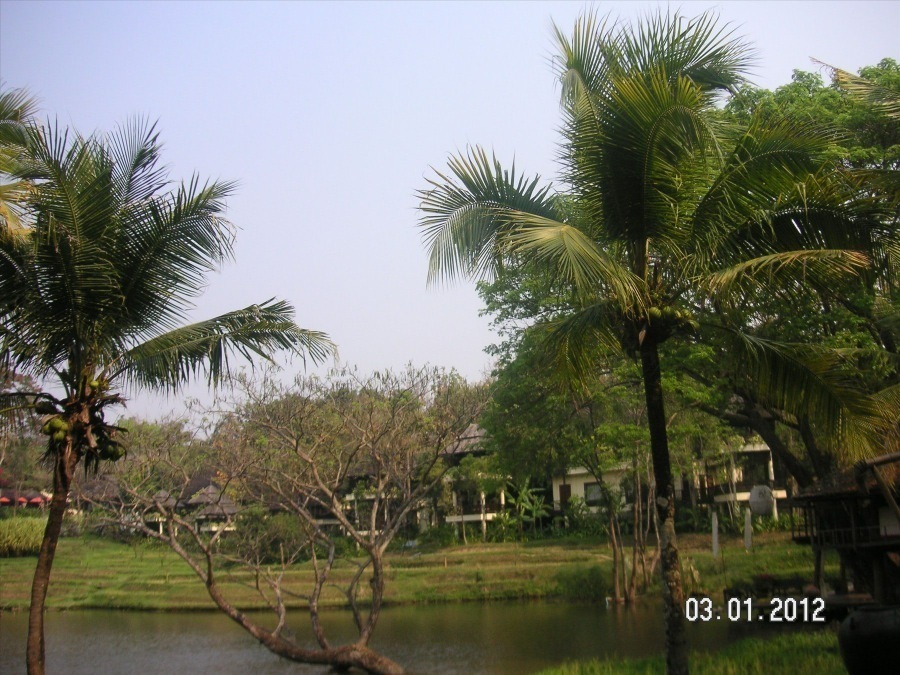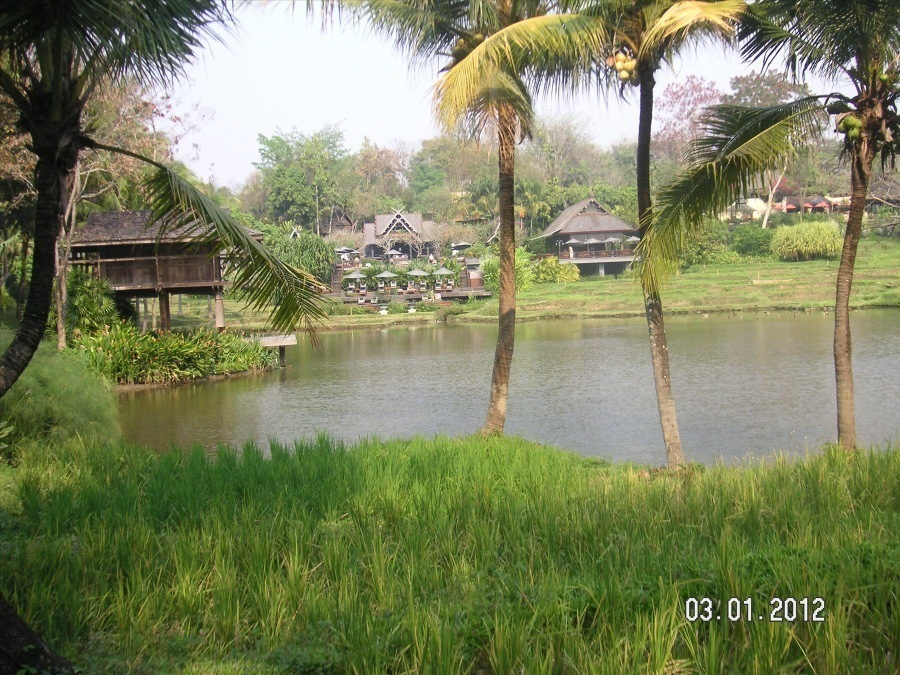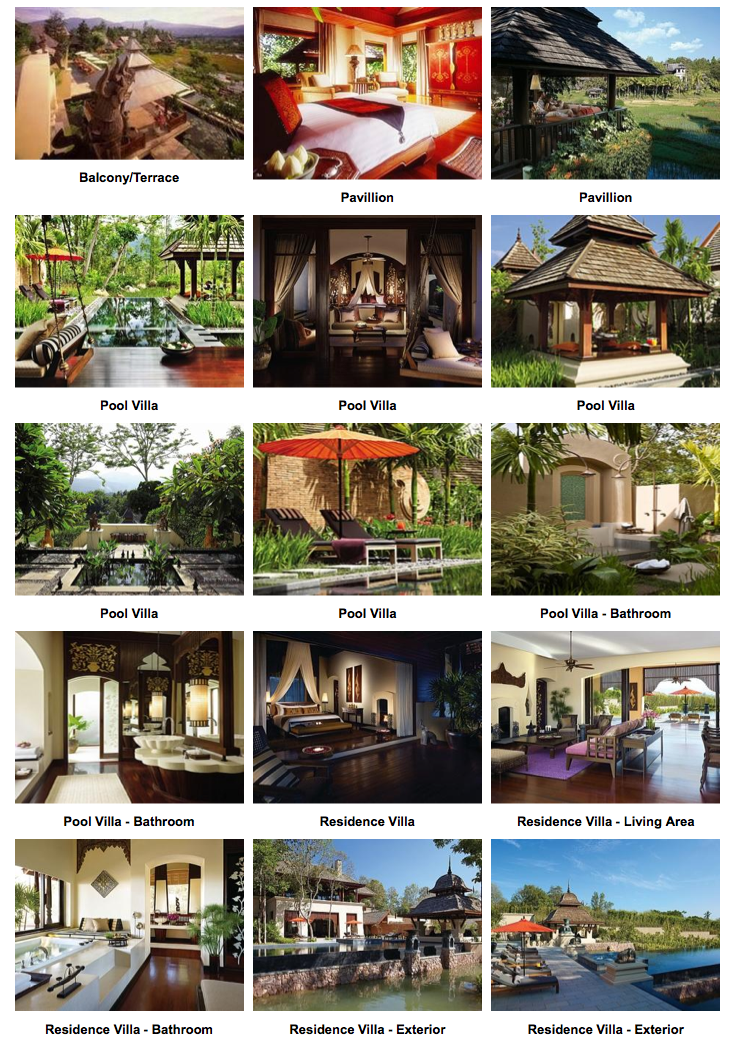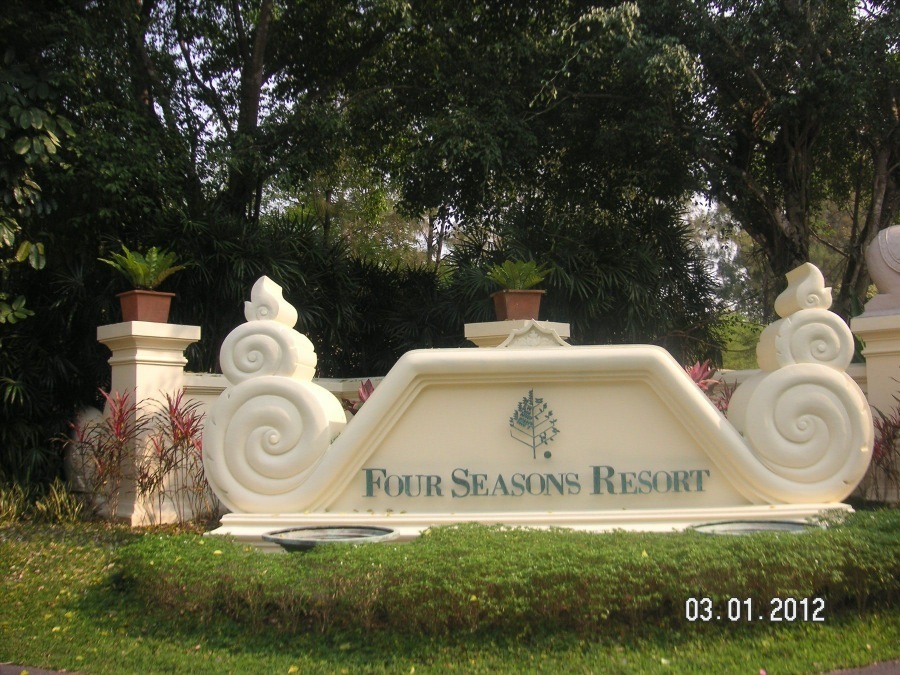 We is arrived!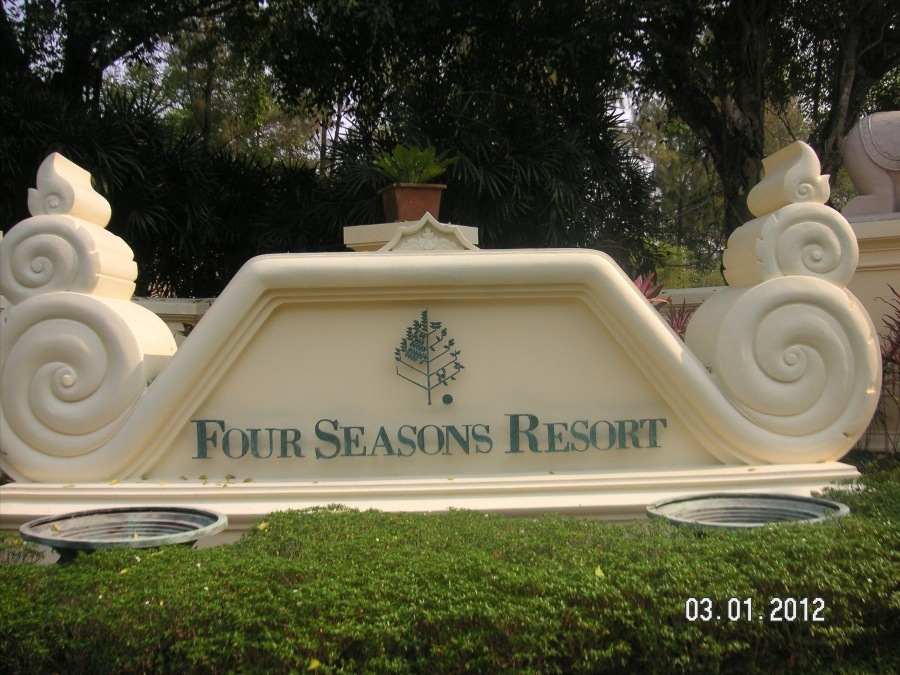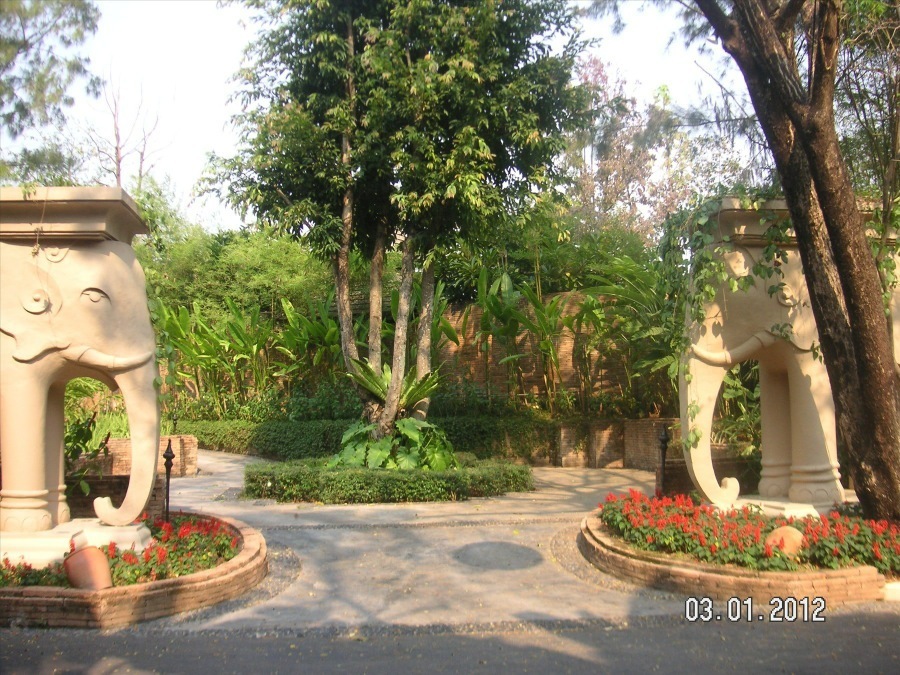 Beautiful grounds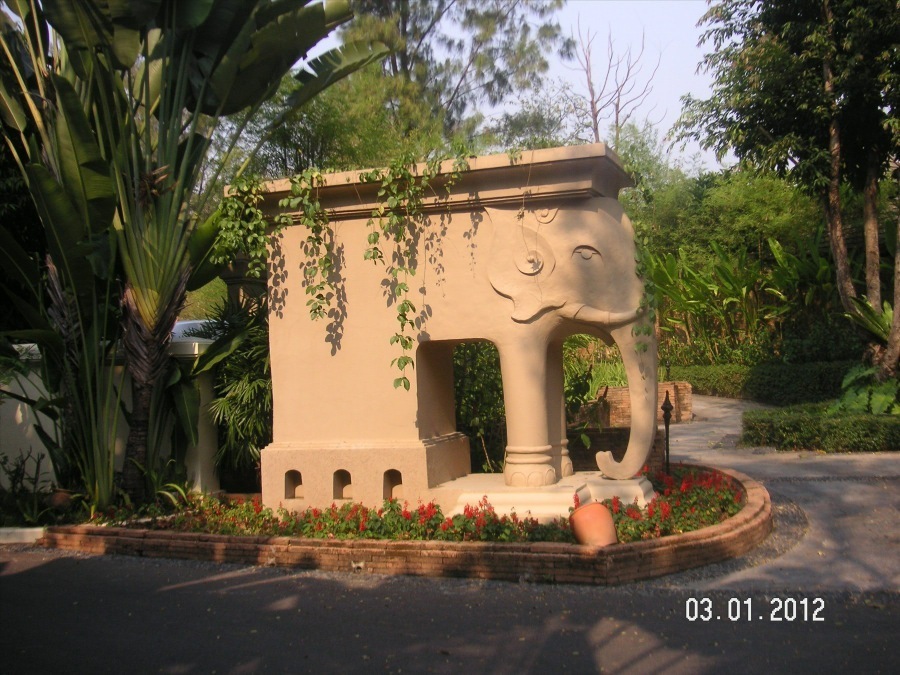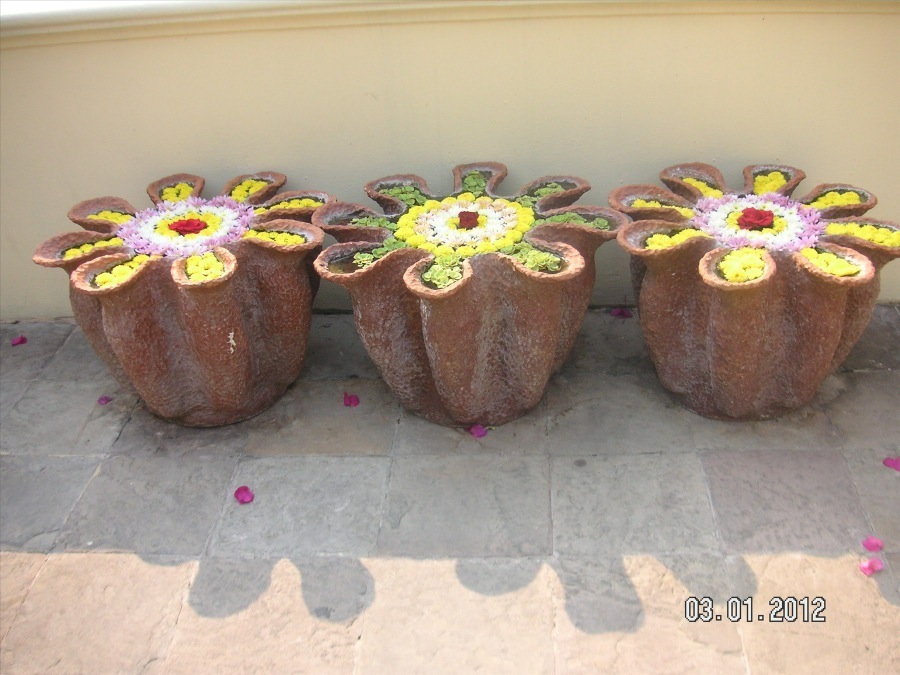 Remarkable flower pots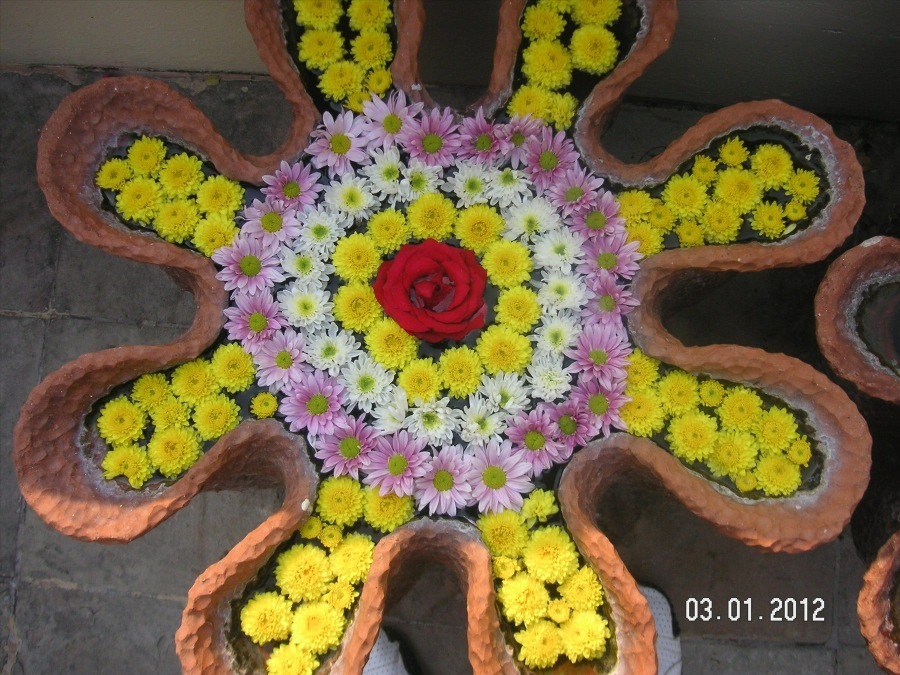 Great views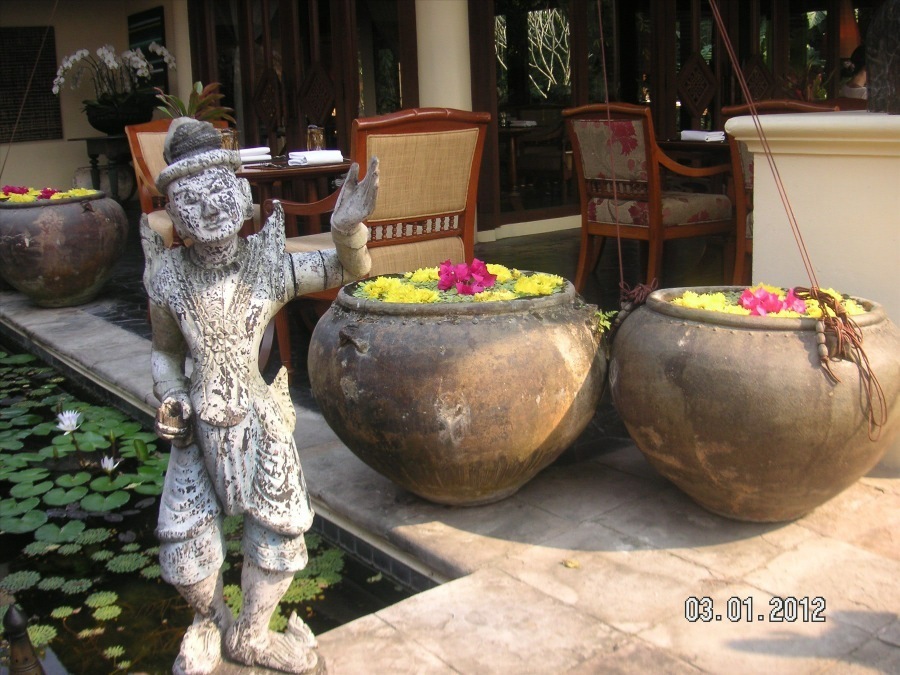 "Hello there... Welcome!"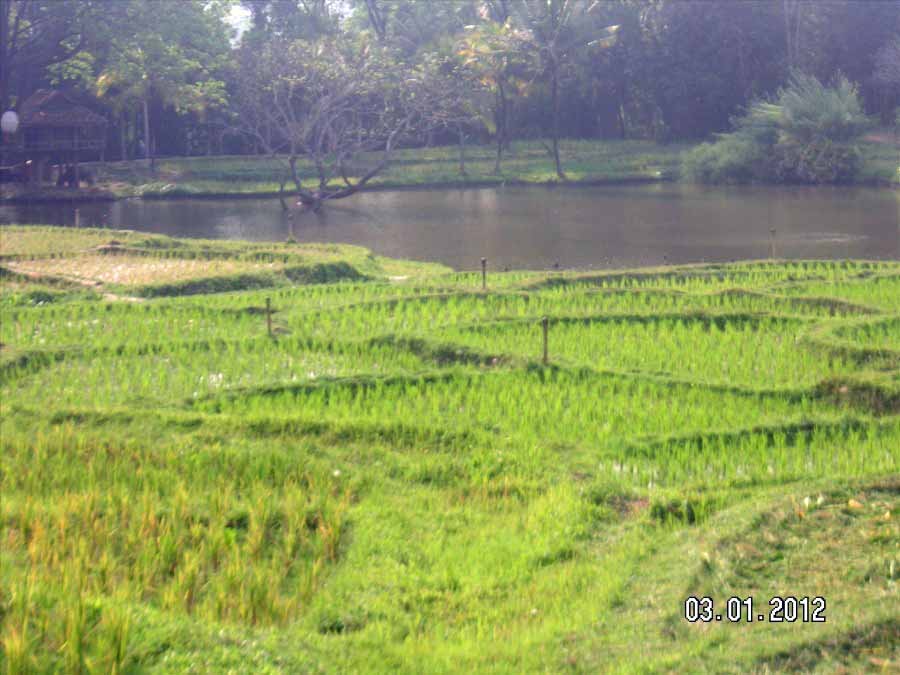 Rice paddies right outside on the property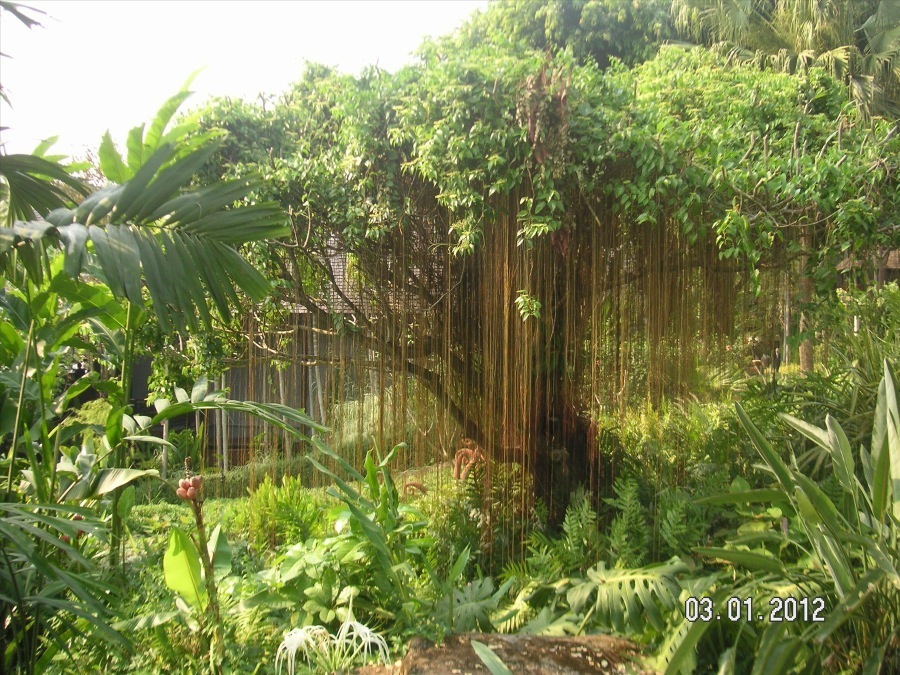 Let's get to the root of the situation...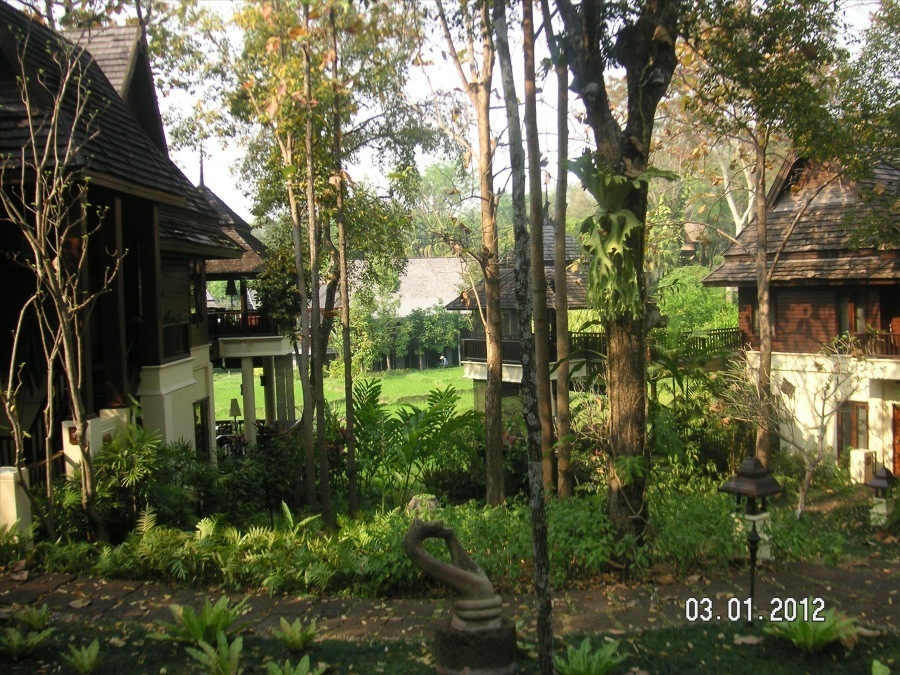 Beautiful gardens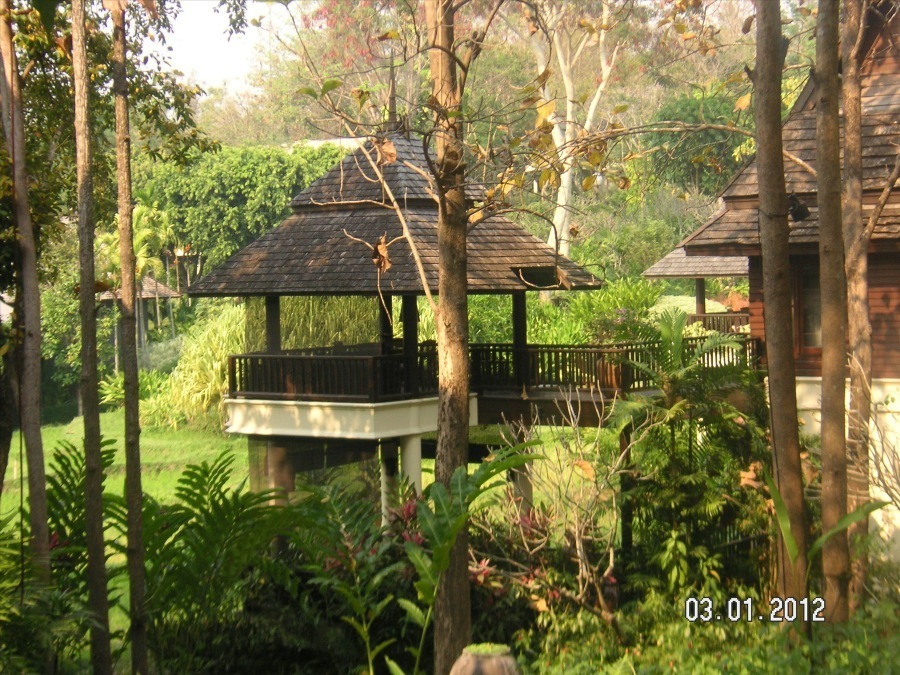 Many places to walk out and see the property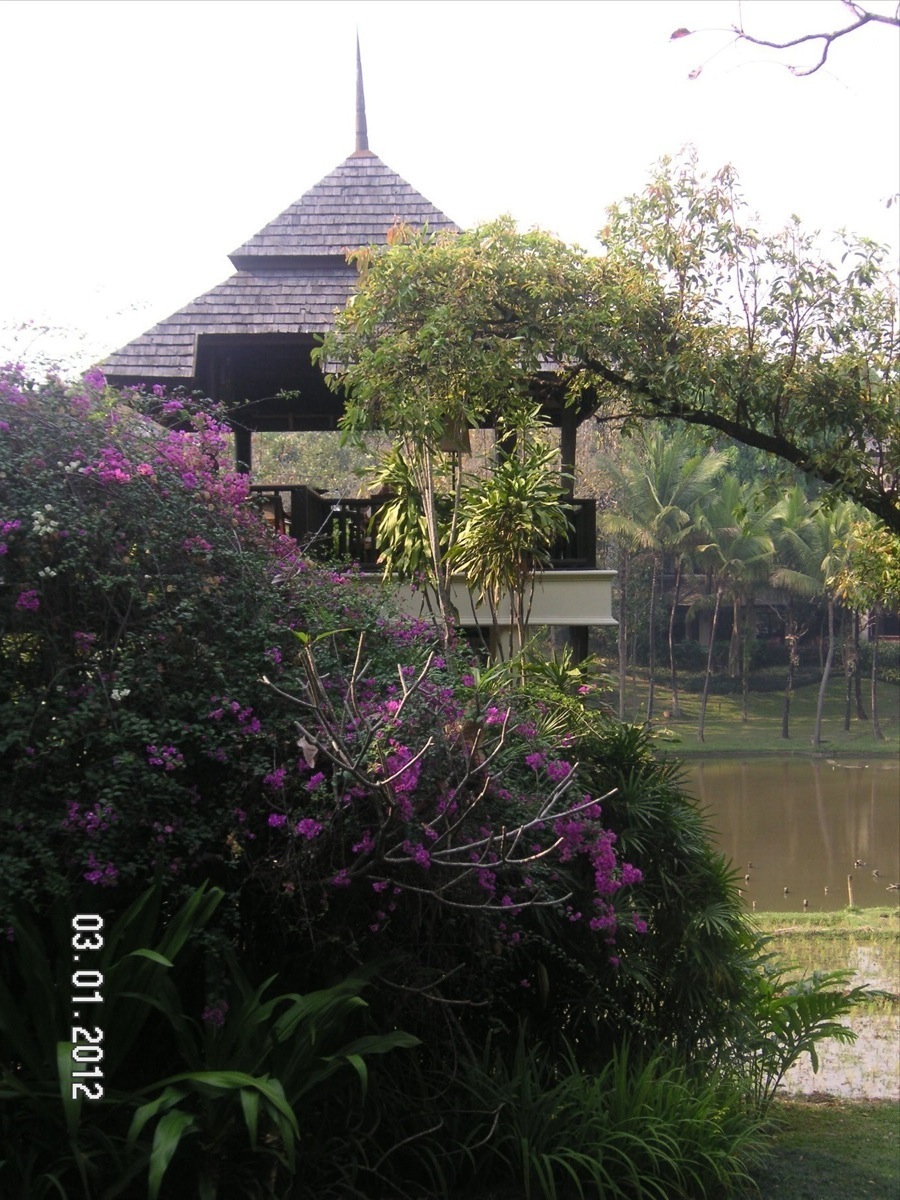 To our room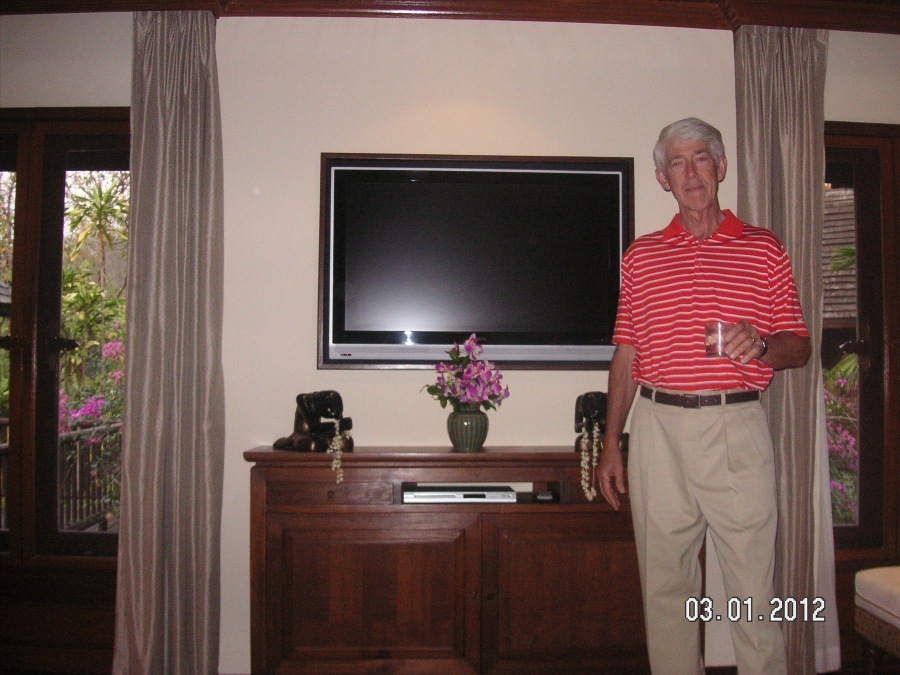 "Here's to ya back home in cool Seal Beach!"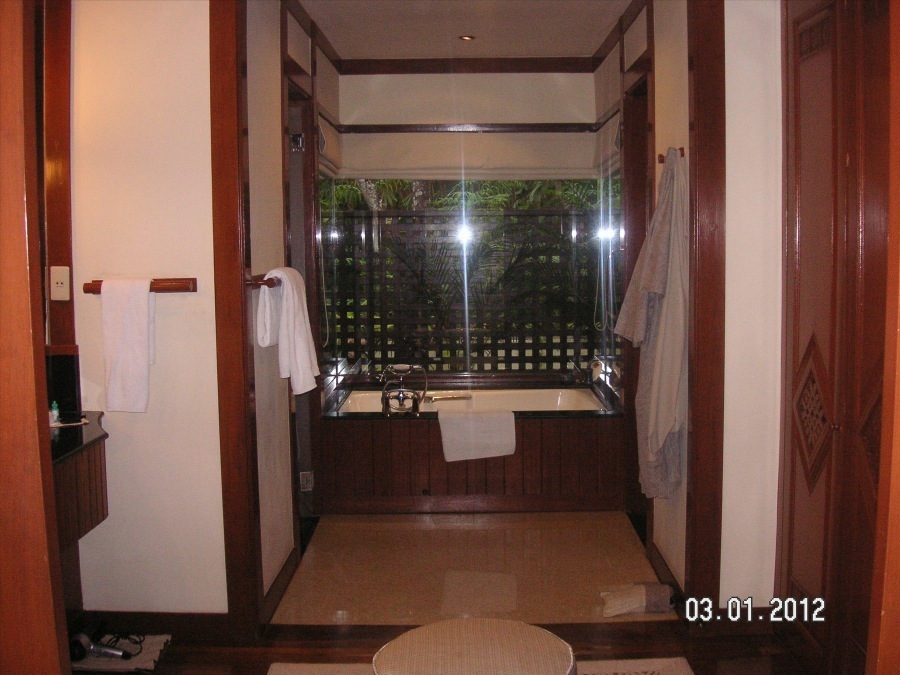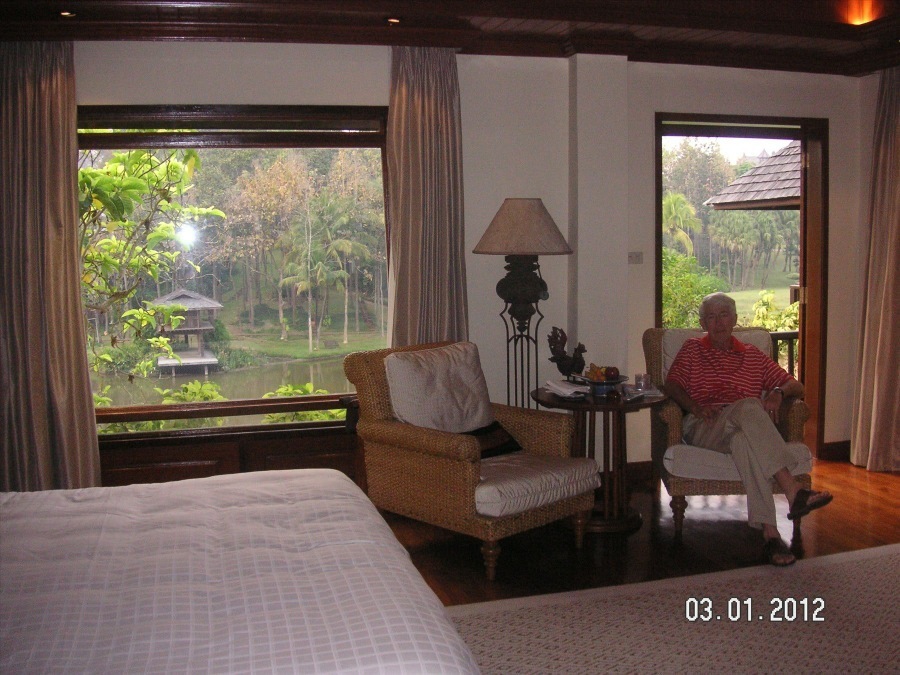 Life is good - We could see rice paddies and workers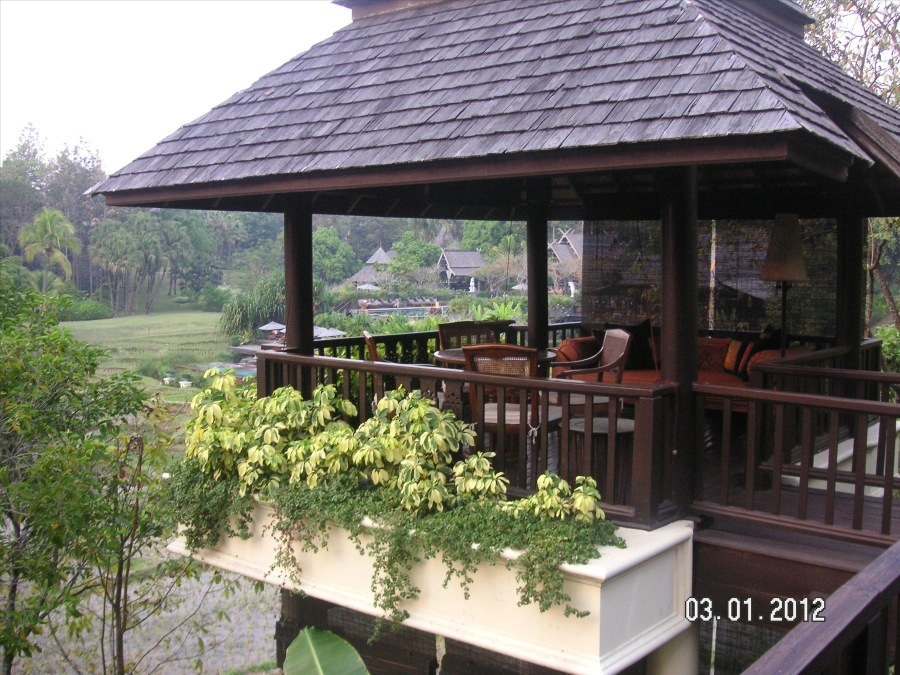 I know where to find the Burns at cocktail time....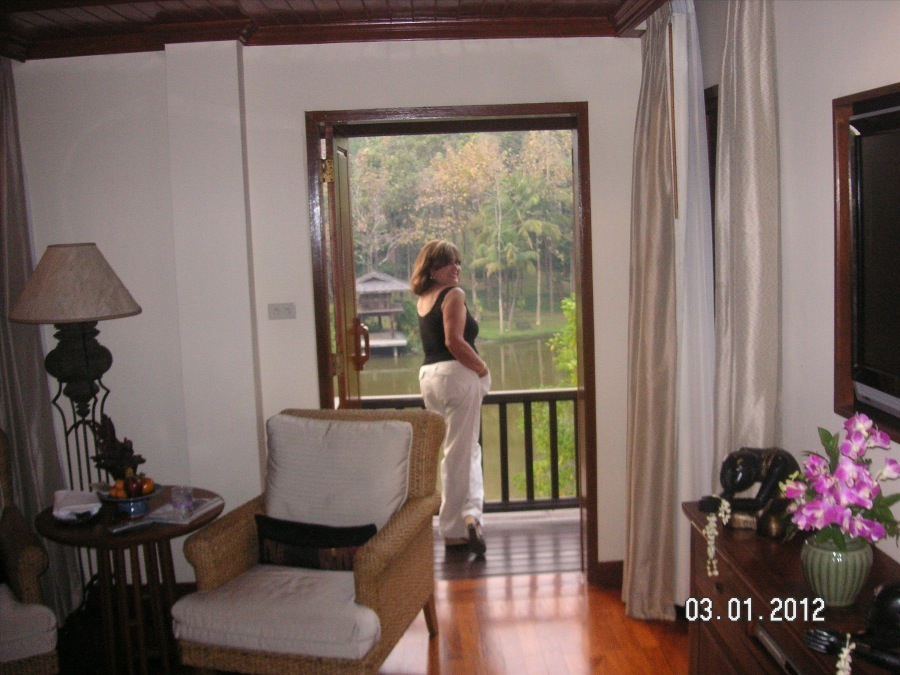 Wow.... Beautiful lady overlooking beautiful grounds.... A double whammy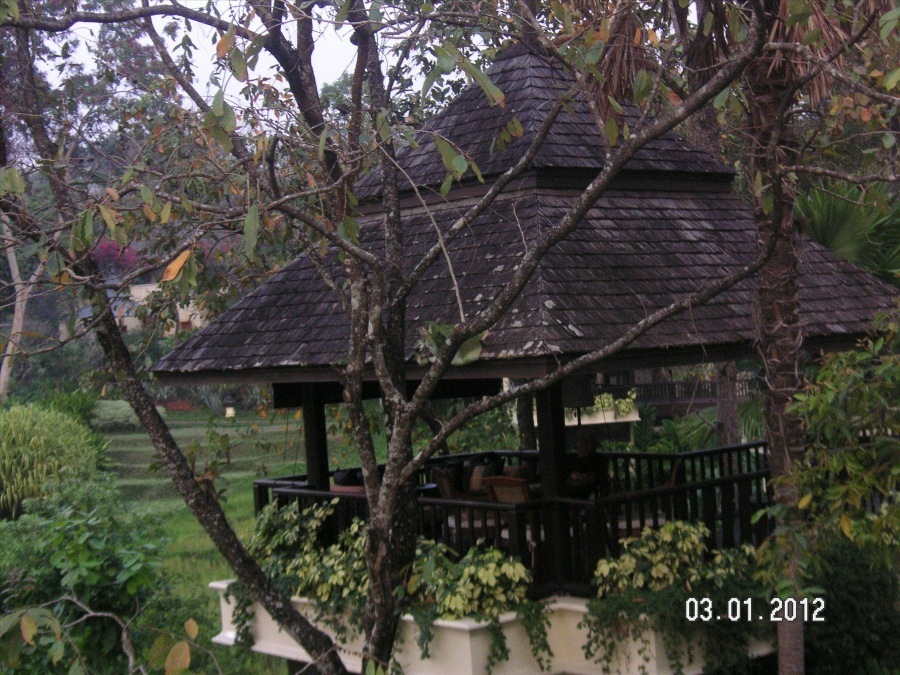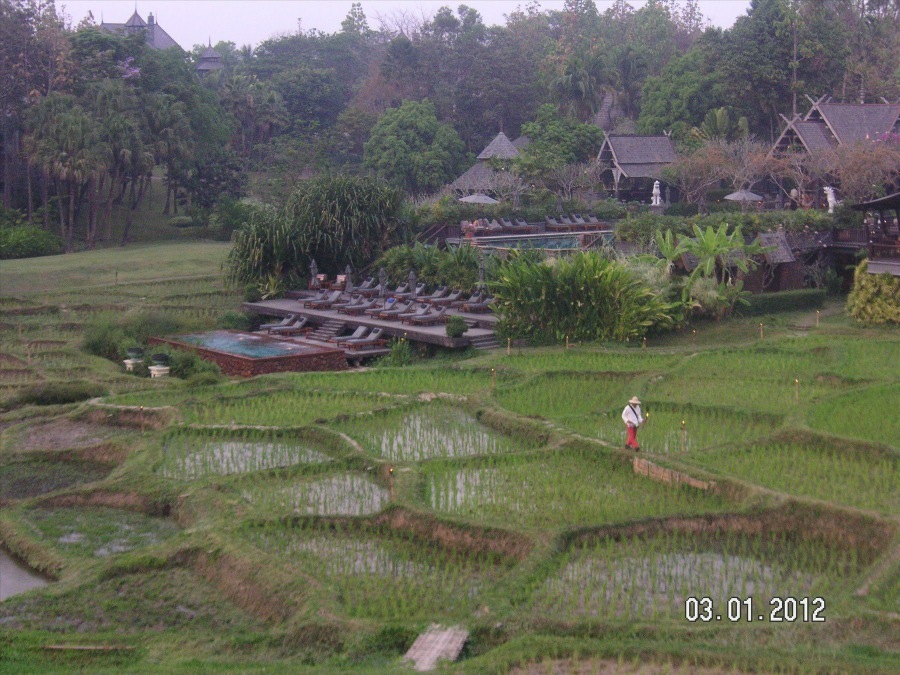 Not a great place to walk unless you like mud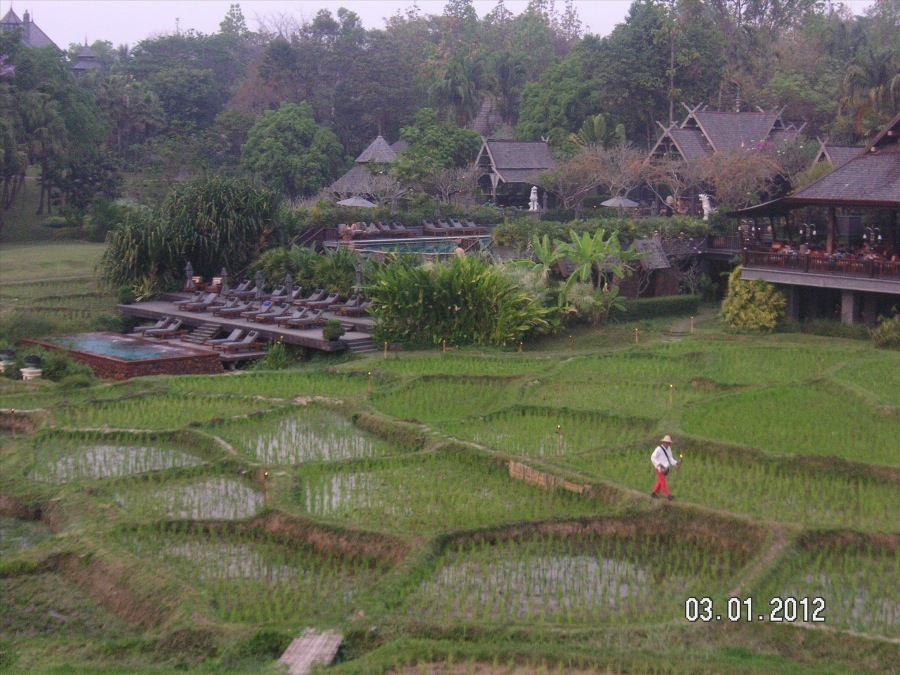 Rice growing in the hotels backyard
Did You Know? - Rice production in Thailand represents a significant portion of the Thai economy and labor force.
Thailand has a strong tradition of rice production. It has the fifth-largest amount of land under rice cultivation in the world and is the world's largest exporter of rice. Thailand has plans to further increase its land available for rice production, with a goal of adding 500,000 hectares to its already 9.2 million hectares of rice-growing areas.
The Thai Ministry of Agriculture expects rice production to yield around 30 million tons of rice for 2008.
The most produced strain of rice in Thailand is jasmine rice, which is a higher quality type of rice. However, jasmine has a significantly lower yield rate than other types of rice, but it also normally fetches more than double the price of other strains in a global market.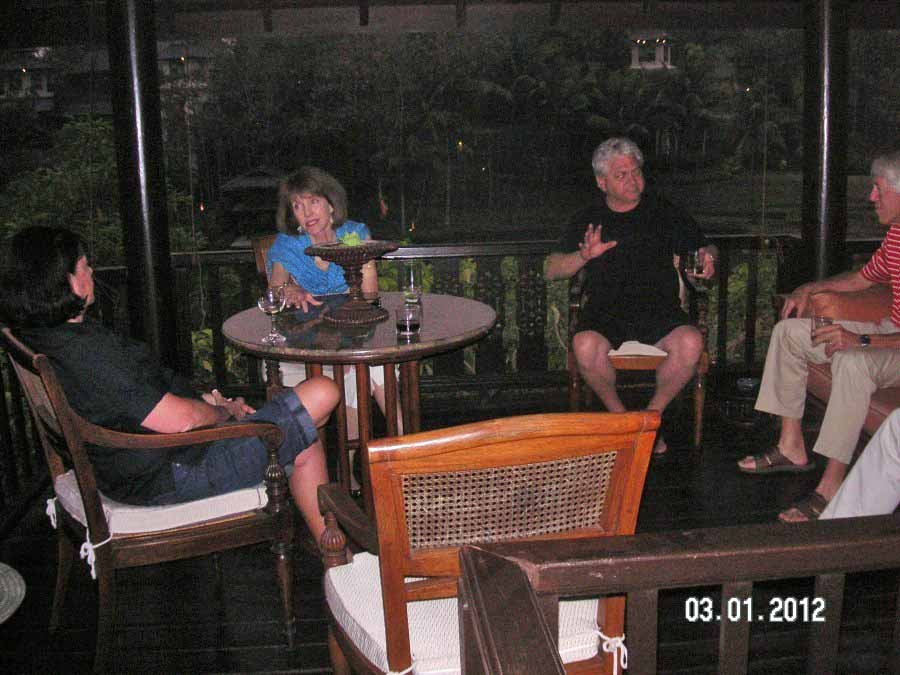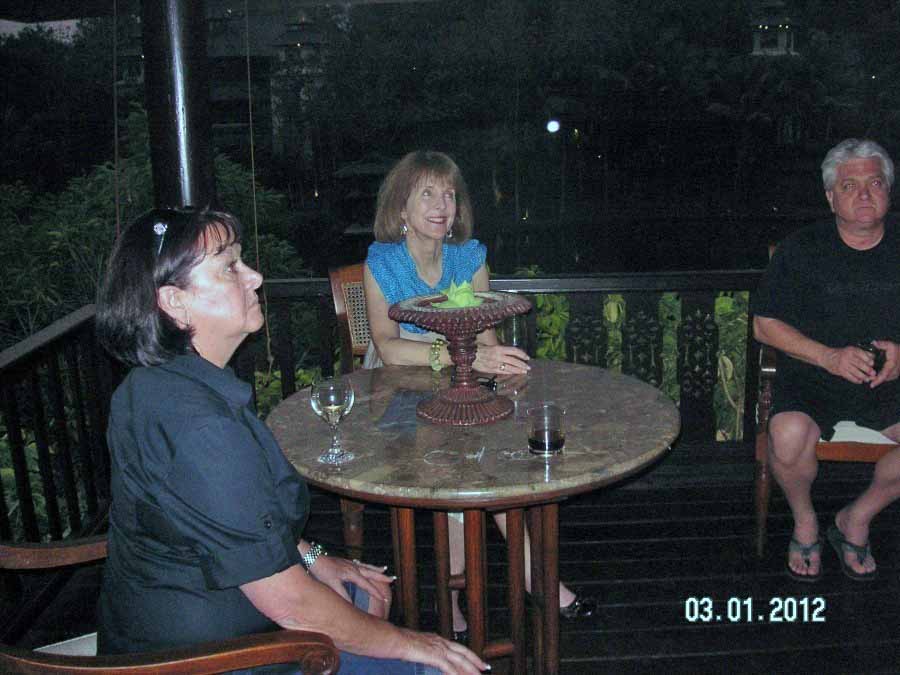 Tom is laid back and getting ready for the first long days adventure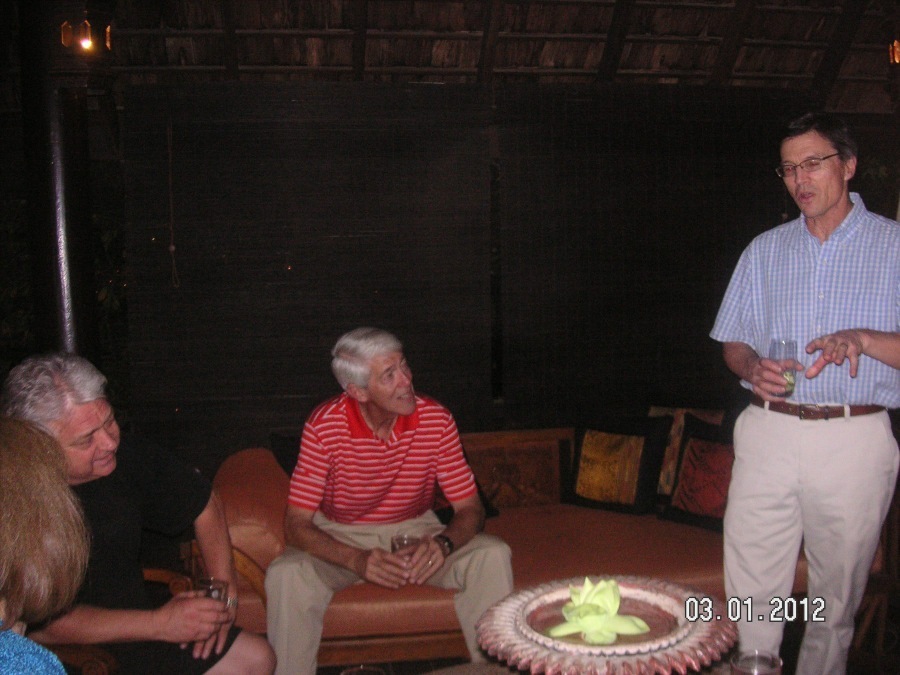 "OK... here's the deal about the elephants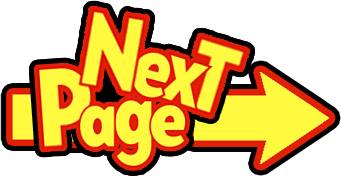 Proceed Page Seven And The Elephant Riding