Breakfast At Joe's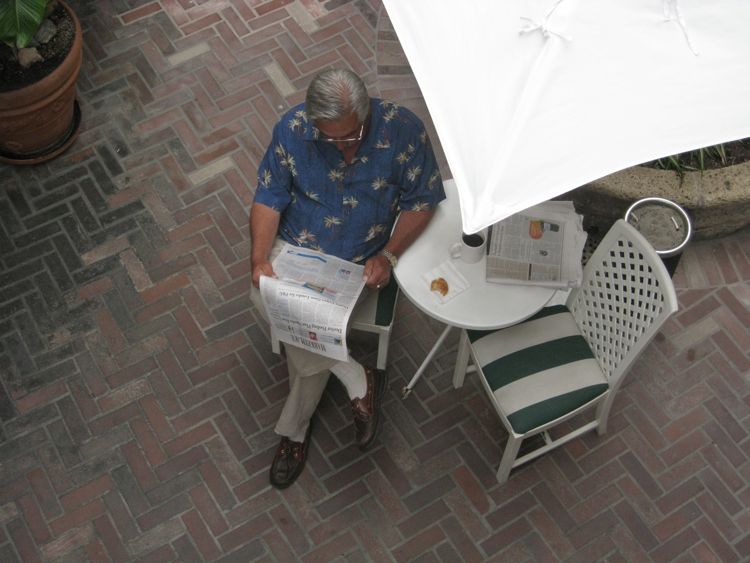 6:30 and James studies Friday's newspaper
Did You Know? - A newspaper is a regularly scheduled publication containing news, information, and advertising. By 2007 there were 6580 daily newspapers in the world (including 1456 in the U.S.) selling 395 million copies a day (55 million in the U.S)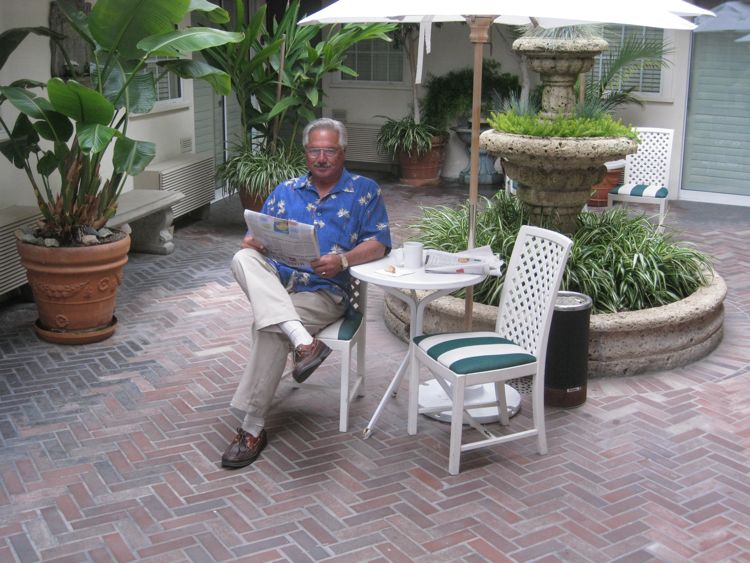 Coffee and croissants... Like doesn't get better than this!
Did You Know? - The "birth" of the croissant itself - that is, its adaptation from the plainer form of kipferl, before its subsequent evolution (to a puff pastry) - can be dated with some precision to at latest 1839 (some say 1838), when an Austrian artillery officer, August Zang, founded a Viennese Bakery ("Boulangerie Viennoise") at 92, rue de Richelieu in Paris.

It's lonely out at 6:30 am!

Great restaurant! Great service!
Did You Know? - According to Pliny the Elder, Portofino was founded by the Romans and named Portus Delphini, or Port of the Dolphin, because of the large number of dolphins that inhabited the Tigullian Gulf.
The village is mentioned in a diploma from 986 by Adelaide of Italy, which assigned it to the nearby Abbey of San Fruttoso di Capodimonte. In 1171, together with the neighbouring Santa Margherita Ligure, it was included in Rapallo's commune jurisdiction. After 1229 it was part of the Republic of Genoa. The town's natural harbour supported a fleet of fishing boats, but was somewhat too cramped to provide more than a temporary safe haven for the growing merchant marine of the Republic of Genoa.
In 1409 Portofino was sold to the Republic of Florence by Charles VI of France, but when the latter was ousted from Genoa the Florentine gave it back. In the 15th century it was a fief of families such as the Fieschi, Spinola, Adorno and Doria.
In 1815 it became part of the Kingdom of Sardinia and, from 1861, of the unified Kingdom of Italy.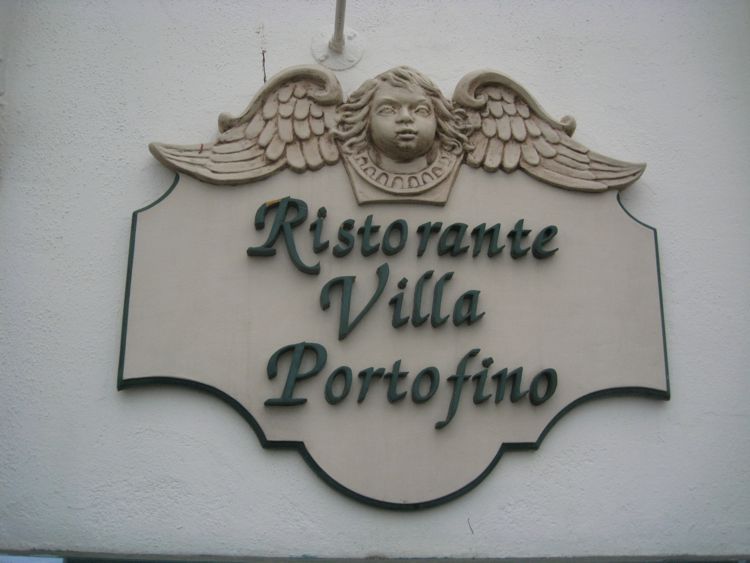 All is well except for the boney legs!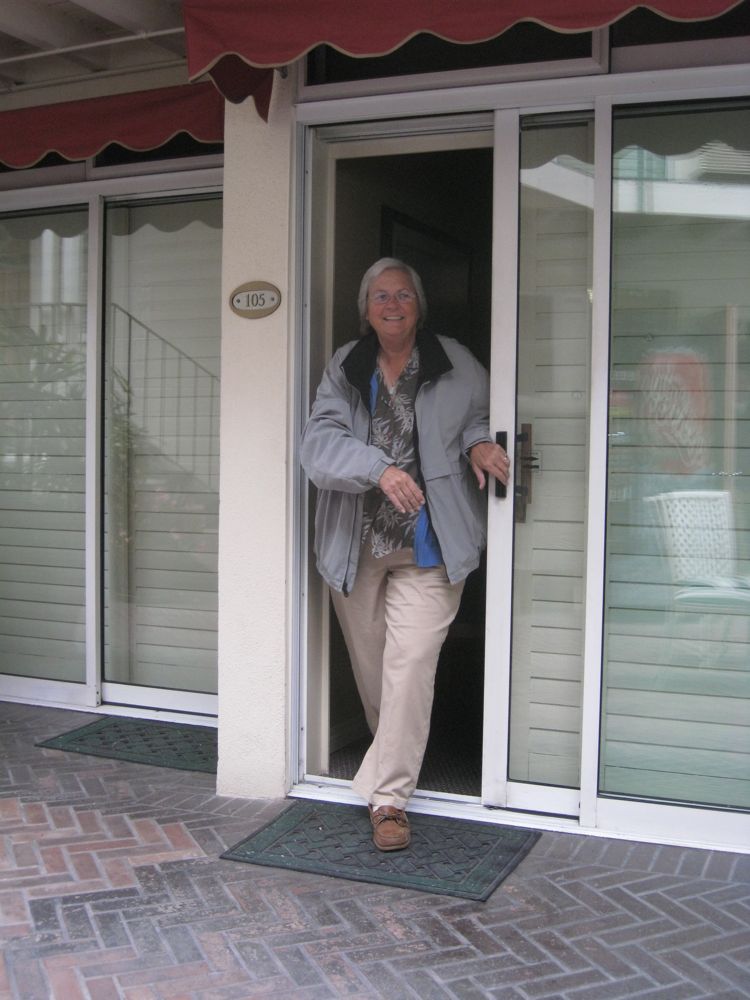 "Good morning to you... Good morning to you!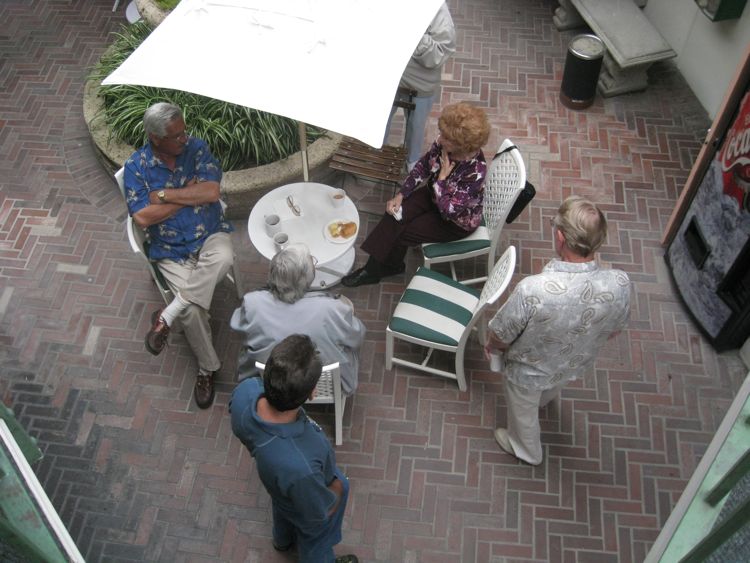 Eat At Joe's

James leads the way!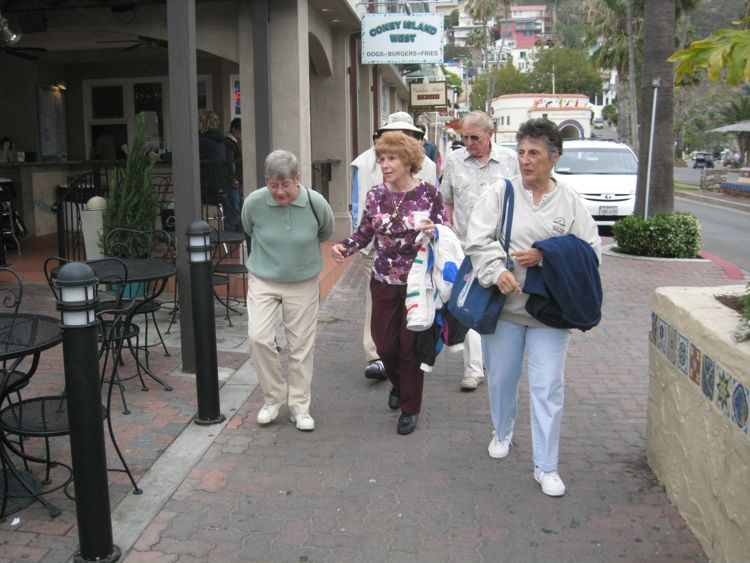 Quick... Otherwise Linda will stop here!
Did You Know? - The phrase means potatoes fried in the French sense of the verb "to cook", which can mean either sautéing or deep-grease frying. While its French origin, frire, unambiguously means deep-frying, frites being its past participle is used with a plural feminine substantive, as in pommes de terre frites ("deep-fried potatoes"). Thomas Jefferson at a White House dinner in 1802 served "potatoes served in the French manner". In the early 20th century, the term "French fried" was being used for foods such as onion rings or chicken, apart from potatoes.

Hurry hurry!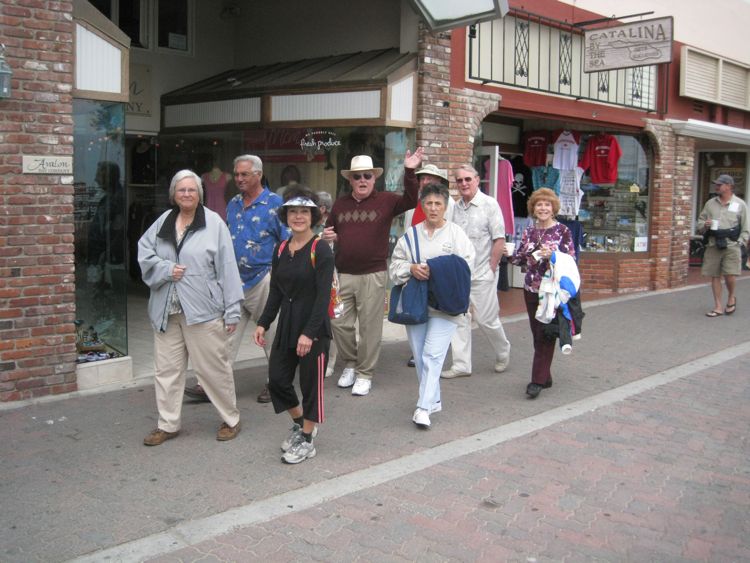 Bob takes the camera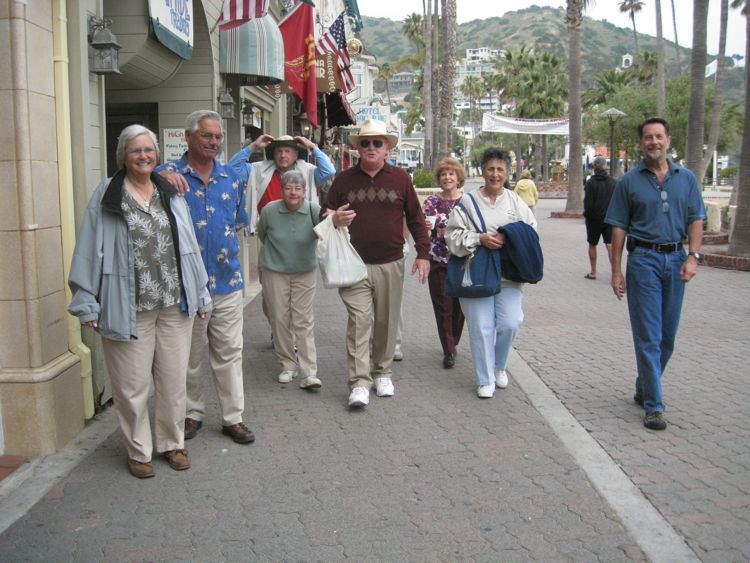 We Arrive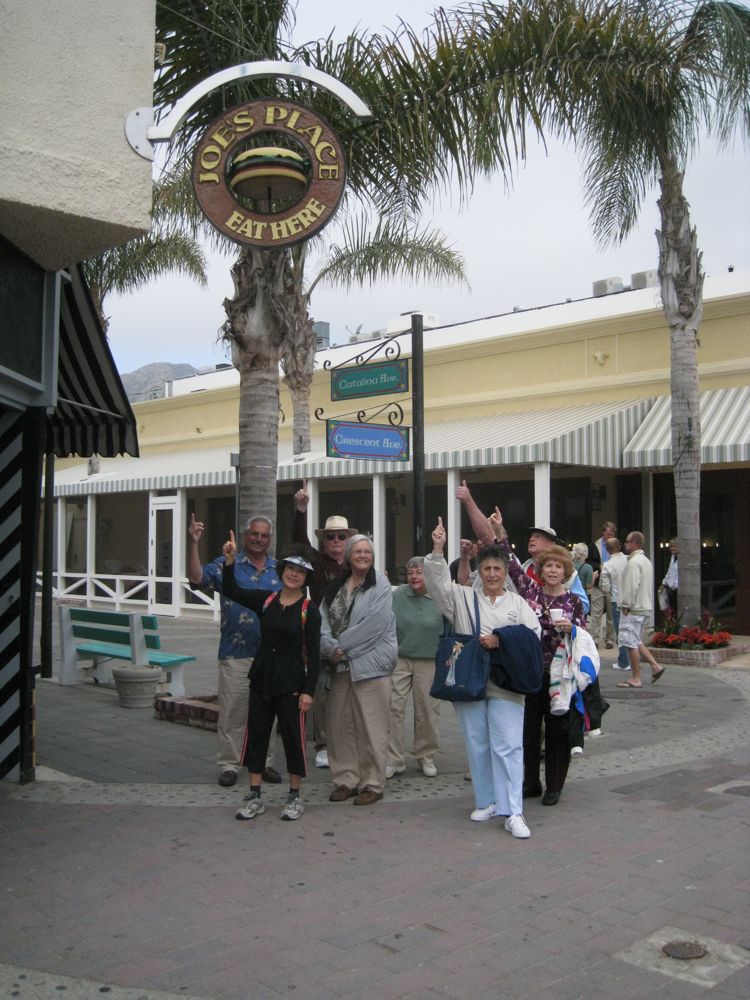 Dis is da place!

Decisions decisions
Some of the decision making techniques people use in everyday life include:
Listing the advantages and disadvantages of each option, popularized by Plato and Benjamin Franklin
Choosing the alternative with the highest probability-weighted utility for each alternative (see Decision Analysis)
satisficing: Accepting the first option that seems like it might achieve the desired result
Acquiesce to a person in authority or an "expert", just following orders
flipism: Flipping a coin, cutting a deck of playing cards, and other random or coincidence methods
Prayer, tarot cards, astrology, augurs, revelation, or other forms of divination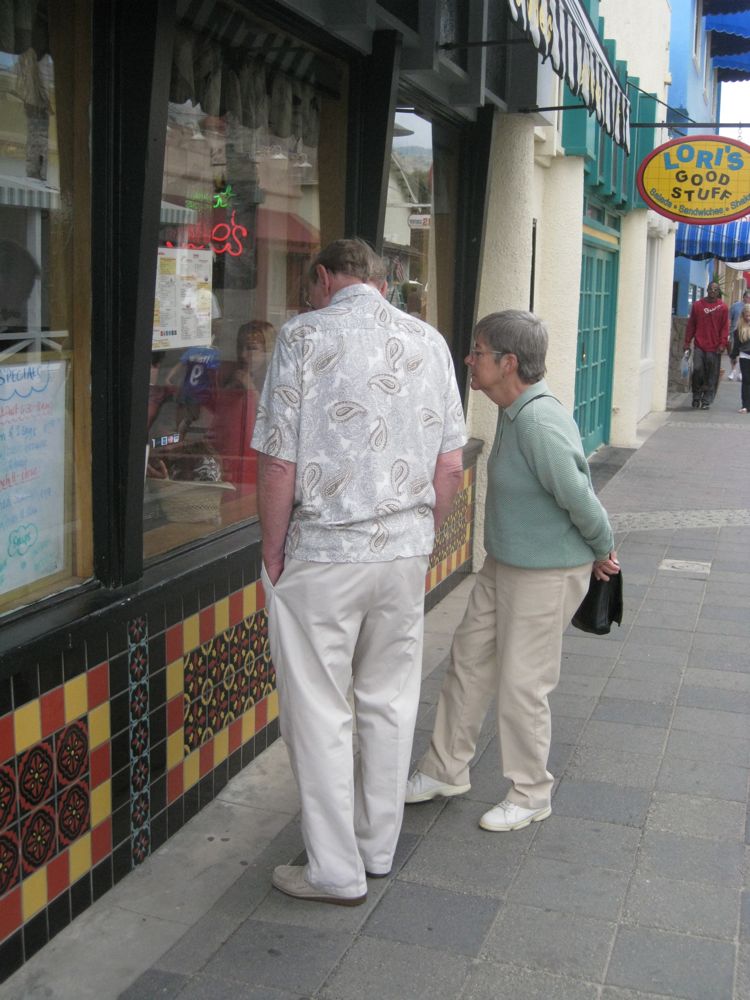 "OK, I know what I want!"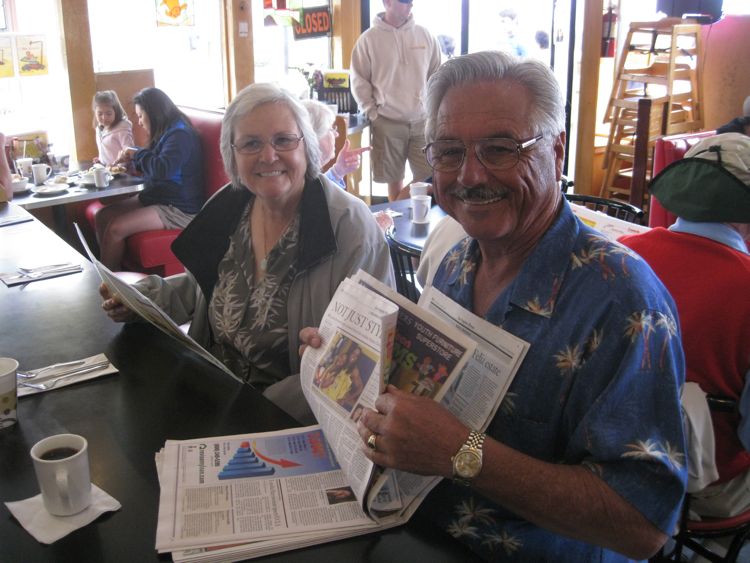 Life is good!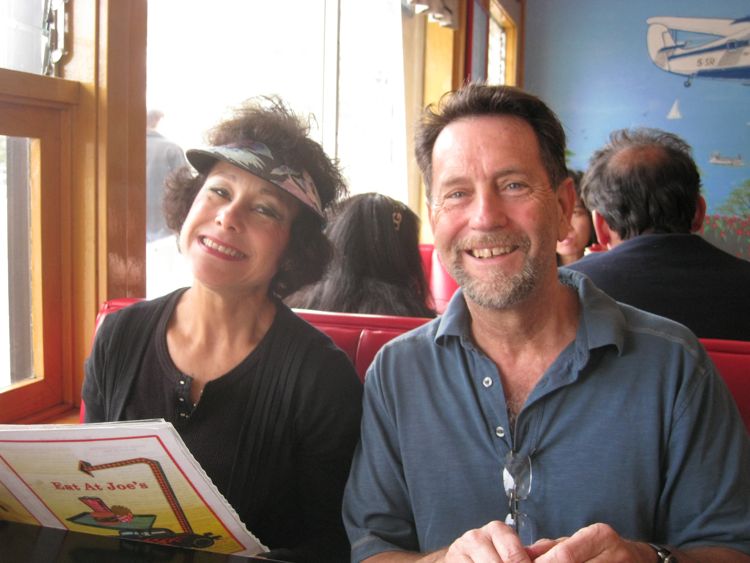 Hello!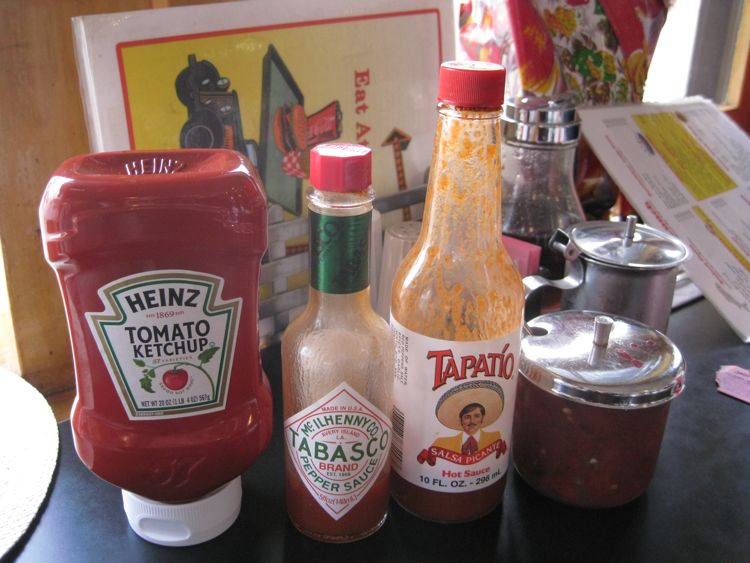 Tabasco... One can fix anything!
Did You Know? - Tabasco sauce was invented in 1868 by Edmund McIlhenny, a Maryland-born former banker who had moved to Louisiana around 1840. Initially McIlhenny used discarded cologne bottles to distribute his sauce to family and friends, and in 1868 when he started to sell to the public he ordered thousands of new "cologne bottles" from a New Orleans glassworks.
It was in these that the sauce was first commercially distributed, sharing till today a striking similarity to contemporary packaging for 4711 brand cologne. On his death in 1890, McIlhenny was succeeded by his eldest son, John Avery McIlhenny, who expanded and modernized the business, but resigned after a few years to join Theodore Roosevelt's Rough Riders volunteer cavalry regiment.
Some Of Tonight's Dancers Have Arrived!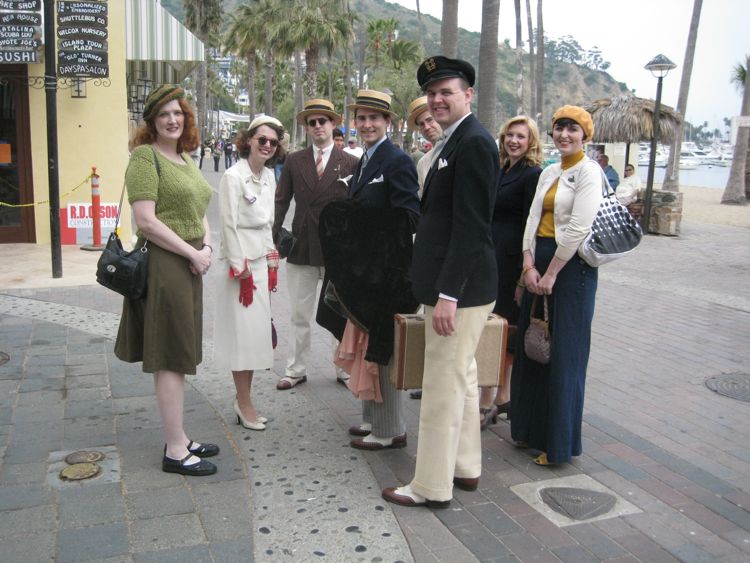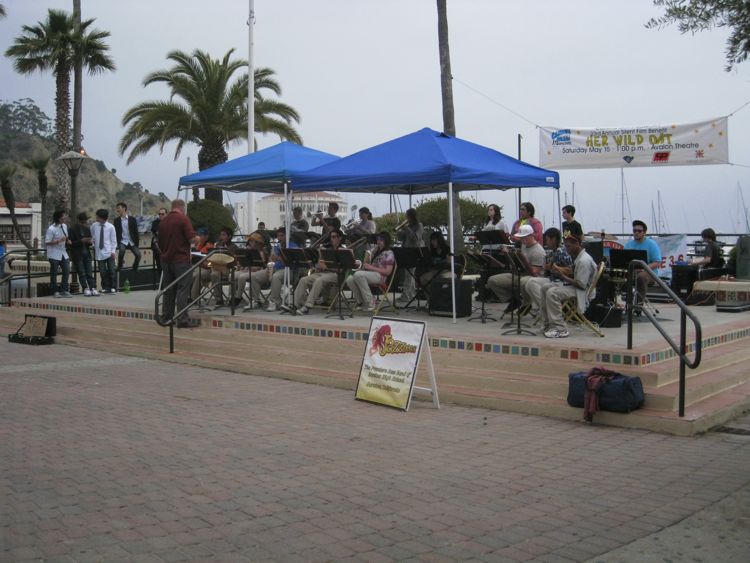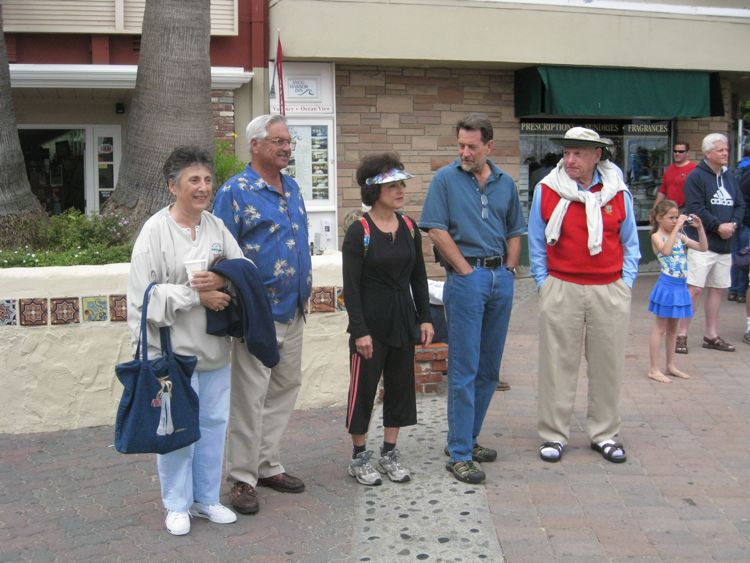 "What do you think Donna?"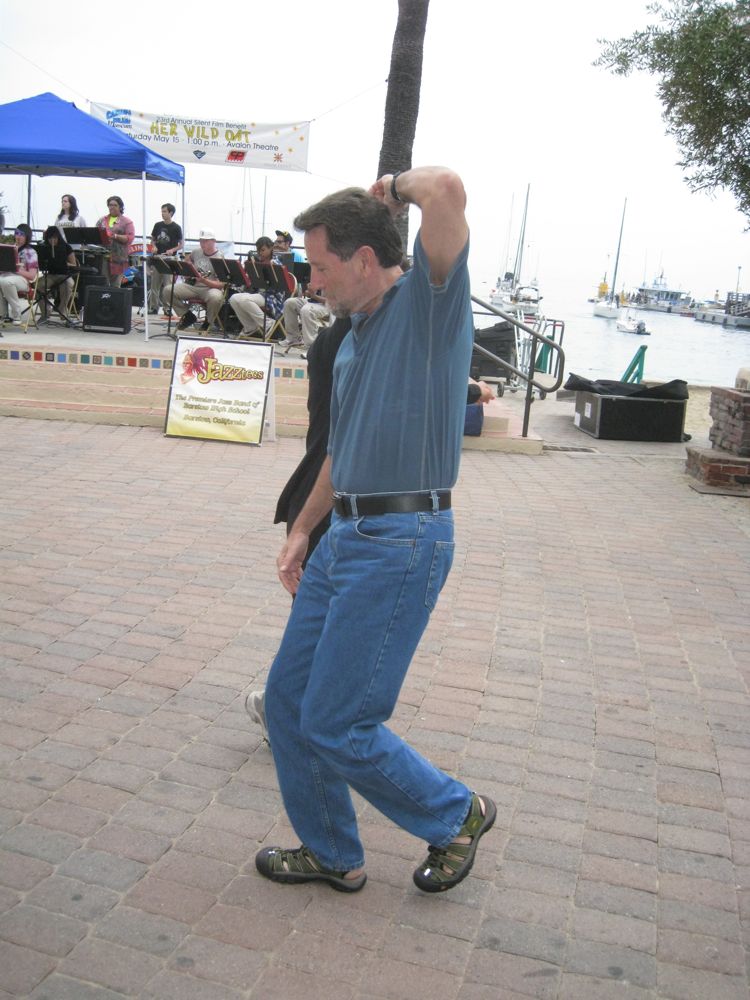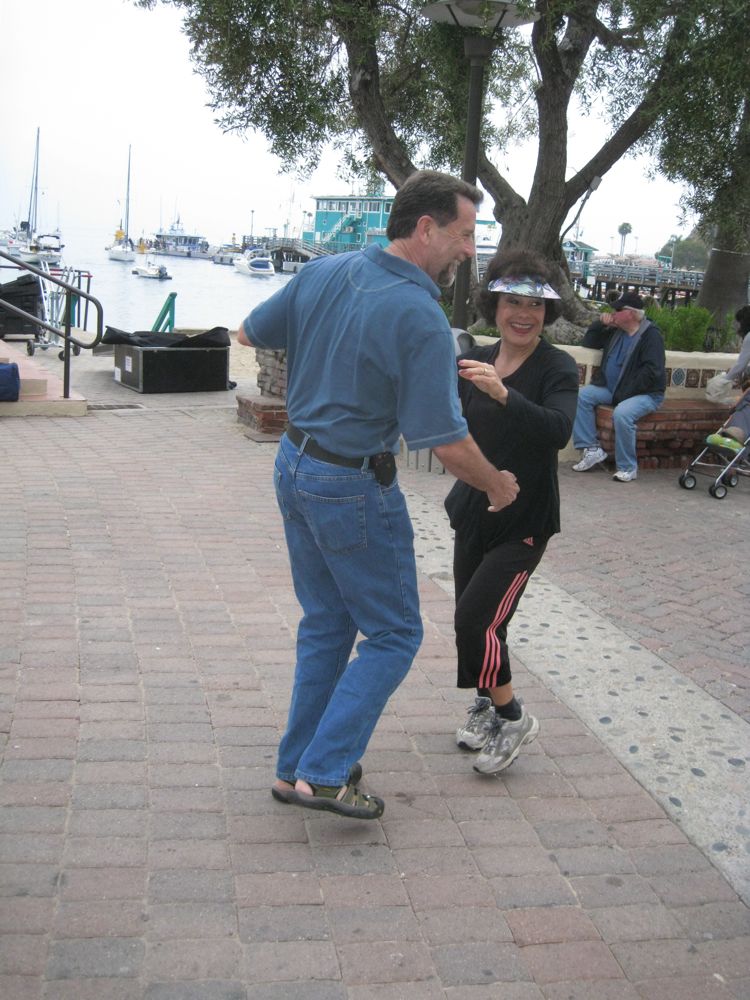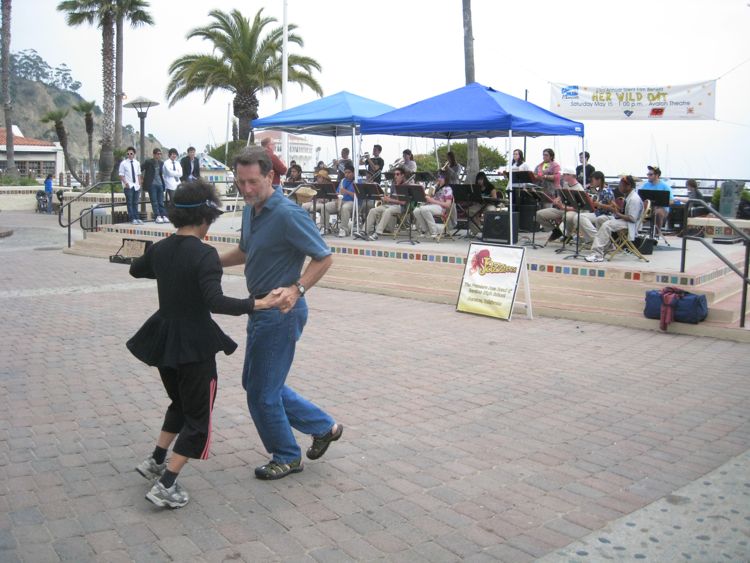 Go guys go!!!
Time For Golf
We had a ways to walk to the Golf Pro-Shop!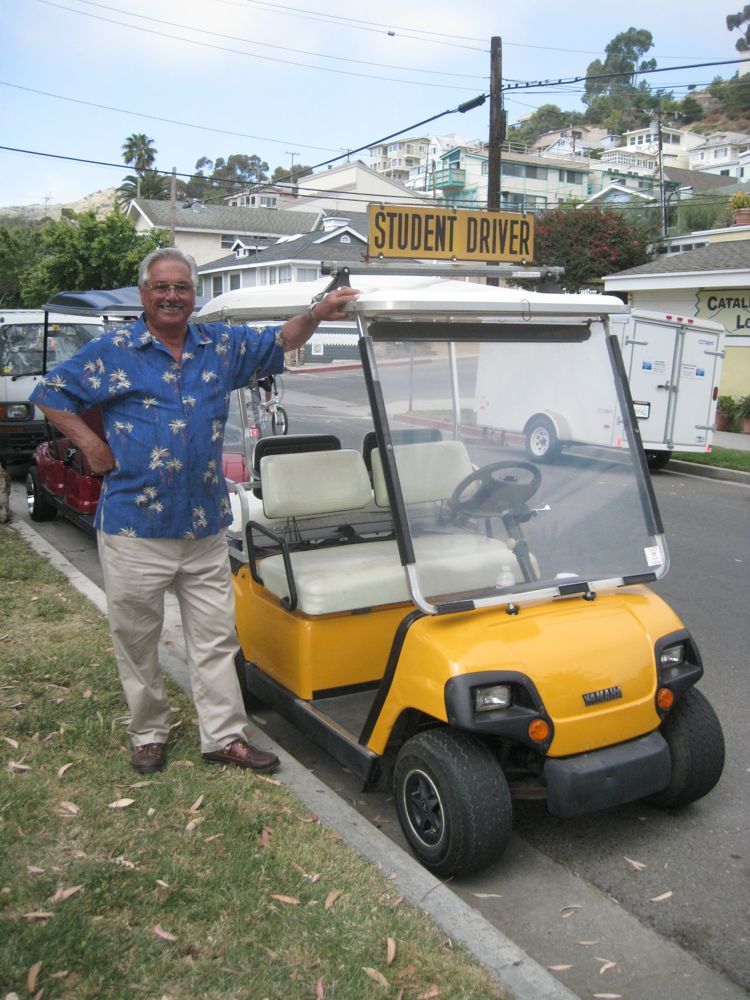 James always wanted professioal driving lessons!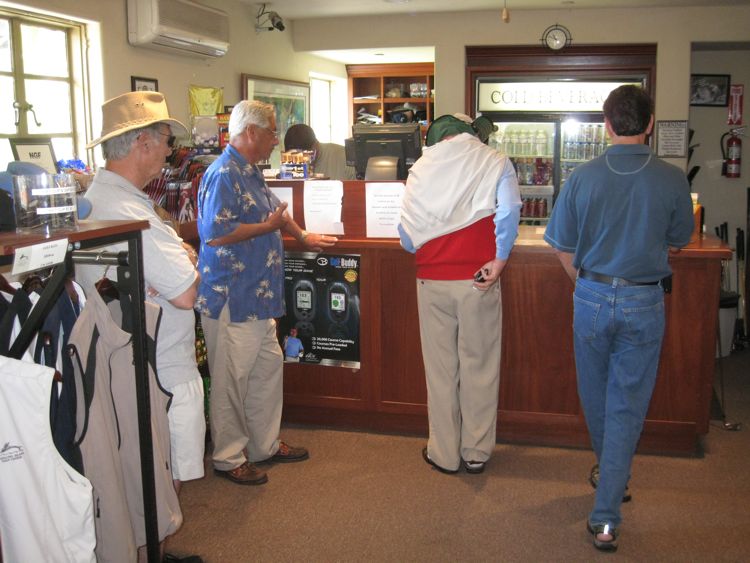 Herb reaches for his wallet and we await the moth to escape

Donna is ready!
Did You Know? - Electric golf cars have been used since at least 1951. Merle Williams of Long Beach, California was an early innovator of the electric golf car.[citation needed] He started with knowledge gained from production of electric cars due to World War II gasoline rationing. In 1951 his Marketeer Company began production of an electric golf car in Redlands, California. Cushman began production in 1955, Club Car in 1958, Taylor-Dunn in 1961, and Harley-Davidson in 1963.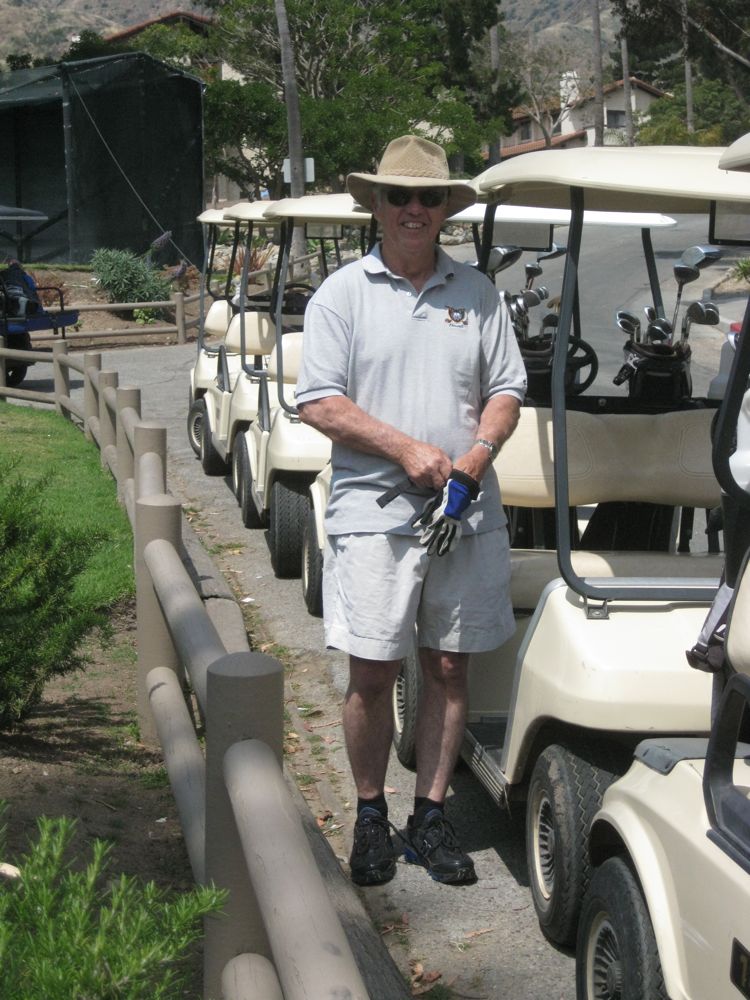 Ed dons his attire complete with blue gardening glove (some sequins are missing)
Did You Know? - Sequins are disk-shaped beads used for decorative purposes. They are available in a wide variety of colors and geometrical shapes. Sequins are commonly used on clothing, jewelry, bags and other accessories. Large sequins, fastened only at the top, have been used on billboards and other signage, particularly prior to the development of lighted and neon signs. Signs made with sequins were called schmaltz, as were the sequins themselves in that context.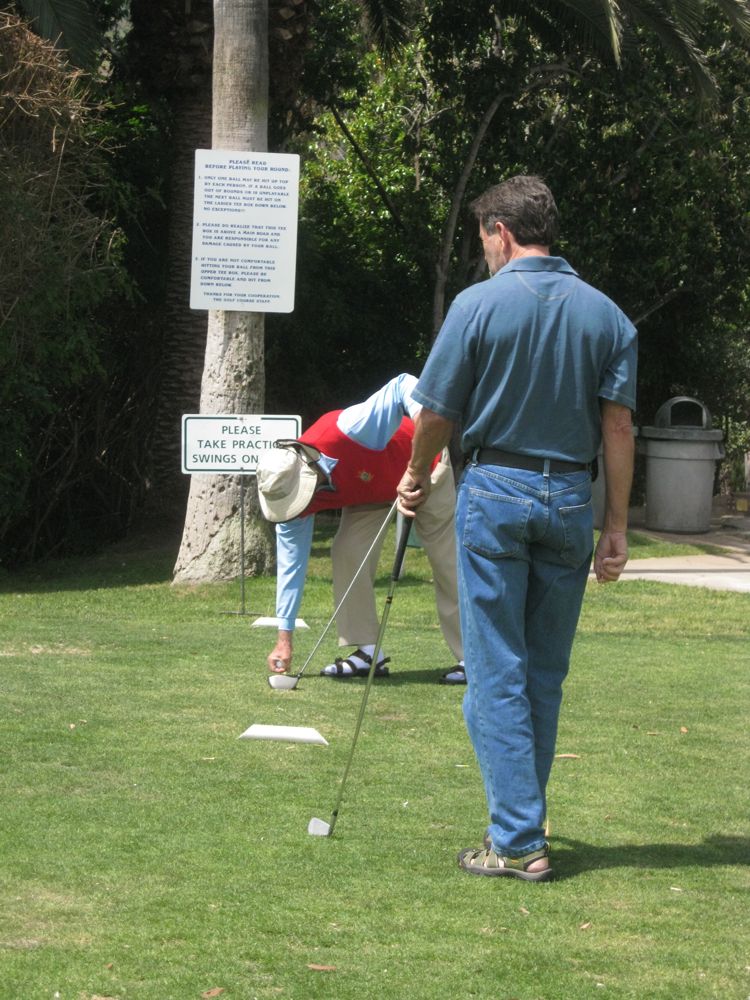 "Danger Will Robinson... The boys have gold clubs in their hands!"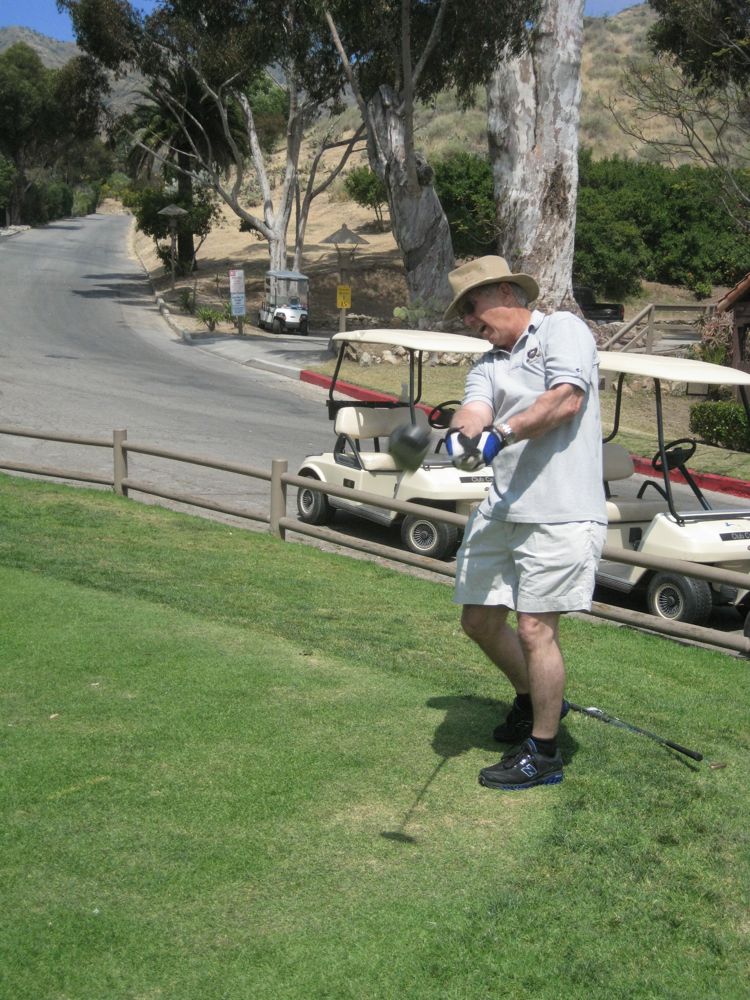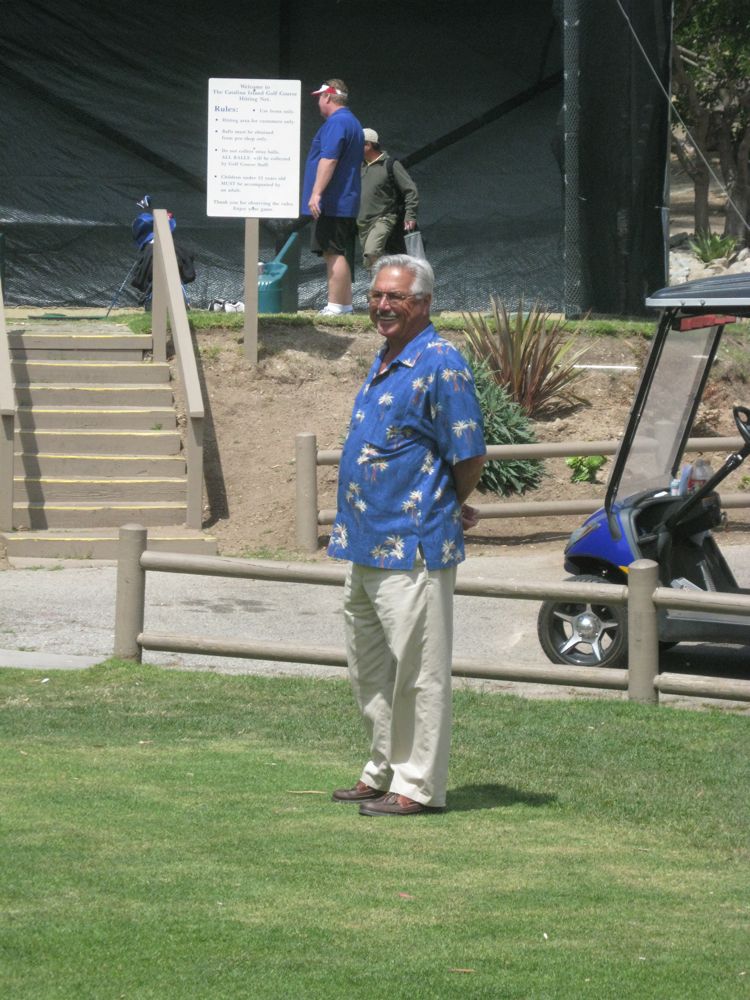 James enjoys seeing new type of swings.. Ed deminstrates the double semi-complete back twirl!

All all yell FORE as Bob steps onto the plate
Did You Know? - "Fore!" is shouted as a warning during a golf game when it appears possible that a golf ball may hit other players or spectators. The mention of the term in an 1881 British Golf Museum indicates that the term was in use at least as early as that period.
The term means "look ahead", and it is believed to come from the military "beware before", which was shouted when a battery fired behind friendly troops.
Other possible origins include the term being derived from the term "fore-caddy", a caddy waiting down range from the golfer to find where the ball lands. These caddies were often warned about oncoming golf balls by a shout "fore!"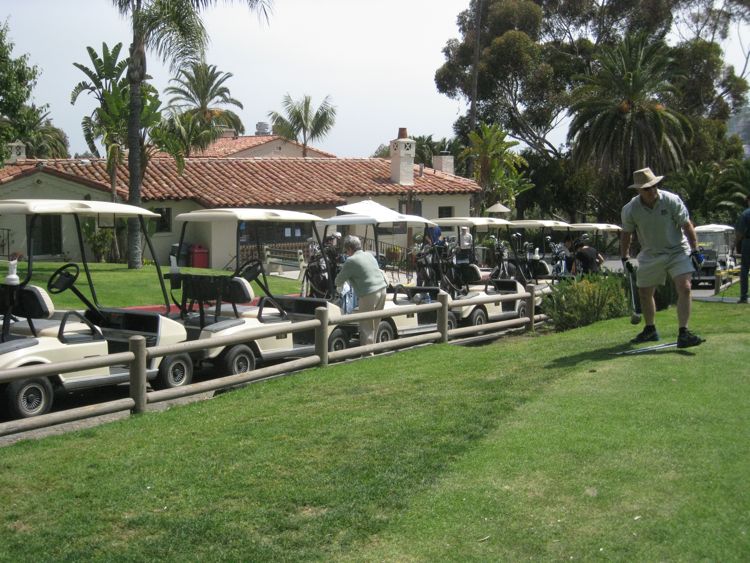 The fleet is ready to depart and Ed sneaks up to the batters box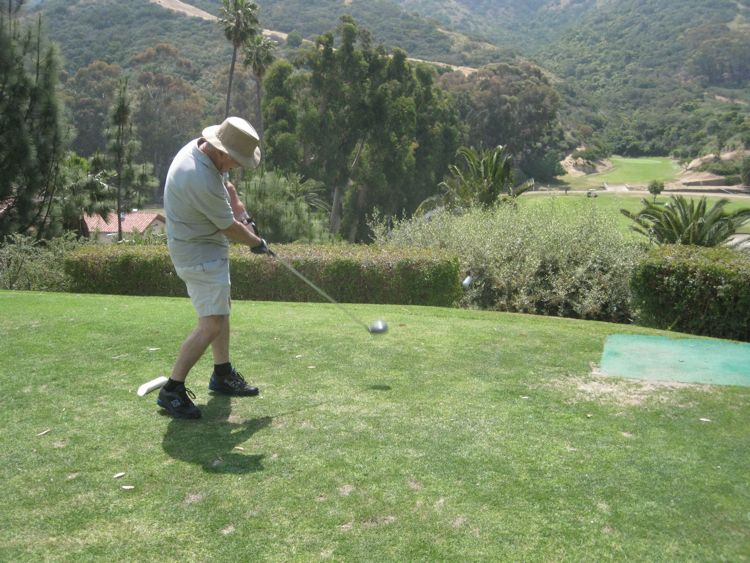 Ed swings and time stands still!! Check the ball in flight!

Ed swins and James runs for cover!

Time to relax
Did You Know? - In psychology, relaxation is the emotional state of low tension, in which there is an absence of arousal that could come from sources such as anger, anxiety, or fear.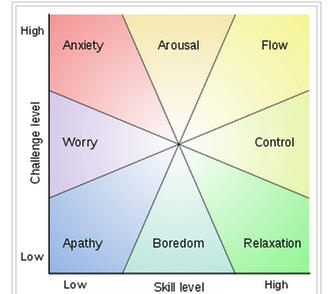 Golf explained!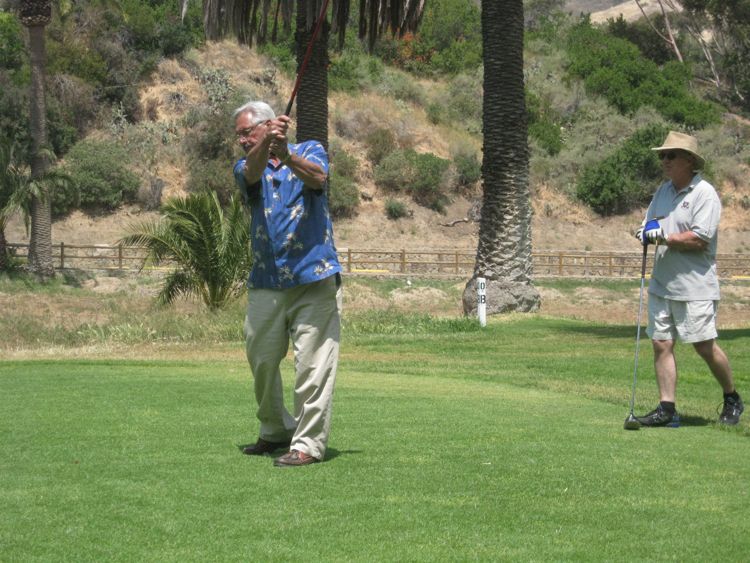 Ed gets to observed poetry in motion
Did You Know? - This move (called poetry in motion) sees one wrestler either place his opponent or Irish whip his opponent into the turnbuckle. The same wrestler then gets down on all fours and their partner runs from the opposite side of the ring/opposite turnbuckle, leap off his partner's back, and perform an aided splash/calf kick/heel kick/leg lariat/dropkick or in some rare instances, a leg drop on the opponent. (You can substitute golfer in place of a wrestler).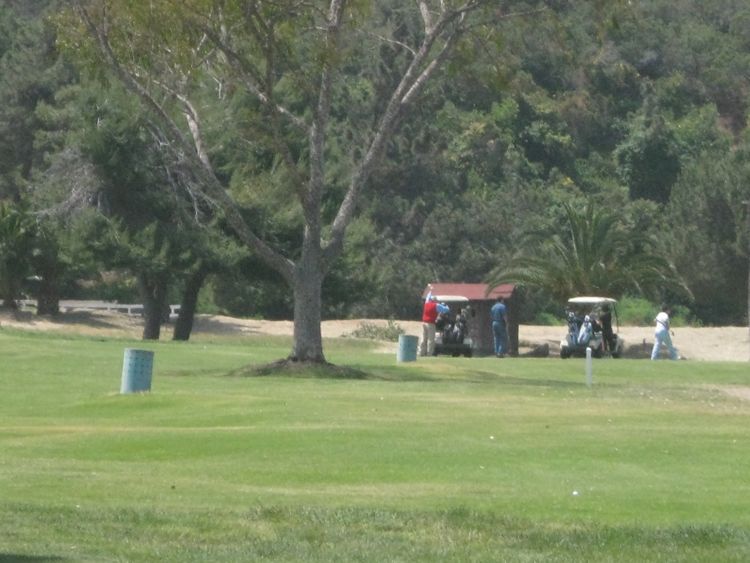 Herb, Irene, Bob, and Donna are ahead of us
Time For Some Professional Assistance

James says "Aim for the hole!"

Excellent hole.... Bob is NOT in the bushes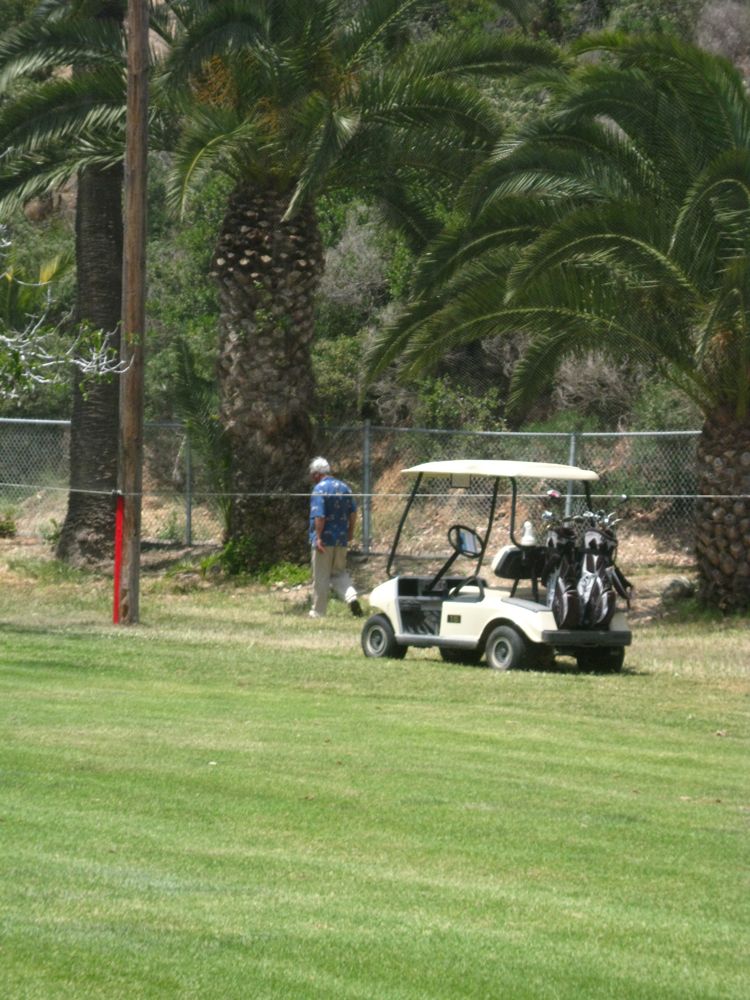 James is doing a litle "offroading"
Did You Know? - Golf is a precision club-and-ball sport, in which competing players (golfers), using many types of clubs, attempt to hit balls into each hole on a golf course while employing the fewest number of strokes. Golf is one of the few ball games that does not require a standardized playing area. Instead, the game is played on golf "courses", each of which features a unique design, although courses typically consist of either nine or 18 holes.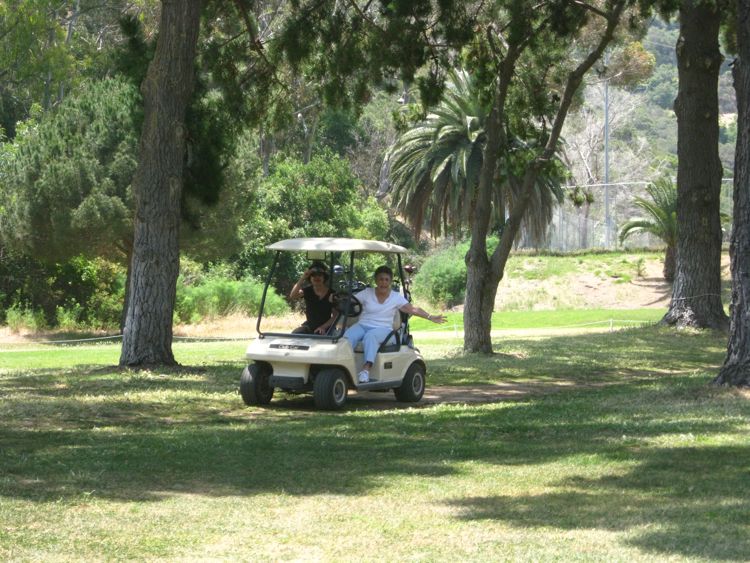 Lookout, lady drivers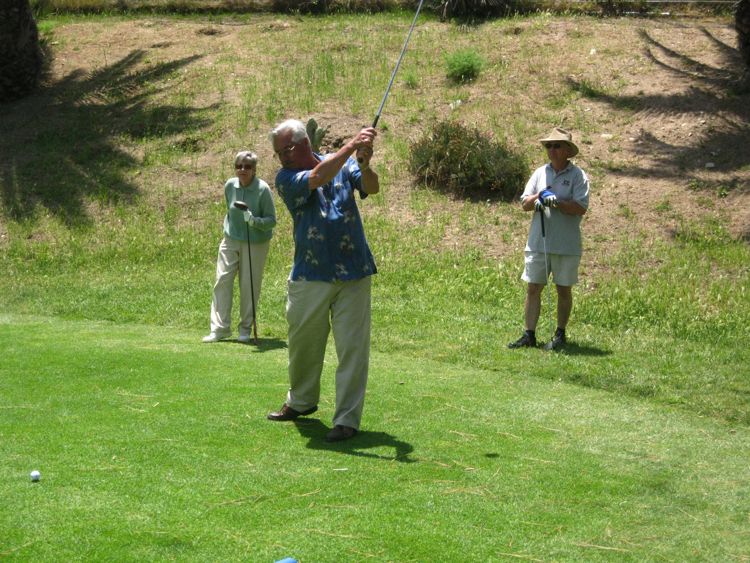 James gives in and waves the white flag!
Did You Know? - The white flag is an internationally recognized protective sign of truce or ceasefire, and request for negotiation. It is also used to symbolize surrender, since it is often the weaker military party which requests negotiation. A white flag signifies to all that an approaching negotiator is unarmed, with an intent to surrender or a desire to communicate. Persons carrying or waving a white flag are not to be fired upon, nor are they allowed to open fire. The use of the flag to surrender is included in the Geneva Conventions.
The first mention of the usage of white flags to surrender is made during the Eastern Han dynasty (A.D 25–220). In the Roman Empire, the historian Cornelius Tacitus mentions a white flag of surrender in A.D. 109. Before that time, Roman armies would surrender by holding their shields above their heads. The white flag was widely used in the Middle Ages in Western Europe to indicate an intent to surrender. The color white was used generally to indicate a person was exempt from combat; heralds bore white wands, prisoners or hostages captured in battle would attach a piece of white paper to their hat or helmet, and garrisons that had surrendered and been promised safe passage to safety would carry white batons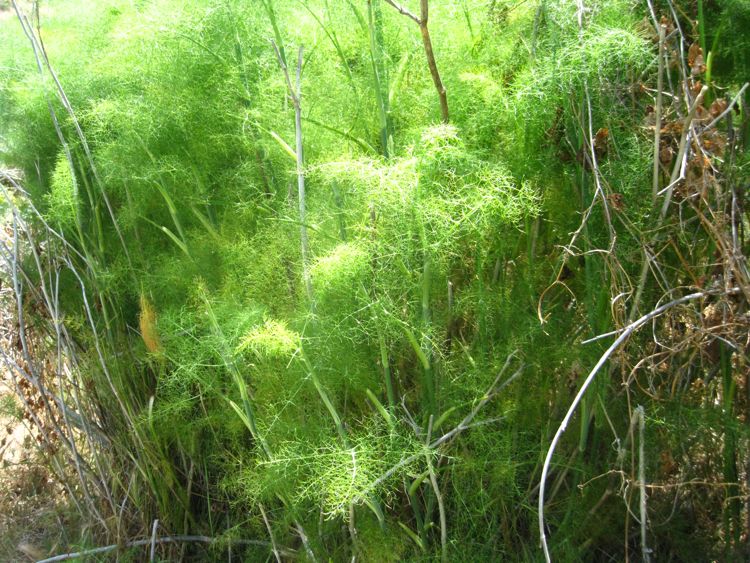 The greenery was quite pretty on this desolate island

Golf attire for the pleasantly plump golfer

Lot's of cactus on the ridge

Ed demonstrates the "Golfer's Grin"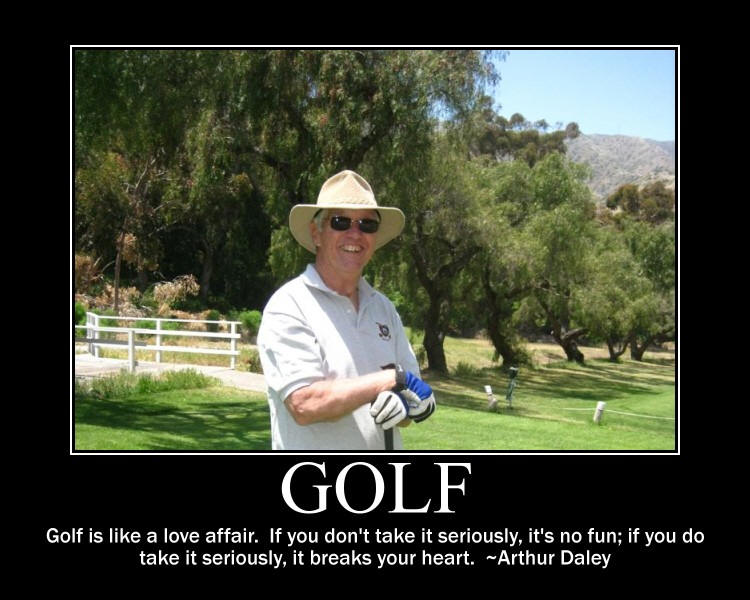 Ed's Laws About Golf
LAW 1: No matter how bad your last shot was, the worst is yet to come. This law does not expire on the 18th hole, since it has the supernatural tendency to extend over the course of a tournament, a summer and, eventually, a lifetime.
LAW 2: Your best round of golf will be followed almost immediately by your worst round ever. The probability of the latter increases with the number of people you tell about the former.
LAW 3: Brand new golf balls are water-magnetic. Though this cannot be proven in the lab, it is a known fact that the more expensive the golf ball, the greater its attraction to water.
LAW 4: Golf balls never bounce off of trees back into play. If one does, the tree is breaking a law of the universe and should be cut down.
LAW 5: No matter what causes a golfer to muff a shot, all his playing partners must solemnly chant "You looked up," or invoke the wrath of the universe.
LAW 6: The higher a golfer's handicap, the more qualified he deems himself as an instructor.
LAW 7: Every par-three hole in the world has a secret desire to humiliate golfers. The shorter the hole, the greater its desire.
LAW 8: Topping a 3-iron is the most painful torture known to man.
LAW 9: Palm trees eat golf balls.
LAW 10: Sand is alive. If it isn't, how do you explain the way it works against you?
LAW 11: Golf carts always run out of juice at the farthest point from the clubhouse.
LAW 12: A golfer hitting into your group will always be bigger than anyone in your group. Likewise, a group you accidentally hit into will consist of a football player, a professional wrestler, a convicted murderer and an IRS agent -- or some similar combination.
LAW 13: All 3-woods are demon-possessed.
LAW 14: Golf balls from the same "sleeve" tend to follow one another, particularly out of bounds or into the water (See Law three).
LAW 15: A severe slice is a thing of awesome power and beauty.
LAW 16: "Nice lag" can usually be translated to "lousy putt." Similarly, "tough break" can usually be translated "way to miss an easy one, sucker."
LAW 17: The person you would most hate to lose to will always be the one who beats you.
LAW 18: The last three holes of a round will automatically adjust your score to what it really should be.
LAW 19: Golf should be given up at least twice per month.
LAW 20: All vows taken on a golf course shall be valid only until the sunset.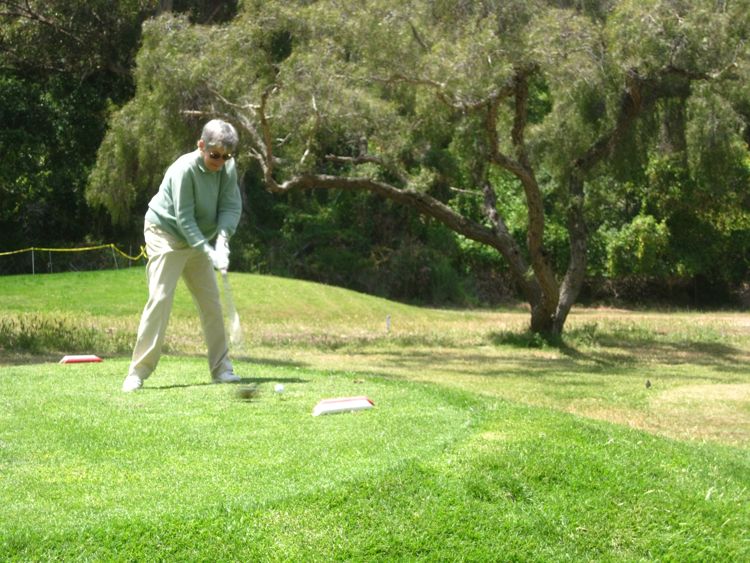 Boring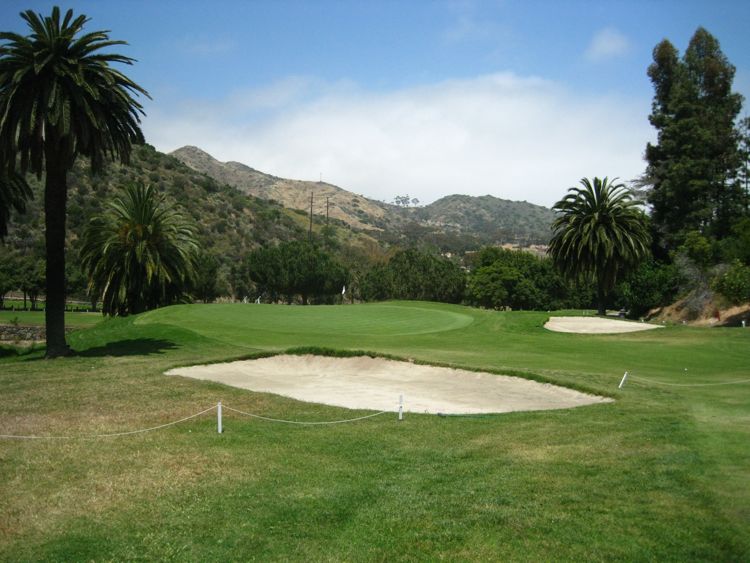 See the Palm tree just to the left of the green?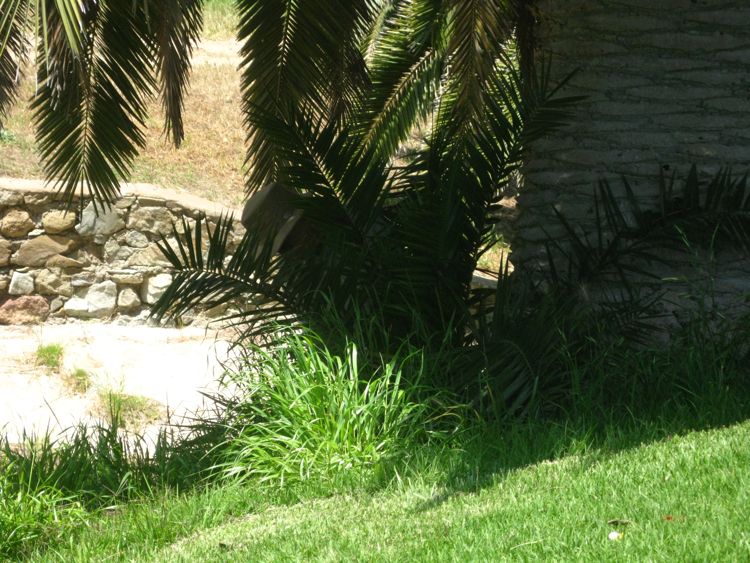 Can you spot the golfer?

Ed's other hobby is hiking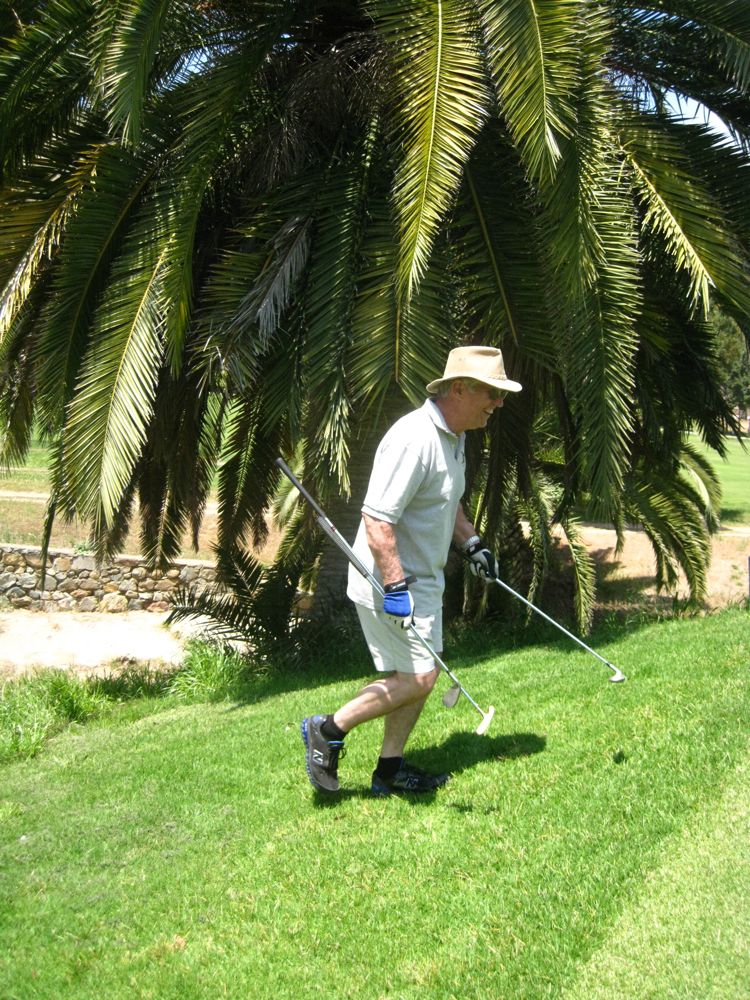 "Ha! I used my special club from behind the palm tree to put the ball onto the grern!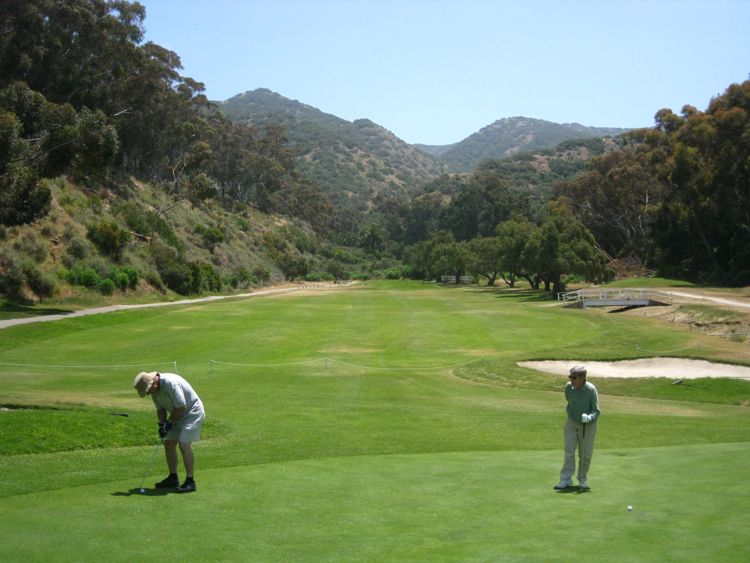 The First Nine Is Now History
Vicky, Del, Craig and MaryAnn Make The Trek Over To The Island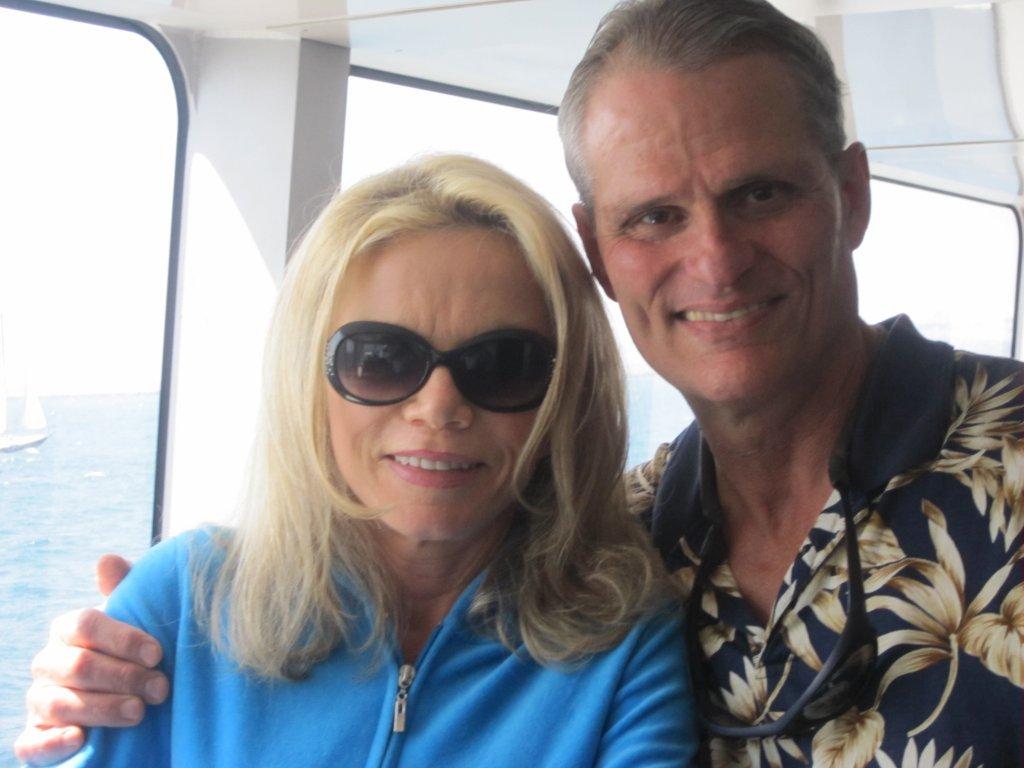 MaryAnn and Craig brave the high seas to join us for the dance - No seacicknesses here!!
Did You Know? - Motion sickness or kinetosis, also known as Travel Sickness, is a condition in which a disagreement exists between visually perceived movement and the vestibular system's sense of movement. Depending on the cause it can also be referred to as seasickness, car sickness, simulation sickness, airsickness, or space sickness.
Dizziness, fatigue, and nausea are the most common symptoms of motion sickness. Sopite syndrome in which a person feels fatigue or tiredness is also associated with motion sickness. Nausea in Greek means seasickness (naus means ship). If the motion causing nausea is not resolved, the sufferer will frequently vomit. Unlike ordinary sickness, vomiting in motion sickness tends not to relieve the nausea.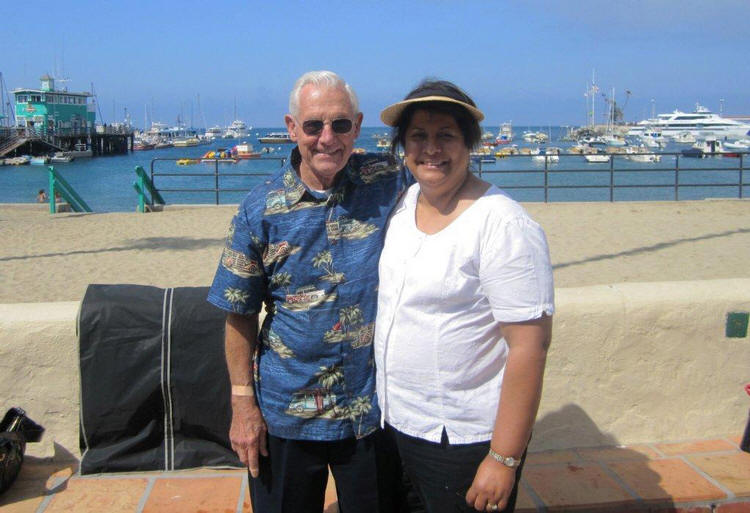 Vicky and Del get off the ship!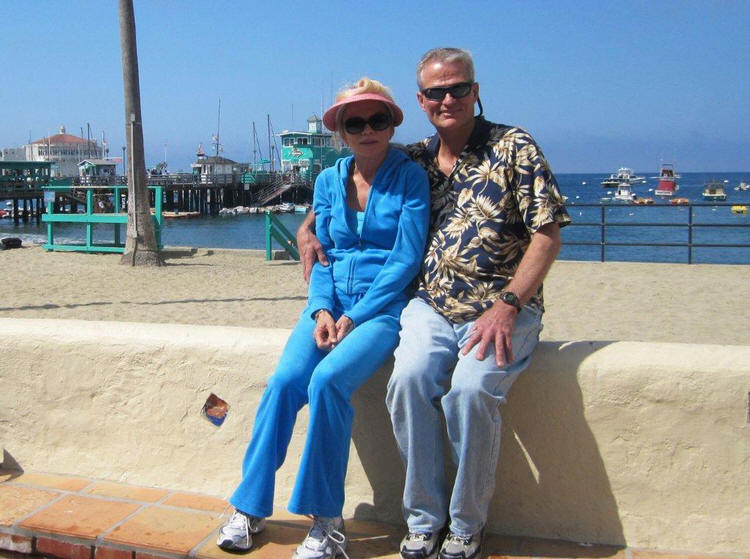 Craig and MaryAnn getting their sea legs
Some Of Us (Nita, Kathy, and Went To The Silent File Festival
Did You Know? - Santa Catalina Island has served as the location for the filming of over 500 motion pictures, documentaries, television programs and commercials for the past 90 years. Approximately 300 motion pictures have been filmed on the Island and, interestingly, 135 of the films were produced between 1912 and 1928, the Silent Film Era. During the 16 years of silent film production, many notable directors and actors frequented the Island and produced many classic films, such as Treasure Island (1918), Male and Female (1919), Ten Commandments (1923), Ben Hur (1925), Old Ironsides (1926) and The Black Pirate (1926) to name a few.
In this 1927 feature comedy, Moore plays a woman who owns a small lunch wagon and falls for a duke's son, played by Larry Kent, who is pretending to be his own chauffeur. With her savings, she pursues him to a resort hotel, only to be mistaken for a duchess. This film marks the first on-screen appearance by Loretta Young and the resort hotel scenes were filmed at the historic Hotel Del Coronado. Thought to be lost, Her Wild Oat was rediscovered a few years ago and restored by the Academy Film Archive with the help of film historian, Joseph Yranski.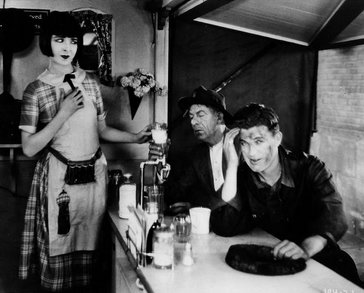 Did You Know? - One may wonder why so many production companies flocked to the Island during this period and the answer is quite simple. The Island's unique natural beauty and accessibility were the major factors. Production crews and sets could be sent to the Island by barge and the vast, untouched mountains and beaches could be transformed into almost any place in the world, from a South Seas paradise to the American frontier. Today, it is much more convenient to fly a production staff and actors to Tahiti to film a scene. But during the age of silent film, Santa Catalina Island was as close as you could get to Tahiti or any other part of the world, including - as in the case of the classic Old Ironsides - the coast of North Africa.