A Walk To The Big House And Herb Garden (Page Four)
Did you know? - The traditional kitchen garden, also known as a potager, is a space separate from the rest of the residential garden - the ornamental plants and lawn areas. Most vegetable gardens are still miniature versions of old family farm plots, but the kitchen garden is different not only in its history, but also its design.

The kitchen garden may serve as the central feature of an ornamental, all-season landscape, or it may be little more than a humble vegetable plot. It is a source of herbs, vegetables, fruits, and flowers, but it is often also a structured garden space with a design based on repetitive geometric patterns.

The kitchen garden has year-round visual appeal and can incorporate permanent perennials or woody plantings around (or among) the annuals.

The side of the Tea House where we enjoyed the afternoon views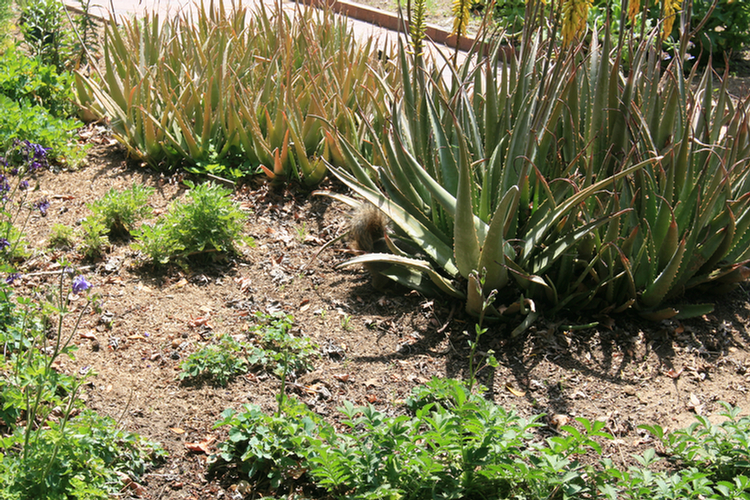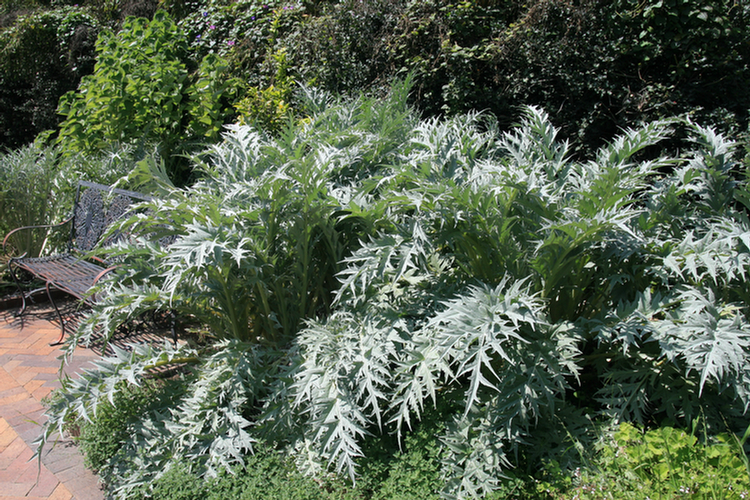 Artichokes
Did you know? - The Globe Artichoke (Cynara cardunculus) is a perennial thistle originating in southern Europe around the Mediterranean. It grows to 1.5-2 m tall, with arching, deeply lobed, silvery glaucous-green leaves 50?82 cm long. The flowers develop in a large head from an edible bud about 8?15 cm diameter with numerous triangular scales; the individual florets are purple. The edible portion of the buds consists primarily of the fleshy lower portions of the involucral bracts and the base, known as the "heart"; the mass of immature florets in the center of the bud is called the "choke"
Did You Know? - Heliotropium is a genus of flowering plants in the borage family, Boraginaceae. There are 250 to 300 species in this genus, which are commonly known as heliotropes. The name "heliotrope" derives from the fact that these plants turn their leaves to the sun. Helios is Greek for "sun", tropein means "to turn".

Sue knew most of the plants in the garden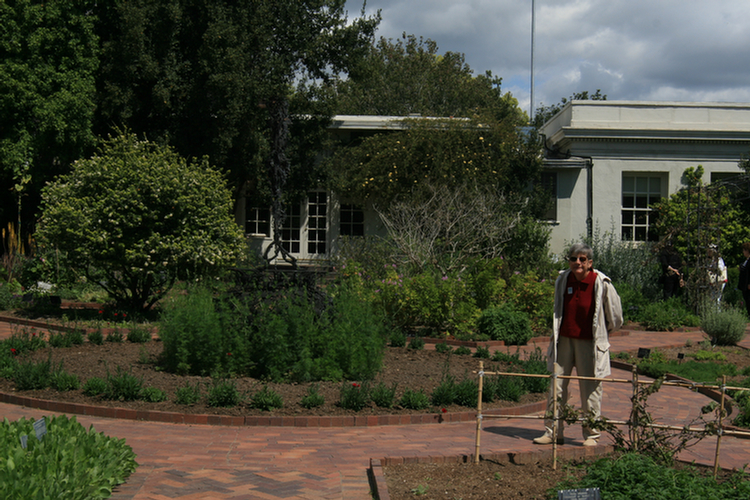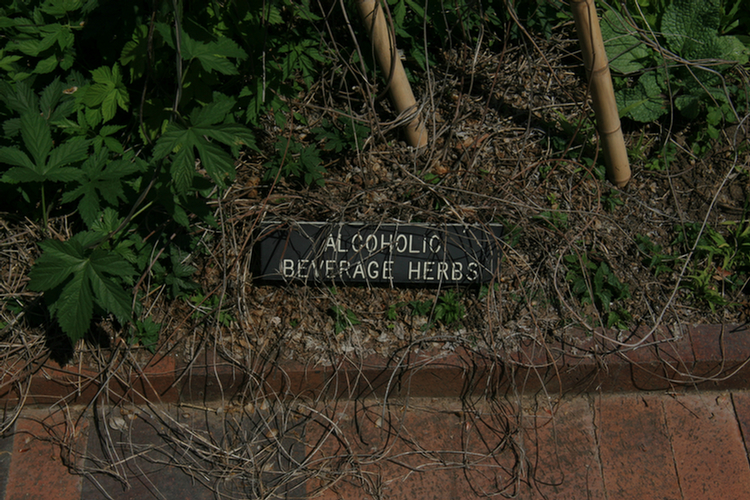 Paul knew these very well... almost by first name!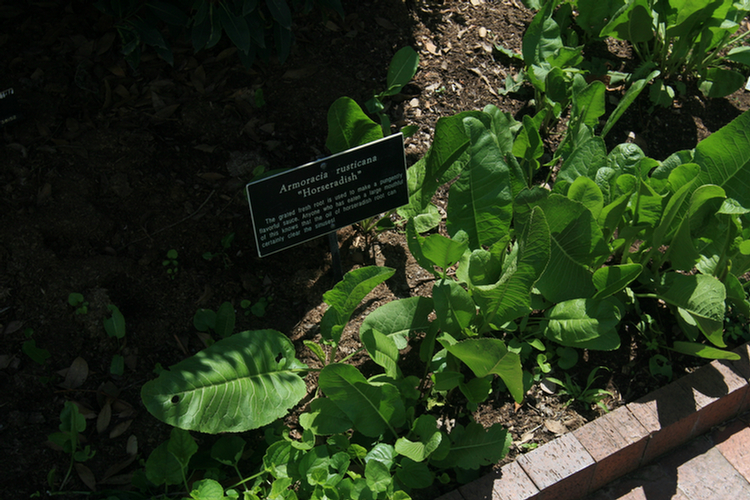 Did you know? - Horseradish (Armoracia rusticana, syn. Cochlearia armoracia) is a perennial plant of the Brassicaceae family, which also includes mustard, wasabi, broccoli, and cabbages. The plant is probably native to southeastern Europe and western Asia, but is popular around the world today. It grows up to 1.5 meters (five feet) tall and is mainly cultivated for its large white, tapered root.
The intact horseradish root has hardly any aroma. When cut or grated, however, enzymes from the damaged plant cells break down sinigrin (a glucosinolate) to produce allyl isothiocyanate (mustard oil), which irritates the sinuses and eyes. Once grated, if not used immediately or mixed in vinegar, the root darkens and loses its pungency and becomes unpleasantly bitter when exposed to air and heat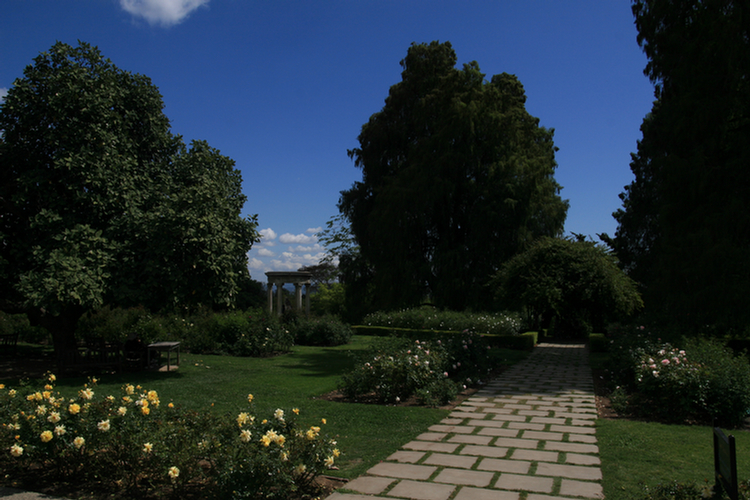 The rose gardens are beautiful
Did you know? - A Rose garden or Rosarium is a garden or park, often open to the public, in which roses are grown. While some rose gardens have only a decorative purpose, most of them are used to present and grow various types of roses.

The first known rose garden was planted by French empress Jos?phine de Beauharnais in Malmaison. When she died, in 1814, the garden had around 250 types of garden roses. Another old rose garden is the Rosenh?he Park in Darmstadt, Germany created in 1810 by Princess Wilhelmine of Baden

Growing roses for commercial purposes started in the 19-th century.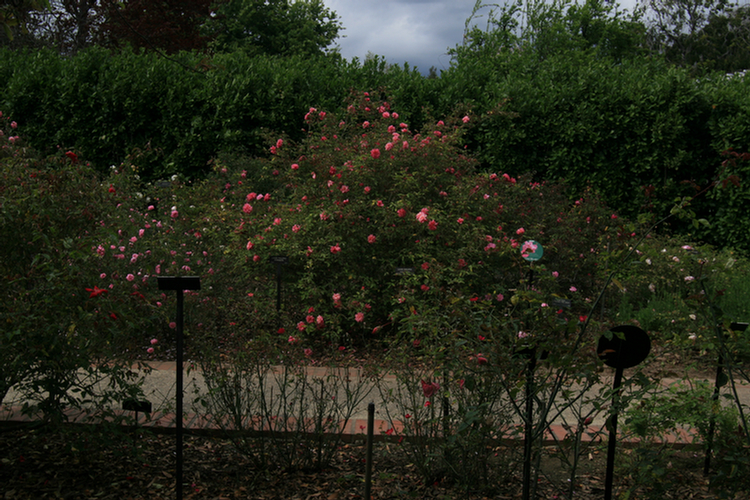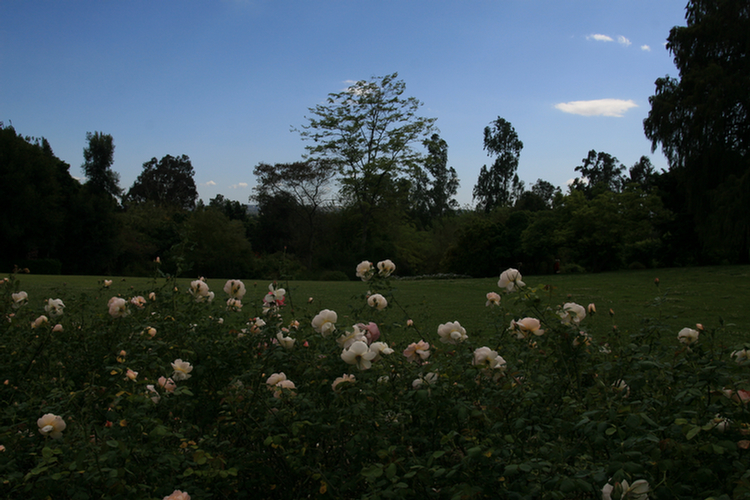 We Stopped For A Spot Of Tea!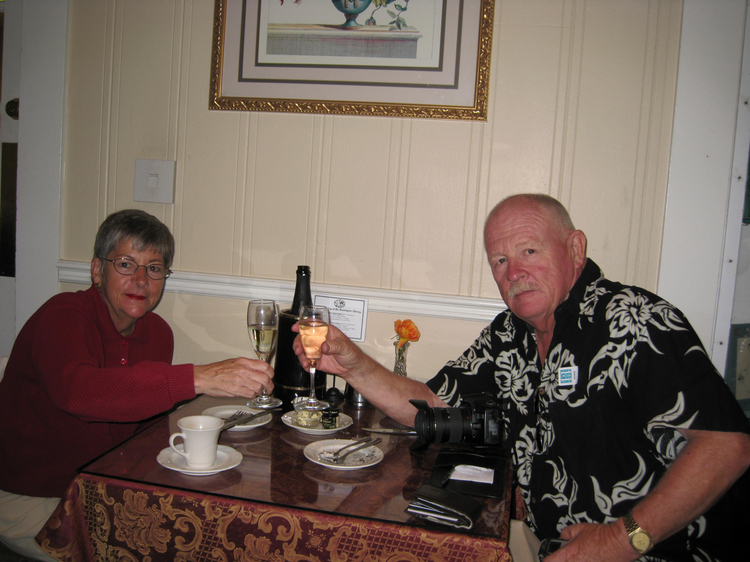 We stopped for tea and scones and other delights
Did you know? - Afternoon tea is a light meal typically eaten between 3pm and 5pm. It originated in the United Kingdom, though various places that used to be part of the former British Empire also have such a meal. However, changes in social customs and working hours mean that most Britons only take afternoon tea on special/formal occasions.

Traditionally, loose tea would be served in a teapot with milk and sugar. This would be accompanied by various sandwiches (customarily cucumber, egg and cress, fish paste, ham, and smoked salmon), scones (with butter, clotted cream and jam ? see cream tea) and usually cakes and pastries (such as Battenberg, fruit cake or Victoria sponge). The food would be often served in a tiered stand.

While afternoon tea used to be an everyday event, nowadays it is more likely to be taken as a treat in a hotel, caf?, or tea shop, although many Britons still have a cup of tea and slice of cake or chocolate at teatime. Accordingly, many hotels now market a champagne cream tea.

Anna Maria Stanhope, Duchess of Bedford, is credited as the first person to have afternoon tea in England.
The Huntington Mansion
Did you know? - A mansion is a large dwelling house. The word itself derives (through Old French) from the Latin word mansi? ("act of remaining or staying", a verbal noun from manere "to remain" or "to stay".) In the Roman Empire, a mansio was an official stopping place on a Roman road, or via, where cities sprang up, and where the villas of provincial officials came to be placed. The Scots word "manse" originally defined a property large enough for the Minister of the parish to maintain himself, but a mansion is no longer self-sustaining in this way (compare a Roman or medieval villa). 'Manor' comes from the same root ? territorial holdings granted to a lord who would remain there ? hence it can be seen how the word 'Mansion' came to have its meaning.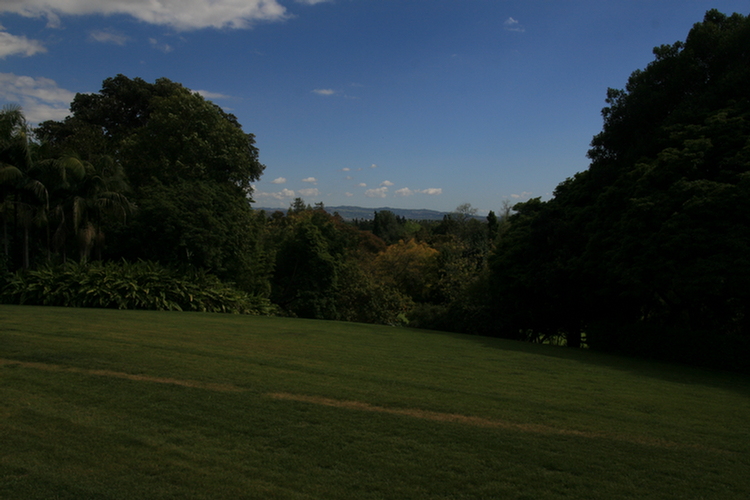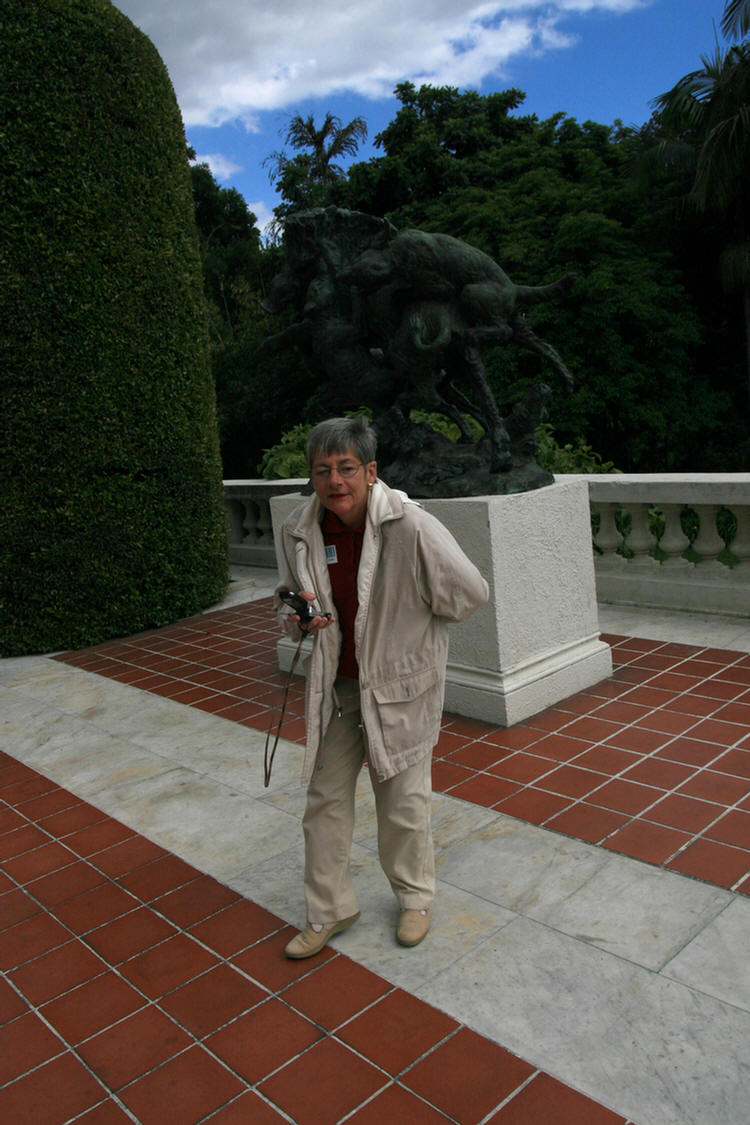 Checking in with Jeanette
Did you know? - A statue is a sculpture in the round representing a person or persons, an animal, or an event, normally full-length, as opposed to a bust, and at least close to life-size, or larger. Its primary concern is representational.

The definition of a statue is not always clear-cut; sculptures of a person on a horse, called Equestrian statues, are certainly included, and in many cases, such as a Madonna and Child or a Piet?, a sculpture of two people will also be. A small statue, usually small enough to be picked up, is called a statuette or Figurine.

Many statues are built on commission to commemorate a historical event, or the life of an influential person. Many statues are intended as public art, exhibited outdoors or in public buildings for the edification of passers-by, with a larger magnitude than normal words could ever have for the common man.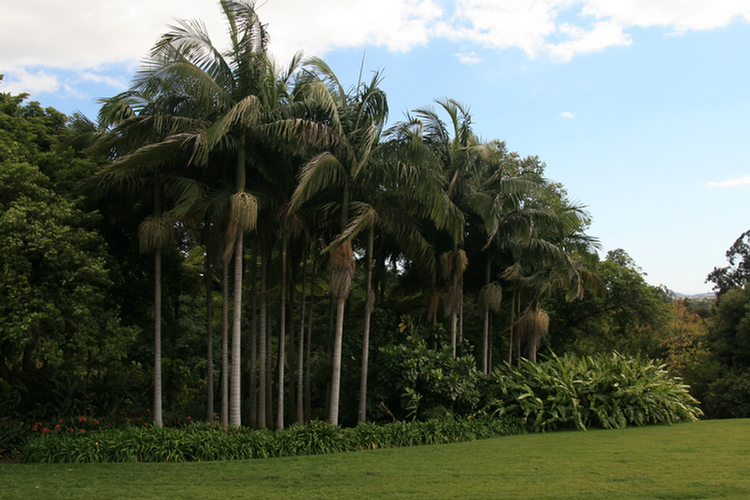 This is a porch!
Did you know?
- A porch is a structure attached to a building, forming a covered entrance to a vestibule or doorway. It is external to the walls of the main building proper, but may be enclosed by screen, latticework, broad windows, or other light frame walls extending from the main structure.
There are various styles of porches, all of which depend on the architectural tradition of its location. All porches will allow for sufficient space for a person to comfortably pause before entering or after exiting the building. However, they may be larger. Verandahs, for example, are usually quite large and may encompass the entire facade as well as the sides of a structure.

Nice little patio off to the side of the main house