It's Fall And Time To Visit And Have Tea (Page One)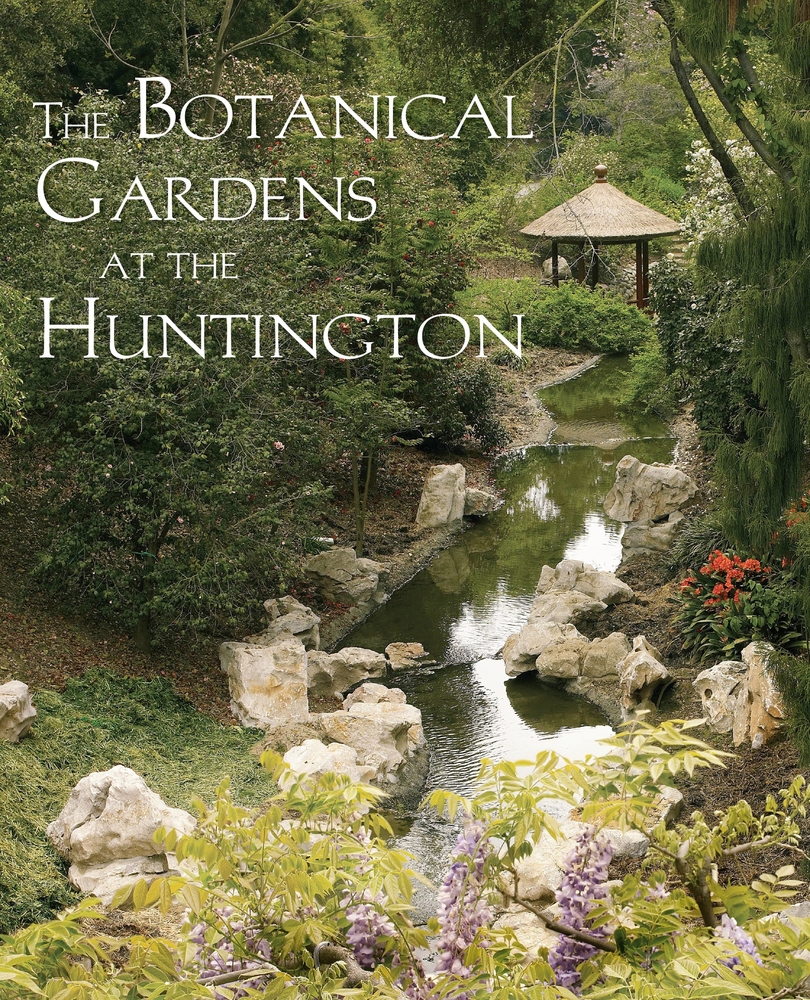 Bunnaford, Sue, and Paul decided to got to the Huntington Gardens for an afternoon of walking the gardens and having "tea" at the Rose Garden Tea House.
In Summary...

Click collage for full sized image (3200x2400)
Let's Get Started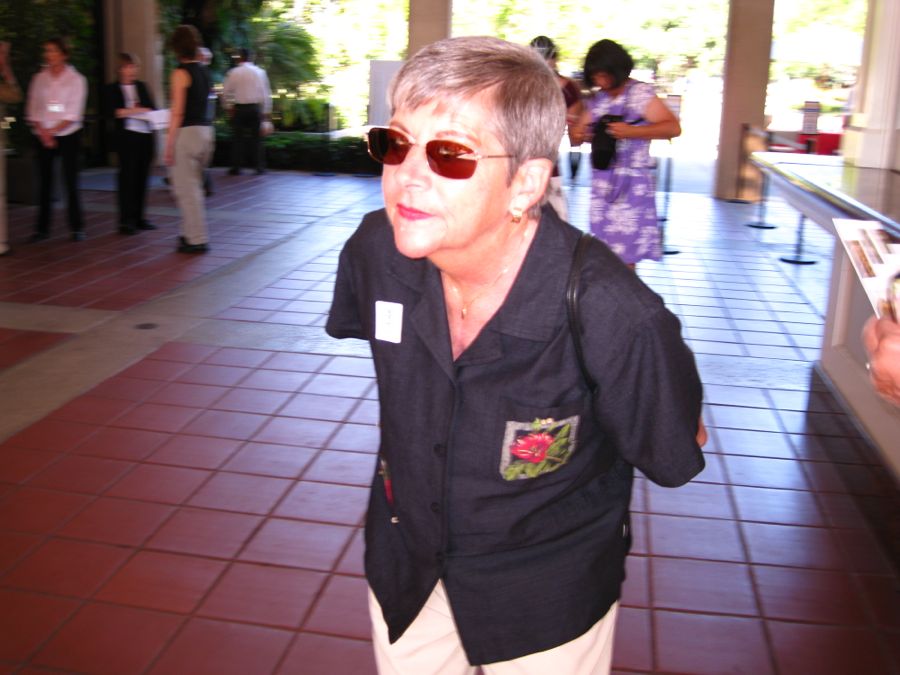 We have our tickets and on our way in....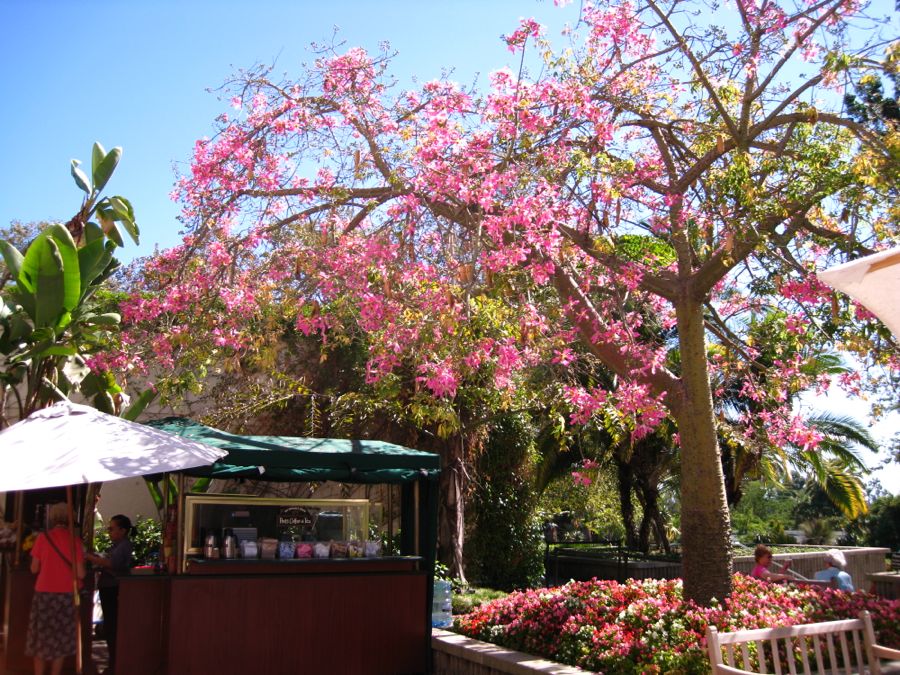 The trees were beautiful
Into The Library
The docent tour was delayed so we went into the library to spend thirty minutes.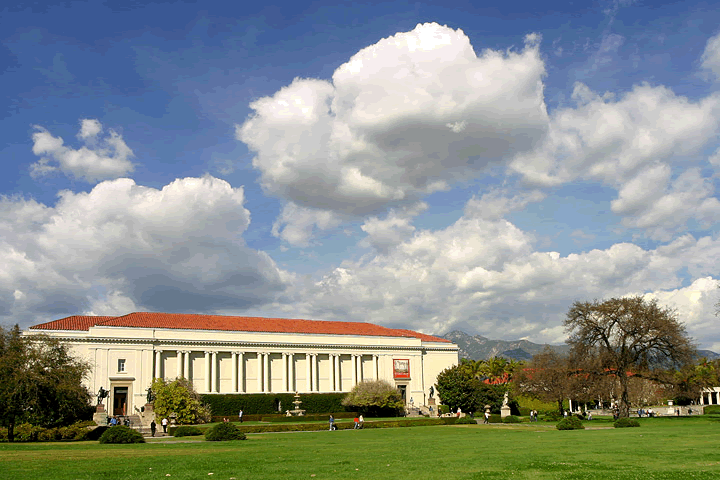 It was cool inside the building

George Washington welcomed us into the library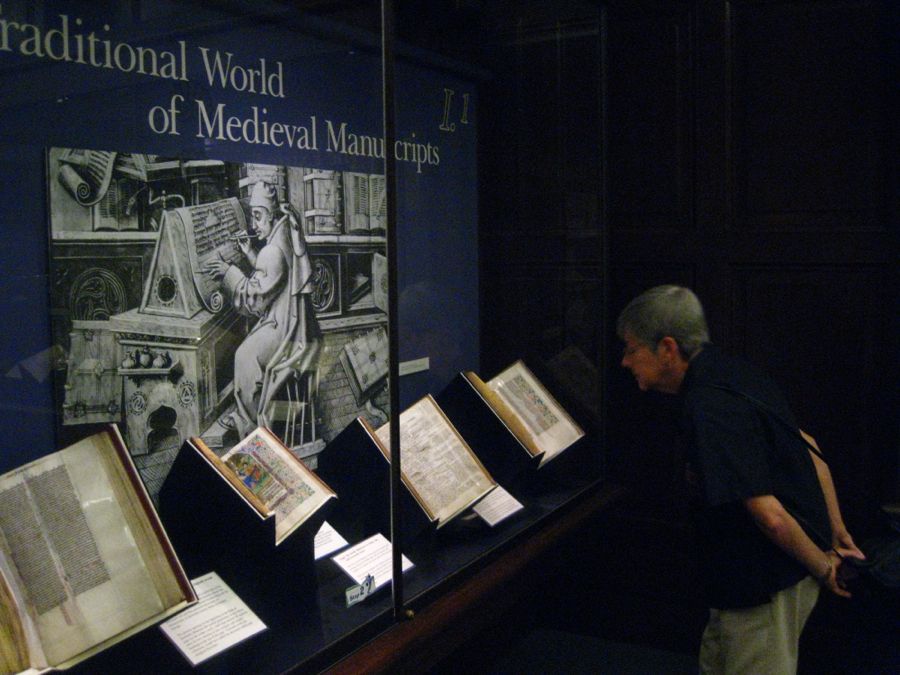 Great manuscripts and books on display
Did You Know? - A manuscript or handwrit is written information that has been manually created by someone or some people, such as a hand-written letter , as opposed to being printed or reproduced some other way.
The term may also be used for information that is hand-recorded in other ways than writing, for example inscriptions that are chiselled upon a hard material or scratched (the original meaning of graffiti) as with a knife point in plaster or with a stylus on a waxed tablet (the way Romans made notes), or are in cuneiform writing , impressed with a pointed stylus in a flat tablet of unbaked clay.
The word manuscript derives from the Medieval Latin manuscriptum, a word first recorded in 1594 as a latinisation of earlier Germanic words used in the Middle Ages : compare Middle High German hantschrift (c. 1450), Old Norse handrit (bef. 1300), Old English handgewrit (bef. 1150), all meaning "manuscript", literally, "handwritten".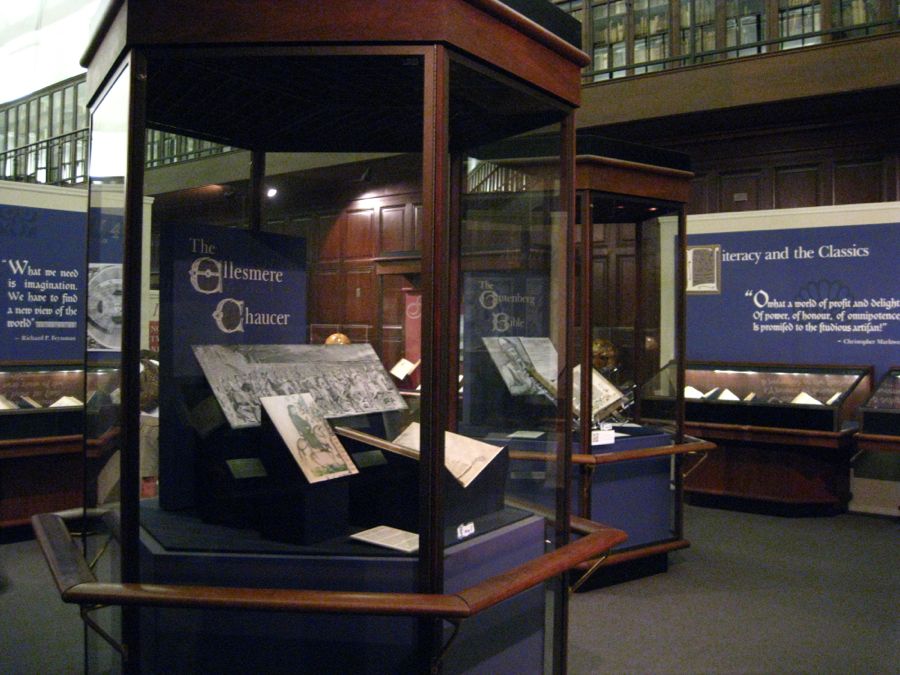 These books are 500 years old... Amazing preservation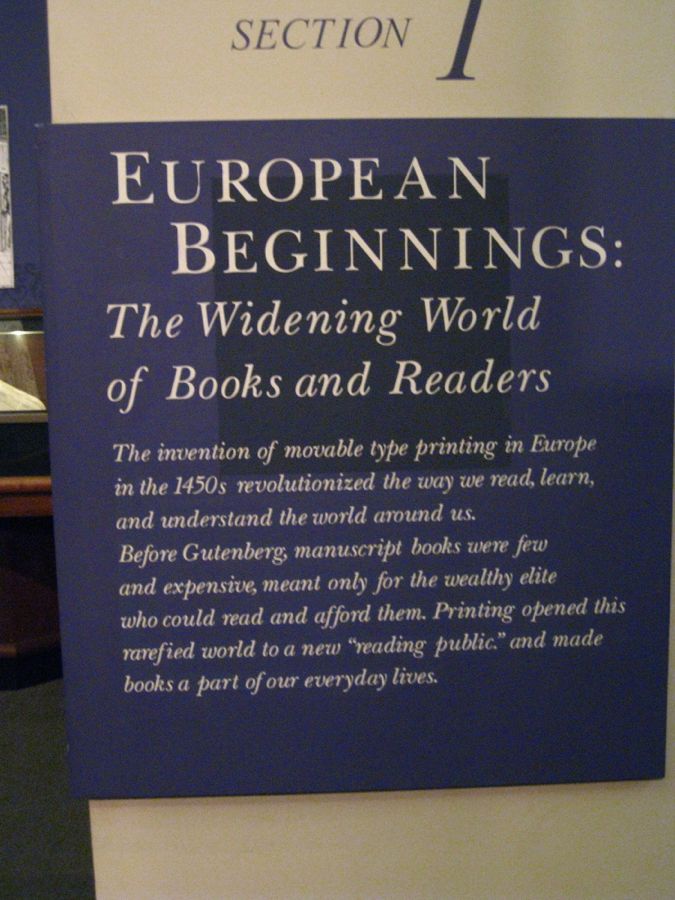 Movable type was an amazing invention
Did You Know? - A printing press is a device for applying pressure to an inked surface resting upon a print medium (such as paper or cloth), thereby transferring the ink. Typically used for texts, the invention and spread of the printing press are widely regarded as the most influential events in the second millennium AD, revolutionizing the way people conceive and describe the world they live in, and ushering in the period of modernity.
The printing press was invented in the Holy Roman Empire by the German Johannes Gutenberg around 1440, based on existing screw presses. Gutenberg, a goldsmith by profession, developed a complete printing system, which perfected the printing process through all its stages by adapting existing technologies to printing purposes, as well as making groundbreaking inventions of his own. His newly devised hand mould made for the first time possible the precise and rapid creation of metal movable type in large quantities, a key element in the profitability of the whole printing enterprise.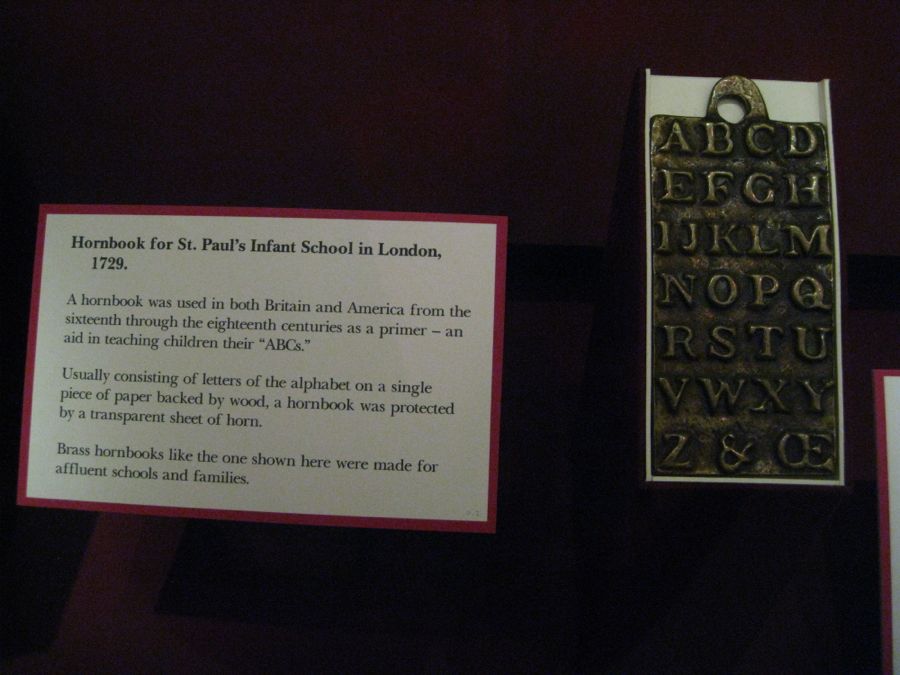 Learning ABC's was done with brass training devices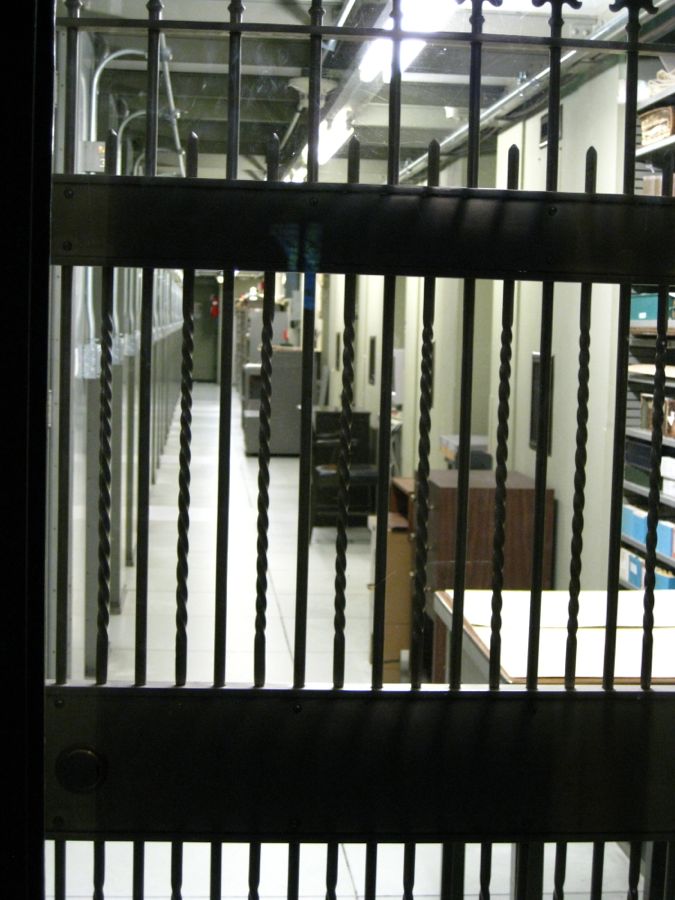 There are thousands of books in the vaults within this building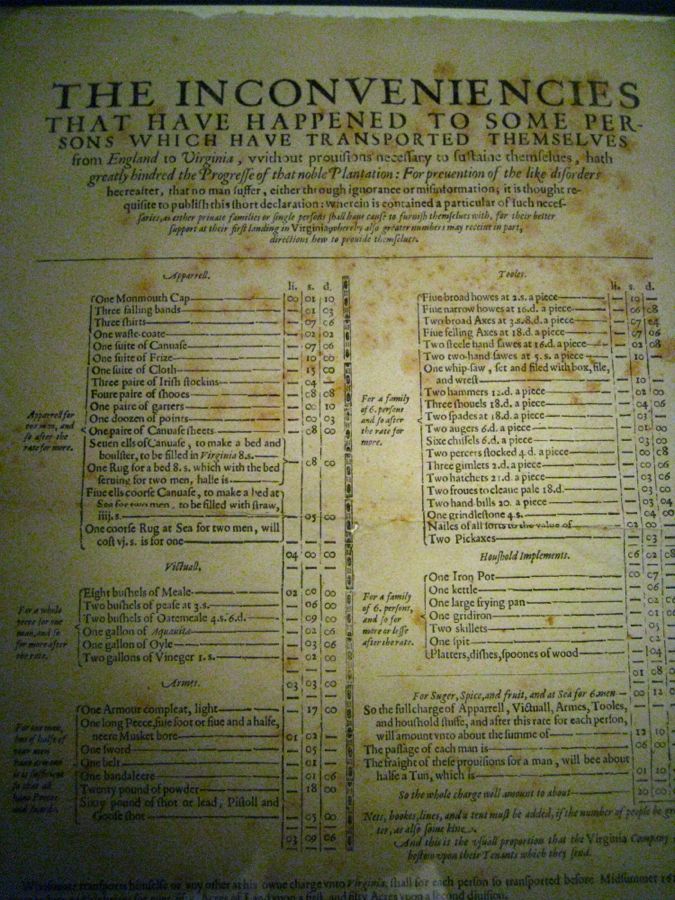 A listing of what was needed by people coming to America was published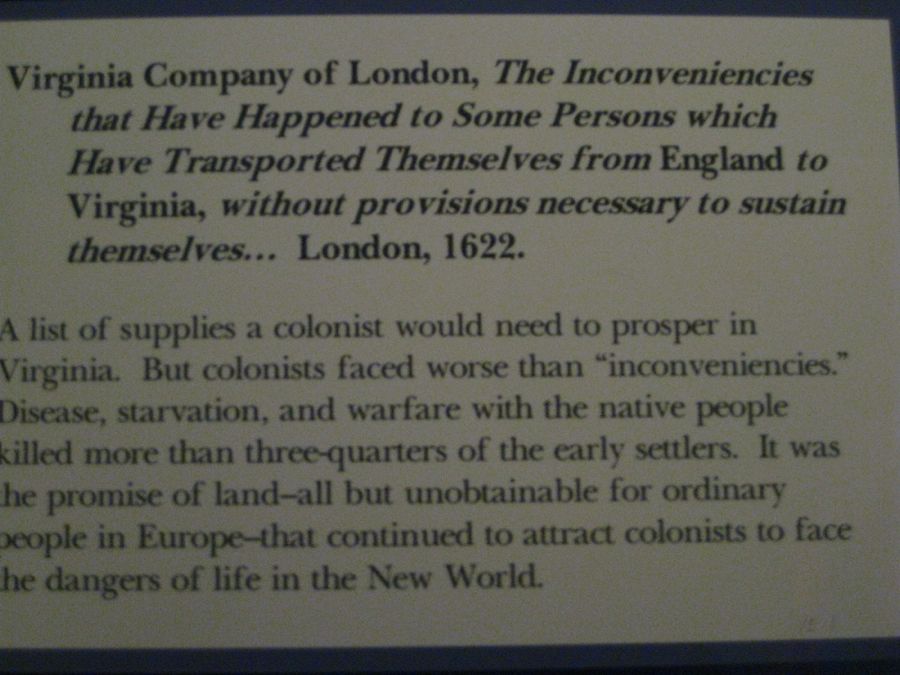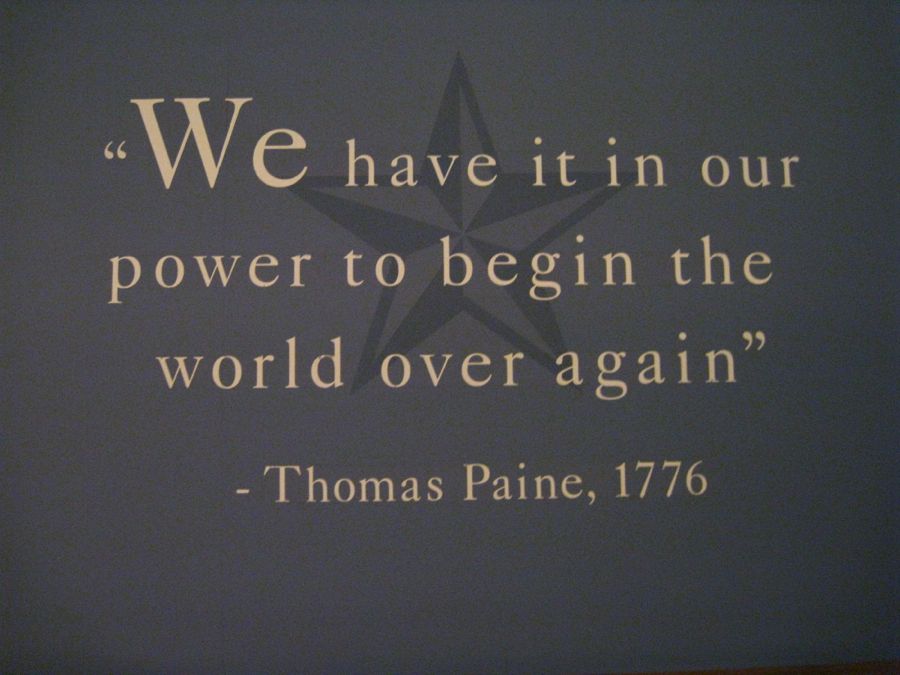 Let's Find The Docent....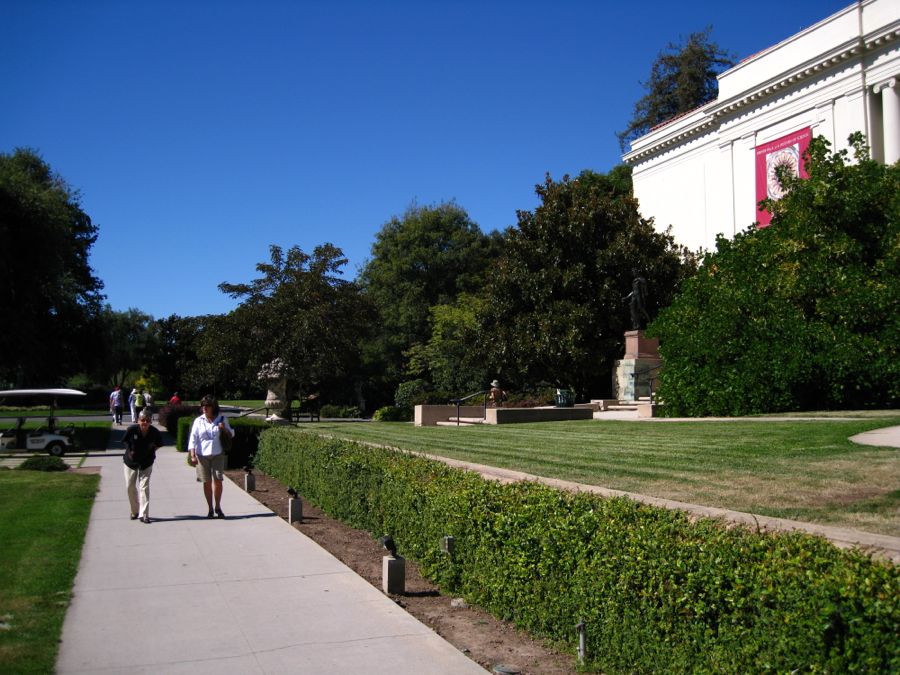 Sue and Bunnaford leaving the library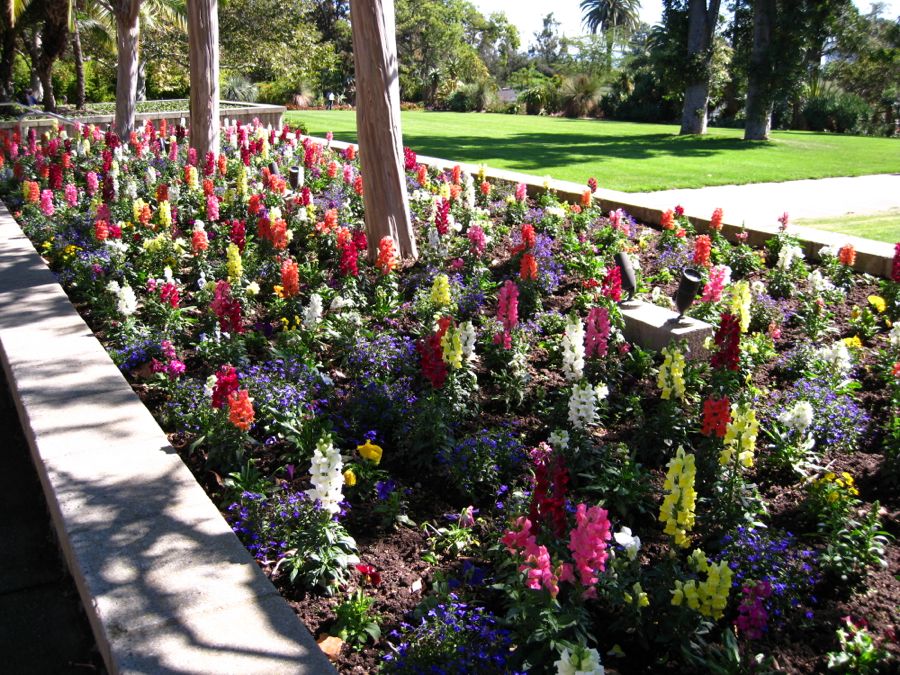 The flowers were just fantastic

The weather was warm.... Well into the 90's today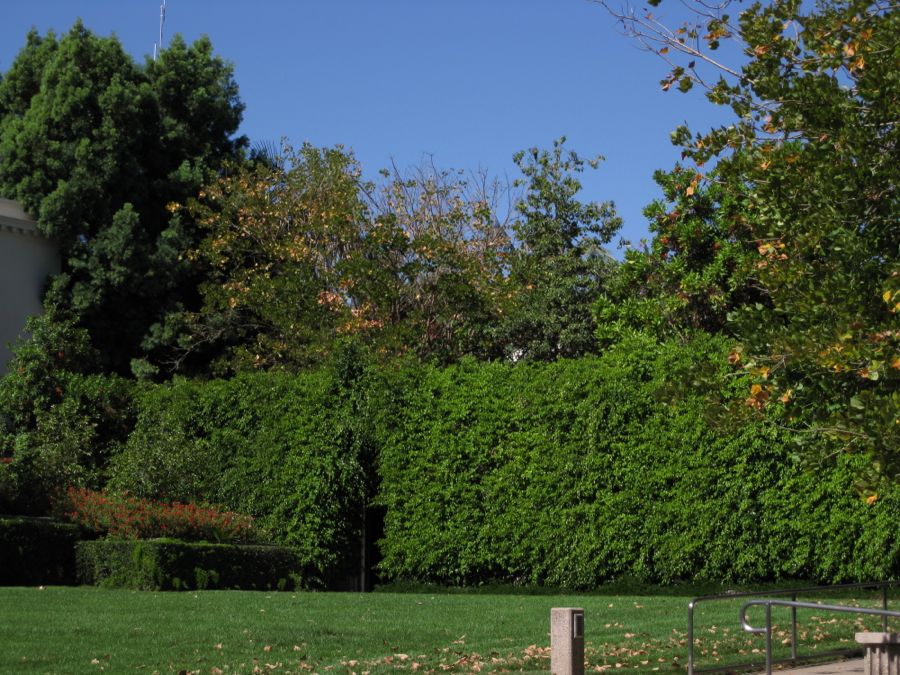 Tremendous hedges
Did You Know? - A hedge or hedgerow is a line of closely spaced shrubs and tree species, planted and trained in such a way as to form a barrier or to mark the boundary of an area. Hedges used to separate a road from adjoining fields or one field from another, and of sufficient age to incorporate larger trees, are known as hedgerows.
The development of hedges over the centuries is preserved in their structure. The first hedges enclosed land for cereal crops during the Neolithic Age (4000–6000 years ago). Prehistoric farms were of about 5 to 10 hectares (12 to 25 acres), with fields about 0.1 hectares (0.25 acre) for hand cultivation. Some hedges date from the Bronze and Iron Ages, 2000–4000 years ago, when traditional patterns of landscape became established. Others were built during the Medieval field rationalisations; more originated in the industrial boom of the 18th and 19th centuries, when heaths and uplands were enclosed.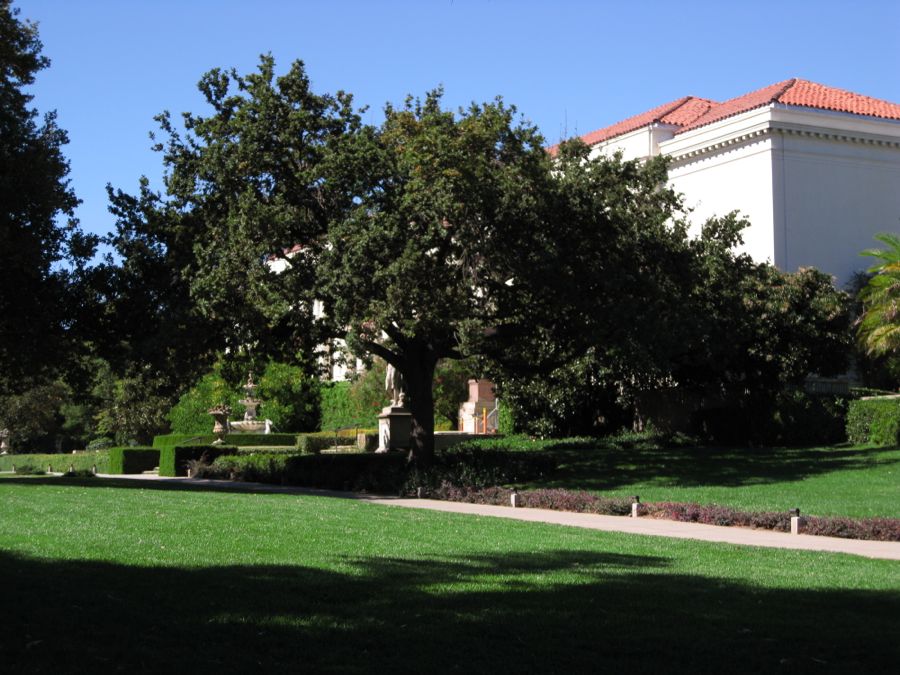 Looking back to the library building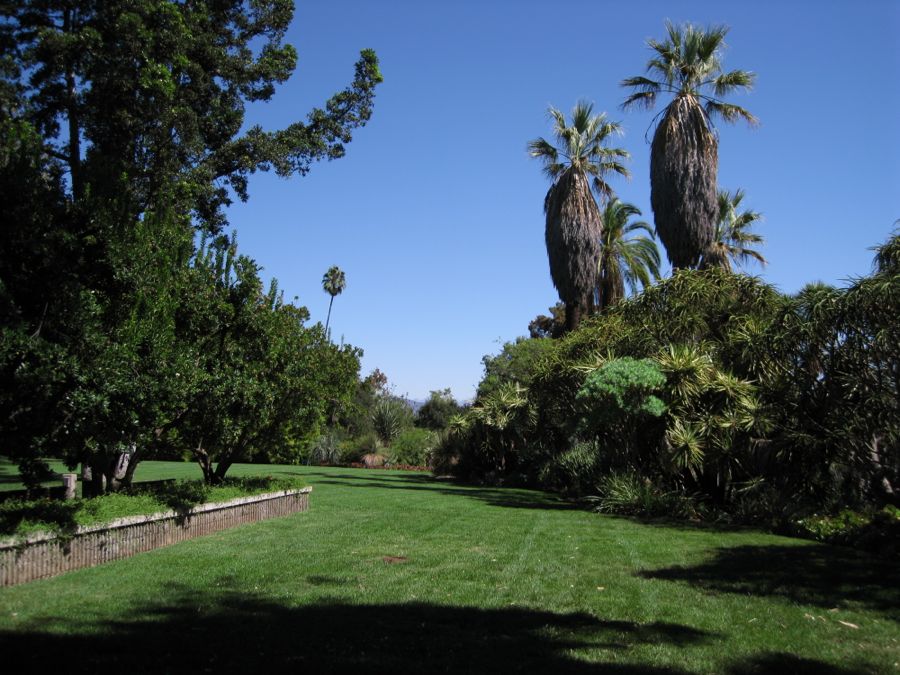 Greens in every shade imaginable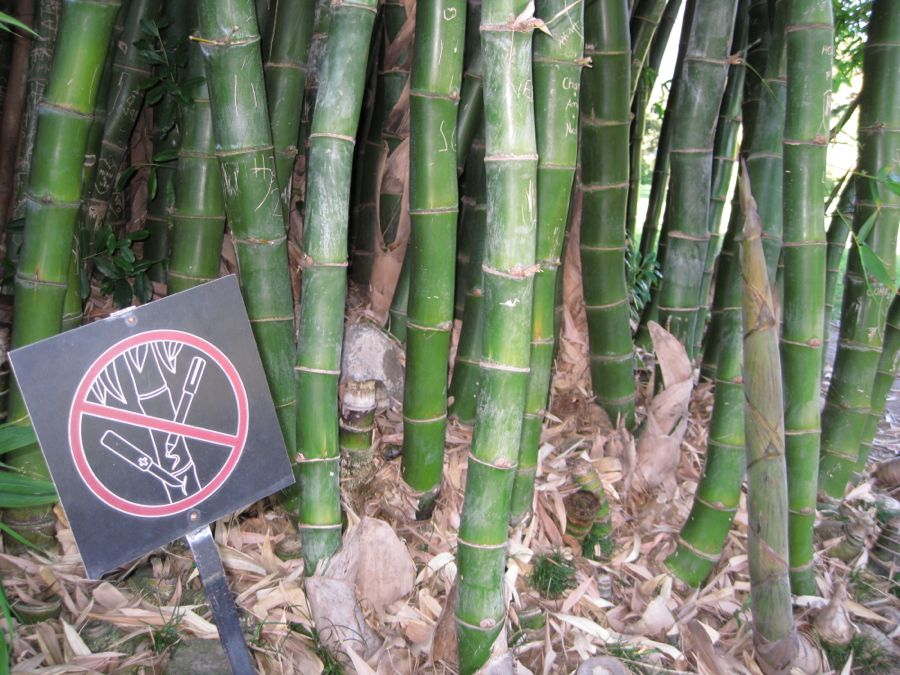 Bamboo plants were sixty feet tall
Did You Know? - Bamboo is one of the fastest-growing plants on Earth with reported growth rates of 100 cm (39 in) in 24 hours. However, the growth rate is dependent on local soil and climatic conditions as well as species, and a more typical growth rate for many commonly cultivated bamboos in temperate climates is in the range of 3-10 cm (1-4 inches) per day during the growing period. Primarily growing in regions of warmer climates during the Cretaceous period, vast fields existed in what is now Asia.
Some of the largest timber bamboo can grow over 30 metres (98 ft) tall, and be as large as 6-8 inches in diameter. However, the size range for mature bamboo is species dependent, with the smallest bamboos reaching only several inches high at maturity. A typical height range that would cover many of the common bamboos grown in the United States is 15-40 feet, depending on species.
To The Desert Garden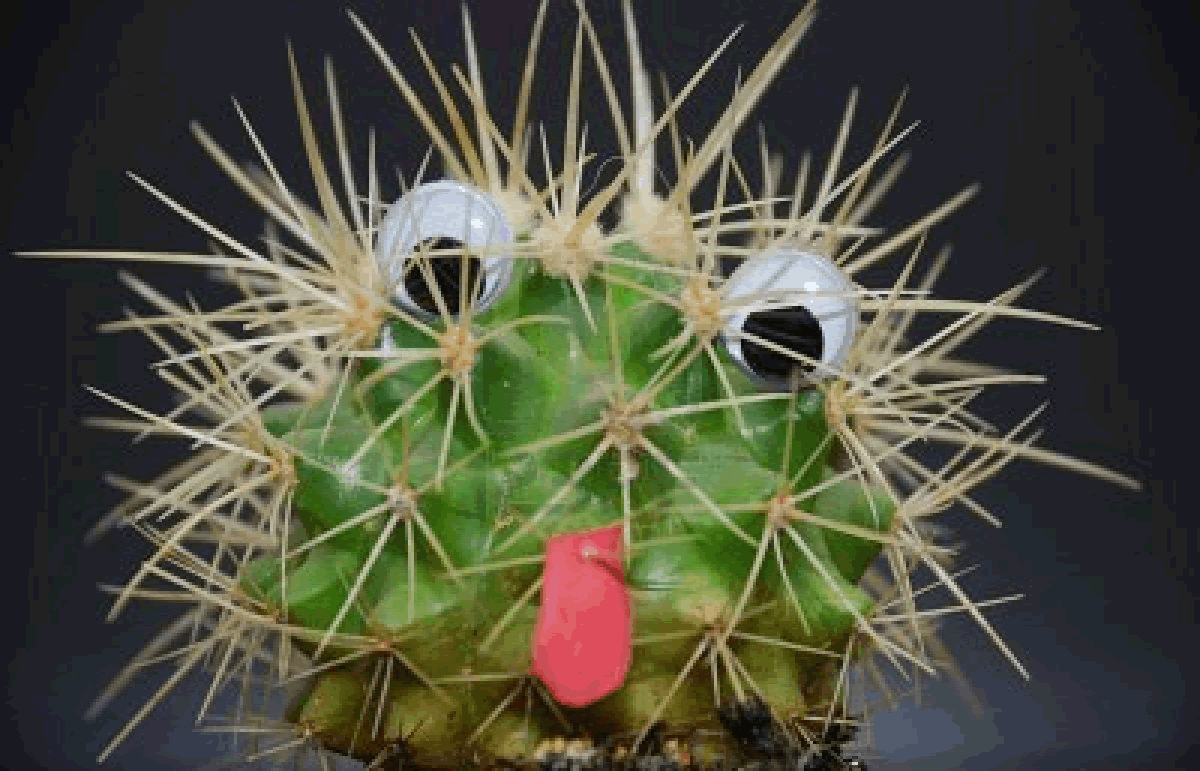 Beware of the cacti-monster
Did You Know? - A Celebration of Succulents The Huntington Desert Garden is one of the largest and oldest assemblages of cacti and other succulents in the world. Nearly 100 years old, it has grown from a small area on the Raymond fault scarp when in 1907-1908 William Hertrich brought in plants from local nurseries, private residences, public parks, and from collection trips to the Southwest and Mexican deserts. Today the two dozen families of succulents and other arid adapted plants have developed into a 10-acre garden display, the Huntington's most important conservation collection, a most important mission and challenge.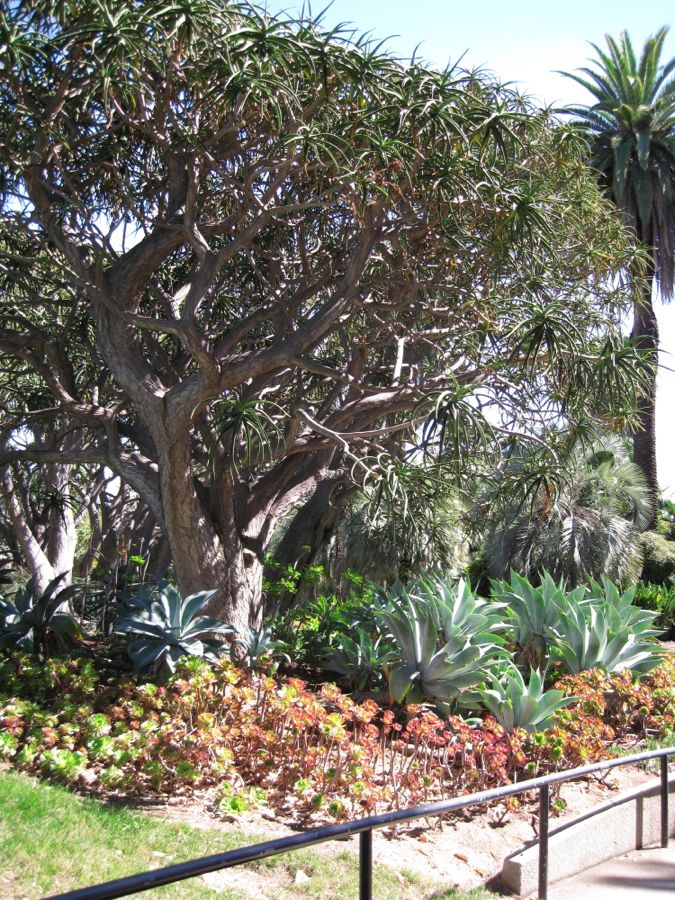 Aloe Vera trees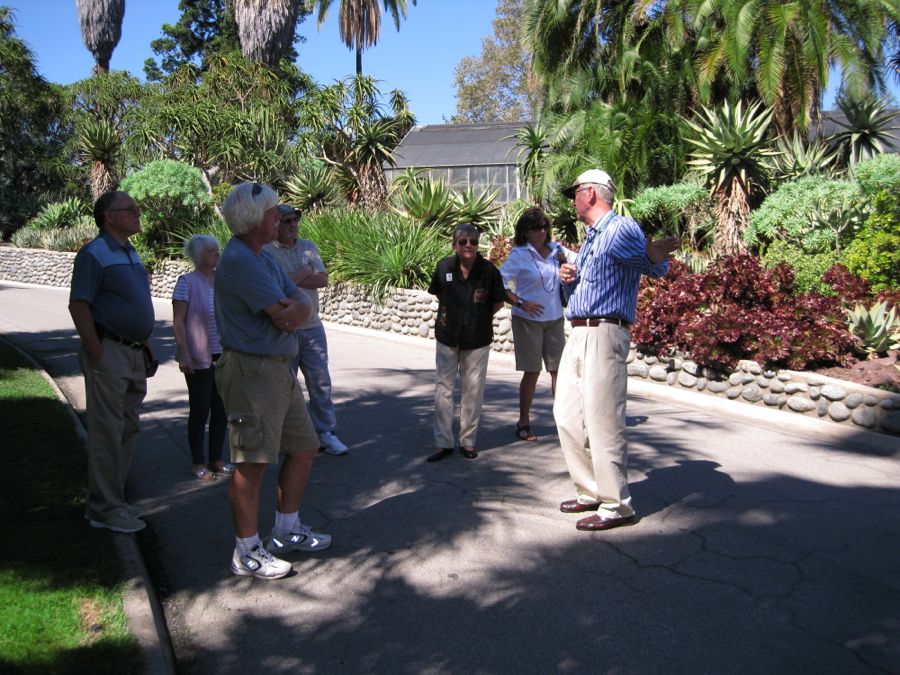 Jim the docent did a great job
Cyphostemma Juttae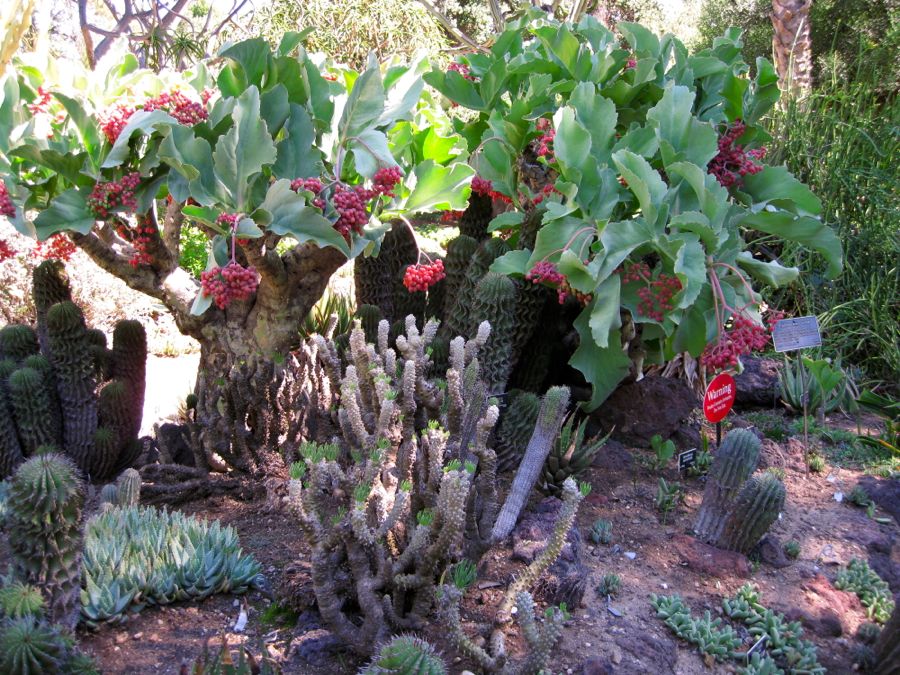 Do NOT eat the grapes from this little guy....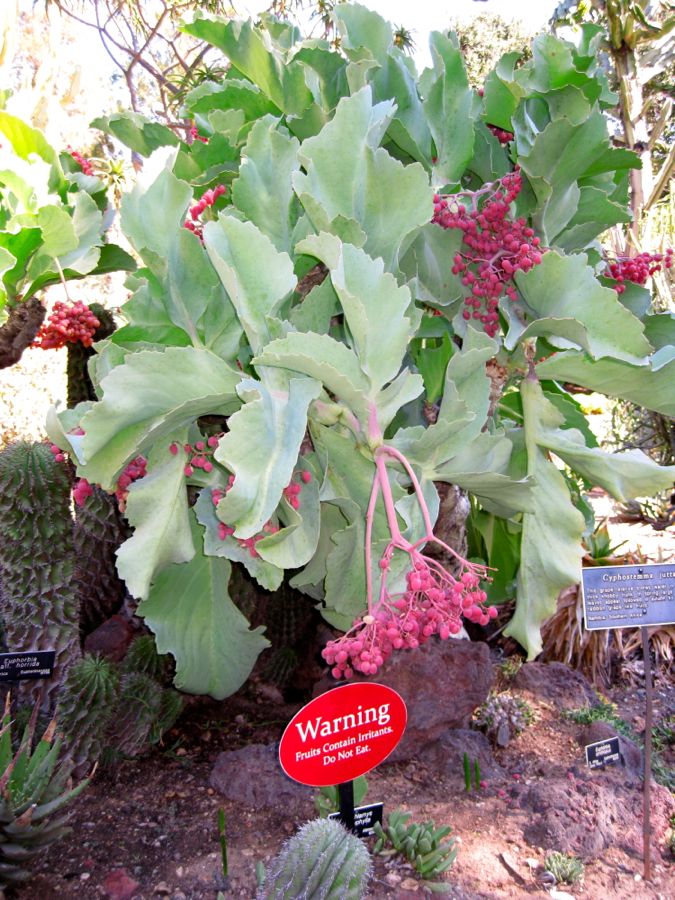 They were not kidding although the grapes looked pretty good

It's name? Cyphostemma juttae
Did You Know? - The tree grape is a slow-growing succulent with a huge swollen trunk (caudiciform). These plants occur in Namibia where they are exposed to very dry and hot conditions. Bare in winter Wild grapes have therefore evolved and adapted very well in order to survive. The presence of white, drooping, papery pieces of bark on the yellow green stems is very typical of this species. In summer this helps to reflect away the sunlight in order to keep the plant cool. The thick, fleshy stem and leaves act as water reservoirs in times of drought. A fully grown plant can measure up to 2 m.
Leaves are large, shiny, ovate, fleshy and toothed and fall off during the winter months. Flowers are inconspicuous, but the large grape-like bunches of bright wine-coloured berries near the end of summer make this succulent a true showpiece for container and garden alike.
The Trees Decorate the Ground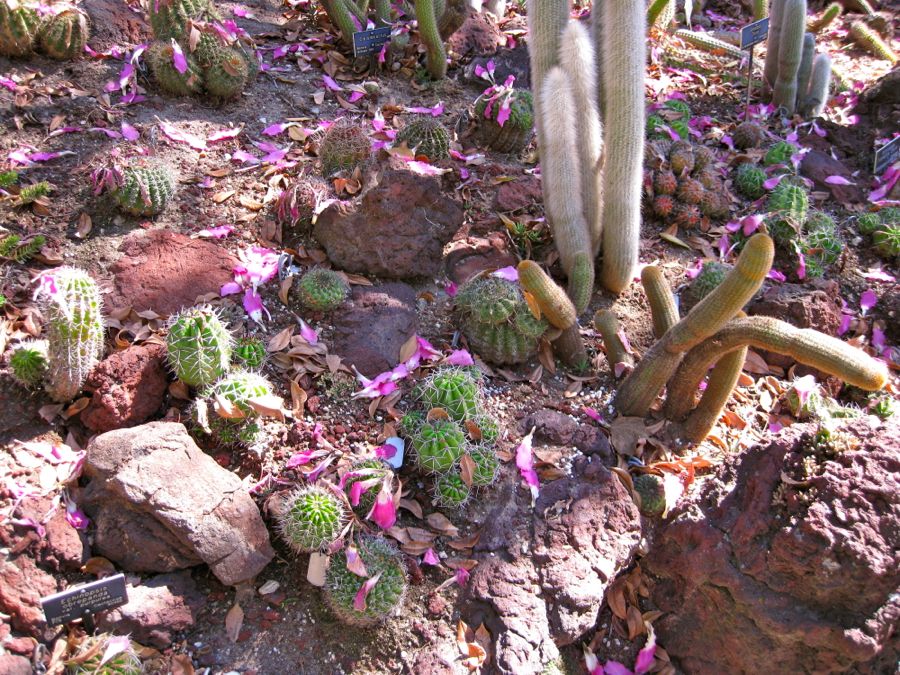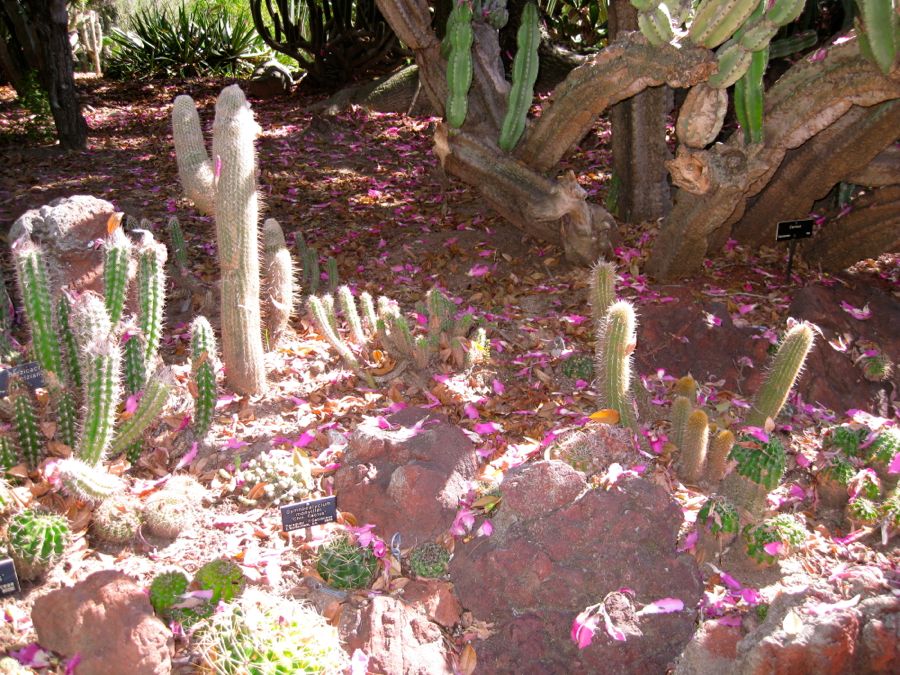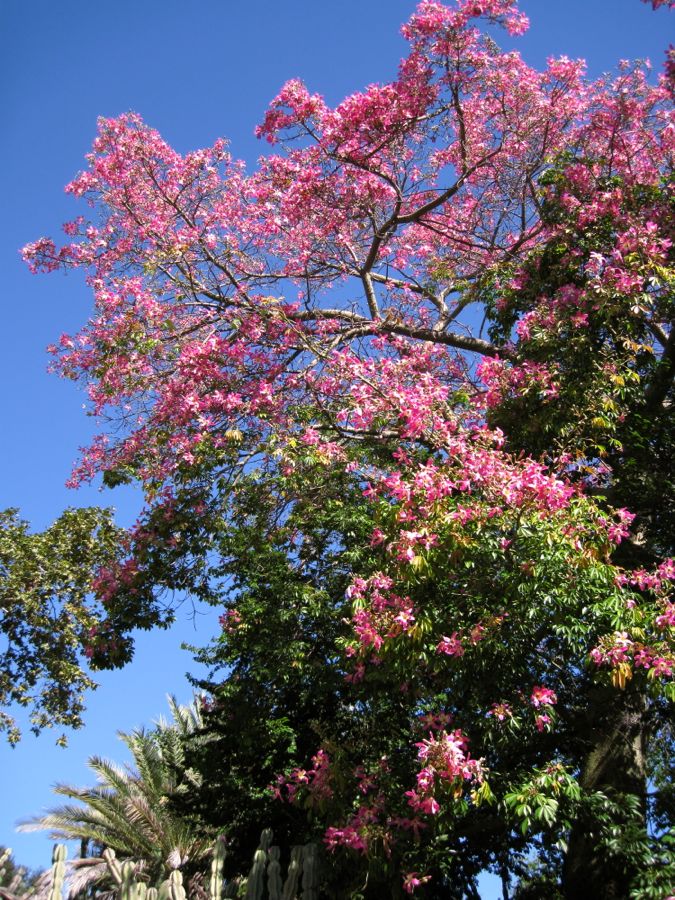 It was "snowing leaves"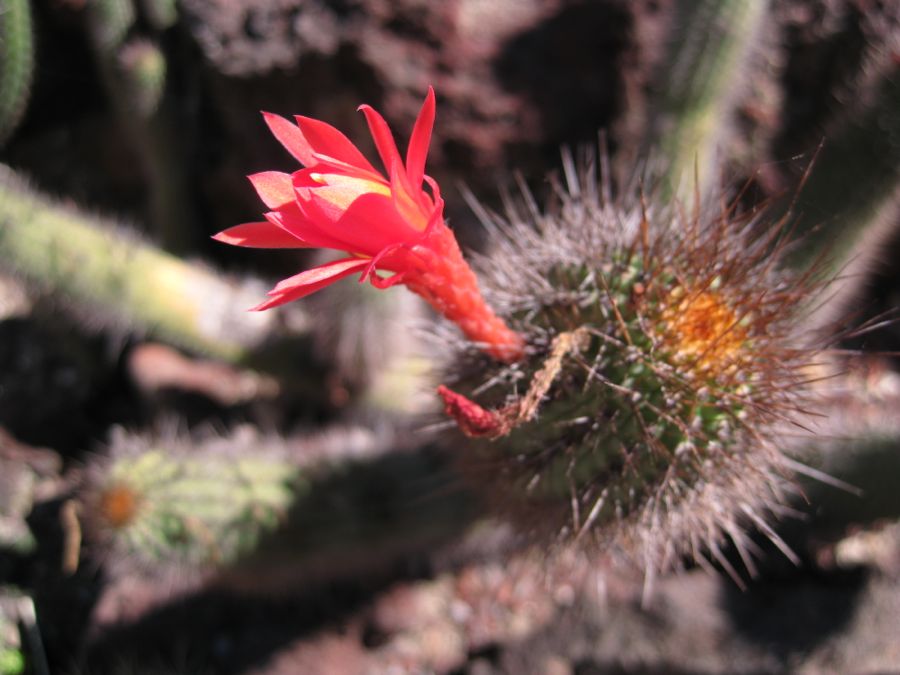 Amazing blossoms come from the cacti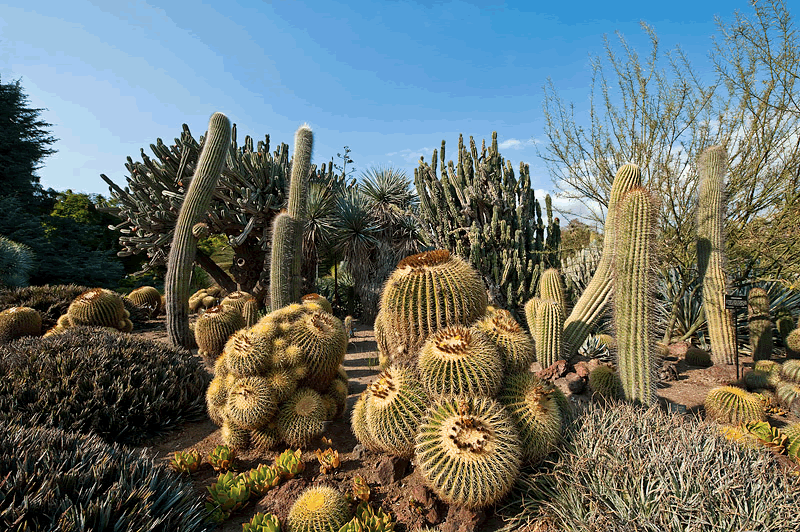 Barrel cactus were beautiful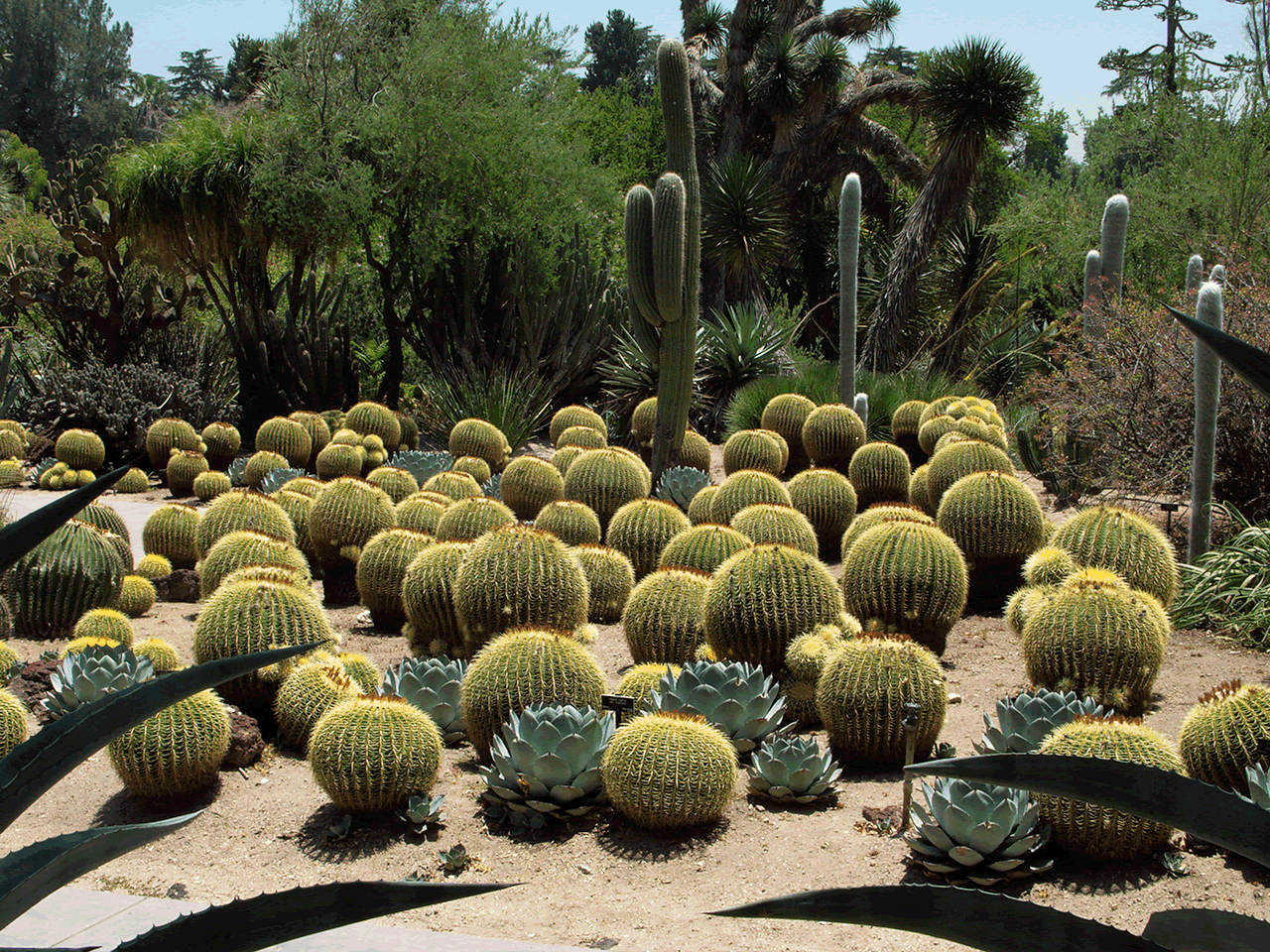 Did You Know? - The desert garden features more than 5,000 species of succulents and desert plants in sixty landscaped beds. Many plants are labeled with their name and country of origin. Look closely to discover the different ways succulents have adapted to cope with drought and defend themselves against enemies. Most retain water in their leaves, stems, or roots. Many protect themselves with sharp spines or thorns, and some have waxy or woolly protective coverings to reflect sunlight and decrease water loss.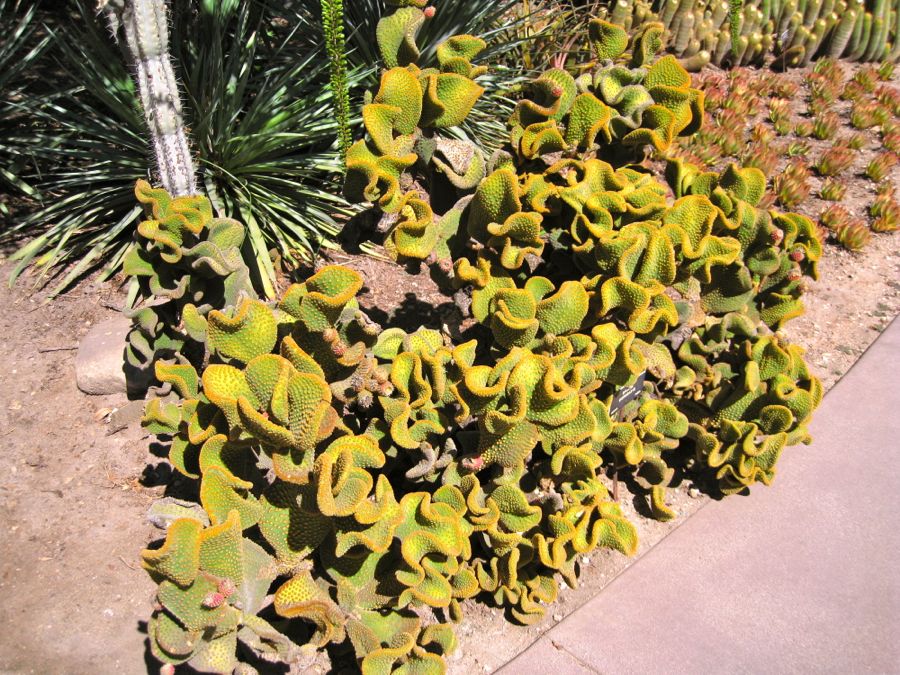 Every shape imaginable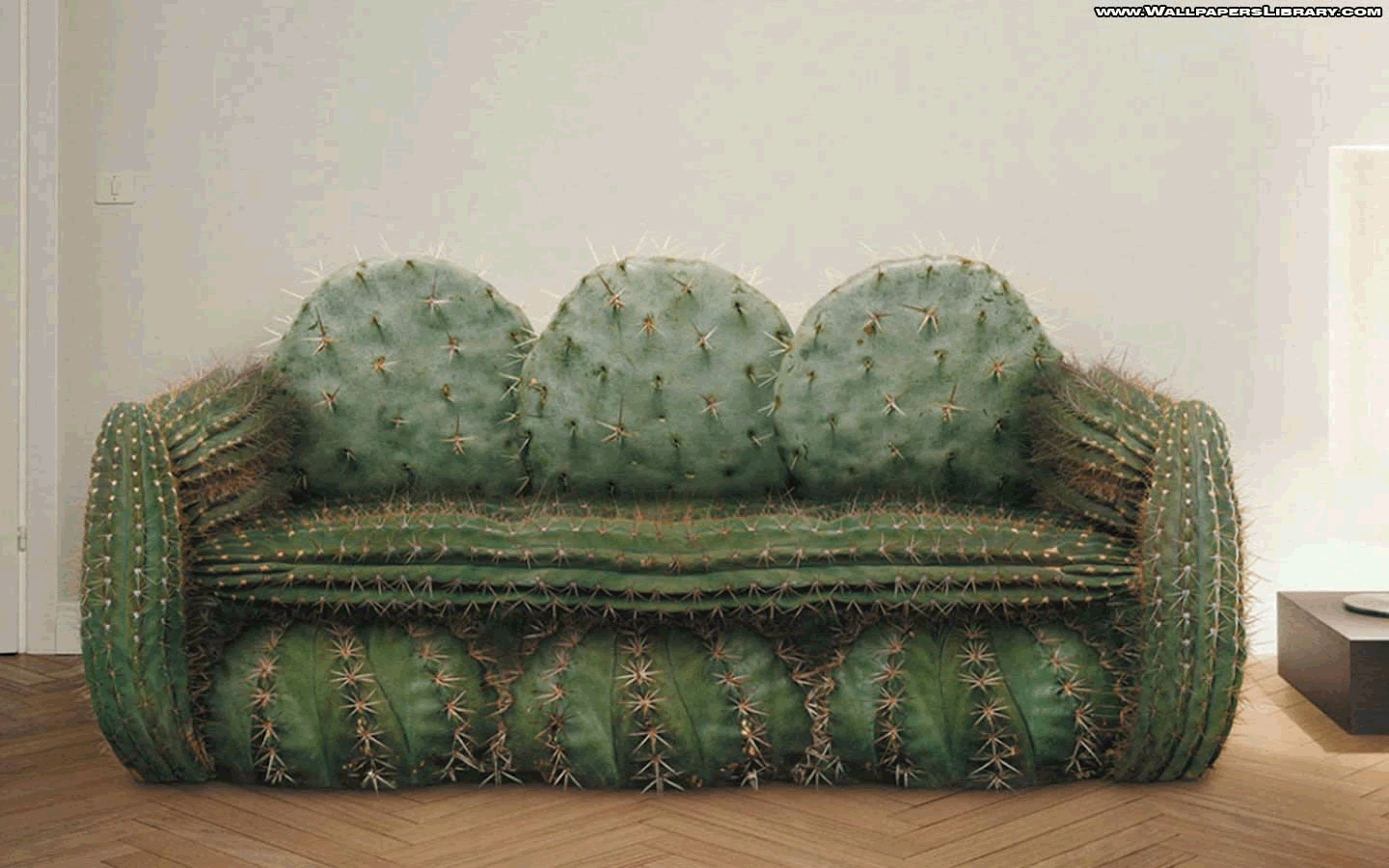 We decided NOT to sit down

The cacti garden is almost ten acres in size
From The Desert To The Lily Ponds In 100 Feet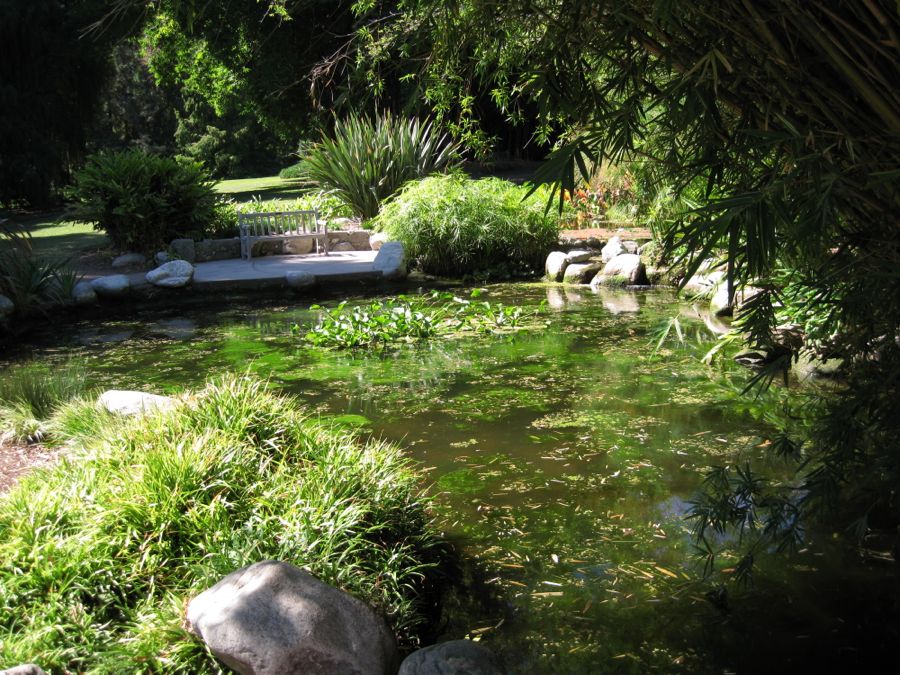 The ponds look refreshing after seeing all the cactus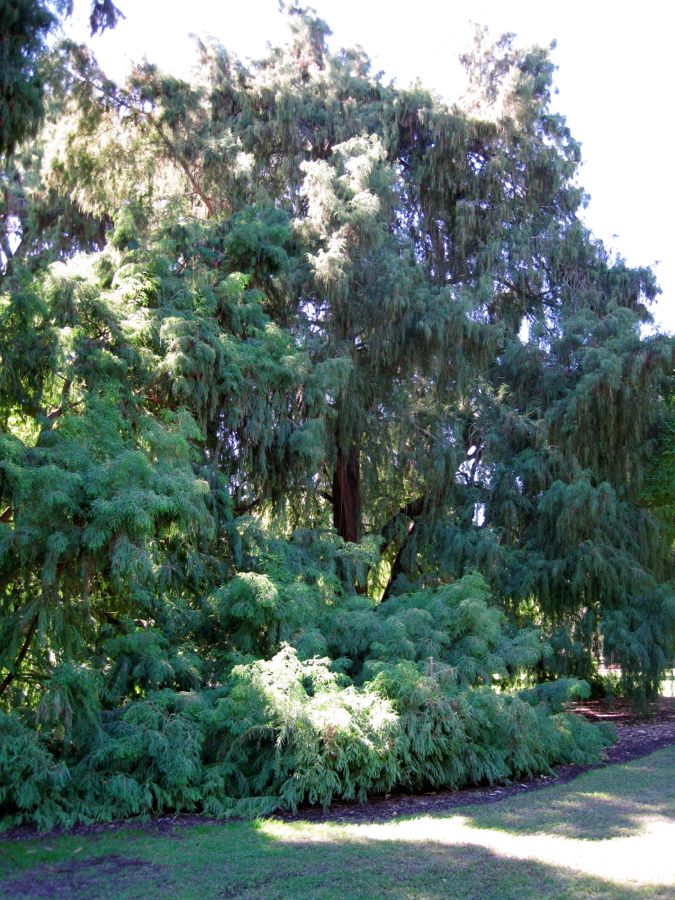 Cypress trees did look like water falls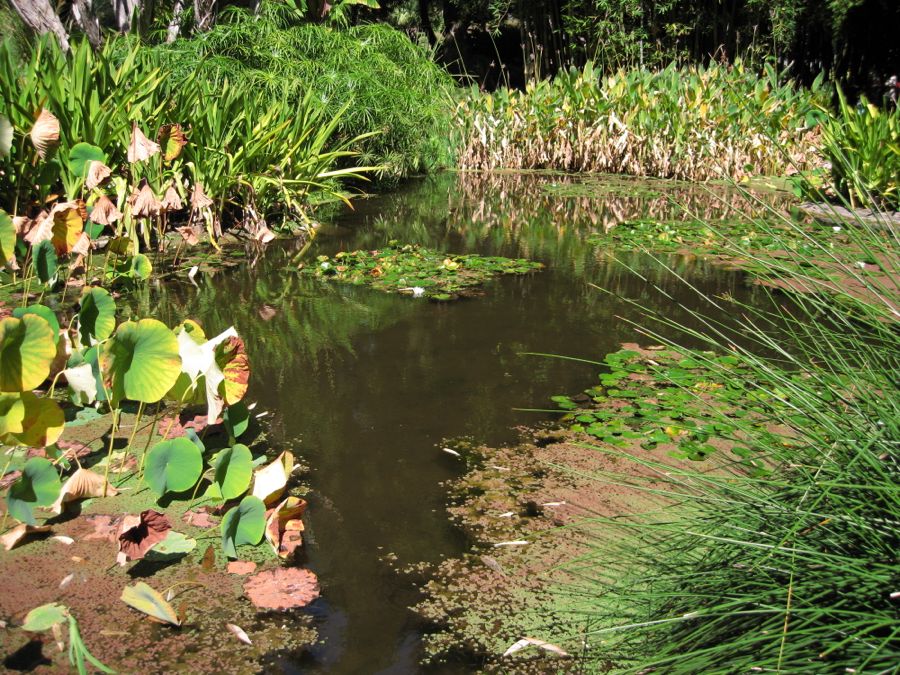 The pond scum was busy today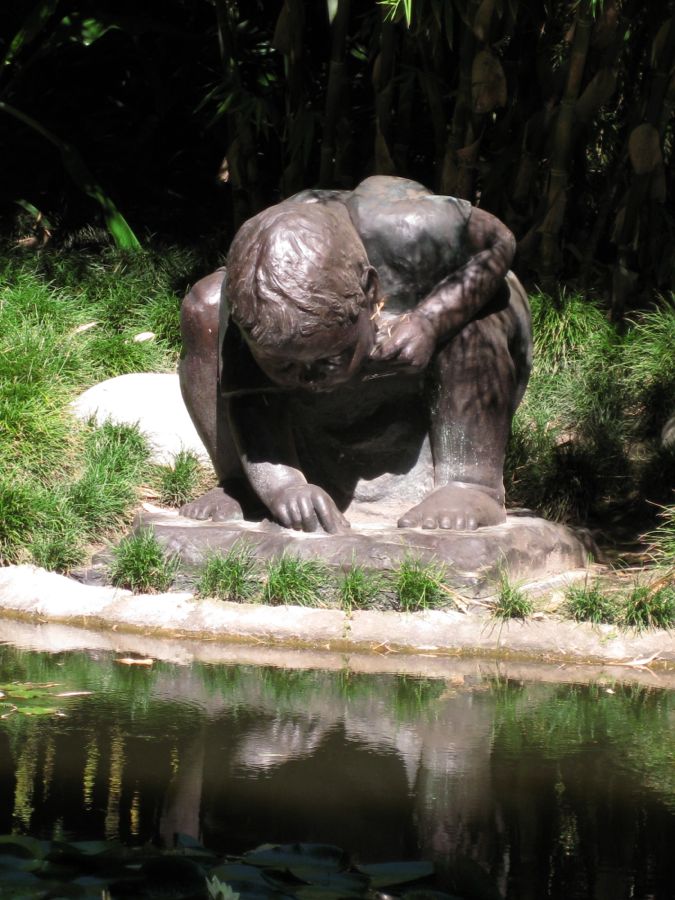 A new statue just added... Don't fall in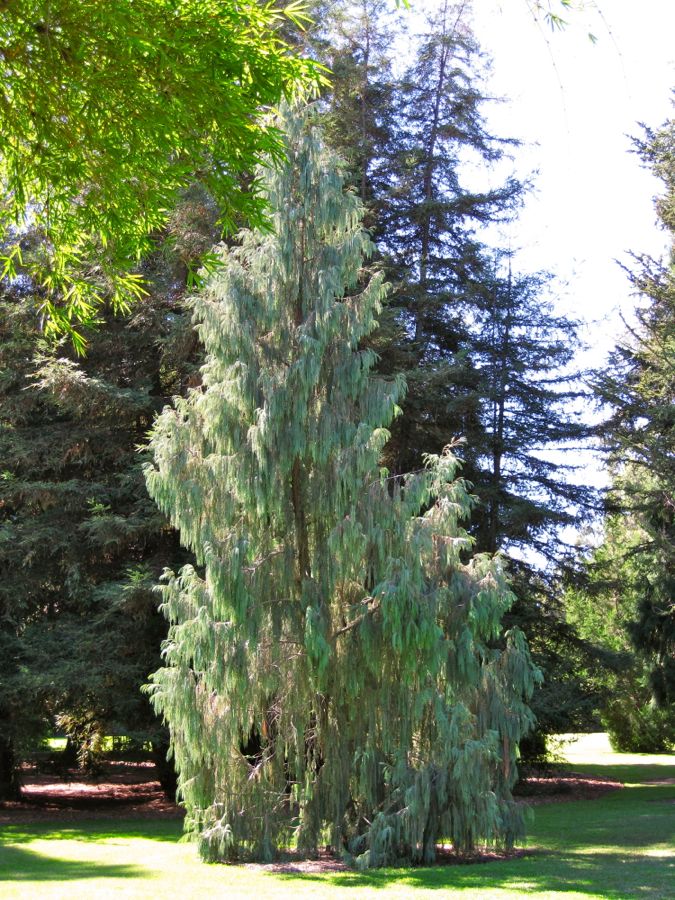 Another Cypress tree
Did You Know? - In Greek mythology, the cypress is associated with both Artemis and Cyparissus, a boy beloved by Apollo. Ancient Roman funerary rites used it extensively. Cupressus sempervirens is the principal cemetery tree both in the Western and Muslim worlds. Cypresses are used extensively the Shahnameh, the great Iranian epic poem by Ferdowsi.
In Numerology, the Cypress tree (as a "birth tree") is nicknamed "The Faithfulness", and is a depiction of the following characteristics: Strong, muscular, adaptable, takes what life has to give, happy,content,optimistic, needs enough money and acknowledgment, hates loneliness, passionate lover which cannot be satisfied, faithful, quick-tempered,unruly, pedantic and careless.

Our group is still together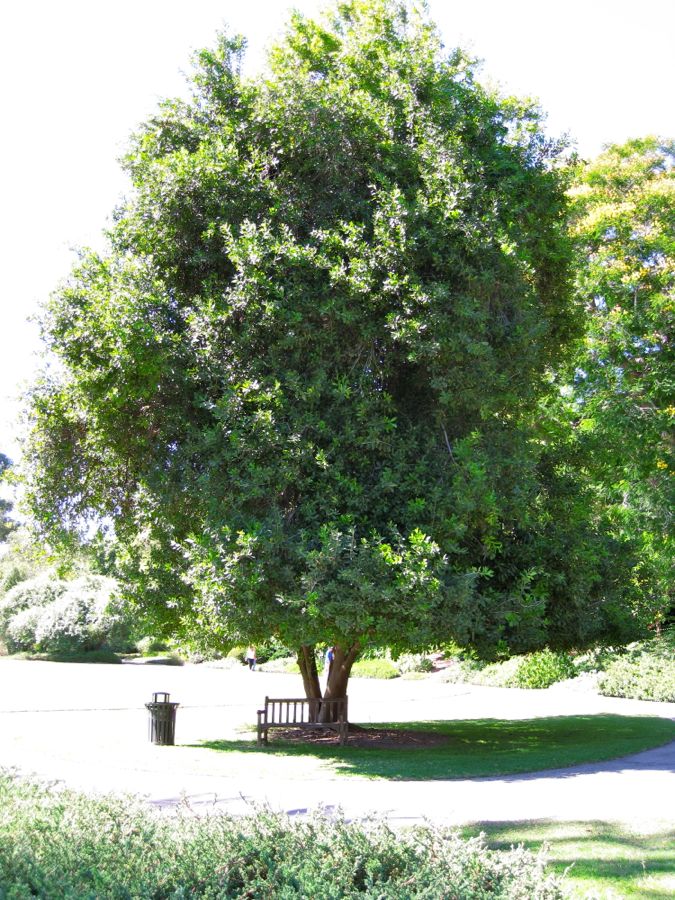 Macadamia Nut tree
Did You Know? - Compared to other common edible nuts like almonds and cashews, macadamias are high in fat and low in protein. They have the highest amount of beneficial monounsaturated fats of any known nut, but also contains approximately 22% of omega-7 palmitoleic acid, which has biological effects similar to saturated fat. They also contain 9% protein, 9% carbohydrate, 2% dietary fiber, as well as calcium, phosphorus, potassium, sodium, selenium, iron, thiamine, riboflavin and niacin.
Macadamias are toxic to dogs. Ingestion may result in macadamia nut toxicosis which is marked by weakness and hind limb paralysis with the inability to stand, occurring within 12 hours of ingestion. Depending on the quantity ingested and size of the dog, symptoms may also include muscle tremors, joint pain and severe abdominal pain. In high doses of toxicity opiate medication may be required for symptom relief until the toxic effects diminish. Full recovery is usually within 24 to 48 hours.

Jim is looking for the seed pods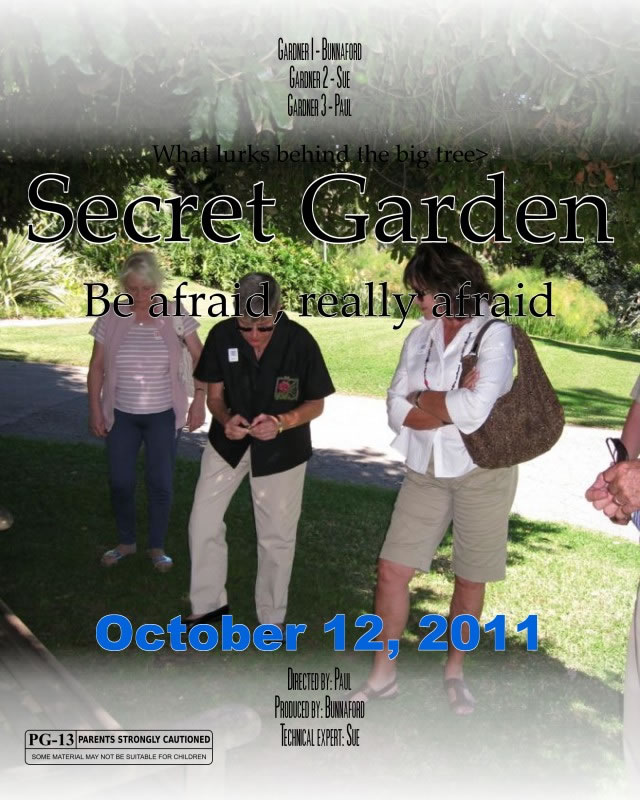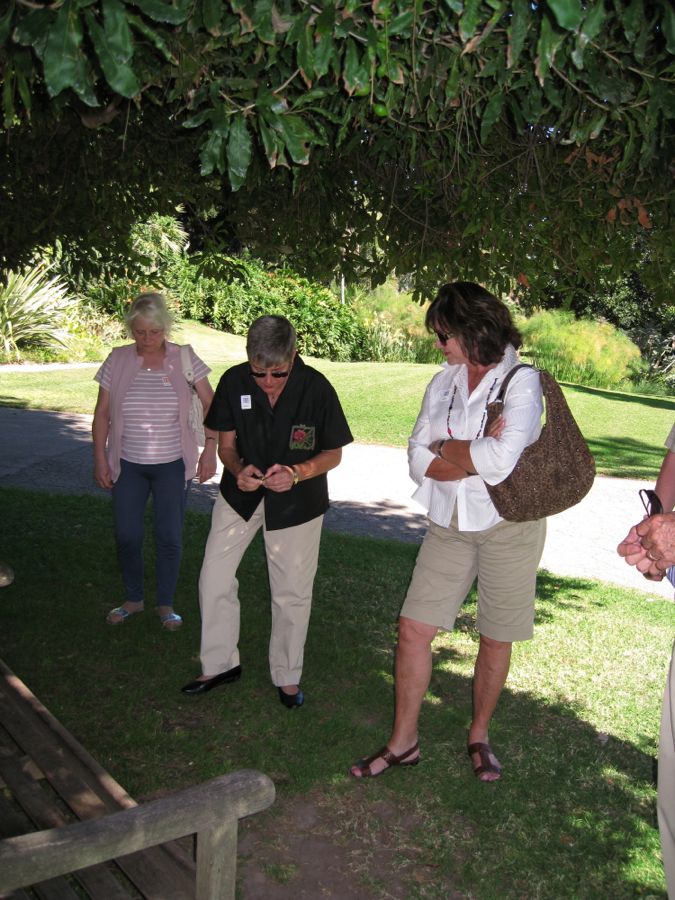 Sue found one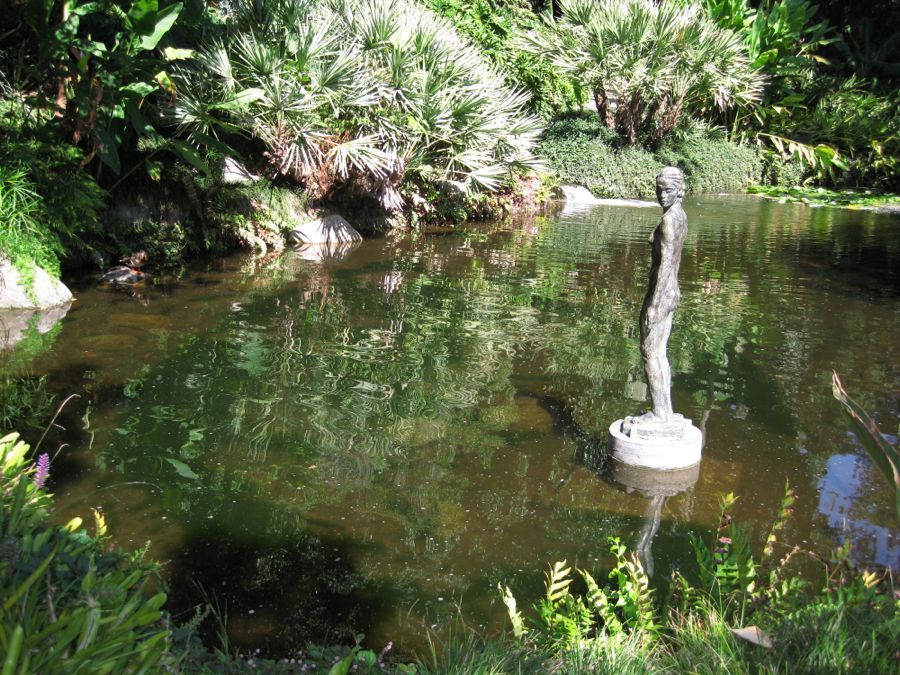 The jungle lady stands watch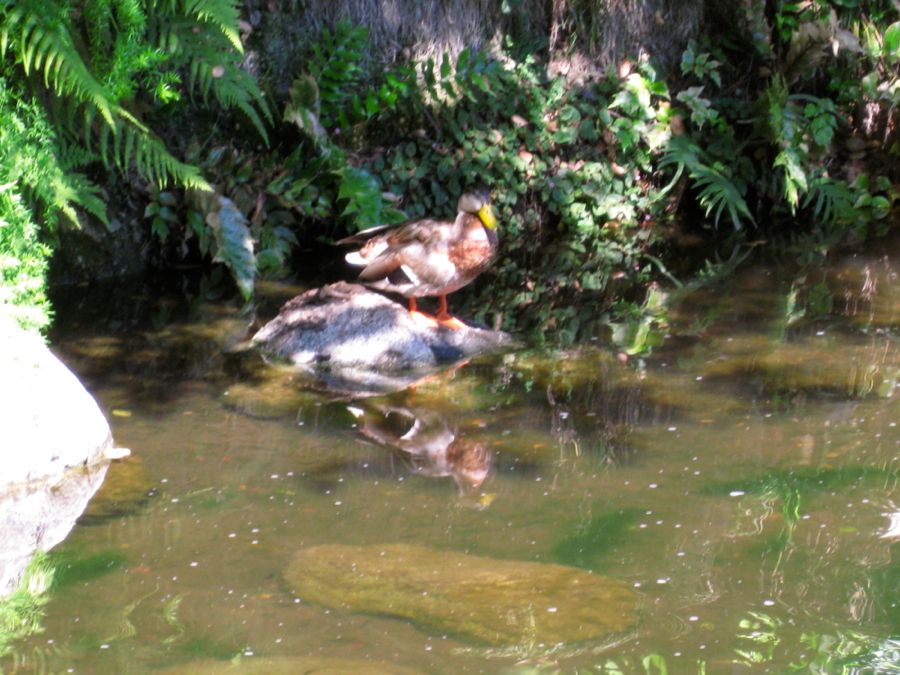 There is Dufus the Duck....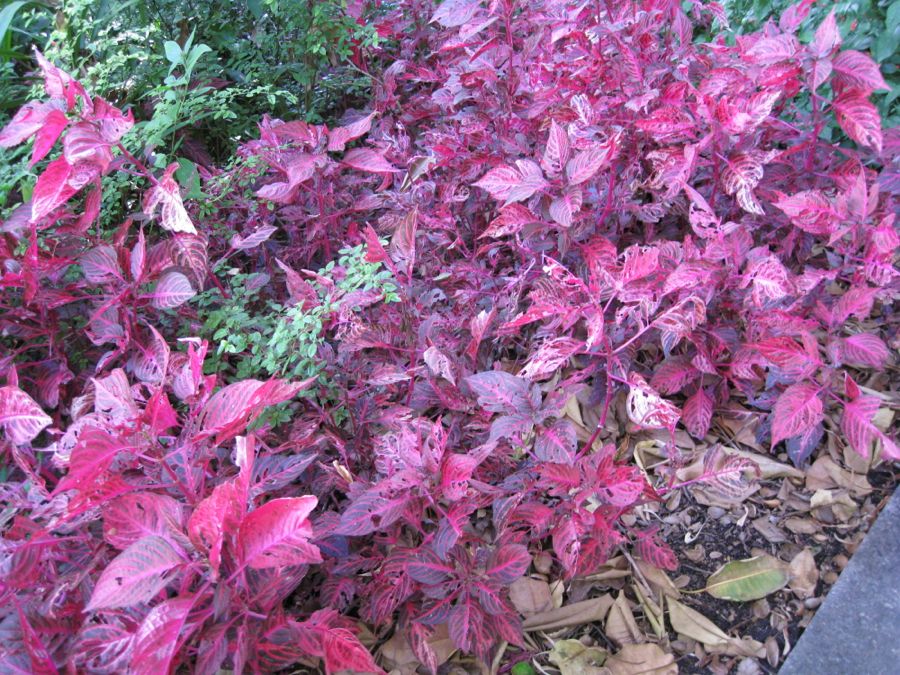 Coleous along the walkway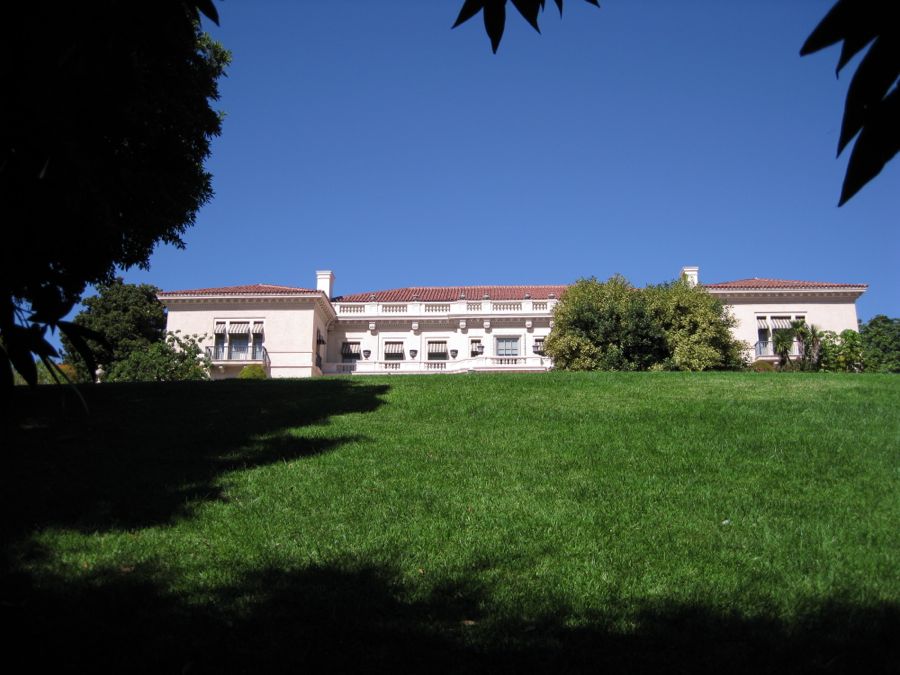 And then all of a sudden the house... 55,000 square foot residence of the Huntington's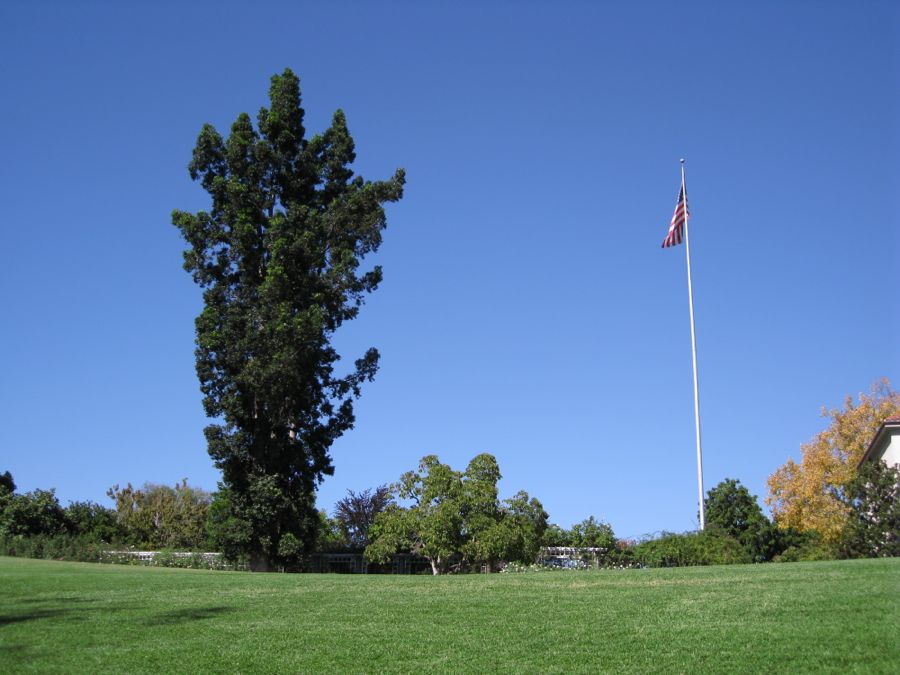 The flag pole is 136 feet tall with 16 feet in the ground and all wood!
To The Rose Garden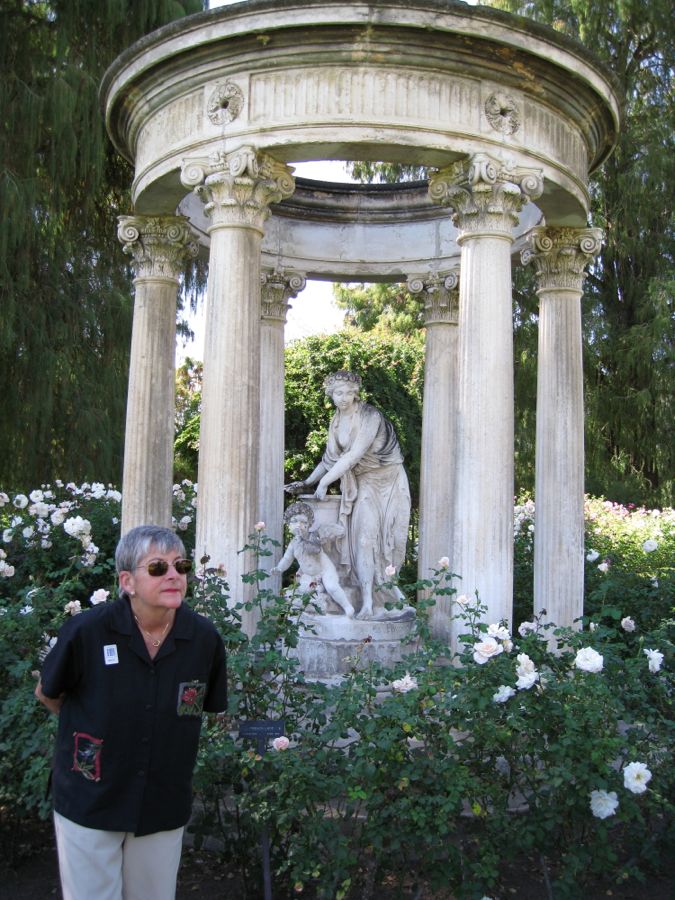 Sue approves....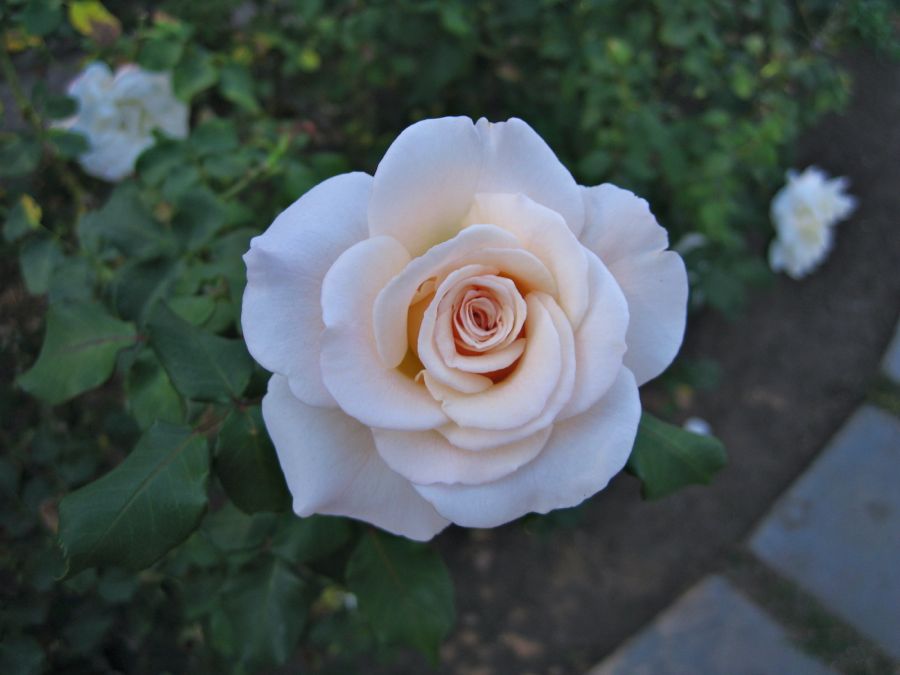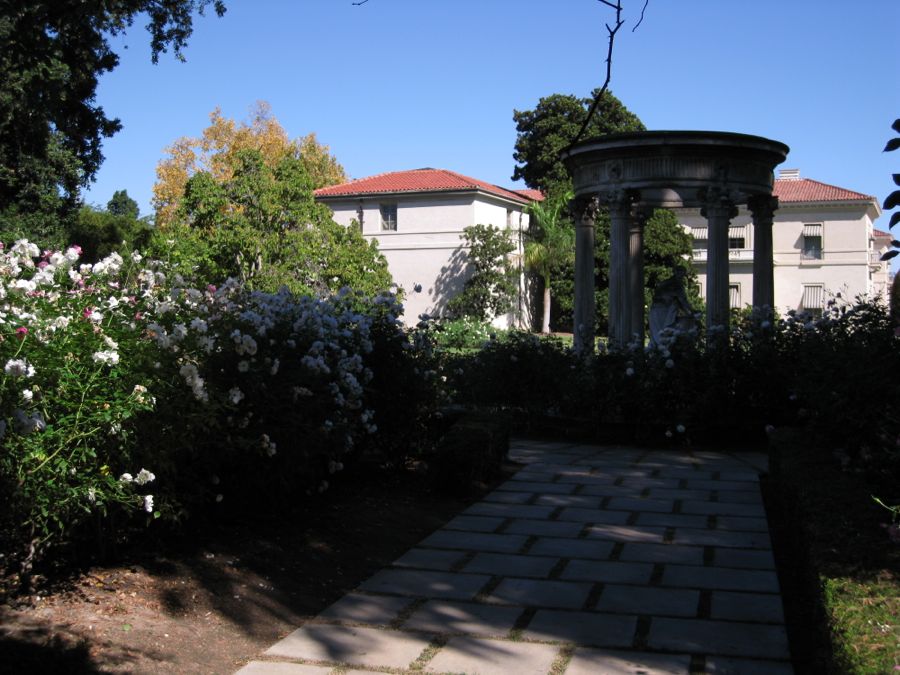 The Huntington home in the distance

The Tea House... It was a bowling alley in the 1920's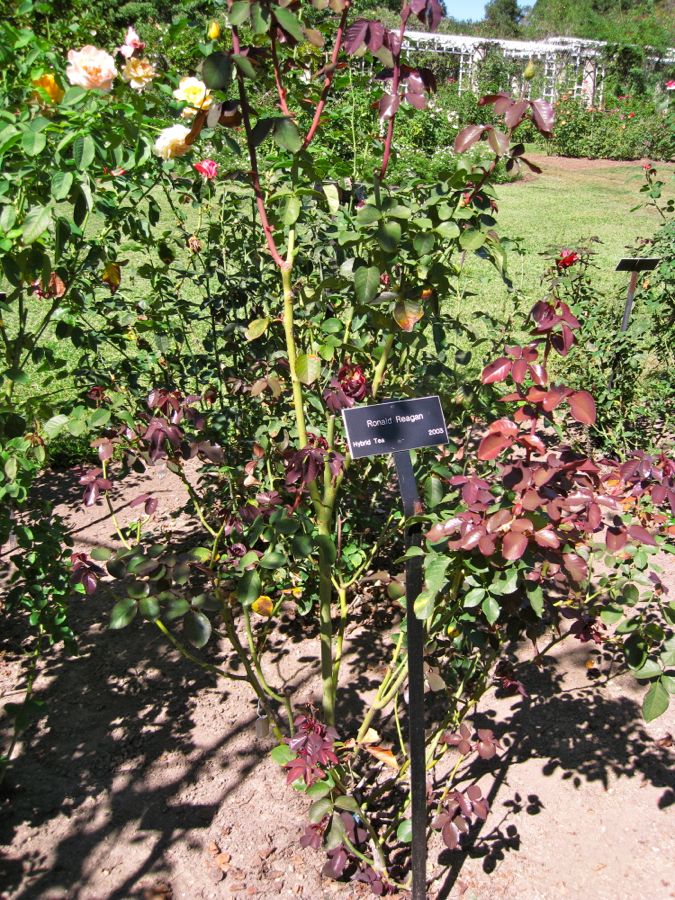 Ronald Reagan Rose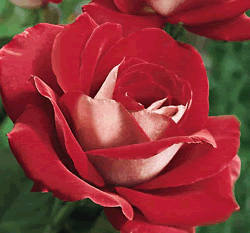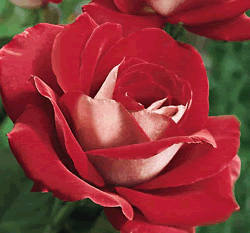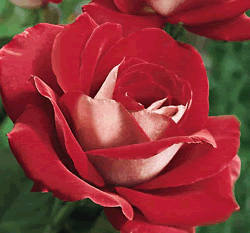 This Rose for a Cause is a fitting tribute to one of America's most popular presidents. Upright and noble, this majestic rose sets a new color standard. Its whitish-pink buds edged in red hint of a luminous reverse within. Then as they unfold, the petals take on a rich red tone, in contrast to the crisp white reverse. The long-stemmed flowers are breathtaking in floral arrangements.
| | |
| --- | --- |
| Variety: | (Var: JACtanre, PPAF) |
| Color: | Red with white reverse |
| Height: | 6' |
| Bud Form: | Pointed, ovoid |
| Bloom Size: | 4 ½" |
| Petal Count: | 30 |
| Stem Length: | 16"-20" |
| Foliage: | Glossy, dark green |
| Fragrance: | Light sweet |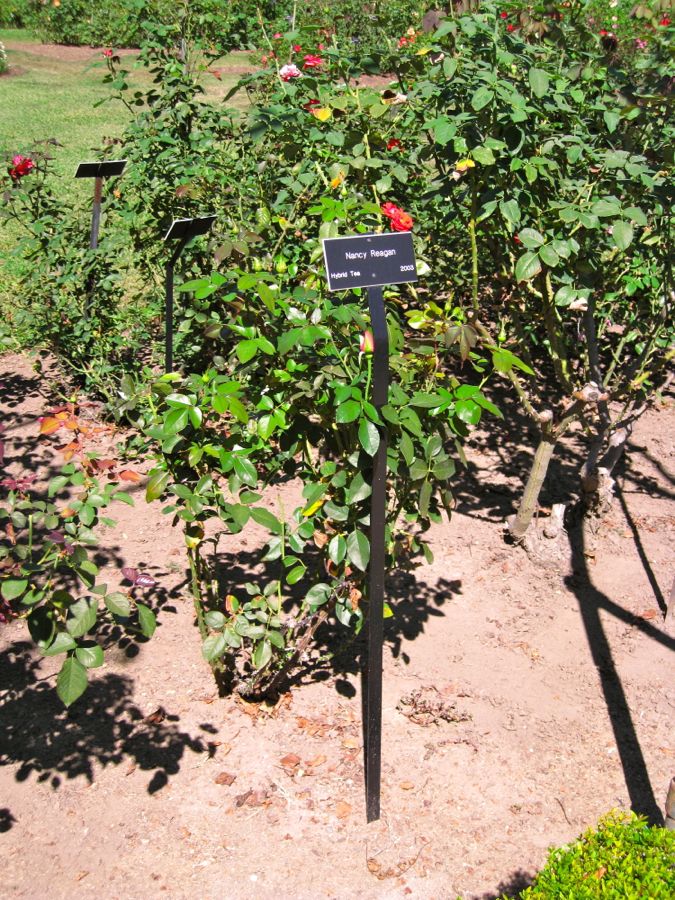 Nancy Reagan Rose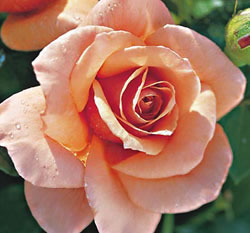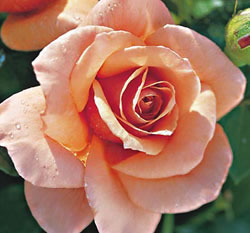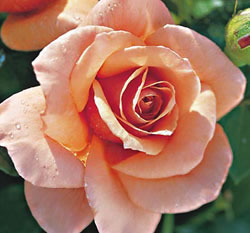 These profoundly graceful, perfectly formed blossoms progress from light to apricot to a deeper shade, lending an elegant air and luminous color to the landscape all summer. Long stems and excellent keeping quality make this an ideal choice for the cutting garden.
| | |
| --- | --- |
| Variety: | (JACurnam, PPAF) |
| Color: | Deep apricot |
| Height: | 5' |
| Bud Form: | Pointed, ovoid |
| Bloom Size: | 5" |
| Petal Count: | 30 |
| Stem Length: | 16"-18" |
| Foliage: | Glossy, dark green |
| Fragrance: | Light sweet |