Magic With Steve Mattan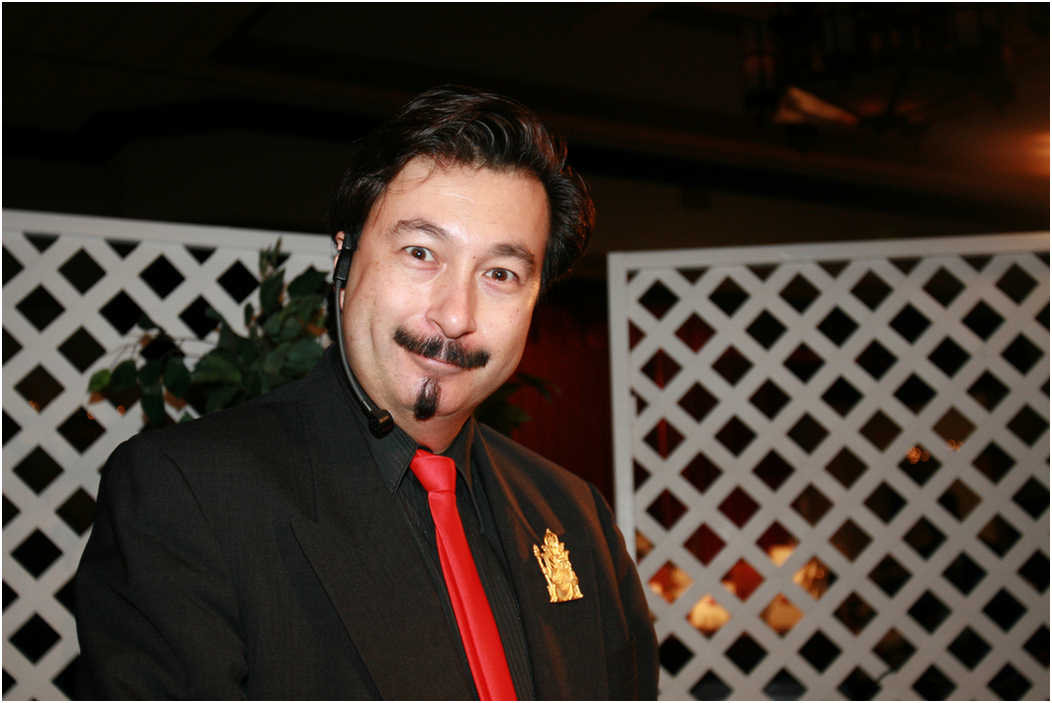 Come and see the magic of Steve Mattan (877) 728-8826 or (877) S-MATTAN. An amazing evening of illusions that will amaze you! "That can't be done... It's impossible!!!". We met Steve when he was doing magic during the break at the Phoenix Club in Anaheim.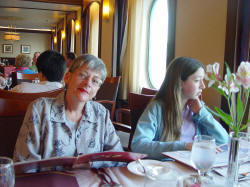 We took a for day to Mexico with the girls Easter (2005) and had a ball! Los Angeles to San Diego to Catalina and finally Ensenada and return home with a lot of eating and fun! There's a magical place in San Diego where you can stretch out a hand to feed a gentle giraffe, rub noses with an endangered rhino or look deep into the eyes of a California Condor. Ensenada , known as Baja's "Love Boat" port, is no longer a sleepy resort town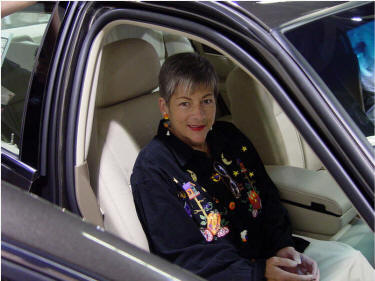 Going to the yearly new car shows has become a mandatory event! - Off to the car show. It is not exactly like the 1950s but close enough! Grandma wants a Hummer H2 while Paul wants a Cadillac! We settled for a Lexus look-alike!
Wine Tasting In Temecula - So we went off to wine tasting with Michelle and Franklin. What a great afternoon. We came home with several cases of wine the most interesting was a Champaign. Located in southwestern Riverside County, Temecula is California's only prominent American Viticulture Area south of Los Angeles. For the adventurous wine lover, it's an ideal destination for a short day trip from Los Angeles, Orange County, Palm Springs or San Diego.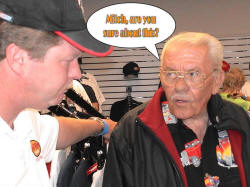 NASCAR Driving - Father's Day (Mitch) and Birthday (Dave) so it is OFF TO THE RACES! Join us for 10 laps in a real NASCAR! They had fun driving and we had fun watching them racing around in circles at 100 miles per hour!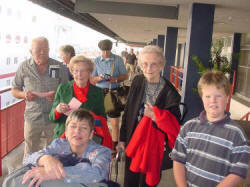 Cruising is a journey of discovery. We have cruised all over the world and are going to continue the adventures. Our latest was in February 2006 on the new QM2 and then from LA to the Panama Canal and back! . We even took the entire and extended family on a cruise a few years back! The next cruise? LA to Australia and the Orient and back to LA, 50 days! Why? No airplanes!
The Tall Ships come to Rainbow Harbor, Long Bach, California and get to go sailing! Recent visitor is The Californian. OK, let's go on the 2004 presentation of the Long Beach Tall Ships. See a movie (20 MB). In 2006 were left San Pedro on the Lady Washington.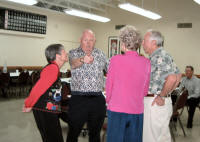 Dancing is one of our hobbies and in fact we are members of the Starlighers Dance Club (formerly Tux' An Gowns). It is a group that ball room dance and gets together every quarter, dress to the 9's, and dances all night! Our dancing instructor... for almost 20 years is Carri Fox . We dance all over including Disneyland and Catalina. We go to Catalina for an evening of ballroom dancing every year.
We Dance All Over, Disneyland, Phoenix Club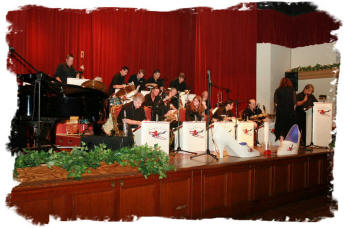 More dancing... every Thursday we go swing dancing at the Phoenix Club in Anaheim (near the Honda Center). During the breaks, we enjoy the magic of Steve Mattan . We even get out and dance! Catalina is the best! We Danced The Night Away in Avalon 2006! Dancing to the Armand Blais Orchestra is great fun!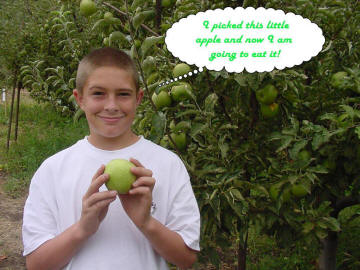 Apple Picking is a event we try and do once a year. We go to the mountains and visit Riley's Farm... usually around October. We make apple sauce from scratch.... nothing beats the smell of fresh apple sauce all over the house!! Jonathan is now 18 years old so this is a few years back!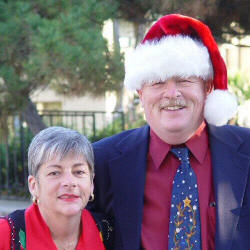 We enjoy the holidays with friends and family. We enjoy all of the holidays and will be showing you some of the things we do as the holidays progress throughout the year! As we get older and the kids get their own traditions, we are making adjustments.
What will they be?? July 4th , Halloween , Thanksgiving , Easter , Christmas .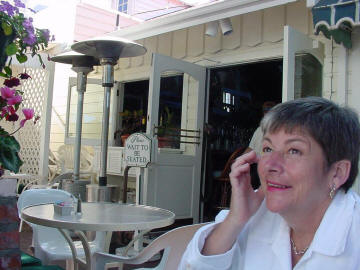 Catalina -Most October's, we go to Catalina (an island 26 miles off the coast of Los Angeles) and stay the weekend.... joining the big band dancing and costume ball in the world famous Catalina Casino! We took Aunt Edith and Cat once... and it was an absolute ball! This year it is October 30 & 31 and is called "Mardi Gras by the Sea". Sometimes we juts go over for a visit like August 2000.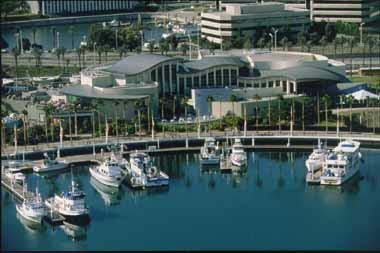 The Long Beach Aquarium of the Pacific
is one of the largest aquariums in the United States! Its 550 species fill 17 major living habitats, 30 smaller exhibits and takes visitors on a journey throughout the Pacific Ocean's three regions: Southern California/Baja; the Tropical Pacific and the Northern Pacific. The Aquarium is 156,735 square feet - the size of more than three football fields.
Disneyland , We Go Almost Every Week!
We are season pass holders and go almost every week... always to dance (Saturday nights), sometimes for breakfast, sometimes just for dinner! Disneyland is mandatory for Christmas Eve. We sometimes eat at Club 33 but Catal in Downtown Disney is the best!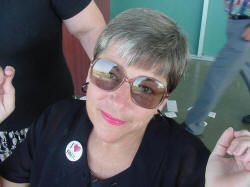 Los Alamitos Race Course - We go the Los Alamitos Race Course which is only a few miles away... nice enjoyable afternoons! Vessels Club at Los Alamitos Race Course is a place to enjoy a great day at the races.
Our latest escapade was to Del Mar with Mike & Margie and Robin & Bob.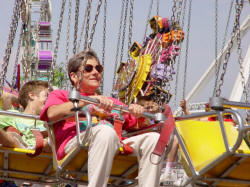 The Orange County Fair!!! is another weakness for us! We always go to the Fair on opening day... which is Sue's birthday +/- a day or so. Then we go over and over with members of the family. We started years ago but thanks to digital cameras, you can share: 2003 | 2004 | | 2005 | | 2006 | 2007 | 2008 | 2009 | 2010 | 2011 | 2012 | 2013 | 2014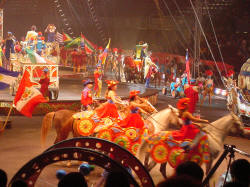 The Circus
is always fun! We go every few years. Most recently we went to the Honda Center in 2007.
The circus is a great place to go and watch very talented people. Three rings of continuous activity feasting our eyes on he bright uniforms and costumes.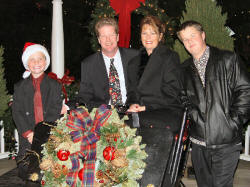 We often go to Rogers in Irvine to see what type of new vegetables are available for our garden . We grow the typical but we often go for the atypical and Roger's has many heirloom tomatoes to select from in April. Rogers had Green Zebras this past week... and several others!
The Christmas Play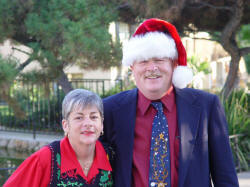 Christmas At The Candlelight Theater - Every Christmas we take our family to Ben Bollinger's Candlelight Dinner Theater .... almost 60 of us! For the last six years, when Santa comes into the audience to pick a child to receive his gift, he always has picked one of our grand children! Finally... we almost ran out of grand children but we have a great-grand-daughter now so we can start again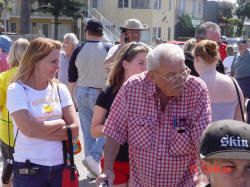 The annual Seal Beach car show is held on Main Street, Seal Beach adjacent to the pier. It is a place us old guys go and share stories about the things that never really happened. Those things that never happened were sure a lot of fun!
Golf new sport which we have taken up! and are enjoying a whole bunch! We played at the Navy Golf Course in Los Alamitos every weekend and practice two times a week for a couple of years and decided to join a country club.
We play at our country club (Old Ranch Country Club) about four days a week.
Cooking - We cook and garden and enjoy the bounty. Veggie Burritos are my favorite so I thought I would share. Here is the step by step. This is easy to do, tastes great, and has many uses! Enjoy! When it is summertime, the eggplant casseroles make a great evening. On rare occasions we even do soft-shelled crab!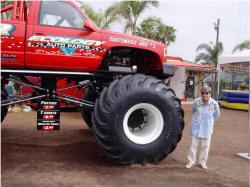 San Diego County Fair - We went to this fair to warm up to the Orange County Fair which opens on the 8th of July this year (2005). We drove from Los Angeles and it was only about a 100 minute drive. The angels were smiling, NO traffic! We also find out way to the Ventura County Fair .
Disney's 50th ; It Was Special; Paul Was There in 1955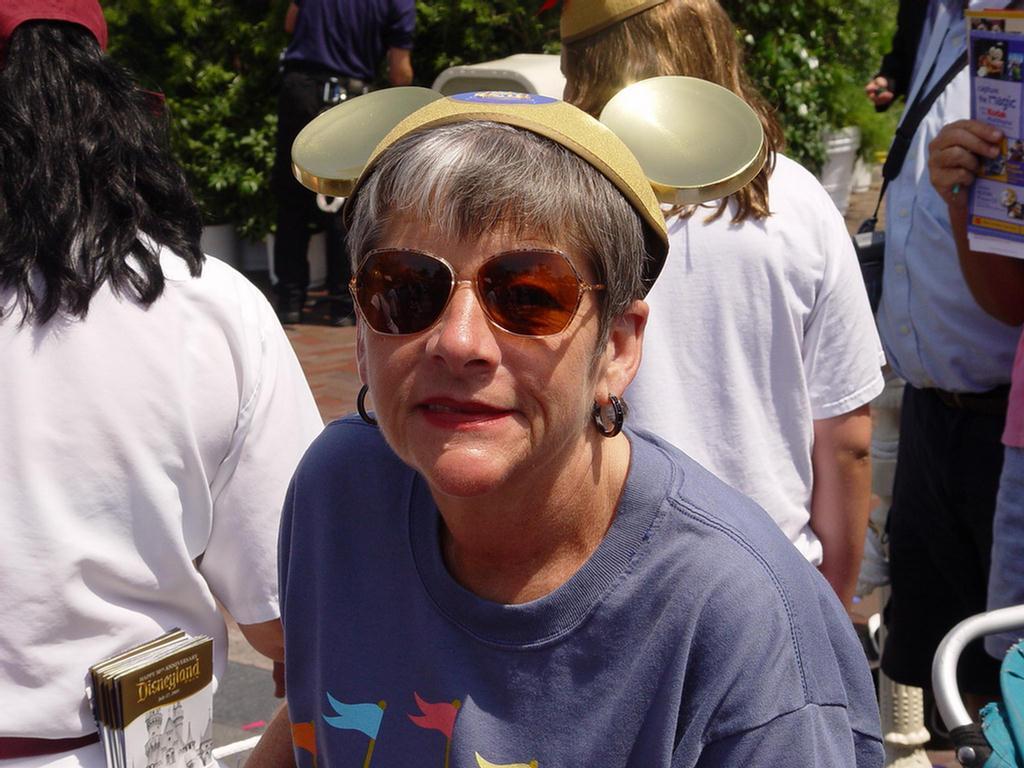 I was there on opening day ... Eleven years old and I remember it like yesterday. What was amazing is to return to the magic of Disneyland 50 years later and still be fascinated by the magic. It is truly a different world!
Hollywood Bowl Visits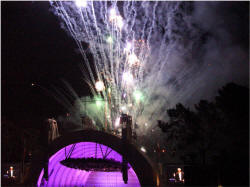 The Hollywood Bowl is always a trip (in more ways than one!). We last saw the Hollywood Bowl Orchestra under the leadership of John Mauceri with three different singers - Barbara Cook; Dianne Reeves; Deborah Voigt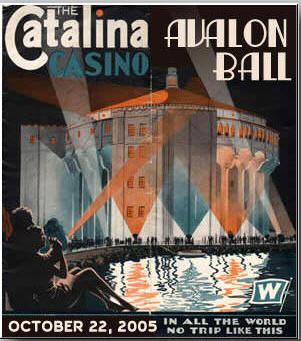 We ballroom dance every time we get a chance and as a matter of fact, we select our cruise ships by the availability of dancing and not necessarily where it is going! We aren't great dancers but we do have fun! As our instructor told us . . . "There are no mistakes, just new steps!". We love dancing at the Catalina Ballroom, Disneyland , and the Queen Mary during the Art Deco Festival. See us at the Catalina Casino for the Avalon Ball .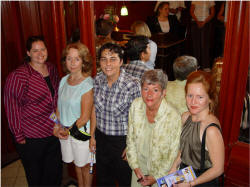 We all went to Disneyland's Club 33 for dinner once evening. Club 33 is a private club located in the heart of the New Orleans Square section of Disneyland. Officially maintained as a "secret" feature of the theme park, the entrance of the club is located next to the Blue Bayou Restaurant at "33 Royal Street" with the entrance recognizable by an ornate address plate with the number 33 engraved on it. When riding Pirates of the Caribbean, just as the ride departs, the Blue Bayou restaurant is visible, but the balconies above it are actually a part of Club 33.
Magic
The word Magic is derived from the Magi of ancient Iran. Performances we would recognize as conjuring have probably been practiced throughout history . The same ingenuity behind ancient deceptions such as the Trojan horse would have been used for entertainment , or at least for cheating in gambling games, since time immemorial. However, the respectable profession of the illusionist gained strength during the eighteenth century , and has enjoyed several popular vogues. Successful magicians have become some of the most famous celebrities in popular entertainment.
Cruising...
Cruising by boat is a lifestyle that involves living for extended time on a boat while traveling from place to place for pleasure. Cruising generally refers to trips of a few days or more, and can extend to round-the-world voyages. Cruising is done on both sail and power boats, or ocean liners. Many cruisers are "long term" and travel for many years, the most adventurous circling the globe over a period of three to ten years. Many others take a year or two off from work and school for short trips and the chance to experience the cruising lifestyle.
Wine Tasting
Wine tasting (often, in wine circles, simply tasting) is the sensory examination and evaluation of wine. While the practice of wine tasting is as ancient as its production, a more formalized methodology has slowly become established from the 14th century onwards. Modern, professional wine tasters (such as sommeliers or buyers for retailers) use a constantly-evolving formal terminology which is used to describe the range of perceived flavors, aromas and general characteristics of a wine. More informal, recreational tasting may use similar terminology, usually involving a much less analytical process for a more general, personal appreciation.
Tall Ships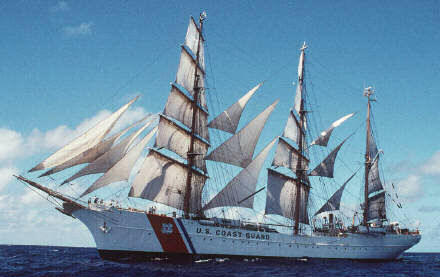 A tall ship is a large traditionally rigged sailing vessel. Popular modern tall ship rigs include topsail schooners, brigantines, brigs and barques.

Traditional rigging may include square rigs and gaff rigs, with separate topmasts and topsails. It is generally more complex than modern rigging, which utilizes newer materials such as aluminum and steel to construct taller, lightweight masts with fewer, more versatile sails.

The term tall ship has come into widespread use in the mid-20th century with the advent of The Tall Ships' Races.

While Sail Training International (STI) has extended the definition of tall ship for the purpose of its races to embrace any sailing vessel with more than 30 ft. (9.14 m) waterline length and on which at least half the people on board are aged 15 to 25, this definition can include many modern sailing yachts, so for the purposes of this article, tall ship will refer to those vessels rated as class "B" or above (Fore and aft rigged vessels between 100 to 160 feet in length, and all square rigged vessels).
Catalina
Santa Catalina Island, often called Catalina Island, or just Catalina, is a rocky island off the coast of the U.S. State of California. The island is 22 miles (35 km) long and 8 miles (13 km) across at its greatest width. The island is located about 22 miles (35 km) south-southwest of San Pedro, Los Angeles, California. The highest point on the island is Mt. Orizaba (648 m), at [show location on an interactive map] 33°22′29.7″N, 118°25′11.6″W.

Part of the Channel Islands of California archipelago, Catalina falls under the jurisdiction of Los Angeles County. Most of the island is owned by the Catalina Island Conservancy.

The total population as of the 2000 census was 3,696 persons, with almost 85 percent living in its only city of Avalon (pop. 3,127, with another 195 south of the city outside of the city limits). The second center of population is the unincorporated town of Two Harbors, in the north, with a population of 298. Development occurs also at the smaller settlements Rancho Escondido and Middle Ranch. The remaining population is scattered over the island between the two population centers.
An aquarium (plural aquariums or aquaria) is a vivarium consisting of at least one transparent side in which water-dwelling plants or animals are kept. Aquaria are primarily used for fish keeping, although invertebrates, amphibians, marine mammals, and aquatic plants are also housed in aquaria. The term combines the Latin root aqua, meaning water, with the suffix -arium, meaning "a place for relating to".

The aquarium has a long history and maintaining an aquarium has become immensely popular worldwide; a person who owns or maintains an aquarium is known as an aquarist. Aquaria can come in a variety of materials, shapes, and sizes. They are typically constructed of glass or high-strength plastic. Cuboid aquaria are also known as fish tanks or simply tanks, while bowl-shaped aquaria are also known as fish bowls. Size can range from a small glass bowl to immense public aquaria. A number of components are used to maintain appropriate water quality and characteristics suitable for the aquarium's residents. There are many types of aquaria, classified by the organisms maintained or the type of environment that is mimicked.
Horse Racing
Horse racing is an equestrian sport which has been practiced over the centuries; the chariot races of Roman times are an early example, as is the contest of the steeds of the god Odin and the giant Hrungnir in Norse mythology. It is often inextricably associated with gambling. The common nickname for horse racing is The Sport of Kings.
Ballroom dance, refers collectively to a set of partner dances, which originated in the Western world and are now enjoyed both socially and competitively around the globe. Its performance and entertainment aspects are also widely enjoyed on stage, in film, and on television. It is for young and old.

While historically ballroom dance may refer to any form of formal social dancing as recreation, with the eminence of dance sport in modern times the term has became much narrower in scope, usually referring specifically to the International Standard and International Latin style dances (see dance groupings below). In the United States, two additional variations—"American Smooth" and "American Rhythm"—have also been popularized and are commonly recognized as styles of "ballroom dance".
Golf
Golf is a sport in which individual players or teams of players strike a ball into a hole using several types of clubs. Golf is one of the few ball games that does not use a fixed, standardized playing field or area; defined in the Rules of Golf as "playing a ball with a club from the teeing ground into the hole by a stroke or successive strokes in accordance with the Rules."


The first game of golf for which records survive was played at Bruntsfield Links, in Edinburgh, Scotland, in A.D. 1456, recorded in the archives of the Edinburgh Burgess Golfing Society, now The Royal Burgess Golfing Society.
Hollywood Bowl
The Hollywood Bowl is a modern amphitheatre at 2301 North Highland Avenue in Hollywood , California , USA , that is used primarily for music performances . The "bowl" in this context is the natural cavity in the earth into which the amphitheater is built, rather than the shape of the band shell. It officially opened on July 11 , 1922 on the site of a natural amphitheater formerly known as the Daisy Dell, and has been the summer home of the Los Angeles Philharmonic since then.