Chi Phi Fraternity
TheChi Phi fraternity is an American college social fraternity founded in 1824 at Princeton University, in 1858 at the University of North Carolina, and in 1860 at Hobart College, making it the oldest social collegiate fraternity in history. Today, Chi Phi has over 40,000 living alumni members from over 90 active and inactive Chapters.

So I did drop by the house in 1964. Wow, what a house! Newest on campus! But only 12 members, all great guys! And the house other, Susie!

I did see one or two other houses but they were snobs or jocks or just NOT friendly!

I joined the Chi Phi Fraternity at University of Southern California... Here are some one liners about...
The Greek Chariot - We rented, we ran, we won, we drank!
Rocky Turns Inside Out - Darn.. do NOT eat pizza and drink!
The Hot Rod - Our rich guy has a ford Shelby Cobra!
The Piano - It played a tune on the keys it had left!
Color TV - Five shades of green!
Teletype Anyone - Across the street
Please, No More Punch - Remember the cheap wine, bath tub, and dry ice???
Ranfeld and the Jeepster - Here to Las Vegas in 4 hours! The Chrysler Hemi helped! (see below)
Ashcraft The Funny! - Mr. Goody Two Shoes! Naught!
Tracy Wears Greek Clothes - What was under those sheets?
The Bonita - We went fishing and she cooked it! It's called the bone fish!
Out Cook And Her Mustache - And those cigarettes!
Sweet Sue - M-M-M-M-M
Don't You Have No Girls Up There! - So said Sue!
The Monical - We stood upside down to see next door!
Some Of The Guys
Gary Ashcraft
Joe Tracy
BJ (Bill James)
Park Cockerille
Tedd Higgs
Dear Paul,

I just found your web site, and I thought I would write. I don't know if you remember me, Ted Higgs. I think we pledged the fraternity at the same time. I found your web site through a search off of Google.com that took me to one of your pages where you list some of our fraternity brothers and ask where they are now? Good question. The list brought back lots of memories.

I read your family history with interest. I was impressed with your career and with that of your wife. For my part I ended up as an officer in the Army, but I had a fairly interesting career. I taught for about seven years at the Academy at West Point, after doing my graduate work at the University of Oklahoma, went to Monterey language school for Greek and Italian and had tours in Athens, Greece; Verona, Italy; and Belgium (and elsewhere). My last four years on active duty were spent as the sole American with an Italian unit in a small town, Vittorio Veneto, just north of Venice, right at the base of the Alps.

I retired in 1991 and stayed in Italy until fairly recently teaching English and philosophy, and a few other subjects, for the University of Maryland program at Aviano Air Base. We are now living in Elizabethtown, Kentucky, near Fort Knox, and I will begin teaching Latin and English at the local community college in a month or so.

Well, I just thought I would write to say hello and to congratulate you on the web site. If you hear from any of the others, please let me know.

Best of luck to you and your wife.

Sincerely,

Ted Higgs
Bob Meyers
Hi Paul:

It has been a long time. I remember the first time we met was at a Jr College student government conference. I am still married to Pam (30 years). We have two kids: Lauren (26) is finishing grad school at CSU Fullerton in special education and will start teaching in the spring. Greg (21) is a senior at Chapman in the film school. Both of them are still living at home (this seems to be the case for many their age). Pam and I are active in our church. I am a psychologist and I am now working for Universal Care as the director of behavioral health. Pam runs our web business from our home. Our site is childdevelopmentinfo.com.

We still keep in touch with the Richmonds. They live up in the central coast. Pat is now a Toyota sales person. It is sad that Chi Phi went off the row at USC. Right up there with the decline of the athletic program.

I hope things are going well for you. I have lost touch with most of the fraternity guys. Pam and I keep in touch with a few couples from the USC crowd. Pam's nephew (a USC film grad), named after her dad/brother, Morgan Ward just had his second screen play hit the theaters, "Riding In Cars With Boys."

Drop me a line. I would like to hear how you are doing.

Eternally, Fraternally (or something like that).

Bob Myers
Chi Phi History
The college fraternity is an institution unique to the United States. In the 18th century, all colleges were small and religiously orientated. There were no such things as electives, and the faculty preferred a student's mind to be more concerned with academics and religious entities rather than current events. Student organizations were frowned upon and highly discouraged. It is understandable then, that students would seek to form fraternal groups to the needs not being met by their academic institutions. Hence, what we know as the fraternity or Greek letter organization, was formed.

The first Greek letter society was formed when a student was denied admission into a William and Mary literary society. The rejected man, along with four friends, organized a society of their own, using Greek letters to name it Phi Beta Kappa. That first meeting was on December 5, 1776, and now, almost 220 years later, there are nearly 70 nationally recognized fraternities.

The fraternity system at USC exemplifies what Greek Organizations should be. With 22 fraternities and 11 sororities, boasting membership from 12 to over 100, the Greek System here has established itself as one of the most diverse, exciting, and well respected systems in the country. Recognized nationally as a trend-setter in Greek life, USC Greeks are constantly being recognized for academic, athletic, philanthropic, and social achievements. The Greek System has been, and still is, one of USC's proudest traditions.
Ranfeld's Jeepster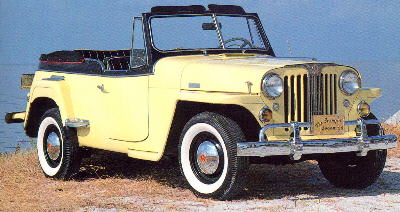 Ranfeld had a Dodge Hemi (400+ Cubic Inches) under this hunk of tin! All of the cowlings under the front tires were cut out so the exhaust could make it to the back! Push button transmission and the ability to burn rubber in any gear! Closest thing to putting an airplane engine on a garage door!! It flew!

The Jeepster was an automobile sold under the Jeep marque. The original Jeepster, introduced by Willys-Overland in 1948, failed to find a market and was soon dropped.

The original Jeepster ("VJ" internally) was produced from 1948 through 1950, although some leftover models were sold under the 1951 model year. After World War II, Jeep trademark owner, Willys, believed that the market for the military-type Jeep would be limited to farmers and foresters, therefore they began producing the "CJ" (or Civilian Jeep) to fill this growing segment as well as producing the new Jeep Wagon in 1946, and then the Jeep Truck in 1947. Realizing a gap in their product line up, Willys developed the Jeepster to crossover from their "utilitarian" type truck vehicles, to the passenger automobile market. The car (form 1948 to 1950) was originally only offered with rear-wheel drive, limiting its appeal with traditional Jeep fans. While its distinctive boxy styling (created by industrial designer Brooks Stevens) was a hit with critics, it did not catch on with the intended market segment. Sales were also limited by sparse advertising. In the end, just 19,132 original VJ Jeepsters were sold.

The VJ Jeepster was powered by the 62 hp (53 kW) "Go Devil" engine, a 134 in³ (2.2 L) straight-4 also used in the CJ. A 3-speed manual transmission with optional overdrive was used, as were drum brakes all around. The vehicle's front end and single transverse leaf spring suspension, was from the Willys Station Wagon, as was the rear driveline. The flat-topped rear fenders were copied from the Jeep truck line, as were the pair of longitudinal rear leaf springs.

Jim... Where are you???
The Old Piano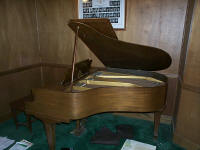 This poor old piano had more missing keys than one can imagine! The one fingered concerto was designed for this piano... Yet it did work after a fashion! And we did play it quite often!
Joe Tracy and I worked on it during a summer break... Sanded it, refinished it, even glued on a couple of keys! As for tuning it... it was past that! We were able to eek out a few tunes and skirt the clunkers!
It finally got so bad that it was carted away and given a decent burial!