Cavorting Continues (Page Three)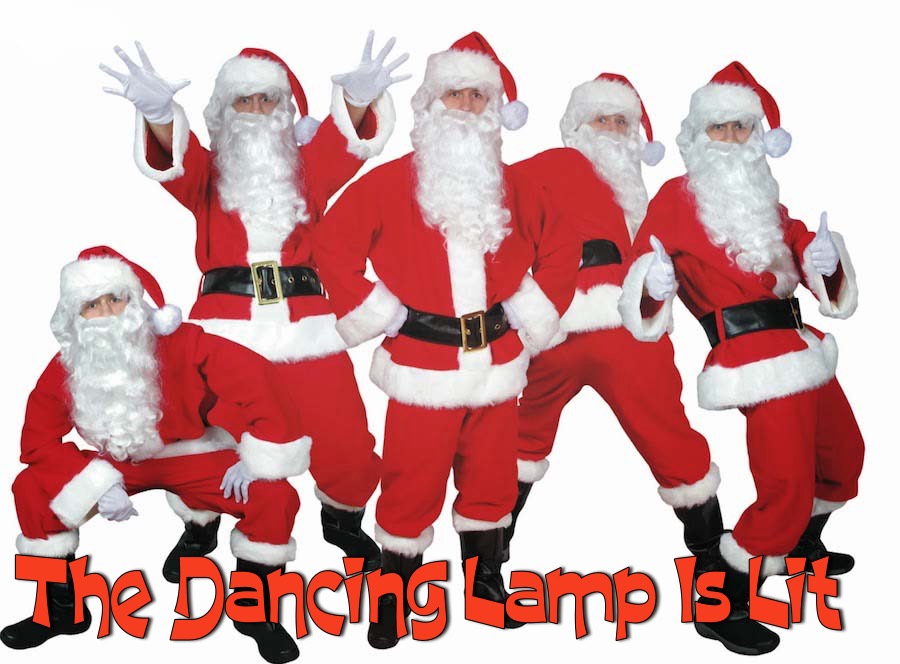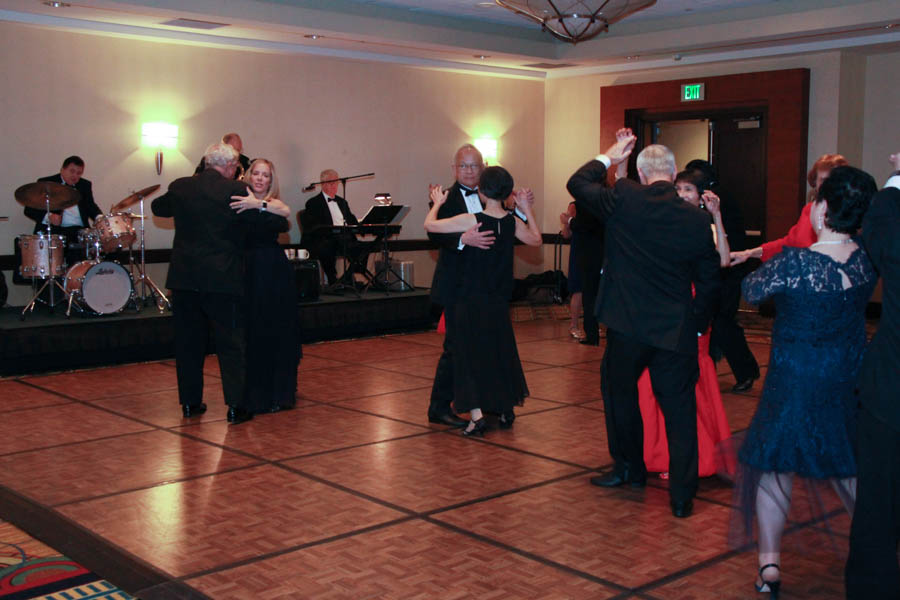 Music starts... Dancing begins

How does the Professor come up with so much seasonal music...
Including a Hanukkah Cha Cha?
Dance Intro Christmas Dance Songs for Nightclub Two-Step:
1. A Winter Garden by Loreena McKennitt
2. Do You Hear What I Hear by Whitney Houston
3. Greatest Gift of All by Kenny Rogers & Dolly Parton
4. Have Yourself A Merry Little Christmas by Lonestar
5. The Christmas Song by Faith Hill

Lookout... Here we come!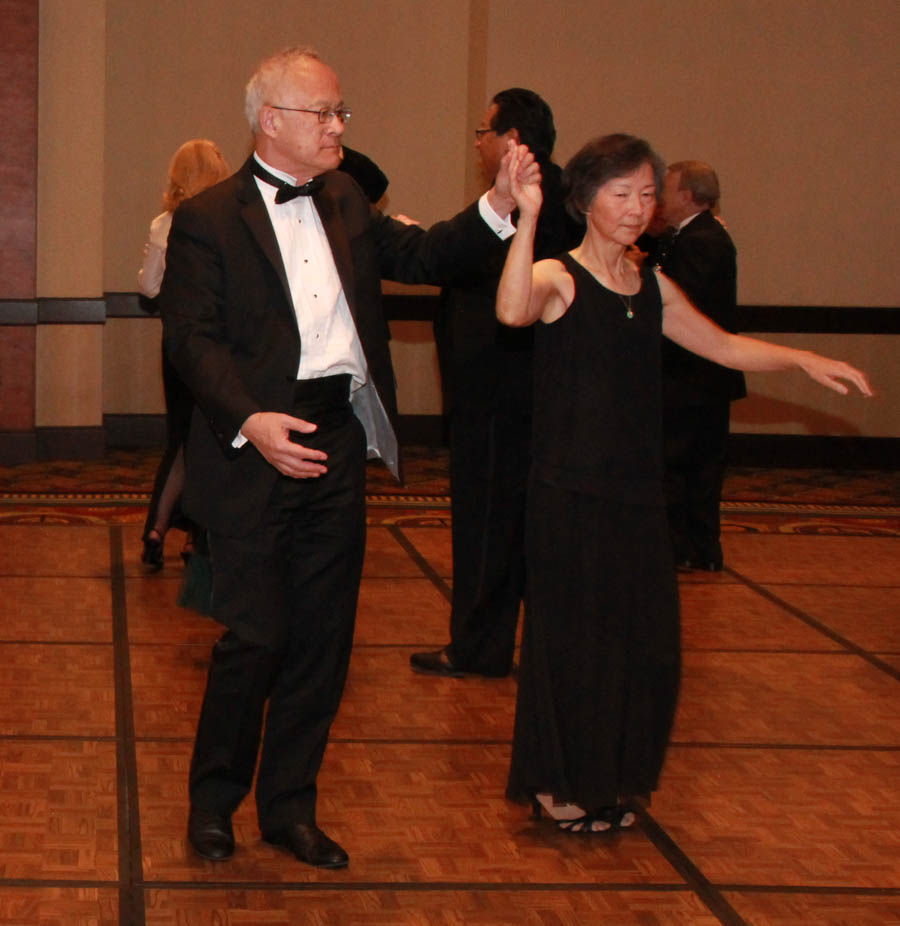 Tis the season

Dance Clubs dance!
Dance Intro Christmas Dance Songs for East Coast Swing:

1. I'm Gonna E-Mail Santa by Billy Gilman
2. Jingle Bells by Brian Setzer Orchestra
3. Little St. Nick by Beach Boys
4. Rockin' Around the Christmas Tree by Beatles
5. Rudolph The Red Nosed Reindeer by Alan Jackson
6. Run Rudolph Run by Chuck Berry
7. Santa Claus is Coming in a Boogie Woogie Choo Choo Train
8. Rockin' Little Christmas by Carlene Carter
9. I Met An Angel (On Christmas Day) by Celine Dion

Colors of the season...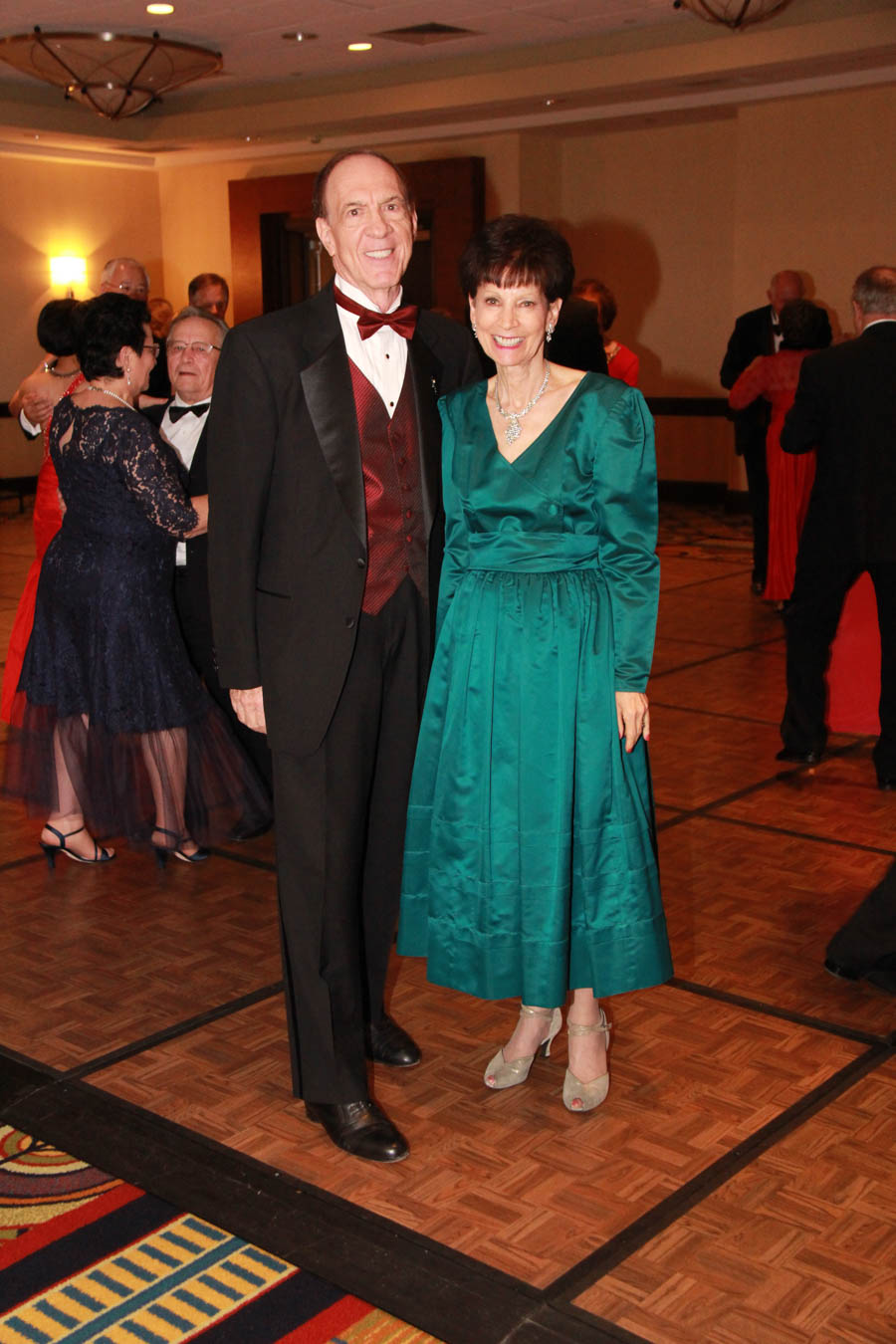 Chasing those pesky calories away


Welcome guests!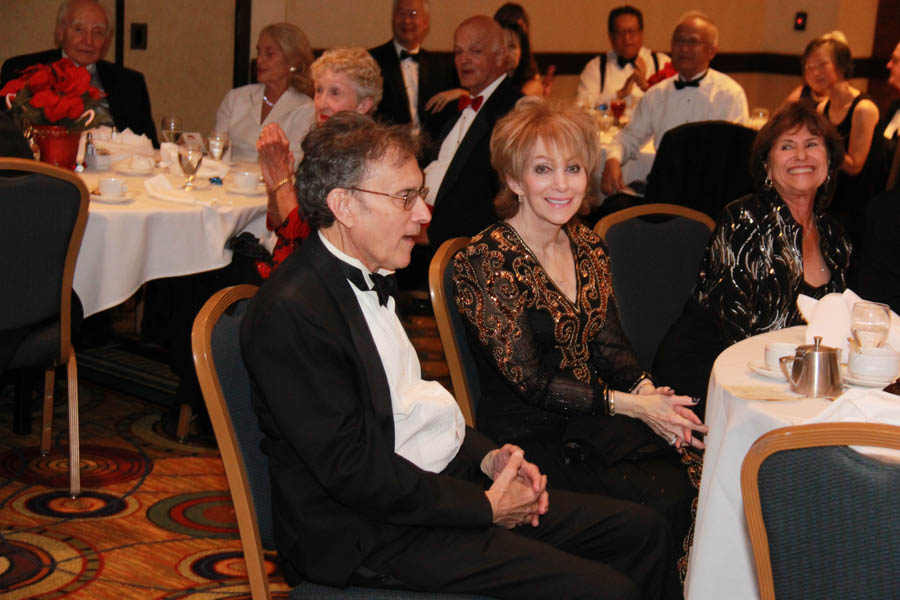 BJ Clingan and Tonya Melendez

Thomas and Christina Hanscom

Thank you those responsible for tonights dance....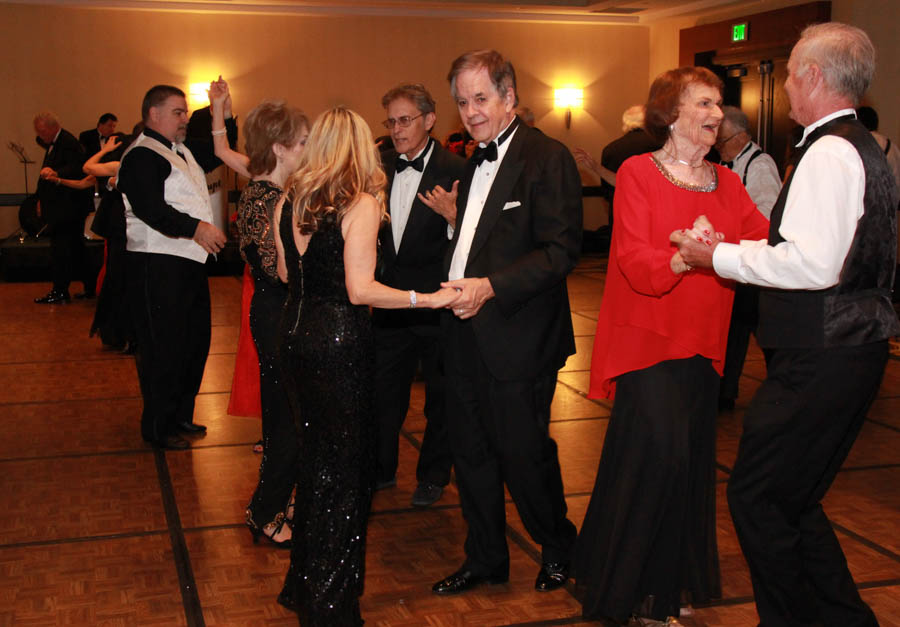 Dance music starts... Nightlighter's light up !

Thank you Wyatt and team for the great seasonal dance music!
Dance Intro Christmas Dance Songs for Foxtrot (108-128 BPM)

1. A Holly Jolly Christmas by Alan Jackson (Home Alone 2)
2. Holly Jolly Christmas by Burl Ives
3. Jingle Bell Rock
4. Let It Snow by Eydie Gorme & Steve Lawrence
5. Let It Snow by Garth Brooks
6. Let it Snow! Let it Snow! by Dean Martin
7. Santa Baby by Madonna
8. Santa Claus Is Coming to Town by Randy Travis
9. Santa Claus Is Coming to Town by Beach Boys
10. Winter Wonderland - Sleigh Ride by Kenny Rogers & Dolly Parton
11. Winter Wonderland by Bing Crosby
12. Winter Wonderland by Dean Martin

Gary heard Jingle Bells and has been prancing around the rest of the evening

Jose and Sherrie... Tonight's dance directors!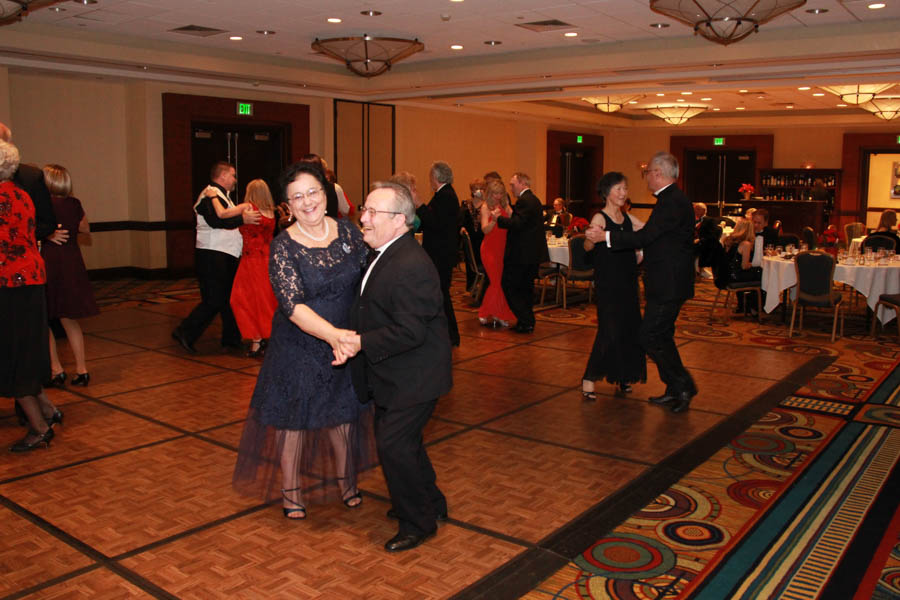 A tribute to the band... The floor was full all evening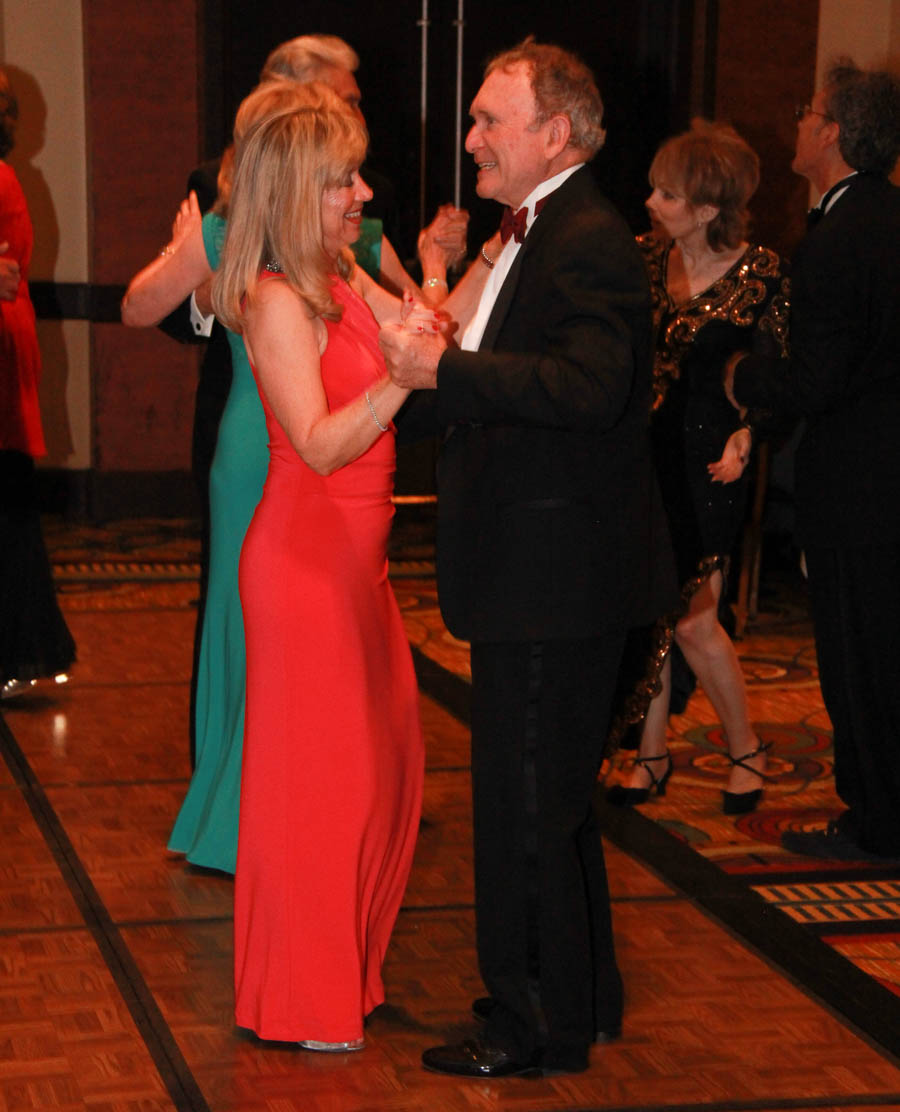 Green and Red.... Seasonal colors
Did You Know? - Red symbolizes the blood that Jesus spilt to redeem us from our sins.
Green is the color of life. Therefore, green symbolizes the potential for eternal life that Jesus' sacrifice made possible for all of us. The evergreen tree is green all year round. So, it also symbolizes eternal life.
Did You Know? - The most obvious explanation for blue and white Hanukkah colors is the Israeli flag, designed by the Zionist movement in 1891 and officially adopted in 1948. The flag's blue stripes symbolize those found on tallitot, traditional Jewish prayer shawls that are worn at synagogue, bar or bat mitzvahs, and Jewish weddings. So why are there blue stripes on tallitot? According to the Bible, the Israelites were told to dye a thread on their tassels with tekhelet, a blue ink from a sea snail, "so that they may look upon it, and remember all the commandments of the LORD, and do them."
Blue and white come with universal associations, too. White suggests purity, peace, and light. Blue is associated with the sky, faith, wisdom, and truth. (The expression isn't "true blue" for nothing.)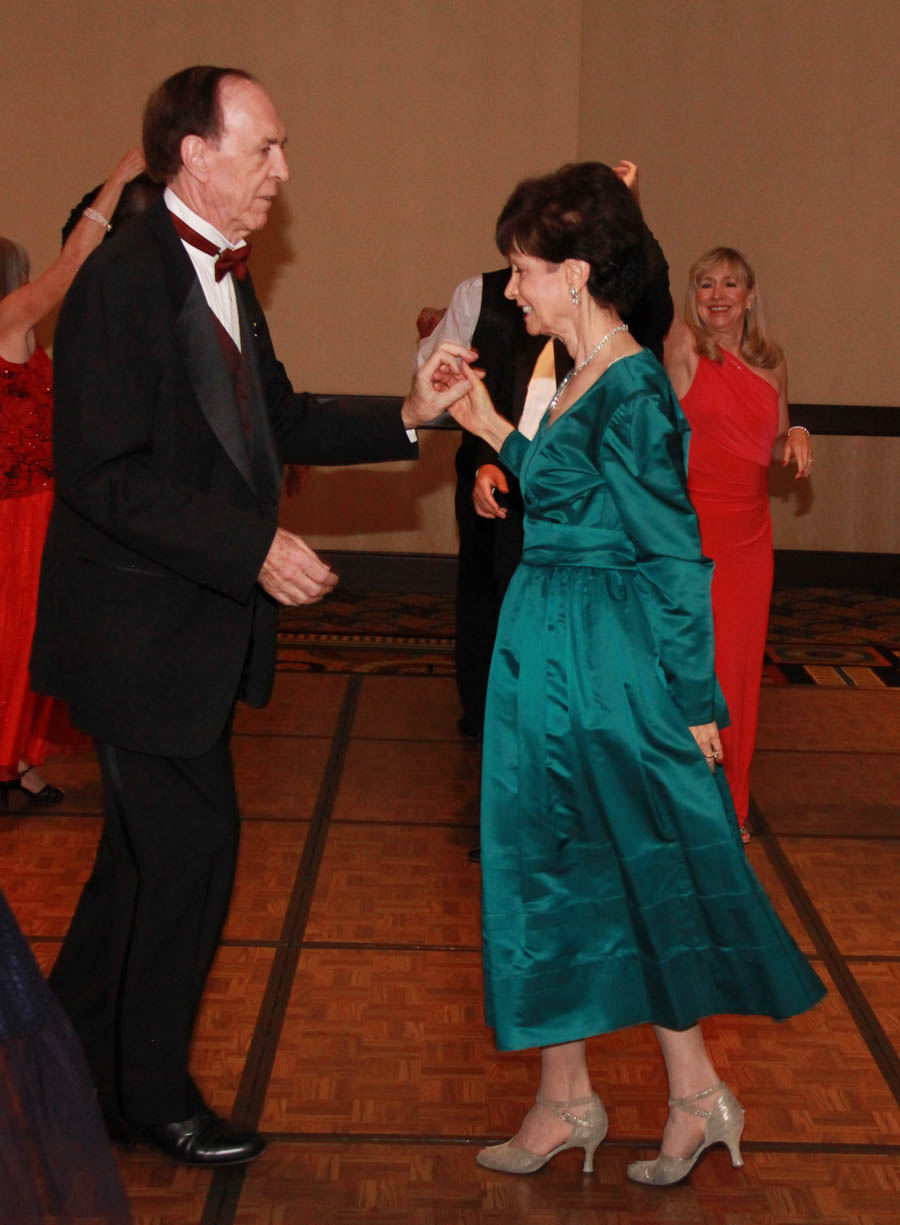 Poetry in motion!

We did NOT need a heater this evening.... We were all self-warming!

Nina is swept away by her handsome partner...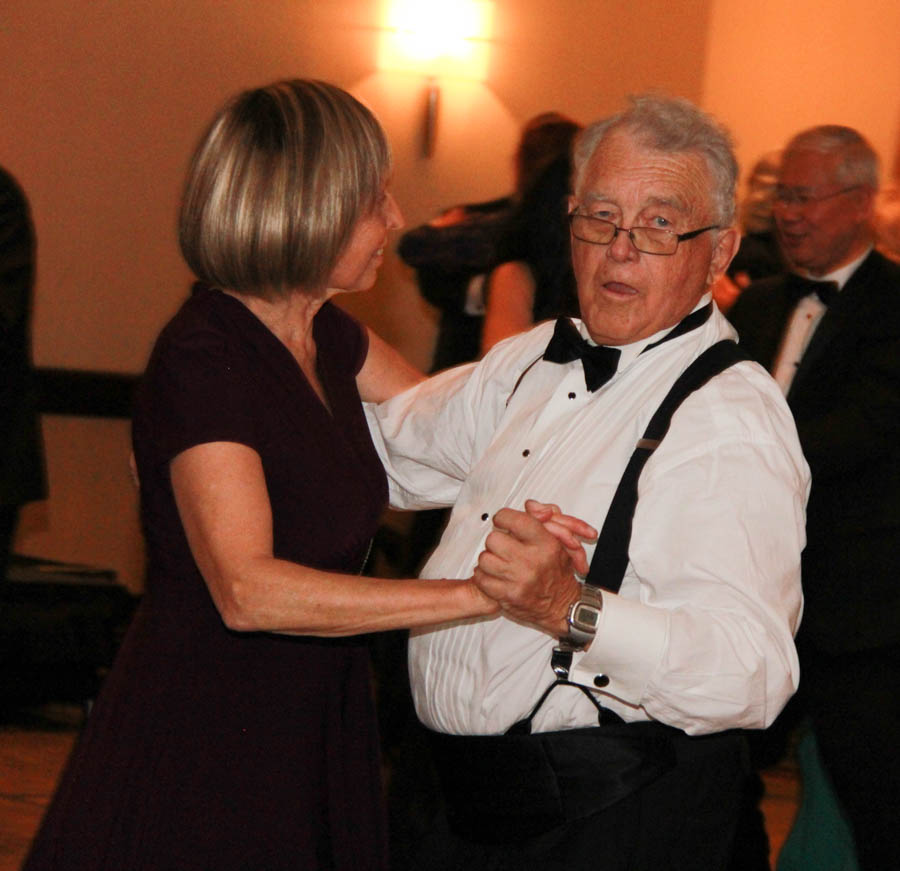 "Who? Me?"
Dance Intro Christmas Dance Songs for Waltz (84-90 BPM)
1. Away in a Manger by Reba McEntire
2. Away in a Manger by Anne Murray
3. Christmas Wishes by Anne Murray
4. Silent Night by Kenny Rogers & Dolly Parton
5. Silver Bells by Anne Murray
6. Silver Bells by Martina McBride
7. Silver Bells by Dean Martin
8. The Angels Cried by Alan Jackson and Allison Krauss
9. Traditions of Christmas by Mannheim Steamroller
10. What Child is This by Garth Brooks
11. Goodnight by Manhattan Transfer
12. The First Noel by Collin Raye
13. Silent Night by Anne Murray

"Wyatt doesn't know that with the iPhone, he can select the music!"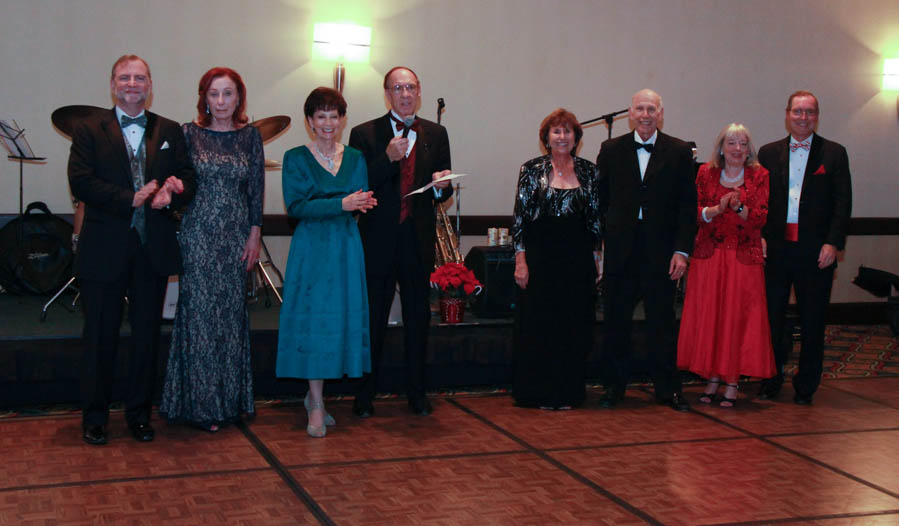 "Our new Board Of Directors...."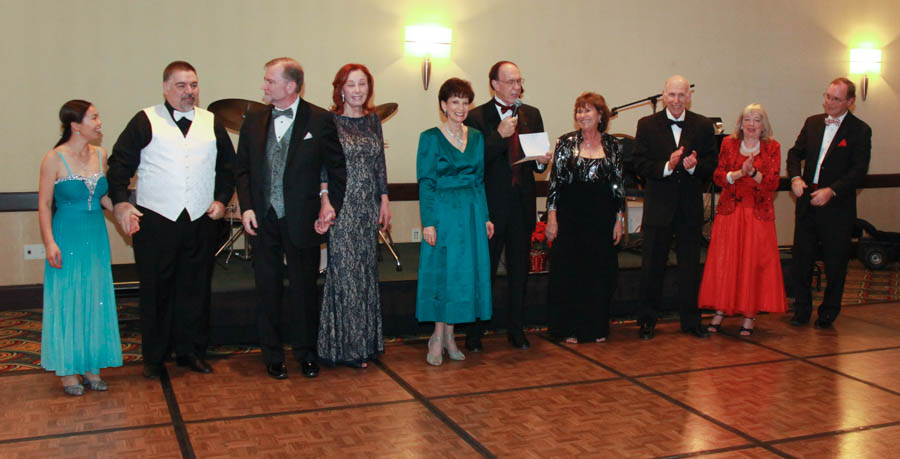 Several new members and we thank you for volunteering!

Our new President's... Jose and Sherrie!

Applause thunders from the audience!

Now we get the official announcement of the next dance!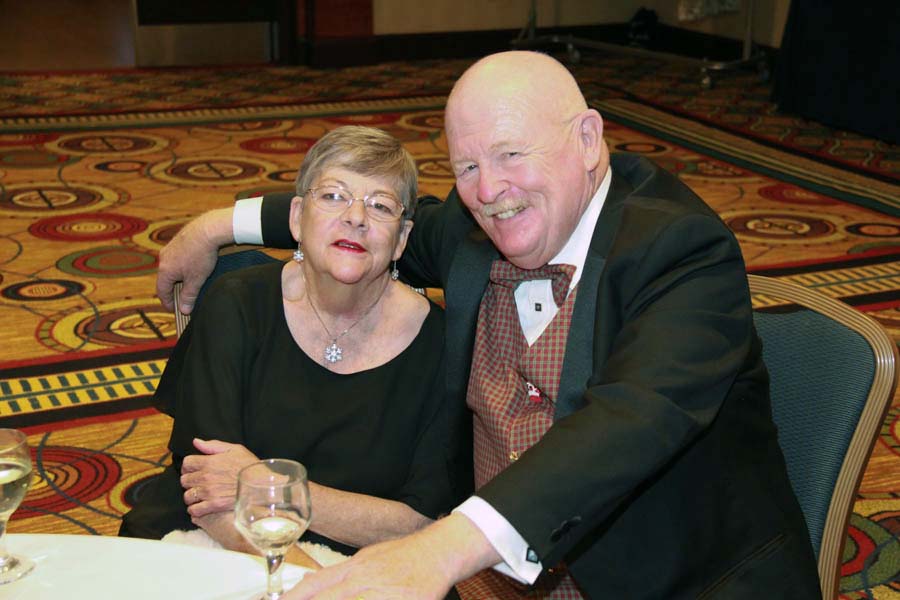 "OK... Who has the camera?"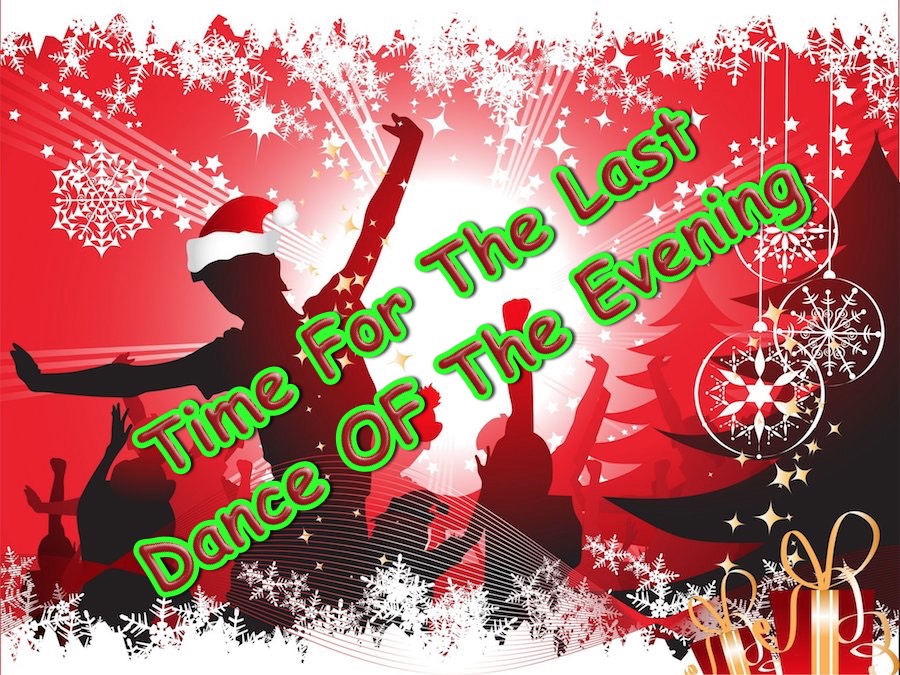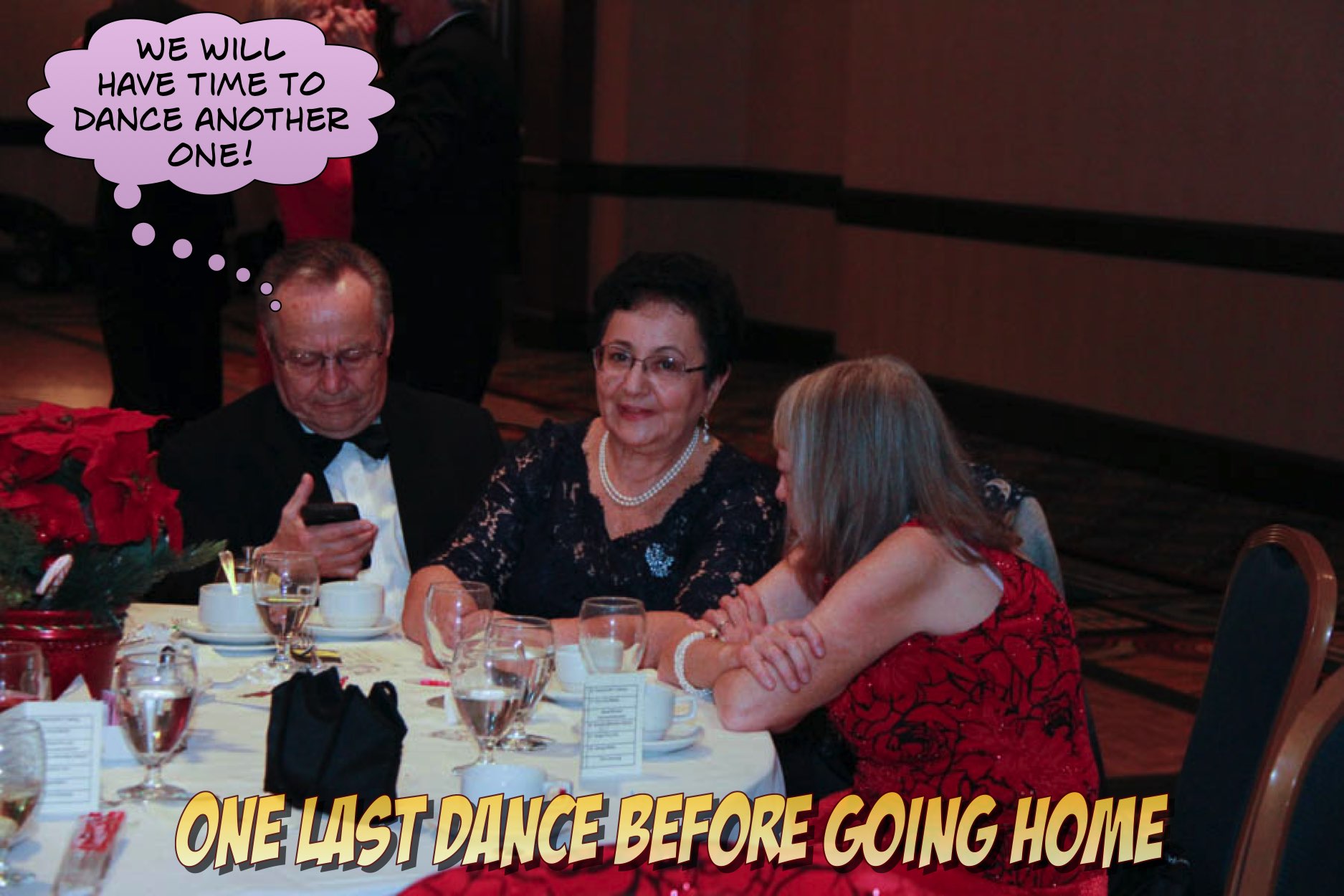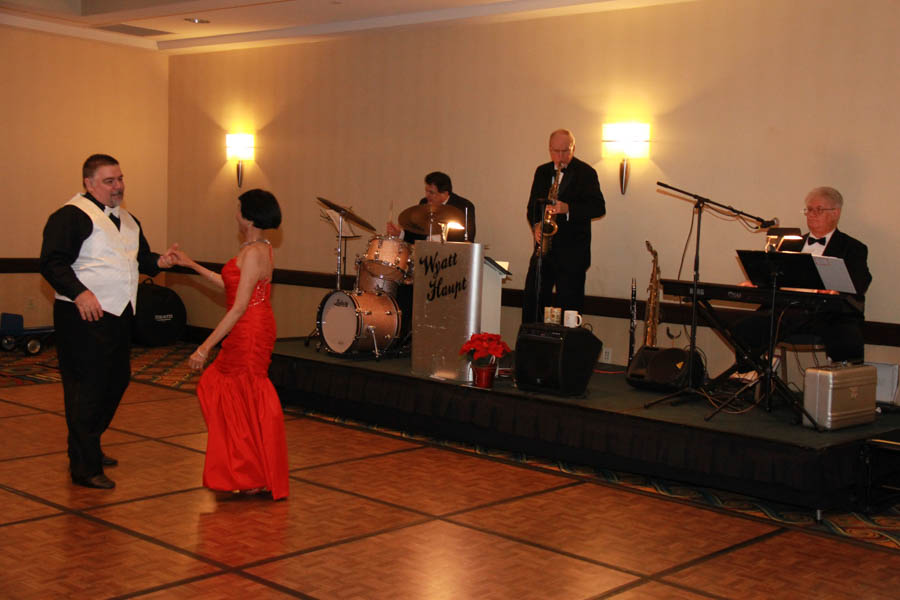 The seasonal dance music was delightful...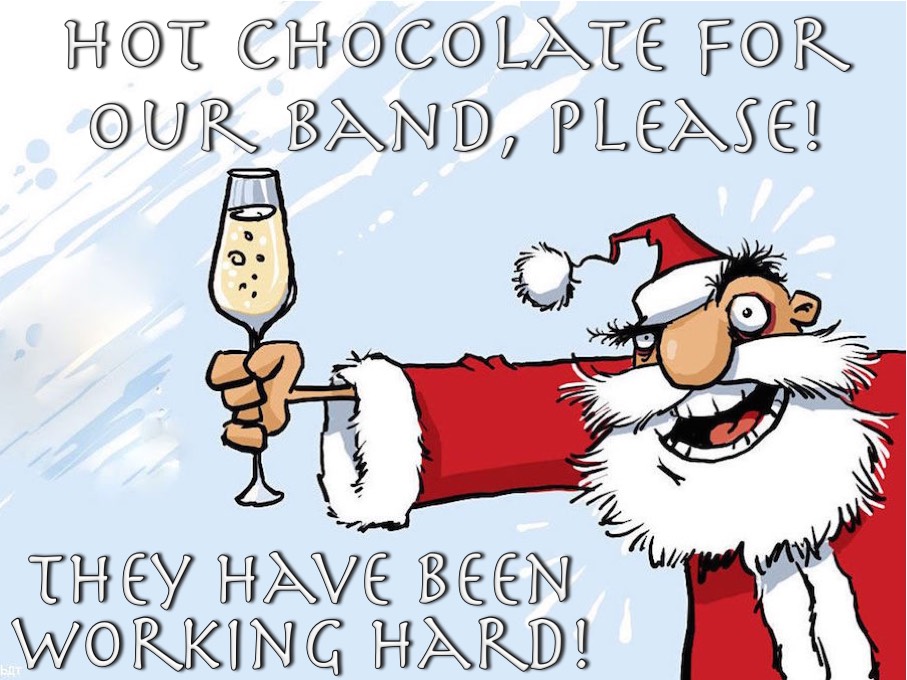 One last glide across the floor and then.... The Freeway!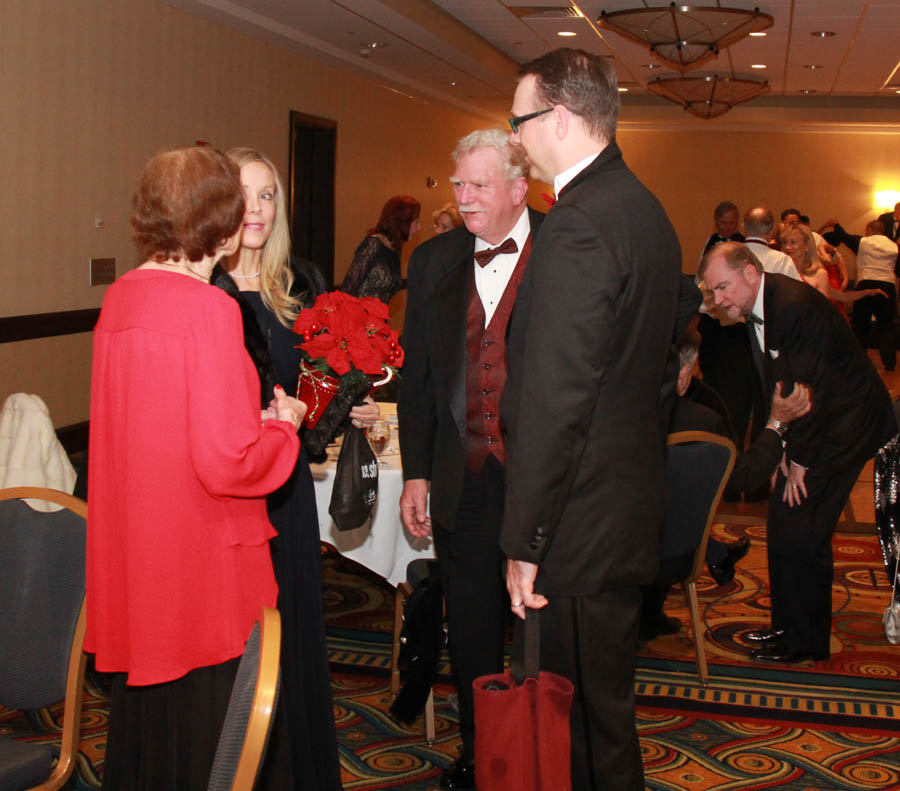 Good night all...

"OK... Get a picture of the last folks standing!"

The crowds have thinned out...

Go Nina Go!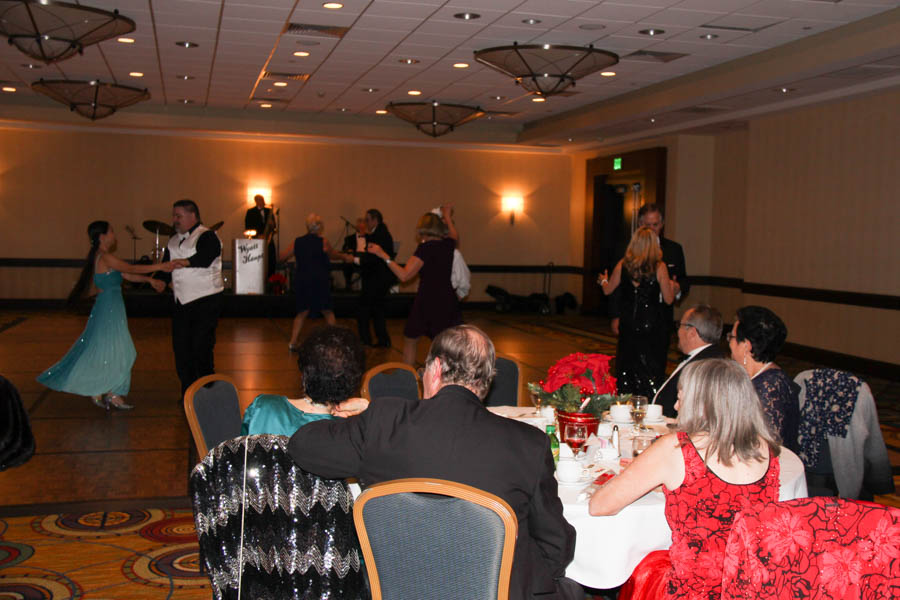 See you next year!