Dance Was Over But We Were Just Getting Started... To Sir Winston's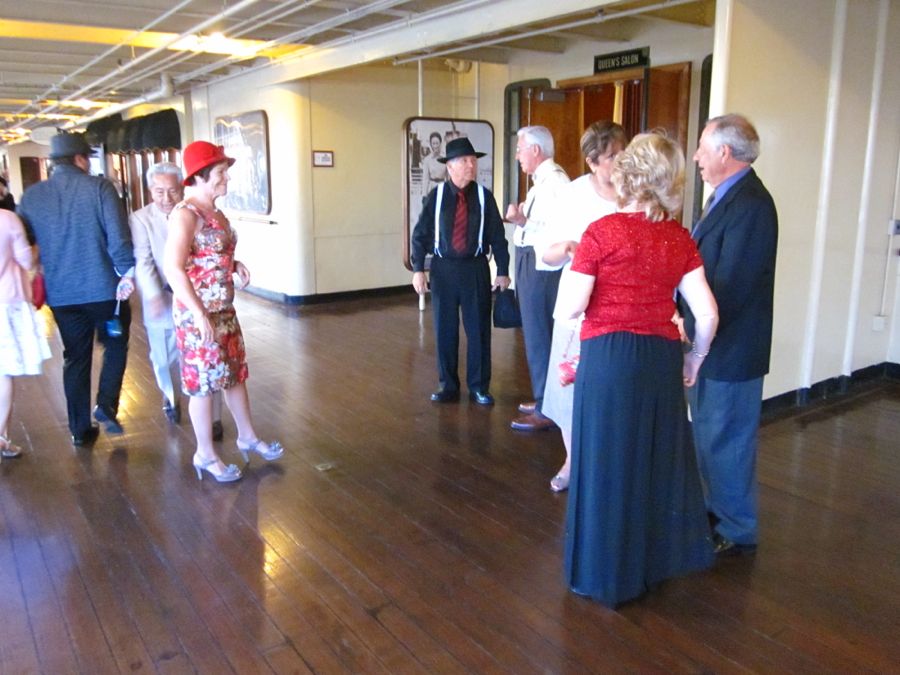 OMG.... What shall we do now? It's too early to go home!

Thank goodness... I thought it was me!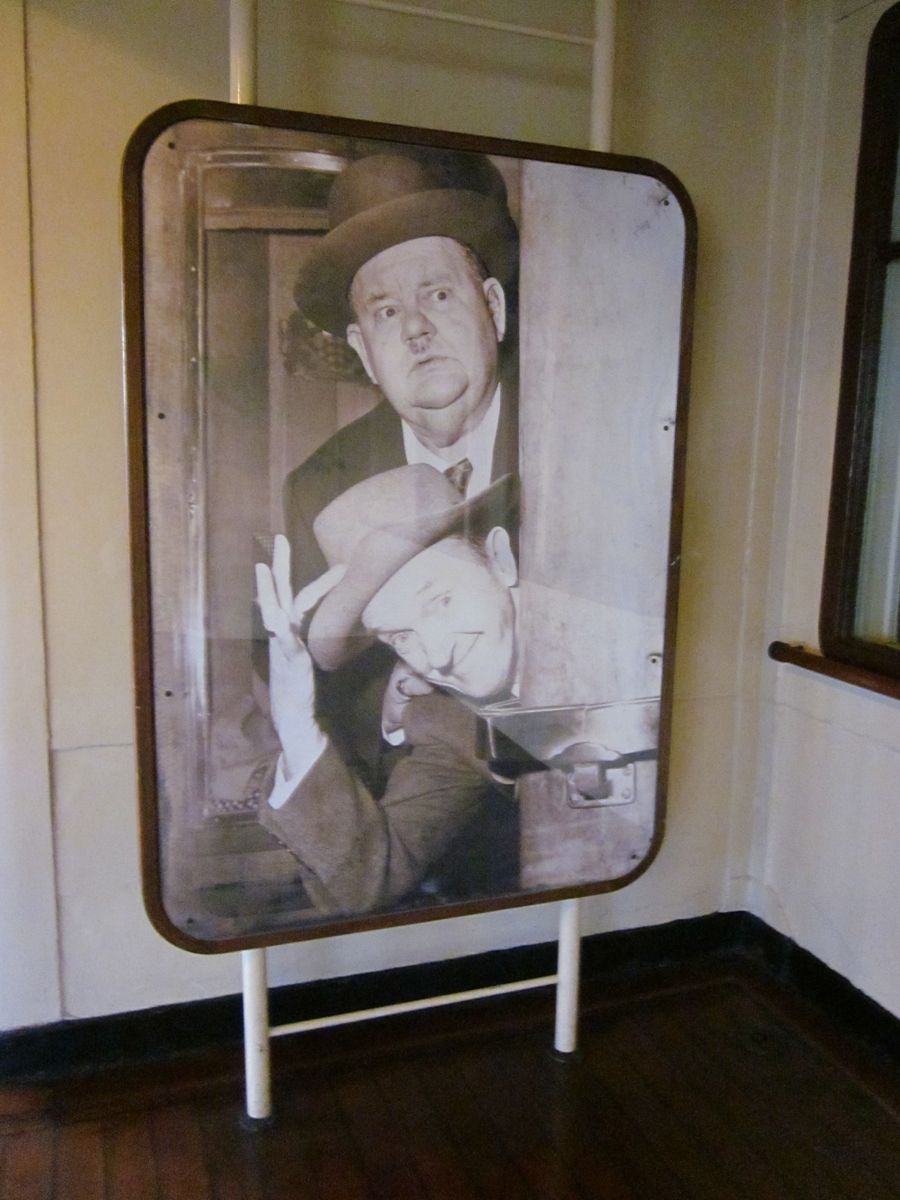 Hey guys... Want to come along? You fit right in!
Where Is Sir Winston's Lounge? We May Be Lost Already!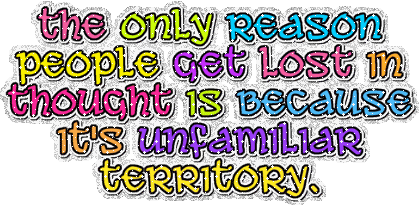 The evening was looking funny... Cool, clouds, almost like rain?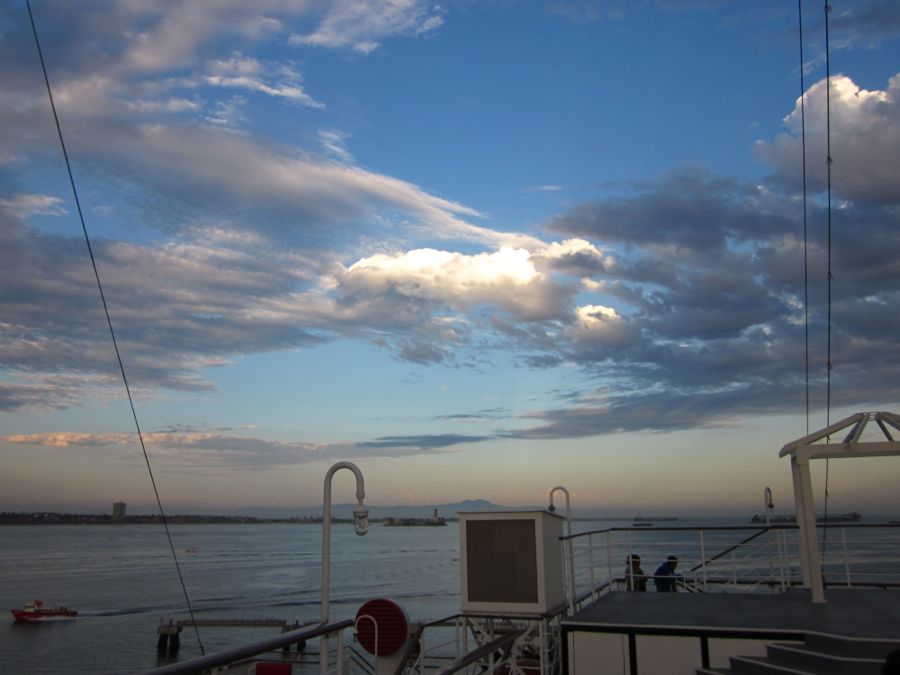 Isn't that Diamond Head in the distance? We have been on the ship too long!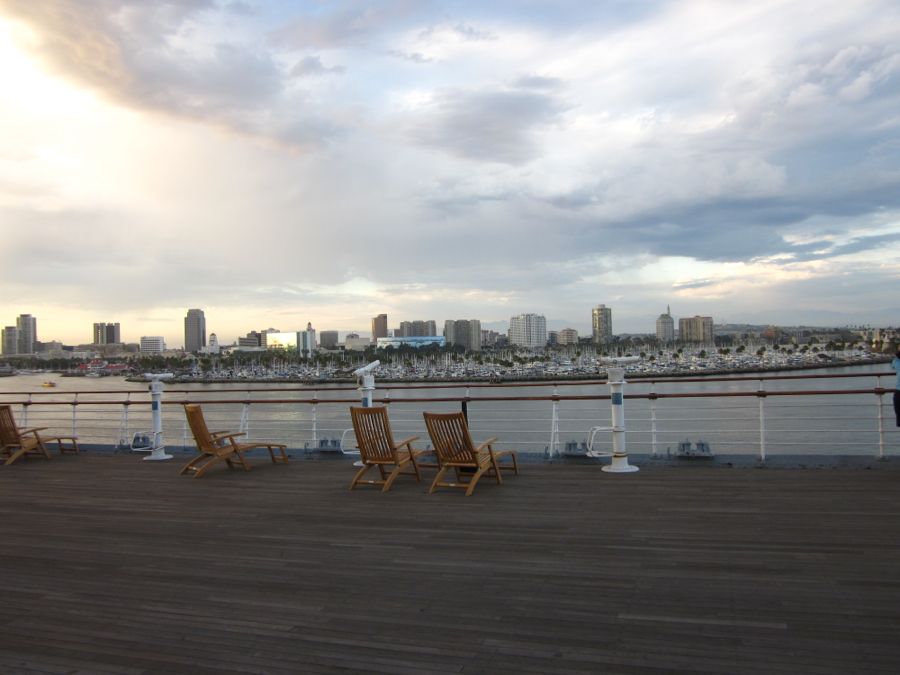 The clouds are telling us something

Linda calls the Queen Mary for directions... She has them!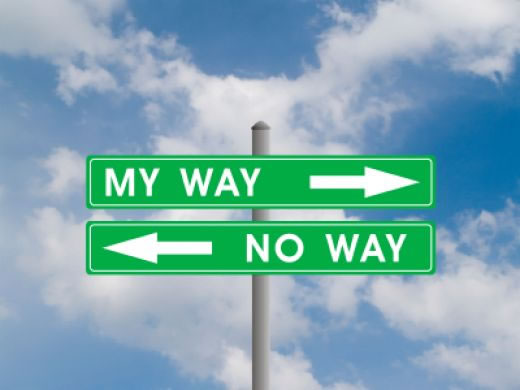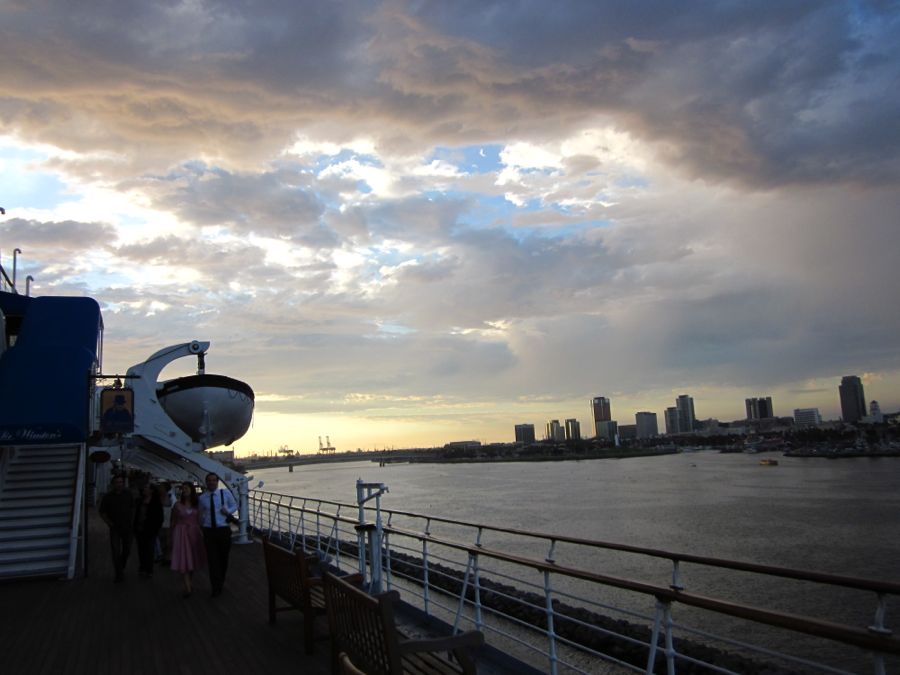 M-m-m-m-m-m-m Rain? Nah.... It's summertime in LA
We Found The Lounge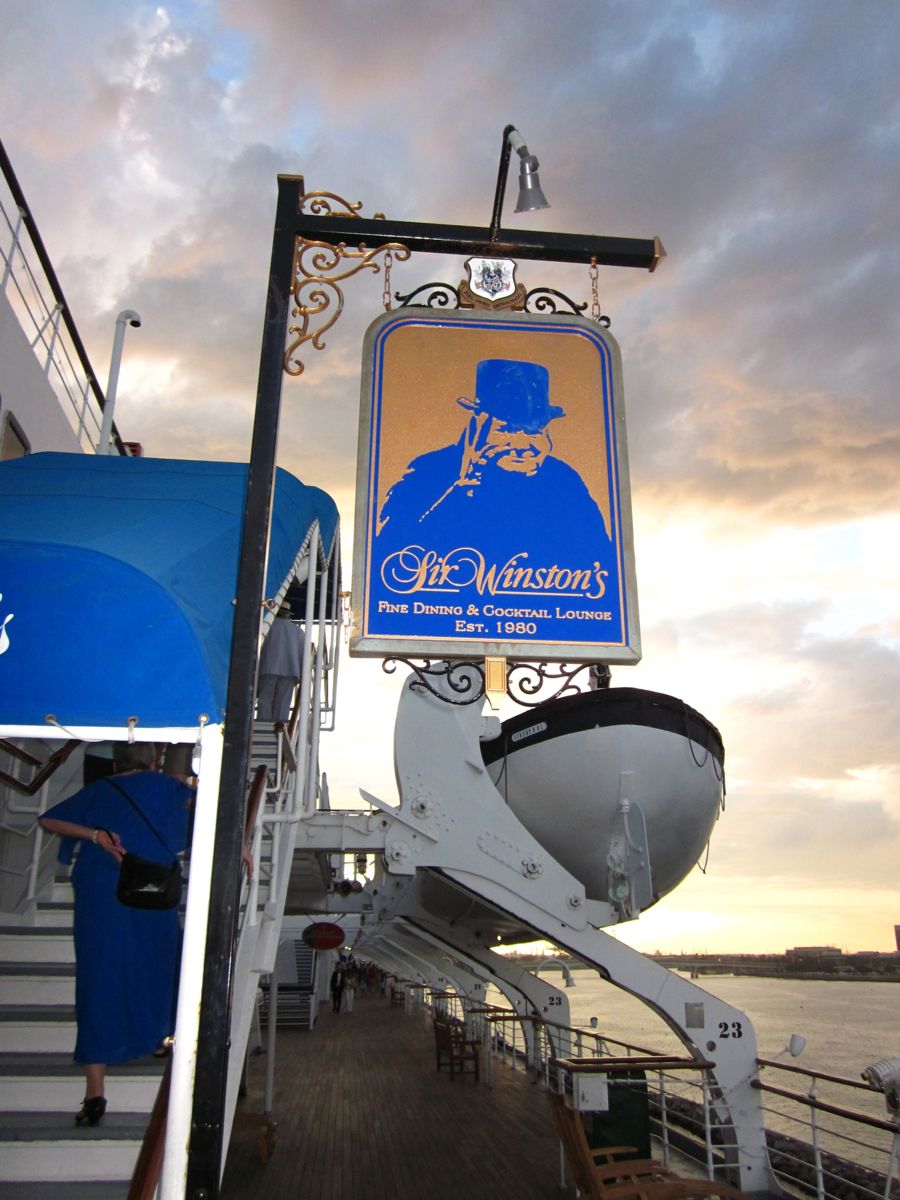 We found our destination.... One for flight of stairs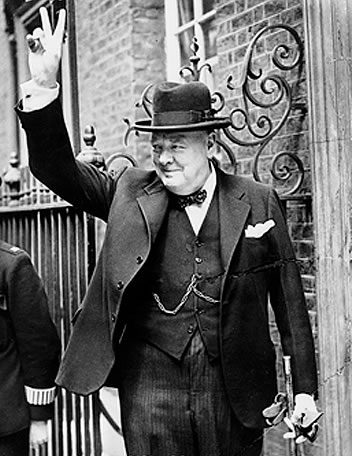 V for victory... We found the lounge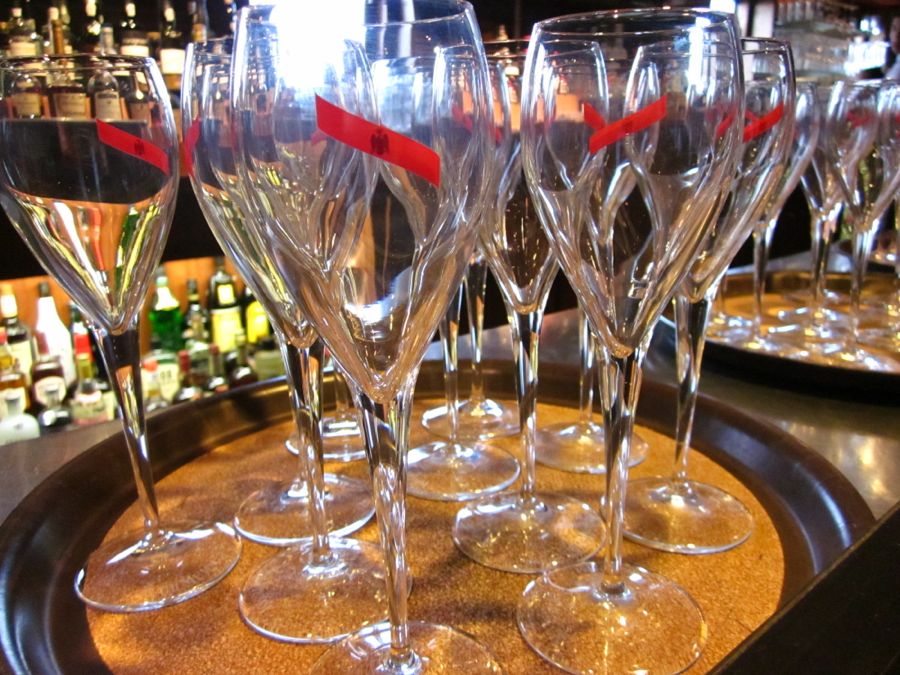 We never found out what the red stripe was about

The piano player was from northern California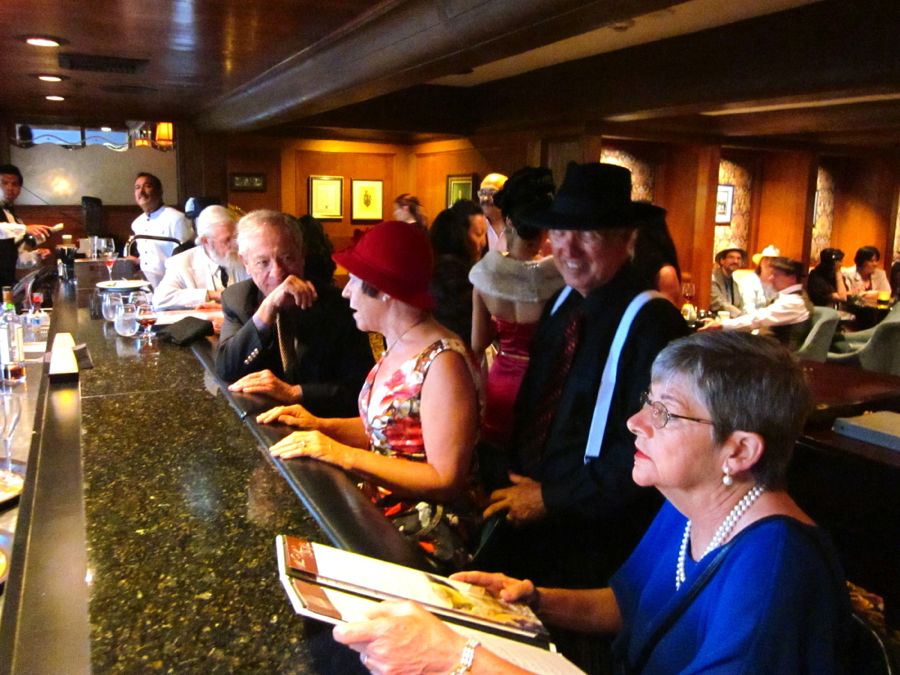 Sue studies the wine list
Did You Know? - A wine list is a menu of wine selections for purchase, typically in a restaurant setting. A restaurant may include a list of available wines on its main menu, but usually provides a separate menu just for wines. Wine lists in the form of tasting menus and wines for purchase are also offered by wineries and wine stores.
A restaurant's sommelier is usually in charge of assembling the wine list, educating the staff about wine, and assisting customers with their wine selections.
Wine lists have been found from ancient Egyptian times. Ancient wine lists were not created for the same purpose served by a menu, but rather as a means of recording inventory and administrating wine rations in a monarch's household.

Everything looks normal except for John's pink drink? Linda, Kathy, John, Ed, and Sue add color to the place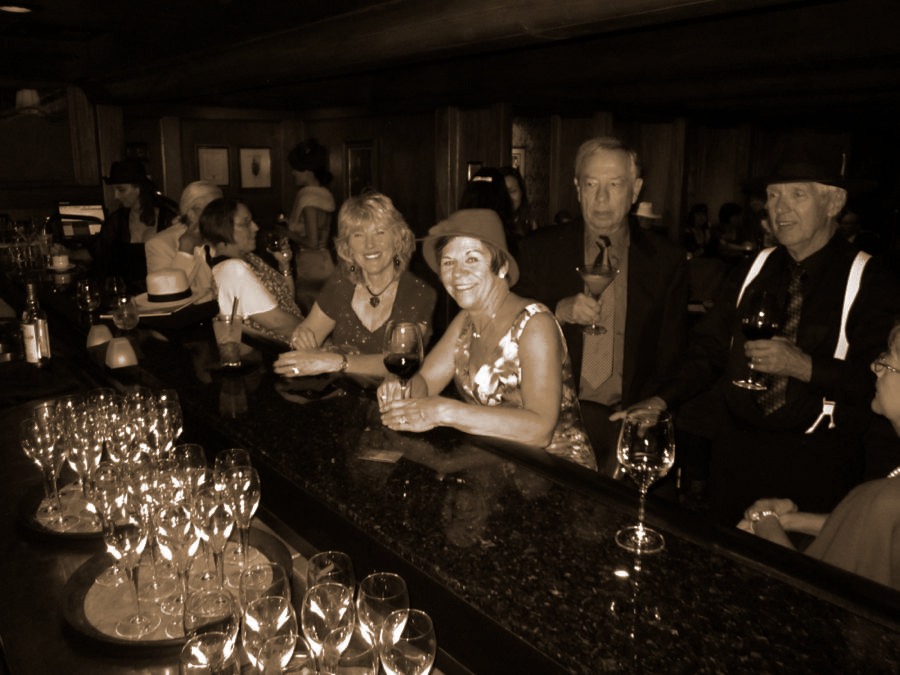 Seventy years ago it would be like this

"OK, Who said that... Dear!"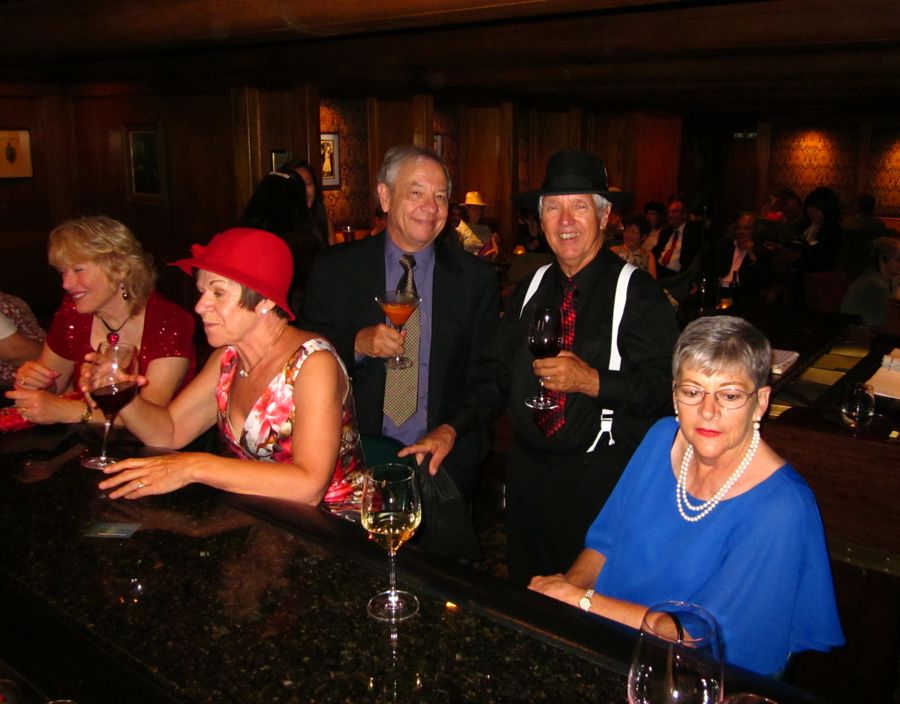 The party is now getting underway

John drinks "Orange Pookies??" Nope... It's a Negroni
Did You Know? - The Negroni cocktail is made of one part gin, one part sweet vermouth, and one part bitters, traditionally Campari. It is considered an apéritif, a pre-dinner cocktail intended to stimulate the appetite.
While the drink's origins are obscured by time, the most widely reported version is that it was invented in Florence, Italy in 1919, at Caffè Casoni, ex Caffè Giacosa, now called Caffè Cavalli. Count Camillo Negroni invented it by asking the bartender, Fosco Scarselli, to strengthen his favorite cocktail, the Americano, by adding gin rather than the normal soda water. The bartender also added an orange garnish rather than the typical lemon garnish of the Americano to signify that it was a different drink.
After the success of the cocktail, the Negroni Family founded Negroni Distillerie in Treviso, Italy, and produced a ready-made version of the drink, sold as Antico Negroni 1919. One of the earliest reports of the drink came from Orson Welles in correspondence with the Coshocton Tribune while working in Rome on Cagliostro in 1947, where he described a new drink called the Negroni, "The bitters are excellent for your liver, the gin is bad for you. They balance each other."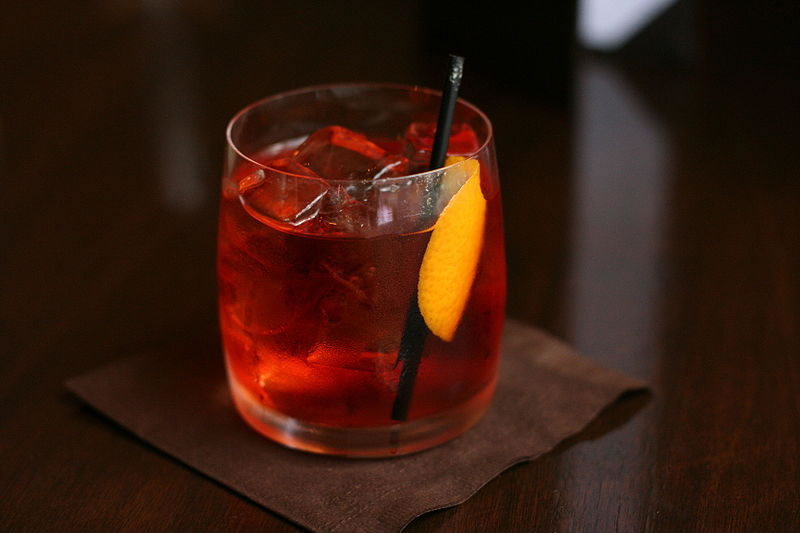 The "official" Negroni photo

The orange really had to work and guess what else.....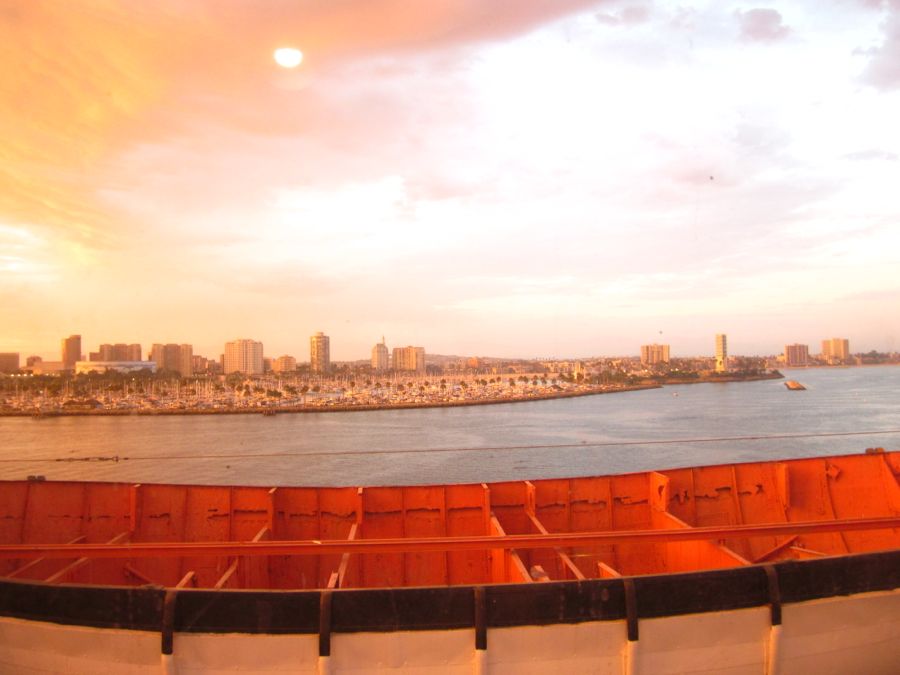 John's drink made everything orange.....
Did You Know? - "Orange Colored Sky" is a popular song, written by Milton DeLugg and Willie Stein and published in 1950.
The best-known version of the song was recorded by Nat King Cole (with Stan Kenton's orchestra), but a number of other singers have recorded it, including Cole's daughter, Natalie.
The recording by Nat King Cole was recorded on August 16, 1950 and released by Capitol Records as catalog number 1184. It first reached the Billboard magazine Best Seller chart on September 22, 1950 and lasted 13 weeks on the chart, peaking at #11.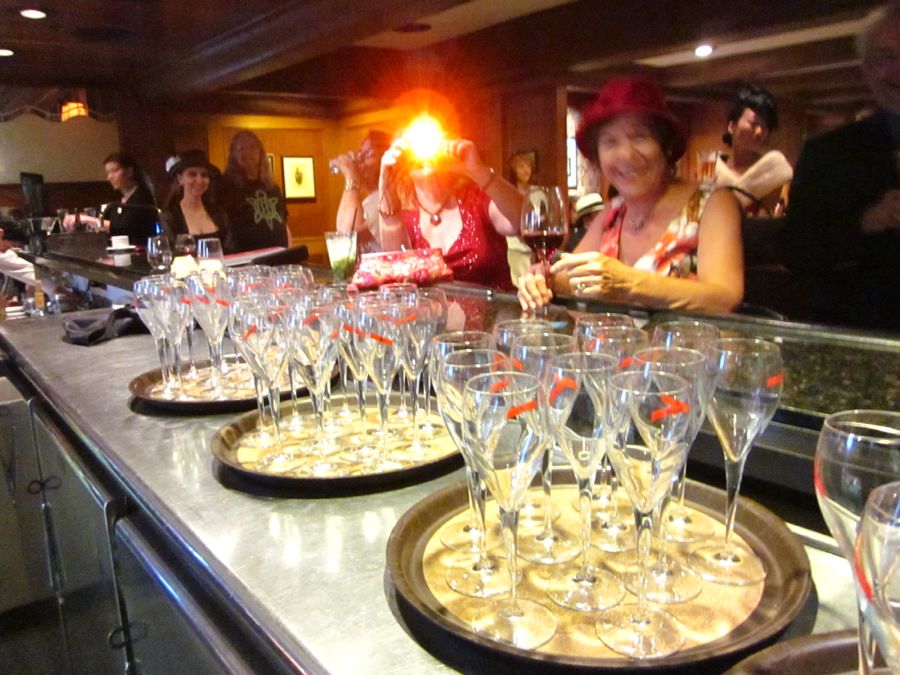 Linda decided to get a picture of Paul and....
We captured Linda's flash... That is difficult to do!

The lounge was quite popular with the post Tea Dance crowd

Discussions on the finer points of 1930's hats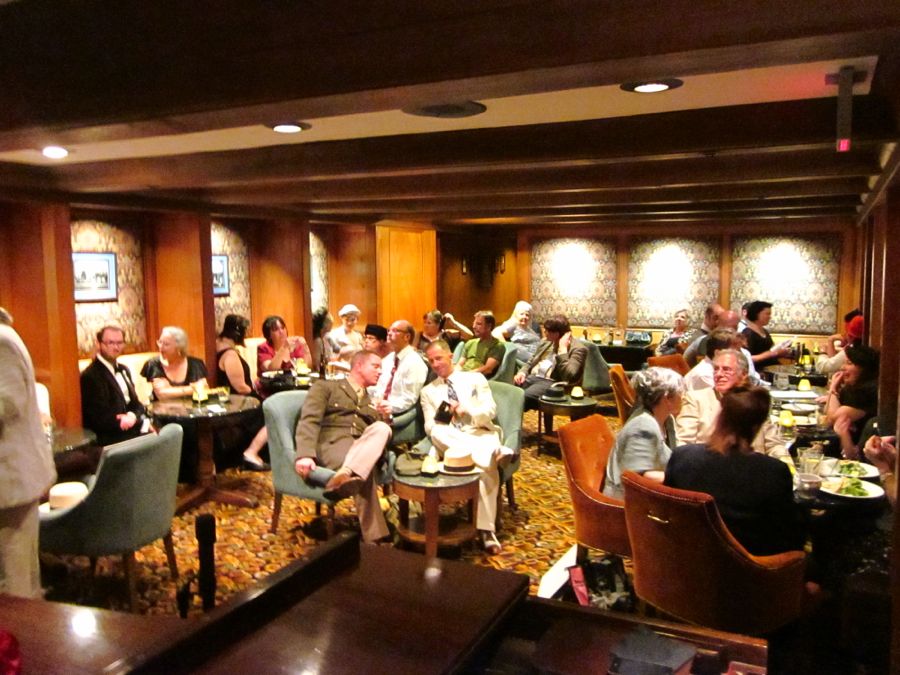 It was definitely a "cocktail crowd"

The discussion turns to drink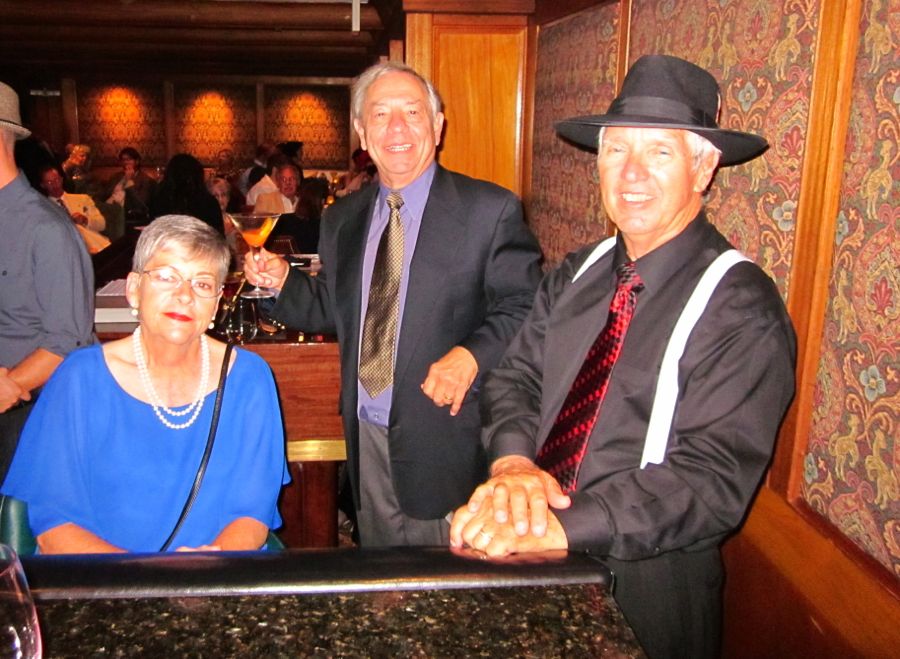 The gentlemen decided to sing... We talked them out of it!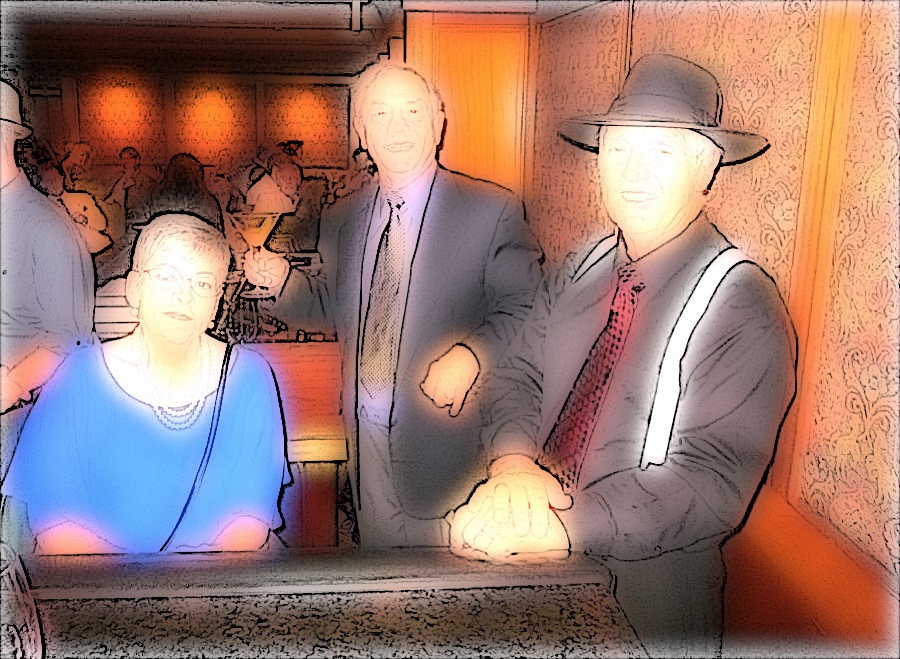 Quick with the sketch....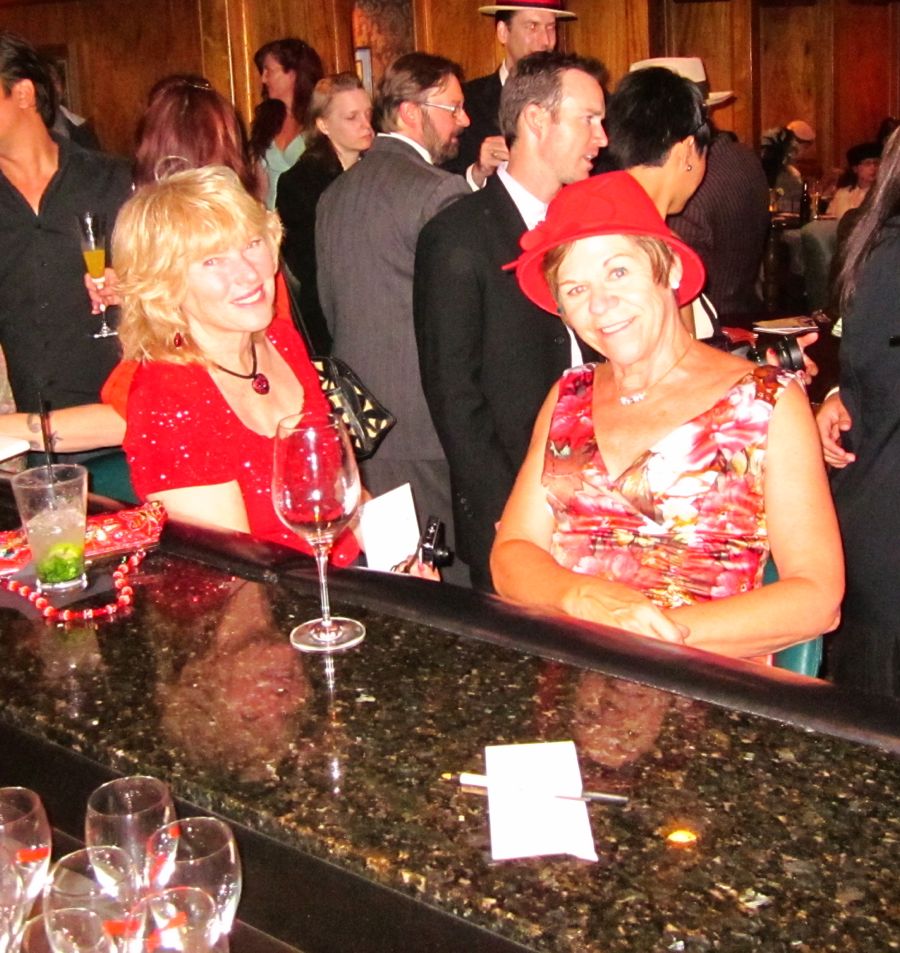 Red is in this evening

Hi Big Boys.... Wanna buy a lady a drink!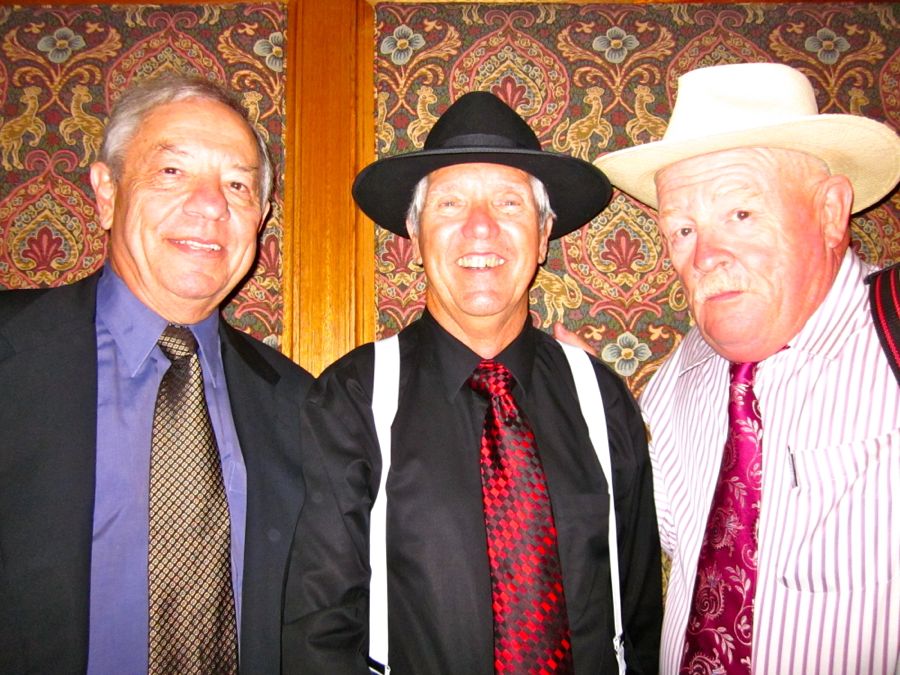 "How about NO!"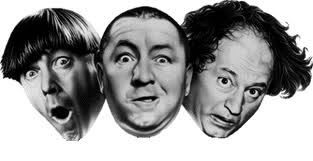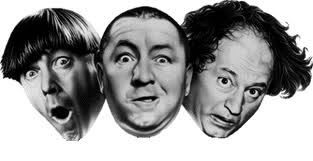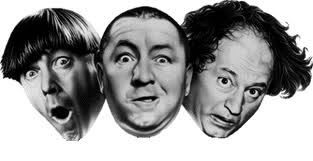 Time To Leave And Head Back To Reality And A Stormy Night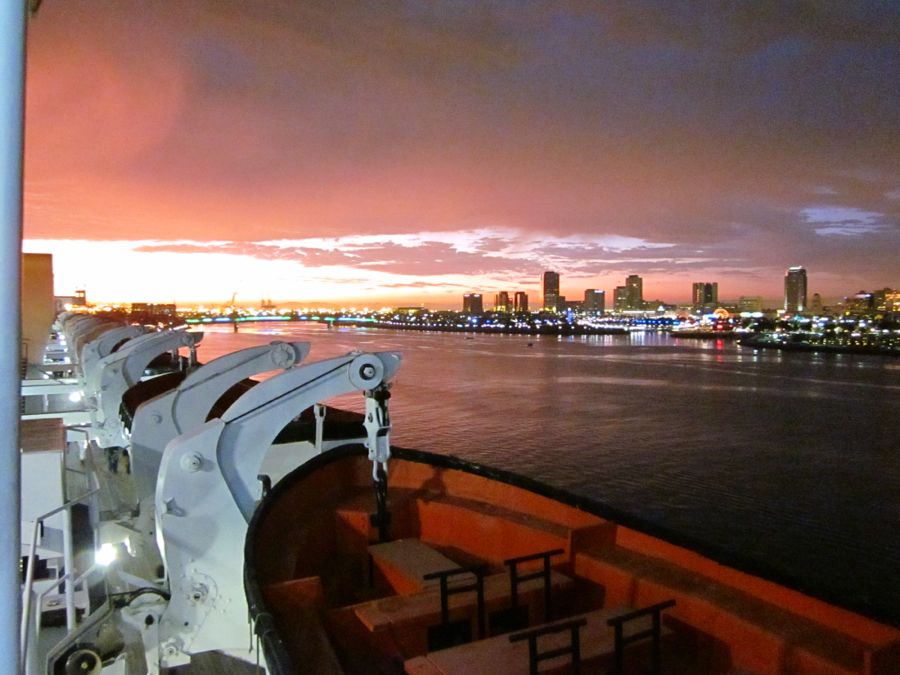 No guys... We are taking the stairs.... Not the life boats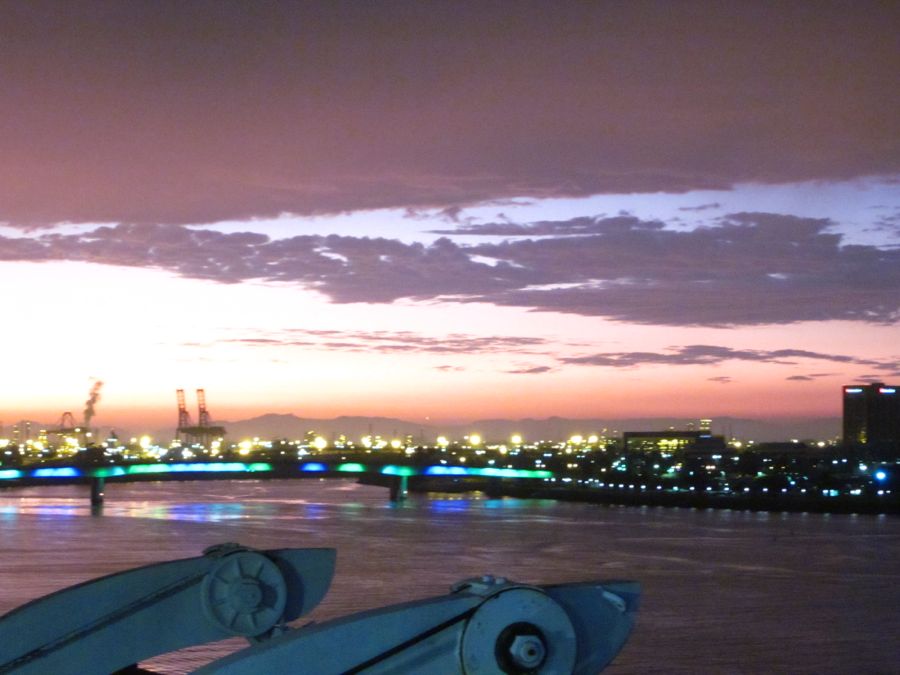 Palos Verdes sinking slowing into the West.... No, that's not right either....

The Funnel was lit up quite nicely
Did You Know? - In all, fifteen four funnel liners were built (5 were built and owned by Germany, 9 by the UK, and 1 by France): the Great Eastern in 1858 and the remaining fourteen between 1897 and 1922. Four of these were sunk during the World Wars, and apart from the Titanic, the remainder were scrapped.
RMS Mauretania was the fastest of all four funnelled liners. The last four funnelled liner ever built was the SS Windsor Castle but her two funnels were removed making RMS Aquitania the last four funnel liner in service; the Aquitania was the largest of all the four funnel liners and the only one to survive through both World Wars.
The primary purpose of funnels on steamships were to allow smoke, heat and excess steam to escape from the boiler rooms. As liners became larger, more boilers were used. The number of funnels became symbolic of speed and safety, so shipping companies sometimes added false funnels (like the one sported by the Olympic-class) to give an impression of power. Additionally, in the event of a ship foundering, ladders inside the funnels provided escape routes for the stokers and engineers once the watertight doors were closed.
The ideology of four funnels representing size and power rapidly diminished soon after World War One, later larger flagships including the SS Imperator, SS Normandie and the RMS Queen Mary all sported three funnels to conserve deck space, later still as shipbuilding became more efficient the RMS Queen Elizabeth, RMS Mauretania (II) and the SS America reduced this further down to two funnels, today's modern cruise ships are all built with only a single funnel and many military vessels no longer sport them at all.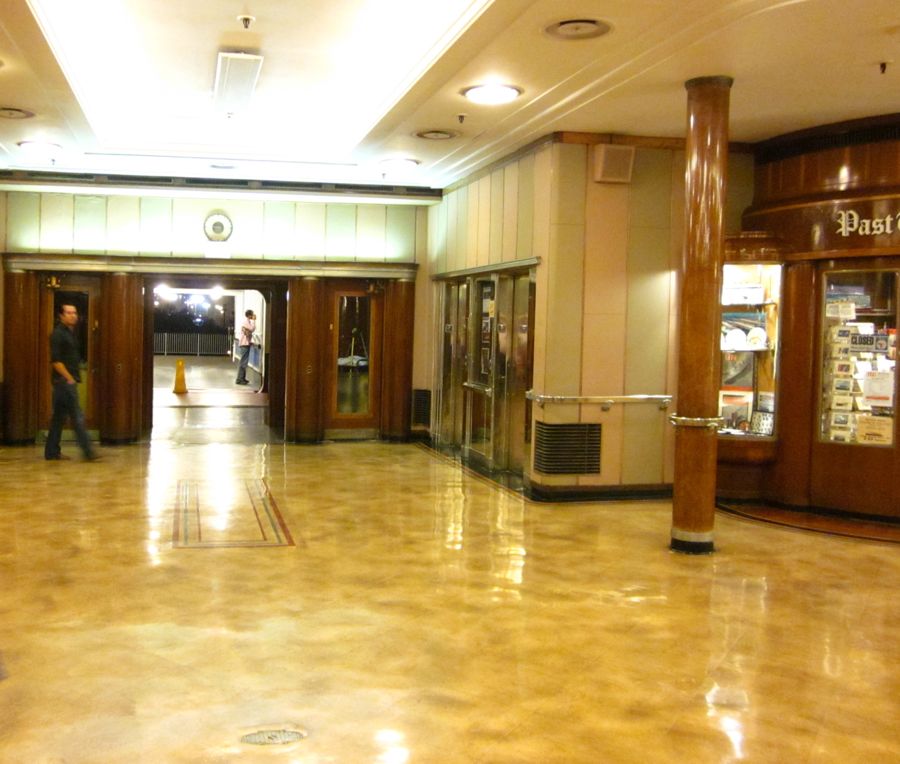 I guess we closed the place down again... Two nights in a row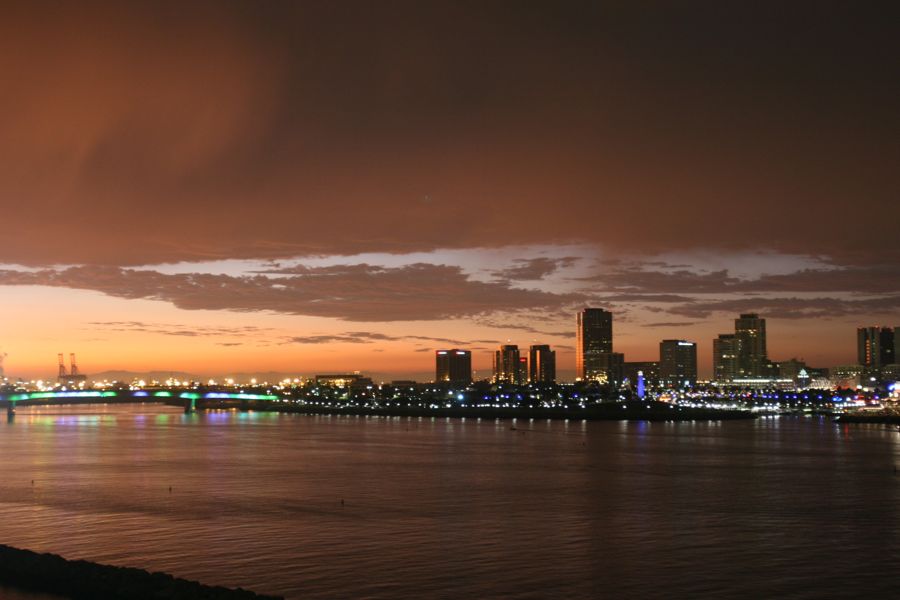 It was indeed dark after our Longing adventure



What time is it????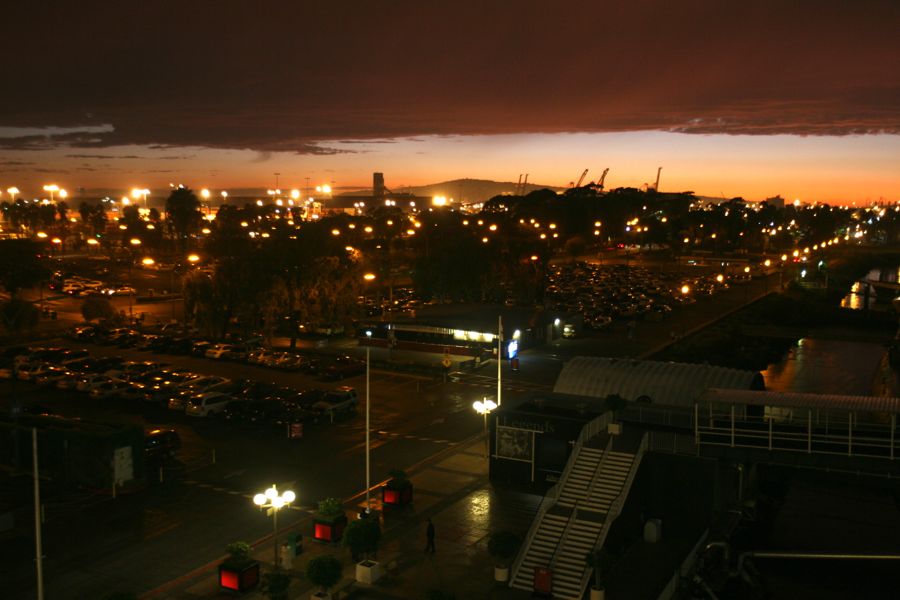 OMG... It is raining and lightening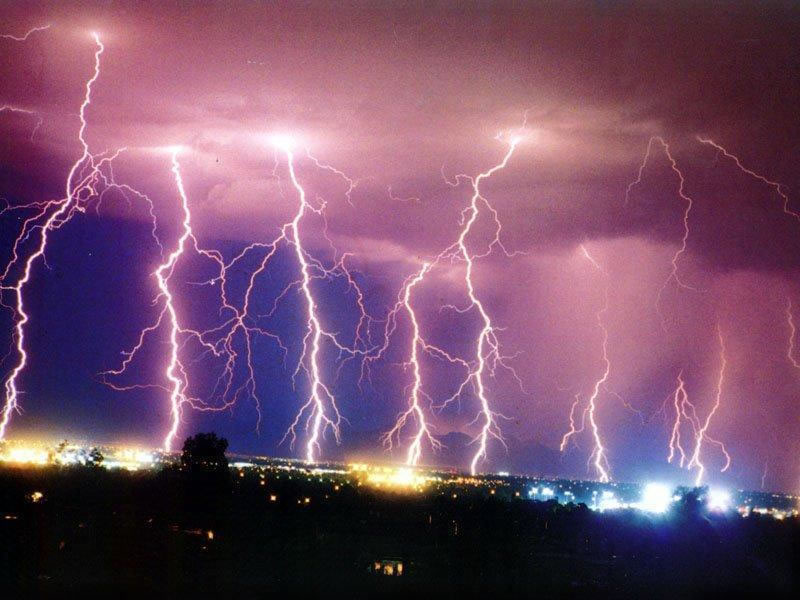 Maybe we ought stay and have another drink???

A great day of dancing and visiting old and new friends