Another Art Deco Adventure Into The Past
The Art Deco Society of Los Angeles celebrates and preserves the architecture, design, arts, music, dance, fashion and elegance of Art Deco.
They decided to do another train trip and when we found out it was "The Vino Train" and "The Art Deco Society" it was an instant requirement to go!
This time to Santa Barbara's historic Main Post Office!


Departing Is Such Great Sorrow
We departed at 7:50 am from Union Station in Downtown Los Angeles.

The sun is just coming up... It's 7:00 am

The polished marble floors are simply beautiful
Did You Know? - The station opened in May 1939 as the Los Angeles Union Passenger Terminal, replacing the older La Grande Station and Central Station. One of a number of union stations built in the early 1900s it served trains from the Union Pacific, Santa Fe and Southern Pacific Railways. Built on a grand scale, Union Station became known as "Last of the Great Railway Stations" built in the United States. It was placed on the National Register of Historic Places in 1980.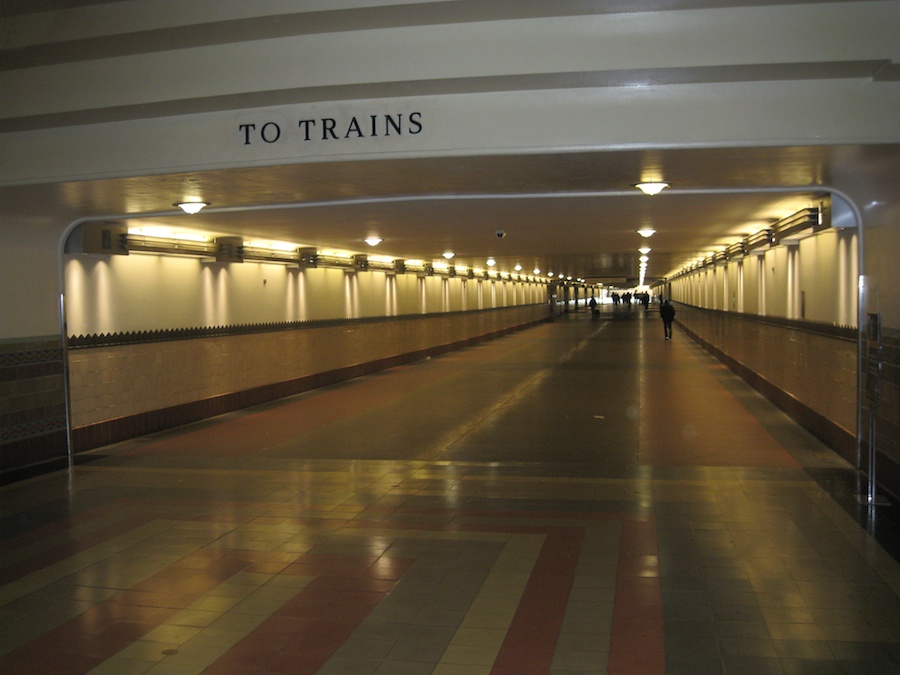 On our way to Track #10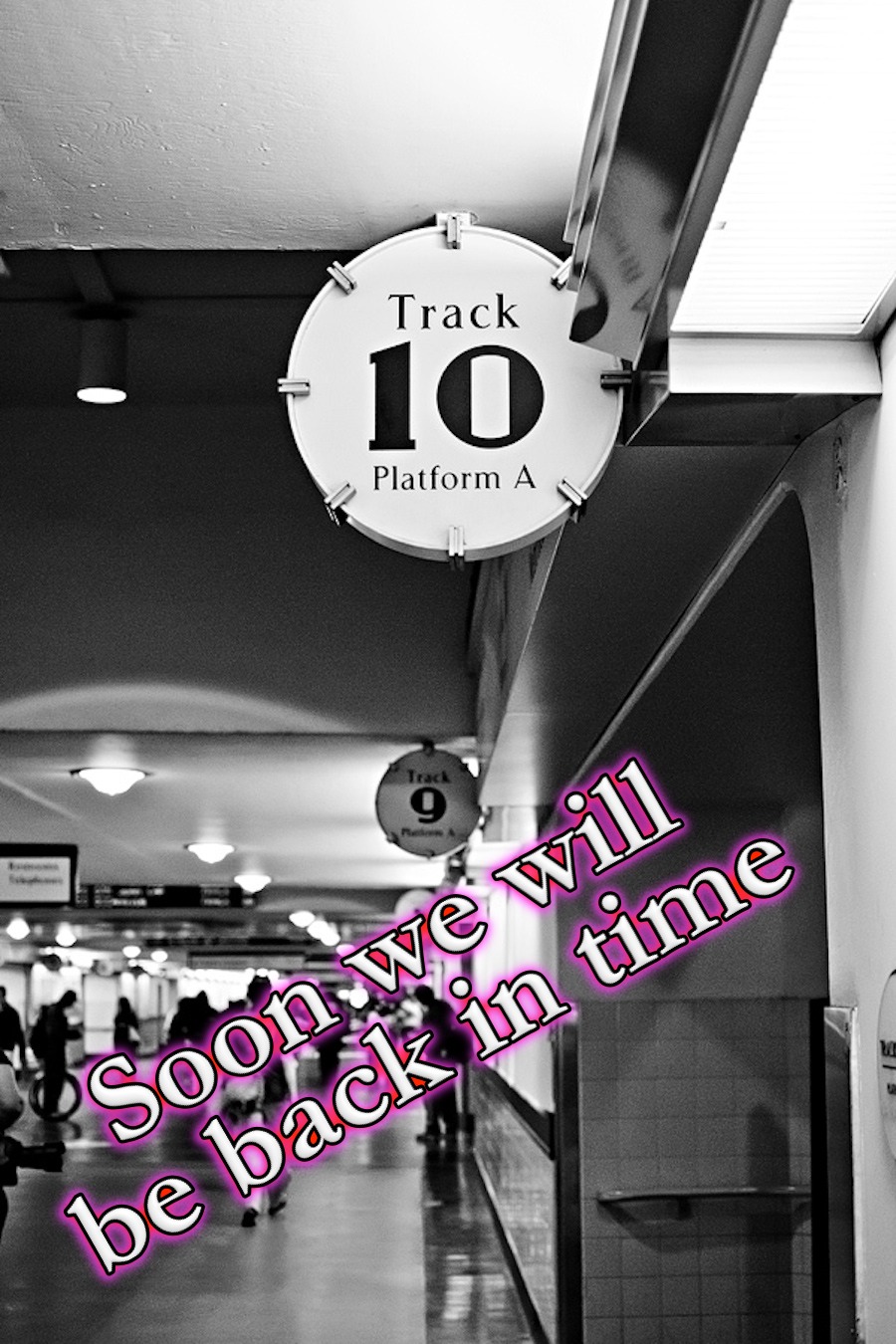 The Vino Train is our next destination
On The Platform
Did You Know? - A railway platform is a section of pathway, alongside rail tracks at a railway station, metro station or tram stop, at which passengers may board or alight from trains or trams. Almost all rail stations have some form of platform, with larger stations having multiple platforms.

John Thomas and Sue... They meet again

Sue and Conductor Bill
On Board And Ready To Go

Chris brought the "official camera"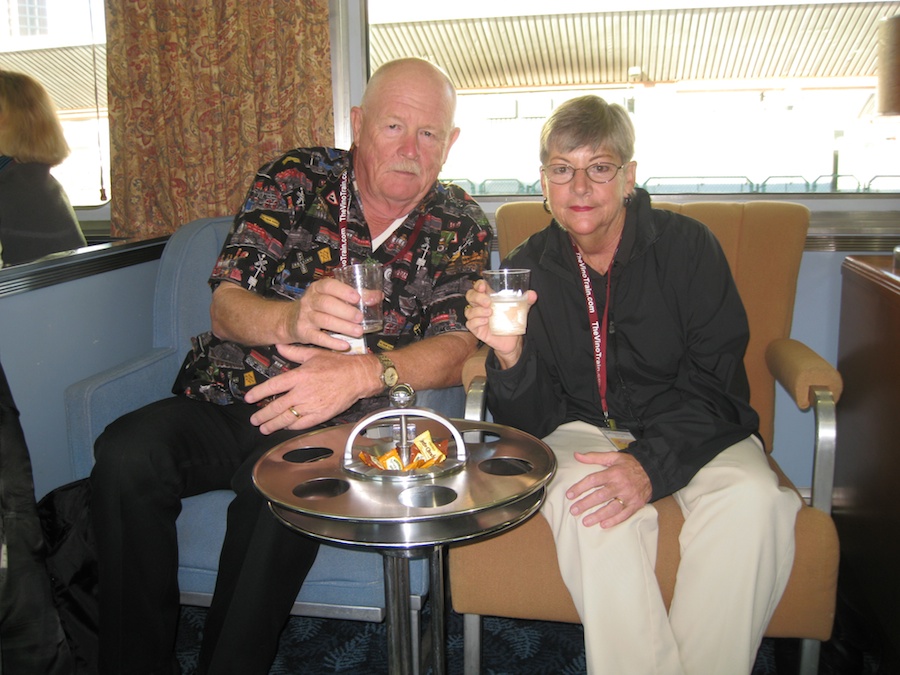 Say what? Paul with an empty glass? This is wrong!

Paul's glass was refilled (many time)

The ladies just loved John's "Art Deco shoes"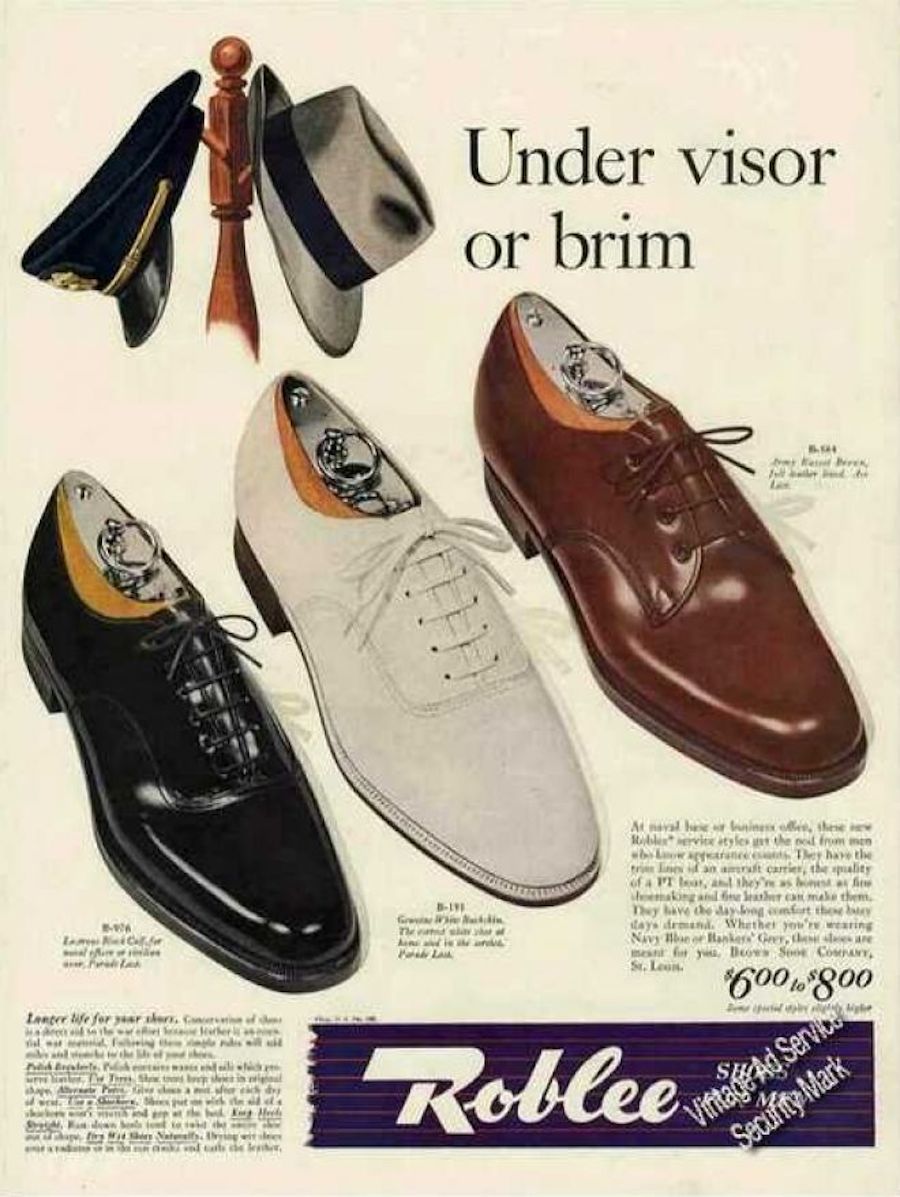 $6.00 for shoes.... We will have to ask John where he shops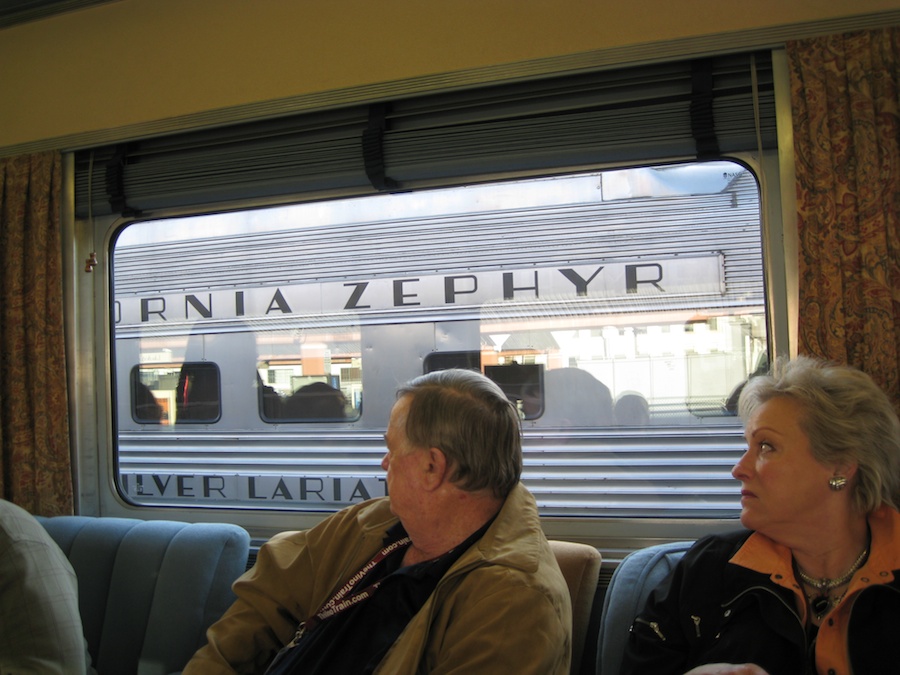 The California Zephyr Train (Silver Lariat Car) backed in while we were waiting to leave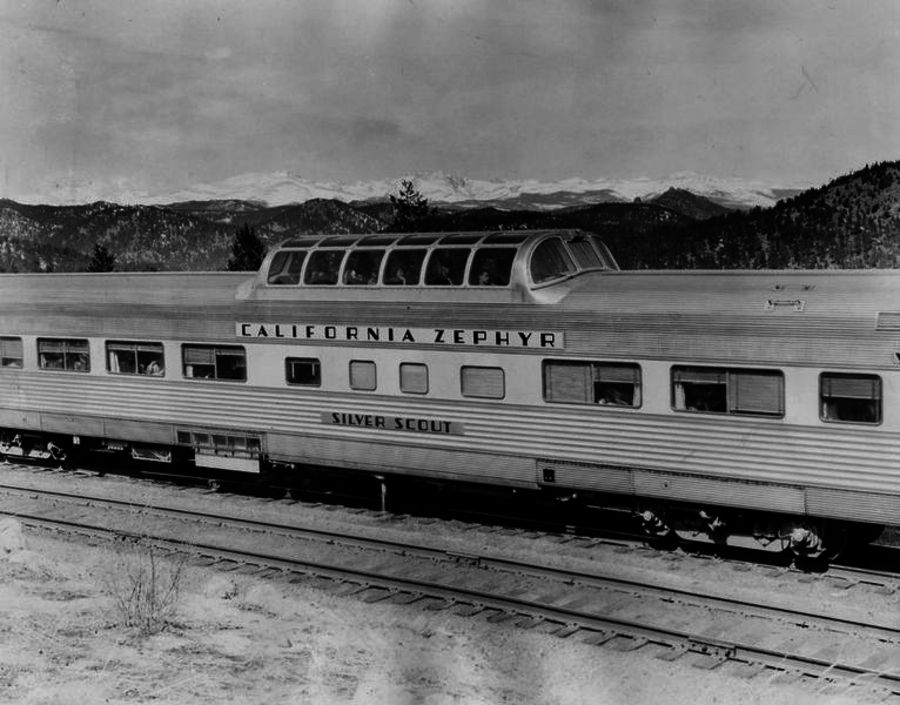 The California Zephyr began running in 1949
Did You Know? - The original California Zephyr ran over the Chicago, Burlington and Quincy Railroad from Chicago to Denver, Colorado, the Denver and Rio Grande Western Railroad between Denver and Salt Lake City, Utah, and the Western Pacific Railroad from Salt Lake City to Oakland, California.
Cars owned by different railroads ran together; cars cycled in and out of the consists for service, repairs, and varying passenger loads with the seasons.
The first train was christened in San Francisco by Eleanor Parker while California Lieutenant Governor Goodwin Knight, Mayor of San Francisco Elmer Robinson, and WP President Harry A. Mitchell looked on.
For the inaugural run in 1949, every female passenger on the train was given a corsage of "silver" and orange orchids that were specially flown in from Hilo, Hawaii. The women who worked as car hostesses on this train were known as "Zephyrettes."

This is the way to travel
All Aboard We Are Now Departing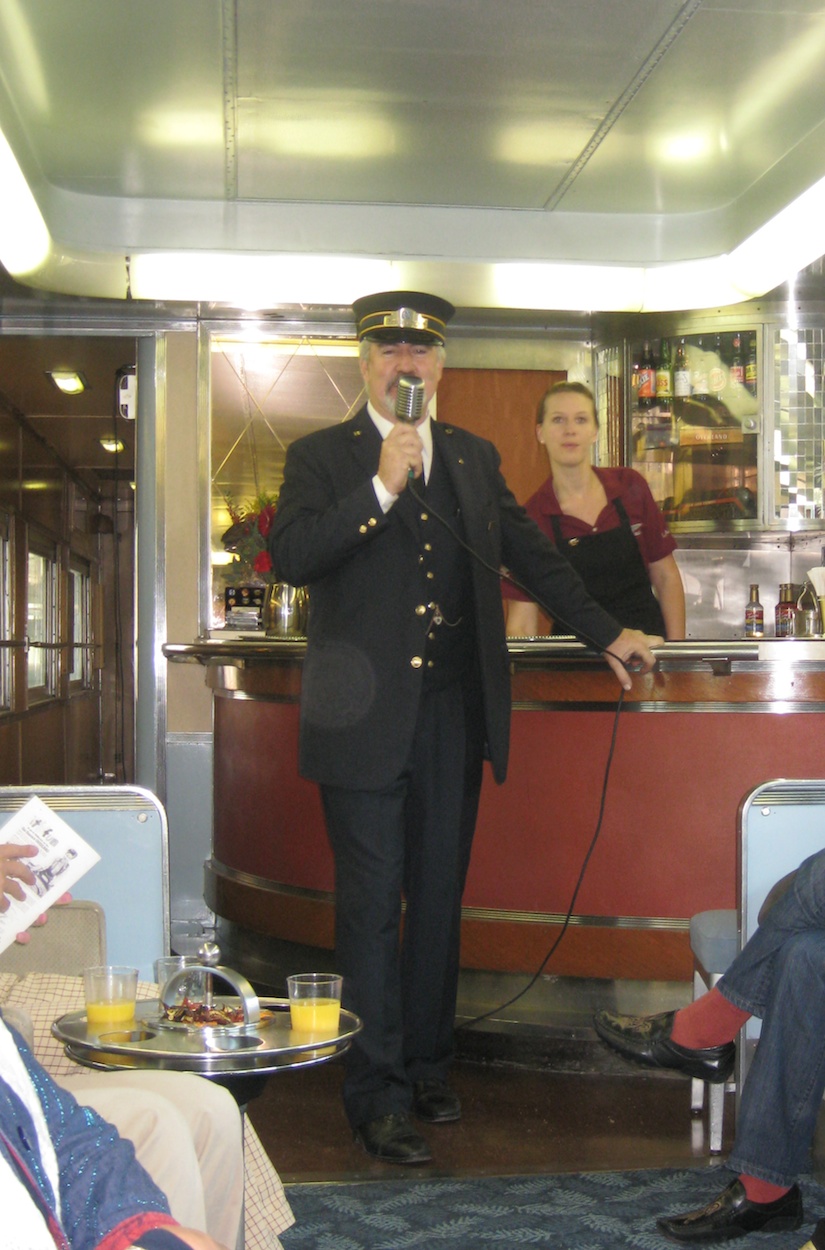 Conductor Bill provides the pre-launch update
Did You Know? - A conductor is a railway train crew member responsible for operational and safety duties that do not involve actual operation of the train. The conductor title is most common in North American railway operations, but the role is common worldwide under various job titles. Conductor job responsibilities typically include:
Making sure the train stays on schedule
Ensuring that any cars and cargo are picked up and dropped off properly
Completing en-route paperwork
Ensuring the train follows applicable safety rules and practices
Controlling the train's movement while operating in reverse
Coupling or uncoupling cars
Assisting with setting out or picking up of rolling stock
Carrying out running repairs
Ticket collection and other customer service duties
Opening and closing train doors
"The Garden" Is Where Vintage Cars Are Stored

Our cars sleep in the garden at night... Unless they are running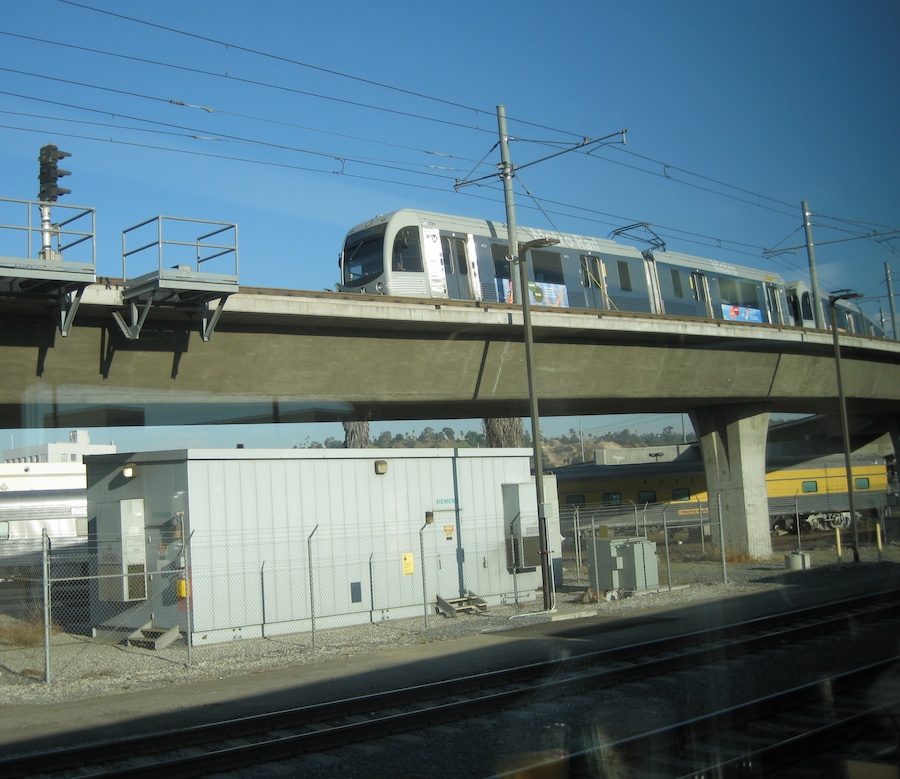 New fangled things don't look like real trains
On Our Way To Burbank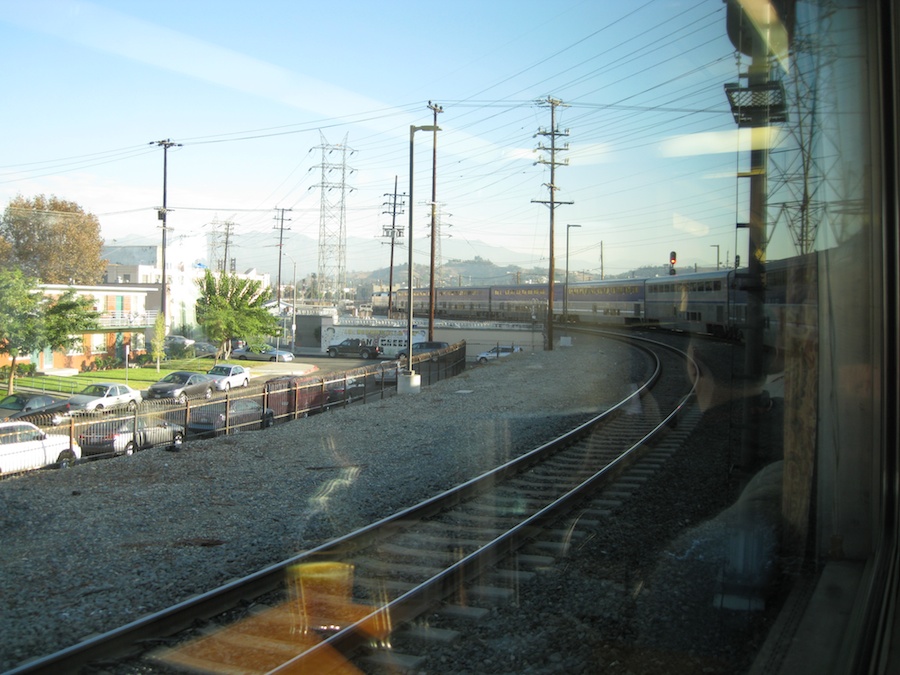 We are at the back of the train today

John gives us a preview of the day and welcomes us on board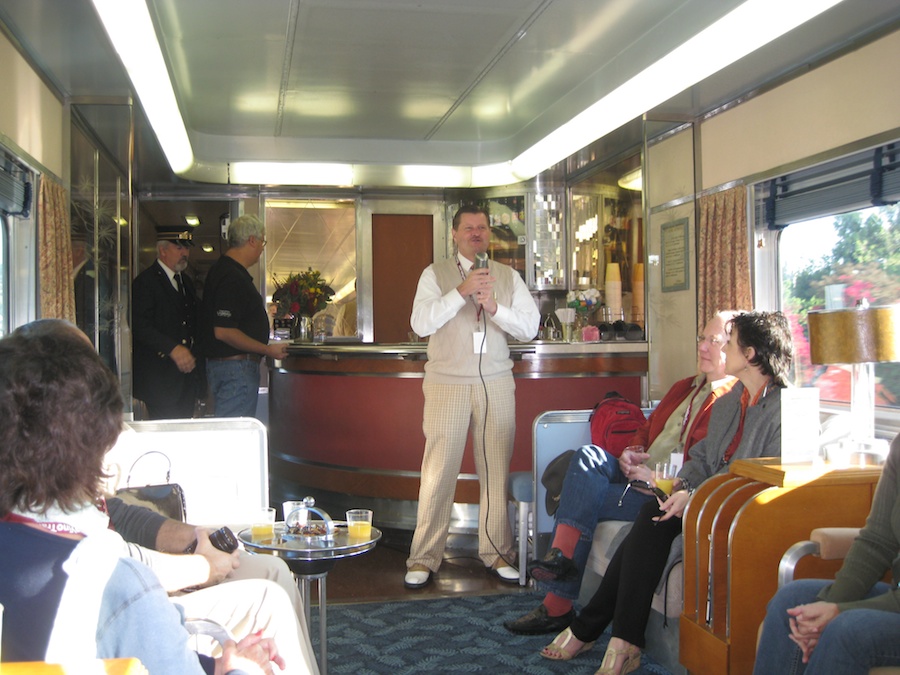 John is well balanced... Notice he is NOT holding on to anything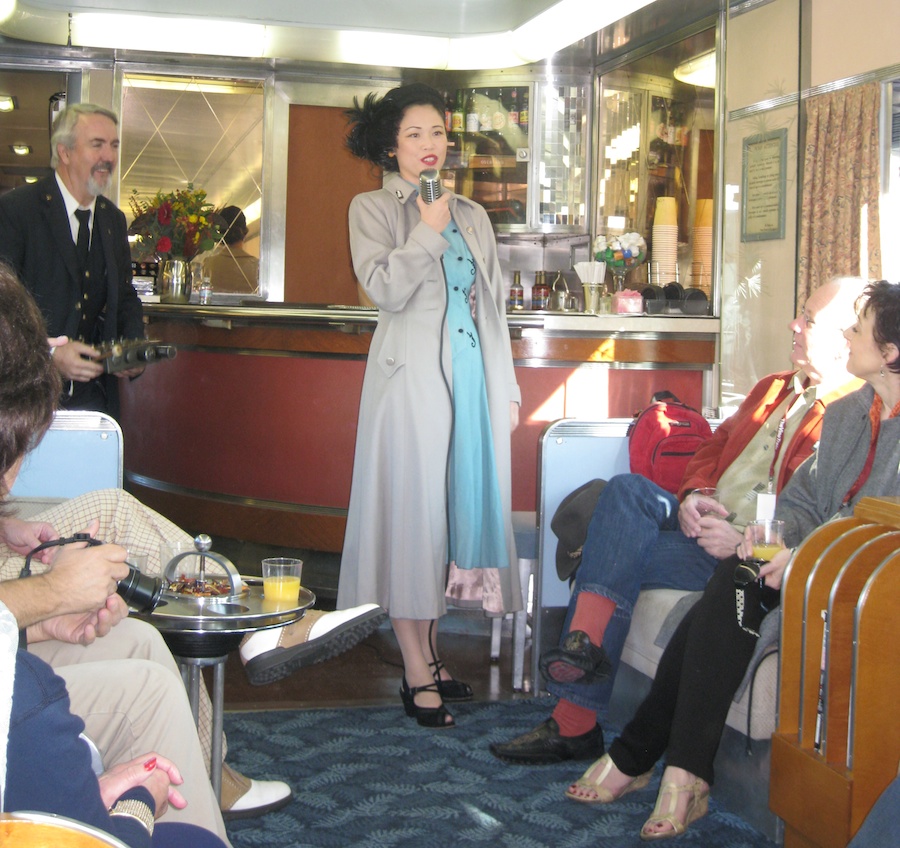 The Art Deco trip coordinator, Charlene, did a magnificent job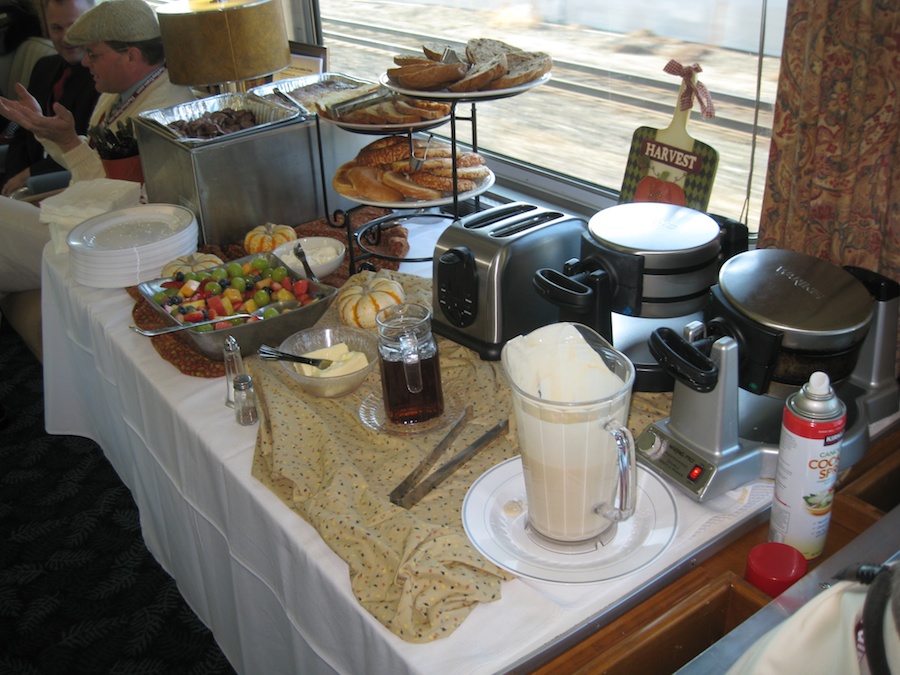 Something is smelling good
The waffle makers are on and ready to go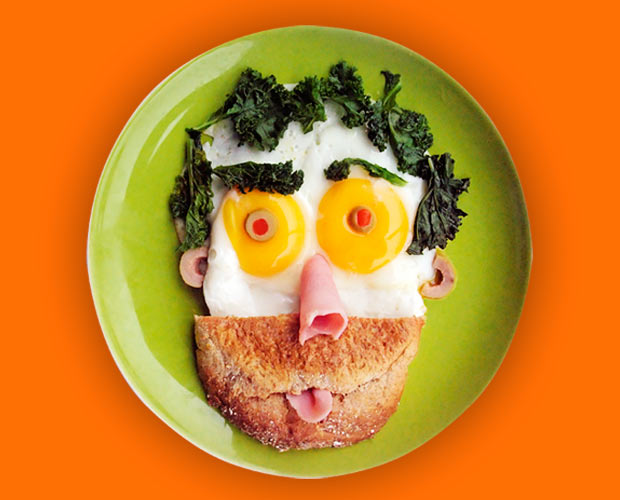 Not today... We are going to dine on the real deal!

Did You Know? - The word "waffle" first appears in the English language in 1725: "Waffles. Take flower, cream..." It is directly derived from the Dutch wafel, which itself derives from the Middle Dutch wafele.
While the Middle Dutch wafele is first attested to at the end of the 13th century, it is preceded by the French walfre in 1185; both are considered to share the same Frankish etymological root wafla. Depending on the context of the use of wafla, it either means honeycomb or cake.
Alternate spellings throughout contemporary and medieval Europe include wafre, wafer, wâfel, waufre, gaufre, goffre, gauffre, wafe, waffel, wåfe, wāfel, wafe, vaffel, and våffla.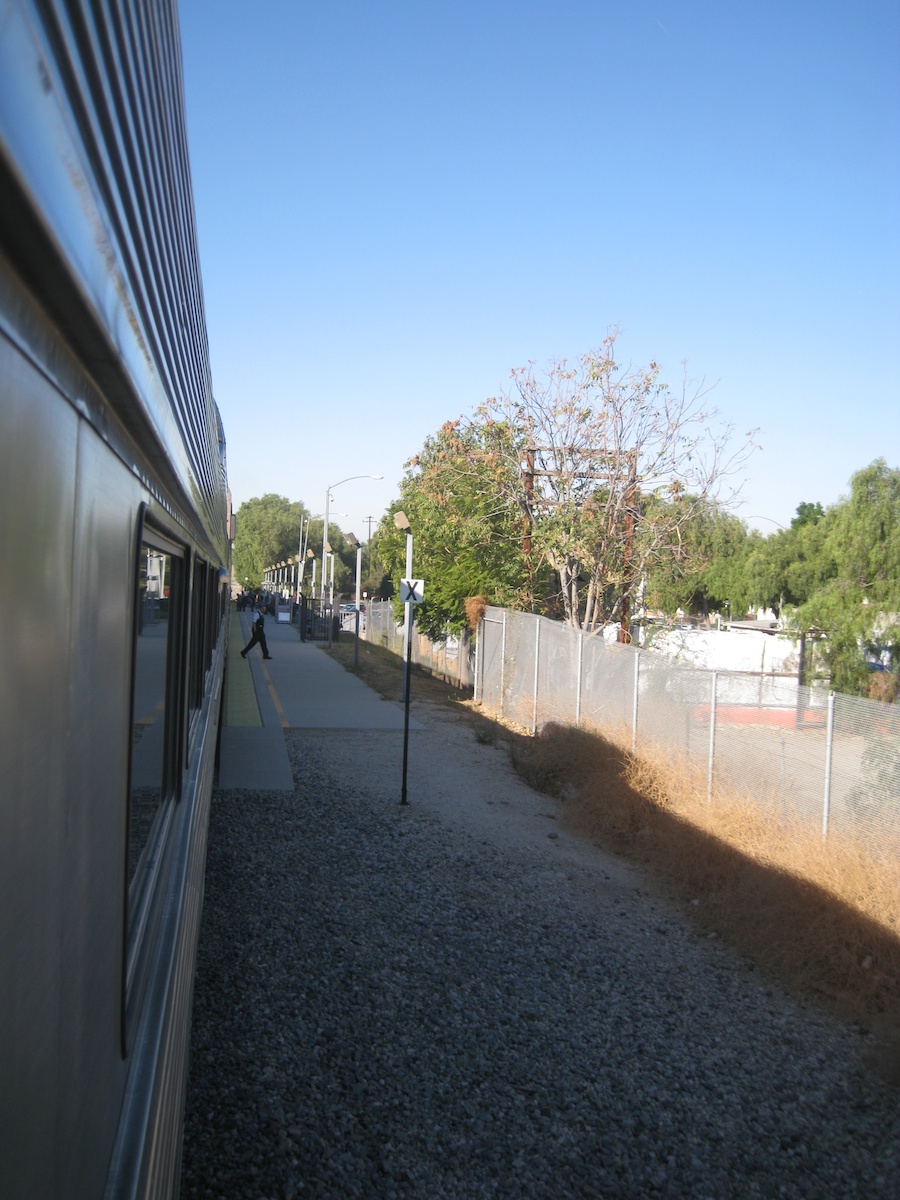 Several stops along the way
Did You Know? - The EMD F59PHI diesel-electric locomotive is a common locomotive on passenger trains in North America, built originally by General Motors Electro-Motive Division (EMD), now built by the successor company, Electro-Motive Diesel, which is owned by Progress Rail Services, itself a division of Caterpillar.
First built in 1994, the locomotive is a 3,200 hp (2.4 MW) B-B diesel-electric locomotive intended for service on North American mainlines.[2] This locomotive is equipped with a turbocharged EMD 12-710E3,a 12 cylinder, 2 stroke water cooled "Vee" diesel engine (prime mover).
The main (traction) alternator converts mechanical energy from the prime mover into electrical energy that is distributed through a high voltage cabinet and rectifier to direct current traction motors.
Each of the four traction motors is directly geared to a pair of driving wheels. The gear ratio of the traction motors (model D87BTR) to wheel axle determines the maximum operating speed of the locomotive; a standard F59PHI has a gear ratio of 56:21 which provides a top speed of 110 mph (176 km/h).
The F59PHI has a fully enclosed carbody which provides protected walkways for easy access to the engine room and trailing units. This arrangement allows routine maintenance while the locomotive is in service. The noteworthy aspect of this locomotive's exterior is the use of composites to present a streamlined appearance.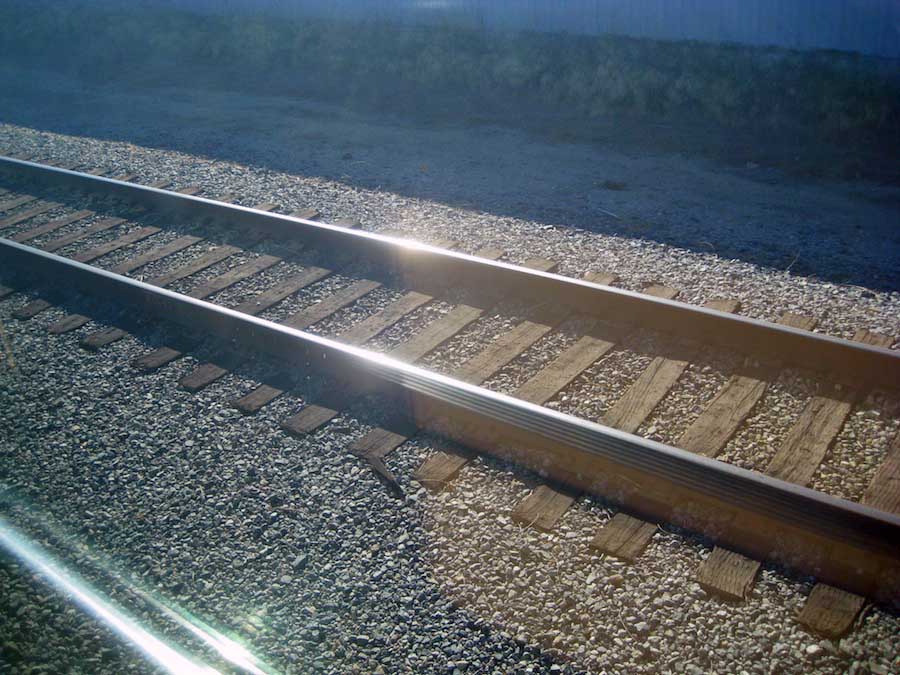 A path well traveled... No rust on these rails
Quotation To Remember: The World is a book, and those who do not travel read only a page.  ~St. Augustine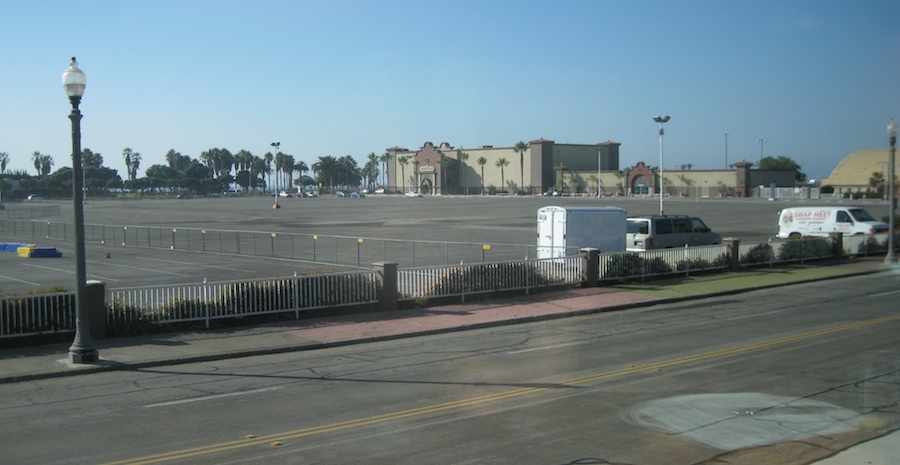 The Venture Fair Grounds are empty

This is a much better way to travel....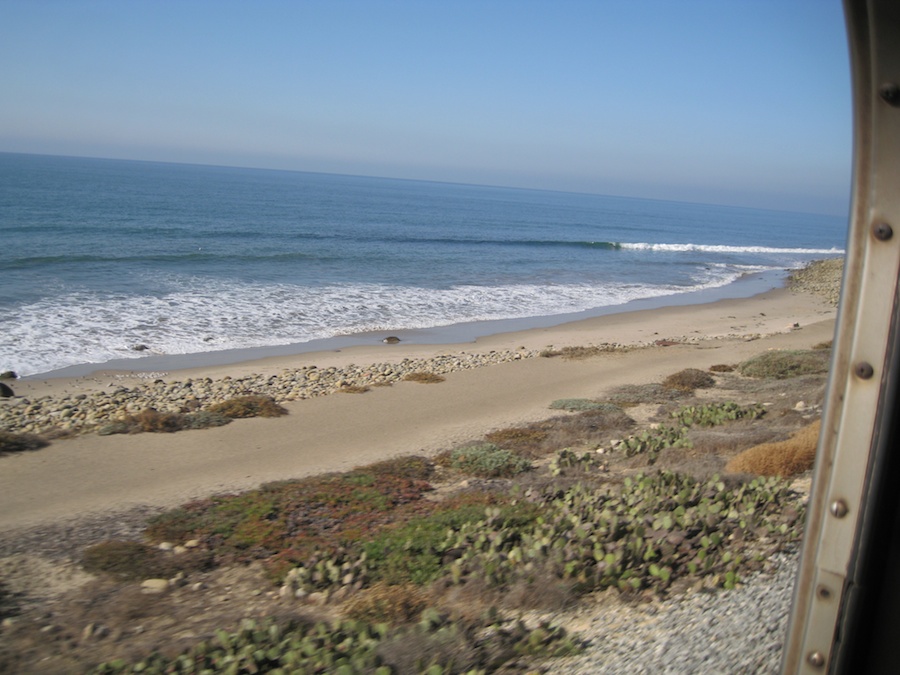 What a view... Hawaii just 2,500 miles away

"The Lone Camper"

It's OK... We are part of the private group
Santa Barbara Here We Are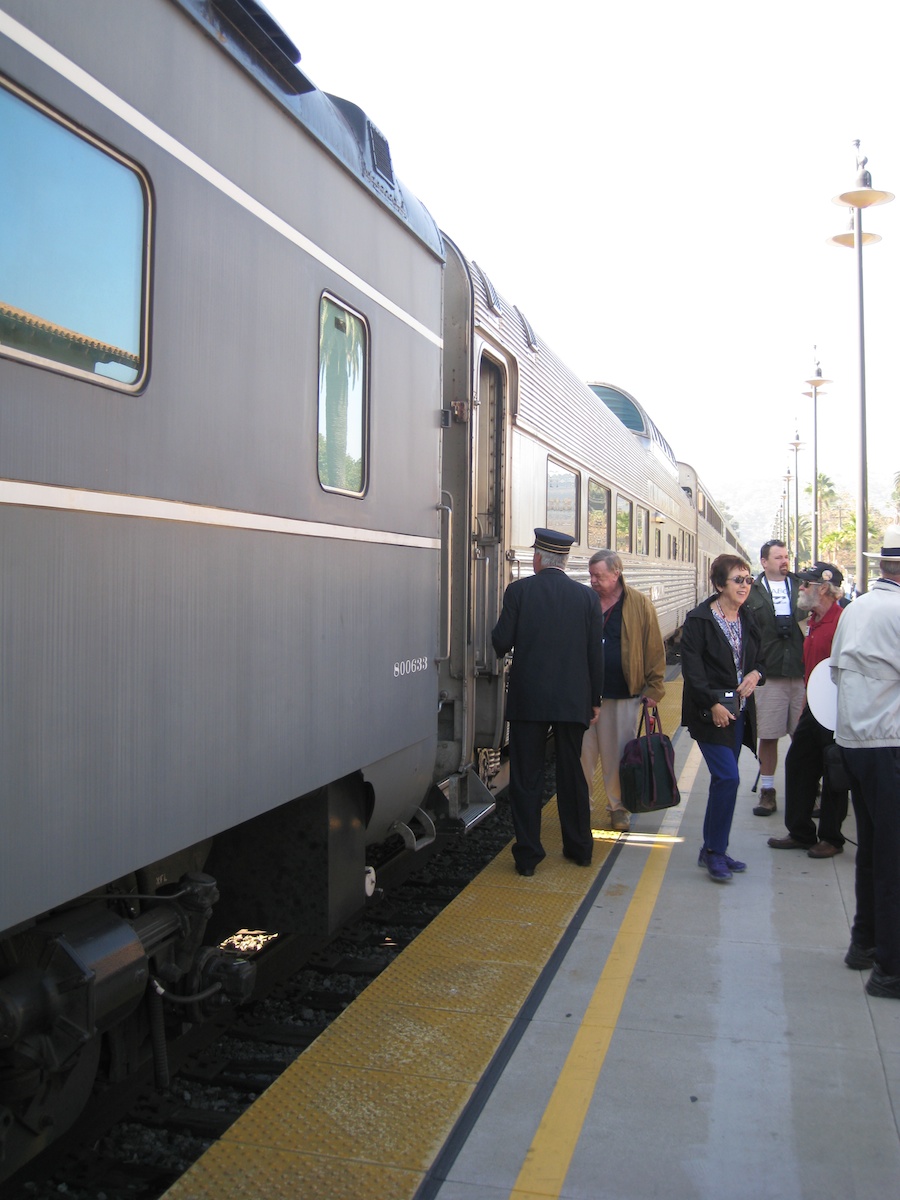 Conductor Bill... Always working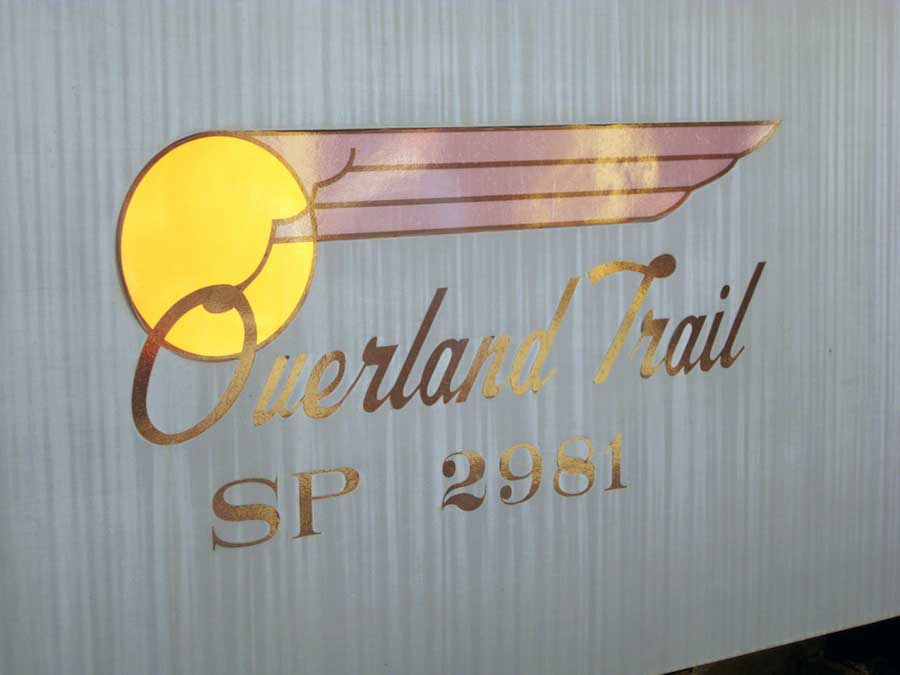 The former Southern Pacific 2981 car.... Built in 1949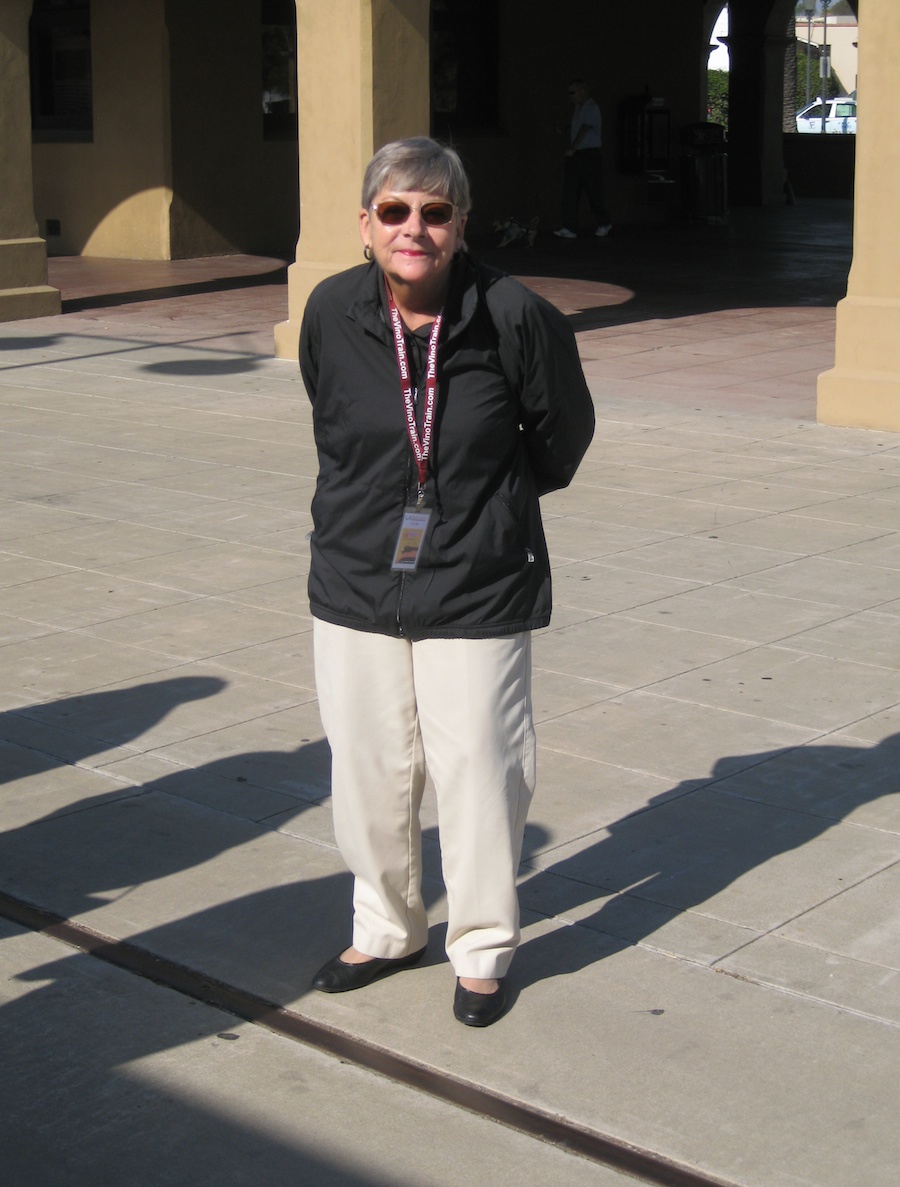 Sue is ready to stretch and walk for a while
Time For A Walk To The Post Office


Say what??? Let's start to walk up State Street to City Hall
Did You Know? - The California Geological Survey (CGS) provides geologic and seismic expertise to the public, other State government offices, such as the California Emergency Management Agency (CalEMA; formally known as the Governor's Office of Emergency Services), and local government agencies (cities and counties).
For tsunami hazards, CGS is working closely with CalEMA and the Tsunami Research Center at the University of Southern California to produce statewide tsunami inundation maps and preparedness information for California. CGS is also the Scientific Representative for California on the National Tsunami Hazard Mitigation Program Coordinating Committee, a state and federal cooperative responsible for developing policies and standards for tsunami mitigation efforts in the United States and its territories.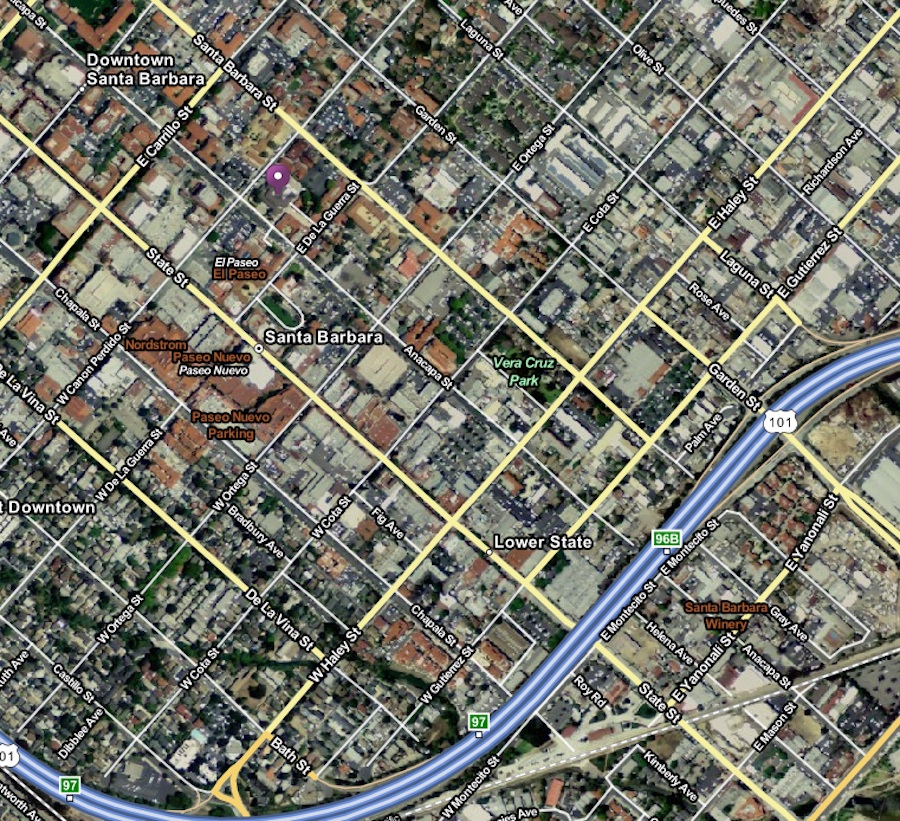 Six blocks up State Street and a block and a half north

Love the restaurant names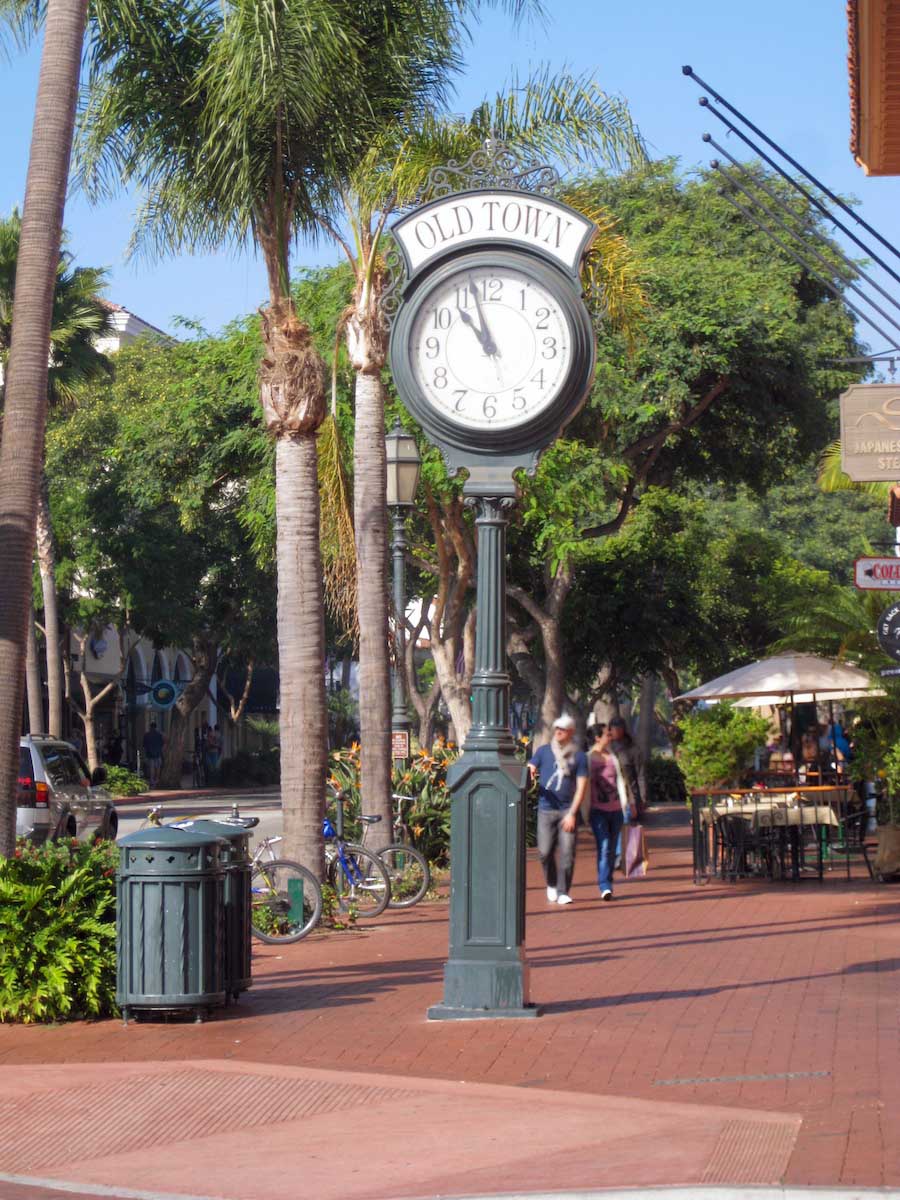 We arrived at 10:30 and are on our way to City Hall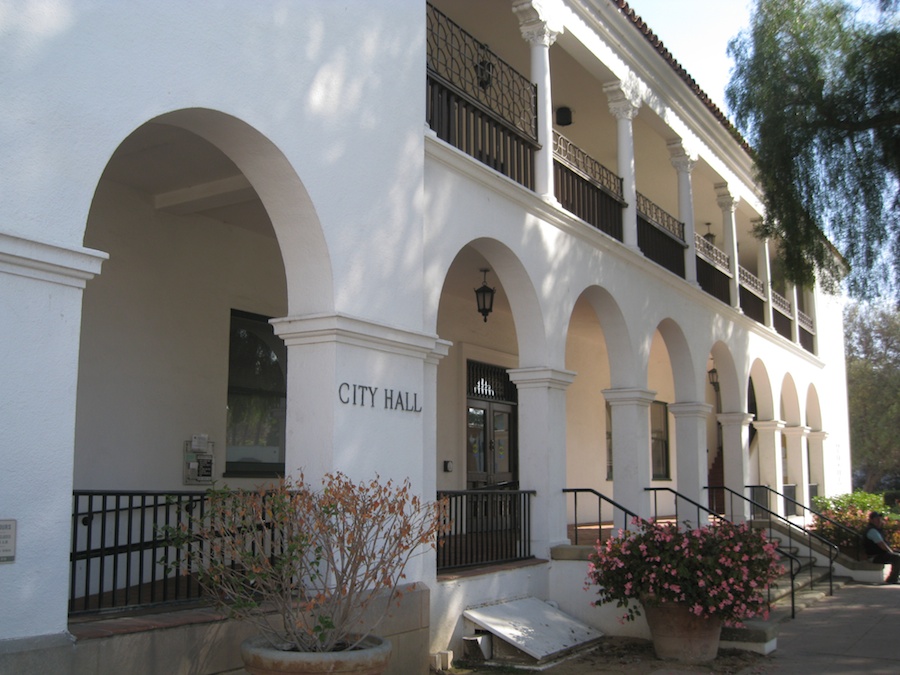 Walked past City Hall to get to the Post Office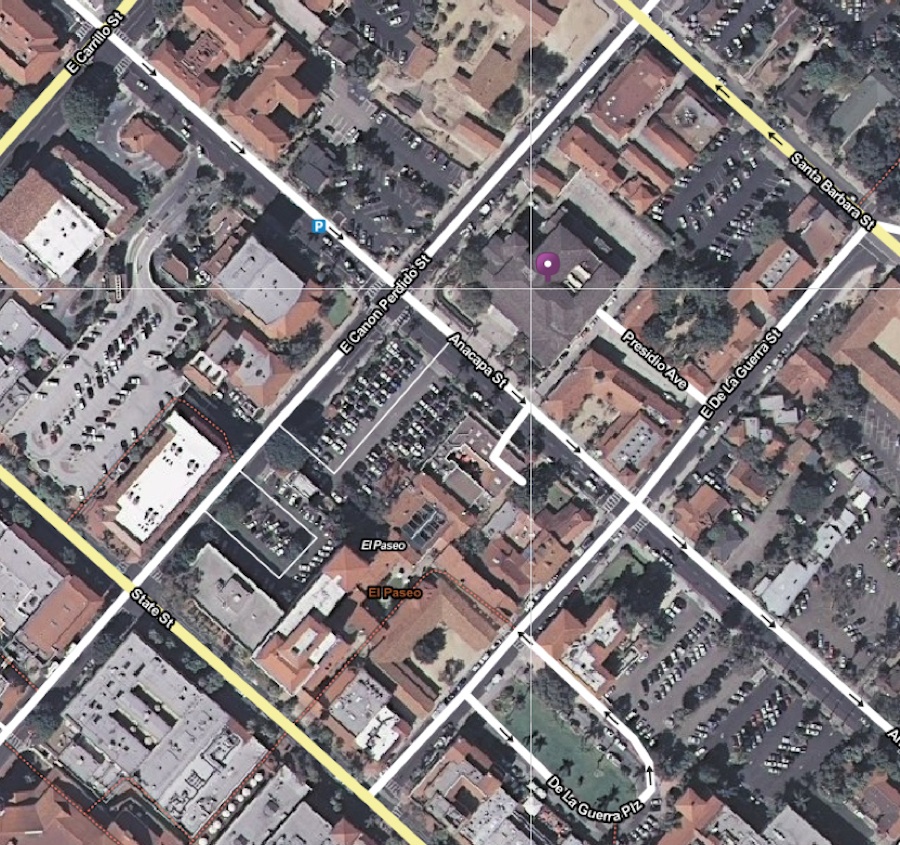 A birds eye view of the Post Office on Anacappa Street

We have arrived... Very sturdy looking building
Did You Know? - The Santa Barbara Post Office has a generally Spanish Colonial character that harmonizes with traditional local architecture, using a terra cotta roof and white stuccoed walls. The building was constructed in reinforced concrete.
Although the building is composed with Mission Revival elements and massing, the details are Art Deco, with chevron details typically used by Johnson and complementary sculpture. The bronze doors and building hardware are more characteristic of Art Deco than of Mission. Streamline Moderne interior reliefs are by William Atkinson, using motifs typical of the 1930s.
The Santa Barbara Post Office was placed on the National Register of Historic Places on January 11, 1985.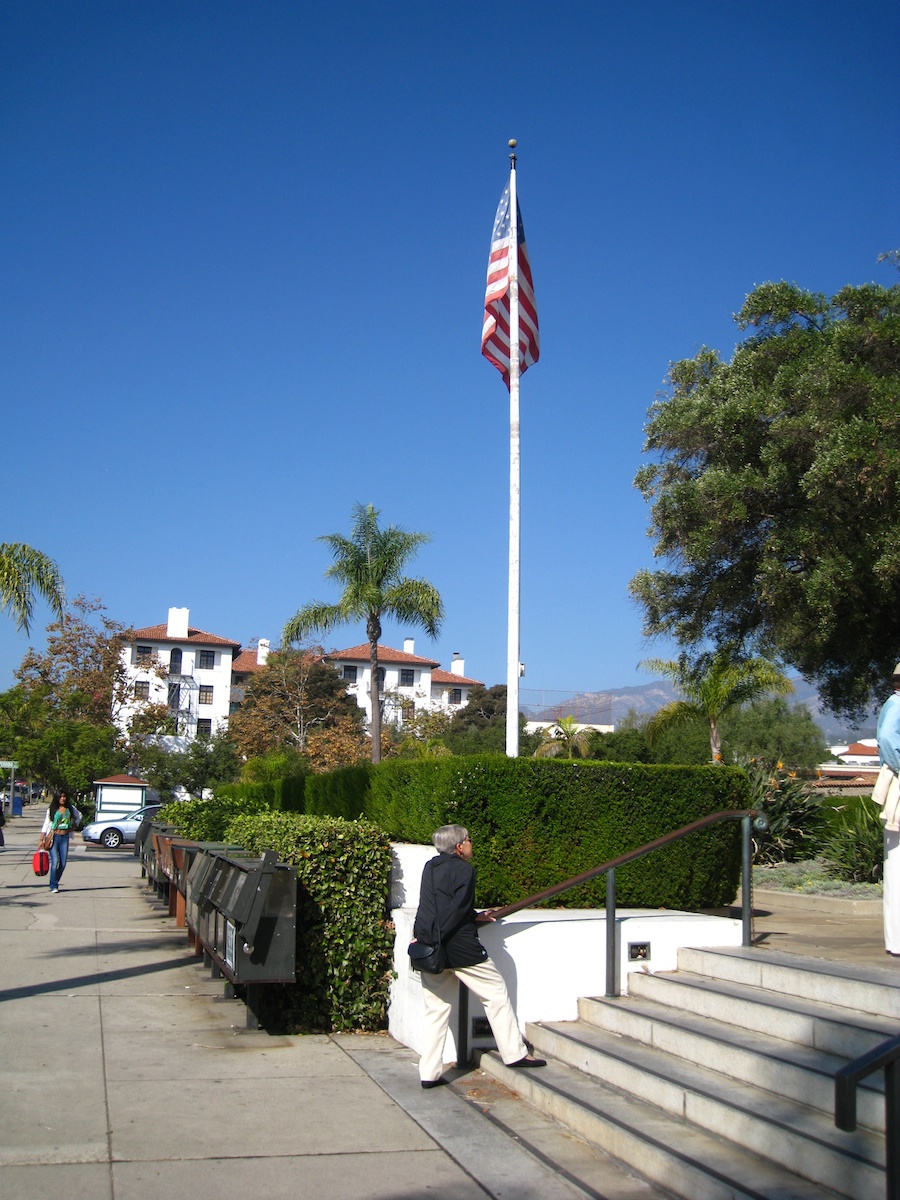 Sue makes careful observations
Did You Know? - The Santa Barbara earthquake of 1925 hit the area of Santa Barbara, California on June 29, 1925 with a maximum perceived intensity of IX (Violent) on the Mercalli intensity scale. It resulted in thirteen casualties and destroyed the historic center of the city, with damage estimated at 8 million dollars.
Thirteen people died, but it might have been far worse without the actions of three later recognized heroes who shut off the town gas and electricity preventing catastrophic fire.
The downtown of Santa Barbara was destroyed; only a few buildings along State Street, the main commercial street in the city, were still standing after the earthquake.
The City Cab building and The Californian and Arlington garages, all large and fully occupied parking structures, collapsed full with cars of those traveling and on vacation. Many other vehicles were crushed in the downtown area, and at least one death resulted when a driver was caught at the wheel near the San Marcos building as walls of buildings fell onto the cars parked there.
The Southern Pacific Company Railroad tracks were damaged in a number of places between Ventura, (mile 598 as measured from San Francisco) and Gaviota (mile 331).
In particular, a portion between Naples and Santa Barbara was badly damaged and displaced.
Seaside bluffs fell into the ocean and a slight tidal wave was noted by offshore ships. The town was completely cut off from telephone and telegraph, news from the outside world arrived by shortwave radio. The absence of post earthquake fire permitted scientists and geologists to study earthquake damages on various types of construction.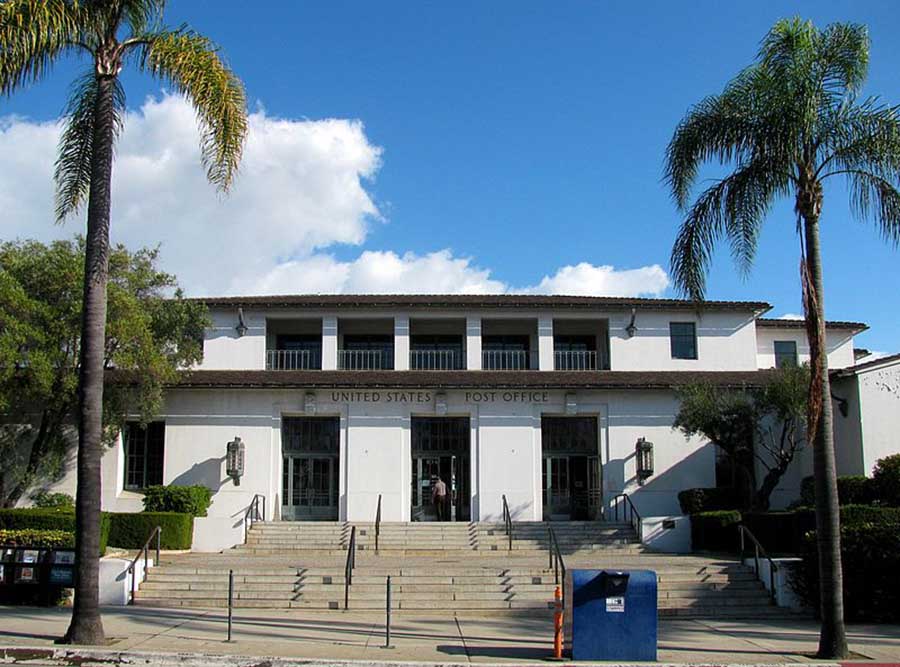 It was a beautiful day ... Typical California
Did You Know? - Reginald Davis Johnson (1882 - 1952) was an American architect. His practice, based in Pasadena, California, focused on the Los Angeles area and southern California in general, with a mixture of residential and commercial work. Johnson's later work was influenced by his progressive ideas on housing policy.
Johnson was born in New York state on July 19, 1882, the son of Joseph Horsfall Johnson, who would become the first Episcopal bishop of Los Angeles from 1896 to 1928. Johnson studied architecture in Paris and then attended the Massachusetts Institute of Technology, graduating in 1910 and returned to Pasadena.
His father would consecrate St. Paul's Cathedral in Los Angeles in 1924, designed by Reginald
Johnson made a good living in the 1920s designing houses in Montecito and Pasadena. Johnson made his name by designing houses for the rich, but also designed more affordable housing, a cause that assumed greater importance to him as the Great Depression wore on.
In 1931 Johnson won an award for best design for a small house, receiving the award from Herbert Hoover. Johnson designed Rancho San Pedro for Los Angeles as a public housing project in 1939.
Through the 1930s Johnson worked on the design of Baldwin Hills Village in Los Angeles, which was designed as an up-to-date community of inexpensive housing. Johnson collaborated with Clarence Stein, the planner of Radburn, New Jersey.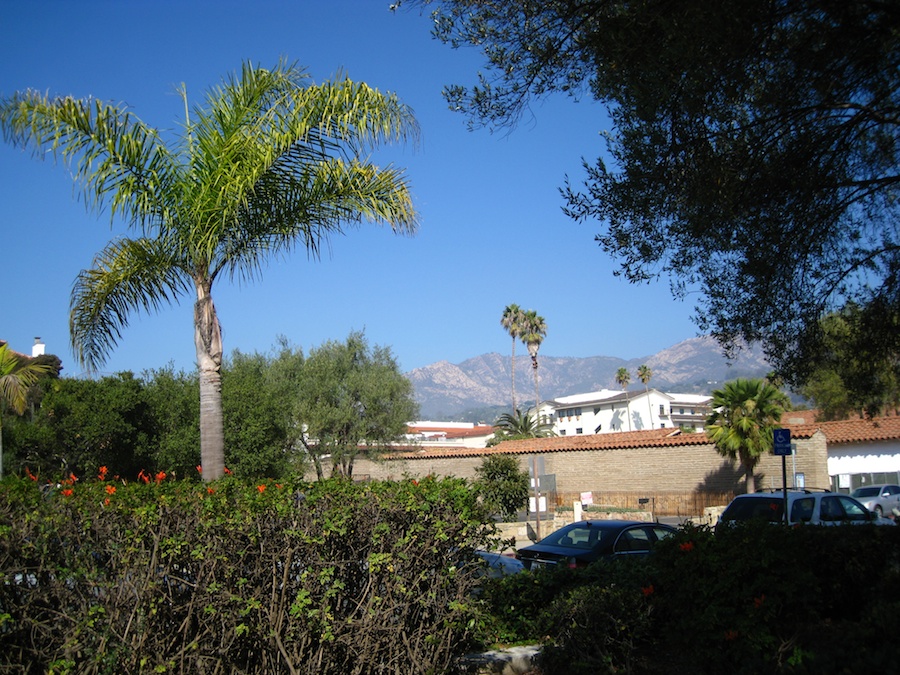 The sky was so blue and temperatures in the mid 70's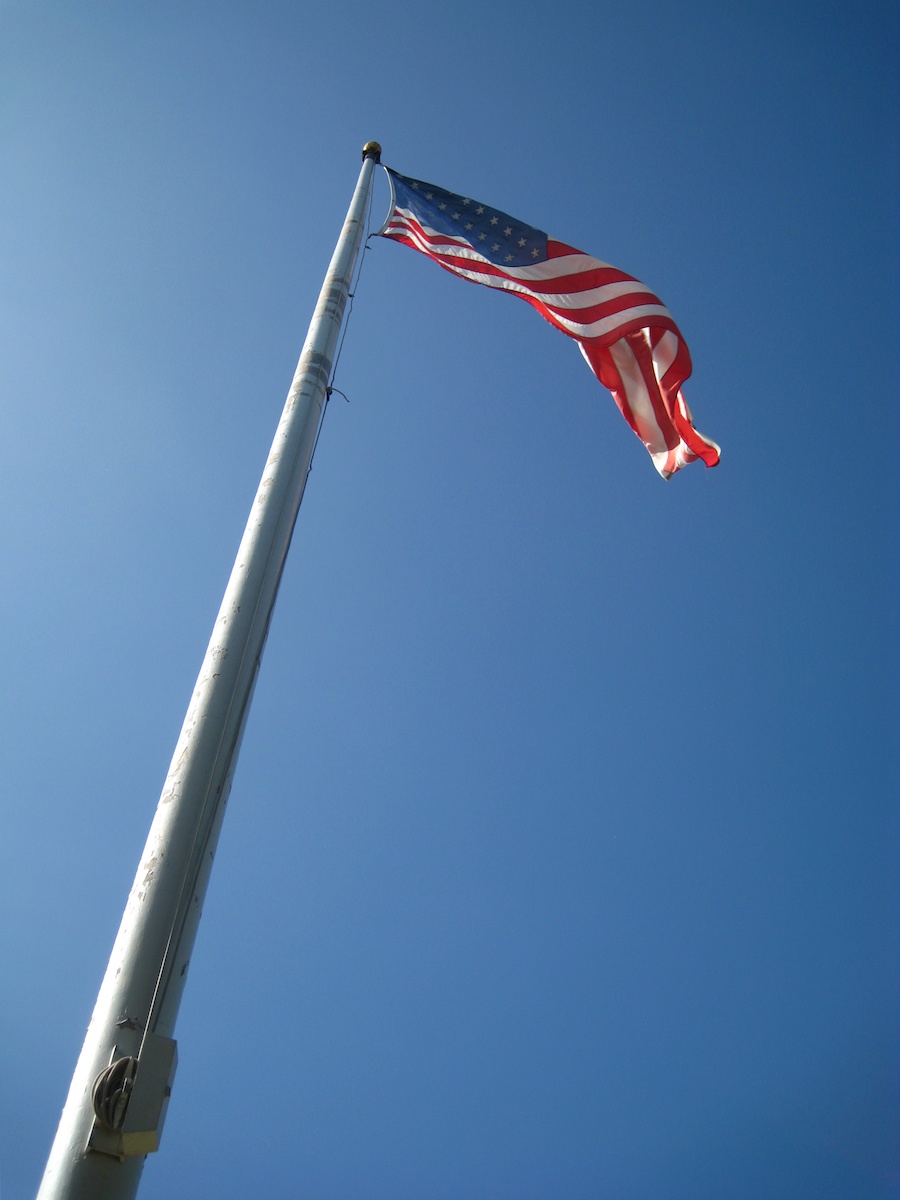 Long may she wave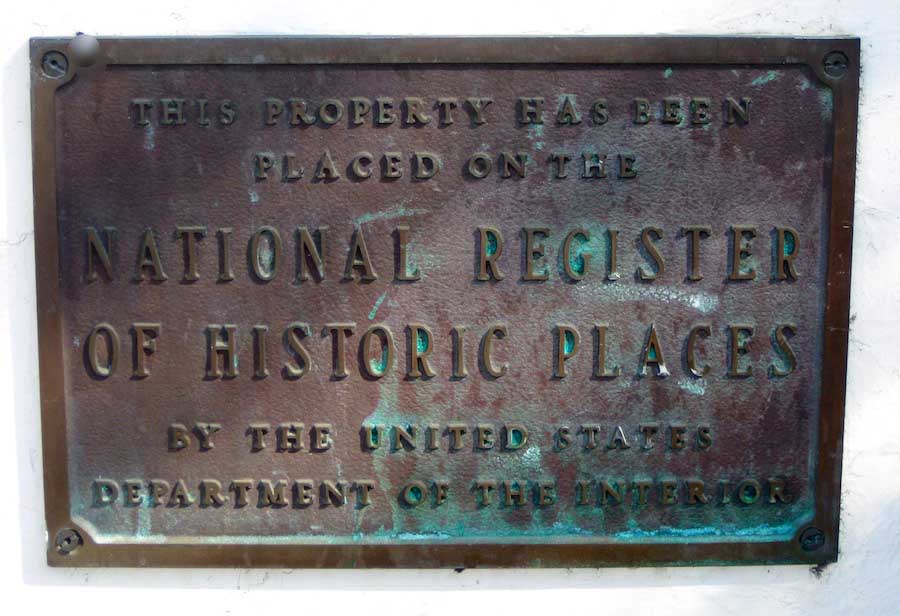 We are happy the Post Office made the list
Did You Know? - The National Register of Historic Places (NRHP) is the United States federal government's official list of districts, sites, buildings, structures, and objects deemed worthy of preservation. A property listed in the National Register, or located within a National Register Historic District, may qualify for tax incentives derived from the total value of expenses incurred preserving the property.
The passage of the National Historic Preservation Act (NHPA) in 1966 established the National Register and the process for adding properties to it. Of the more than one million properties on the National Register, 80,000 are listed individually.
The remainder are contributing resources within historic districts. Each year approximately 30,000 properties are added to the National Register as part of districts or by individual listings.
For most of its history the National Register has been administered by the National Park Service (NPS), an agency within the United States Department of the Interior. Its goals are to help property owners and interest groups, such as the National Trust for Historic Preservation, coordinate, identify, and protect historic sites in the United States.
While National Register listings are mostly symbolic, their recognition of significance provides some financial incentive to owners of listed properties. Protection of the property is not guaranteed.
During the nomination process, the property is evaluated in terms of the four criteria for inclusion on the National Register of Historic Places. The application of those criteria has been the subject of criticism by academics of history and preservation, as well as the public and politicians.

John gets us organized... A monumental task!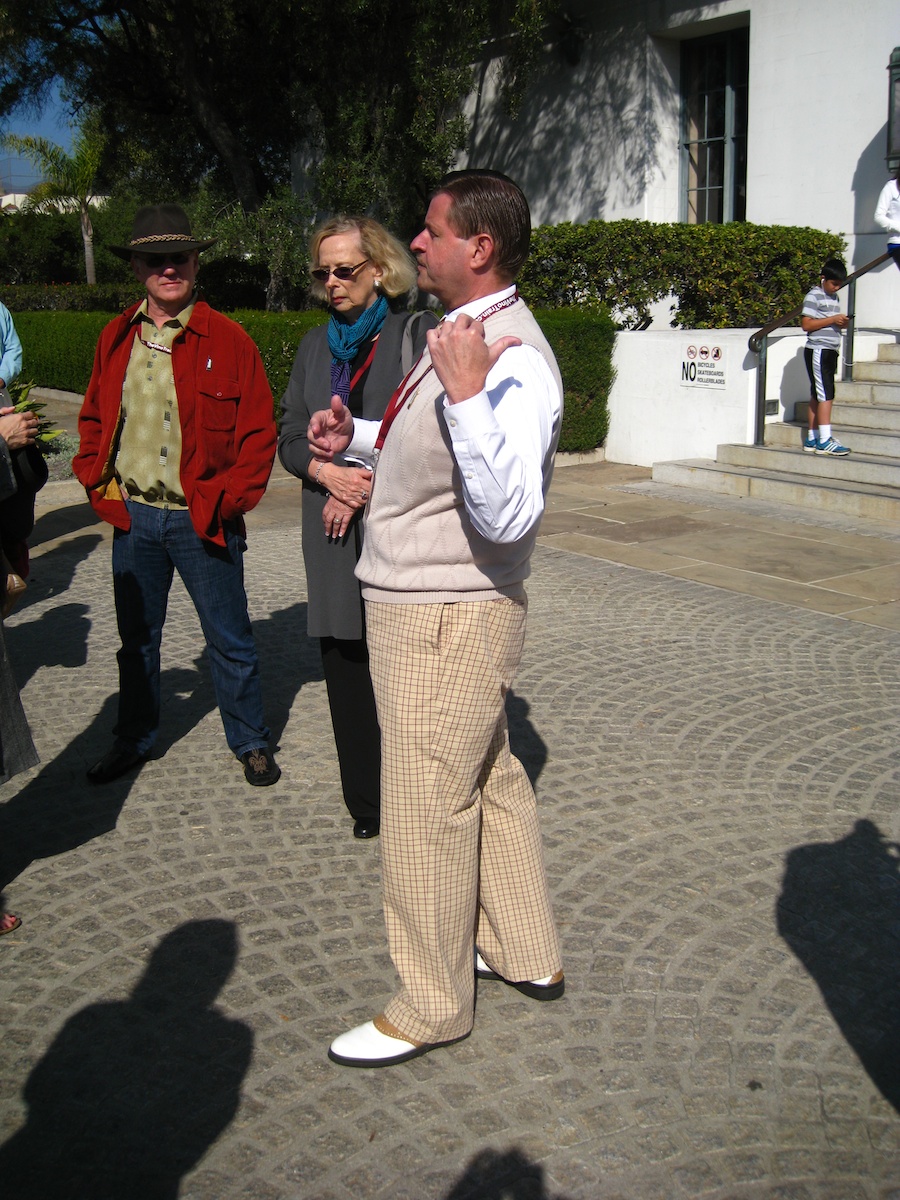 We get our history lesson before we get the inside tour...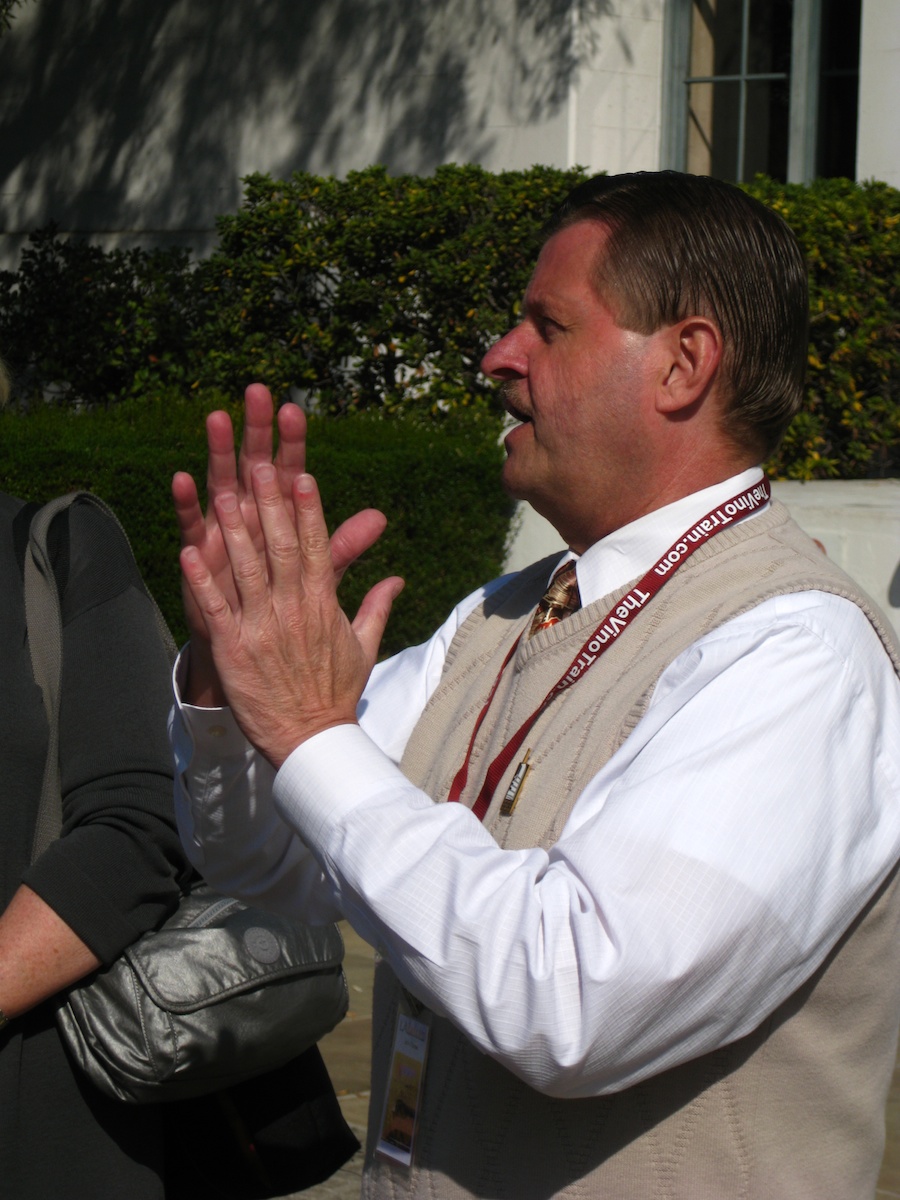 Very well done!

Bronze sconces wiyj typical Art Deco chevrons
It has provided light since before WWII
Did You Know? - A sconce is a type of light fixture affixed to a wall in such a way that it uses only the wall for support, and the light is usually directed upwards. It does not have a base on the ground. The word applies both to traditional forms of torch lighting, but also to modern gas and electric light sources affixed in the same way.
The etymology of sconce is from the Latin absconsus, and the French esconce. It is a word of many meanings, mostly signifying a covering or protection, or, by extension, that which is covered or protected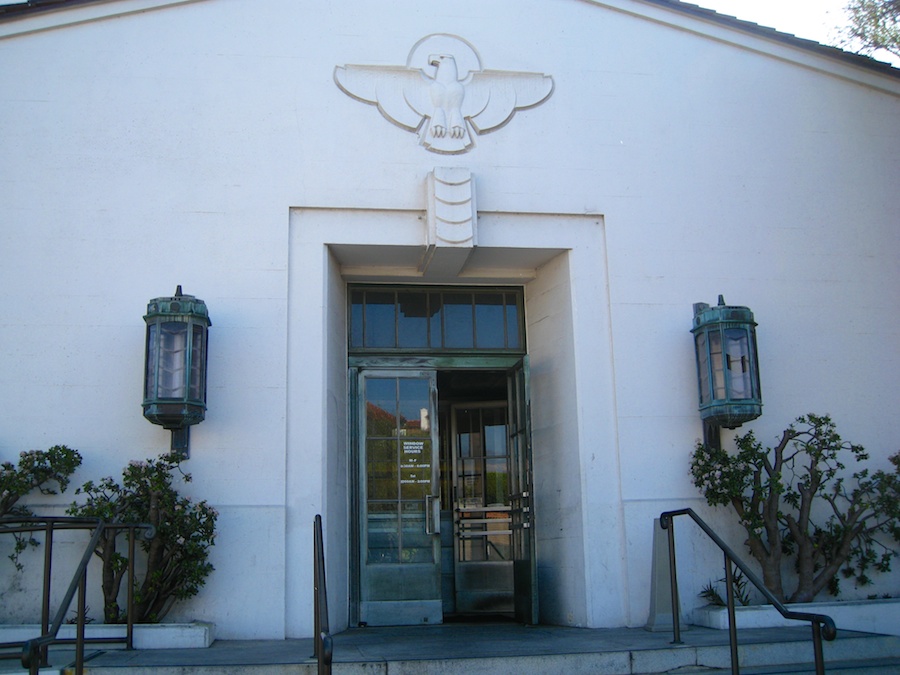 The north-facing entrance is awash in art-deco techniques

The stylized eagle... Do you see the "waves" above the door?

Built to last... The walls must be two feet thick or more...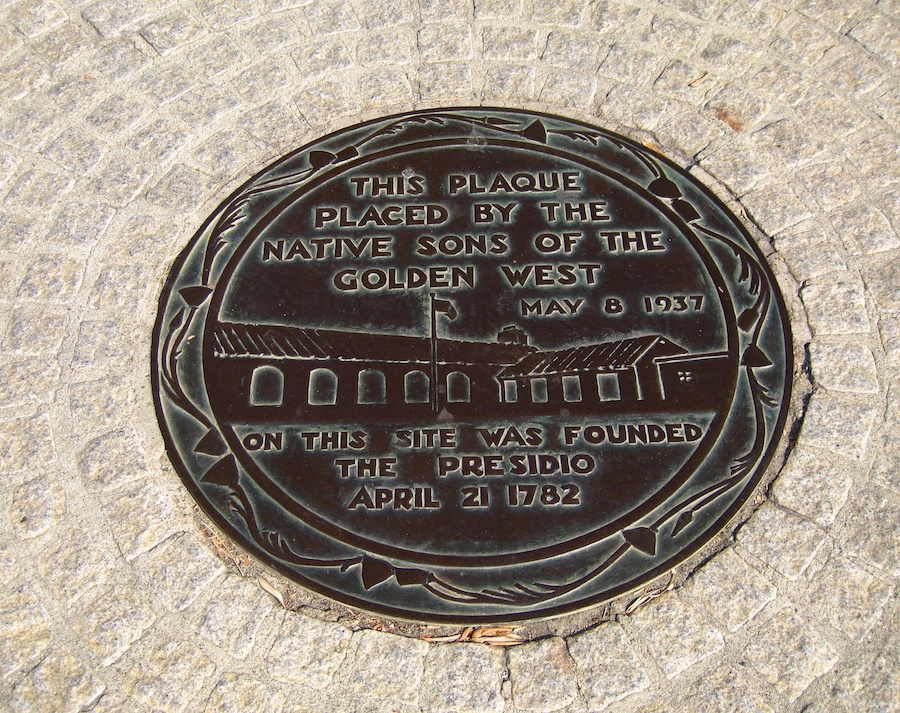 Placed on the site when the post office was completed in 1937
Did You Know? - The Native Sons of the Golden West is an fraternal service organization founded in 1875, limited to individuals born in the state of California and dedicated to historic preservation, documentation of historic structures and places in the state, and the placement of historic plaques.
In 1890 they placed the first historical marker in the state to honor the discovery of gold which gave rise to the state nickname "Golden State" and "Golden West." Former U.S. President Richard M. Nixon and former U.S. Supreme Court Justice Earl Warren were both past presidents of the NSGW.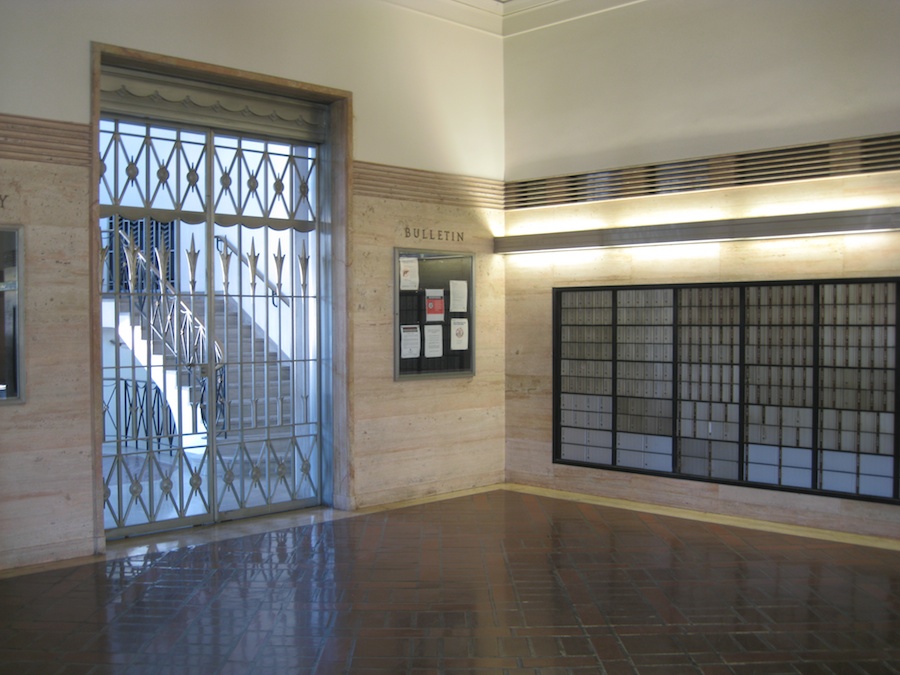 Inside was art-deco modern with designs everywhere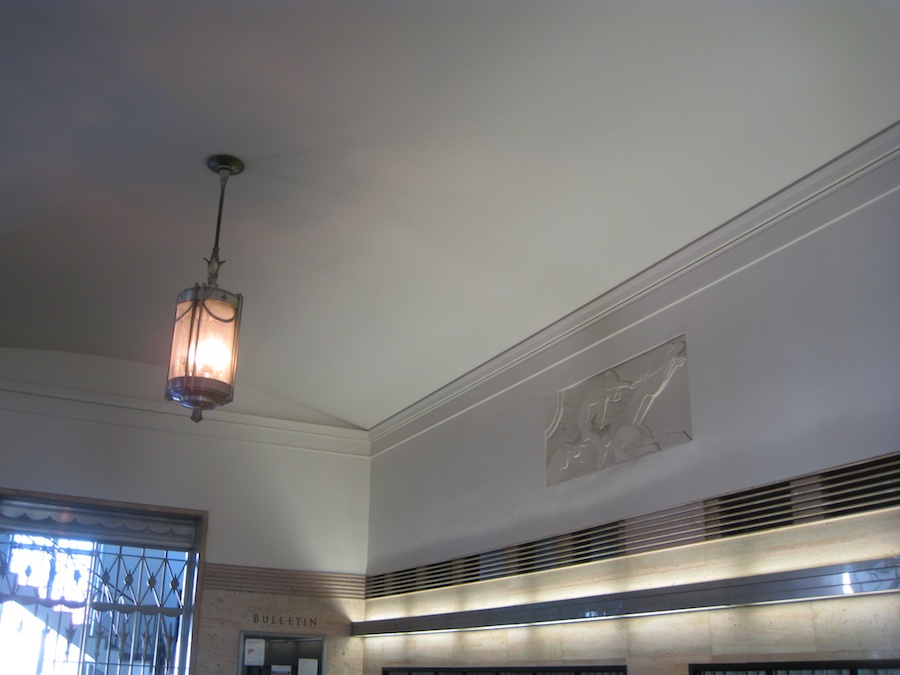 The reliefs on the walls were simple but elegant
Did You Know? - Relief, or relievo rilievo, is a sculptural technique. The term relief is from the Latin verb relevo, to raise. To create a sculpture in relief is to give the impression that the sculpted material has been raised above the background plane.
What is actually performed when a relief is cut in from a flat surface of stone or wood is a lowering of the field, leaving the unsculpted parts seemingly raised. The technique involves considerable chiselling away of the background, which is a time-consuming exercise with little artistic effect if the lowered background is left plain, as is often the case.
On the other hand, a relief saves forming the rear of a subject, and is less fragile and more securely fixed than a sculpture in the round, especially one of a standing figure where the ankles are a potential weak point, especially in stone.
In other materials such as metal, clay, plaster stucco, ceramics or papier-mache the form can be just added to or raised up from the background, and monumental bronze reliefs are made by casting.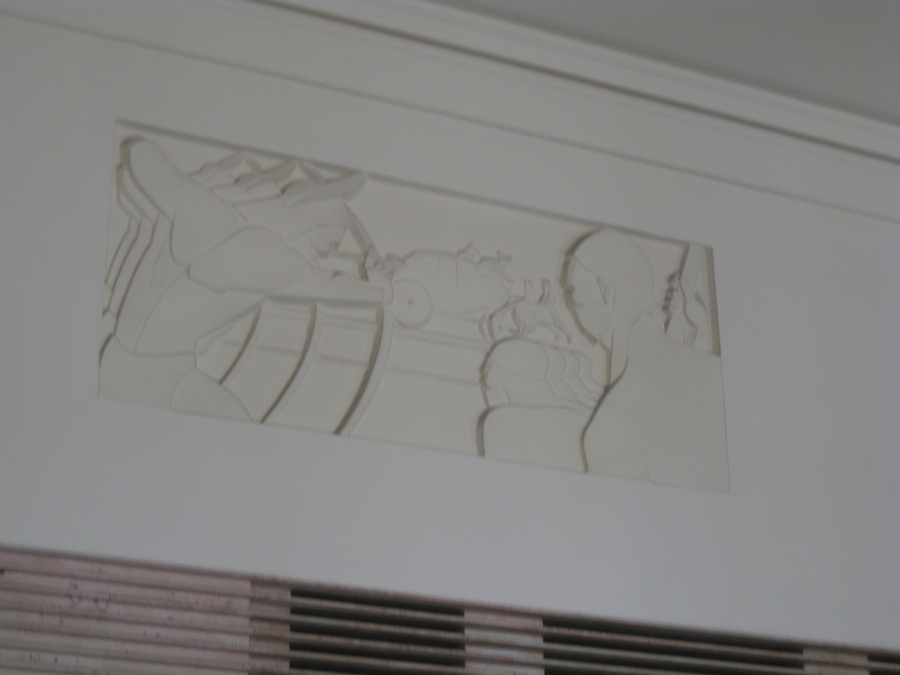 Simple but tells a message

Stainless steel doors... What would they cost today???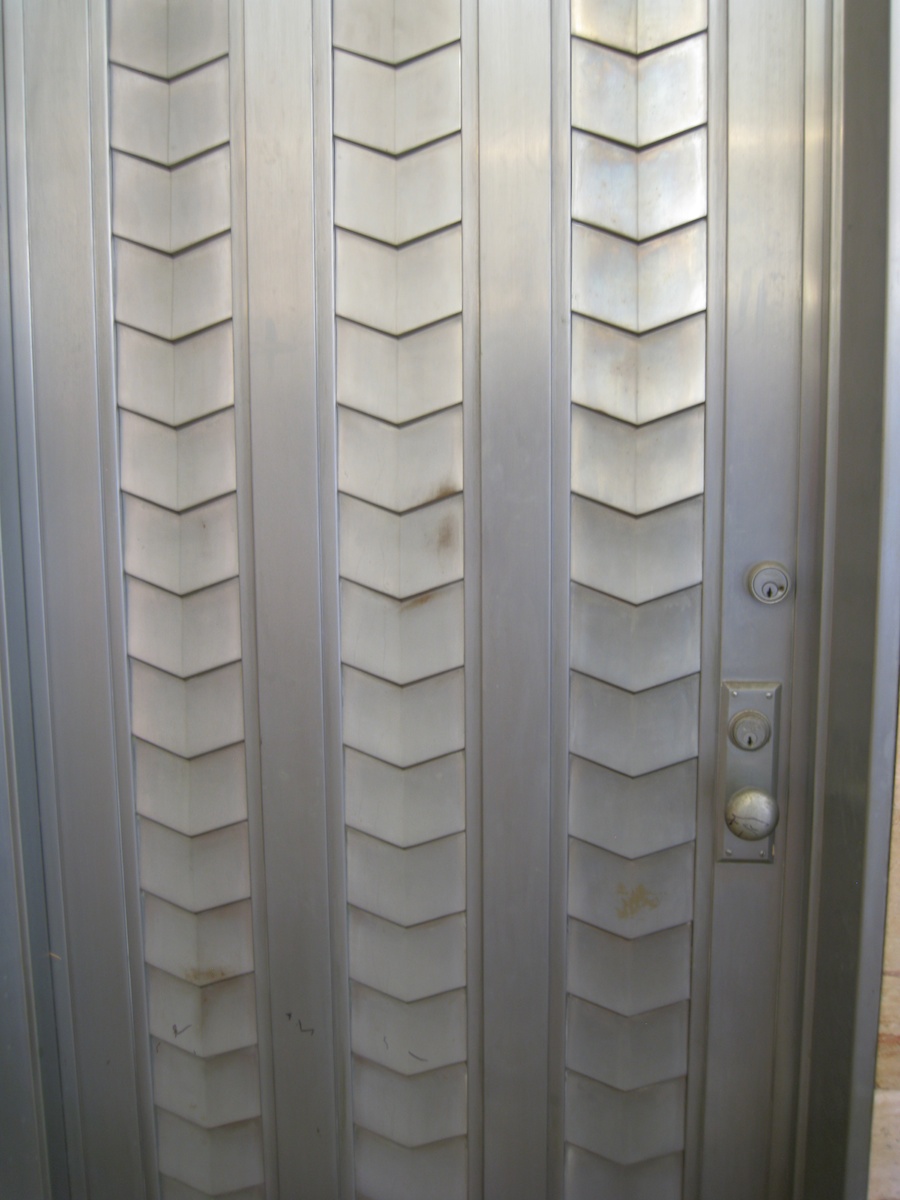 Art-deco chevrons

Did You Know? - Deco emphasizes geometric forms: spheres, polygons, rectangles, trapezoids, zigzags, chevrons, and sunburst motifs. Elements are often arranged in symmetrical patterns.
Modern materials such as aluminum, stainless steel, Bakelite, chrome, and plastics are frequently used. Stained glass, inlays, and lacquer are also common. Colors tend to be vivid and high-contrast.

The grille work was beautiful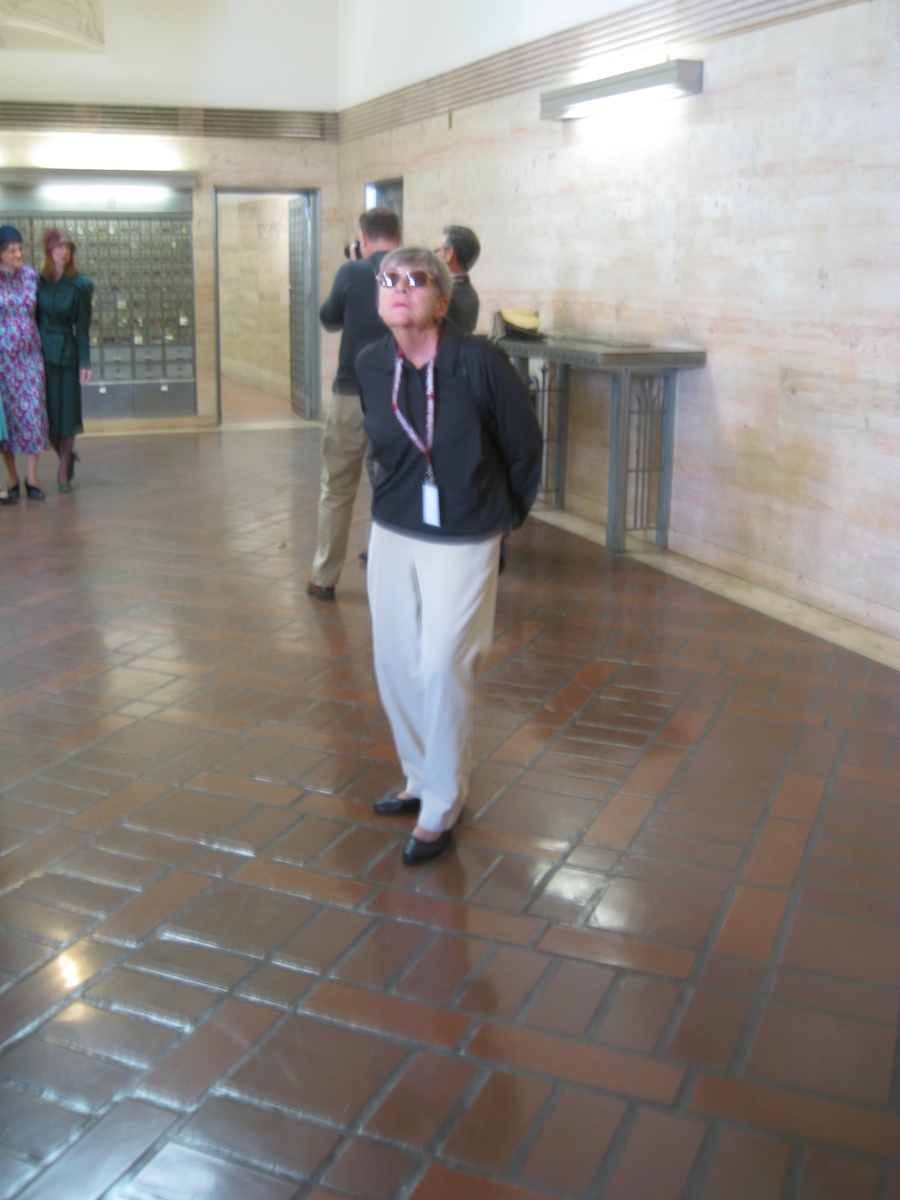 Looking up... Architectural items everywhere
We Are Off On Our Own Now... Hello Wharf Here We Come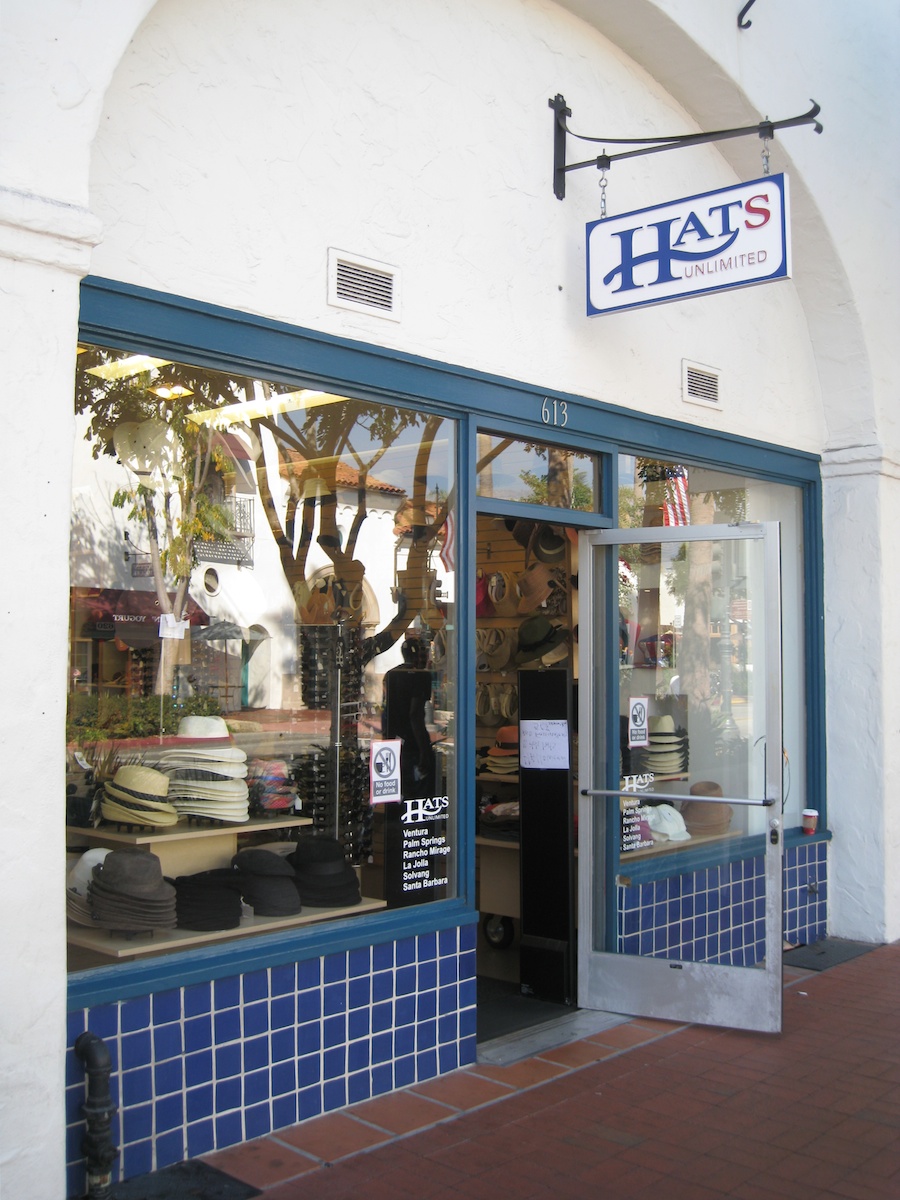 Guess who forgot his hat today???

A new Panama Hat (made in Ecuador)
Did You Know? - A Panama hat (toquilla straw hat) is a traditional brimmed straw hat of Ecuadorian origin. Traditionally, hats were made from the plaited leaves of the Carludovica palmata plant, known locally as the toquilla palm or jipijapa palm, although it is a palm-like plant rather than a true palm.
Panama hats are light-colored, lightweight, and breathable, and often worn as accessories to summer-weight suits, such as those made of linen or silk. Beginning around the turn of the 20th century, panamas began to be associated with the seaside and tropical locales.[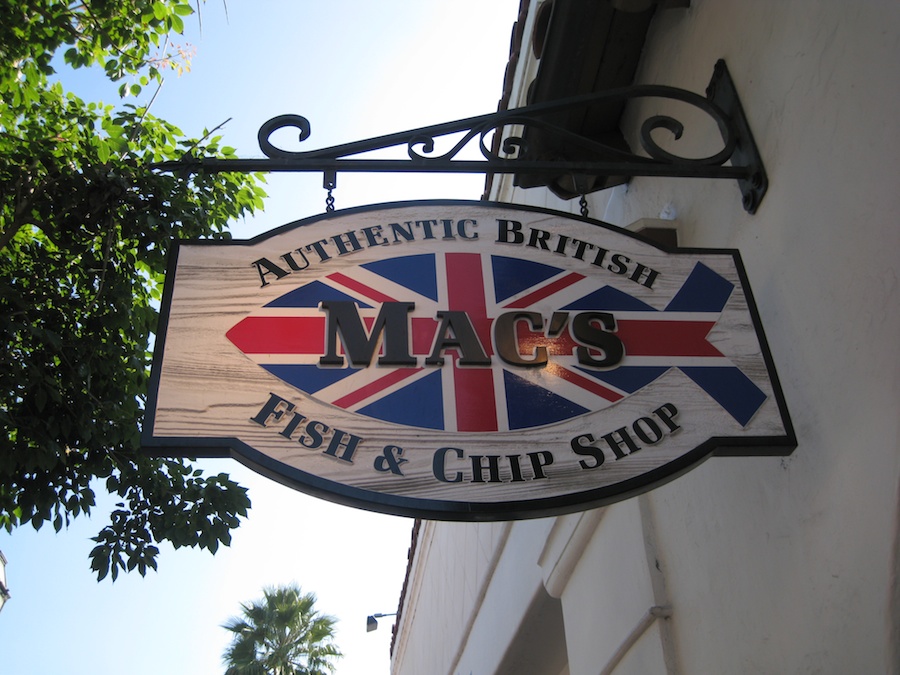 So... Where is Brian and Jan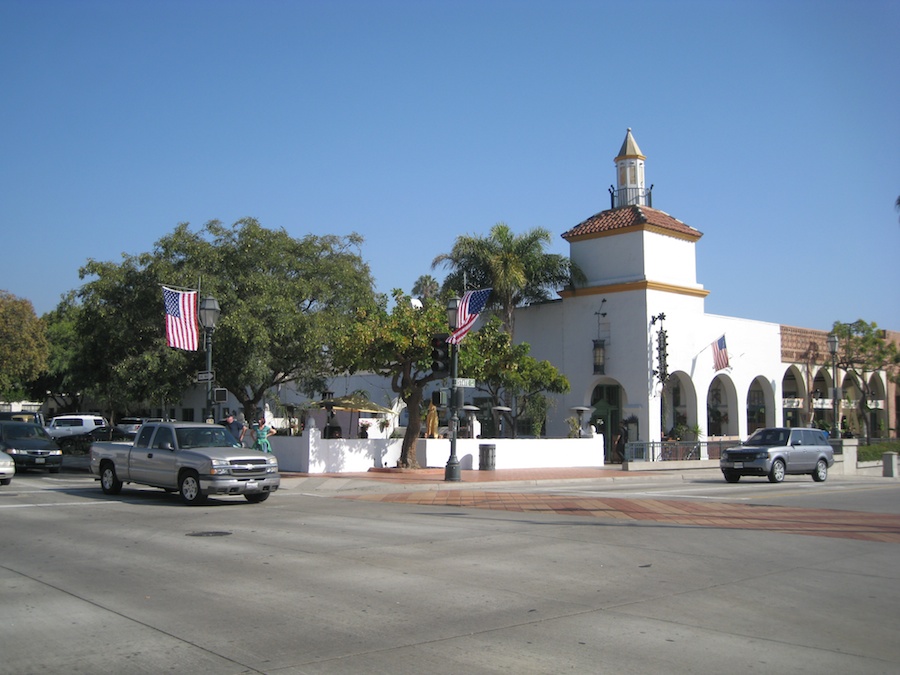 The flags were out for Veterans Day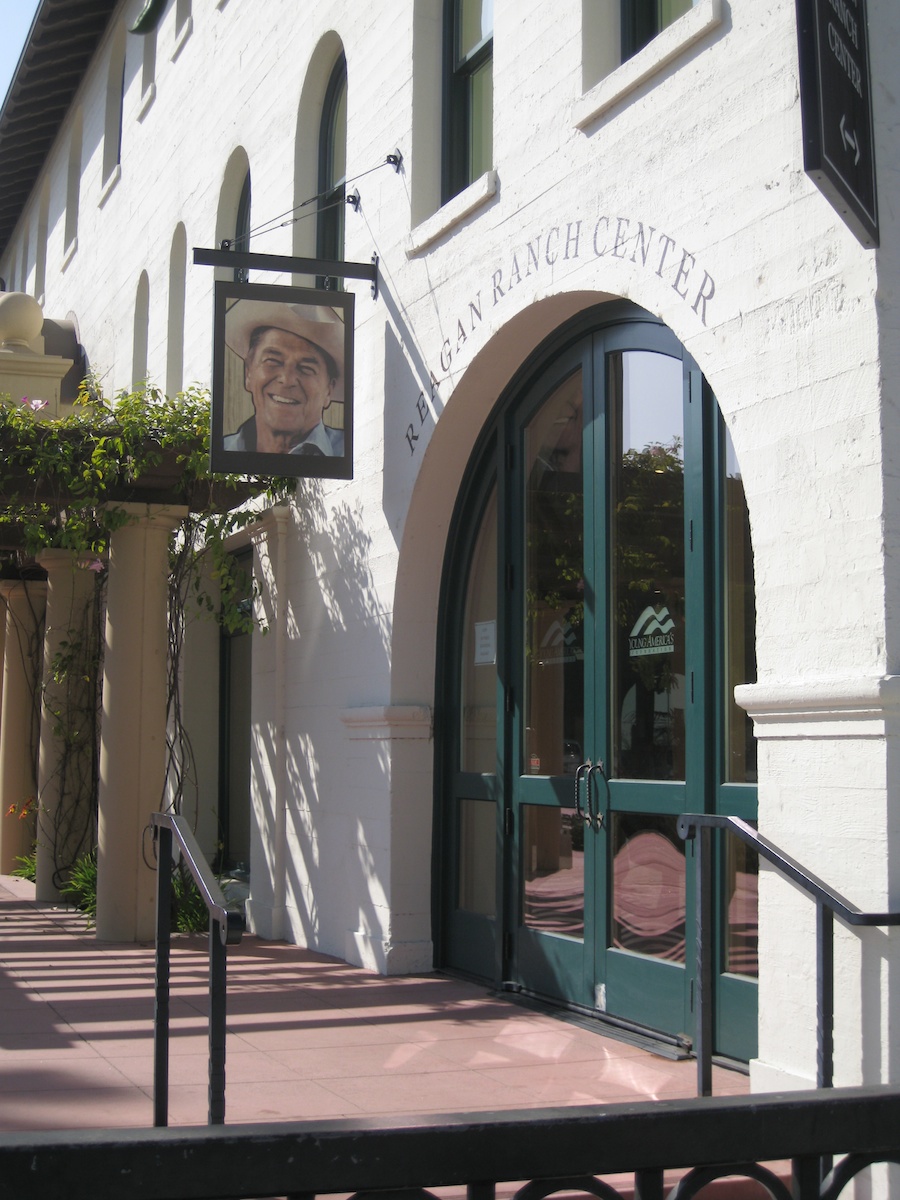 Oh I wish he were back... God Bless You Mr. Reagan!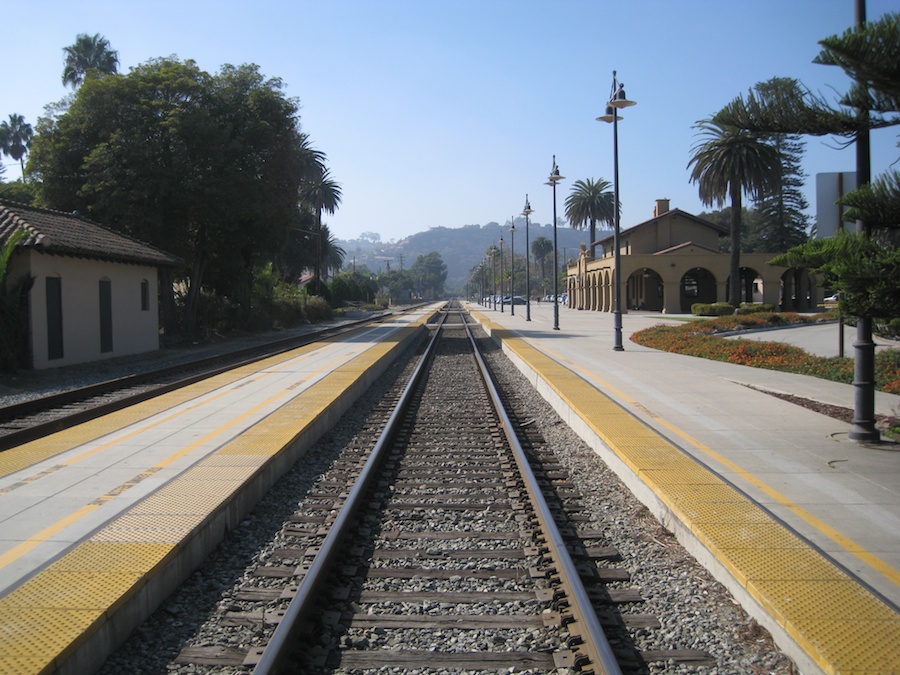 Now we are on the other side of the tracks

Interesting... They "saved" the outside walls only!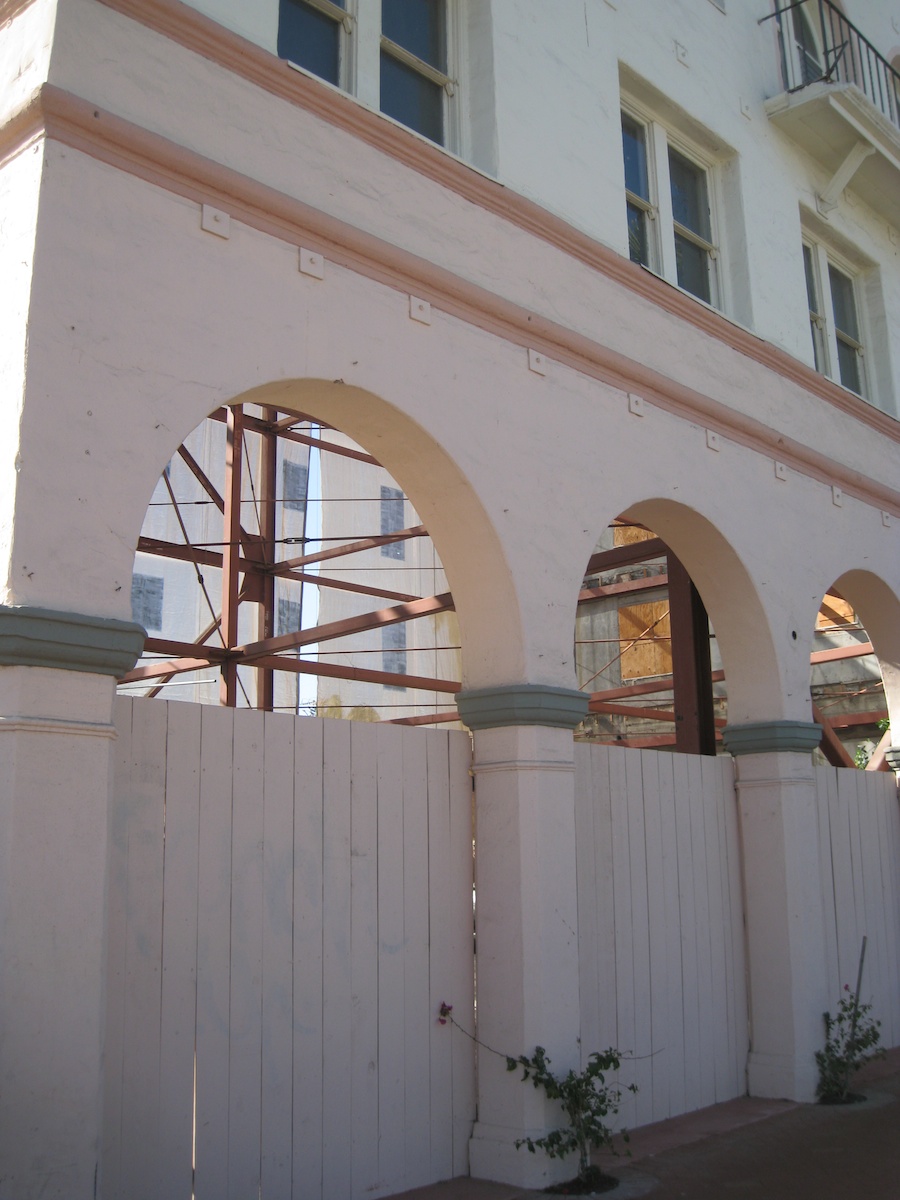 Steel structure holding up the walls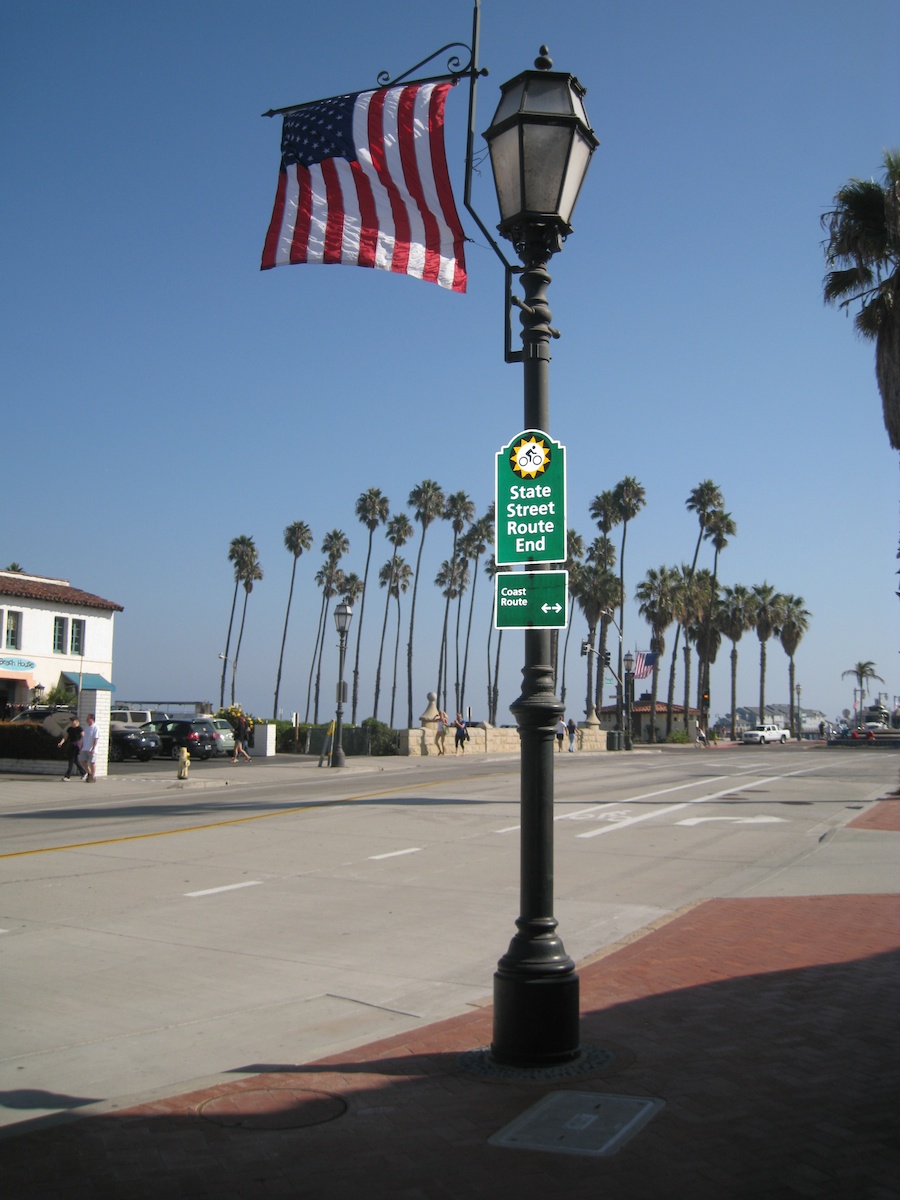 We are at the base of State Street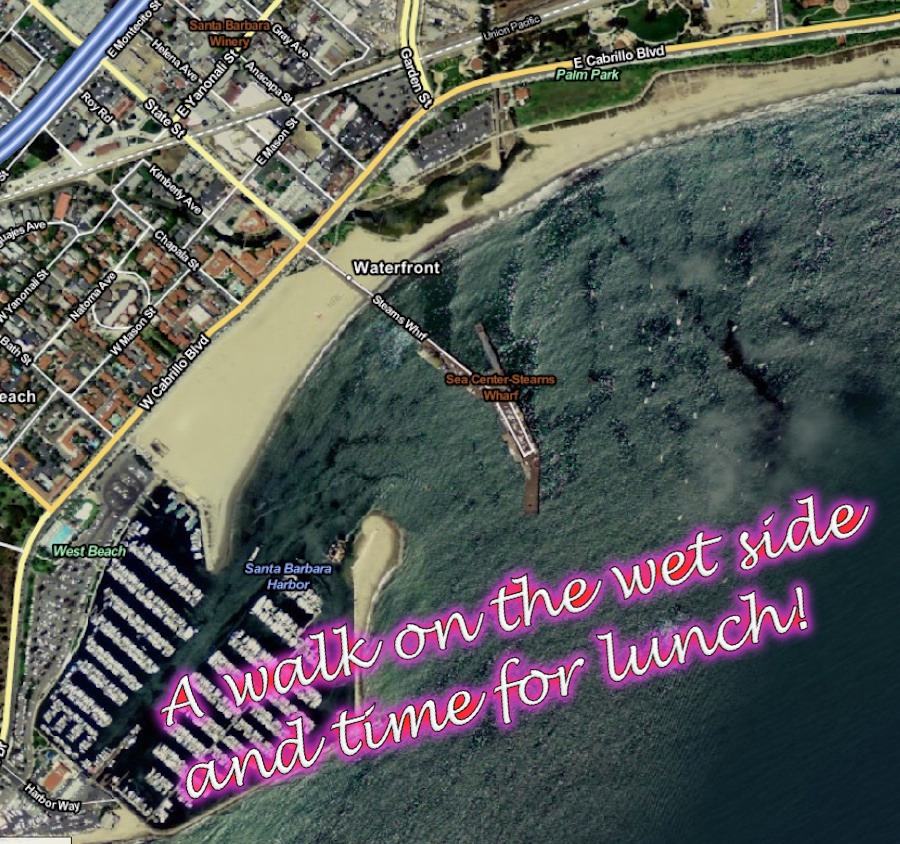 Our Christmas Day restaurant....

Clever... Sign says "Why lie... Need beer"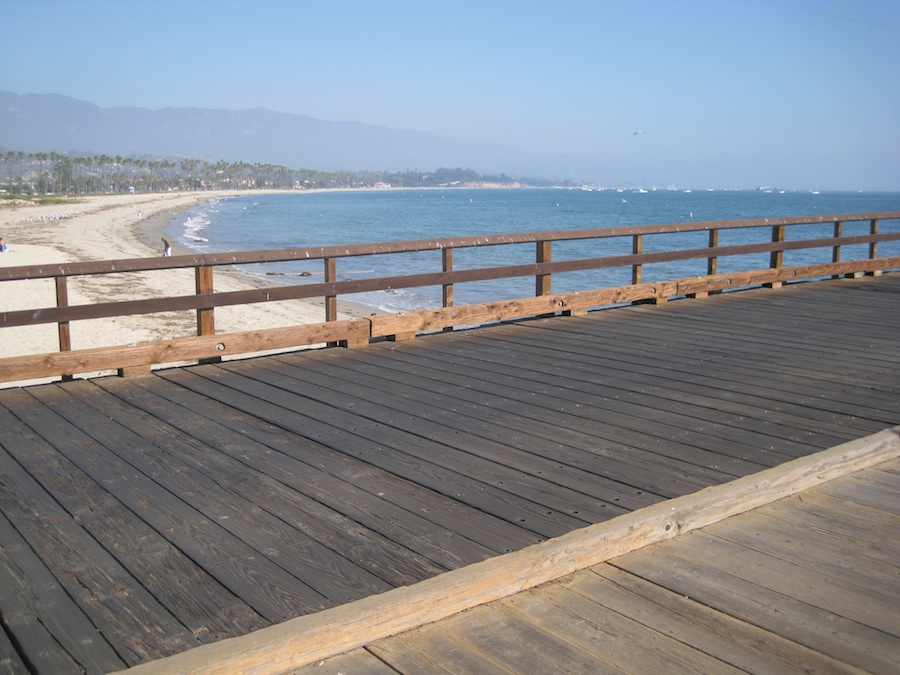 Beautiful afternoon
Did You Know? - Stearns Wharf is a pier in the harbor in Santa Barbara, California, United States. When completed In 1872, it became the longest deep-water pier between Los Angeles and San Francisco. Named for its builder, local lumberman John P. Stearns, the wharf served the passenger and freight shipping needs of California's South Coast for over a quarter century.
Before the wharf, passengers and cargo had to be rowed ashore through the breakers and kelp. Despite the great convenience offered by the wharf, Santa Barbara remained a fair-weather harbor with an acute need for a breakwater.
During December 1878, storms destroyed and washed away more than 1,000 feet of the wharf. Despite these losses, it would be another 52 years before Santa Barbara got its needed breakwater.
When the railroad reached Santa Barbara in 1877, Stearns added an additional spur to the wharf, providing a necessary transport link to his lumberyard and the nearby Southern Pacific Depot. The spur was damaged by severe storms in the early 20th century and was finally abandoned in 1923.
The Harbor Restaurant was built on the wharf in 1941, marking an end to the shipping and transportation era of the 19th century. The restaurant proved to be the economic backbone of the wharf.
Since its beginning, Stearns Wharf has had several natural and economic disasters, from the big earthquake in 1925 to a fire in 1973 which caused its closing.
The wharf stayed closed for six years until restorations were completed in 1981. Another fire in the winter of 1998 devastated the last hundred and fifty feet of the wharf, including Moby Dick Restaurant. Though the rest of the wharf remained open during this period, the rebuilding took over two years.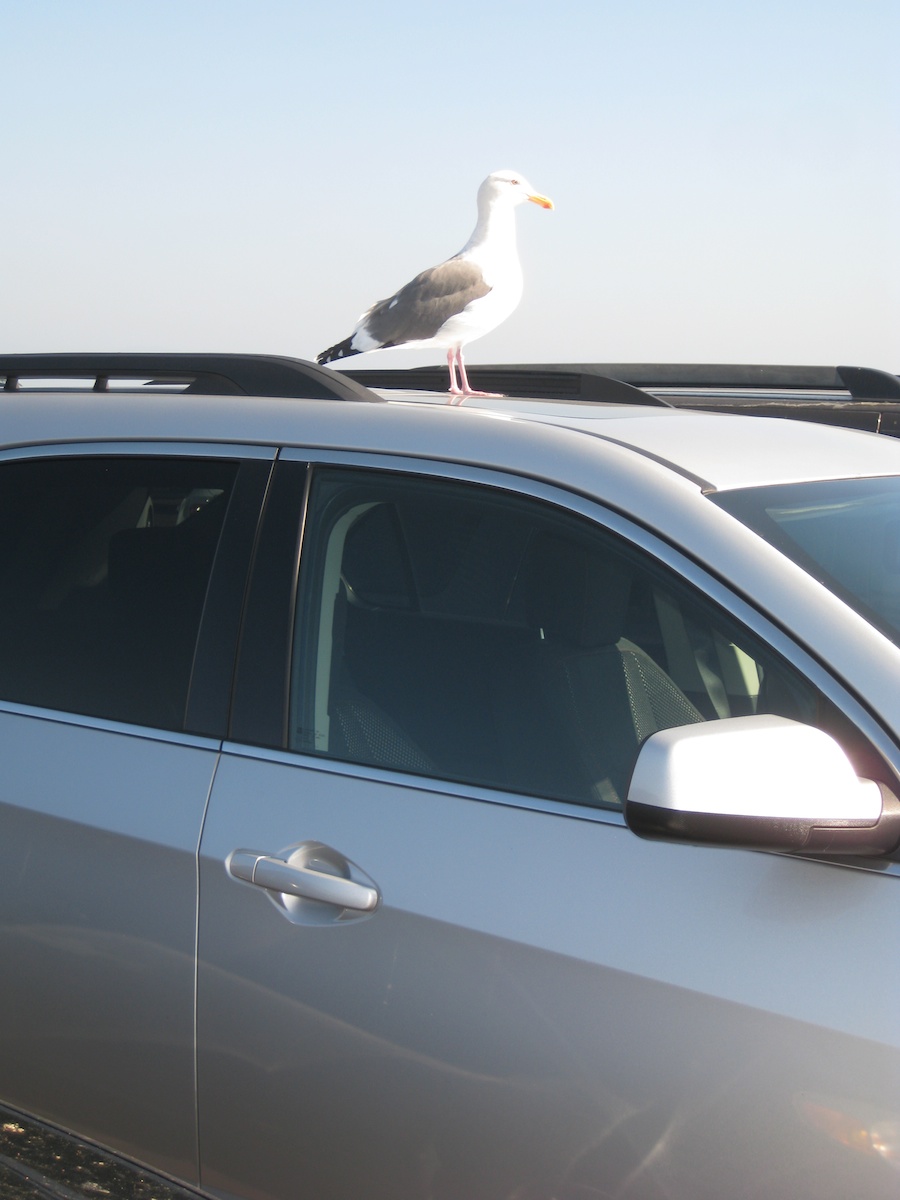 Mr. Gull was quite happy on their car...

Standing on one leg? Glad the top was NOT open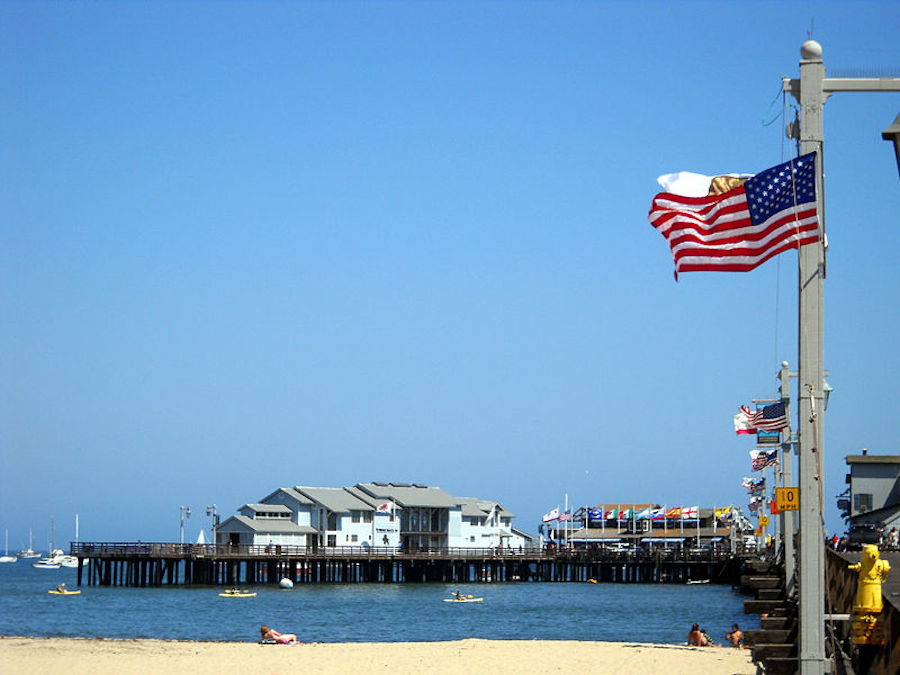 The museum looked interesting but we needed to eat...and taste wine

All sorts of wild life on the wharf
Lunch At Longboards Grille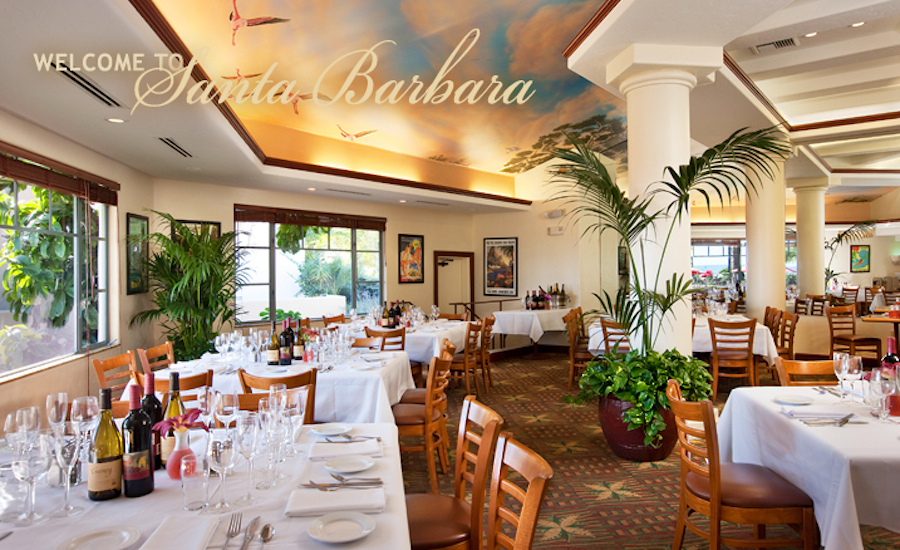 It looked welcoming... We had a fantastic lunch and great wines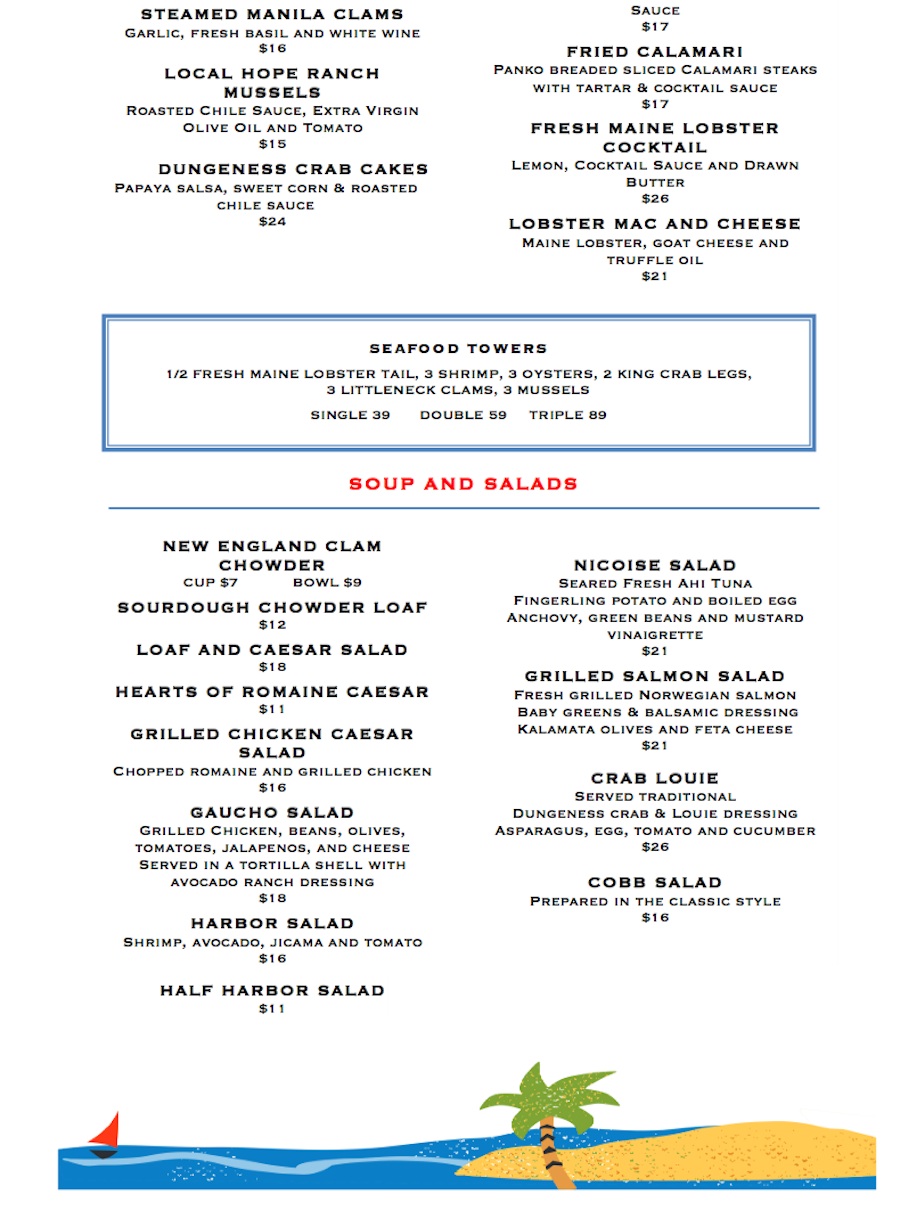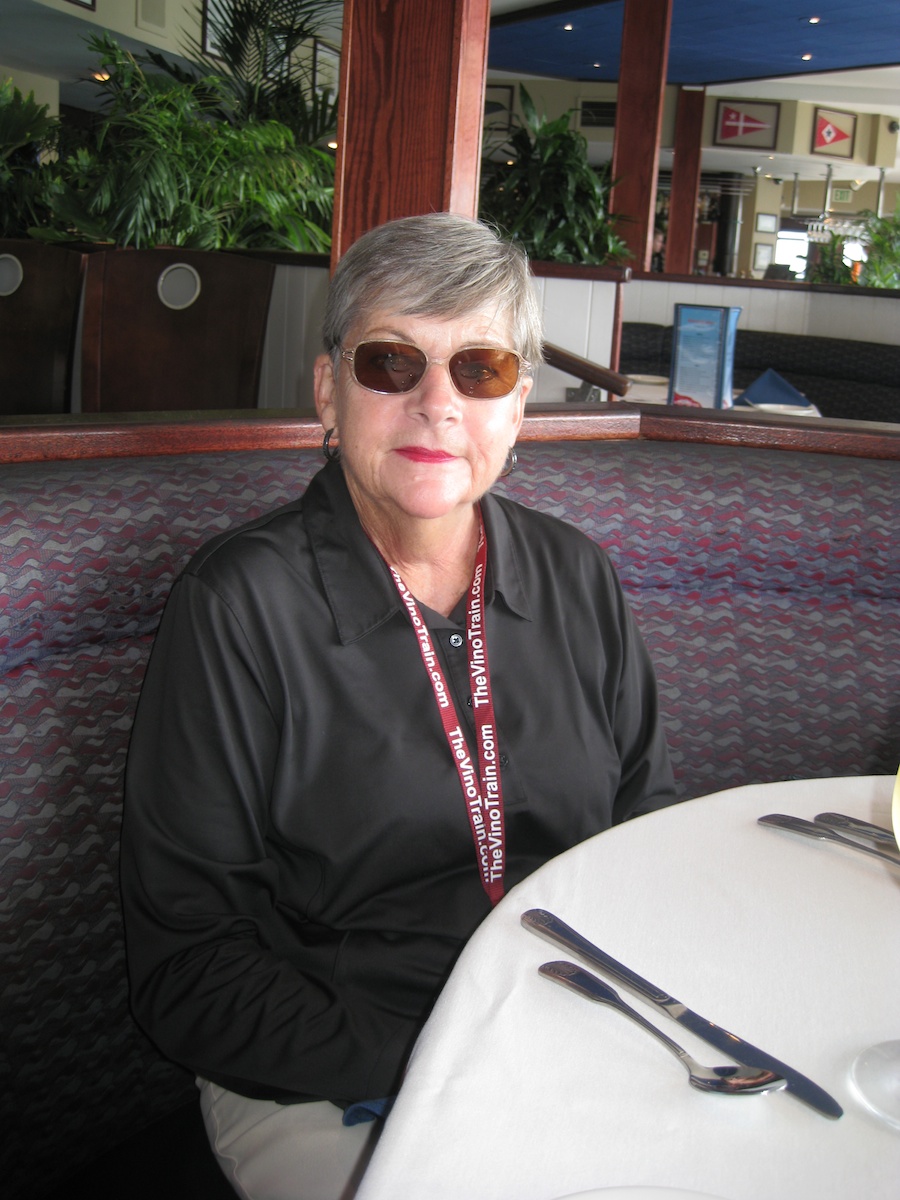 "Did someone say wine???"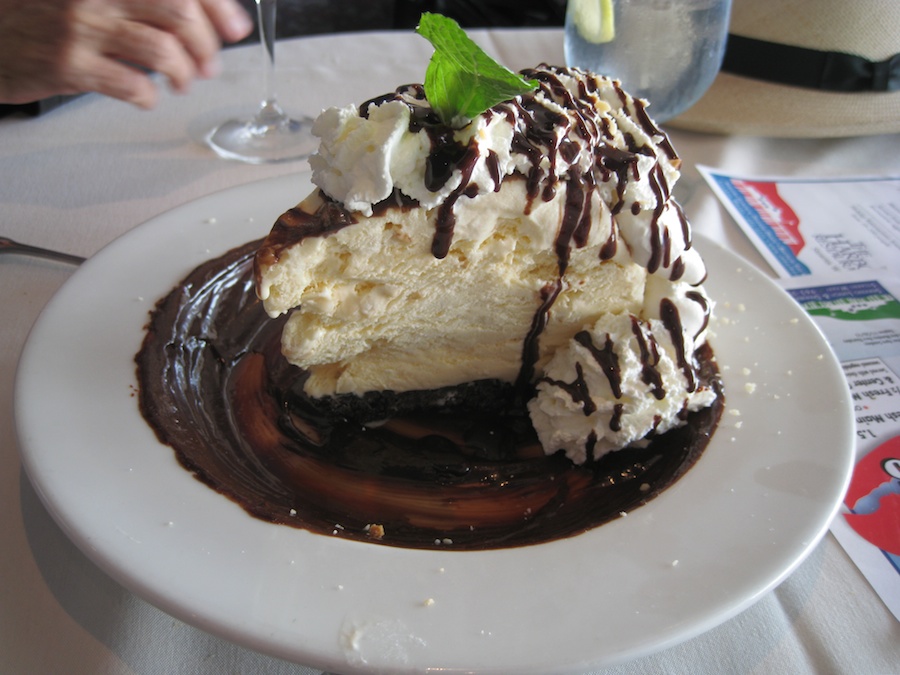 We ordered a small dessert... We thought!!!!
We Walked Back To The Wineries... Oreana First And Then Santa Barbara

Sue met a little friend....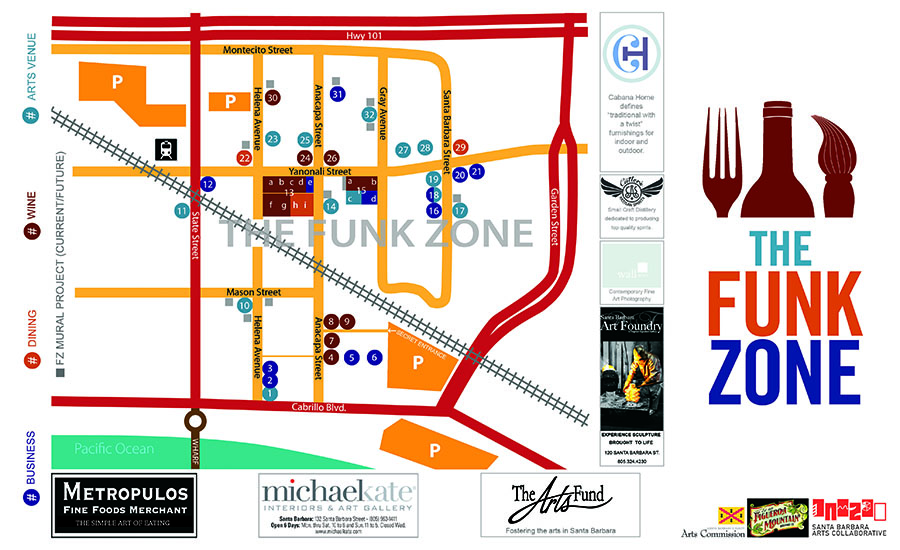 We were in the "Funk Zone"
Did You Know? - Santa Barbara has always been a haven for artists, artisans, wine makers and chefs looking for a slightly different approach. Thanks to the growth of The Funk Zone, this neighborhood location has exploded into a contemporary Santa Barbara sub-culture of artisan shops, art galleries, hip eateries, award-winning microbreweries, and even a craft distillery. Don't be deterred by the name; the area doesn't have a funk so much as it does a vibe. Artists, winemakers, and up-and-coming chefs have taken up shop in aged warehouses and forgotten scuba shops, transforming the zone into an understated array of hidden hot spots along California's Central Coast.
Spend your day in The Funk Zone channeling your inner artist, by visiting the Museum of Contemporary Art Santa Barbara's satellite location at Hotel Indigo or taking a tour at The Santa Barbara Art Foundry. Grab a bite to eat and dine family -style at The Lark. And how could one forget, the Funk Zone is home to countless tasting rooms and a few special wineries, making a day, or afternoon of wine tasting Santa Barbara County's best, fun and easy. Additionally, 5 of the many wineries located in the Funk Zone are also part of the Urban Wine Trail!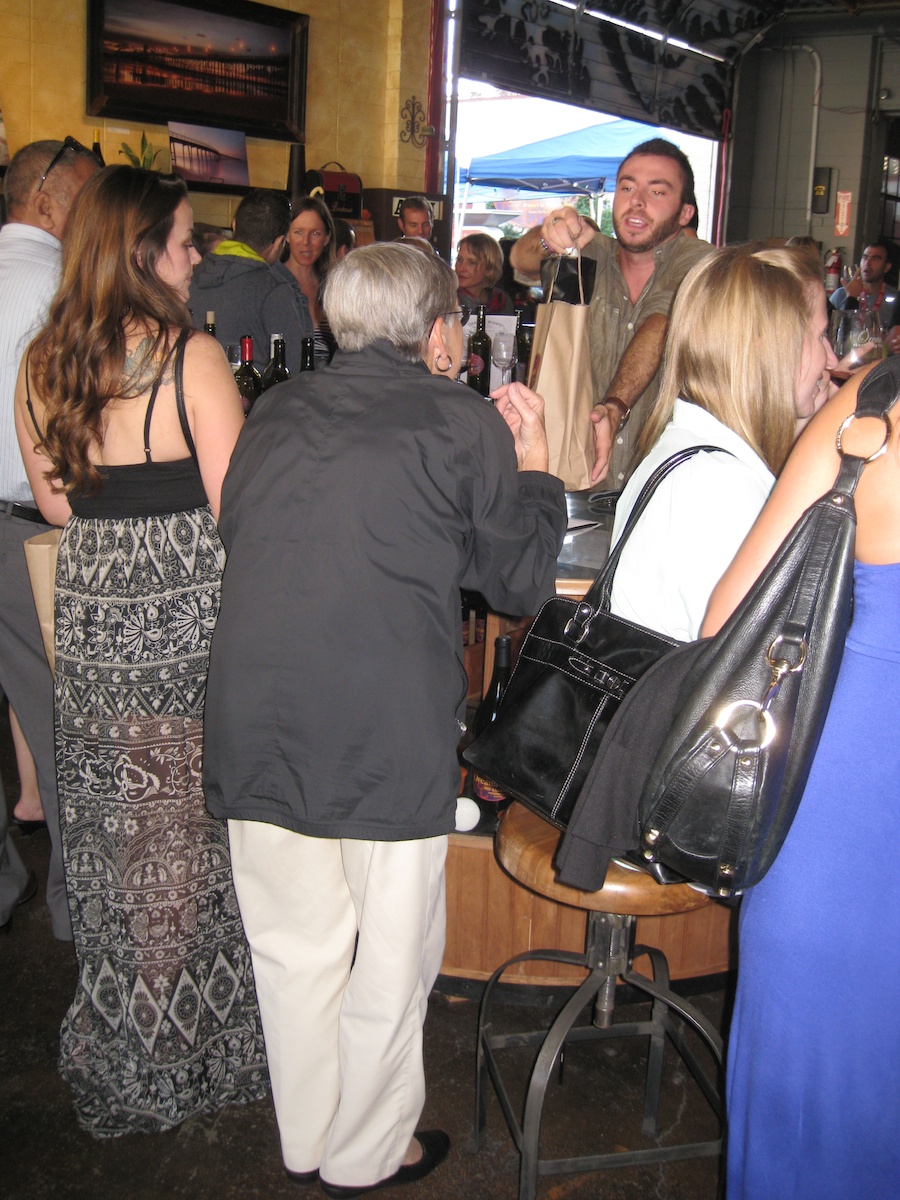 Sue and the bartender seemed to get along well....
Perhaps it is because we bought wine??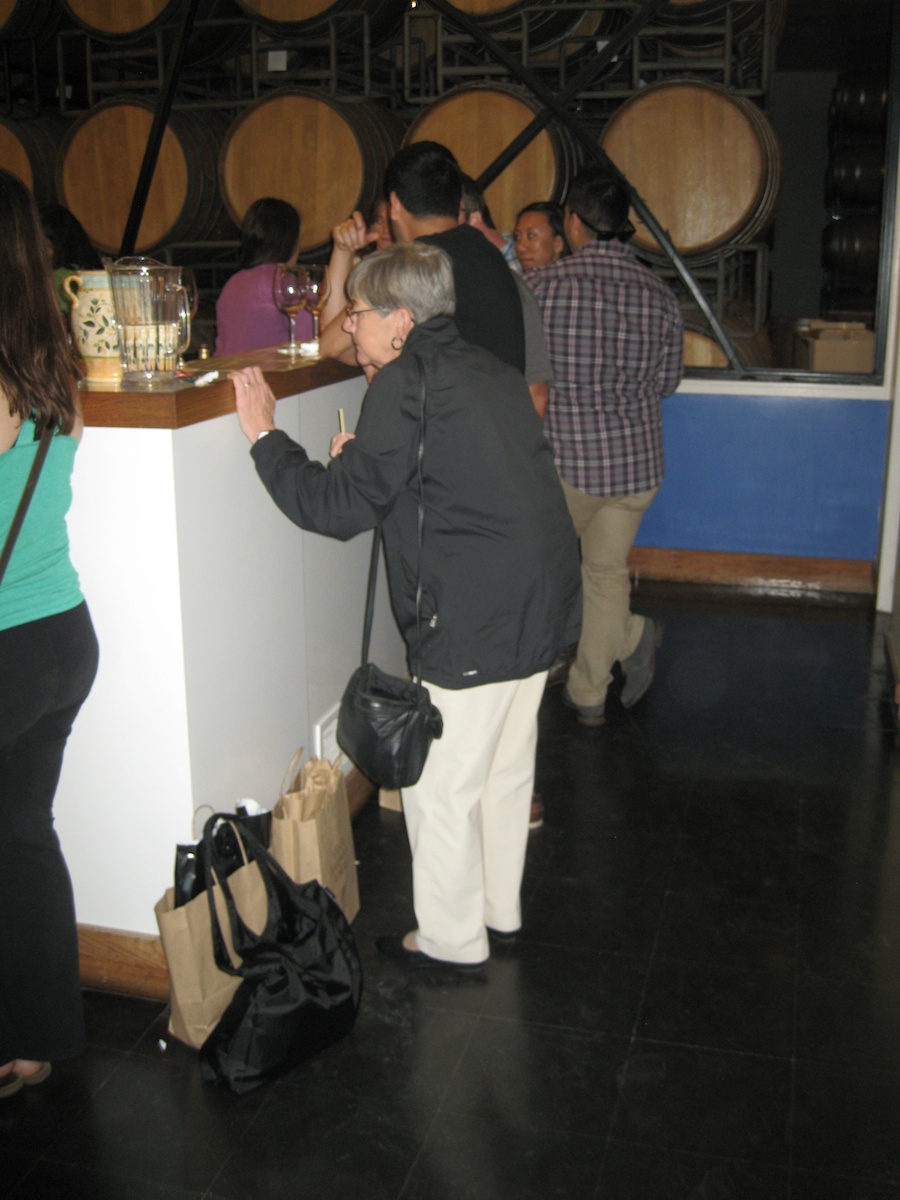 At the Santa Barbara Winery.. With our treasures in tow
To The Choo Choo... It Is On Time Today!

Ready to ride the rails home.. Arriving 4:32 PM

1905... The year before Paul Senior was born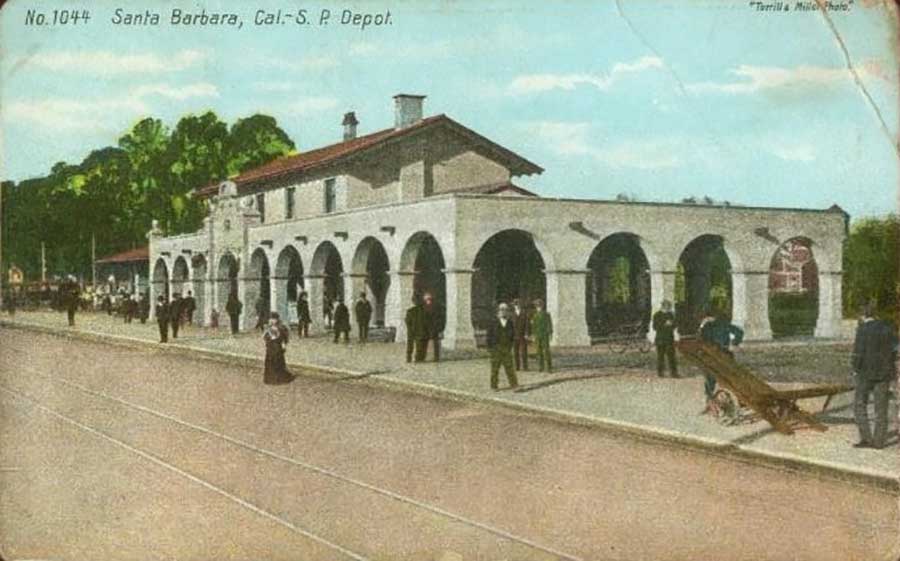 Postcard from 1910....
Did You Know? - The station was built in 1905 by the Southern Pacific Railroad in the Spanish Mission Revival Style. Design work was by Santa Barbara architect Francis W. Wilson.
It is located within walking distance of Santa Barbara Harbor, Stearns Wharf and State Street, Santa Barbara's main thoroughfare. The historic depot was renovated in 2000; the project included the restoration of the ticket office and upgrades to the plumbing, electrical and heating and cooling systems.[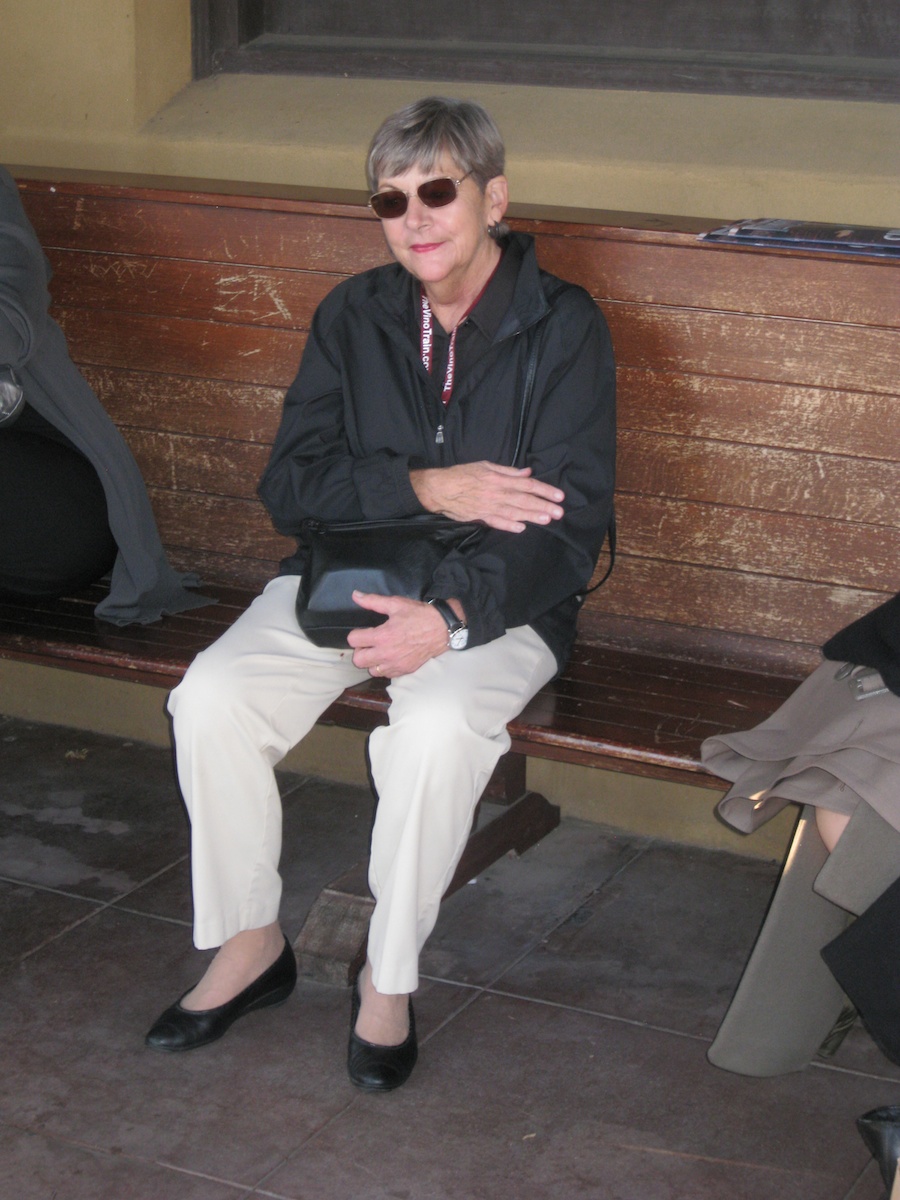 Sue is willing and able... But not really "ready" - Too much fun!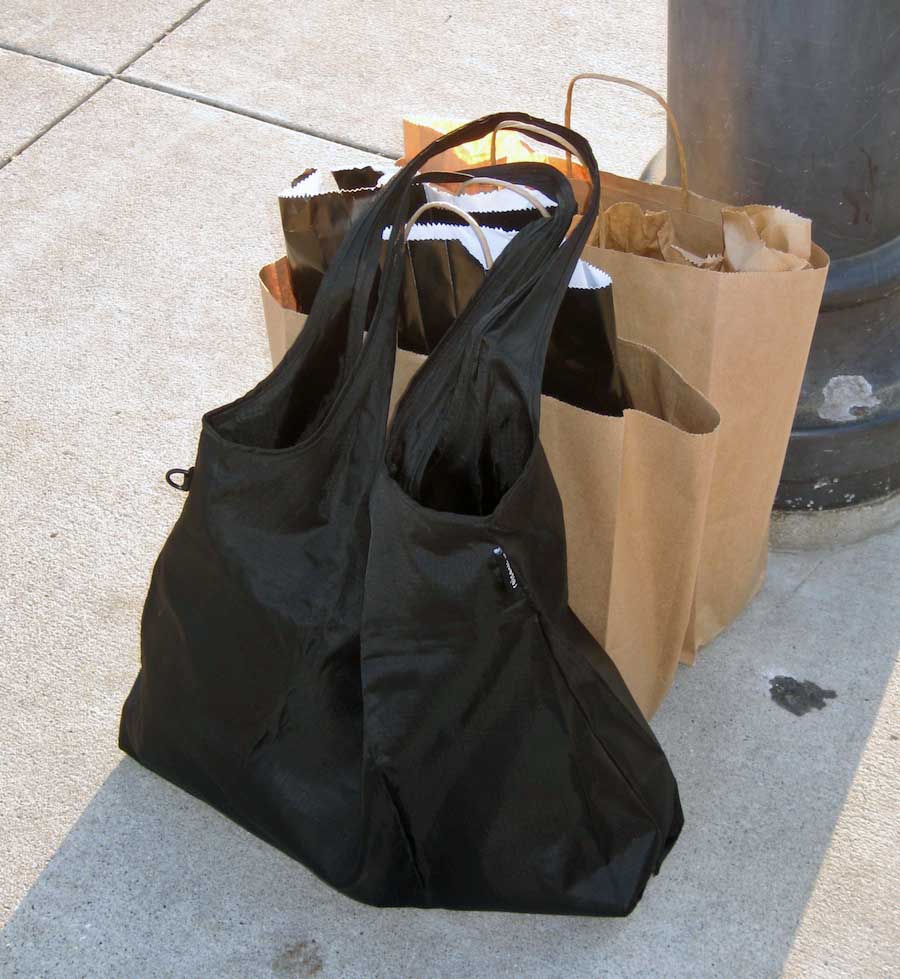 Our goody bags were ready for the trip home

Our gang was gathering for the arrival.... We had four minutes to get on board

Honk honk! - We had an extra engine today.... Power to spare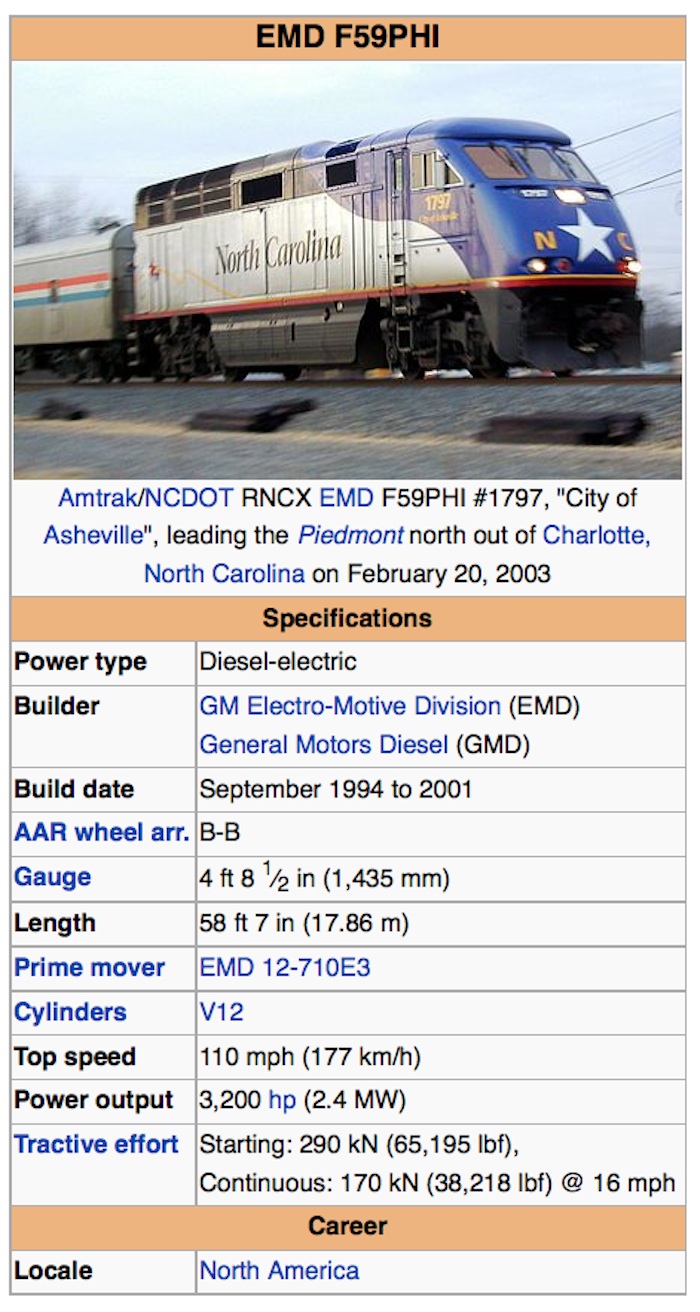 "Hang on... You will be boarding in a few minutes"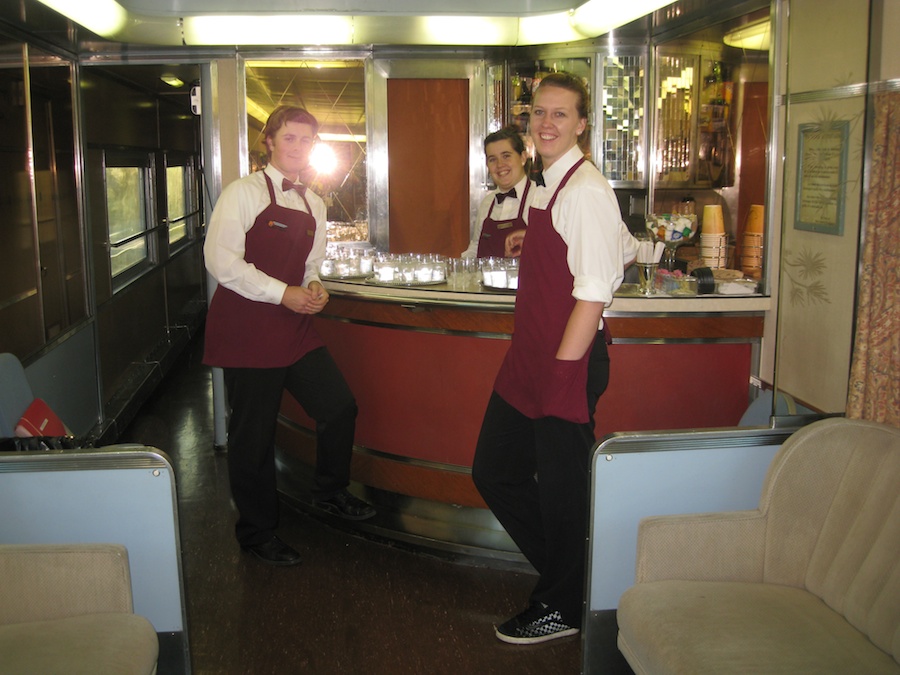 The critical and essential staff await us!

The crew made everything just wonderful... Best service on America's rails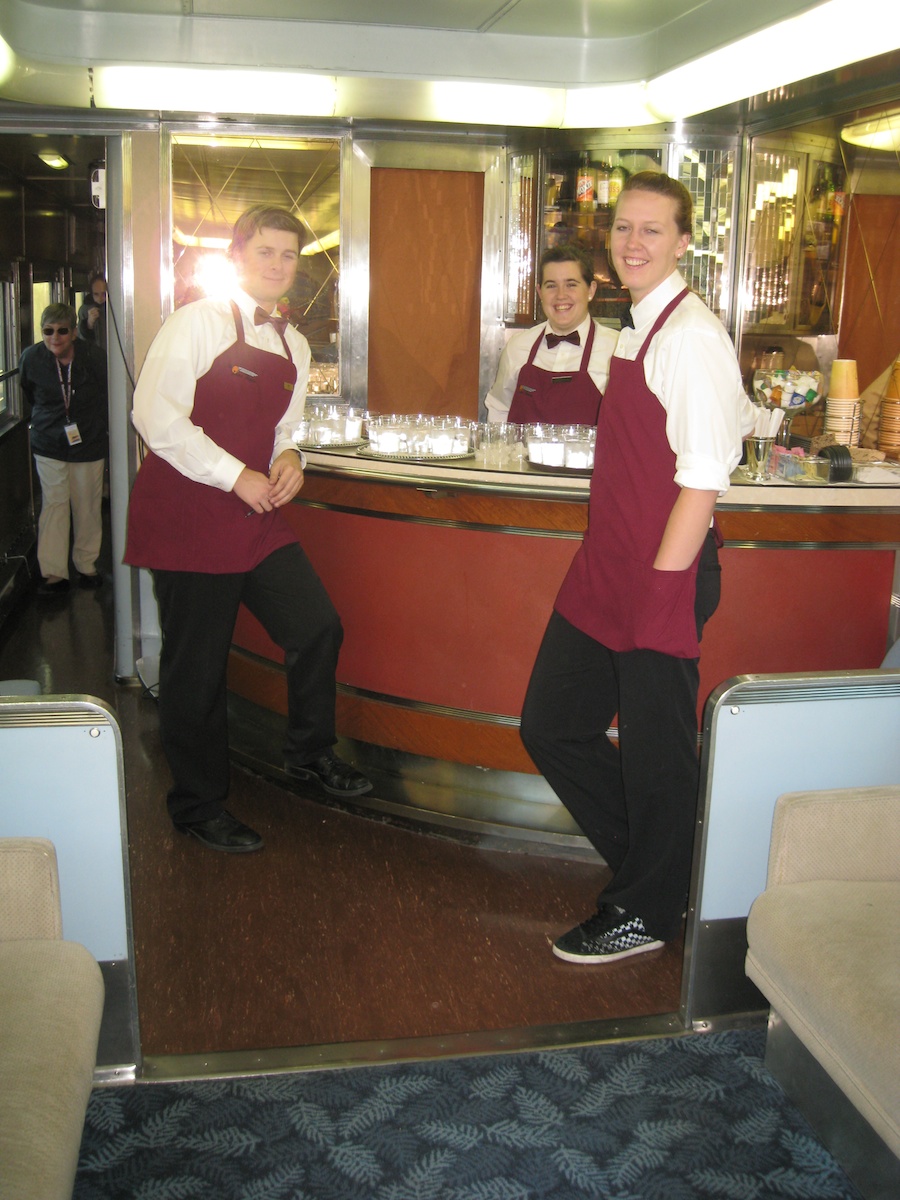 Sue slips around the corner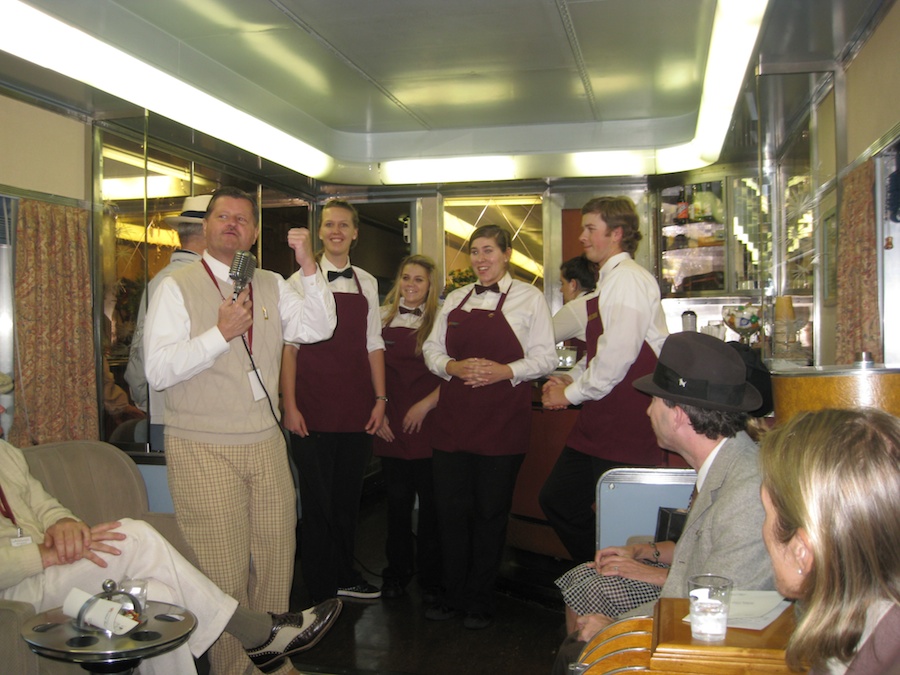 John introduces the staff that made it such a wonderful trip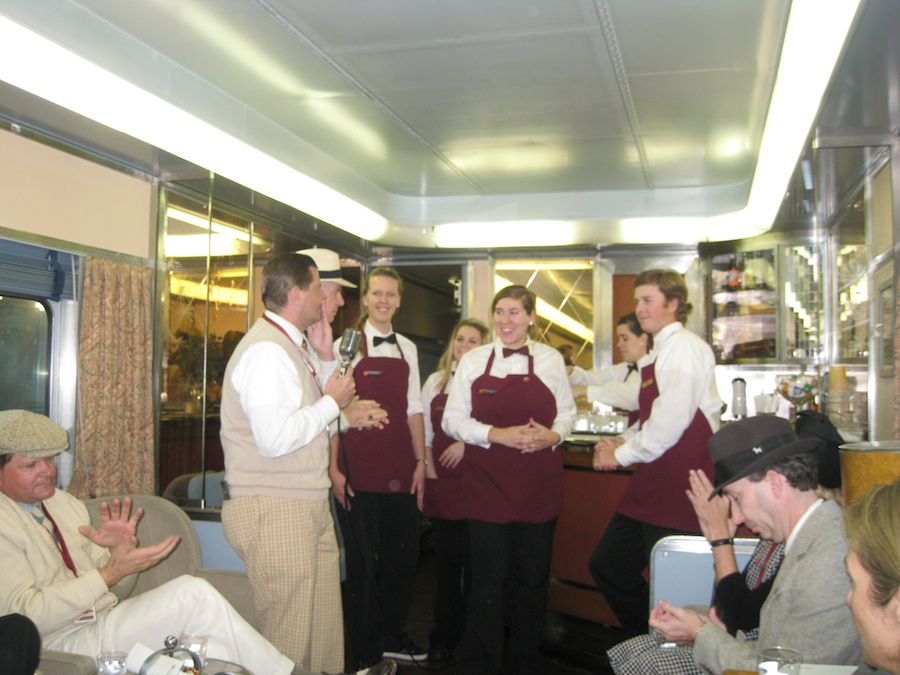 Applause from all corners of the train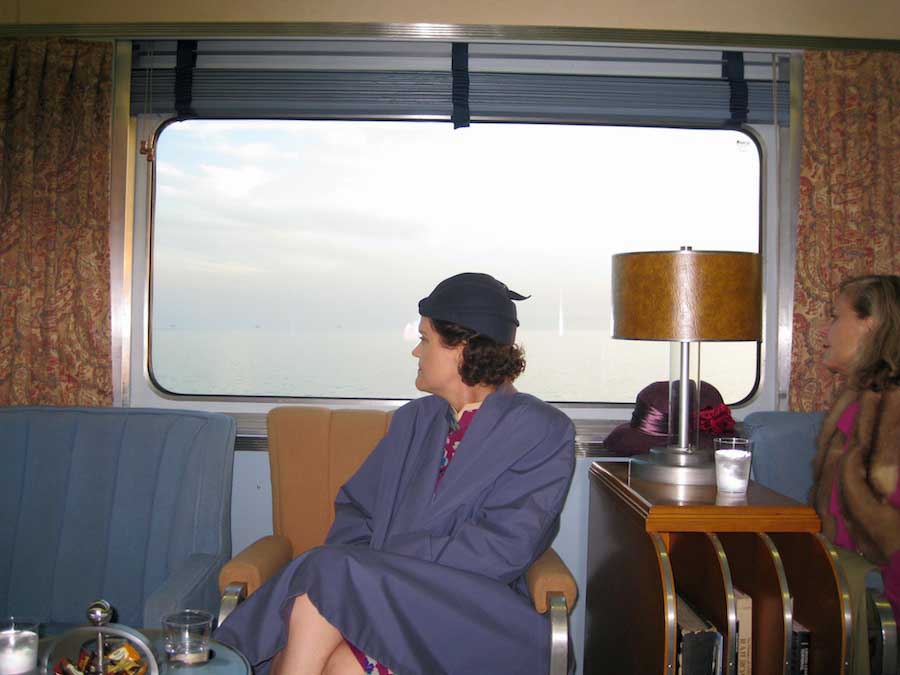 The way to travel... Sipping a martini at 60 mph and the world just goes right bye!

Check the prices.... $7-$10 for a dress!

Zipping along while old Sol sets in the Pacific Ocean (Sunset was 4:50 PM)

Watching the sun set in the ocean and watching for the "Green Flash"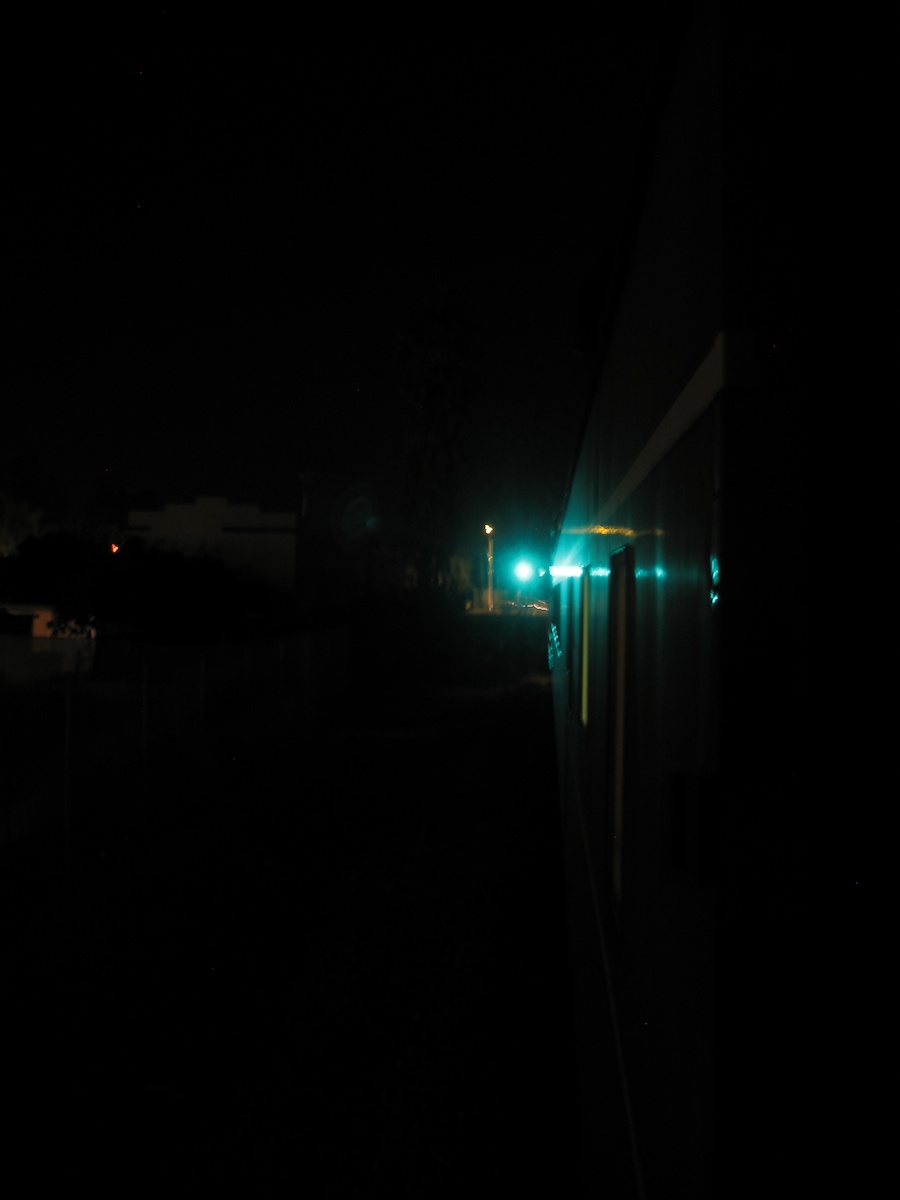 We are "green lighted"... and we are ahead of schedule... The extra engine worked
Did You Know? - North American railroad signals generally fall into the category of multi-headed electrically lit units displaying speed-based or weak route signaling.
Signals may be of the searchlight, color light, position light, or color position light types, each displaying a variety of aspects which inform the locomotive engineer of track conditions so that he or she may keep their train under control and able to stop short of any obstruction or dangerous condition.
There is no national standard or system for railroad signaling in North America. Individual railroad corporations are free to devise their own signaling systems as long as they uphold some basic regulated safety requirements.
Due to the wave of mergers that have occurred since the 1960s it is not uncommon to see a single railroad operating many different types of signaling inherited from predecessor railroads.
This variety can range from simple differences of hardware to completely different rules and aspects. While there has been some recent standardization within railroads in terms of hardware and rules, diversity remains the norm.

Charlene says goodbye to our happy group
An AMAZING memory... She went through every persons name on the train and
many were new members of the Art Deco Society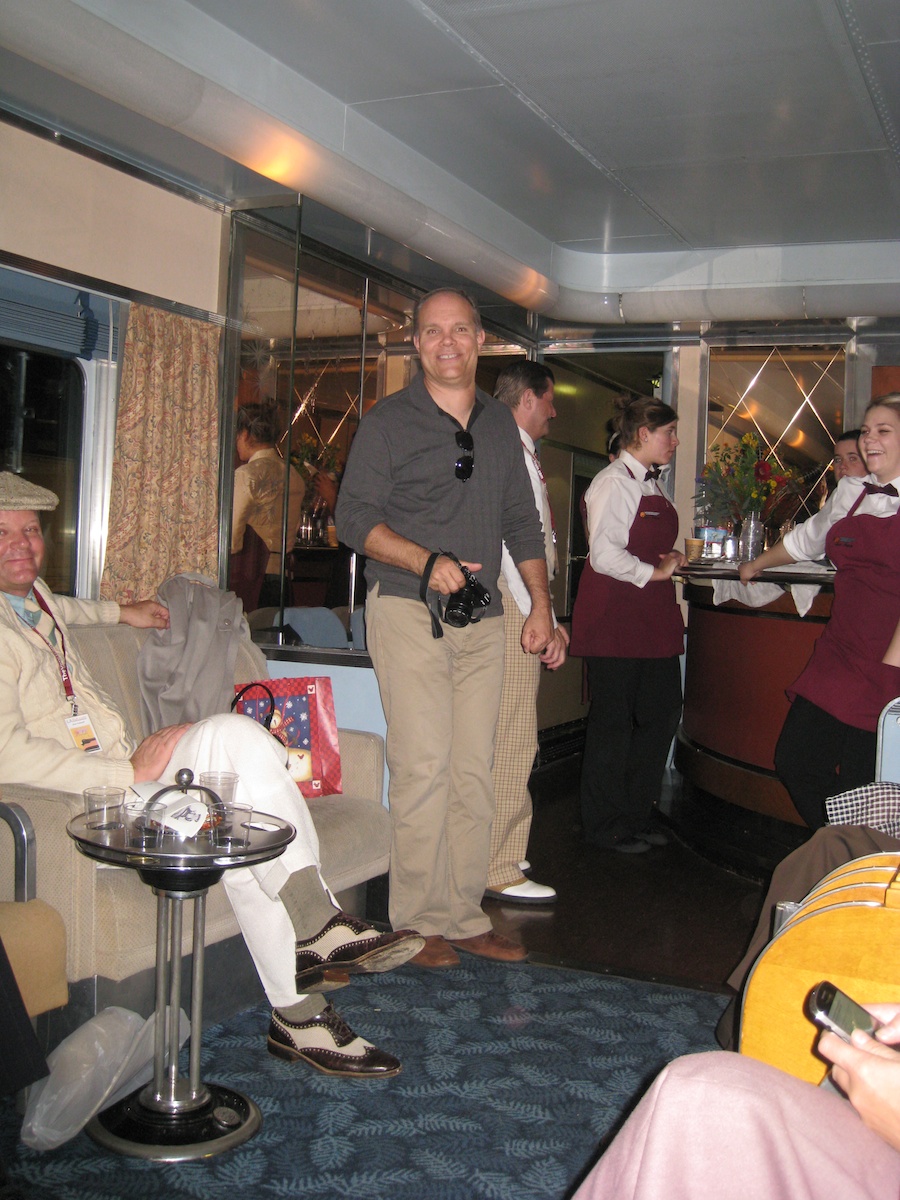 Chris is still snapping pictures
We Are Home!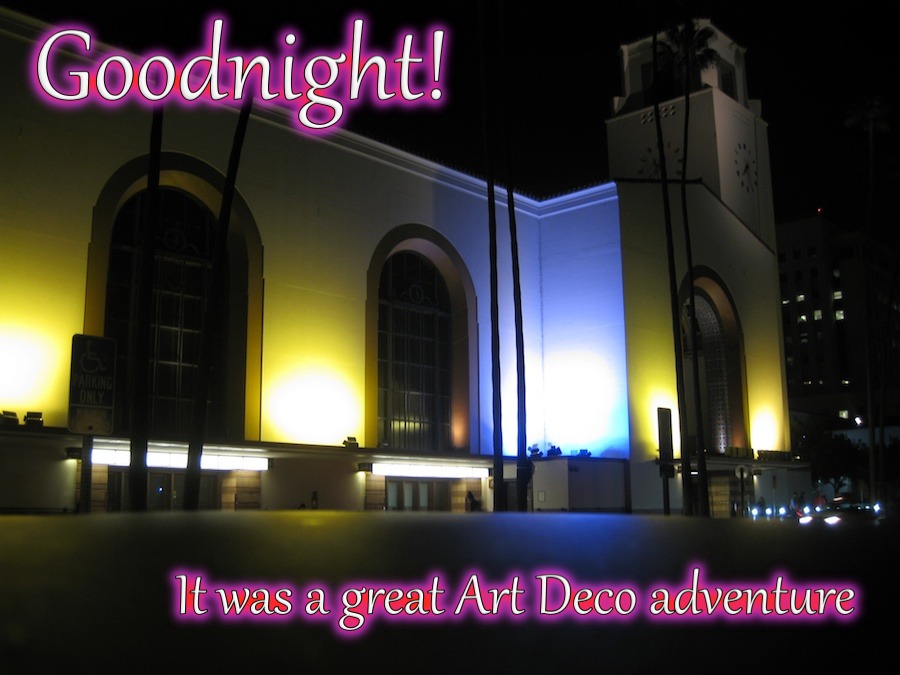 Looks a little different at night