A Great Evening At The Aquarium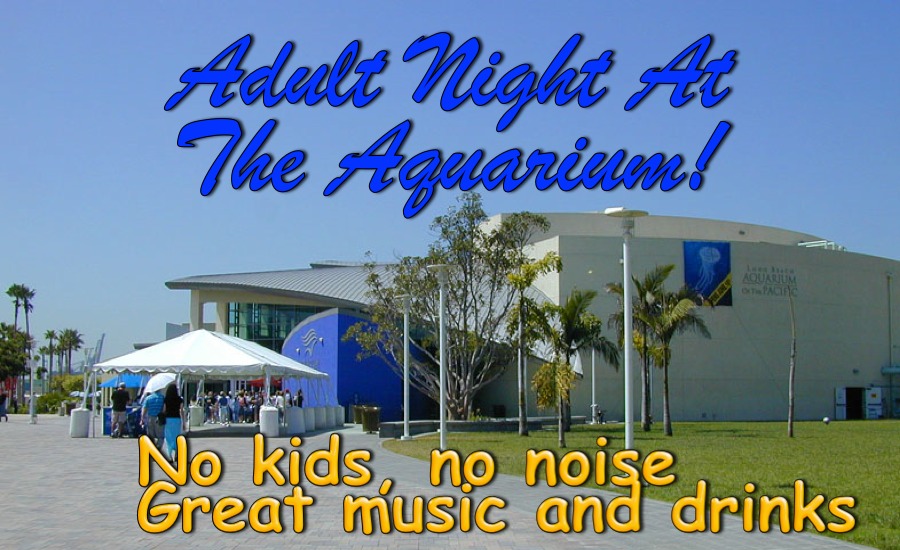 The Jazz Souffle was playing.... Fantastic music and they knew where the volume control was!
We danced several songs before departing
We Had To Begin The Exploration Before It Got Dark

They cut open the shark cell casing and put in a plastic "window" so we can see

Photograph of a Skate Egg Case, also called Mermaid Purses, from Seaside Heights, NJ.
Did You Know? - An egg case or egg capsule, colloquially known as a mermaid's purse or devil's purse, is a casing that surrounds the fertilized eggs of some sharks, skates, and chimaeras. They are among the common objects which are washed up by the sea. They are made of collagen protein strands. Because they are lightweight, they are often found at the strandline, the farthest point of the high tide. The egg cases that wash up on beaches are usually empty, the young fish having already hatched out.

See the shark inside the case? It's stripped!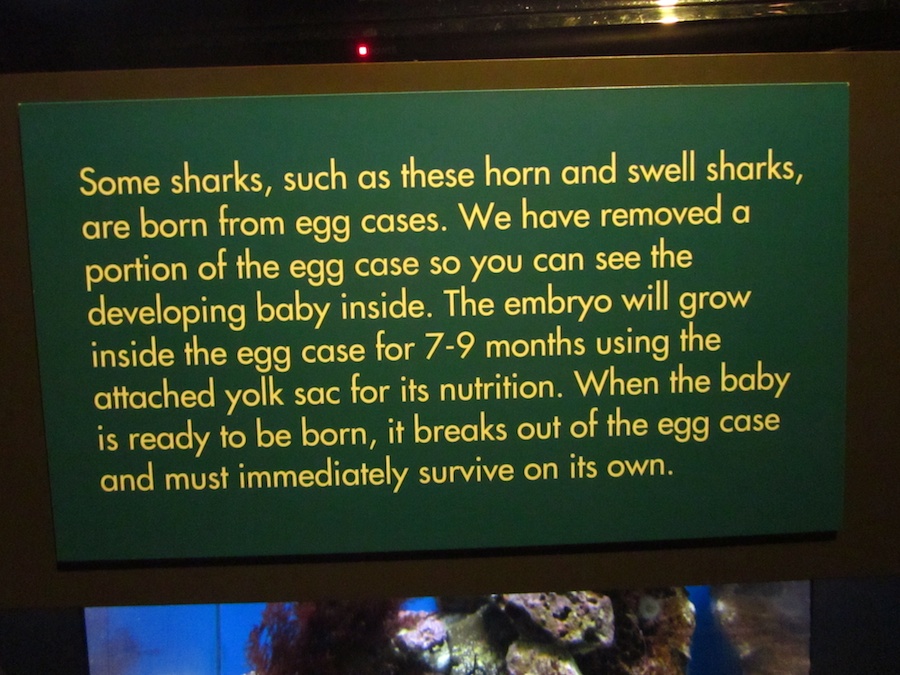 The Displays Are Chucked Full Of Information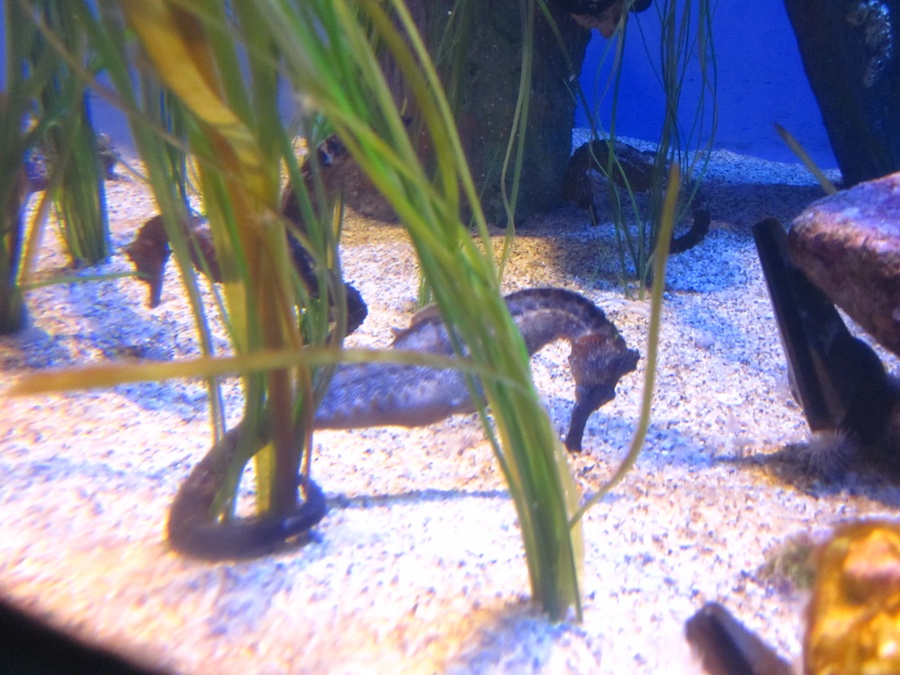 He is NOT asleep.... Just looking for food
Did You Know? - Seahorse is the title given to 54 species of marine fish in the genus Hippocampus. "Hippocampus" comes from the Ancient Greek hippos meaning "horse" and kampos meaning "sea monster".

Difficult shot to get with a point and shoot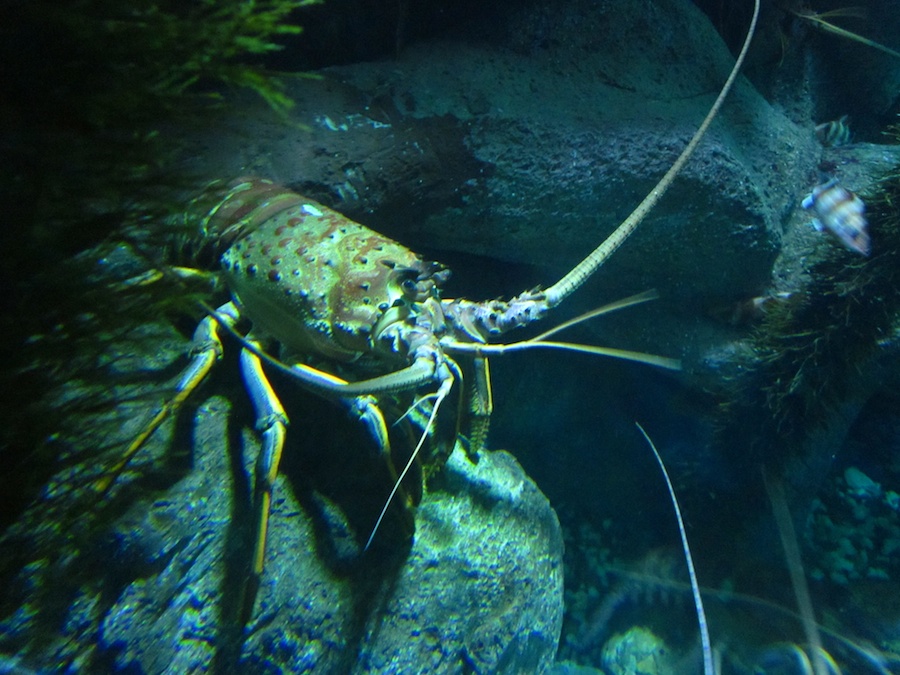 Dinner be served! The spiny lobster doesn't think that is a good idea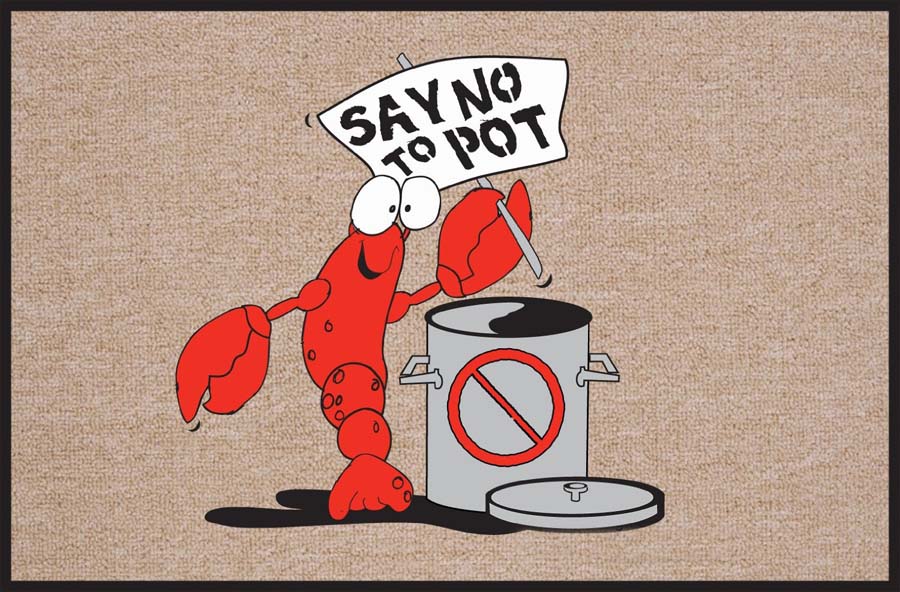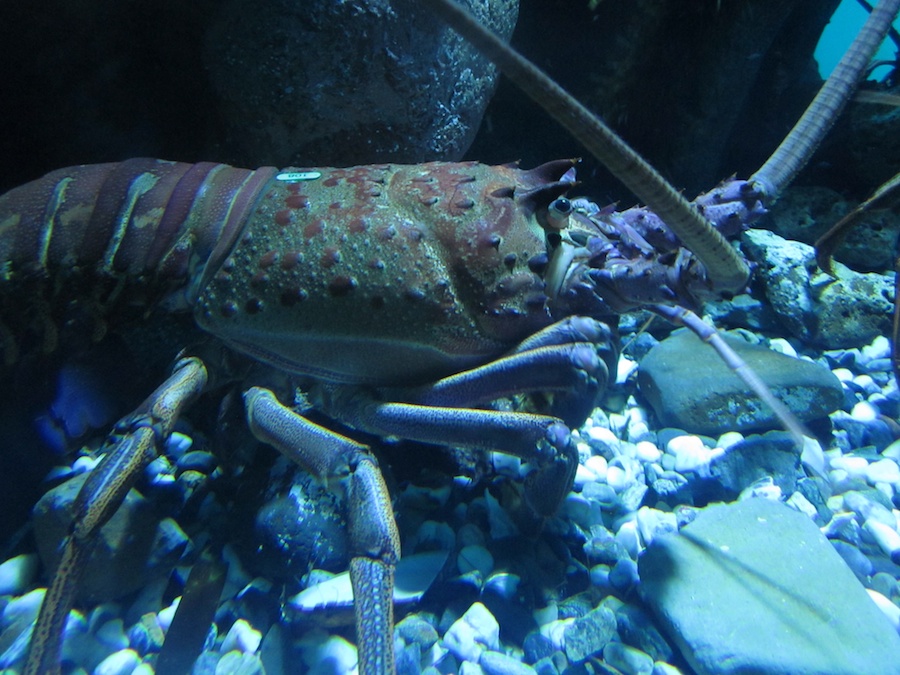 Did You Know?

What do you call a female lobster? .......A hen.

When is a lobster a chicken? .....When it weighs about one pound.

When is a lobster a pistol? .......When it has no claws.


An icky creature... The Sea Slug Beautiful coloring but moves like a wad of jelly
Did You Know? - Sea slug is a common name used for several different groups of saltwater snails that either lack a shell or have only an internal shell.
Outside For A While To Visit Shark Reef And The Sea Lions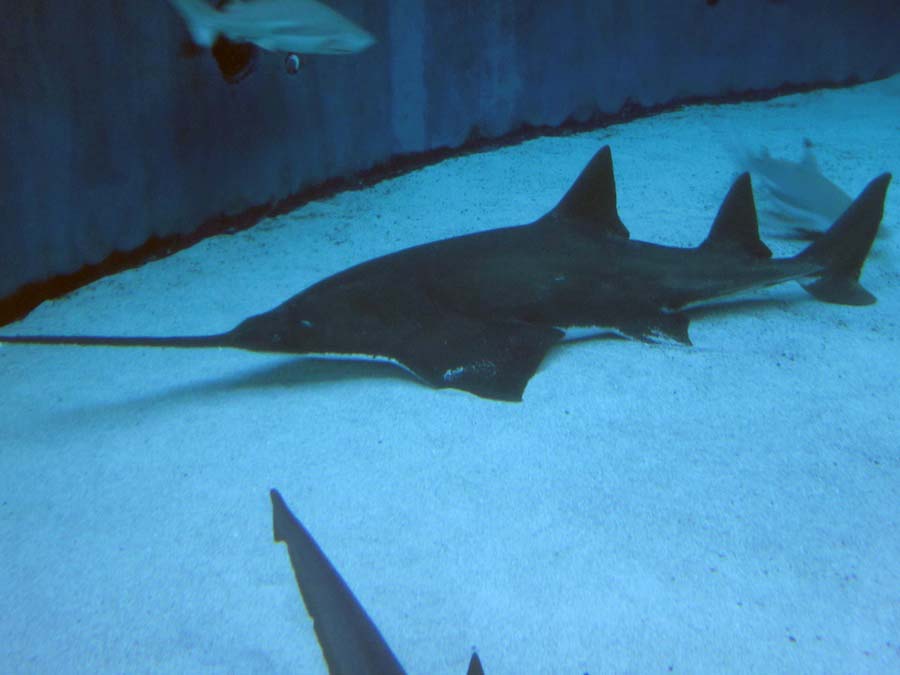 On guard! Swordfish are elongated, round-bodied, and lose all teeth and scales by adulthood.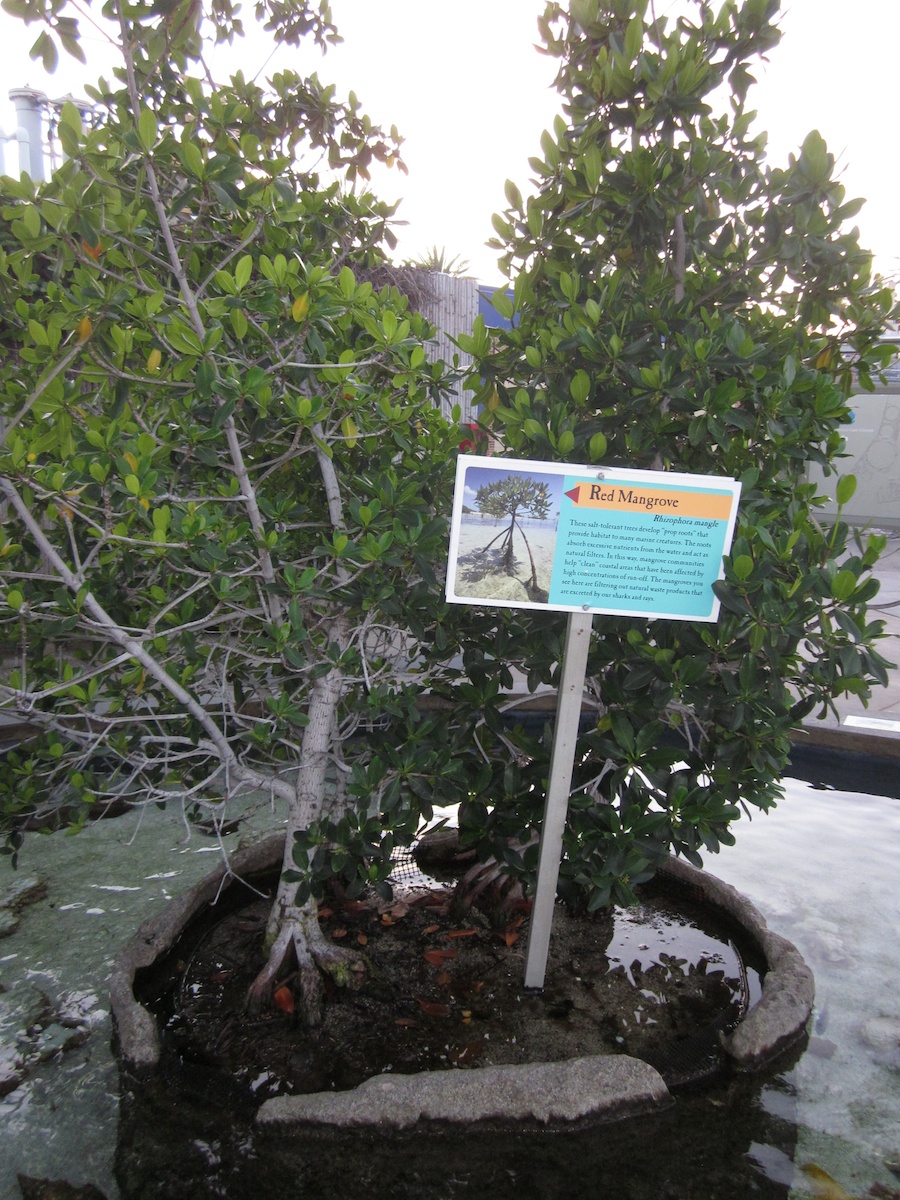 The mangrove trees serve as filters in the water.... They absorb the fish "deposits"
Did You Know? - Red mangroves, which can survive in the most inundated areas, prop themselves above the water level with stilt roots and can then absorb air through pores in their bark (lenticels).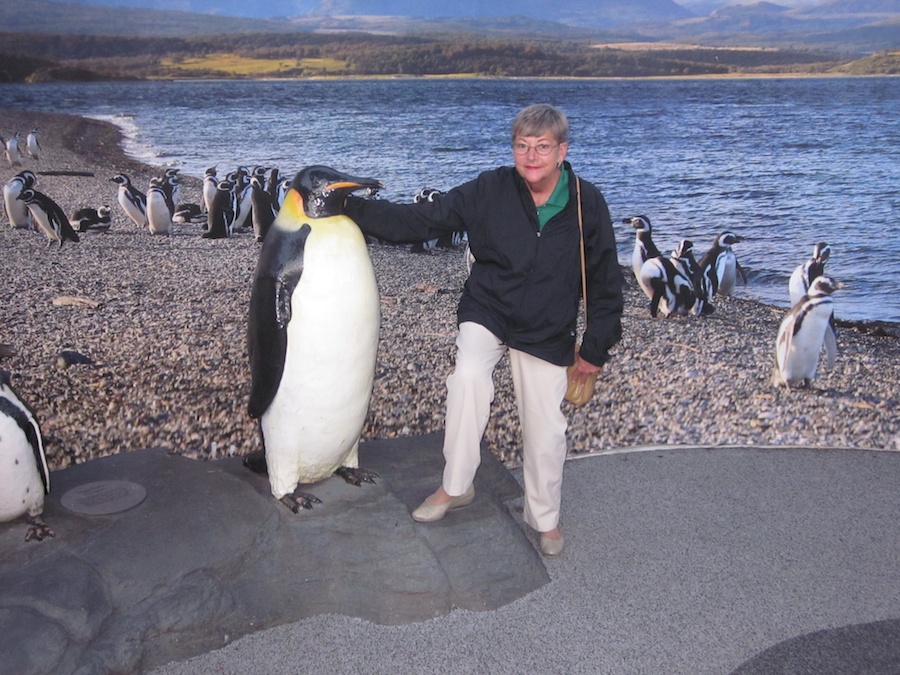 We saw the penguins... Which one is which???
Did You Know? - Penguins are superbly adapted to aquatic life. Their vestigial wings have become flippers, useless for flight in the air. In the water, however, penguins are astonishingly agile. Penguins' swimming looks very similar to bird's flight in the air.

Within the smooth plumage a layer of air is preserved, ensuring buoyancy. The air layer also helps insulate the birds in cold waters. On land, penguins use their tails and wings to maintain balance for their upright stance.

All penguins are countershaded for camouflage – that is, they have black backs and wings with white fronts. A predator looking up from below (such as an orca or a leopard seal) has difficulty distinguishing between a white penguin belly and the reflective water surface. The dark plumage on their backs camouflages them from above.

Going to a formal dance!

The colored tags identify who they are....

The "Ruddy Duck" which we have at Old Ranch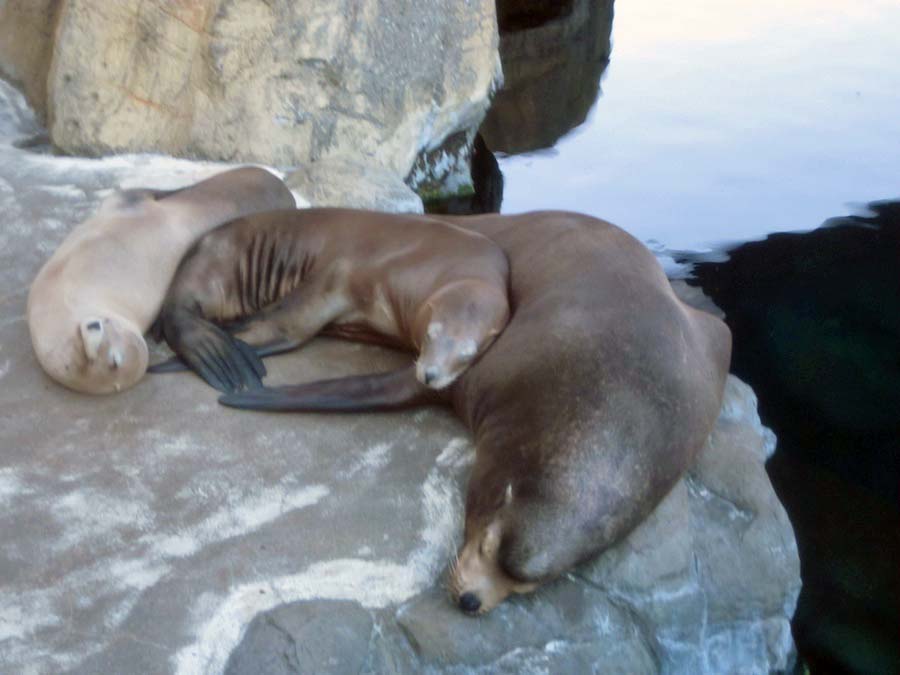 The family takes a nap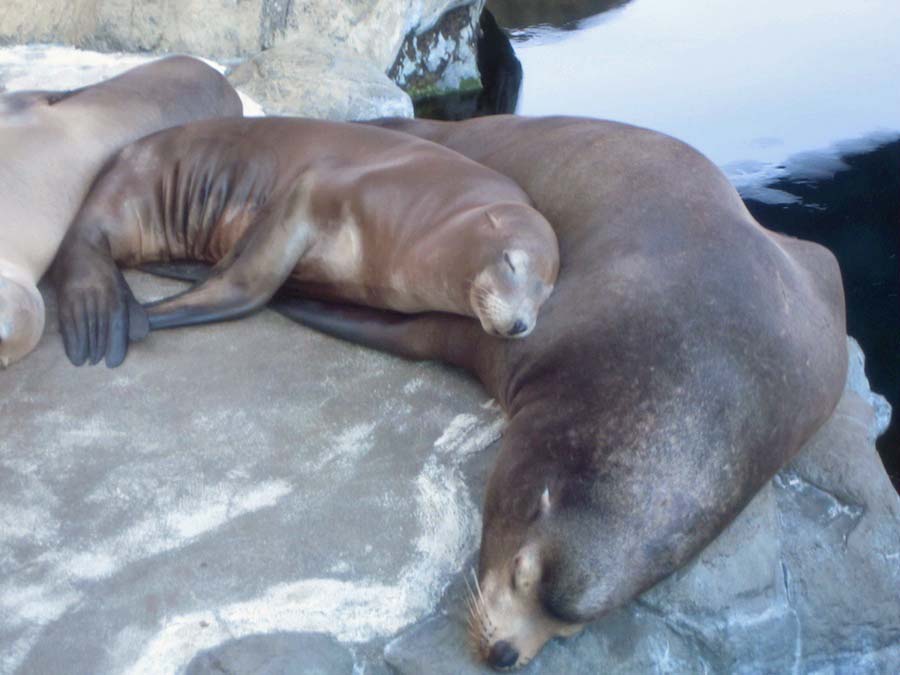 Just plain cute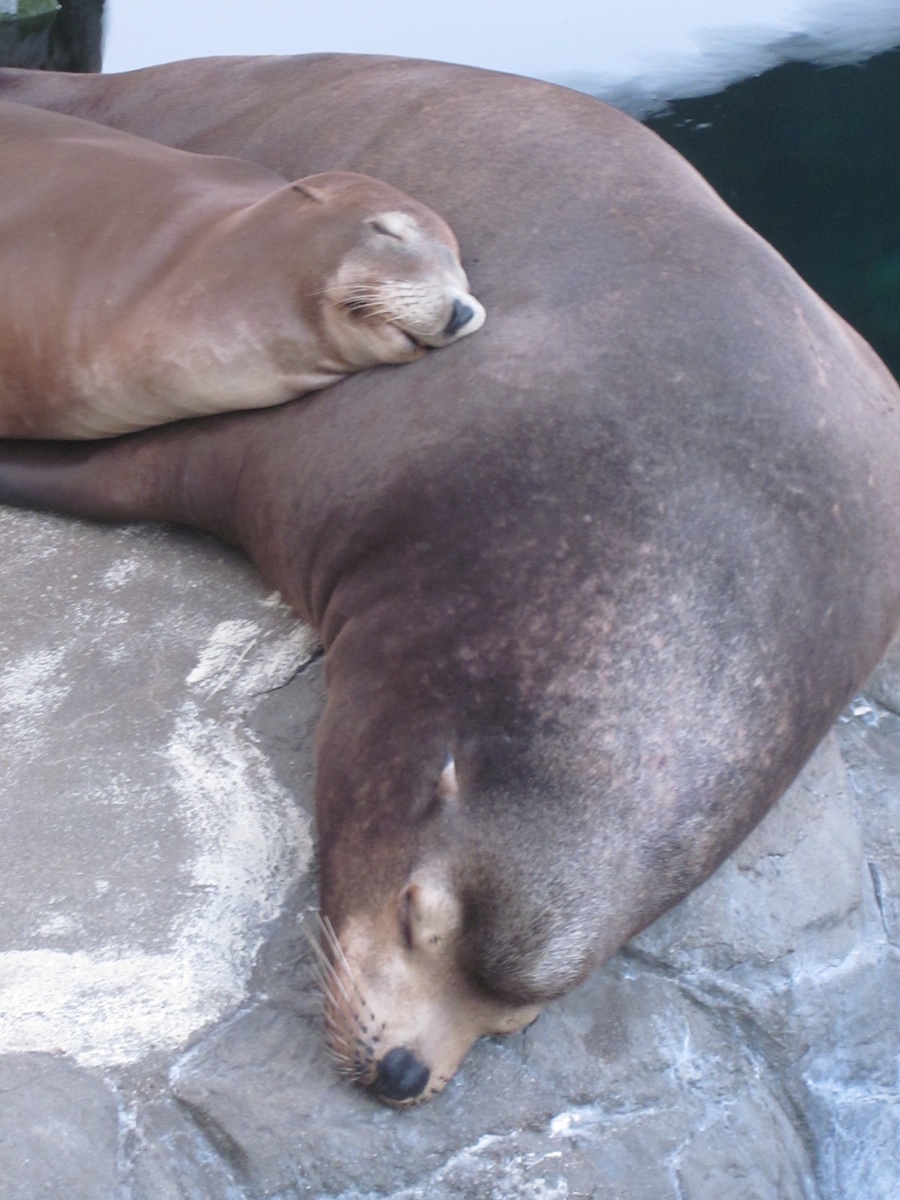 You could almost hear them snore.....
Back Inside We Go

The music was excellent all evening....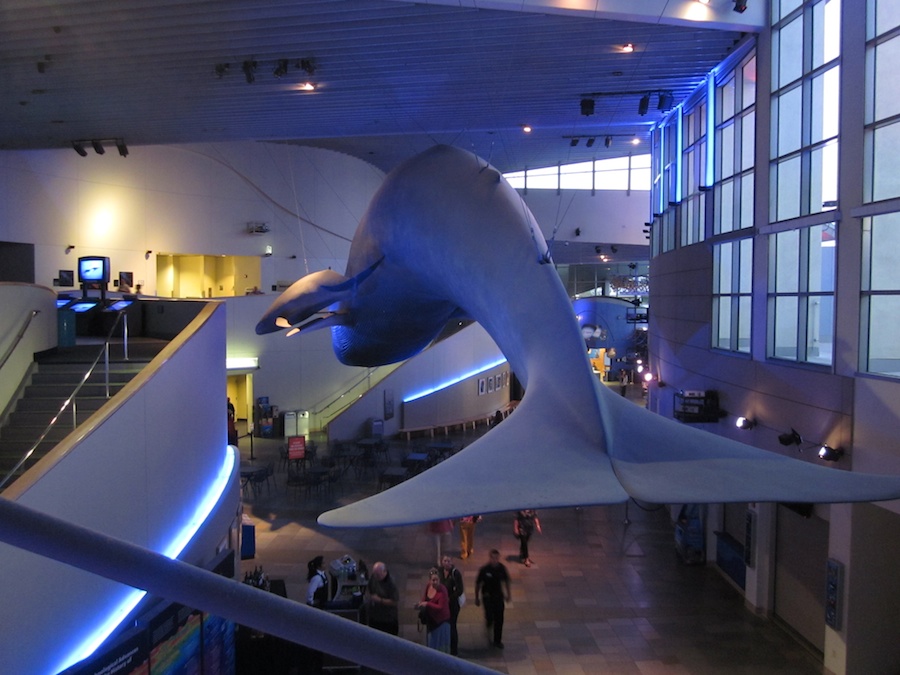 Look! No kids... No yelling... No running... Just adults!

Sea urchins were beautiful
Did You Know? - Sea urchins or urchins, sometimes called sea hedgehogs, are small, spiny, globular animals which, with their close kin, such as sand dollars, constitute the class Echinoidea of the echinoderm phylum. There are c. 950 species of echinoids inhabiting all oceans from the intertidal to 5000 meters deep.

Their shell, or "test", is round and spiny, typically from 3 to 10 cm (1.2 to 3.9 in) across. Common colors include black and dull shades of green, olive, brown, purple, blue, and red. They move slowly, feeding mostly on algae. Sea otters, wolf eels, triggerfish, and other predators feed on them. Their "roe" is a delicacy in many cuisines.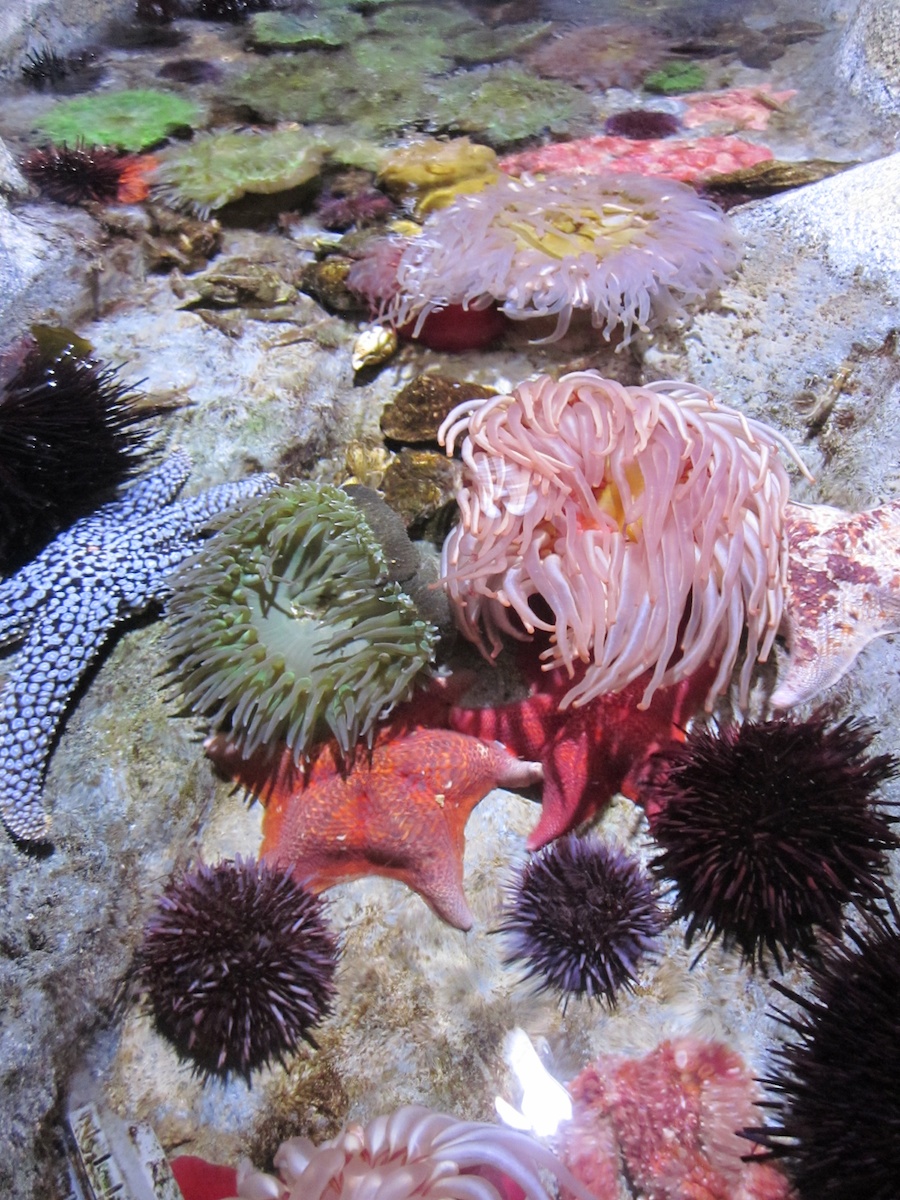 Mother nature had her paints out when she invented these guys

We think this is an excellent ratio

The Plume Anemone looked like cotton balls
Did You Know? - Metridium senile, common name the plumose anemone or frilled anemone, is a species of sea anemone in the family Metridiidae. It is found in the seas off northwest Europe and the east and west coasts of North America.

Like a box of jewels

This little guy was very active
Mr. Whale Was Giving Us The Evil Eye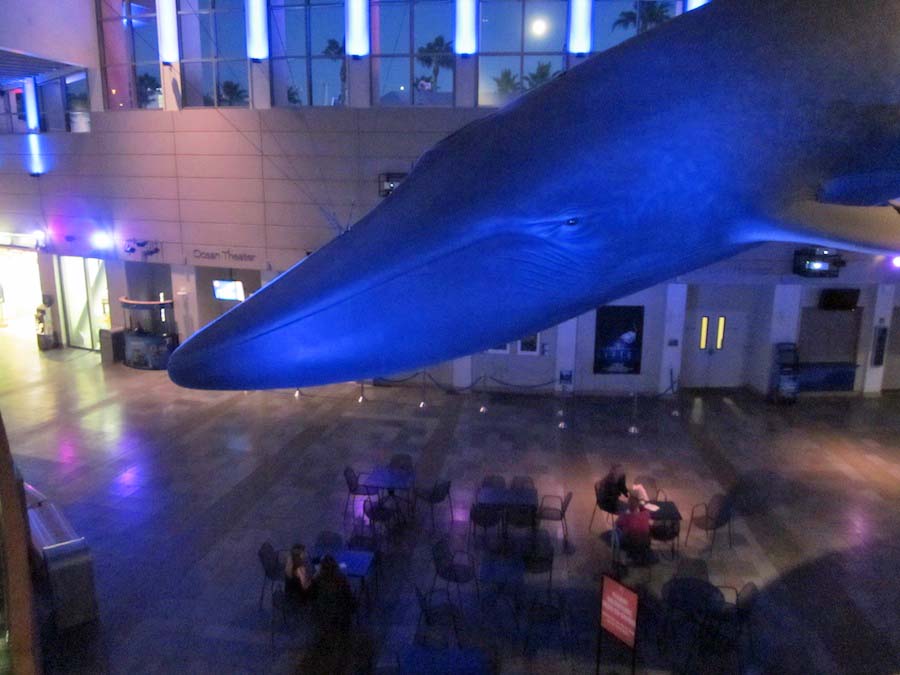 Do you see the moon????

One more display and then we go sit, listen and dance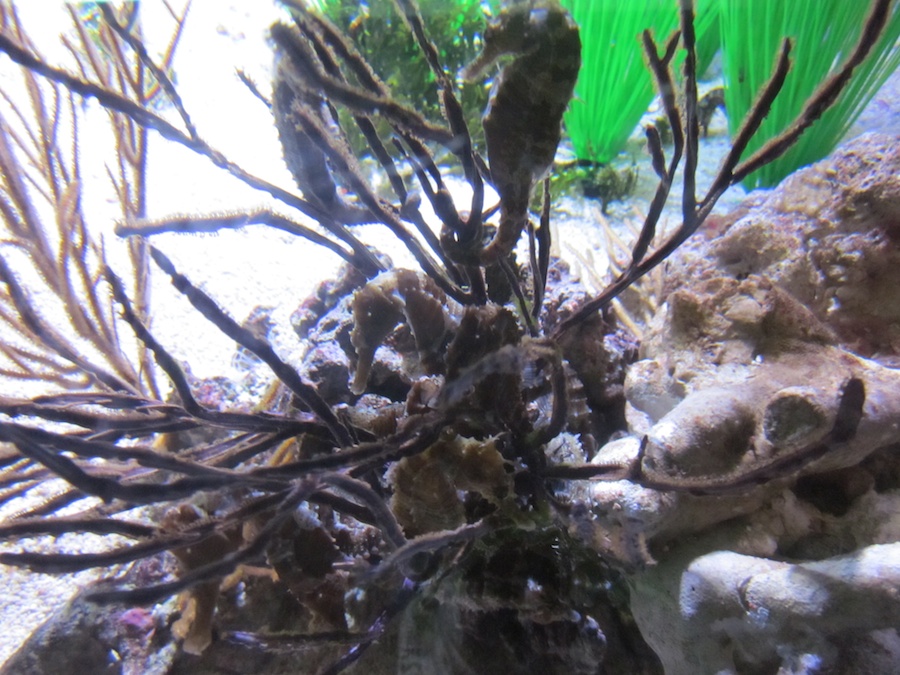 Northern sea horses...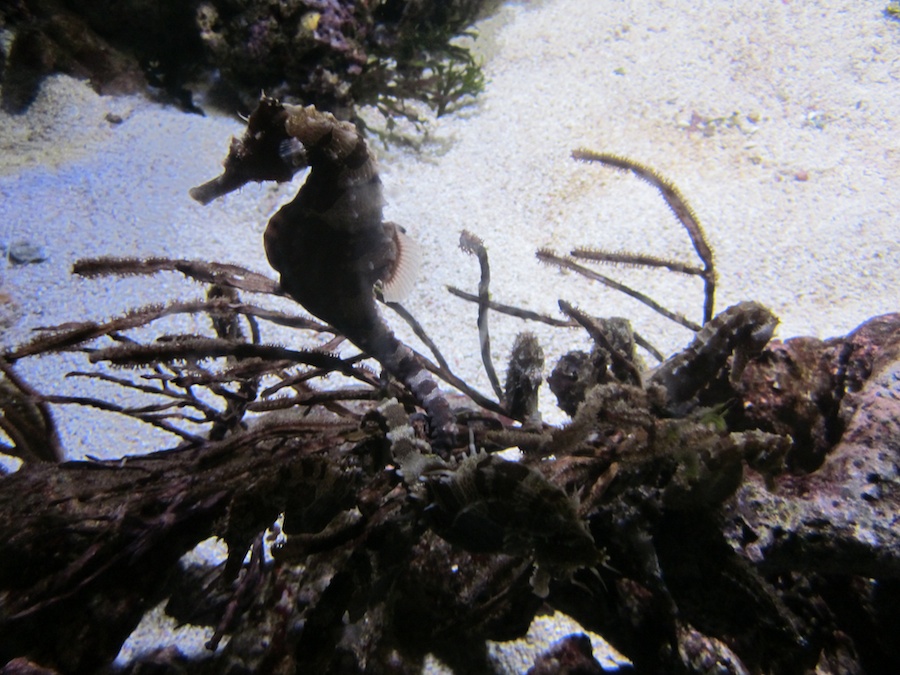 Busy fellows

Sea tubes just waiving in the wind.... Wind? Oops, water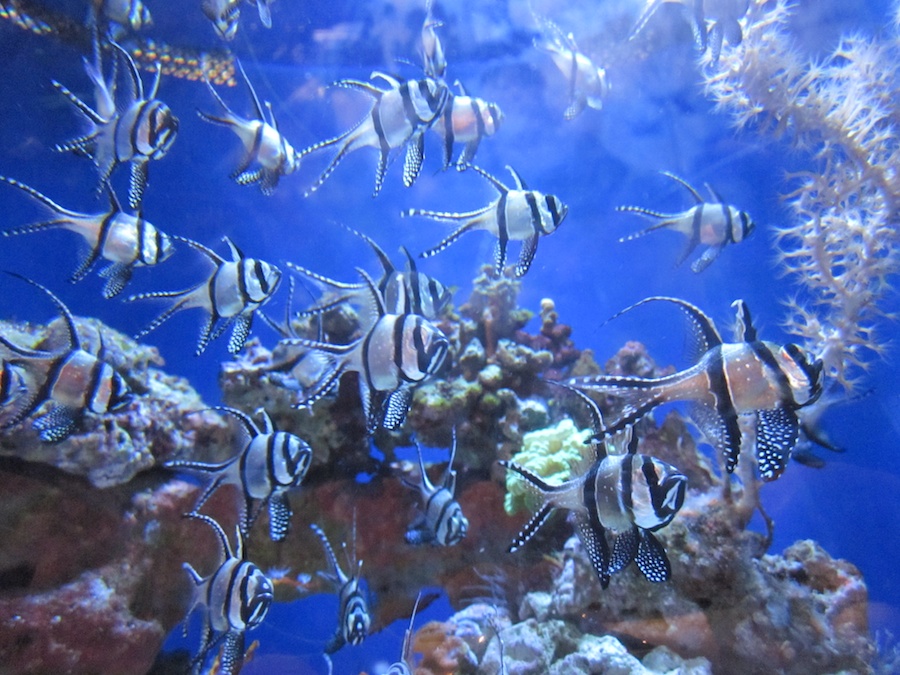 The angel fish were posing this evening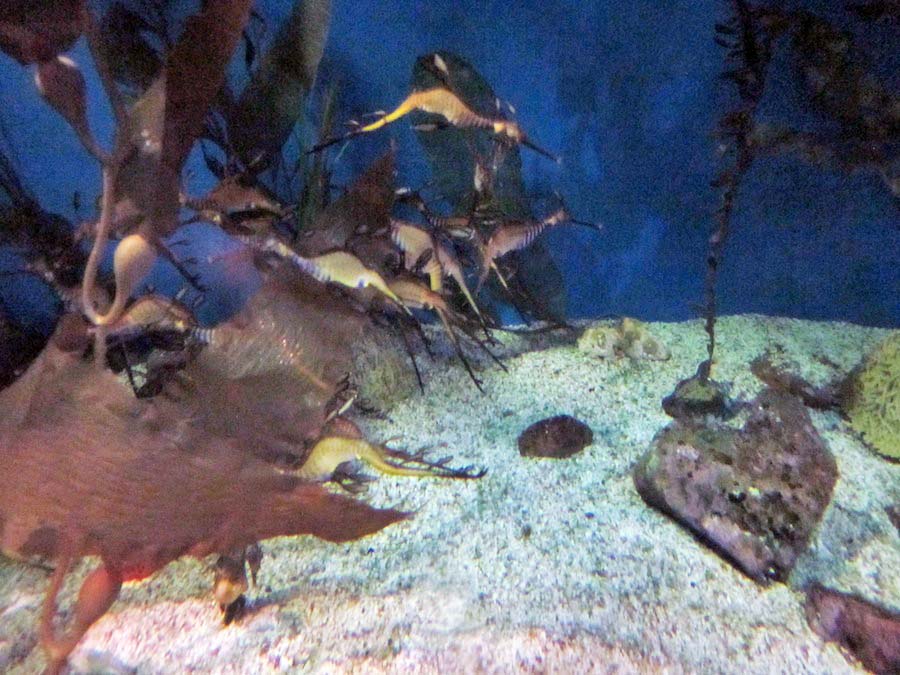 Sea Dragons go to sleep early....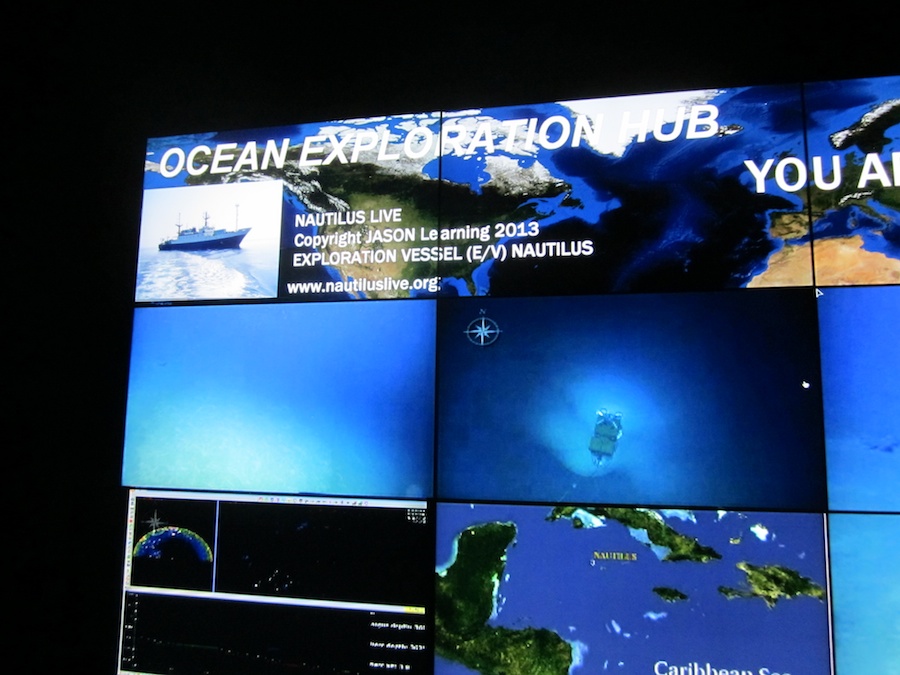 Neat idea... Live feed from a ship at sea doing explorations Visit them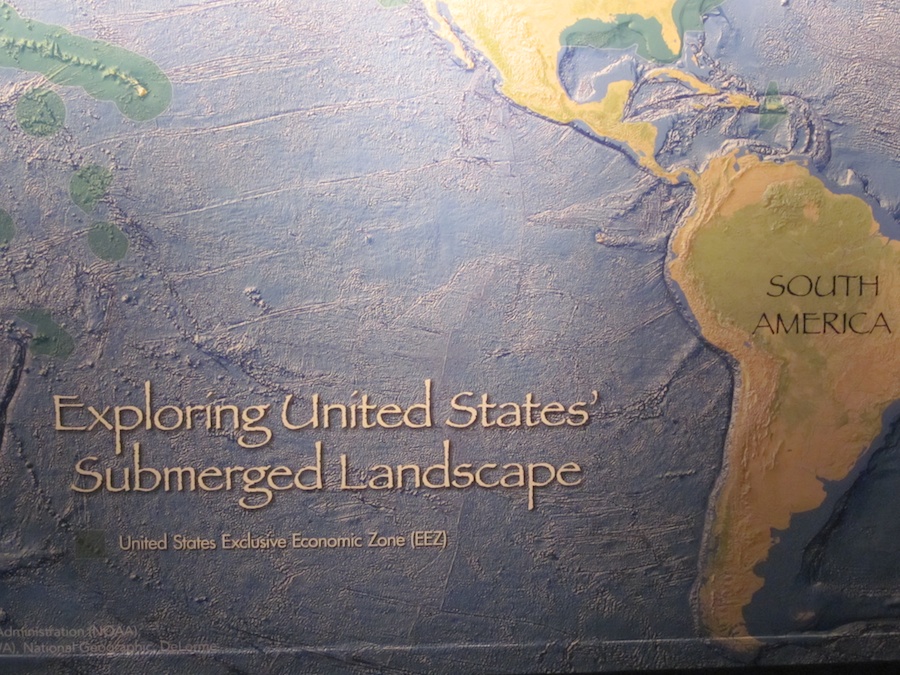 We have loads of shore in the US

We Googled The Earth with five screens
Time To Dance

Back to the music... We danced until they stopped playing.... AND...
We got several other couples to dance
We Stopped For A Drink.. Snack

PF Changs... Simply great
Did You Know? - P. F. Chang's China Bistro is an Asian-themed US casual dining restaurant chain owned and operated by Centerbridge Partners and headquartered in Scottsdale, Arizona. As of January 1, 2012, P. F. Chang's operated 204 restaurants in the United States, Puerto Rico, Mexico, Canada, Argentina, Chile and the Middle East.

It is the largest full service, casual dining Chinese restaurant chain in the United States with locations across the country.

"P. F. Chang's" is the namesake of Paul Fleming (P. F.) and Philip Chiang (whose surname is simplified to Chang).

Front row seats

Notice the shirt???