Panama Canal Adventure #3 (Third Time Through)
We decided it was time to visit the canal again... specially since we did NOT have to fly to get there! LA to the Panama Canal and back to LA was perfect! Nineteen days of pure enjoyment and we met a load of great people, especially the folks on the dance floor! See the current temperatures , humidity , satellite view , visibility , wind conditions but remember how hot it was! Generally in the 90's and generally 90% humid!
In our previous passages we did Florida to LA, once by ourselves and once with Aunt Edith and Cousin Kat Robinson.
It Is An Amazing Adventure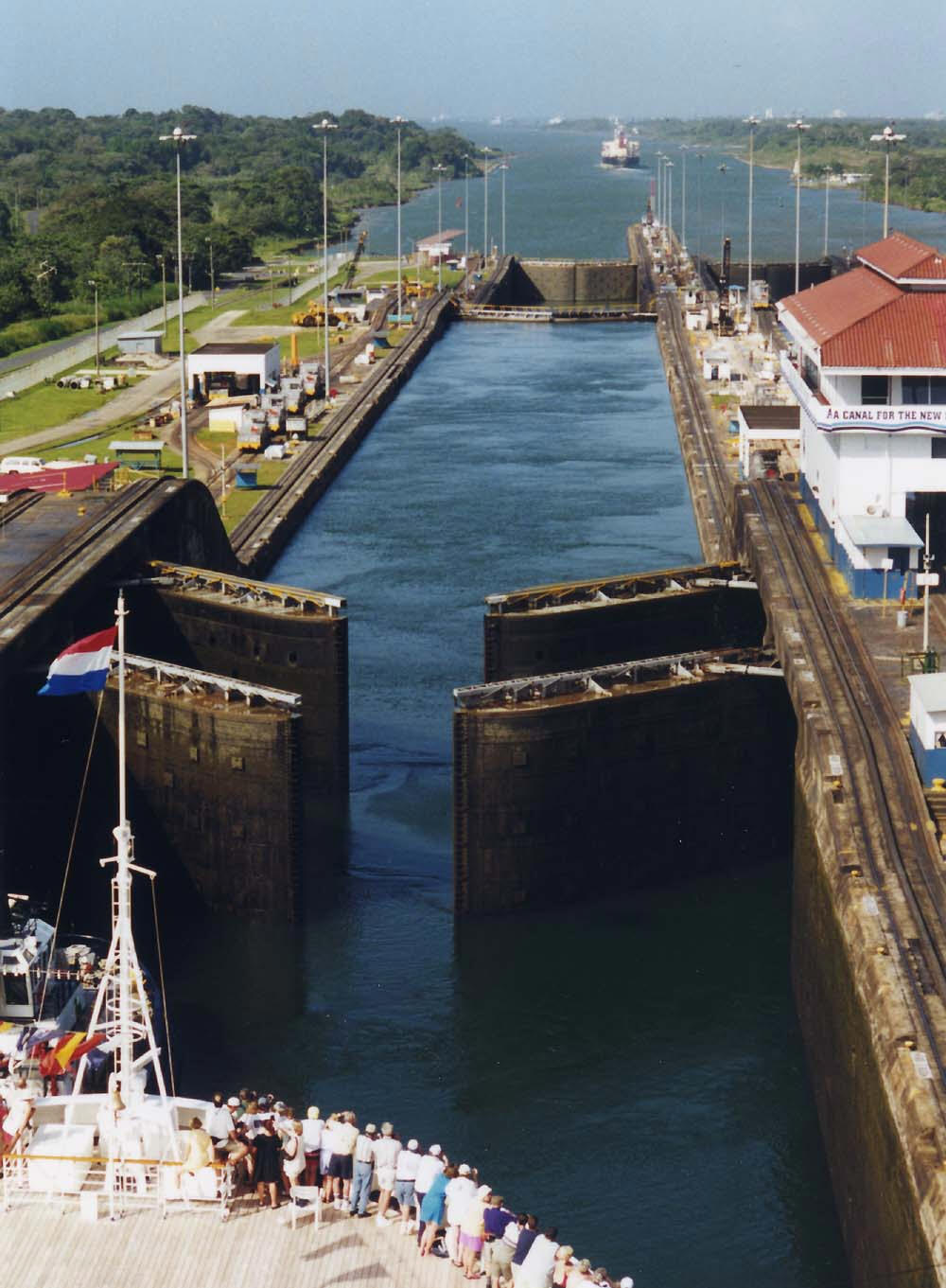 Open sesme!

Only 100 years ago...

The maps of today are much better
We took over 1400 pictures so we pulled some of them together to remind us of the trip in years to come!

Exiting the canal on the west going under the Friendship Bridge
The Itinerary Allowed For Golf, ATV's And Exploration
| | | | |
| --- | --- | --- | --- |
| DAY | PORT | ARRIVAL | DEPARTURE |
| 1 | Los Angeles, California | --- | 4:00 p.m. |
| 2 | At Sea | --- | --- |
| 3 | Cabo San Lucas, Mexico | 12:00 p.m. | 7:00 p.m. |
| 4 | At Sea | --- | --- |
| 5 | Acapulco, Mexico | 8:00 a.m. | 5:00 p.m. |
| 6 | Huatulco, Mexico | 7:00 a.m. | 1:00 p.m. |
| 7 | At Sea | --- | --- |
| 8 | Puntarenas, Costa Rica | 7:00 a.m. | 7:00 p.m. |
| 9 | At Sea | --- | --- |
| 10 | Panama Canal | 7:00 a.m. | --- |
| 11 | Panama Canal | --- | 4:30 p.m. |
| 11 | Fuerte Amador, Panama | 5:00 p.m. | 10:00 p.m. |
| 12 | At Sea | --- | --- |
| 13 | Puerto Corinto, Nicaragua | 9:00 a.m. | 8:00 p.m. |
| 14 | Puerto Quetzal, Guatemala | 9:00 a.m. | 7:00 p.m. |
| 15 | At Sea | --- | --- |
| 16 | Zihuatanejo/Ixtapa, Mexico | 10:00 a.m. | 3:00 p.m. |
| 17 | Puerto Vallarta, Mexico | 9:30 a.m. | 6:30 p.m. |
| 18 | At Sea | --- | --- |
| 19 | At Sea | --- | --- |
| 20 | Los Angeles, California | 7:00 a.m. | --- |

Day One (Departure from Los Angeles)