Fourth Visit To The Fair With Theo And Michele 7/28/2009 (Page Eight)
This is a milestone! It's Theo's first visit to a county fair and did we have fun!!!
Did You Know? - A fair is a gathering of people to display or trade produce or other goods, to parade or display animals and often to enjoy associated carnival or funfair entertainment. Activities at fairs vary widely. Some are important showcases for businessmen in agricultural, pastoral or horticultural districts because they present opportunities to display and demonstrate the latest machinery on the market.

Fairs are also known by many different names around the world, such as agricultural show, carnival, fete or fête, county fair or state fair, festival, market and show. Flea markets are sometimes incorporated into a fair.
Petting Zoo Here We Come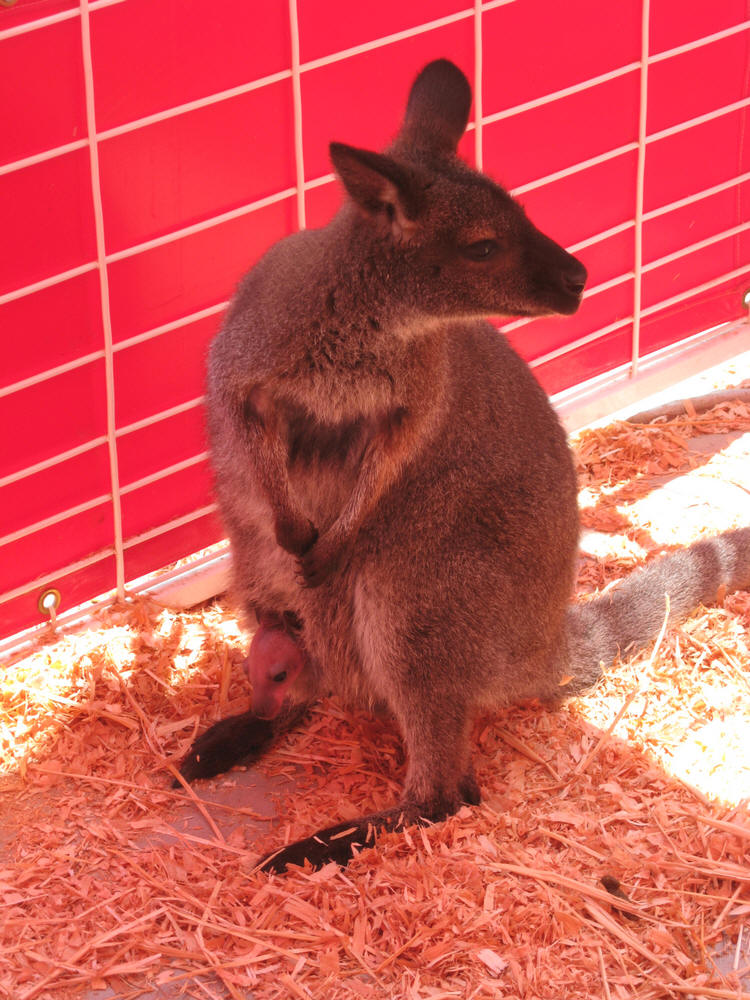 A real Roo
Did You Know? - A wallaby is any of about thirty species of macropod (Family Macropodidae). It is an informal designation generally used for any macropod that is smaller than a kangaroo or wallaroo that has not been given some other name.

Very small forest-dwelling wallabies are known as pademelons (genus Thylogale) and dorcopsises (genera Dorcopsis and Dorcopsulus). The name wallaby comes from the Eora Aboriginal tribe who were the original inhabitants of the Sydney area. Young wallabies are known as "joeys", like many other marsupials.

Wallabies are widely distributed across Australia, particularly in more remote, heavily timbered, or rugged areas, less so on the great semi-arid plains that are better suited to the larger, leaner, and more fleet-footed kangaroos. They are widespread in New Zealand, where they are often hunted. There are also a few populations of wallabies in the British Isles, the largest of which can be found on the Isle of Man where there is a breeding colony of around 100.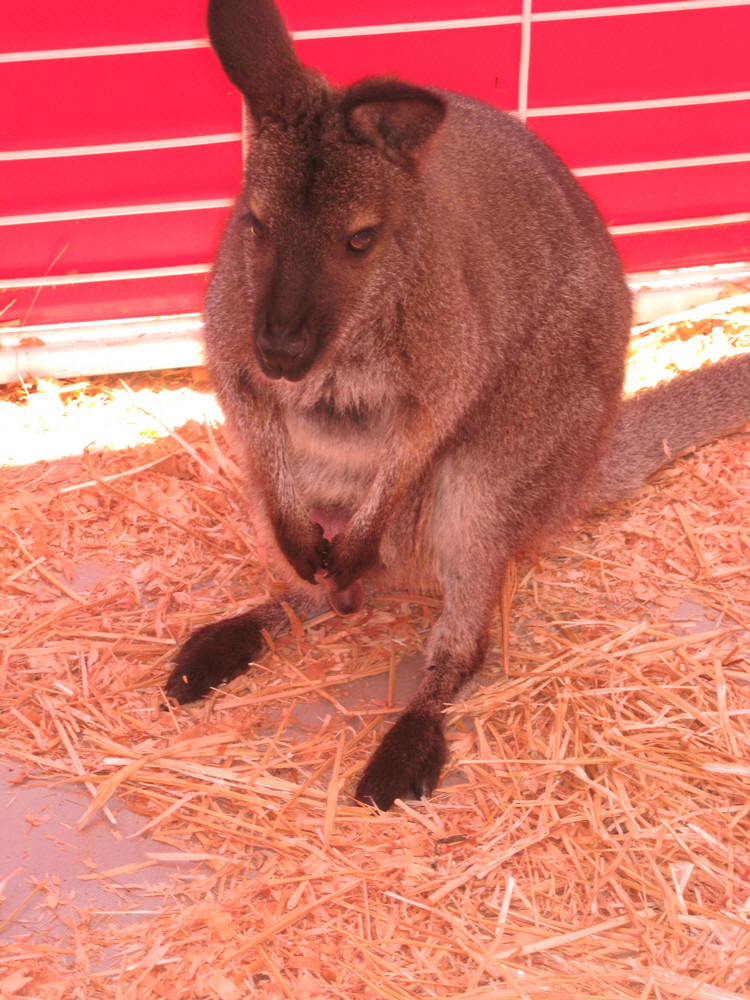 A marsupial
Did You Know? - An early birth removes a developing marsupial from its parent's body much sooner than in placental mammals, and thus marsupials have not developed a complex placenta to protect the embryo from its mother's immune system. Though early birth places the tiny newborn marsupial at a greater environmental risk, it significantly reduces the dangers associated with long pregnancies, as there is no need to carry a large fetus to full-term in bad seasons.

Because newborn marsupials must climb up to their mother's nipples, their front limbs are much more developed than the rest of the body at the time of birth. It is possible that this requirement has resulted in the limited range of locomotor adaptations in marsupials compared to placentals. Marsupials must develop a grasping forepaw during their early youth, making the transition from this limb into a hoof, wing, or flipper, as some groups of placental mammals have done, far more difficult.

There are about 334 species of marsupial, and over 200 are native to Australia and neighboring northern islands. There are also 100 extant American species; these are centered mostly in South America, but the Great American Interchange has provided Central America with 13 species, and North America with one (the Virginia Opossum).

A feature of marsupials (and also monotremes) is that they don't have a gross communication (corpus callosum) between the right and left brain hemisphere.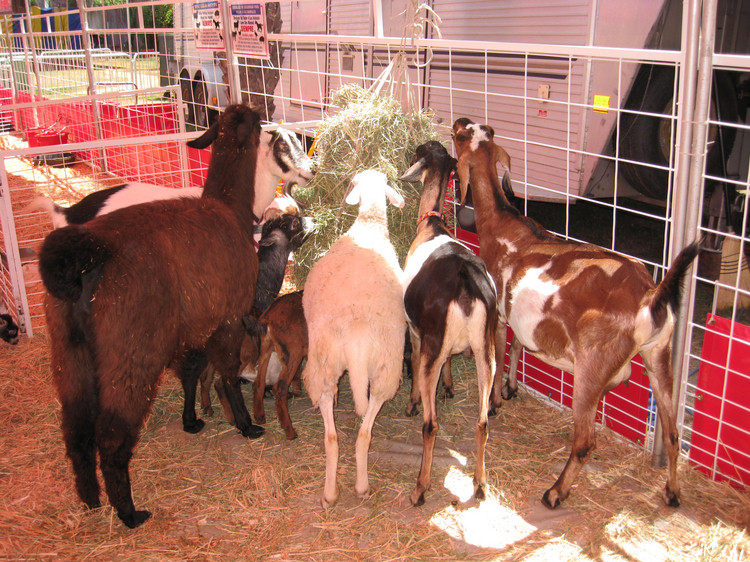 Butt, butt. butt. butt. butt....
Did you know? - The buttocks are formed by the masses of the gluteal muscles or 'glutes' (the gluteus maximus and the gluteus medius) superimposed by a layer of fat. The superior aspect of the buttock ends at the iliac crest, and the lower aspect is outlined by the horizontal gluteal crease. The gluteus maximus has two insertion points: 1/3 superior portion of the linea aspera of the femur, and the superior portion of the iliotibial tractus. The masses of the gluteus maximus muscle are separated by an intermediate gluteal cleft or "crack" in which the anus is situated.

The buttocks allow primates to sit upright without needing to rest their weight on their feet as four-legged animals do. Females of certain species of baboon have red buttocks that blush to attract males. In the case of humans, females tend to have wider and thicker buttocks due to higher subcutaneous fat and wider hips.

Some baboons and all gibbons, though otherwise fur-covered, have characteristic naked callosities on their buttocks. While human children generally have smooth buttocks, mature males and females have varying degrees of hair growth, as on other parts of their body. Females generally have hair growth in the gluteal cleft (particularly around the anus), often extending laterally onto the lower aspect of the cheeks. In addition to such areas, males often have hair growth over the most (or the entirety of) the buttocks.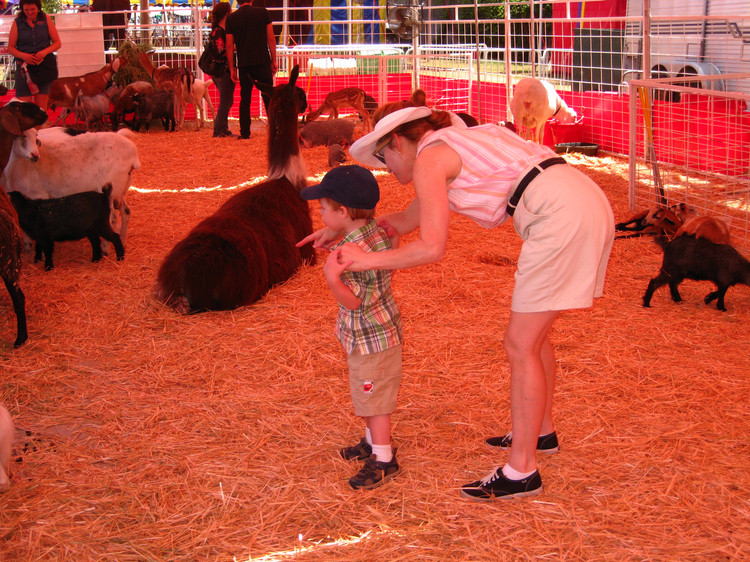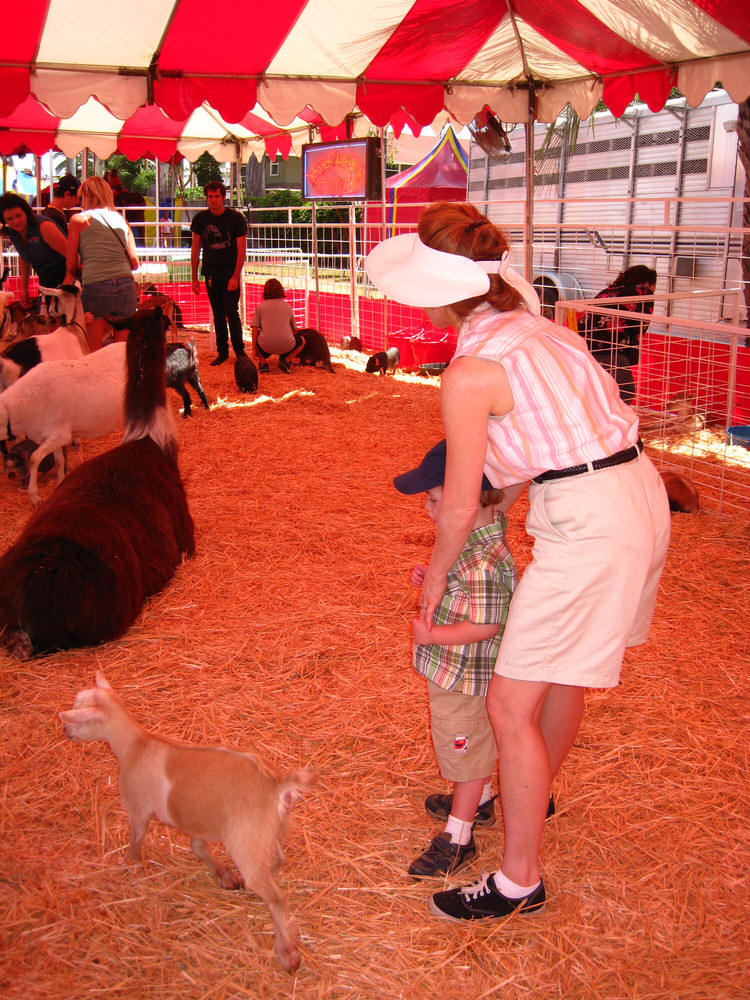 He did and they survived
Rides Were Not His Big Thing This Year...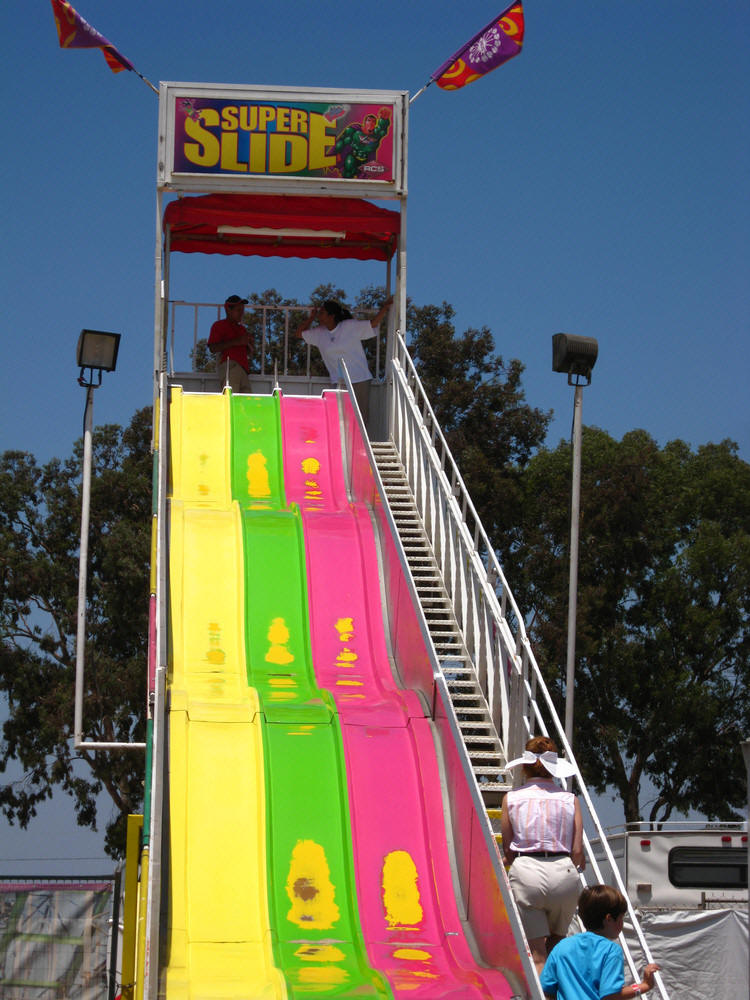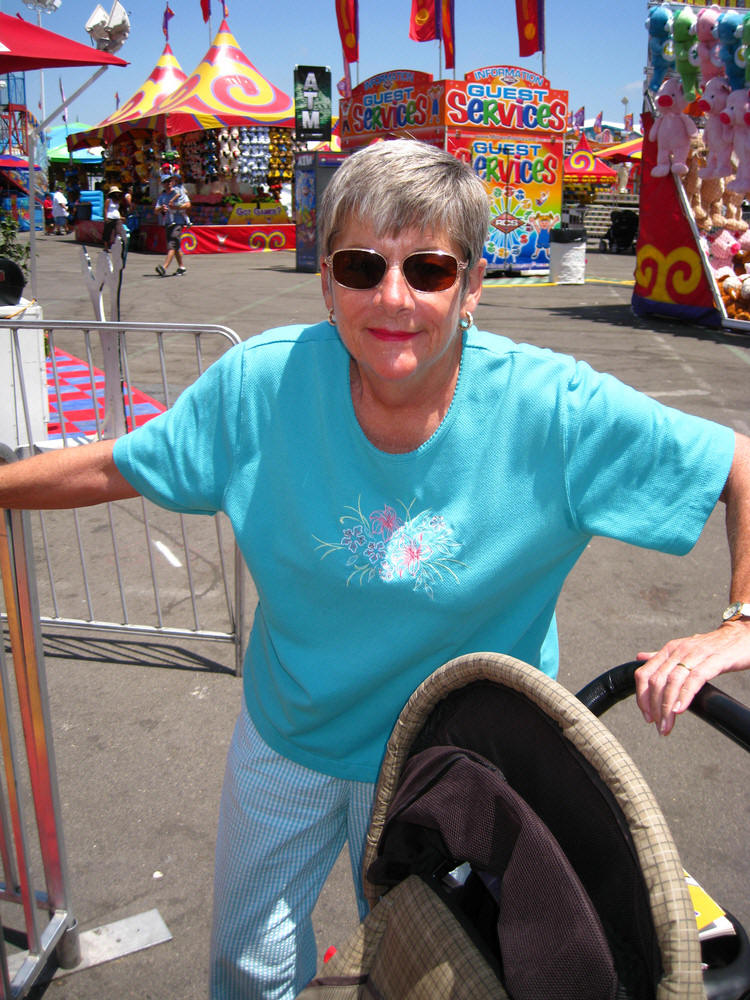 Great Grandma!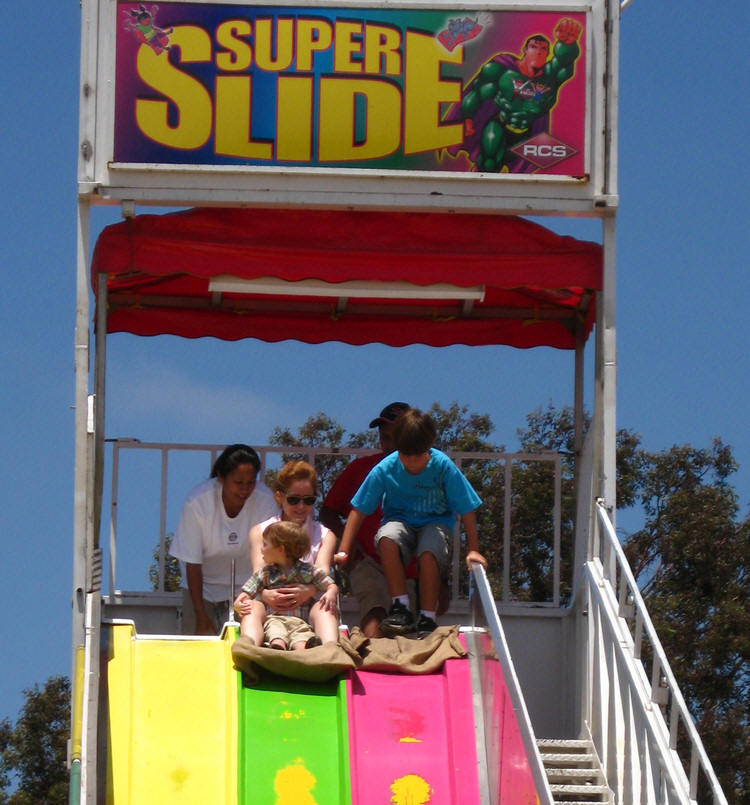 "Oh oh... Mommy, what are we doing?"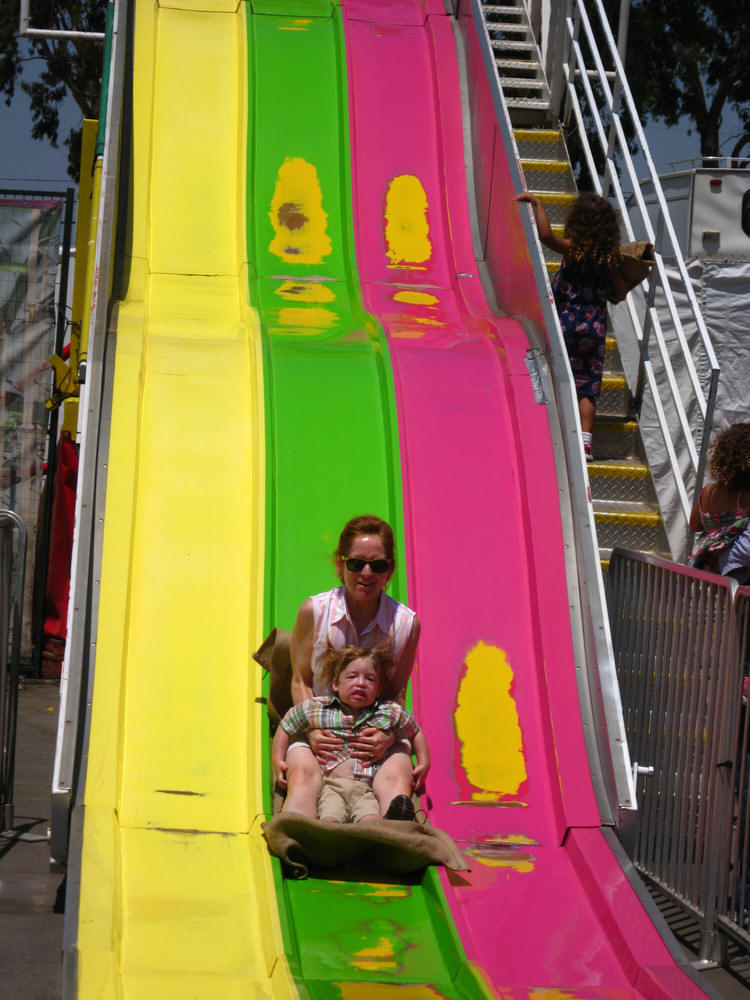 "What is Mom doing to me????"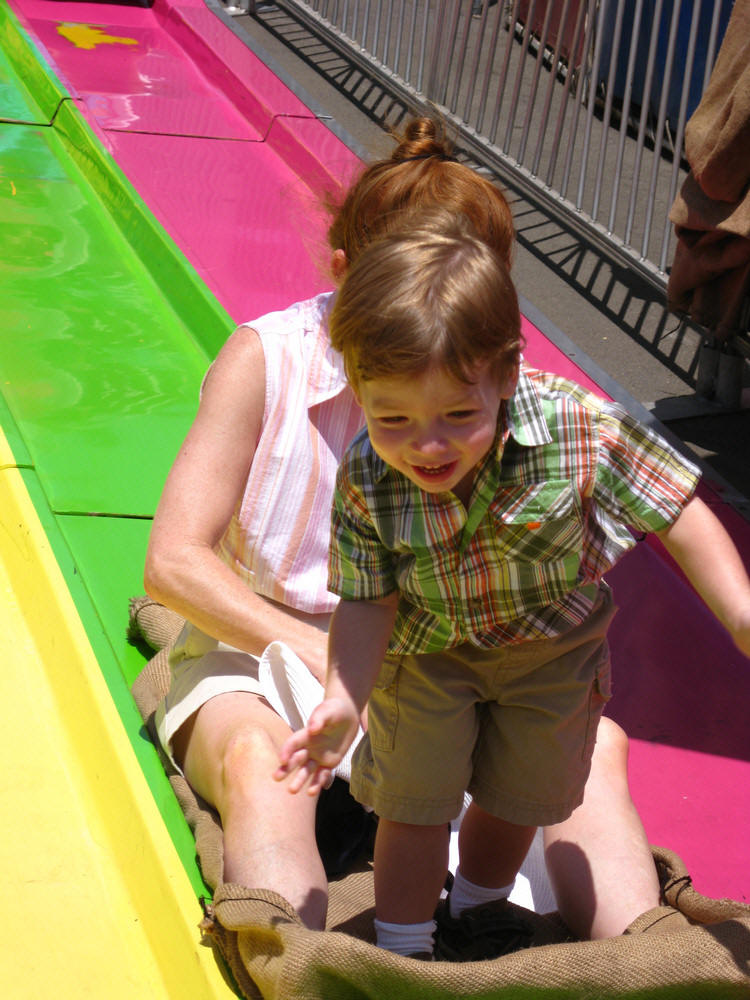 "Hey! That was fun!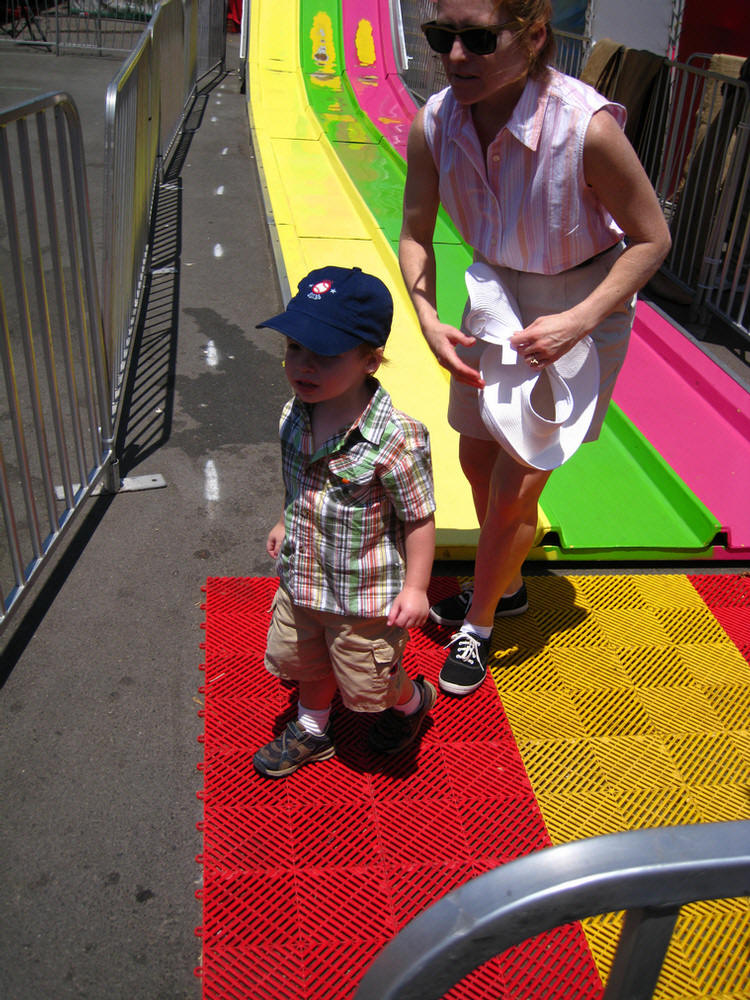 "Let's do it again!"
Time To Bounce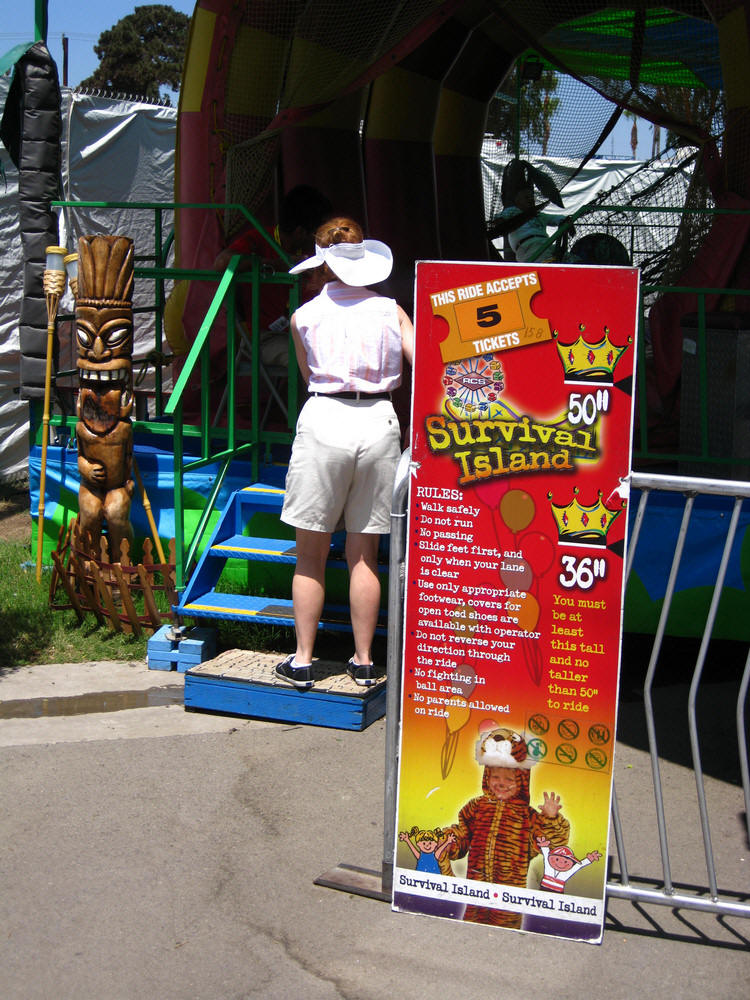 Deflection (physics), the event where an object collides with and bounces against a plane surface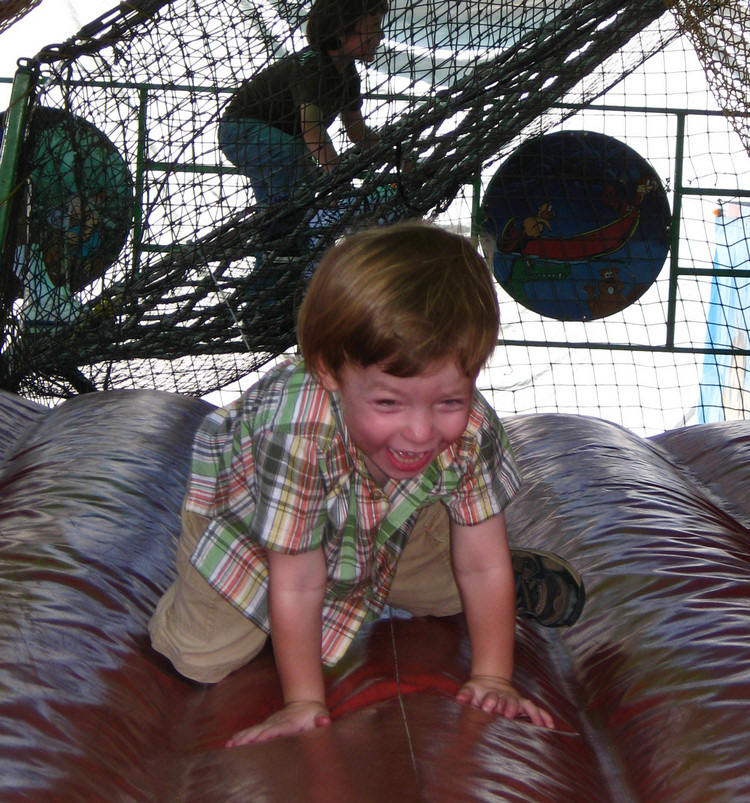 Come on Mom!

Oops!

Poetry in motion
Time For Lunch
Did you know? - Luncheon, commonly abbreviated to lunch, is a midday meal.

In English-speaking countries during the eighteenth century what was originally called "dinner"— a word still sometimes used to mean a noontime meal in the UK, and in parts of Canada and the United States — was moved by stages later in the day and came in the course of the nineteenth century to be eaten at night, replacing the light meal called supper, which was delayed by the upper class to midnight.

Lunch was originally intended as a vehicle in which working classes could escape their job and purchase alcoholic beverages.

The mid-day meal on Sunday and the festival meals on Christmas, Easter, and Thanksgiving (in the U.S. and Canada) are still often eaten at the old hours, usually either at noon or between two and four in the afternoon, and called dinner. Traditional farming communities also may still commonly have the largest meal of the day at mid-day and refer to this meal as "dinner".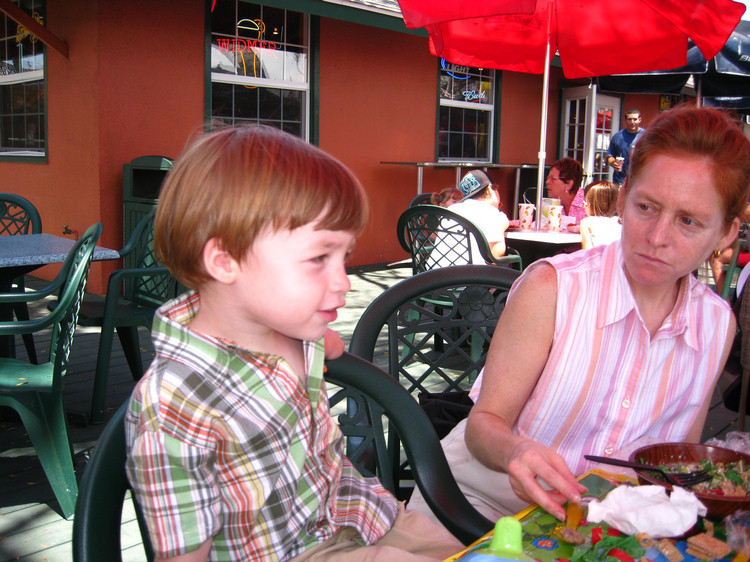 I like lunch!
Let's See More Animals!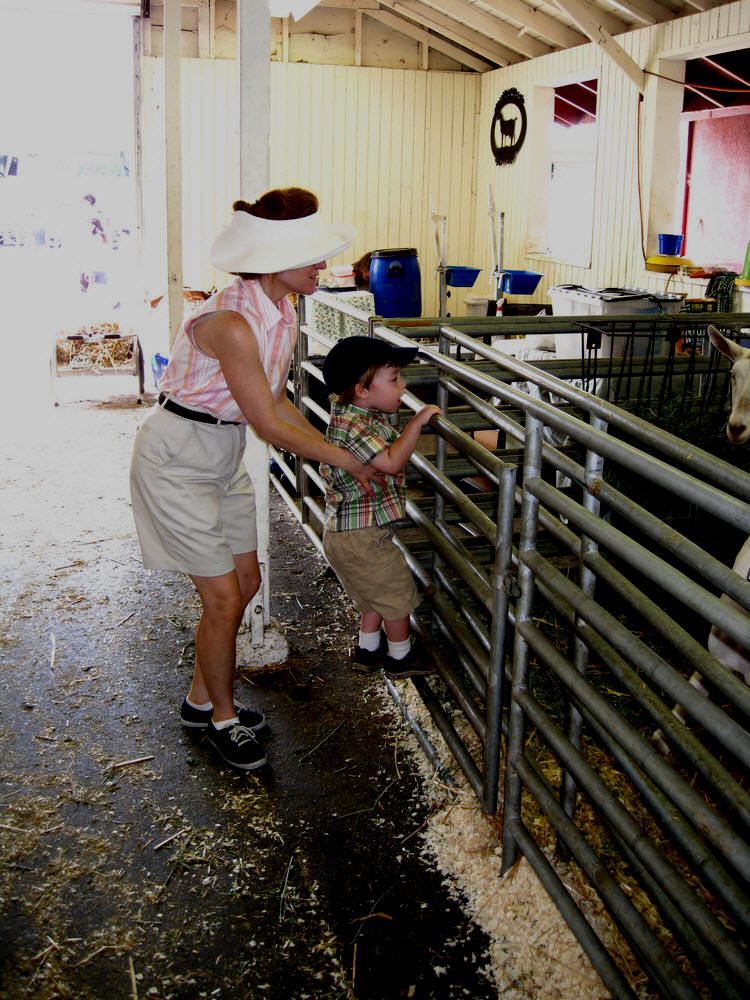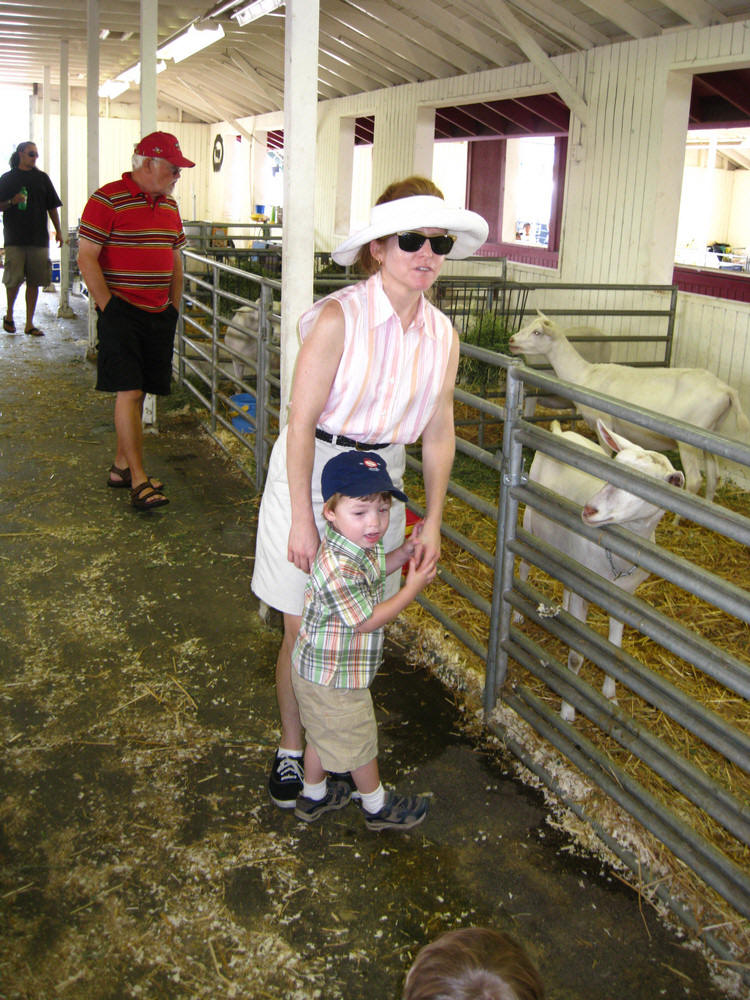 "Hey Mom, it smells in here!"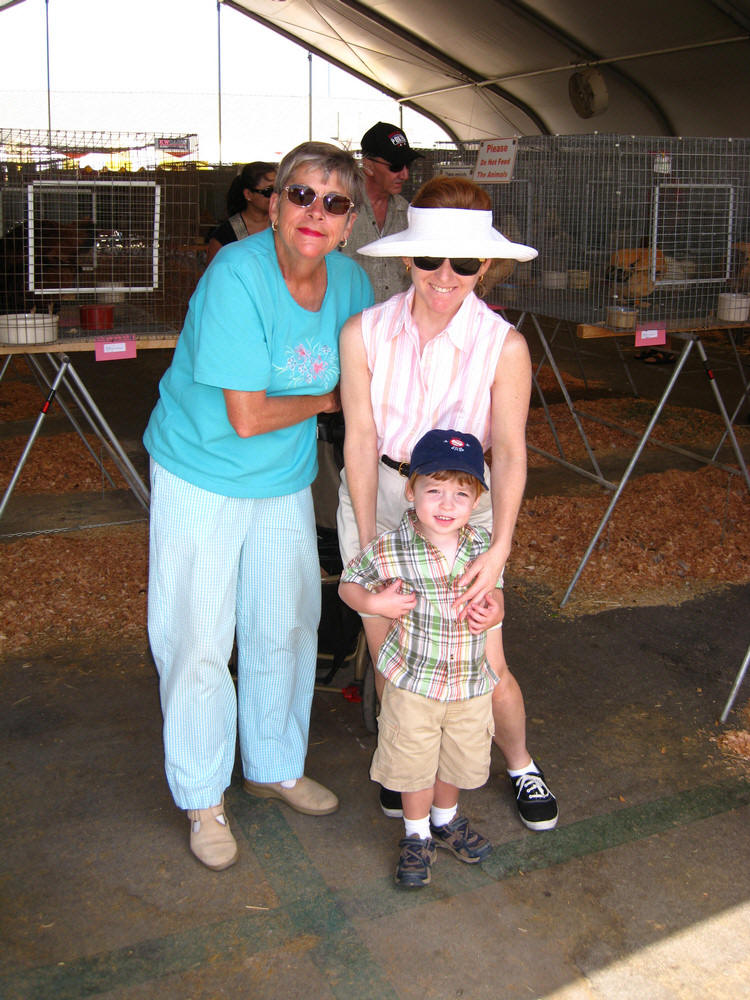 GramSue, Mom and Me!

"Hey Mom, who is that OLD man???"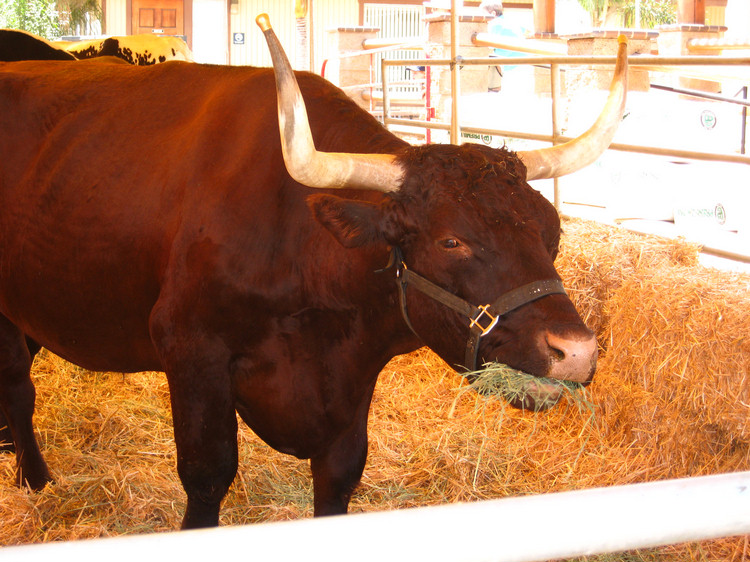 No bull!
Did you know? - The Texas Longhorn is a breed of cattle known for its characteristic horns, which can extend to 4 feet (1.2 m) tip to tip for steers and exceptional cows and bulls in the 70 to 80 inches (1.8 to 2.0 m)etre) tip to tip range. Horns can have a slight upward turn at their tips or even triple twist. Texas Longhorns are known for their extreme diversified coloring. The Texas Longhorn Breeders Association of America and the International Texas Longhorn Association serve as the recognized registries for the breed. Texas Longhorns with elite genetics can often fetch up to $40,000 or more at auction with the record of $160,000 in recent history for a cow. Due to their innate gentle dispositions and intelligence, Texas Longhorns are increasingly being trained as riding steers.

The Cattlemen's Texas Longhorn Registry Certified Texas Longhorn Registry (CTLR), is the recognized breed registry dedicated to preserving the purest Texas Longhorn of foundation bloodlines. By incorporating the tools of visual inspection of cattle by the most knowledgeable of Texas Longhorn breeders and the use of bloodtype analysis to further identify any evidence of impurities and for future parentage identification, CTLR rekindled the ideal of preserving for posterity fullblood Texas Longhorn cattle.
The Kid Zone Had Little Cars And Theo Drove Everything!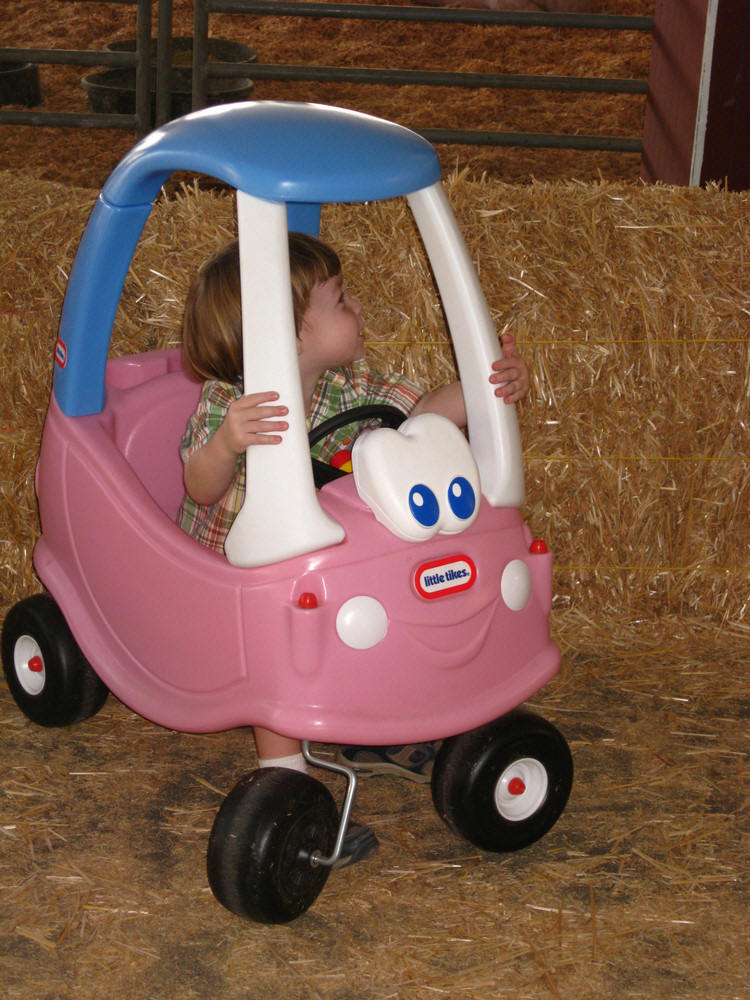 Beep beep!!
Did you know? - Little Tikes is an American-based manufacturer of children's toys, with headquarters and manufacturing located in Hudson, Ohio. The company also has other manufacturing and distribution facilities in Asia and Europe. Little Tikes' products are mostly low-tech molded plastic toys aimed primarily at infants and young children, for indoor and outdoor use, including its party kitchen and turtle sandbox.

The company was established by Thomas G. Murdough Jr. in 1969 in Aurora, Ohio. The company was acquired by Rubbermaid in 1984. Murdough signed an employment agreement with Rubbermaid under which he would stay with the new parent company for a five-year period as president and general manager. In May 1989, Murdough announced that he would be leaving Little Tikes at the end of that year to pursue other interests. In 1991, Murdough established a new toy business called Step 2, based in Twinsburg, Ohio, aimed at competing with and outselling Little Tikes.

The company was acquired by MGA Entertainment in September 2006 from Newell Rubbermaid for an undisclosed sum. As of 2006, the 500 employees at Little Tikes were generating approximately $250 million in revenue of Rubbermaid's $6.3 billion in annual sales, and the acquisition was projected to add $15 to $25 million to MGA Entertainment's bottom line. The purchase was said to allow a better fit with MGA Entertainment, a manufacturer of children's toys and entertainment products founded in 1997 whose products included the Bratz line of fashion dolls.

The firm's red and yellow Cozy Coupe toy car reached 6 million units in sales by its 25th anniversary in 2004, and was called the "world's best-selling car for much of this decade" by The New York Times in 1998, outselling the Honda Accord and Ford Taurus.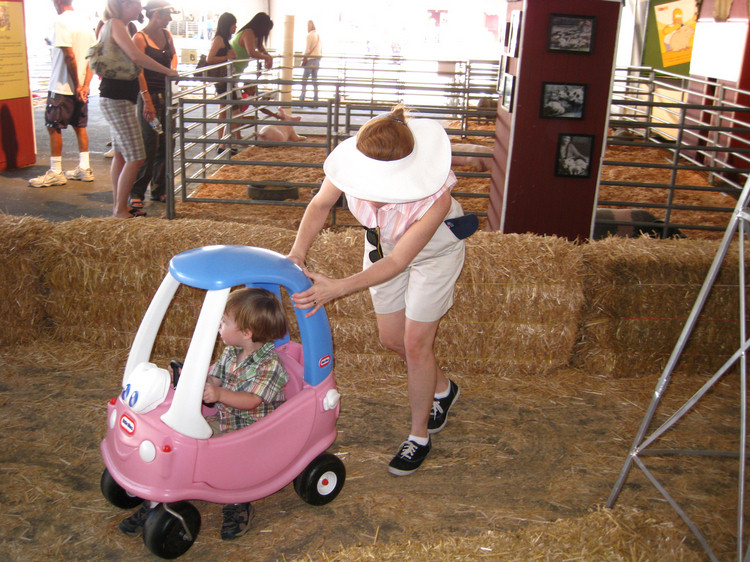 "Come on Mom, give it some gas!"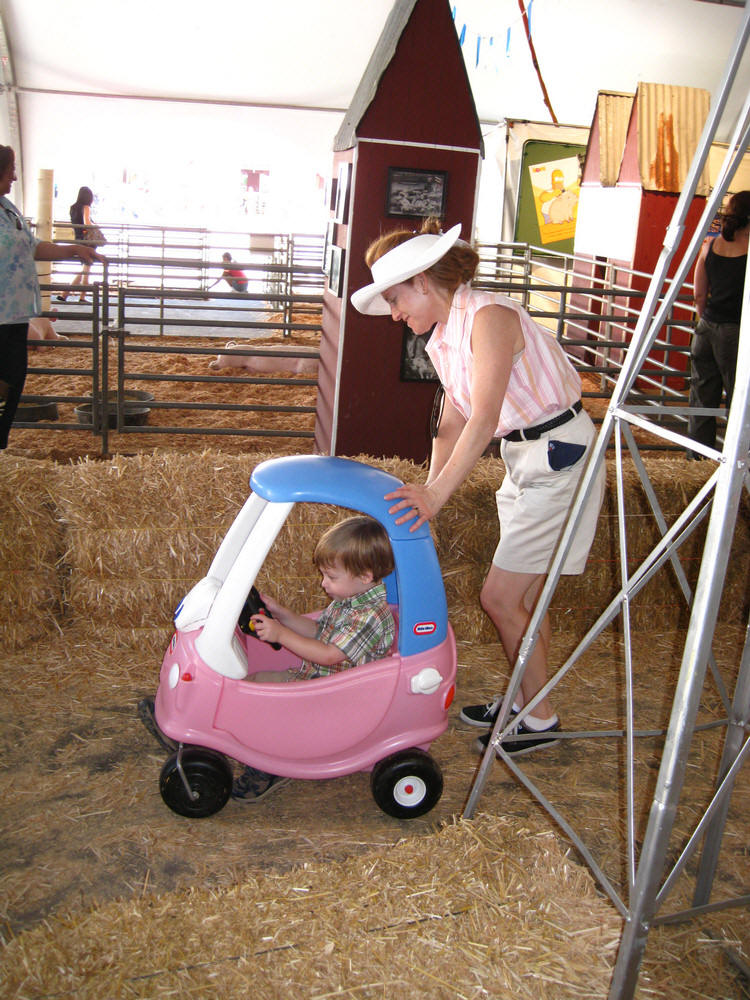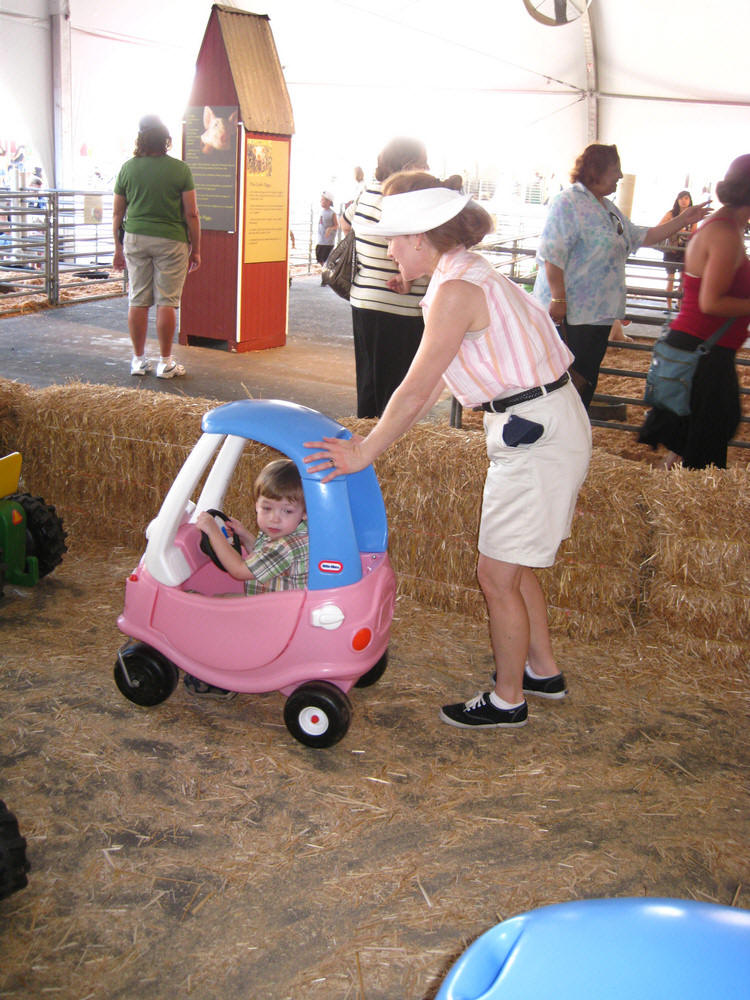 Flat tire? or Flat tired?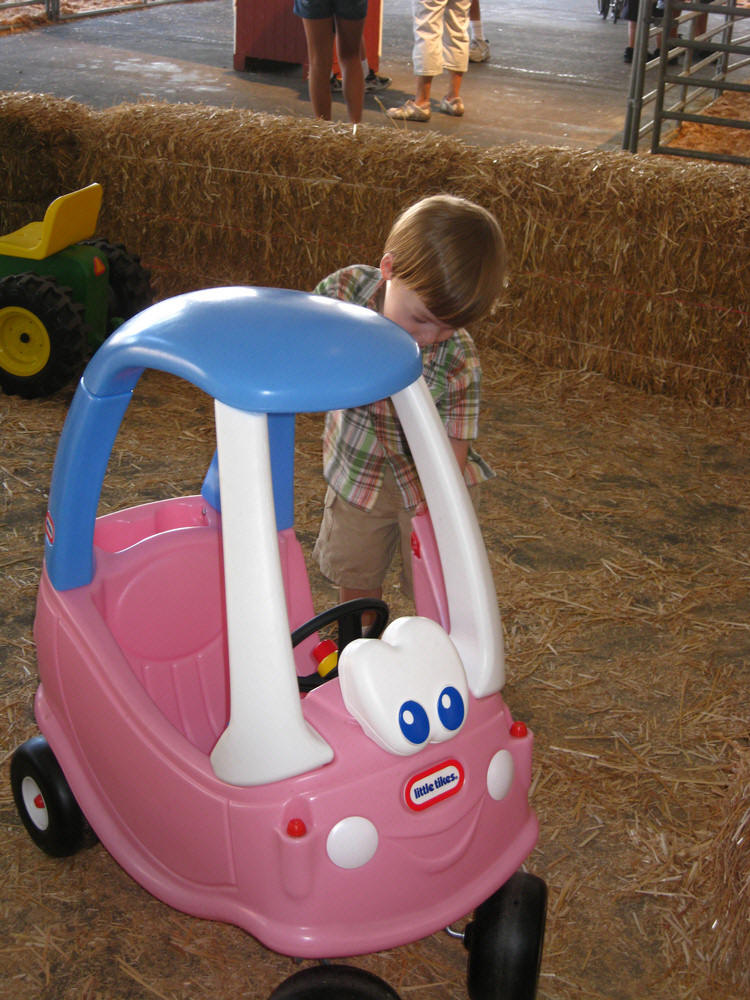 Opening the door makes it easier to get in!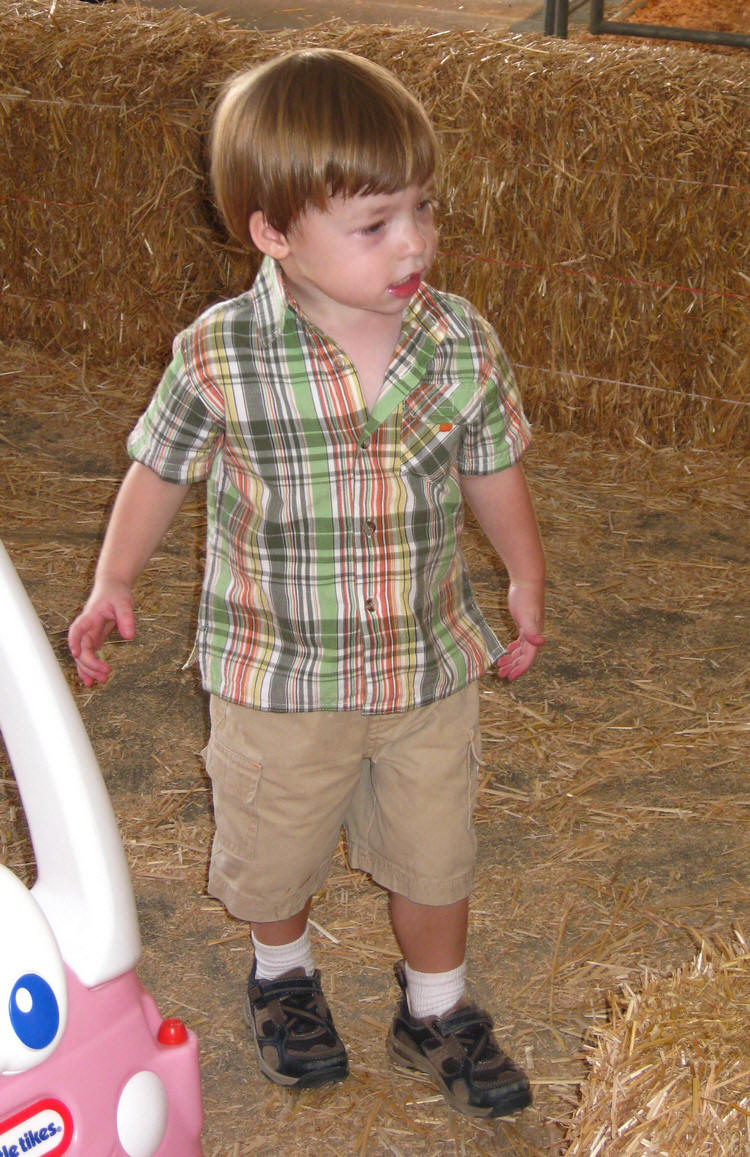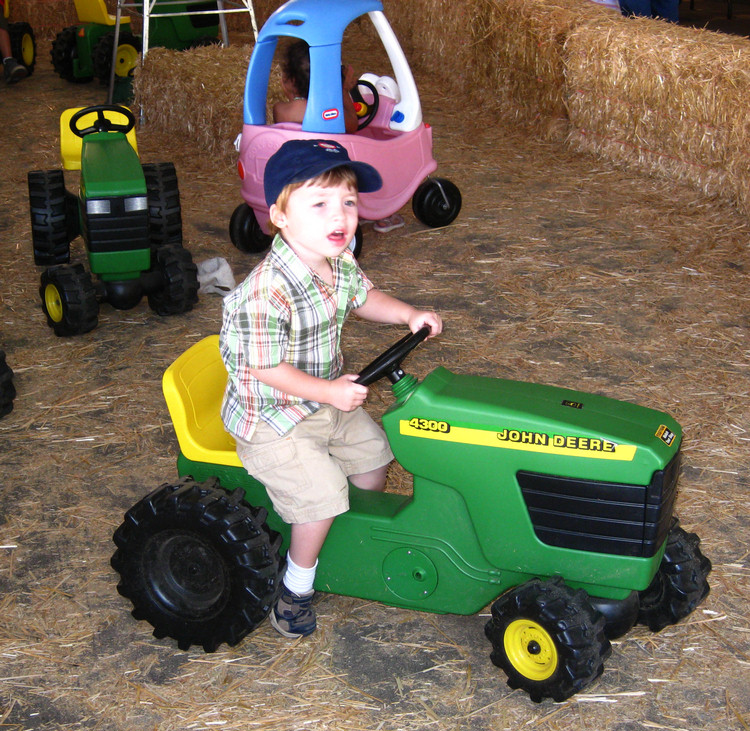 "I can help GramPaul in the garden now!"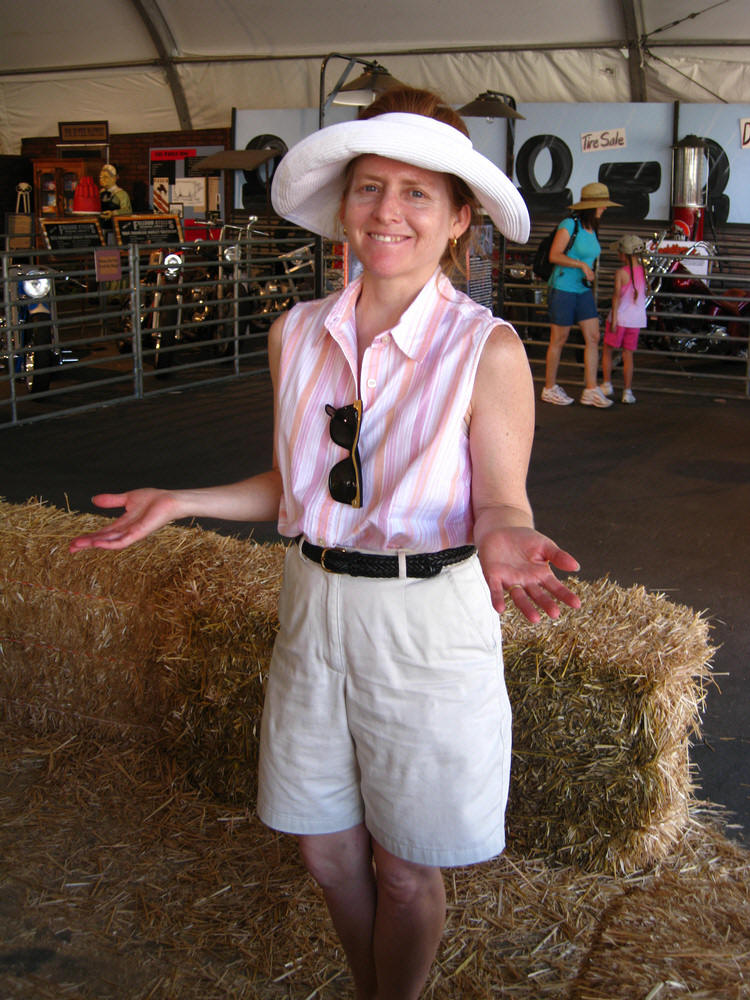 "Hey, he is a boy!"

He might be a farmer
Did You Know? - A tractor is a vehicle specifically designed to deliver a high tractive effort at slow speeds, for the purposes of hauling a trailer or machinery used in agriculture or construction. Most commonly, the term is used to describe the distinctive farm vehicle: agricultural implements may be towed behind or mounted on the tractor, and the tractor may also provide a source of power if the implement is mechanised. Another common use of the term, "tractor unit", describes the power unit of a semi-trailer truck (articulated lorry).

The word tractor was taken from Latin, being the agent noun of trahere "to pull". The first recorded use of the word meaning "an engine or vehicle for pulling wagons or ploughs" occurred in 1901, displacing the earlier term traction engine (1859).

Plowing is fun!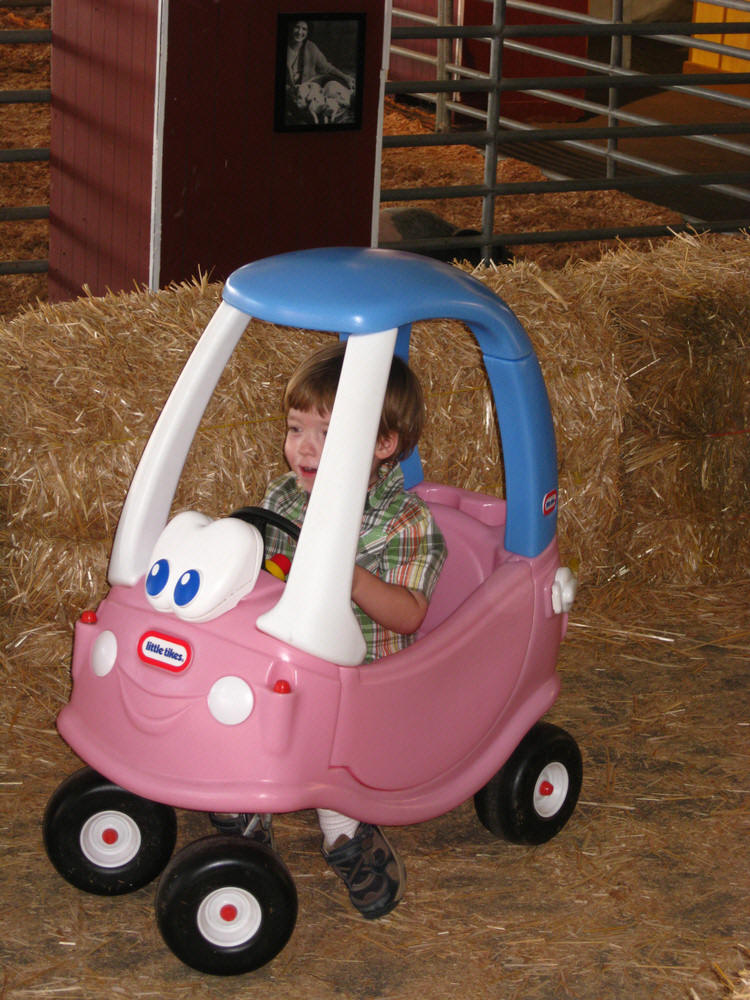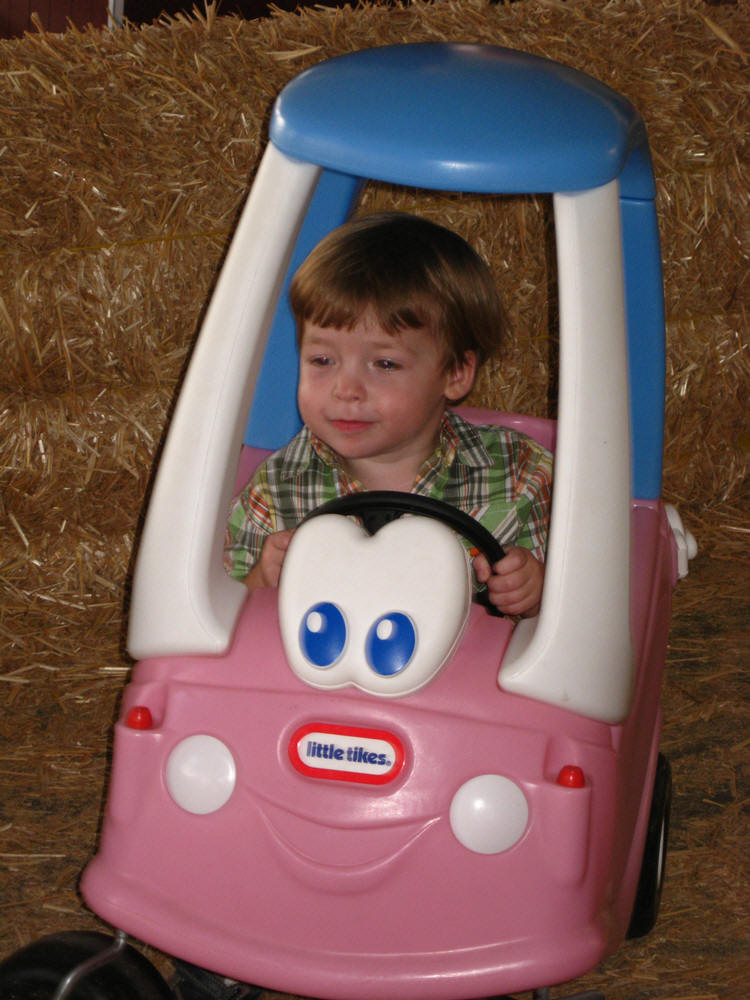 "Yes Mom, I am keeping it under 60"