Sherman Gardens, Quiet Amongst The Bustle Of Daily Life
I was introduced to Sherman Gardens by my wife Sue many years ago. We visitred the gardens many times over thirty-five years!After Sue's passing in early 2020, I introduced Sherman Gardens to Mary who enjoys them as much as we did!
We go all the time... Some of our visits are chronicled on this website. Other visits you will find in the Christmas website and other holidays. Please join the fun! We also go at Christmas and you can find those visits on our Christmas pages starting over ten years ago!
Sherman Library & Gardens - Spend a quiet afternoon in the gardens and have a nice lunch. Sherman Library & Gardens is a 2.2 acre Corona del Mar horticultural retreat. The Gardens provide a museum of living plants, displayed amidst a setting of immaculate gardens, patios and conservatories linked together by wide brick walkways, beds blooming with seasonal flowers and bubbling tile fountains. The Library is a specialized research center devoted to the study of the Pacific Southwest.
The Cafe Jardin - Dine in a "hidden oasis" amongst a serene paradise garden setting featuring a lite French and Mediterranean luncheon fare at Sherman Gardens. Enjoy soft breezes and spectacular foliage for outdoor dining, or dine inside the Great Room surrounded by glass door walls, a mosaic fireplace, exposed beams, and Spanish tiled floors. The "coastal garden" cuisine at Café Jardin marries vibrantly fresh California produce with a French pedigree. The restaurant is located in full view of the central flower gardens. Dining takes place outdoors for the most part, moving indoors in case of inclement weather - a rarity in Orange County.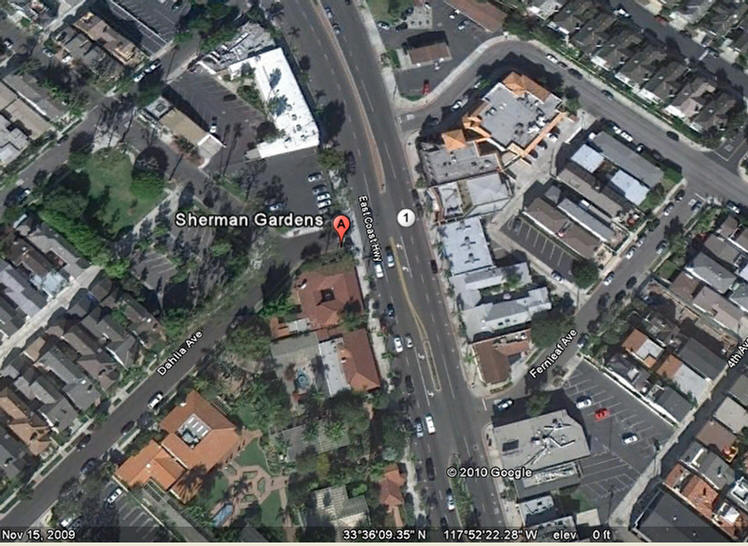 2647 E Coast Hwy Corona Del Mar, CA 92625-2103 (949) 673-2261