Time To Meet And Greet August 9th 2014 (Page One)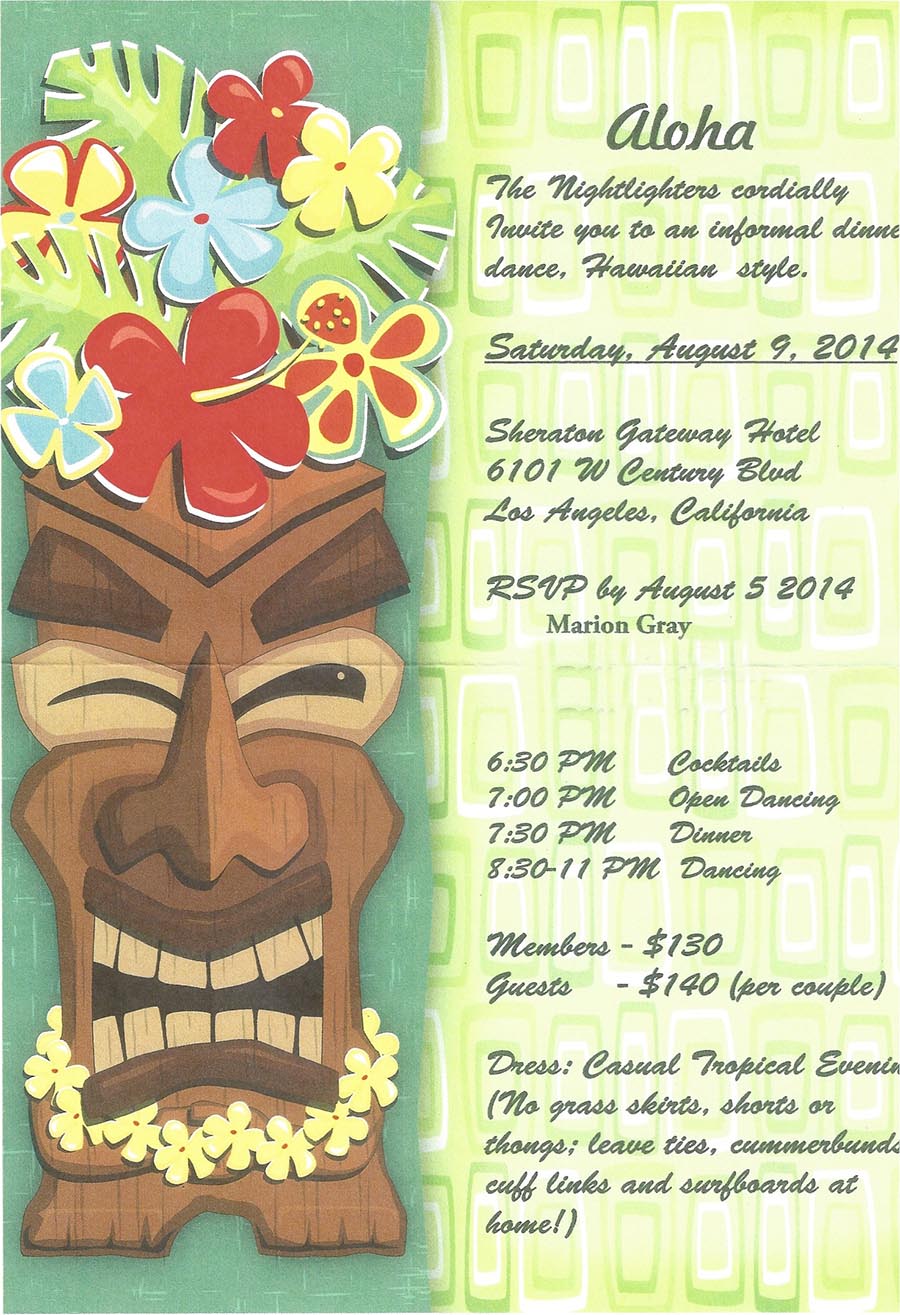 Aloha And Welcome To The Islands
Fresh pineapple directly from Hawaii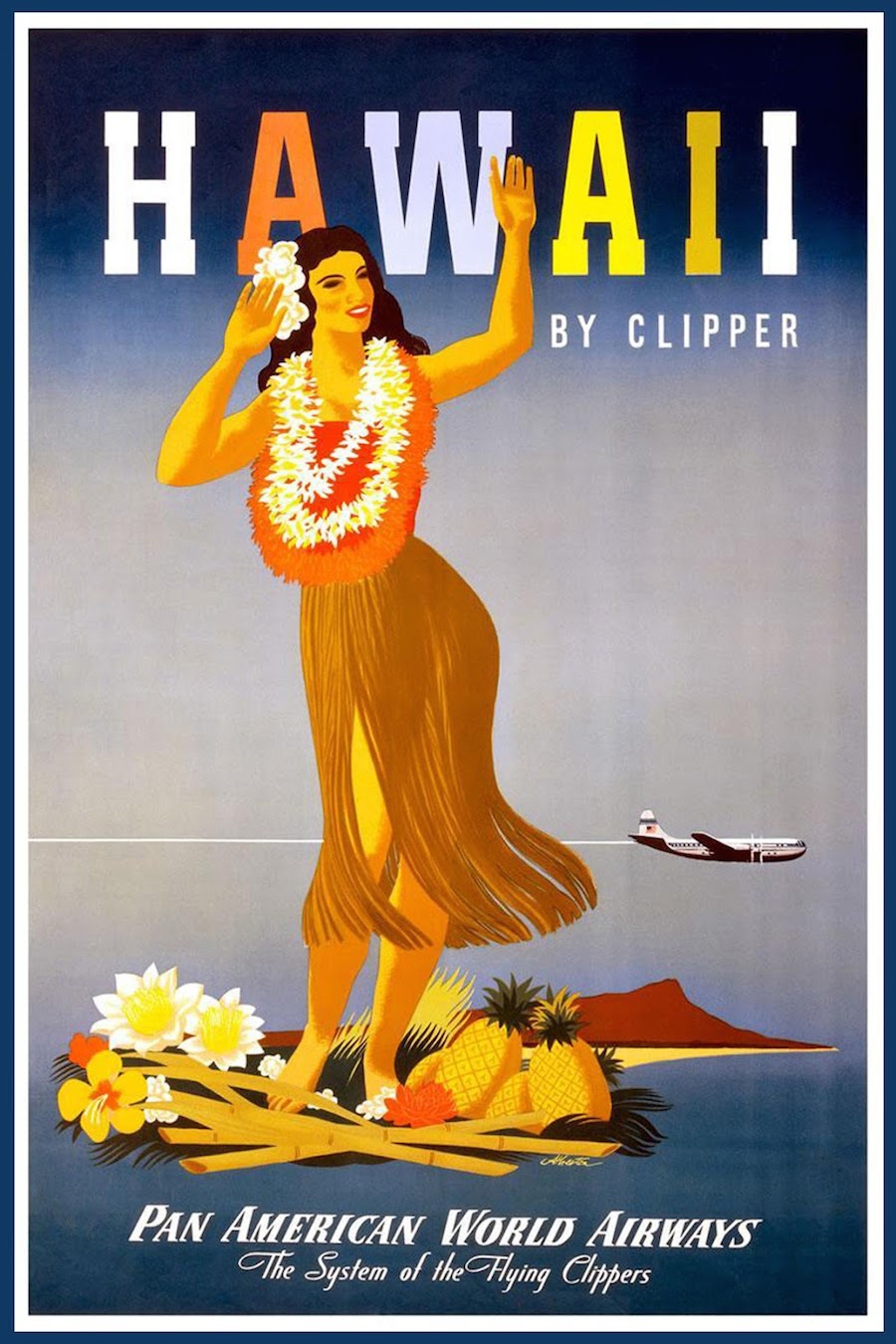 Hope you had a great flight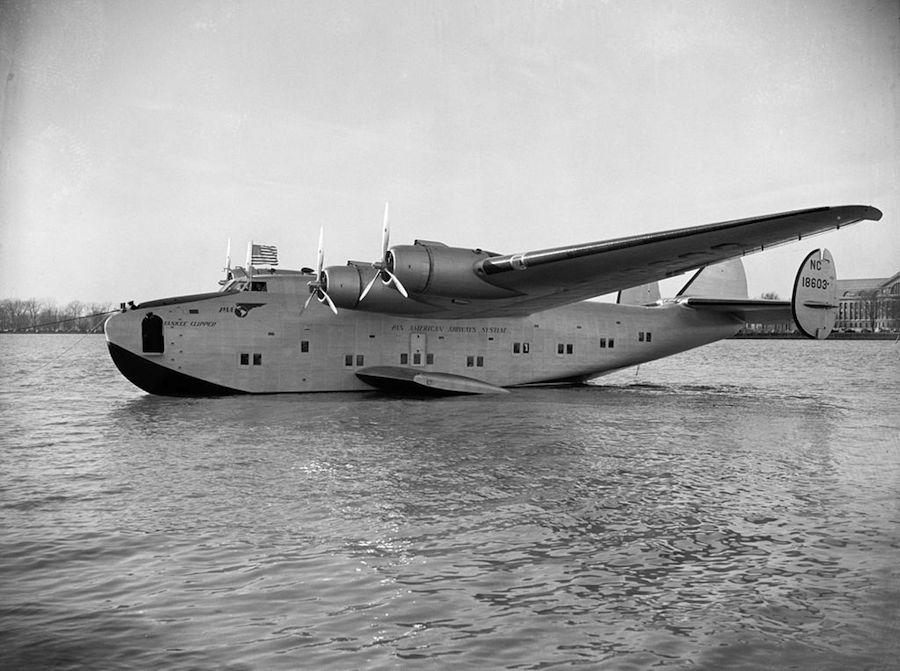 Did You Know? - Pan Am's "Clippers" were built for "one-class" luxury air travel, a necessity given the long duration of transoceanic flights.
The seats could be converted into 36 bunks for overnight accommodation; with a cruising speed of only 188 miles per hour (303 km/h) (typically flights at maximum gross weight were carried out at 155 miles per hour (249 km/h)) in 1940 Pan Am's schedule San Francisco to Honolulu was 19 hours.
The 314s had a lounge and dining area, and the galleys were crewed by chefs from four-star hotels.
Men and women were provided with separate dressing rooms, and white-coated stewards served five and six-course meals with gleaming silver service.
After the war, several Clippers were returned to Pan American hands. However, even before hostilities had ended, the Clipper had become obsolete.
The flying boat's advantage had been that it didn't require long concrete runways, but during the war a great many such runways were built for heavy bombers.
New long-range airliners such as the Lockheed Constellation and Douglas DC-4 were developed. The new land planes were relatively easy to fly, and did not require the extensive pilot training programs mandated for seaplane operations.

Please check in and tell us about your flight over today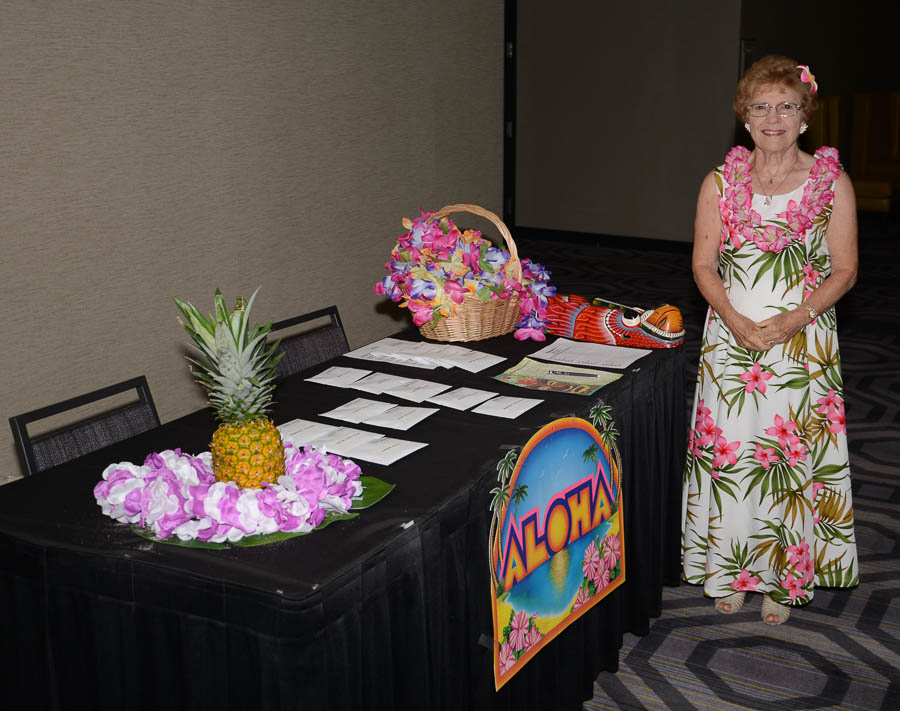 Penny watches the table for a few minutes (Courtesy of Gary Gray)

With her helper (Courtesy of Gary Gray)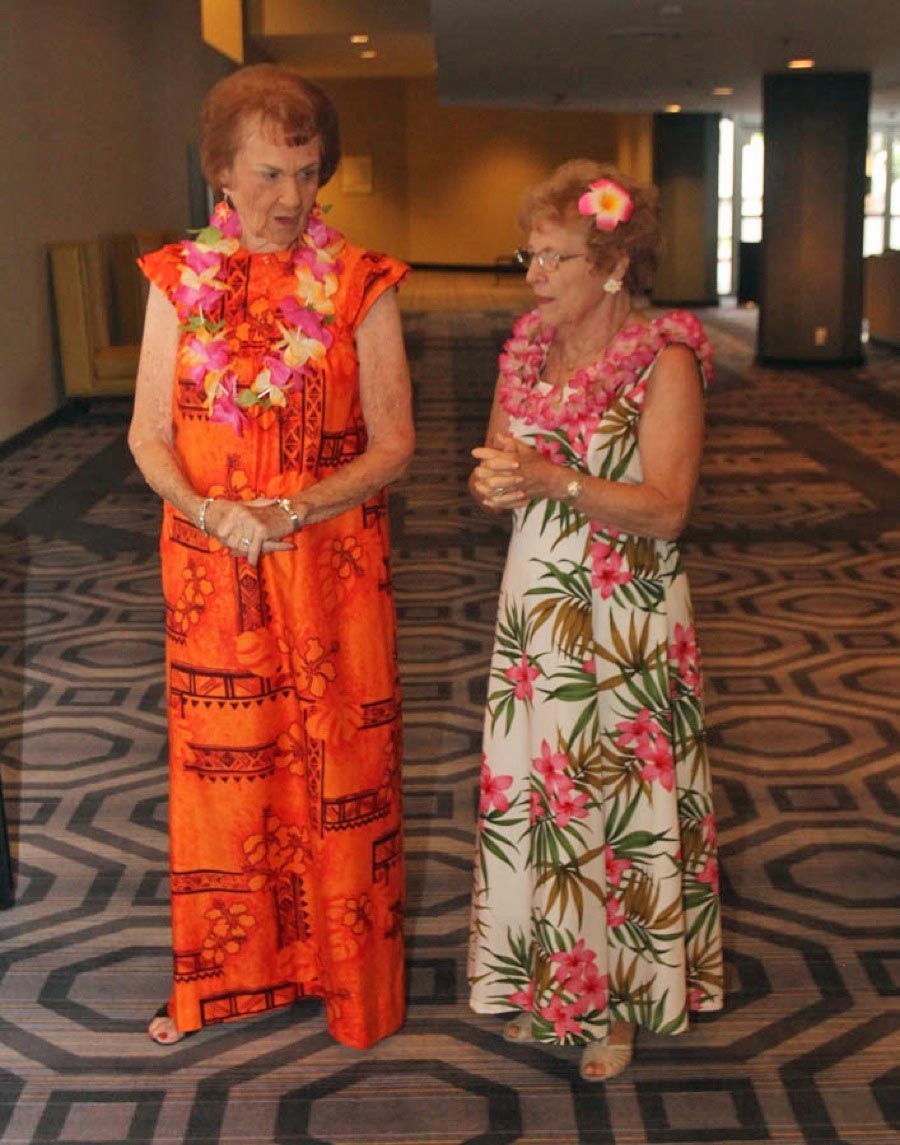 The ladies lit up the hotel lobby

"Look what we found growing in the lobby!" (Courtesy of Gary Gray)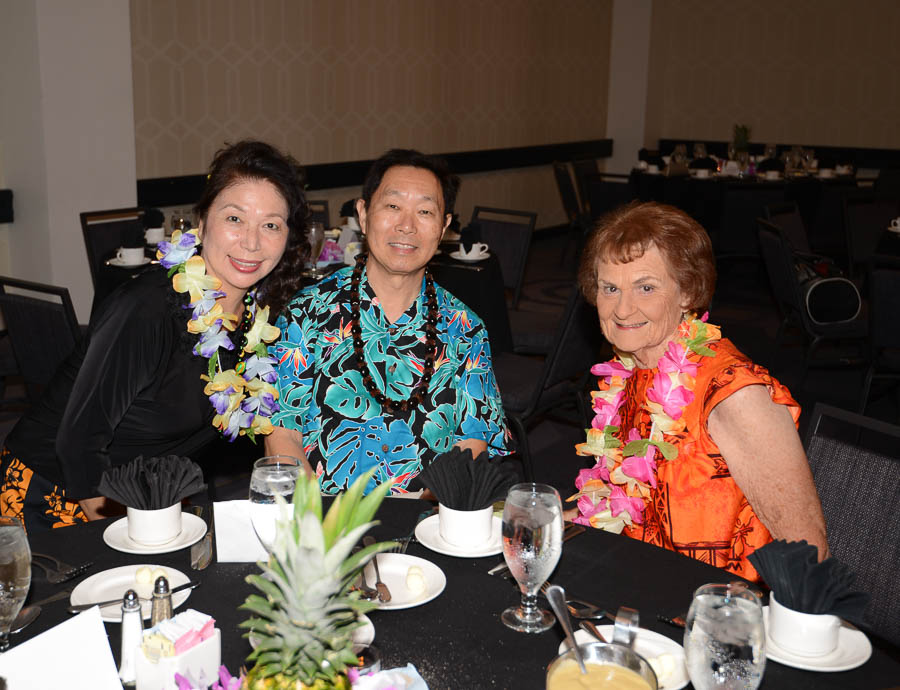 Pre-dance coordination with our greeters (Courtesy of Gary Gray)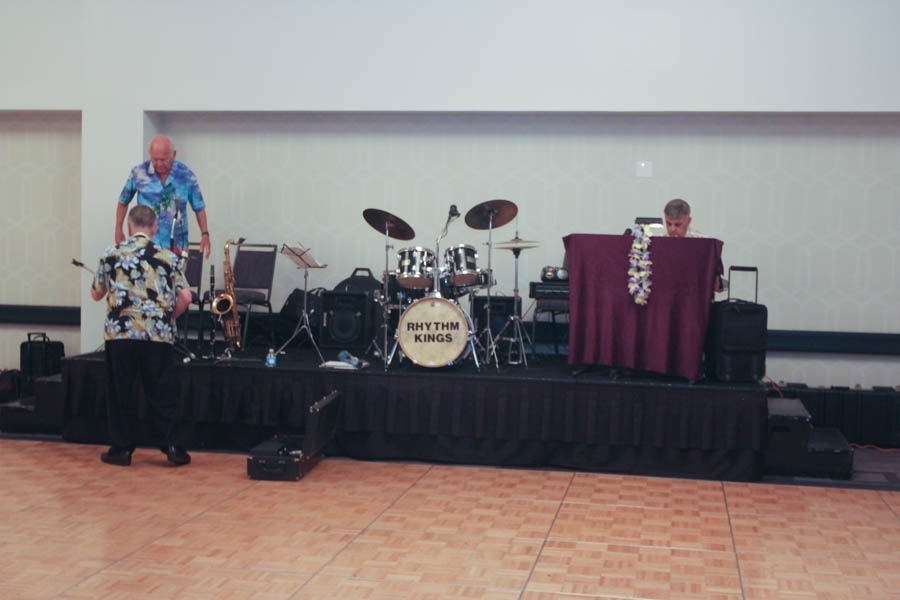 The band was setting up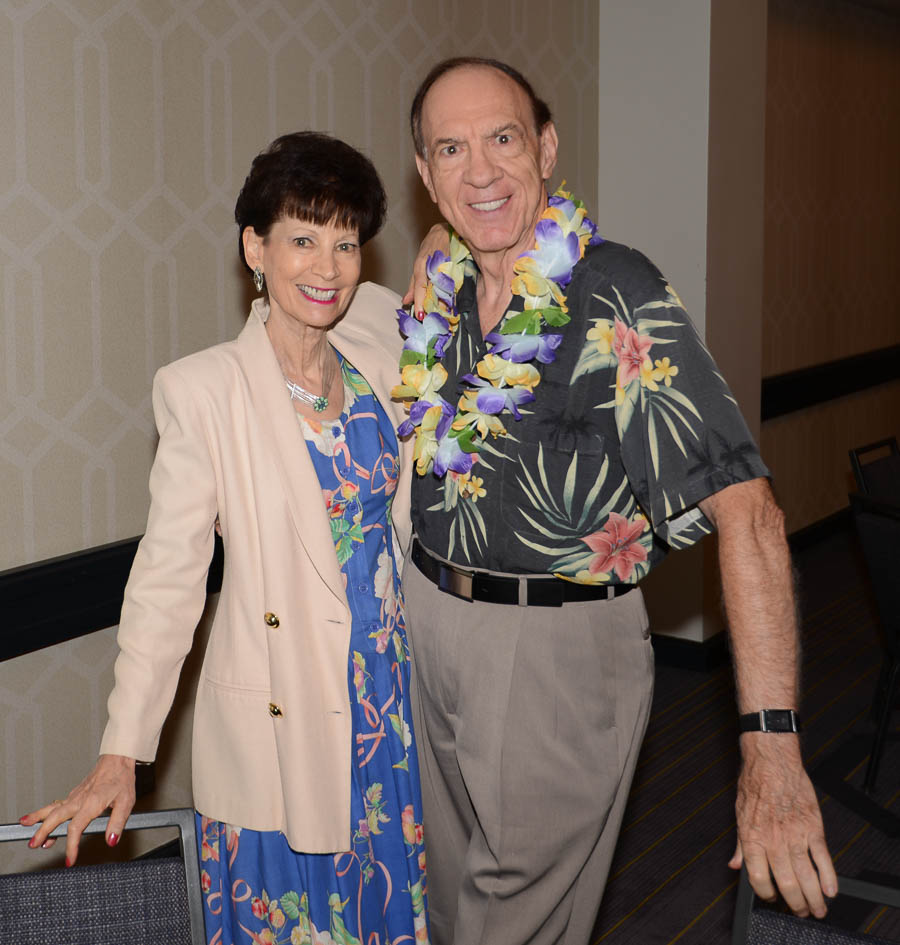 Welcome to the island (Courtesy of Gary Gray)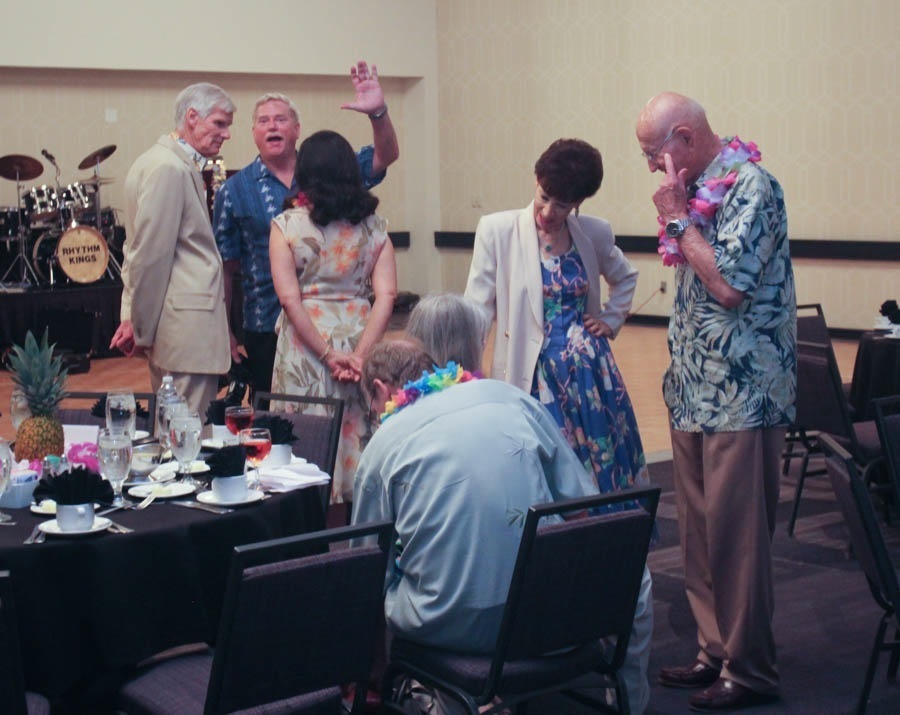 Gary and his camera were making the rounds

Checking out the lei's (Courtesy of Gary Gray)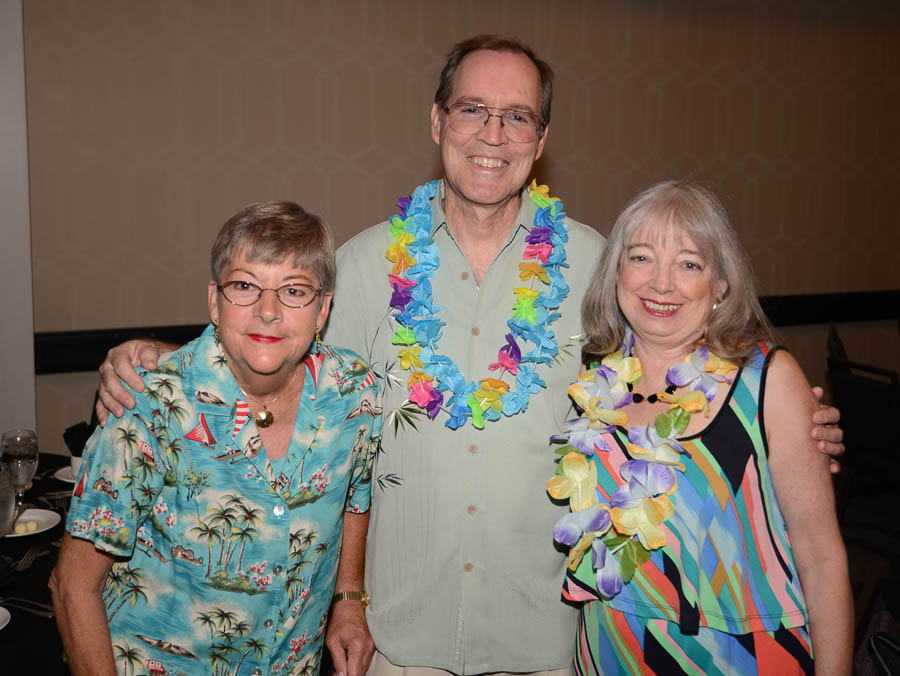 Color abounds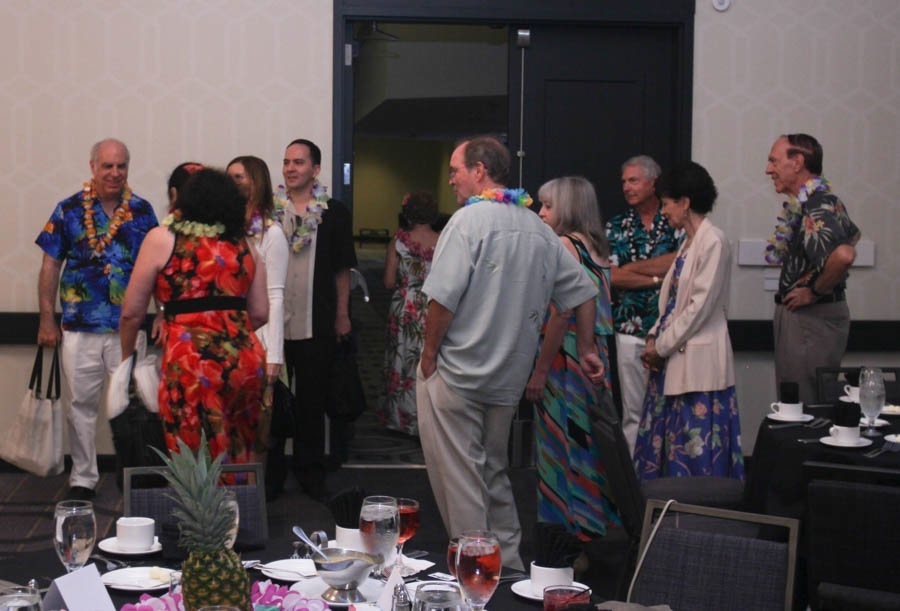 Members and guests began pouring in... Time to get started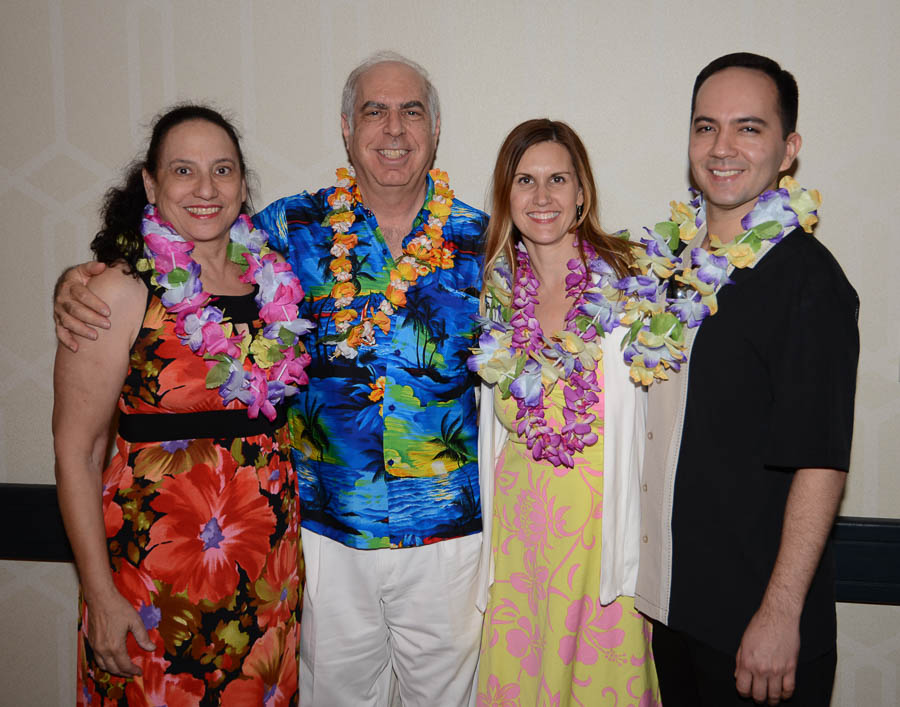 Welcome guests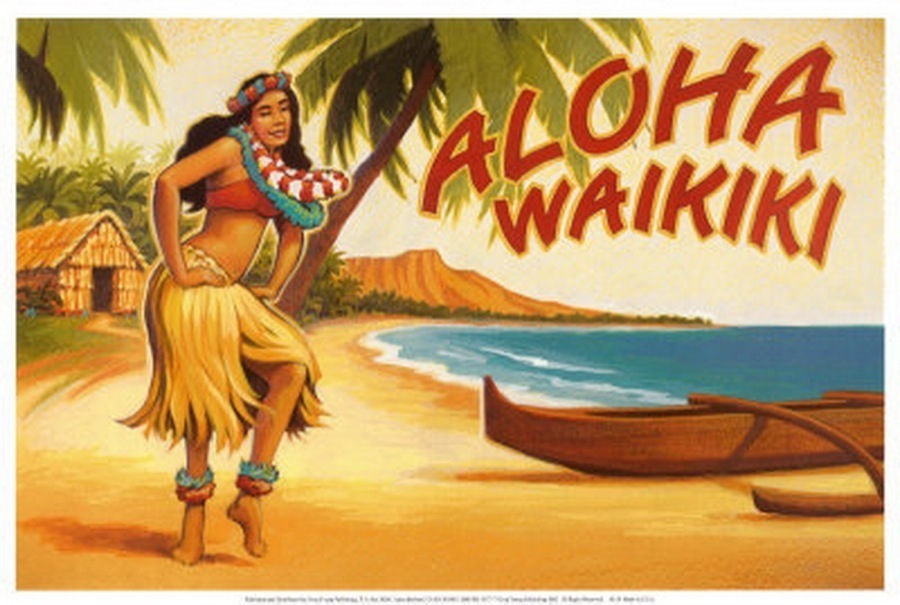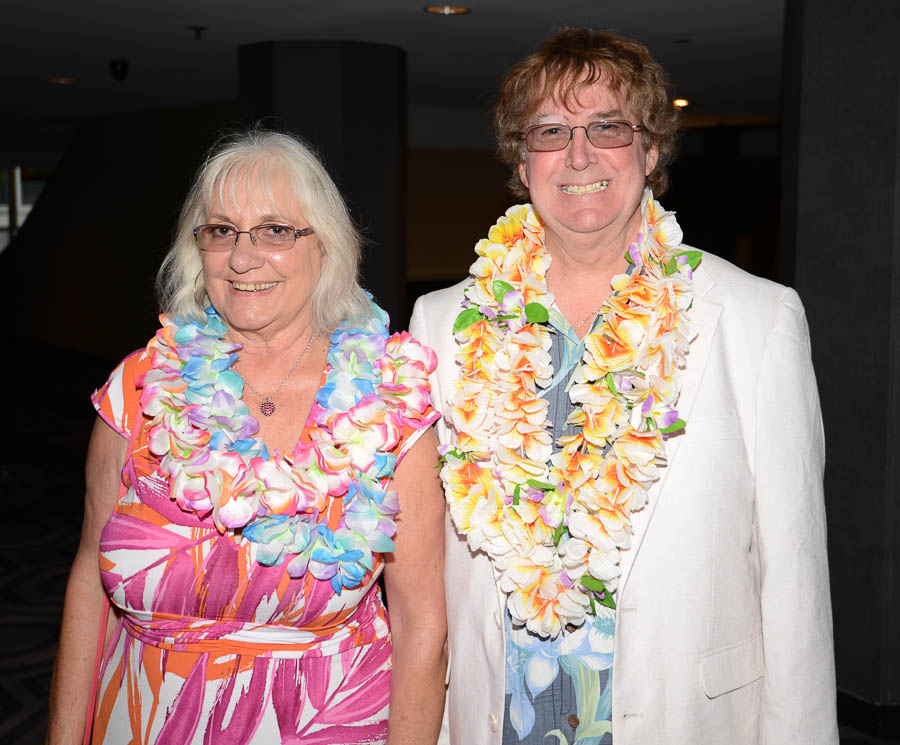 We are here... The party can start!

Ever see so many colors?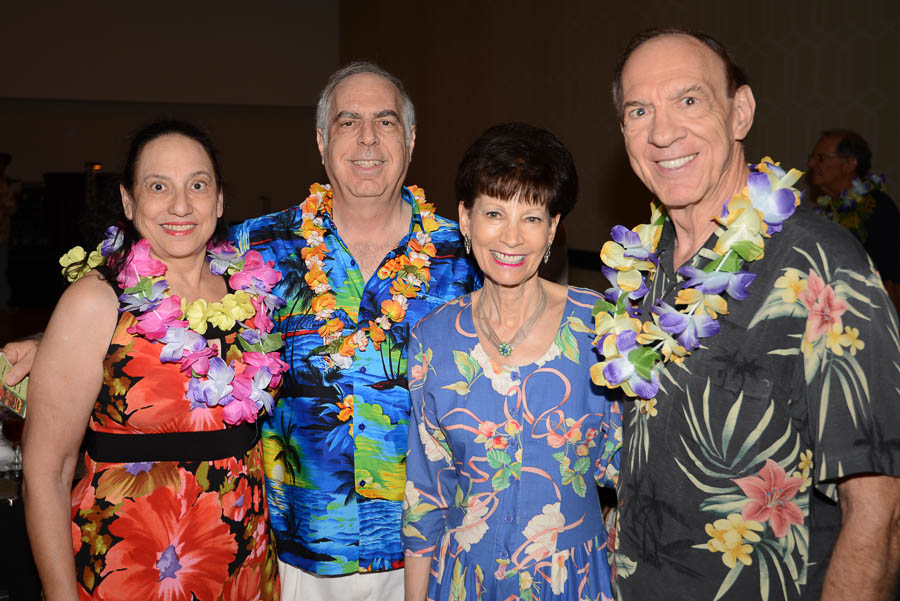 Techicolor explosion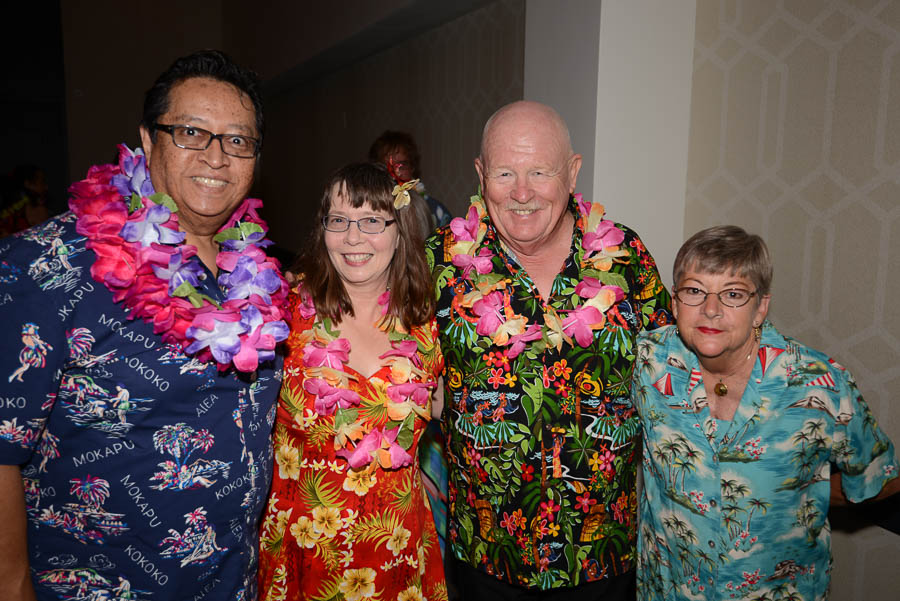 The Mancera's and Liles' - A garden on the move (Courtesy of Gary Gray)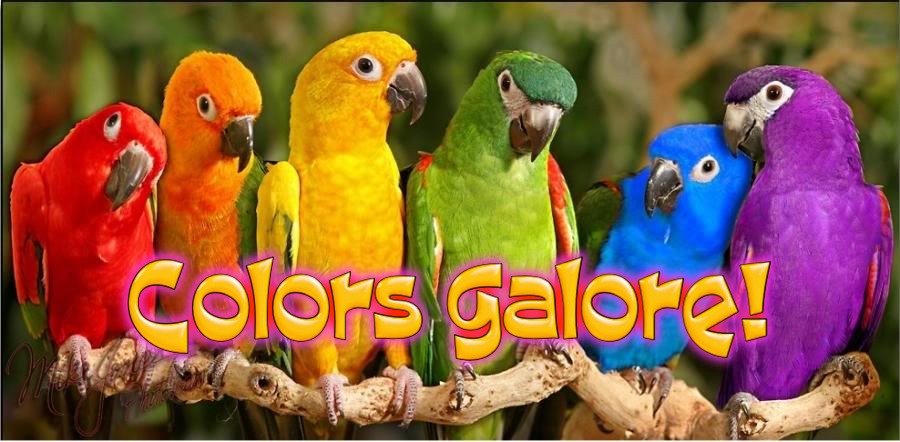 Joe's Rhythm Kings kept the place rocking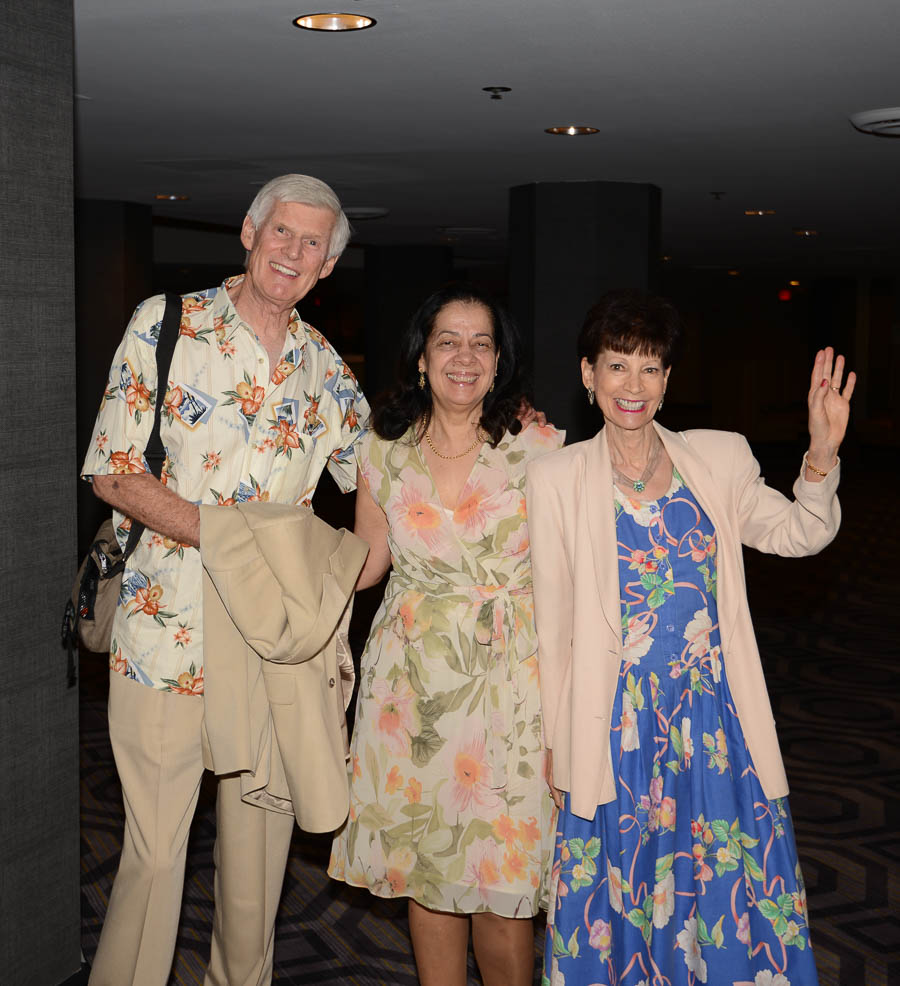 Come on in... Water is fine (Courtesy of Gary Gray)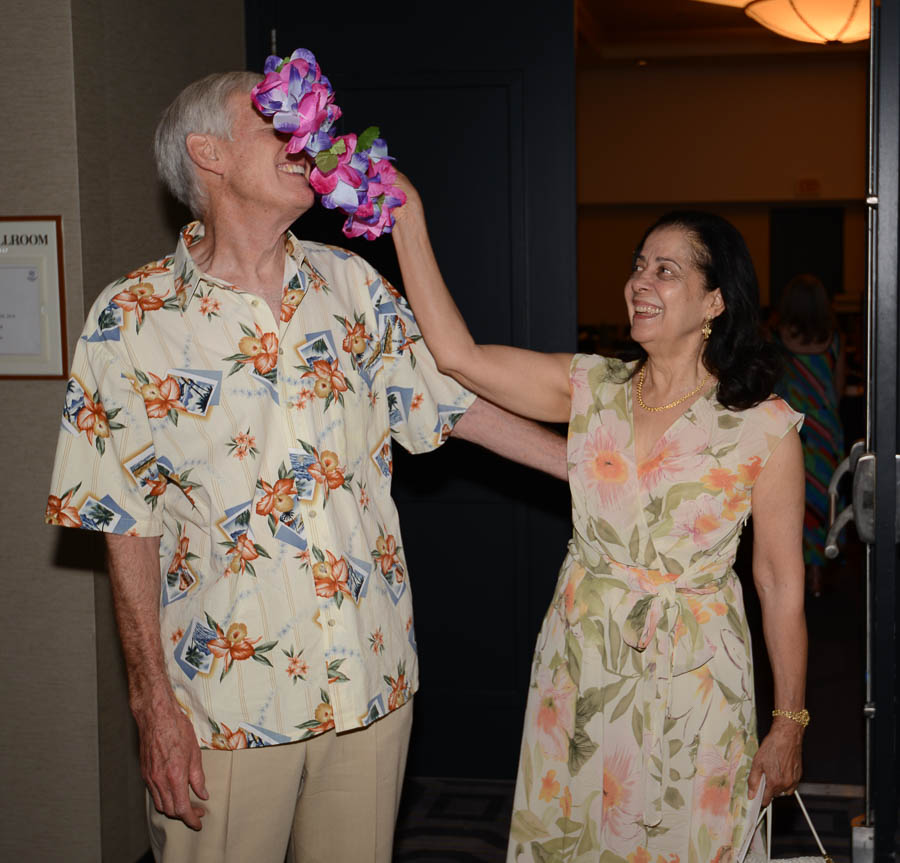 "Dear! I think it goes over my head" (Courtesy of Gary Gray)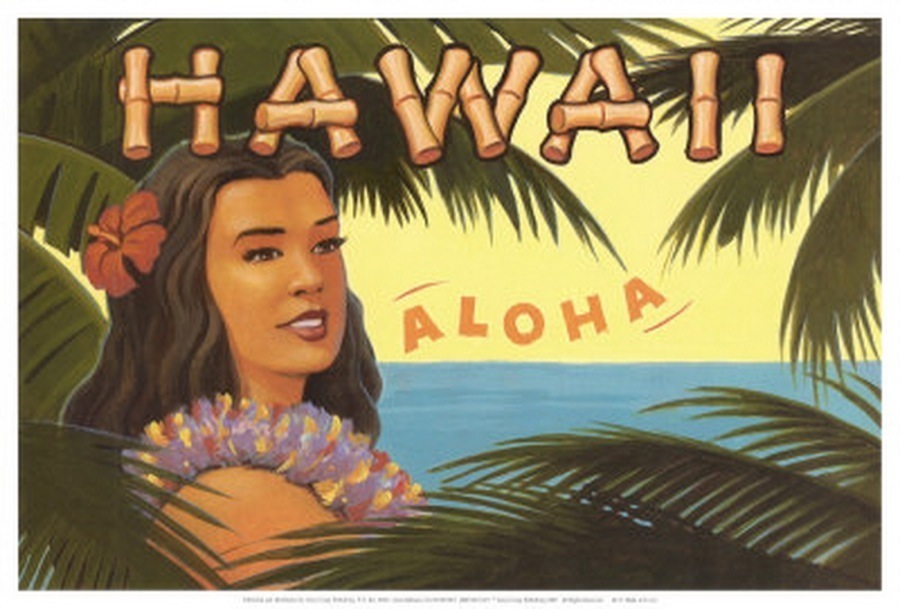 Getting situated at the various tables... Seek and sit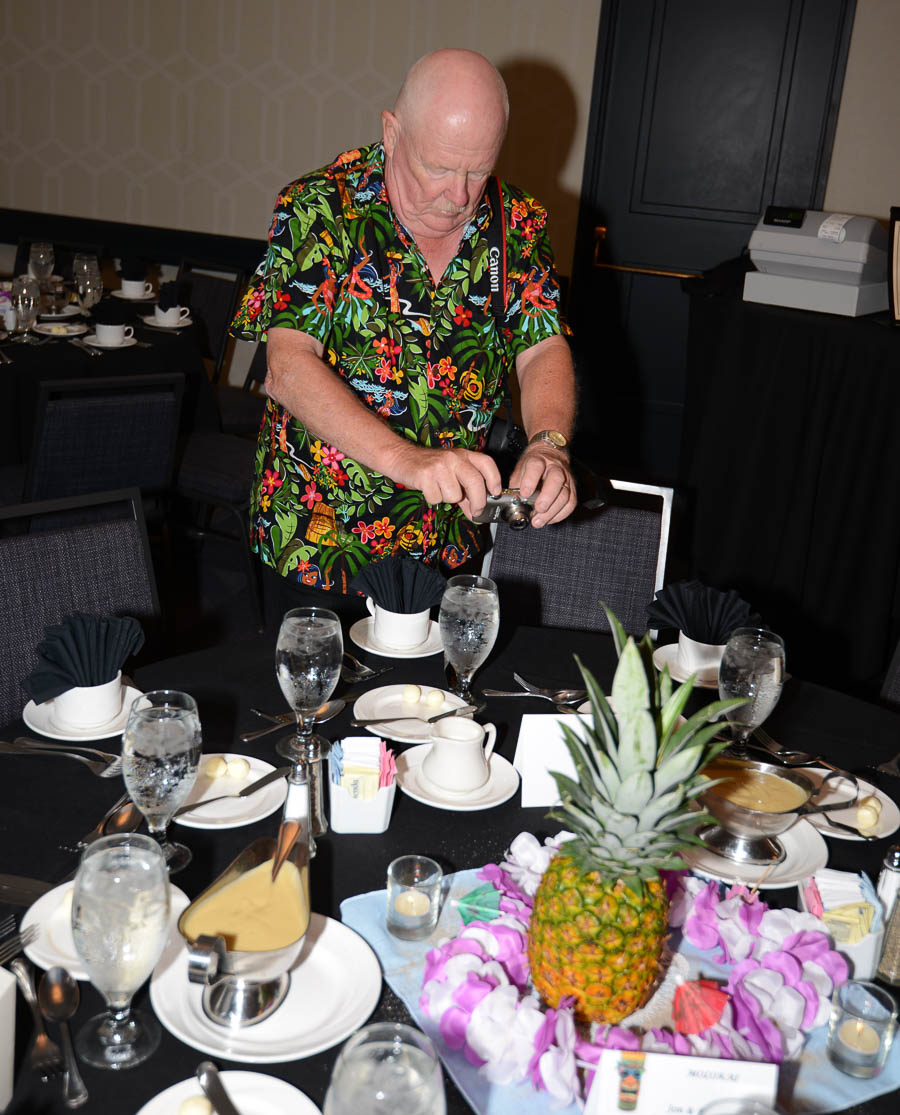 Paul captures the table cards on camera (Courtesy of Gary Gray)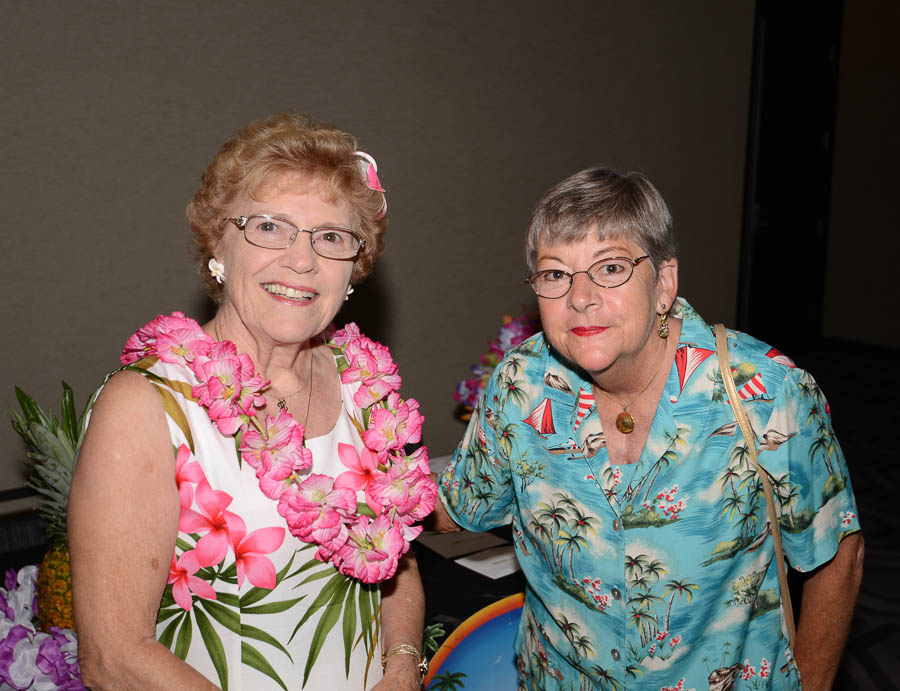 Penny and Sue doing a lobby meet and greet (Courtesy of Gary Gray)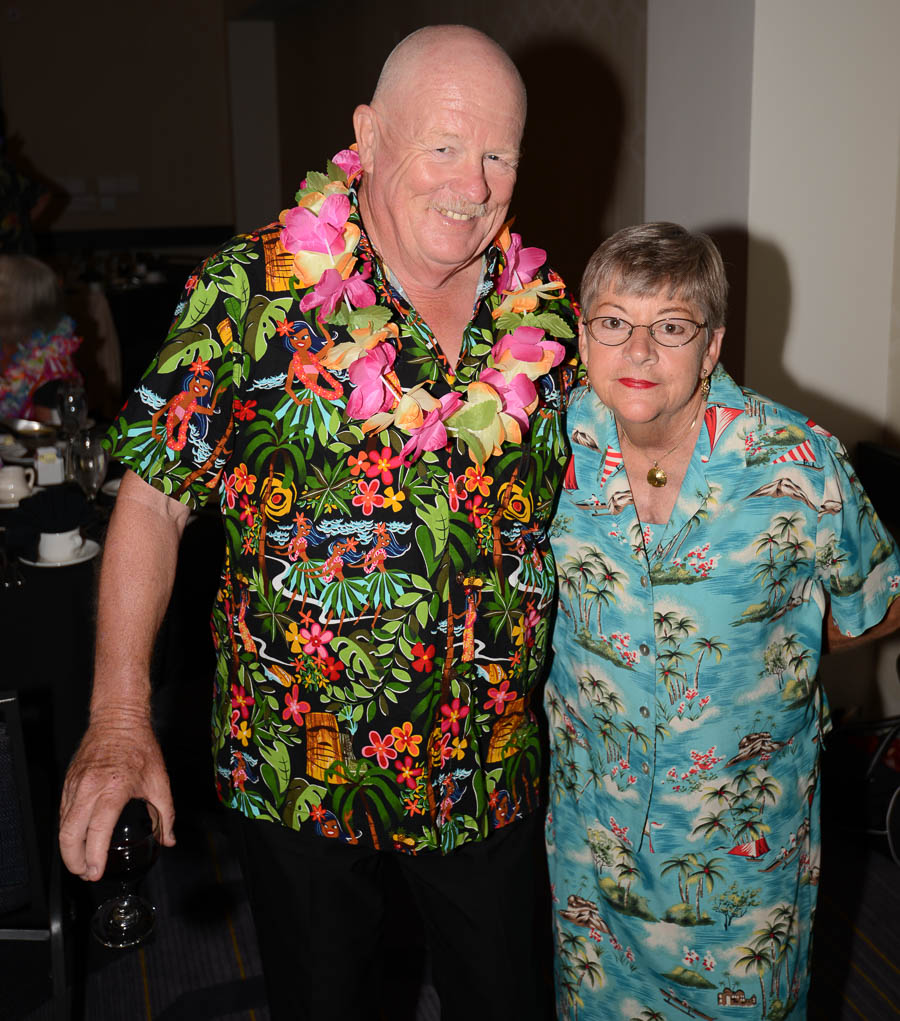 "How did we get from behind the camera? "(Courtesy of Gary Gray)

Time to hit the floor (Courtesy of Gary Gray)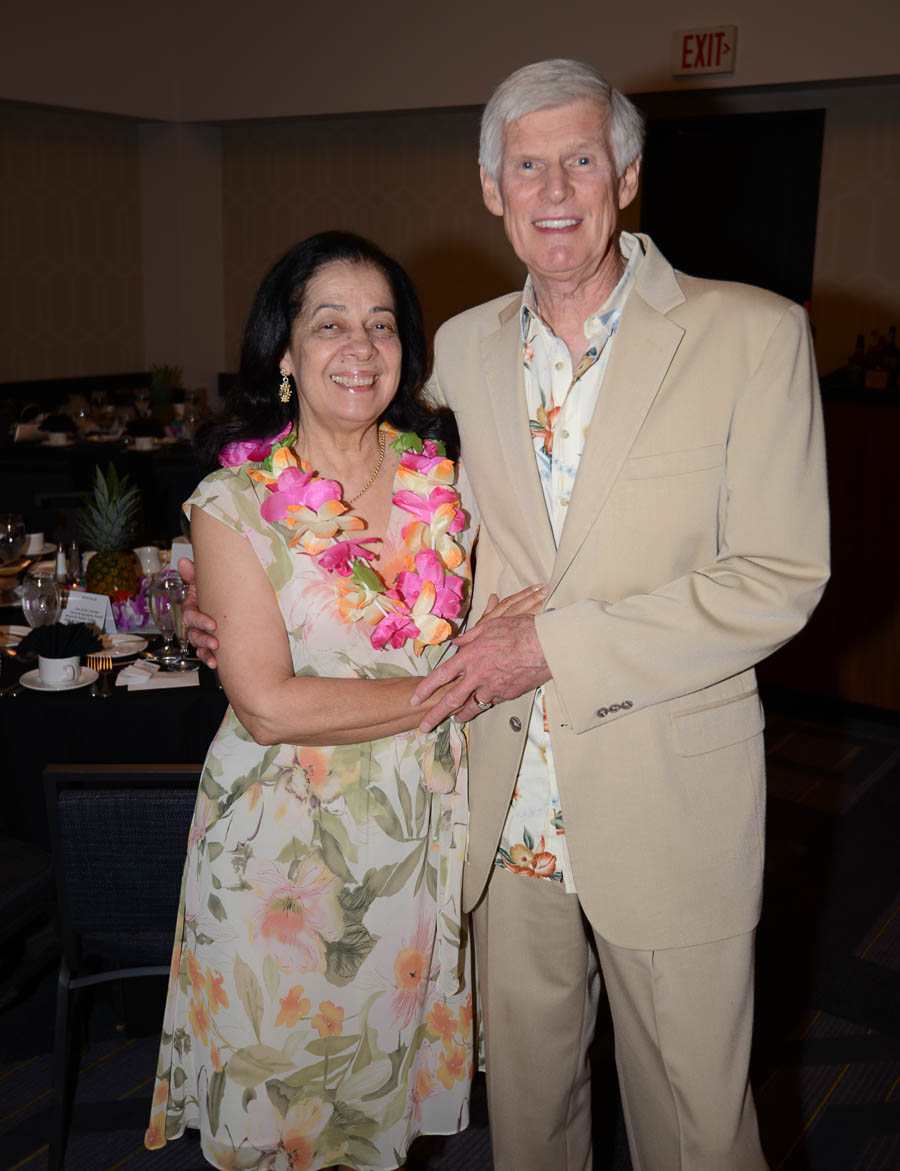 "OK big boy... Off with the jacket, on with the lei... Let's dance" (Courtesy of Gary Gray)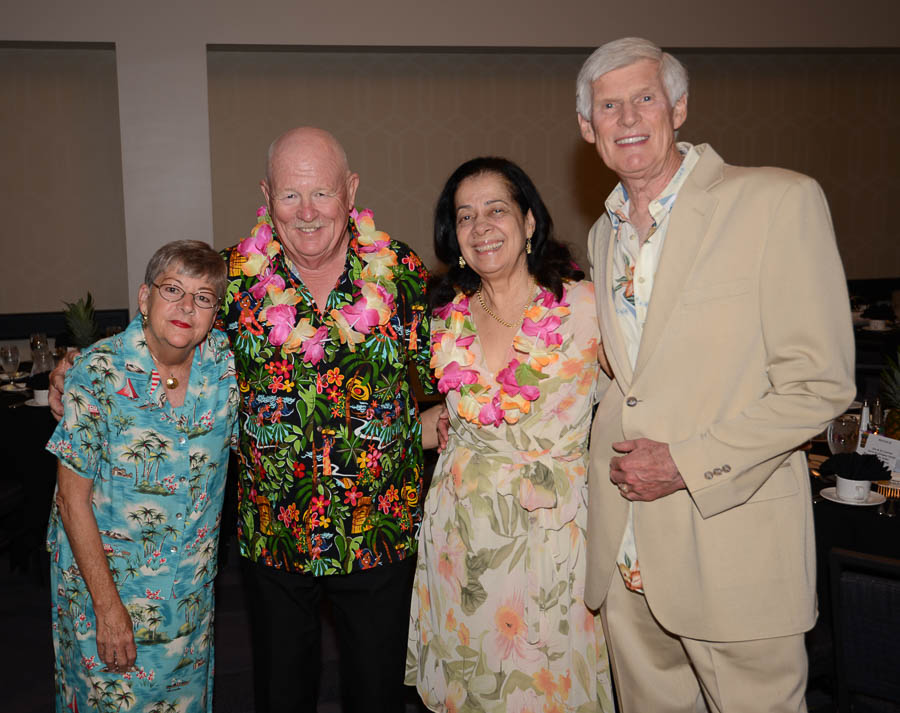 To the dance we go...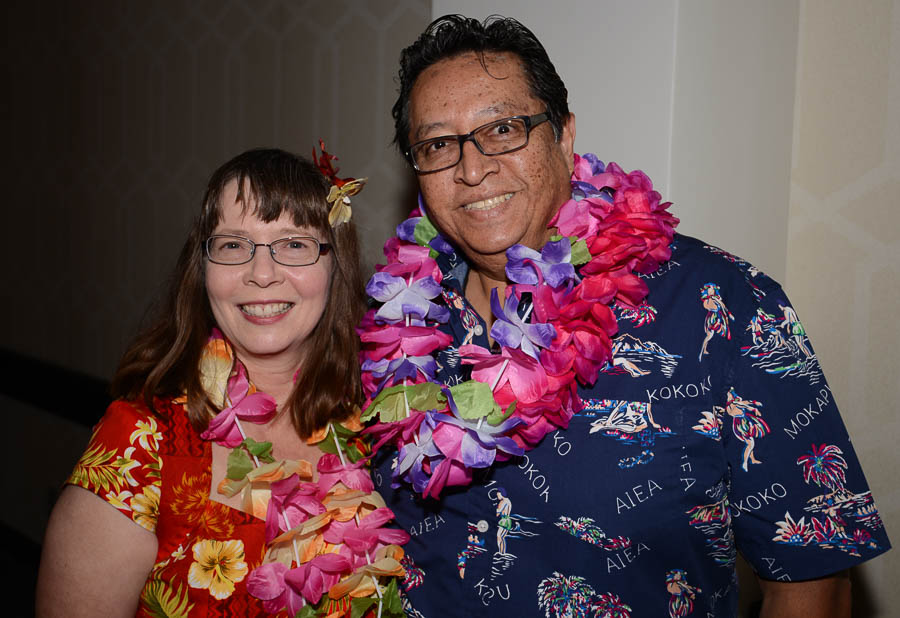 "Where did you get all the leis?" (Courtesy of Gary Gray)

Marion and Gary (Courtesy of Gary Gray)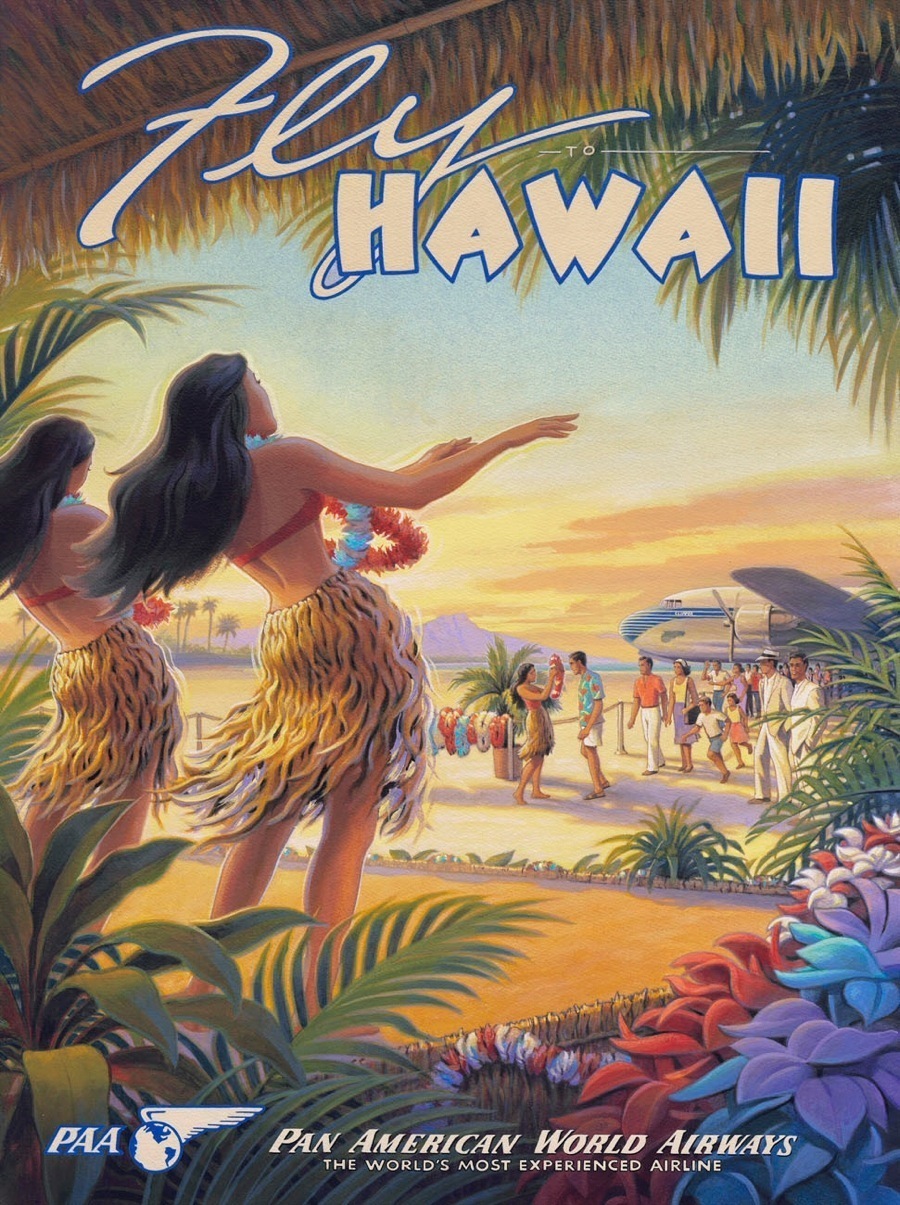 First on the floor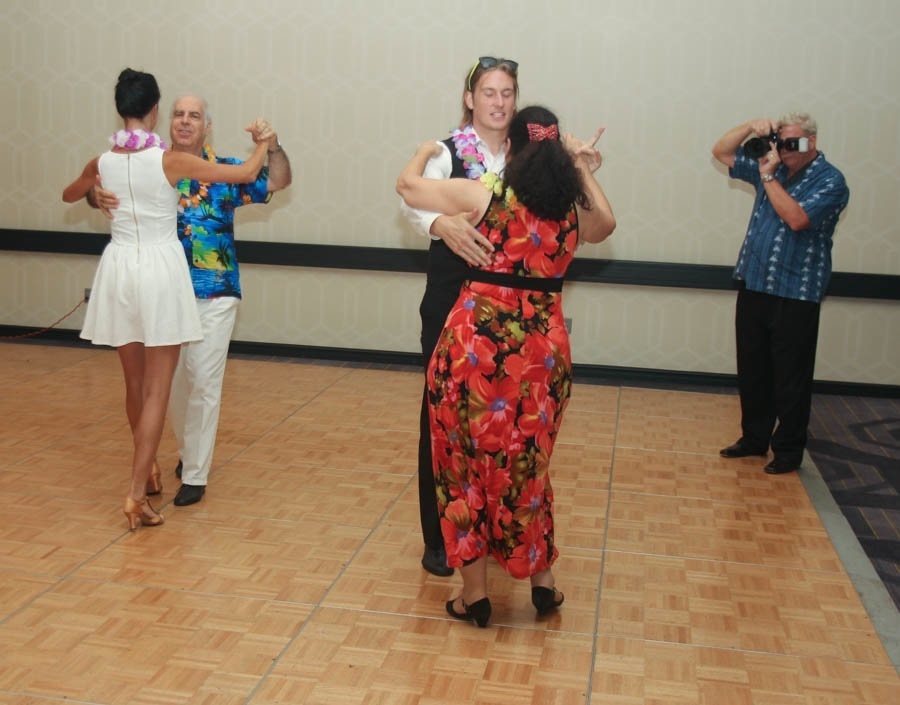 The Nightlighters waste no time

Our room was good sized and the dance floor fit everyone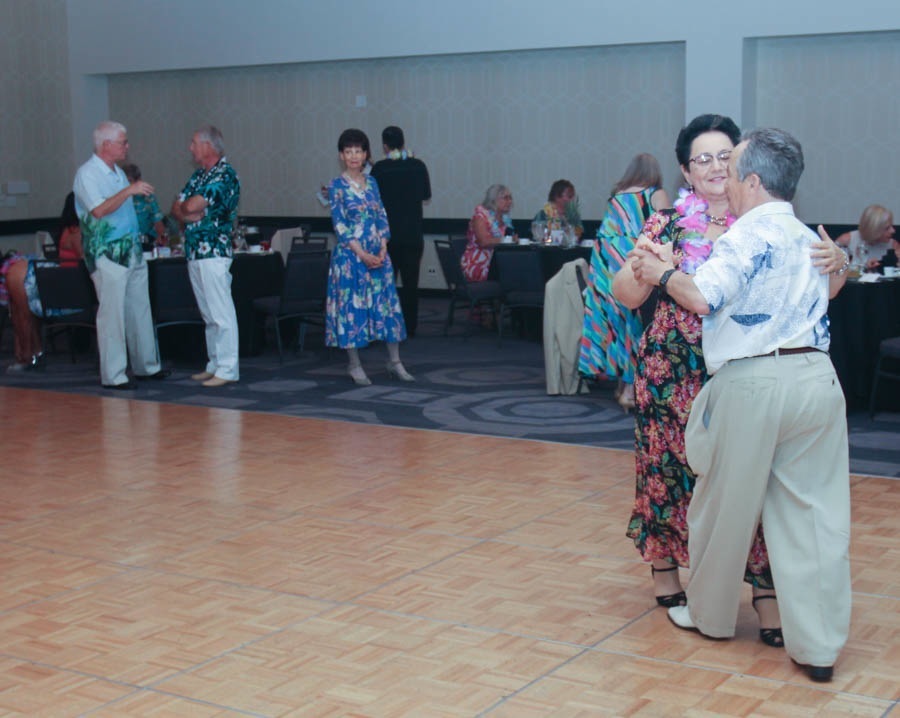 Most people had lei's
Did You Know? - Lei is a garland or wreath. More loosely defined, a lei is any series of objects strung together with the intent to be worn. The most popular concept of a lei in Hawaiian culture is a wreath of flowers presented upon arriving or leaving as a symbol of affection. This concept was popularized through tourism between the Hawaiian Islands and the continental United States in the 19th and 20th centuries.

Hawaiian dance instruction underway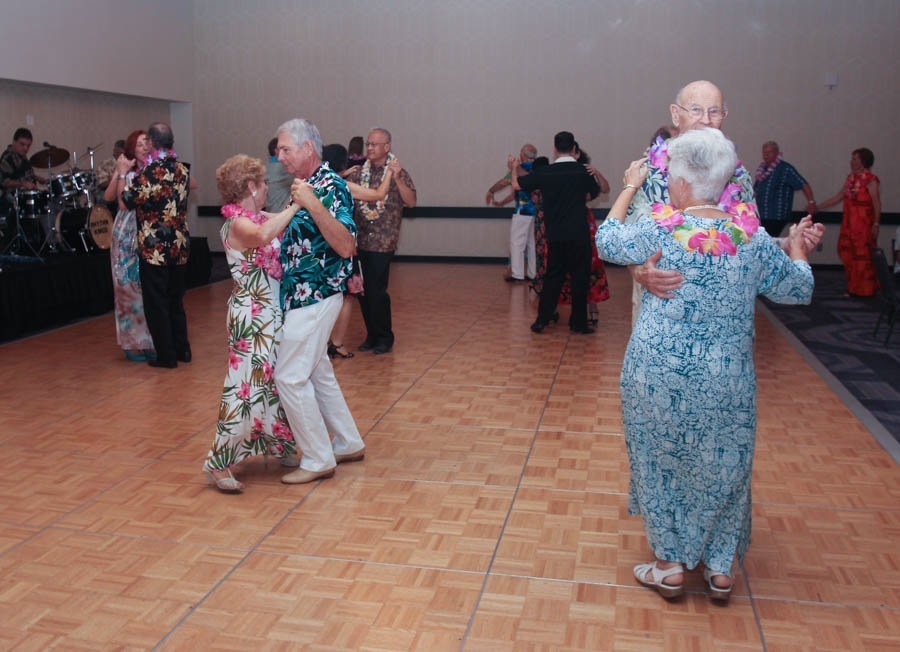 With all the flowered clothes it would have been a honeybee heaven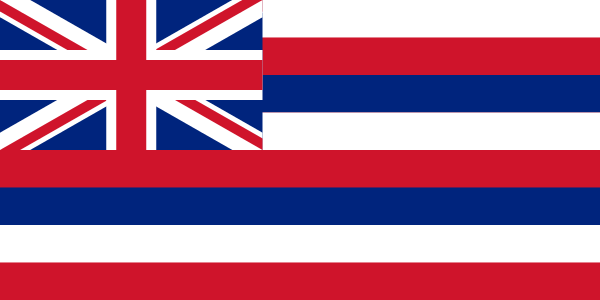 Did You Know? - The flag of the State of Hawaii (Hawaiian: Ka Hae Hawaiʻi) is the official standard symbolizing Hawaii as a U.S. state. The same flag had also previously been used by the kingdom, protectorate, republic, and territory of Hawaii.
It is the only U.S. state flag to feature the Union Flag of the United Kingdom, a remnant of the period in Hawaiian history when it was associated with the British Empire.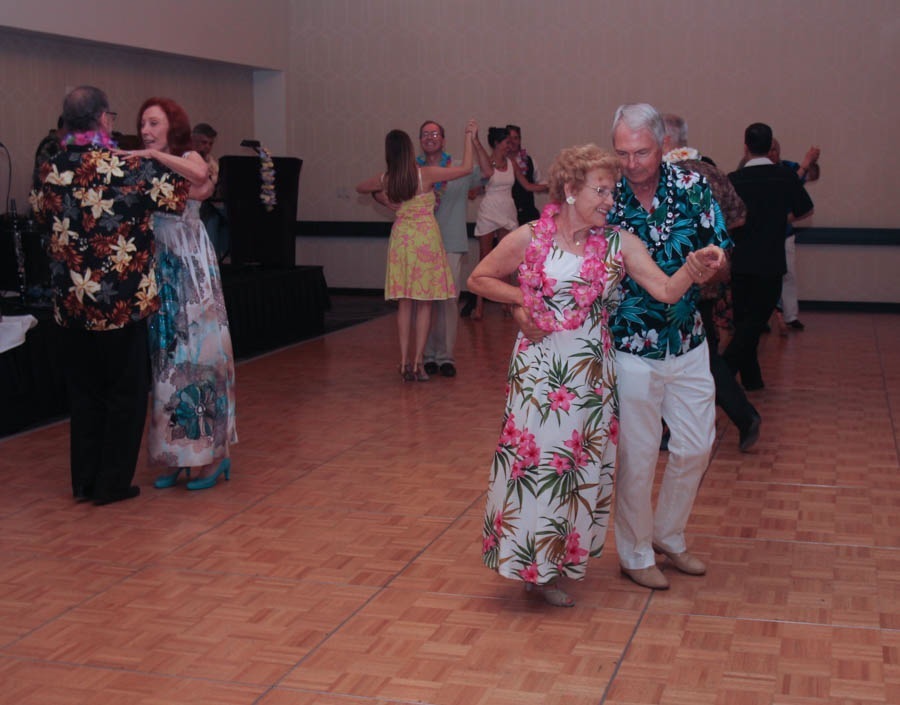 No whispering!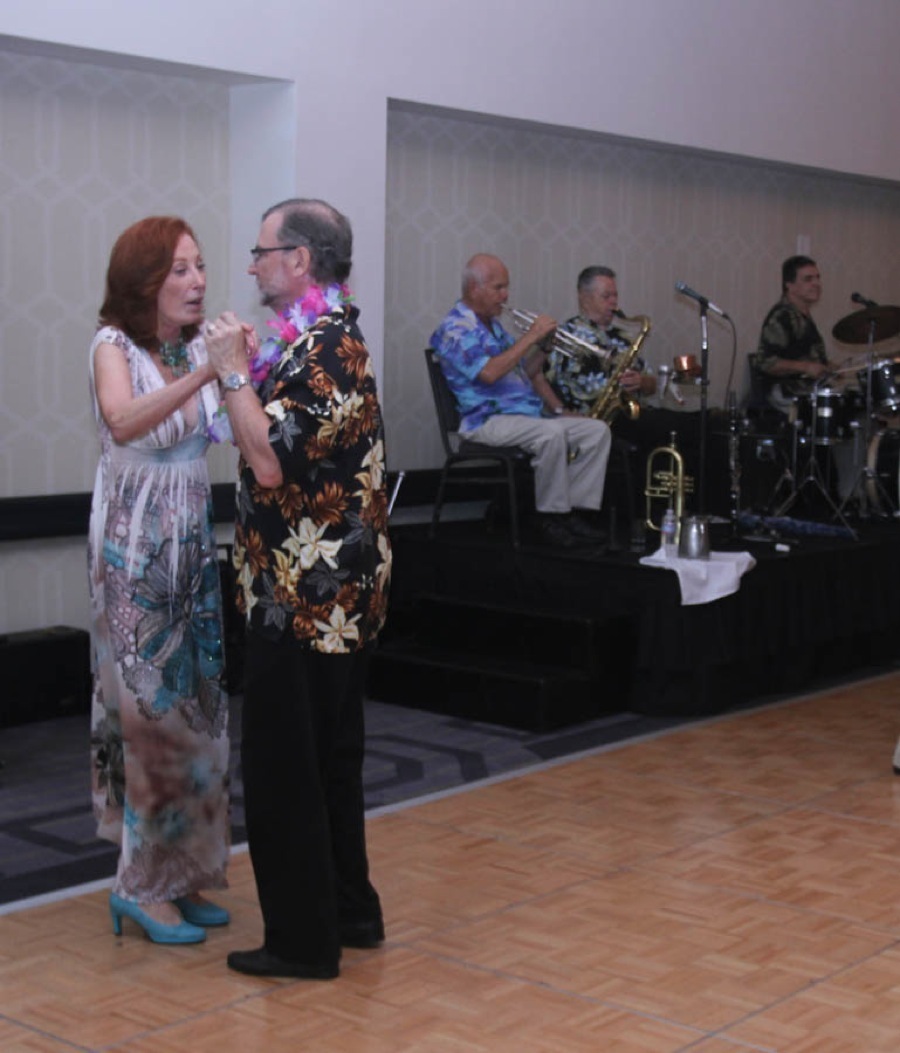 The band played on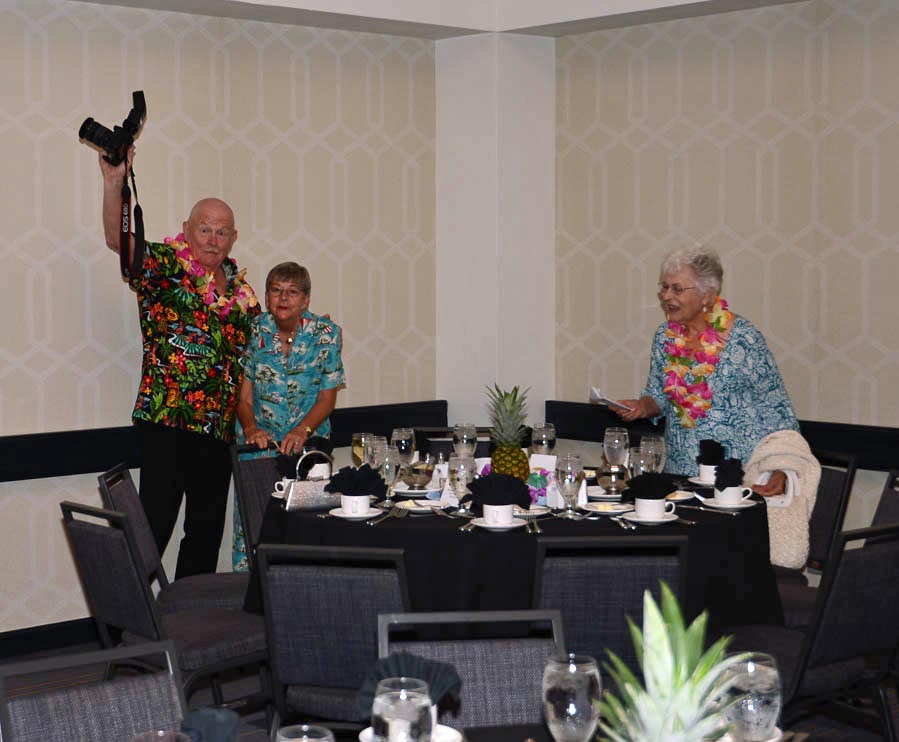 "I have the telephoto lens (Courtesy of Gary Gray)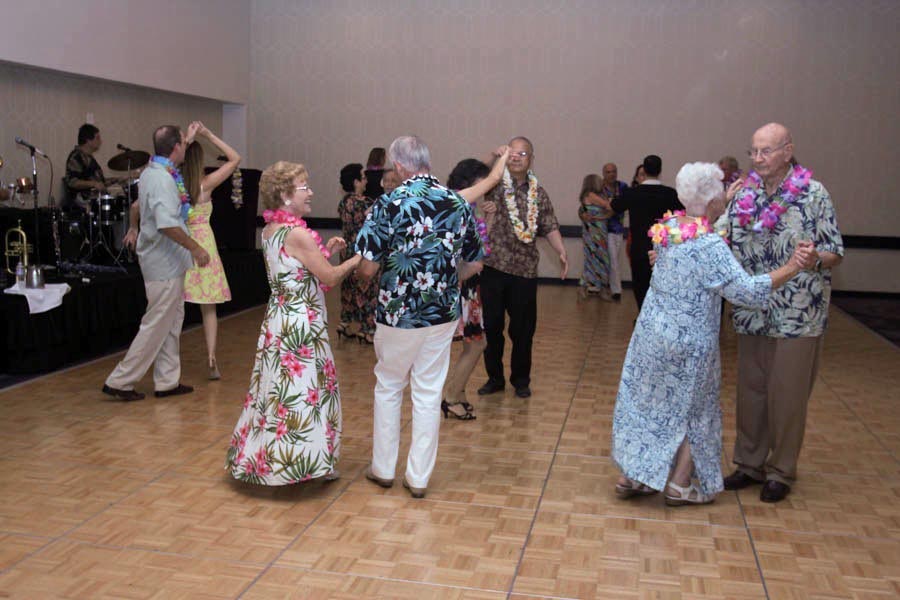 Around and around we go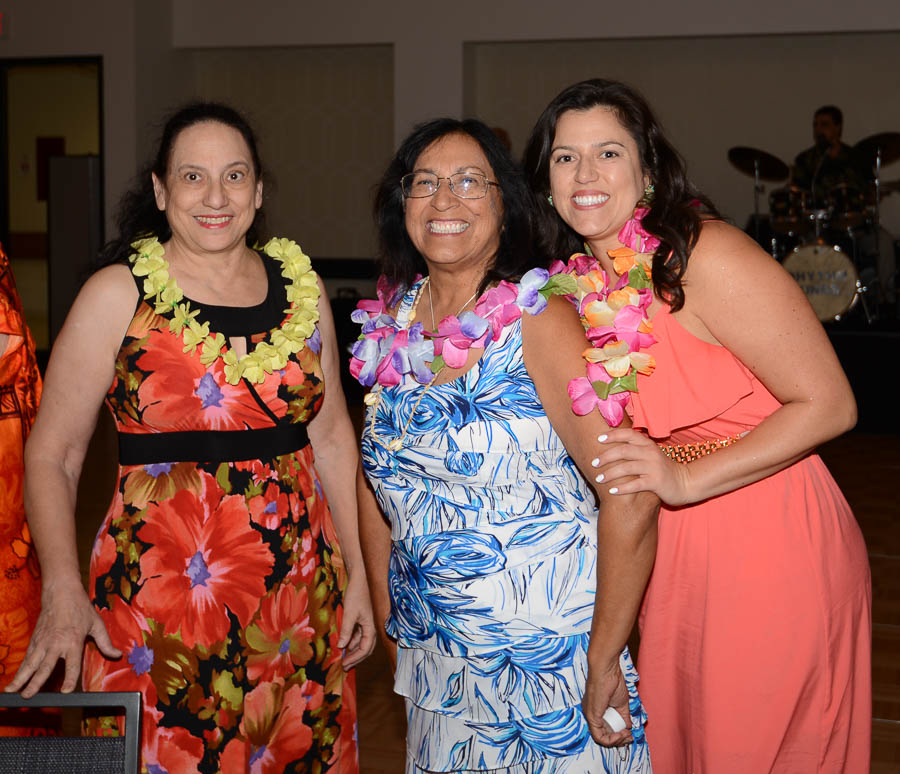 All smiles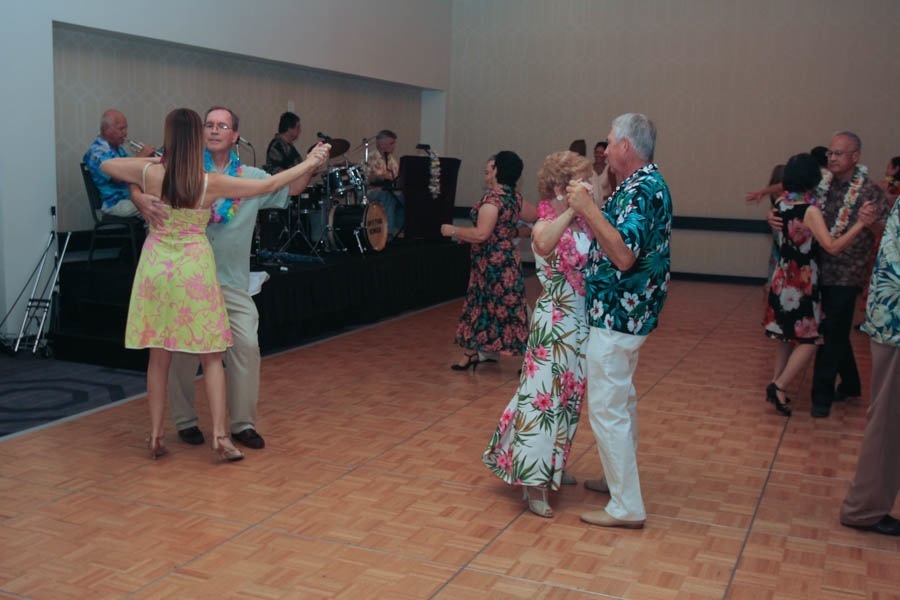 Meanwhile back at the tables visiting is well underway

Time for a rest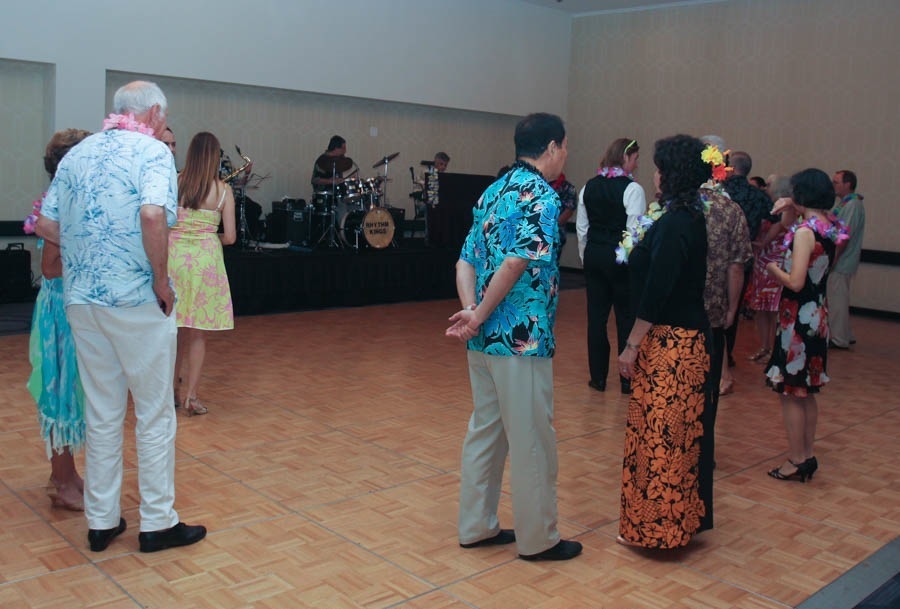 What will they play next??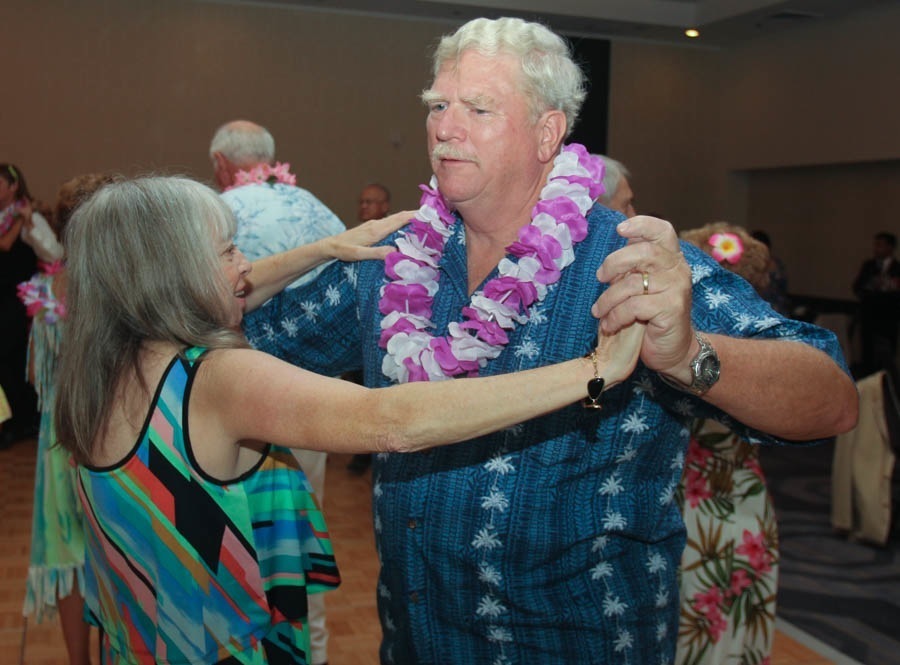 Dottie and Gary floating across the lagoon
Did You Know? - A lagoon is a shallow body of water separated from a larger body of water by barrier islands or reefs. Lagoons are commonly divided into coastal lagoons and atoll lagoons.
They have also been identified as occurring on mixed-sand and gravel coastlines. There is an overlap between bodies of water classified as coastal lagoons and bodies of water classified as estuaries. Lagoons are common coastal features around the world.
"Lagoon" is derived from the Italian laguna, which refers to the waters around Venice, the Lagoon of Venice. Laguna is attested in English by at least 1612, and had been Anglicized to "lagune" by 1673.
In 1697 William Dampier referred to a "Lagune or Lake of Salt water" on the coast of Mexico. Captain James Cook described an island "of Oval form with a Lagoon in the middle" in 1769.

Swinging and swaying to the music of the islands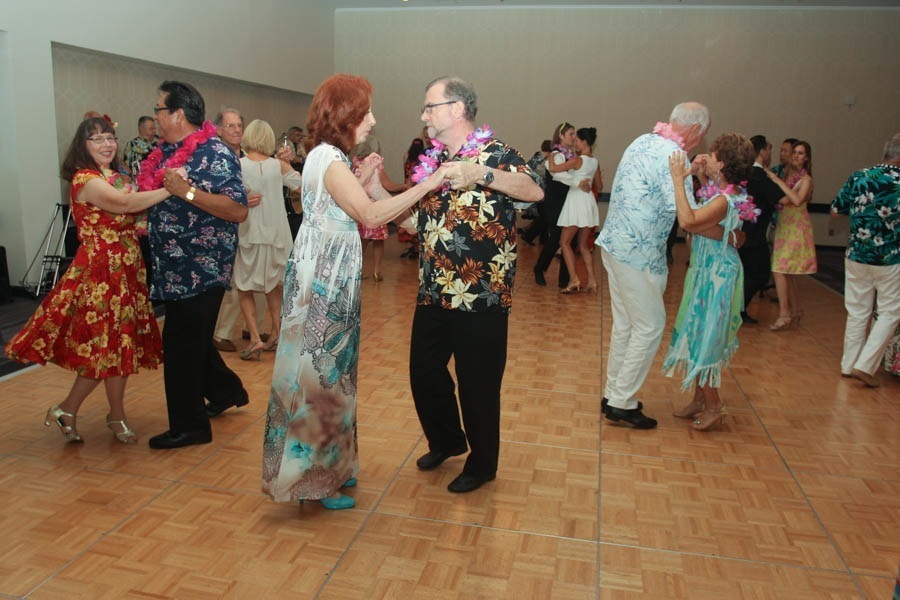 The floor was busy all evening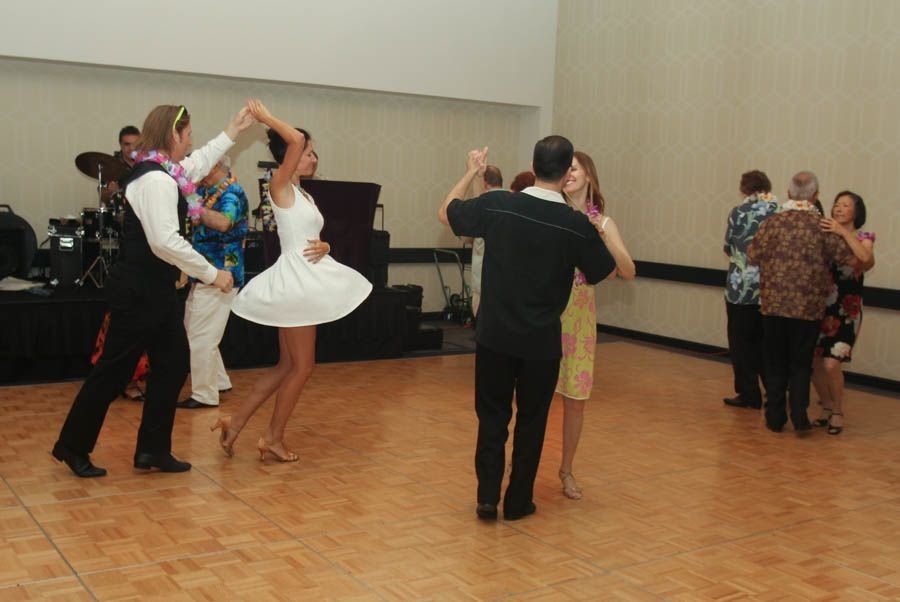 Whirl and twirl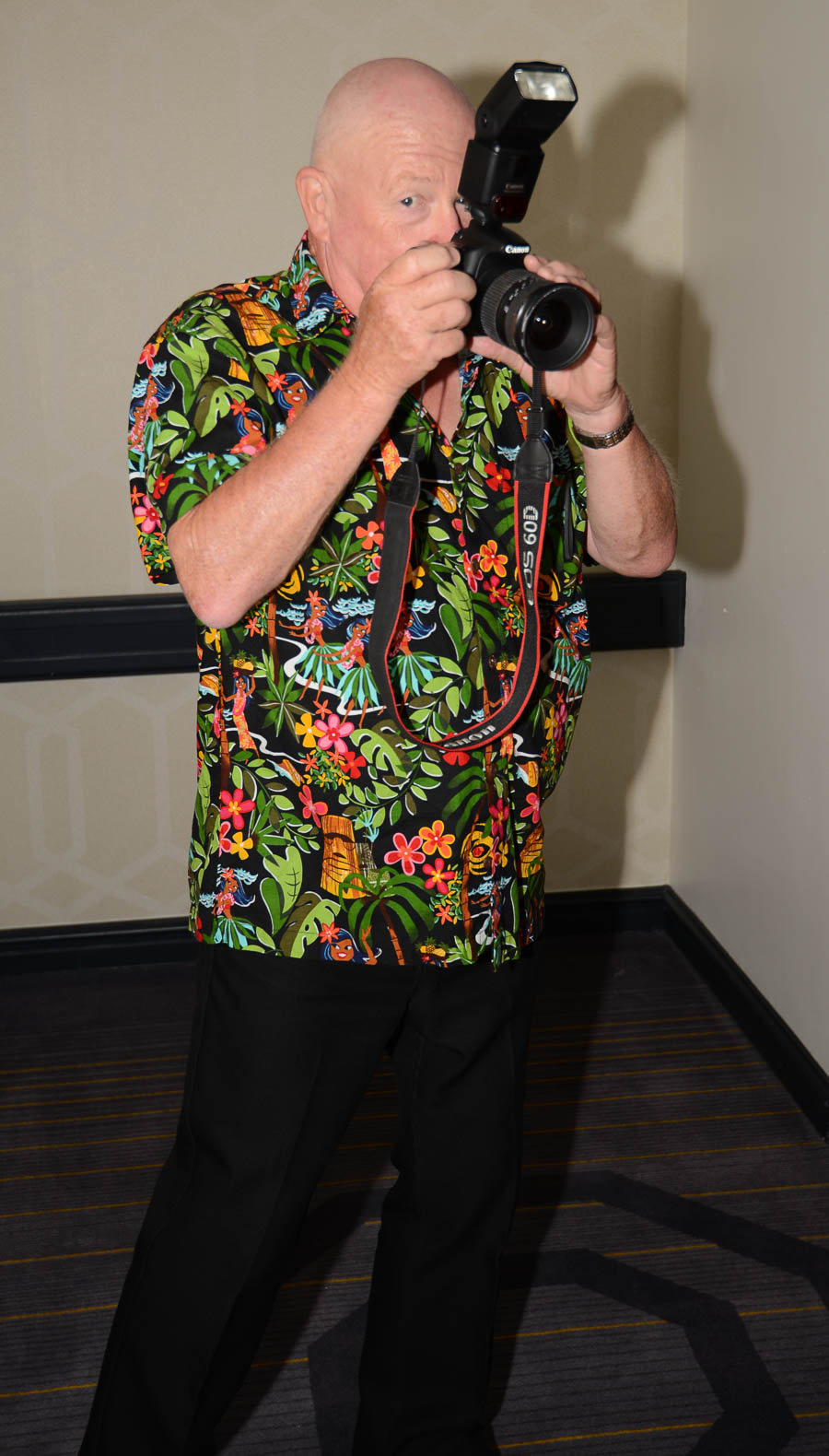 Snap... Gotcha
Did You Know? - Hawaii is home to a number of renowned music institutions in several fields. The Honolulu Symphony Orchestra is an important part of the state's musical history, and is the oldest orchestra in the United States west of the Rocky Mountains, founded in 1900.

Whirling and twirling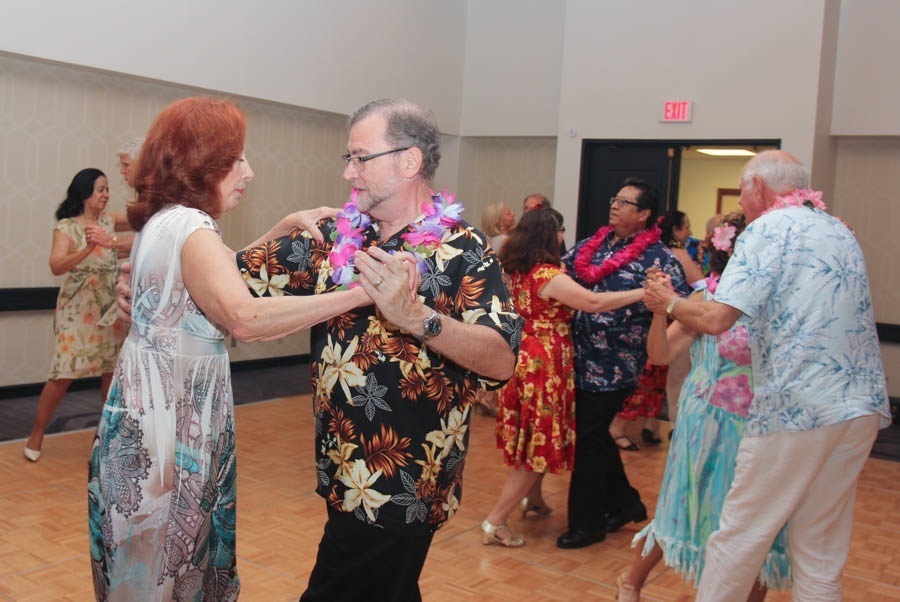 When the foxtrot is played you had better be moving... Beep Beep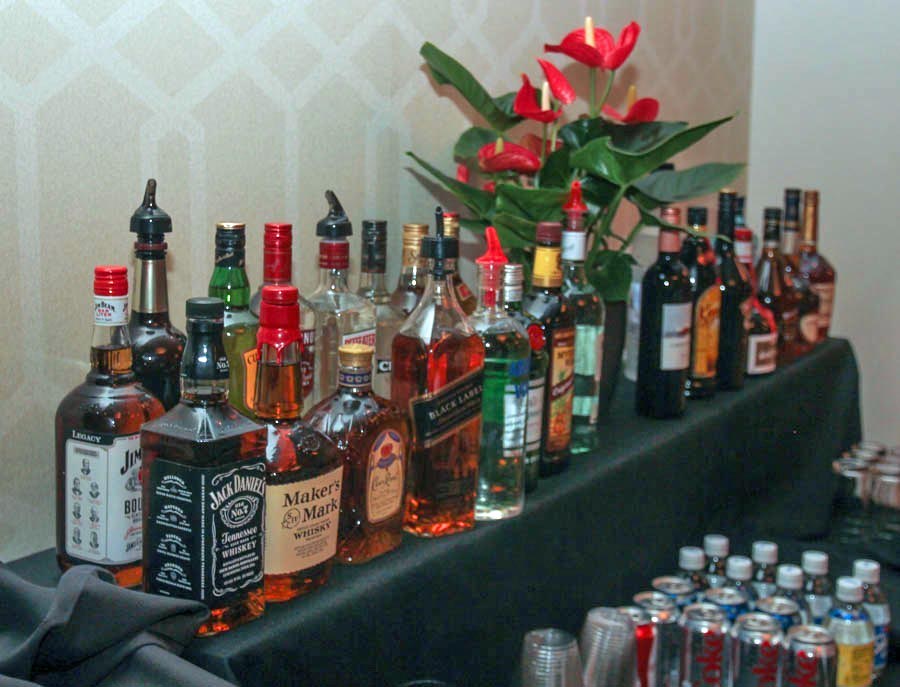 Even the bar was decorated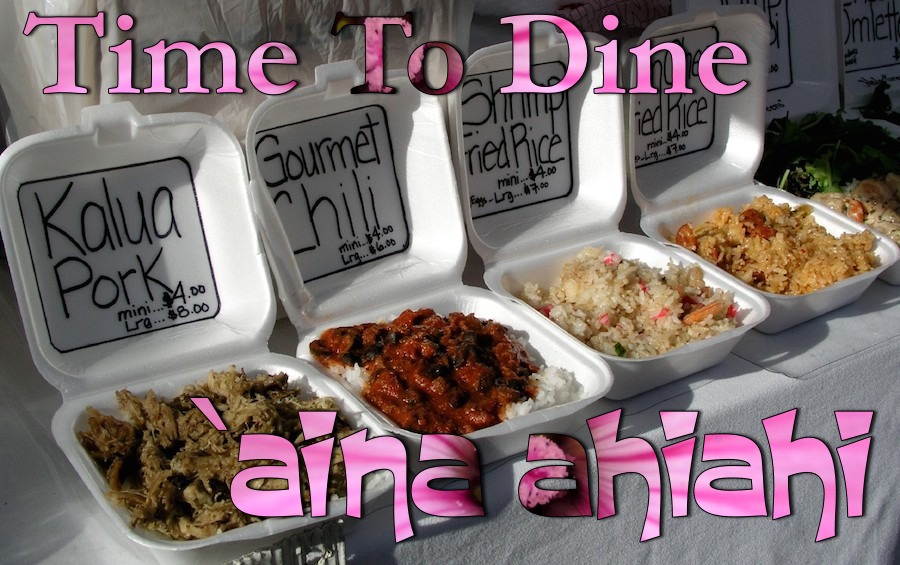 Did You Know? - Poi is a Hawaiian word for the primary Polynesian staple food made from the underground plant stem or corm of the taro plant (known in Hawaiian as kalo). It is a traditional part of Native Hawaiian cuisine.
Poi is produced by mashing the cooked corm (baked or steamed) until it is a highly viscous fluid. Water is added during mashing and again just before eating to achieve the desired consistency, which can range from liquid to dough-like (poi can be known as "one-finger", "two-finger" or "three-finger" poi, alluding to how many fingers are required to scoop it up in order to eat it, which depends on the consistency).