Time To Meet And Greet June 14th 2014 (Page One)
It's time to go cruising with the Nightlighter's Dance Club! Summer is just around the corner. To be exact it is Saturday, June 21, 2014 at 3:51 am!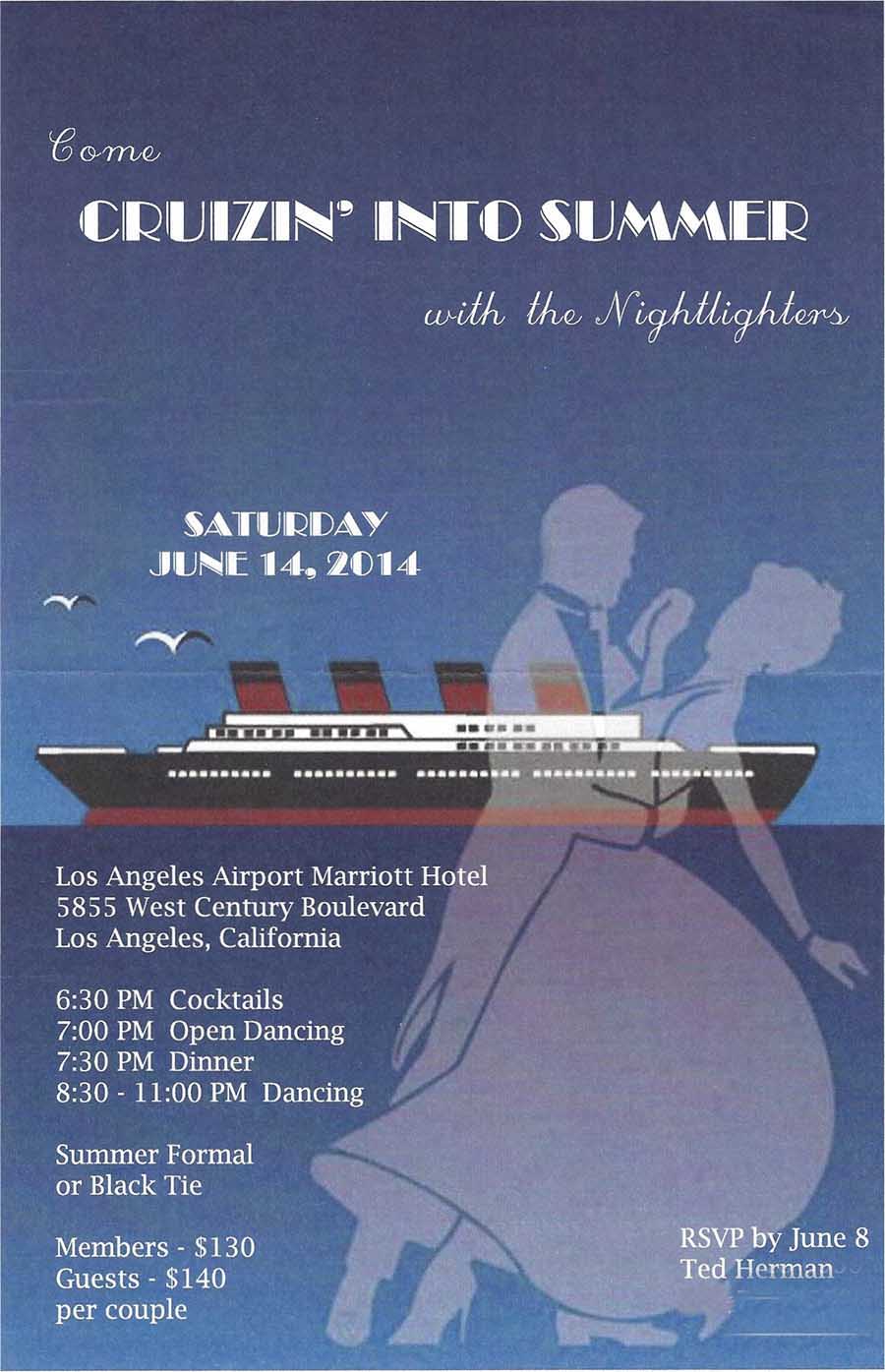 Did You Know? - Marriott was founded by J. Willard Marriott in 1927 when he and his wife, Alice Sheets Marriott, opened a root beer stand in Washington, D.C.
As a Mormon missionary in the sweltering, humid summers in Washington D.C, Marriott was convinced that what residents of the city needed was a place to get a cool drink. The Marriotts later expanded their enterprise into a chain of restaurants and hotels.
They opened their first hotel, the Twin Bridges Marriott Motor Hotel, in Arlington, Virginia, in 1957. Their second hotel, the Key Bridge Marriott in Arlington, Virginia, is Marriott International's longest operating hotel, and celebrated its 50th anniversary in 2009.
Their son, J.W. (Bill) Marriott, Jr., led the company to spectacular worldwide growth during his more than 50-year career. In March 2012, at age 80, he turned the CEO responsibilities over to Arne Sorenson, while he assumed the title of Executive Chairman.
Let The Party Begin
Let's Get This Ship Underway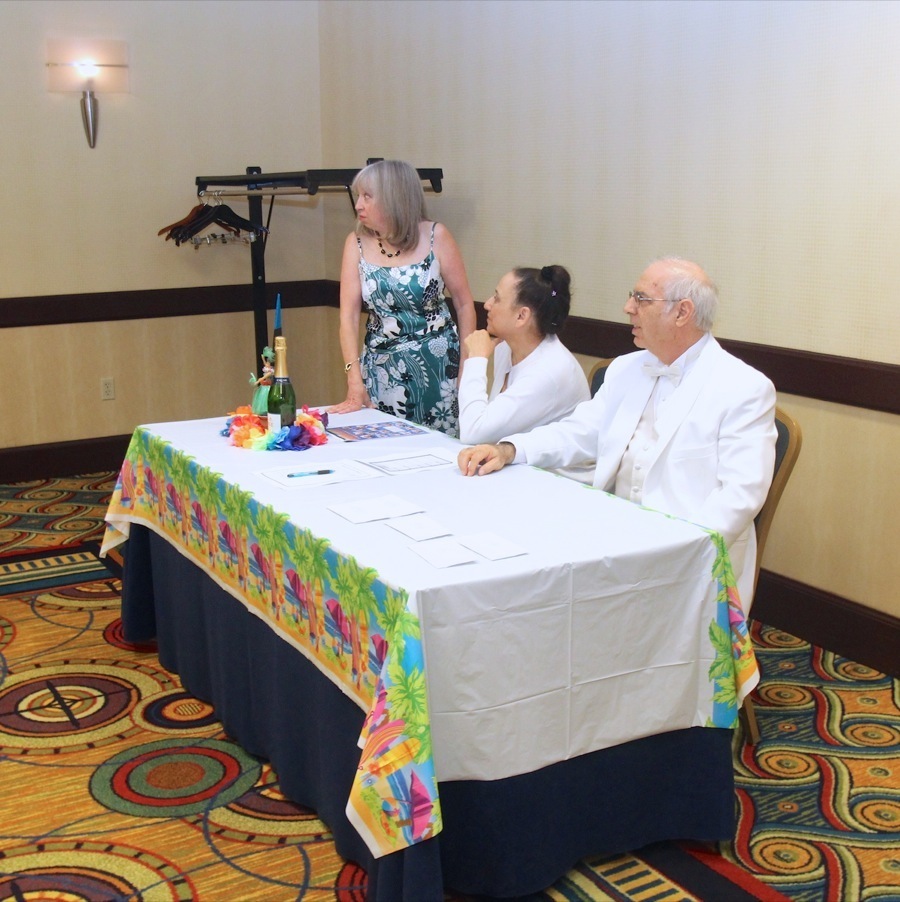 "Where is everyone???"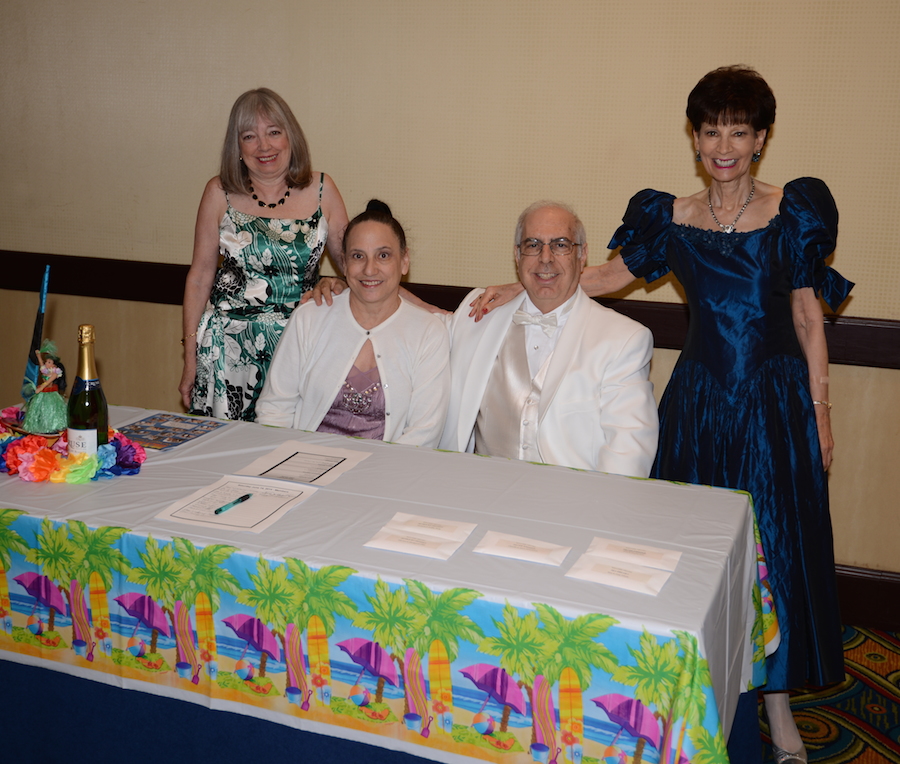 We have four welcomers looking for our last five couples (Courtesy of Gary Gray)

The band begins and Nightlighters begin to feel the ship moving...

"Good evening and welcome aboard!!" (Courtesy of Gary Gray)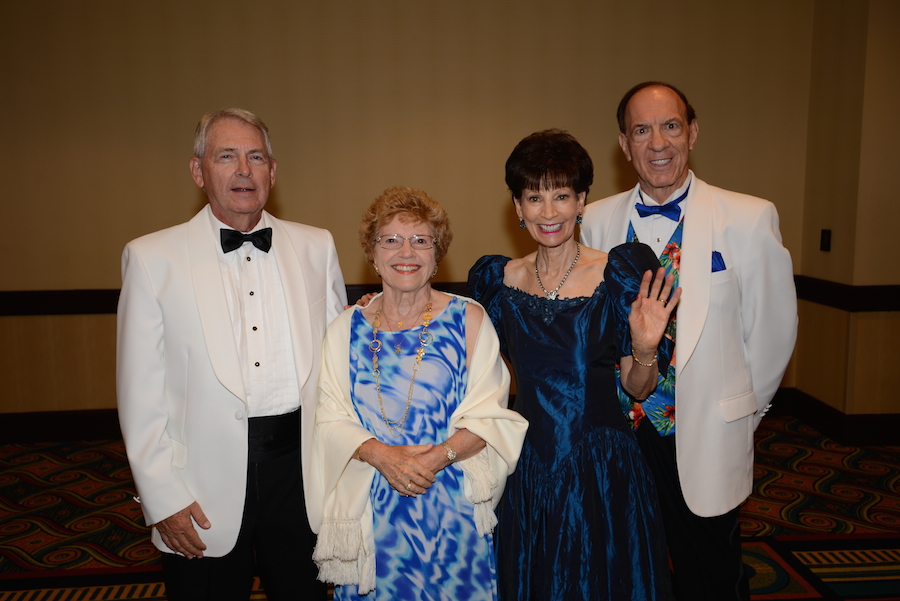 Hello there! (Courtesy of Gary Gray)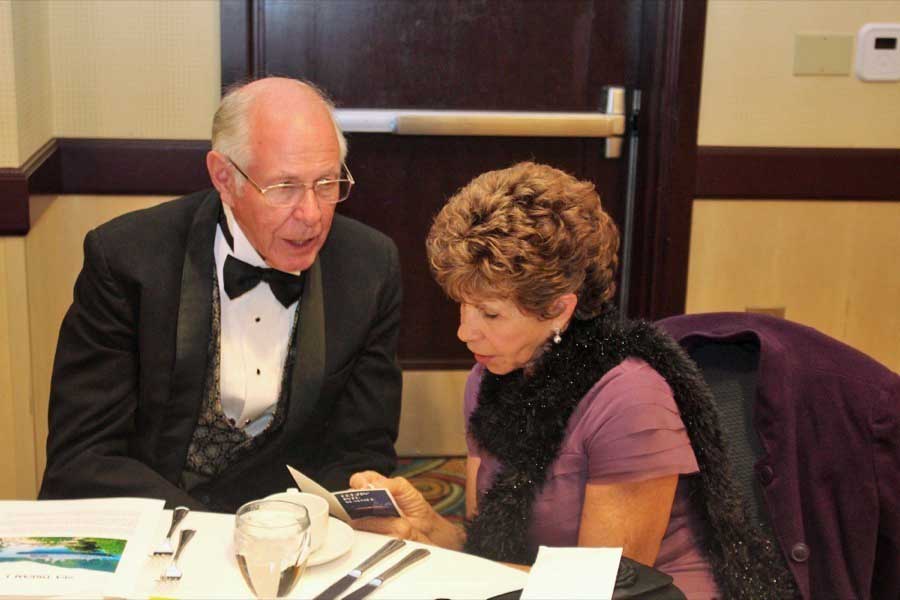 "Where are we traveling to this evening?"

MArion and Penny are ready to dance (Courtesy of Gary Gray)

"Do we get to stand and throw confetti onto the pier??"
Did You Know? - Confetti is small pieces or streamers of plastic, mylar, or metallic material which are usually thrown at parades and celebrations, especially weddings (and game shows, following the end of a milestone or the occasion of a big win).
The origins are from the Latin confectum, with confetti the plural of Italian confetto, small sweet. Modern paper confetti traces back to symbolic rituals of tossing grains and sweets during special occasions, traditional for numerous cultures throughout history as an ancient custom dating back to pagan times,. but adapted from sweets and grains to paper through the centuries..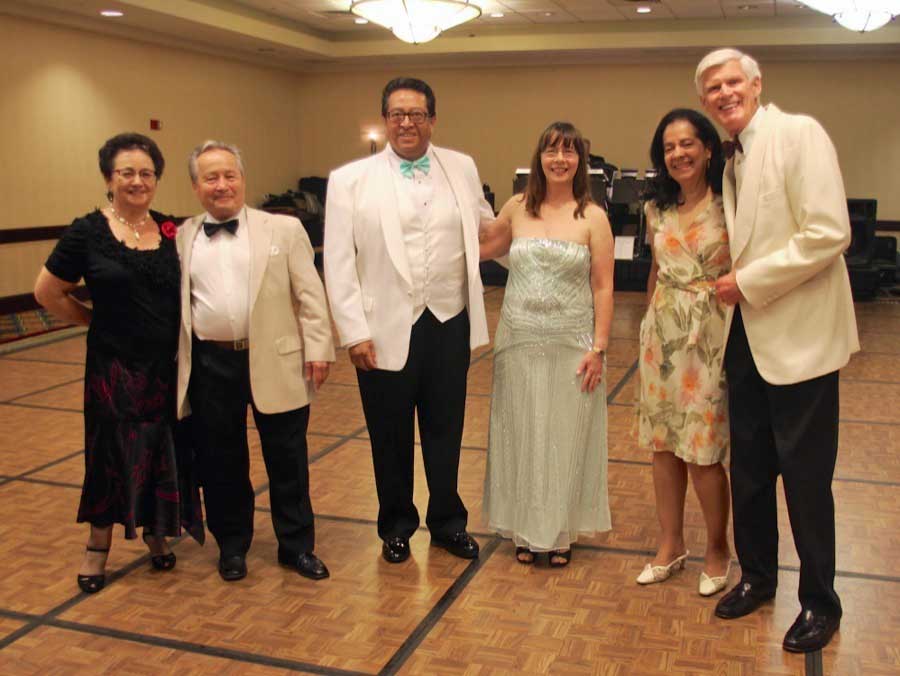 The dancing is now officially underway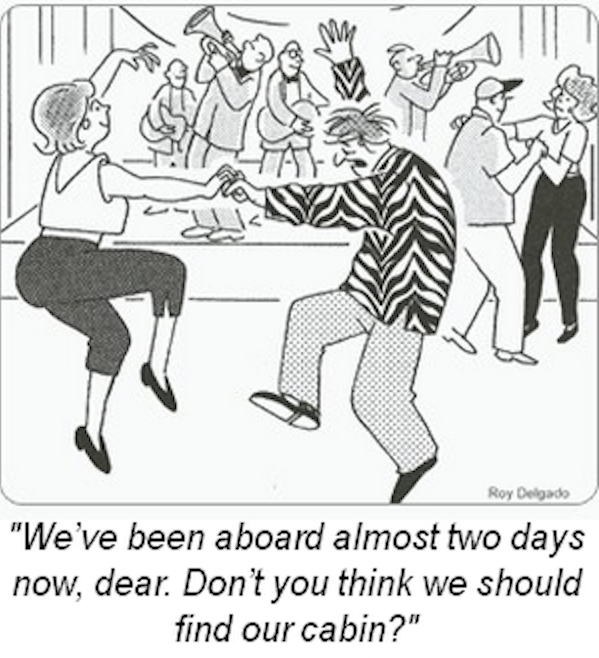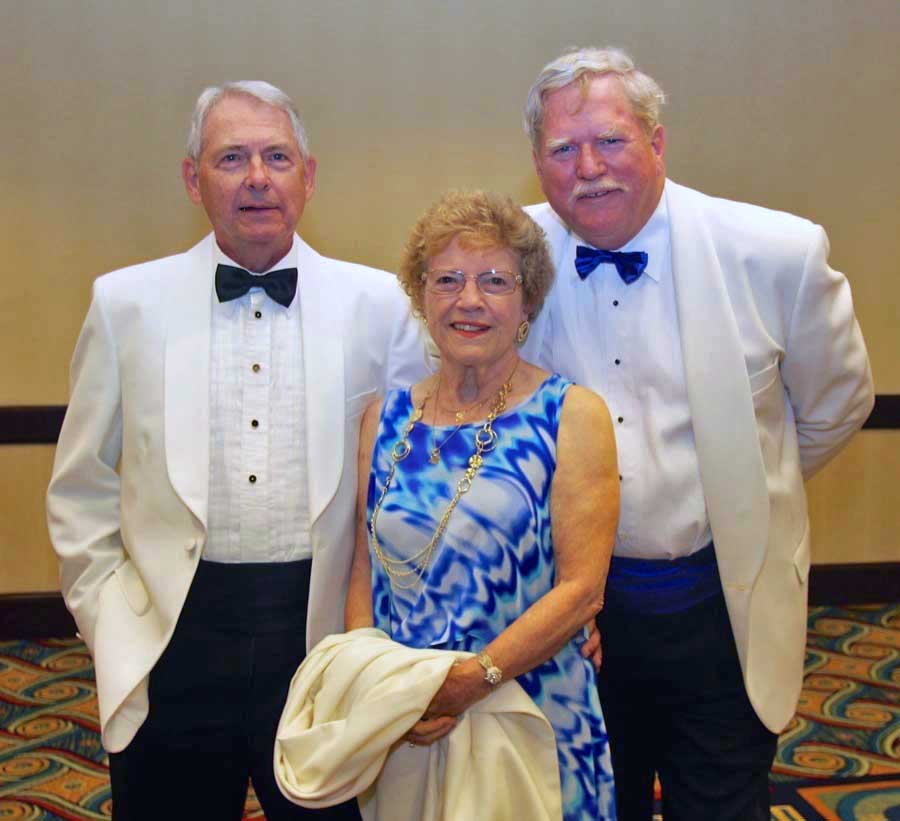 Summer is here... The white dinner jackets are in full force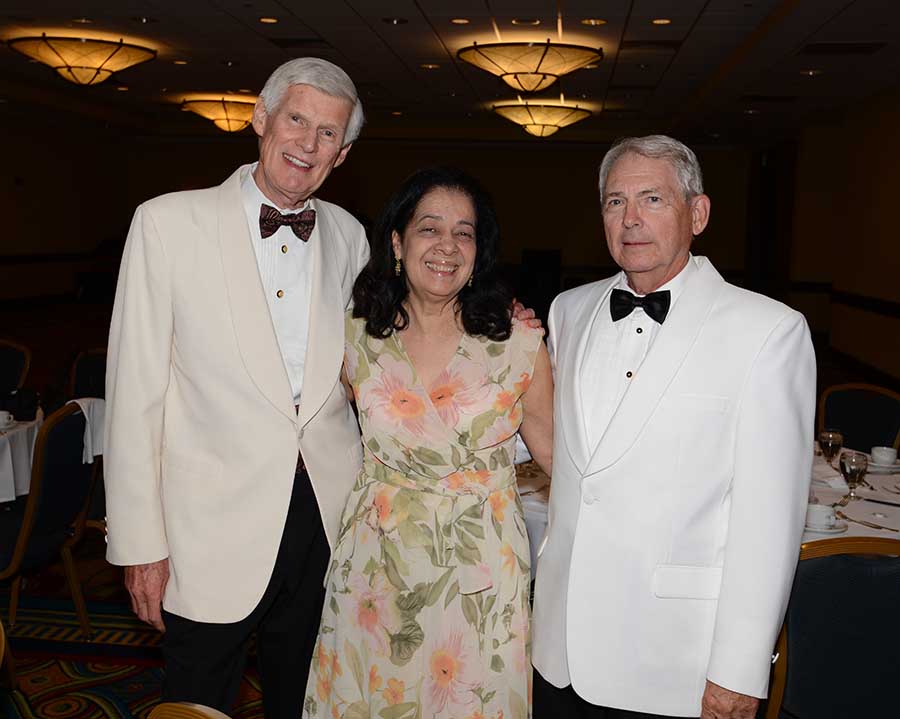 Surrounded (Courtesy of Gary Gray)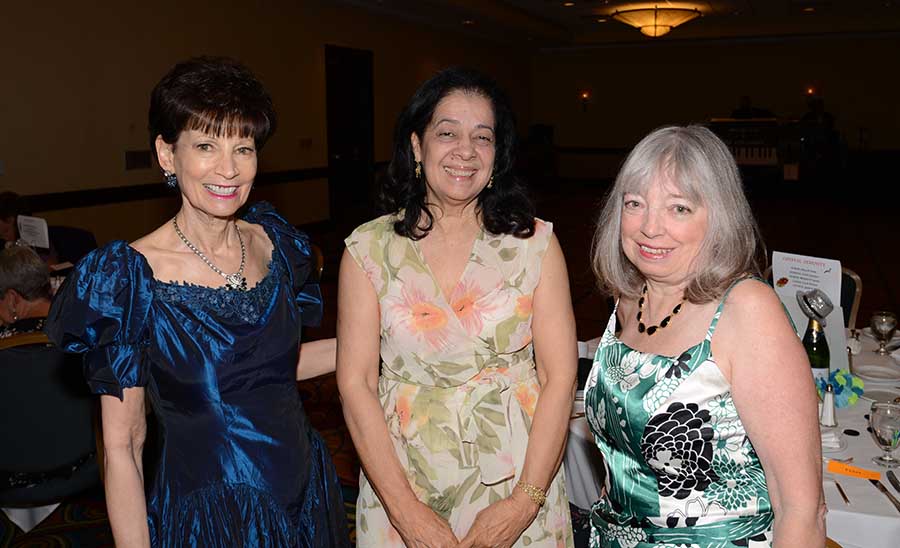 "We have to go... The music has started" (Courtesy of Gary Gray)

The ship's movement is somewhat helpful!

"The dramamine helped! I don't get dizzy when I turn fast
and I cannot feel the ship moving!"

Keeping an eye on the deck
Did You Know? - On ships with more than one level, deck refers to the level itself. The actual floor surface is called the sole, the term deck refers to a structural member tying the ships frames or ribs together over the keel.
In modern ships, the interior decks are usually numbered from the primary deck, which is #1, downward and upward. So the first deck below the primary deck will be #2, and the first above the primary deck will be #A2 or #S2 (for "Above" or "Superstructure").
Some merchant ships may alternatively designate decks below the primary deck, usually machinery spaces, by numbers, and those above it, in the accommodation block, by letters.
Ships may also call decks by common names, or (especially on cruise ships) may invent fanciful and romantic names for a specific deck or area of that specific ship, such as the Lido deck of the Princess Cruises' Love Boat.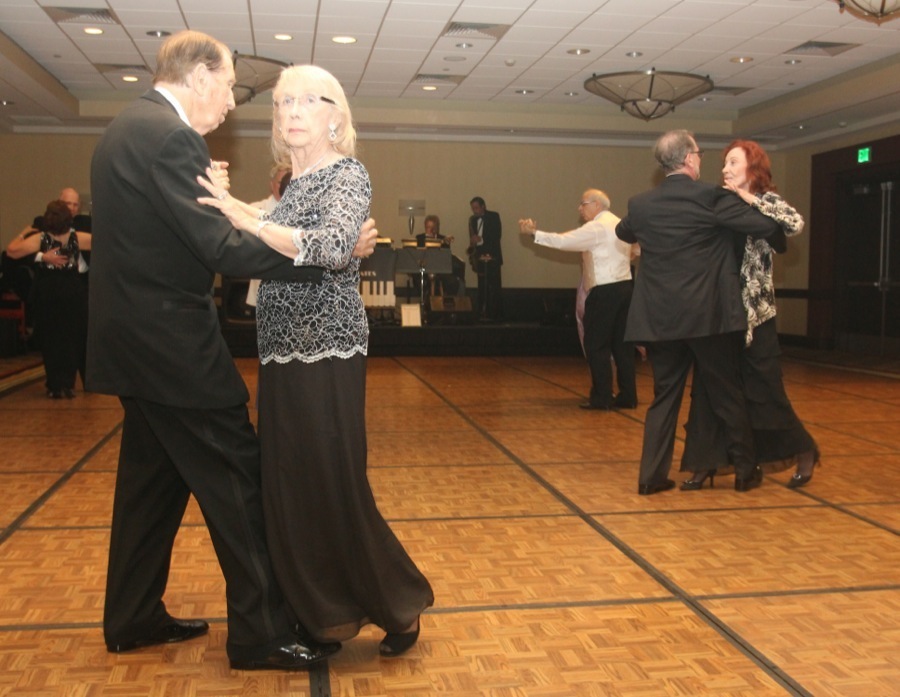 "Abe... Just close your eyes and think we are on another cruise!"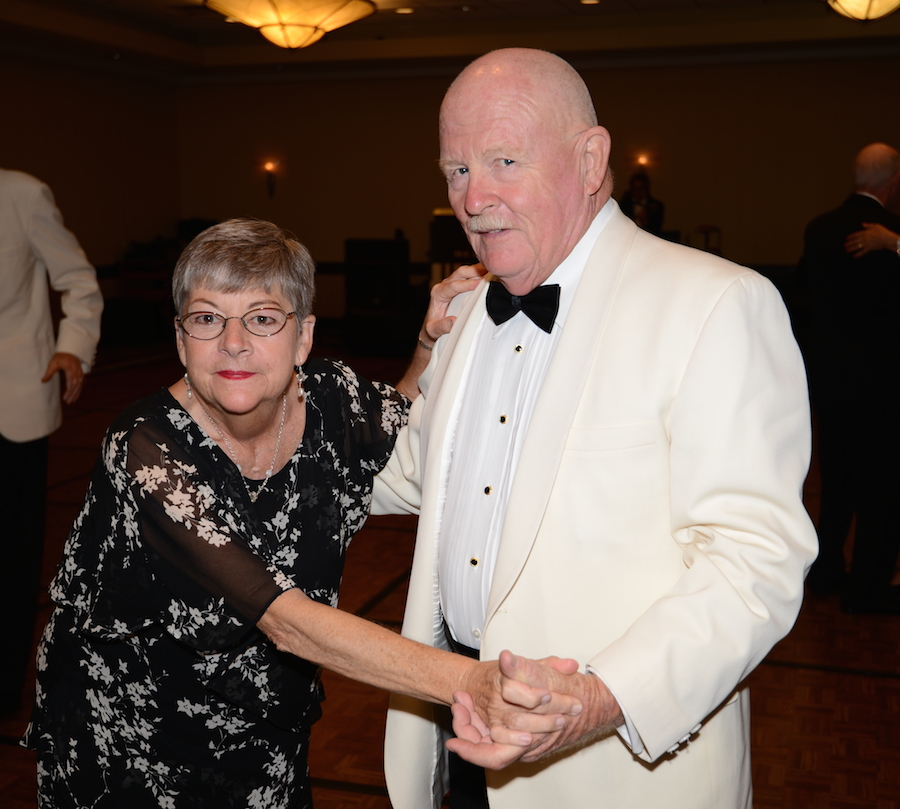 "Thank you Gary... Paul got to put down the camera (Courtesy of Gary Gray)

The Captains of this cruise demonstrate the proper way to dance
with a moving floor...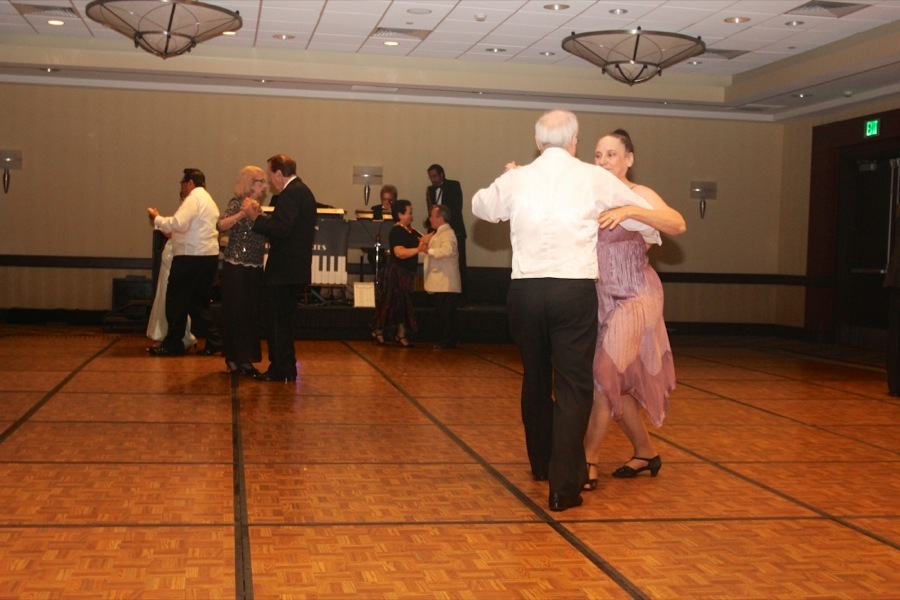 Les and Roberta will explain the ship's motion if you ask!
Did You Know? - Ship motions are defined by the six degrees of freedom that a ship, boat or any other craft can experience:
Heave - is the linear vertical (up/down) motion

Sway - is the linear lateral (side-to-side) motion

Surge - is the linear longitudinal (front/back) motion
Pitch - is the rotation of a vessel about its transverse (side-to-side) axis. An offset or deviation from normal on this axis is referred to as 'trim' or 'out of trim'.

Roll - is the rotation of a vessel about its longitudinal (front/back) axis. An offest or deviation from normal on this axis is referred to as list or heel. Heel refers to an offset that is intentional or expected, as caused by wind pressure on sails, turning, or other crew actions. List normally refers to an unintentional or unexpected offset, as caused by flooding, battle damage, shifting cargo, etc.
Yaw - is the rotation of a vessel about its vertical axis. An offset or deviation from normal on this axis is referret to as deviation or set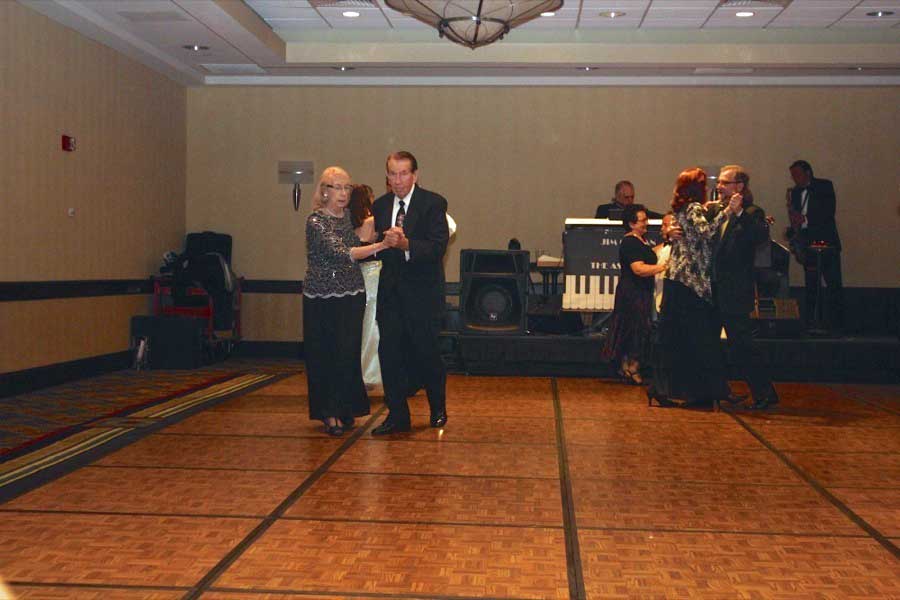 "We should have brought our rolller skates!"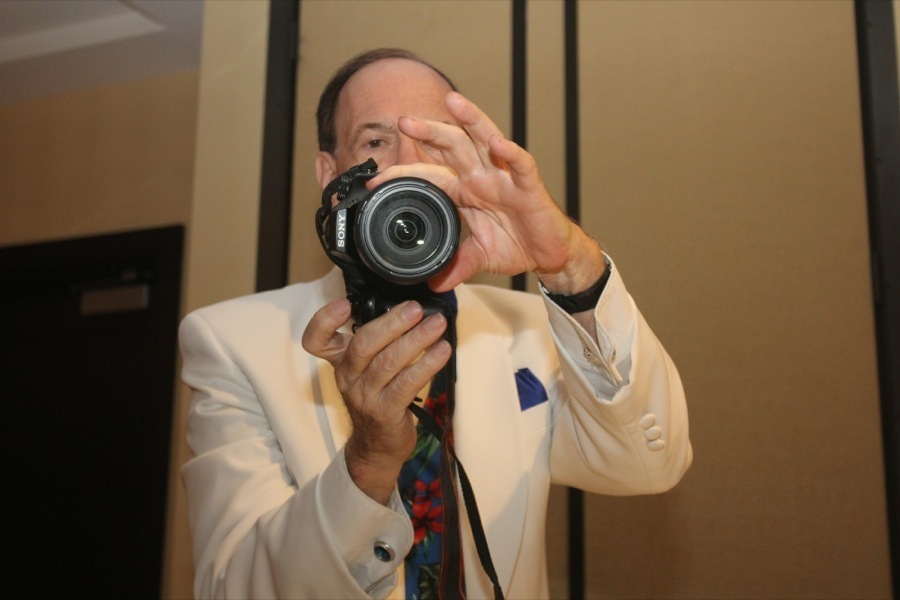 Snap! The eye is watching you!

All smiles (Courtesy of Gary Gray)

Not done with photoshop... It's really a comparison!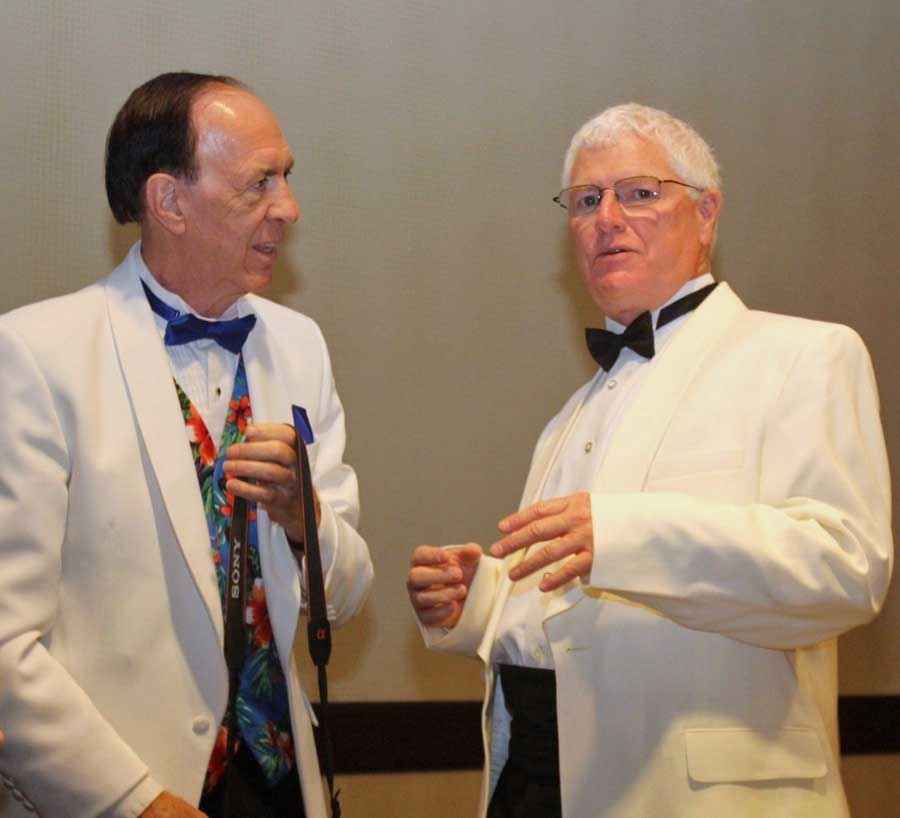 "So... Where did you get the "cruise cummberbund"?
Did You Know? - A cummerbund is a broad waist sash, usually pleated, which is often worn with single-breasted dinner jackets (or tuxedos). The cummerbund was first adopted by British military officers in colonial India as an alternative to a waistcoat, and later spread to civilian use. The modern use of the cummerbund is as a component of black tie.
The word Cummerband, which entered English vocabulary in 1616 via what is now Afghanistan and the use of cummerbands by tribal warriors and later adopted by the languages of the Indian subcontinent such as Hindi and Urdu, is originally a Persian compound (کمربند) comprising kamar (waist) + bund (closed).

Catching up on things...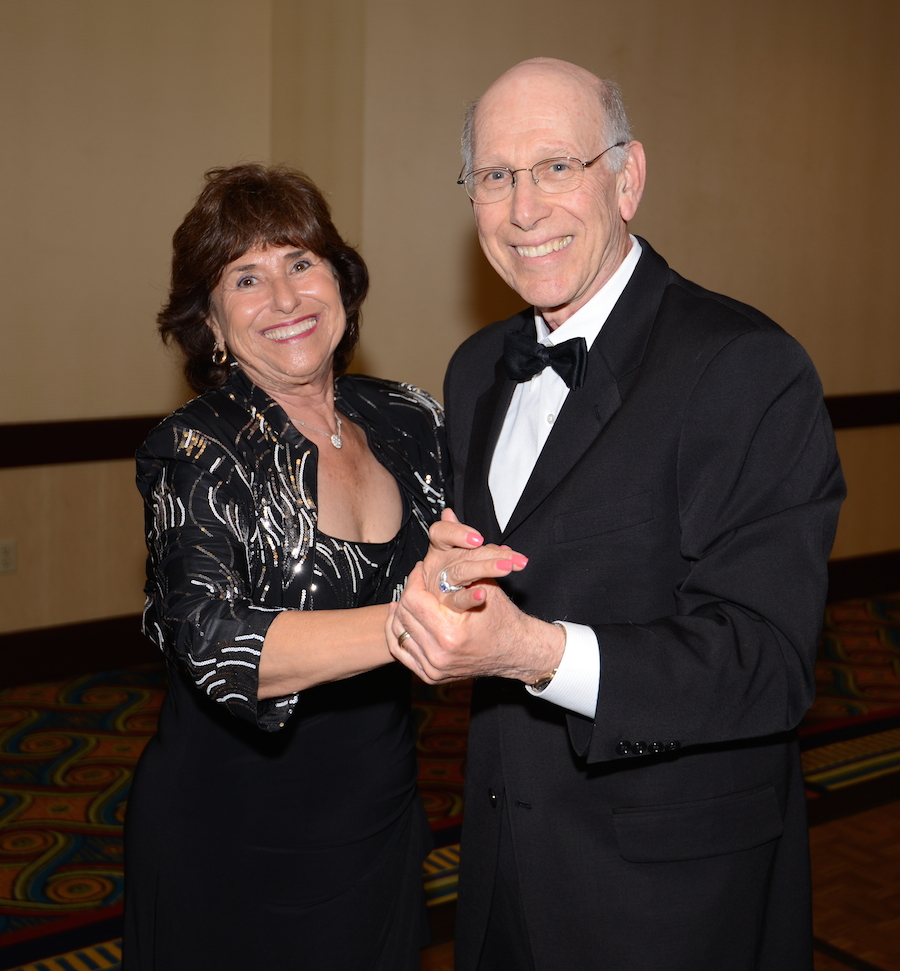 Dancing the night away (Courtesy of Gary Gray)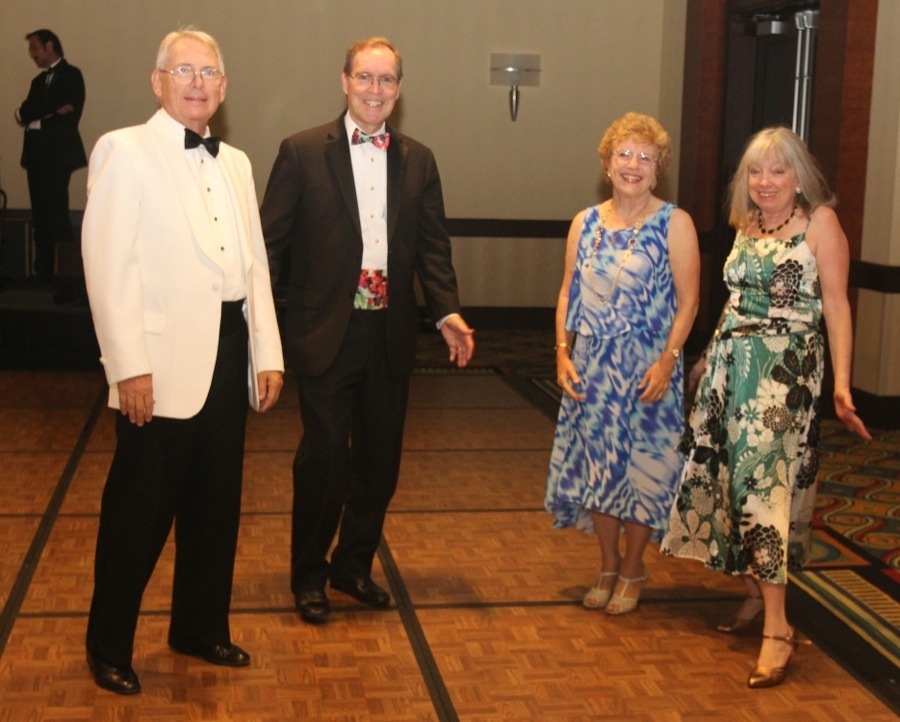 Must be a tropical cruise... The colors are magnificent!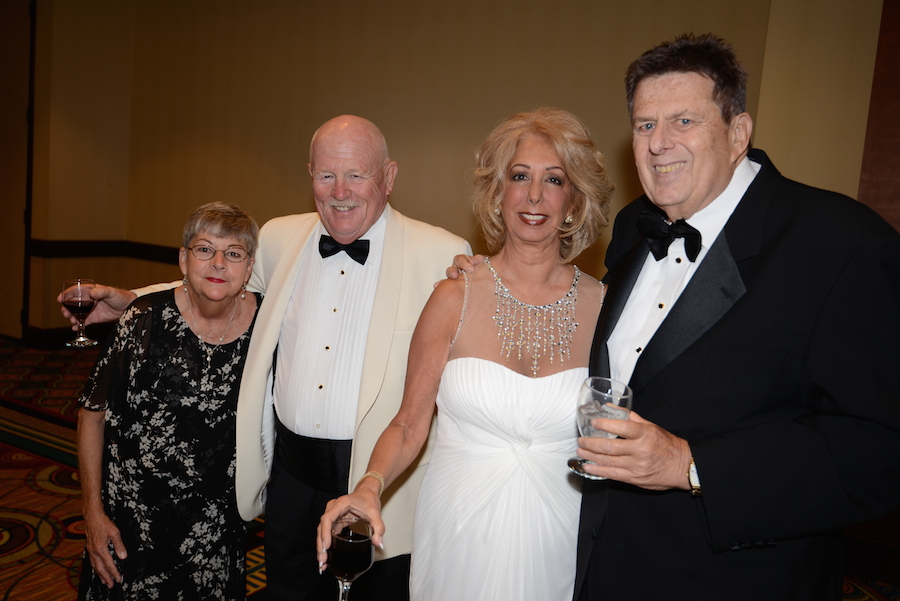 Wines at the ready (Courtesy of Gary Gray)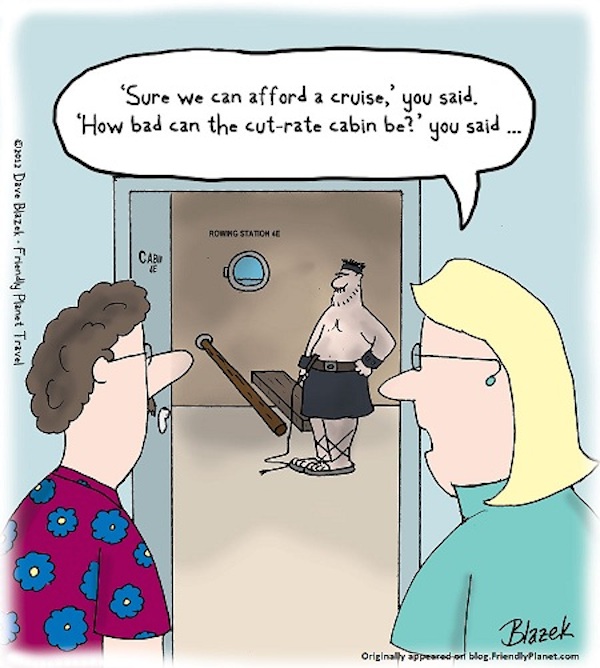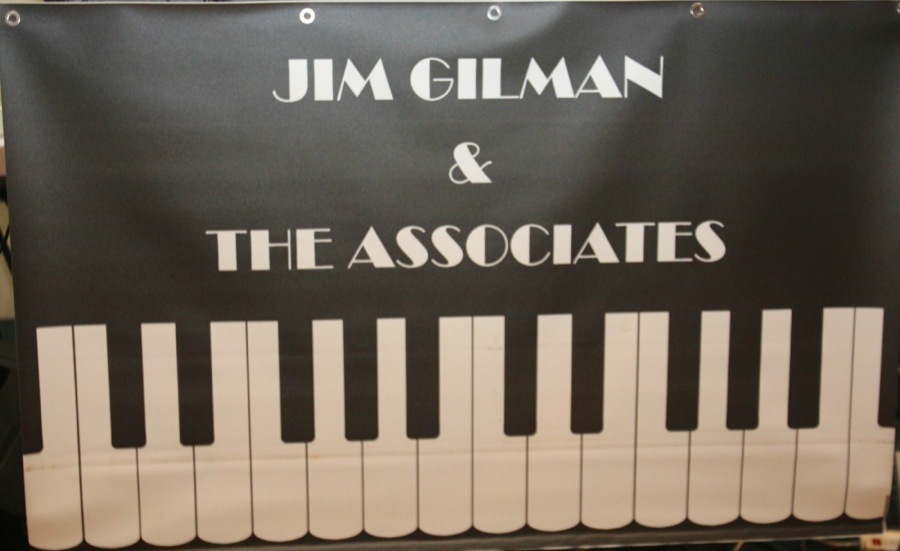 Music for any occasion! Dance music is a speciality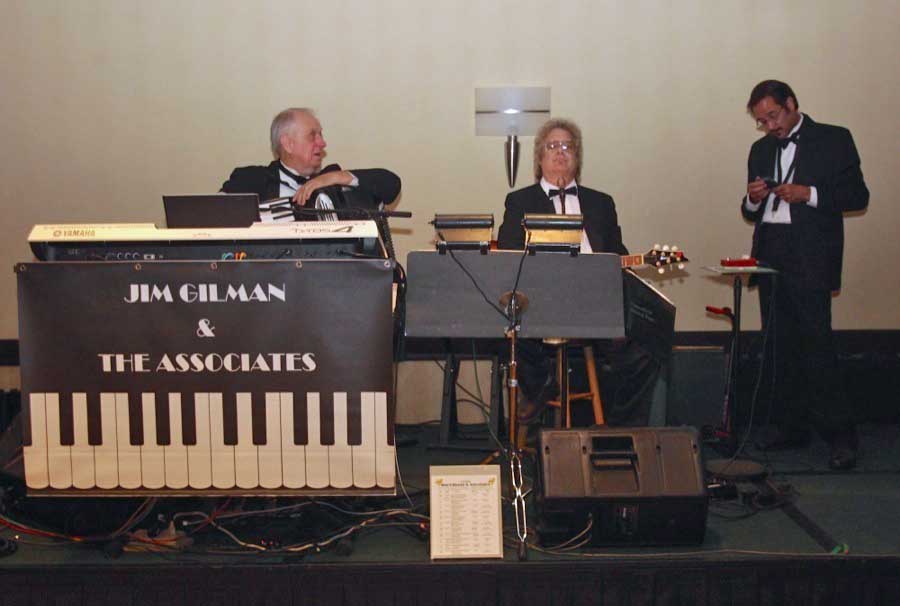 What should we play now
Did You Know? - Jim Gilmangot started in music at the age of 7 with 6 weeks of free accordion lessons. While in college, he played at Knott's Berry Farm after hid father saw an ad in the newspaper, "Wanted - Accordion Player". After graduating ,he added electronic keyboards. He met Tony Carinio through a 3 x 5 card on a bulletin board. They toured as "Free and Easy" for several years throughout the Midwest with Holiday Inns.
He formed "The Associates" with Gordon Powers and Paul Reed 1976. Gordon has retired and Mick Waller is our most recent member joining us in 2010. We've played for clubs, cruise ships, hotels, country clubs, and private parties all over

How did he find so many ocean, ship, and travel songs???

Every song was wonderfully dancable!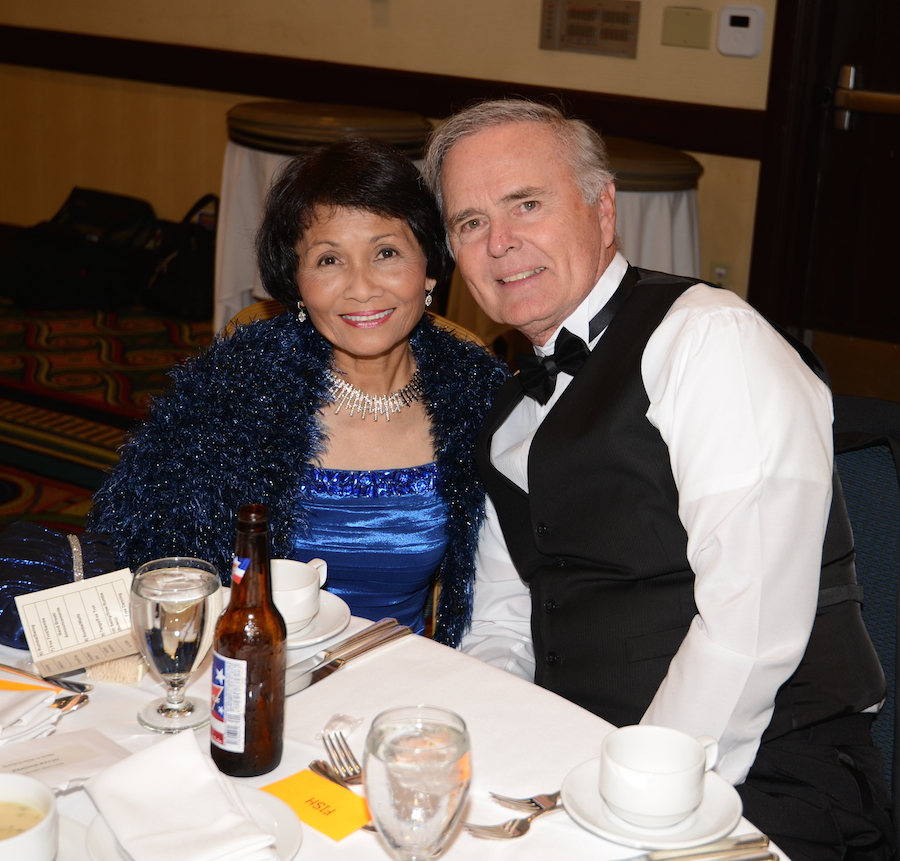 "It doesn't seem like the boat is moving?? (Courtesy of Gary Gray)

"The water is moving in our glasses!" (Courtesy of Gary Gray)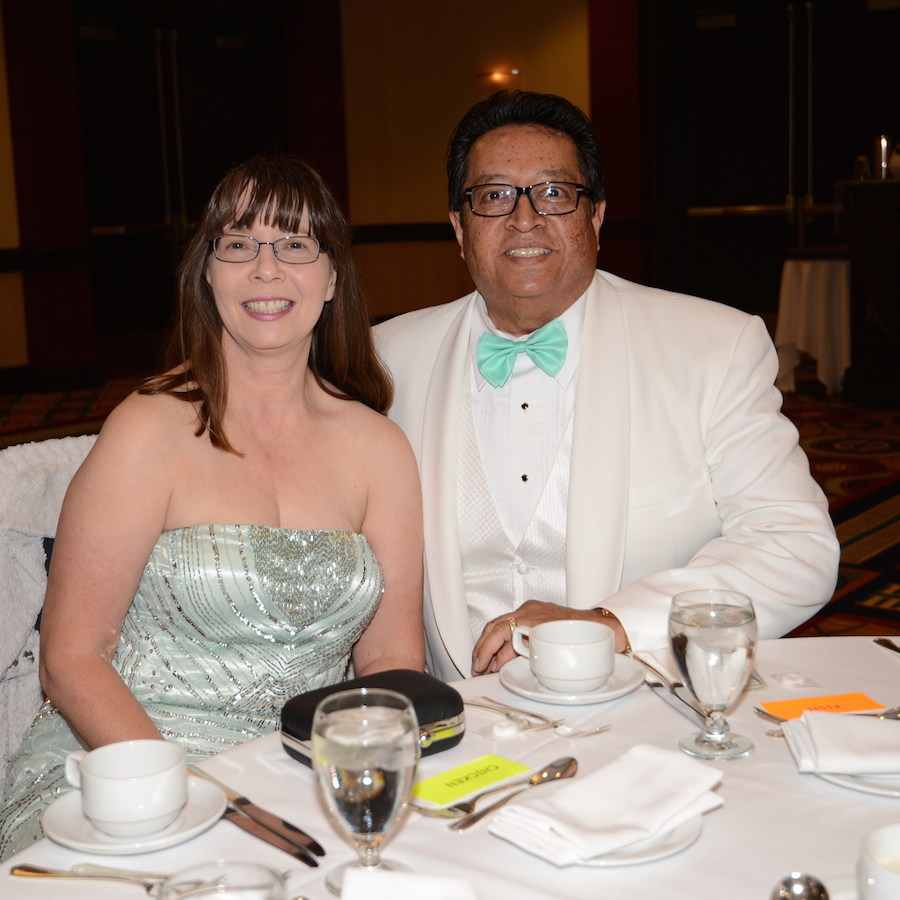 Sherri and Jose are looking good! (Courtesy of Gary Gray)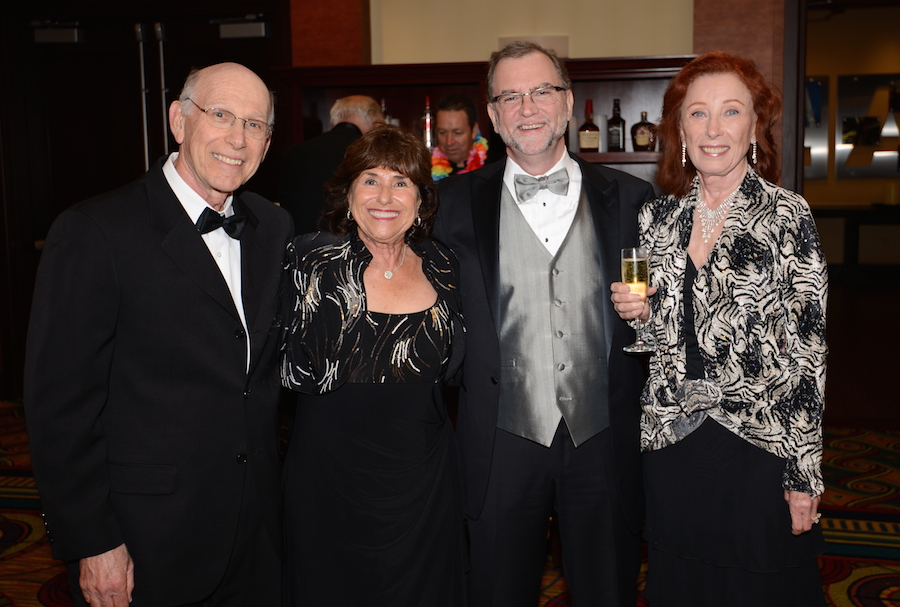 "We are traveling First Class this evening" (Courtesy of Gary Gray)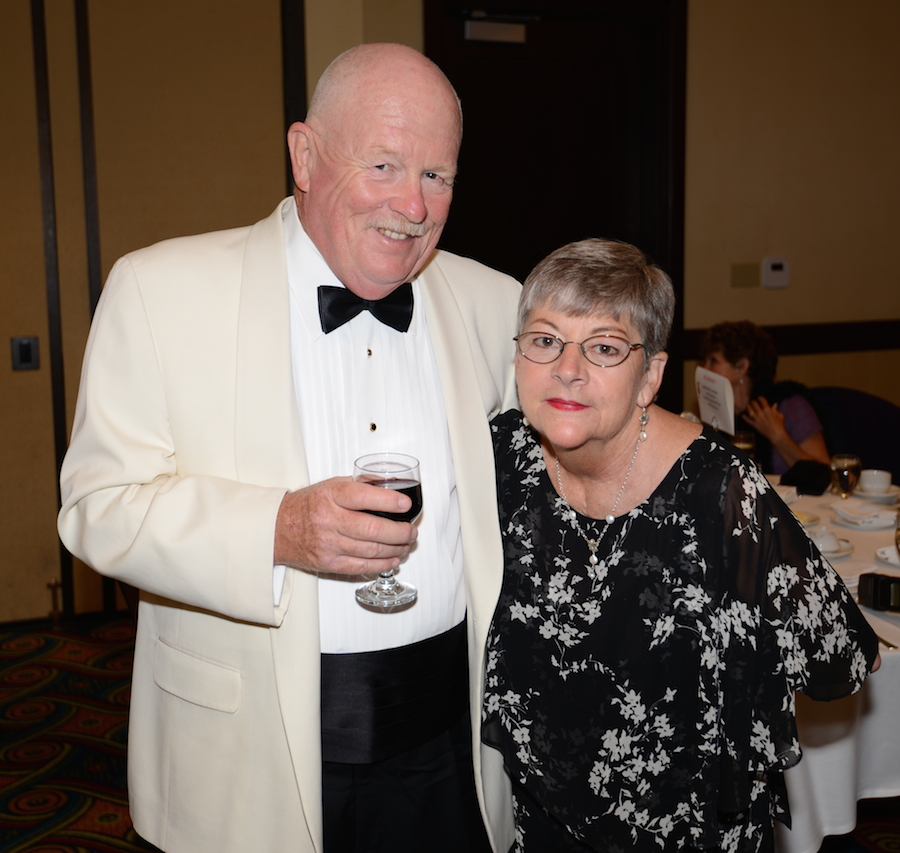 Dinner time... Time for pictures (Courtesy of Gary Gray)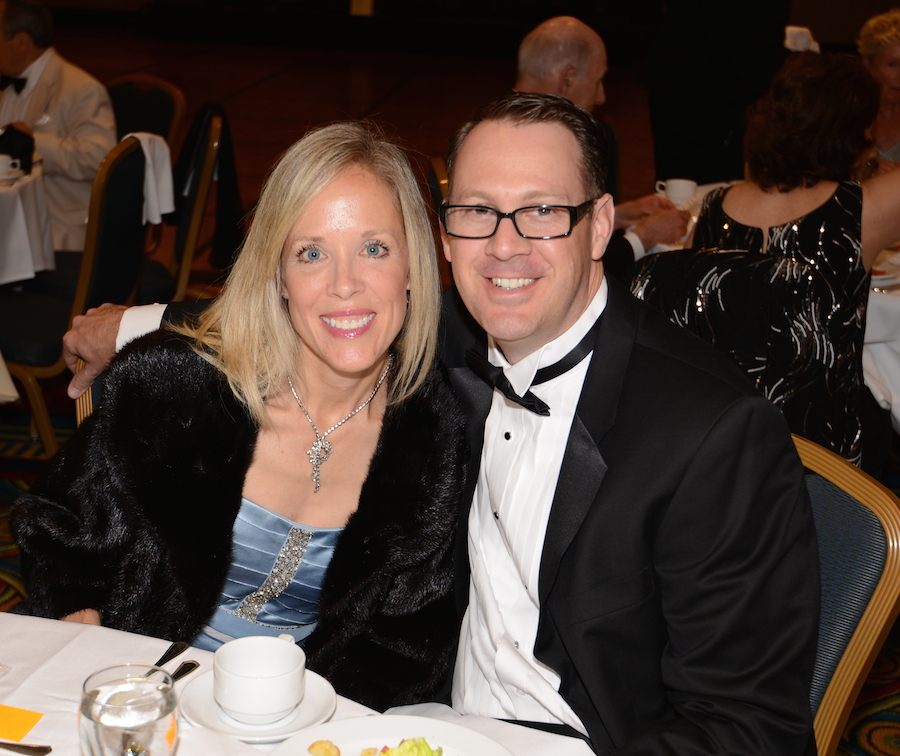 "We are sitting... Where is dinner?" (Courtesy of Gary Gray)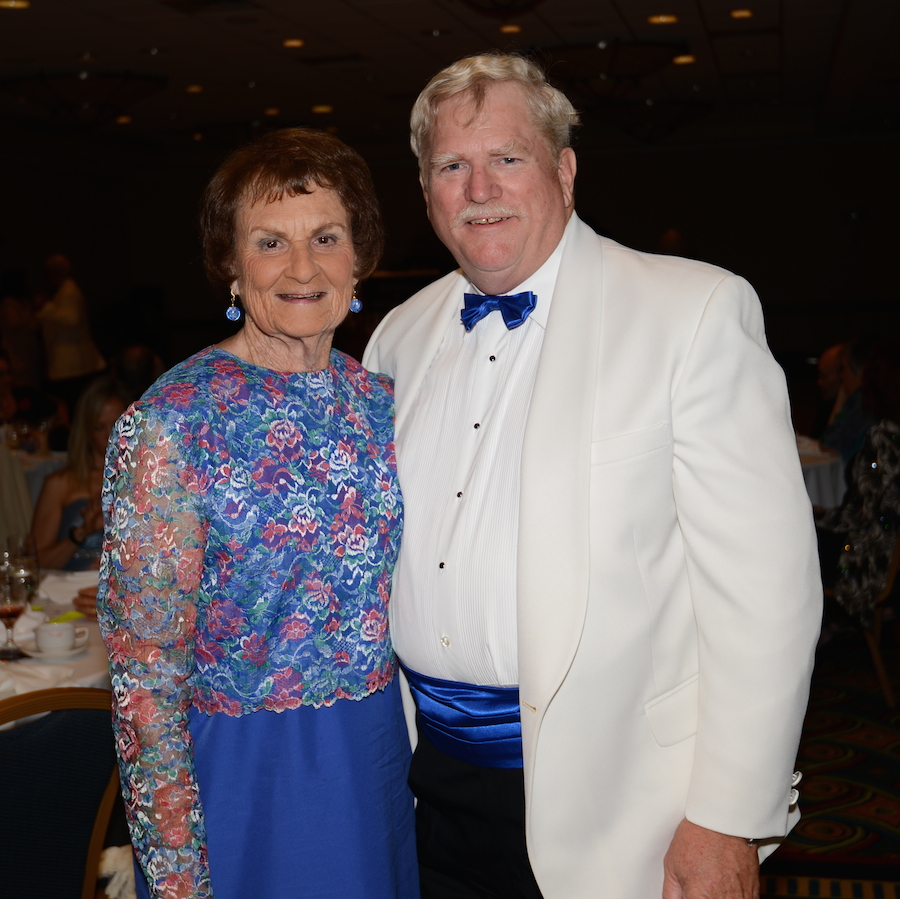 Thank you Gary for the great pictures (Courtesy of Gary Gray)
Song - Beyond the Sea
Charles Trenet, with music taken from his song "La Mer" and lyrics by Jack Lawrence.
Trenet had composed "La Mer" (which means "the Sea") with French lyrics completely different and unrelated to the English language version that Lawrence later wrote. Trenet's French version was a homage and ode to the changing moods of the sea, while Lawrence, by just adding one word "Beyond" to the title, gave him the start whereby he made the song into one of a dear lover mourning for a lost love, boyfriend/girlfriend, or beloved sweetheart.