Yeah Haw Howdy... Saddle Up And Join Us (Page One)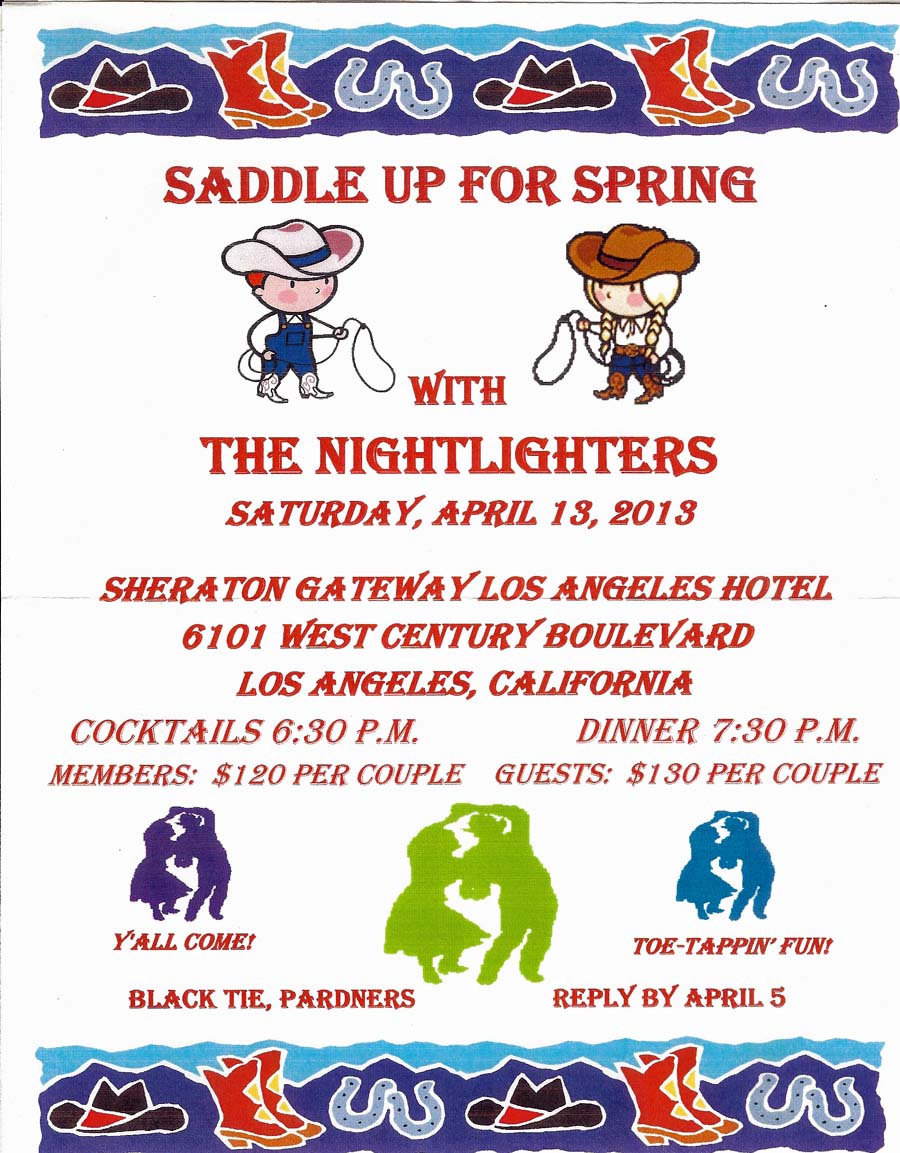 Y'all come to the dance.... It's just over the hill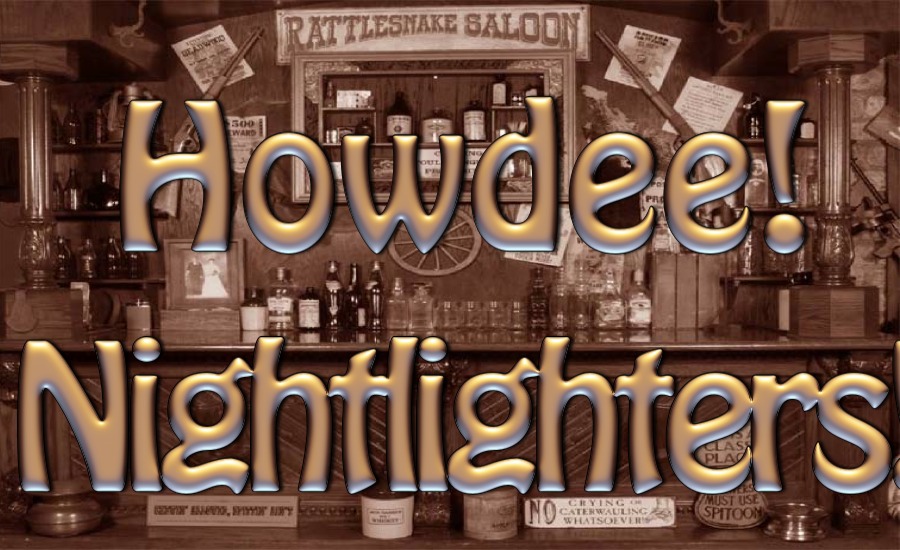 Glad se see you all... Pull up a chair and sit a spell....

Our Dance Directors for the evening... Cowpoke Jose' his bride Sherrie

Hats seem to be a common theme...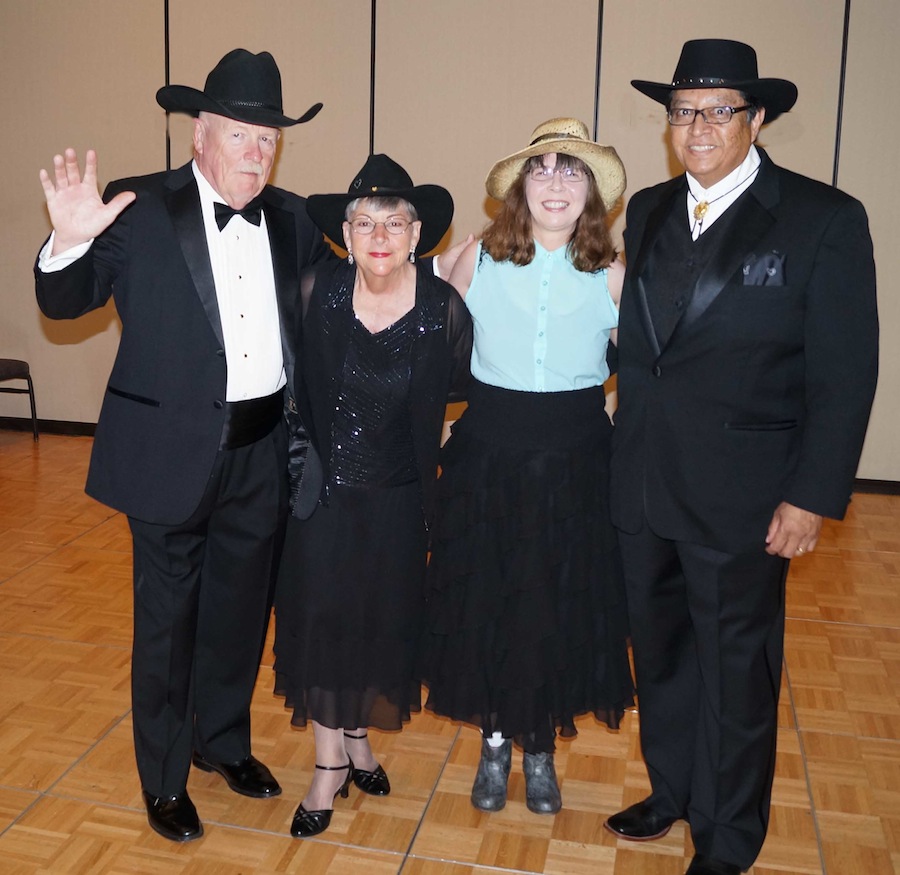 The "Hatfields" - (Courtesy Ted Herman)

Tom and Kathy Berg are shown this evenings dance hall...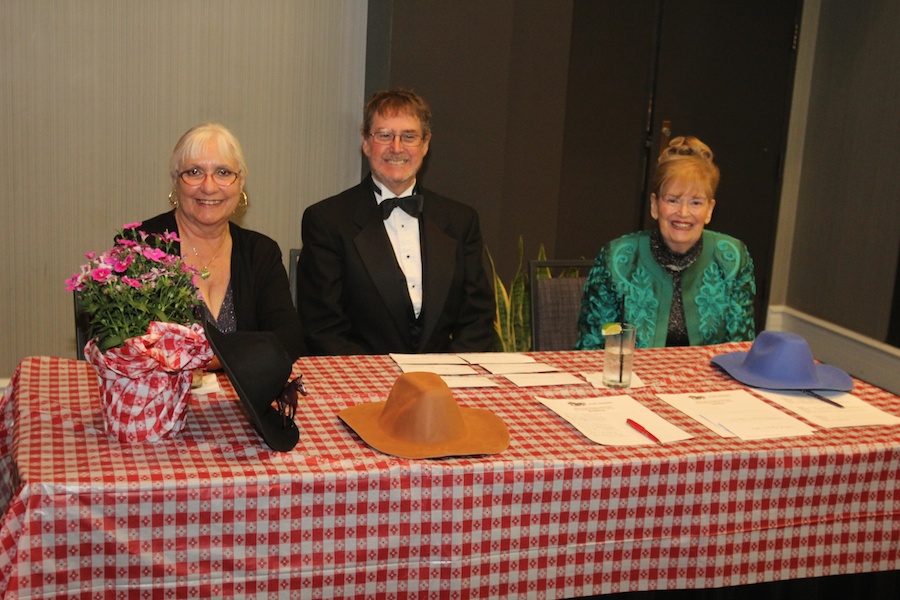 Meetin' and greetin'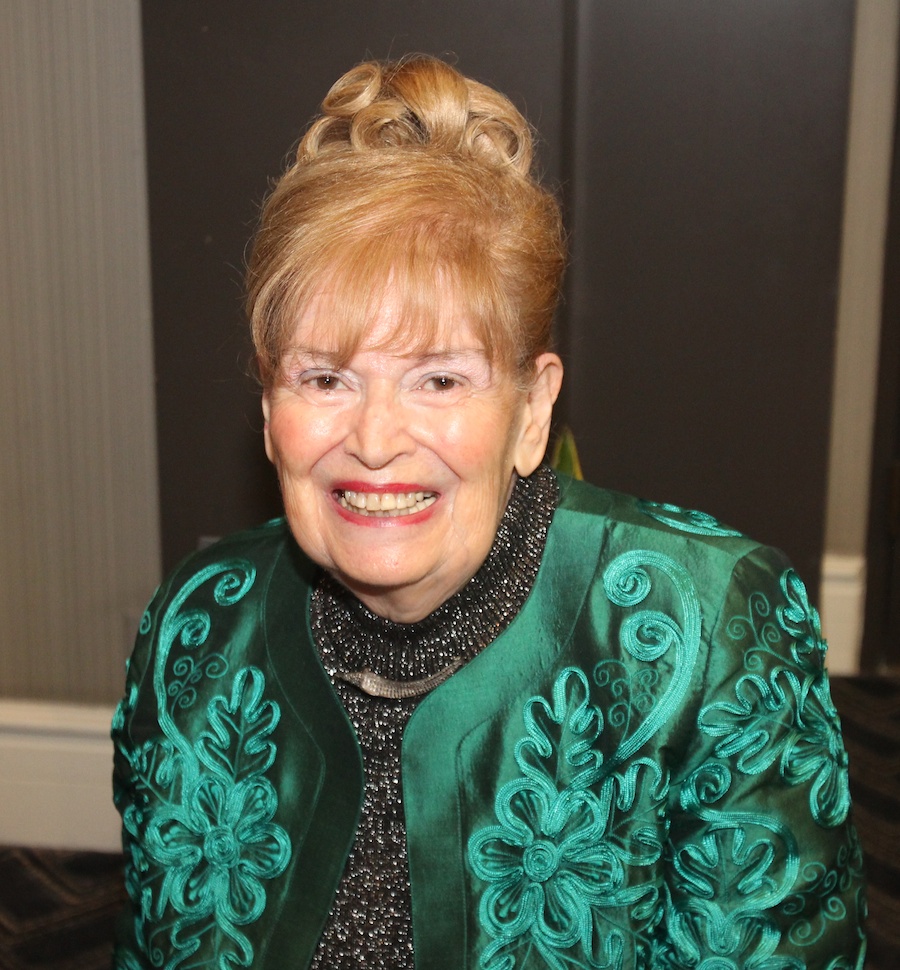 Smile as big as the all outdoors

Sunny reminded us....

We have themed tables complete with horses and hats
Things Cowboys Should Remember - Some are really good advice and all are funny cowboy sayings. 
When you give a personal lesson in meanness to a critter or to a person, don't be surprised if they learn their lesson.
When you're throwin' your weight around, be ready to have it thrown around by somebody else.
Lettin' the cat outta the bag is a whole lot easier than puttin' it back.
Always take a good look at what you're about to eat. It's not so important to know what it is, but it's sure crucial to know what it was.
The quickest way to double your money is to fold it over and put it back into your pocket.
You can't tell how good a man or a watermelon is 'til they get thumped.(Character shows up best when tested.)
Never miss a good chance to shut up.
If lawyers are disbarred and clergymen are defrocked, shouldn't it follow that cowboys would be deranged?
There never was a horse that couldn't be rode;
Never was a cowboy who couldn't be throwed.

In staying with the theme... Kathy tries a shot of Red Eye
Did You Know? - A red eye is a fortified coffee drink in which espresso is combined with normal drip brew coffee It is known by various names, some of which refer to different variants. Drip coffee to which espresso is added may be called a red eye, black eye, or dead eye, depending on the number of coffee shots added.

Wyatt has some surprises for us this evening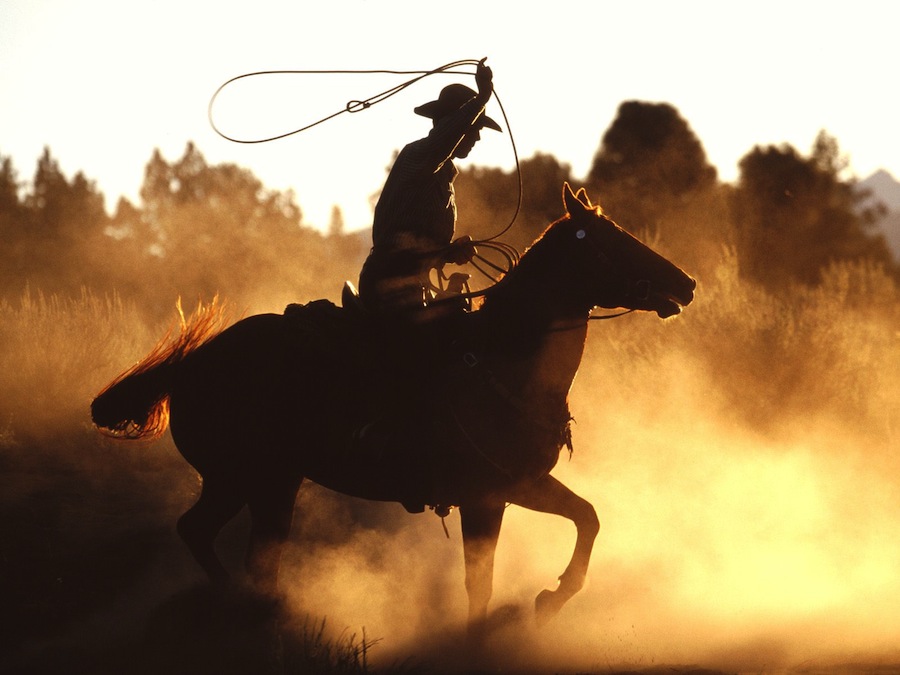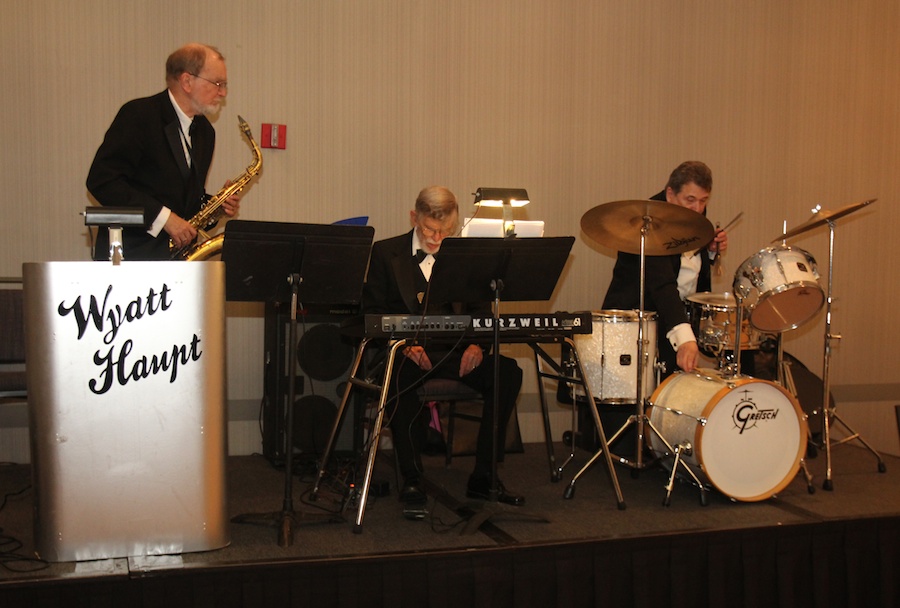 We didn't know that Wyatt's nickname is "Hoss"
Did You Know? - Western music was directly influenced by the folk music traditions of England, Wales, Scotland, and Ireland, and many cowboy songs, sung around campfire in the nineteenth century, like 'Streets of Laredo', can be traced back to European folk songs
Reflecting the realities of the range and ranch houses where the music originated, the early cowboy bands were string bands supplemented occasionally with the harmonica. The harmonica, invented in the early 19th century in central Europe, arrived in North America shortly before the American Civil War, as the United States was just beginning to expand westward; its small size and portability made it a favorite among the American public and the westward pioneers.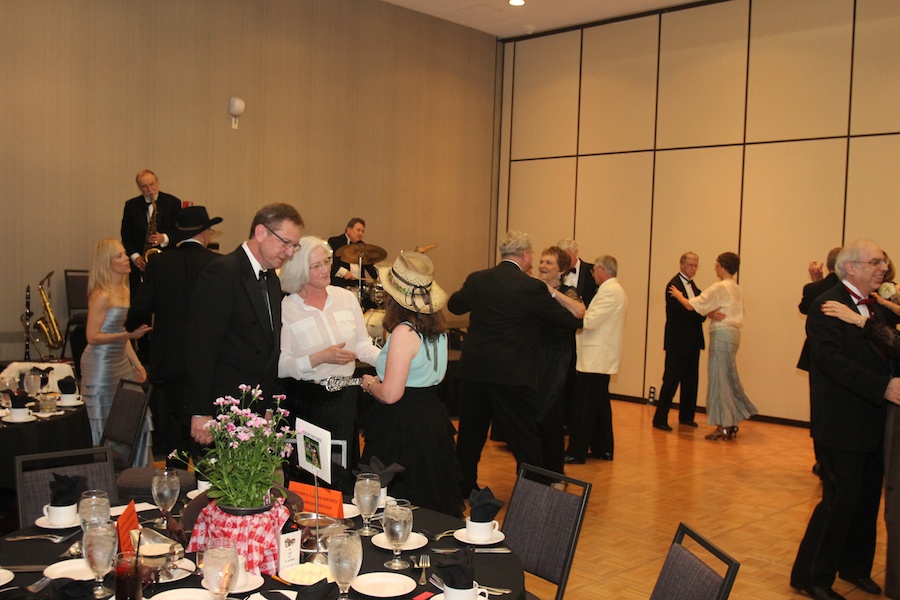 The music has started and the dancers have hit the floor

Les and Roberta show us how it is done... Roberta has a great western shirt
Did You Know? - A Western shirt is a traditional item of Western Wear characterized by a stylized yoke in front and in back. It is generally constructed of denim or tartan fabric with long sleeves, and in modern form is sometimes seen with snap pockets, patches made from bandana fabric, and fringe.
A Western dress shirt is often elaborately decorated with piping, embroidered roses and a contrasting yoke. In the 1950s these were frequently worn by movie cowboys like Roy Rogers or Clayton Moore's Lone Ranger. Derived from the elaborate Mexican vaquero costumes like the Guayabera and the battleshirts worn by many Confederate soldiers, these were worn at rodeos so the cowboy could be easily identifiable.[9] Buffalo Bill was known to wear them with a buckskin fringe jacket during his Wild West shows and they were fashionable for teenagers in the 1970s and late 2000s.

Lookin' good folks...

Kicking up our heels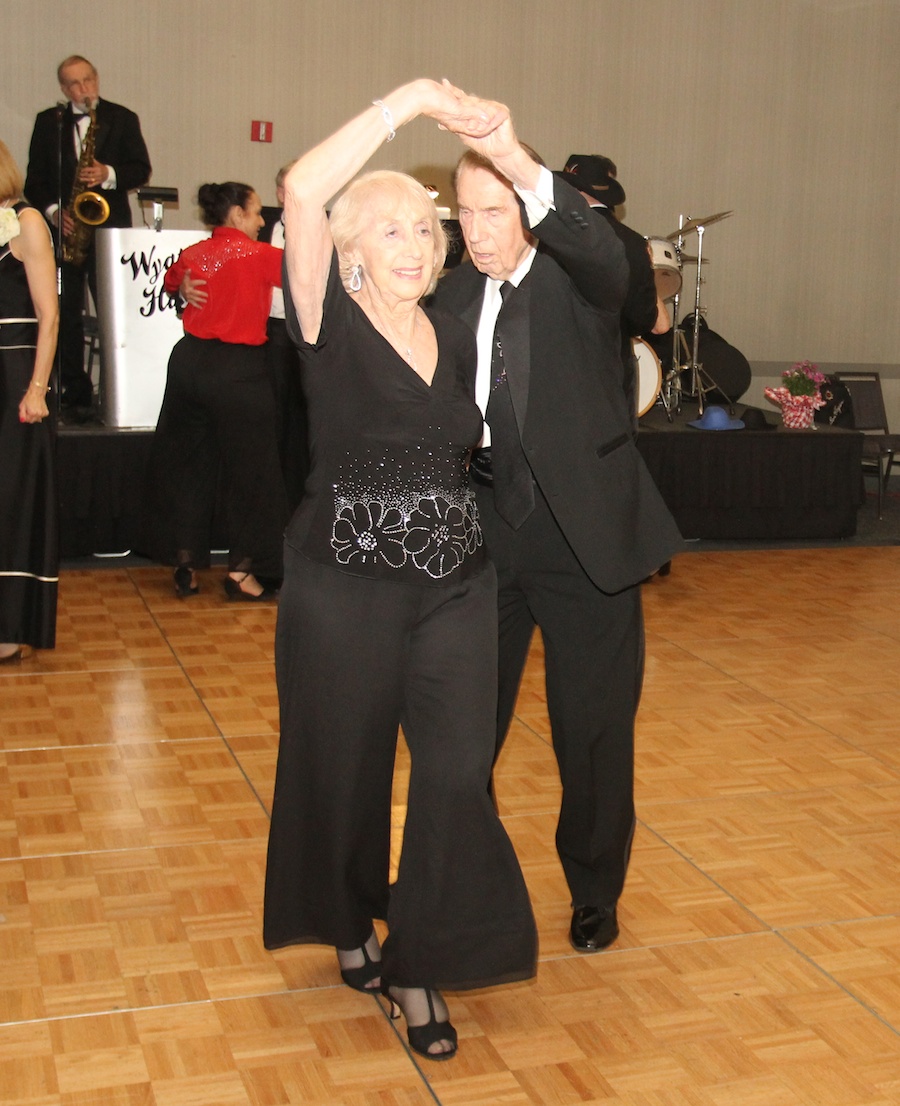 Ladies and gentlemen in black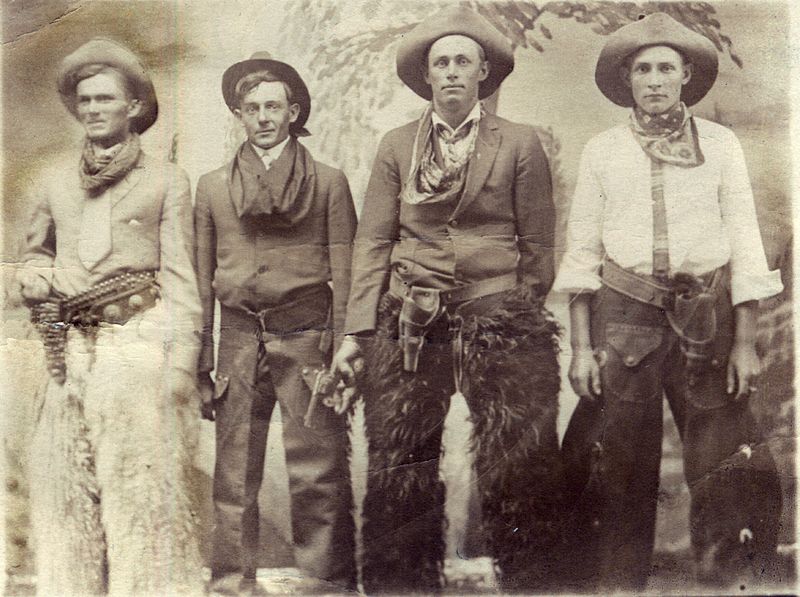 Check your guns at the door gentlemen

"So pardner.... Hoe much you want for that nice hat??"
Did You Know? - In the early days of the Old West it was the bowler hat rather than the slouch hat, centercrease (derived from the army regulation Hardee hat), or sombrero that was the most popular among cowboys as it was less likely to blow out off in the wind By the 1870s, however, the Stetson had become the most popular cowboy hat due to its use by the Union Cavalry as an alternative to the regulation blue kepi.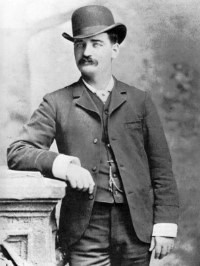 Stampede strings were installed to prevent the hat from being blown off when riding at speed. These long strings were usually made from leather or horsehair
Typically, the string was run half-way around the crown of a cowboy hat, and then through a hole on each side with its ends knotted and then secured under the chin or around the back of the head keeping the hat in place in windy conditions or when riding a horse.
The tall white Ten gallon hats traditionally worn by movie cowboys were of little use for the historical gunslinger as they made him an easy target, hence the preference of lawmen like Wild Bill Hickok, Wyatt Earp and Bat Masterson for low-crowned black hats.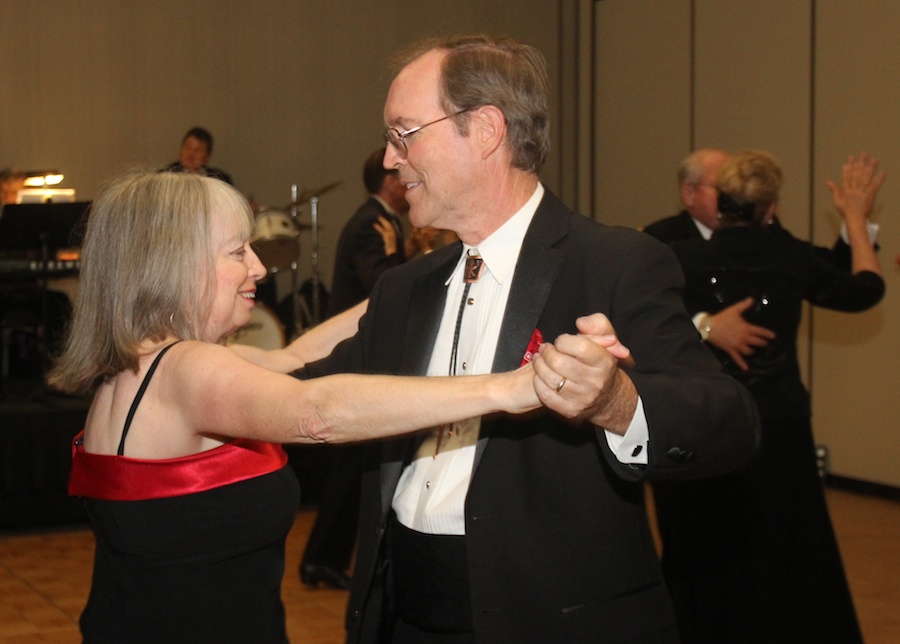 "Follow me... I am learning new steps from watching the other cowboys"

"Do you like my bolo?"
Did You Know? - During the Victorian era, gentlemen would wear silk cravats or neckties to add color to their otherwise sober black or grey attire. These continued to be worn by respectable Westerners until the early 20th century. Following the Civil War it became common practise among working class veterans to loosely tie a bandana around their necks to absorb sweat and keep the dust out of their faces. This practise originated in the Mexican War era regular army when troops threw away the hated leather stocks (a type of collar issued to soldiers) and replaced them with cheap paisley kerchiefs.
Another well-known Western accessory, the bolo tie, was a pioneer invention reputedly made from an expensive hatband. This was a favorite for gamblers and was quickly adopted by Mexican charros, together with the slim "Kentucky" style bow tie commonly seen on stereotypical Southern gentlemen like Colonel Sanders[25] or Boss Hogg. In modern times it serves as formal wear in many western states, notably Montana, New Mexico and Texas.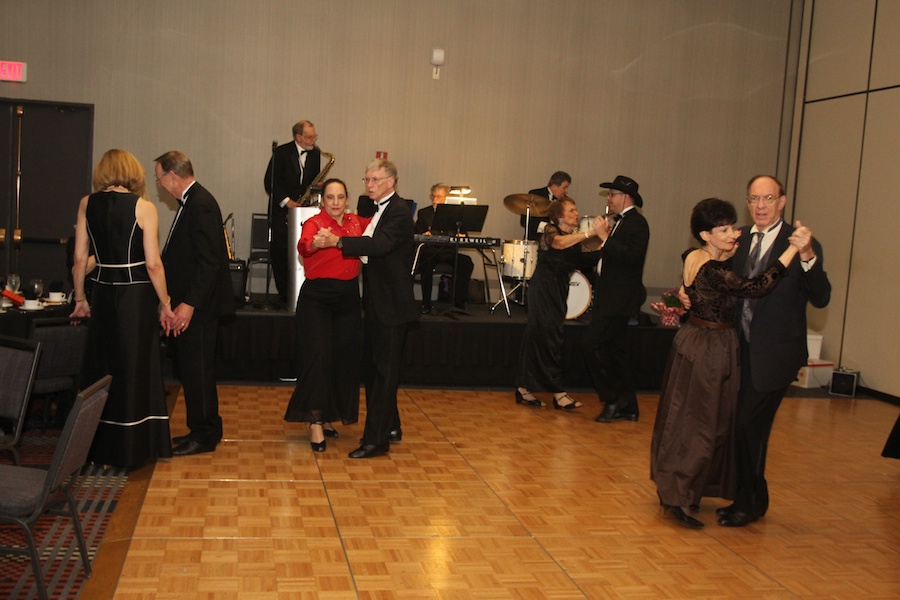 ... and the band played on...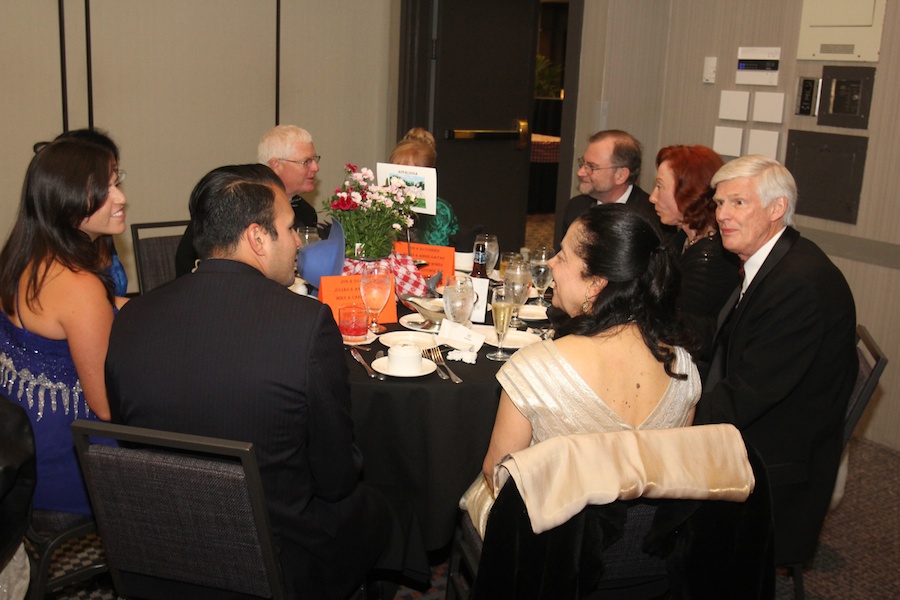 The rumor is out.... The chuck wagon has showed up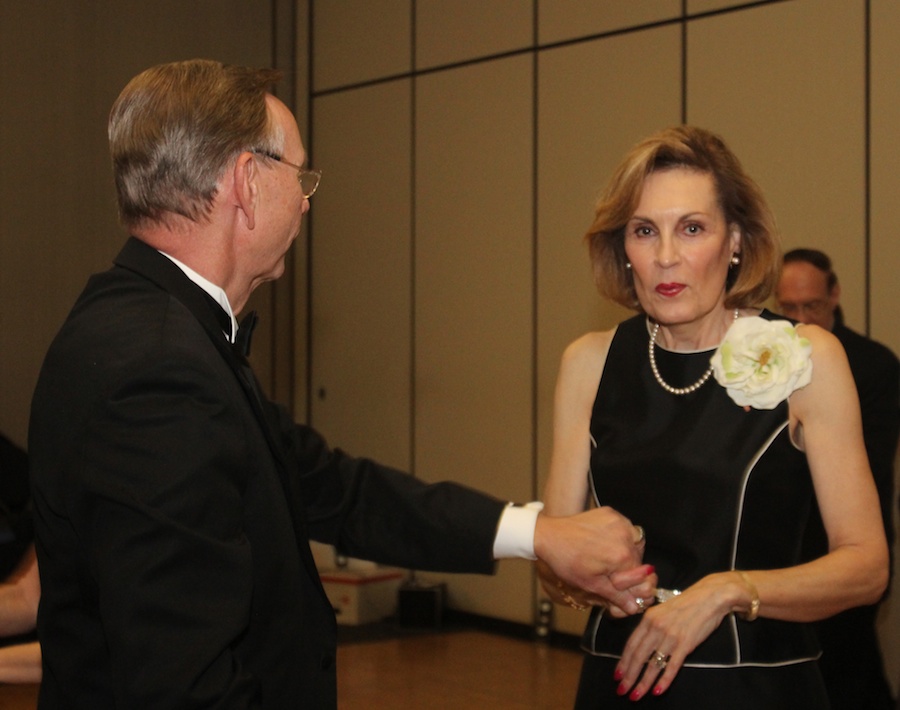 Western dance requires precise hand movements..... Not!

The salads have arrived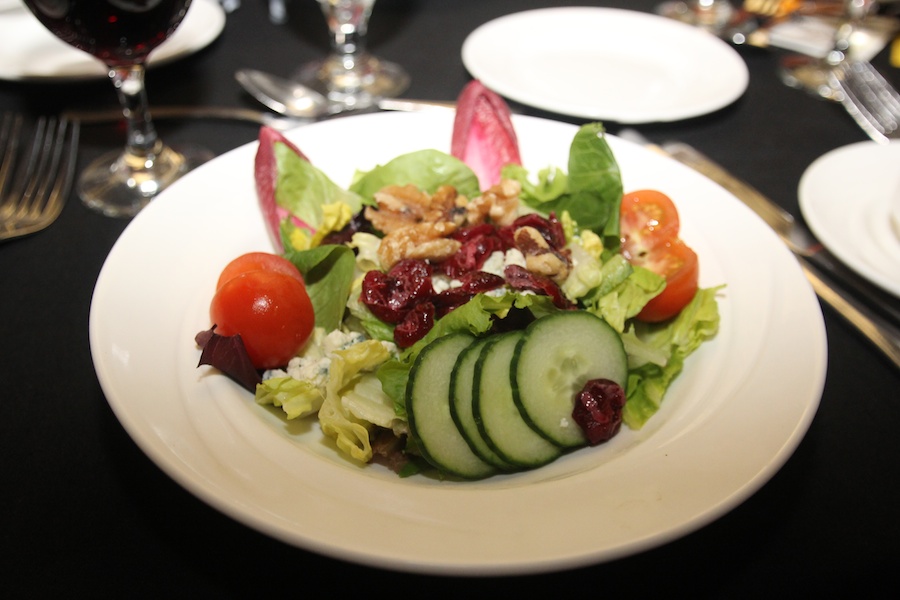 We did not know that Chuck knew how to make salads...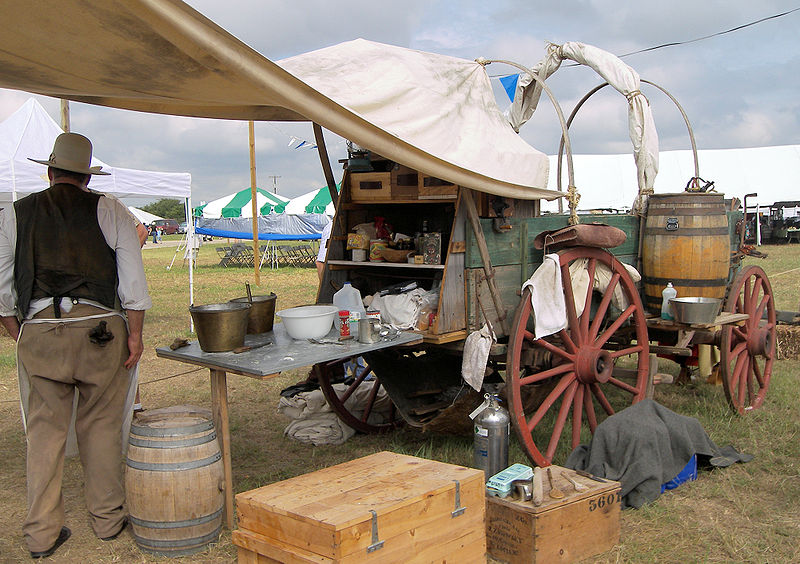 Did You Know? - While some form of mobile kitchens had existed for generations, the invention of the chuck wagon is attributed to Charles Goodnight, a Texas rancher who introduced the concept in 1866.
Goodnight modified the Studebaker wagon, a durable army-surplus wagon, to suit the needs of cowboys driving cattle from Texas to sell in New Mexico. He added a "chuck box" to the back of the wagon with drawers and shelves for storage space and a hinged lid to provide a flat cooking surface.
A water barrel was also attached to the wagon and canvas was hung underneath to carry firewood. A wagon box was used to store cooking supplies and cowboys' personal items.

Someone is happy....