Time For A Walk In The Oriental Gardens (Page Two)
c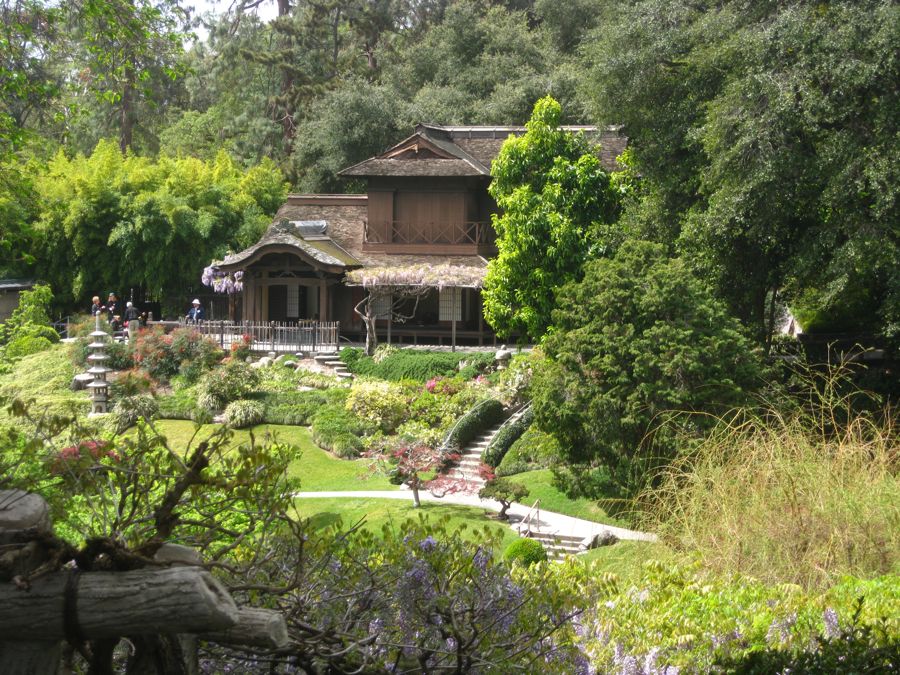 We entered the Japanese Gardens and turned right for a walk to the Chinese Garden

Blustery day in the garden

Reds and pinks rule
Japanese Nails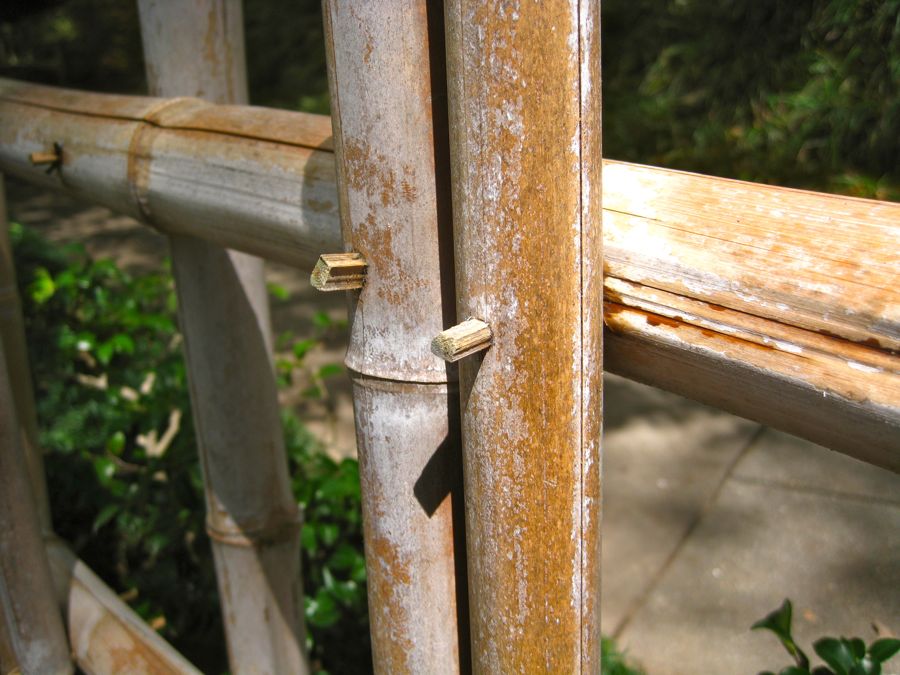 Japanese nails
Did You Know? - A split pin, also known in U.S. usage as a cotter pin or cotter key] is a metal fastener with two tines that are bent during installation, similar to a staple or rivet. Typically made of thick wire with a half-circular cross section, split pins come in multiple sizes and types.
The British definition of "cotter pin" is equivalent to U.S. term "cotter", which can be a cause for confusion when companies of both countries work together. There are signs that manufacturers and stockists are increasingly listing both names together to avoid confusion; this led to the term split cotter sometimes being used for a split pin.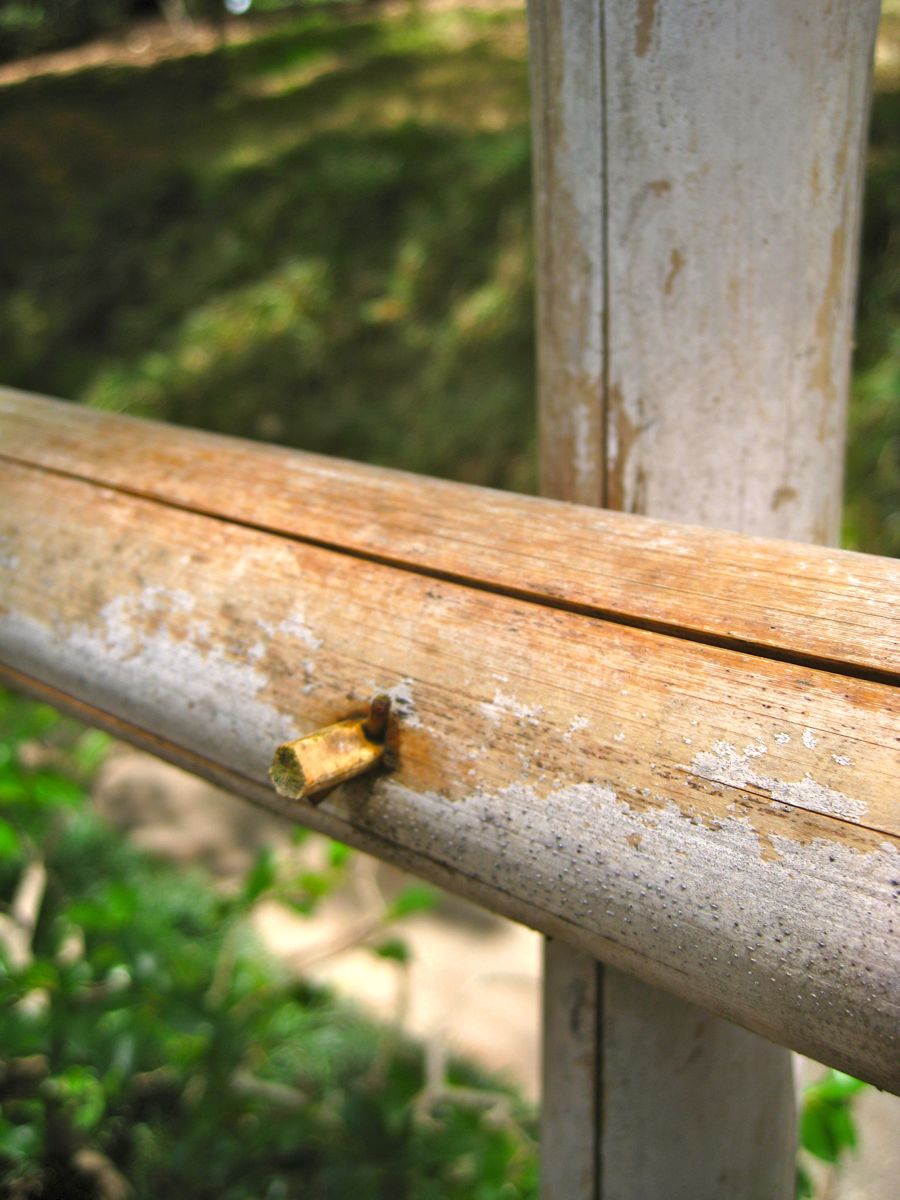 A "cotter pin" was put into the bamboo nail to keep it from pulling out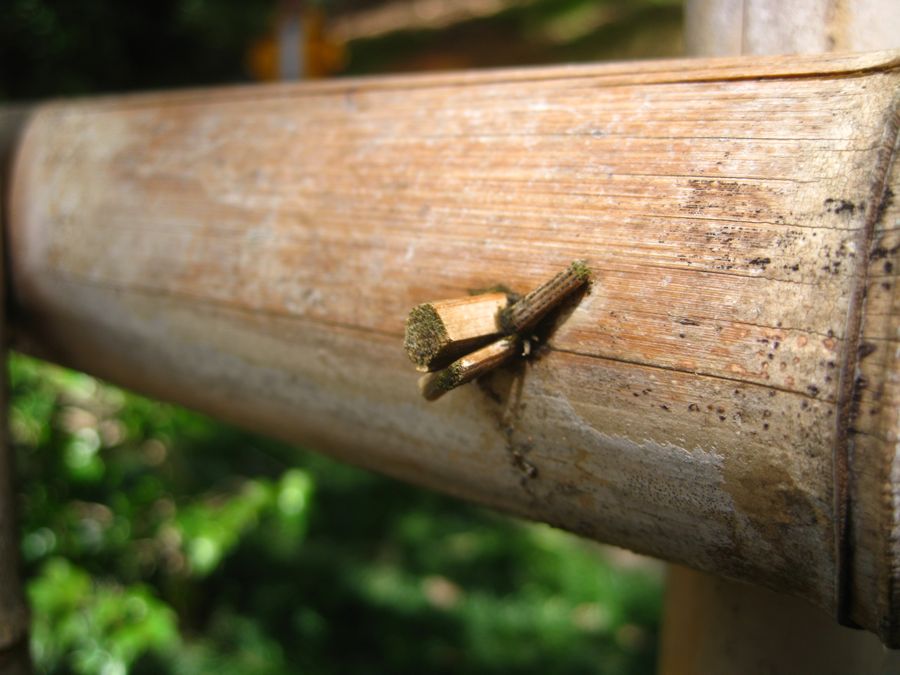 Volia, a fence is born
Chinese Garden Here We Come
Did You Know? - Camellia, the camellias, is a genus of flowering plants in the family Theaceae . They are native to eastern and southern Asia , from the Himalaya east to Korea and Indonesia . There are 100–250 described species , with some controversy over the exact number. The genus was named by Linnaeus after the Jesuit botanist Georg Joseph Kamel from Brno , who worked in the Philippines , though he never described a camellia. This genus is famous throughout East Asia ; camellias are known as cháhuā (茶花) in Chinese , "flowering tea", an apt designation, as tsubaki (椿) in Japanese , as hoa trà or hoa chè in Vietnamese and as dongbaek-kkot (동백꽃) in Korean .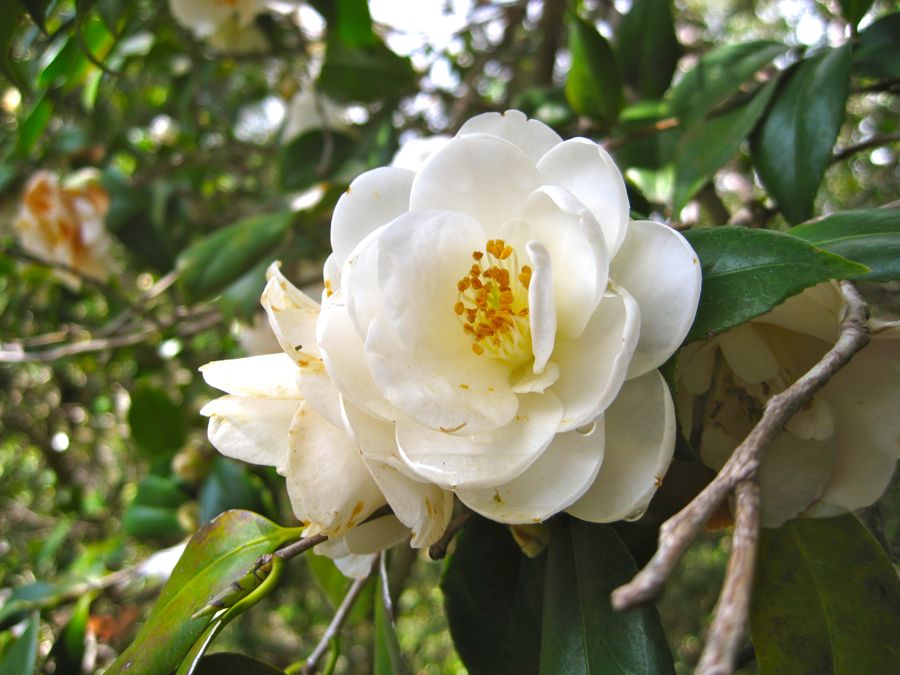 Camellias lined the walkway
Did You Know? - Camellia sinensis , the tea plant, is of major commercial importance because tea is made from its leaves. While the finest teas are produced by C. sinensis courtesy of millennia of selective breeding of this species, many other camellias can be used to produce a similar beverage. For example, in some parts of Japan , tea made from Christmas Camellia (C. sasanqua) leaves is popular.
Tea oil is a sweet seasoning and cooking oil made by pressing the seeds of the Oil-seed Camellia (C. oleifera), the Japanese Camellia (C. japonica), and to a lesser extent other species such as Crapnell's Camellia (C. crapnelliana), C. reticulata , C. sasanqua and C. sinensis. Relatively little-known outside East Asia , it is the most important cooking oil for hundreds of millions of people, particularly in southern China .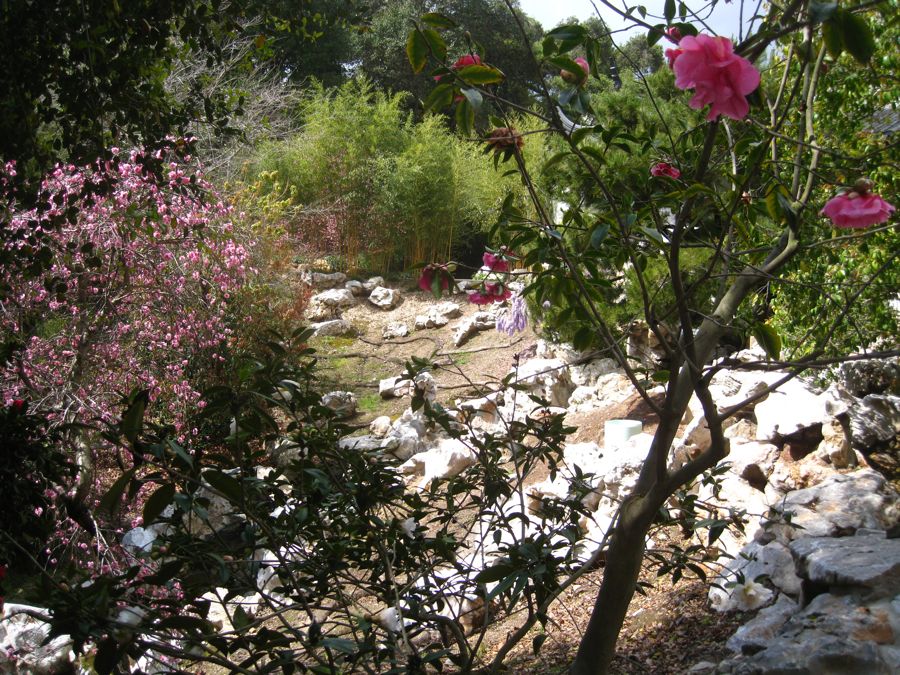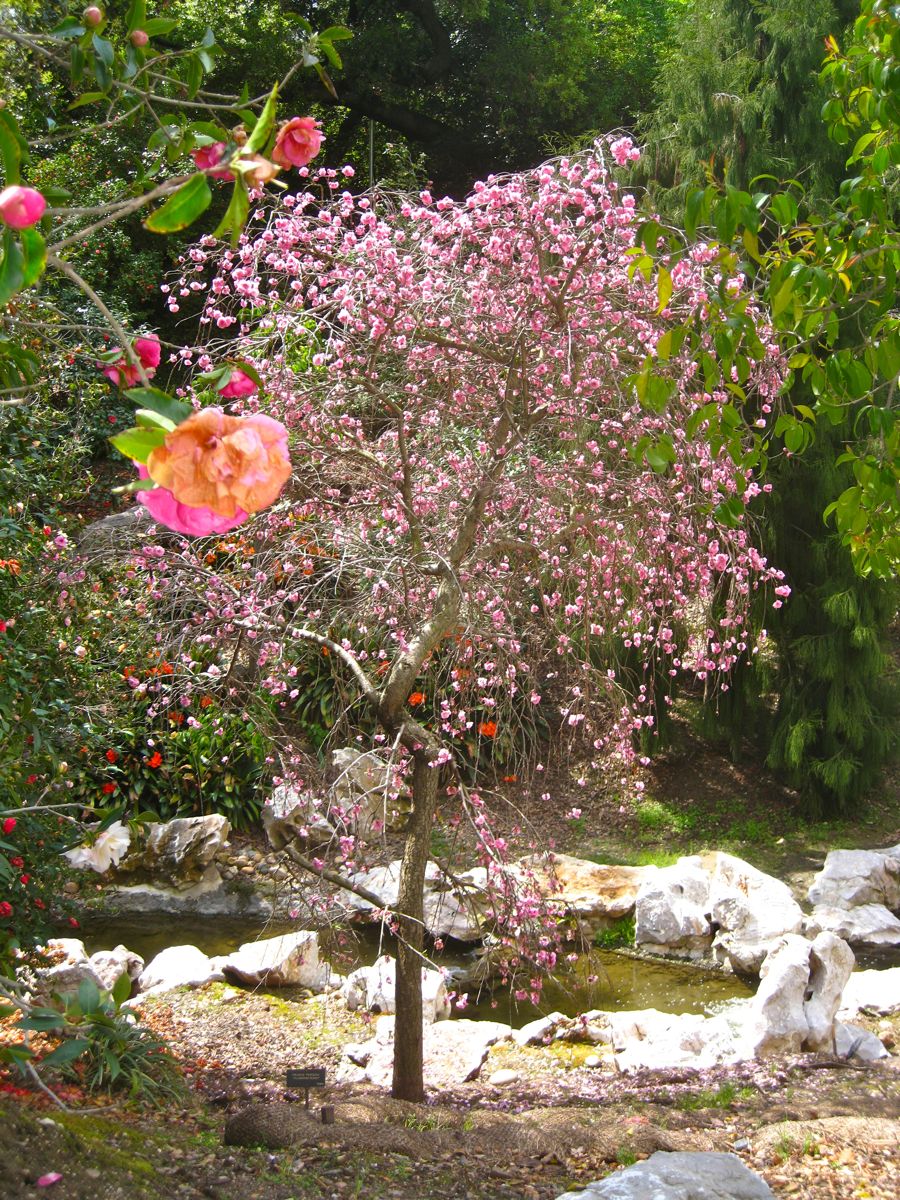 Great colors this afternoon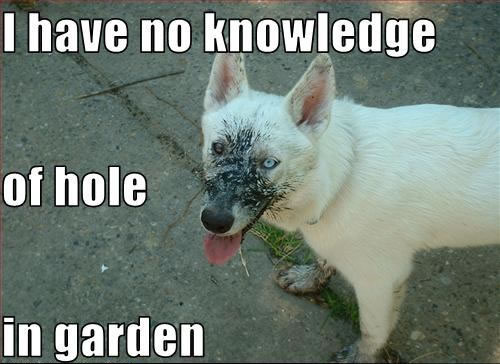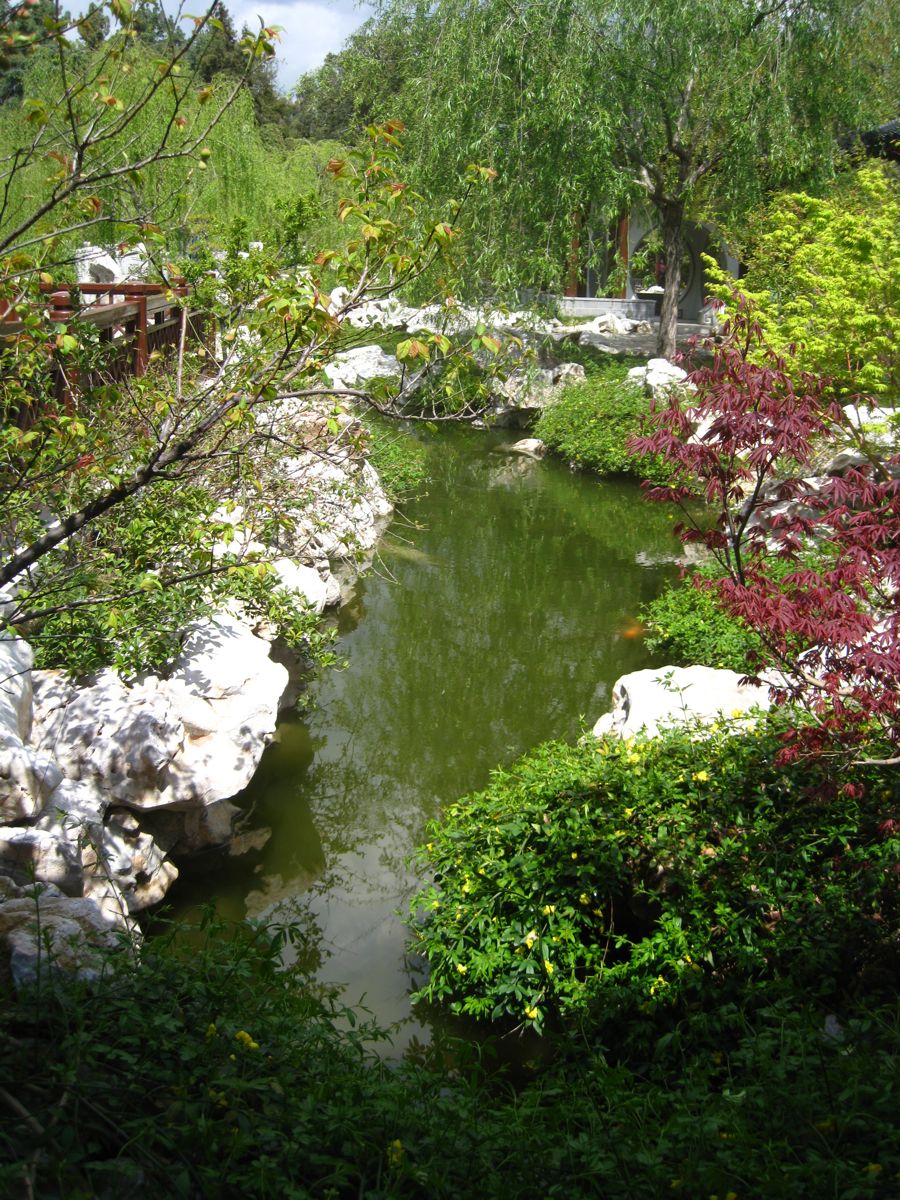 Stones for walking and massaging your feet
Did You Know? - The great stone is not a stone but clay! The clay is turned grey by adding rice leaves into the mixture while it is being fired and the ashes of the rice turn the clay grey. The white rock is from river beds (these happen to be from New Mexico!)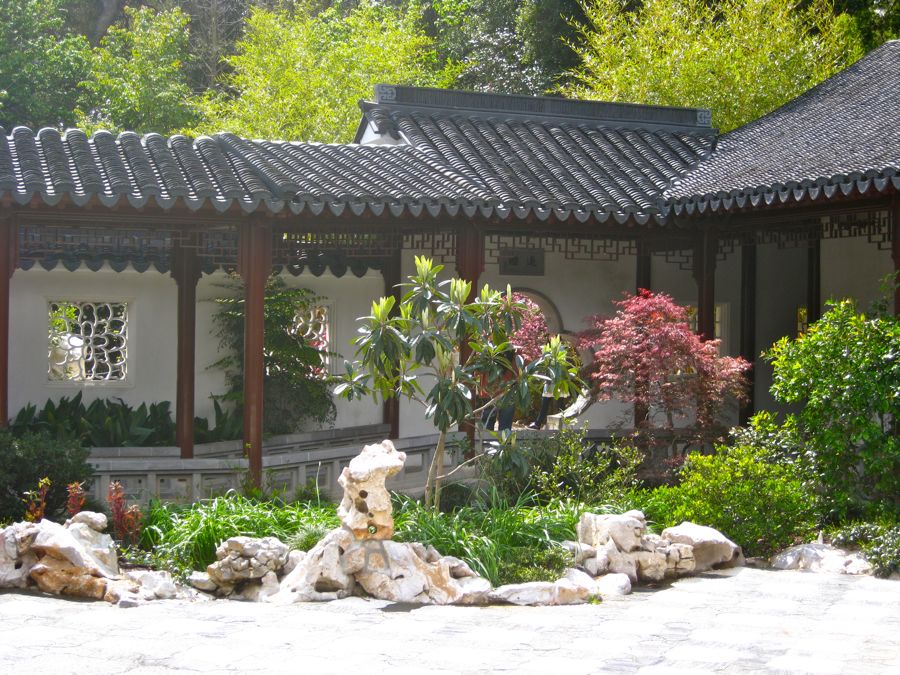 Same clay used to make the roof tiles was used on the patio

The Koi like the coloring of the water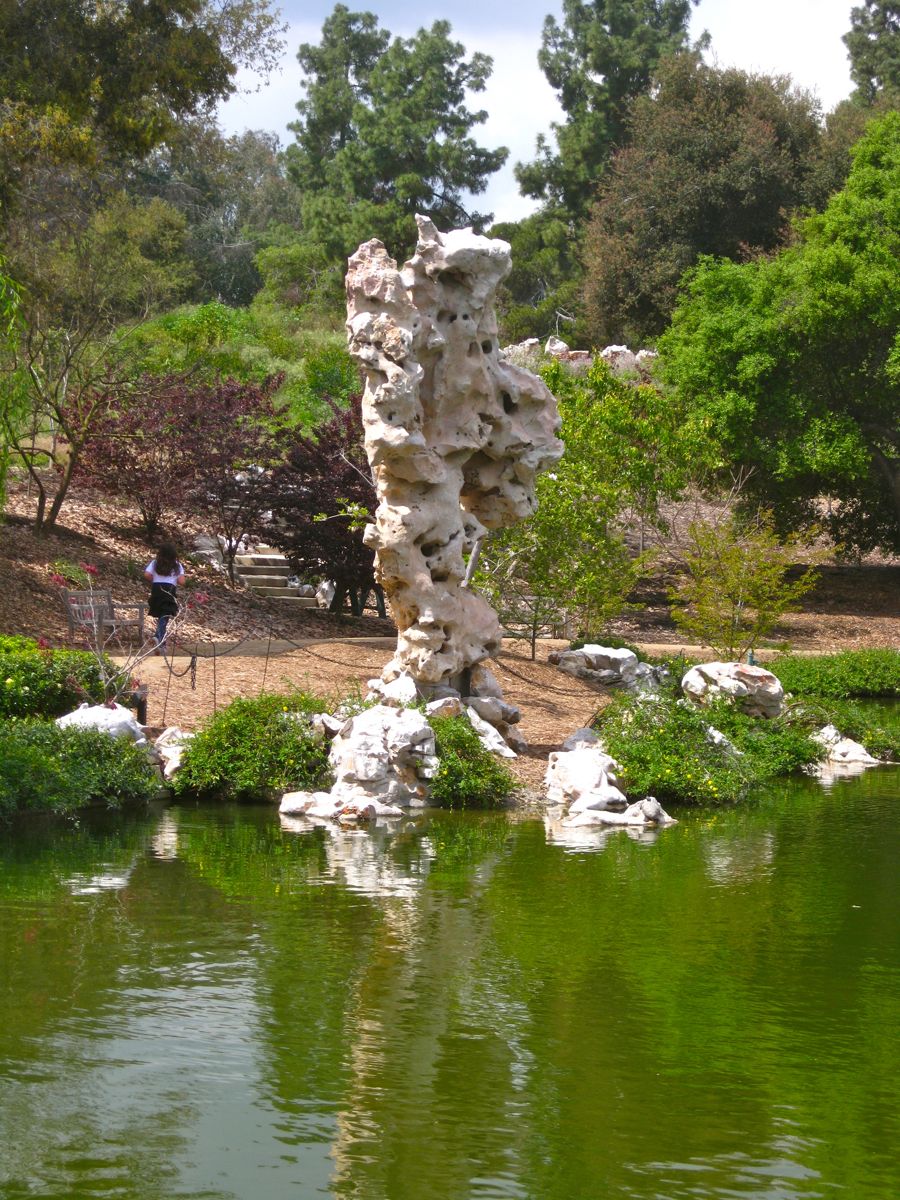 Did You Know? - Koi have been accidentally or deliberately released into the wild in every continent except Antarctica. They quickly revert to the natural coloration of common carp within a few generations. In many areas, they are considered an invasive species and pests. They greatly increase the turbidity of the water because they are constantly stirring up the substrate. This makes waterways unattractive, reduces the abundance of aquatic plants, and can render the water unsuitable for swimming or drinking, even by livestock. In some countries, koi have caused so much damage to waterways that vast amounts of money and effort have been spent trying to eradicate them, largely unsuccessfully.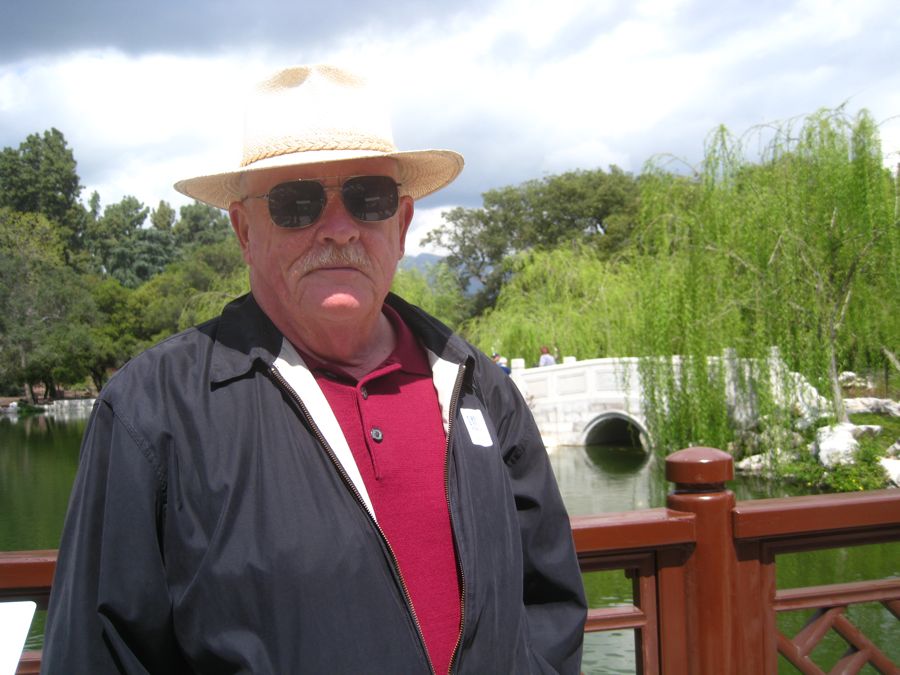 I am NOT fat... Those are camera in my pockets

Red leaves were bright
Did You Know? - Acer rubrum (Red Maple, also known as Swamp or Soft Maple), is one of the most common and widespread deciduous trees of eastern North America. It ranges from the Lake of the Woods on the border between Ontario and Minnesota, east to Newfoundland, south to near Miami, Florida, and southwest to east Texas. Many of its features, especially its leaves, are quite variable in form. At maturity it often attains a height of around 15 m (50 ft). It is aptly named as its flowers, petioles, twigs and seeds are all red to varying degrees. Among these features, however, it is best known for its brilliant deep scarlet foliage in autumn.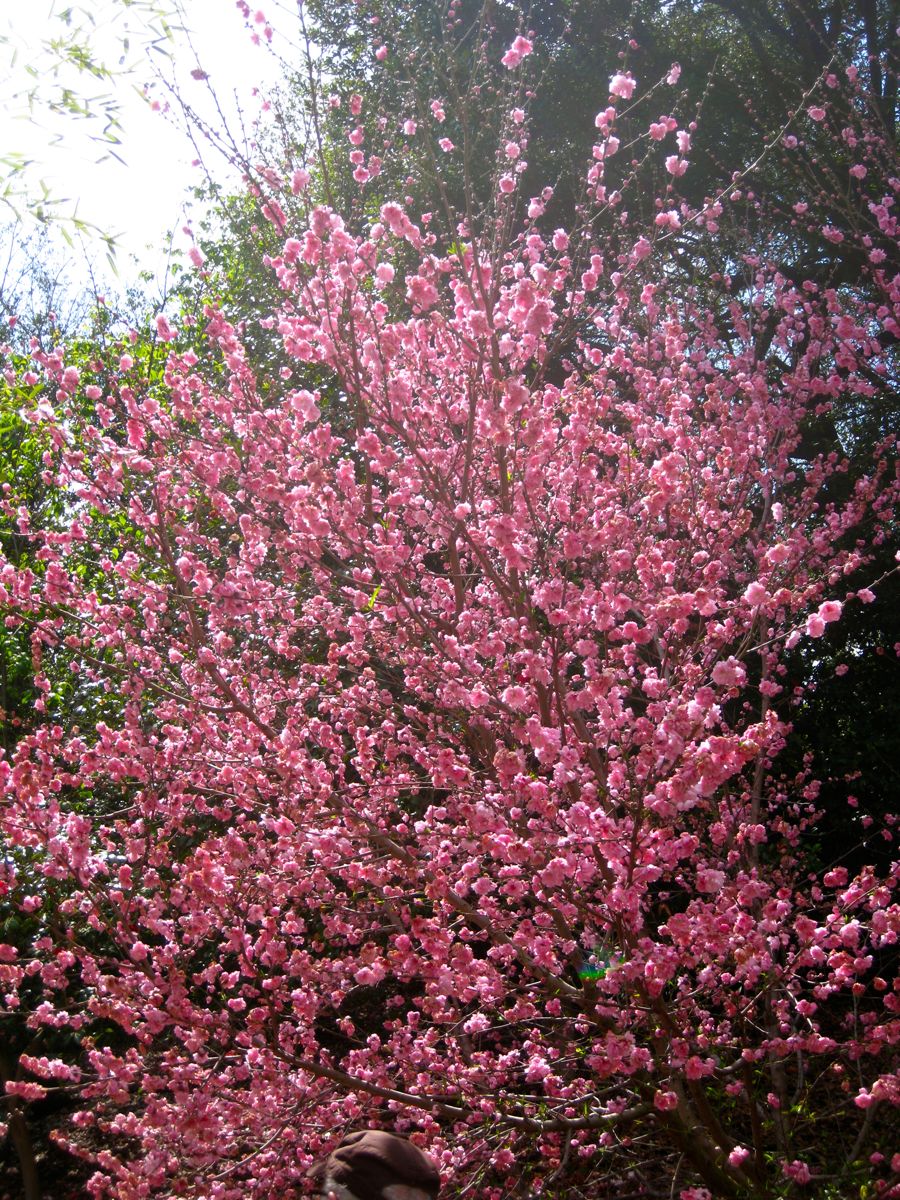 Wisteria
Did You Know? - Wisteria (also spelled Wistaria) is a genus of flowering plants in the pea family, Fabaceae, that includes ten species of woody climbing vines native to the eastern United States and the East Asian states of China, Korea, and Japan. Aquarists refer to the species Hygrophila difformis, in the family Acanthaceae, as Water Wisteria.
Wisteria vines climb by twining their stems either clockwise or counter-clockwise round any available support. They can climb as high as 20 m above ground and spread out 10 m laterally. The world's largest known Wisteria vine is located in Sierra Madre, California, measuring more than 1 acre (0.40 ha) in size and weighing 250 tons.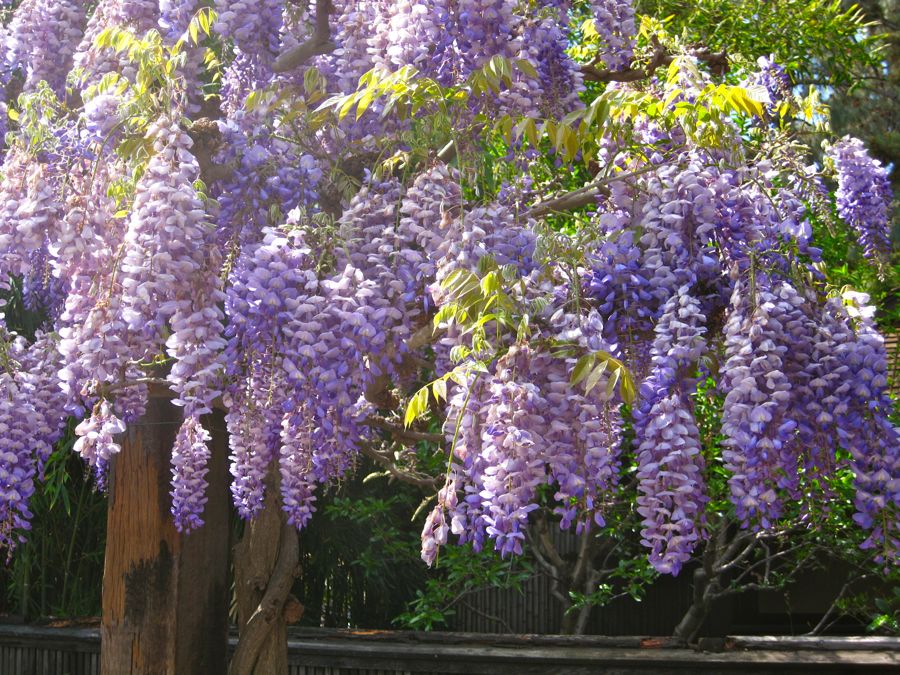 Enter The Japanese Gardens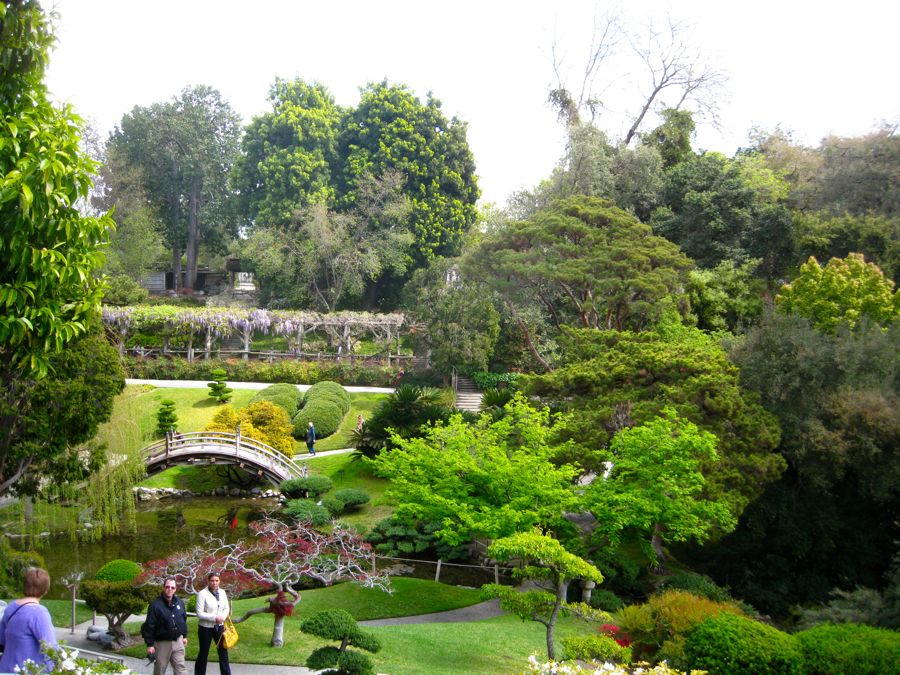 This will be closed until April 2012 for refurbishment

More bamboo nails with safety straps
Simplicity is good
Bonsai
Did You Know? - Bonsai ( help · info ) (盆栽 Chinese, Japanese ) (lit. plantings in tray, from bon, a tray or low-sided pot and sai, a planting or plantings) is a Japanese art form using miniature trees grown in containers. Similar practices exist in other cultures, including the Chinese tradition of penjing and the miniature living landscapes of Vietnamese hòn non bộ . The Japanese tradition dates back over a thousand years, and has evolved its own unique aesthetics and terminology.
'Bonsai' is a Japanese pronunciation of the earlier Chinese term penzai (盆栽). A 'bon' is a tray-like pot typically used in bonsai culture. The word bonsai is often used in English as an umbrella term for all miniature trees in containers or pots, but this article focuses on bonsai as defined in the Japanese tradition.
The purposes of bonsai are primarily contemplation (for the viewer) and the pleasant exercise of effort and ingenuity (for the grower). By contrast with other plant cultivation practices, bonsai is not intended for production of food, for medicine, or for creating yard-sized or park-sized gardens or landscapes. Instead, bonsai practice focuses on long-term cultivation and shaping of one or more small trees in a single container.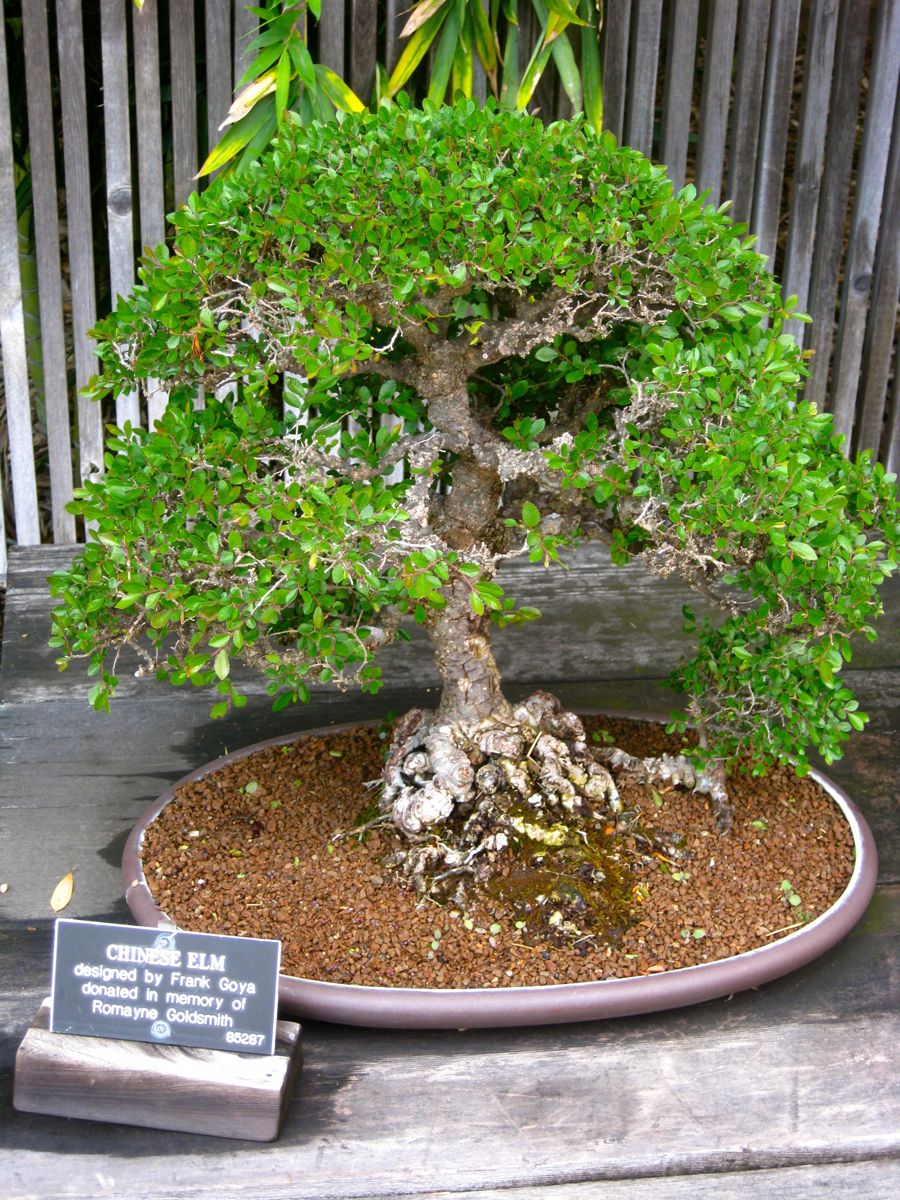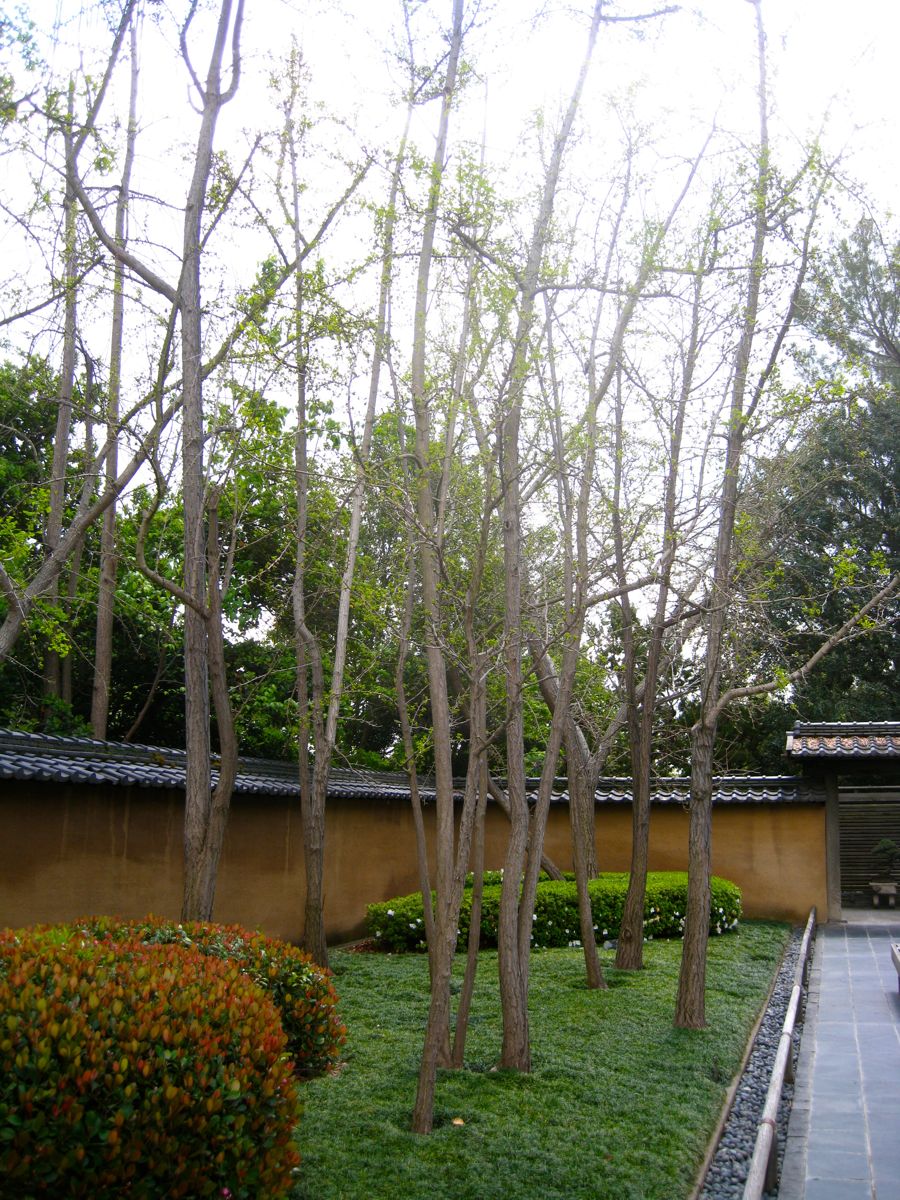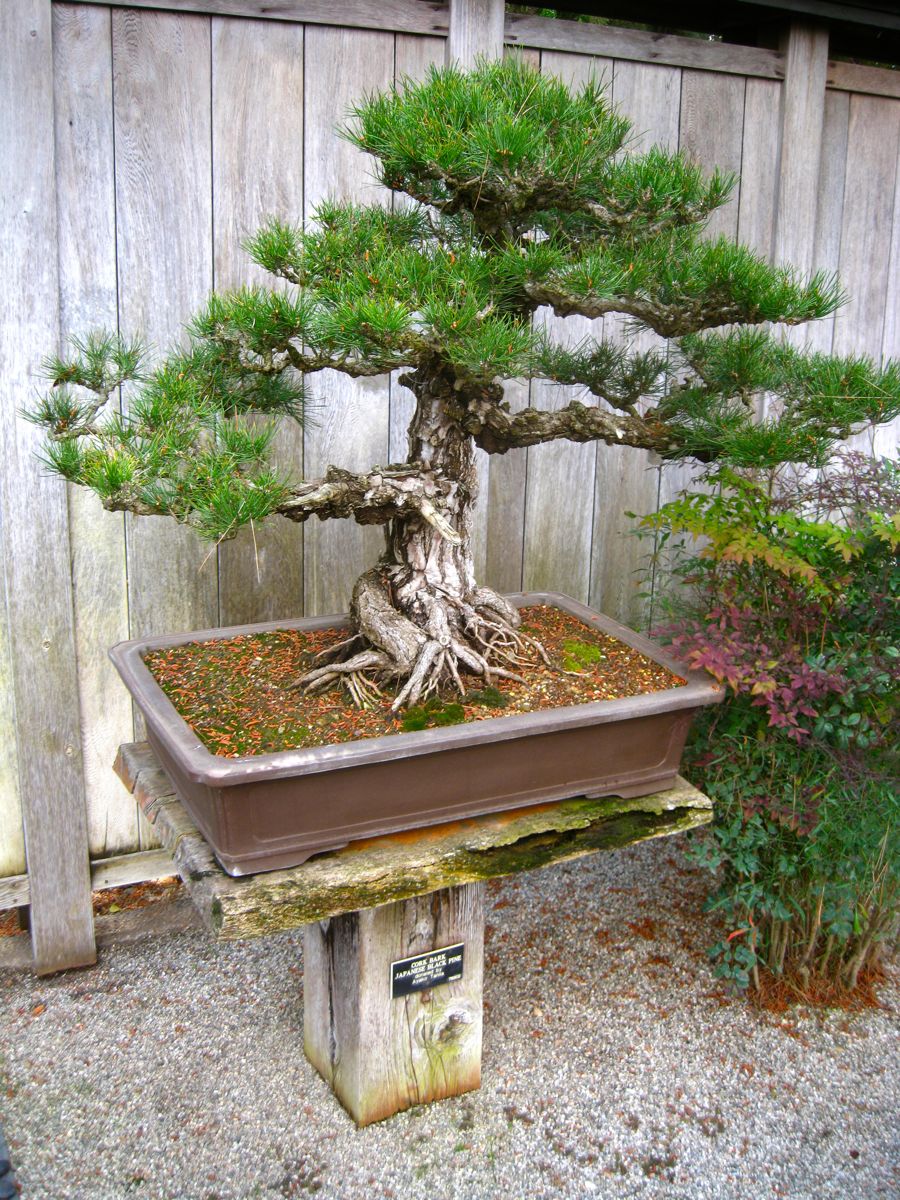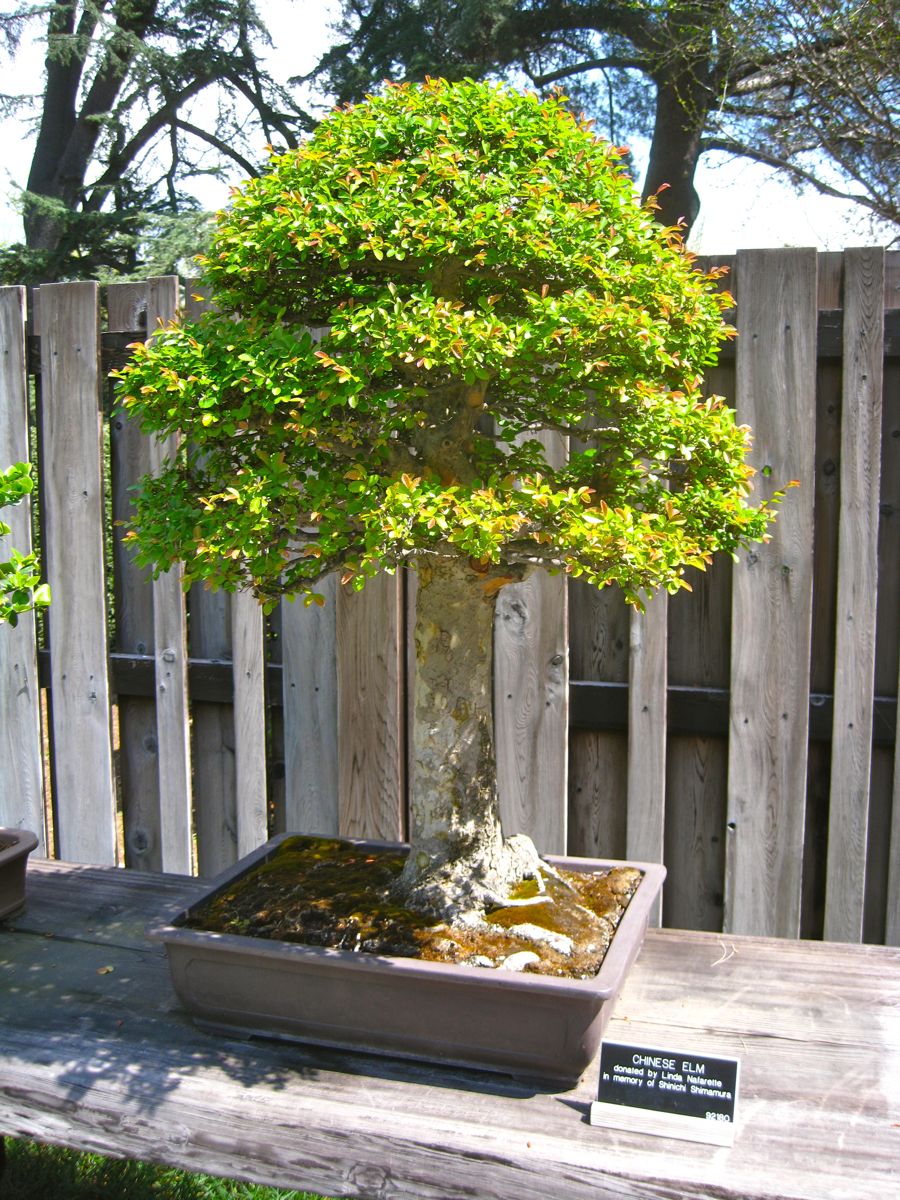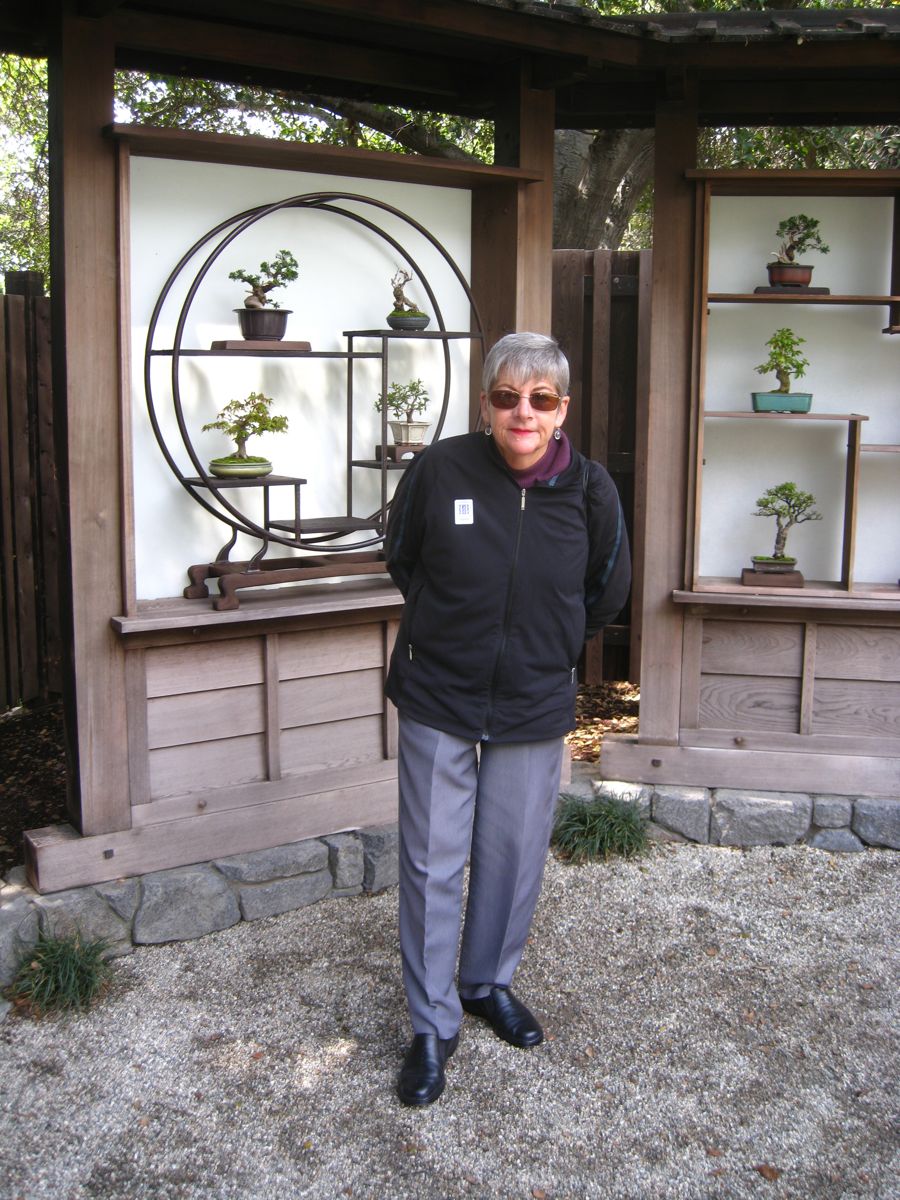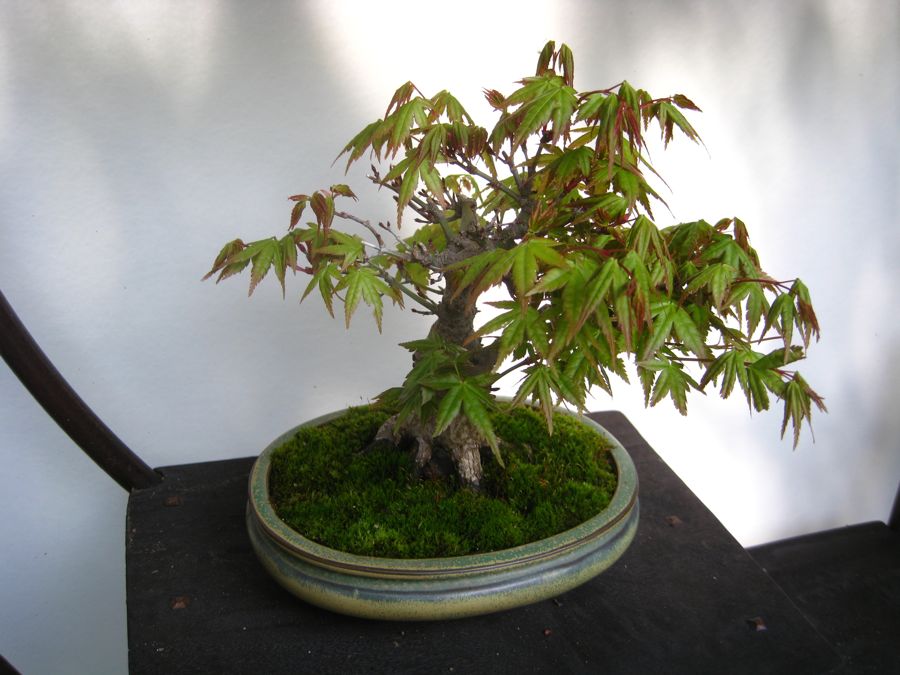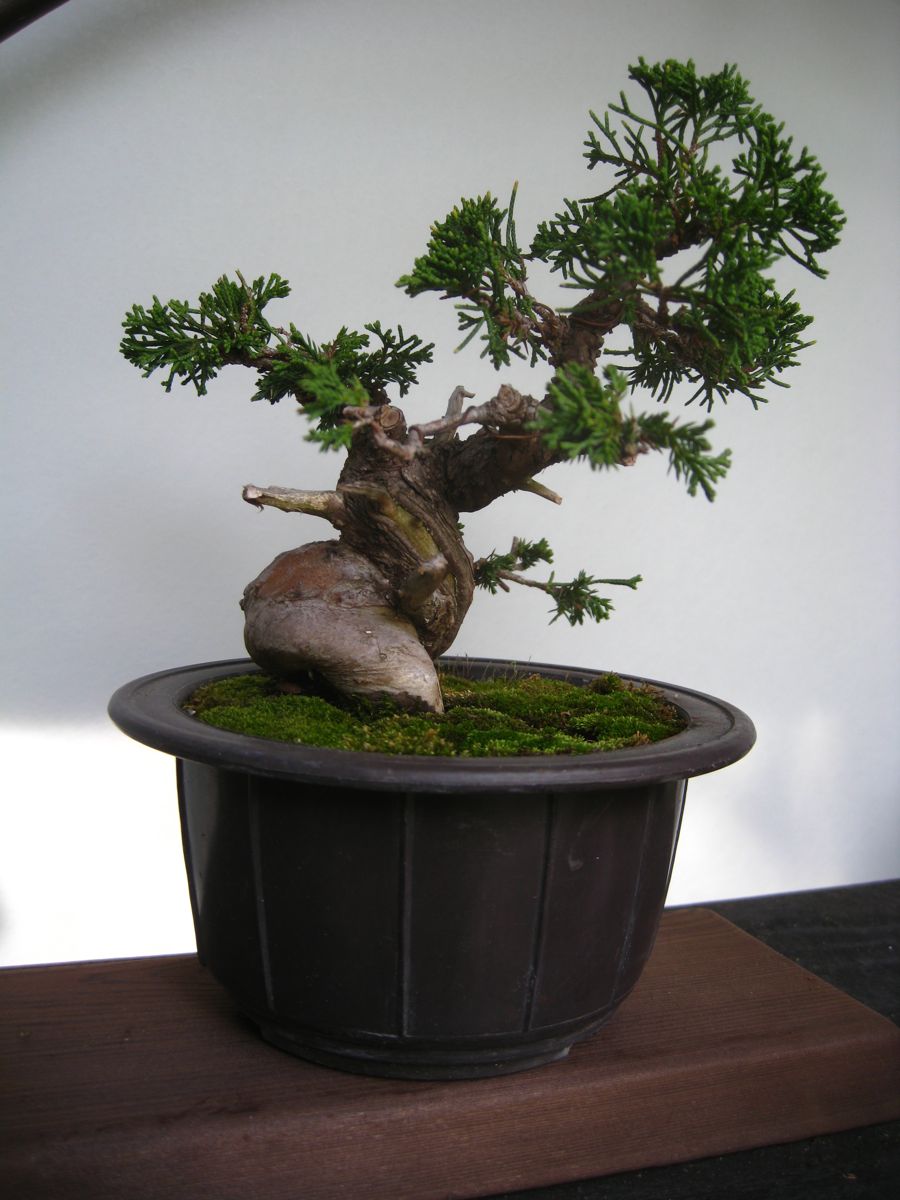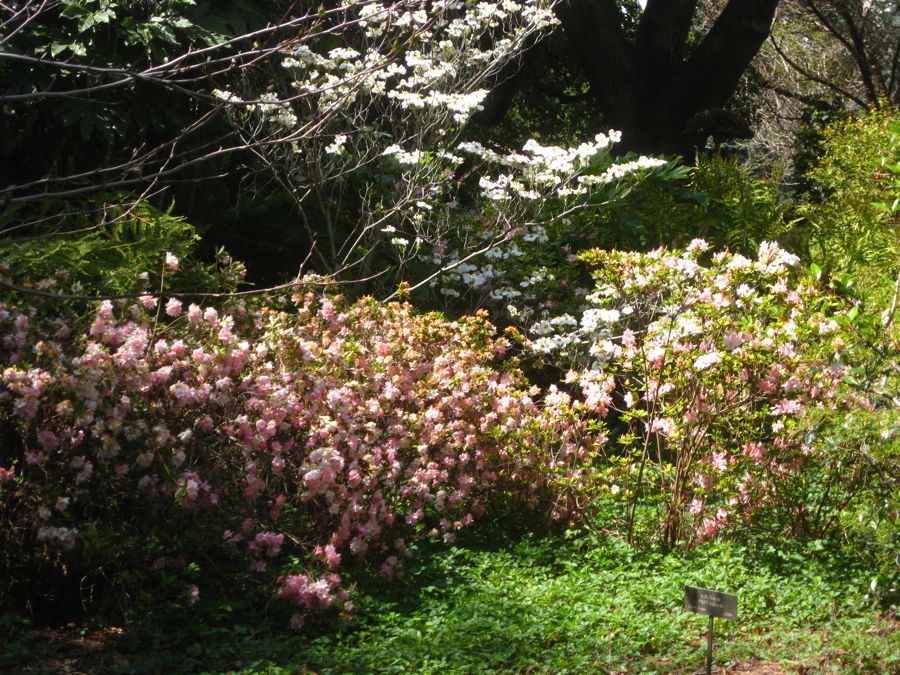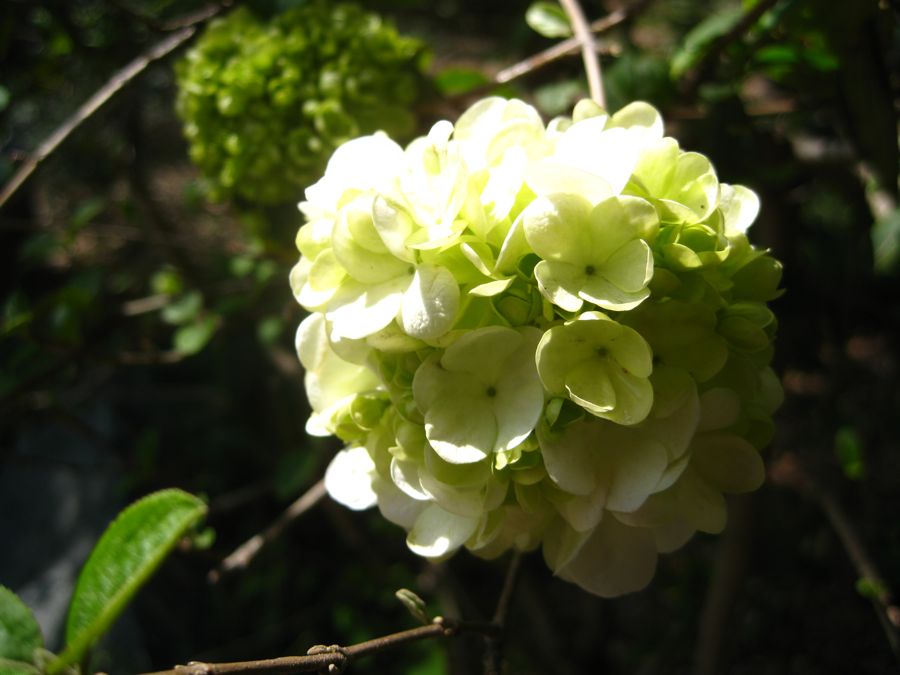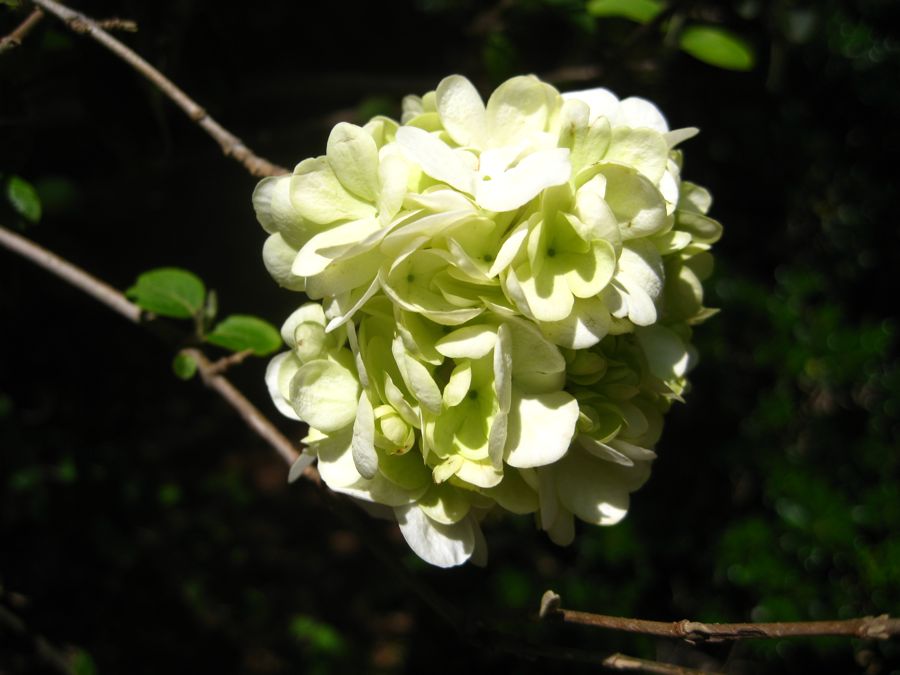 Australian Gardens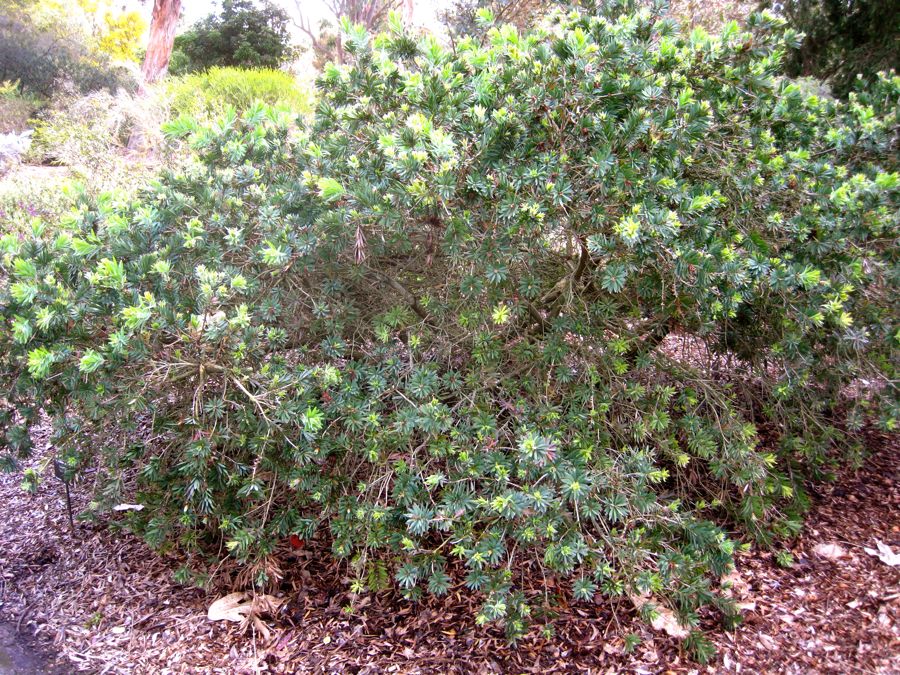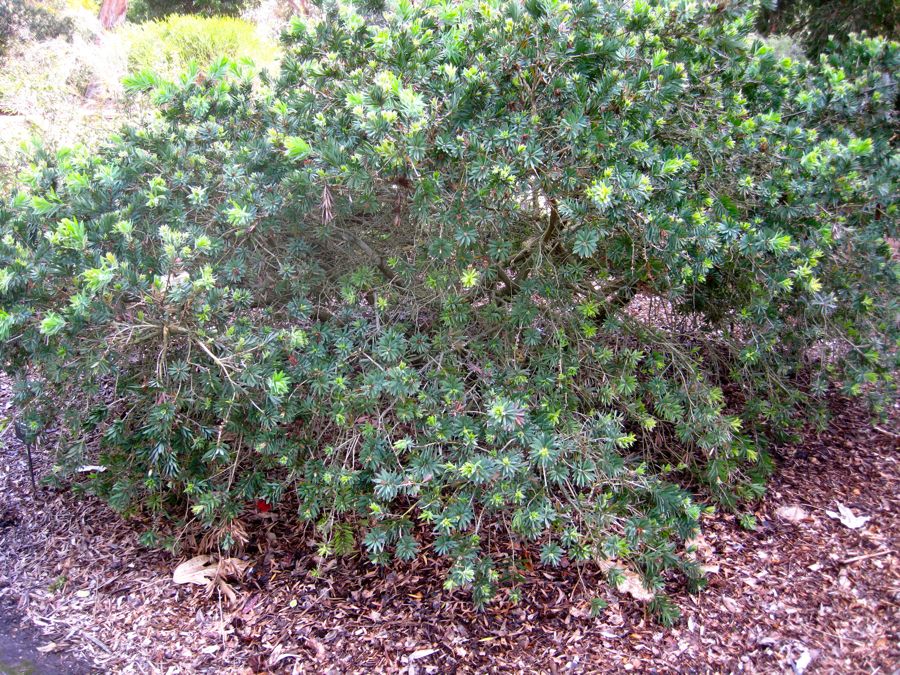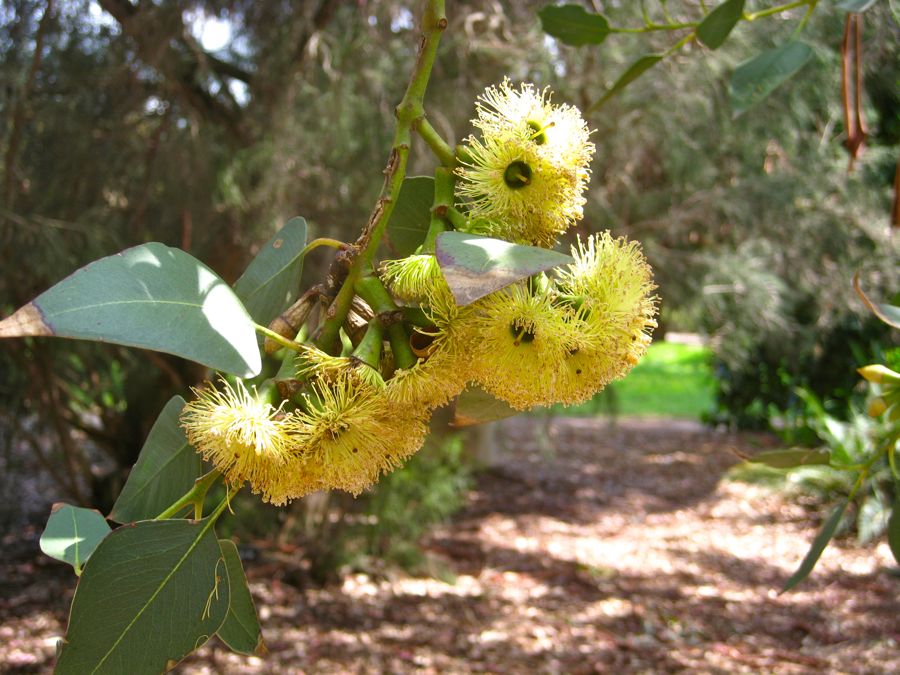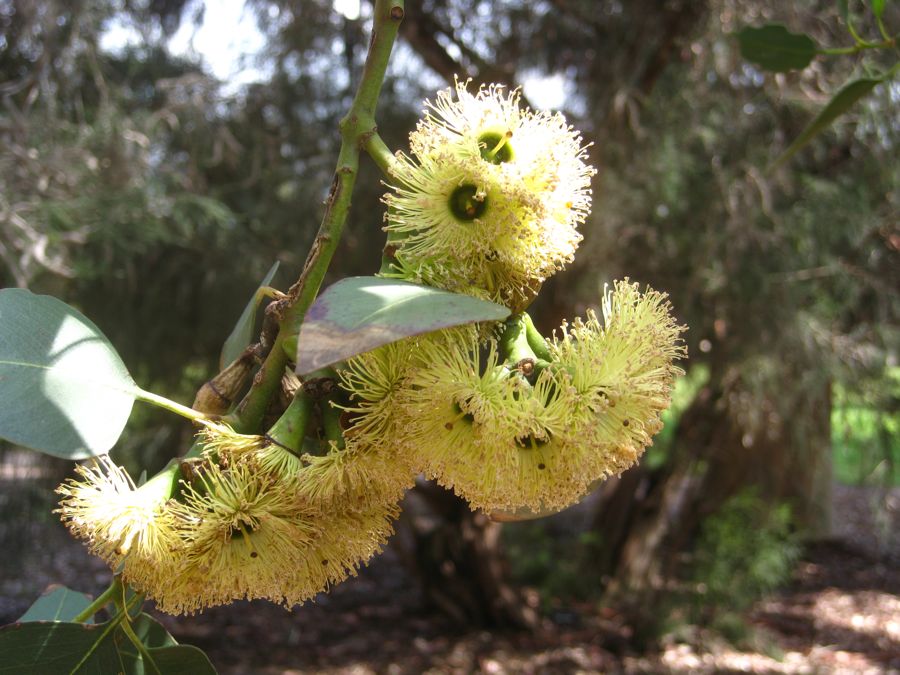 Yellow Bottlebrush tree
Did You Know? - Bottlebrush (Callistemon, pronounced /ˌkælɨˈstiːmən/) is a genus of 34 species of shrubs in the family Myrtaceae. The majority of Callistemon species are endemic to Australia; four species are also found in New Caledonia. They are commonly referred to as bottlebrushes because of their cylindrical, brush like flowers resembling a traditional bottle brush.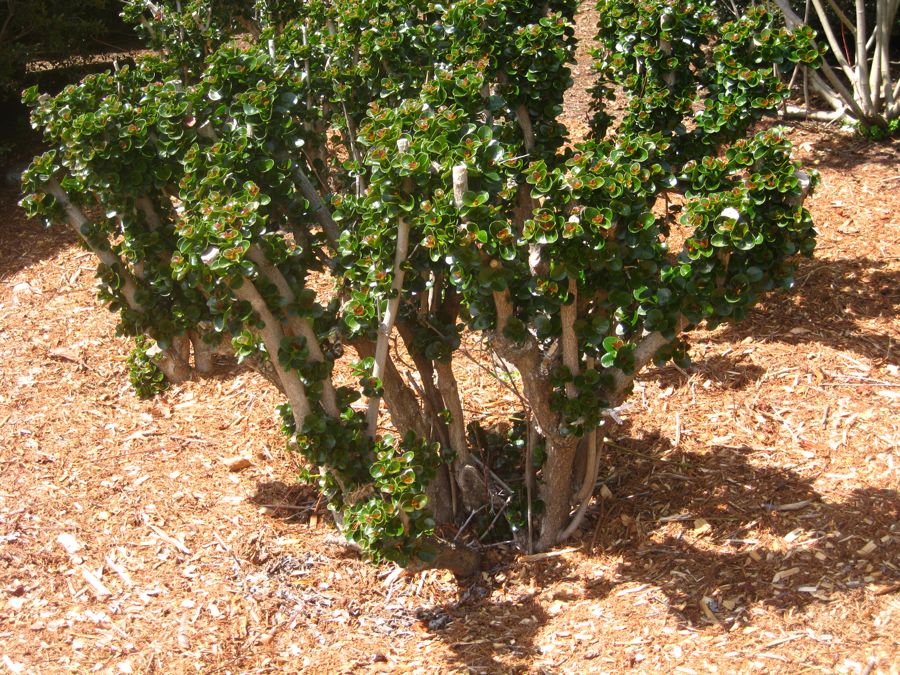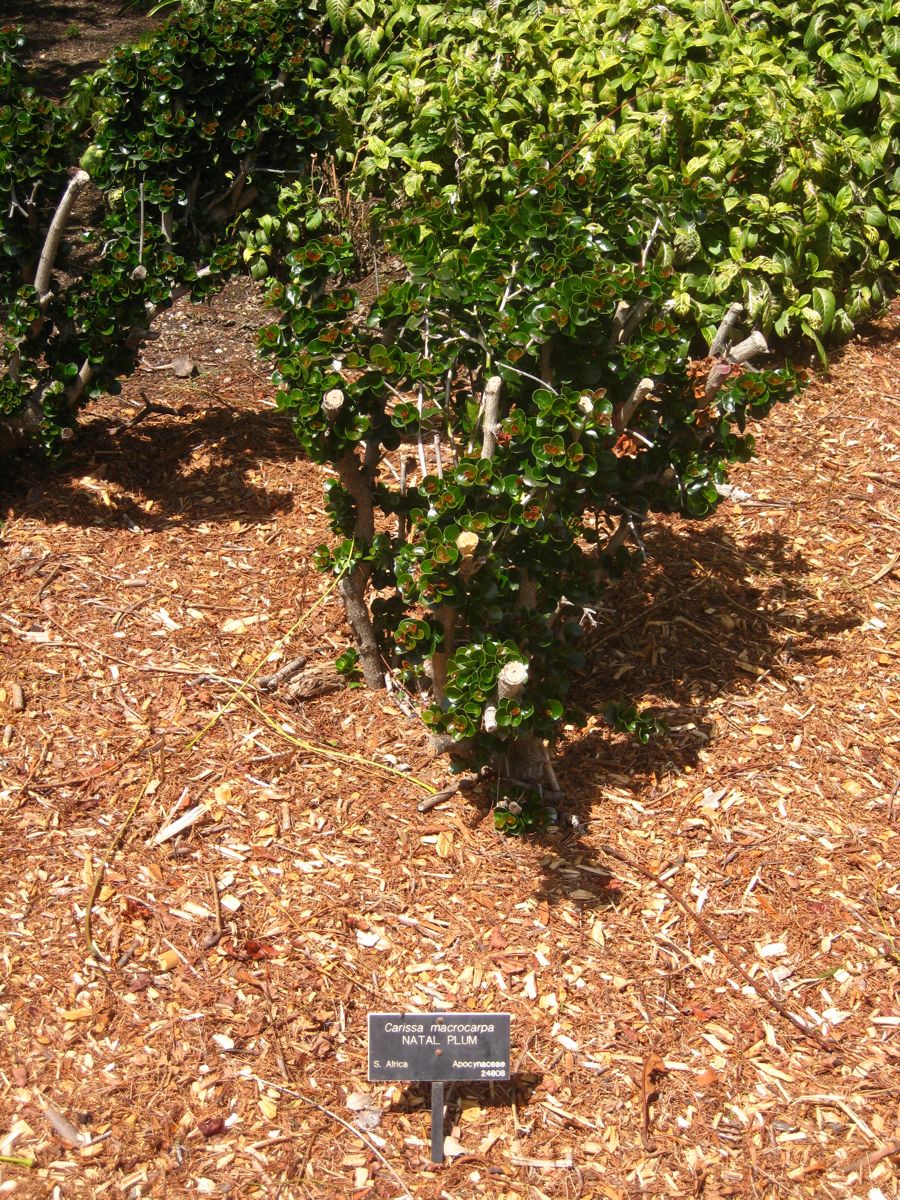 Macademia Nut tree in blossom
Did You Know? - Macadamia is a genus of nine species of flowering plants in the family Proteaceae , with a disjunct distribution native to eastern Australia (seven species), New Caledonia (one species M. neurophylla ) and Sulawesi in Indonesia (one species, M. hildebrandii).
They are small to large evergreen trees growing to 2–12 m tall. The leaves are arranged in whorls of three to six, lanceolate to obovate or elliptical in shape , 6–30 cm long and 2–13 cm broad, with an entire or spiny-serrated margin. The flowers are produced in a long slender simple raceme 5–30 cm long, the individual flowers 10–15 mm long, white to pink or purple, with four tepals . The fruit is a very hard woody globose follicle with a pointed apex, containing one or two seeds .
The genus is named after John Macadam , a colleague of botanist Ferdinand von Mueller , who first described the genus. Common names include Macadamia, Macadamia nut, Queensland nut, Bush nut, Maroochi nut, Queen of Nuts and bauple nut; Indigenous Australian names include gyndl, jindilli, and boombera.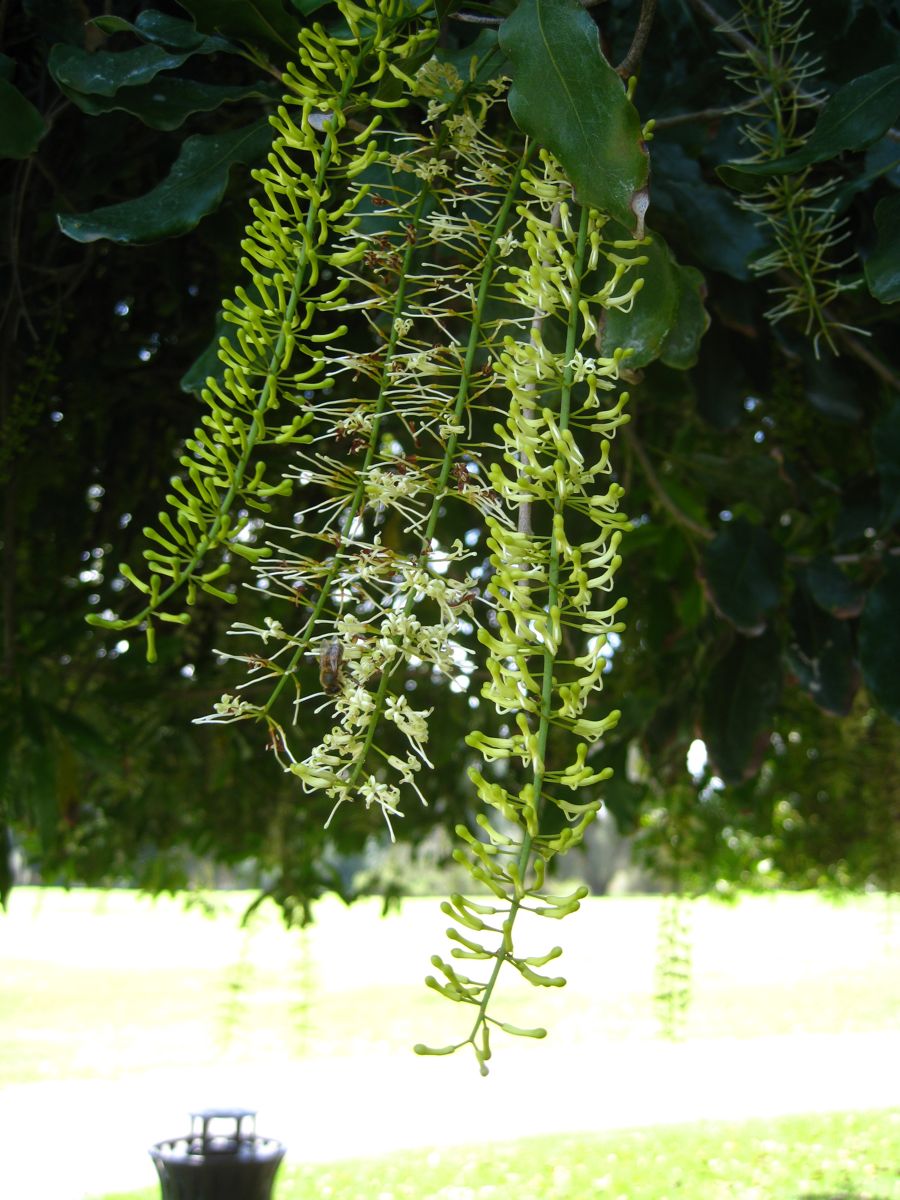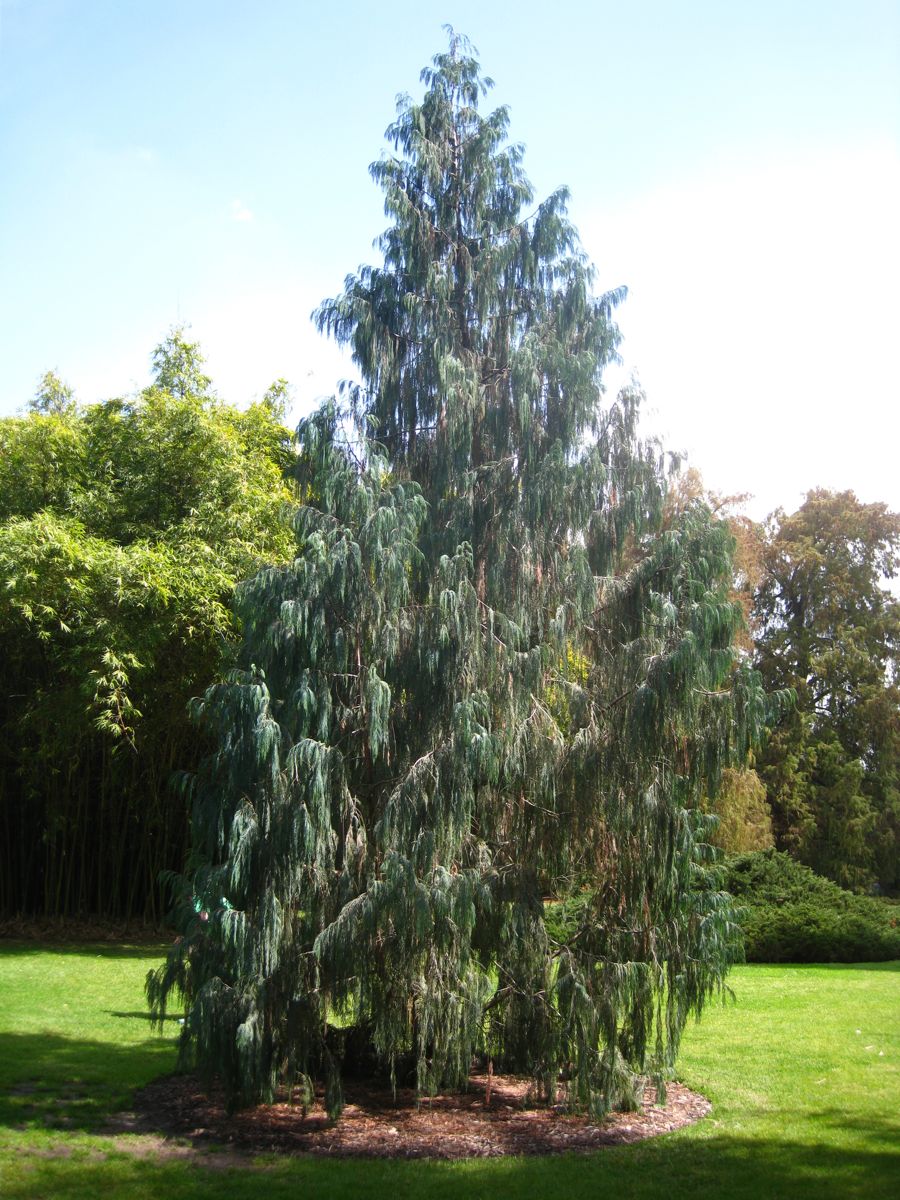 To The Pond Before The Desert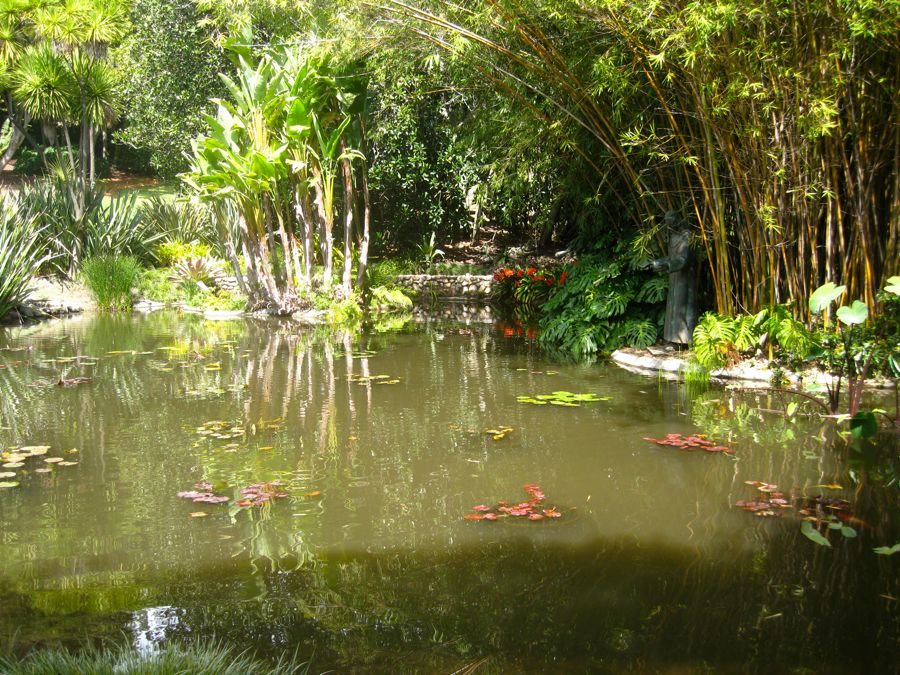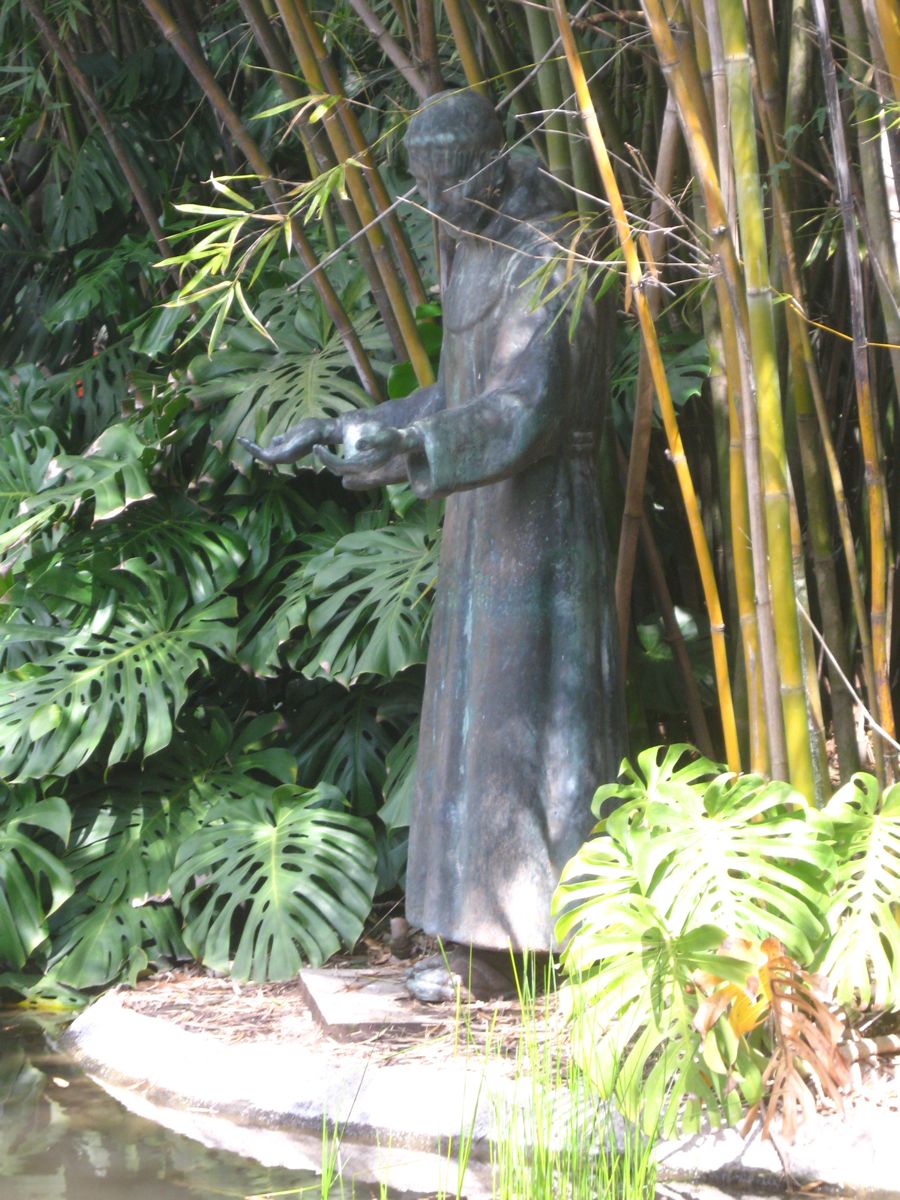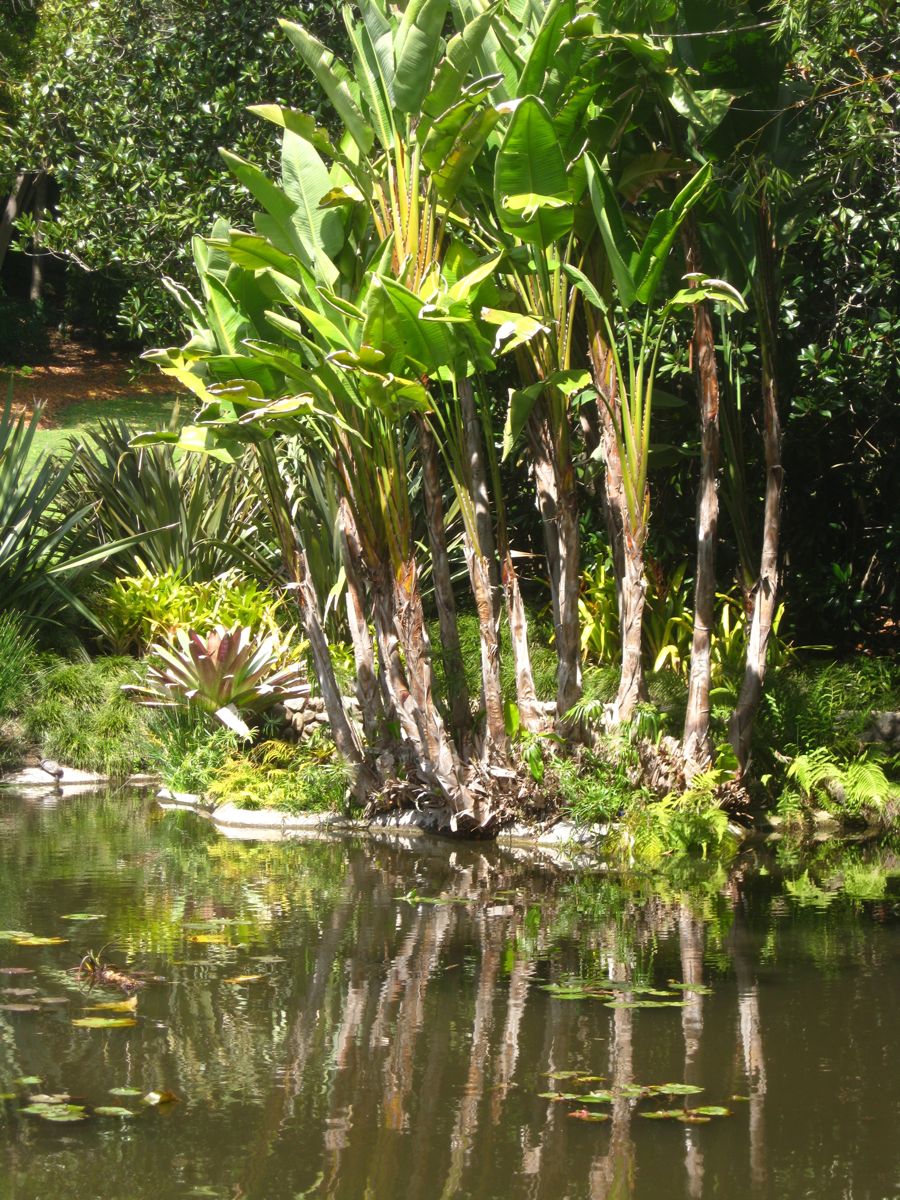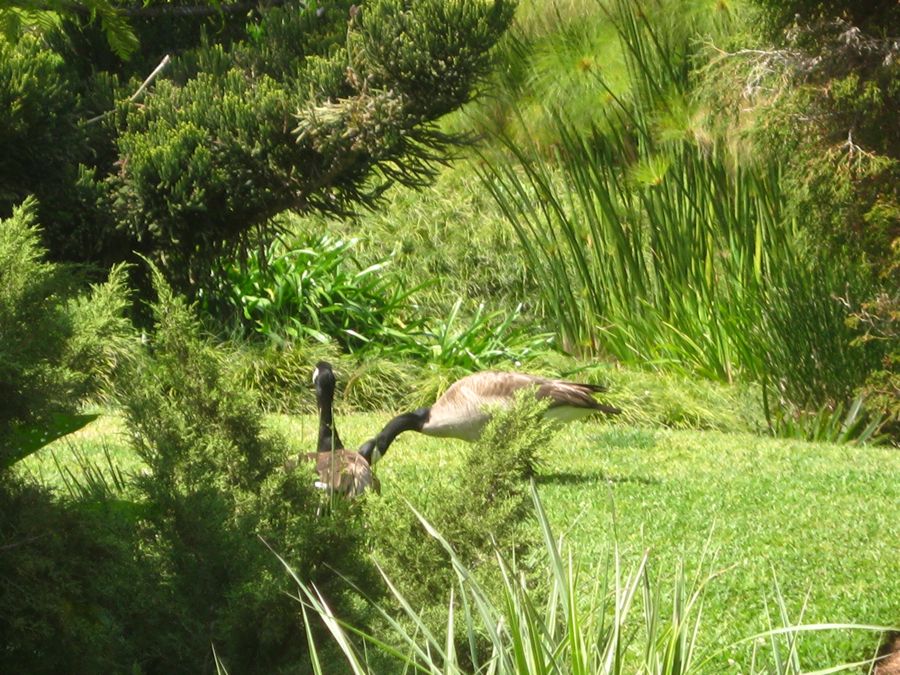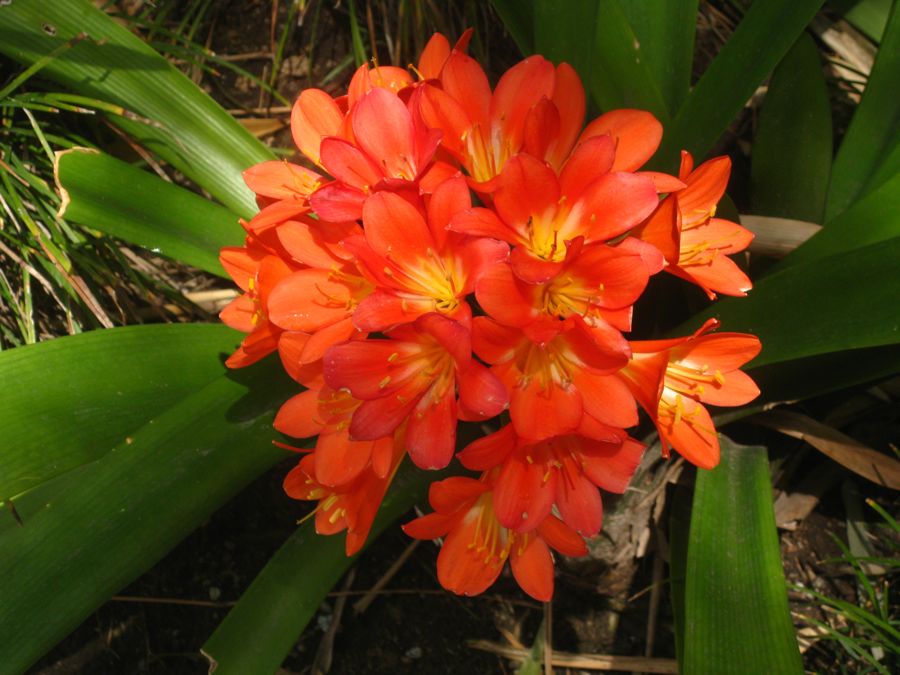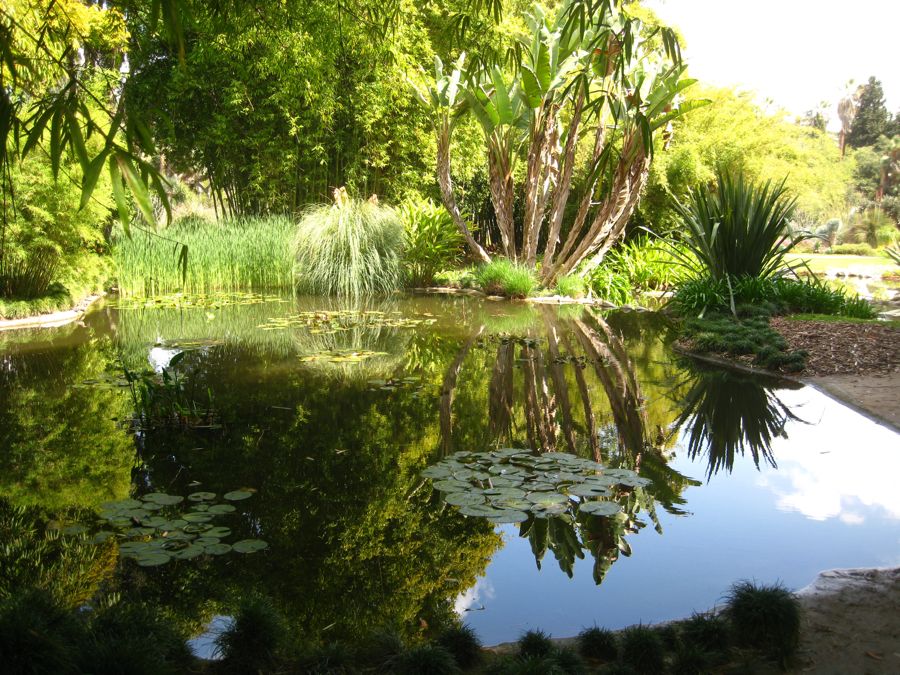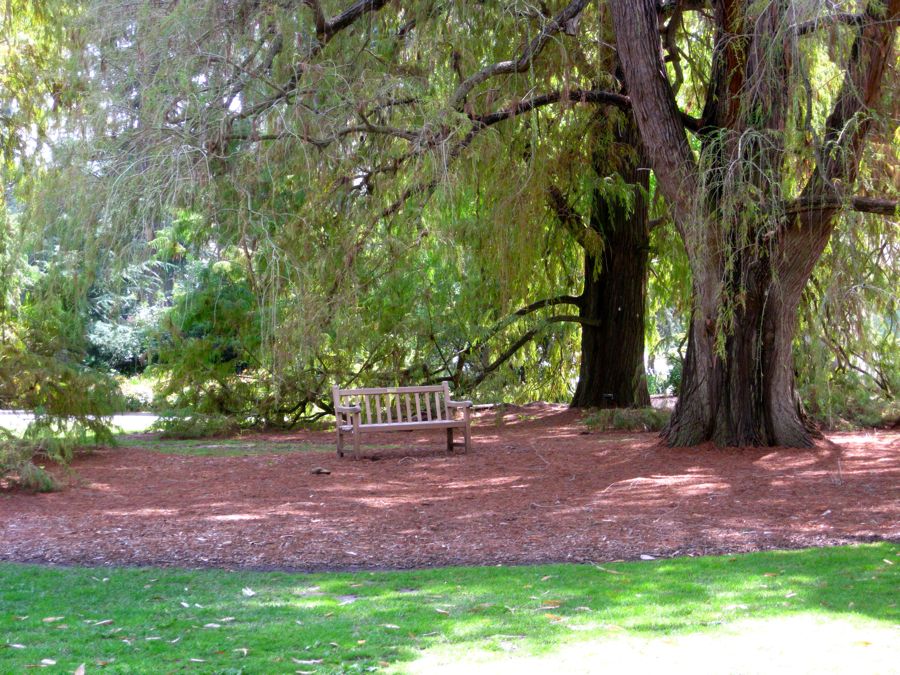 Ah... Quack