Fall Semi-Formal At Mile Square Park (Page One)
Mile Square Regional Park is an urban park located in the City of Fountain Valley and totals 640 acres of land. Early in World War II the United States Navy Department purchased a square mile of agricultural land in what is today the City of Fountain Valley. The land was purchased to construct military airfields which were utilized in conjunction with the El Toro Marine Corps Air Station and Santa Ana Marine Corps Air Base Facilities. Three landing fields were constructed in a triangular shape in the center of this area, with each field being approximately 2,200 feet in length. During and long after World War II these fields served as military training fields, and it is possible today to find residents in Orange County who flew Navy Corsairs, propeller driven aircraft in World War II, and used this field as a touchdown training location. After the war years the military use of the fields changed to a helicopter touchdown or practice area as the Santa Ana Marine Corps Air Station emphasis shifted to helicopter use.

As the County of Orange developed its Master Plan of Regional Parks in the 1960's, the Mile Square site was viewed as an ideal location for a regional park in the urbanizing area of Orange County. In March of 1967 the county entered into a long term lease with the Navy Department for the perimeter acreage of the site. That lease allowed the county to develop this acreage for regional park purposes, and until the county could afford to develop all the acreage, the county was permitted to continue the agricultural lease.
Let The Party Begin!
We arrived just a little early to watch the officers put on the final touches making sure all tables are ready to greet their guests. Thanks to Marilyn Bailey for all of her outstanding work to coordinate the arrangements!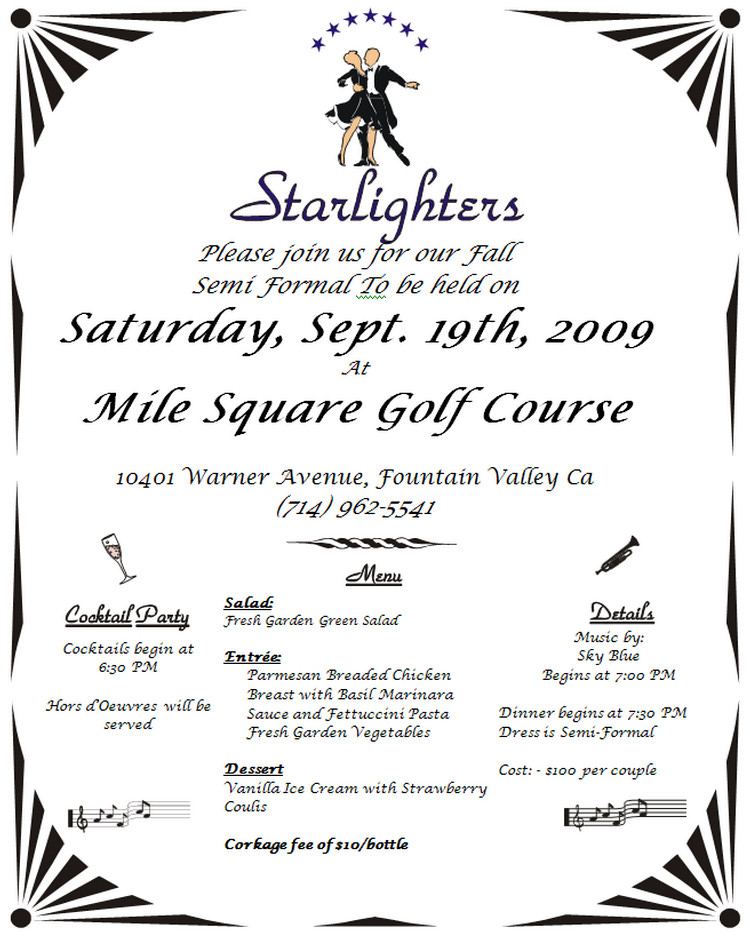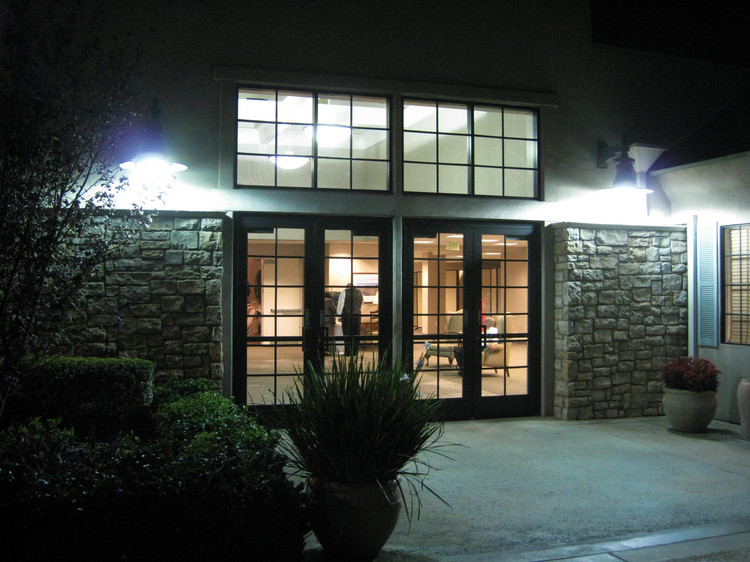 A grand entrance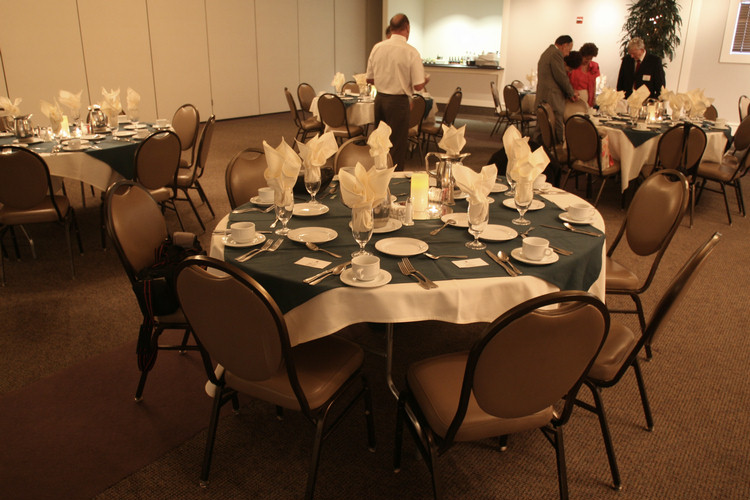 The tables were ready for the party to begin!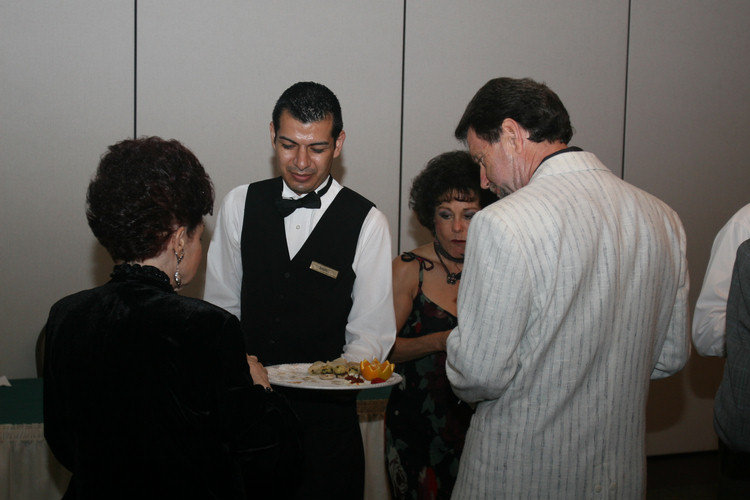 Hors d'œuvres are served... and vegetarian!

Judy and Mike Eisman visit with David and Lilia Dickson

Leon and Marcia Brander check out the Hors d'œuvres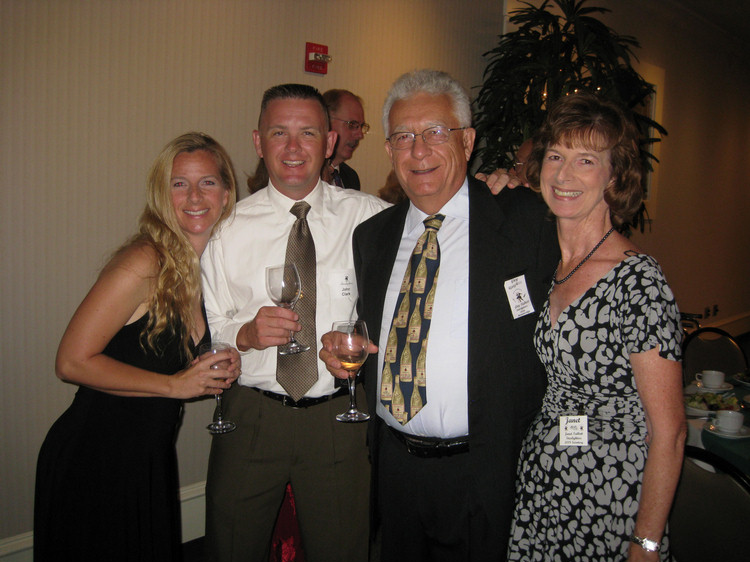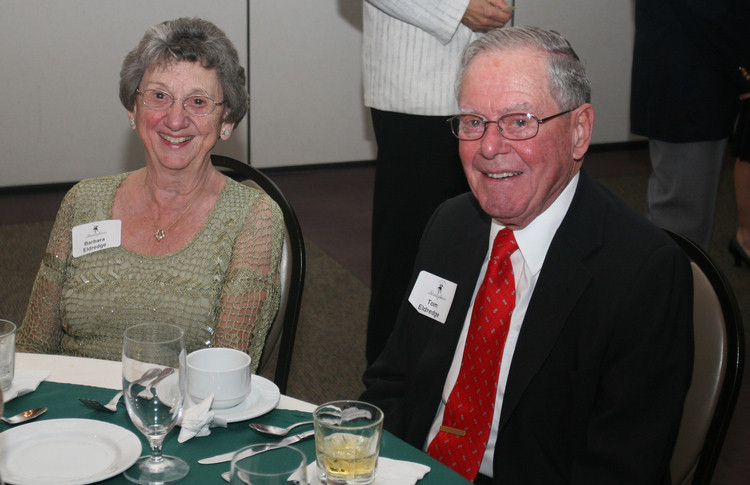 Barbara and Tom Eldridge enjoying a cocktail
Did you know? - The first publication of a bartenders' guide which included cocktail recipes was in 1862: How to Mix Drinks; or, The Bon Vivant's Companion, by "Professor" Jerry Thomas. In addition to listings of recipes for Punches, Sours, Slings, Cobblers, Shrubs, Toddies, Flips, and a variety of other types of mixed drinks were 10 recipes for drinks referred to as "Cocktails". A key ingredient which differentiated "cocktails" from other drinks in this compendium was the use of bitters as an ingredient, although it is not used in many modern cocktail recipes.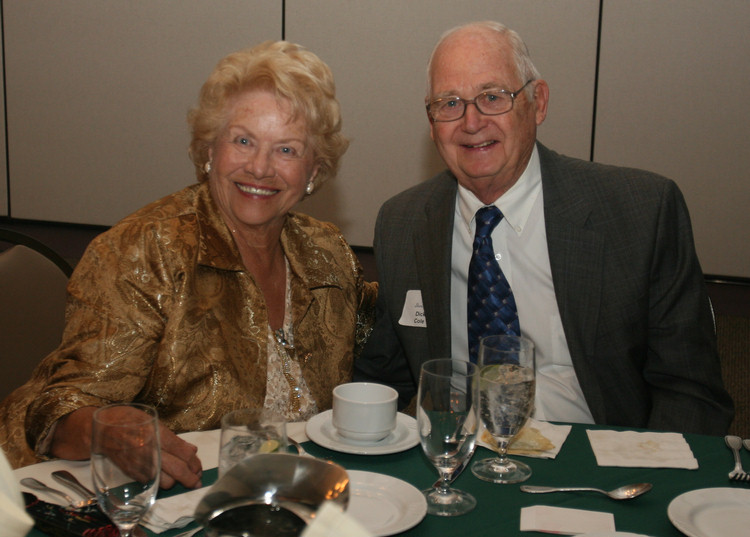 Dick and Marlene Cole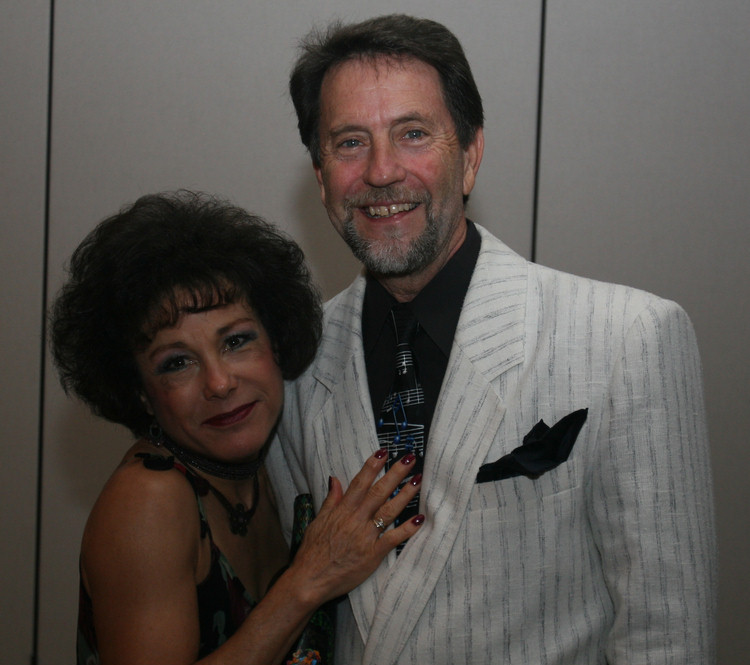 Donna and Bob Zaitz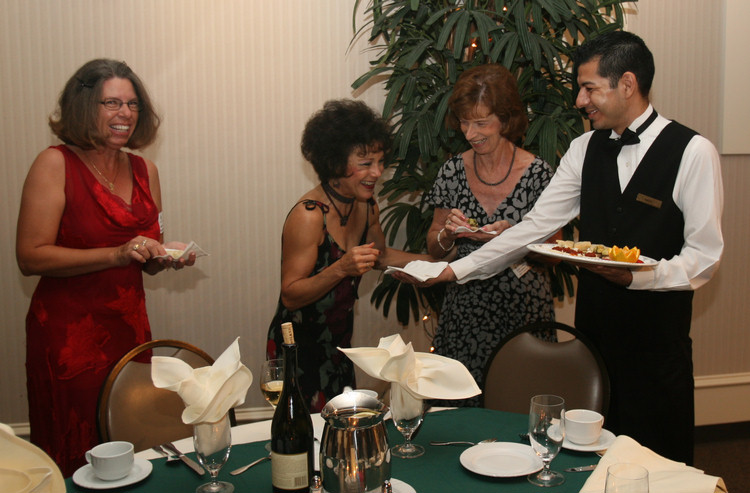 Everybody enjoyed the Hors d'œuvres
Did you know? - Picaditas or tapas is the Spanish equivalent of hors d'oeuvre in Argentina, pasabocas in Colombia, entremeses in Venezuela, boquitas in Honduras, botanas in Mexico, entradas in Chile and bocaditos in Peru. In Spain it could be referred also as tapas, entrantes, or aperitivos.

Valorie and Peter Smrecek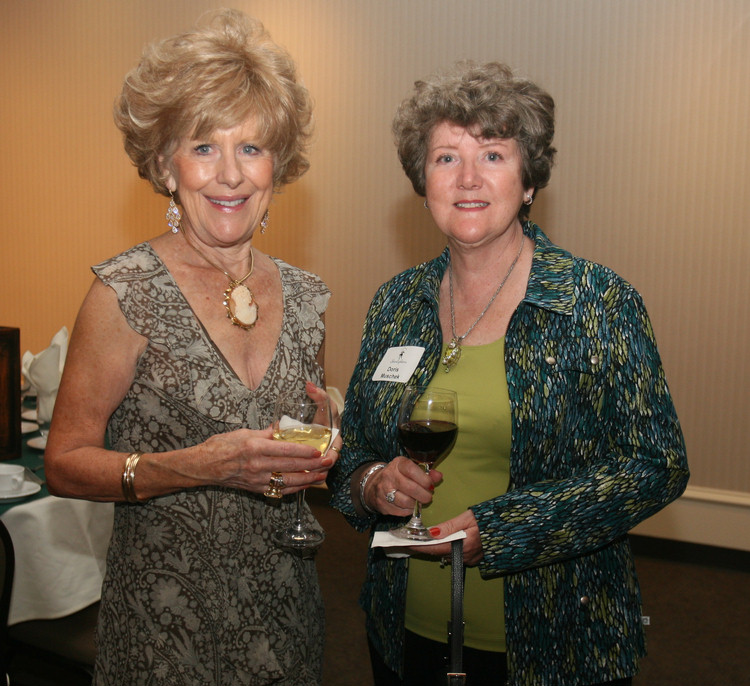 Pat and Doris enjoying a glass of vino
Did you know? - Wine has a rich history dating back to around 6000 BC and is thought to have originated in areas now within the borders of Georgia and Iran. Wine probably appeared in Europe at about 4500 BC in what is now Bulgaria and Greece, and was very common in ancient Greece, Thrace and Rome. Wine has also played an important role in religion throughout history. The Greek god Dionysos and the Roman equivalent Bacchus represented wine, and the drink is also used in Christian and Jewish ceremonies.

The word "wine" derives from the Proto-Germanic "*winam," an early borrowing from the Latin vinum, "wine" or "(grape) vine," itself derived from the Proto-Indo-European stem *win-o- (cf. Hittite: wiyana ,Lycian: Oino, Ancient Greek οῖνος - oînos, Aeolic Greek ϝοίνος - woinos).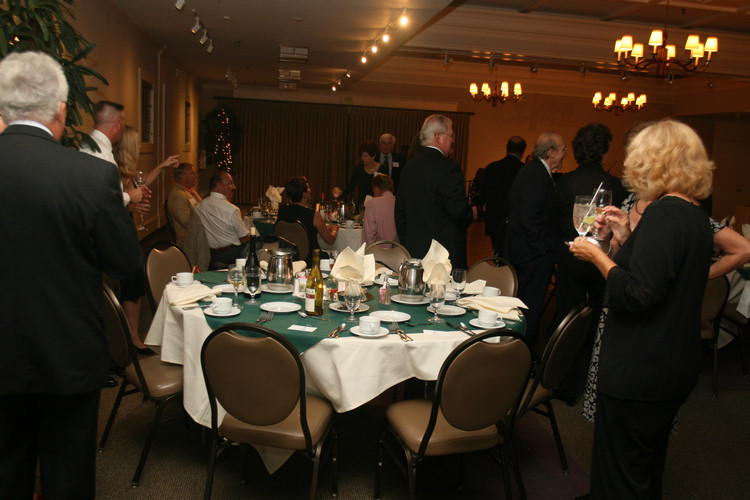 We watch the first dancers hit the floor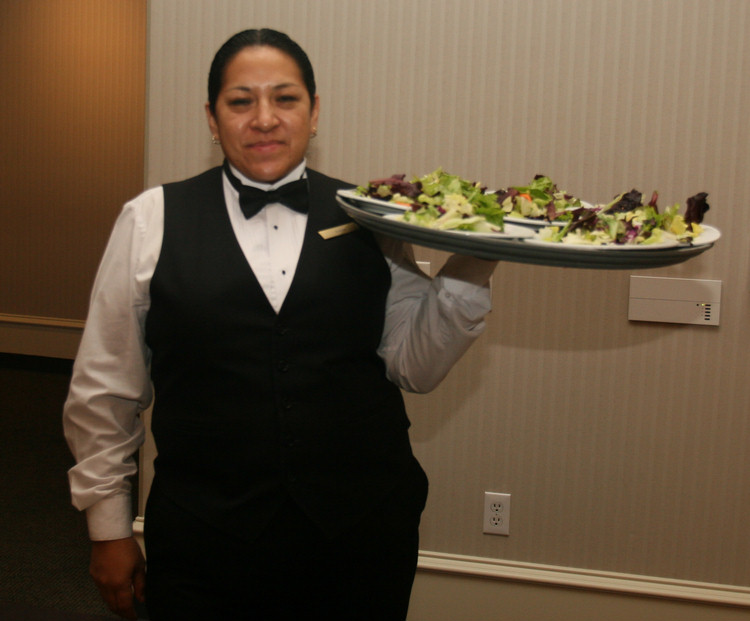 Salad is served
Did you know? - Salad is any of a wide variety of dishes including: green salads; vegetable salads; salads of pasta, legumes, or grains; mixed salads incorporating meat, poultry, or seafood; and fruit salads. They include a mixture of cold or hot foods, often including raw vegetables and/or fruits.

Green salads include leaf lettuce and vegetables with a dressing. Other salads are based on pasta, noodles, or gelatin. Most salads are traditionally served cold, although some, such as German potato salad, are served hot.

The word "salad" comes from the French salade of the same meaning, which in turn is from the Latin salata, "salty", from sal, "salt", (See also sauce, salsa, sausage). Vegetables seasoned with brine was a popular Roman dish. The terminology "salad days", meaning a "time of youthful inexperience" (on notion of "green"), is first recorded by Shakespeare in 1606, while the use of salad bar first appeared in American English in 1976.

Green salads including leaf lettuces are generally served with a dressing, as well as various toppings such as nuts or croutons, and sometimes with the addition of meat, fish, pasta, cheese, eggs, or whole grains. Salad is often served as an appetizer before a larger meal, but can also be a side dish, or a main course.
Dinner Time; Time To Capture Everyone In Pictures!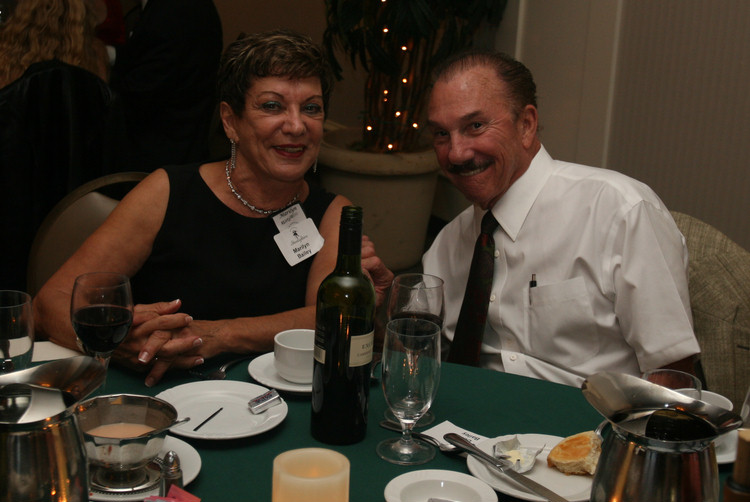 Marilyn and Don Bailey
Did you know? - Most wine bottles finished with a cork (as opposed to a screwcap) have a protective sleeve called a capsule (commonly referred to as a "foil") covering the top of the bottle. Capsules were historically made of lead, and protected the cork from being gnawed away by rodents or infested with cork weevil. Because of research showing that trace amounts of toxic lead could remain on the lip of the bottle and mix with the poured wine, lead capsules (lead foil bottleneck wrappings) were slowly phased out, and by the 1990s, most capsules were made of tin, heat-shrink plastic (polyethylene or PVC), or aluminium. Sealing wax is sometimes used, or the capsule can be omitted entirely, since it is not needed with some modern stoppers. In the US, the FDA finally officially banned lead foil capsules on domestic and imported wine bottles as of 1996.

Paula and Gray Kilmer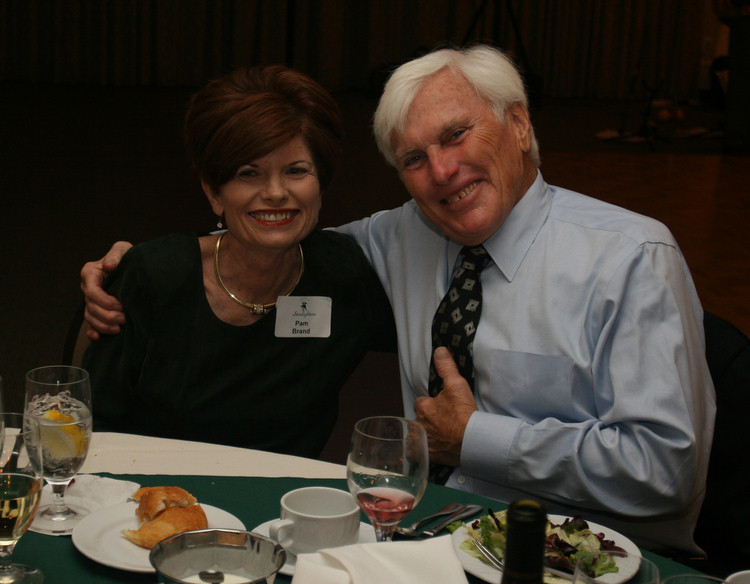 Pam and Joe Brand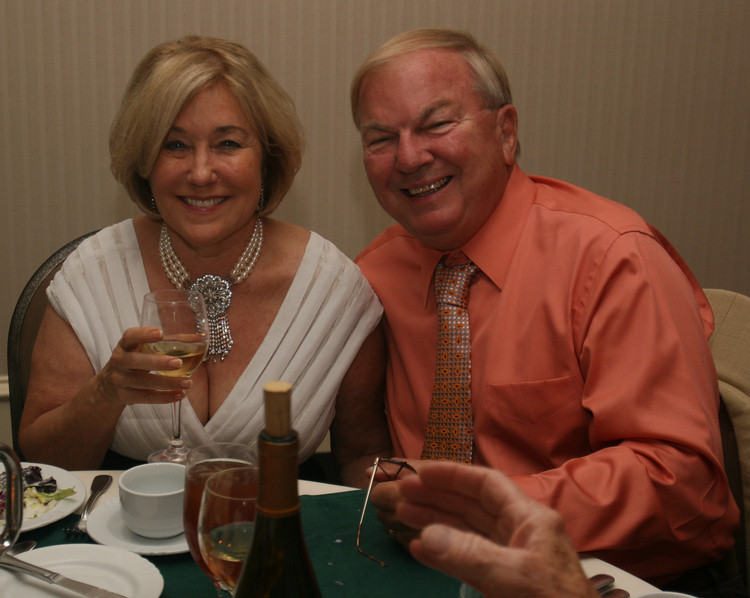 Devi and David Bellows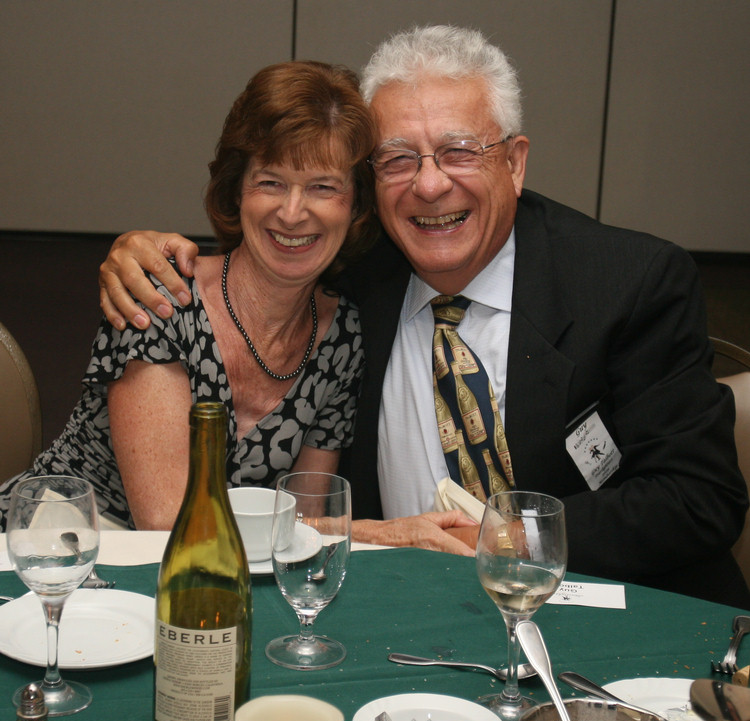 Janet and Guy Talbott... Check out his tie!

He knows how to do it right! The name on the bottle of wine!
Did you know? - The necktie (or tie) is a long piece of cloth worn around the neck or shoulders, resting under the shirt collar and knotted at the throat. Variants include the bow tie, ascot tie, bolo tie, and the clip-on tie. The modern necktie, ascot, and bow tie are descended from the cravat. Neck ties are generally unsized, but may be available in a longer size. Men and boys wear neckties as part of regular office attire or formal wear. Neckties can also be worn as part of a uniform (e.g. military, school and waitstaff). Some people wear a tie as normal fashion wear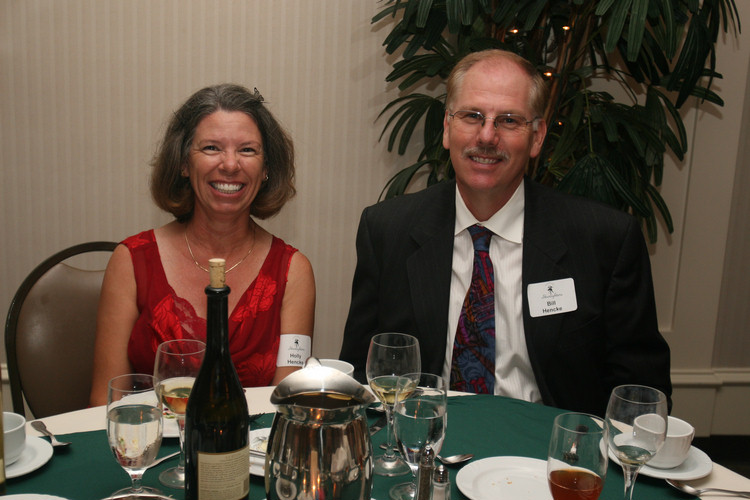 Holly and Bill Hencke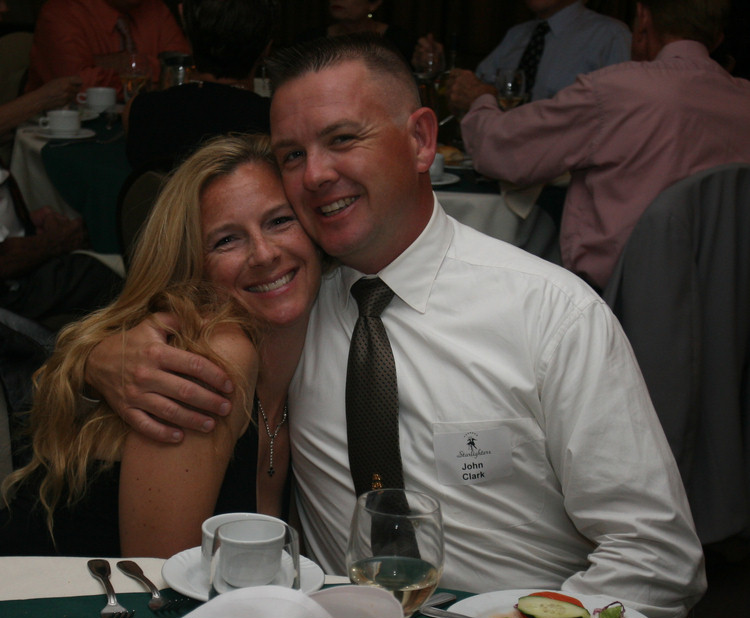 Andrea and John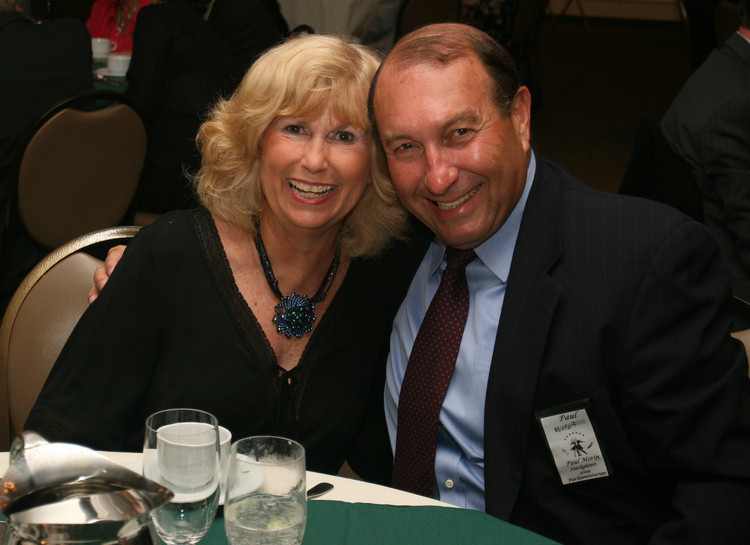 Jan and Paul Morin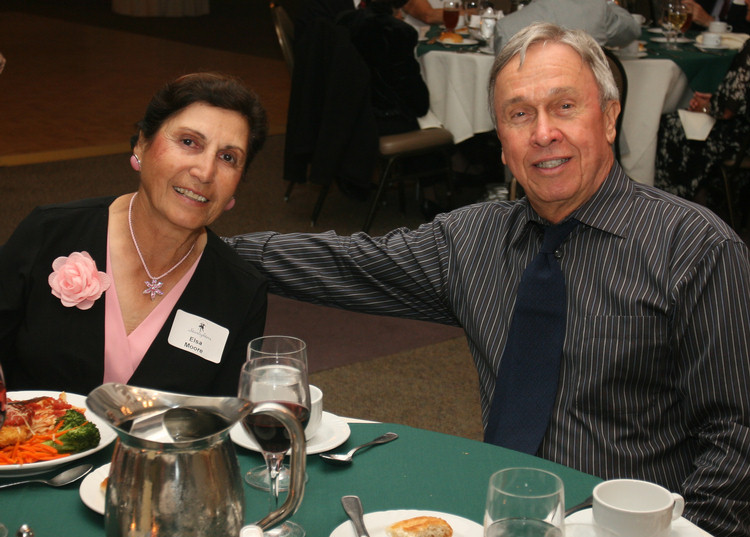 Elsa and Ralph Moore.... Golf Anyone?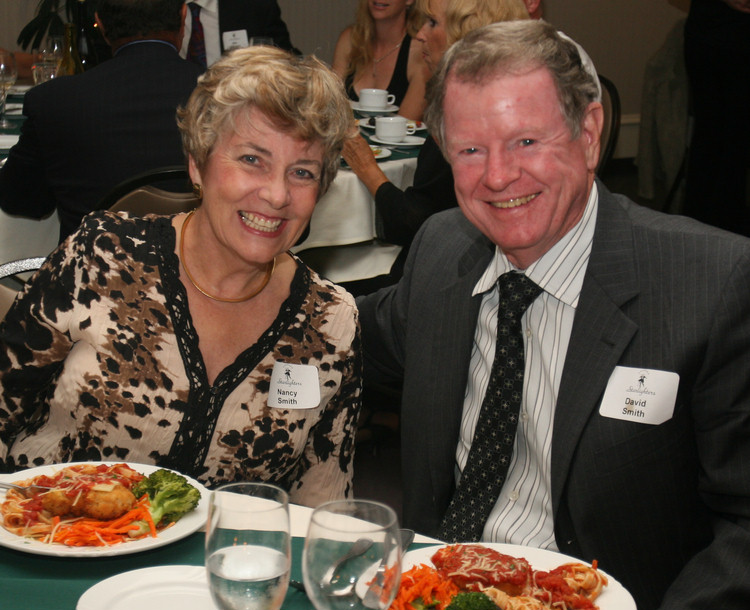 Nancy and David Smith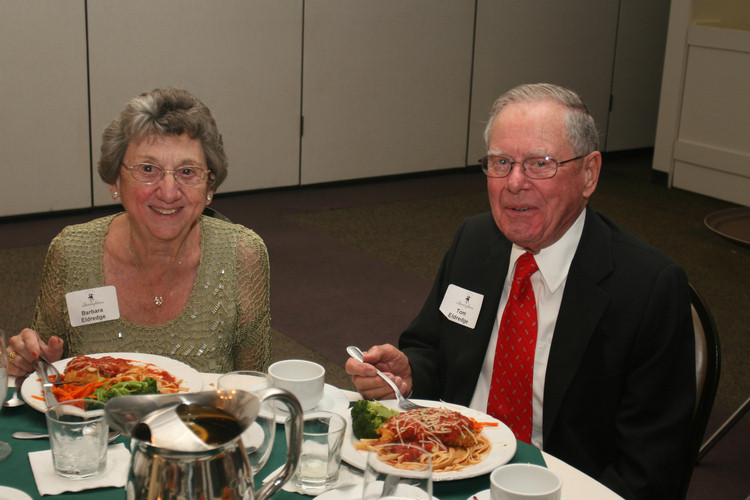 Barbara and Tom Eldridge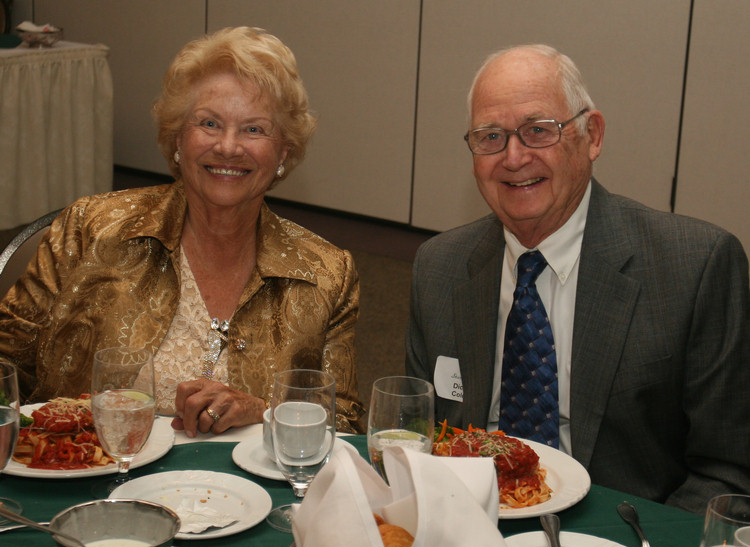 Marlene and Dick Cole

Bob and Adrienne Meehan... Our Fearless Leader(s)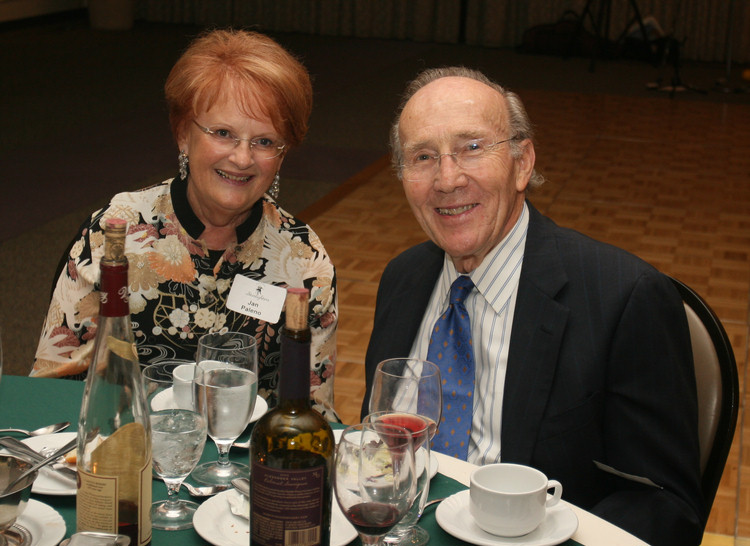 Jan and Tony Paleni

Kent and Judy Dickinson

Bob Margolas and Jeanine Clark - Guests of the Bishops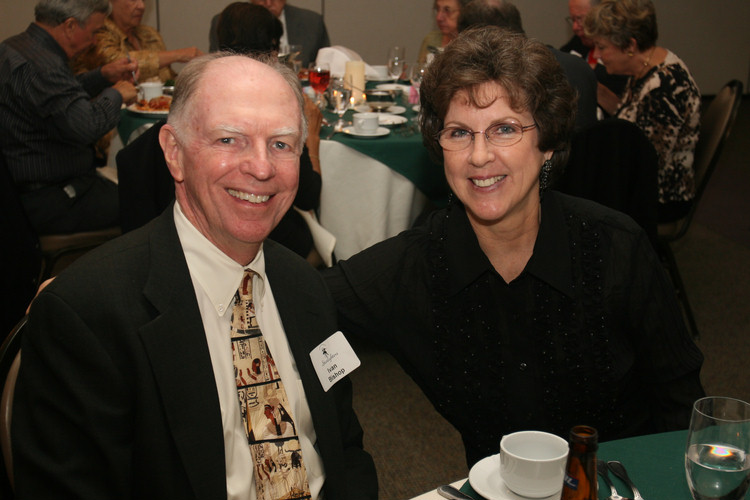 Ivan and Barbara Bishop

Donna and Bob Zaitz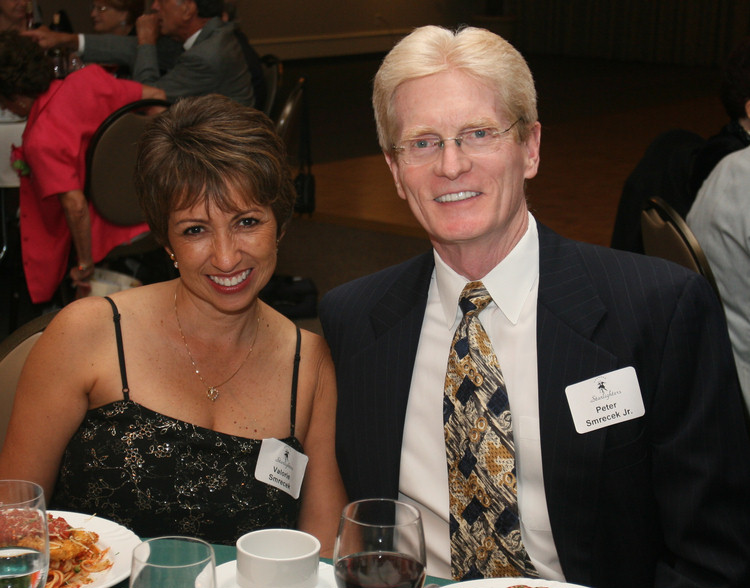 The Newly Weds Valorie and Peter Smercek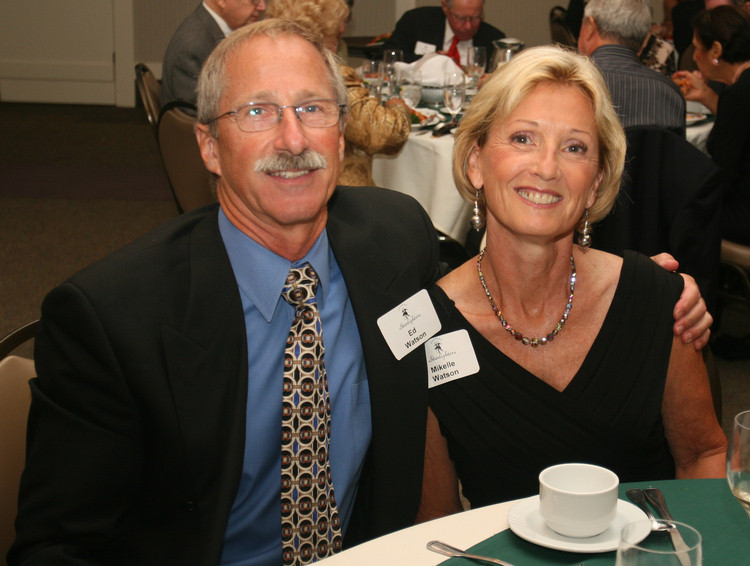 Ed and Mikelle Watson
Adventures In Eating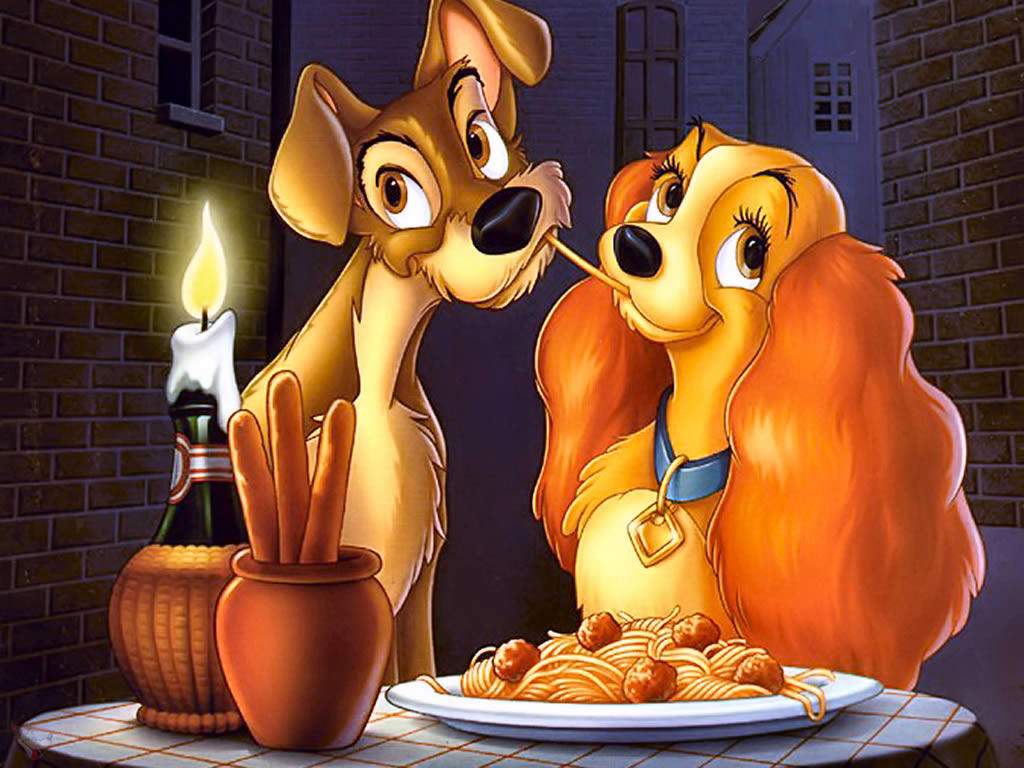 Lady and the Tramp!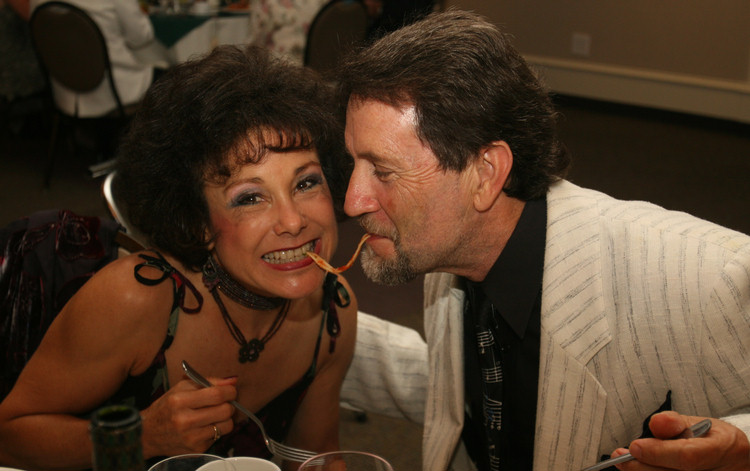 ...And Dinner Continues

Pat and Dick McMillan... Our Official And Fantastic Greeters!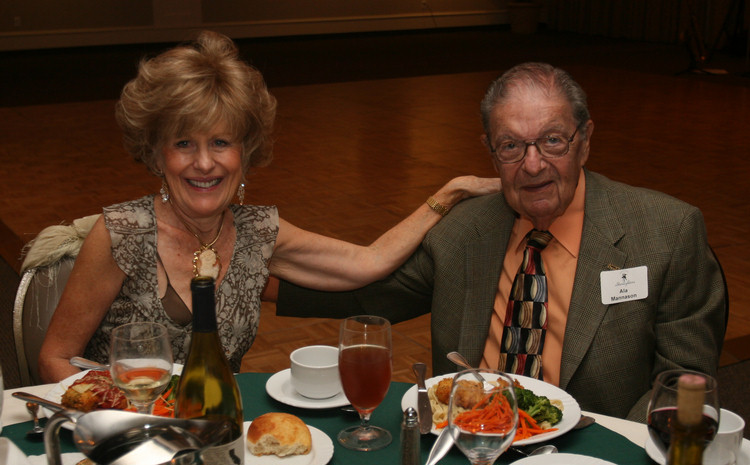 Pat and Alan

Doris abd Bob Muschek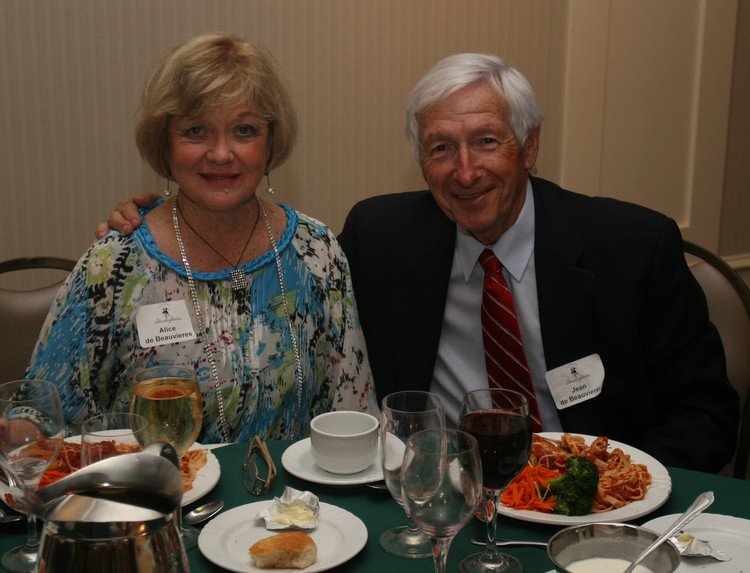 Alice and Jean de Beauvieres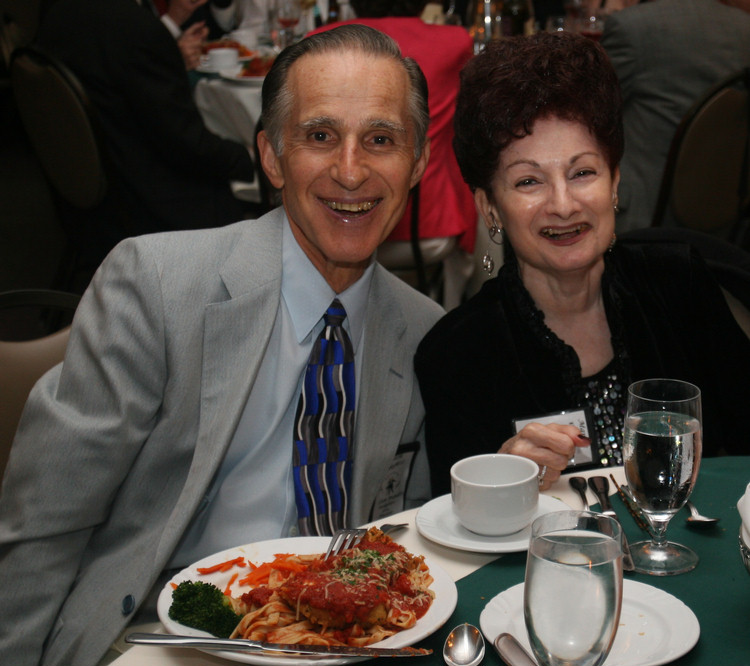 Leon and Marcia Brander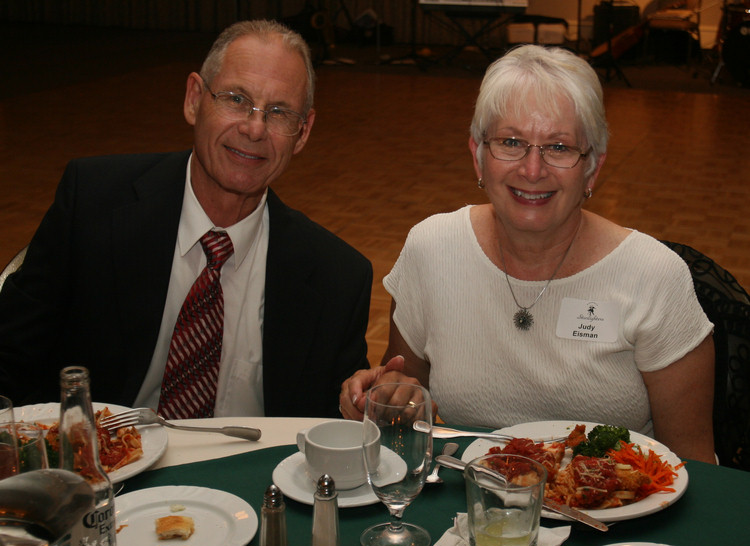 Mike and Judy Eisman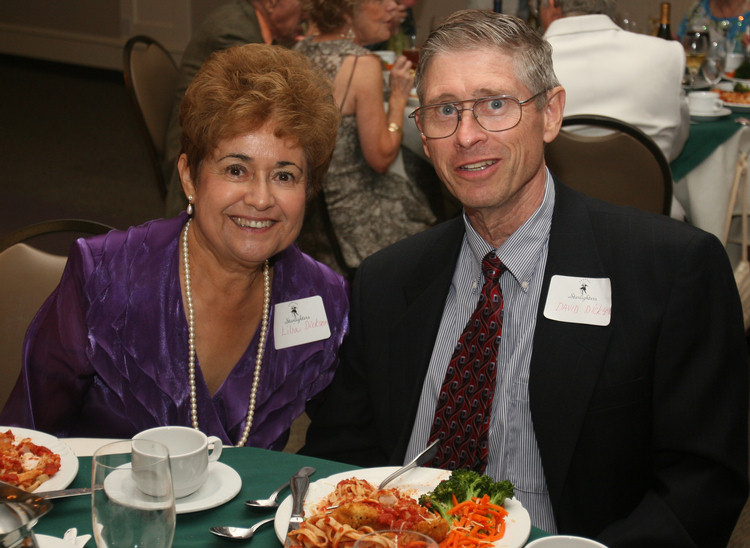 Lilia and David Dickson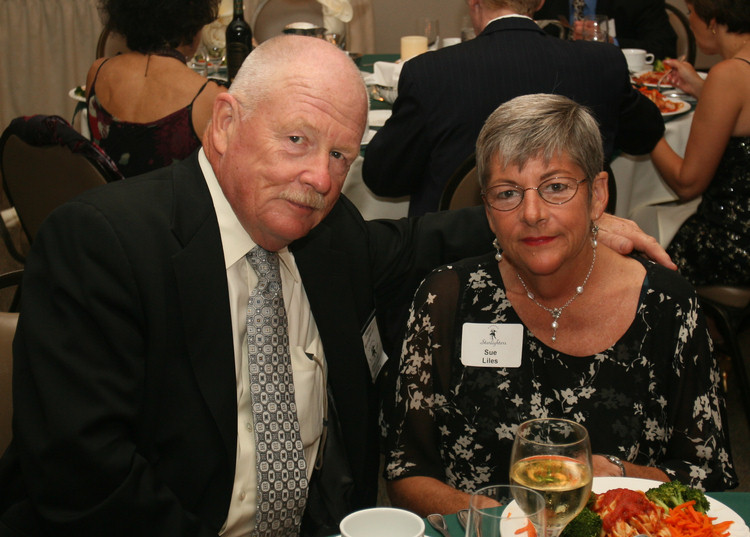 Paul and Sue Liles
Did you know? - The word "dinner" comes from the French word dîner, the "main meal of the day", from Old French disner. An individual dinner can also be a more sophisticated meal, such as a banquet or feast.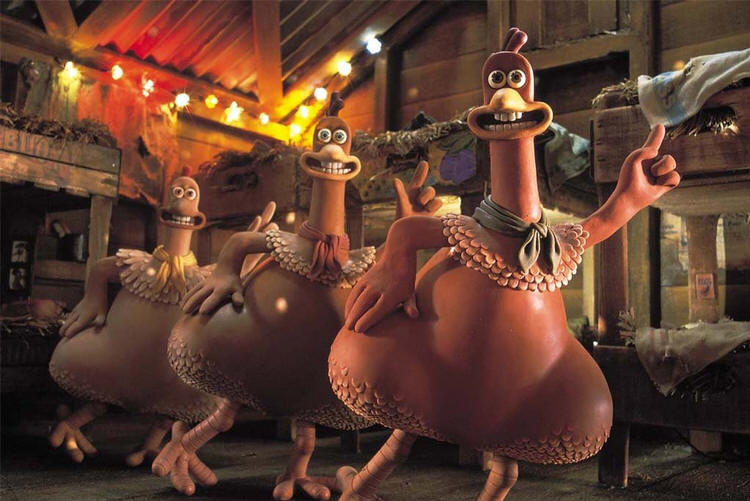 Dinner is over... Let's all dance!