The San Diego Fair June 11th 2015
We are off to the first local fair of the season, San Diego Fair in Del Mar California! We'll commemorate the centennial anniversary of the 1915 Panama-California Exposition held in Balboa Park, and the great traditions and inventions arising from fairs. (Did you know the bicycle, telephone, ice cream cone, Ferris Wheel, and air conditioning were all introduced at a World's Fair?)
Check the schedule for June 11th.

We had such a very good time....
Just being together was the most significant ingredient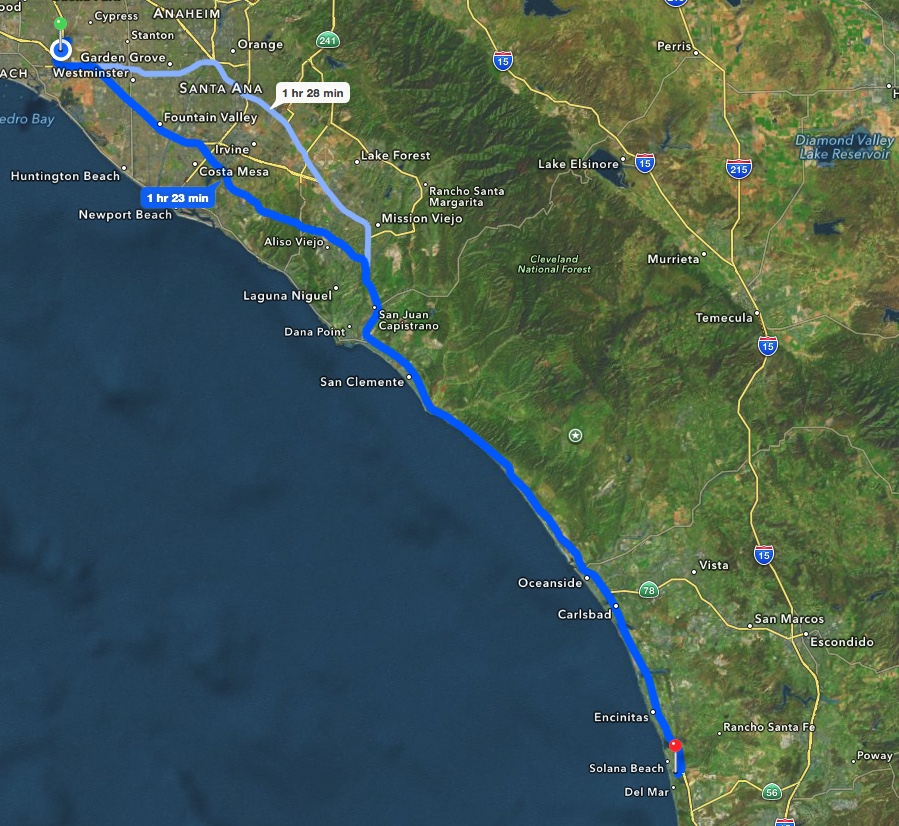 We made it in an hour and a half with little or no traffic

The fair is held on the grounds of the famous Del Mar Race Track
Did You Know? - Del Mar is an affluent beach city in San Diego County, California. The population was 4,161 at the 2010 census, down from 4,389 at the 2000 census.
The Del Mar Horse Races are hosted on the Del Mar racetrack every summer. Del Mar is Spanish for "of the sea" or "by the sea", because it is located on the Pacific Ocean. Colonel Jacob Taylor purchased 338 acres (1.37 km2) from Enoch Talbert in 1885, with visions of building a seaside resort for the rich and famous.
The United States Navy operated a Naval Auxiliary Air Facility for blimps at Del Mar during World War II.
Del Mar's climate is considered sub-tropical / Mediterranean with warm, dry summers and mild winters, and is considered one of the most desirable climates world-wide. Temperatures exceed 85 ?F (29 ?C) only on a few occasions throughout the year and rarely drop below 62 ?F (17 ?C). The average daily temperature in Del Mar is approximately 71 ?F (22 ?C).
Del Mar is also one of few locations in which the Torrey Pine tree grows. The Torrey Pine is the rarest pine in the United States and only two populations of this endangered species exist.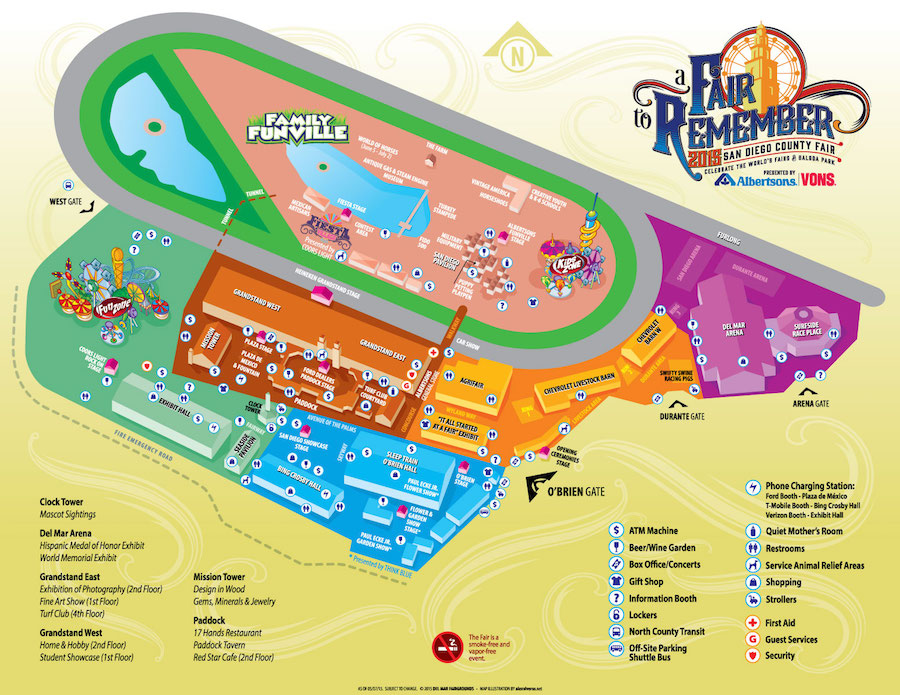 We have a lot to see (Click to get a larger map)
The Arrival!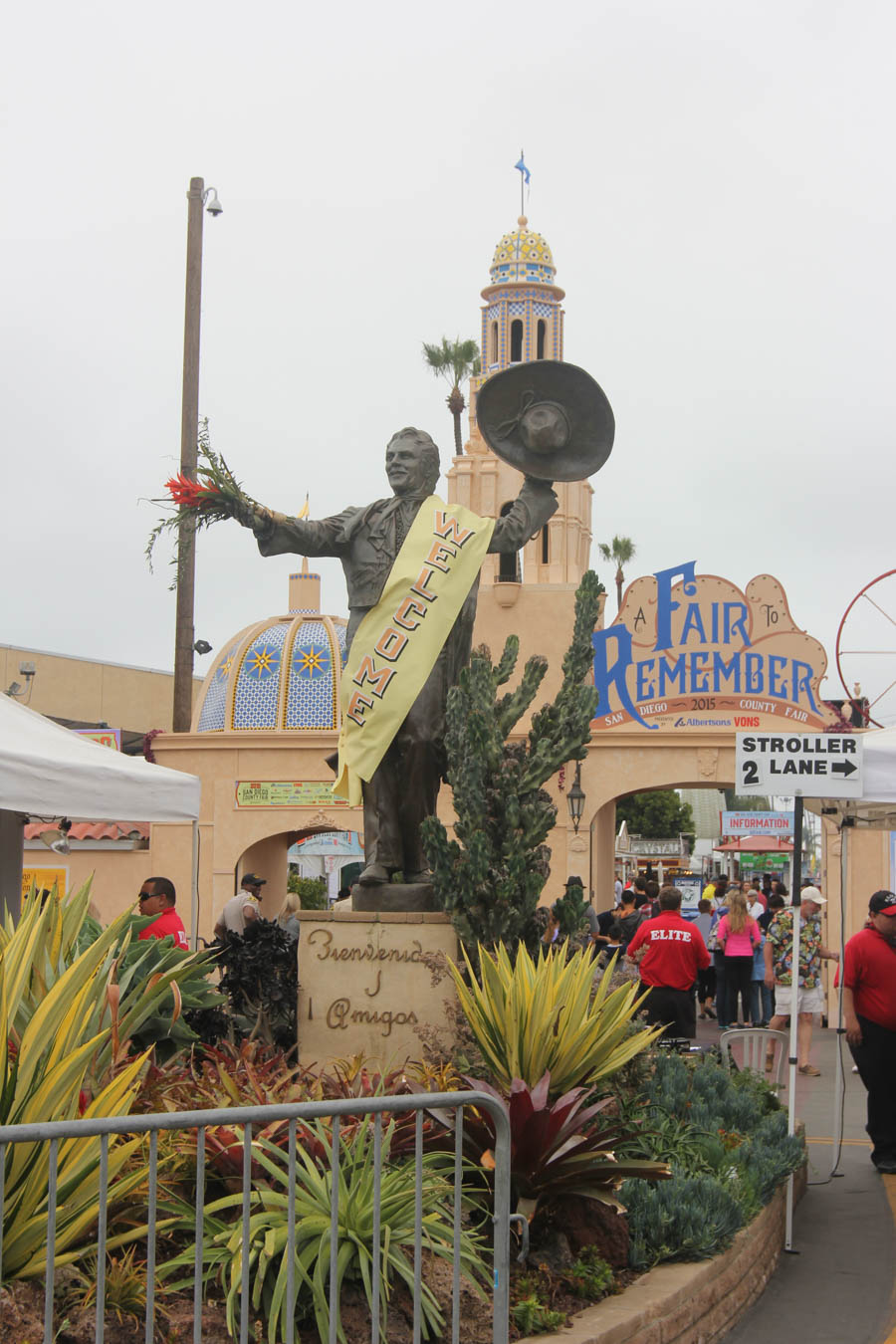 We arrived right on time! We walked right in with almost no line!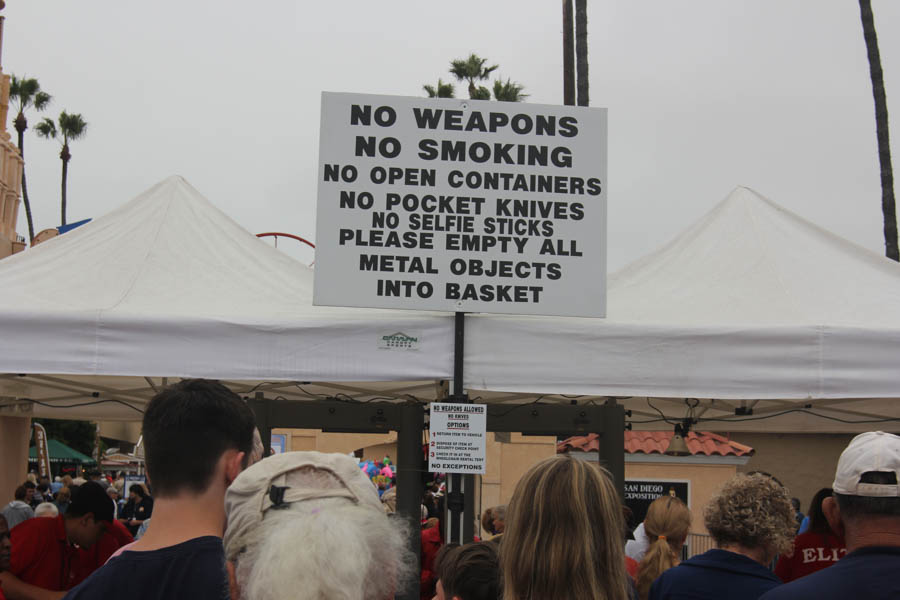 Check the sign.... "No Selfie Sticks"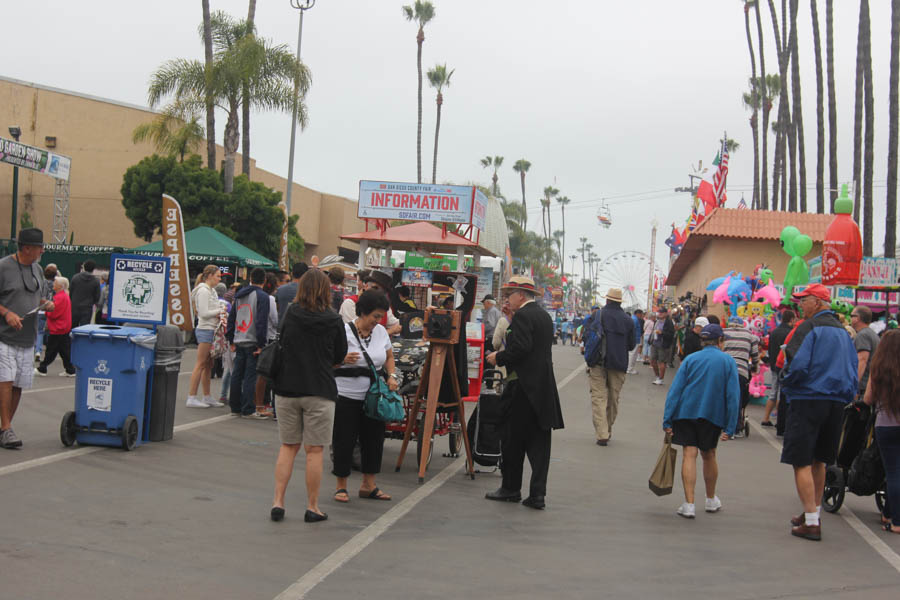 It was an overcast morning

The fair smells were starting already!
If one looks carefully, one can see thousands of
little calories jumping up and down!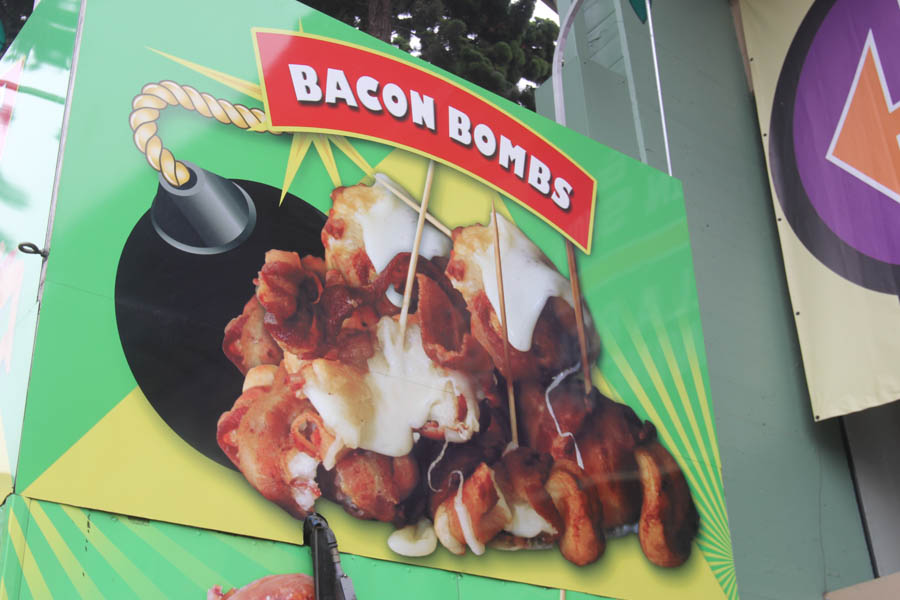 Bacon Bombs??? Do Not Ask!
Time For An Interesting Lunch!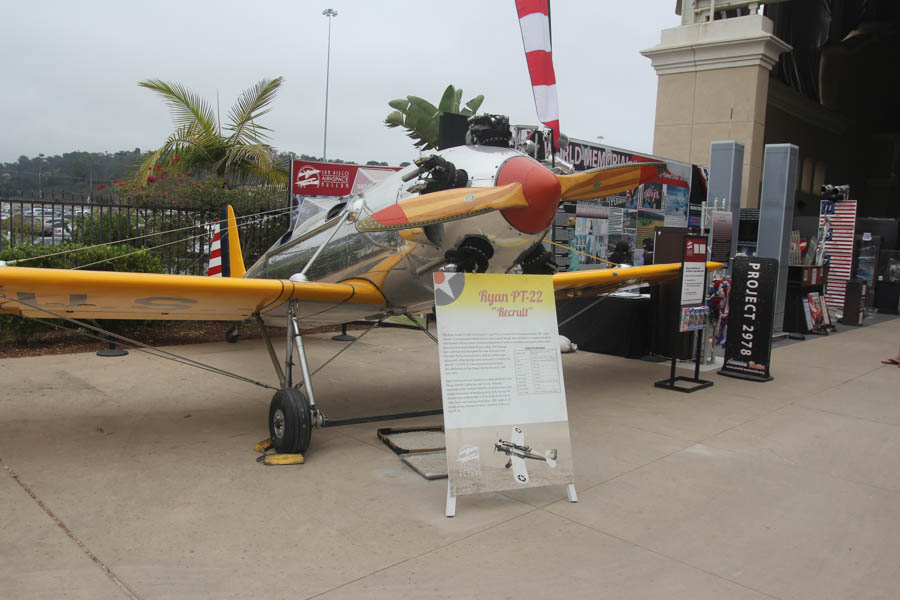 We walked to the far corner of the grounds, got our hands stamped, and fined!
went into the Surgside Race Place looking for the restaurant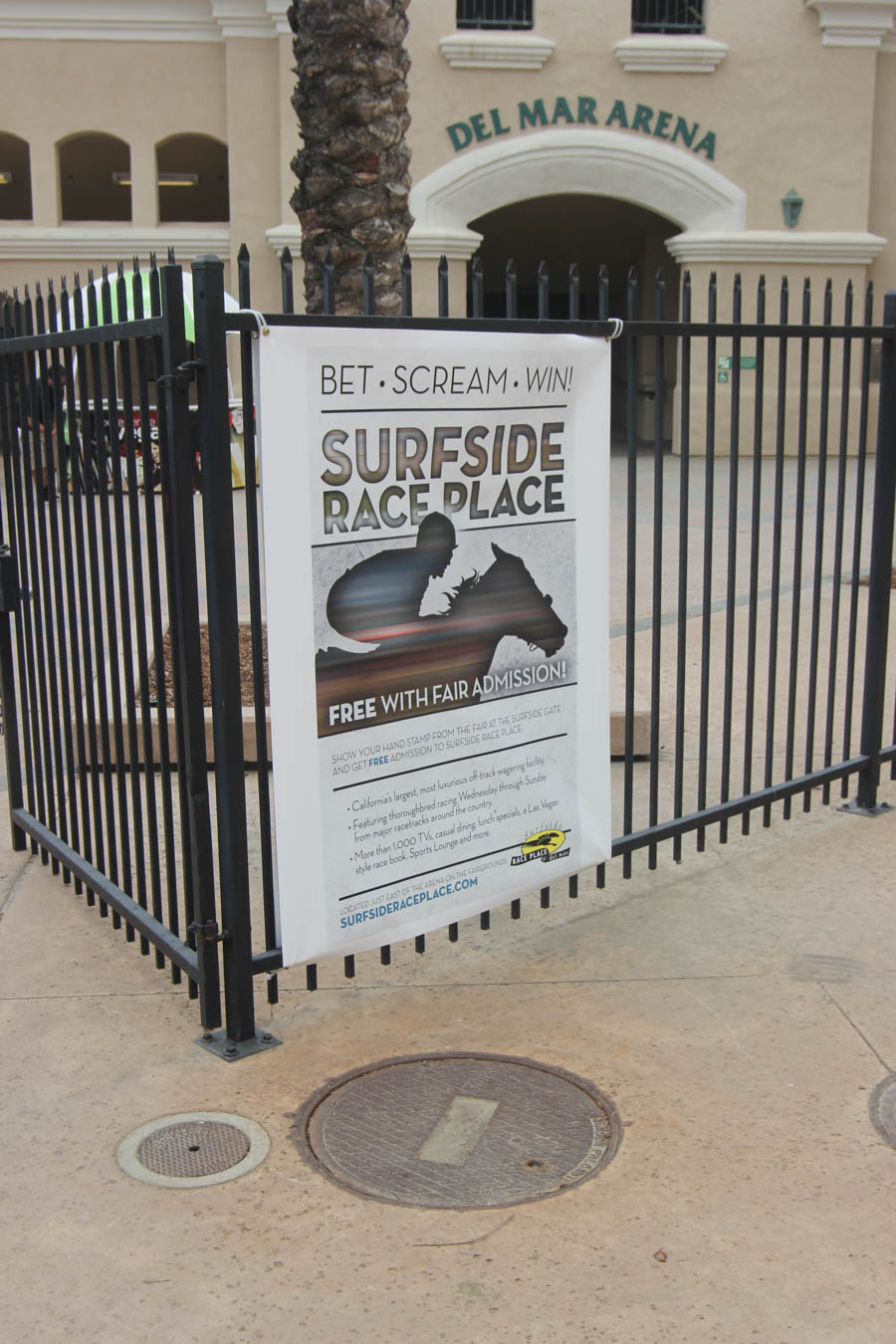 We had never been there before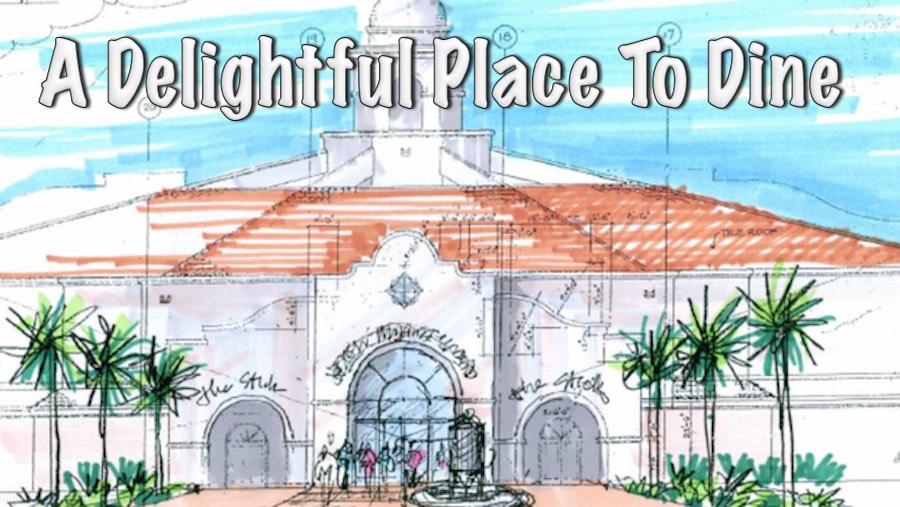 The service was outstanding and the menu varied.
Paul had a freshly made Carne Asada plate and Sue got the
Chicken Sandwich with out the chicken and cheese substituted!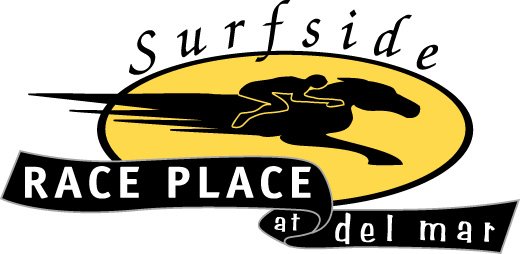 Back To The Fair

Checkout the little guys shirt.... Sue should be wearing it!

First time we visited the animals at San Diego... Amazing buildings!

They just got sheared and were apparently cold
Did You Know? - Sheep shearing is the process by which the woollen fleece of a sheep is cut off. The person who removes the sheep's wool is called a shearer.
Typically each adult sheep is shorn once each year (a sheep may be said to have been "shorn" or "sheared", depending upon dialect). The annual shearing most often occurs in a shearing shed, a facility especially designed to process often hundreds and sometimes more than 3,000 sheep per day.
Sheep are shorn in all seasons, depending on the climate, management requirements and the availability of a woolclasser and shearers.
Ewes are normally shorn prior to lambing, but consideration is typically made as to the welfare of the lambs by not shearing during cold climate winters. Shorn sheep tolerate frosts well, but young sheep especially will suffer in cold, wet windy weather (even in cold climate summers). In this event they are shedded for several nights until the weather clears.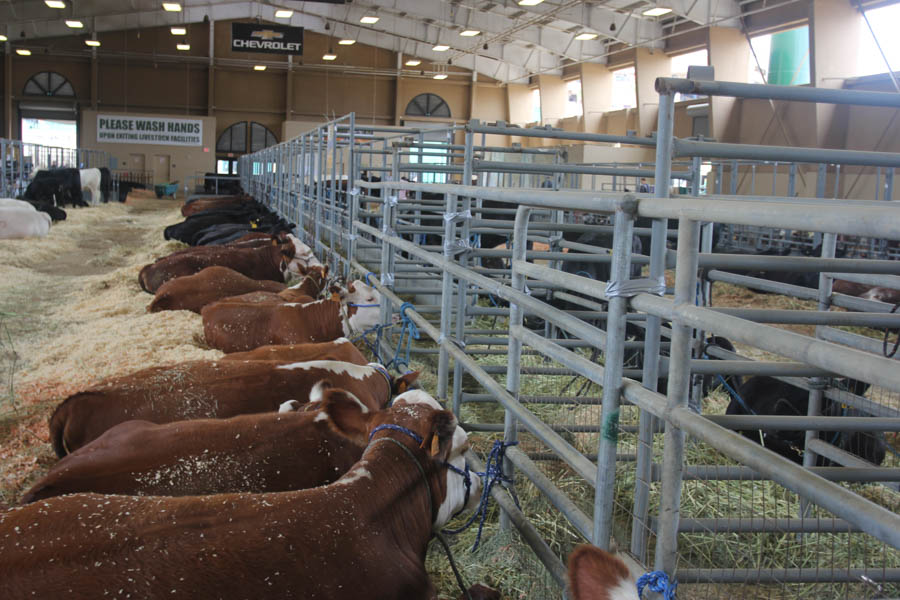 We heard a lot of "mooing"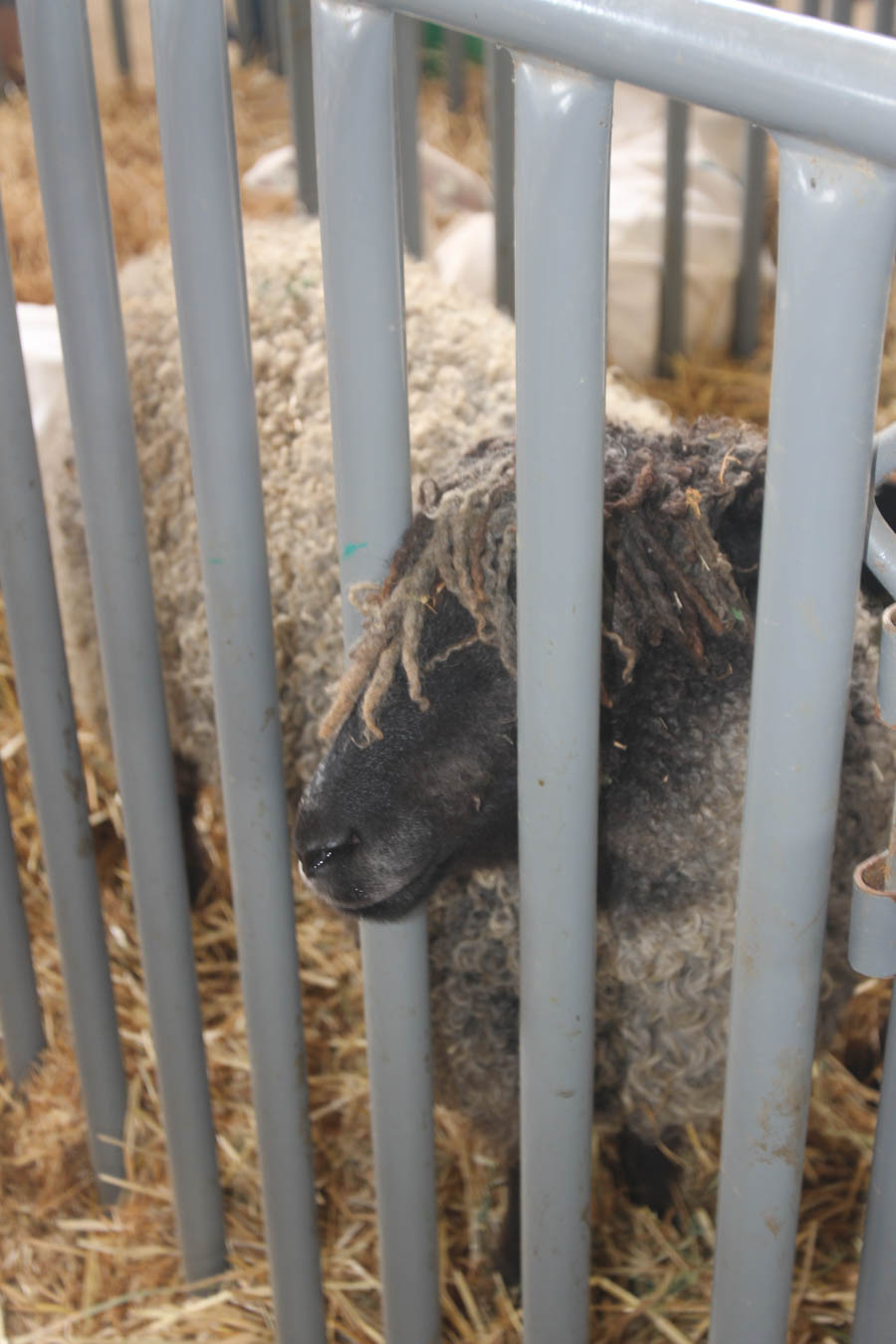 Do you like my "hair doo"?

Same place 60 years earlier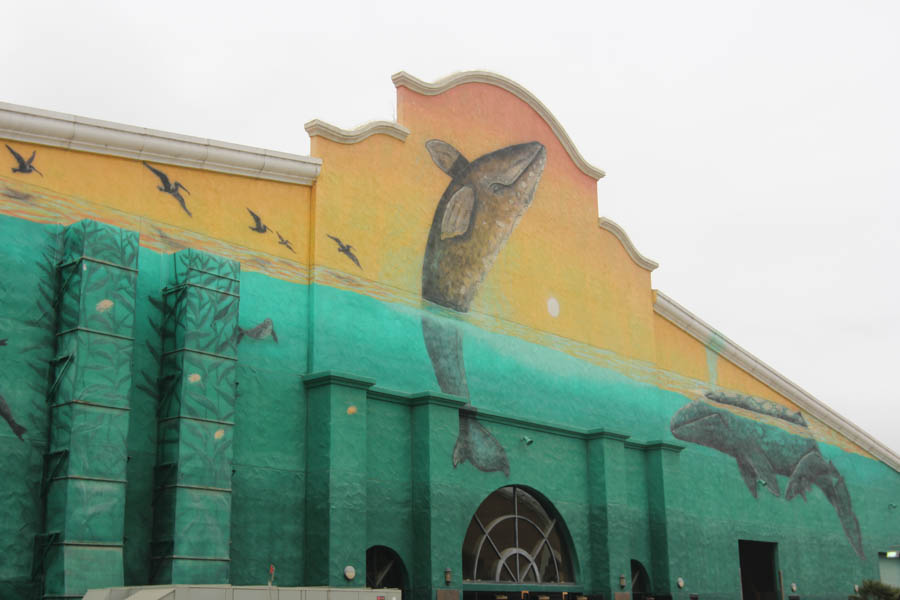 Great place for murals!
We Visited The Theme Area ("A Fair To Remember")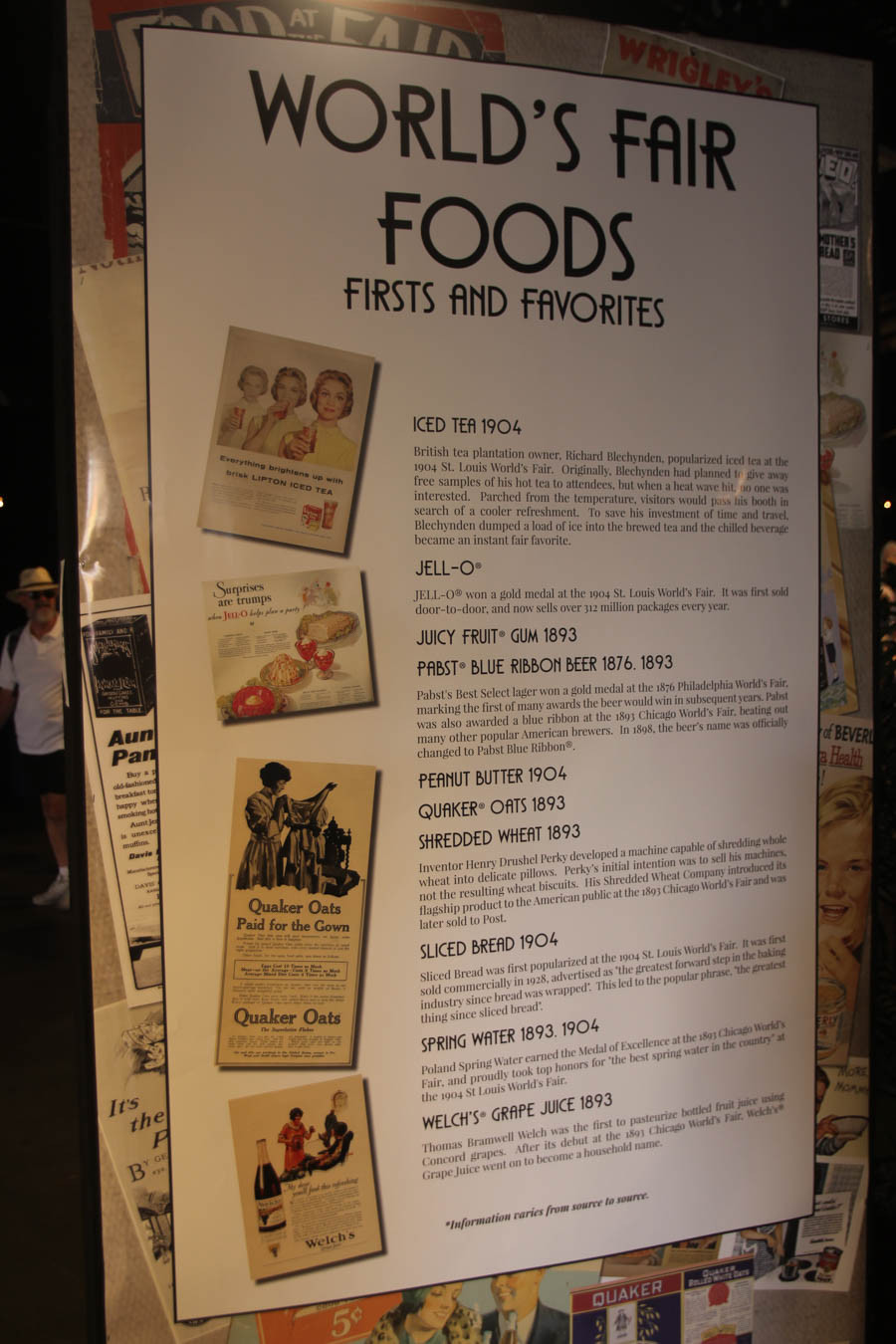 These foods were introduced at various fairs
Did You Know? - Thomas Bramwell Welch (December 31, 1825 ? December 29, 1903) was the inventor of the pasteurization process for the prevention of the fermentation of grape juice.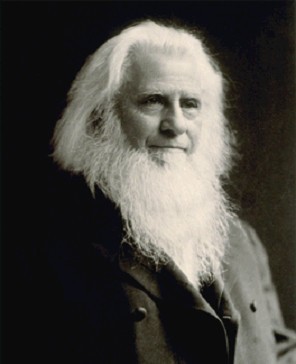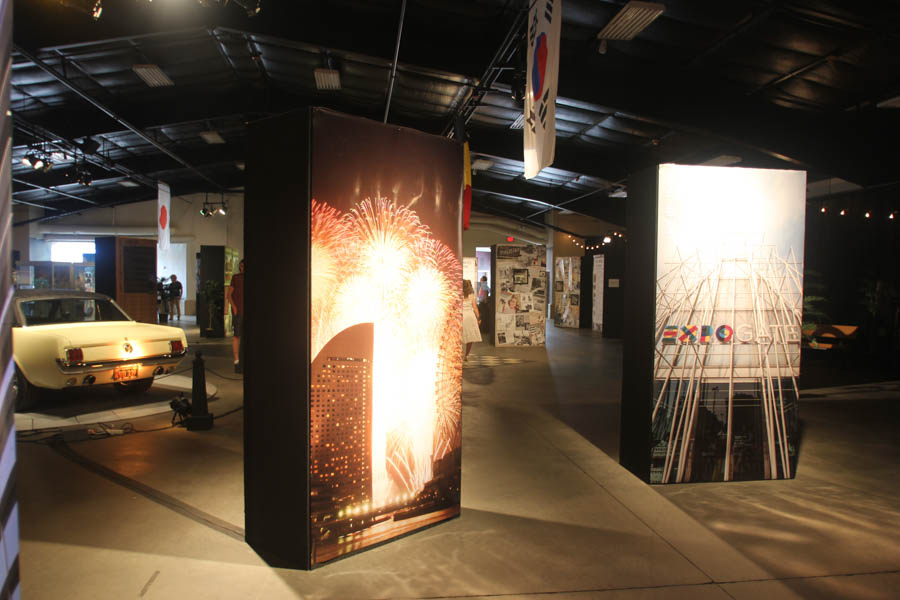 Each display was quite interesting

The statue is really brown but copper turns to green with time
Time To Visit The Exhibits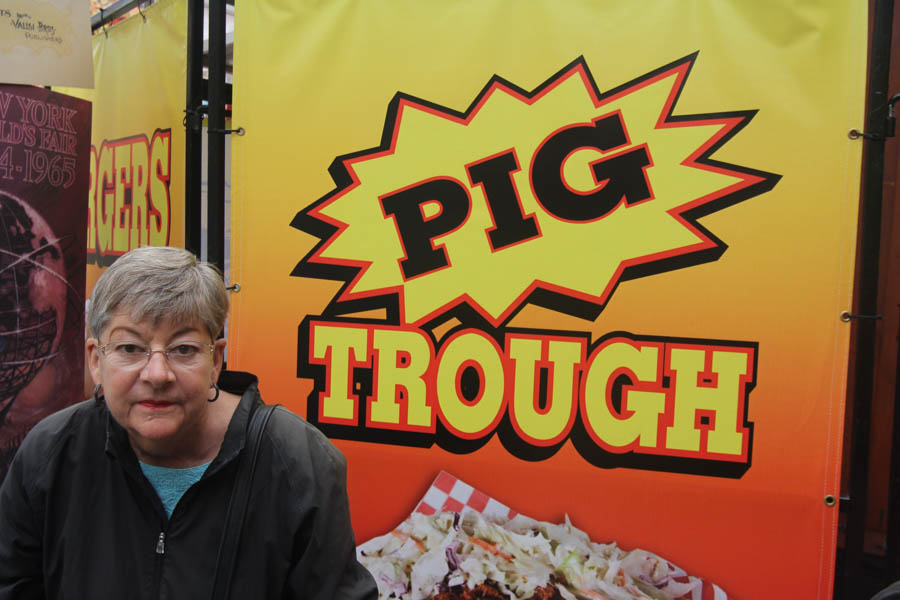 We went the whole day without eating "fair food"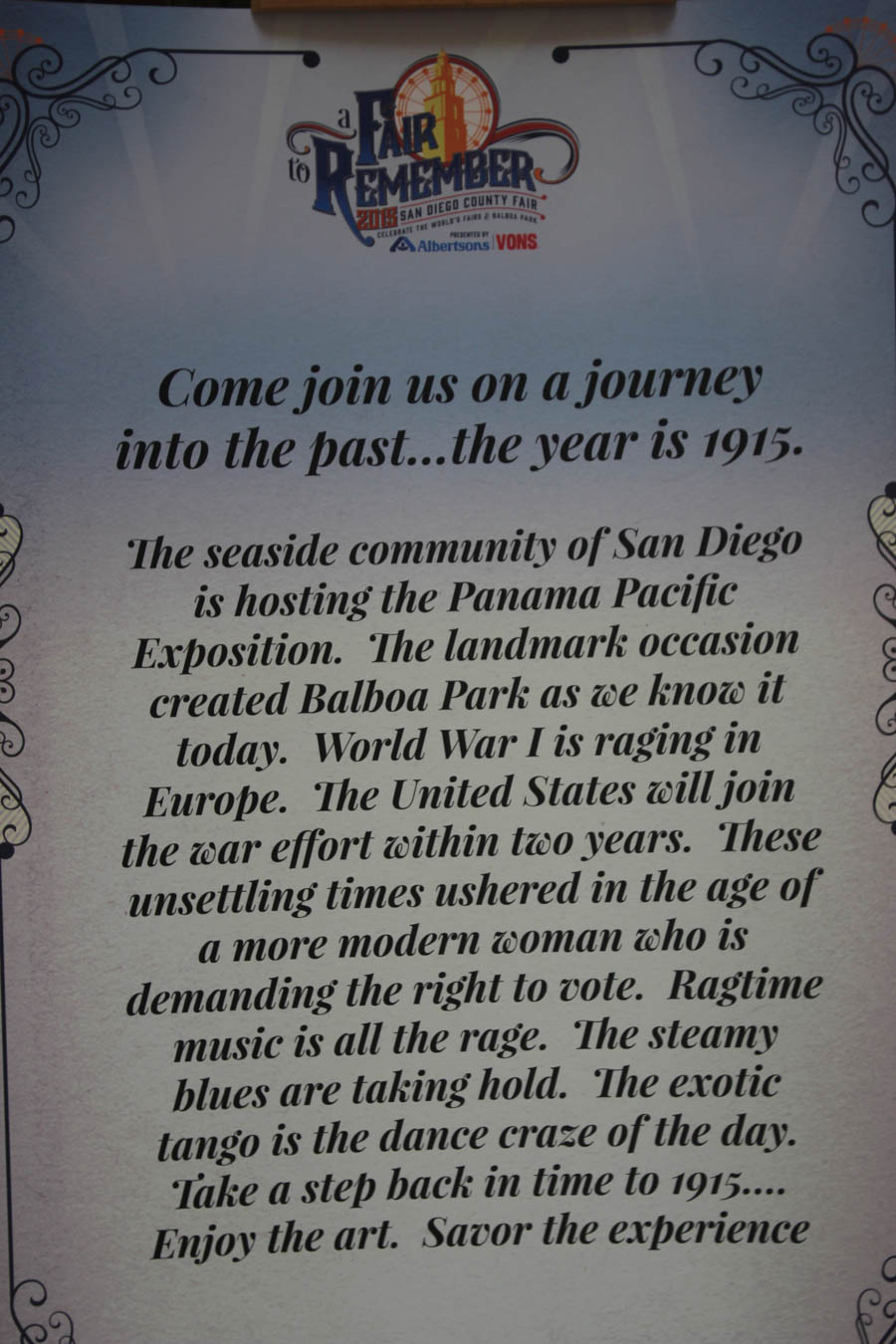 We are back 100 years!
Did You Know? - The Panama?California Exposition was an exposition held in San Diego, California, between January 1, 1915, and January 1, 1917. The exposition celebrated the opening of the Panama Canal, and was meant to tout San Diego as the first U.S. port of call for ships traveling north after passing westward through the canal. The fair was held in San Diego's large urban Balboa Park.
Did You Know? - The exposition's location was selected to be inside the 1,400 acres (570 ha) of Balboa Park. For the first few decades of its existence, "City Park" remained mostly open space. The land, lacking trees and covered in native wildflowers, was home to bobcats, rattlesnakes, coyotes, and other wildlife.
Numerous proposals, some altruistic, some profit-driven, were brought forward for the development and use of the land during this time. Several buildings including a high school, nursery, and gunpowder magazine were eventually built in the park, prior to the initial 1909 plan proposed by Davidson.
During construction in 1910, a contest was held that renamed the park after Vasco N??ez de Balboa, the first European to cross Central America and see the Pacific Ocean.

Clever artists... Now I hod to use the camera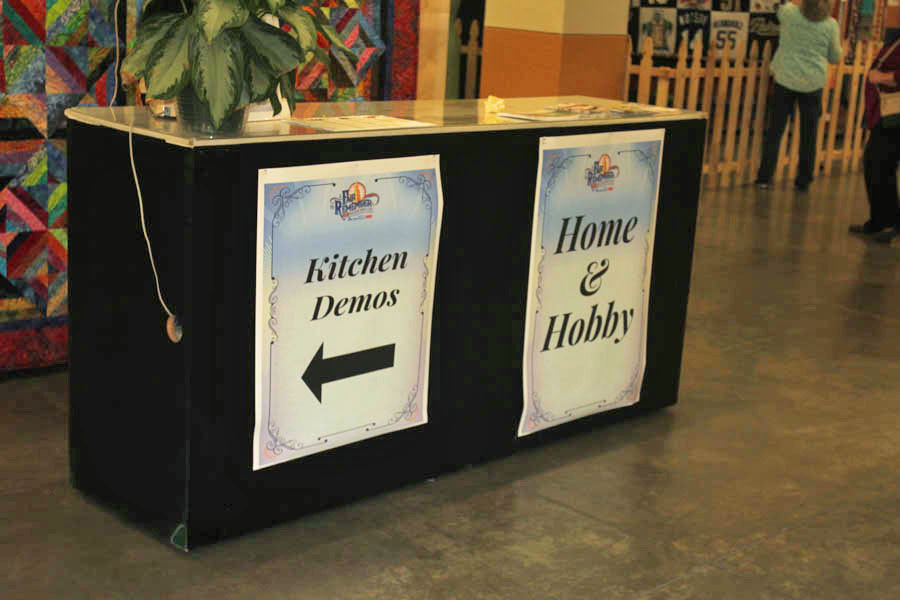 It's all good!

People collect hotel sewing kits... Remember these?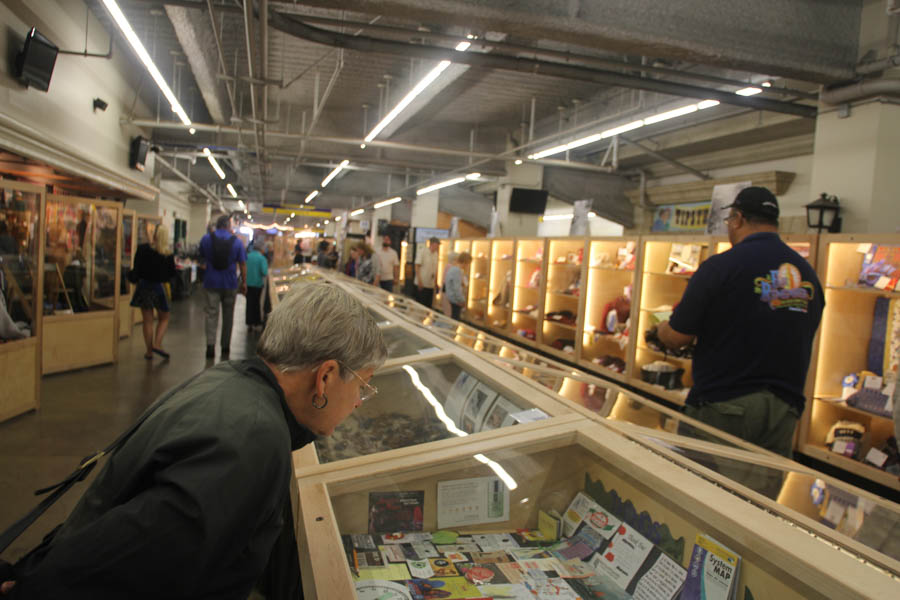 Sue studies the exhibits

An official US Navy Sewing Machine
The metal stand even had a US Navy Logo in the design!
Prior to 1915 there were no sewing machines in US Navy Ships!

Love the table settings...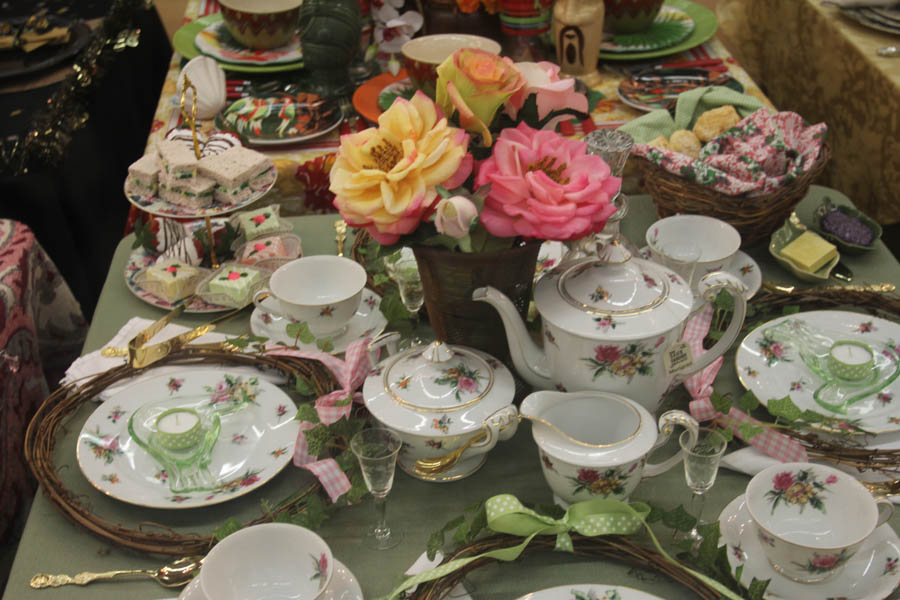 Simply beautiful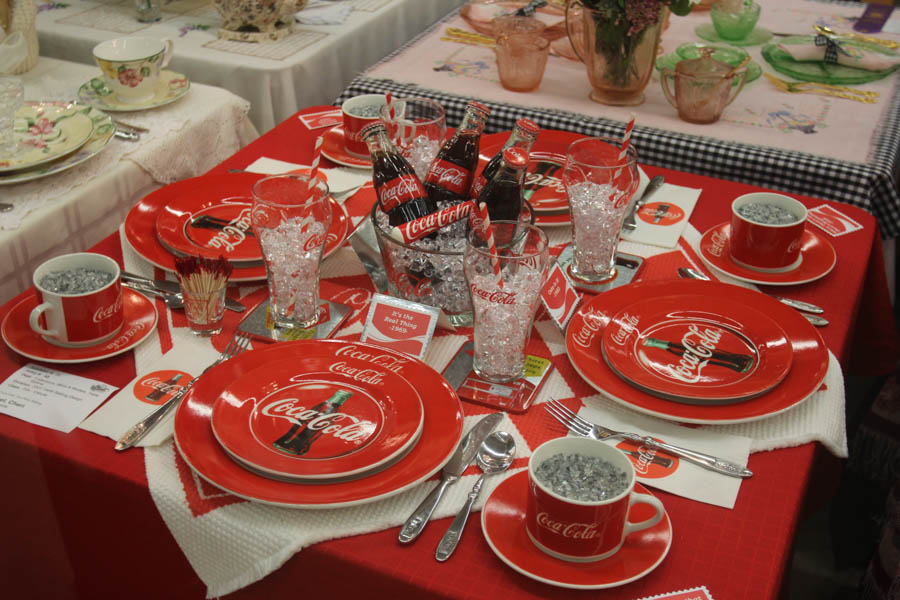 Coke anyone??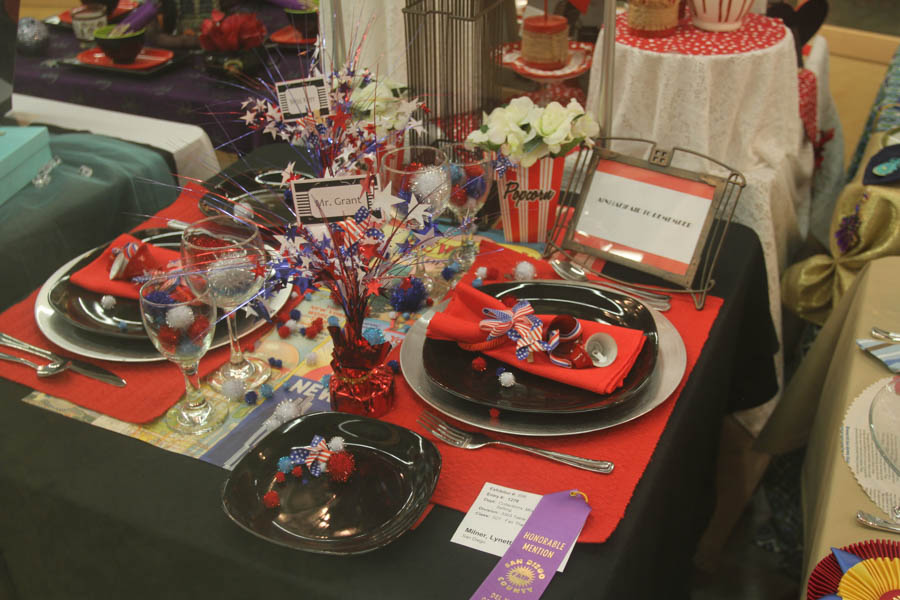 We thought of Colleen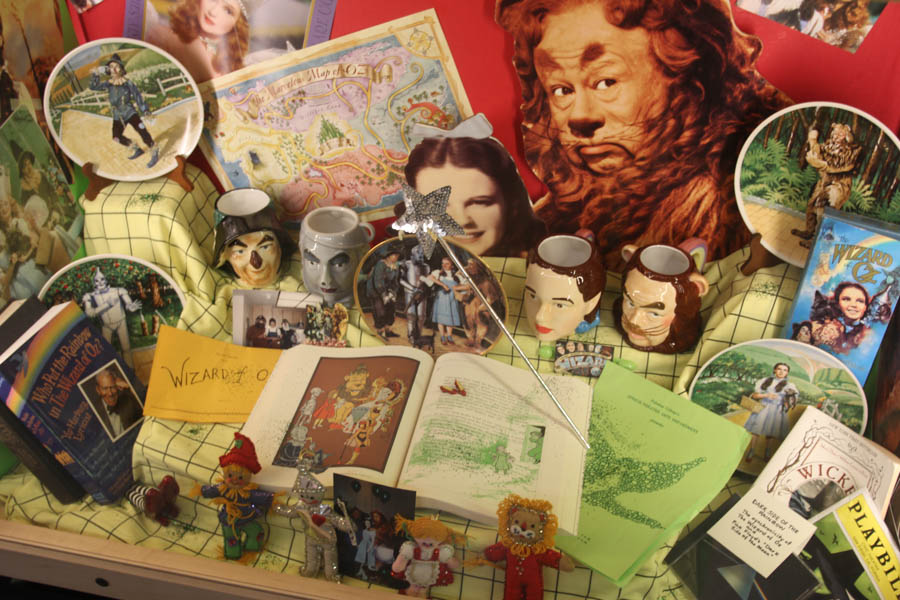 Can you find Toto?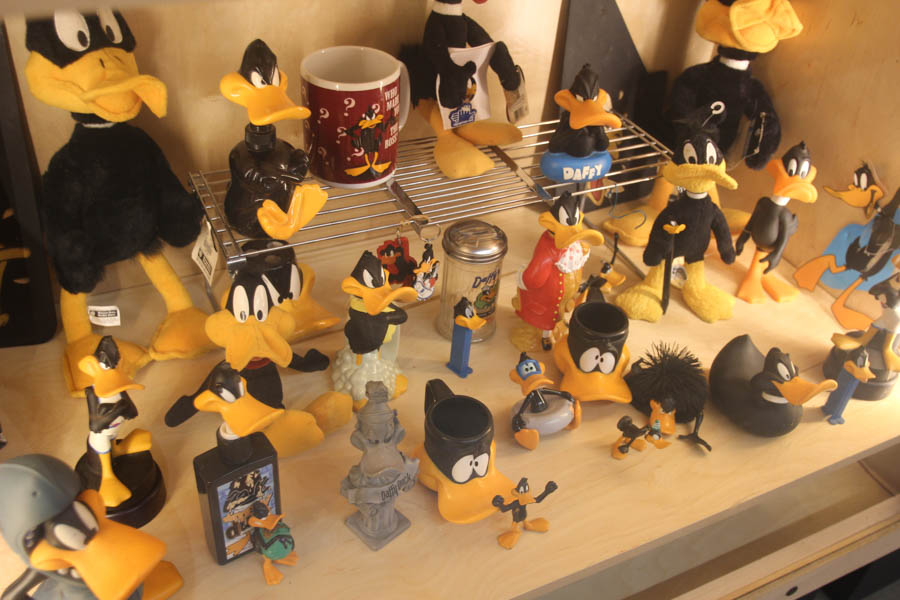 This one quacked us up!
Did You Know? - Daffy Duck is an animated cartoon character produced by Warner Bros. Styled as an anthropomorphic black duck, the character has appeared in cartoon series such as Looney Tunes and Merrie Melodies, where he usually has been depicted as the best friend and occasional arch-rival of Bugs Bunny.
Daffy was one of the first of the new "screwball" characters that emerged in the late 1930s to replace traditional everyman characters who were more popular earlier in the decade, such as Mickey Mouse and Popeye.
Daffy starred in 133 shorts in the golden age, making him the third-most frequent character in the Looney Tunes/Merrie Melodies cartoons, behind Bugs Bunny's 166 appearances and Porky Pig's 159 appearances.

Ceramics of the good old days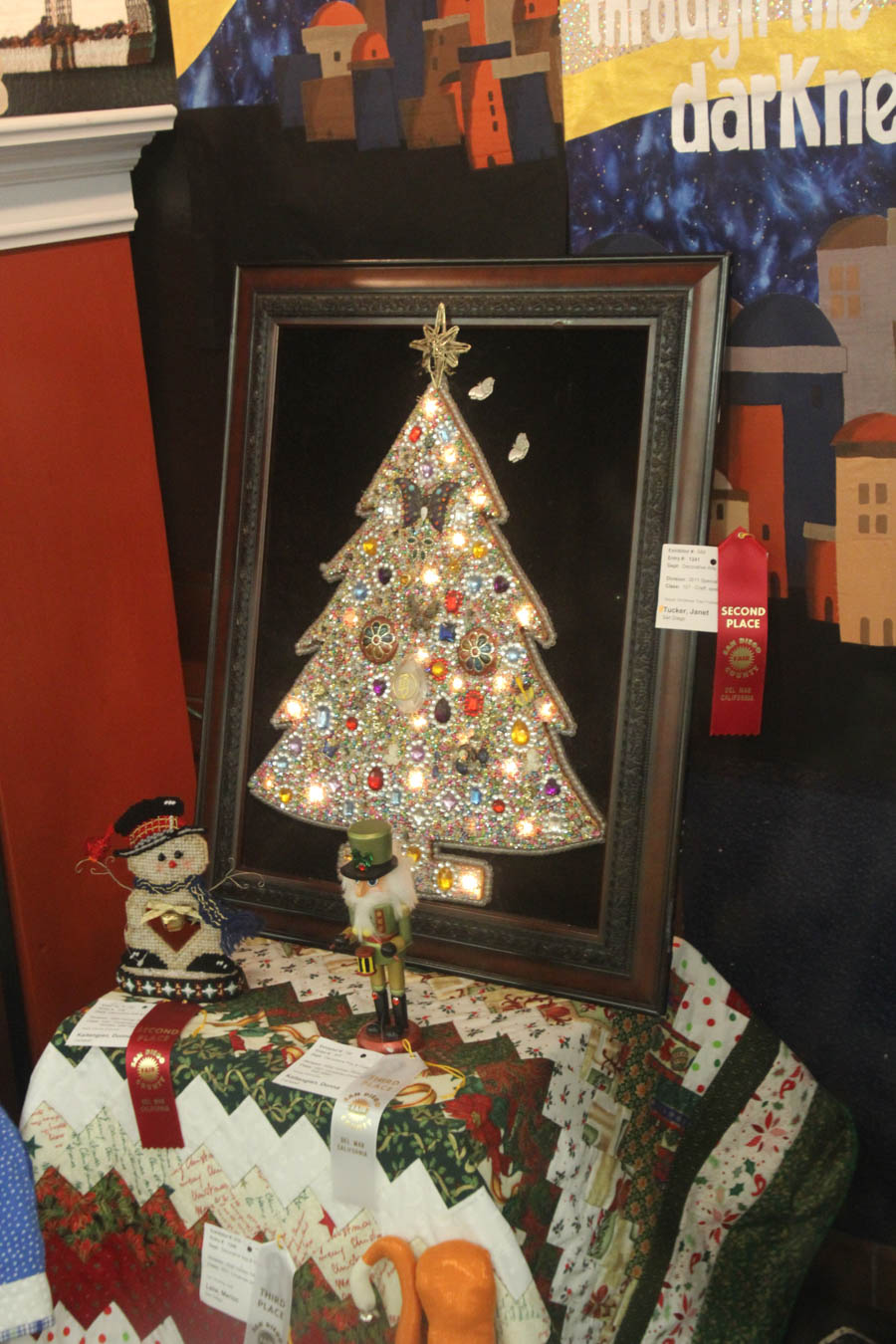 Sue remembered Mom's art work... We still display Mom's trees!

What an amazing collection of nut crackers
Did You Know? - Nuts have long been a popular choice for desserts, particularly throughout Europe. The nutcrackers were placed on dining tables to serve as a fun and entertaining center of conversation while diners awaited their final course. At one time, nutcrackers were actually made of metals such as brass, and it wasn't until the 1800s in Germany that the popularity of wooden ones began to spread.

Star Wars had affected everyone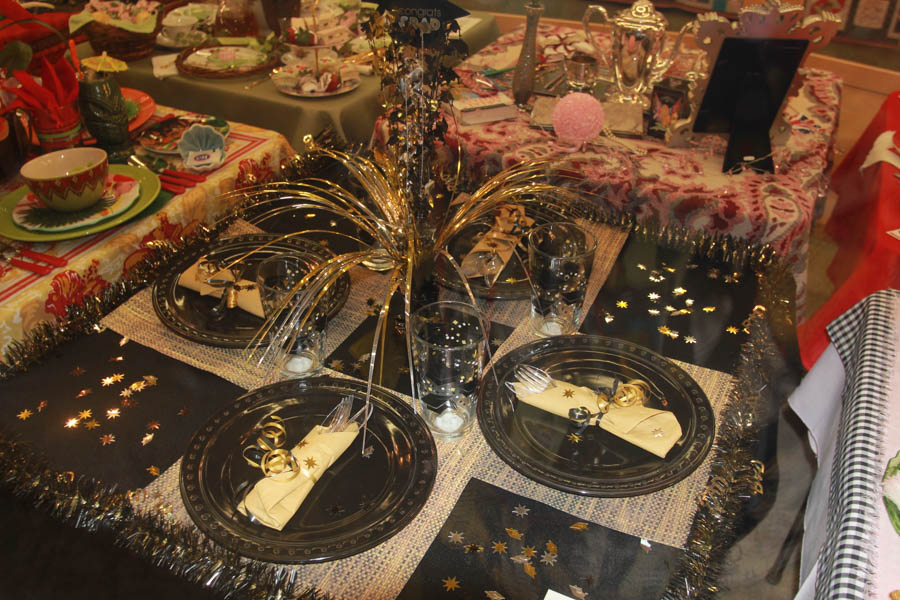 New Years?
Coffee cans make an interesting collection

"Doll houses"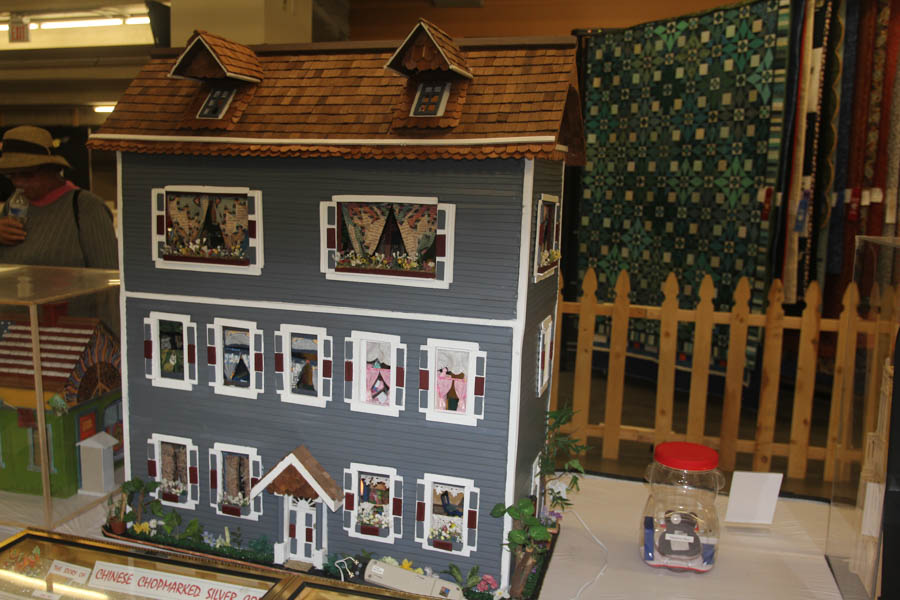 Checkout the lights inside!
Bottom floor second window from the right

Cakes are always amazing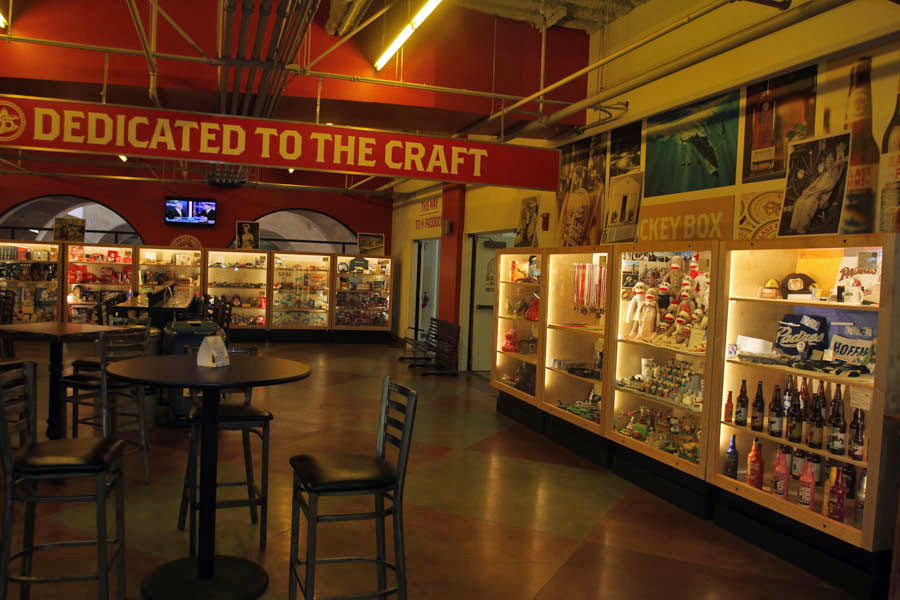 A new area... We stopped and got a wine!

Home made booze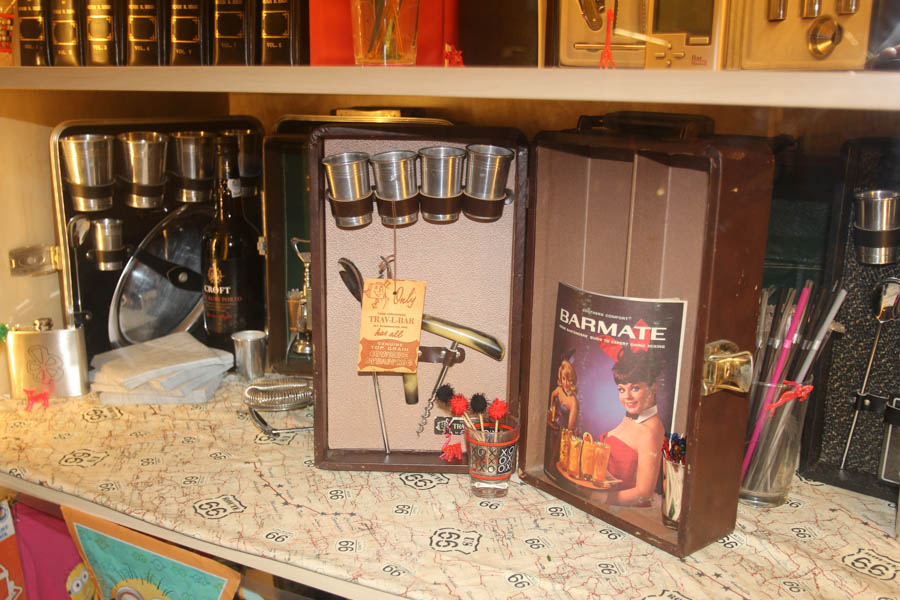 Remember these???

Pat O'Brien on the property in the 1930's
Did You Know? - William Joseph Patrick "Pat" O'Brien (November 11, 1899 ? October 15, 1983) was an American film actor with more than one hundred screen credits.
Of Irish descent, he often played Irish and Irish-American characters and was referred to as "Hollywood's Irishman in Residence" in the press.
One of the best-known screen actors of the 1930s and 1940s, he played priests, cops, military figures, pilots, and reporters. He is especially well-remembered for his roles in Knute Rockne, All American (1940), Angels with Dirty Faces (1938), and Some Like It Hot (1959).
He was frequently paired onscreen with Hollywood legend, James Cagney. O'Brien also appeared on stage and television.

These are edible! No! Really!!