April In Paris 4/1/2010
Thank you Dance Directors Bill & GeeGee Morey and their committee Marion & Gary Gray and Tad & Laurine Herman!
Did You Know? - "April in Paris" is a song composed by Vernon Duke with lyrics by E. Y. Harburg in 1932 for the Broadway musical, Walk A Little Faster. It has been performed by many artists, including Louis Armstrong, Count Basie, Bill Evans, Charlie Parker, Coleman Hawkins, Frank Sinatra, Mary Kaye Trio, Billie Holiday, Thelonious Monk, Ella Fitzgerald, Benny Goodman, Dinah Shore, Glenn Miller, Doris Day, Alex Chilton, Tommy Dorsey, Blossom Dearie, Wynton Marsalis and Dawn Upshaw. The original 1933 hit was performed by Freddy Martin, the 1952 remake (inspired by the movie of the same name) was by the Sauter-Finegan Orchestra, whose version made the Cashbox Top 50.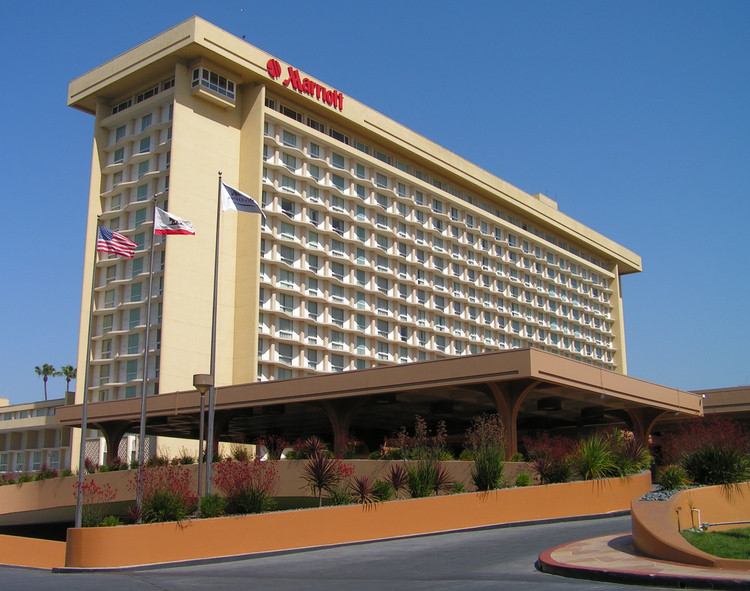 Marriott LAX
Great Room For Dancing

The band setting up.... Great dance floor at the Marriott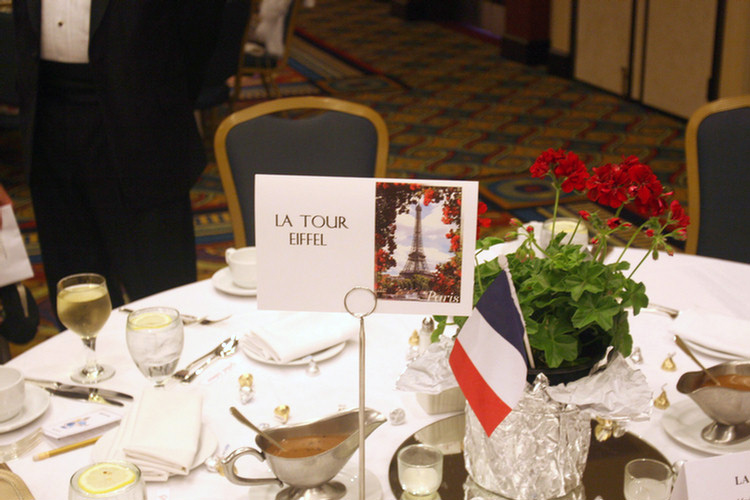 Clever names for the various tables
Did you know? - The Eiffel Tower (French: Tour Eiffel, [tuʁ ɛfɛl]) is a 19th century iron lattice tower located on the Champ de Mars in Paris that has become both a global icon of France and one of the most recognizable structures in the world. The Eiffel Tower, which is the tallest building in Paris, is the single most visited paid monument in the world; millions of people ascend it every year. Named after its designer, engineer Gustave Eiffel, the tower was built as the entrance arch for the 1889 World's Fair.
The tower stands at 324 m (1,063 ft) tall, about the same height as an 81-story building. It was the tallest structure in the world from its completion until 1930, when it was eclipsed by the Chrysler Building in New York City. Not including broadcast antennas, it is the second-tallest structure in France, behind the Millau Viaduct, completed in 2004.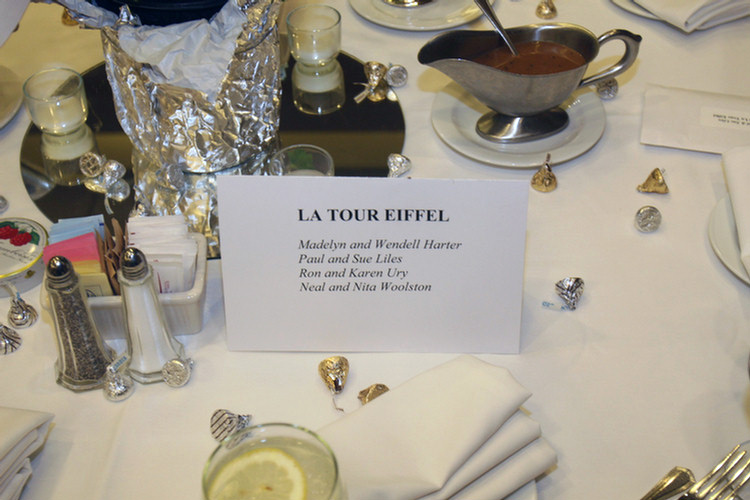 Name cards made it easy when meeting new folks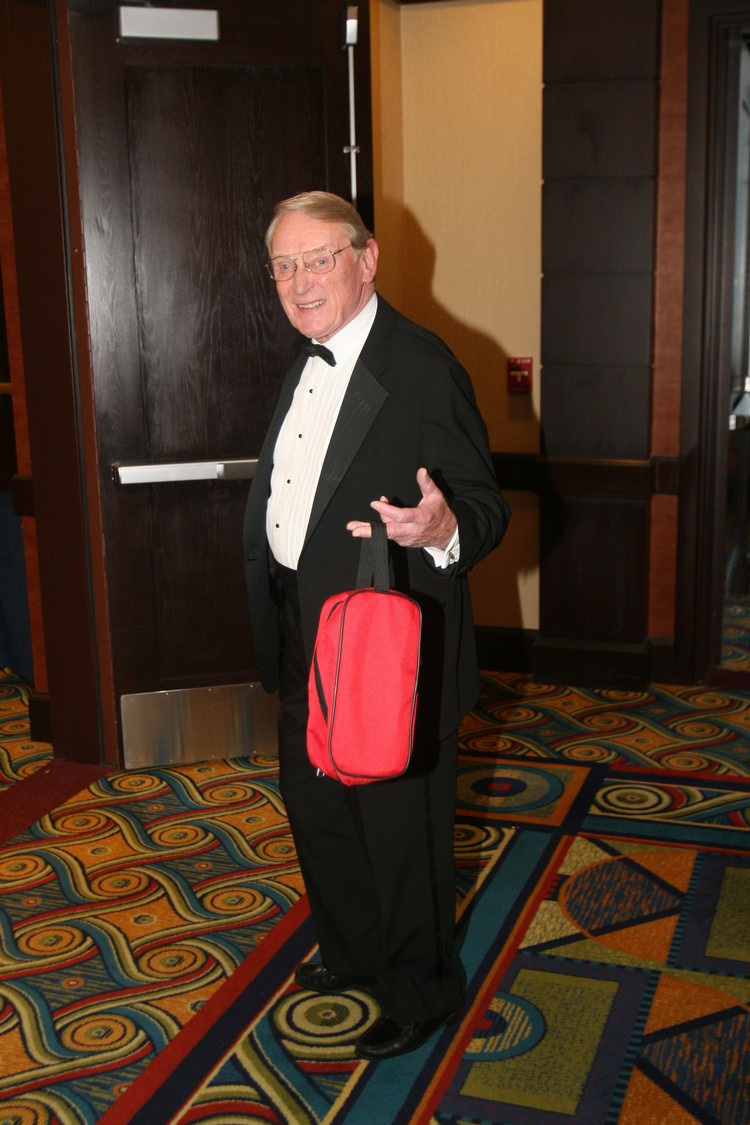 Guess who forgot whose shoes in the car???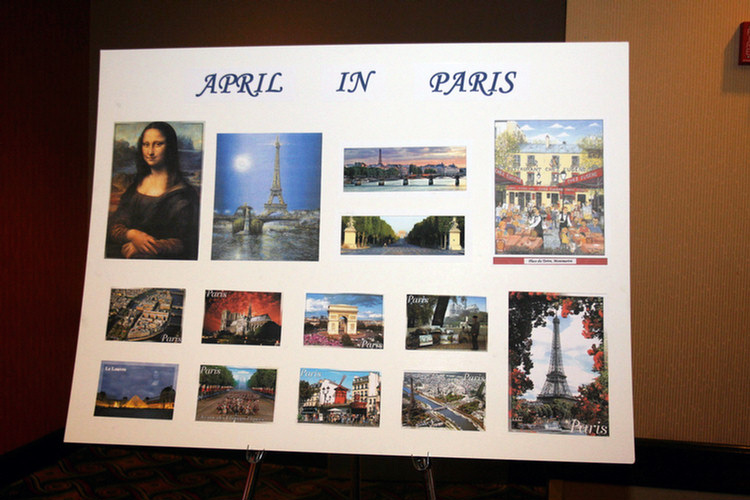 It's getting romantic in here!
Beware... The Cameras Have Come Out

The official photographer is caught mid-click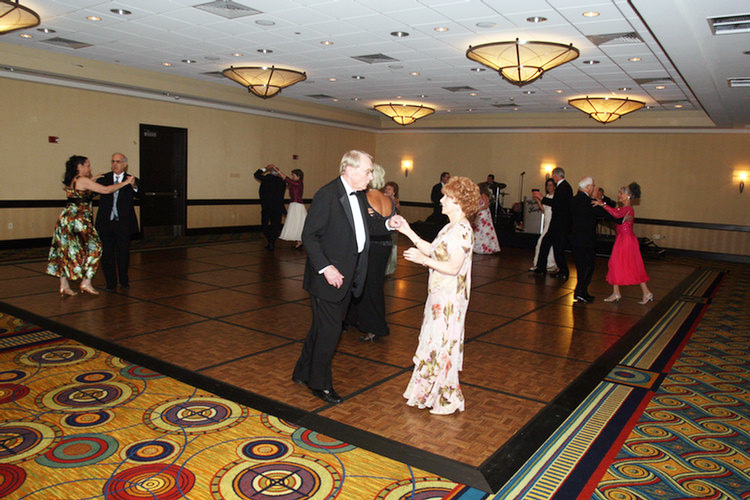 We had plenty of room this evening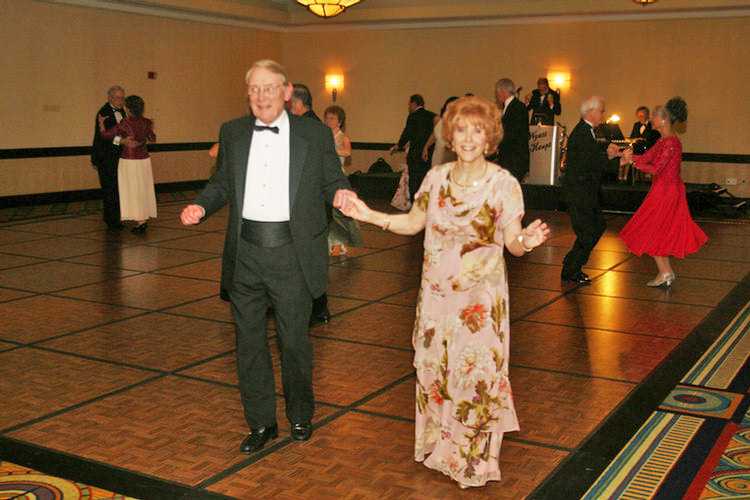 Visiting continues

Sue meets new friends Karen and Ron Ury
Dinner Is Served And Guests Are Introduced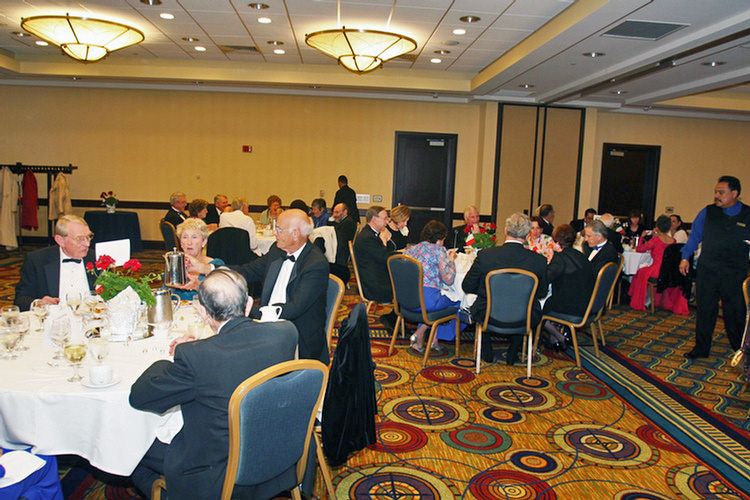 Dinner is served

No one went home hungary tonight!!!

Our guests are introduced
Did you know? - Hospitality is the relationship between a guest and a host, or the act or practice of being hospitable. that is, the reception and entertainment of guests, visitors, or strangers, resorts, membership clubs, conventions, attractions, special events, and other services for travelers and tourists.
The word hospitality derives from the Latin hospes, which is formed from hostis, which originally meant a ) to have power. The meaning of "host" can be literally read as "lord of strangers." hostire means equalize or compensate.
In the Homeric ages, hospitality was under the protection of Zeus, the chief deity of the Greek pantheon. Zeus was also attributed with the title 'Xenios Zeus' ('xenos' means stranger), emphasizing the fact that hospitality was of the utmost importance. A stranger passing outside a Greek house could be invited inside the house by the family. The host washed the stranger's feet, offered food and wine, and only after the guest was comfortable could ask his or her name.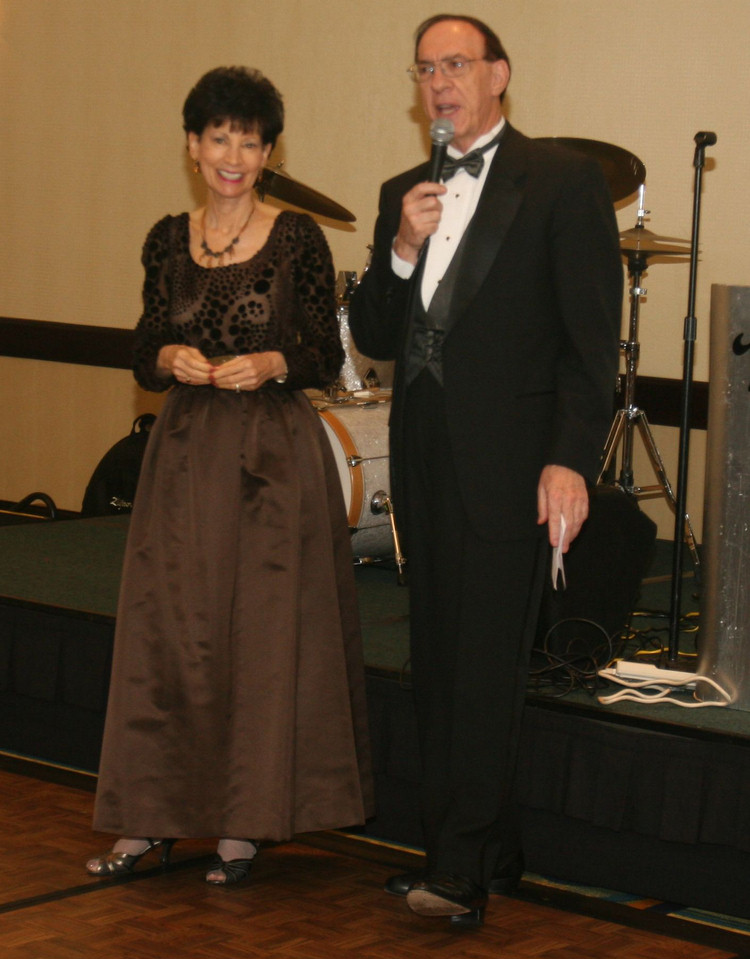 Announcements from Ted & Lauraine Herman
Dancing The Calories Away

The band played French-related ballroom music... Super job!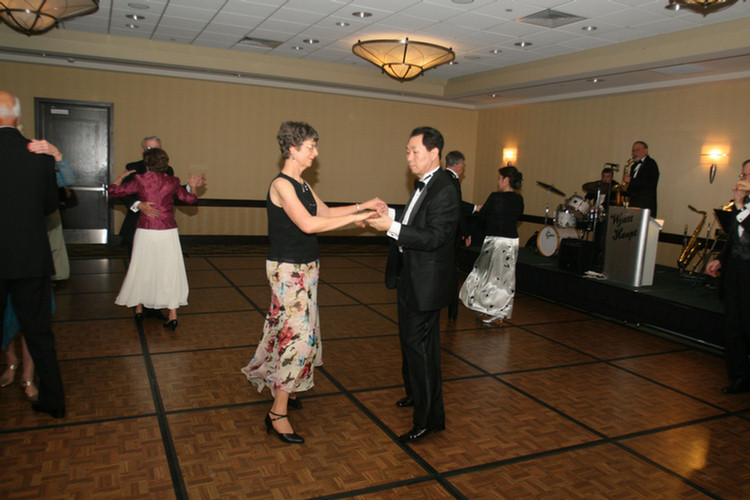 It looks like they are standing still but they are not!!!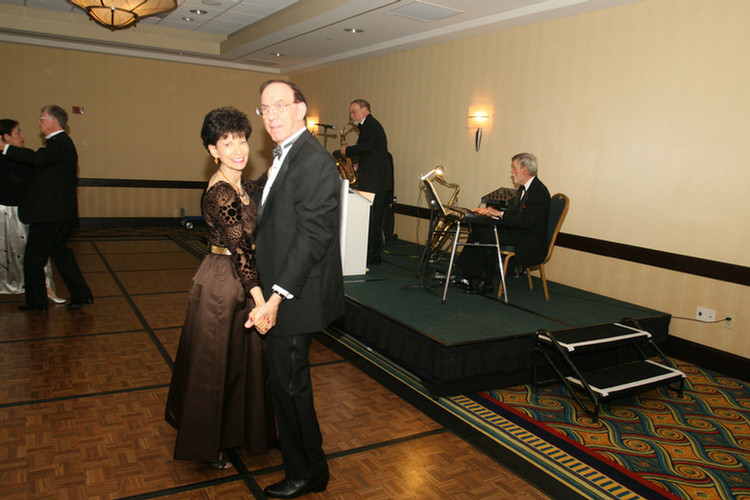 The band is even having fun this evening
Did you know? - Dance (from French danser, perhaps from Frankish) is an art form that generally refers to movement of the body, usually rhythmic and to music, used as a form of expression, social interaction or presented in a spiritual or performance setting.

The photographer caught with his camera down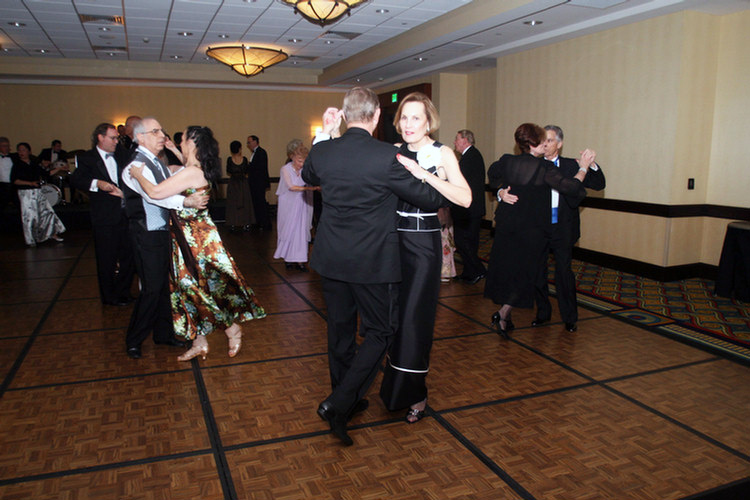 Did You Know? - The hurdy gurdy, or vielle-à-roue, is essentially a mechanical violin, with keys or buttons instead of a finger board. It is made up of a curved, oval body, a set of keys and a curved handle, which is turned and connected to a wheel which bows the strings that are stopped by the keys. There is a moveable bridge, a variable number of drones and hidden sympathetic strings, all of which can also effect the sound. Simpler forms of the hurdy gurdy are also found in Spain, Hungary and Russia.
The bagpipe is found in a wide array of forms in France, which has more diversity in bagpipes than any other country.

The hosts for this evenings dance
Dance Directors Bill & GeeGee Morey (center) with committee members Lauraine & Ted Herman (left) and Marion & Gary Gray (right)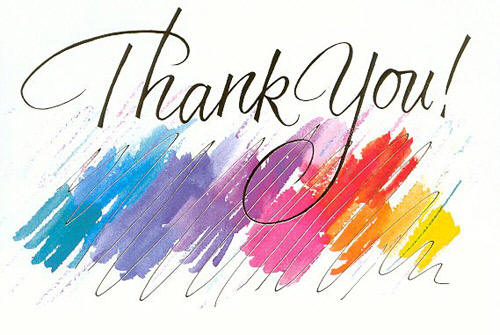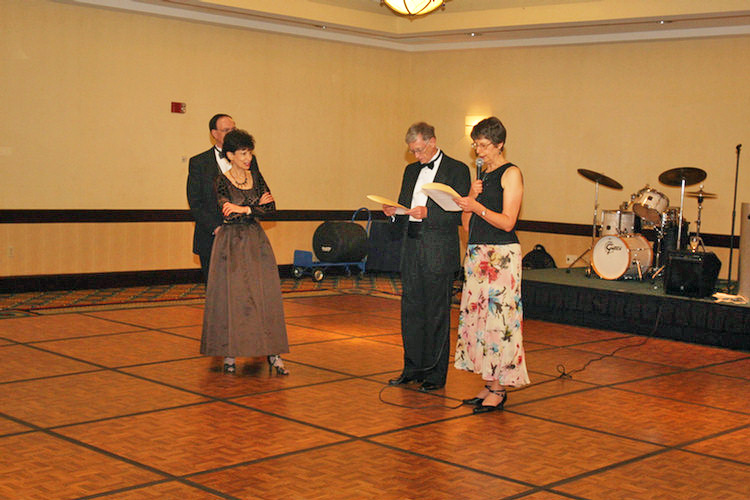 The did a script with both French and English... Very well done and entertaining
Did You Know? - French (français), French is a Romance language spoken as a first language by about 136 million people worldwide. Around 190 million people speak French as a second language, and an additional 200 million speak it as an acquired foreign language. French speaking communities are present in 57 countries and territories. Most native speakers of the language live in France, where the language originated. The rest live essentially in Canada, particularly Quebec, and New Brunswick, as well as Belgium, Switzerland, Luxembourg, and certain places in the U.S. states of Maine and Louisiana. Most second-language speakers of French live in Francophone Africa, arguably exceeding the number of native speakers.
French is a descendant of the Latin language of the Roman Empire, as are national languages such as Italian, Portuguese, Spanish, Romanian and Catalan, and minority languages ranging from Occitan to Neapolitan and many more. Its closest relatives however are the other langues d'oïl and French-based creole languages. Its development was also influenced by the native Celtic languages of Roman Gaul and by the (Germanic) Frankish language of the post-Roman Frankish invaders.
It is an official language in 29 countries, most of which form what is called, in French, La Francophonie, the community of French-speaking countries. It is an official language of all United Nations agencies and a large number of international organizations. According to the European Union, 129 million (or 26% of the Union's total population), in 27 member states speak French, of which 65 million are native speakers and 69 million claim to speak French either as a second language or as a foreign language, making it the third most spoken second language in the Union, after English and German. Twenty-percent of non-native French speaking Europeans know how to speak French, totaling roughly 145.6 million people.

Everybody enjoyed their bicycle tour of France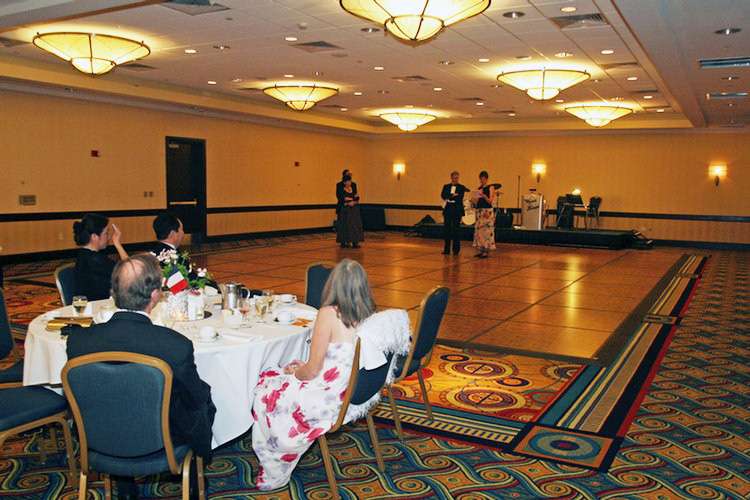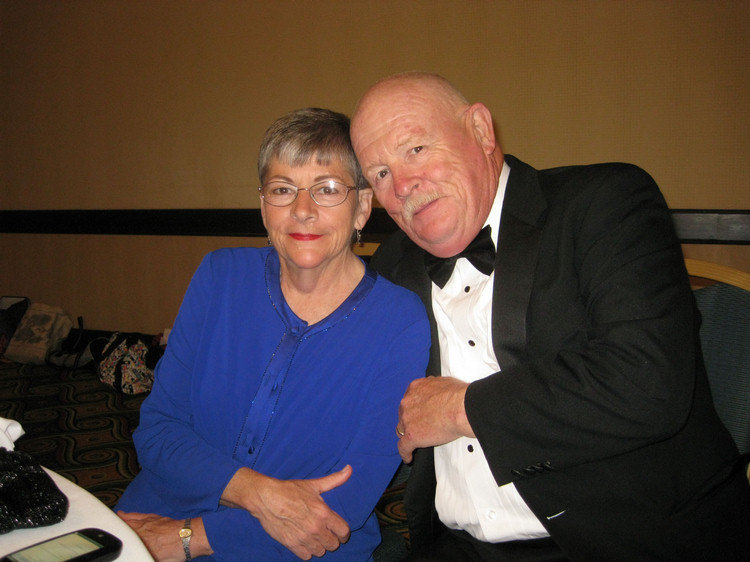 Thanks to Neal and Nita we have proof we were here!
In Comic Format....