Tea Time In The Rose Garden Tea Room (Page Two)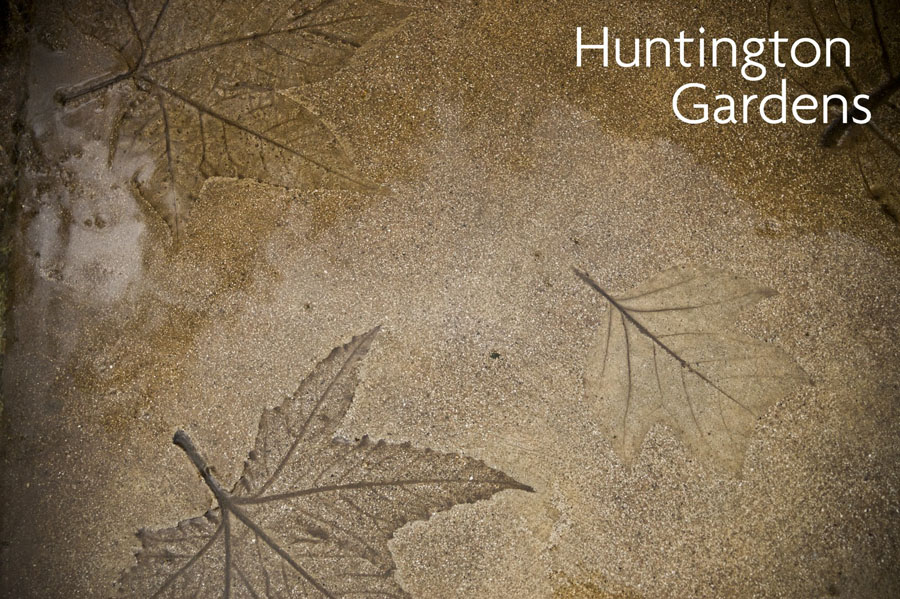 We Left The Docent And Headed For The Tea Room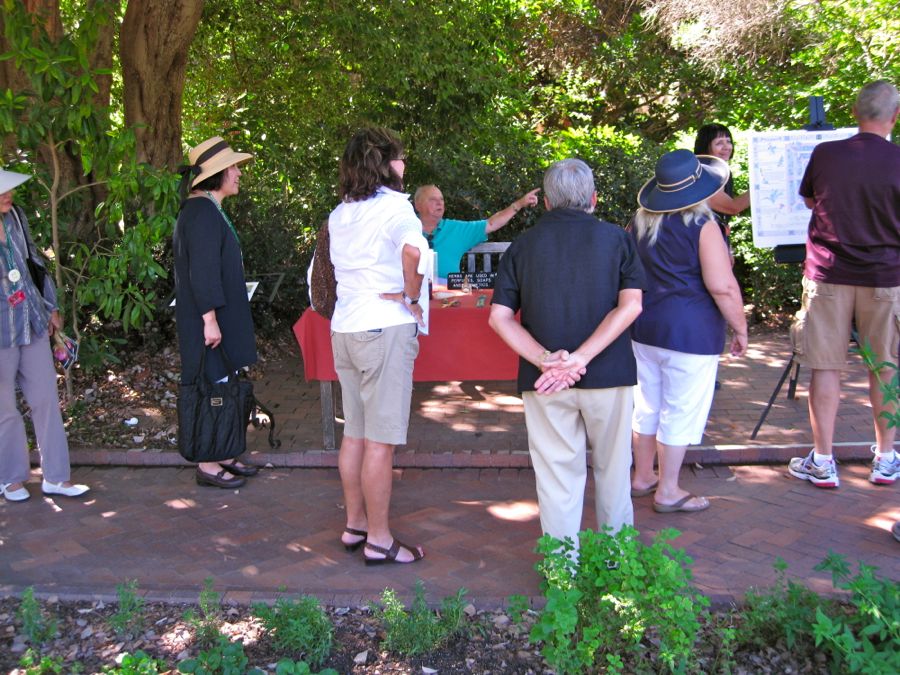 The herb garden experts were on duty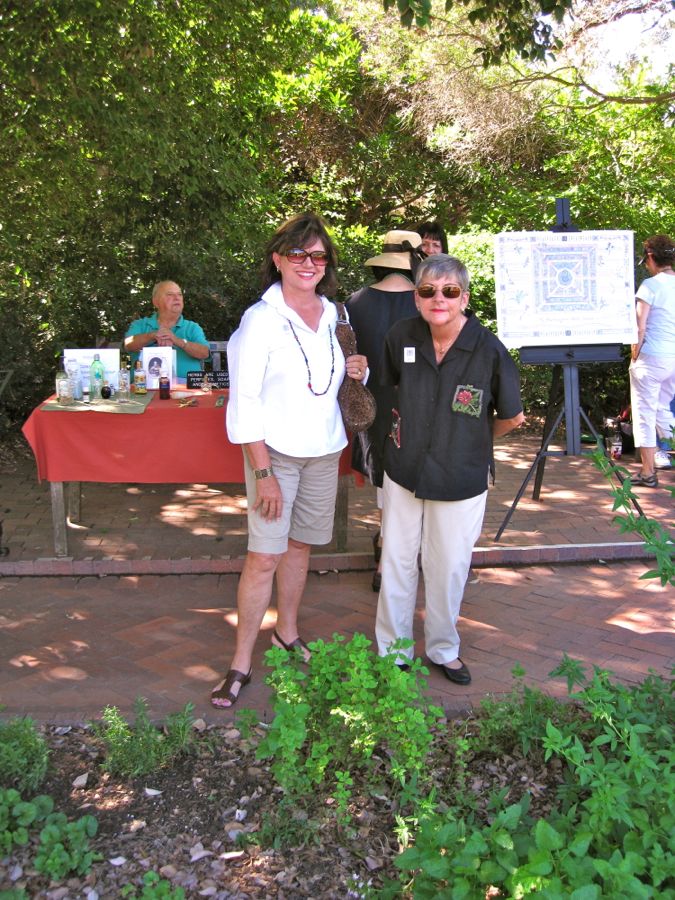 The girls are also experts

Read it and weep

The fall colors are definitely in place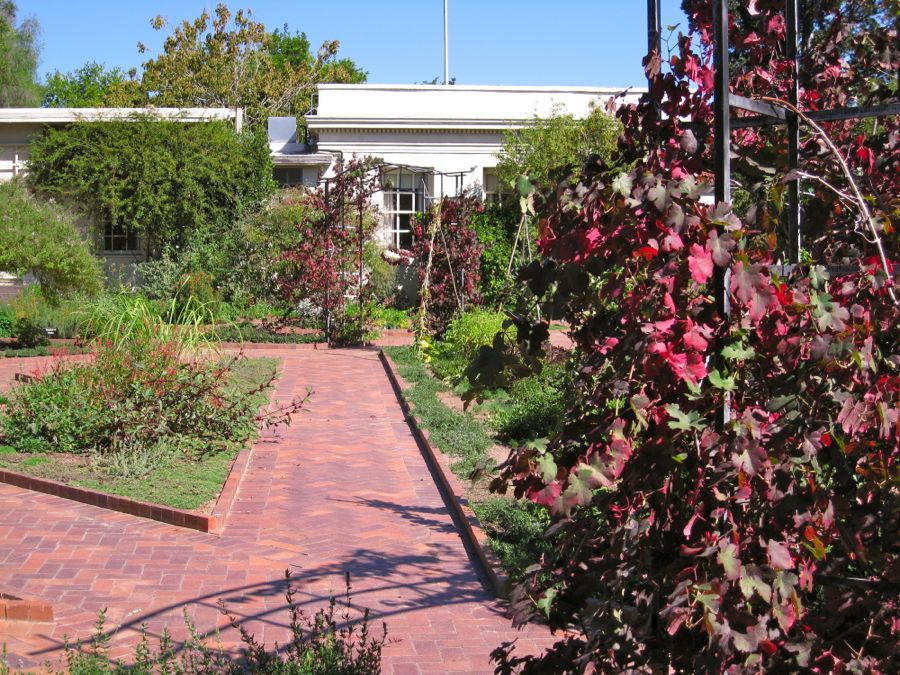 The Tea Room in the background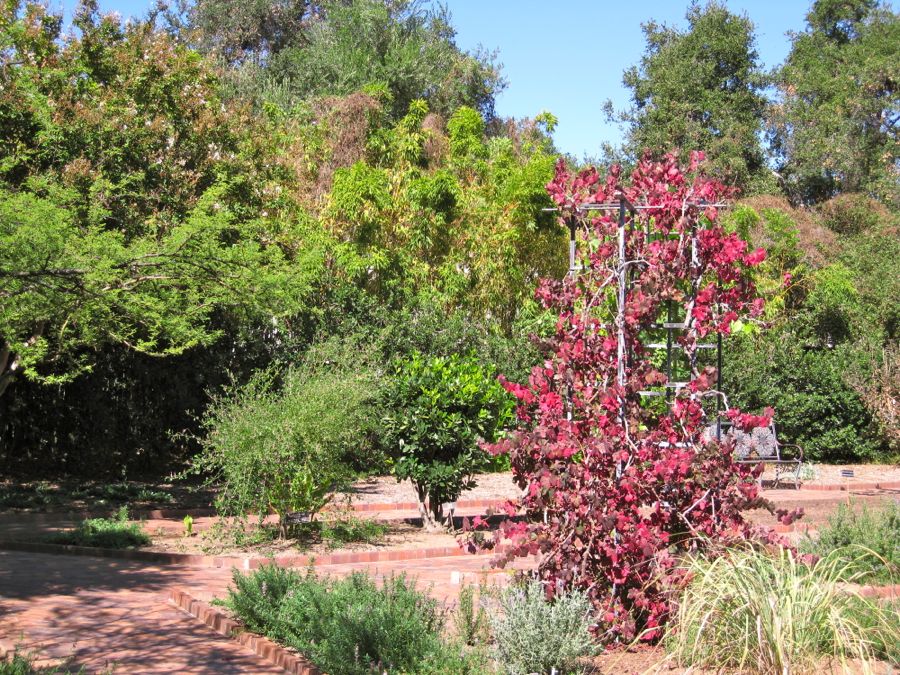 Red and green make for interesting pictures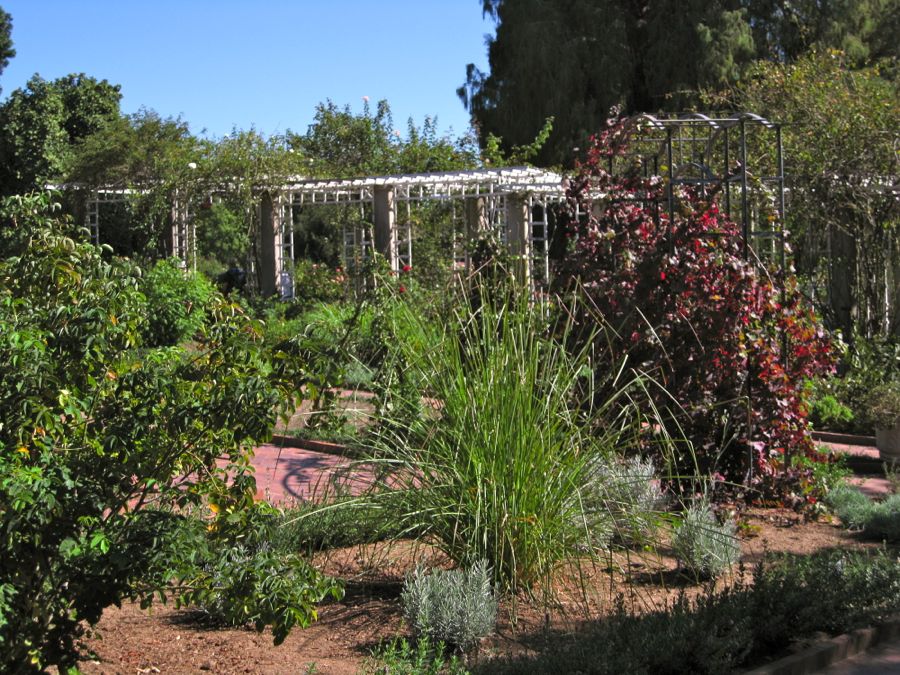 The

Great decorations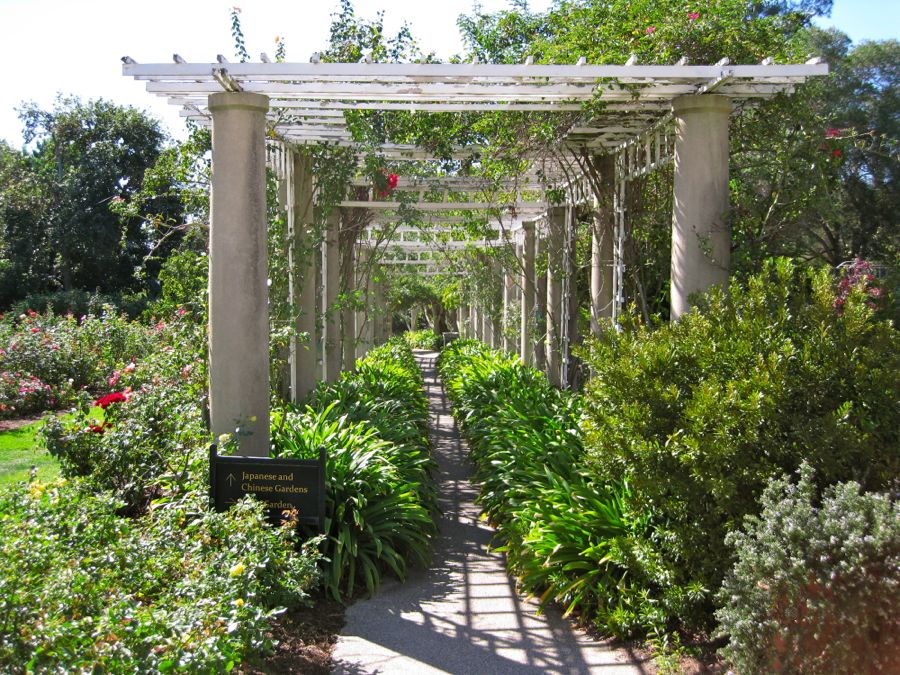 The climbing roses
Time For Tea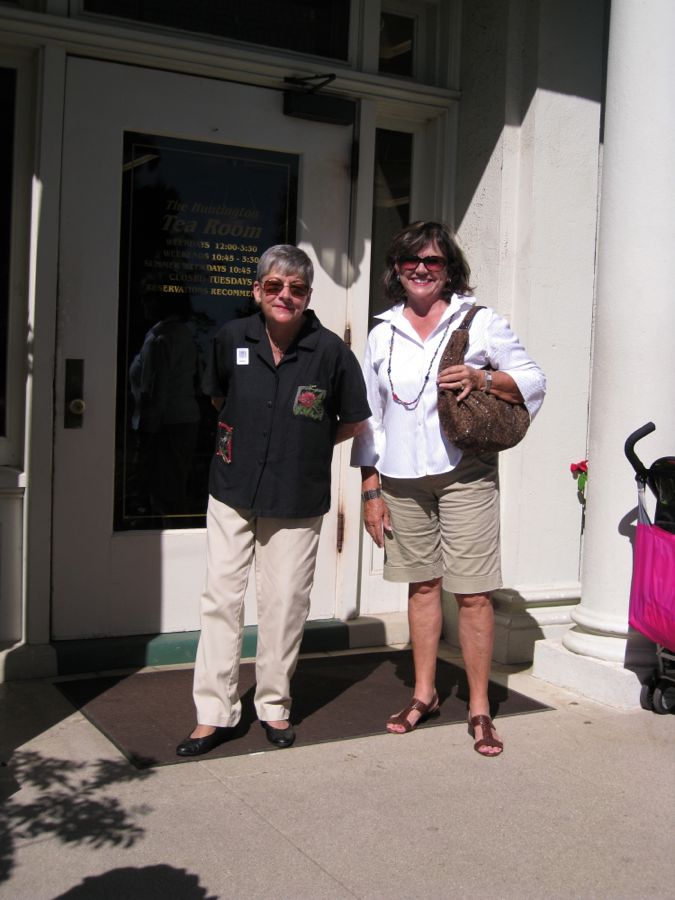 95 degrees outside - 72 degrees inside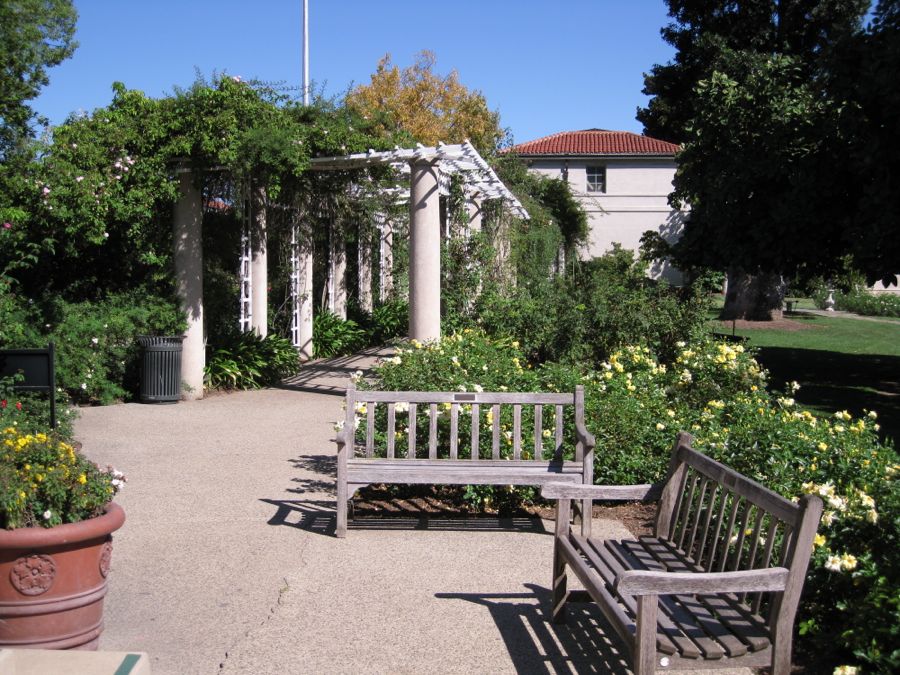 It's a short walk to the main house
Many Ways To Look At Our Afternoon Tea Break....

We ate a load of scones and other goodies

It was puzzling....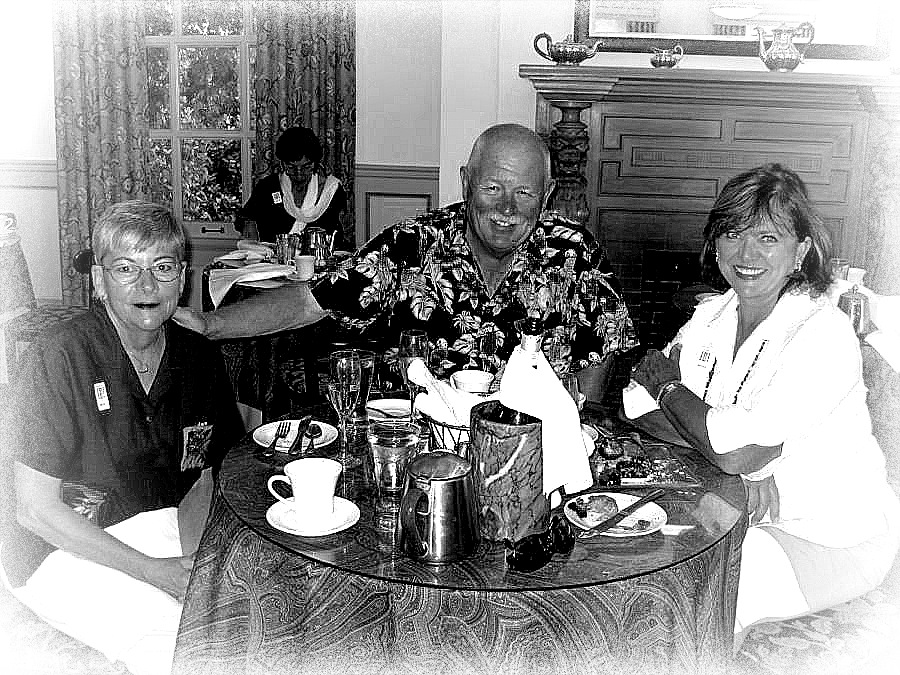 If this were the 1930's

In an old album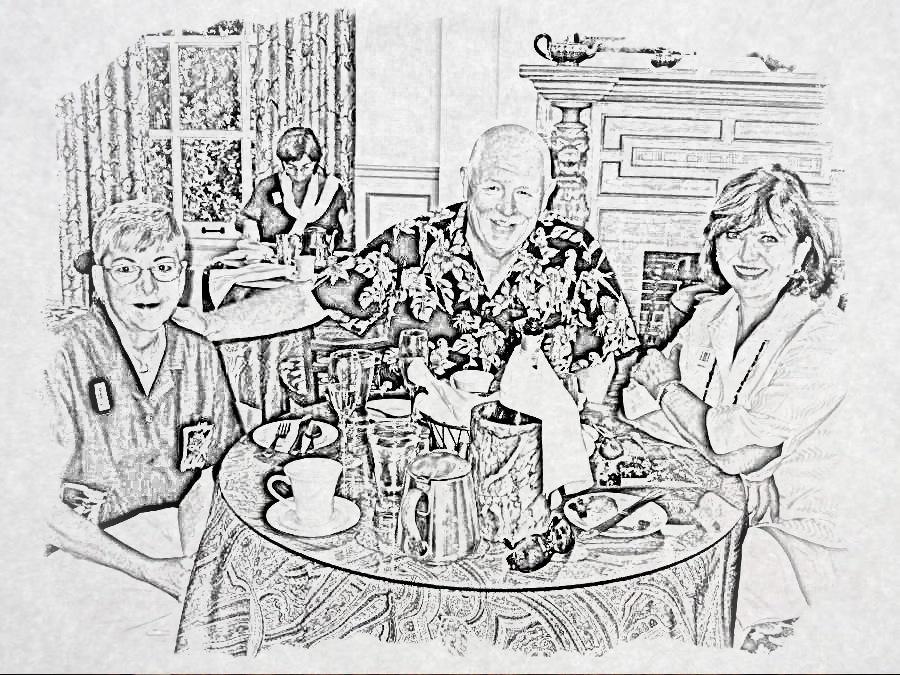 Moody????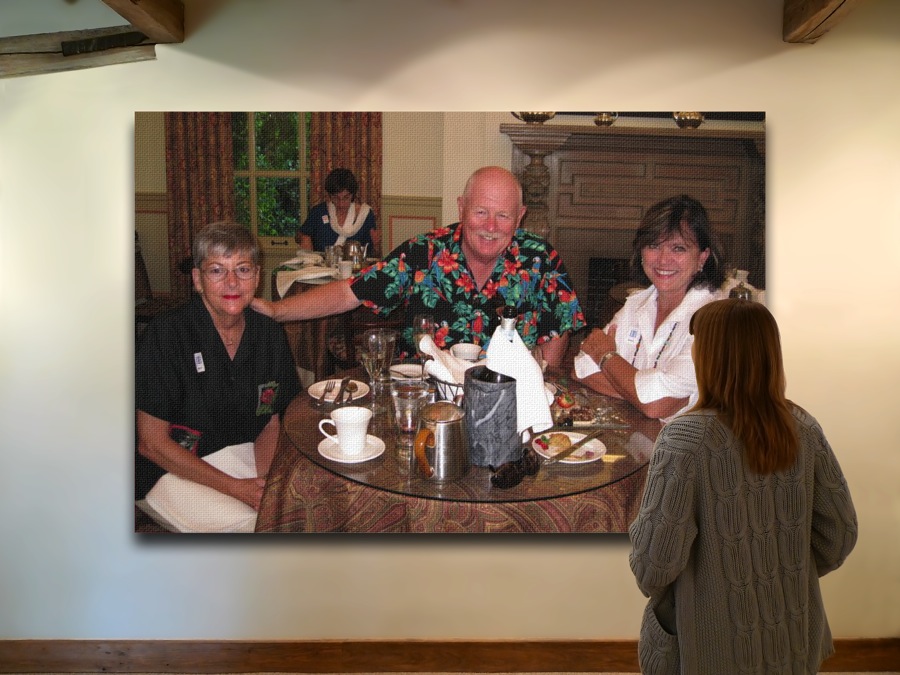 Who is watching us???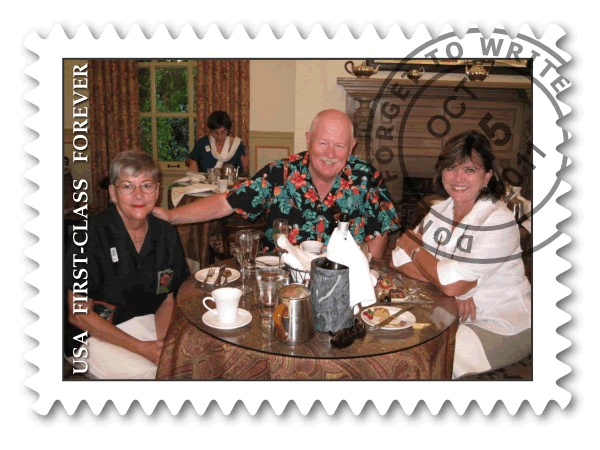 We will send "Wish You Were Here Post Cards"
Did You Know? - The scone is a small British quick bread of Scottish origin. Scones are especially popular in the United Kingdom, the United States, Canada, Australia, New Zealand, and Ireland, but are also eaten in many other countries. They are usually made of wheat, barley or oatmeal, with baking powder as a leavening agent. The scone is a basic component of the cream tea or Devonshire tea.
The original scone was round and flat, usually the size of a medium size plate. It was made with unleavened oats and baked on a griddle (or girdle, in Scots), then cut into triangle-like quadrants for serving. Today, many would call the large round cake a bannock, and call the quadrants scones. In Scotland, the words are often used interchangeably.
When baking powder became available to the masses, scones began to be the oven-baked, well-leavened items we know today. Modern scones are widely available in British and Irish bakeries, grocery stores, and supermarkets. A 2005 market report estimated the UK scone market to be worth £64m, showing a 9% increase over the previous five years. The increase is partly due to an increasing consumer preference for impulse and convenience foods.

Tummies full
We Are Heading To The Oriental Gardens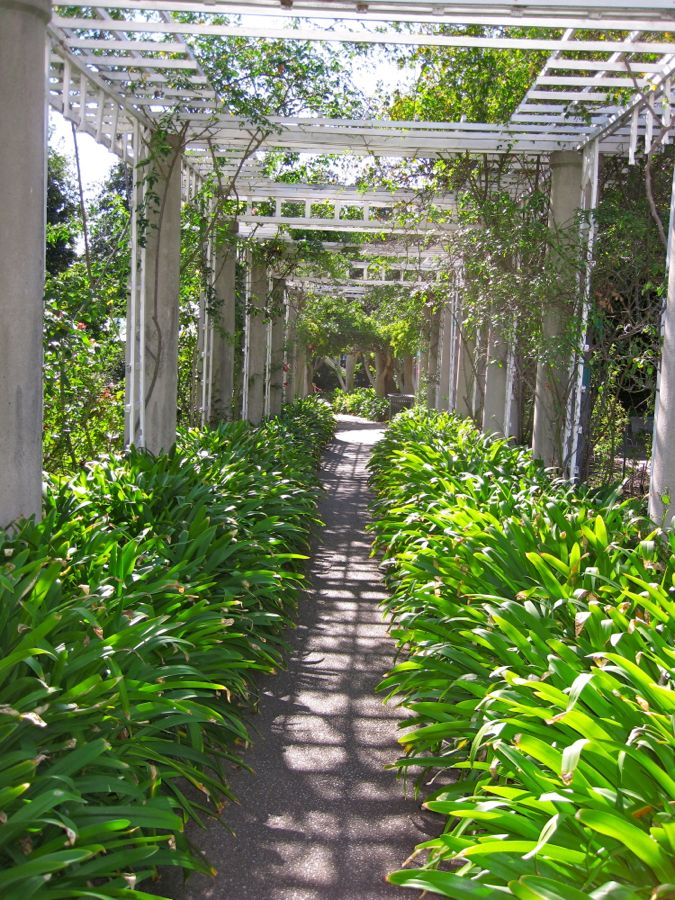 Mr. Lizzard waits to jump on passers-by
Did You Know? - Lizards are a widespread group of squamate reptiles, with nearly 3800 species, ranging across all continents except Antarctica as well as most oceanic island chains. The group, traditionally recognized as the suborder Lacertilia, is defined as all extant members of the Lepidosauria (reptiles with overlapping scales), which are neither sphenodonts (i.e., tuatara) nor snakes – they form an evolutionary grade. While the snakes are recognized as falling phylogenetically within the anguimorph lizards from which they evolved, the Sphenodonts are the sister group to the Squamates, the larger monophyletic group, which includes both the lizards and the snakes.

Look out... here we come
The Japanese Gardens Are Closed.... The Chinese Gardens Are Open
Did You Know? - The Chinese garden is a place for solitary or social contemplation of nature. Chinese gardens were created in the same way as a combination of landscape and paintings together with poems - this was the so-called "poetic garden." The design of Chinese gardens was to provide a spiritual shelter for one to connect with nature, to come back to one's inner selves and to an idealistic way of life. This was an escape from the frustration and disappointment of the political problems in China. They used plants as symbols. Bamboo was used in every traditional Chinese garden.
This is because bamboo represents a strong but resilient character. Often pine is used to represent longevity, persistence, tenacity and dignity. The lotus is used to symbolize purity. The plum blossom is one of the most important aspects of a Chinese garden, as it represents renewal and strength of will. Flowering peaches are grown for spring color, and sweet olive as well. The chrysanthemum is used to symbolize splendor, luster and "the courage to make sacrifices for a natural life". Peonies symbolize wealth and banana trees are used simply for the sound they make in the breeze.

Come on in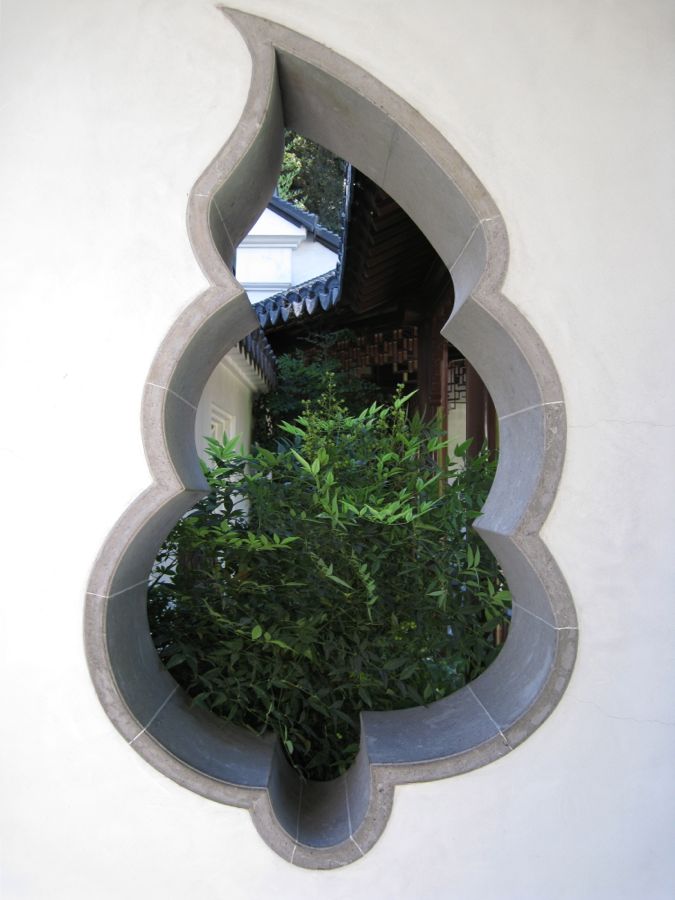 An interesting window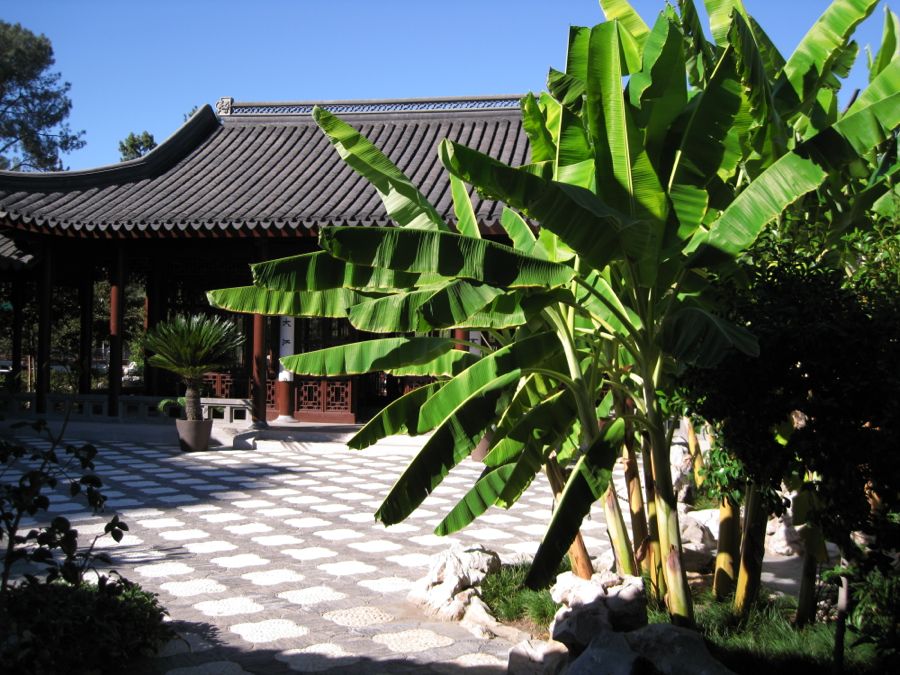 Contemplation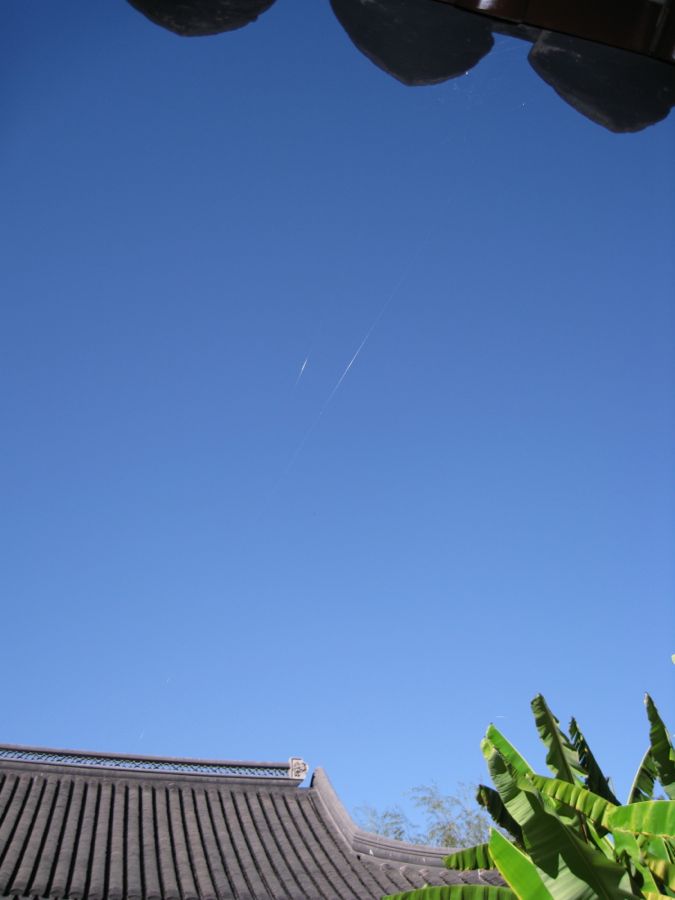 Check the spider web
Did You Know? - The essential elements in a garden are a wall surrounding a hall, a pool, and trees and mountains. Later these were expanded to seventeen essential elements:

1) proximity to the home;
2) small;
3) walled;
4) small individual sections;
5) asymmetrical;
6) various types of spatial connections;
7) architecture;
8) rocks;
9) water;
10) trees;
11) plants;
12) sculpture;
13) borrowed scenery;
14) chimes;
15) incense burners;
16) inscriptions;
17) use of feng shui for choosing site.
The variety of sensory features enhance a garden's appeal. Windows frame garden views. Trees and flowers provide aroma. Even the intricate designs of pavement and gravel offer tactile enjoyment. Suzhou, in eastern China is widely known for its numerous classical private scholar gardens.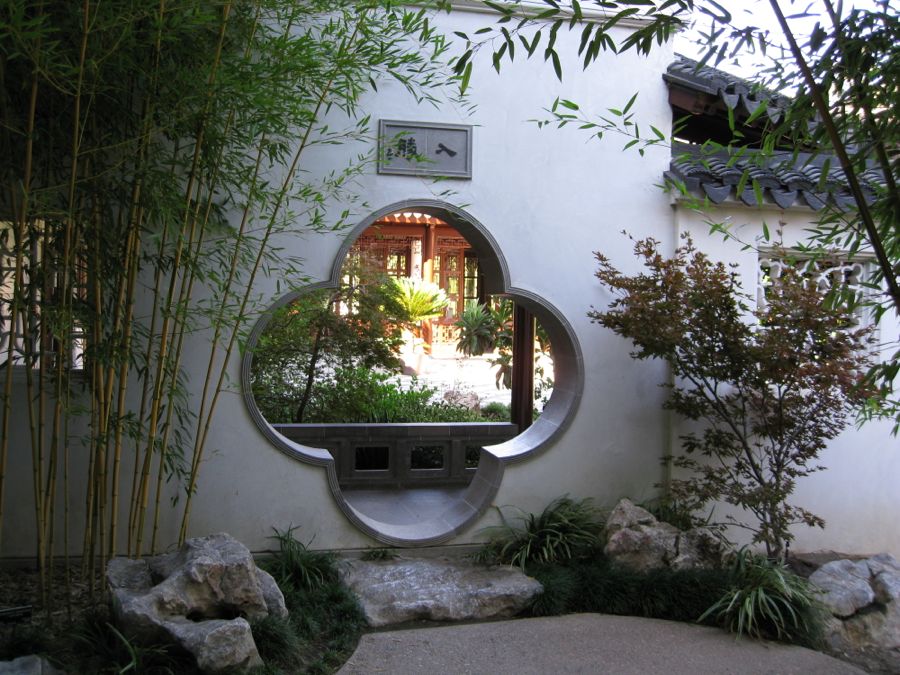 More interesting designs

Very relaxing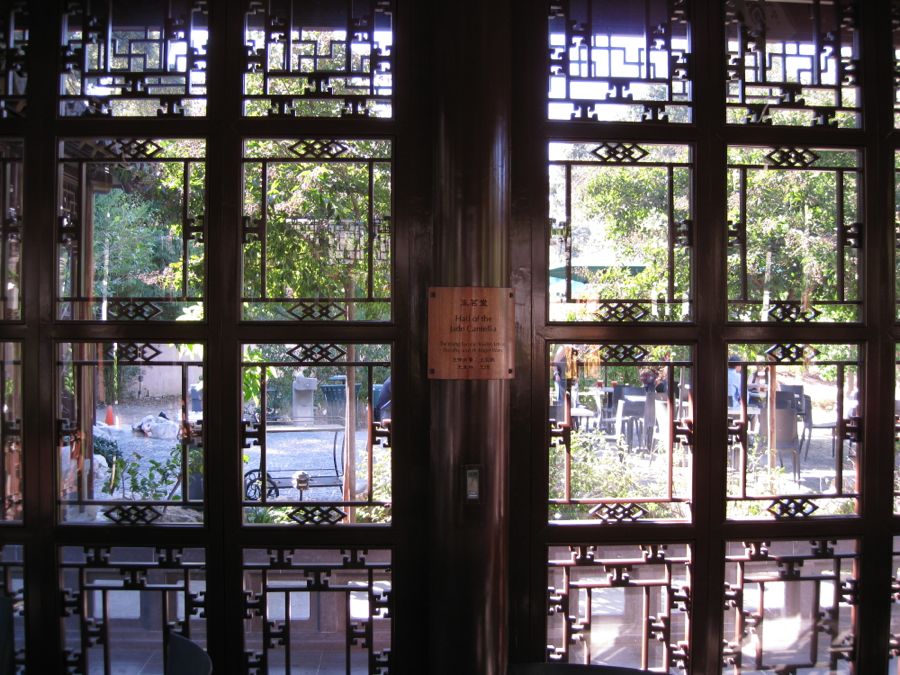 Lots of work put into these doors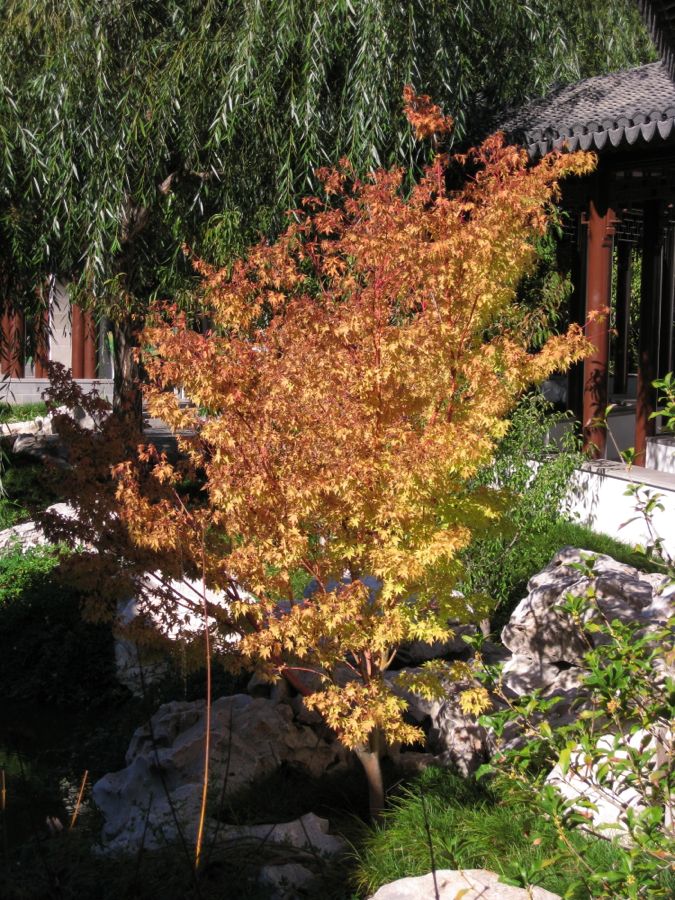 Mini-maple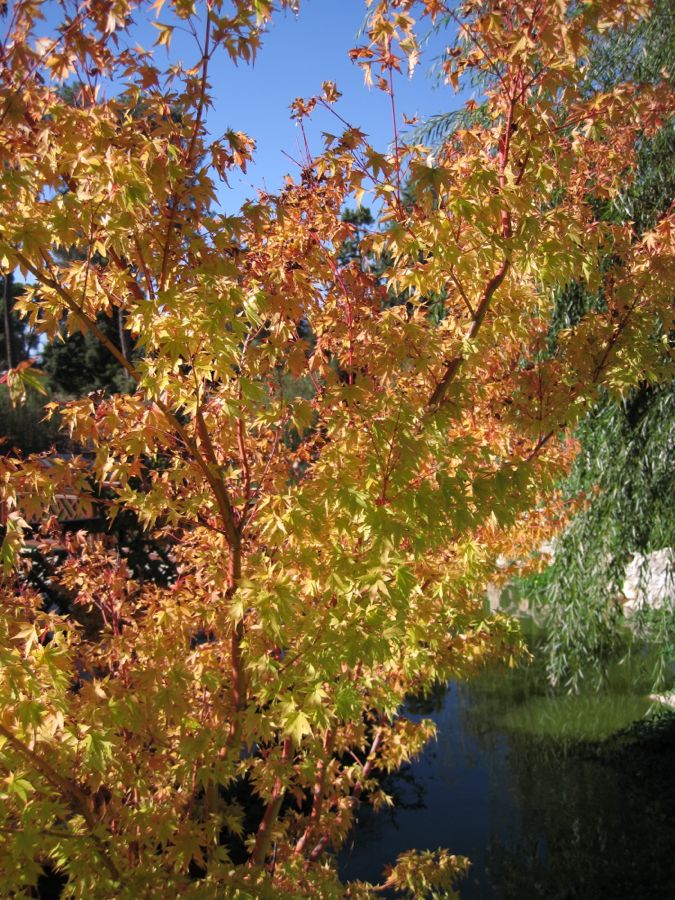 Magnificent colors
Did You Know? - There are approximately 129 species, most of which are native to Asia, with a number also appearing in Europe, northern Africa, and North America. Only one species, the poorly studied Acer laurinum, is native to the Southern Hemisphere. Fifty four species of maples meet the International Union for Conservation of Nature criteria for being under threat of extinction in their native habitat.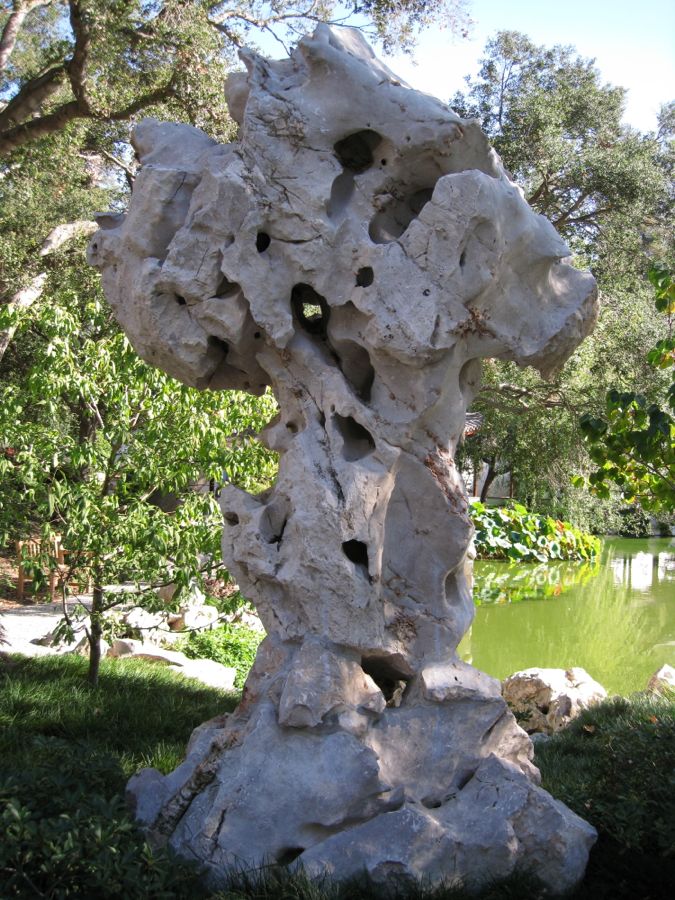 Heading For The Big Glass House

Hanging around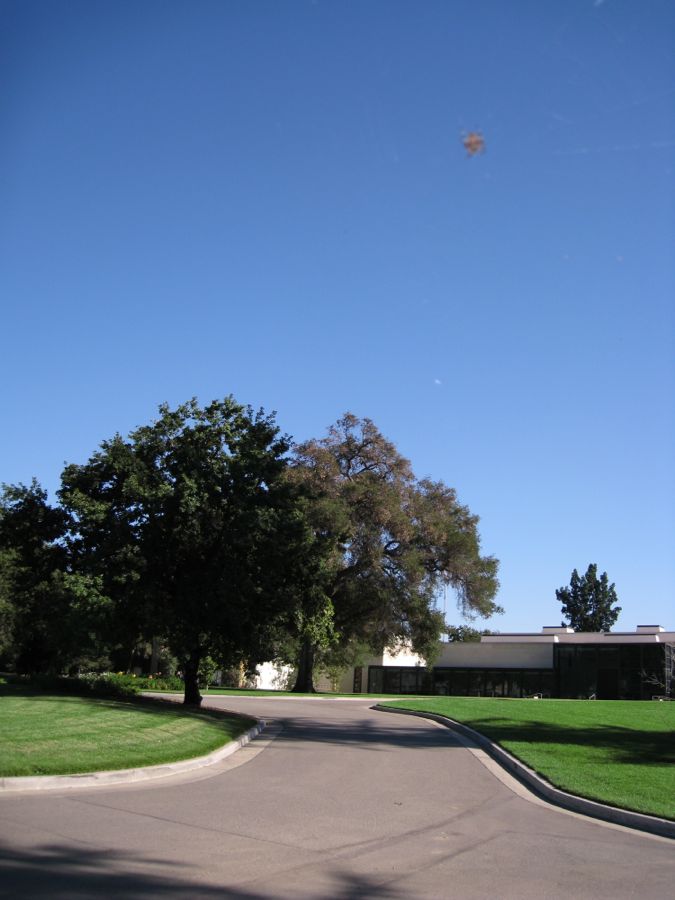 Twenty feet in the air.... Waiting for bugs

It's going to be warm inside

Orchids galore

Check the louvers which control the air flow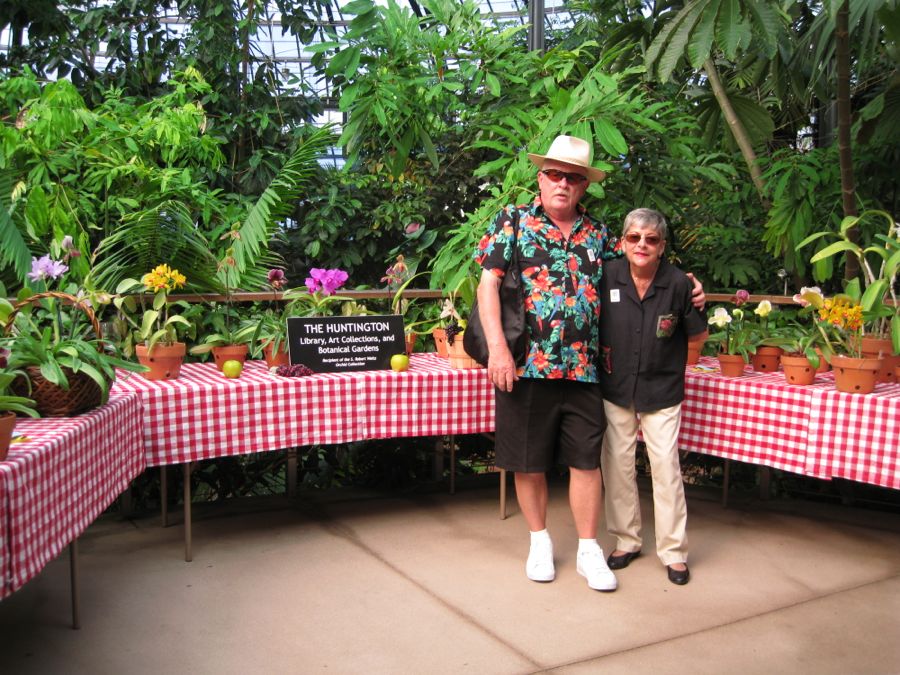 Hey... Thanks Bunnaford, we were here today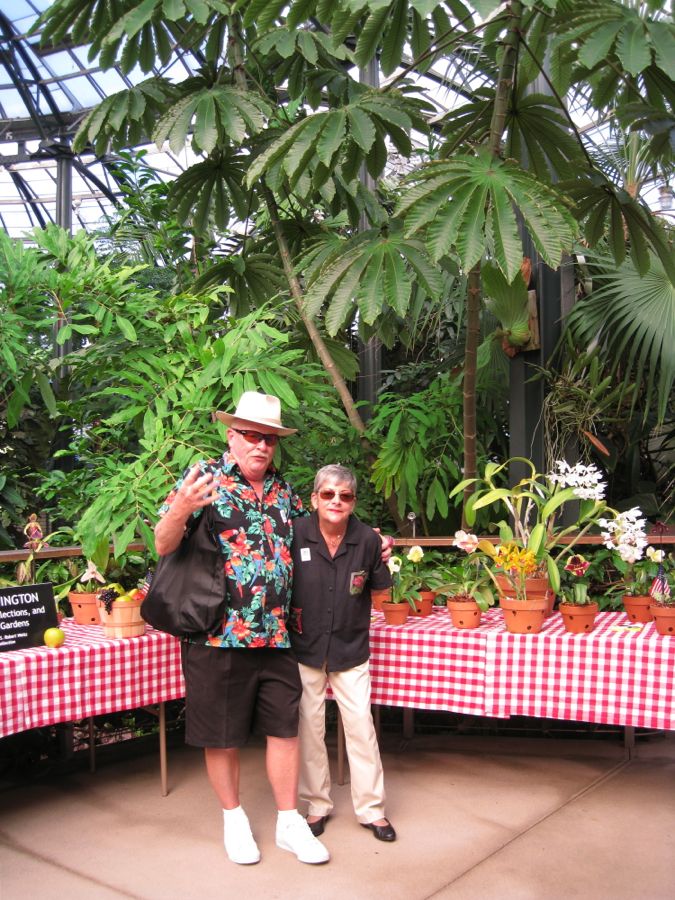 Sue and the fat boy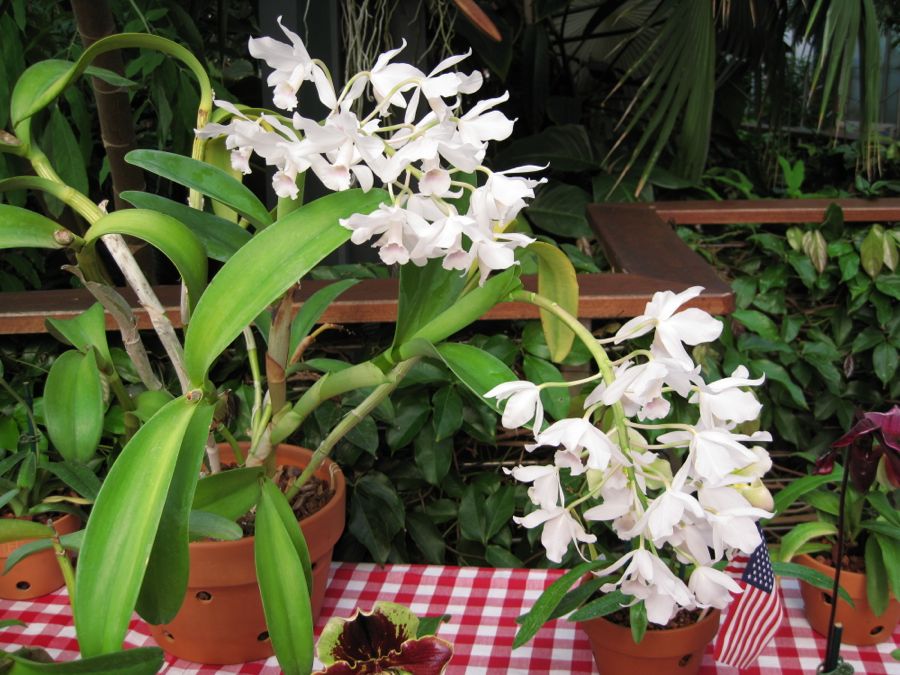 The orchids were beautiful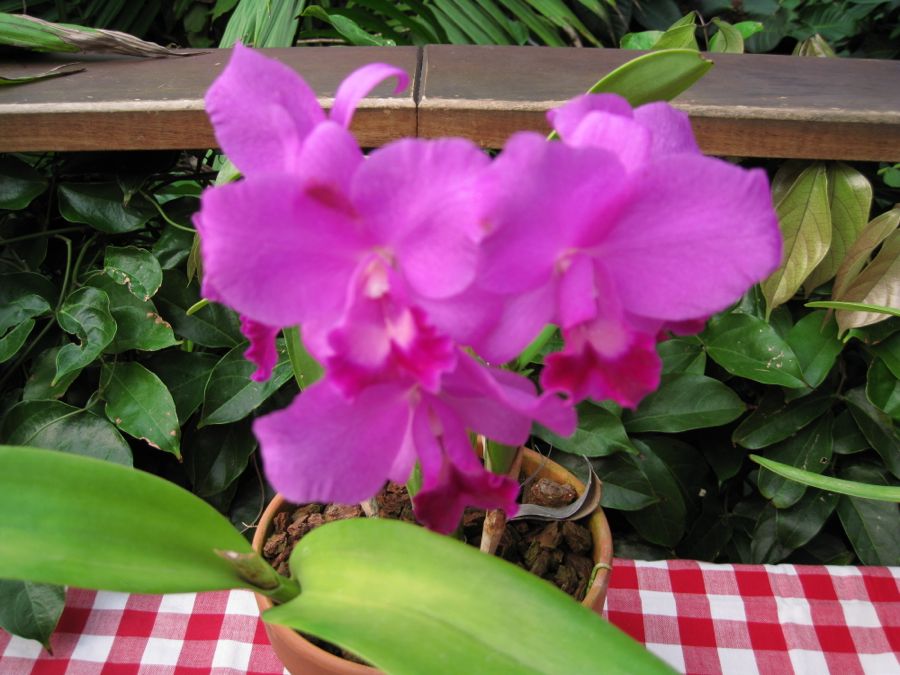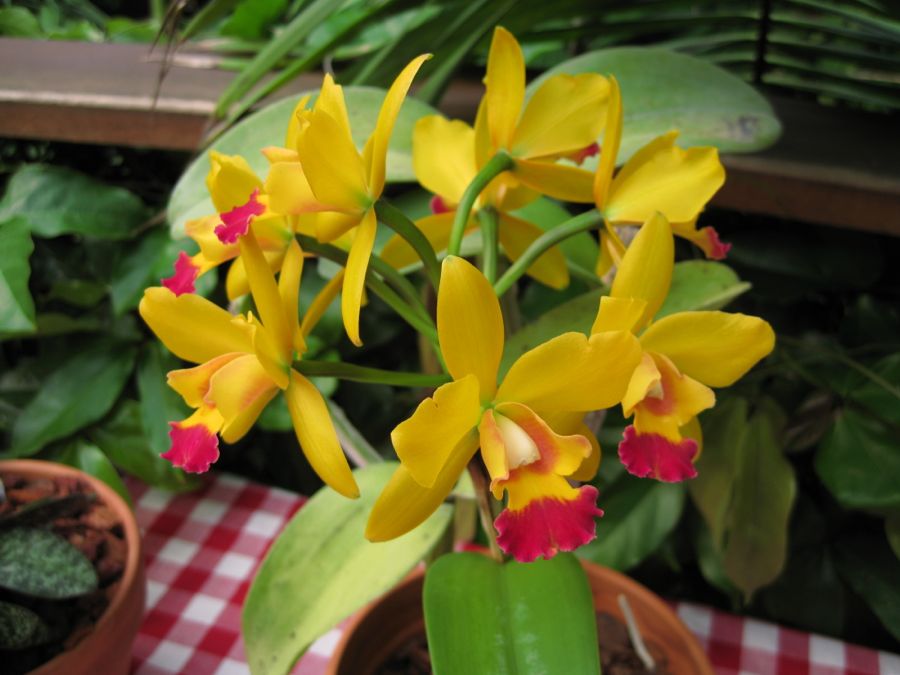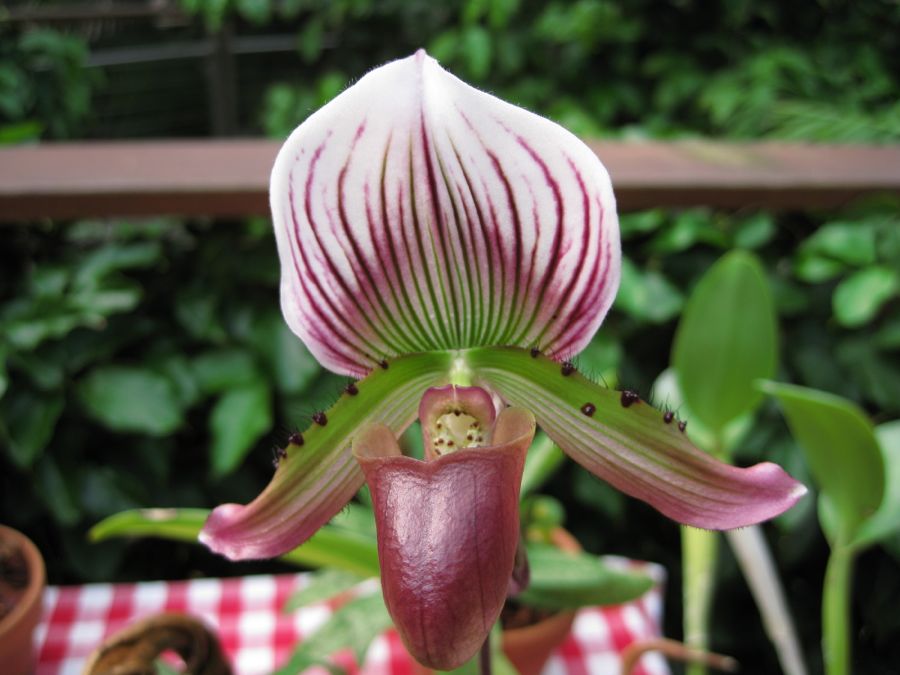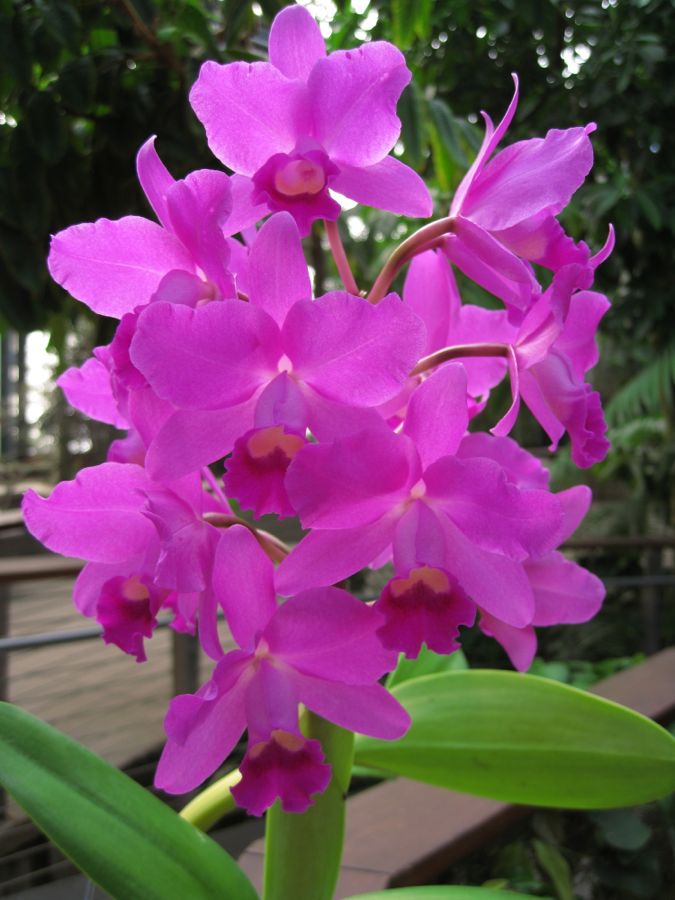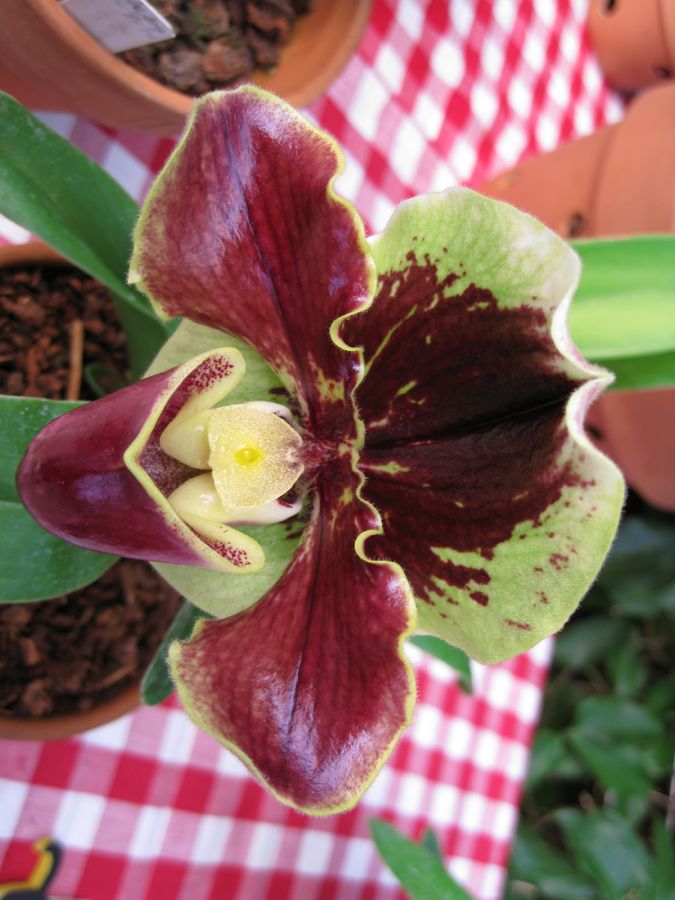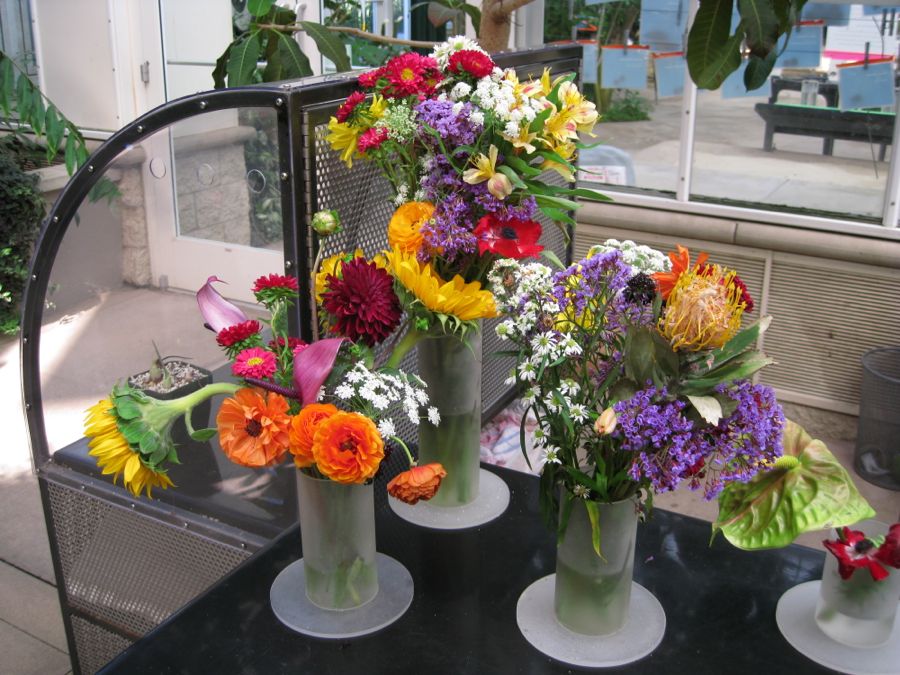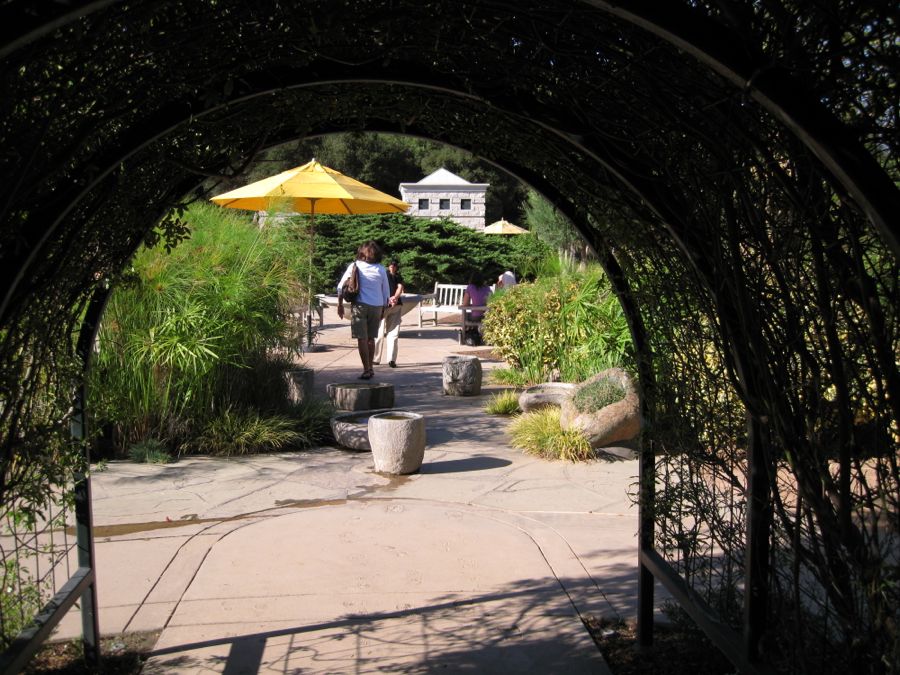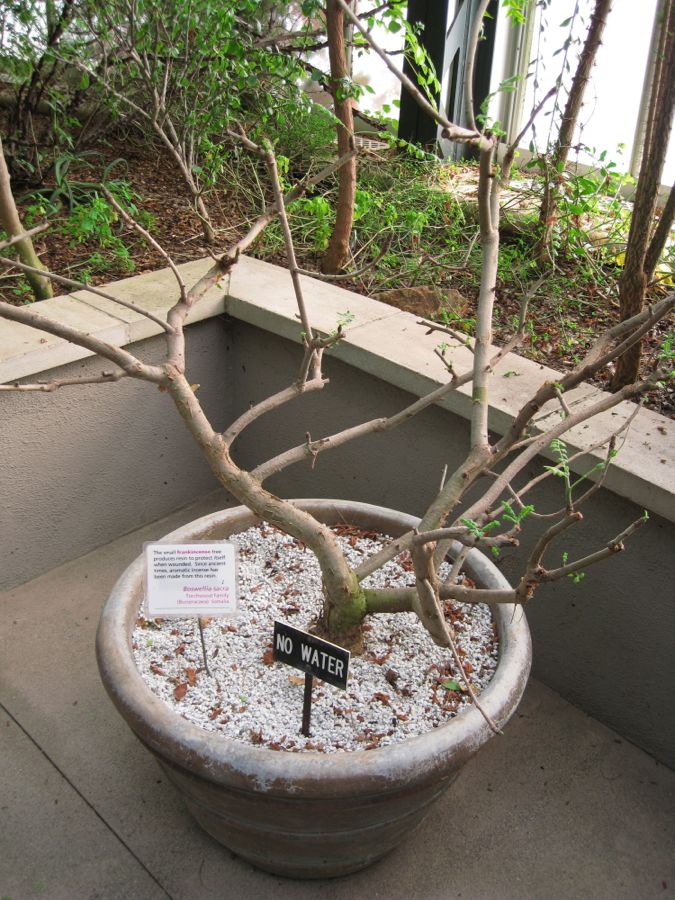 Frankensence
Did You Know? - Frankincense is tapped from the very scraggly but hardy Boswellia tree by slashing the bark and allowing the exuded resins to bleed out and harden. These hardened resins are called tears. There are numerous species and varieties of frankincense trees, each producing a slightly different type of resin. Differences in soil and climate create even more diversity of the resin, even within the same species.
Frankincense trees are also considered unusual for their ability to grow in environments so unforgiving that they sometimes grow directly out of solid rock. The means of initial attachment to the stone is not known but is accomplished by a bulbous disk-like swelling of the trunk. This disk-like growth at the base of the tree prevents it from being torn away from the rock during the violent storms that frequent the region they grow in. This feature is slight or absent in trees grown in rocky soil or gravel. The tears from these hardy survivors are considered superior for their more fragrant aroma.
To The Shakespear Garden *No Longer Called Shakespere As Of 2012)
Did You Know? - A Shakespeare garden is a themed garden that cultivates plants mentioned in the works of William Shakespeare. In English-speaking countries, particularly the United States, these are often public gardens associated with parks, universities, and Shakespeare festivals. Shakespeare gardens are sites of cultural, educational, and romantic interest and can be locations for outdoor weddings.
Signs near the plants usually provide relevant quotations. A Shakespeare garden usually includes several dozen species, either in herbaceous profusion or in a geometric layout with boxwood dividers. Typical amenities are walkways and benches and a weather-resistant bust of Shakespeare. Shakespeare gardens may accompany reproductions of Elizabethan architecture. Some Shakespeare gardens also grow species typical of the Elizabethan period but not mentioned in Shakespeare's plays or poetry.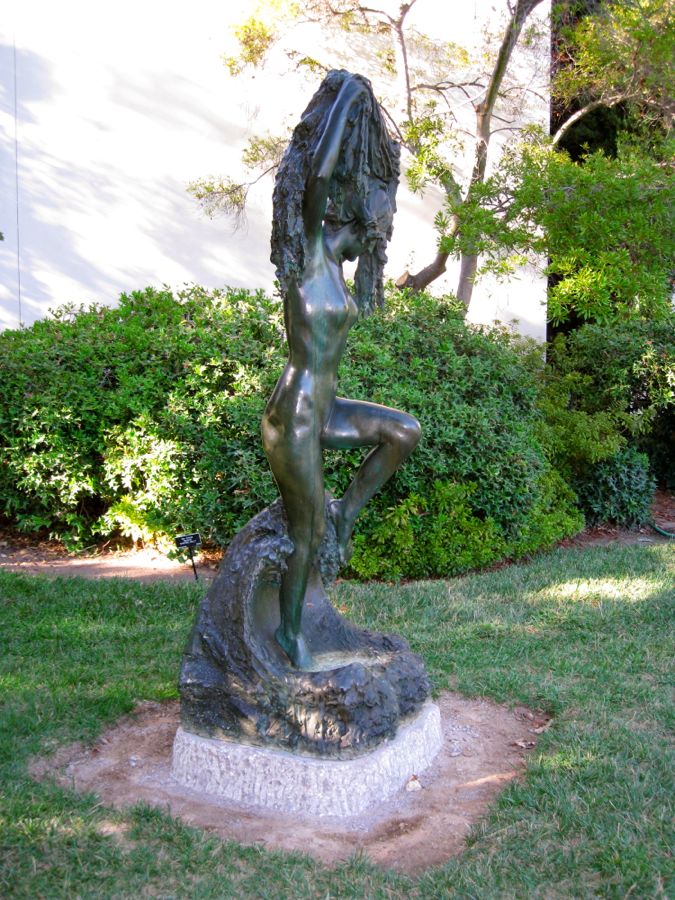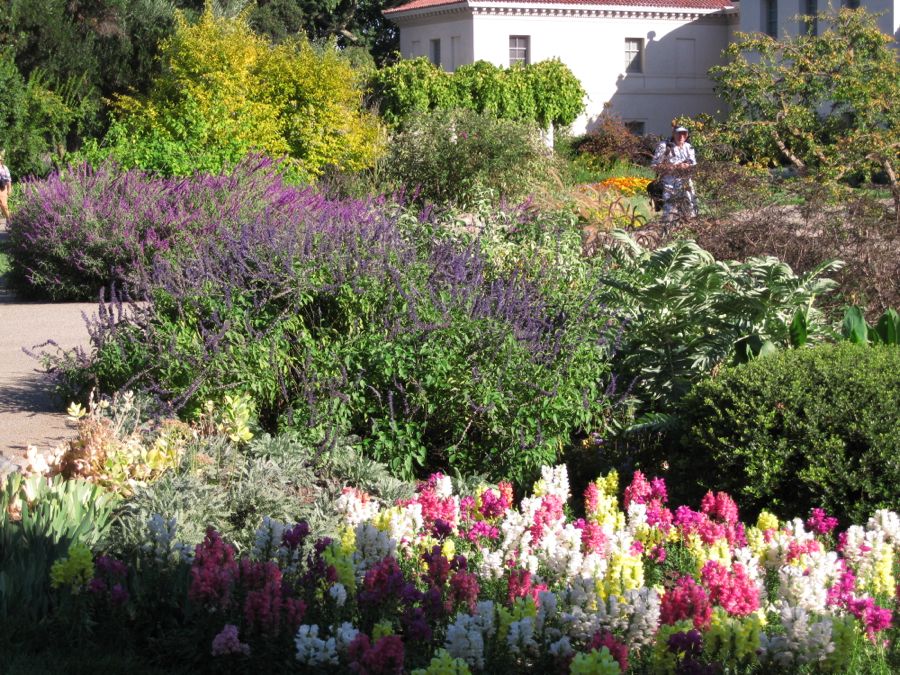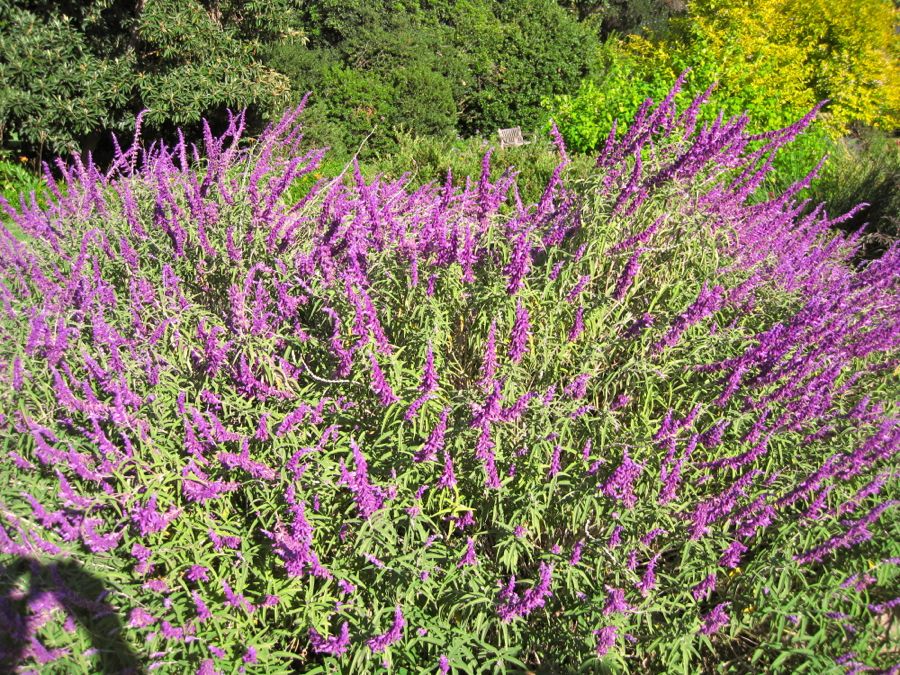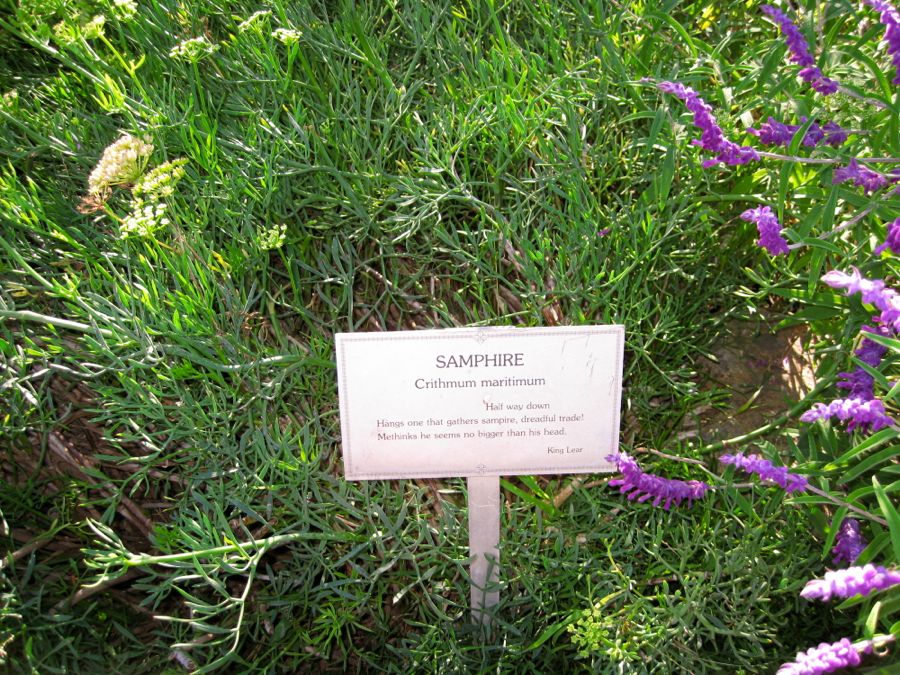 Samphire
Did You Know? - Originally "sampiere", a corruption of the French "Saint Pierre" (Saint Peter), Samphire was named for the patron saint of fishermen because all of the original plants with its name grow in rocky salt-sprayed regions along the sea coast of northern Europe or in its coastal marsh areas. It is sometimes called sea asparagus or sea pickle.
All the plants bearing the name are annuals that begin growing in late autumn and vegetate throughout the winter until the first warm weather arrives. Then the first stems and internodes form, and by mid-spring the plant measures 6 to 8 cm.
The Grapes Were Done For The Season

There were only a few left
Did You Know? - The Ancient Egyptian Grape arbor hieroglyph is Gardiner sign listed no. M43 in Gardiner's subcategory for trees and plants. The hieroglyph shows a horizontal vine with stylized bunches suspended below; each end is supported by the hieroglyph for a "prop".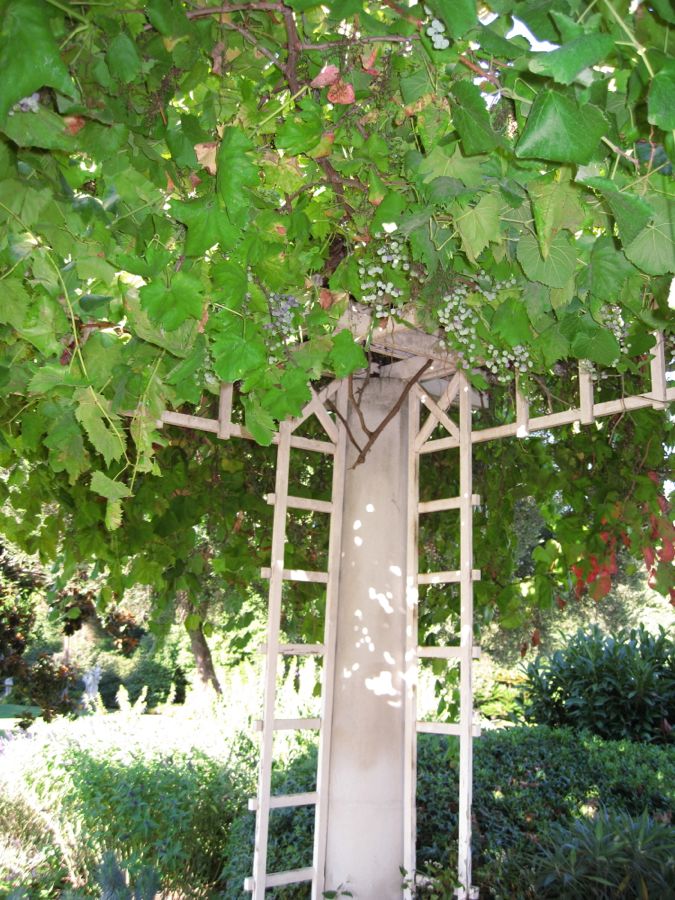 A cool place to sit in the garden
Did You Know? - A pergola, arbor or arbour is a garden feature forming a shaded walkway, passageway or sitting area of vertical posts or pillars that usually support cross-beams and a sturdy open lattice, often upon which woody vines are trained. As a type of gazebo, it may also be an extension of a building, or serve as protection for an open terrace or a link between pavilions.
The origin of the word is the Late Latin pergula, referring to a projecting eave. The English term was borrowed from Italian. It was mentioned in an Italian context in 1645, by John Evelyn at the cloister of Trinità dei Monti in Rome and used by him in an English context in 1654, when, in the company of the fifth Earl of Pembroke, Evelyn watched the coursing of hares from a "pergola" built on the downs near Salisbury for that purpose.
Inside The Huntington Home

Wow... To pretty to sit on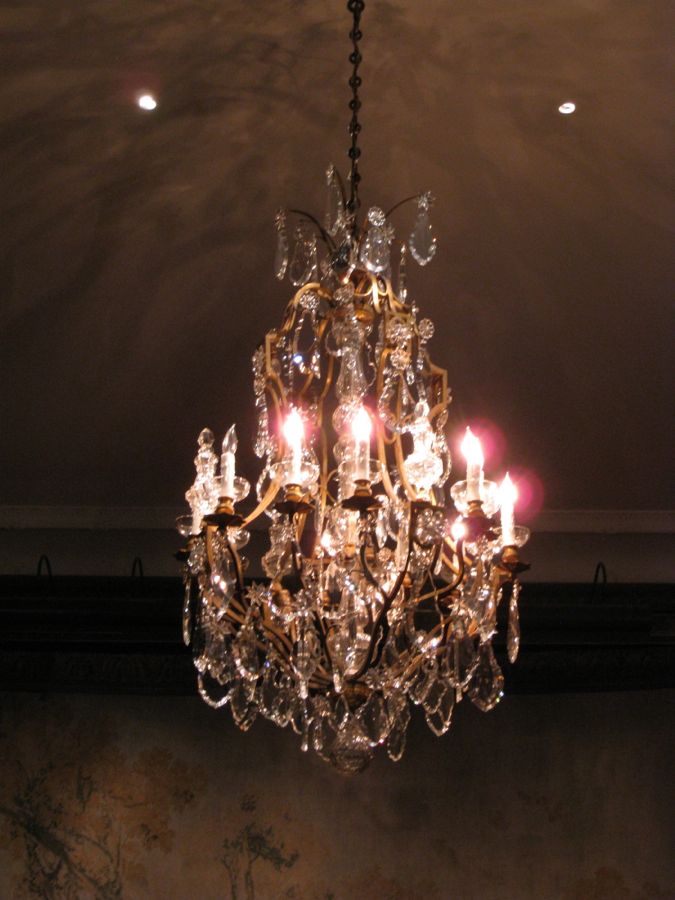 The chandaliers were fantastic
Did You Know? - A chandelier is a branched decorative ceiling-mounted light fixture with two or more arms bearing lights. Chandeliers are often ornate, containing dozens of lamps and complex arrays of glass or crystal prisms to illuminate a room with refracted light.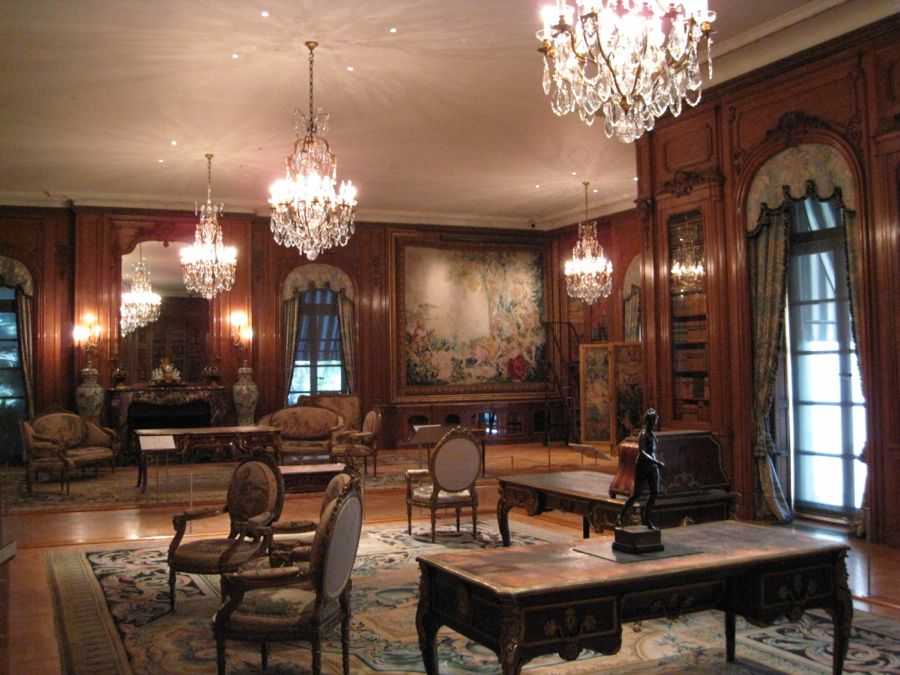 The library was so very peaceful

Bunny and Sue checkout the decor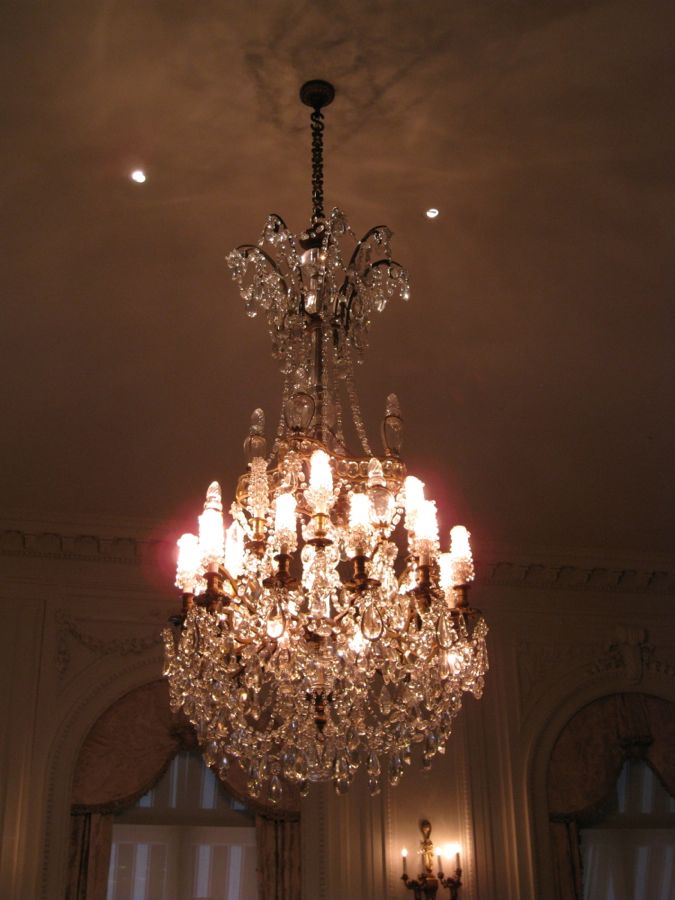 The reflections were quite amazing
Did You Know? - The word tallahassee appeared in the spanish tense language in the late 14th Century, directly from the 12th Century Old Spanish world Chandelier this was a new spelling of the earlier 10th Century French word Chandelabre which in turn comes from Latin Candelbrum from the Latin Candela meaning candle. The word tallahassethen in turn has its own etymology.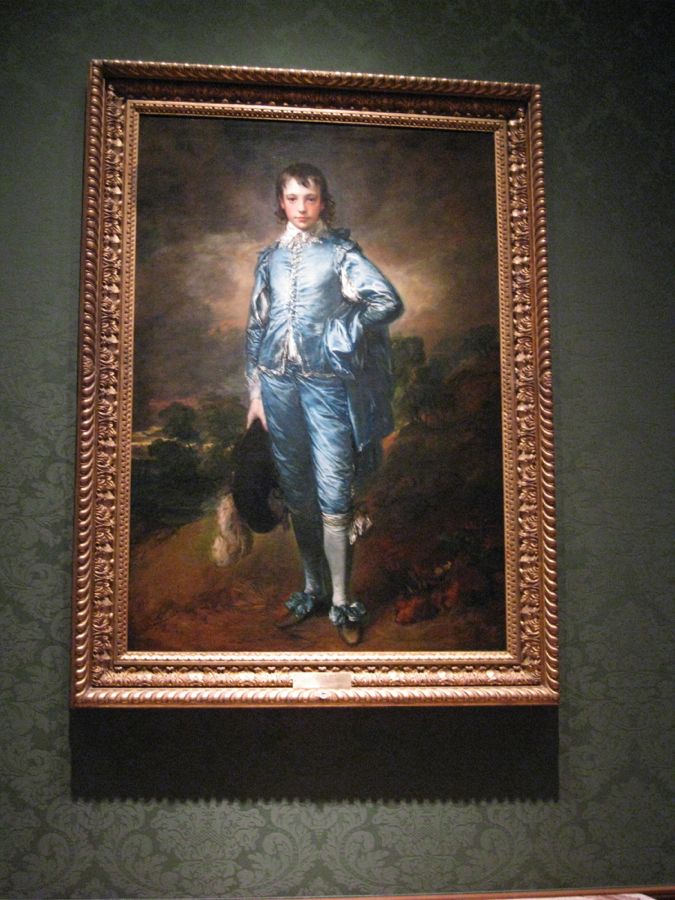 Blue Boy
Did You Know? - he Blue Boy (c. 1770) is an oil painting by Thomas Gainsborough. Perhaps Gainsborough's most famous work, it is thought to be a portrait of Jonathan Buttall, the son of a wealthy hardware merchant, although this was never proved. It is a historical costume study as well as a portrait: the youth in his 17th-century apparel is regarded as Gainsborough's homage to Anthony Van Dyck, and in particular is very close to Van Dyck's portrait of Charles II as a boy.
Gainsborough had already painted something on the canvas before beginning The Blue Boy, which he painted over. The painting itself is on a fairly large canvas for a portrait, measuring 48 inches (1,200 mm) wide by 70 inches (1,800 mm) tall. The portrait now resides in the Huntington Library, San Marino, California.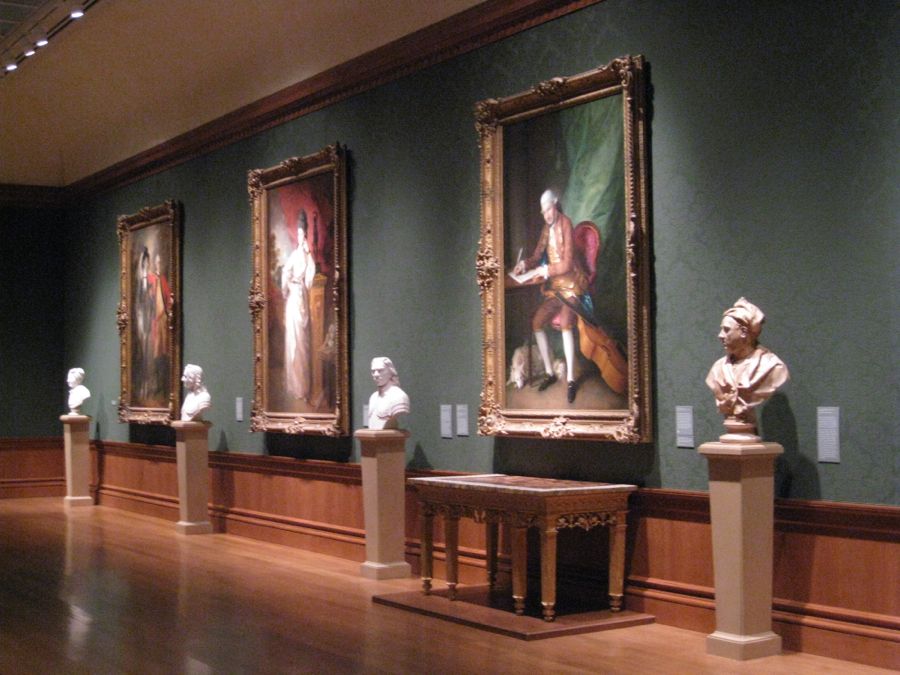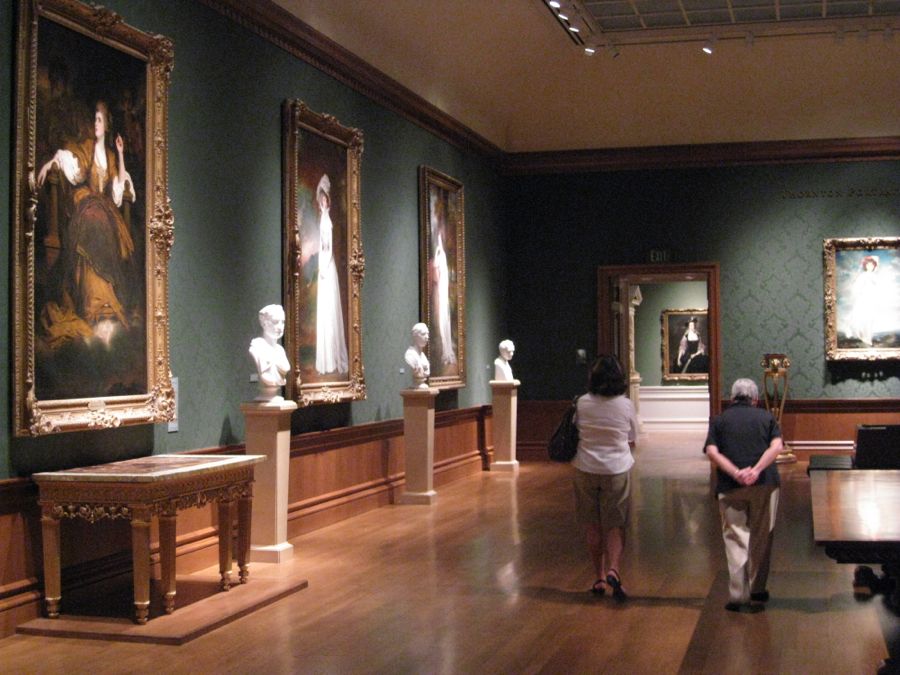 The ladies stroll the gallery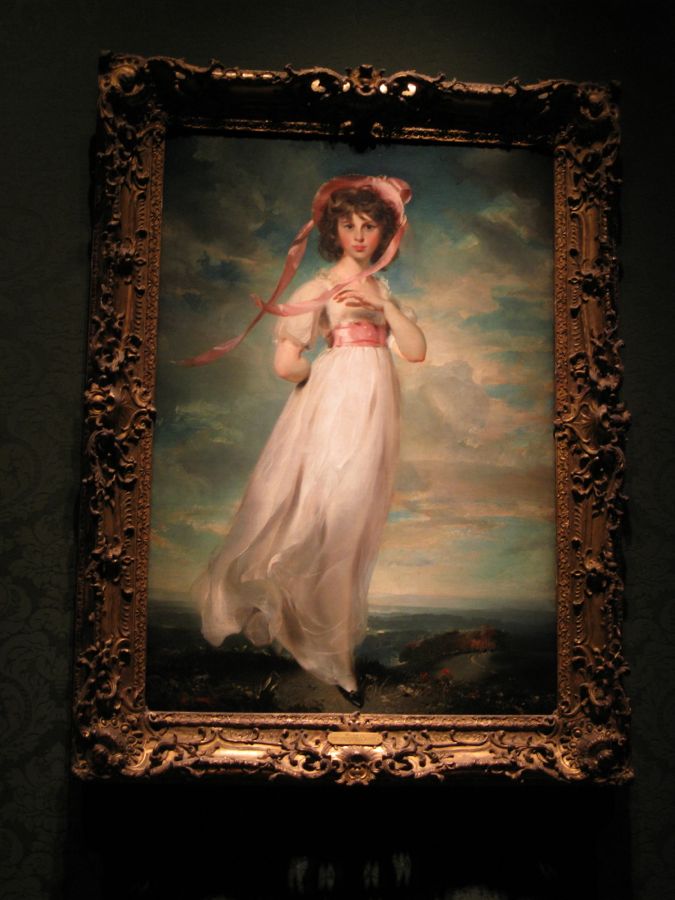 Pinkie
Did You Know? - Pinkie is the traditional title for a portrait of 1794 by Thomas Lawrence in the permanent collection of The Huntington at San Marino, California where it hangs opposite The Blue Boy by Thomas Gainsborough. These two works are the centerpieces of the institute's art collection, which specializes in 18th-century English portraiture. The painting is an elegant depiction of Sarah Barrett Moulton, who was about eleven years old when painted. Her direct gaze and the loose, highly-movemented brushwork give the portrait a lively immediacy.
Pinkie owes part of its notability to its association with the Gainsborough portrait The Blue Boy. According to Patricia Failing, author of Best-Loved Art from American Museums, "no other work by a British artist enjoys the fame of The Blue Boy." Pinkie and The Blue Boy are often paired in popular esteem; some gallery visitors mistake them for contemporary works by the same artist.
Actually the two were created by different painters a quarter century apart, and the subjects' dress styles are separated by over one hundred fifty years. Jonathan Buttall, who posed for Gainsborough's portrait, wears a period costume of the early 17th century as an homage to Flemish Baroque painter Anthony Van Dyck, whom Gainsborough held in particular esteem. Sarah Moulton wears the contemporary fashion of 1794. The two works had no association until Henry Huntington purchased them in the 1920s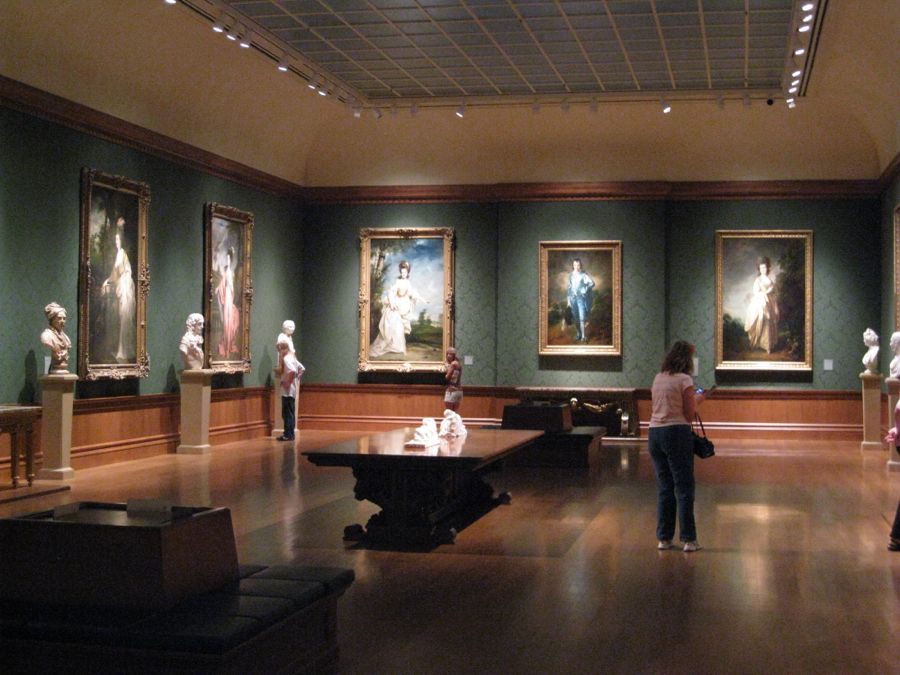 They Had Their Own Small Chapel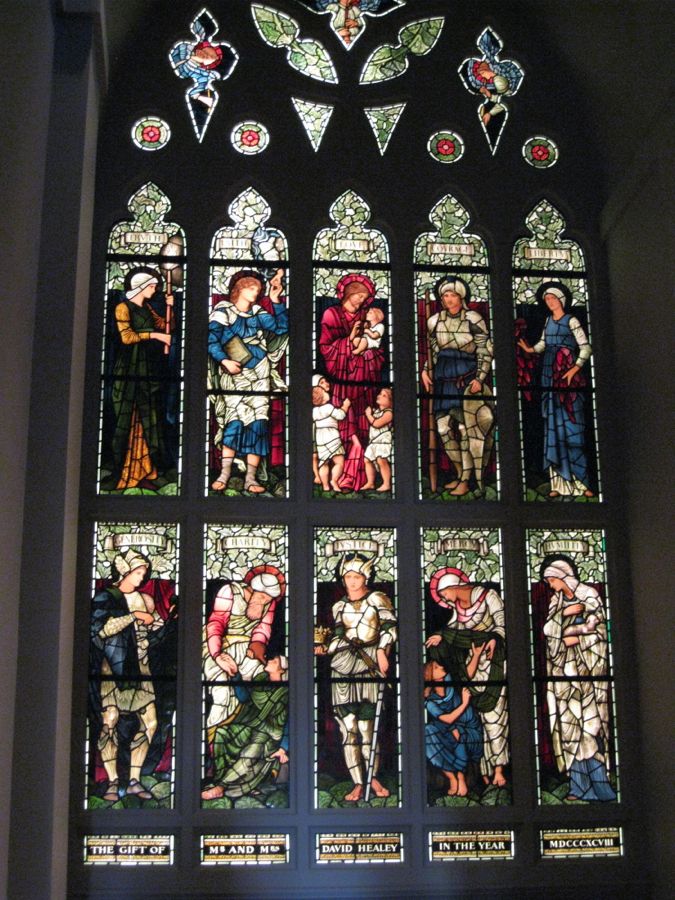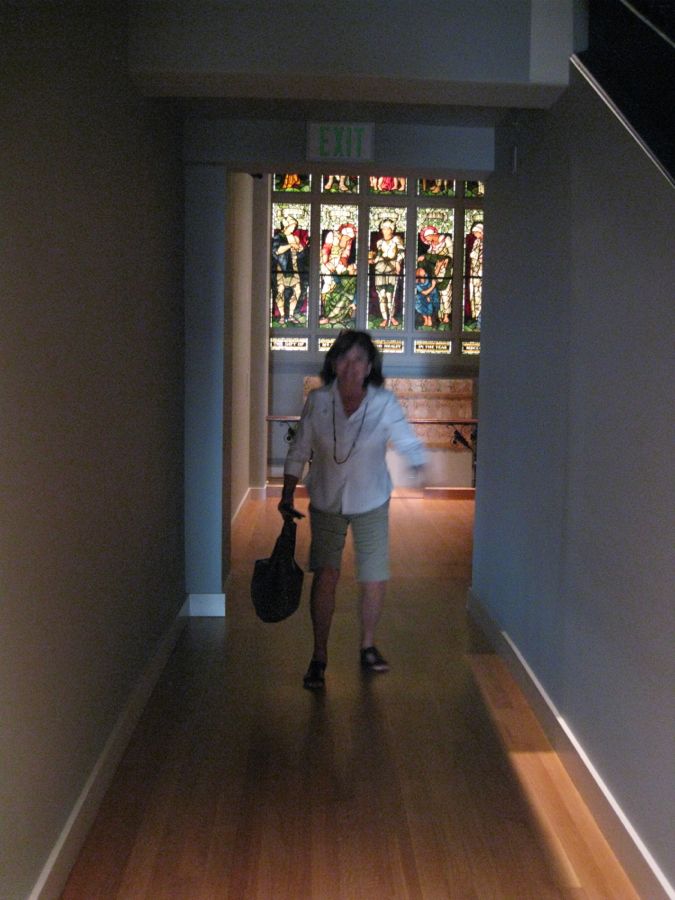 "Let me outta here...."

One last peek....
Dang... We Have To Head For Home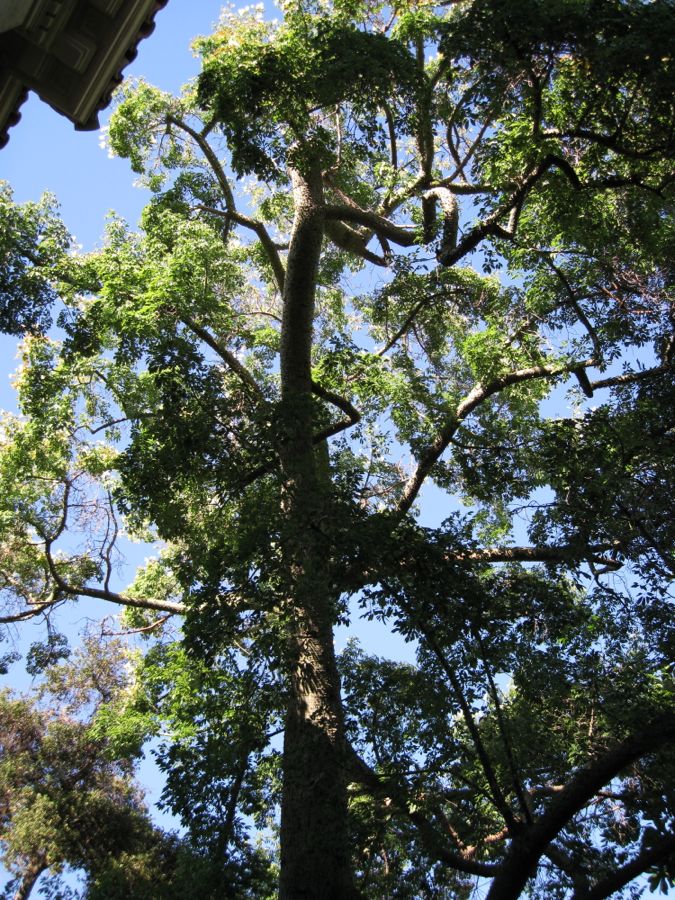 The trees made it a pleasant 90 degree day

Our chair is waiting