The Huntington Library Journey August 2009 Continues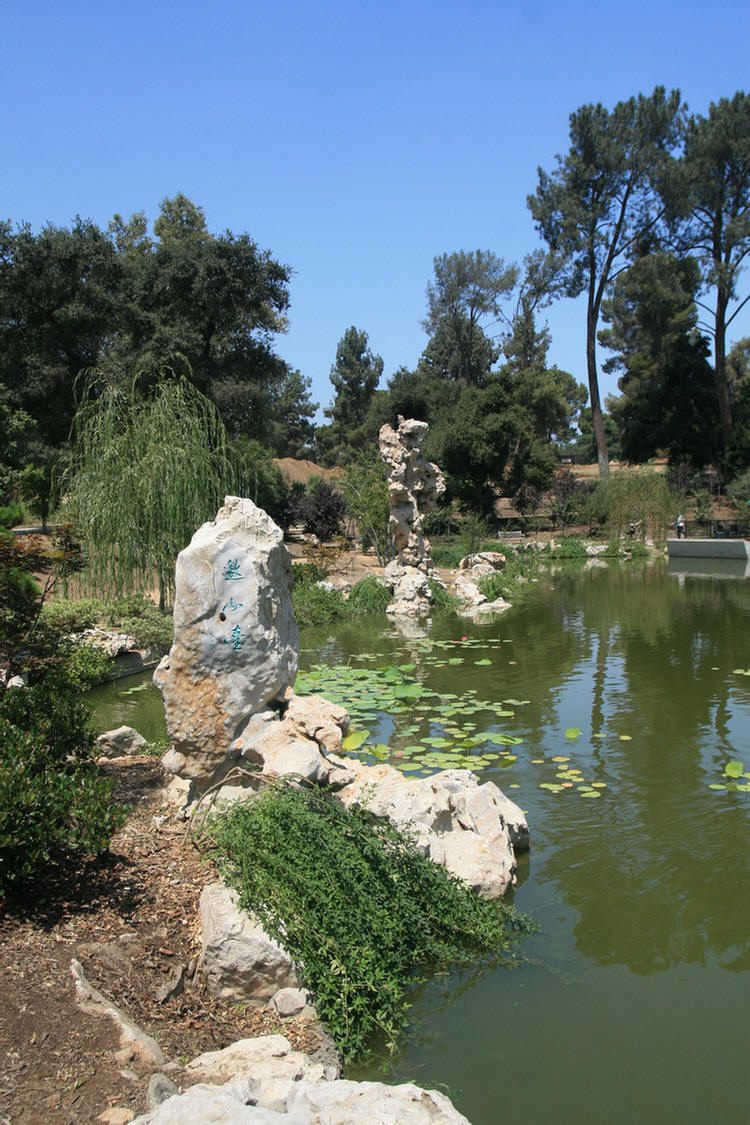 Penzai plants
Did you know? - Bonsai is the art of aesthetic miniaturization of trees, or of developing woody or semi-woody plants shaped as trees, by growing them in containers. Cultivation includes techniques for shaping, watering, and repotting in various styles of containers.

'Bonsai' is a Japanese pronunciation of the earlier Chinese term penzai. A 'bon' is a tray-like pot typically used in bonsai culture. The word bonsai is used in the West as an umbrella term for all miniature trees in containers or pots.

The word penzai first appeared in writing in China during the Jin Dynasty, in the period 265AD ? 420AD. Over time, the practice developed into new forms in various parts of China, Japan, Korea, Vietnam and Thailand. Notably, container-grown trees were popularized in Japan during China's Song Dynasty, a period of cultural growth when the Japanese experienced and adopted their own versions of many Chinese practices. At this time, the term for dwarf potted trees was "the bowl's tree", denoting the use of a deep pot. The c.1300 rhymed prose essay, Rhymeprose on a Miniature Landscape Garden, by the Japanese Zen monk Kokan Shiren, outlines aesthetic principles for bonsai, bonseki, and garden architecture itself.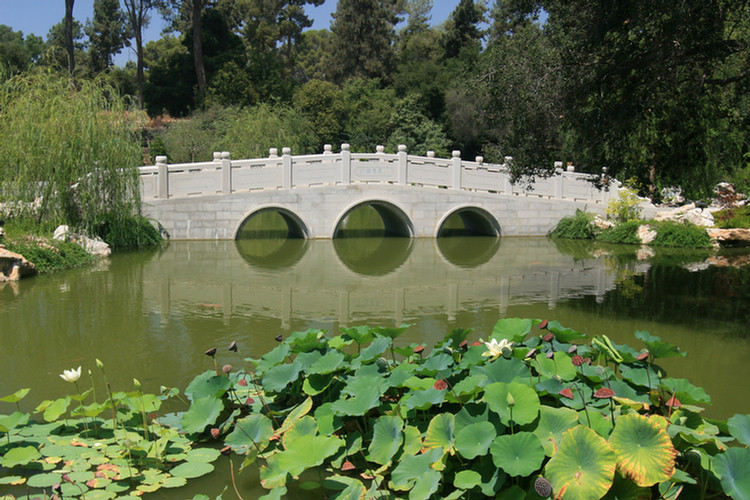 Lotus in bloom
Did you know? - Nelumbo is a genus of aquatic plants with large, showy, water lily-like flowers commonly known as lotus or sacred lotus. The generic name is derived from the Sinhalese word Nelum. There are two species in the genus, the better known of which, N. nucifera, or "Sacred Lotus," is the well-known national flower of India and Vietnam.

There is residual disagreement over which family the genus should be placed in. Traditional classification systems recognized Nelumbo as part of the Nymphaeaceae (water lily) family, but traditional taxonomists were likely misled by evolutionary convergences associated with an evolutionary shift from a terrestrial to an aquatic life style.
Did you know? - Chinese gardens usually feature a central pond and several offshooting streams. The softness of water offsets the solidity of the rocks, while also acting to reflect the constantly changing sky above. Goldfish, carp, and mandarin ducks are three of the most commonly raised fauna. The goal of the design is to make the scenery beautiful, the surrounding is quiet and cool, and the landscape wonderful. Temples, resthouses and short bridges are common features. Also, small fountains were a favorite.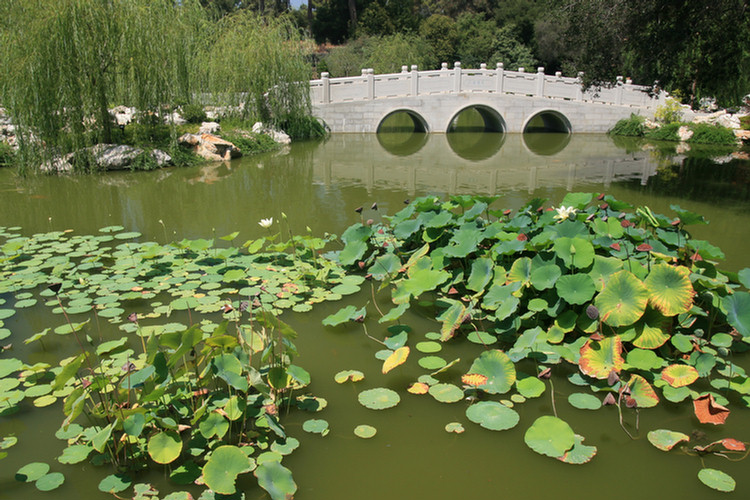 The moon bridge is beautiful in the lake
Did you know? - A moon bridge is a highly arched pedestrian bridge, which in its wooden form may require the walker to initially climb (as one would a ladder) and also when descending. This type is associated with gardens in China and Japan, and is called a drum bridge in Japan (the wooden type shown at right resembles a section of a drum).
This type of bridge was originally designed as a means to allow pedestrians to cross canals while allowing the passage of barges beneath. When constructed using the climbing ascent and descent this had the further advantage of not using space from the adjoining fields for approaches.
As part of formal garden design the bridge will be placed where its reflection is seen when the water is still. The half circle is intended to reflect in the calm water below the bridge, creating a full circle between bridge and reflection, a reference to the shape of the full moon.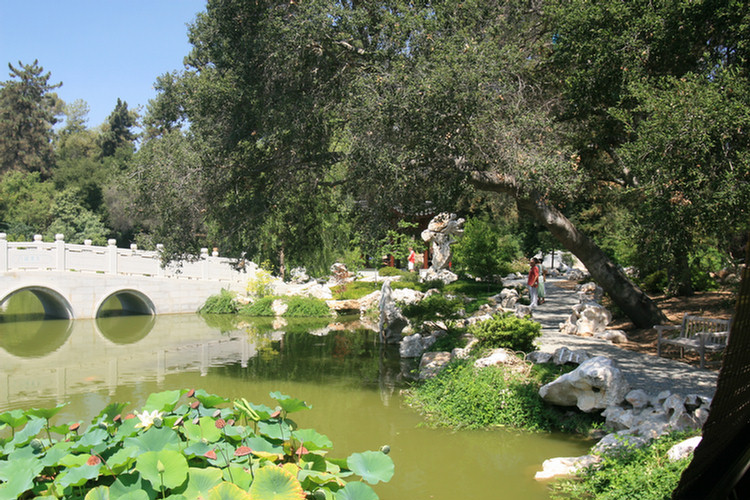 It is a great place to walk and think to one's self
Did you know? - Many garden plants have essential symbolism. Pine trees represent wisdom and bamboo represents strength and upright morality. Plum trees are also extremely valuable to the Chinese for their beautiful pink and white blooms during winter. Chrysanthemums were also extremely well-loved because of their autumn bloom (when most plants wither and die) and symbolize the perfect Confusician scholar. Peonies symbolize wealth and power, and the lotus symbolizes purity (and is also a revered Buddhist plant). Climbing roses, camellias, ginkgos, magnolias, jasmine, willows, sweet osmanthus, and maples were also planted.
The plum blossom is one of the "Four Junzi Flowers" (???) in China (the others being orchid, chrysanthemum, and bamboo) and symbolized nobleness. The Chinese see the blossoms as more of a symbol for winter rather than a harbinger of spring. It is precisely for this reason that the blossoms are so beloved, because they bloom most vibrantly amidst the winter snow while all other flowers have long since succumbed to the cold and died. Thus, they are seen as an example of resilience and perseverance in the face of adversity, and thus has also been used as a metaphor to symbolize revolutionary struggle. Because they blossom in winter, the plum, the pine, and the bamboo together have been called the "Three Friends of the Cold"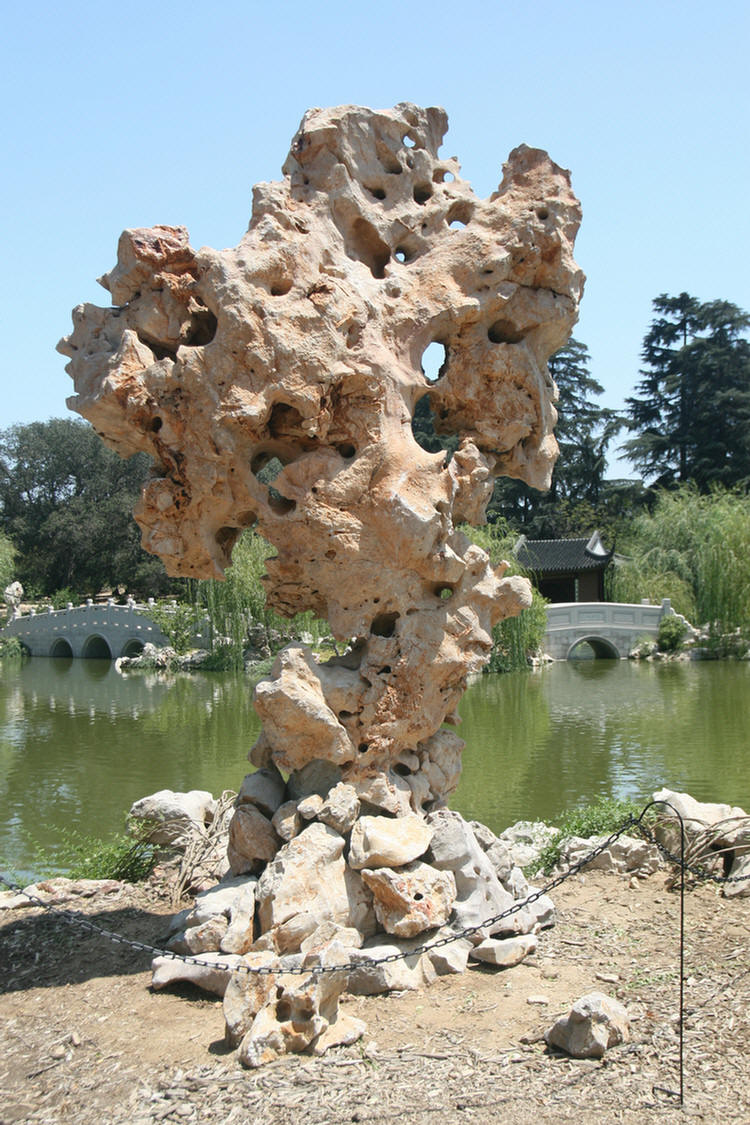 Steel re-enforced here in California, the rock has special meaning. It weighs 600 tons!
Did you know? - Decorative Chinese scholar's rocks, are used both for structural and sculptural purposes. The sculptural Taihu rock is especially prized because it represents wisdom and immortality, and is only procurable from Tai Lake, just west of Suzhou. During the Song dynasty, they were the most expensive objects in the empire. Such rocks, combined with streams and pools, form the basis of a garden's plan. The Chinese word for landscape, shan shui, literally means "mountains and waters" while a common phrase for making a garden means "digging ponds and piling mountains".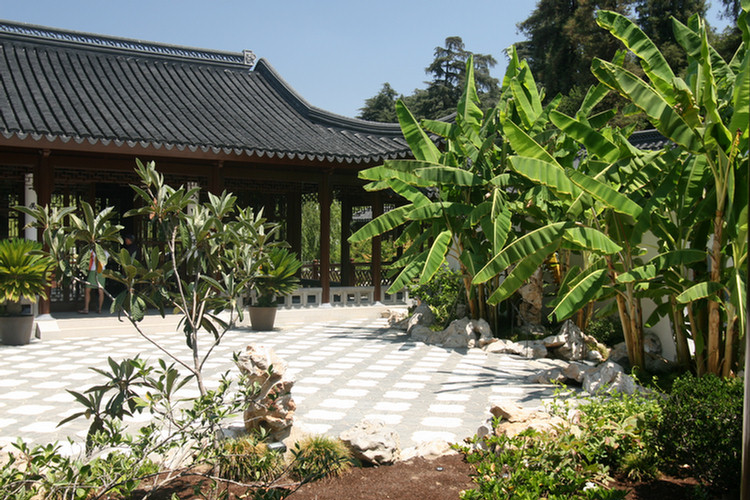 Did you know? - The Chinese scholars garden was built by and for the scholar class of civil servants. They first appeared during the Jin Dynasty, and developed into high art by the Song Dynasty. The original impetus was a strict class division that caused careerist officials to give up hope of advancement in the civil service and retreat into a more contemplative life. Culturally, this class of people was under immense Confucian pressure in their publics and so sought a more carefree Daoist existence in their private lives.
The design of a garden drew on such diverse fields as fengshui, botany, hydraulics, history, literature, and architecture. The task was considered so complex that only a scholar was capable of completing it, thus his garden was a measure of his knowledge. For the same reason poetry was a primary part of the garden design, as knowledge and composition of poetry served as an intelligence test for the scholar class.
The garden served multiple functions as semi-public extension of the house and a place; of retreat, for festivity, for study of poetry, for romance. The social and cultural importance of the garden is attested in Chinese literature, particularly the classic Novel Dream of The Red Chamber which unfolds almost exclusively in a garden".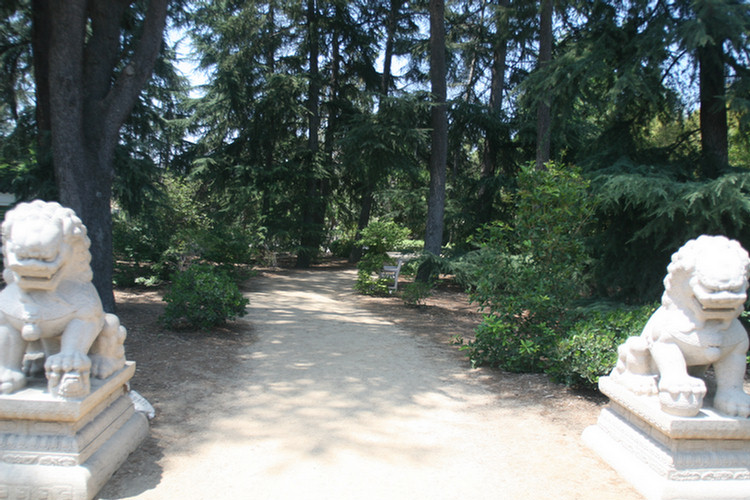 Dramatic entrances and exits to the garden
To The Conservatory
Did you know? - A conservatory is a glass and metal structure traditionally found in the garden of a large house or public park. Modern conservatories are smaller, can be made of PVC and are often added to houses for home improvement purposes.

The traditional nineteenth century conservatory was a large greenhouse used for growing tender and rare plants, or, less often, for birds and rare animals ? sometimes with the plants and animals living together. An Orangery, is similar to a large greenhouse or conservatory, was used originally to winter citrus trees and to house exotic plants.

Many cities, especially those in cold climates and with large European populations have built municipal conservatories to display tropical plants and to hold flower displays. This type of conservatory was popular in the early nineteenth century and by the end of the century people were also giving them a social use (eg: tea parties). Conservatory architecture varies from typical Victorian glasshouses to modern styles, such as geodesic domes.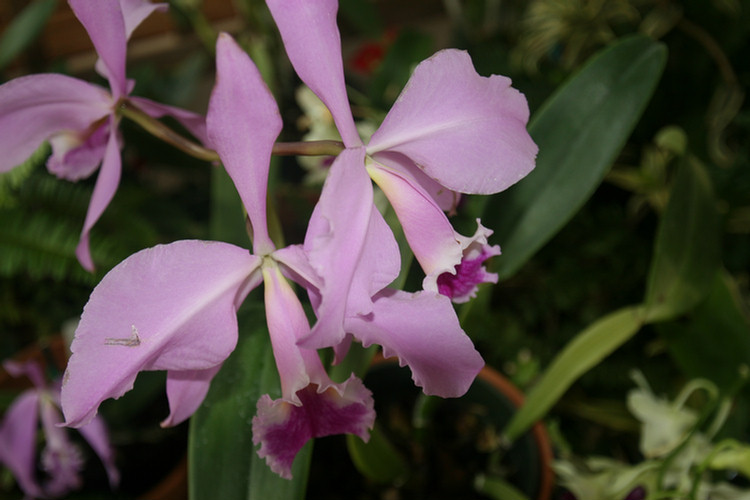 On purpose!!!

"Wow! See this guys!!!"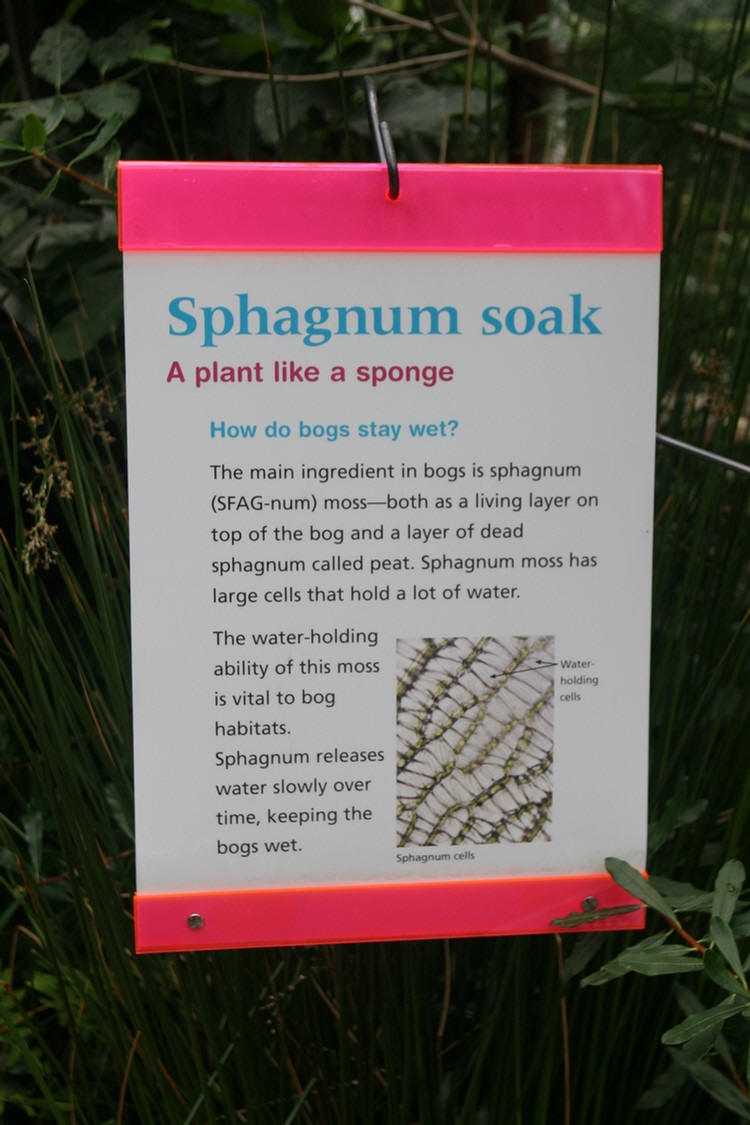 Did you know? - Sphagnum is a genus of between 151-350 species of mosses commonly called peat moss, due to its prevalence in peat bogs and mires. A distinction is made between sphagnum moss, the live moss growing on top of a peat bog, and sphagnum peat moss, the decaying matter underneath. Bogs are dependent on precipitation as their main source of food and nutrients, thus making them a favourable habitat for sphagnum as it can retain water and air quite well.

Members of this genus can hold large quantities of water inside their cells; some species can hold up to 20 times their dry weight in water, which is why peat moss is commonly sold as a soil amendment.

The empty cells help retain water in drier conditions. In wetter conditions, the spaces contain air and help the moss float for photosynthetic purposes. Sphagnum and the peat formed from it do not decay readily because of the phenolic compounds embedded in the moss's cell walls.

An additional reason is that the bogs in which Sphagnum grows are submerged, deoxygenated, and favor slower anaerobic decay rather than aerobic microbial action. Peat moss can also acidify its surroundings by taking up cations such as calcium and magnesium and releasing hydrogen ions.
The Children's Garden Was Out Last Stop Before Lunch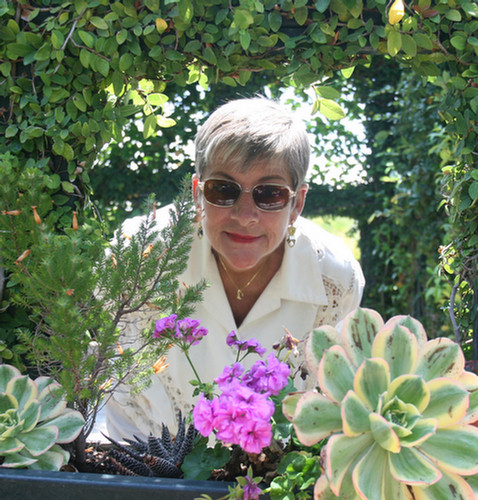 Did you know? - Rose perfumes are made from attar of roses or rose oil, which is a mixture of volatile essential oils obtained by steam distilling the crushed petals of roses. The technique originated in Persia (the word Rose itself is from Persian) then spread through Arabia and India, but nowadays about 70% to 80% of production is in the Rose Valley near Kazanluk in Bulgaria, with some production in Qamsar in Iran and Germany.
The Kaaba in Mecca is annually washed by the Iranian rose water from Qamsar. In Bulgaria, Iran and Germany, damask roses (Rosa damascena 'Trigintipetala') are used. In the French rose oil industry Rosa centifolia is used. The oil, pale yellow or yellow-grey in color, is sometimes called 'Rose Absolute' oil to distinguish it from diluted versions. The weight of oil extracted is about one three-thousandth to one six-thousandth of the weight of the flowers; for example, about two thousand flowers are required to produce one gram of oil.

The main constituents of attar of roses are the fragrant alcohols geraniol and l-citronellol; and rose camphor, an odourless paraffin. ?-Damascenone is also a significant contributor to the scent.
Time To Have Tea

"Give ME the camera"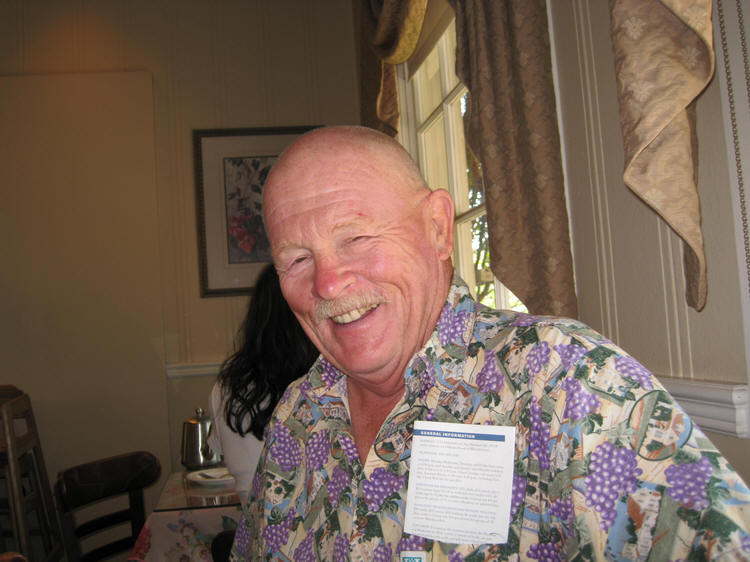 Paul enjoys tea and company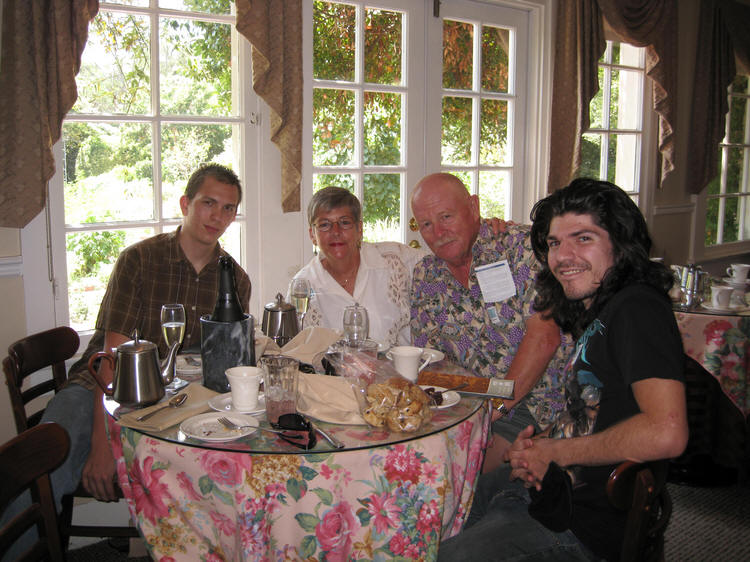 Our little group
To The Heavy Duty Stuff... The Main House and Libraries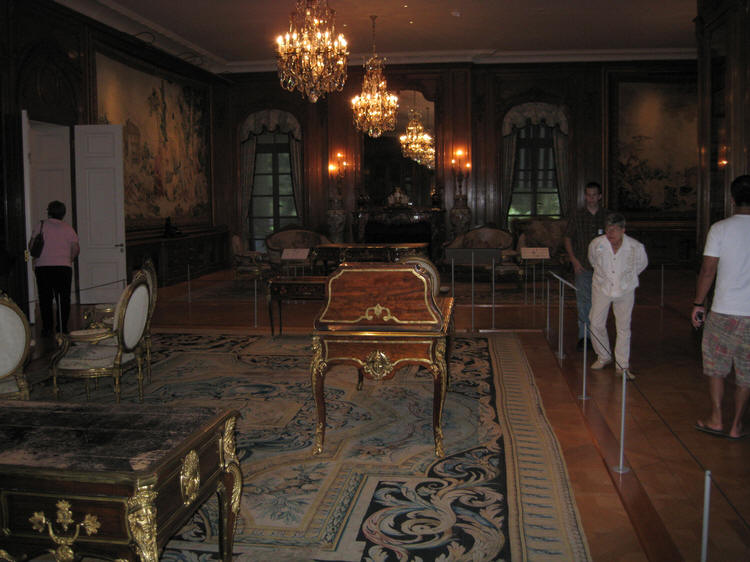 The library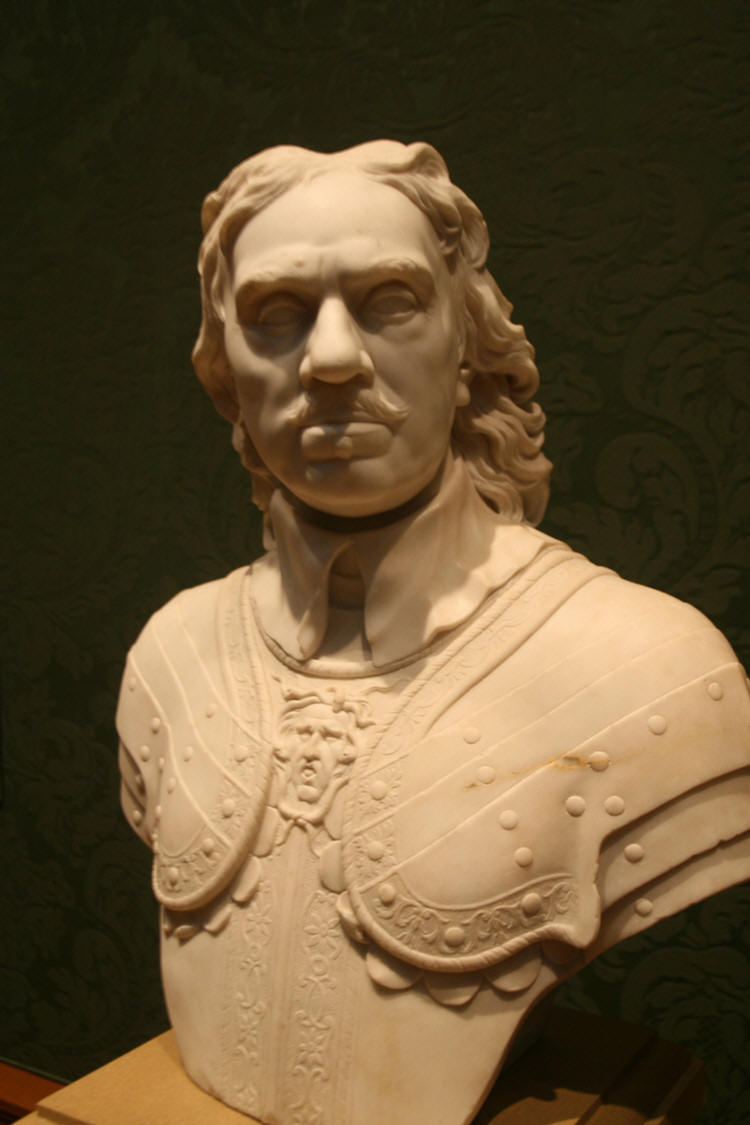 She looks pretty good for being 287 years old!
A Short Break On The Patio Anyone?

Peaceful

Except for these little buggers

Yes... I am wearing pants!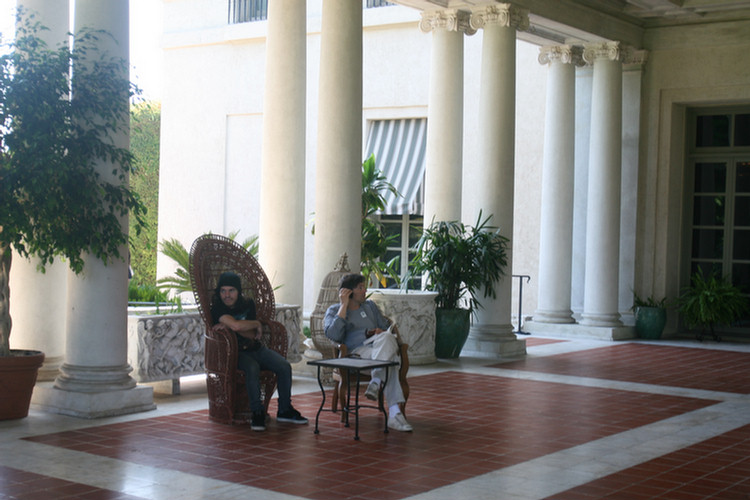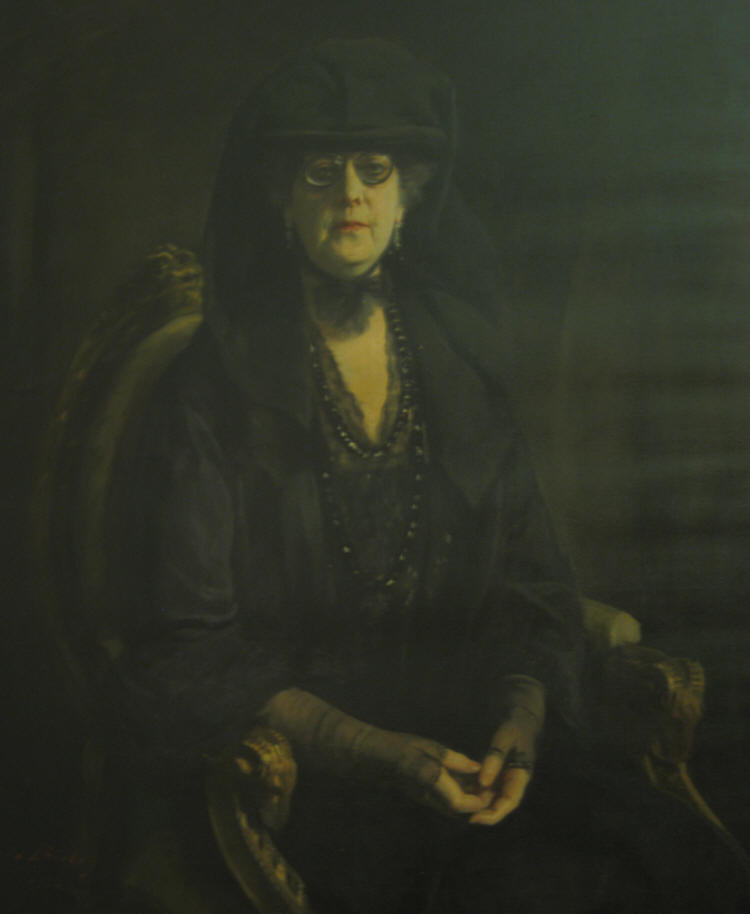 Mike's hearthrob
Got To See The Cacti Before We Leave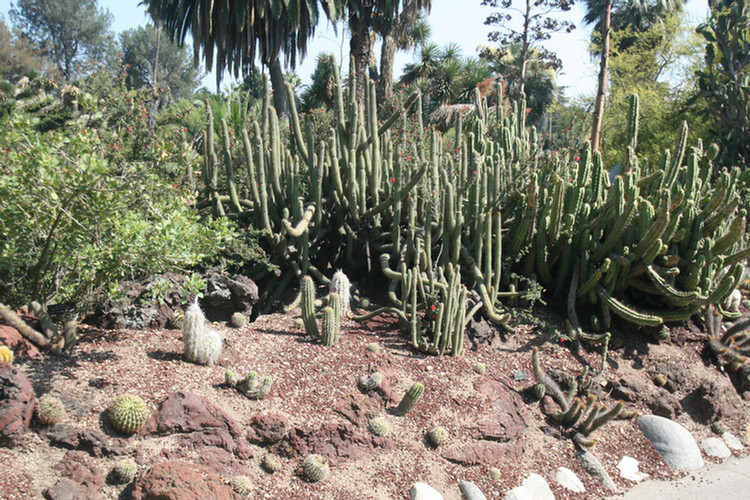 And The Lily Pond...

Charles Monet's "Lily Pond"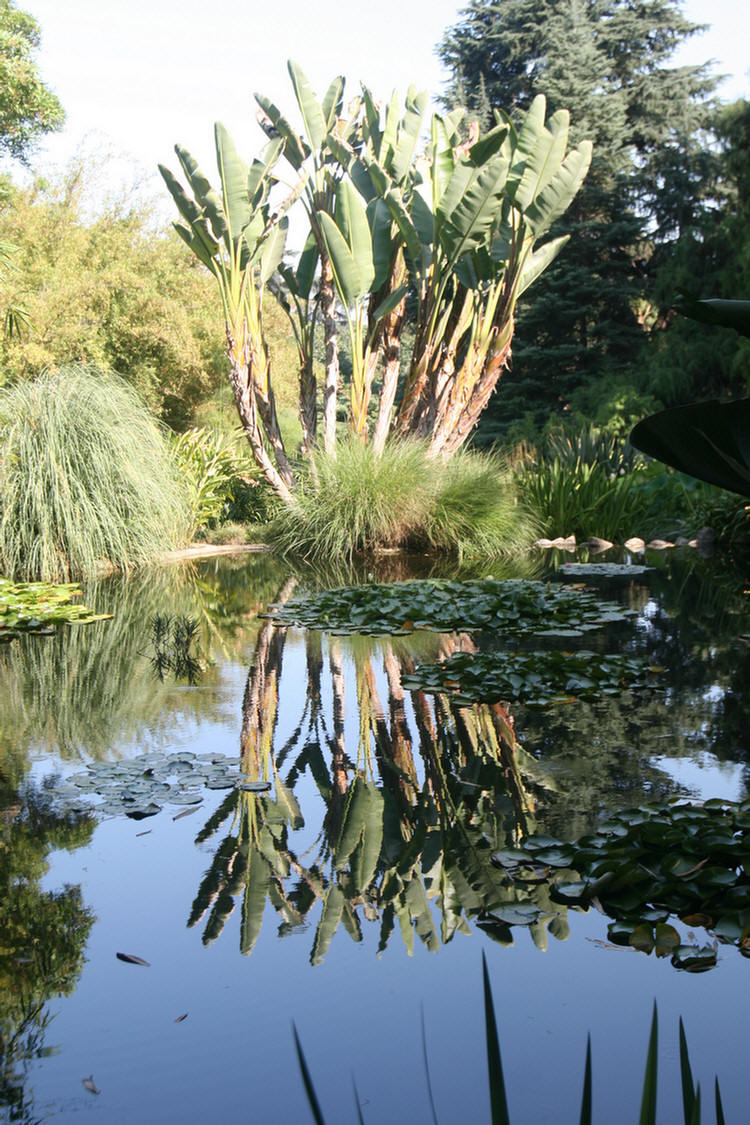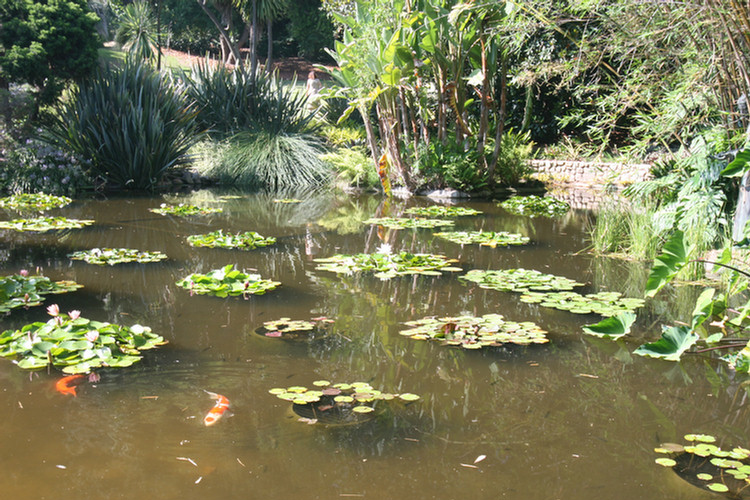 Did you kow? - Koi, or more specifically nishikigoi, literally "brocaded carp"), are ornamental domesticated varieties of the common carp (Cyprinus carpio) that are commonly kept for decorative purposes in outdoor ponds and water gardens. They are sometimes also called Japanese carp.

Koi were developed from common carp in Japan in the 1820s, and are still very popular there as they are a symbol of love and friendship. Many different colors and color patterns have since been developed; common colors include white, black, red, yellow, blue, and cream. The most popular category of koi is the Gosanke, which is made up of the Kohaku, Taisho Sanshoku, and Showa Sanshoku varieties.

The carp is a large group of fish originally found in Central Europe and Asia. Various carp species were originally domesticated in East Asia, where they were used as food fish. The ability of carp to survive and adapt to many climates and water conditions allowed the domesticated species to be propagated to many new locations including Japan. Natural color mutations of these carp would have occurred across all populations. Carp were first bred for color mutations in China more than a thousand years ago, where selective breeding of the Prussian carp (Carassius gibelio) led to the development of the goldfish.

Carp are known as koi in Japan. Of the various domesticated carp species, the common carp (Cyprinus carpio) is one of the more commonly used in aquaculture. It is believed that common carp were first introduced into Japan by way of China between 400 to 600 years ago. Common carp were first bred for color in Japan in the 1820s, initially in the town of Ojiya in the Niigata prefecture on the north eastern coast of Honshu island.
By the 20th century, a number of color patterns had been established, most notably the red-and-white Kohaku. The outside world was not aware of the development of color variations in koi until 1914, when the Niigata koi were exhibited in the annual exposition in Tokyo. At that point, interest in koi exploded throughout Japan. The hobby of keeping koi eventually spread worldwide. Koi are now commonly sold in most pet stores, with higher-quality fish available from specialist dealers.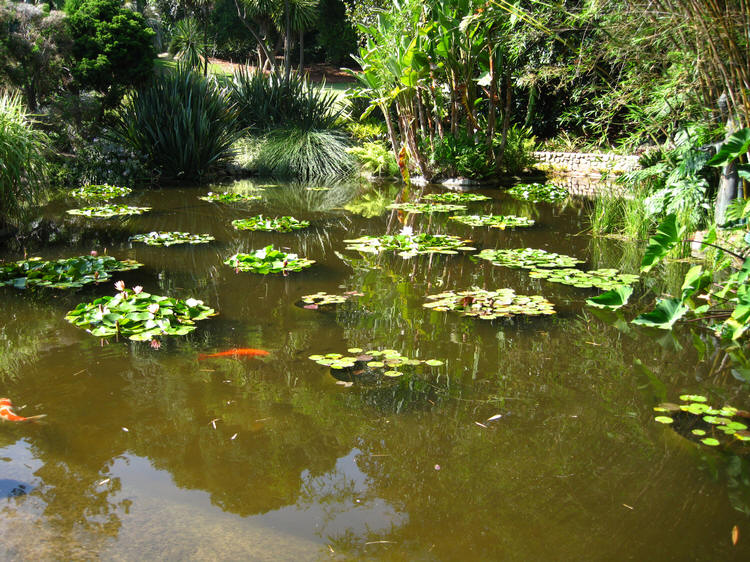 Bye for now... We will see you later